Last updated on May 2nd, 2022
Looking for best the Osaka hotel for your coming visit to the Kansai region with friends, family with kids, or even solo? This quick and easy guide to the best hotels and accommodations will help you decide where to stay in Osaka.
Osaka is big, the third-largest city in Japan, and one of Japan's best holiday destinations when visiting the Kansai region. Whether you're staying for 1 day, 2 days, or even a week in the Kansai region, you'll never run out of things to do. But what most first-time visitors are surprised to find out is that Osaka is a massive city and extremely busy. You'll save a lot of time and energy if you stay somewhere central and convenient. This is why you need to make sure you know exactly where to stay in Osaka, depending on what you're in the mood to see and do.
So, ready to plan your trip and get ready for an exciting holiday? Here is our best pick on where to stay in Osaka.
Osaka Accommodation Tips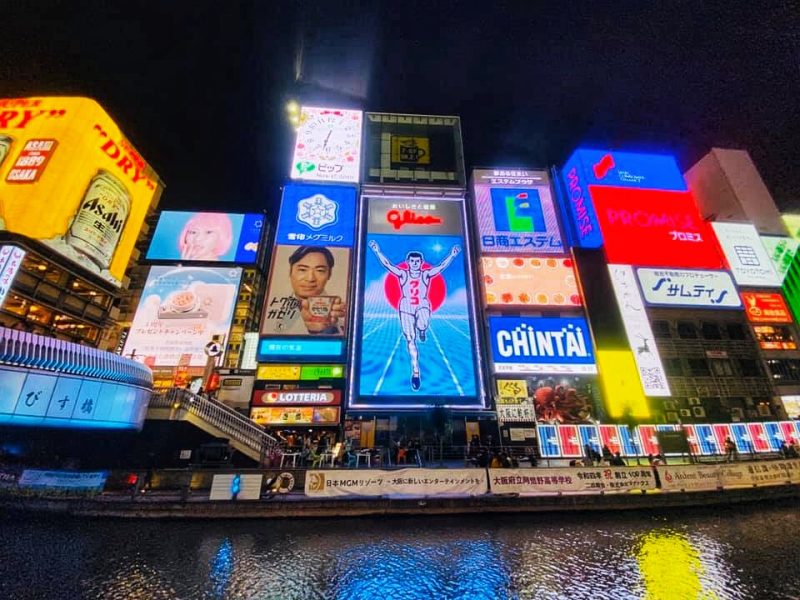 For a quick overview, here is the top 5 best place to stay in Osaka. 
Where To Stay in Osaka:
Nearby Namba Station: Best place to stay in Osaka due to transport accessibility.
Dotonbori: Easily access all the great food and perfect for first-time travelers.
Nippombashi: Slightly cheaper compare with the busy area in Dotonbori and Namba area.
Shinsaibashi: Main shopping paradise in Osaka.
Umeda: Great option for those holding with JR Pass.
MUST-READ Area Guide (2021)
Although Osaka is a huge city, most of the attractions are concentrated in a few places. For travelers visiting Osaka, it is important to stay somewhere convenient for getting around. You'll save a lot of energy and time if you are staying somewhere in central and transport accessibility.
Stay in Namba Or Umeda?
Generally, there are two main neighborhoods to stay in Osaka. The Umeda at South (nearby Namba Station, Dotonbori, Nippombashi, Shinsaibashi) and Namba at North.
Umeda, Osaka's commercial district and the largest transportation hub in the city. This area is extremely convenient and well connected with major transportation lines. The two most important stations, Osaka Station and Umeda station are located in the Umeda district. The Shin-Osaka Station, where the Shinkansen bullet train stop is located, is just one station away from Umeda's Osaka Station. It is the best place to stay for those with JR Pass. The modern city landscape is the best place to experience the lively city of Osaka.
Namba and its surrounding areas such as Dotonbori, Nippombashi, and Shinsaibashi. It is the best place for entertainment, shopping, and dining in Osaka. Most importantly, a direct train from Kansai airport to Namba station means that you do not require multiple transfers with heavy luggage in tow. Additionally, it is also an important transportation hub with three mainline coverage. The JR Line, Nankai Line, and Kintetsu Line offer easy access to Kyoto, Nara, and other Kansai regions. A great place to shop, eat, and enjoy the nightlife.
Osaka Best Hotel Tips:
When looking for the best price and biggest selection of hotels in Osaka check prices for
Osaka Best Hotel from Booking.com
. We found they are the best option and have a great cancelation policy.
Namba at South
For me, I am more prefer to stay in the Namba area. The reason is very simple. Food and shopping option at its surrounded area is the main purpose of visiting this amazing city. Namba is bustling day until night with food, shopping, and entertainment. It is the best place to experience Osaka's vibe. So staying in Namba is also very ideal for those with limited time to visit Osaka. The Midosuji subway line connects Namba with various stop runs through the district. You can also easily access Kyoto, Nara, and also Uji, making it a great base to explore the Kansai region.
Below are our top hotel pick in Namba from luxury to budget range.
Nearby Namba Station
First of all, staying within the immediate surrounding of Namba Station is the best place to stay in Osaka due to transport accessibility. However, don't underestimate how big of Namba area is. It is a huge area with three busy stations; JR Namba station, Namba Subway Station, and Namba Nankai Station are situated. If you are coming from Kansai Airport, the Nankai Airport Limited Express Rapi:t train will take you to Namba Nankai Station in 40 minutes. While JR Namba station is connected with the JR train and Namba Station is an important subway line when getting around in Osaka.
Therefore, please make sure the hotel booked is to meet your desired walking distance range.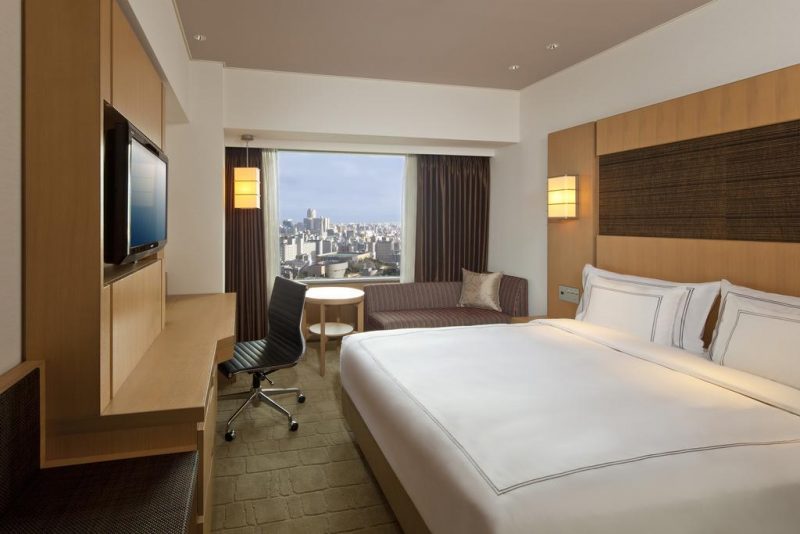 Swissotel Nankai Osaka is one of the popular picks for travelers. The location is superb where it is located right above Nankai Railway's Namba Station. So, it is very convenient for making airport train transfers to and from Kansai Airport, traveling between Osaka and also to Kyoto. Clean and good size room, professional staff, and most important strategic location make it one of the top pick when looking for where to stay in Osaka.
Hotel Monterey Grasmere Osaka is another unbeatable pick. It is directly connected to JR Namba Train Station and OCAT (Osaka City Air Terminal) located right next to the hotel within a minute's walk. You can direct the airport shuttle bus to/from Kansai Airport easily. Additionally, the metro subway is in front of the hotel and the car rental outlet is within a few minutes' walking distances. A great place to stay at a reasonable price.
Hiyori Hotel Namba Station is newly opened in mid of 2019. As expected everything is clean and brand new. The location is superb with only 2 to 3 minutes walking distance from Namba Station. The whole property is nonsmoking with coin laundry service.
Dotonbori
Next, the Dotonbori area is another best place to stay in Osaka. It is an iconic tourist spot for visitors when visiting Osaka and Kansai region. For sure you are not new to the running Glico Man sign (a symbol of the city), towering flashy 3D signboards, and the Dotonbori canal. It is the symbol of Osaka, featured with fabulous food and restaurant, entertainment, and nightlife along the busy Dotonburi street.
Staying in Dotonbori nearby means you can easily access all the great food. It's perfect for first-time travelers seeking out a lively area in the city center. The only downside is it can be partying the whole night and slightly noisy during night time.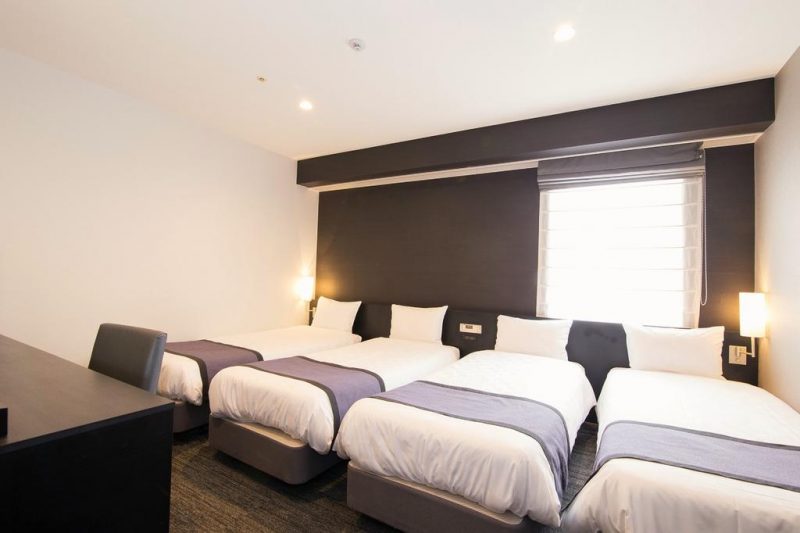 Ibis Styles Osaka Namba is right in Dotonburi and everything is at your doorstep. It is within walking distance to the areas of Dotonbori, Kuromon Market, and Shinsaibashi. The nearby Nankai Namba Train Station is an 11-minute walk away, while Kintetsu-Nippombashi Train Station is a 6-minute stroll. Added, You can easily get to the hotel from the airport, either by train or airport shuttle which is located just a block away. The free breakfast along with a reasonable price tag made it value for money.
Cross Hotel Osaka is located about 5 minutes walk from the Namba Station Midosuji Line. This 4-star hotel is always the top pick of travelers due to its fantastic location situated between Dotonbori and Shinsaibashi. That means all the restaurants and shopping arcades are within walking distance. Recommended by the Michelin Guide and room running fast, make sure to book earlier.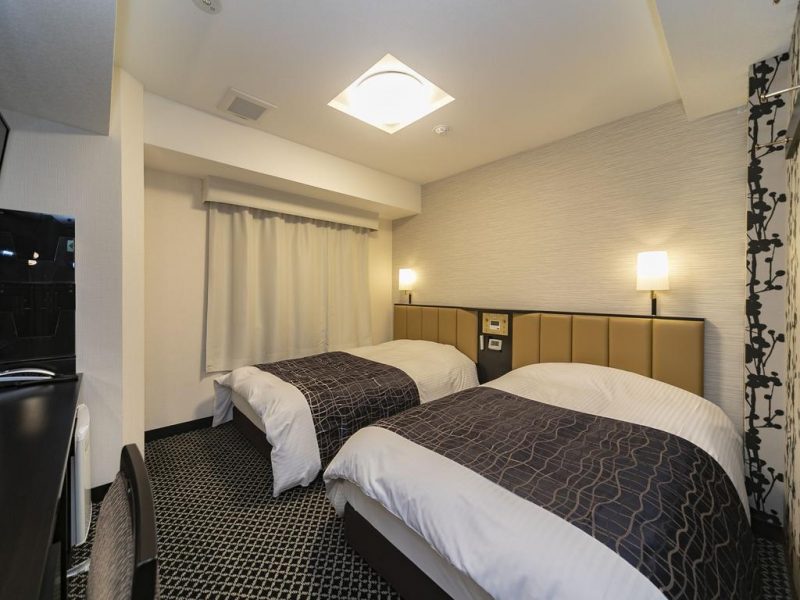 APA Hotel Namba-Eki Higashi is a standard Japanese chain business hotel in Japan. There are many APA hotels scattered around Osaka, but we recommended staying in this branch. Although the room is slightly small, APA Hotel is renowned for being simple, clean, and practical.
Your stay comes with a comfy bed, professional staff, and a strategic location. It is situated within an 8-minute walk from the Dotonbori and Shinsaibashi Shopping Arcade. While Namba Station for Nankai Line and Midosuji Subway Line is just a 4-minute walk from this hotel.
Nippombashi
The Nippombashi is located on the eastern edge of Dotonbori. Although Nippombashi is not as happening as the Dotonbori area but still within walking distance to find your way to enjoy the food and entertainment. For example, Namba station is about 10 to 15 minutes of walking distance. Alternatively, you can get your way here by using the subway to Ebisucho and Nippombashi stations. The Nippombashi station also connected with Kintetsu rail to Kyoto.
Staying in Nippombashi is also close to the famous Kuromon Ichiban Market where you can easily walk there to enjoy the street food tour in Osaka. Most importantly, the hotel rate is slightly cheaper compare with the busy area in Dotonbori and Namba area.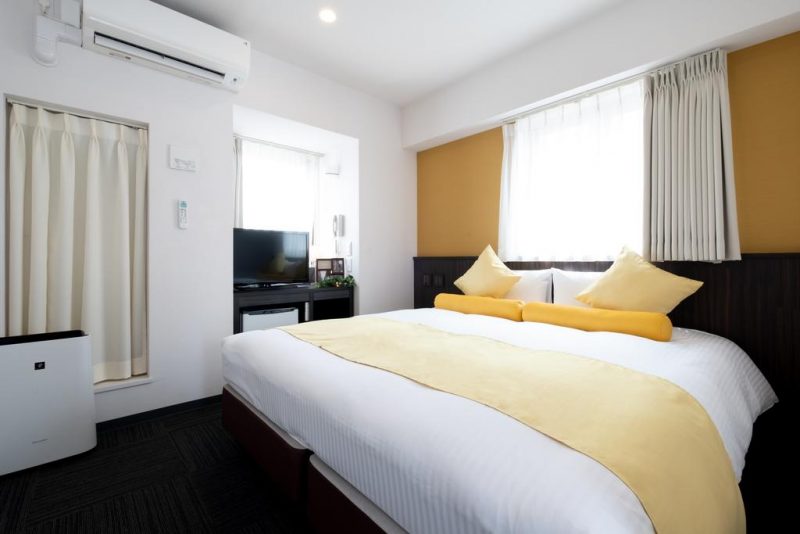 Nipponbashi Crystal Hotel is about 6 minutes walk to Ebisucho Station and Dotonbori. So everything is still accessible including food, and transportation. It is a practical hotel with decent room size, cozy and clean with a comfy bed. Another great stay if you are looking for where to stay in Osaka.
Hotel WBF ARTSTAY Namba is an art concept hotel located about 10 to 15 minutes' walk from Namba Station and Nippombashi Station. While the Kuromon market is about 10 minutes walk and Ebisucho Station is 5 minutes away. The room is slightly smaller but makes sense for its price tag in Osaka. Complimentary wine, sake, tea, and coffee in the evening are a plus for hotel guests, especially after the long day's walk.
Shinsaibashi
Next, Shinsaibashi is situated in the western part of the Namba area. It is the main shopping paradise in Osaka and also the Kansai region. Numerous international and Japanese stores are lined along with the Shinsaibashi Shopping Arcade and Midosuji avenue. From luxury, and mid-range to affordable shops can be found here. Shop till you drop!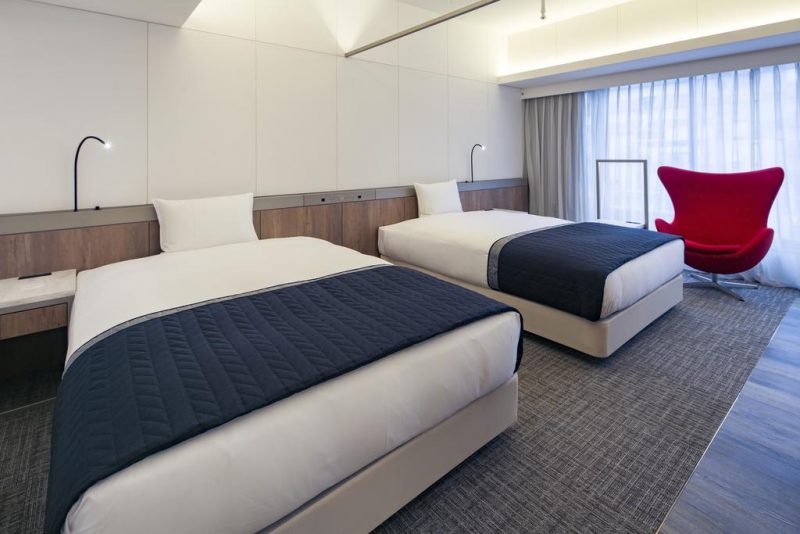 Hotel The Flag Shinsaibashi is an immaculate and modern 3-star hotel in the Shinsaibashi. It is located within 2 minute walk from Shinsaibashi Station with lots of shops and restaurants nearby. Excellent location, great facilities, and a super clean room. You won't regret staying here.
Hotel Nikko Osaka is directly connected to Shinsaibashi Subway Station. That means you can rest your tired foot after getting off the subway. It is the best choice for those who prefer staying nearby the subway station for easy getting around. The popular shopping street, Shinsaibashi is just a step away from the hotel. Spacious room and reasonable price tag.
Umeda at North
Always, people are looking to either stay in Namba or Umeda area. In my opinion, staying in Umeda is a great option for those holding with JR Pass. It is easy to get to Shinkansen and other JR lines. In other words, this area is easily accessible and get surrounded by cities like Kyoto, Nara, and Kobe from Umeda. Additionally, there are lots of three to four-star chain hotels in this area. It is the best place to stay in Osaka if you are looking for convenience over the entertainment and food. Anyway, the Namba station is just a few minutes by train.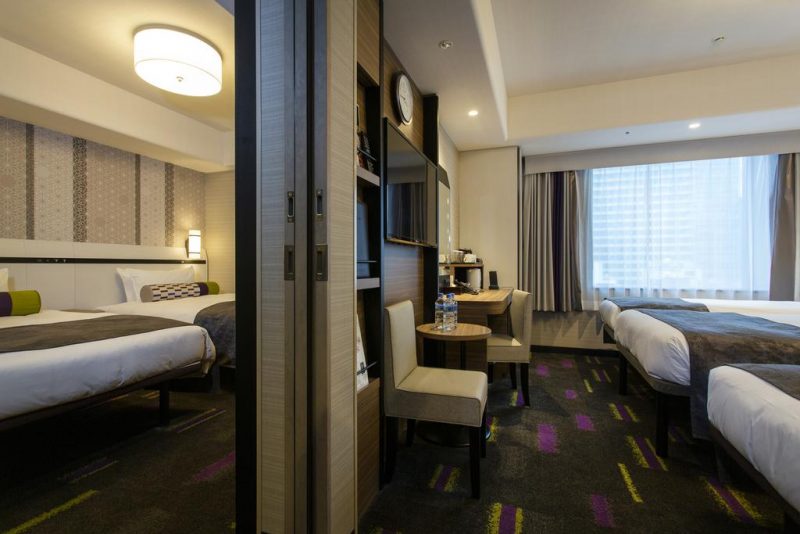 Hotel Monterey Le Frere Osaka is situated a step away from the restaurant, food, and transportation. No issue finding what to eat when staying here. Spacious room size compares with standard Japanese standard. Additionally, the airport limousine station is about a 7-minute walk on foot from the hotel. So it is a popular choice for travelers staying here for easy arrangements from and to the Kansai Airport.
Nest Hotel Osaka Umeda is a 3-star hotel situated nearby Umeda Station. It is a decent chain of business hotels in Japan. All rooms are cozy and modern. Very suited and practical for the traveler who looks for a comfortable stay. Reasonable price tag too! Don't expect luxury and you'll be set.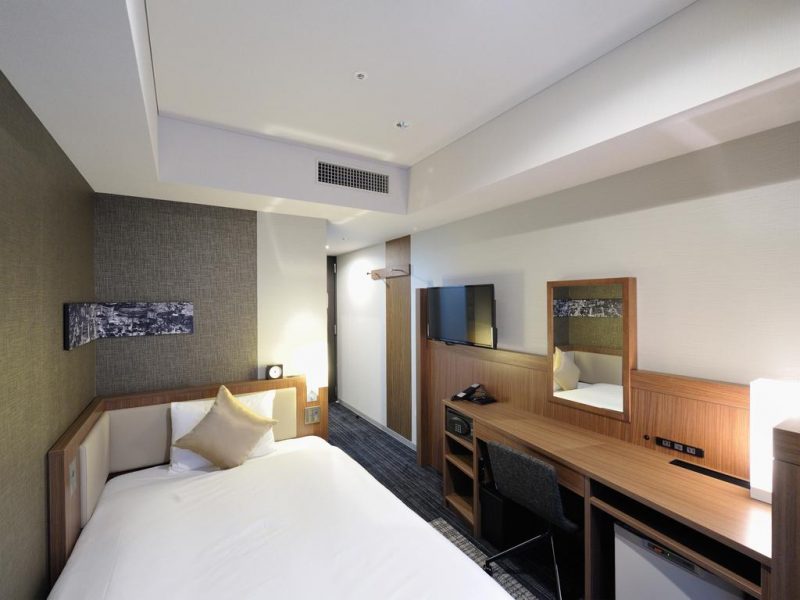 HOTEL UNIZO Osaka Umeda is perfectly located near with Umeda railway and subway station. Stay here for one or two days and explore the city and surrounding attractions easily. Additionally, the beautiful design makes it bigger than usual than the Japanese standard room. A popular pick for the best hotel in Umeda.
Osaka Best Budget Stay
For solo and budget travelers, there are various hostels scattered all around Osaka. Of course, the cheapest stay in Osaka can be slightly away from downtown and you still can be reachable by subway. However, I would recommend looking for a budget accommodation near the Namba area. You might be paying a slightly higher price tag. But save you a lot of time and energy.
In short, below are the few solo and budget stay in Osaka, and most of them are within walking distance from Namba Station.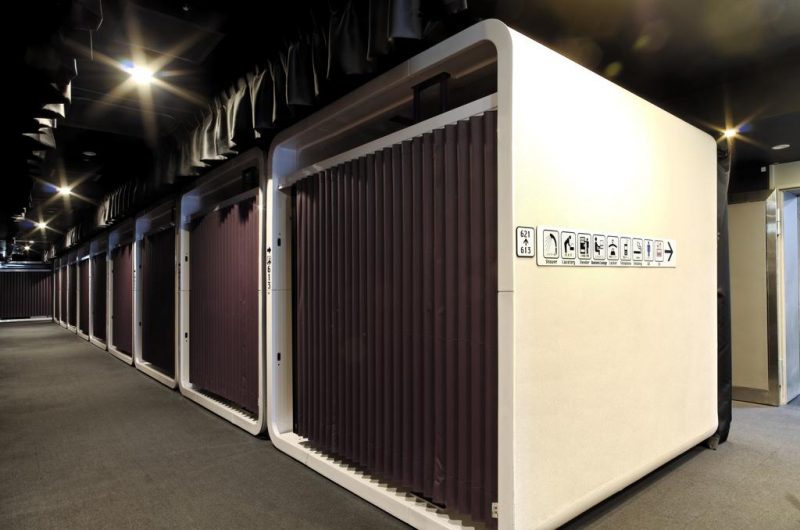 First Cabin Midosuji Namba offers a unique and upgrades version of the capsule experience. It features compact sleeping compartments with an airplane theme. So the capsule size is larger than the usual capsule. The location is also superb and directly connected to Namba Subway Station (Exit 13), Kintetsu, JR, and Nankai lines. The lively Dotonbori area is just a 5-minute walk away, especially for solo and budget travelers.
Khaosan World Namba is a famous hostel chain in Japan. Most of the hotels are in a reasonable price tag and are super convenient. So and strategically located nearby Namba Subway Station and Osaka City Air Terminal (OCAT) within about 3 minutes walking distance. Choose from the dormitory, double room, quadruple, or room up to 6 people.
Hostel Wasabi Osaka Bed and Library is surrounded by eateries and easy access by public transport. The location is hard to beat, as it's right in the middle of downtown Minami, between Namba metro Station and Nipombashi station. So it is very convenient for getting around in Osaka and also other Kansai regions. It features with dormitory, and a small apartment for 2 double single, or double beds. So it is a great option for solo and budget travelers. Book early as the small apartment room is running extremely fast!
Tips For Best Stay in Osaka, Kansai Region
Below are our final tips for Where To Stay in Osaka, the most lively city in the Kansai region:
The most popular area is Namba and Umeda. Both places are a great option when looking for where to stay in Osaka.
Stay nearby to Namba to enjoy and experience the true vibe of Osaka. Dotonbori, Nippombashi, and Shinsaibashi all are within walking distance.
Umeda is the best option for those with Japan Rail Pass, especially travelers who plan for traveling to Kyoto, Kobe, and Nara for a day trip.
Midosuji subway line connects the major station in Osaka including Namba, Umeda, and Shin-Osaka (Shinkansen bullet train station), and gets you almost everywhere in Osaka.
Direct access from Kansai International Airport to Namba Nankai Station via Nankai Airport Limited Express Rapid train (40 minutes).
Limousine bus also runs frequently from Kansai Airport to OCAT (50 minutes) with several stops in front of the hotel along the way.
Wide range of hotels (3-star, 4-star, and even 5-star) and budget hostels when looking for where to stay in Osaka.
Look for early booking rates if you can. Rooms running fast, especially those popular hotels.
Overview: Where To Stay in Osaka
In conclusion, do you find the best hotel to stay in Osaka? Or still, wondering to stay in Namba or Umeda? Hopefully this quick and handy guide able to help you choose your best hotel stay in Osaka. If you have any questions, please free to drop us an email. We try our best to answer you. Most importantly, enjoy your trip!
Lastly, continue to read on Kansai travel blog to Osaka, Kyoto, Nara, and Uji including itinerary, money savings tips, and food guide:
How to Plan Your 7 Days Kansai Japan itinerary
Osaka itinerary and travel blog:
Kyoto itinerary and travel blog:
For transportation guide on How to travel to Osaka, Kyoto & Nara: