Last updated on October 2nd, 2023
Planning your trip to Hokkaido on budget? Read on our useful travel guide including suggested itinerary, the best way of getting around, and money-saving tips.
Hokkaido is one of the best travel destinations in Japan. Don't miss the chance to experience the wilderness of National Park with beautiful mountain, lake and volcano crater. Have mouth-watering seafood freshly catch from the sea like crabs, sea urchins, scallops, and more. Looking into the Hokkaido itinerary, many people will think that it might be not cheap for traveling to Hokkaido. However, a budget trip to Hokkaido is doable by a well-planning itinerary with some money-saving tips.
Most importantly, keep an eye on the best budget hotel stay and a money-saving tip. Experience the beauty of Hokkaido without breaking your bank yet enjoy till most!
Where is Hokkaido?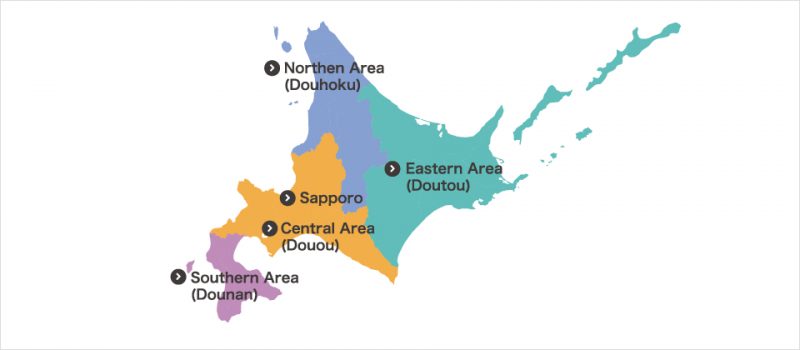 First of all, Hokkaido is located at Japan's northernmost main island. It is the largest prefecture with 83,456.58km2. It also consisting of 22% of the total land area of Japan.
Generally, Hokkaido can be separate into four regions. There are Northern (Douhoku), Eastern (Doutou), Southern (Dounan) and Central (Douou). Each region has its different characteristics, offering various scenery, activities, and food.
For the first time traveler to Hokkaido, please consider focusing on southern and central regions. It is also advisable for travelers with limited time such as 7 to 10 days. No worry, for sure you will come back and visit Hokkaido for the second time!
Best Time To Visit Hokkaido
Hokkaido offers many things to do and best to visit Hokkaido throughout the year. It is an all year round holiday destination in Japan.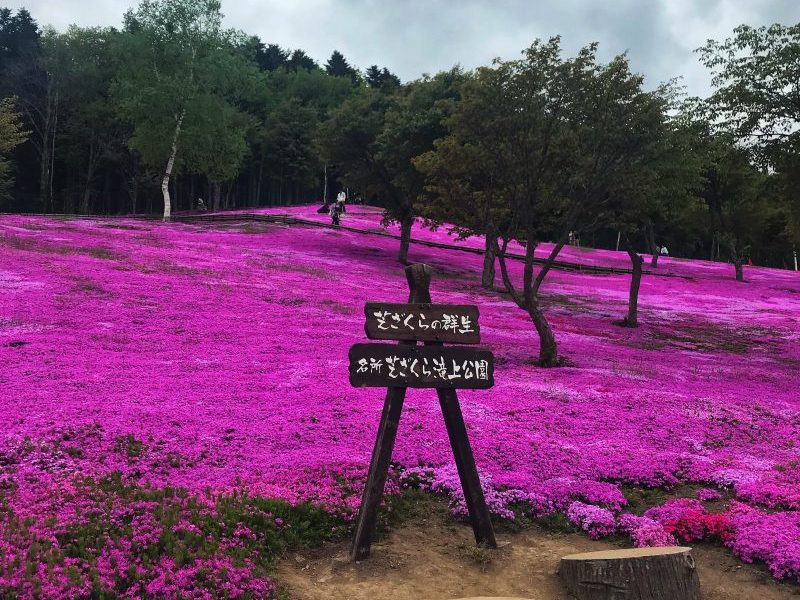 Spring in Hokkaido (April until early June):
It's still cold but the weather starts to become warmer.
Early May is the best time to see the cherry blossom (sakura) in Hokkaido. Follow by pink moss phlox (shibazakura) in late May.
Summer in Hokkaido (Mid of June until August):
The most wonderful time to visit Hokkaido.
Flower start blossom from mid of June and hit the peak season at August. Visitors come to Hokkaido in summer for breathtaking flower fields and lavender.
Autumn in Hokkaido (September to November):
Colorful fall foliage painted the landscape, especially in the national parks.
Winter in Hokkaido (December to February):
Surprisingly most people rated winter is the best time to visit Hokkaido.
The best season to visit the popular ski resorts and hot springs in Hokkaido. Sapporo Snow Festival held in early February attract millions of visitors to Hokkaido.
Getting To Hokkaido
Getting to Hokkaido by flight: There are few airports in Hokkaido located in Hakodate, Sapporo, Kushiro, and Asahikawa. The Sapporo New Chitose Airport is the busiest airport in Hokkaido and most international flights will be landed here.
Getting to Hokkaido by Shinkansen from Tokyo: Hokkaido is accessible with shinkansen. From Tokyo to Hakodate, the most southern city in Hokkaido is only 4 hours.
Smart traveler, please consider getting the JR East-South Hokkaido Rail Pass (Flexible 6 days within 14-Days). It will save a lot of money on transportation if you are getting this transportation pass.
If Hokkaido is part of your whole Japan itinerary, please remember to get your Japan Rail Pass for unlimited train and shinkansen ride.
How To Travel Hokkaido On Budget
We listed down all the travel guides and suggested itinerary on how to plan your Hokkaido on budget. All the money-saving tips will guide you for visiting Hokkaido on budget.
Monitor your flight ticket to get the cheap flight ticket.
Always stay connected with wifi when getting around in Hokkaido. Group traveler just get the wifi router.
Travel smart with transportation pass. Do your smart calculation especially for long hours train journey ride.
Public bus is efficient and best transportation for inner-city connection.
Utilized the 1-day city pass for unlimited subway or bus ride within the city. For example at Sapporo, Otaru, and Hakodate.
Stay smart at affordable accommodation. Consider staying nearby station if you are getting around in Hokkaido by public transport. For self-driving, make sure your hotel provides free parking for those who choose plans for Hokkaido road trip.
Plenty of amazing but free attraction in Hokkaido. We recommended Noboribetsu and Lake Toya for best places to visit in Hokkaido on budget. Get the Hokkaido Enjoy Pass if you are planning to access many attractions.
Try the delicious yet best cheap eat in Hokkaido such as ramen, soup curry, and many more local Japanese specialty.
No worry, our travel guide will still guide you to enjoy the best sights and delicious food more smartly. Making your Hokkaido trip is affordable yet enjoyable. Continue read on to know more on top 8 Hokkaido budget guide with money-saving tips.
1. Monitor For Cheap Flight To Hokkaido
Do keep an eye for the best flight deals to Hokkaido. A quick check on Skyscanner to continuously monitor for the cheapest flight to Hokkaido. The easiest way to compare flight tickets from various airline companies. You may end up saving a lot of money by getting the best deal from one of them!
2. Stay Connected With Wifi
Connect to the internet is very important when traveling in Japan. It is important to check on the train schedule, looking for direction and location. Well, getting connected in Japan is not cheap. So, if you are traveling in a group, just share the Wifi router with as low as ¥500 per day.
In our opinion, it is always good to pick up Wifi sim card and router at Japan airport directly. We can make sure the wifi connection is working on the spot.
Check for the latest deal from Klook for wifi connection. Pick up at New Chitose Airport directly. Very high demand, please book early!
3. Travel Smart With Transportation Pass
The best way of traveling in Hokkaido is always by self-driving. It is the best way to explore Hokkaido at your own pace plus driving in Hokkaido is relatively easy. Added, it is much cheaper if you are traveling with a group of friends and family. (Check car rental price: RentalCars.com)
However, sometimes driving can be very tiring especially for long journey drive. So, if driving is not your choice, please remember to check on below transportation pass. It will save your money especially you are planning for a long journey travel.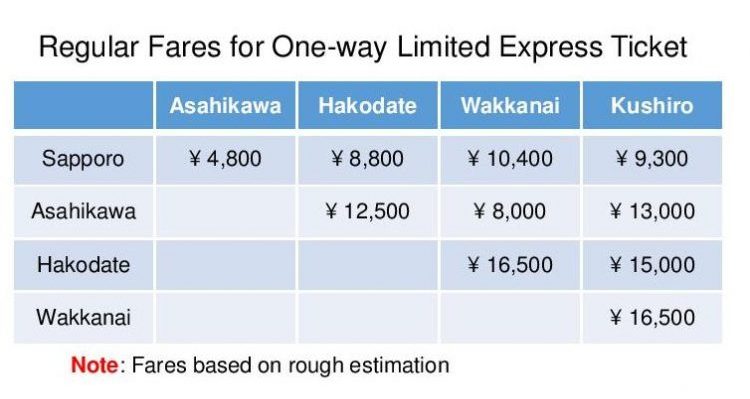 Don't be scare of various types of transportation pass in Hokkaido. Whole Japan JR Pass is only good for visitor traveling the whole of Japan. Check out below transportation pass which is best to travel Hokkaido only. Valid for foreign visitors only.
---
JR East-South Hokkaido Rail Pass: From Tokyo to Hakodate with Shinkansen, and unlimited JR train ride within southern Hokkaido. Must buy transportation pass if you are getting to Hokkaido from Tokyo. Flexible 6 days within 14-Days.
---
JR Tofoku-South Hokkaido Pass: Similar pass as JR East-South Hokkaido Rail Pass but depart from Tofoku area with shinkansen. It is the must-buy pass if you are getting to Hokkaido from the Sendai area. Flexible 5 days within 14-Days.
---
JR Hokkaido Rail Pass: Unlimited use for all JR Hokkaido trains within Hokkaido. Save if you are planning for a long journey train ride. For instance, remember to get this pass for a round trip journey within Sapporo-Hakodate. Choose from consecutive 3-Days, 5-Days, 7-Days or flexible 4-Days.
Seasonal Ticket: From Sapporo To Asahikawa, Furano, Biei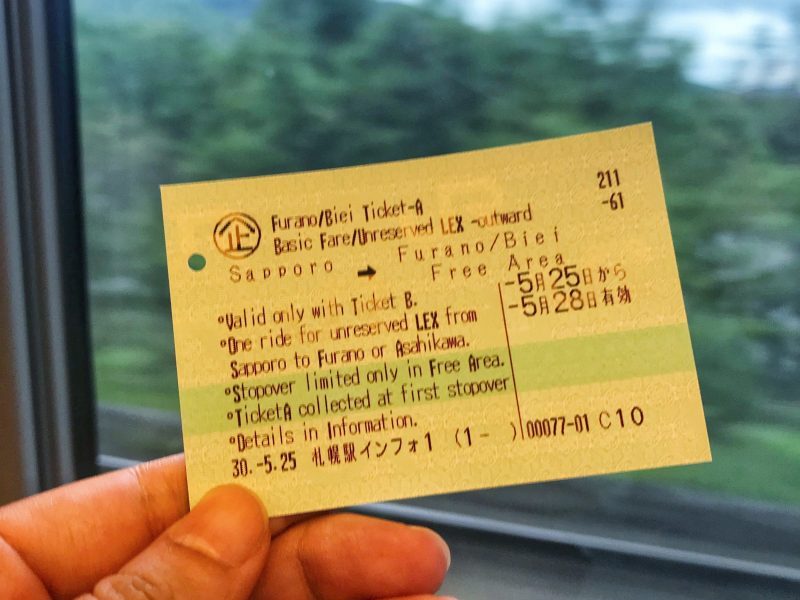 Seasonal Pass: Furano-Biei Rail Ticket: Round trip between Sapporo-Asahikawa with express train (one time). Unlimited ride of local and rapid train in Furano, Biei, Asahikawa and Takikawa area. Seasonal ticket and only available from the end of April until October. Worth the money even only plan to traveling within Sapporo-Asahikawa by train. Valid for both locals and visitors: 4-Days, consecutive.
Meanwhile, check out our Hokkaido Transportation Guide. It has more detail on how to travel Hokkaido on budget with a transportation pass.
4. Travel With Public Bus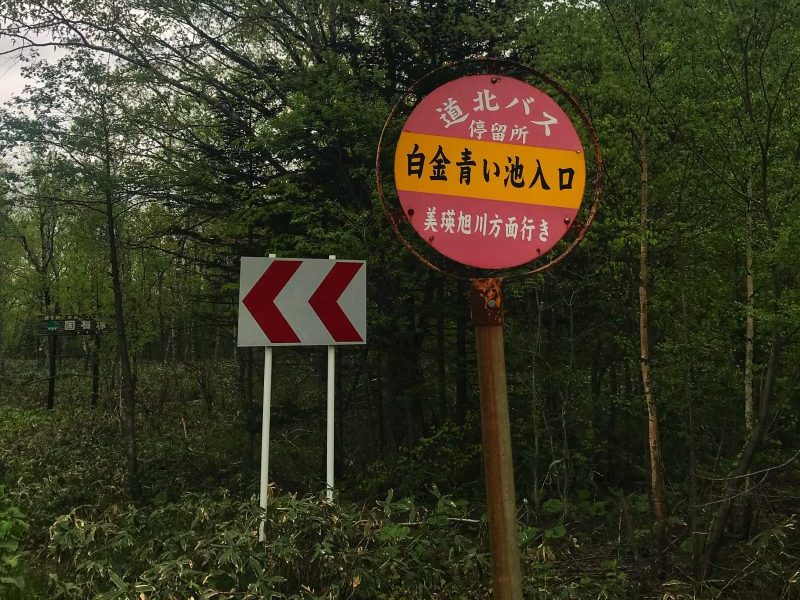 Due to the vast landscape of Hokkaido, some of the attractions may not reachable by train directly. So you may still need to rely on the bus for getting around. It is the cheapest transportation and efficient way to help you visiting Hokkaido on budget. Different region have their own bus company such as Donan Bus, Dohoku Bus, Chuo Bus, Jotetsu Bus on more.
Below are our sample itinerary on how to visit Hokkaido's attraction by bus:
5. City Transportation Pass
Likewise, most of the cities in Hokkaido offer 1-day transportation pass. Travelers can utilized the pass for unlimited ride on bus or subway. Great option if you require frequent traveling with public transport in the city.
Sapporo: Subway 1-Day Card (¥830) and Donichika Ticket, only weekend (¥520). One way of subway ride is about ¥200. Get the pass if you are using a subway ride more than 3 times.
Hakodate: Unlimited 1-Day tram pass at ¥600. Get this only if you are planning for more than three tram ride. Alternatively, the 1-Day/2-Days will cost you ¥1000/¥1700 for unlimited ride for both tram and buses.
6. Stay Smart In Affordable Accommodation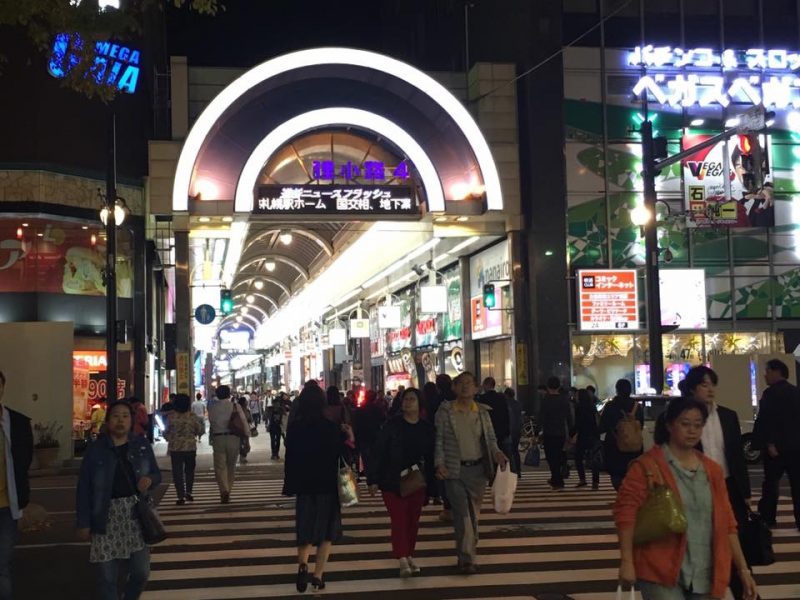 That is to say, Hokkaido offers plenty of accommodation options. Ranging from luxury resort, economy mid-range hotel to budget hostel. Choose your best hotel in Hokkaido based on your budget. It depends on how you getting around in Hokkaido. Sometimes cheaper price does not mean for best hotel that suitable for your Hokkaido itinerary.
For travelers getting around with public transport, we highly recommended you choose your accommodation closer to the train or subway station. It will save you a lot of traveling time and energy.
For travelers getting around with rental cars, please check your hotel do provide free parking. Take note, parking fee is not cheap in Japan!
Below are our recommendation the best budget stay in major cities within Hokkaido:
Sapporo: Grids Sapporo Hotel&Hostel is perfect and exactly located in the Tanukikoji shopping street. Choose from dormitory bed, single, double, triple and family room depending on your budget.
Hakodate: Budget stay in Hotel Sharoum Inn 2. Walk to JR Hakodate with 5-minutes.
Asahikawa: Court Hotel Asahikawa is located just a 2-minute walk from JR Asahikawa Station. An Economy budget stay in Asahikawa.
7. Free Things To Do in Hokkaido on Budget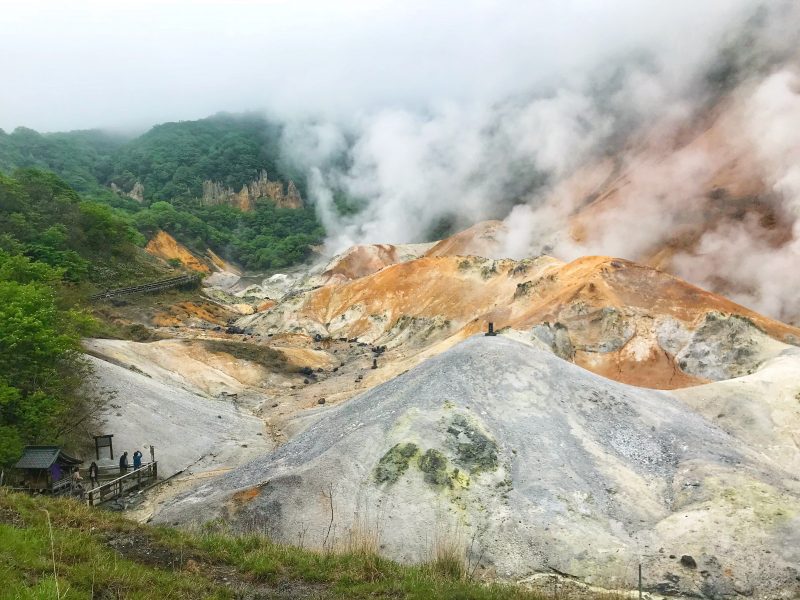 Unlike some countries, most of the attractions in Hokkaido are free or with a very minimal fee. What you need to do? Plan your Hokkaido itinerary, transportation arrangement, and accommodation stay.
Here are a few highlights during my Hokkaido trip in end of May:
Lake Toya Itinerary (best for scenic lover): Mt Usu, fireworks show, onsen bath. The Usuzan ropeway cost about ¥1,600 to the summit
Noboribetsu itinerary (best with 2 Days 1 Night stay): Jigokudani, Oyunumand Okunoyu Pond, Oyunuma Natural Footbath, hot spring bath
[Seasonal Trip] Free entrance to Hokkaido Flower Field:
8. Delicious Best Cheap Food in Hokkaido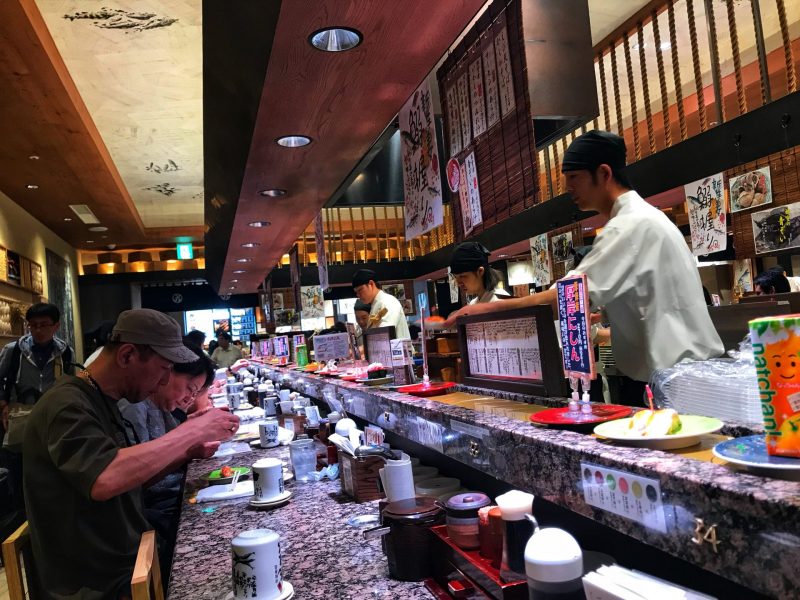 Hokkaido is renowned for its delicious food. From Hokkaido local specialty such as soup curry, Gengis Khan, freshly caught seafood to fine dining Japanese cuisine. You can find all sorts of food in Hokkaido.
In short, here is our recommendation if you are looking for the best cheap food in Hokkaido:
A bowl of hot ramen normally cost less than ¥1,000. The three big cities in Hokkaido have their own specialty on ramen. Asahikawa for shoyu ramen, Hakodate for shio ramen and Sapporo for miso ramen.
Soup curry will cost you around ¥1,000-¥2,000. Hirihiri, Garaku, Samurai, Suage+, PICANTE are popular soup curry restaurants in Sapporo.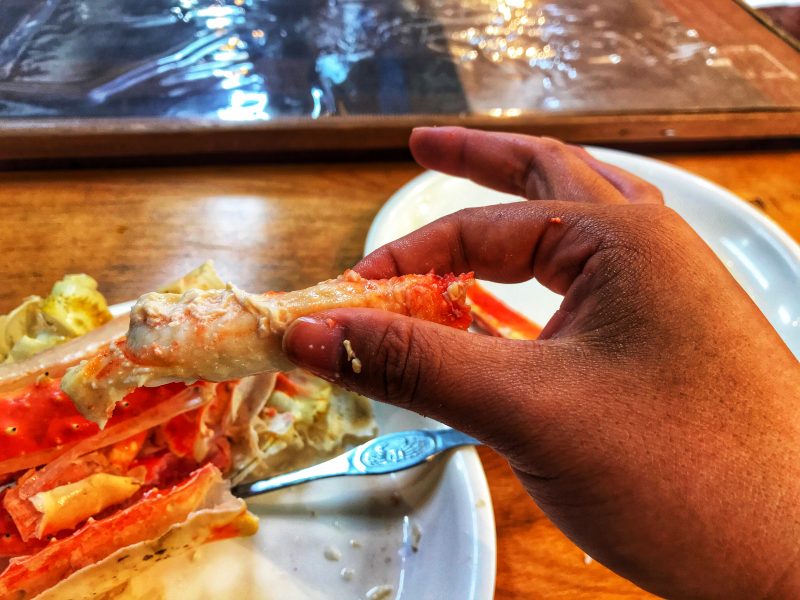 Seafood normally will be more expensive. No worry. You will still can have your seafood feast even you are traveling to Hokkaido on budget.

Gotsubo Sapporo serves freshly caught oysters with a surprisingly reasonable price at around ¥105 each. Only in Hokkaido.
Nemuro Hanamaru: Popular conveyor belt sushi restaurant in Sapporo, famous for fresh seafood sushi in reasonable price!

Kaisendon and crabs are very expensive even in Hokkaido. However, it is cheaper in the morning market compare with eating in a restaurant.

But, there is no way to get to Hokkaido without having food feast on the fresh Hokkaido crab and Gengis Khan (Grilled lamb). You can consider to check out this good deal for Unlimited Crab and Lamb BBQ Buffet at Sapporo Beer Garden. Reservation will be made for you upon booking.
A Few Bonus Tips on How To Plan Your Hokkaido Itinerary
Overall, Hokkaido is easy to plan for a self-exploring DIY itinerary, either by rental car or by public transport. Both are great option for visiting Hokkaido leisurely.
During my visit to Hokkaido, we were focusing on Southern (Dounan) and Central (Douou) region Hokkaido. As always, make the necessary adjustments to match your Hokkaido itinerary planning and preferences. Keep in mind that Hokkaido is huge and traveling time required between attractions and cities.
My Completed Hokkaido Itinerary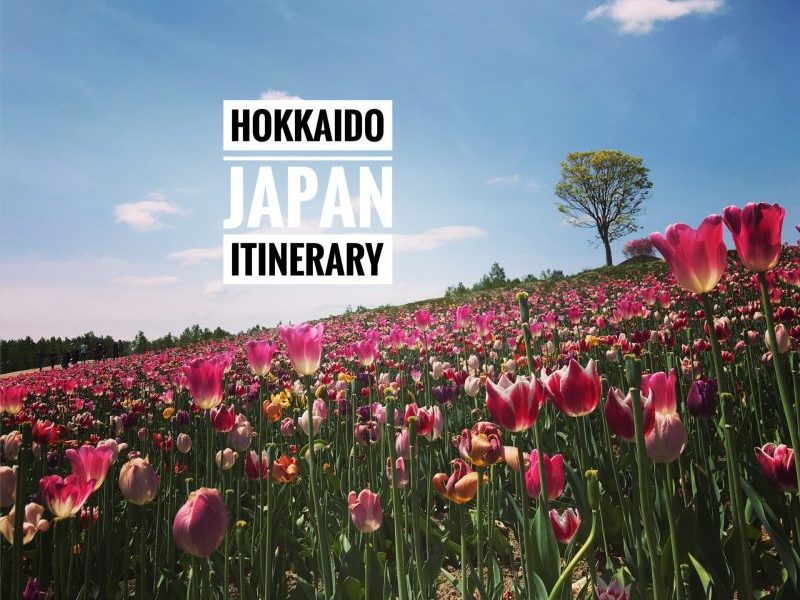 To sum up, here's our Hokkaido itinerary covered spring and summer. We visited Hokkaido from the end of May until June. So glad that we can enjoy Hokkaido's attraction and festival for both spring and summer season.
Day.1: Landed New Chitose Airport | Transport arrangement at JR Office
Day.2: [Seasonal Trip] Takikawa Canola Flower Festival
Day.3: [Seasonal Trip] Shibazakura Takinoue Park
Day.4: Biei Cycling trip (Panorama Road and Patchwork Road) and Blue Pond By Bus
Day.5: Hakodate – Goryoyaku Tower and Park – Kanemori Warehouses – Mt. Hakodate
Day.6: Lake Toya – Mt Usu – Hot Spring Bath – Firework Show
Day.7 – Day.8: Noboribetsu – Jigokudani – Oyunumand Okunoyu Pond – Oyunuma Natural Footbath
Day.9: Otaru – Nikka Whisky Distiller – Otaru Canal – Sakaimachi street – Mt. Tenguyama
Day.10: [Seasonal Trip] Shimamui Coast – Cape Kamui
Day.11 – Day.12: Sapporo – Shiroi Koibito Park – Hitsujigaoka Observation Hill – Sapporo Beer Museum – Hokkaido Shrine and more
Hokkaido Food Guide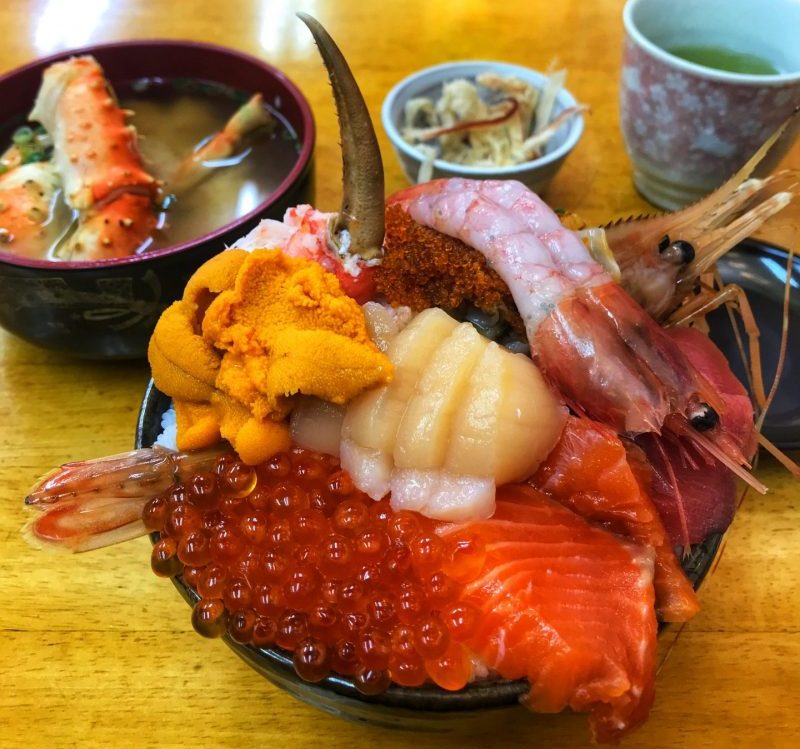 Last but not least, there is so many good food in Hokkaido. Some of the restaurants and food are listed in our MUST-EAT Food in Hokkaido. We tasted the marvelous seafood rice bowl, fresh Hokkaido crab, sushi, local specialty ramen, soup curry and many more. We specially listed out a few restaurant highly recommended for you to try out.
Hokkaido Food Guide: Top 10 Must Eat Food in Hokkaido
Hokkaido On A Budget
All in all, if you want to plan your Hokkaido on budget, remember to check on our money saving tips below. So, have you got any other tips on how to travel Hokkaido on budget? Share with us in the comments.