Last updated on December 11th, 2023
Planning on 7 days Kansai itinerary to Kyoto, Osaka, Nara, and Uji? Discover the things to do, what to eat and where to stay when you have 1 week in Kansai.
We visited the best places in Kansai and enjoy it. There are many things to do and eat in the Kansai region. For first time visitors, we understand that you wish to eat the best food, visit the top attraction within your travel time. That's what makes planning your Kansai itinerary so important.
Kansai 7 Days Itinerary: Things To Know Before You Go
If you're drafting up your Kansai trip to Kyoto, Osaka, Nara, and Uji in 5 days, 7 days, or 10 days. There are a few things and useful Kansai travel guide that you need to keep in mind before your trip.
Similar to other Japan prefectures, Kansai has 4 beautiful seasons and each of them has its perks. Depend on your travel plan, Kansai is an all-year-round travel destination.
Spring brings blossoming flowers and Kyoto is one of the best places for cherry blossoms in Japan. Summer brings a bright sunny day with the firework festival celebration. But the weather will be very hot and humid. Autumn for fall foliage where the leaves changing to red color. Lastly, winter for its unique calm with attractions in snowy white.
Depending on what is your interests. You may prefer to visit Kansai in a different season. Next, read on our Japan Kansai travel blog with travel tips below.
What is the Best Time To Visit Kansai Region?
I had visited Kansai three times at different seasons. Each time I am still amazed by its beauty. However, I can't deny that the best time to visit Kansai in the cherry blossom season. The city is covered in a pink umbrella with sakura in every corner. You will understand why Japan's national flower is sakura.
How Many Days Should You Spend in Kansai Region?
In our opinion, 7 days is the best duration to explore and experience the beauty and culture in the Kansai region. You can easily plan for 5 days, 7 days, or even 10 days in Kansai for your vacation. Bear in mind, there is always no enough to experience everything in Japan.
Where Should I go when visiting Kansai Region?
There are many beautiful places and must-visit attractions that you can plan on your Kansai itinerary. The most visited cities in Kansai are Kyoto, Osaka, Nara, Uji, and Kobe.
How To Getting Around in Kansai Region?
The best way to getting around in the Kansai region is by public transport. Transportation systems within cities such as Osaka, Kyoto, Kobe, Nara, and Uji are well connected by public transport. Most important, Japan does offer various transportation passes to foreign visitors. It greatly helps to save on your transportation fee.
Travel Tips:
When looking for the best price and biggest selection of hotels in Kansai check prices for
Kansai Best Hotel from Booking.com
. We found they are the best option and have a great cancelation policy.
Kansai Transport Guide
Depending on your preference. You can choose to travel around in Kansai by speed train, local train, or even buses. Sometimes, there are too many options of transportation available. In our opinion, the best transportation option depends on where you depart and your next travel destination.
Check out our post on how to getting around in Kansai by public transport.
If you are traveling to Kansai from Tokyo, make sure to get the Japan Rail Pass. This pass will greatly save on your transportation fee especially with the Shinkansen ride.
My 7 Days Kansai Itinerary
Not sure where to start your 7 days Kansai itinerary? This is one of the most memorable trips we did during our travels in Kansai during the cherry blossom season. Most of the places can be visited all year round. Besides, we add on few places for sakura viewing.
We will introduce the best places to visit in the 7-Day Kansai itinerary. Not to forget all the must-try food on your foodie hunt for the best food and restaurant.
Read on the list of the places we visited, what we did, and where we stayed during our 7-Day to Kyoto, Osaka, Nara, and Uji.
Day 1: Arrive Kansai and Headed To Kyoto. Half-Day on Sakura Viewing in Kyoto
Firstly, we arrived at Kansai International Airport (KIX). For visitors who arrived by flight, it is best to pick up your travel essentials at the airport.
There are a few things that you can be done in one place once arrive at Kansai International Airport::
Once everything ready, we were ready and headed to our first destination to Kyoto.
Things To Do during Cherry Blossom in Kyoto: Philosopher's Walk, Nanzenji, Keage incline
Kyoto is a amazing city to visit in Kansai. The must visit attraction in Kyoto including World Historical Site, historical temple and shrine and natural hidden gem. There's no better place for Japan culture experience but Kyoto. This is a great place to spend at least 2 to 3 days in Kyoto.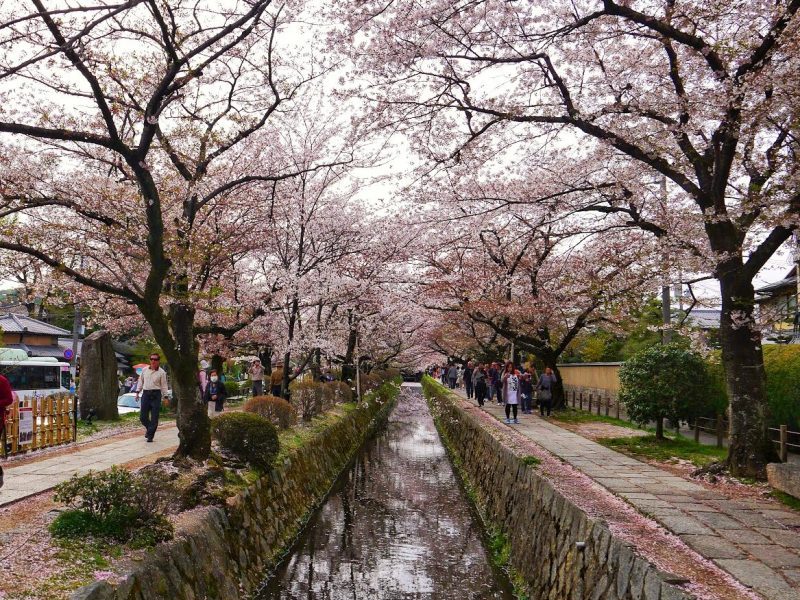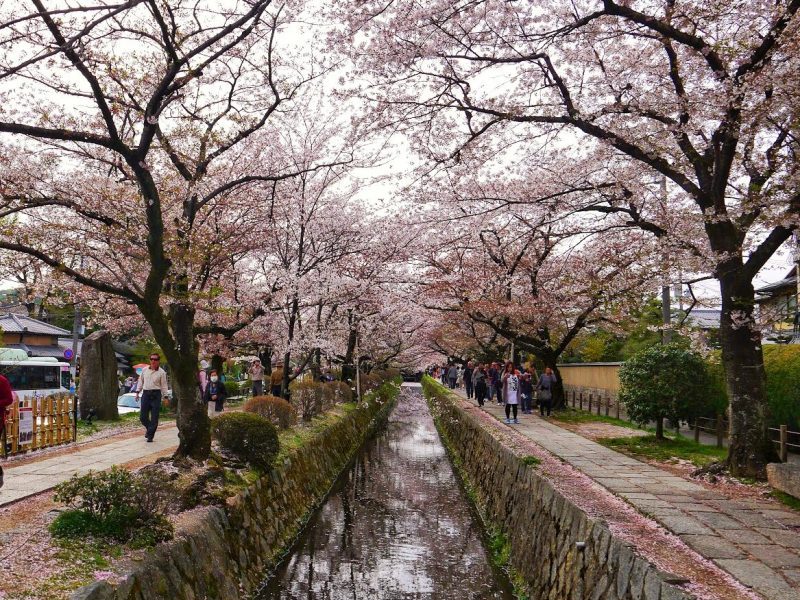 We arrived in Kyoto at afternoon and done checked in to hotel. There is still half-day for us to wander around. During our trip in early April, sakura was in full bloom. So we decided to spend our first day and focusing on cherry blossom itinerary in Kyoto.
We headed to the best sakura viewing spot in Kyoto. Firstly, Philosopher's Walk (哲学の道) which famous with cherry tree lined along the canal. Spend the amazing stroll under the sakura canopy densely lined along the pedestrian street. From Philosopher's Walk, we took a slow walk toward to Keage incline. Together with Nanzenji, it is the famous sakura viewing walking itinerary. One of the memorable journey during my 7-Day Kansai itinerary.
Lastly, we back to Kyoto Station and dinner at Kyoto Ramen Koji (Street). It is home to eight famous ramen in Japan. Have a hot bowl of Japanese ramen to start your Kyoto food tour.
Where To Eat: Masutani ramen in Kyoto Ramen Koji for traditional Kyoto ramen. Added, have some Japanese snacks in the Kyoto Station.
Day 2: Southern Higashiyama District in Kyoto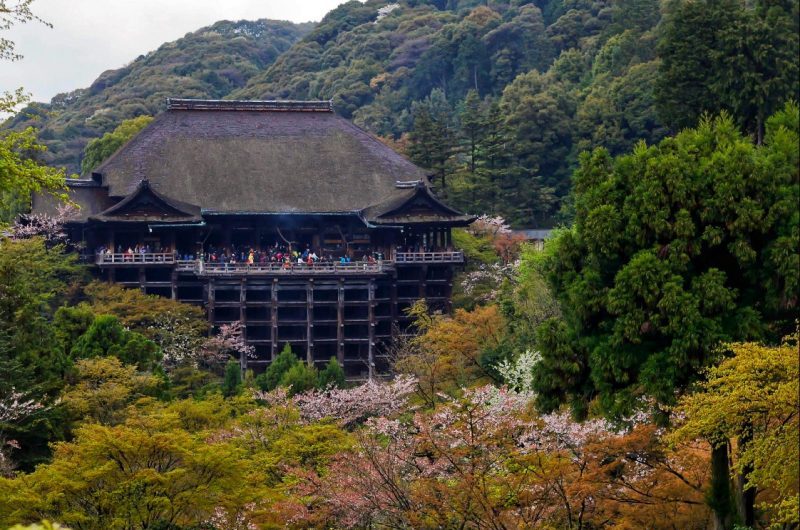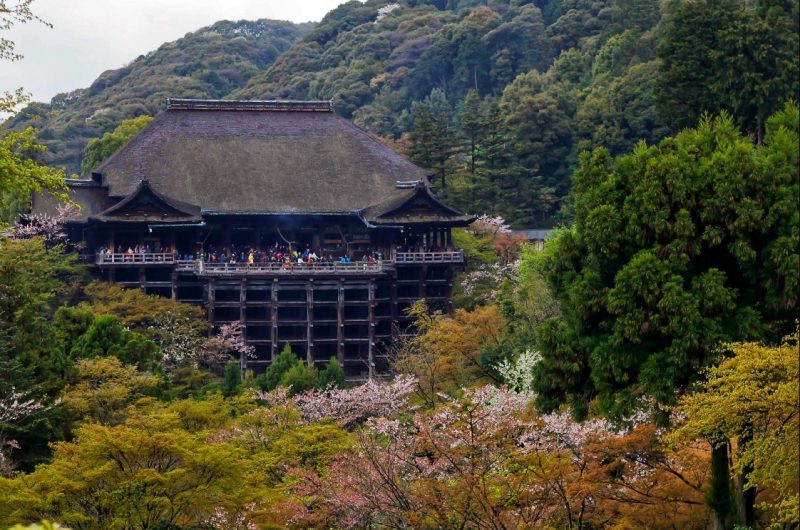 We spent the day 2 on the southern Higashiyama district in Kyoto. To get there from Kyoto station, we bought the one day Kyoto bus pass with unlimited bus ride in Kyoto. The bus is worth it if you planning for more than two bus ride in one day.
Spend your morning to admire the Kiyomizudera, one of the UNESCO World Heritage Site in the world. The most famous part on Kiyomizudera is the Main Hall was built in 139 pillars without using one of the single nail.
From Kiyomizudera, take a stroll to ninenzaka and sannenzaka slope. Various souvenirs, snacks, cafes, and restaurants can be found in this busy shopping street. Continue your walking itinerary to downtown Kawaramachi or Gion area. Spend your afternoon wandering around in this area.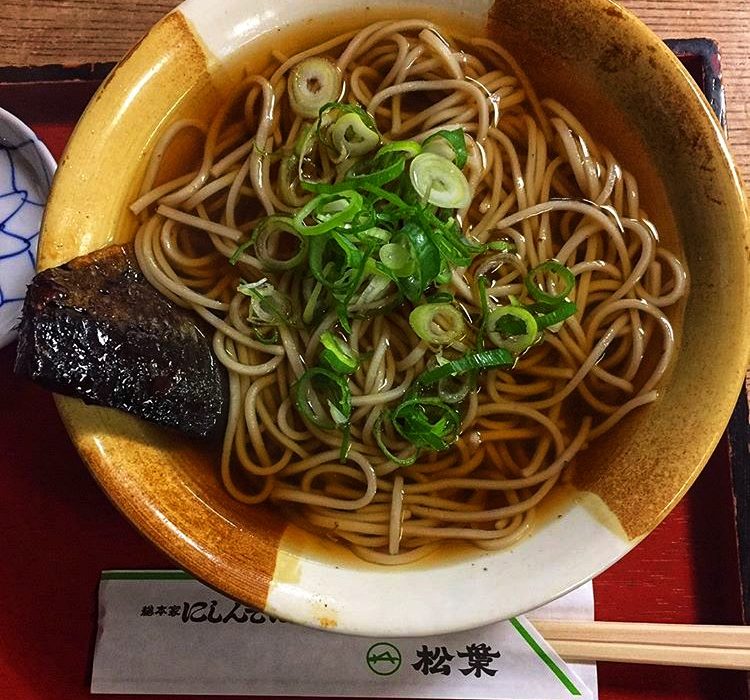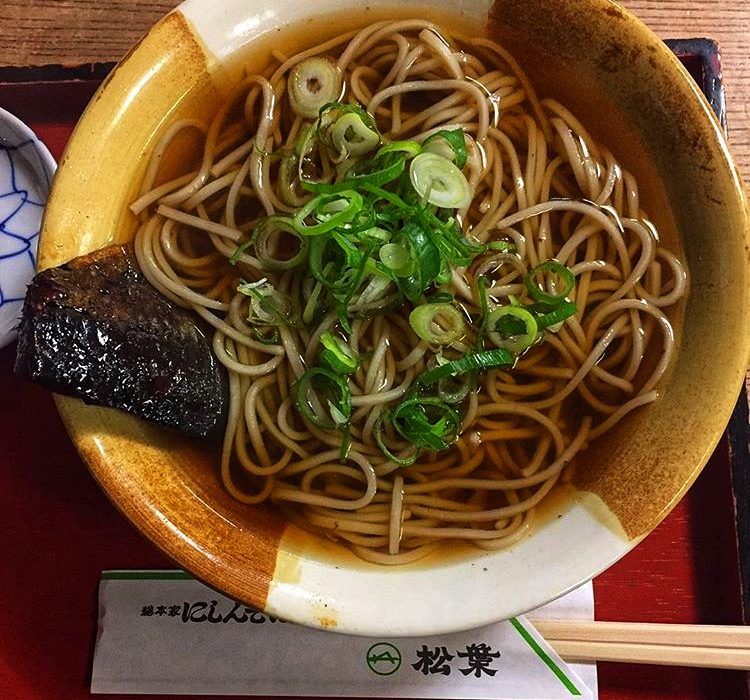 Looking for what to eat in Kyoto? One of Kyoto's specialty cuisine is Nishin soba. It is a local herring fish soba noodle dish with flavored soy sauce broth. The Matsuba Soba is the oldest and most famous Nishin soba restaurant in Kyoto. Else, most of the Kyoto restaurant served this Kyoto local dishes. Next, sample some snack food in the Nishiki market (錦市場).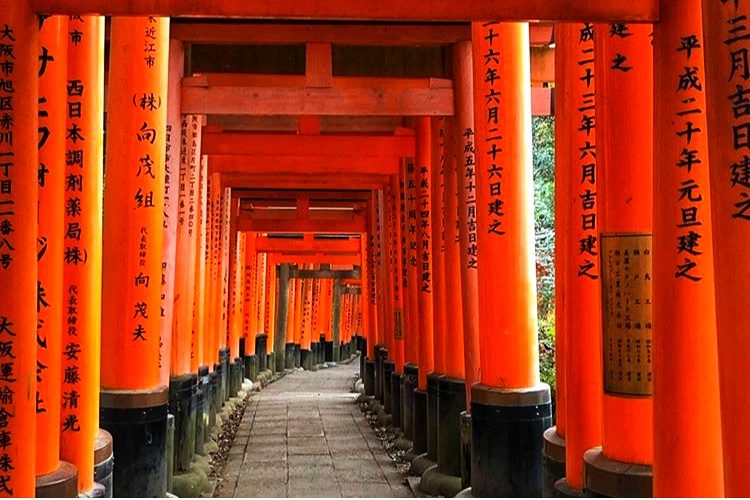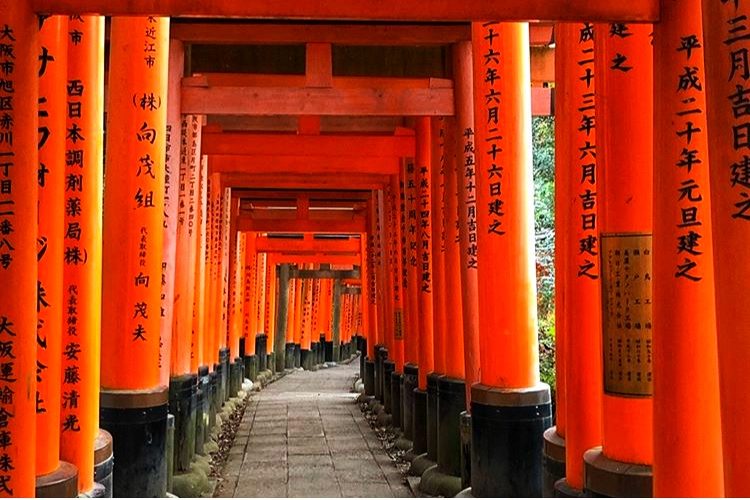 In the evening, we headed to Fushimi Inari Taisha Shrine for their famous Torri gate. We took the bus back to Kyoto station and then take the JR train to Inari. Enjoy the walk under thousand of eye-catching torii with amazing views along the trail.
READ MORE: Visit Fushimi Inari Shrine: A Complete Travel Guide
What to eat in downtown or Gion Kyoto: Nishin soba in Kyoto. The Matsuba Soba is the inventor of this must-eat in Kyoto. It is famous for its handmade soba noodles among locals and visitors.
Day 3: Arashiyama District and Kinkajuji in Western Kyoto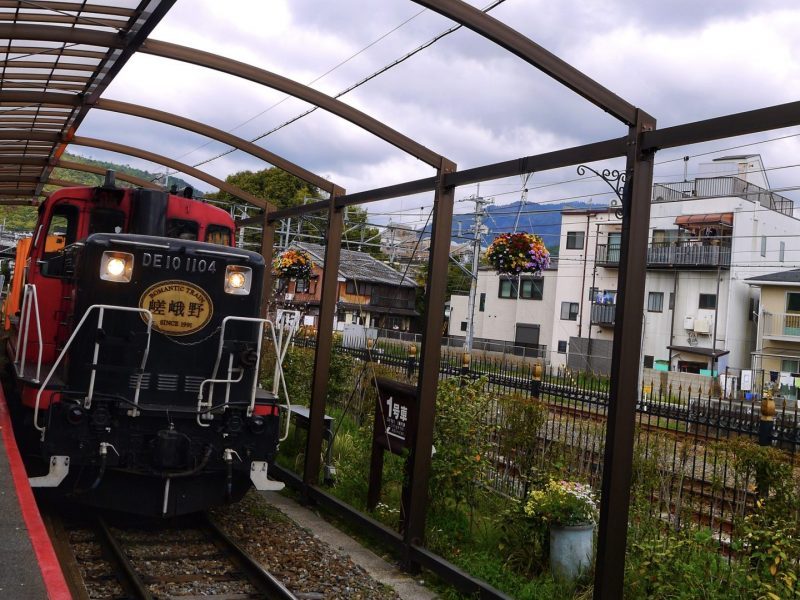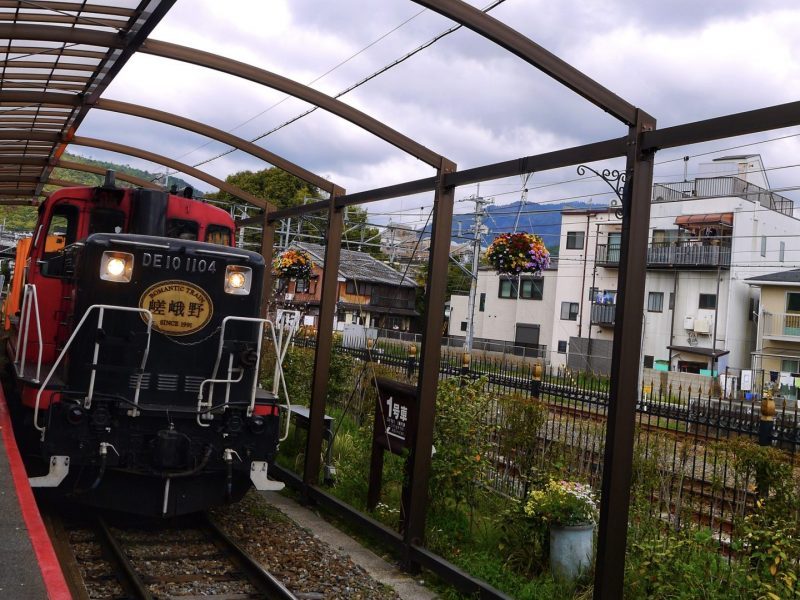 One of the must visit in Kyoto is Arashiyama. Instead of directly headed to Arashiyama by train, we choose to take the Sagano Scenic Railway train from Kameoka to Saga torokko station. The train ride on took about 30 minutes, riding along the Hozugawa River.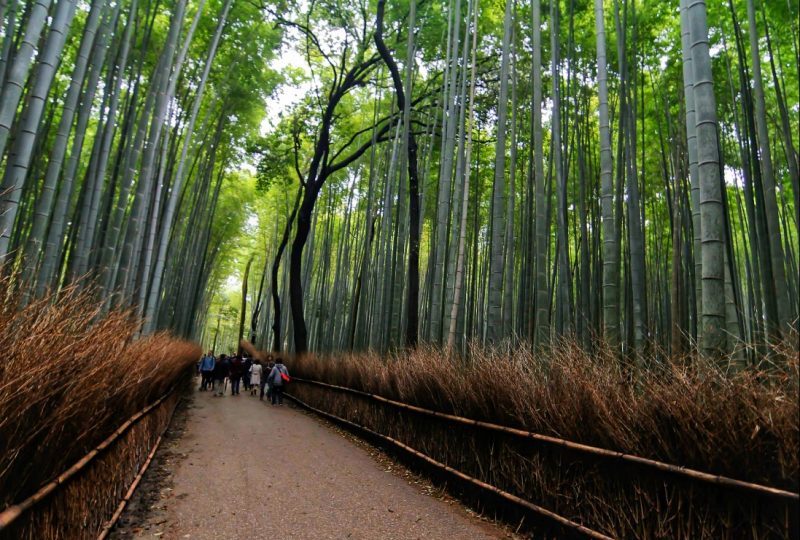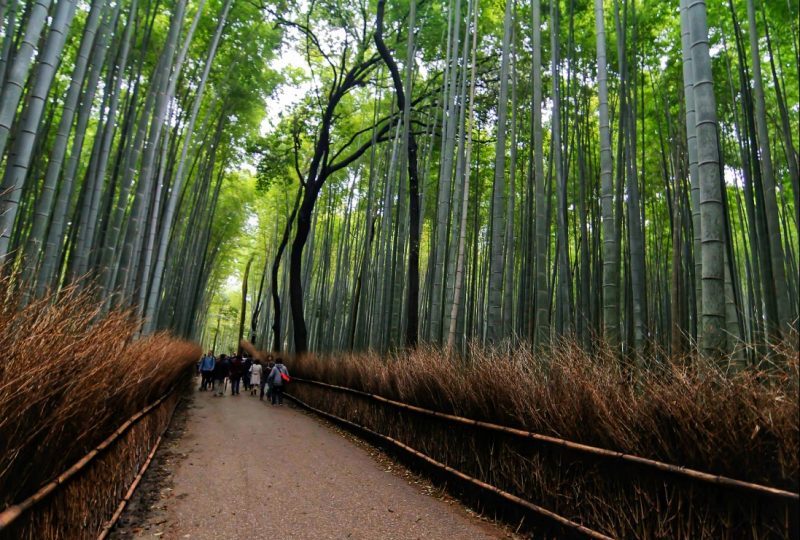 From there, we visited the world-famous Arashiyama bamboo grove, pray at Nonomiya Shrine and enjoy our leisure walk at the Arashiyama shopping street and Togetsu-kyo Bridge. 
Thanks to the clean and quality water. Arashiyama is famous for its tofu dishes. We try the tofu dishes in Tofu Chaya Sagatofu Sanchu. It is a cabin kiosk at the main street of Arashiyama, selling various kinds of tofu dishes. Price is ranging from 300 to 1000 yen depend on what you eat. The best budget place to eat the yodofu in Arashiyama.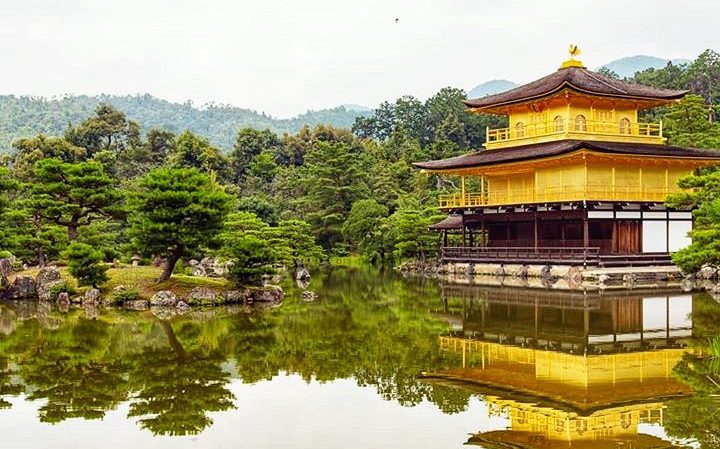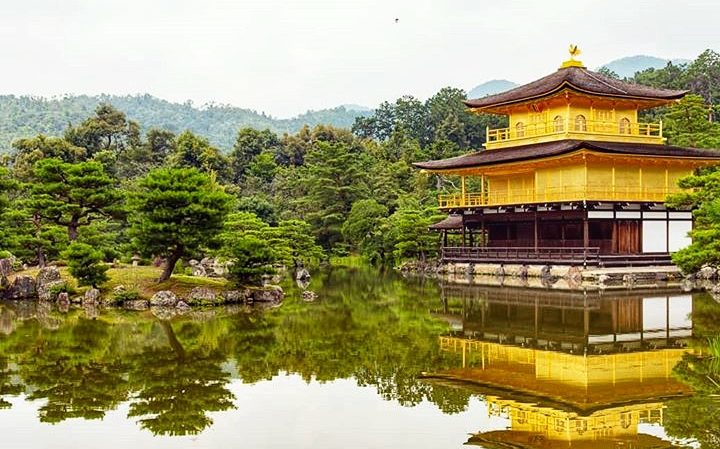 We proceed our 7-Days Kansai itinerary from Arashiyama to Kinkajuji. Firstly, we took the JR train from JR Saga-Arashiyama station to Emmachi station. Next, we transferred to a bus ride (#205) to Kinkakuji.
Kinkakuji is a golden shiny temple, perfectly situated aside the Japanese garden. The reflection of this golden pavilion is one of the most picturesque and stunning views in Kyoto.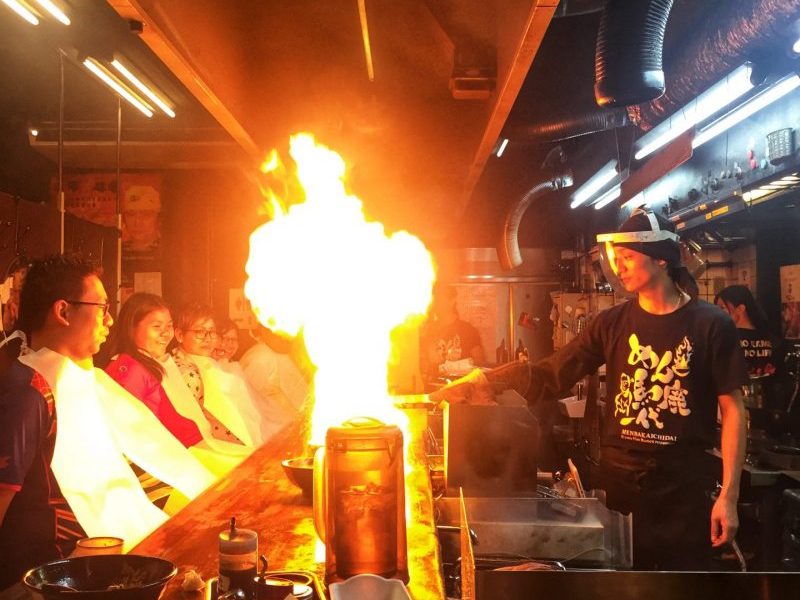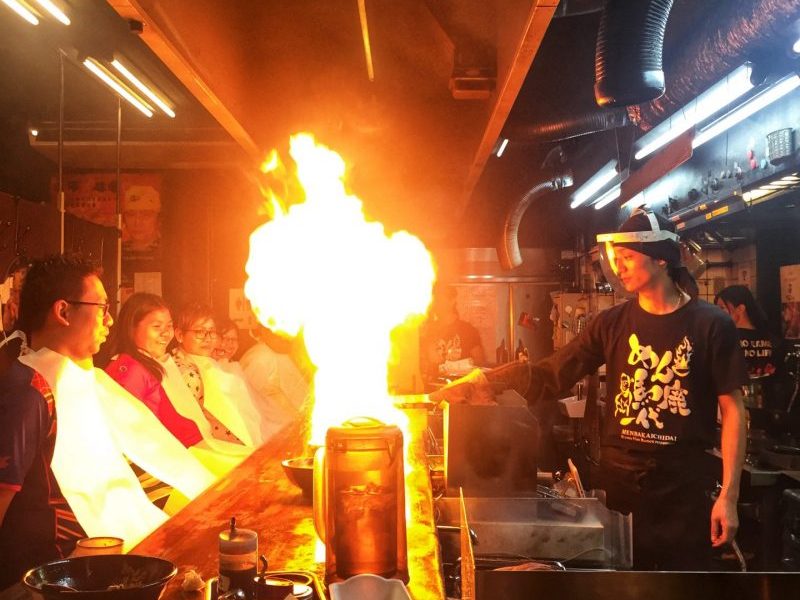 Last but not least, we ended our day 3 in Kyoto with flaming Kyoto fire ramen in Menbakaichibai. It is an extraordinary culinary experience where your bowl of flaming ramen is burnt right in front of you. A must try food in Kyoto.
Day 4: Day Trip To Nara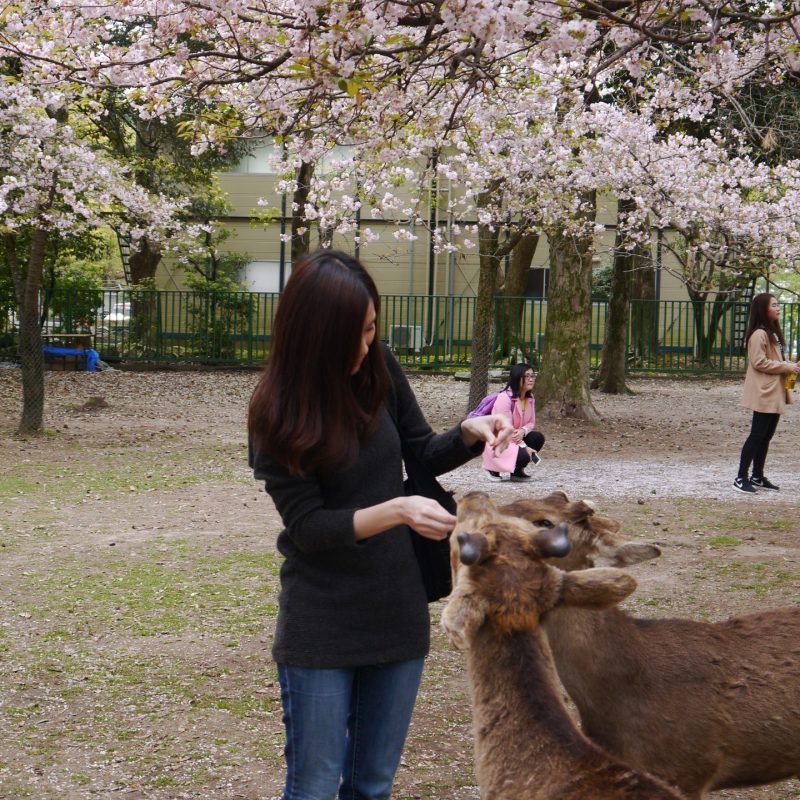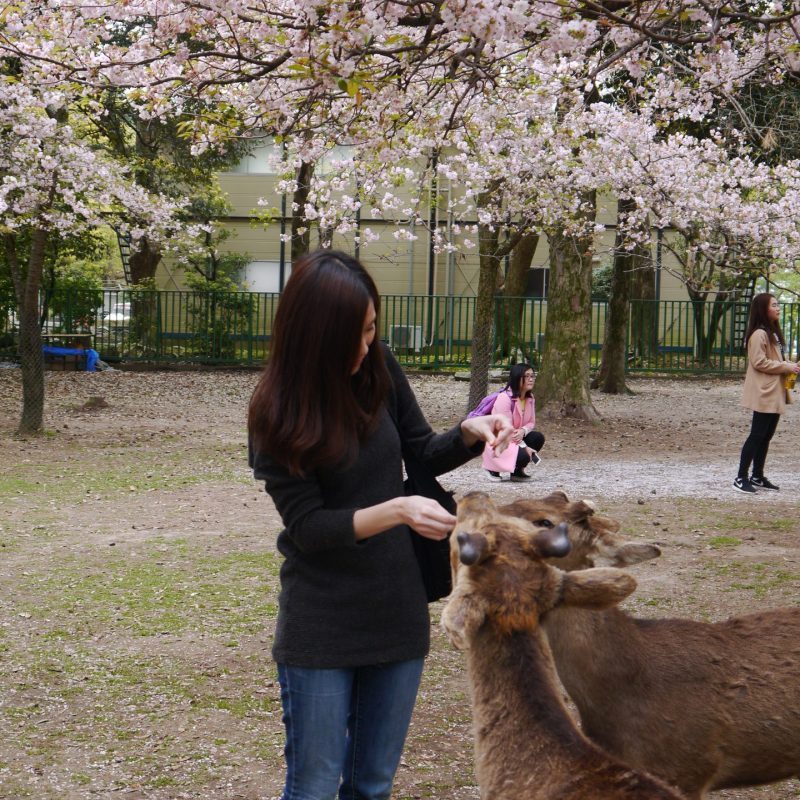 Nara is located between Kyoto and Osaka. It is best to visit Nara with one day trip from either of the cities. We choose to departed from Kintetsu Kyoto Station and arriving at Kintetsu Nara Station. Compare with JR Nara station, this station is closer to most of the attractions in Nara.
The 1-Day Nara itinerary can be done on foot. We welcomed by free-roaming deer in Nara Park. Enjoy your animal encounter by feeding deer with rice cracker, called Shika Sembei from the licensed street vendors.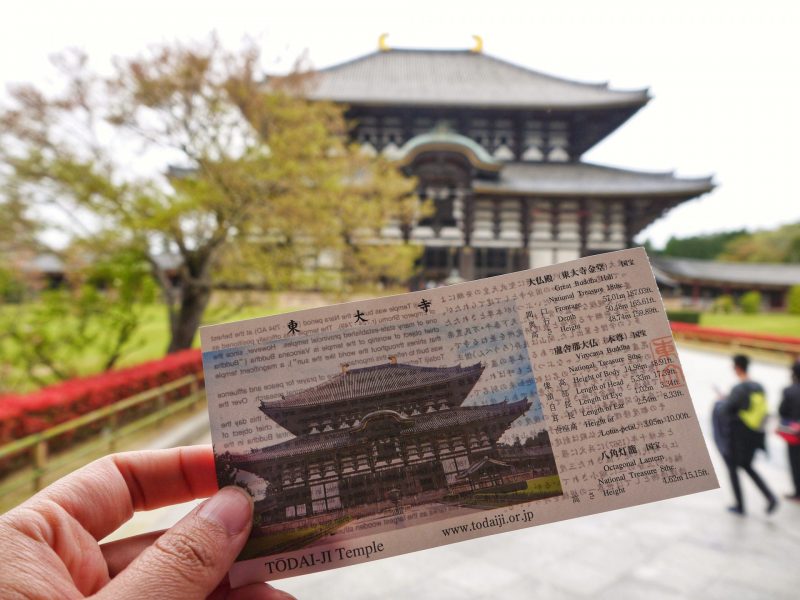 There are many UNESCO Historic Monuments in Nara. We recommended visited one or two historical attraction among them. We visited the Kasuga Grand Shrine (Kasuga-Taisha) and Todaiji Temple.
The Todaiji Temple is one of the must-visit attractions in Nara. It is house of the Japan's largest bronze Buddha statue and the world's largest wooden structure.
What to eat in Nara: Kamameshi (釜飯), literally "kettle rice" is one of the popular local cuisine in Nara. Shizuka Kouen-ten served the best Kamameshi in Nara.
Day 5: Half Day to Uji. From Kyoto To Osaka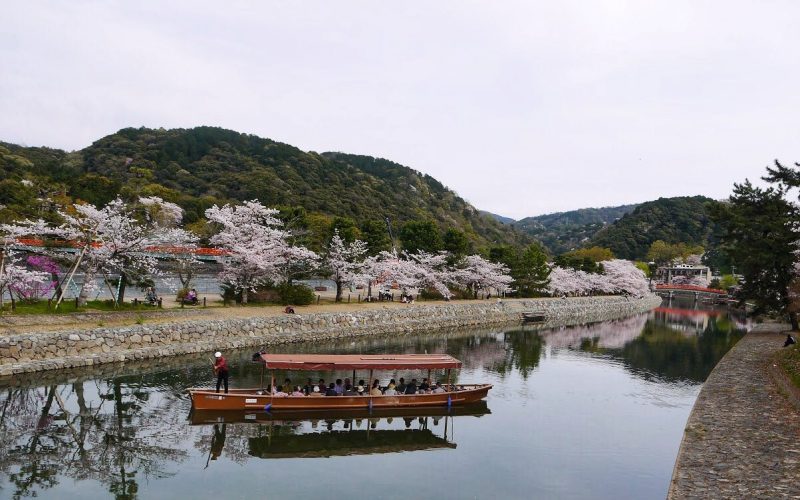 Uji is part of our 7 days Kansai itinerary. We spend half-day in Uji before heading to Osaka. We did not plan on any must-do list in Uji.
In the morning, we took the JR train to Uji. We spend our time wandering around the Byondo Street and walked along the Uji River. It is a great place to see the rural side of southern Kyoto Prefecture with locality surrounded.
In the late afternoon, we back to Kyoto and proceed with our 7-Day Kansai itinerary to Osaka.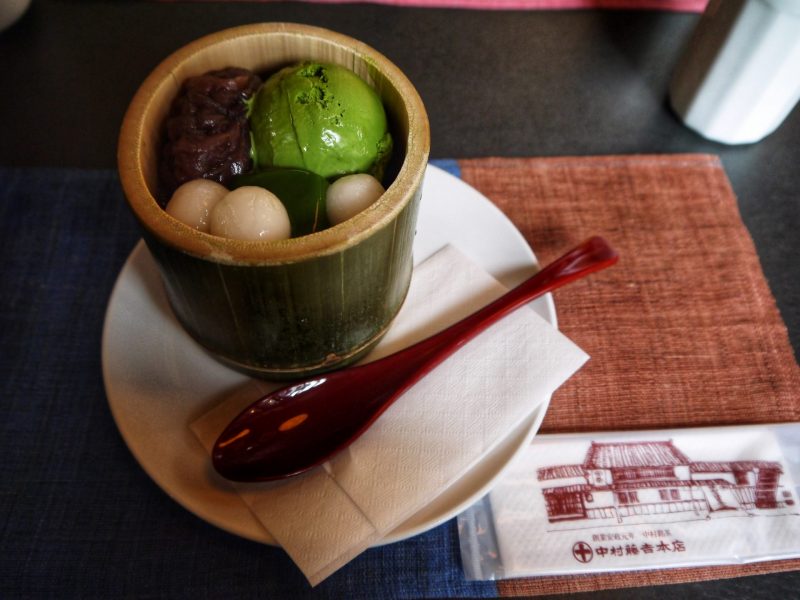 What to eat in Uji: Uji is famous for its top-notch quality of green tea. We ate the famous green tea dessert in Nakamura Tokichi Honten. It is so delicious and rich in green tea fragrance. Matcha lover don't miss it!
Day 6 and Day 7: Osaka
When you arrive in Osaka, you will know that it's time to experience the modern life in Japan. Osaka is a lovely city to wandering around. There are many things to do in Osaka for 1 day or 2 days.
For first time visitors to Osaka and plan to visit many attractions, we recommended you to get the Osaka Amazing Pass. This pass is offering free entry to up to 30 must-visit attractions in Osaka. It also offered discounted to certain shops and restaurants in Osaka.
The Osaka Amazing Pass is easily redeemed in Kansai International Airport or Namba Station. We fully utilize this Osaka Amazing Pass during our 2 days in Osaka. This pass also includes unlimited ride on all the subway within Osaka. We have documented our Osaka travel post in Things To Do With Osaka Amazing Pass for 1 day or 2 days.
Below are the top three must visit places in Osaka that you hardly can miss when visiting.
Osaka Castle (Osakajo)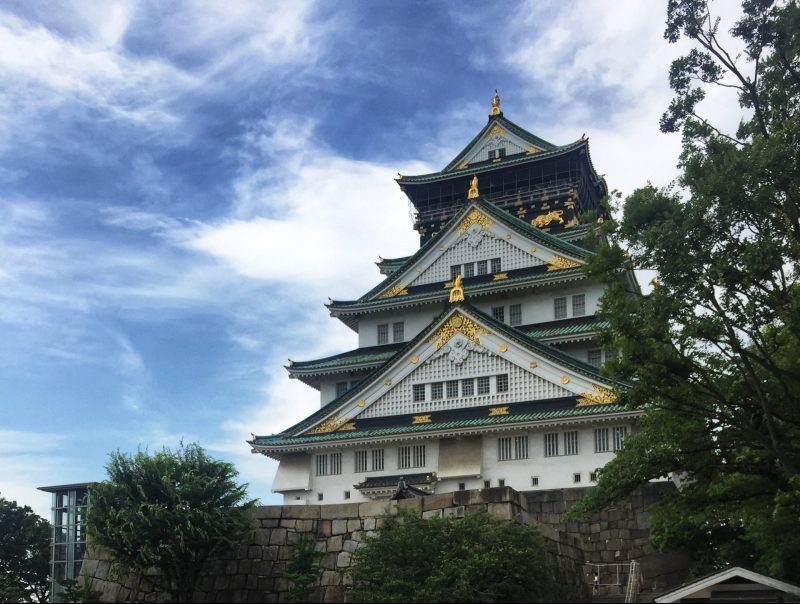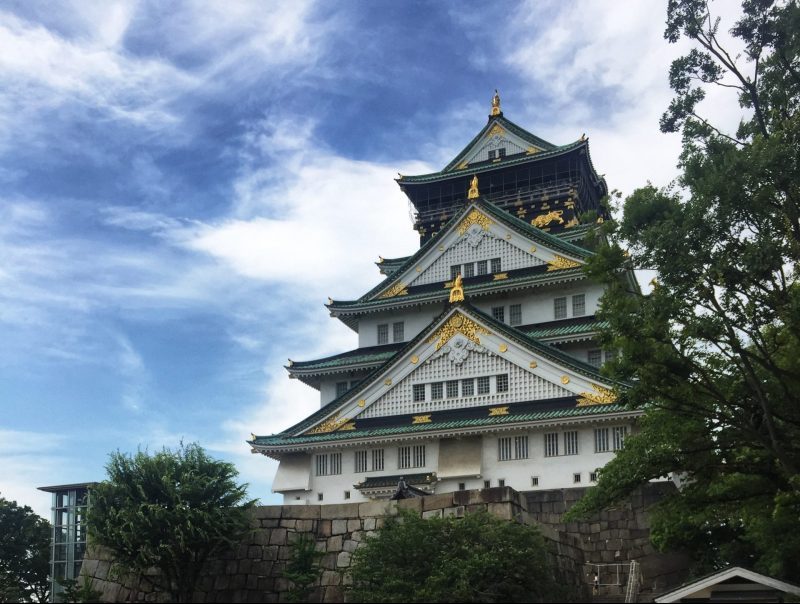 One of the must-visit in Osaka. Osaka Castle is the most recognized landmark of Osaka. This historical castle was build since the 16th century.
The castle has been destroyed in the past. But it was rebuilt to its original and reconstructed to new glamour. You can go to the highest 8th floor to view on the moat from the top. Alternatively, take the education visit on the exhibition on the castle.
Shinsekai And Tsutenkaku Tower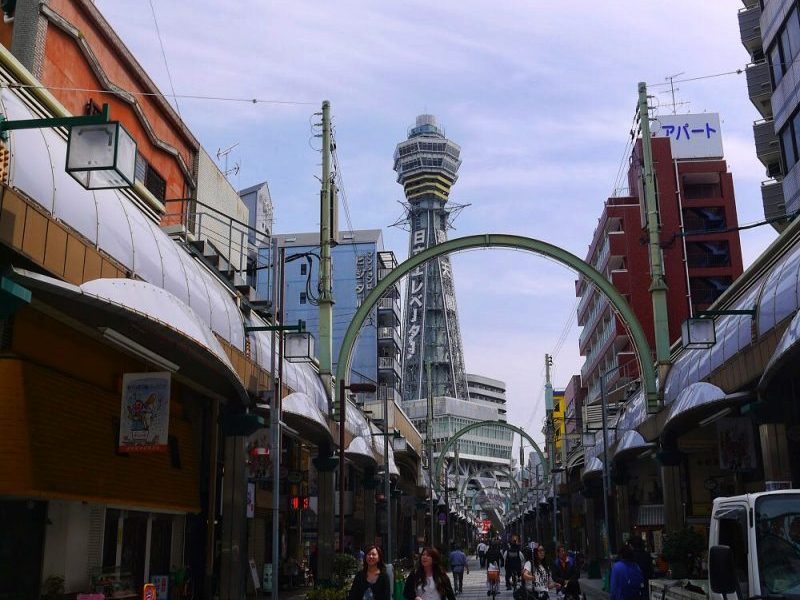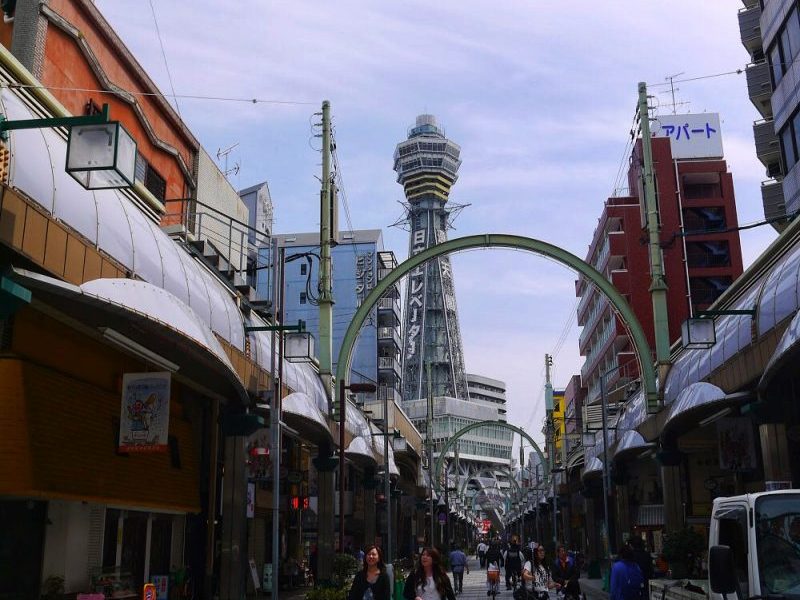 Shinseikai is one of the old neighborhood in Osaka. This place was once the entertainment district in Edo period. But it was neglected and abandoned for the past. Now Shinseikai is famous for nostalgic and vintage things in Osaka. People came to visit Shinseikai for its uniqueness in old Japan time.
You can opted to Tsutenkaku Tower for the top view on Shinseikai from above. Alternative, heading to one of the restaurants for the famous Kushikatsu. It is one of Osaka specialties with deep-fried skewers of seafood, meats, and vegetables.
Umeda Sky Building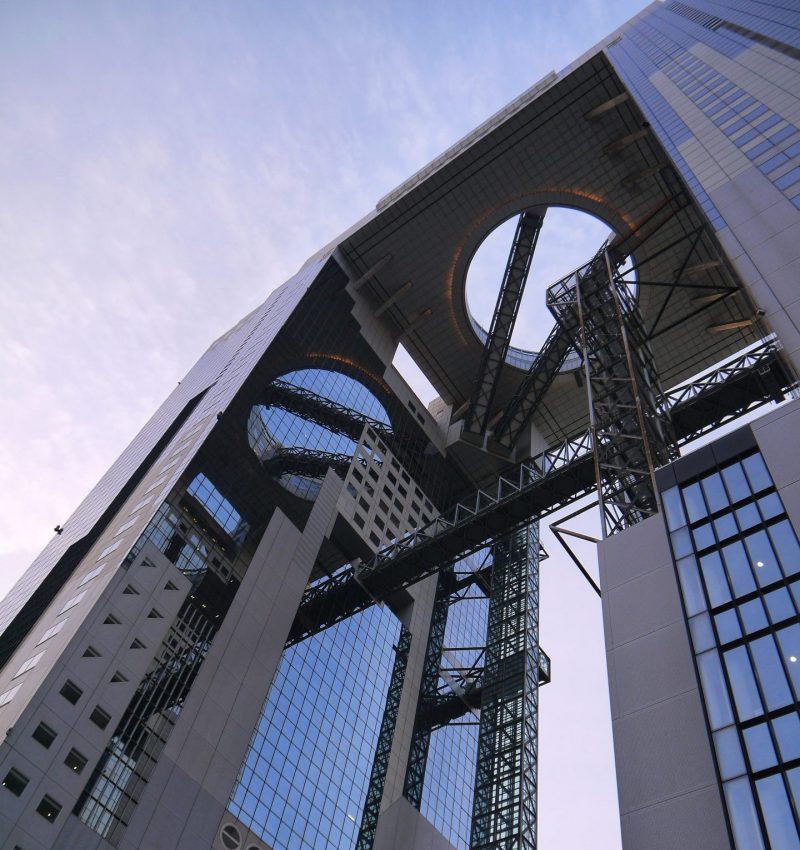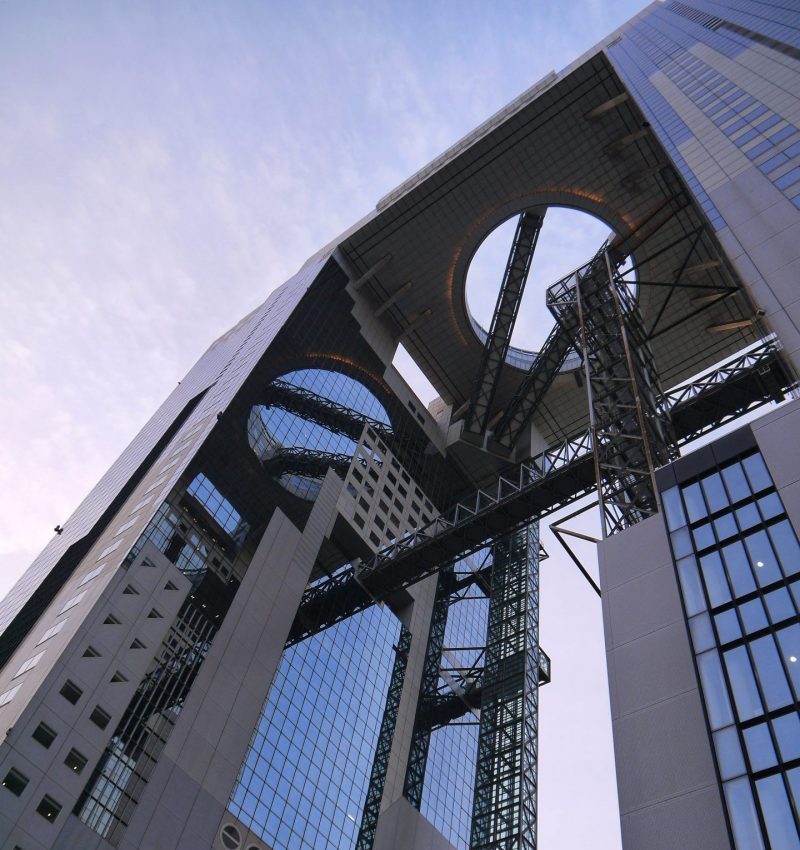 An engineering marvel which consists of two tower with "Floating Garden Observatory" on the 39th floor. Unlike the traditional best viewing point in the city. You are heading to the highest flower by high-speed escalator connected between two towers. The best place for night view in Osaka.
Osaka Aquarium Kaiyukan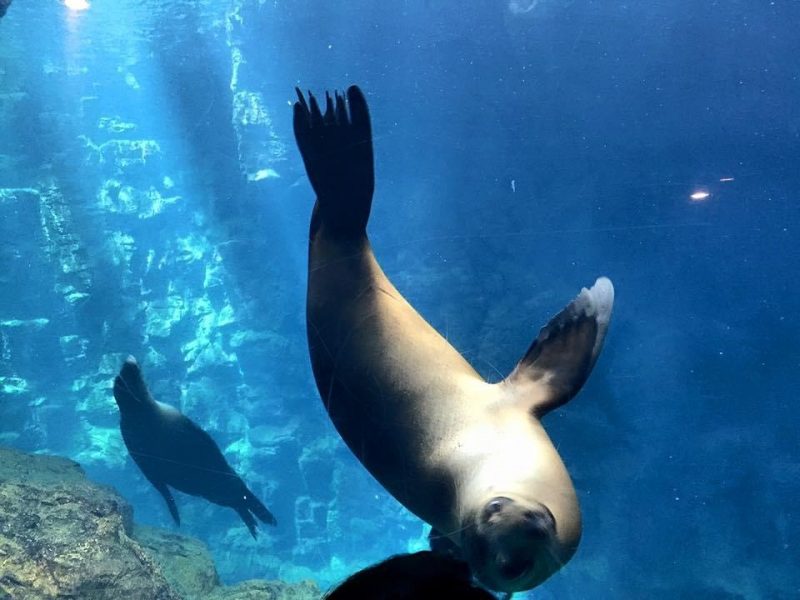 Osaka Aquarium Kaiyukan was an amazing experience and would recommend this to anyone who loves sea creatures. It is amazing to see the sea life inside the aquarium and many exhibits from sea lions and seals, to dolphins, saltwater and freshwater fish, otters, crabs, jellyfish, and two magnificent whale sharks.
Travel Tips:
Visit
Osaka Aquarium Kaiyukan
, one of the world's largest aquariums, with over 600 species of animals and witness aquatic animals of the Pacific Rim in the recreation of their habitats. Skip the ticket queue with Klook voucher!
More Times in Kansai Itinerary
As we only have limited time during our Kansai itinerary, there are also some other attractions and activities that you can include on your trip based on your interest. Here is some recommendation:
Universal Studios Japan (USJ) – Experience the thrill of the world at Universal Studios Japan in Osaka. It is Japan's best theme park for four years in a row! Must-visit the Harry Potter world and the Mario Adventureland. Check for more detail!
Universal Studios Japan (USJ) with 1, 1.5 and 2-day Studio Pass
Pro Tip: Book your tickets in advance with Klook to avoid long queues on the day.
Where To Stay: Best Places and Hotels
We understand the pain on keep changing on accommodation during travel. As you can see from our 7 days Kansai itinerary. We try to minimize our stay even we visited many unique places in Kansai. That is to say, we only stay in two places for 7 days in Kansai. So, this is very important to decide on where to stay in Kyoto and Osaka.
Where to Stay in Kyoto: The Best Hotels and Areas To Stay
Where to stay in Osaka: Namba or Umeda?
There are lots of accommodation in Osaka with all type of price range. For sure that is one that suits your budget and requirement. However, we highly recommended that you stay in the Namba area. It is conveniently located nearby most of the attractions with transportation accessible. The best place to stay in Osaka for getting around.
Umeda, Osaka's commercial district and the largest transportation hub in the city. A great option for those with JR Pass. (Hotel Monterey Le Frere Osaka)
Namba and its surrounding areas such as Dotonbori, Nippombashi, and Shinsaibashi. Best place to enjoy Osaka's vibe. (Cross Hotel Osaka)
What To Eat: Kyoto and Osaka Food Guide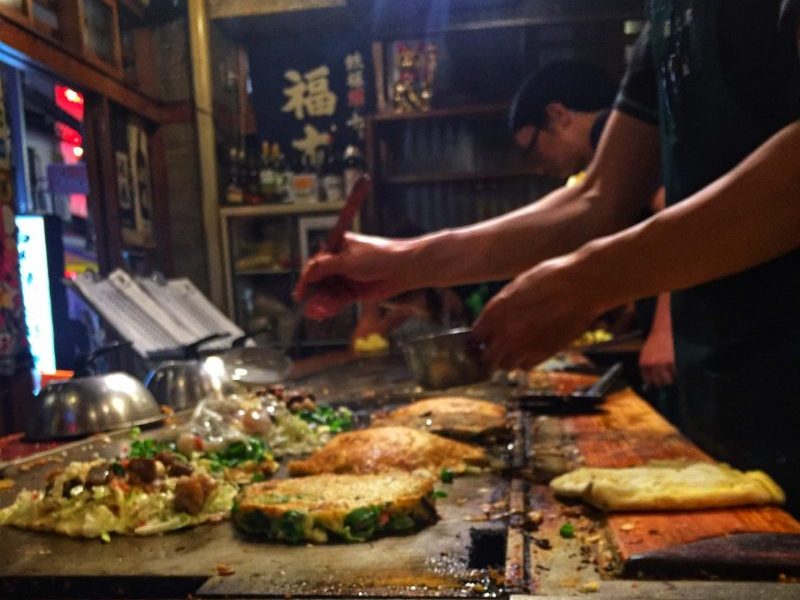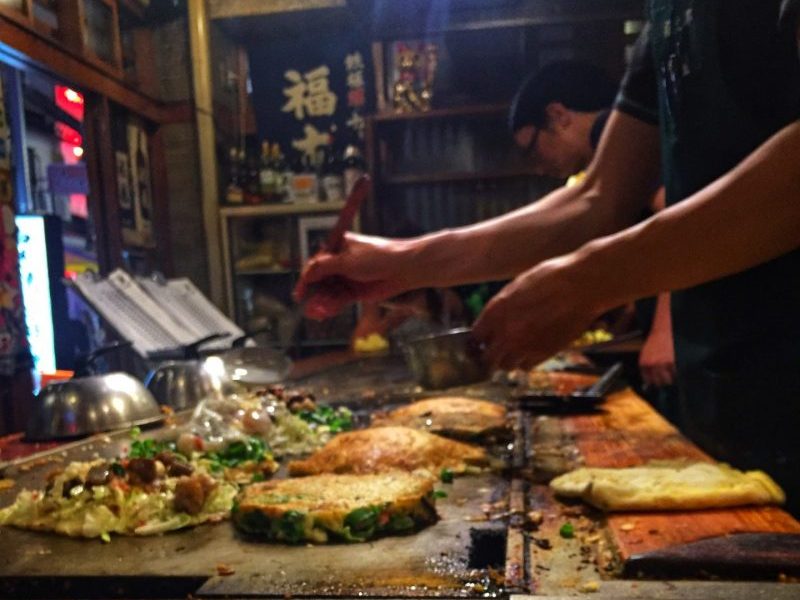 There are many local specialties and must try when planning on 7 days Kansai itinerary. Osaka is the place where the takoyaki, okonomiyaki, and Kushikatsu was the origin. Don't miss the chance to taste it at a famous restaurant in Osaka.
Read on our food hunting tour in Osaka and Kyoto. 
Kyoto Food Blog:
Osaka Food Blog:
A Perfect Guide For 7 Days Kansai Itinerary: Kyoto, Osaka, Nara, Uji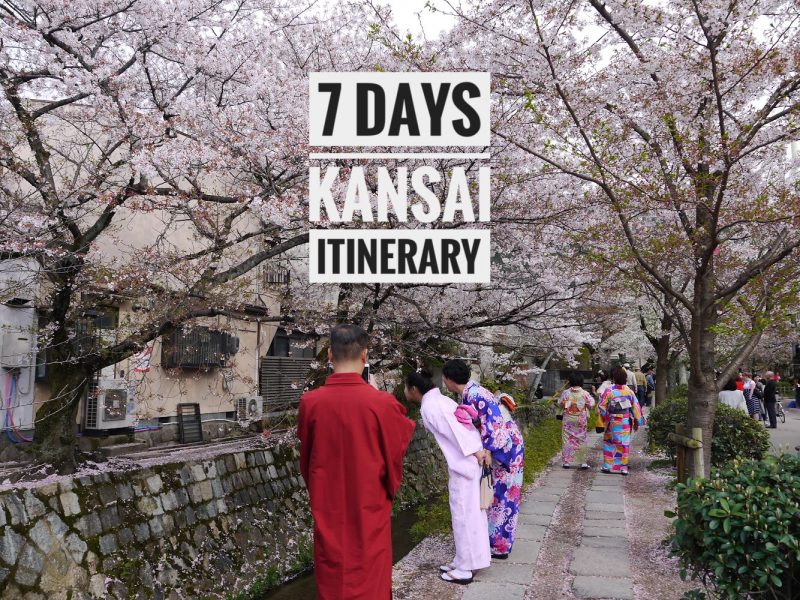 Hopefully my 7 days Kansai itinerary can give you some inspiration when planning on your trip to Kyoto, Osaka, Nara, and Uji. There are more places to visit in the Kansai region such as Kobe, Himeji, and Wakayama. Unfortunately, we did not have much time for this trip. But for sure, we will come back here. Added, you can even extend your trip to Aichi Prefecture if you have 10 days or 14 days for your Kansai trip. For first-time visitors, we recommended you focus on Kyoto and Osaka.
Here are the summary of My 7 Days Kansai Itinerary:
Day 1: Arrive Kansai and heading to Kyoto. Half-day on sakura viewing in Kyoto
Day 2: Southern Higashiyama District in Kyoto (Kiyomizudera, Fushimi Inari Taisha Shrine)
Day 3: Arashiyama (Sagano Scenic Train, bamboo grove, Nonomiya Shrine) and Kinkajuji
Day 4: Day trip to Nara
Day 5: Half day to Uji. From Kyoto to Osaka
Day 6 and Day 7: Osaka (Osaka Castle, Shinsekai And Tsutenkaku Tower, Umeda Sky Building, and more).
Lastly, Goodbye to Kansai.
Japan is truly an addicted country and for sure you will come back for the second or third time. Please plan the Kansai itinerary and explore the uniqueness of leisure. Spend time to eat and try Japan's best food. Your memory of Kansai will last forever.
Lastly, enjoy your trip to Kyoto, Osaka, Nara, and Uji! Our Complete Japan Kansai Travel Guide can be found here.
Osaka itinerary: Things To Do With Osaka Amazing Pass for 1 day or 2 days
Kyoto itinerary: 15 Things To Do and Eat for 3 Days in Kyoto
Best Day trip from Kyoto or Osaka