Last updated on December 11th, 2023
Read on my Shirakawago itinerary to the well preserved World UNESCO Heritage site in Japan. A walk into magnificently Japan village for its historical, unique Gassho style house, naturals, and people.
Shirakawa-go (白川郷, Shirakawagō) is one of my favorite trips in my Chubu travel journey. It is a unique and cultural Japanese village in the forested mountain countryside. Many visitors are coming to Shirakawago to appreciate their ancient gassho-style house and breathtaking view. It is a beautiful village and a great place to explore. Moreover, we were so lucky that we were able to join the Shirakawago Doburoku Matsuri Festival during our visit. And this makes our trip so special and memorable.
This Shirakawago travel blog will cover on One-day Shirakawago itinerary for what to do and eat in Shirakawago. We will also share how we joined the locals to celebrate the Shirakawago Doburoku Festival. Read on if you are interested to know about this beautiful village and festival.
Getting To Shirakawago From Takayama
From Takayama, the Nohi bus (濃飛巴士) is the only way to get to Takayama by public transport. It runs between Takayama, Shirakawa-go, and Kanazawa with 1 to 2 buses per hour. Some people even plan for three to four hours of stop-over if three to four hours when getting to Takayama from Kanazawa of Toyama.
Most bus rides required reservations through the Nouhi website. And the tickets are available one month ahead of the actual ride date. We strongly suggest for early booking to secure your seat. Some of the time slots were fully booked during our visit day. There is some open seating available but very limited.
Nouhi Bus time schedule and reservation: Click here
For a hassle-free visit, consider taking Shirakawa Day Tour from Klook
Visit Shirakawa Village, a UNESCO world heritage site
Explore Takayama, a city buried in the mountainous Hida region
Before our trip, we booked the Nohi bus ticket to depart from Takayama to Shirakwago. We exchanged for the actual bus ticket once we arrived by JR train. The bus center is located just beside the JR Takayama station. It is also conveniently located just opposite my hotel stay at Takayama Country Hotel. Boarding was smooth and the bus departed on time. The bus journey from Takayama to Shirakawago is a pleasant ride with lovely views along the bus ride.
Where To Stay
Shirakawago is doable with a day trip from Takayama. But it would be great for staying overnight in the village if you are enjoying the countryside. Unfortunately, there are not many accommodation options.
Here are some of the accommodation options for staying in Shirakawago:
CURIO Shirakawago is a newly open accommodation in the village. The location is superb and just a step from the Shirakawago heritage site.
Onyado Yuinosho is traditional ryokan with modern facilities. Featuring mountain views, and guests canenjoy access to a sauna and a hot spring bath.
Shirakawago Guest House Kei is the budget option. It has a dormitory room, private double, and quadruple Japanese room for your best stay in Shirakawago.
Friendly reminder: Be sure to reserve in advance as limited rooms are available.
1 Day Shirakawago itinerary
When visiting Shirakawago, you will be astounded by the amazing natural landscape, the friendly locals, and the unique Gassho-zukuri farmhouses around the small town. Shirawawago is a pretty small town, and one can finish walking through the town easily within 1 to 2 hours. But there are still many interesting activities can be planned for your half-day visit on your Shirakawago itinerary. Let's check it out!
1 day Shirakawago itinerary:
Vantage view of Shirakawago Village
Wandering around in Shirakawago Village
Visit signature Gassho-zukuri Farmhouse
Have a scenic view at Deai-Bashi Bridge
Eat the Shiragawago Local Dishes
Seasonal: Join the Doburoku Matsuri Festival (Fall) or Witness the Winter Light-Up (Special Event)
Vantage View of Shirakawago Village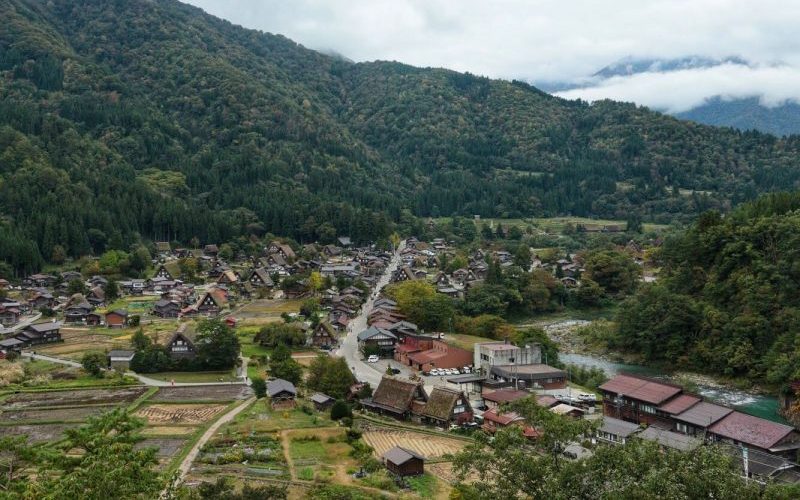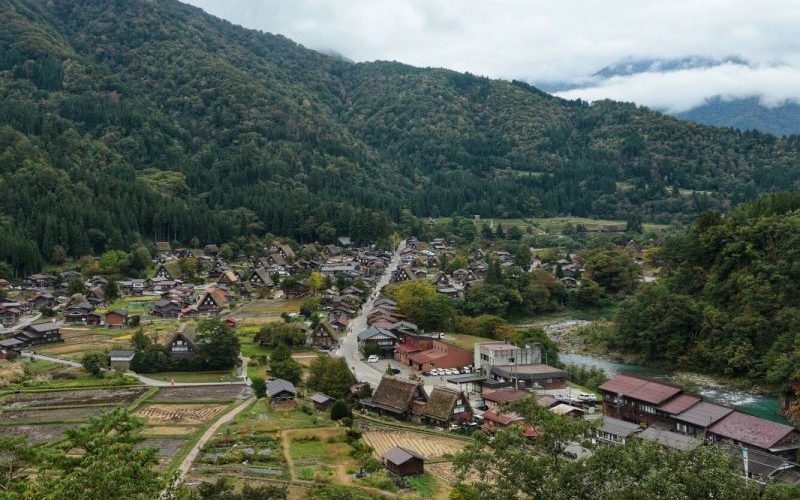 We reached Shirakawago bus station after about one hour of the bus ride. The bus station was located in the middle of the village. Once arrived, we first proceeded to Shiroyama Viewpoint for a vantage view of the Shirakawa-go village. It was located uphill and nearby the Bus Terminal. Getting there by foot will take about 10 to 20 minutes. You can also take a small shuttle bus which cost 200 yen for one way.
We decided to take a leisure walk to the Shiroyama Viewpoint. Turn right after the bus station and follow the clear sight. It was an easy trek with a mild slope up to the hill.
Shiroyama Viewpoint is the best place to capture the beautiful view of Shirakawa village with its surrounding mountains. We were so lucky as there were not many people in the early morning. It can be crowded when the tour bus comes in the late morning.
Wandering Around in Shirakawago Village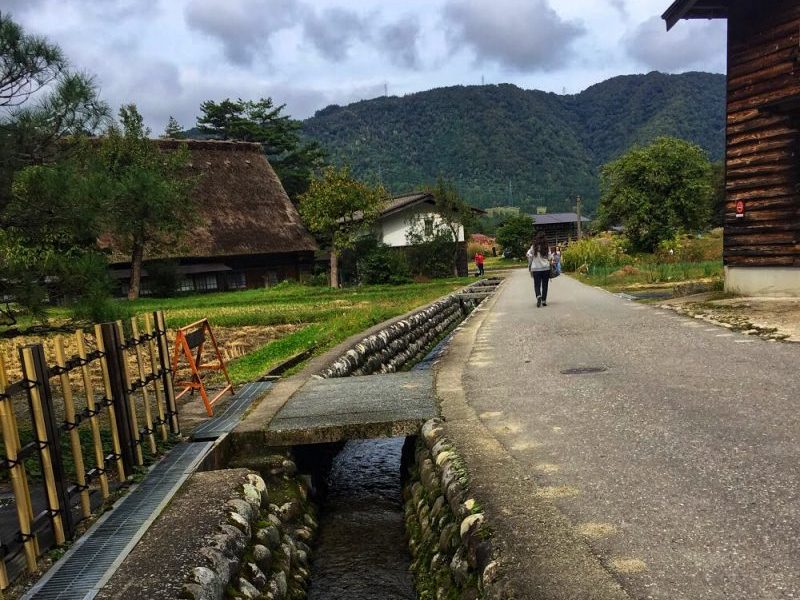 After some nice photos, we slowly took our way back to the magnificent village. The walk back down into the village will take you past many Gassho houses and a chance to see up close. Remember don't enter the private property as most of the houses are still lived by the villager.
There were not many visitors yet in the morning. We spend our time wandering around the village and took some scenic view photos.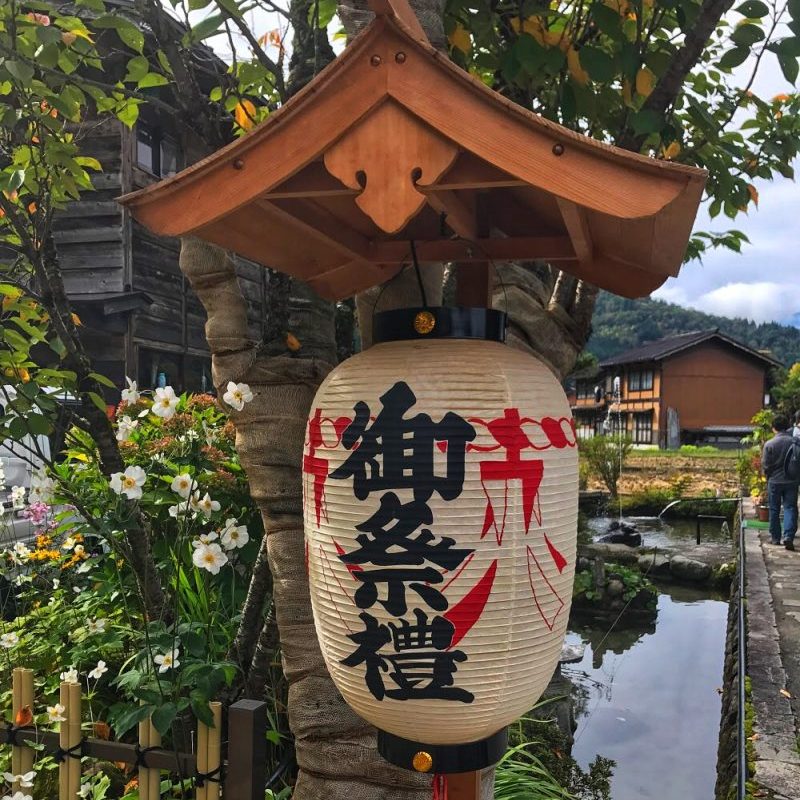 Some of the Gassho-zukuri houses were beautifully decorated with traditional festival lanterns. It was so scenic, peaceful, and fascinating.
Signature Gassho-zukuri Farmhouse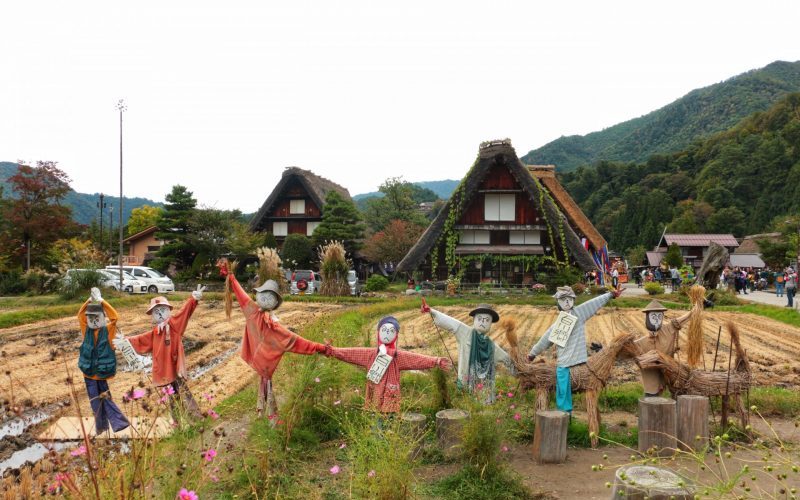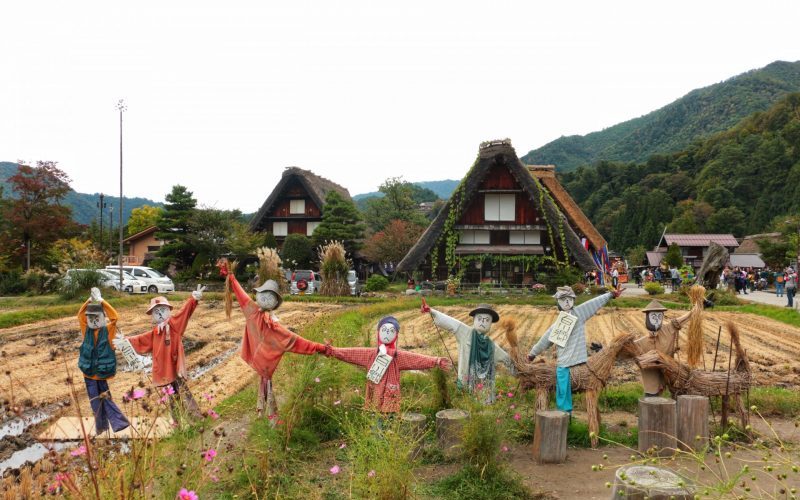 The Gassho-zukuri Houses is a unique praying hand design with a steep slanting thatched roof system. It can withstand large amounts of heavy snowfall even without a single use of a nail. Some of the houses are more than 250 years old and still well preserved since their establishment. One of the most important sites in Japan is listed as a UNESCO Heritage site.
The most signature Gassho style house is located at the center of the village. Three houses are open to the public for viewing with a nominal fee. We recommended checking out the Wada house or Kanda house. However, it was closed for the festival celebration.
There were also some museums if you want to know more about their history and culture.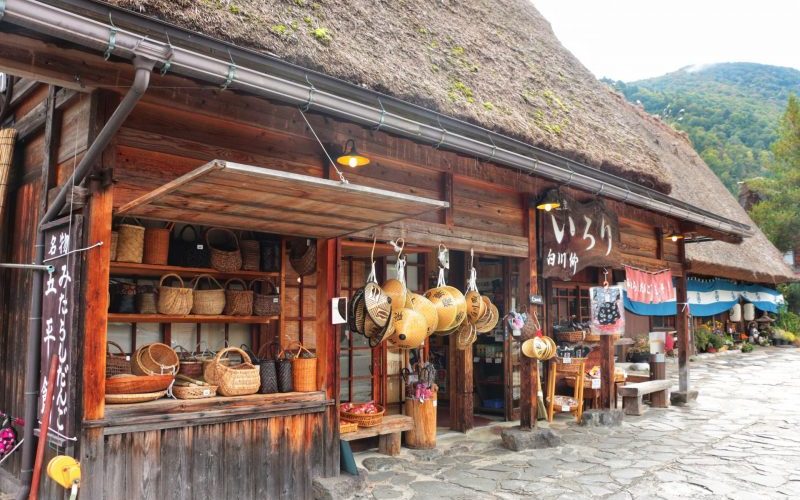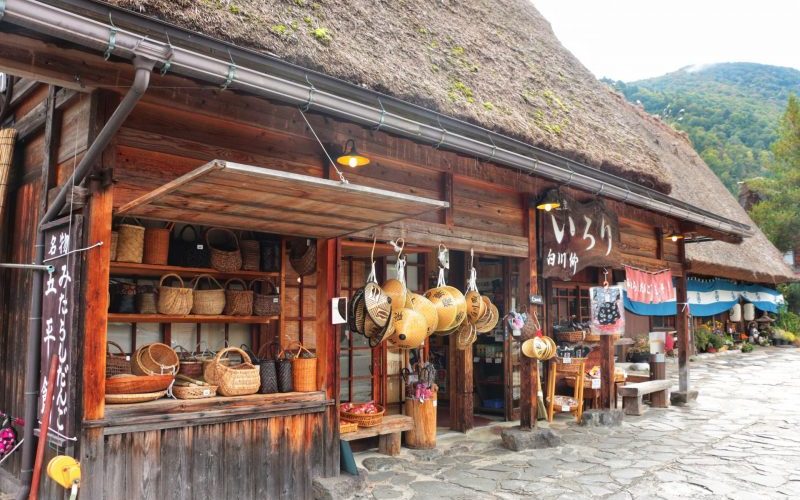 Besides, you can also buy some souvenirs and local products at Shirakawa Kaido Street.
Scenic View at Deai-Bashi Bridge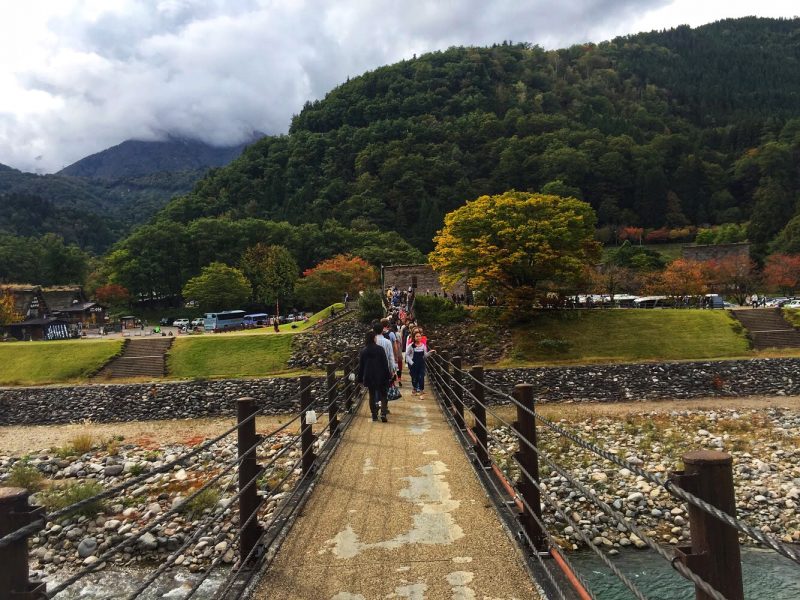 Continue the walk through the village and enjoy a peaceful village without the crowd. We next walked to the Deai-Bashi bridge for its scenic view. It is also connected to the car parking lot if you are self-driving to Shirakawago. Buses and cars are parked at the car park there.
You can enjoy the lovely walk across the bride or take some photos on the suspension bridge. It featured a stunning view of greenery mountains and a flowing river.
However, please take note it can be slippery during the rainy and wintertime.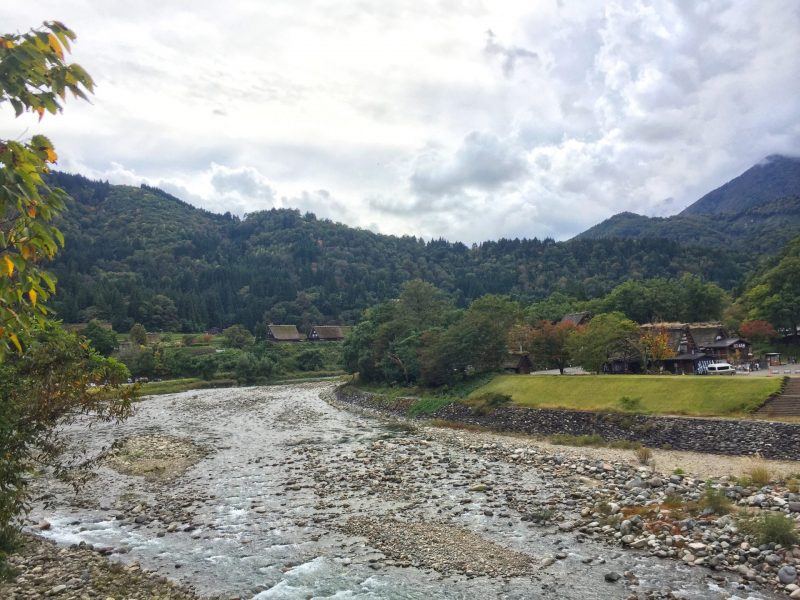 Enjoy the beautiful scenery in Shirakawa-go with flowing water and fresh air in a quaint village. It can be very breathtaking during autumn foliage or cherry blossom.
Eat the Shiragawago Local Dishes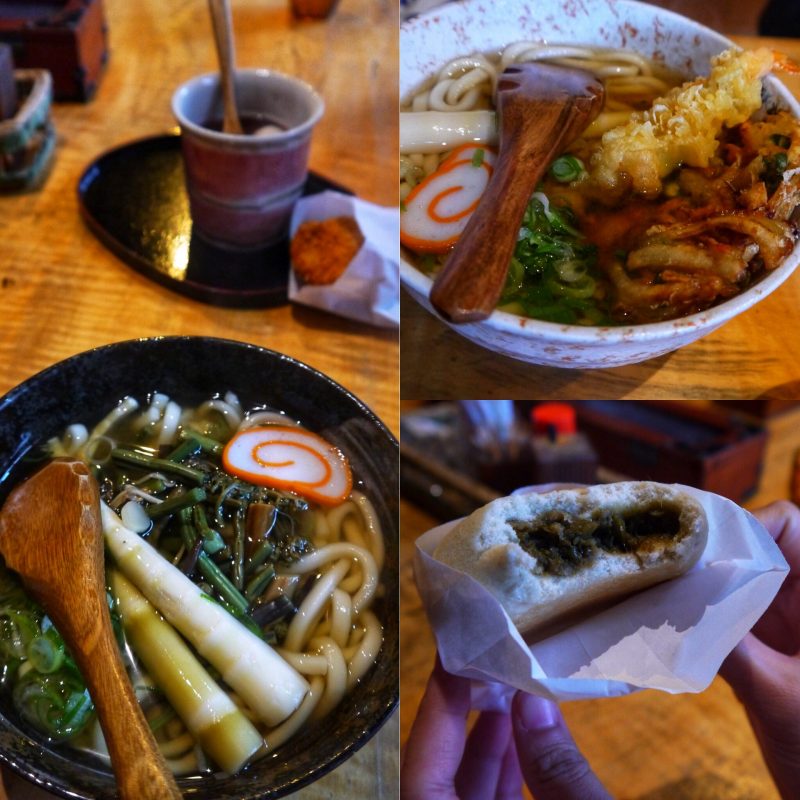 There were plenty of small snack stations and cafes to try local dishes if you are looking for what to eat in Shirawago. Again, mostly were close due to the festival celebration. Luckily we were able to find one of the soba restaurants located at the center of Shirakawa Ogi-machi.
The Hidaji Restaurant (飛騨路) served handmade udon and soba with fresh ingredients such as vegetables and tempura. We also ordered the beef croquette and red bean soup for a complete meal. A simple but heart warmed meal at Hidaji restaurant.
We have some rest before continuing our Shirakawago itinerary. Next, it's time for the Shirakawago Doburoku Matsuri Festival.
Half-Day Shirakwago Itinerary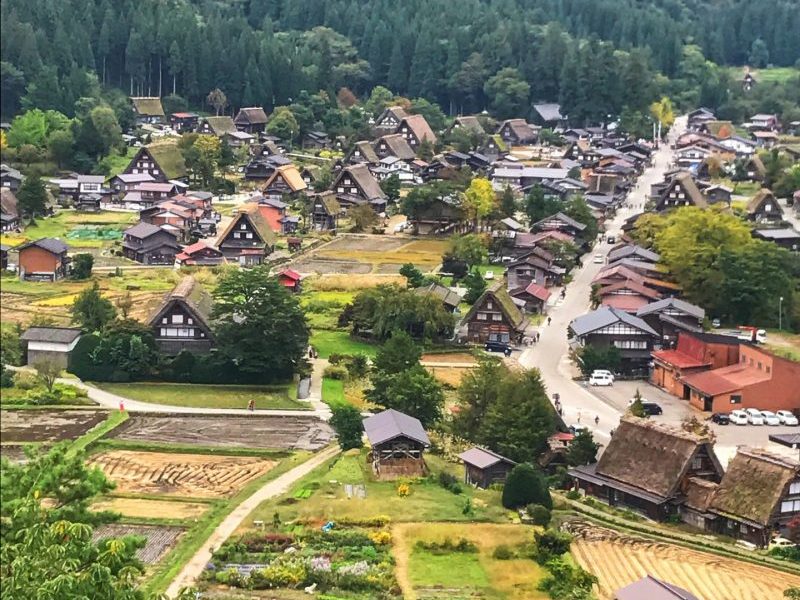 All in all, we spend about three hours wandering around the Shirakawa-go village in the morning. Depend on your Shirakawago itinerary. The visit to Shirakawago can be as short as two hours or up to whole days. Some people even stay one night to enjoy the forested countryside. But take note that most of the shops and restaurants will close at about 4 p.m. We feel three to four hours are best to take a look at the village.
Additionally, we spend our remaining time for the Doburoku Matsuri and leave Shirakawago in the late evening.
Shirakawa-go is a great way to discover the unique Japanese culture, lifestyle, and architecture. Don't forget to look out for water mills, paddy fields, shrines, flowers, and wild plants. Worth stopping and spending time in this quaint village in Gifu prefecture.
Here are some quick Shirakawago travel tips:
How do get to Shirakawa-go from Takayama?
From Takayama, the Nohi bus (濃飛巴士) is the only way to get to Takayama by public transport. It runs between Takayama, Shirakawa-go, and Kanazawa with 1 to 2 buses per hour. It takes about 50 minutes by bus from Takayama to Shirakawago.
How do you get to Shirakawa-go from Nagoya?
Meitetsu Bus runs between Nagoya and Shirakawago with approximately a traveling time of 2 hours and 50 minutes.
How long should I spend in Shirakawago?
We recommended at least three to four hours to explore Shirakawago, a unique Japanese cultural village.
Is Shirakawago worth visiting?
Certainly worth the visit. Shirakawago is an amazing place and beautiful in a different seasons.
Continue Read On
Lastly, this Shirakawa-go itinerary is part of my travel post when visited Takayama. We also spend a few days visiting the Takayama and have some good food in town. Read on to my Takayama travel and food blog if you are interested.
Related Travel Blog in Takayama:
Read more on Kanazawa, Kamikochi, and Tateyama Kurobe Alpine Route Itinerary:
Useful Nagoya travel guide including Nagoya itinerary planning, where to stay, and what to eat in Nagoya.