Last updated on September 23rd, 2023
Wondering where and what to eat in Takayama? We included the top 10 must eat food in this Takayama food guide to plan on your food tour when visiting here.
Hida Takayama is a popular destination to visit in Chubu Japan. Being one of the central hubs in Hida prefecture, Takayama is one of the best places to visit and also nearby attractions such as Shirakawago, Kamikochi and more. However, Takayama is not known for its beautiful sightseeing attraction. It is also the best place to sample for its delicious food or even snack food in the street.
In this Takayama food guide blog, I'm going to share the top 10 must-eat foods and where to try them in Takayama.
Best Food in Takayama Food Guide
A journey to Takayama must include a flavorful encounter with their highly esteemed Hida beef. There are various ways to taste it. So, don't be surprised most of the top 10 must-try foods are made with the quality of Hida beef.
We visited Takayama and stayed in Country Hotel Takayama for 2 nights. We spend our time visiting and tested the best food in Takayama. Most of the foods are highly recommended by locals and worth for visit just for food.
Takayama Food Guide: The Top-10 Must-try food in Takayama (and where):
Yakiniku Hida Beef
Nigiri Hida Beef Sushi
Takayama Ramen
Hida Gyuuman
Mitarashi Dango
Hida Brewery Sake
Hida Beef Burger
Home Style Authentic Japanese Food
Yakisoba
Japanese Street Food
Let's start our food trip journey in Takayama.
Takayama Travel Tips:
When looking for the best price and biggest selection of hotels in Takayama, check prices for
Takayama Best Hotel from Booking.com
. We found they are the best option and have a great cancelation policy.
1. Yakiniku Hida Beef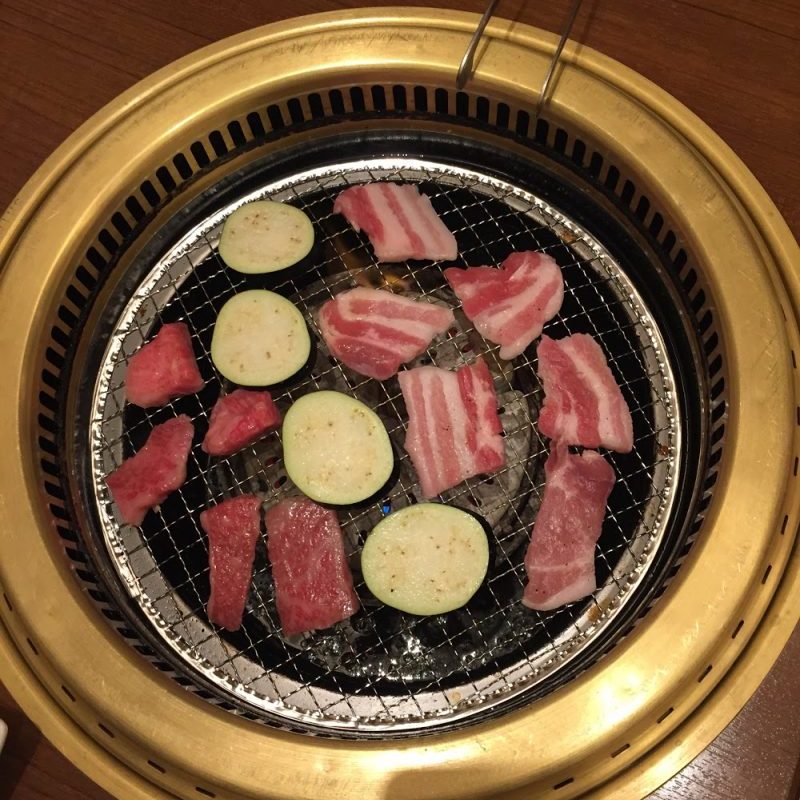 Gifu prefecture is famous and renowned for its A5 quality Hida beef. It has been raised naturally for at least 14 months and certified for its grade level. There is various way to eat Hida beef. But for sure, Yakiniku is one of the best ways to taste it. It a Japanse BBQ where you can grill and cooked your meat on your own. Taste on it and you can feel how that melted in your mouth.
Ajikura Tengoku (味蔵天国) is famous and well know for Hida beef in yakiniku style. You can cook you the maturity by your own preference. It served the finest quality of meat with marbling fat. Most importantly, the price is very reasonable for the Hida beef glamour in Takayama.
Hidagyu Maruaki (丸明) is another best place where you can try the local Hida beef. It served the Hida beef in yakiniku or shabu-shabu in the restaurant. Choices of beef available which divide into fatty, medium, and lean types. A lovely restaurant with a butcher shop located next to the restaurant.
We visited Ajukura Tengoku for its superb and succulent Hida beef in yakiniku. Read on my food review in Ajukura Tengoku.
2. Nigiri Hida Beef Sushi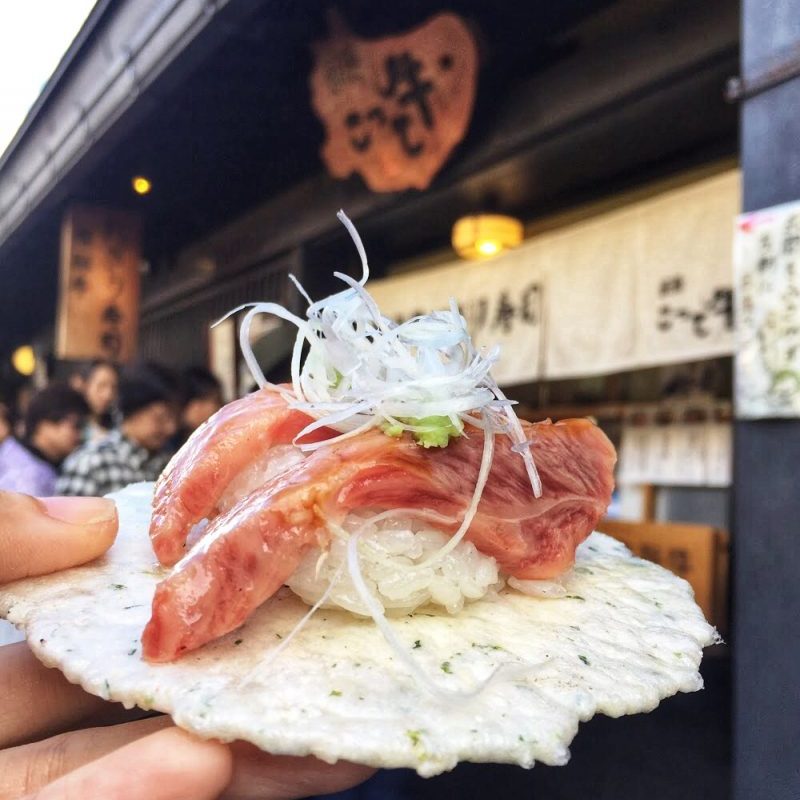 We know that Japan is famous for its freshness and quality sushi. But have you ever tested the nigiri Hida beef sushi? It is the special sushi that you can only find in Hida Takayama. Don't be get wrong as it is the just simple with Hida beef on top. This sushi is served with quality Hida beef with different grades to order. It is so delicious and melted in the mouth once a bite on it. Another best thing is their plate is made with rice crackers (senbei) as a plate. You can eat the senbei plate after you finish up the Hida beef sushi.
Sakaguchiya (坂口屋) is a small shop that served the best Hida beef sushi in Takayama. It is also the first restaurant that served the sushi with Hida beef on top. You can choose to dine in or order through a small window at the side of the shop.
Kottegyu (こって牛) undoubtedly the most popular stall within this area to sell Hida beef sushi. You can easily spot it with people queuing in front when getting around in Sanmanchi street. But don't worry to grab on it as the queue is clearing pretty fast. Probably rated in the top three must-eat food on my Takayama food guide.
Related read: Takayama Kottegyu Hida beef sushi
3. Takayama Ramen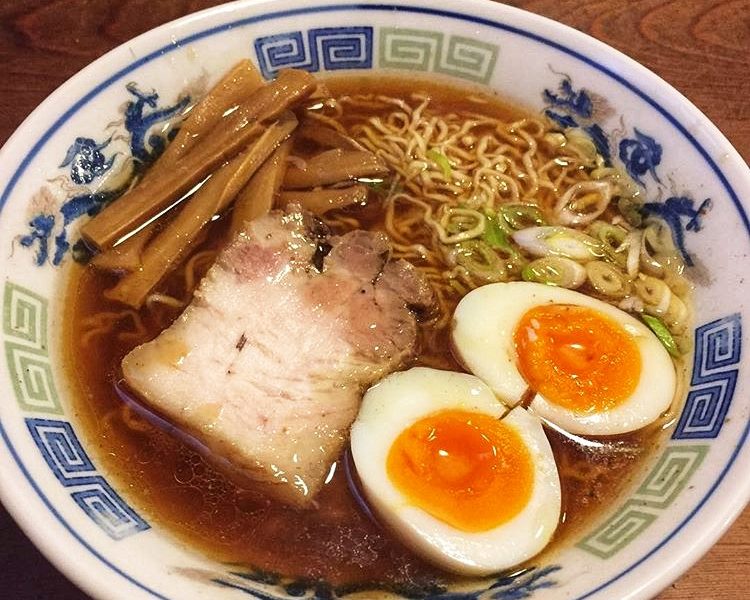 Ramen is always one of the best local dishes in Japan. Every region has its specialized broth and flavors. Everyone has its favorite richness of broth or thickness of noodles. I always love to taste the ramen when visiting different region of Japan. The best part of ramen in Takayama is run by locals where you can have the original taste on it. So don't forget to eat a hot bowl of Takayama ramen when in town. One of the must-eat in Takayama food guide.
Mame Tengu (豆天狗) is a 70 years family running ramen restaurant in Takayama. It has its curly noodle and special flavors for their broth. If you would like to taste on the Takayama ramen, we highly recommend trying in Mametengu.
Menya Shirakawa (麺屋 しらかわ) is a small local restaurant in Takayama. They are known for their high-quality noodles and flavor of broth. Their ramen is prepared with fresh ingredients and cooked for the best ramen in Takayama.
4. Hida Gyuuman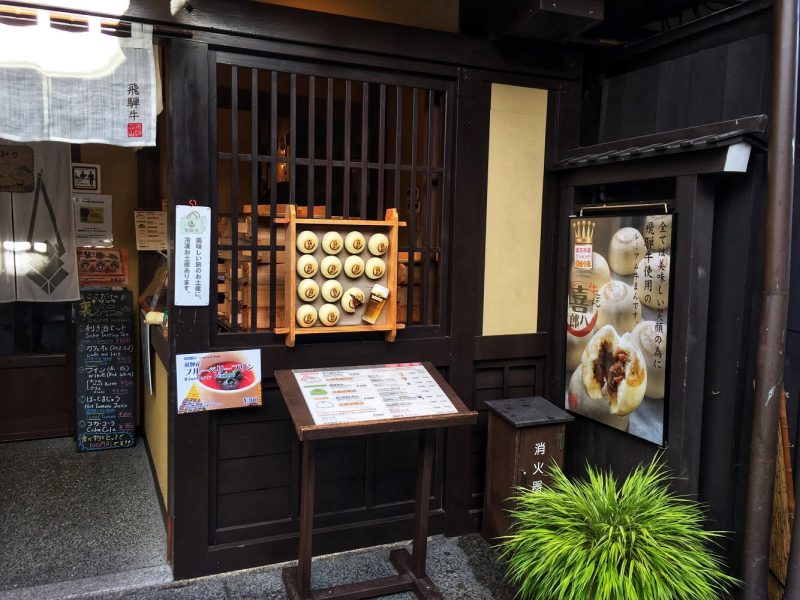 One of the unique food to try in Takayama is the Hida Gyuman. It is a tasty steamed bun made with juicy Hida beef and Japanese vegetables. It is soft and fluffy at out. But when you stuff into your mouth, you can feel the juicy and flavorful of Hida beef. The best snack to eat in Takayama.
Kihachiro (喜八郎) probably serving the best Hida Gyuman in Takayama. They use 100% Hida beef for their tasty beef bun. Make sure to drop by to Kihachiro to taste its delicious beef bun in Takayama.
5. Mitarashi Dango
The Mitarashi Dango is a savory skewer rice ball made with mochi in little round dumping size. This traditional Japanese snack is grilled and covered with sesame, sweet or soy sauce. It is a popular snack in Takayama and easily spotted when visiting Takayama.
While every shop has its recipe for its sauce and beloved by its supporter. We recommended Sangawaya (三川屋 本店) and Jinya Dango to get the best Mitarashi Dango in Takayama. Make sure to stop by one of them and taste on this local traditional snack.
6. Hida Brewery Sake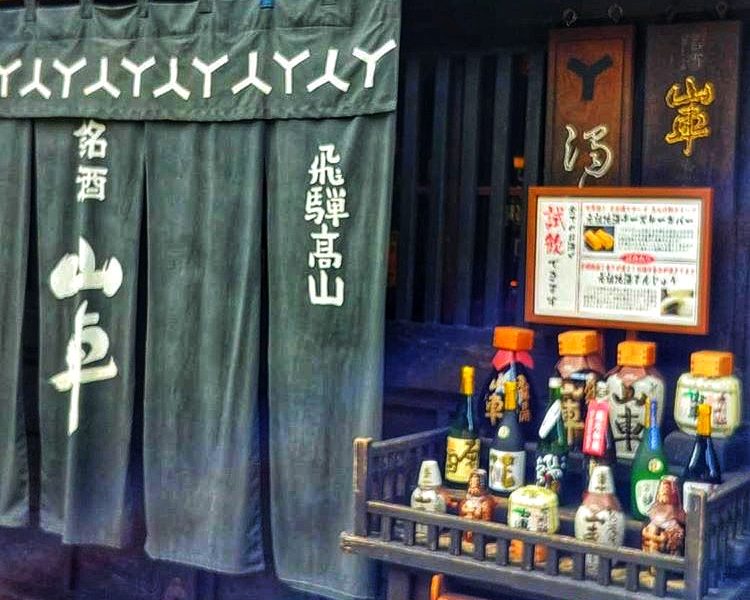 Thanks to its weather and freshwater, the mountainous region in Gifu district producing high-quality sake. It is once the home of sake in Japan with more than dozens of breweries in Hida Takayama region. But now it only has about four to five sake breweries still in business. So for sure, the remaining produce the best sake in Takayama.
You can spot the sake breweries shop by a big cedar ball called sugidama which hang in front of the shop. Or a traditional sake barrels (sakadaru) located in front of the shops. Come taste for the sake or buy one as a souvenir back to home country.
If you want to taste on different variety of sake, just go for sake tasting in Takayama. We highly recommended to visit the Harada Sake Brewery. Just buying a sake cup from the owner and you can sample on all the sake in the house. The variety probably up to 12 type. Some of the sake is only available in the Takayama region that can't find elsewhere. Make sure to ask for a recommendation from staff if you don't know which is the best one.
7. Hida Beef Burger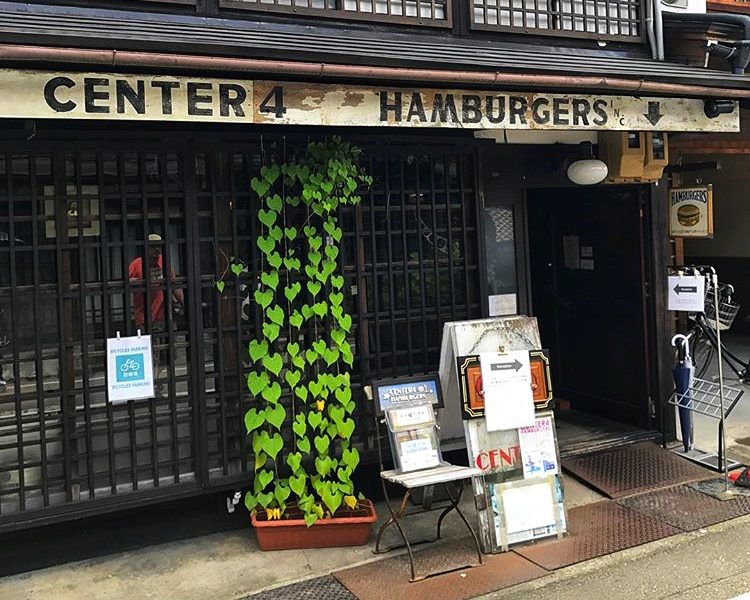 While travelers usually visit Japan to taste on its traditional dishes. But hamburgers is a very popular food in Takayama, especially among Japanese. It is the best fusion cruise perfectly combine between Japanese and Western.
The unique thing about hamburger in Takayama is their patty is made with Hida beef. And this is the reason why their Hida burger has enhanced flavor on its meat. It can be so juicy and delicious. Many people come all the way to eat the best Hida beef burger in Takayama.
Due to too many of good food, we do not have a chance to taste the Hida Beef Hamburgers. But my Japan friend is highly recommended to try at Center4 Hamburgers. Let me know how it taste if you have chance to eat this best food in Takayama.
8. Home Style Authentic Japanese Food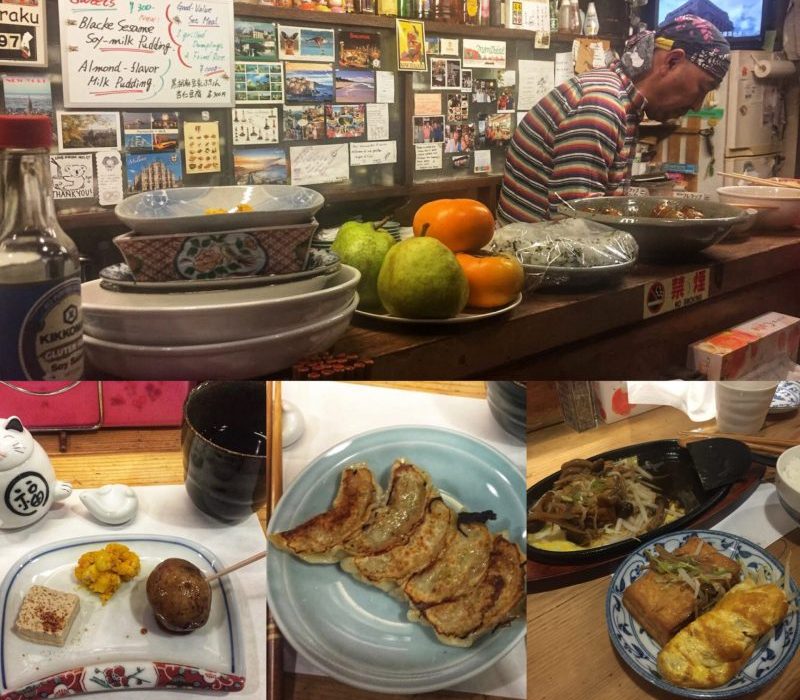 Home Style Authentic Japanese Food in Heianraku (平安楽)
For sure you'll find some top-notch restaurant in Takayama with good food and professional staff. However, take a chance to taste on home-style authentic Japanese food.
Heianraku (平安楽) is an amazing place for the best local food in Takayama. Run by friendly husband and wife, Heianraku served simple yet delicious Japanese and Chinese local home-style food for guest. The food is mostly Japanese-style Chinese cuisine. Added, plenty of options for vegetarian and gluten-free.
Dining in Heianraku makes you feel at home. Highly recommended for authentic Japanese experience with fantastic hosting experience in Takayama. Limited seat with reservation required to dine in little gem in Takayama.
Further read on my food review in Heianraku.
9. Yakisoba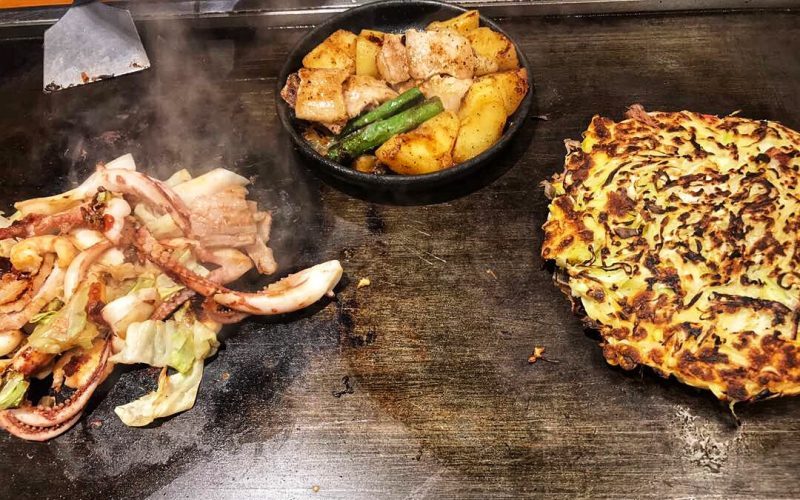 Along with ramen and udon, one of my favorite food to eat is yakisoba. Chitose is a popular place for the best yakisoba in Takayama among locals. Located nearby the JR Takayama station, Chitose is a small family-run restaurant serving for the yakisoba in town.
We found this restaurant when looking for what to eat in the late afternoon. And we had a very comfortable meal here. Staff was friendly with English menu to help for order. You can also try ramen or other noodles dishes in Chitose. Reasonable price with good portions of good. A great place for lunch in Takayama.
10. Japanese Street Food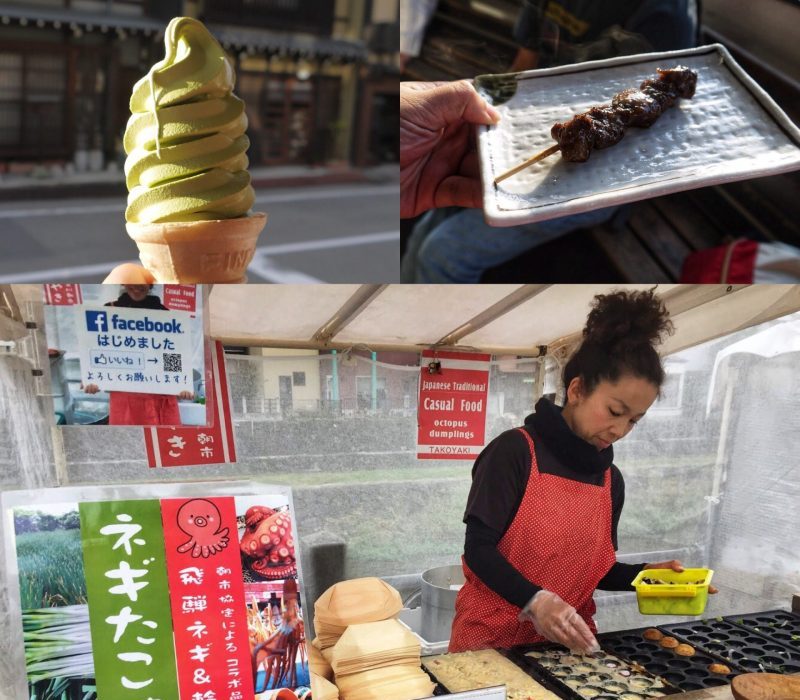 Last from my Takayama food guide. Don't forget to sample some Japanese street food when wandering around in town. It's easy to grab and can get in various places, including Sannochi street and morning market. Having some Japanese snack food is so perfect when you're feeling just a little hungry while exploring around.
We tried on Hida version takoyaki when visiting the Miyagawa morning market. Added, sample on the Hida beef steak and matcha ice cream in late afternoon when wandering around in the old town area.
Which is your Best food in Takayama?
All in all, we enjoy our food tour in Takayama. The foods in Takayama are combined with traditional and modern cuisine. It served with high-quality ingredients which makes their food are so delicious and unique.
We stayed in Takayama Country Hotel for 2 nights and never had an empty stomach. We tested most of the best food in Takayama but it never enough. I am pretty there are even more choices if you want to spend more time here.
Hopeful this Takayama food guide with the top 10 must eat food in Takayama can give you some idea on what to eat during your trip. If you have any questions about visiting Takayama, or any food tips or restaurant suggestion. Let us know and I would love to hear from you.
Related Takayama travel and itinerary:
Travel Guide to visit to nearby attractions from Takayama:
Useful Nagoya travel guide including Nagoya itinerary planning, where to stay and what to eat in Nagoya.