Last updated on September 23rd, 2023
Budapest food guide with must eat food and best of Budapest restaurants, from international to Hungarian favorite. Find out where and what to eat when visiting Budapest.
It's easy to fall in love with Budapest especially their awesome food. Most Hungarian food has its origin in the culinary, formed from the nation of the Austro-Hungarian Empire. If you are looking for where and what to eat in Budapest for your food hunt, look no further.
So, read more on Budapest Food Guide with Top 7 Must Eat Food in Budapest from us. You will know for sure where and what to eat in Budapest!
Budapest Food Guide: What To Eat
The great thing about Budapest is how cheap everything is. While most of the restaurants in Budapest only with limited seats; be prepare to queue or try to make your reservation. But I am pretty sure it is worth the wait. We listed down the top 7 must eat food and the best restaurant in Budapest which we think worth a visit.
Budapest Food Guide – The Must-eat Local Food in Budapest
Hearty Breakfast.
Budapest Street Food: Lángos – The best thing to eat in Budapest!
Local Hungarian Cuisine.
Fine Dining at Michelin Star Restaurant.
Coffee, Cake, Dessert.
Drink in Ruin Bar.
Food in Central Market Hall.
Budapest Travel Tips:
When looking for the best price and biggest selection of hotels in Budapest, check prices for
Budapest Best Hotel from Booking.com
. We found they are the best option and have a great cancelation policy.
Hearty Breakfast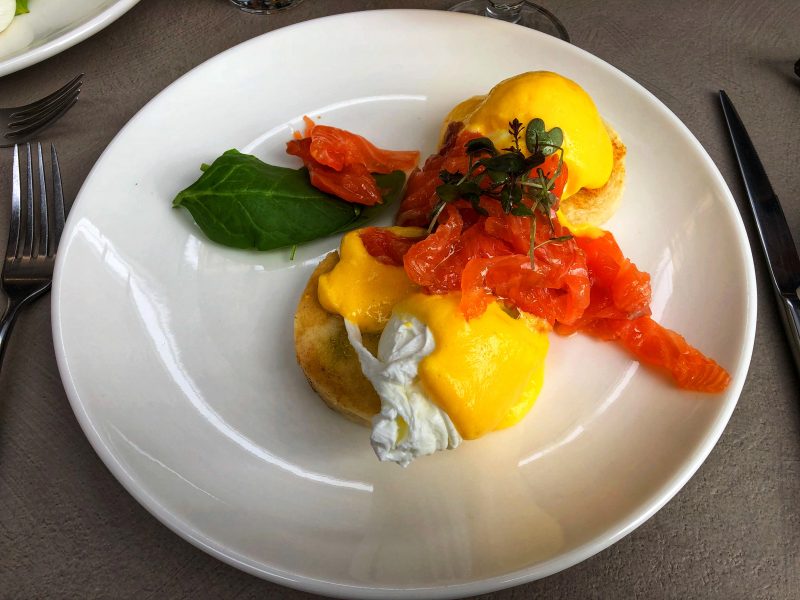 Start your day with a great breakfast! There is a numerous choice of best breakfast restaurant to choose in Budapest. From classic western style to local Hungarian breakfast; all worth to wake you up from the cozy warm bed for a wonderful breakfast.
Here are some of the best breakfast foods in Budapest to try and the best restaurants in Budapest to taste them at.
Best Breakfast Restaurant in Budapest:
STIKA Gastropub is the first and best hipster restaurant served delicious all-day breakfast in Budapest. Famous for their poaches to perfection egg benedict and fluffy savory pancakes; a perfect match with their great coffee.
Szimply served amazing tasty food with beautifully presented. Szimply is a tiny place in a hidden alley with only a few tables; run by a group of super creative chill team. Limited menu selection but all their food is very healthy and tasty. The Avocado Toast is their top seller.
Cirkusz is the best place for Hungarian or western breakfast in Budapest with a great range of menu choices. You will be blown away with how great the food is. Great ambiance, reasonable price with friendly staff.
Related Article: Stika Gastropub – Best Breakfast Cafe in Budapest
Budapest Street Food: Lángos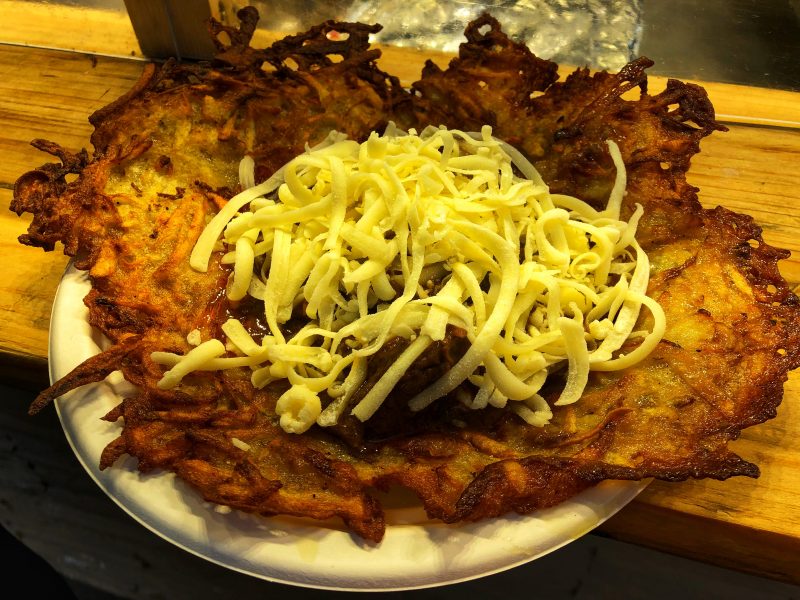 Lángos is authentic Hungarian street food, deep-fried dough in a round flat shape, topped with loads of cheese, sour cream, and garlic. In recent years, langos become more like pizza bases where you can add all sorts of toppings like ham, sausage, tuna, meat, salad, etc for savory taste on this snack.
Great taste and the variety of possible combinations. Langos is popular all year long and very convenient to grab and go.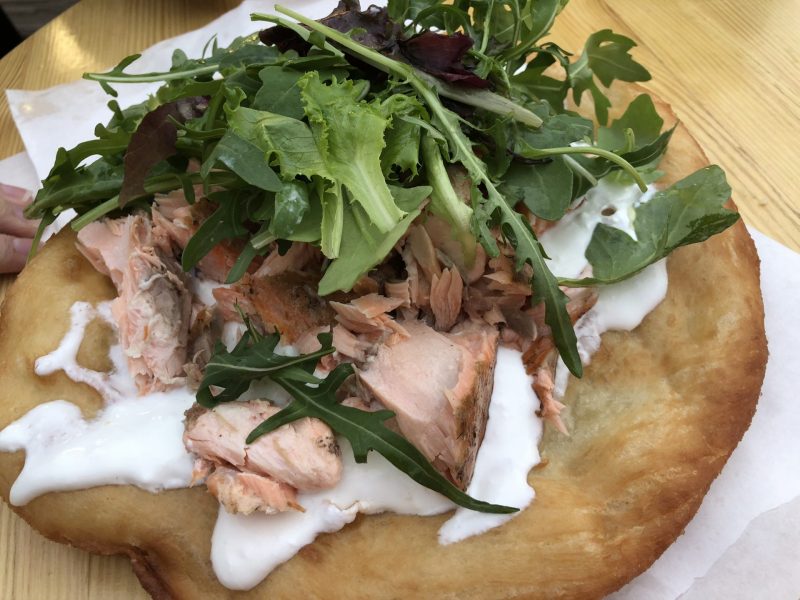 Best Langos in Budapest:
Retró Lángos Büfé offers a variety of street food but the langos are what you should go for! A great place for you to experience and taste it. This tiny shop with only a few tables in front of the stall. But it is very popular as they serve good quality langos with a wide variety of toppings. Freshly fried, tasty and cheap.
While most of the street markets served this traditional Hungarian street food. Central Market and Street Food Karavan is a great place for you to look for langos with different varieties of topping.
Local Hungarian Cuisine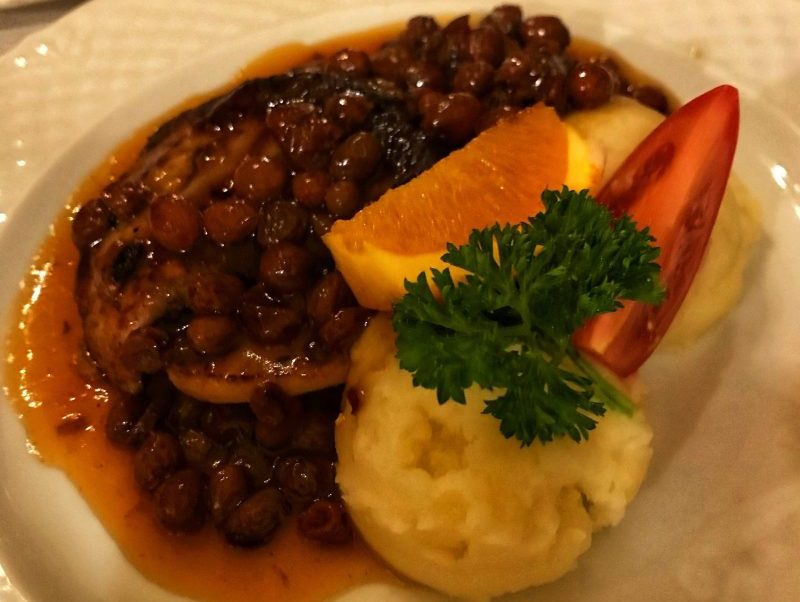 Don't miss out to taste an authentic Hungarian dish in Budapest. There are so many restaurants to choose from when you're looking for the best Hungarian food. You will fall in love with goose liver, goulash, duck or goose dish and more.
Below are some of the recommendation restaurant from our Budapest Budapest food guide to try when you are visiting.
Best Hungarian Cuisine Restaurant in Budapest:
Kiskakukk Étterem is a traditional old-time Hungarian restaurant with a cozy and ambiance dining atmosphere. It served a local taste of Hungarian Cuisine in great value. Enjoy the simplicity of the presentation but the amazing quality and quantity of food.
Antré Étterem served the original Hungarian cuisine with a modern twist. All the well-prepared food is beautifully presented in contemporary palates. Creative chef, friendly staff with very professional services. Tasty food!
Menza is one of the very popular restaurants in Budapest. Located in busy Liszt Ferenc Ter, Menza is a great place for lunch or dinner. Well designed restaurant, beautiful atmosphere, coupled with an excellent quality meal. This restaurant is very busy every day, so do make your reservation to avoid a long time queue.
Gundel Etterem is the 125-year-old classic style fine dining restaurant in Budapest. It located in a baroque palace with vaulted ceilings and splendid decoration. Served by professional staff for their beautifully presented gourmet cuisine. Certainly not an inexpensive meal, but worth it.
We visited the Kiskakukk Étterem to taste on their Hungarian Cruisine during our trip to Budapest. Read on our food trip to Kiskakukk Etterem.
Fine Dining at Michelin Star Restaurant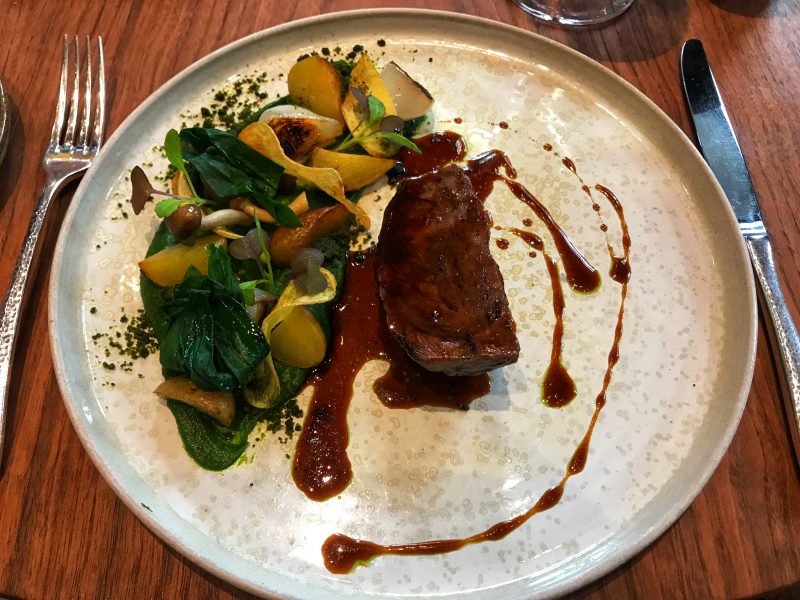 Budapest is a culinary paradise with a total of six Michelin star restaurants as in 2019. There is no better place to experience the Michelin Star fine dining as Budapest is a relatively low price compare with other European countries. You will be delighted and amazed by the amazing flavors, tastes, presentations for your world-class fine dining experience. A must try in Budapest food guide.
Michelin Star Restaurant in Budapest:
Costes Restaurant is known for its innovative French signature cuisine with a creative and beautiful presentation. It earned the first Michelin Star for Hungary sine 2010 until now. The food is superb in every aspect; from presentation to taste.
Costes Downtown is the sister restaurant from the Costes Restaurant, awarded with Michelin Star soon after its opening in 2016. One of the biggest surprises from the Costes Downtown is its business lunch menu where can fine dining at a very affordable price.
Onyx is the only restaurant in Budapest with two Michelin Star. It is a classic old-school European restaurant serving the interesting twist food with a combination of textures and flavors.
The remaining three Michelin Starred Restaurant in Budapest are Babel Budapest, Borkonyha (Winekitchen) and Stand Restaurant.
Read on my Michelin dining in Costes Downtown for their business lunch meal.
Coffee, Cake, Dessert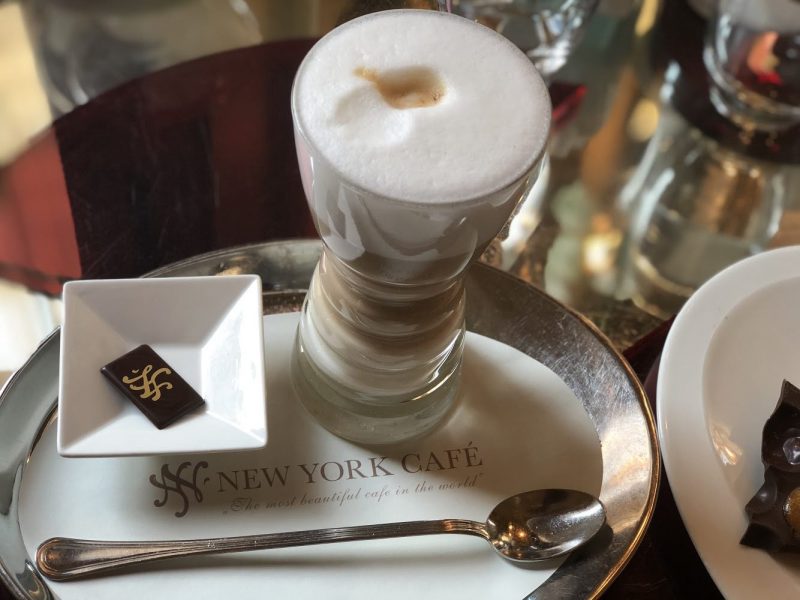 Budapest is highly caffeinated with several specialty coffee houses in the city. Their cafe culture began in the 16th century. Be sure to stop for coffee and cake at least one when visiting Budapest. Locals and tourists love to spend their afternoon tea by enjoying good coffee with a slide of delicious cake and dessert in a pleasant atmosphere.
Best Cafe in Budapest:
New York Cafe Budapest located in New York Palace Hotel; rated as the Most Beautiful cafe in the World. The historical building is grandeur decorated with splendid architecture and a vaulted ceiling. Enjoy the opulence of a great Austro-Hungarian empire for over 100 years with a cup of coffee after the long city tour. See how we spend time in New York Cafe Budapest.
Ruszwurm Confectionery is the oldest pastry shop in Budapest; served their homemade pastry, cakes, coffee, and strudel. It is a family cafe that survived World War II. It is so popular that it was once the Queen of Hungary was craving for the cakes as breakfast.
Cafe Gerbeaud is the most traditional cafe in the heart of Budapest. Must try the famous Dobos Torte if you are visiting Cafe Gerbeaud. This traditional Hungarian cake is comprised of a few-layer of sponge cake and chocolate buttercream. It topped with caramel and nuts at sides. Light, fluffy and utterly delicious. Come here to explore the old world charm with specialty cake.
Drink in Ruin Bar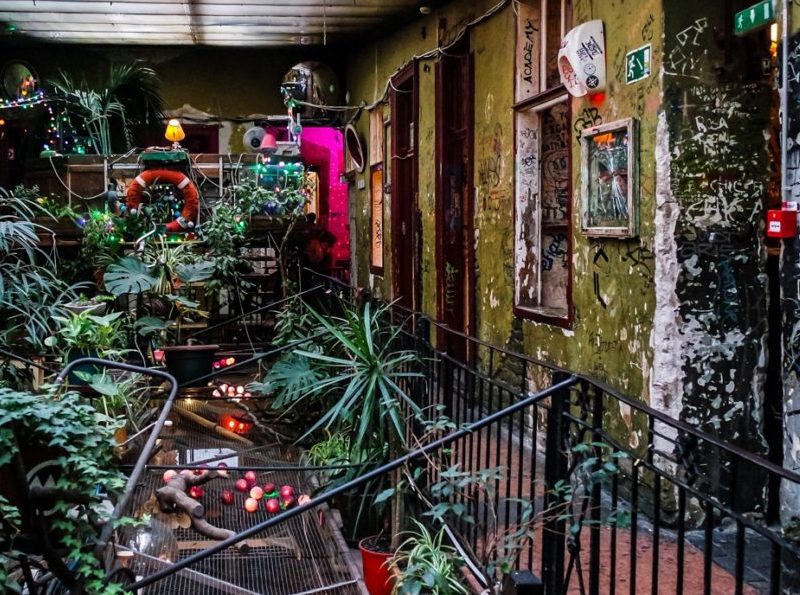 Drinking in a ruin bar is one of the unique experiences in Budapest. Imaging has a cool drink inside the pre-war building which full of artistic creativity. Well, each of the ruin bars has its personality and vibe of their own. Look for the one that prefers the most to spend your time or night inside.
Best ruin bar in Budapest:
Szimpla Kert is the old Jewish quarter is the first and most iconic ruin bar in Budapest. It also the biggest and most popular since day one the ruin bar culture formed. All rooms have different themes with drinks, snacks and food served from 12 pm to 4 am.
Instant & Fagos Haz is another famous ruin bar in Budapest with different themes available. The vibe of Instant and Fagos Haz are more like clubs like party with bar counter and dancing floors. Head over if you're in the mood of dancing and experience the nightlife in Budapest.
Mazel Tov Budapest is a stylish place to eat and drink at the Jewish Quarter. It combined the art and eatery culture, serving the traditional Jewish cuisine by day. It turns to a stunning party garden with live entertainment and a lovely vibe at night.
Food in Central Market Hall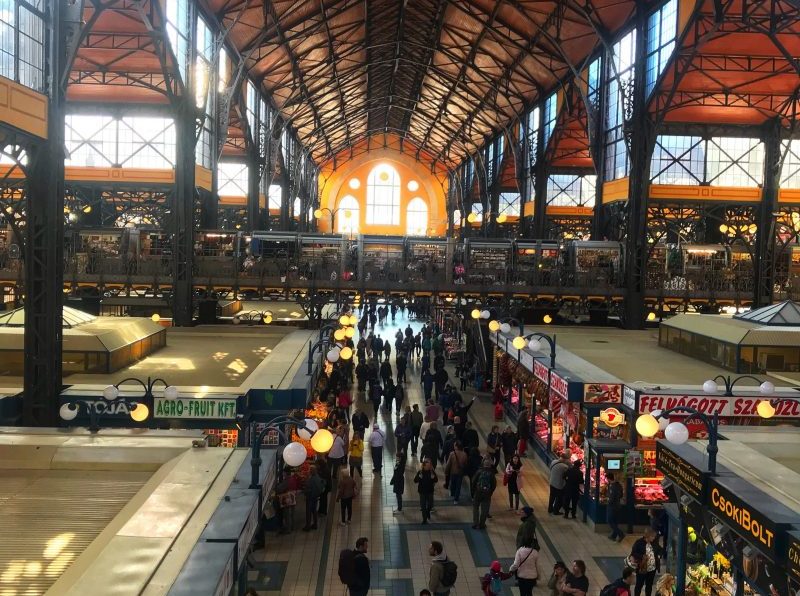 Central Market is one of the must-visit in Budapest. Build-in 1897, Central Market Hall is the oldest and biggest market place in Budapest. The beautiful tiled roof indoor building consists of two floors of local produces, foods and souvenirs. It is a great place to buy paprika, herbs, Tokaji as souvenirs back to your home country.
What to eat in Central Market Budapest: Major food stalls are located on the second floor of Central Market. While we no recommended you to have heavy lunch here as there are so many wonderful restaurants around. However, you can try and eat some of the authentic local food here like sausage, goulash, salami, dumpling, langos, pickles and more.
Overview: What To Eat in Budapest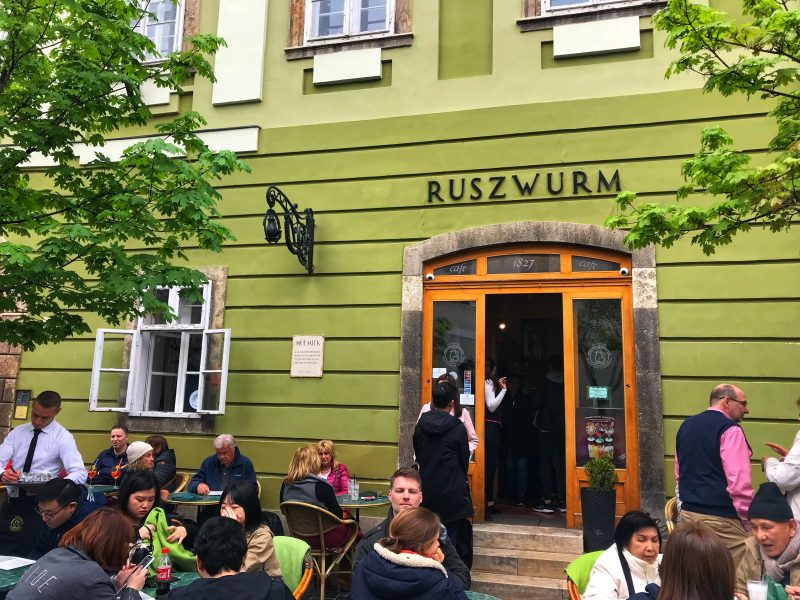 I hope this Budapest food guide has been useful and inspired to try some of the Budapest must eat food when eating here. We never had an empty tummy and were completely blown away by the food that we ate in Budapest. Let's plan for a trip to Budapest!
A Guide for Three Days Budapest Itinerary
If you are looking for things to do and what to eat in Central Europe, check out our travel itinerary and food experience when we are traveling around. The world-class scenery and yummy food that we taste in 13 days Central Europe itinerary are memorable for us.
Complete Central Europe Itinerary: Top 3 Must Visit Country
More detail on our Central Europe Travel Blog here: