Last updated on September 23rd, 2023
The top 10 Jeju must eat food and suggest the best restaurant for you to try on when visiting Jeju Island.
Jeju Island, South Korea is famous for a holiday destination from the local and international traveler. For such a tiny island, there is a wide variety of unique and special that you hardly find in other places. So, what to eat in Jeju and where can be a headache.
Since Jeju is full of unique specialty dishes and it is hard to fit all the must-eat into your Jeju itinerary. We look for the best and must eat food during our 6 days road trip in Jeju Island. Most of the food and restaurant recommended was taste and reviewed by ourselves. We also listed an alternative option for your choices to meet your appetite.
Below the top 10 must eat food in Jeju is something that you shouldn't be missed. Feel free to share your opinion and comment about your food review when visiting those restaurants. Some of the places are hard to reach by public transport. So we highly recommended renting a car for flexibility to look for food and must-visit Jeju attraction. Check out RentalCars.com if you are not sure about the price with various rental companies to compare for the best price guarantee.
Top 10 Must Eat Jeju Food Guide:
Heuk Dwaeji | Jeju Black Pork
Haemultang | Seafood Hot Pot Stew
Fresh Abalone (Rice porridge, Stone hot pot, grilled abalone, slices of raw abalone)
Fresh Seafood Platter from Haenyeos (octopus, sea urchins, sea cucumber, and others shellfish)
Kimbap | Korean Rice Roll
Guksu | Korean Noodles (hot, cold; with broth or dry)
Peanut Ice Cream
Seafood Ramen
Galchi Jorim | Hairtail Fish Soup
Snack Food in Market
Jeju Travel Tips:
When looking for the best prices and biggest selection of hotels in Jeju, always check from
Jeju best Hotels from booking.com
. We found they are the best option with great cancellation policy.
Best Overall Hotel in Jeju: Shilla Stay Jeju
1#Heuk Dwaeji | Jeju Black Pork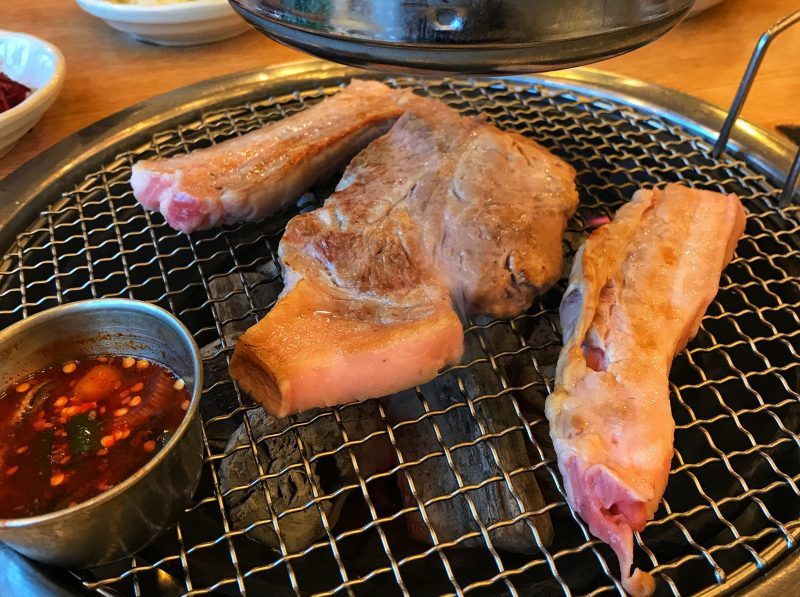 Probably the most famous and must try when visiting Jeju. It is classed as Pig's Wagyu and tastes good in grilled or Korean BBQ. Jeju black pork or the heak-dwaeji is so popular and they even have a black pork street devoted to it. Jeju black pig is found exclusive and bred only on the island. It eliminated human waste from their diet and this is the secret that their meat with cultivated taste.
Best Grilled Black Pork Restaurant in Jeju: Each restaurant has its recipe and cooking method. So it is hard to choose the best black pork restaurant in Jeju. Anyway, below are the top picked black pork restaurant in Jeju Island.
Dombedon (돔베돈) is Michelin Starred Black Pork Restaurant, located in black pork street. It is famous for its special prepared meat with using traditional cooking methods unlike many restaurants in Jeju Island. So their black pork is very juicy and tasty even in grilled.
You can also consider Hwaro Hyang (화로향) located at the same black pork street and famous among locals and tourists. Tasty and authentic black pork is served in this restaurant.
Neulbom Heukdwaeji (늘봄흑돼지) is famous for their Samgyeopsal (boneless cut of pork belly) which grilled over charcoal instead of gas stove. You can choose either marinated or non-marinated pork and each has its distinct taste and flavors.
Lastly, Donsadon served the quality black pork grilled over the charcoal. Many locals and even Korean stars are heading over to have a taste on their famous barbecued black. pork.
Price: slightly more expensive compare with regular pork, expected ₩20,000 – ₩25,000 per person.
See our black pork food review in Dombedon and Neulbom Heukdwaeji during our 6 days road trip in Jeju Island.
2#Haemultang | Seafood Hot Pot Stew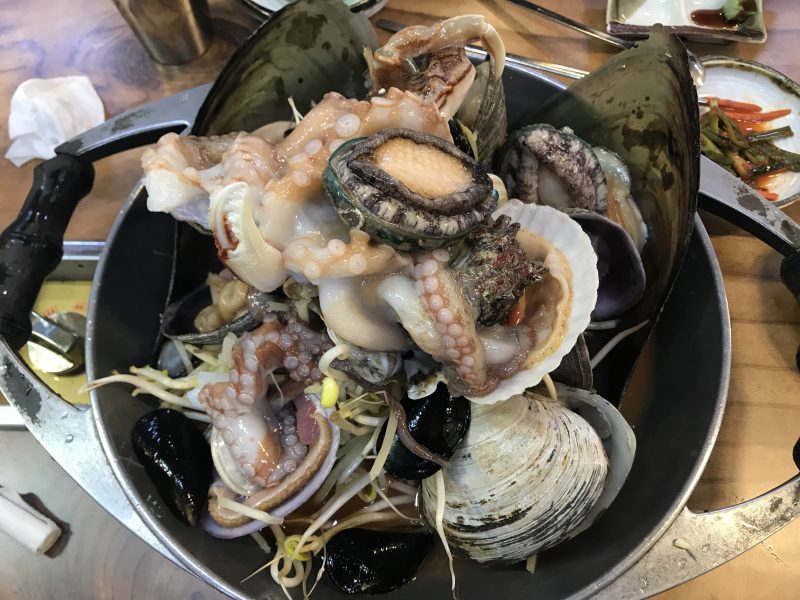 Haemultang is one of the Korea traditional dish and very popular among the foreigner looking for authentic taste. This spicy seafood stew is served in a hot pot; filled with a wide variety of seafood and vegetables in spicy broth. Thanks to the freshly catch from the ocean, Haemultang is very famous in Jeju Island. Seafood lovers can enjoy squid, octopus, cuttlefish, clams, crabs or even abalone in a single bowl of haemultang.
Best Haemultang Restaurant in Jeju:
Samseonghyeol Haemultang Restaurant is a specialty in haemultang. It guarantees the freshness as the seafood served is still alive when cooking in front of you. Enjoy the satisfying meal with exotic seafood with a unique experience. It is extremely fresh with the original flavor hot pot soup.
Price: A bowl of haemultang can be expensive depending on the seafood quality. Normally roughly ₩15,000 – ₩30,000 per person.
3#Fresh Abalone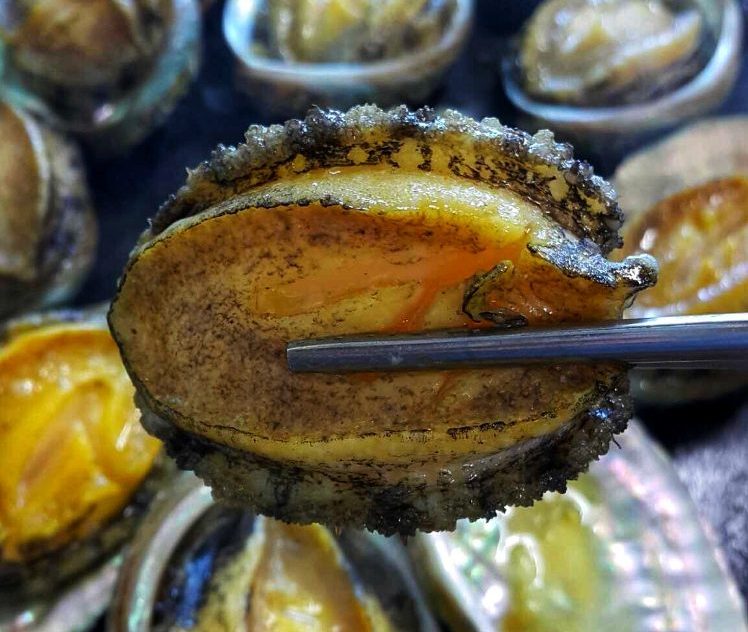 There is no better place to taste fresh abalone but in Jeju. Abalone is one of the expensive food even for the canned version. But in Jeju, fresh abalone is something affordable and served in a variety of cooking methods. Served nice in grill, saw slides, porridge or with rice. It is definitely must included onto the top 10 must eat food in Jeju.
Price: ranging from ₩8,000 – ₩30,000 depend on the dishes.
Best Abalone Porridge in Jeju: Jeju is so famous for its fresh abalone especially harvested by haenyeo. You can found haenyeo house at almost every coastal village in Jeju.
Myeongjin Jeonbok Restaurant is one of the most famous restaurant in Jeju. Specialty in fresh abalone, this restaurant only served four signature abalone dishes. Have an abalone feast from abalone porridge, abalone sizzling stone pot rice, grilled abalone, and sliced raw abalone. Their perfection dishes make it ranked in number#1 Jeju restaurant from TripAdvisor. A must eat when visiting Jeju Island.
4#Fresh Seafood Platter from Haenyeos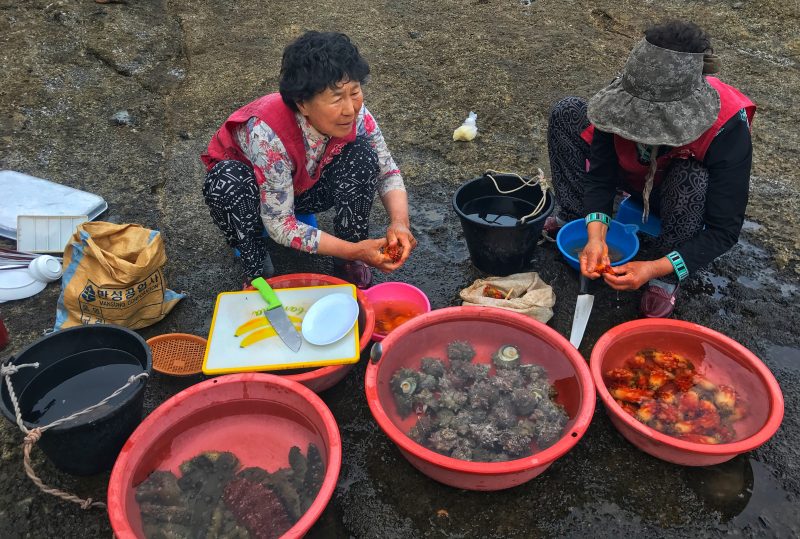 Haenyeo, Female Sea Diver is one of the unique and extraordinary cultures found only in Jeju Island and Japan. Jeju haenyeo dived under the sea by holding their breath without an oxygen mask to collect seaweed and seafood. Their harvest including octopus, sea urchins, sea cucumber, oysters, abalone, and others shellfish.
You can see some of the seafood stalls in the attraction spot selling the freshly catch from haenyeo. Enjoy a plate of raw seafood platter with Korean soju; sitting on plastic stool accompany with a breathtaking view is something unique and only found in Jeju. Else, heading to sashimi street in Jeju city where you can have a wide variety of restaurants serving the fresh sashimi.
Price: Normally ₩10,000 per plate depending on what type of seafood you choose.
5#Kimbap | Korean Rice Roll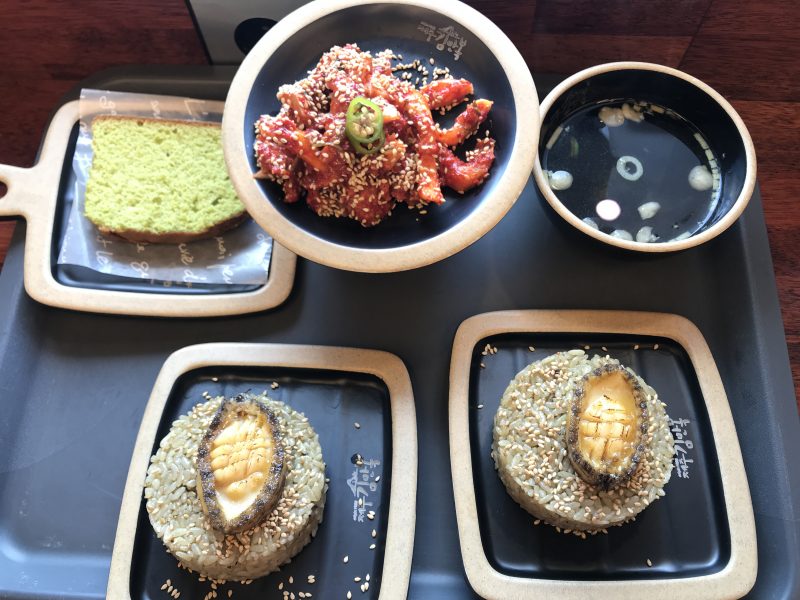 Kimbap which used to be a special homemade meal, transformed into the most consumed lunch meal due to its simple, easy, and natural eating method.
Best Kimbap in Jeju: Jeju has a lot of delicious Kimbap house; served their unique recipe in the rice roll. Below are the most loved kimbap places in Jeju by locals and tourists.
Kim Man Bok is hugely famous due to its unique presentation of eggs and abalone kimbap. Lots of people even locals are queuing for their abalone kimbap which found only in Jeju. Expect for a long wait if you plan to try them.
The 'hwawoossam kimbap' from famous Dagami Kimbap is featured with uncommon ingredients like garlic, bean paste, and spicy pepper. The price is not cheap but you will know why when the kimbap is served. The kimbap roll is so big that we need to use plastic wrap instead of a chopstick to enjoy the kimbap.
6#Guksu | Korean Noodles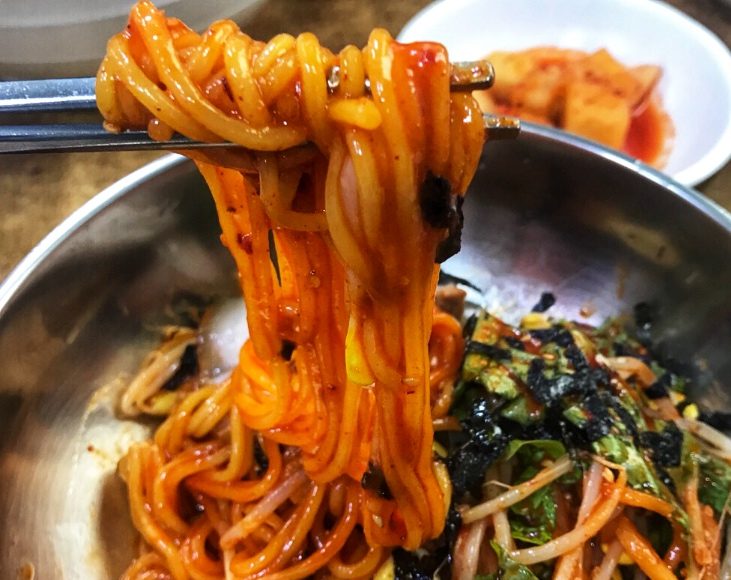 Noodles is one of the signature food in Korean traditional dishes and enjoyed by all social classes. Typically Korean noodles can be served in hot, cold; with broth or dry. While most noodles house in Jeju will be served the three noodles in their menu: pork soup noodles, anchovy soup noodles, and cold spicy noodles.
The main focus on the guksu dishes probably is their delectable broth from chicken, beef, pork, seafood or anchovy. While Bibim guksu, cold noodles dishes served in a spicy sauce topped with different types of ingredients. One of the favorite Korean noodles in hot summer.
Best noodles house in Jeju: Guksu Geori (Noodle Street) is a popular street in Jeju filled with noodles house. Most of the noodles restaurant is authentic and small. So expect wait time for a bowl of delicious guksu especially at peak hour.
Jamae Guksu or Sisters Noodles served the famous gogi guksu topped with Jeju black pork meat slides. Their bimbi guksu or myeolchi guksu are also one of the must-try when visiting this noodles house in Jeju.
Ollae Guksu served tasty traditional noodle soup with pork. A generous portion of wheat noodles in rich broth; topped with pork slides, onions, vegetables.
Samdae Guksu Heogwan is another good option for a hearty meal when visiting Jeju. Again, signature slide pork noodle in rich broth is one of the must-try.
Price: Noodles is one of the best cheap eat in Jeju. You can enjoy a big bowl of delicious tasty guksu at around ₩8,000.
7# Peanut Ice Cream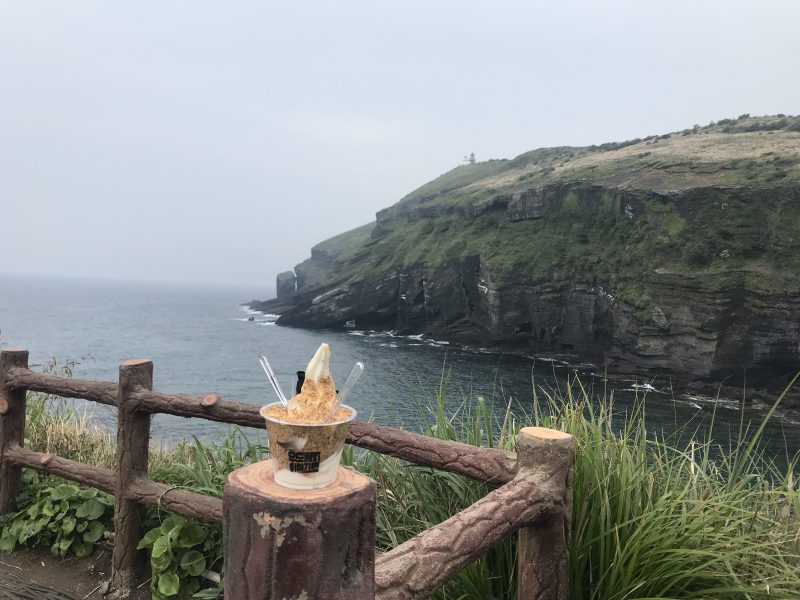 One of the reasons to visit Udo Island is to discover the white sand beach and emerald sea. But don't forget to try the peanut ice cream while you are on Udo Island. Famed for locally grown peanut, this dessert has come with vanilla soft serve ice cream topped with peanut in a variety of decoration. It is something sweet and refreshing to treat you in comfort.
Best Peanut Ice Cream in Udo Island: Most of cafe in Udo served peanut ice cream in a variety of cute decoration. We highly recommended enjoying this sweet treat when you are in Geommeolle. At here, you enjoy the vista view of the beach with various of cafe to choose from. Just grab either one with the best view to enjoy the homemade soft sweetness of ice cream with Udo peanut.
Jimmy's (지미스), Dennis Cafe (대니스카페) or Udo Prince Story (우도왕자이야기) are top three selection from us.
Price for peanut ice cream: roughly ₩4,000 – ₩5,000.
8#Seafood Ramen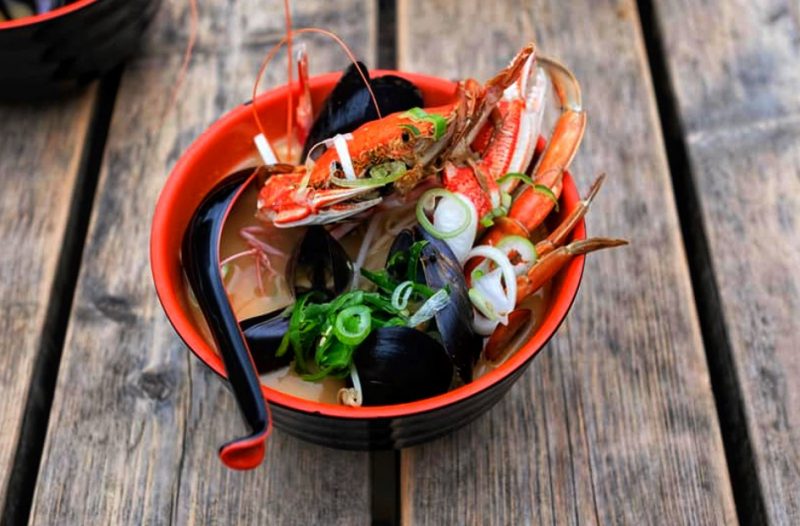 Ramen is not a unique food in Jeju, but for sure Jeju has the best seafood ramen thanks to its freshly catch from the sea. You can have fresh crab, shells, musses, or octopus from a single bowl of seafood ramen. Don't forget to grab a bowl of hot seafood ramen when visiting Udo.
Best Seafood Ramen in Jeju: Nolman is very popular and famous for its seafood ramen. It even gets interviewed by the TV show. Come early if you don't wish to wait for more than 1 hour just for a bowl of seafood ramen.
9#Galchi Jorim | Hairtail Fish Soup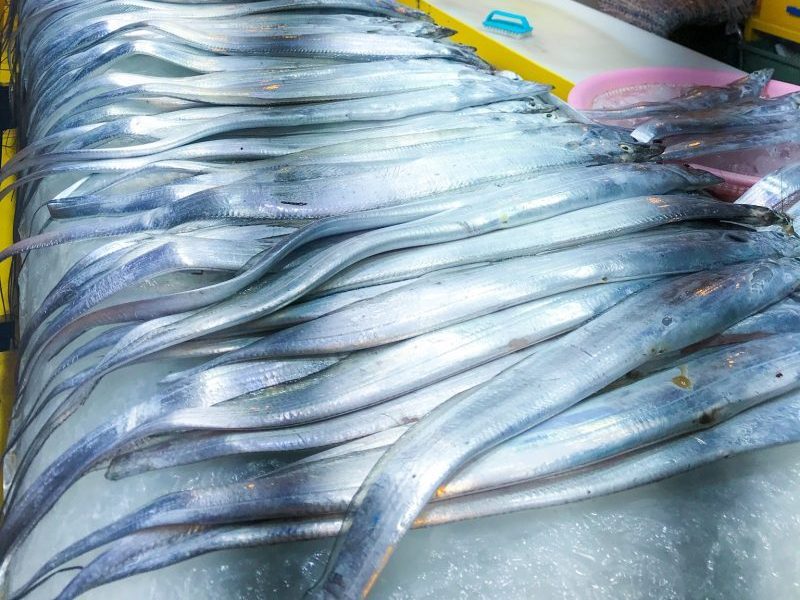 Galchi Jorim, or hairtail fish is a long, thin, strange-looking silverfish. It is very hard to catch and difficult to preserve the freshness of it. Well, this is the main reason Jeju has the most delicious hairtail fish dishes, freshly caught from the sea. Often served in grilled or boiled into fish skew with fish and vegetables. This fish dish is very popular especially among the locals when visiting Jeju.
Best Hairtail Fish Restaurant in Jeju:
Manna Sikdang is the most well-known place served the hairtail fish dishes. Locals know it for sure. This restaurant only served two dishes: spicy hairtail stew and saba fish stew. Beware that the hairtail stew can be easily sold out early. Open from 8.30 a.m morning and close around 1-2 p.m once it has sold finish.
Negeori Restaurant is a specialty on their hairtail fish dishes in Seogwipo. Once you taste, you will be amazed by how the freshness of these fish dishes.
Prices: Hairtail fish dish is not cheap and price can be ranging from 10,000 to 20,000 just for a bowl of spicy fish stew. It can very expensive for a whole hairtail fish. Some locals even choose to get a fresh hairtail from the market and cook it on their own when visiting Jeju.
10# Snack Food in Market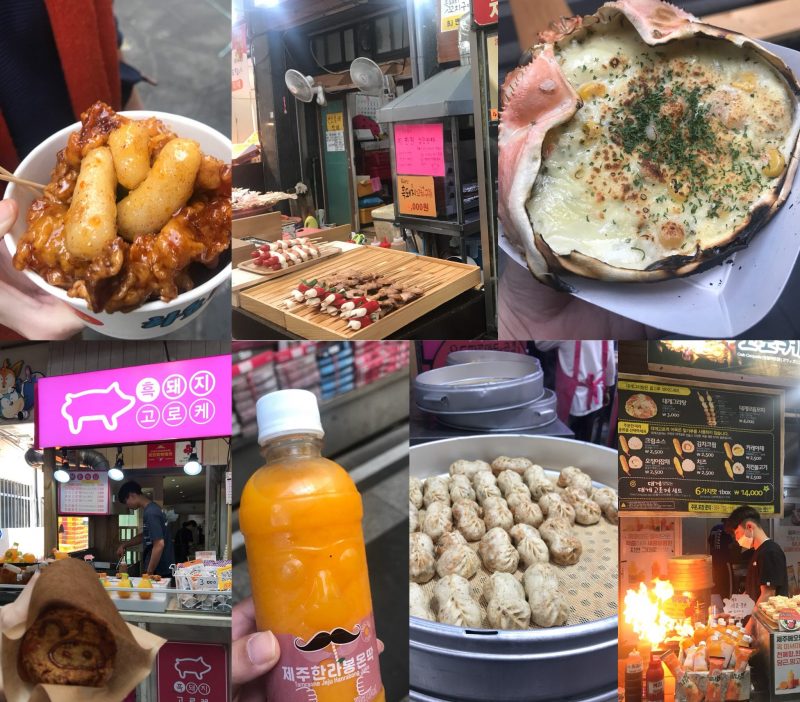 I have include the snack food in the market onto my top 10 must eat food in Jeju. Sometimes, I love to spend time exploring the market when visiting a country. South Korea and Japan are very similar, as both will served numerous of snack food in the market. You can have some snack or filling meal for your breakfast, lunch or even dinner. Try the black pork or crab croquettes, fried chicken, Omegi rice cake, skewers, kimbap, black pork dumplings, Hallabong drink when visiting the market.
Best Market For Snack Food in Jeju: Most snack food sold in South Korea is very similar, so the same as Jeju Island. While Jeju island's specialty in their black pork, so no surprise to see the black pork snack in the market.
Jeju Minsok Five Day Market is the biggest Jeju farmer market. Experience and taste the unique traditional food in the market if you have the opportunity to meet it every 5 days. Check the market schedule for your coming visit.
Dongmun Market is a traditional indoor market in Jeju, selling local produces, fish, souvenirs and general goods. The newly open Dongmun night market in March 2018 with plenty of food choices, operated from 6 p.m. until midnight.
Lastly is the Seogwipo Maeil Olle Market in the south of Jeju island. The best thing about this Olle market is the lined seats along the middle of the market. It is part of the great consideration to provide a seating location for customers to enjoy their foods.
Jeju Self-Driving For Natural And Food Itinerary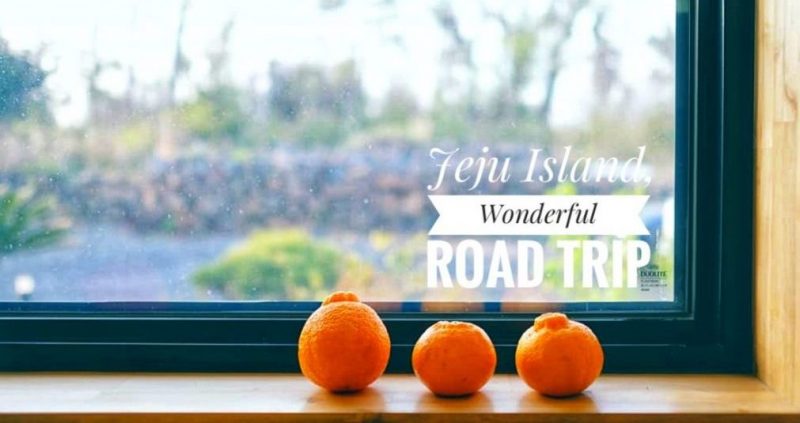 This Jeju food post is part of our 6 days Jeju road trip itinerary Series. Again, self-driving is the best way to exploring beauty. We rented our car from AJ Rent A Car through RentalCar.com with the cheapest and customer reputation guarantee. The pickup process is very simple and we have documented how to rent and pick up your rental car from Jeju Airport.
Read also our other Jeju travel blog posts on:
How To Plan For Your Wonderful Jeju Road Trip
To plan on your Jeju itinerary, please check out our accommodation guide on where to stay in Jeju. We include the best hotel, guesthouse, and pension in Jeju Island for your selection.
Ultimate Guide For Your Jeju holiday – Where To Stay In Jeju
Below are where we stay in Jeju:
Hotel and pension in Jeju City: We stayed at two different places in Jeju city, before and after the round island trip. Hotel Whistle Lark is strategically located with walking distance to the black pork street and Dongmun market. While At Corner Resort & Garden Jeju is a wooden holiday house with overlooked garden and sea view.
Pension in Seogwipo: Jeju Aurum is a beautiful lava beach front pension with a beautiful sea view with sunrise featured.
Pension in Seongsan: B&Sun Pension is a cozy pension run by ahjumma with her family. A budget guesthouse with unique Korean homestay experience in Jeju.