Last updated on September 23rd, 2023
Here is our Japan Food Guide covers everything from the best, traditional, and must-try Japanese dishes to navigating Japan's best restaurant scene.
Japan is one of the world's best countries for food that takes great pride in its food culture. A visit to Japan would not be complete without experiencing any of Japan's unique and diverse cuisine. Although you can easily find many Japanese food and restaurants in your home country, you have to taste the authentic Japanese food in Japan for yourself when you are in Japan!
There's so much delicious food in this country. So much it makes my head spin! This Japan food guide post isn't a definitive answer to the question of what to eat in Japan by any means, but I liked the variety of the food we tried whenever visit Japan.
To make it as well-rounded as possible, we will list down all the best food that we tried in Japan. From the popular must-eat food, obscure regional specialties, and local favorite dishes, for sure there is something that meets your food scenes and level of affection for Japanese cuisine.
We hope that we can give you even the tiniest idea of the best food scene in Japan.
What To Eat in Japan: Must-Try Japanese Dishes
But first, this is the long post for the Japan food guide that we tried to categorize and summarised all the best food we ate and restaurants visited. Feel free to click on each section for your best food in Japan.
Japan Food Guide – Must-Try Japanese Dishes in Japan:
Sushi and Sashimi: Sushi, Conveyor Belt Sushi, Sashimi, Basashi (Horse Meat Sashimi).
Noodle Dishes:

Ramen,

Tsukemen,

Soba,

Udon,

Fire Ramen,

Flowing Bamboo Noodles.

Rice Dishes:

Kaisendon,

Hitsumabushi (Unagi with Rice),

Kamameshi, Japanese Curry Rice.

Mix Ingredient / Other:

Tempura,

Okonomiyaki.

Hot Pot Dishes:

Hot Pot (Nabe),

Motsunabe.

Meat / Poultry:

Yakitori,

Yakiniku,

Tonkatsu,

Jingisukan.

Popular Japan Seafood (served in sashimi, or together rice): Fugu,

Crabs,

Sea Urchin.

Japanese Snack / Dessert / Drink:

Takoyaki,

Gyoza,

Korokke, and more.
If you're curious about each best food location in the Japan Food Guide post, read on for more details on what to eat in Japan regional if you want to fly home with a happy tummy!
SUSHI AND SASHIMI
The best Sushi and Sashimi to eat in Japan:
Sushi | 寿司 or 鮨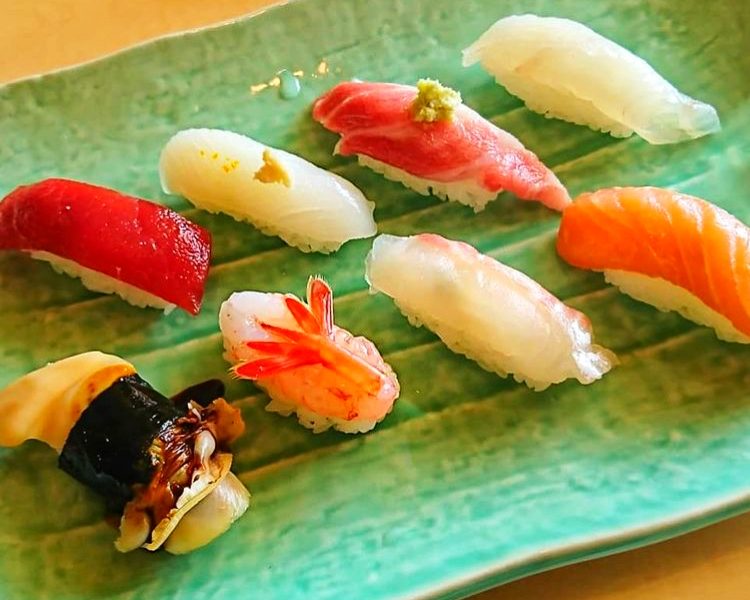 First of all, let's start with the best food that most of us associate Japan with Sushi. The artfully presented dishes are made with vinegared rice and together with a variety of ingredients, mostly raw fish and other types of seafood. You can just grab a piece of sushi with chopsticks and dipped it into soy sauce or wasabi (a spicy Japanese condiment).
Depending on the shape and ingredients that are used, the family of sushi can be called different names. The common types of sushi are maki sushi, nigiri sushi, inari sushi, gunkan, inari sushi, Oshizushi, Temaki sushi, etc.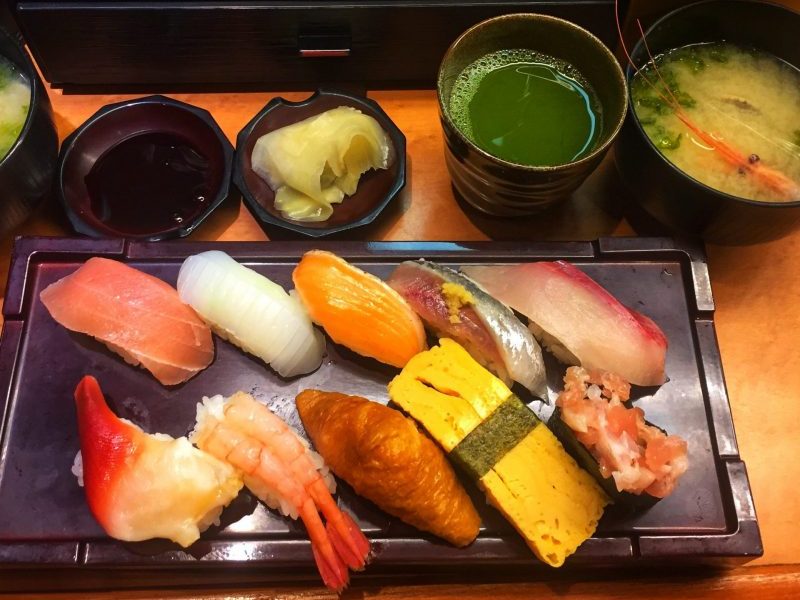 Nigiri sushi is a bite-sized mound of sushi rice topped with slices of raw fish. Maki sushi is commonly referred to as a "sushi roll" where fresh fish and/or other ingredients are wrapped with Japanese rice and a dried seaweed sheet (nori).
It is a big part of Japanese cuisine and you can easily find a variety of sushi restaurants in Japan.
Japan Food Guide Tips: There are a lot of things to know when it comes to Japanese food culture. Do you know that there is a correct way of eating sushi?
You can eat sushi with either chopstick or by using your hands.
Don't mix wasabi in your soy sauce.
Add soy sauce only to the fish topping instead of the rice so the sushi does not fall apart.
Do not cut a piece of sushi in half with your chopsticks.
Conveyor Belt Sushi | 回転寿司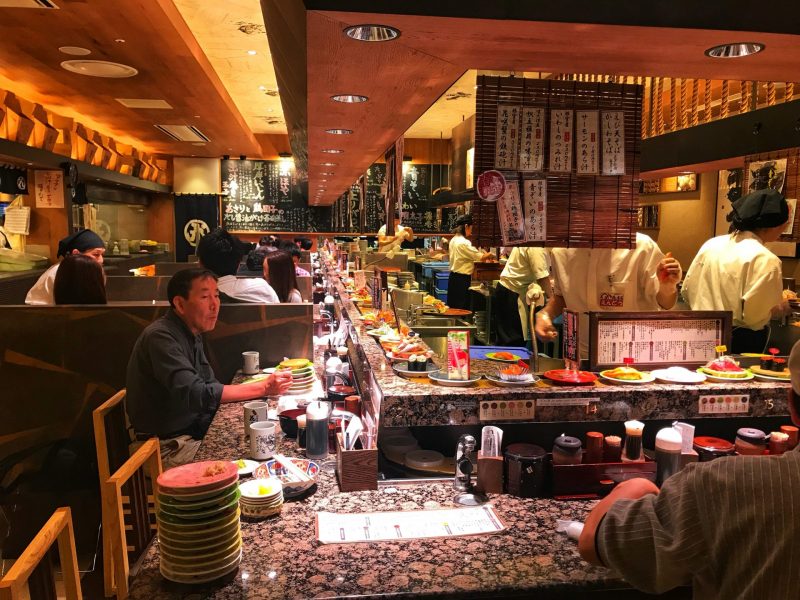 A fun way to sample a variety of sushi is by visiting a conveyor belt sushi restaurant. The "kaitenzushi" (回転寿司) is very popular among locals and travelers. A conveyor belt transports small plates of various sushi around the restaurant, with different color plates, and passes around the tables or booths. You can take any sushi that you want and the prices of each plate of sushi are different depending on the color of the plates.
Be sure to pick up the entire plate instead of picking single pieces of sushi off the plates.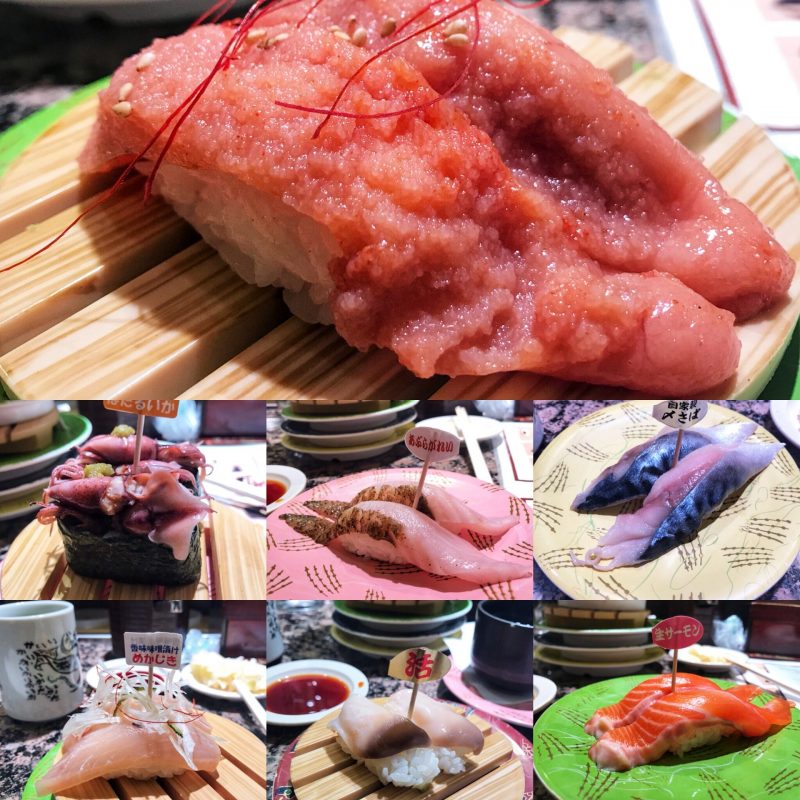 There is a wide availability of conveyor belt sushi restaurants in Japan. The Kura Sushi and Sushiro are Japan's popular chain conveyor belt sushi restaurant that offers Japan's longtime affordable sushi at a budget price yet freshness guarantee.
Nemuro Hanamaru is the Hokkaido's Quality Conveyor Belt Sushi for its finest quality sushi that won't break the bank. You can find exquisite sushi at great prices including that seasonal seafood here. Always busy and attracting a lot of people including locals and tourists.
Sashimi | 刺身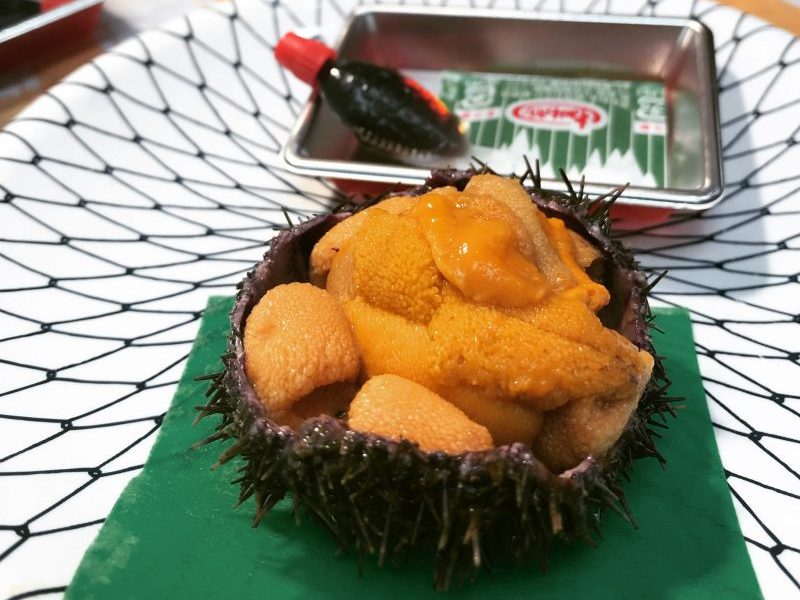 Sashimi is sushi minus the vinegared rice. This Japanese delicacy is one of the most famous dishes in Japanese cuisine. The raw fish or meat is thinly sliced into pieces and often eaten with wasabi and soy sauce.
The common types of sashimi that travelers are likely to eat in Japan:
Maguro (Tuna) – The best and must-eat sashimi in Japan! You won't believe how rich and buttery flavor of eating Japan's tuna, either sashimi or sushi. My favorite part of tuna is the toro. Truly heaven!
Sake (Salmon) – The bright orange tender salmon is one of my favorite sashimi in Japanese cuisine.
Saba (Mackerel) – Though more popularly served grilled, saba is also enjoyed as sashimi when in season.
Amaebi (White Shrimp) – The sweet and subtle flavors are usually presented with the shell removed.
Hotate (Scallop) – The best Hotate has a firm texture and a sweet, almost creamy taste.
Hokkigai (Surf Clam) – The best Hokkigai that I tasted is in Hokkaido, with firm meat and sweet flavor.
Ikura (Salmon Roe) – Translucent and bright orange fish eggs.
Uni (Sea Urchin) – Particularly the expensive delicacy in Japan. Flavorful and rich in taste with and buttery texture.
Chicken Sashimi
While seafood is most commonly eaten as sushi and sashimi, other types of meats (such as chicken, beef, or even horse) can also be served. Due to health concerns, raw meat needs to be super fresh to be safely eaten. So normally, a special license is required to serve raw meat in Japan.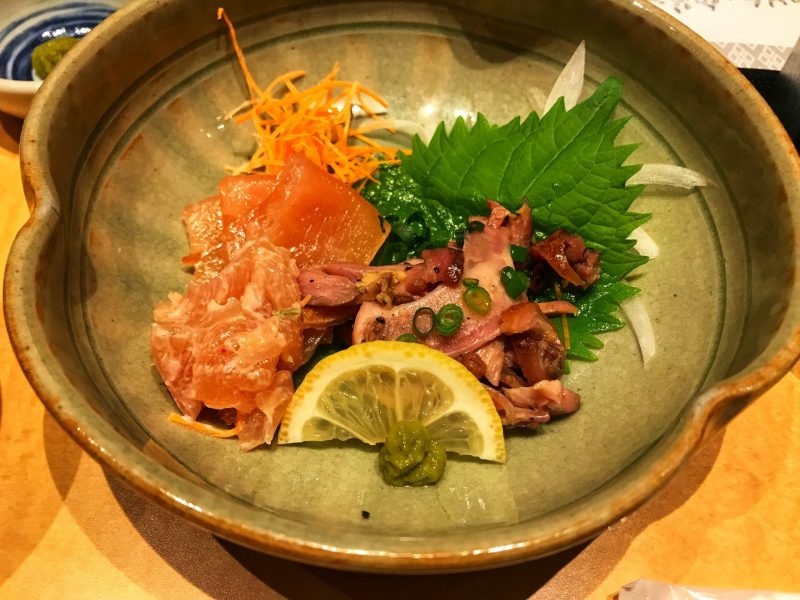 Beef Sashimi
We did try the beef sushi in Takayama. Not as premium as Wagyu, Miyazaki, and Kobe beef, the Hida beef is a famous beef from the Gifu area in Central Japan and classified as high glass beef in Japan. It is so delicious and melted once put inside the mouth. The taste was similar to flavorful toro sushi. But you will never realize that it was beef sushi. Amazingly delicious!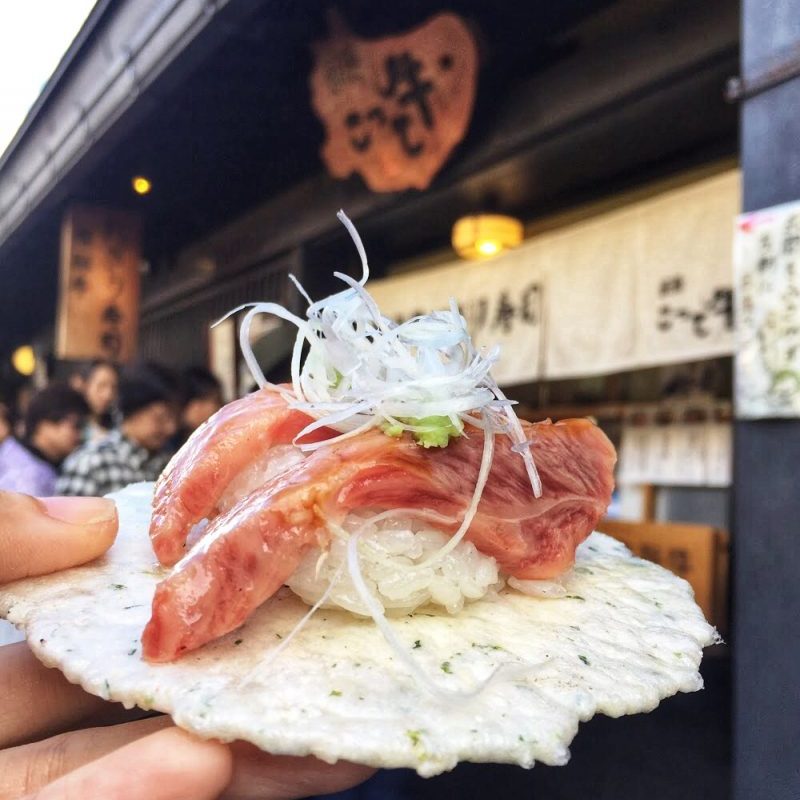 Basashi (Horse Meat Sashimi) | 馬刺し
The basashi (馬刺し) is the horse meat sashimi, another type of meat sashimi served in Japan. Because of its pinkish color, horse meat (sakuraniku) is also meaning "cherry blossom meat".
This local dish is hard to find in most other prefectures, and Kumamoto is the best place to taste the basashi in Japan. We get the chance to try this unique cuisine in Suganoya (菅乃屋), Kumamoto. The basashi is delicious and one of the most surprising Japanese dishes we've had so far.
Plus, chicken sashimi is particularly popular in Miyazaki and Kyushu regions.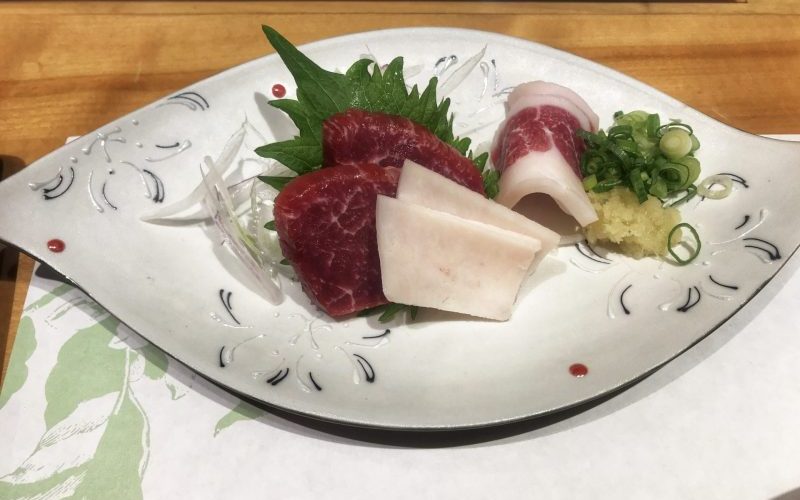 NOODLES DISHES
The Best Noodle Dishes in Japan:
Ramen | ラーメン
Another popular food option when looking for something to eat in Japan. Ramen is inexpensive and widely available in Japan, making it the best food for budget travelers. You can find countless regional variations of ramen in every corner of Japan. Ramen alone can be written for the separate best ramen in Japan Food Guide.
There is always one of the best ways of enjoying your ramen, slurp up the noodles! A slurping sound is not an impolite eating behavior in Japan, In fact, it helps to enhance the flavors and cool down the piping hot noodles when eating. You don't need to finish the entire bowl of broth, but it is a compliment for a ramen chef with an empty bowl of ramen.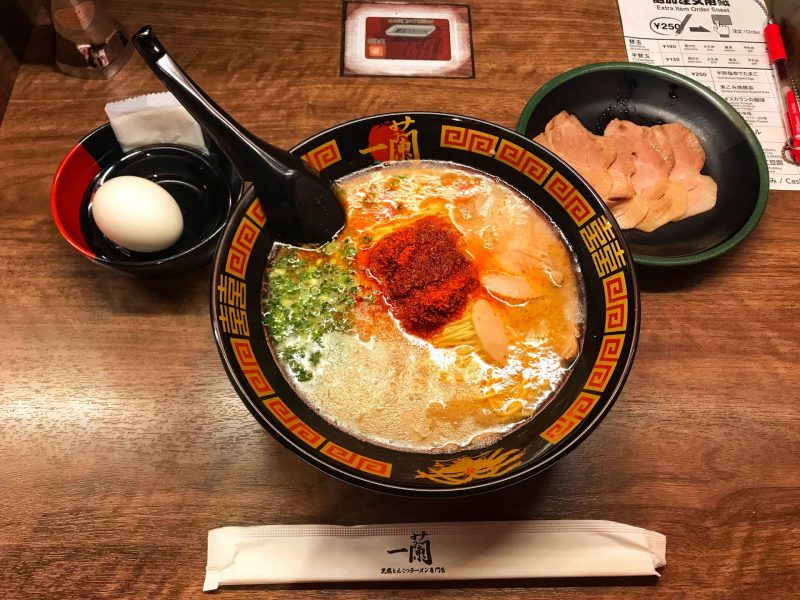 A bowl of tasty ramen normally consists of four basic components; broth, wheat noodles, tare (seasoning), and toppings. In most ramen restaurants, you can usually ask how done you'd like the noodles – thin, soft, firm, or extra firm. While the noodles and toppings enhance the food experience. but in our opinion, the broth is the star and the most important part to determine the taste of the best ramen.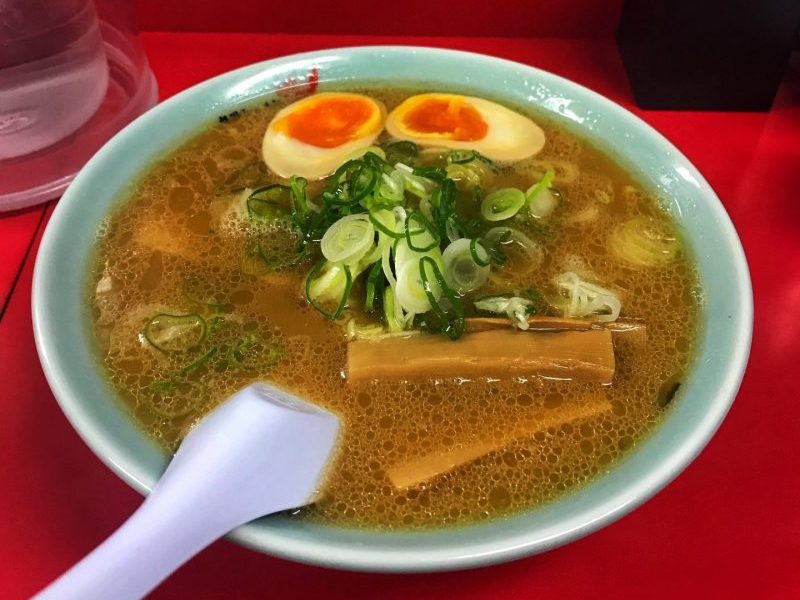 Ramen: Shoyu, Miso, Shio, and Tonkotsu
Ramen is typically categorized into four main types – Shoyu (Soy Sauce), Miso (Soybean Paste), Shio (Salt), and Tonkotsu (Pork Bone). It is available in many different regional varieties, and some have become extremely popular that can be found in entire Japan. The heavy and hearty taste immediate can warm your body when you slurp up the noodles.
Miso Ramen is among the most popular regional ramen varieties and has become a mainstay at ramen valley all over the country. Sapporo served the best miso ramen in Japan, featured with fat, robust noodles and often topped with filling Hokkaido specialties, such as creamy butter and sweet corn.
Tonkatsu Ramen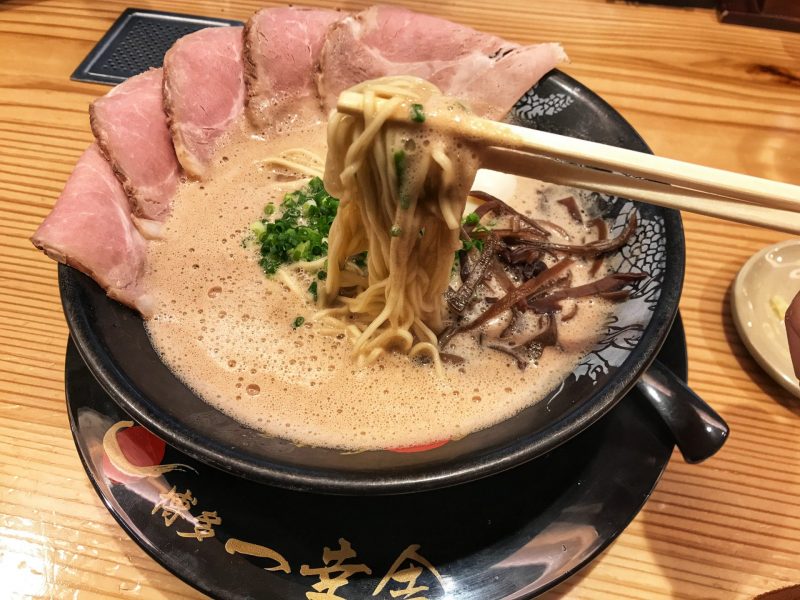 Personally, my favorite type of ramen is Hakata's tonkatsu ramen on the northern shore of Kyushu in Fukuoka, the birthplace of pork bone broth ramen.
The taste of tonkatsu ramen is popular not only within Kyushu but also across Japan. Pork bones, fatback, and a whole host of other ingredients are simmered for long hours until they break down into an ultra-rich, porky soup with fat globules floating on top. Tonkatsu ramen has the tastiest flavor I have ever tried and can range from soft to strong depending on where you order it.
Tsukemen | つけ麺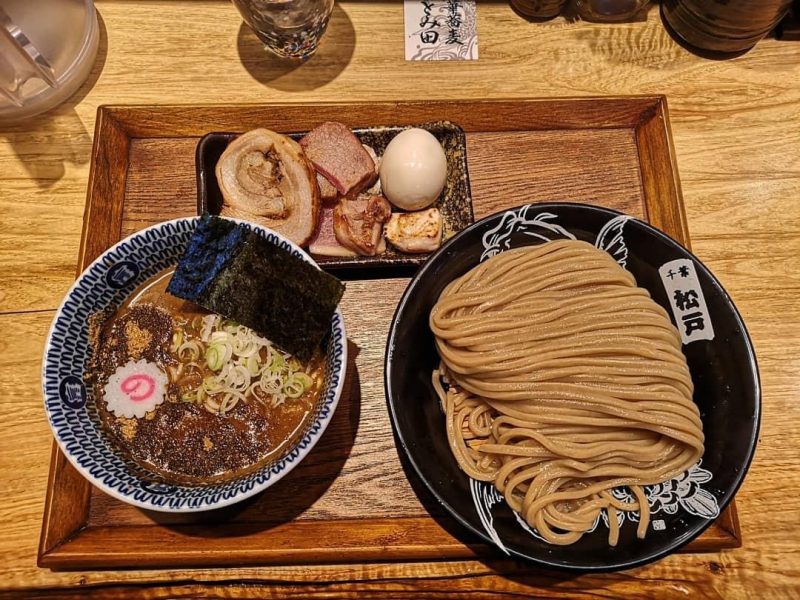 You probably are already familiar with ramen. But there is another special ramen that you can try is the Tsukemen or dipping ramen noodles. a style of ramen where the broth and noodles are served separately. It helps to ensure that the noodles stay firm throughout your meal.
Tsukemen noodles are thicker than ramen noodles and have a firm chewy texture. While the broth is more intensely flavored than usual ramen broth to make sure the noodles are well-coated with flavor. Just dip the noodles into the broth aside and enjoy it.
The best tsukemen that i had in Japan from Chuka Soba Tomita (中華蕎麦 とみ田). It is unanimously considered the No#1 best ramen in Tokyo, or even Japan. Chuka Soba Tomita has won the grand prize in TRY (Tokyo Ramen of the Year) for 4 consecutive years and in many Ramen tournaments. Due to the popularity, and the extremely long waiting time to taste this best tsukemen. It is suitable for those travelers who love to hunt for the best food in Japan with extra time spare. The tsukemen is rich but refined flavor, and ultimately divine!
Read on my food experience in Chuka Soba Tomita.
Soba | そば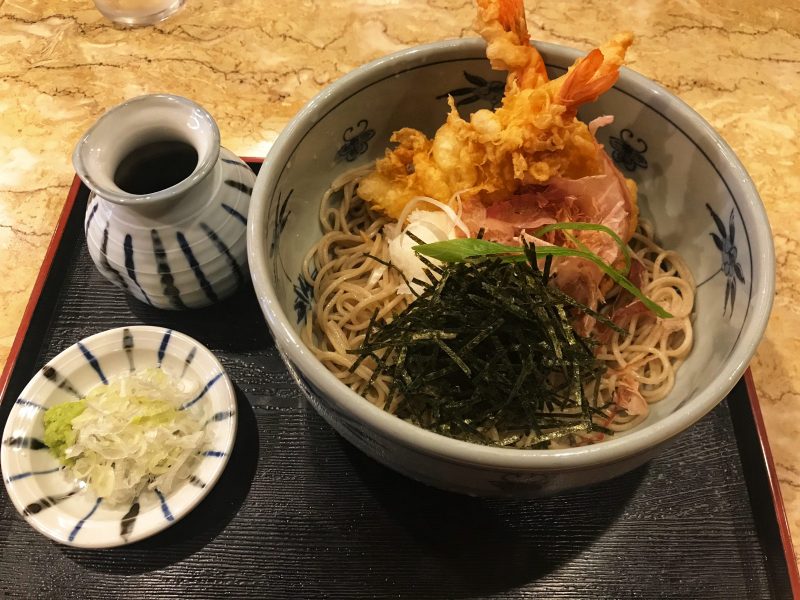 Soba is the Japanese name for thin noodles made from buckwheat flour, or a combination of buckwheat and wheat flour, roughly as thick as spaghetti. Similar to udon and ramen, soba noodles are often found in savory soup broth and they can be served either hot or cold. The cold-served soba comes with a dipping sauce called tsuyu, while the hot soba is served in a bowl of hot, clear broth.
Soba is cheap and popular, and widely available throughout Japan. Simple soba noodle dishes typically cost between ¥500 yen and ¥1,000, and special soba meal sets, accompanied by a variety of side dishes, like sushi, sashimi, tempura, chawanmushi, are usually priced at ¥1,500.
This simple noodles dish is widely consumed in the whole of Japan and can be easily found at specialized soba restaurants, family restaurants, izakaya, or even standing counters at busy train stations.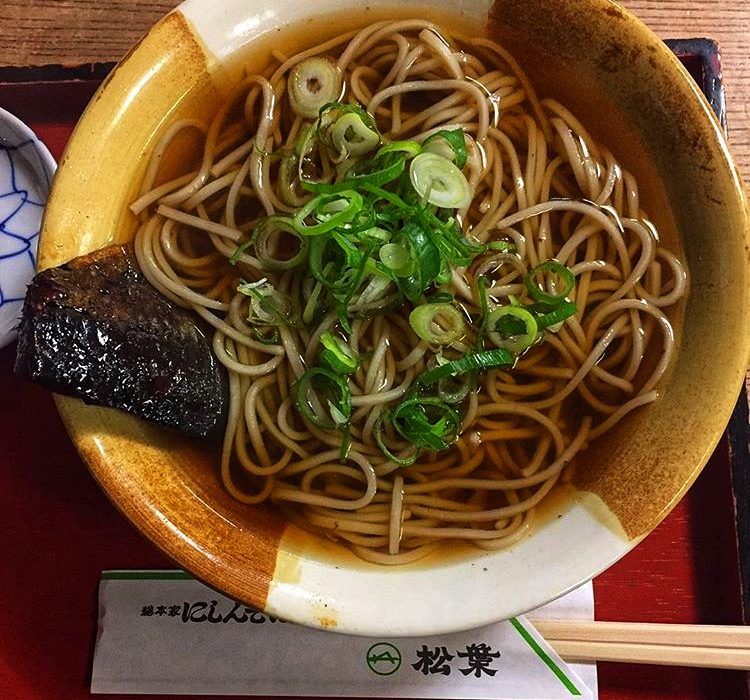 If you visit Kyoto, then you may be interested in trying Nishin soba, one of Kyoto's specialty cuisine. The local herring fish is perfectly smoked with sweetness and salty tastes served together with the soba noodles and flavored soy sauce broth. A unique Kyoto-style soba noodles!
Udon | うどん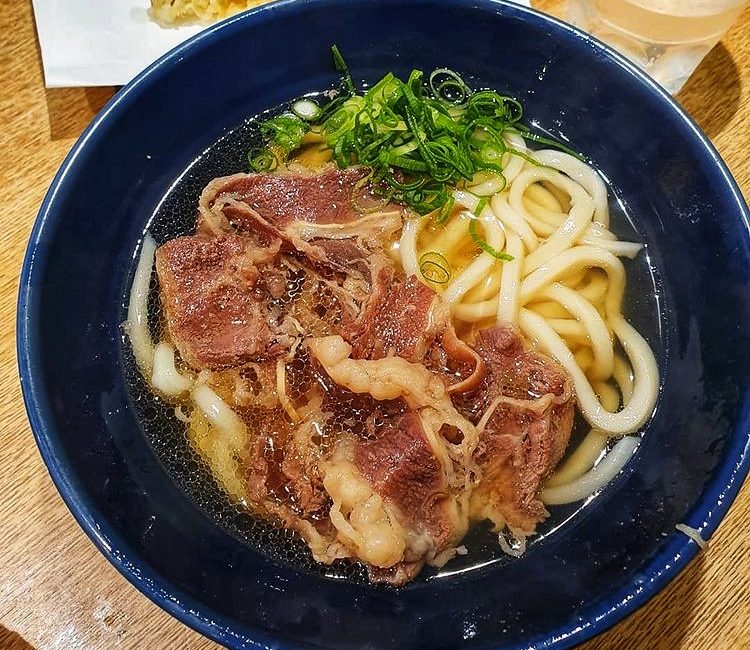 Similar to soba, Udon (うどん) is another popular Japanese dish that is an easy introduction to Japanese food. Also made from wheat flour, Udon is thicker than soba noodles and chewier. Udon noodles are served with a variety of ingredients in different styles, including in hot broth, cold, stir-fry, with curry, and even dry with a dipping sauce.
The most traditional version of Udon is served in hot broth. The flavourful savory bowls are loaded with soft thick noodles, sliced chicken or beef, fresh vegetables, and a variety of garnishes like green onion, sesame seeds, roasted seaweed slices, nora, and dried garlic.
Some people will prefer the simplicity of udon noodle soup. To me, as opposed to ramen, udon is often a bit plainer in flavor (the broth or sauce is typically not as heavy or salty as ramen) beyond the thickness difference.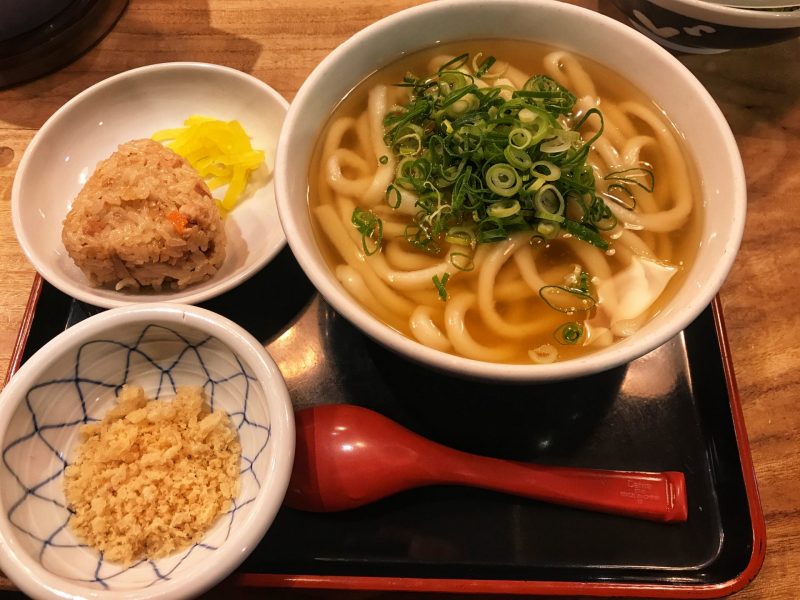 Similar to soba and ramen, udon is widely available at restaurants across Japan, especially at busy train stations. I particularly love to enjoy a bowl of hot served udon noodles for breakfast before departing for a day trip in Japan.
The simple breakfast Udon set is served in a hot broth with green onion, tempura bits, and the add-on side, normally costs you between ¥500 and ¥1,000.
Fire Ramen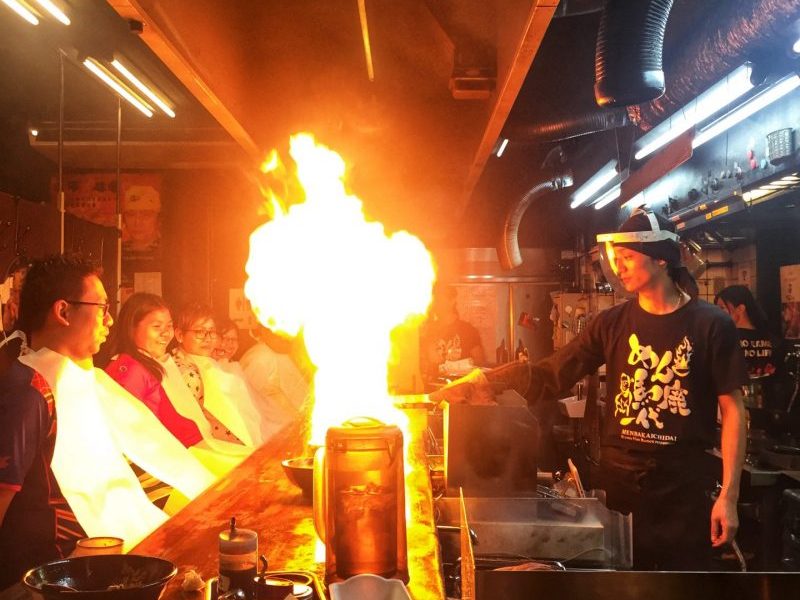 If you're visiting Kyoto, make sure to find time for an extraordinary culinary experience in Japan. The fire ramen does not mean spicy, it means your ramen is on fire, seriously flaming fire. A bowl of ramen will be lit on fire in front of you which gives your ramen the most incredible smokey flavor and makes for such a fun environment to eat
There are strict safety rules in multiple languages and many checks to ensure you understand the rules, to eliminate the risk of injury. What you need to do is, put on the plastic apron, seat back and watch your ramen be lit on fire!
The ramen itself is good and oily compared with the normal ramen. But it's all about the fire and experience. For those who love traditional Japanese broth ramen, Fire Ramen is not your food choice.
Kyoto Fire Ramen Menbakaichidai
Flowing Bamboo Noodles | そめん流し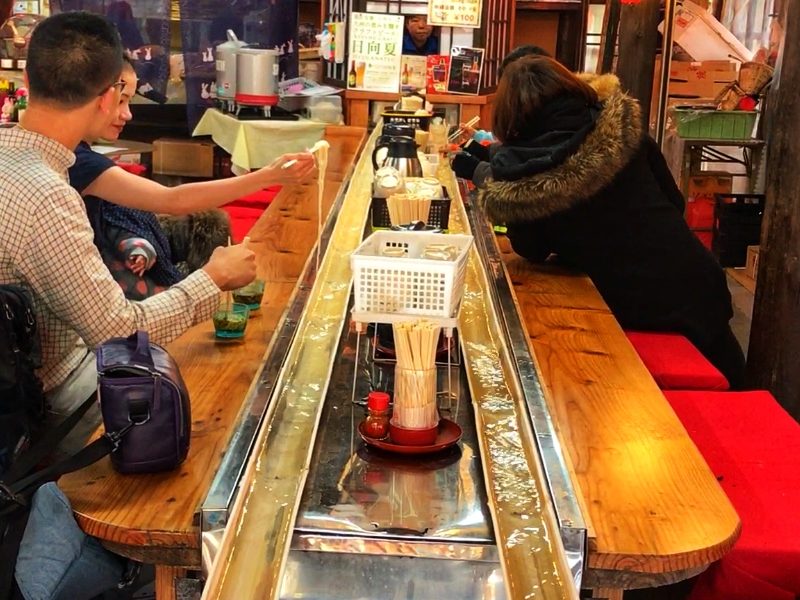 Next is chilled noodles via flowing cold water after we have the fire ramen in Japan food guide. The Nagashi Somen (そめん流し), also called flowing bamboo noodles, is a thin white noodle flowing down from a sliced bamboo pipe filled with cold water. You have to catch the flowing somen when it is released if you want to eat it. After you successfully catch the somen, dip it in a special dipping sauce, called Tsuyu, and slurp the delicious noodles!
You can have Nagashi Somen in Tokyo and Kyoto, normally served in the summer. While we ate this special Japanese food in Takachiho Gorge, Miyazaki. Chiho no Ie Teahouse (千穂の家) served this signature local specialties all year round since the 1950s.
RICE DISHES
The Best Rice Dishes in Japan:
Kaisendon | 海鮮丼
Kaisendon is a combination of the words 'seafood' (kaisen 海鮮)and 'rice bowl' (donburi 丼). It is a type of seafood rice bowl that consists of white rice and raw sashimi, such as prawns, octopus, squid, salmon, white fish, crab meat, egg, and sea urchin roes.
Often served with a traditional set menu with miso soup, pickled vegetables, chawanmushi (steamed egg custard with vegetables/seafood/meat), and some side dishes. It is very similar to sushi, but instead, served in a bowl of normal rice with marvelous seafood on top.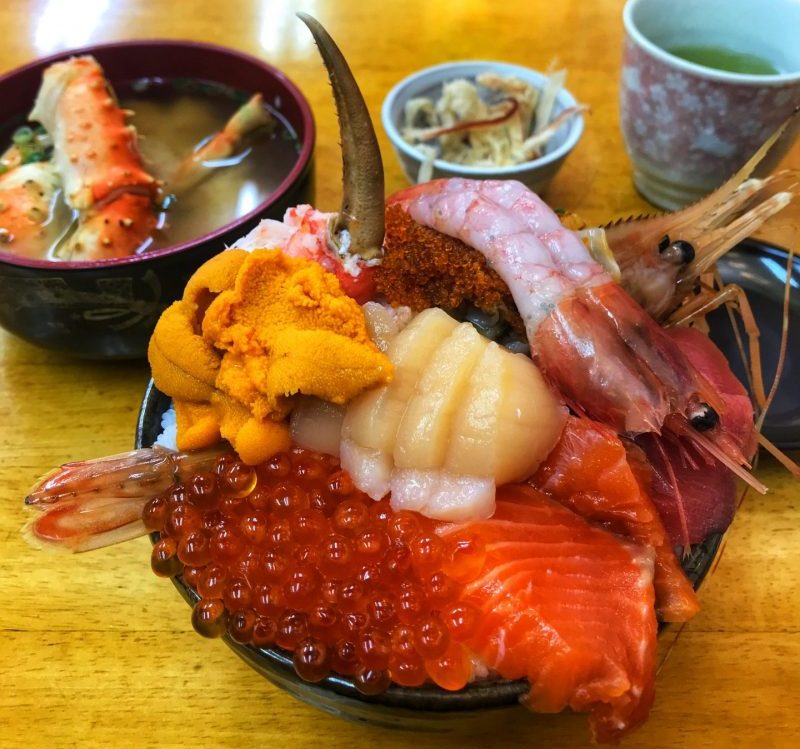 The most important factor to get the best kaisendon in Japan is the freshness of seafood on top of the rice. Kaisendon can be easily found in restaurants or best at a food market that offers fresh seafood directly from the port.
Hokkaido is the best place for kaisendon with a freshness guarantee. We had an amazing seafood food trip in Hokkaido and had the overflowing bowl of kaisendon at Otaru, Hokkaido. For the seafood lover, you should make your trip to Hokkaido!
Unagi | うなぎ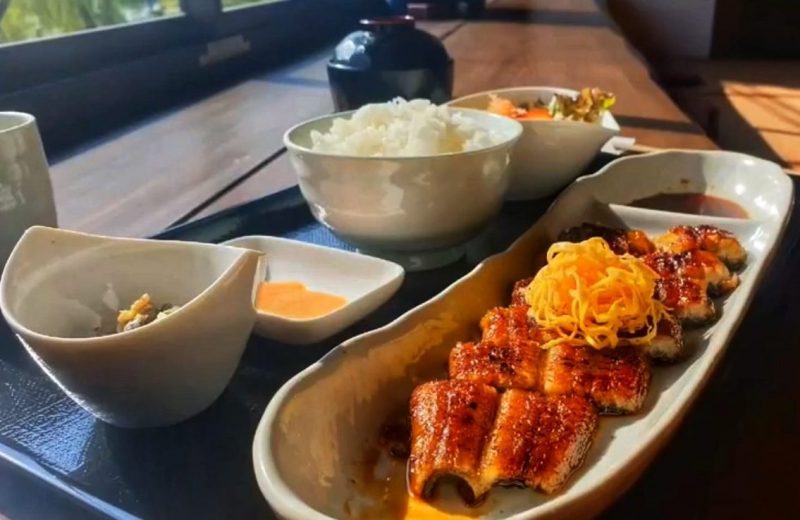 Not to be confused with anago (saltwater eel), Japan's unagi (うなぎ) is a freshwater eel with a rich, fatty flavor that lends itself well to grilling.
Unagi can be prepared in a variety of ways, and the most common is in kabayaki style. To prepare for this, the eel is cut open with its head and bone is removed. Next, the fillets are skewered and slowly grilled over the charcoal with kabayaki sauce (savory-sweet sauce). The smokey and savory-sweet unagi is something you need to have when you visit Japan.
The flavorful unagi is widely used in sushi dishes, especially nigiri sushi, where a thin piece of grilled eel is served on top of sushi rice. You can also see the unagi served in Unaju (grilled eel fillets served with cooked rice in a rectangular, lacquered box), Unadon (grilled eel fillets served in a bowl of rice), or as a main dish in a rice set.
Not to mention the Hitsumabushi that I am going to introduce in this Japan Food Guide.
Hitsumabushi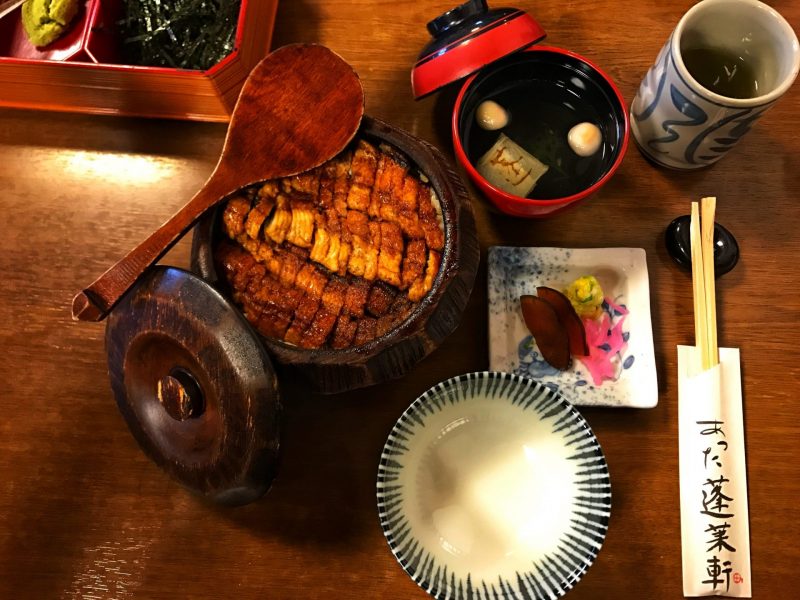 One of the best ways to enjoy unagi is Hitsumabushi (ひつまぶし). It is a Nagoya specialty where grilled unagi are served over rice that is eaten in four steps.
Unagi is served in an individual bowl with wooden tubs over rice, together with dashi and yakumi (condiments) such as spring onion, wasabi, and seaweed. Firstly, divided the Hitsumabushi into four portions and then eaten in four different ways. The first portion is eaten straight with rice, the second with rice and condiments, and the third with broth, tea, or dashi to make chazuke. While the last portion is based on your liking from the above three ways. It is fun to enjoy the unagi in various ways while each style gives you a different impression of this Japanese popular dish.
We visited Atsuta Houraiken for its superb and succulent Hitsumabushi in Nagoya. Read my food review here: Hitsumabushi Atsuta Houraiken – Nagoya Must Eat Food. Don't forget to mark this Japan wonderful dish in your version of the Japan Food Guide.
Kamameshi | 釜飯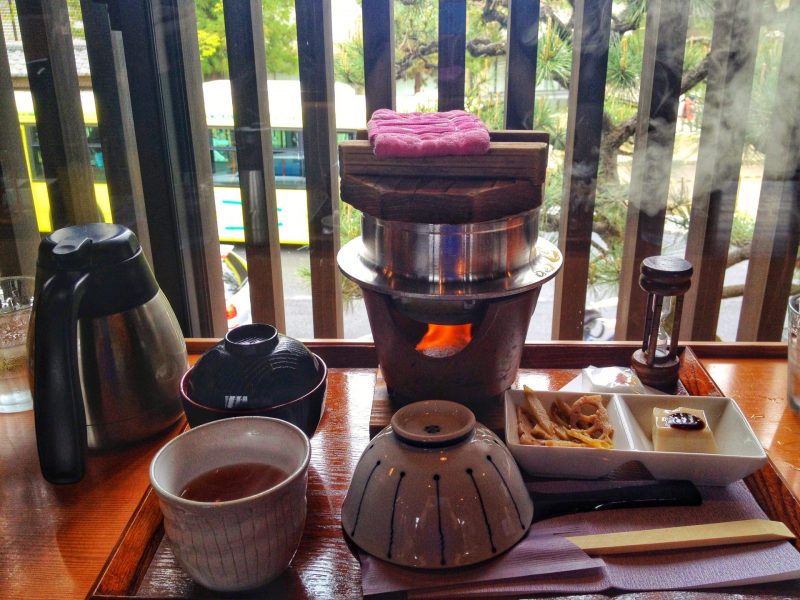 Kamameshi (釜飯), literally translates to "kettle rice", is a traditional Japanese rice dish made with seasonal fresh ingredients, such as chicken, seafood, and vegetables with rice, boiled in an iron pot called a kama. All the ingredients will be simmered and cooked together under pressure.
As the rice stream in the kama, allowing the fragrance of the added ingredients to infuse with the rice. The rice will soak up the great flavors and was subtle yet delicious.
Apparently, Nara is one of the popular places to try the Kamameshi in Japan. Many restaurants in Nara will be serving these popular dishes and Shizuka (志津香) is specialized in Kamameshi for more than 50 years.
Japanese Curry Rice
Japanese curry rice is an inexpensive Japanese dish that can easily be found throughout Japan and is widely available at supermarkets and restaurants. Unlike the curry you taste in India or Southeast Asia, Japanese curry is usually sweet, in a thick, sumptuous, and umami brown sauce without fiery burst. Even children can enjoy it thoroughly!
The ingredients for Japanese curry are a variety of meats (chicken, pork, or beef), vegetables (onions, carrots, and sweet potatoes), and mild spices. The katsu curry (deep-fried breaded cutlet with curry) rice as per the picture above is also very popular in Japan.
MIX INGREDIENT/OTHER
Thes best Mix Ingredient / Other dishes in Japan:
Tempura | 天ぷら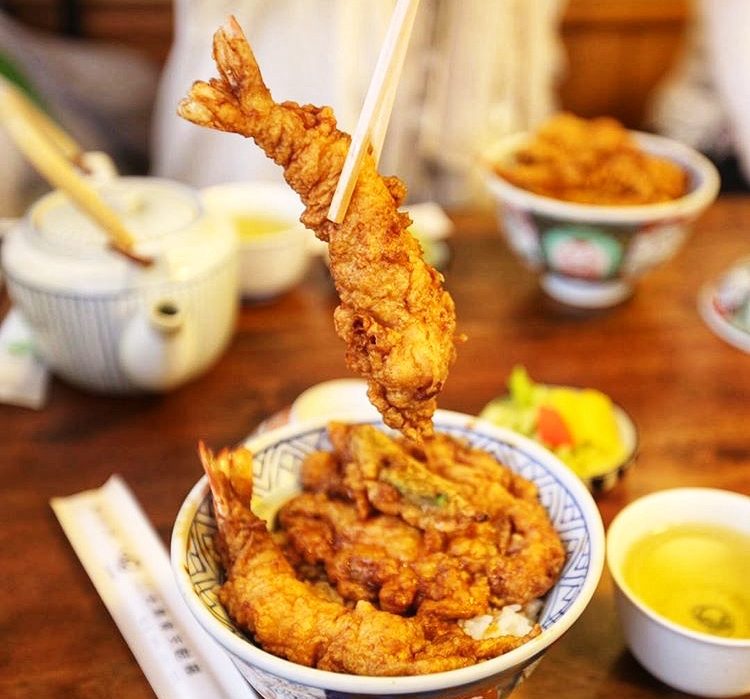 Next on the Japan Food Guide is tempura (天ぷら), one of the most popular Japanese dishes in Japan. It's a simple dish that consists of battered and deep-fried seafood and vegetables, served with a special dipping sauce called Tentsuyu. The batter is lightly mixed and lighter than the common batter used for fried fish and chicken.
Different types of seafood and vegetables are used in tempura though Ebi (shrimp) is the most popular variety of tempura pieces. It can be served as an appetizer, side dish, or as a topping for Tendon rice bowls, soba, and udon noodles.
The picture above is one of the tendons (tempura rice bowl) that we ate during our visit to Asakusa, Tokyo. The Daikokuya Asakusa served tendon at the beginning of the Meiji period and is still open today. It is famous for its soft and soggy tempura dipped in its secret black sweet sauce. We love the crispy, fried pieces of tempura but the soft tempura tastes slightly different yet still delicious.
Okonomiyaki | お好み焼き
Okonomiyaki is a Japanese savory pancake made with a batter of flour, eggs, and cabbage, and mixed with a variety of ingredients ordered. The common ingredients are meat (thinly cut pork belly or bacon), octopus, squid, shrimp, vegetables, green onion, or cheese. The batter is then pan-fried on a hot griddle at the restaurant, sometimes on a hot griddle right before you, topped with sweet and savory okonomiyaki sauce, Japanese mayo, dried seaweed, and bonito flakes before served.
Okonomiyaki is available all over Japan, most closely associated with Osaka and Hiroshima. The Kansai-stye (also called Osaka-style) Okonomiyaki is prepared with fillings mixed into the batter before being cooked on the grill. While the Hiroshima style is cooked layer-by-layer, rather than mixed.
Osaka-Style Okonomiyaki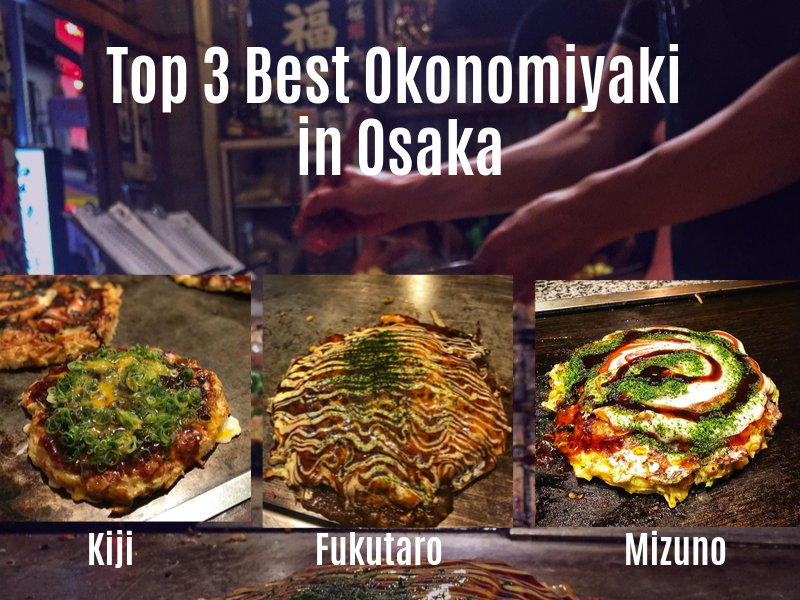 Similar to takoyaki, okonomiyaki is another Osaka's must-eat food. I am a big fan of okonomiyaki and tried a number of different okonomiyaki in Osaka, Japan. My personal favorite was Kiji (きじ 本店), but the waiting time was extremely long for this Japan's best food. Overall, a very good okonomiyaki restaurant in Japan with delicious food.
Read on our food blog on the top 3 best okonomiyaki in Osaka. We have listed our dining experiences at Kiji, Fukutaro, and Mizuno. The best and quick way if you are looking for where to eat okonomiyaki in Osaka.
HOT POT DISHES
The Best Hot Pot Dishes in Japan:
Hot Pot (Nabe) | 鍋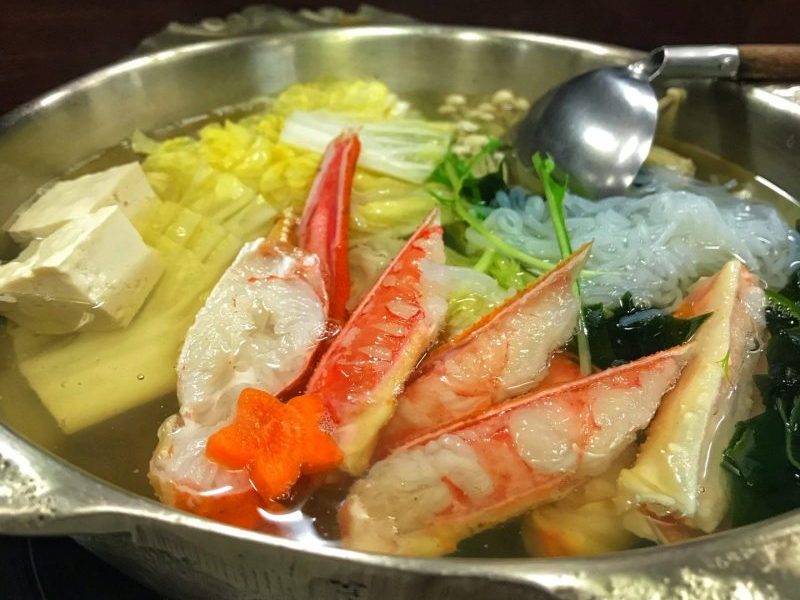 Nabe (鍋) is a term for Japanese hot pot dishes and is widely consumed across Japan. Basically, you cook your food at the table in a large heated pot with boiling water or soup base. Common ingredients found in nabe include vegetables, tofu, mushrooms, meat, and seafood. While the soup base is either flavorful broth or a simple and light broth to cook for the ingredients.
It is popularly eaten at home and served in Japanese restaurants or as part of a ryokan dinner. Wintertime is the best time to eat the piping hot pot dishes in Japan.
Popular types of nabe dishes:
Yose-nabe – Most common and most basic type of hot pot dishes where vegetables, mushrooms, meat, and seafood are cooked in a pot of flavorful broth.
Sukiyaki – Hot pot dish featuring thinly sliced beef or pork with vegetables in a mix of soy sauce, mirin, sugar, and water.
Shabu-Shabu – Hot pot dish that features thin slices of meat that are swished in the hot pot to cook just before eating. Gentle take piece by piece of sliced meat and dipped it around in the broth until the perfect time to eat it. The broth is often very lightly flavored.
Motsu-nabe – Hot pot dish containing pork or beef offal, vegetables, and chili peppers in a broth (soy sauce or miso).
The nabe dishes can be found all across Japan, and each region has its own local specialties.
Motsunabe | もつ鍋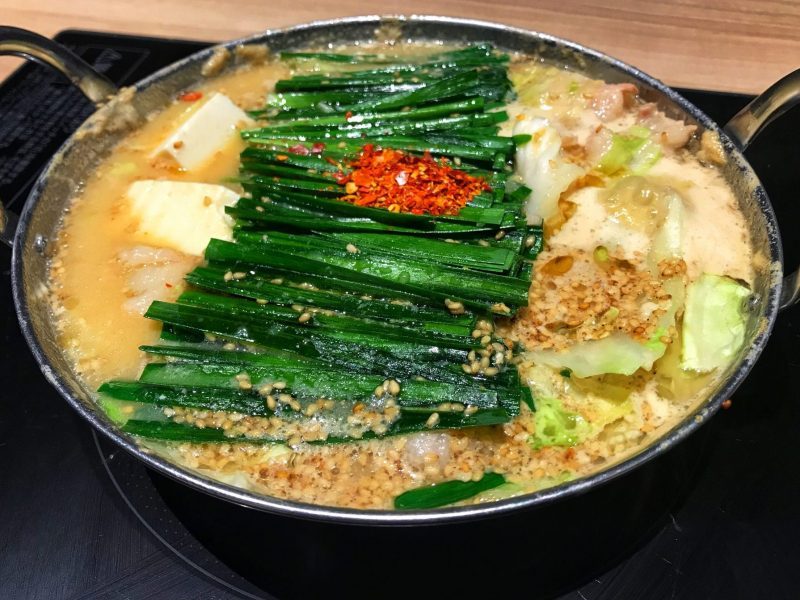 If you do not mind innards, then you're going to love this hot pot dish. The flavorful motsunabe (もつ鍋) is a hot pot dish typically made up of beef or pork tripe, cabbage, garlic, chives, and togarashi peppers in a salt, soy sauce, or miso-based soup. It is the Fukuoka specialty and has become one of the must-eat food when visiting there.
The flavorful stew is slowly simmered with the ingredients such as leek, chives, cabbage and beautifully seasoned with garlic and chili pepper at the table on portable burners in front of you. Paired with rice or champion noodles with leftovers as a perfect ending. One of the best food in Fukuoka, Japan.
I am falling in love with motsunabe since my first try in Fukuoka. I've tried the motsunabe from Hakata Motsunabe Ooyama and went for another round at Hakata Showraku. Truly addictive to this Japan's hot pot dish.
MEAT / POULTRY
The Best Meat / Poultry Dishes in Japan:
Yakitori | 焼き鳥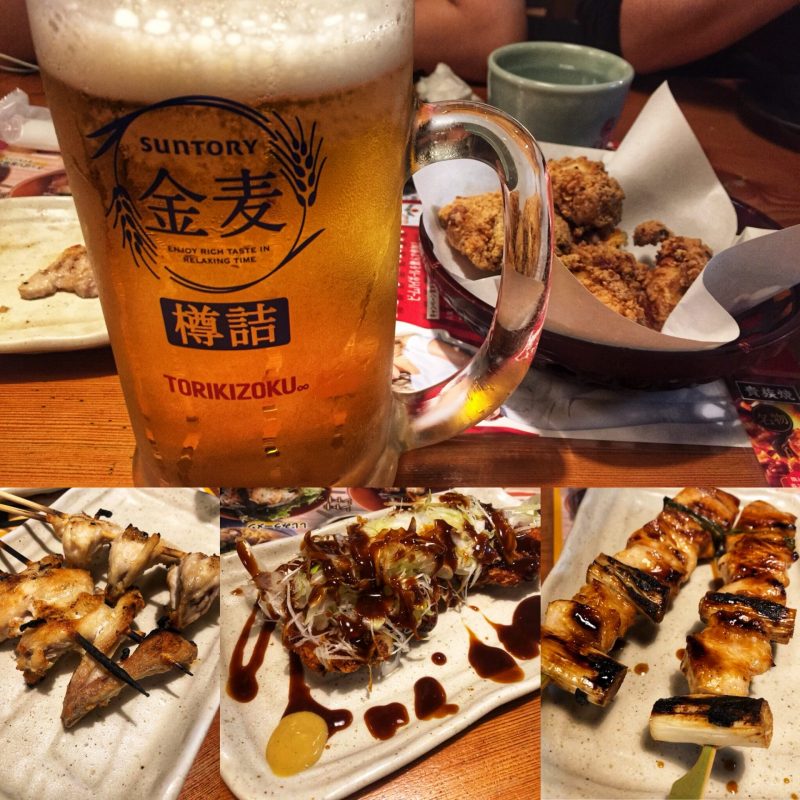 Yakitori (焼き鳥) is the Japanese version of chicken skewers. The bite-sized pieces of meat from all different parts of the chicken, such as the breasts, thighs, skin, liver, and other innards, are skewed and grilled over charcoal. The yakitori was just for chicken, but nowadays it can also see skewers made using pork, beef, and seafood.
Yakitori is popular Japanese street food and is widely served across Japan, commonly found at Yakitori-ya (shops that specialize in yakitori), izakaya (Japanese pub), festival food stands, and alleyways adjacent to large stations near business districts.
The inexpensive dishes are always best with a glass of beer and cheer with friends.
Yakiniku | 焼肉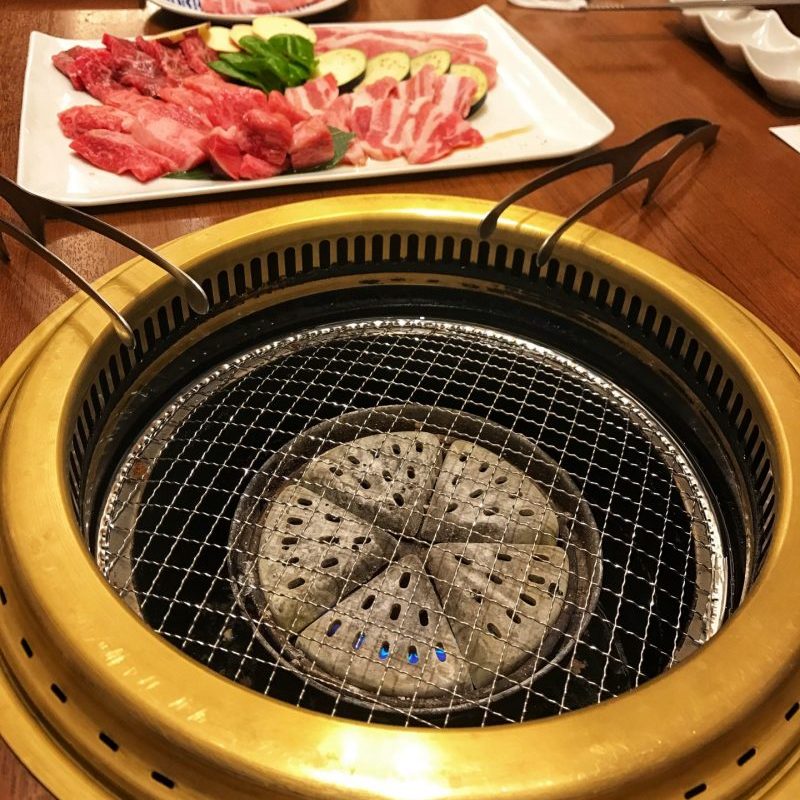 Literally, Yakiniku (焼肉) means "grilled meat". Technically, yakiniku isn't a dish but a Japanese style of barbecue since ingredients are commonly cooked over an open flame at your table. The meat, normally beef, chicken, and, pork, are sliced into bite-sized pieces, grilled over charcoal, and often served with just a few light seasonings like high-quality salt, sesame oil, or shoyu.
In Yakiniku restaurants, servants will bring raw meats and vegetables to your table so you can cook them yourself on tabletop grills. For a more expensive and premium option, you can visit a restaurant that offers prime beef cuts such as Kobe beef.
We enjoyed our yakiniku dinner at in Ajikura Tengoku (味蔵天国) in Takayama. This restaurant is specialized and served Hida beef in Yakiniku style. The meat is so flavorful and juicy, without adding any seasoning. It's another fun Japanese dining experience that you should try on your Japan trip.
Tonkatsu | とんかつ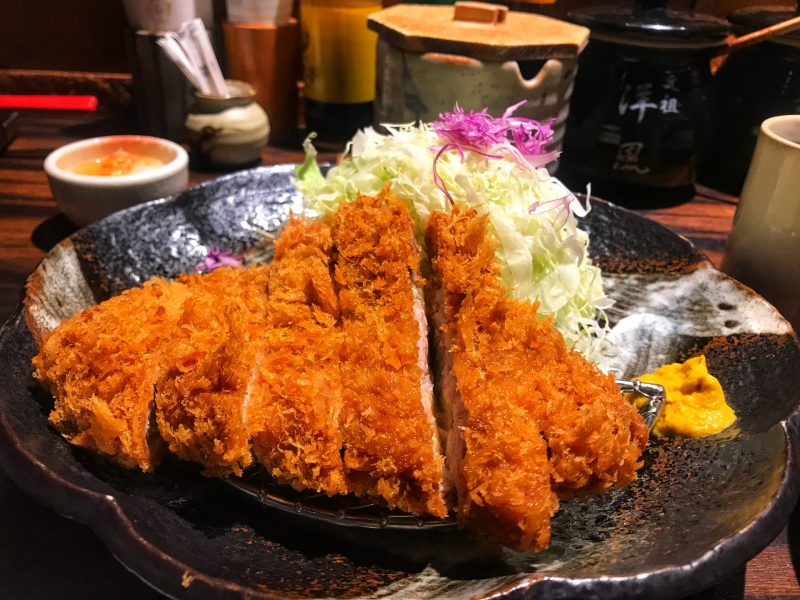 Not to be confused with tonkotsu (pork broth ramen), tonkatsu is a breaded, deep-fried pork cutlet dish. The 2-3 cm slice of pork loin or tenderloin coated with panko bread crumbs and deep-fried in oil. It is traditionally served with shredded cabbage, rice, miso soup, and pickles.
Tonkatsu is one of the most popular katsu dishes, and you may also see other variations made of chicken (chikinkatsu), beef (gyukatsu), and ground meat (menchikatsu). Besides, you will find variations of tonkatsu throughout Japan, including in convenient stores. Enjoy the tonkatsu pieces in Katsudon (katsu ricebowl), Katsu Kare (katsu curry), or Katsu Sando (katsu sandwich).
In short, tonkatsu is always one of the best food for the family with kids listed in the Japan Food Guide!
Jingisukan | ジンギスカン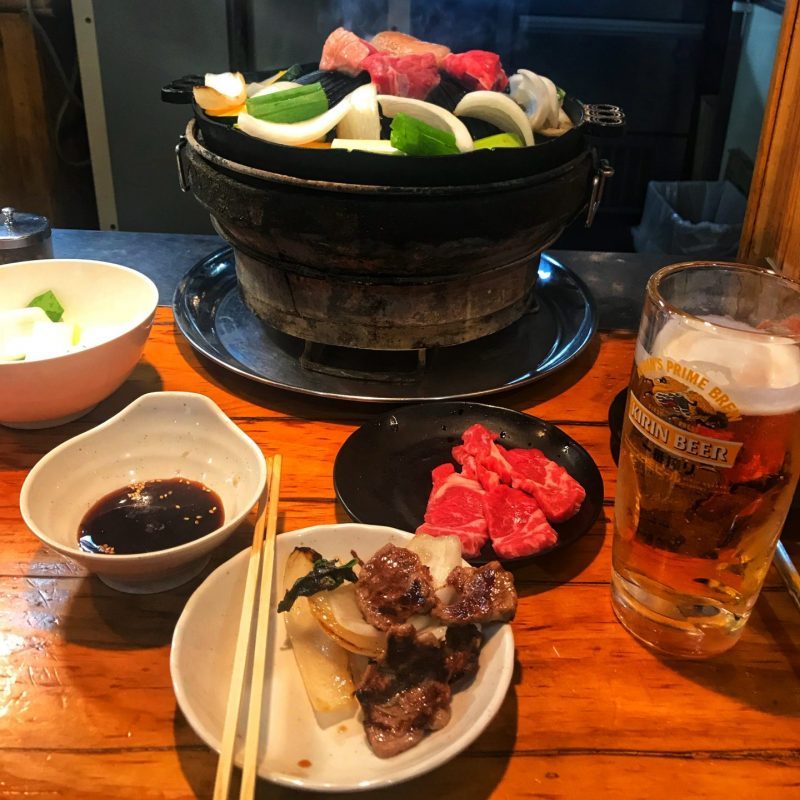 If you've been to Hokkaido, then you may recognize Jingisukan. This regional dish is very popular in Hokkaido, with mutton or lamb and vegetables sizzled to perfection on a Hokkaido's style of yakiniku. Rather than being grilled on an open flame, like yakiniku, this Japanese barbecue grill is on a uniquely shaped hot iron plate.
The name Jingisukan comes from the famous Mongolian warrior name, "Genghis Khan" and the unique convex-shaped grill is evokes the image of a warrior's helmet. Although I am not a fan of lamb dishes, we really love the Gingisukan. The lamb was so juicy and we even went back for the second time for it.
POPULAR JAPAN SEAFOOD
Popular Japan Seafood (served in sashimi, or together with rice):
Fugu | 河豚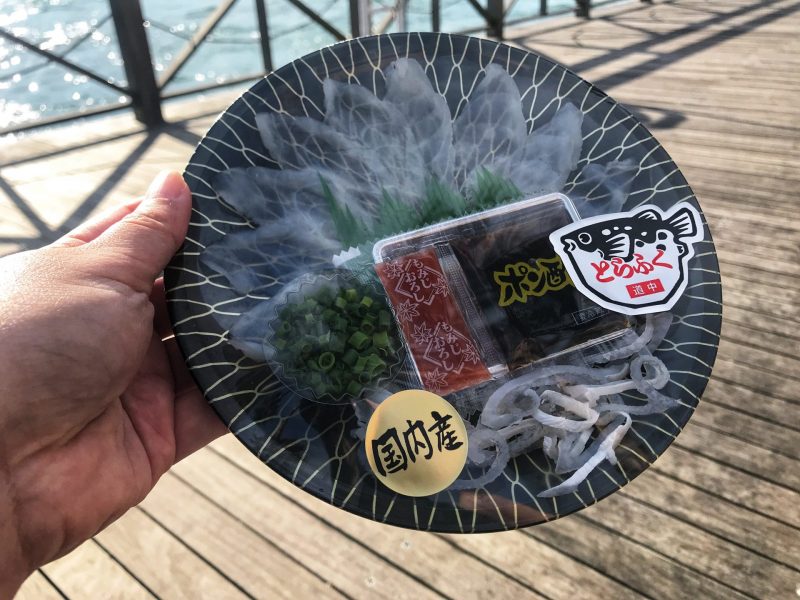 You've probably heard about the fearsome reputation of this Japanese delicacy, fugu, or pufferfish. It is considered to be one of the world's most dangerous foods and highly toxic by containing a powerful neurotoxin about 1,200 times stronger than cyanide. But don't worry too much about trying the fugu in Japan. Only licensed chefs with a minimum of ten years of apprenticeship can legally prepare this dish.
Fugu can be prepared in many ways, most commonly sliced paper-thinly in intricate patterns to resemble chrysanthemum blossoms and eaten raw as sashimi or eaten in the hot pot dish known as fugu chirinabe. Every year, thousands of tons of fugu are eaten.
It is an expensive dish to be eaten on special occasions and you can try it in fugu specialty restaurants. But for the best fugu in Japan, consider eating it when you are visiting Kyushu and Yamaguchi. The Shimonoseki in Yamaguchi is the largest harvester of pufferfish. We tried the fugu sashimi and fugu soup in Karato Market when making a food trip there.
Crabs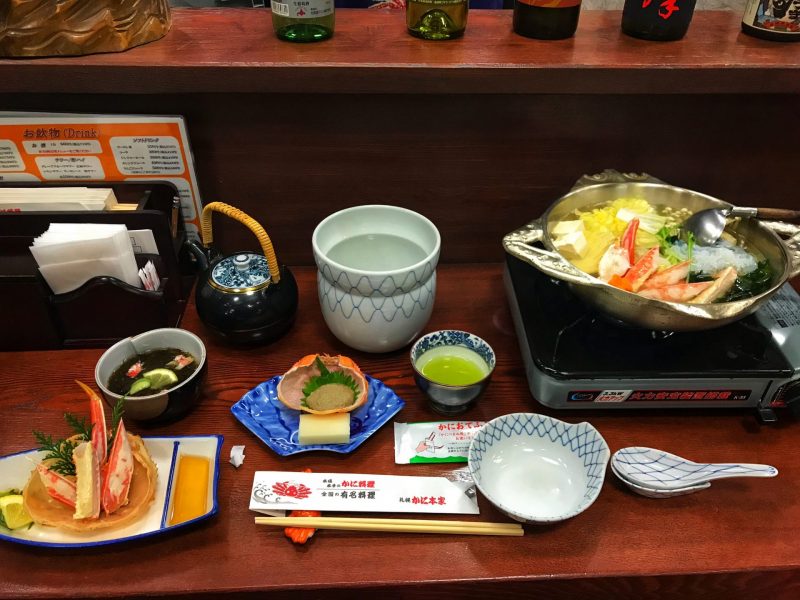 Japan is a paradise for crab lovers and its consumption ranks among the highest in the world. Different types of crab have their delicious flavor, with plenty of ways to serve them. From simply boiled, grilled, rice bowl, or well prepared into a crab course meal. It is one of the most popular seasonal winter foods and you can find crab throughout the country.
The northern regions such as Hokkaido is the best place for crab, where the waters are cooler and perfect to capture it. You can enjoy some delicious Hokkaido Crabs such as snow crab, king crab, and hairy crab when visiting there. We visited Hokkaido and particularly drowned in these amazing dishes. We ate the tasty Hokkaido crab in sashimi, simply boiled, grilled, Teppo-jiru or Kani-jiru (Crab Leg Miso Soup), seafood kaisendon, and even pay for an expensive kaiseiki crab meal. When you travel to Hokkaido make sure you treat yourself to some delicious crab.
Even if you're not making a trip to Hokkaido, you can also taste the Hokkaido crab in crab specialties restaurants in Japan. The Sapporo Kanihonke is a famous traditional crab-specialized restaurant founded in 1971 in Sapporo and widely spread around the country.
Sea Urchin | Uni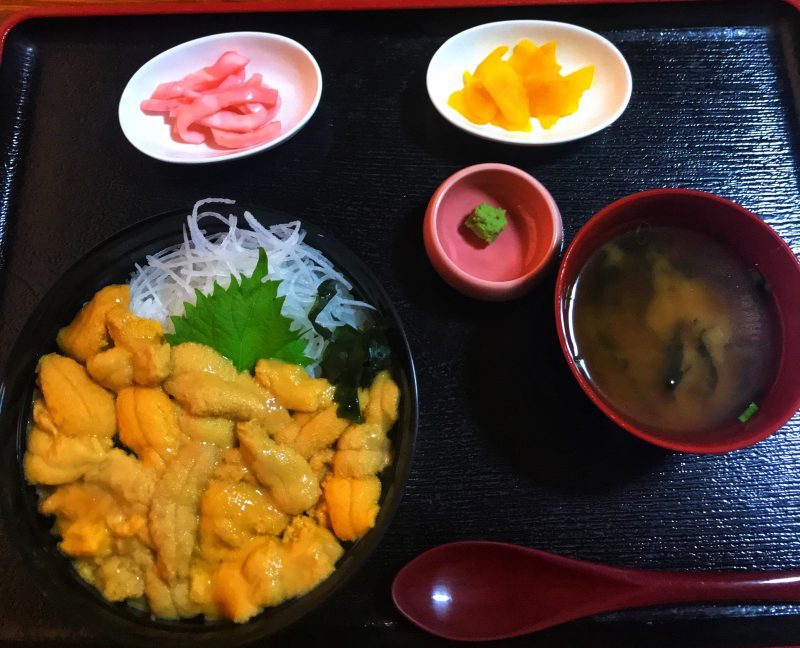 Sea urchins or Uni is a Japanese delicacy that is really gaining popularity in Japan. It is nutritious, sweet and they melt in your mouth the moment you bite into them. The sea taste and the creamy texture of uni are quite similar to that of salmon roe but uni has more unmistakable deep savory umami.
Sea urchin is served as sashimi, topping for nigiri sushi, type of seafood in kaisendon, or stand alone as sea urchin rice bowl (Murasaki uni). It is not cheap and the price can be very expensive depending on the quality grade. Food markets such as the famous Tsukiji Fish Market of Tokyo, Kanazawa Omicho Market, Osaka Kuromon market, and seafood restaurants can find fresh sea urchins.
Pictured above is the freshness and generous amount of sea urchins on Murasaki uni at the Naramuraya in Shakotan, Hokkaido. Besides, we always love to sample the sea urchins whenever in Japan's food market. If you like fish roe, you will likely like uni! You should definitely try it if you have the chance.
JAPANESE SNACK / DESSERT / DRINK
The Best Japanese Snack / Dessert / Drink in Japan:
Takoyaki | たこ焼き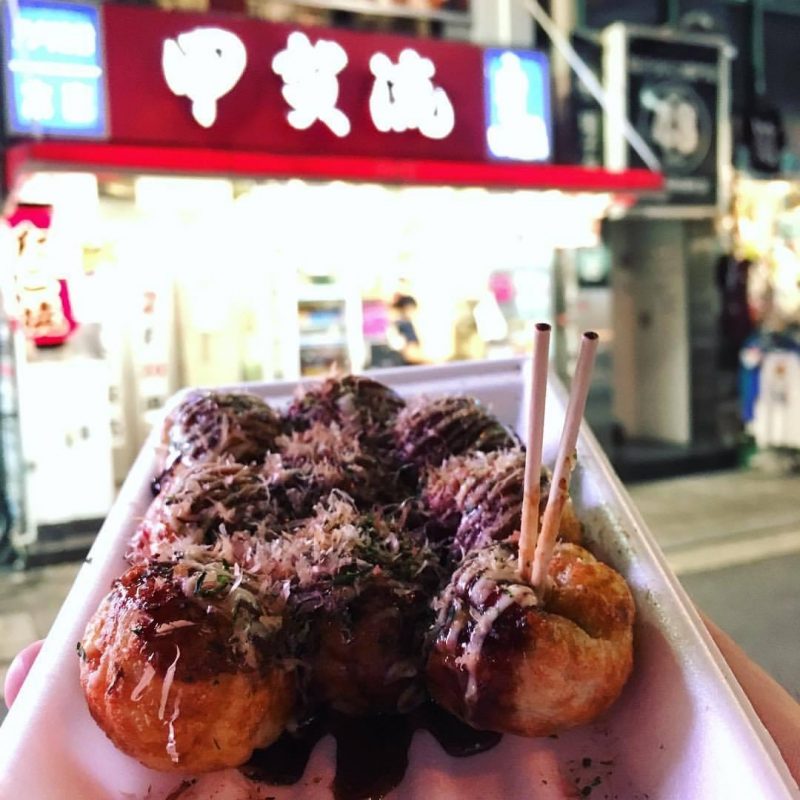 Another must-eat food in Japan Food Guide. Almost a synonym of Osaka, Takoyaki (literally translates to grilled octopus) is refer to a ball-shaped wheat flour-based snack filled with octopus chunks, tempura scraps, pickled ginger, and green onion. It's usually topped with a sweet and savory takoyaki sauce, Japanese mayo, and bonito flakes. Be careful not to eat them right away as it extremely HOT!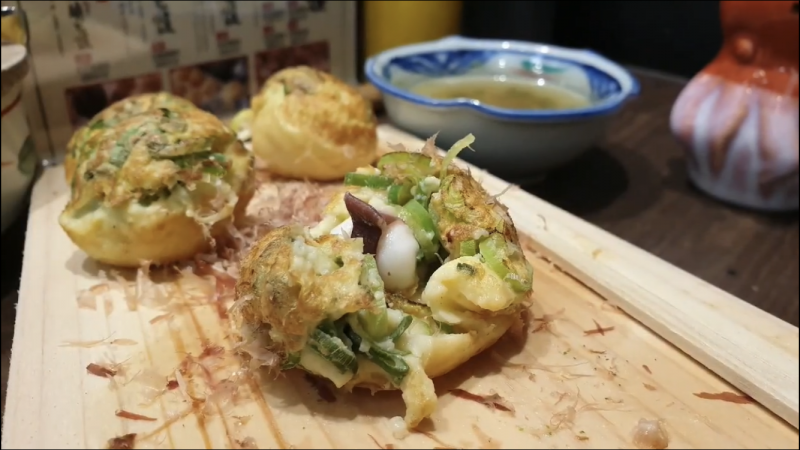 The nice golden brown takoyaki is commonly eaten as a snack and is typically sold at specialized stands or small restaurants. The best takoyaki in Japan you can have, of course, is in Osaka.
Gyoza | 餃子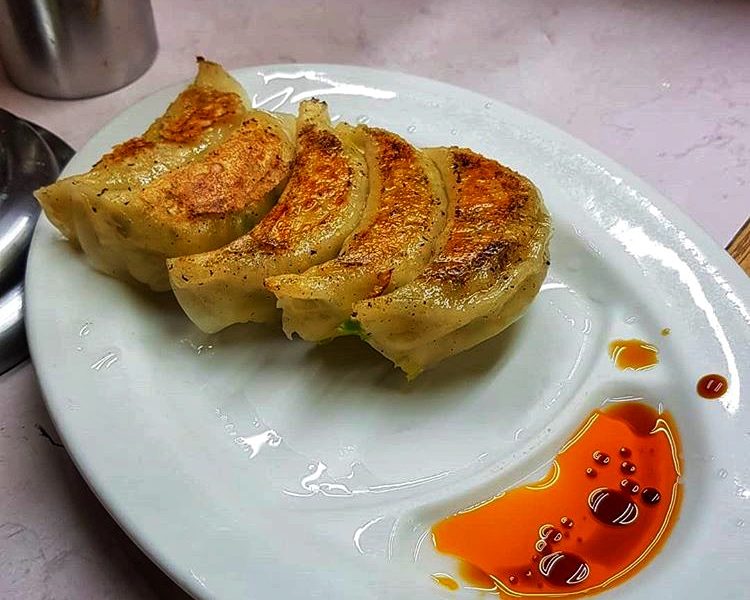 Next on Japan Food Guide is Gyoza (餃子), Japan's version of the dumpling. Origin from China, Gyoza has become one of the popular dishes in Japan. The Japanese dumplings are filled with ground meat and vegetables and wrapped in a thin dough. Fillings usually include chives, thin slices of cabbage, mushrooms, and finely minced pork or chicken.
Gyoza may come in three different types: Yaki gyoza (fried), Sui gyoza (boiled), and Age gyoza (deep-fried). The Yaki gyoza is by far the most common type of gyoza. Usually eaten with a dipping sauce made of soy sauce and vinegar, with a bit of chili oil (rayu) added.
You can enjoy the gyoza on their own or as a side to more substantial dishes like ramen.
Korokke | コロッケ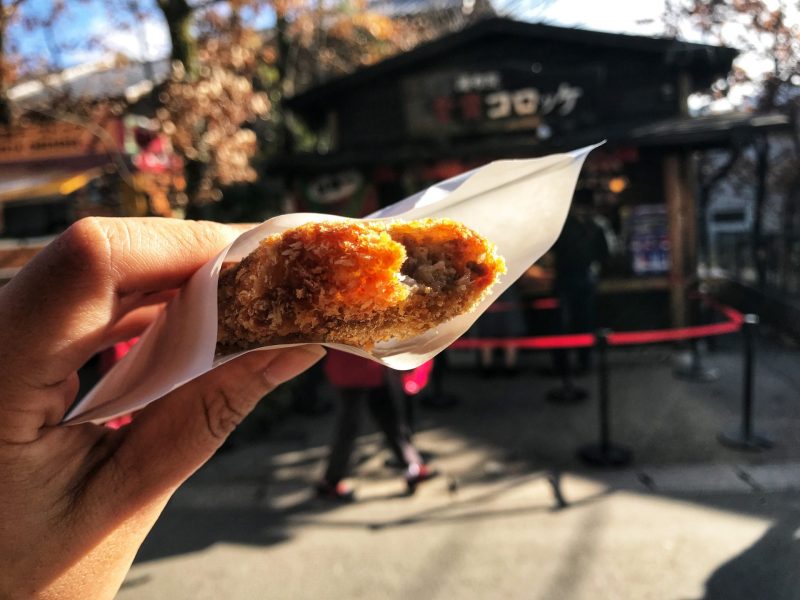 Korokke is the Japanese version of croquette, consisting of breaded, deep-fried ground meat, seafood, or vegetable patties mixed with mashed potato or white sauce. It is available at some restaurants as part of a set meal or as a side dish. Besides, korokke can also be bought at supermarkets, or wrapped in paper at convenience stores, or street vendors.
We always love to have these delicious hot and crispy korokke croquettes for a snack when strolling along with the food market.
End of My Japan Food Guide?
Definitely not! We have been to Japan many times but there is still various Japanese food that we haven't tasted. Besides, I am still a long way from updating my complete Japan travel guide as it only partly covers all the delicious food that we tried during our trip to Japan. While I am only a traveler who loves to explore Japanese dishes whenever we went to Japan. Let me know if any information is incorrect or if any best food is recommended.
Lastly, we hope you enjoyed this tasty Japan Food Guide post gives you some great ideas about all the delicious food available, and the best restaurants to try in Japan. Enjoy your food trip to Japan!
Regional Japan Food Guide
Kanto Region Food Guide:
Tokyo Food Blog: Tokyo Food Guide: What and Where to Eat in Tokyo
Kansai Region Food Guide:
Kyoto Food Blog: Top 7 Must Eat Food in Kyoto
Osaka food blog: Top 8 Unique Food To Eat in Osaka
Chube Region Food Guide:
Takayama Food Blog: Takayama Food Guide: 10 Must-Try Food in Takayama
Nagoya Food Blog: Nagoya Food Guide: What To Eat in Nagoya
Other Chubu Region Food Blog:
Hokkaido Region Food Blog: Top 10 Must Eat Food in Hokkaido
Kyushu Region Food Blog: Kyushu food guide: What To Eat in Kyushu