Last updated on December 11th, 2023
Ultimate one-day Hakone itinerary with Hakone Free Pass. This money-saving pass greatly helps us to plan on what to do and eat in 1-day or 2-days in Hakone.
Located in Kanagawa prefecture, Hakone is a calming onsen town with only 1.5 hours from Tokyo. It is a popular place among locals for a weekend gateway with a hot spring bath. Moreover, Hakone is also extremely popular among visitors to plan a day trip to Hakone when visiting Tokyo. A great place to treat your eyes to amazing views and Japanese culture.
In this Hakone travel blog post, I will explain how to plan your 1-day Hakone itinerary and travel tips. It will cover on transportation guide on how to travel to Hakone from Tokyo with money-saving tips, places to go, what to do, and eat in Hakone. Keep reading!
Hakone Budget Guide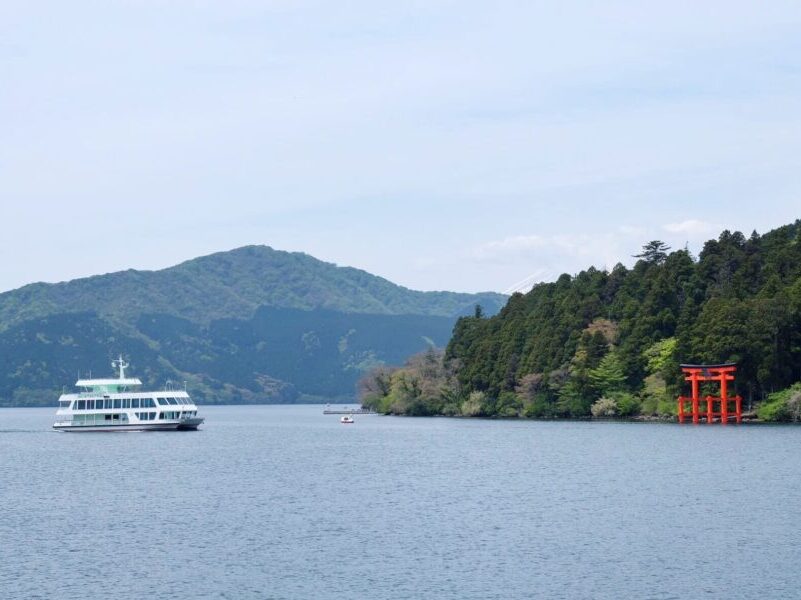 To save on your travel budget, we highly recommended getting the Hakone Free Pass when planning on a day trip to Hakone. It depends on your Hakone itinerary. You opt for a 2-Day (¥6,100) or 3-day (¥6,500) Hakone Freepass start from Shinjuku Station.
This must-have transportation pass will cover your round trip transportation fee at the discounted rate from Tokyo via Shinkuju station to Hakone. Additionally, it provides unlimited use of buses, trains, boats, cable cars, and ropeway within the Hakone area.
That's is to say, you are free to access the famous eight transportation rides when getting around in Hakone. Added, Hakone Free Pass also provides a further discount on certain attractions in Hakone. For example restaurants, hot springs, museums, and historical landmarks.
Hakone Travel Tip: If you prefer not to worry about transport and would like to be shown around the site, then a guided tour is the way to go. We recommended the guided tour: Mt Fuji and Hakone Day Trip from Tokyo.
Best Value Transport Pass in Hakone:
Enjoy unlimited use of buses, trains, boats, cable cars and ropeway within Hakone area with
Hakone Free Pass from Klook
. Choose from 2-Days or 3-Days to experience the true vibe of Hakone.
How To Get To Hakone From Tokyo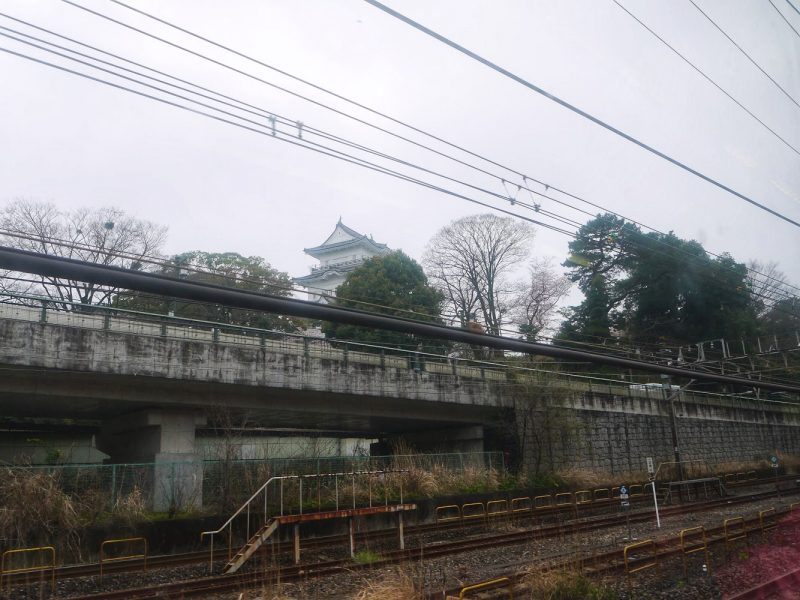 There is two way to get you to Hakone from Tokyo via Shinjuku. Both transport options are included with Hakone Free Pass. Besides, you are opted for paying an additional ¥1,090 for the panoramic scenic window train with Odakyu Romance Car.
From Shinjuku to Hakone via Odakyu Line
The journey alone already takes about 85 minutes to Odawara station. Next, transfer to the Hakone Yuzan train and then get off at Hakone. It is the regular commuter express train with no allocated seats with more stops along the journey.
Pros: Budget option.
Cons: one-time transfer at Odawara Station
Getting to Hakone From Shinkuju with Odakyu Romance Car
The hassle-free and most convenient option on how to get to Hakone from Tokyo is Odakyu Romance Car Limited Express. This option required to top up an additional ¥1,200 to ride on Odakyu Romance Car with a seat reservation. The journey takes about 80 minutes from Shinjuku to Hakone Yomoto directly. Added, it rewards you with a big panorama window along the journey.
Pros: Faster and the most convenient way to get to Hakone from Shinkuju directly. Scenic ride with a big panorama window along the journey.
Cons: Need to top up an additional ¥1,200 from Hakone Free Pass.
Hakone Travel Tips: Here's the link for the Transfer/Fare search on Odakyu Line. The search function includes "Use Limited Express Romancecar" or "Do Not Use Limited Express Romancecar". 
Budget Way To Get To Hakone
How to Hakone from Tokyo? We purchased the Hakone Free Pass from Klook before our Tokyo trip. The redemption process is fast and simple at Odakyu Sightseeing center (Shinkuju Station). However, please take note that the counter is open at 8 a.m. For those who opted for the earliest train to Hakone, you may need to exchange one day before your Hakone day trip.
We decided to take the budget option as the difference between the 2 types of trains was about ¥1,200, 30 mins, and of course the paranoma view. The train is a normal commuter train from Shinkuju to Hakone. It is also very simple with a one-time transfer at Odawara Station.
Getting Around in Hakone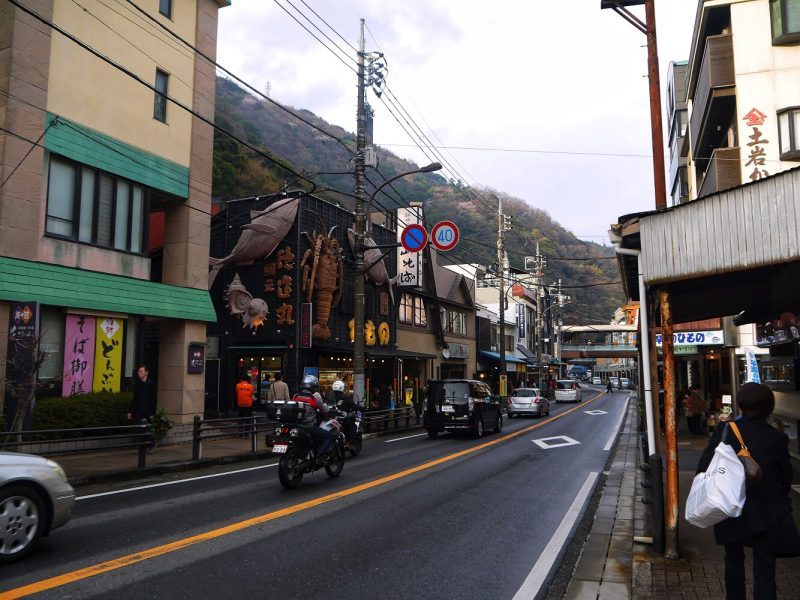 There are 2 ways to make your perfect Hakone itinerary: clockwise and anti-clockwise. All the Hakone main attractions can be covered in a circle trip around Hakone. Most of the top attractions in Hakone that you hardly can't miss with the round trip journey in Hakone. However, make sure to know where each attraction is located and how to get there. We will introduce the must-see attraction in Hakone and how to get there.
Most people will choose the anti-clockwise direction to start on a day trip in Hakone. This is the most ideal way starting from the Hakone Tozan train to Owakudani and ending with a bus ride back to Hakone Yumoto Station. But you are opted for the clockwise route to beat the crowd.
Hakone Transport Timetable: https://www.hakonenavi.jp/international/en/
One Day Hakone Itinerary
During our day trip to Hakone, we choose to follow the anti-clockwise direction. We took the early train and arrived at Hakone Yomoto Station in the morning. It was the starting point after 2 hours of train ride from Shinjuku.
From Shinjuku, train to Hakone goes to Odawara (小田原) and in Odawara, changed to another train to get to Hakone-Yumato Station (箱根湯本駅).
How To Plan Your Hakone itinerary (anti-clockwise direction) – A DIY Itinerary:
Start from Hakone Yumoto Station To Gora Station by Hakone Tozan Train. Visit French Garden, Gora Park.
From Gora Station To Sounzan Station by Hakone Cable Car.
Ride the ropeway from Sounzan to Owakudani station. Visit Owakudani Hell Valley.
Continue ropeway ride to Togendai-ko station.
Hakone Sightseeing Cruise in Lake Ashinoko from Togendai-ko to Motohakone-ko.
Pray in Hakone Shrine and stopped by the iconic Torii Gate Floating in Water.
A short stroll on Ancient Cedar Avenue.
Take the Hakone Tozan Bus to Amazake Chaya Tea house.
Enjoy a natural Hot Spring Onsen Bath by staying in the traditional ryokan in Hakone.
Here's a map from the Hakone Tozan Bus website. Although this is the Hakone Tozan Bus map, we really like this map as it is very informative and easy to read. It gives us a brief idea of the Hakone area and transportation, especially since we took the public transport that was listed here too.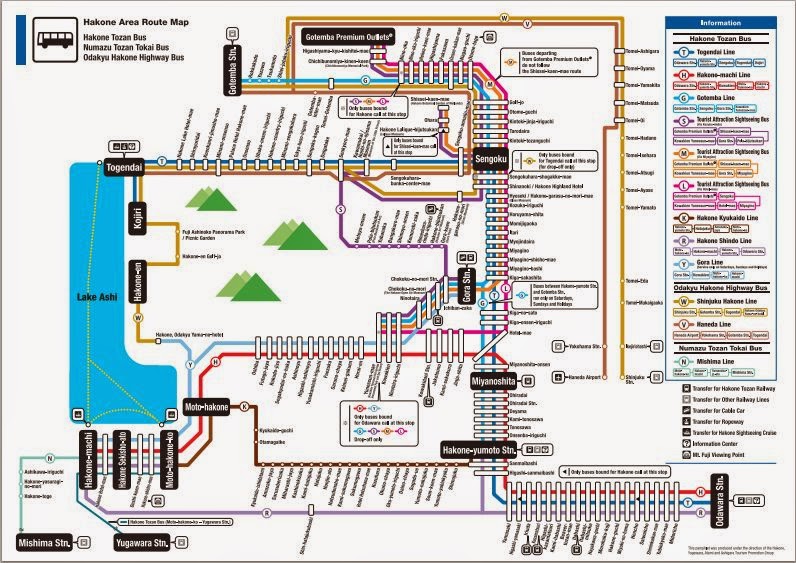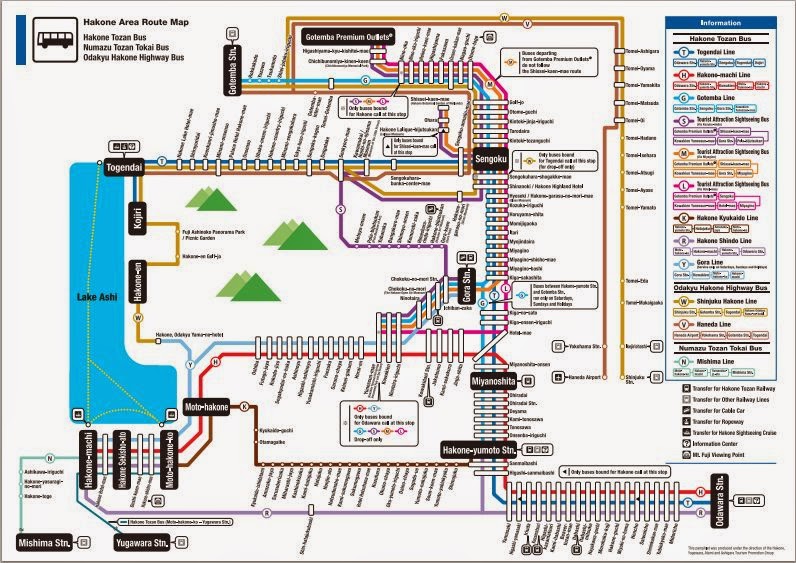 Sound confusing? Check out our Hakone itinerary with a transportation guide and top attractions to visit in Hakone.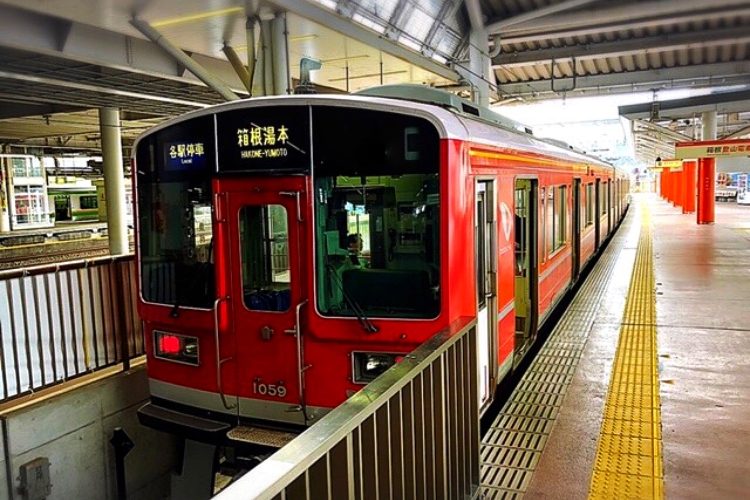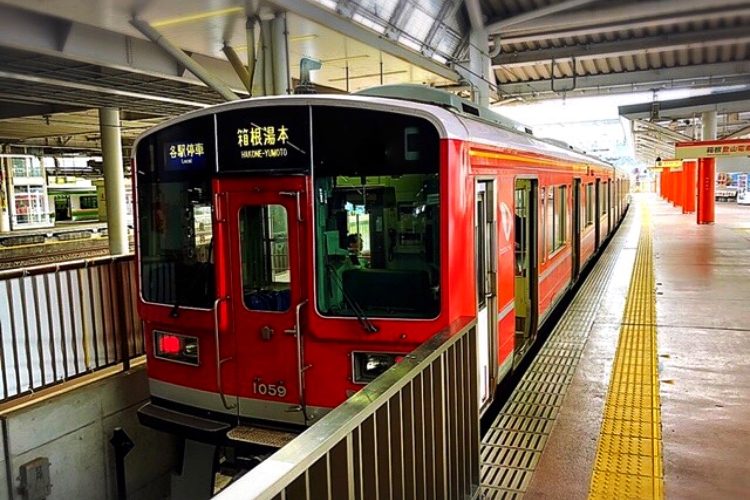 Most people might be confusing when planning transport when visiting Hakone. Your Hakone day trip itinerary is started once you reach the Hakone Yumoto Station.
From Hakone-Yumoto station, we boarded our first transport with Hakone Freepass: Hakone Tozan Train. It is Japan's oldest mountain train for about 40 minutes of scenic train ride. The train will pass by many onsen resorts in the Hakone area. We booked our one-night accommodation for our onsen stay here. But we did not stop along the ride and choose to come back after completing the Hakone day trip.
This train went through the mountainous areas of Hakone with a scenic view. Along the journey, there were a couple of switchbacks which makes it a fun ride.
Hakone Yumoto Station To Gora Station by Hakone Tozan Train: Hakone Yomoto, Tonosawa, Ohiradai, Miyonishida, Kowakidani, Chokoku-ni-mori, Gora
French Garden: Gora Park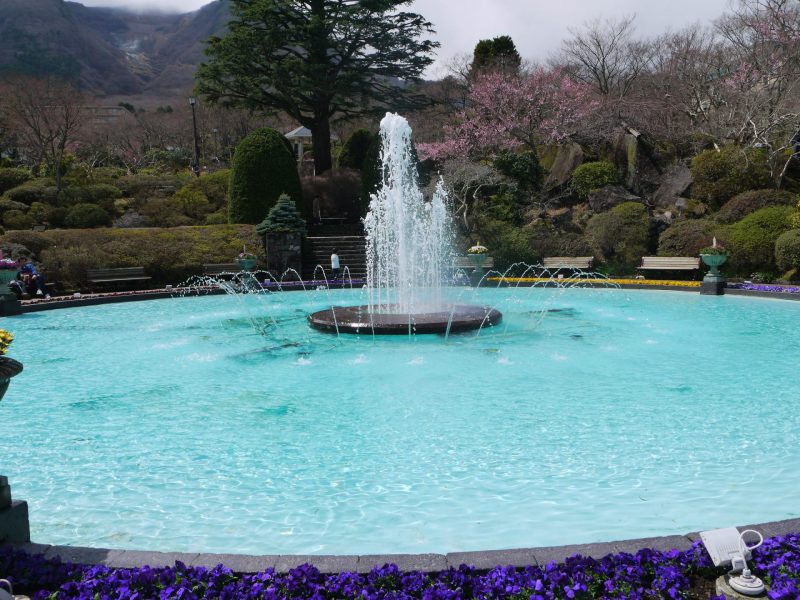 There is nothing much to see in Gora station. If you have more time, consider visiting Gora Park which is located on the steep slope above Gora Station.
Gora Park is a French-style landscaped park featuring a large fountain and a rose garden. A relaxing place to enjoy the scenery and garden view. We took a quick visit to Gora Park and spend about 20 minutes inside.
How to get to Gora Park Hakone:
Access: 5-minute walk from Gora Station
Operating Hours: 9:00 to 17:00
Admission Fee: 500 yen (Free with Hakone Free Pass)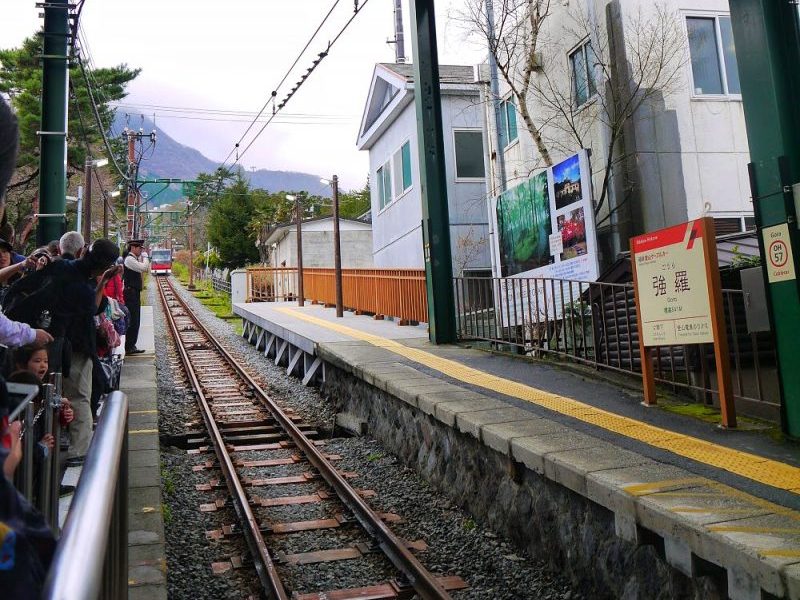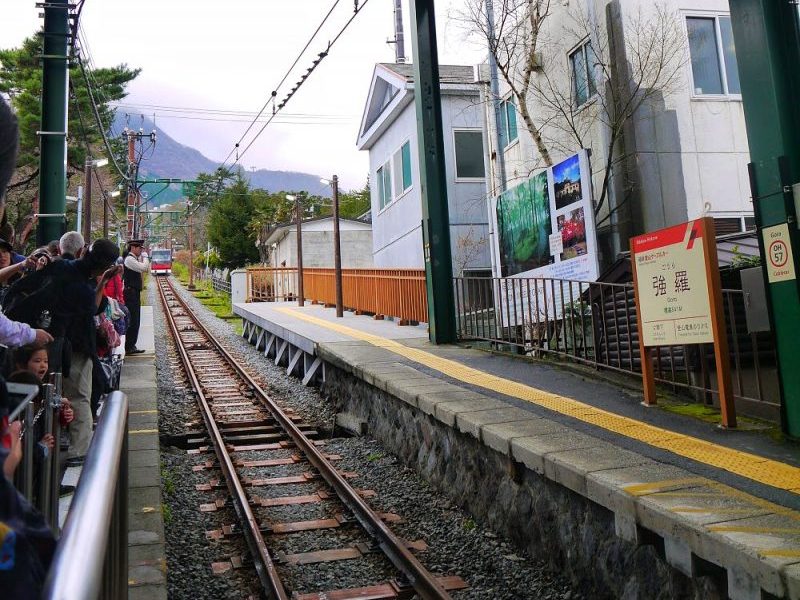 Next, we hopped on the Hakone Tozan Cable Car from Gora to Sounzan station. The cable car station is located adjacent to the train station.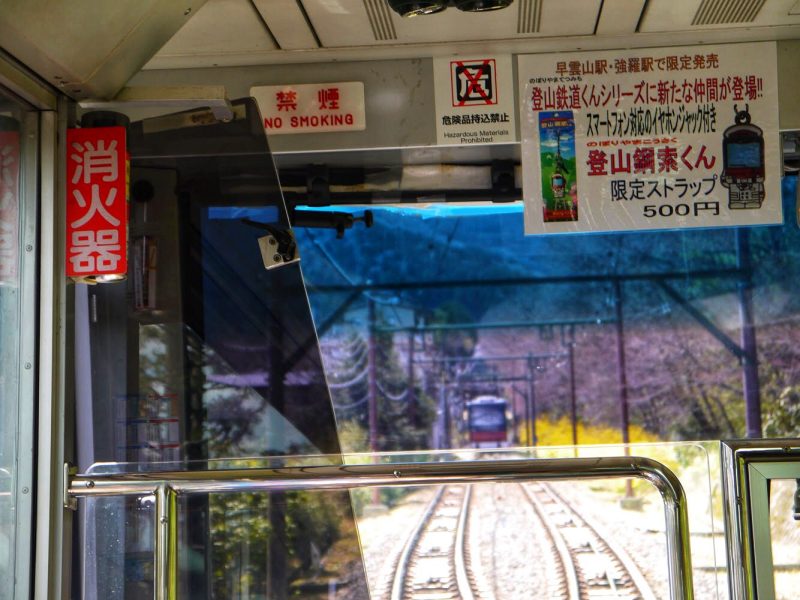 Try to stand closer to the window for a better view once in the Tozan cable car. The 10 minutes uphill ride will get you to Hakone ropeway station.
From Gora Station To Sounzan Station by Hakone Cable Car: Koen Kami, Naka Gora, Kami-Gora.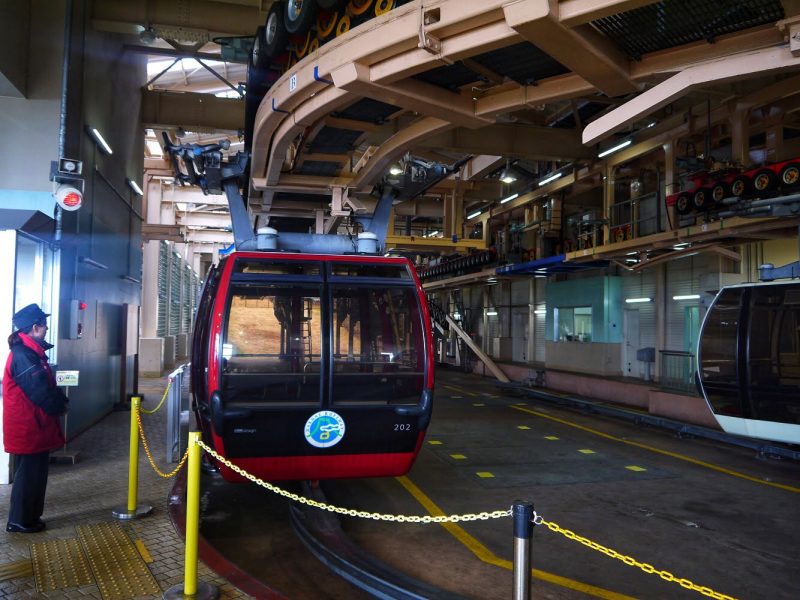 Next, we boarded the Hakone ropeway to get to the peak of Mt. Hakone. The ropeway is an incredible way to enjoy the views of the mountains in Hakone. While the full ropeway ride will take you from Sounzan to Lake Ashi. Instead of getting off at the end of the station, we stopped and get off at Owakudani station.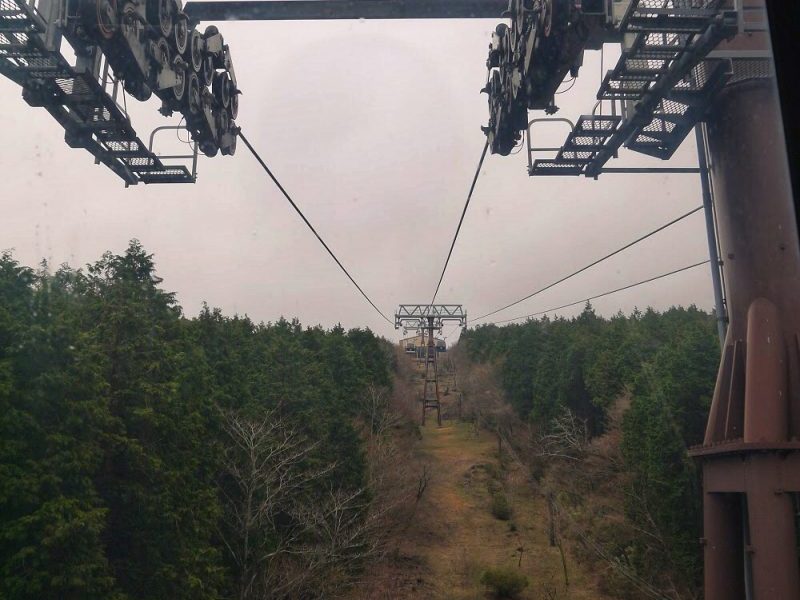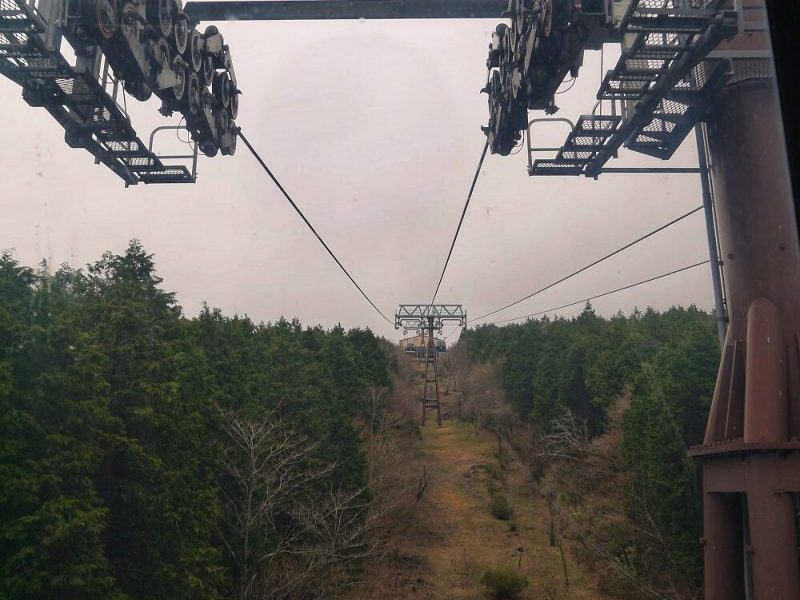 From Sounzan to Owakudani and then Togendai-ko station by ropeway: Sounzan, Owakudani, Ubako, Togendai-ko.
Owakudani Hell Valley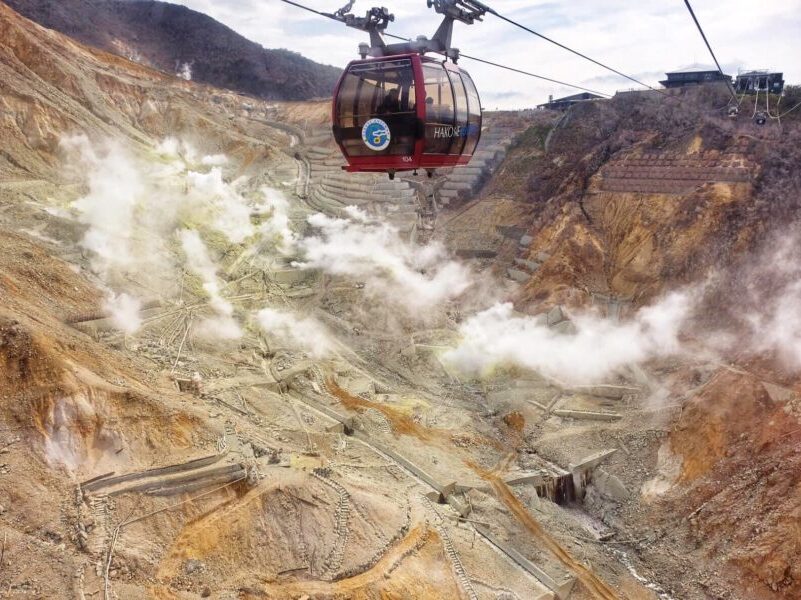 The Owakudani Hell Valley (大涌谷) is one of the must-visit attractions in Hakone. It was a volcano valley that erupted three thousand years ago. From far, we can even smell the sulfur in the air.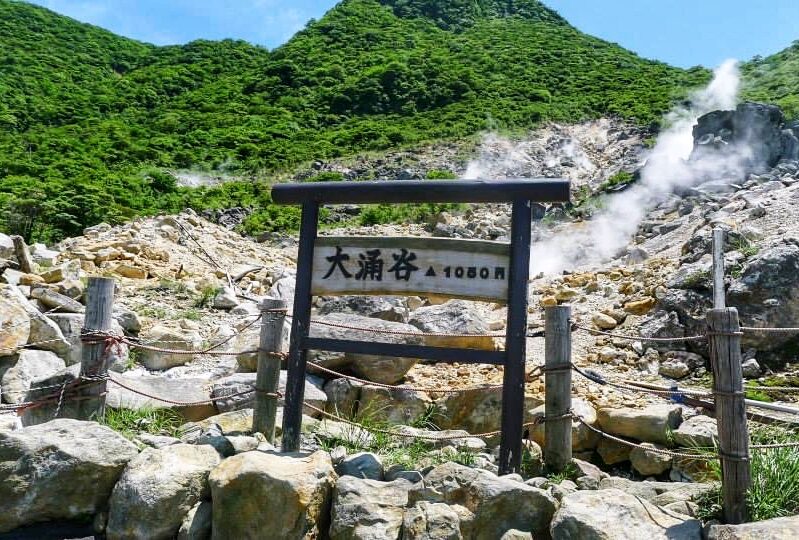 After coming out of the Owakudani Ropeway Station, you'll be greeted with a big black egg and a wood mosaic Hello Kitty. You can eat the black egg and enjoy the view of Hell Valley here.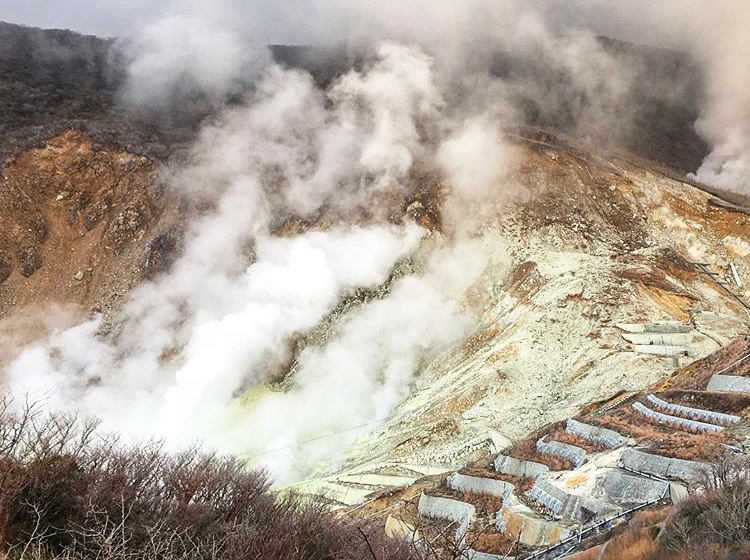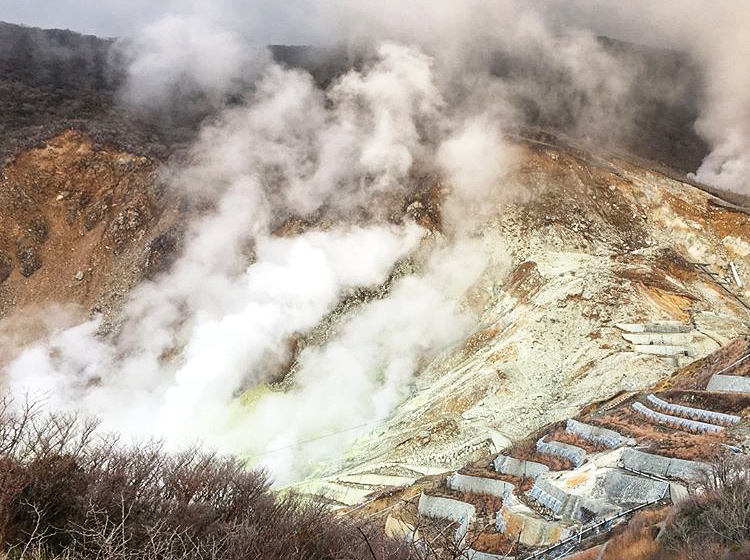 The whole area in Owakudani is now an active volcanic zone, which explains the sulfurous fumes. The view at Owakudani is very serene due to volcanic activities. Also, many thanks to this active volcanic zone, we get to enjoy and experience hot springs at Hakone.
During the clear time, you can have a scenic view of Mt Fuji. Unfortunately, luck on not on our side. The weather was not so good with thick mist and smoke in the air. Although we do not chance on Mt Fuji, the view in Owakudani is still very breathtaking.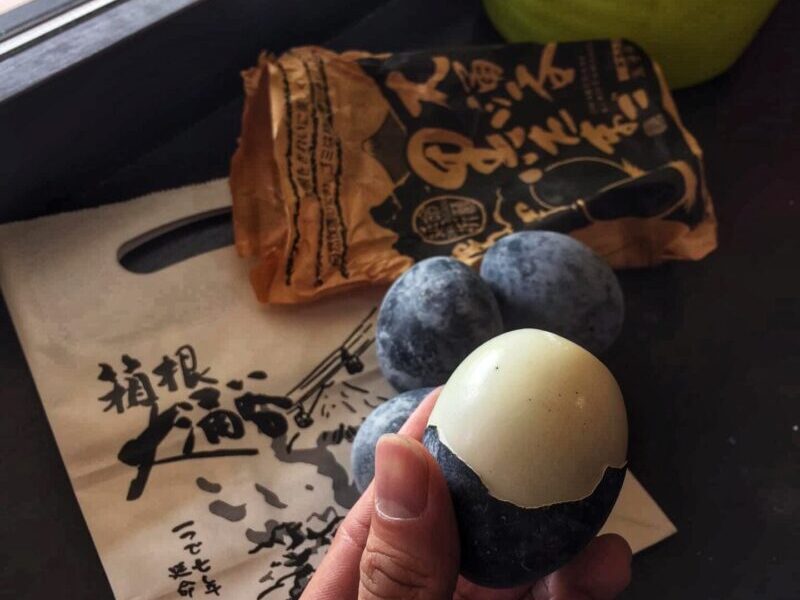 Kuro-Tamago is one of the special specialties eaten in Owakudani. These black eggs were dipped and boiled in the natural hot springs water. The reaction of sulfur turned the shell into black color. But it is safe to consume the egg inside. Local belief eating one will extend your life for 7 years. It cost about 500 yen for a set of 5 Kuro-Tamago.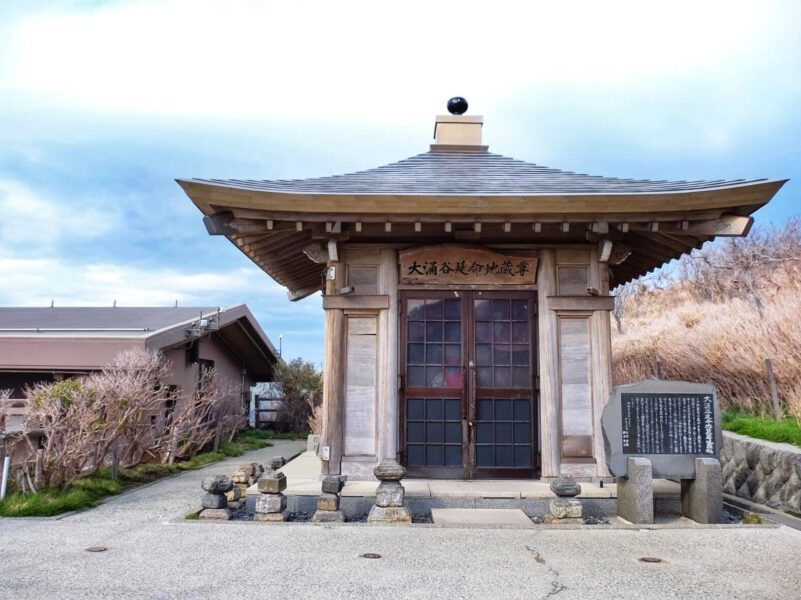 There are a few attractions at the Owakudani. We spend about 1 hour wandering around and enjoying the scenic volcano view.
After this, we continue our ropeway ride to the last station, Togendai-ko. Take note that Owakudani might not be visited due to the increase in volcano activities. Please double-check before your Hakone trip.
How to get to Owakudani:
Access: Get down from Owakudani ropeway station.
Admission Fee: Free
Hakone Sightseeing Cruise: Lake Ashinoko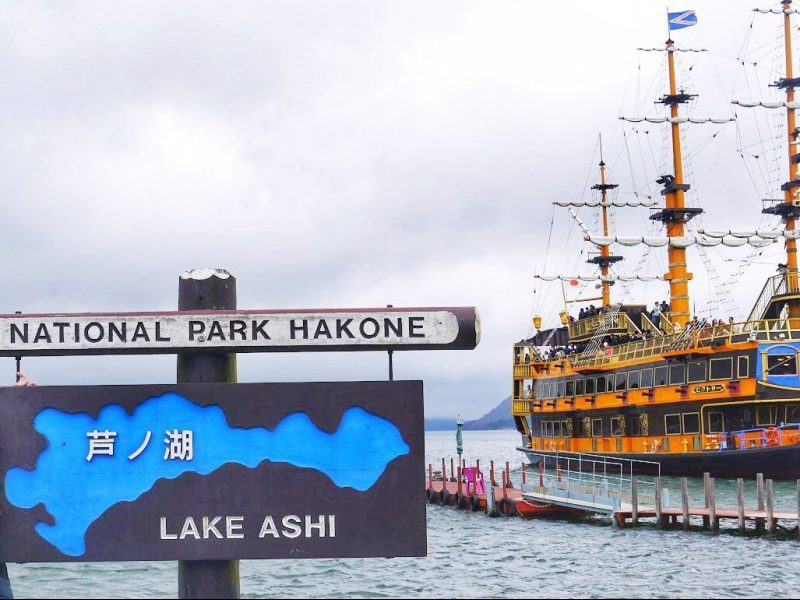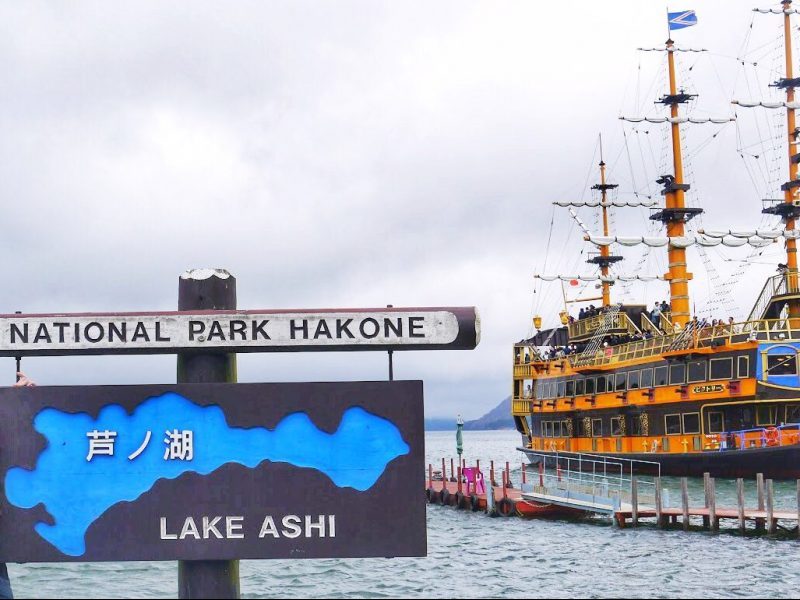 Reaching Togendai Station, you'll find yourself on the shores of Lake Ashi. Next, we were ready to board the pirate cruise to cross Lake Ashinoko. This Hakone sightseeing cruise is included in Hakone Free Pass.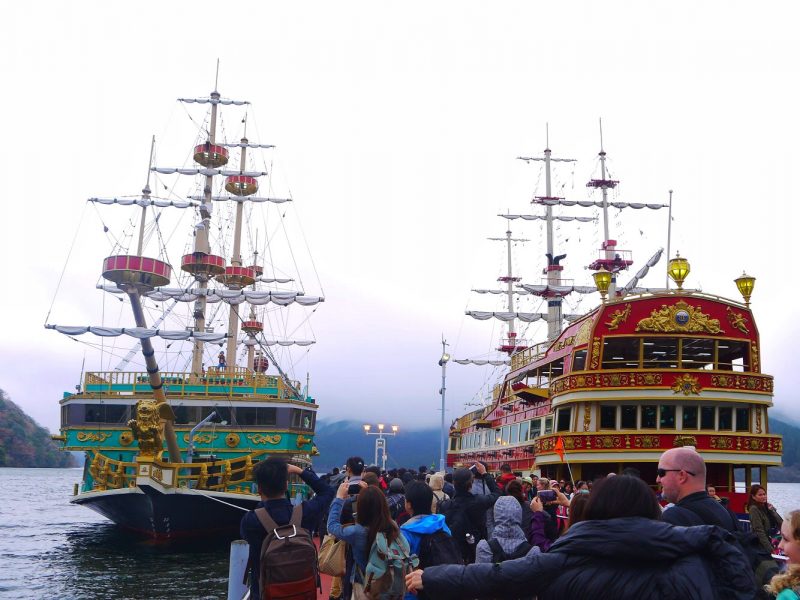 Lake Ashi is a volcanic crater lake located at the heart of Hakone. It is one of the famous five lakes in the Fuji-Izu region. During the cruise ride, you can view the floating torii gate of the Hakone shrine from the boat. Again, spot the view of Mouth Fuji when the skies are clear.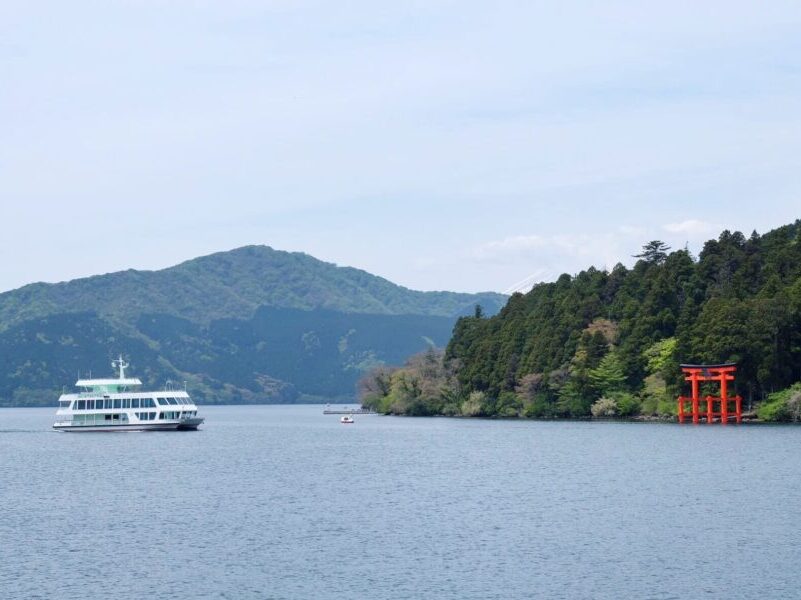 The sightseeing cruise from one end of the lake to the other takes roughly 30 minutes. It leaves about 1 to 2 times an hour within three ports. Make sure to check on the boat schedule to plan on your Hakone itinerary.
From Togendai-ko to Motohakone-ko by sightseeing cruise:
Pier Station: Togendai-ko, Hakone Mochi-ko, Motohakone-ko
Admission Free: ¥1000 (Free for Hakone Free Pass)
Hakone Travel Tips: It is best to plan your meal in Moto-Hakone which is located by Lake Ashi (Ashinoko). This area with the Hakone's great view where Lake Ashi with Mount Fuji sitting at the end of it.
Hakone Shrine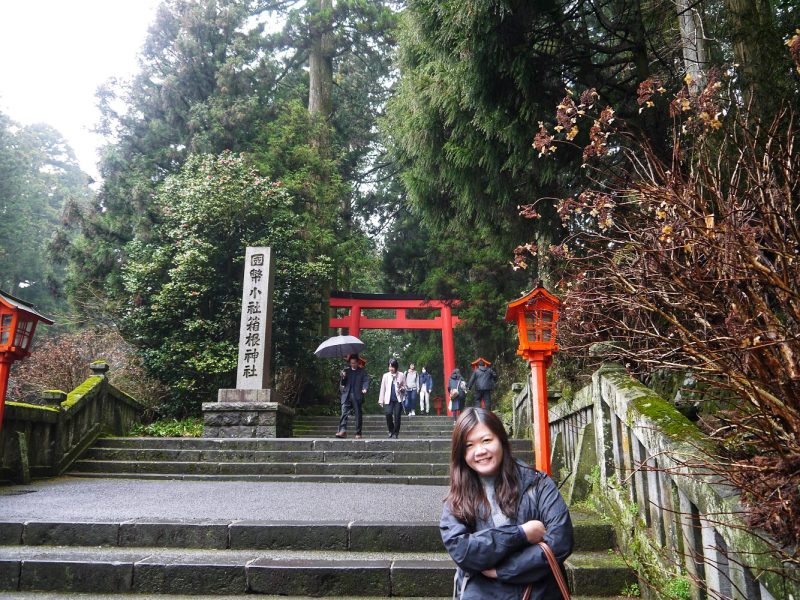 We next proceeded to Hakone Jinja (Shinto shrine) after getting off at Hakone Motohakone-ko. Located at the shore of Lake Ashi, Hakone Shrine is a popular spot to pray for marriage life. It stands at the foot of Mount Hakone and is hidden in the forest. You will need to follow the path with a series of steps that lead you to the main building.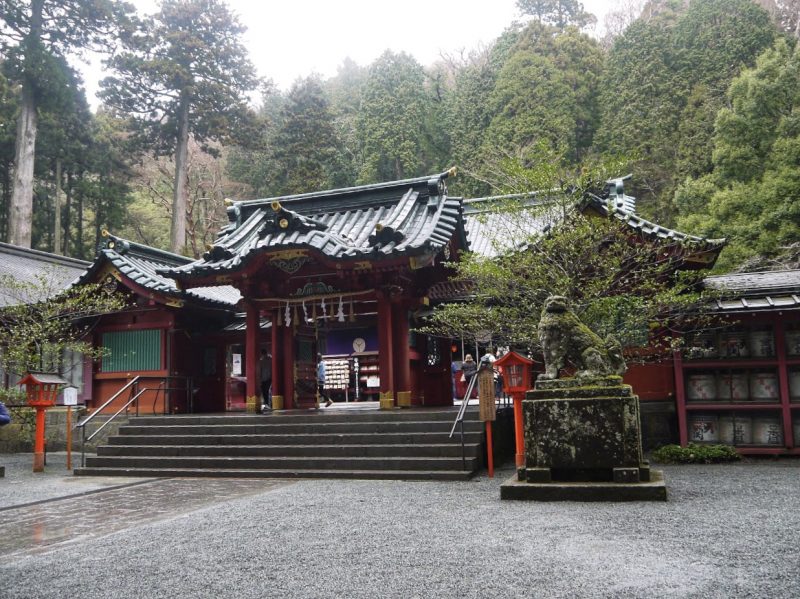 Hakone Shrine is beautiful and sits peacefully surrounded by trees. The original shrine is located at the summit of Komagatake and can be accessed by Hakone Komagatake Ropeway.
How to get to Hakone Shrine:
Access: 5-minute walk from Motohakone-ko
Operating Hours: Always open.
Admission Fee: Free.
Iconic Torii Gate Floating in Water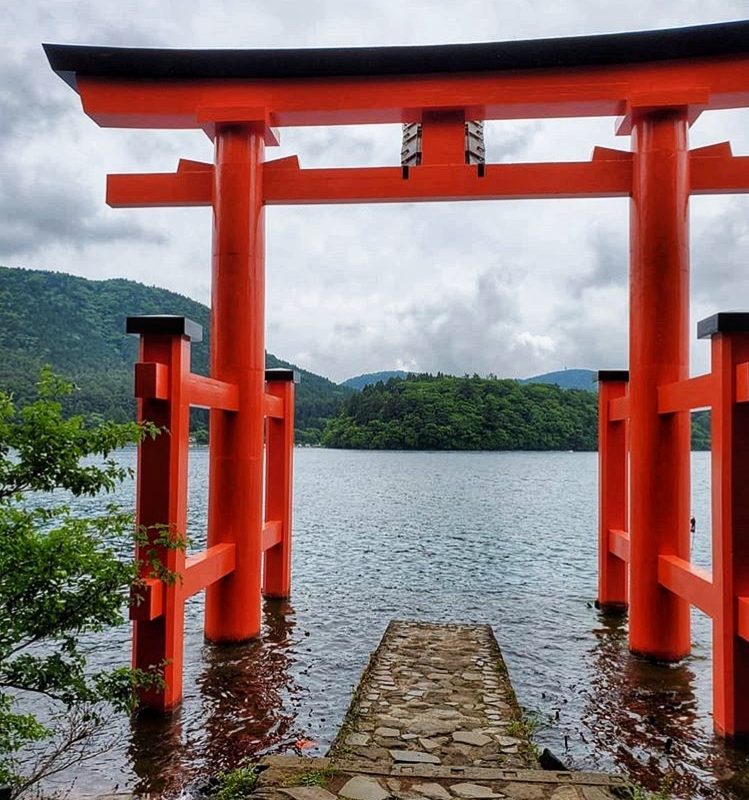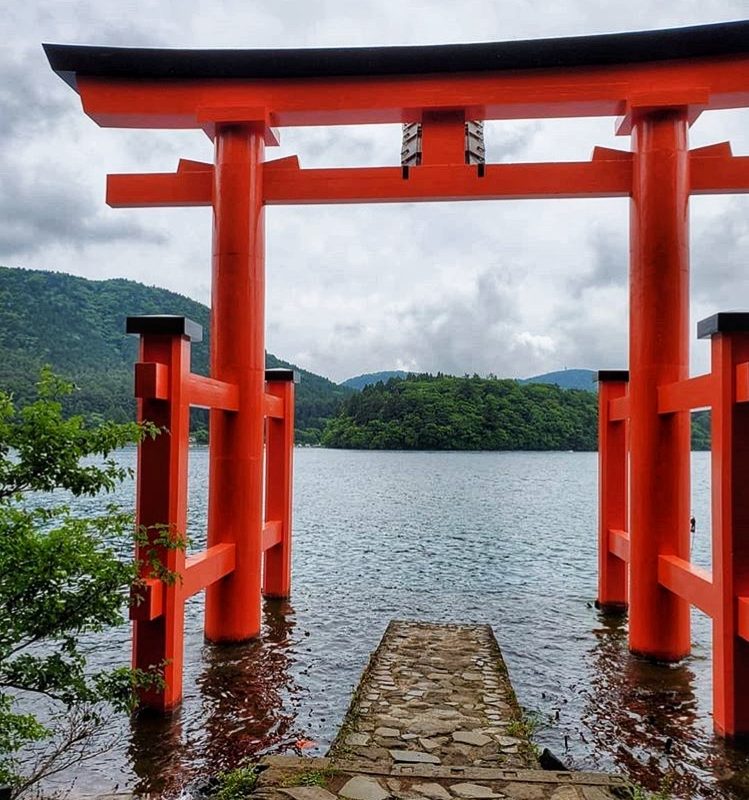 Don't forget to stop by the grand Torii gate which is located at the edge of Lake Ashi. It is one of the most iconic symbols of Hakone with a torii gate floating in the water. To get to this famous spot, you'll need to climb down a flight of stairs to get closer. Remember to wait for the queue to snap a nice photo on this iconic Torri gate in Hakone.
Ancient Cedar Avenue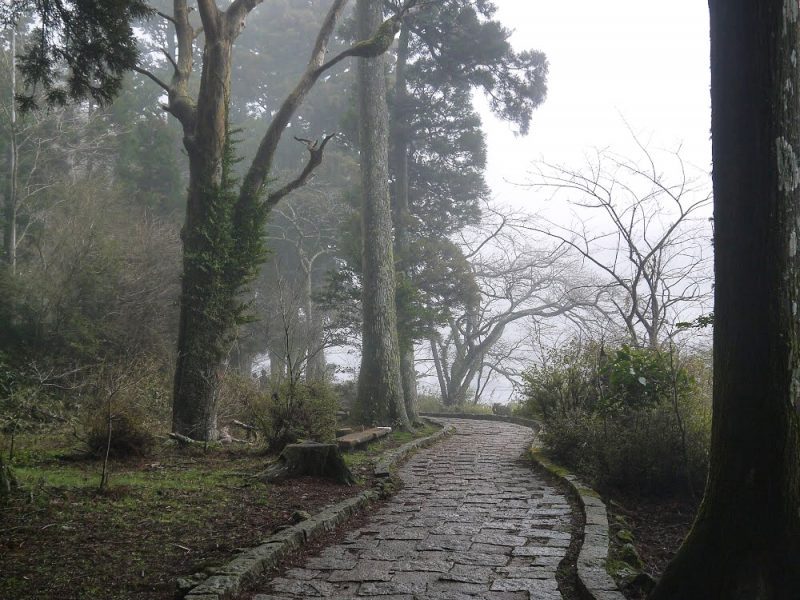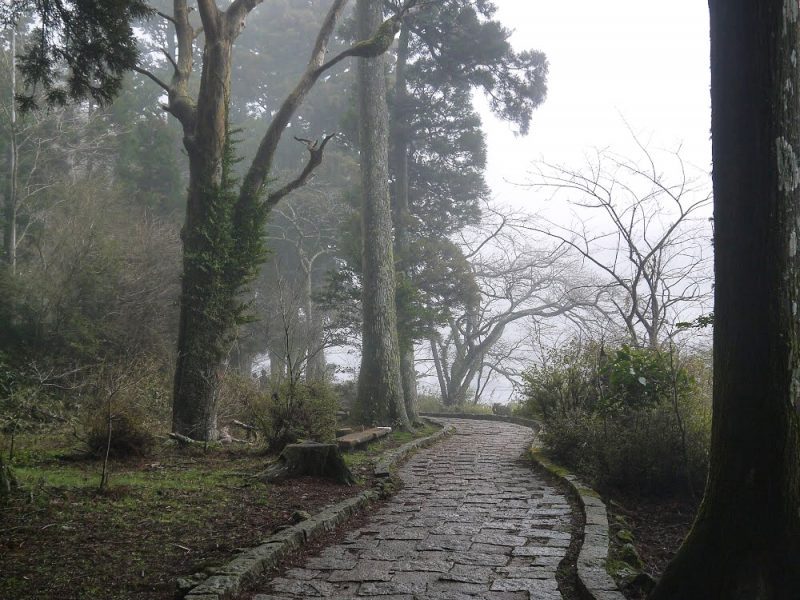 There was a preserved stone pavement, called Cedar Avenue connected between Moto-Hakone and Hakone-Machi. This Ancient Cedar Avenue was used since the Edo period for travelers getting from Tokyo to Kyoto on foot. It is about 500 meters and lined with tall cedar trees. But you can also walk longer to Hakone Yumoto. We took a stroll to enjoy the Japanese forest in Hakone.
How to get to Ancient Cedar Avenue:
Access: Between Hakone Mochi-ko and Motohakone-ko Boat Pier
Operating Hours: Always open.
Admission Fee: Free.
Amazake Chaya: A Traditional Tea House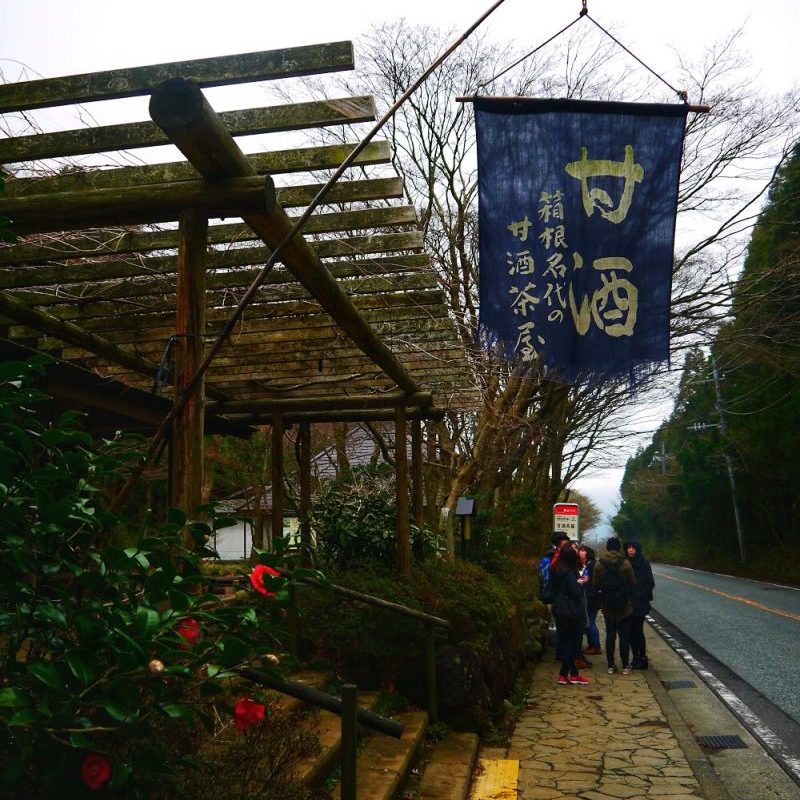 Next, we were ready to board the Hakone Tozan bus to proceed on our Hakone one-day itinerary. After spending a few hours sightseeing in Hakone, it's time to take some rest with a nice cup of traditional tea. Amazake Chaya is a rustic tea house by the roadside, served a cup of warm amazake to travelers since Edo time.
Next to Amazake-chaya (teahouse) is an Old Thatched Wooden Traveller's Rest House with some exhibits portraying times in the Edo period.
After we took enough photos at the front of the tea house and the wooden rest house, we went inside and feed our tummies.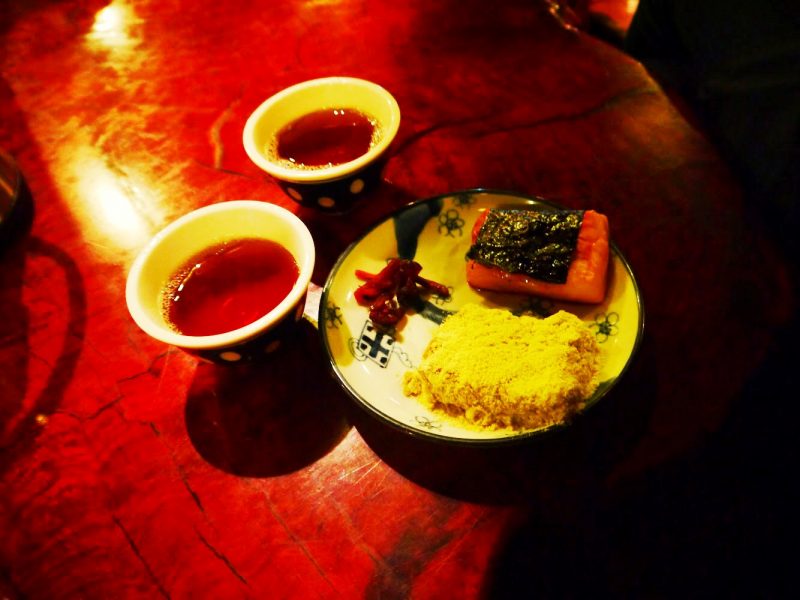 The popular dish on the menu is Amazake and Chikara-mochi. It was said that the traditional tastes has been unchanged since historical times.
The amazake (甘酒) is made from fermented rice with alcohol-free. While the taste is similar to a sweet malted drink. It was perfectly drunk with their homemade mochi.
Chikara-mochi (力餅) comes in three flavors, which are 'Isobe' – soy sauce flavor, 'kurogoma' – 'uguisu' mixed with black sesame, and 'uguisu' – sweet young soybean powder. We only ordered the 'Isobe' and 'uguisu' to try on.
We have a good rest and then hopped onto the bus to the next destination. Friendly reminder, make sure you are boarding the bus in the correct direction.
How to get to Amazake Chaya Hakone:
Access: Take the Tozan Bus to Hakone Yumoto (2 buses per hour).
Station: Amazake-Jaya bus stop
Operating Hours: 7:00 to 17:30
Must-Do in Hakone Itinerary: Natural Hot Spring Onsen Bath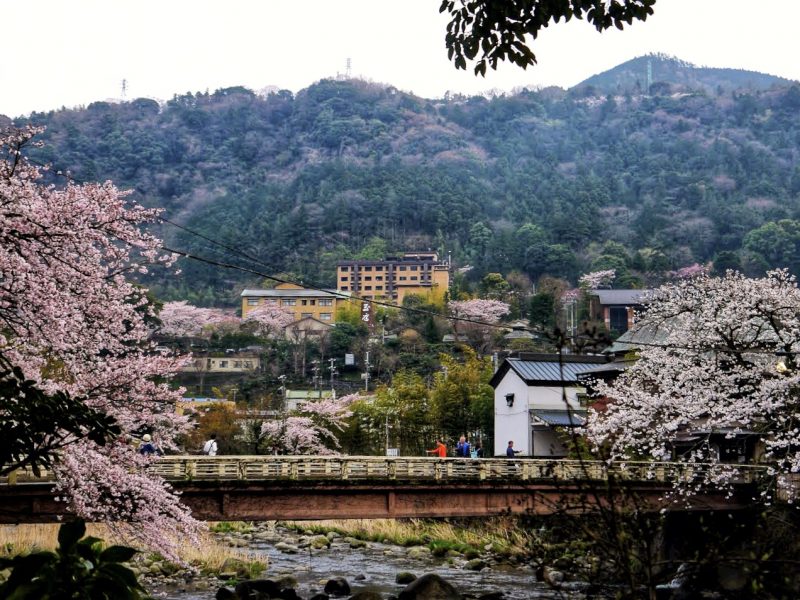 Lastly, we made our way back to the bus stop to catch the Hakone Tozan Bus. Also included in our pass, the bus took us back to Hakone-Yumoto station. While most of the travelers will end their Hakone 1 day trip itinerary and back to Shinkuju by train. We choose to stay one night in one of the onsen resorts.
Hakone is renowned for its hot spring resort to try on a Japanese traditional stay. Most importantly, overnight in a hot spring hotel will allow you to make use of the onsen facilities. Some hotels even have the facility for an open-air bath where you can enjoy your bath in a serene Japanese garden.
We stayed in Ichinoyu Honkan with indoor and outdoor onsen bath facilities. It is an authentic Japanese ryokan with 100% natural hot spring water from the valley. The best place to experience Japanese culture. Our stay is on a half-board basis. It includes the shabu-shabu dinner and a complimentary traditional Japanese breakfast. Although the price is not cheap but worth it.
Hakone Itinerary with Hakone Free Pass: Worth For Money?
All in all, our visit to Hakone was more than one day with staying in Ichinoyu Honkan. The transportation cost is higher if we purchased each transport ticket separately. The Hakone Free Pass not only greatly saves money but also energy and time to queue for the ticket.
Having the Hakone Freepass for unlimited access to bus, cable car, train in Hakone was even more worth it. If your Hakone itinerary is planning on a round trip journey just like us, make sure to get the Hakone Free Pass.
You can purchase the Hakone Free Pass from Klook and then collect it at Shinjuku station. English speaking staff is available to assist at the counter.
Where To Stay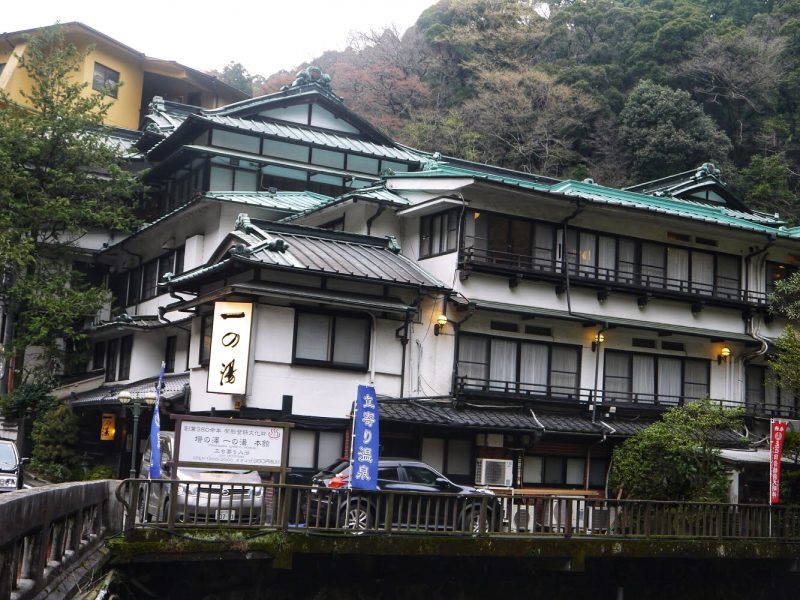 A day trip to Hakone from Tokyo is a great travel destination. It was an action-packed day with a full itinerary in one day. We feel pretty exhausted by visiting all the must-visit attractions in one day. So it is good for staying one night in Hakone.
It depends on your budget. We highly recommended staying in accommodation with onsen bath facilities with a great view. Below is the best hotel in Hakone if you are looking for where to stay in Hakone.
Ichinoyu Honkan is a traditional ryokan stay in Hakone. The building was established over 380-years ago and registered as a Cultural Heritage. It was located nearby Tonosawa station and easy access by train and bus. Shuttle service is available from Hakone Yumoto Train Station.
Hakone Ashinoko Hanaori is another popular hotel for travelers who looking for a perfect gateway in Hakone. It is an amazing modern hotel with an incredible view and beautiful setting. The highlight of the stay is the awesome onsen facility that included an open-air bath with a lake-side view.
Fukuzumiro is a gorgeous four-star ryokan that sits alongside the Hayakawa river with Japanese rooms decorated in a traditional style that will transport you back in time. It is an old building that was built over 100 years ago but is very well-kept and maintained.
More detail on Hakone's best accommodation: Where To Stay in Hakone: Best Ryokan and Hotel Guide.
Hakone Travel Tips
How many days do you need in Hakone?
It is possible to complete the Hakone round course action-packed in one day. But we recommended staying one night in a traditional ryokan in Hakone to enjoy the natural hot spring bath.
Is Hakone a day trip from Tokyo?
It required about two hours of a train journey from Tokyo to Hakone, making it one of the perfect day trip from Tokyo.
Is Hakone Free Pass worth it for one day?
Definitely worth it even for one day! It greatly saves on the transportation fee and offers plenty of discounts on entrance fees in Hakone's attractions.
How much for Hakone Free Pass?
Hakone Free Pass is valid for 2-Day at ¥5,700) or 3-day at ¥6,100 for adults and ¥1,500 yen for children from 6 to 11 years old.
Is Hakone Worth Visiting?
It is worth spending one day in Hakone when you're in Tokyo. Hakone is the perfect weekend gateway even for locals and is famous for hot springs, natural beauty, and the view across Lake Ashinoko of nearby Mount Fuji.
Continue Read on
Last but not least, hopefully, my Hakone travel blog did help with your Hakone itinerary planning. Happy travel to Hakone. If you need further help to plan your trip, feel free to read below useful tips when traveling the Kanto region.
Tokyo Itinerary For 1, 2, 3 or 5 Days: A Complete Travel Guide Blog
More detail on Tokyo Travel Blog:
Tokyo Food Blog:
Tokyo Transport Guide: