Last updated on December 11th, 2023
Read on my half-day trip to Uji from Kyoto by train. My Uji itinerary included a suggested walking route, things to do, and must-eat food in Uji.
Uji (宇治) is a historical city surrounded by mountains located conveniently between Kyoto and Nara. It can be easily reached by a less than 30 minutes train ride from Kyoto. Unlike Kyoto which is renowned for its world-class temple and shrine which is always crowded with visitors. Uji is more like a hidden gem with peaceful charm yet historical importance. It is famous for its traditional green tea and historical shrine. You will enjoy your visit to Uji where you can stroll around leisurely at your own pace.
We love matcha and Uji is one of the must-visit places in my Japan Kansai itinerary. We spend about half a day in Uji and enjoy it. Its tastefully green tea, World Heritage sites, and Tale of Genji – the world's first novel are something that can't miss when visiting Uji.
Read on my Uji travel guide blog with itinerary included, one of the best day trips from Kyoto.
How To Get To Uji From Kyoto
The easier and fastest transportation to get to Uji from Kyoto is by train. Two train companies are running for this route: JR and Keihan line.
From Kyoto to JR Uji station: Train runs twice every hour by JR Nara Line which departs from platforms 8, 9, and 10. The journey takes about 18 minutes for rapid and 20 minutes for the local train. The train fare is ¥240 (covered by Japan Rail Pass).
Alternatively, you can get to Keihan Uji station from Central region Kyoto by Keihan railway. Keihan Uji station is better access to major sights in Uji. However, this route took a slightly longer time, and the transfer was required. Additionally, it is run by a private company with JR pass not covered.
Alternatively, you can get to Keihan Uji station from Central region Kyoto by Keihan railway. Keihan Uji station is better access to major sights in Uji. However, this route took a slightly longer time, and the transfer was required. Additionally, it is run by a private company with JR pass not covered.
How to get around: Uji is a relatively small town and many attractions can be explored on foot. All the major attractions are nearby and well signposted. Just make sure you have wifi connectivity and comfortable shoes for walking in town.
Added, if you are arriving by JR train, drop in at the Uji Tourist Information Center which is located right in front of the station. You can pick up a free copy sightseeing map or made any inquiry at the information counter here.
Things To Do on Day Trip To Uji
There are many things to do in Uji in one day. Uji is not only famous for its top-notch quality of green tea. Here you also can find the historical temple, Byodo-in, and Ujigami. During our day trip to Uji, we do not plan to discover the historical place in depth. Instead, we spend our time enjoying the best food in Uji with a relaxing stroll within the area.
Things to do in the 1-Day Uji itinerary:
Taste the matcha dishes in Nakamura Tokichi Honten (1-2 hours)
Cross the Uji-Bashi Bridge
Strolling in Byondo-in Street (1 hour)
Visit Byondo Temple (1 hour)
Walk along the Uji river to Uji Park (30 minutes)
Dine in Nakamura Tokichi Honten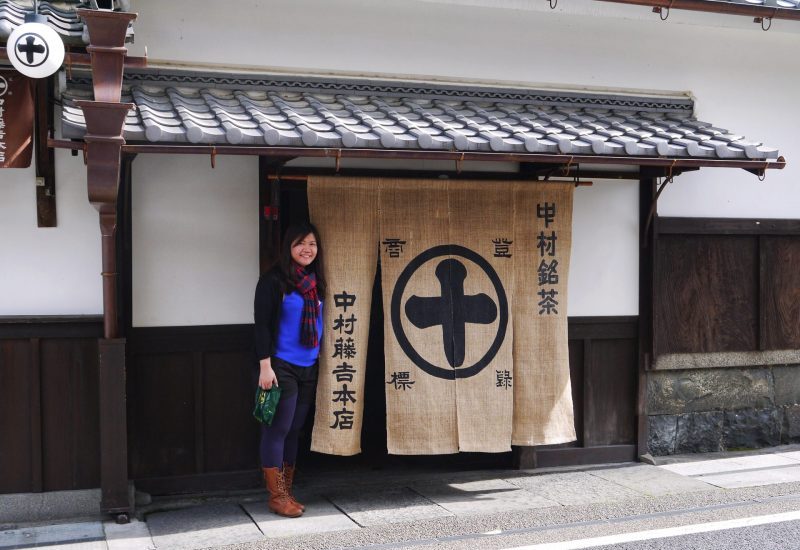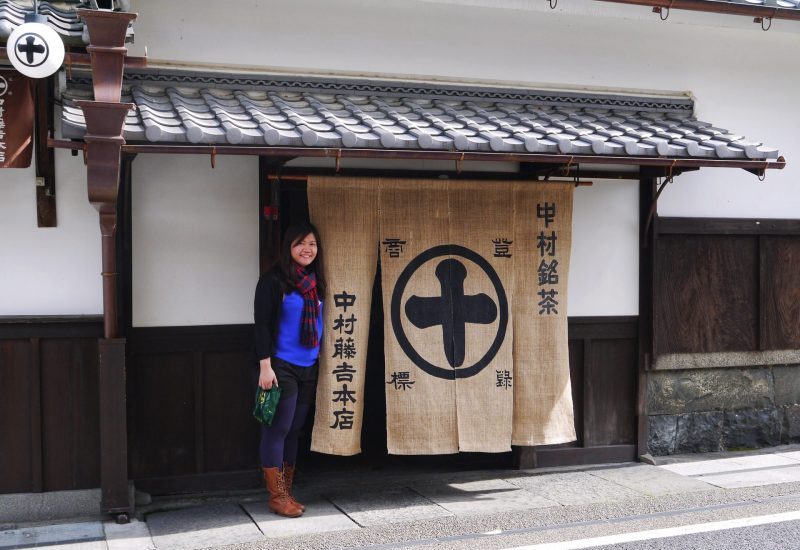 Uji is the birthplace of Japanese green tea while Nakamura Tokichi Honten is the ancestor of producing original green tea. Its green tea dessert is must eat food in Uji. You really can't miss this place if you are going to Uji.
Nakamura Tokichi Honten is easily accessed with only a 3-minutes walk from JR Uji station. We plan to have our early lunch here before proceeding with our day trip to Uji. So, Nakamura Tokichi Honten is our first destination when we arrived at Uji in the morning.
However, don't underrate its popularity as there were already people waiting in line. Understand that approximately 30 minutes of waiting time ahead of us which is still reasonable. So we just wrote down our names on the waiting list and wait patiently.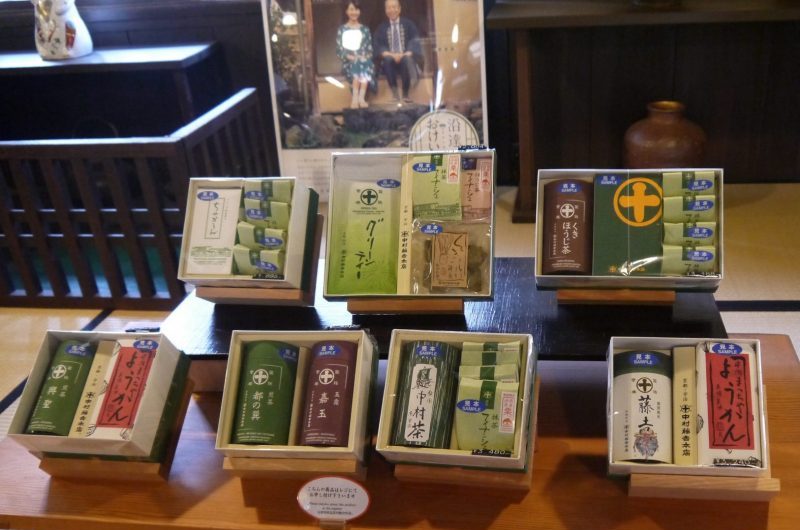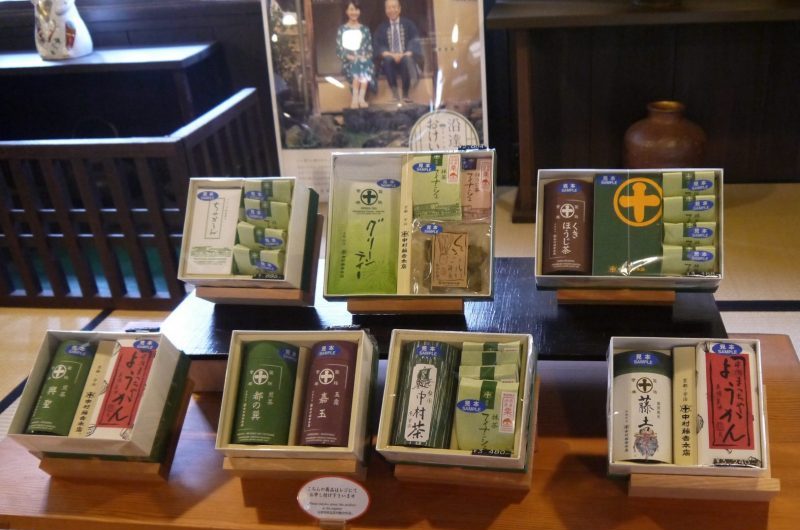 While waiting, we spend our time shopping in another section next to the restaurant. There is a wide selection of green tea products, such as high-quality tea, ice cream, sweets, and noodles available here. We bought some tea packs as souvenirs back to the home country.
Finally, it's our turn to get into the restaurant. Without hesitation, we ordered Set A and Set B as per recommended by the English spoken staff.
The Top-Notch Matcha Green Tea in Uji
We loved Set A which comes with condensed green tea and matcha dessert. The condensed green tea was tasted slightly bitter compared with general green tea. But the fragrance was very nice.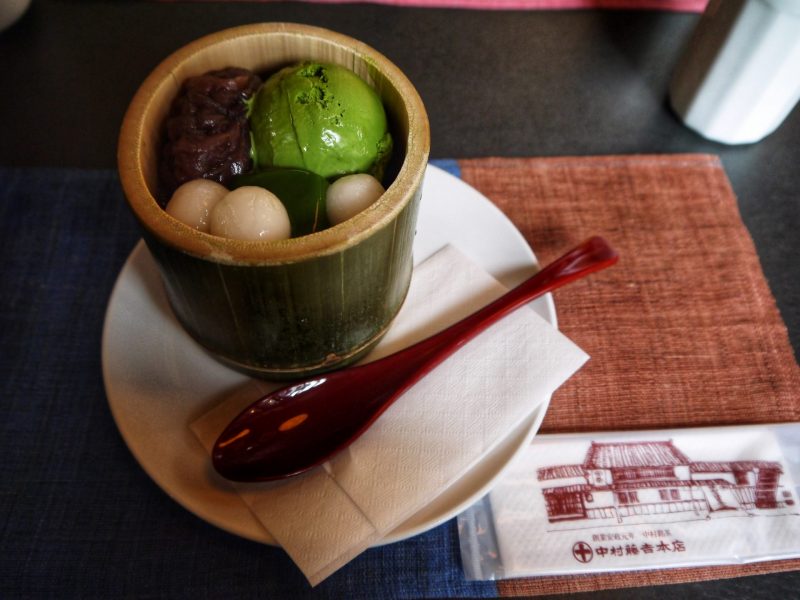 The green tea dessert served in Nakamura Tokichi Honten was amazing. The green tea ice cream was served in a bamboo cup that comes with green tea jelly, red bean, and mochi. The bitter taste of green tea perfectly matched ice cream. Great balance of flavors!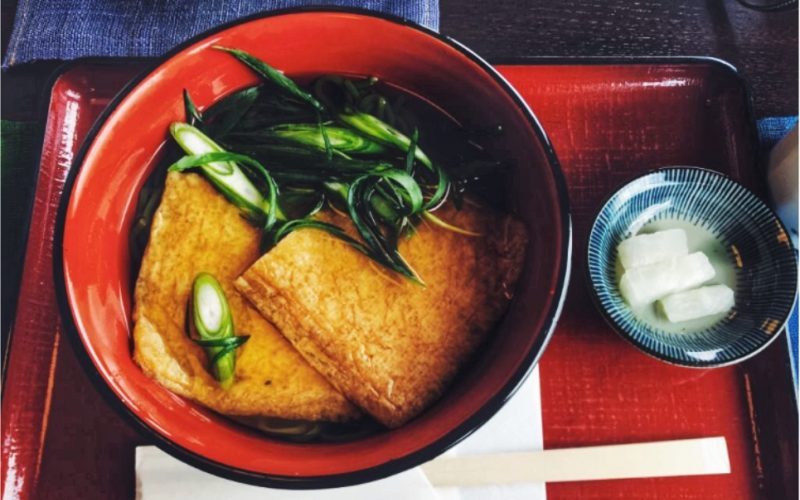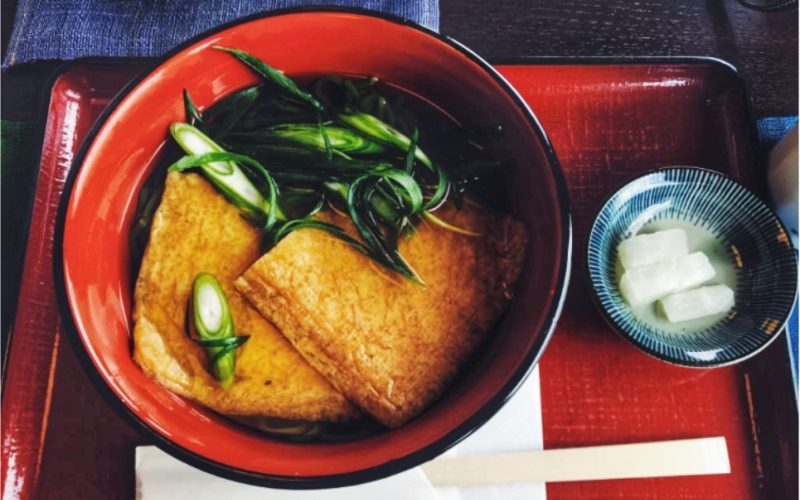 While Set B comes with green tea soba and green tea set. The green tea soba was refreshing and tasted good. However, it does not rich in matcha flavor as I thought.
In short, we enjoy our green tea dining experience in Nakamura Tokichi Honten. Their food was delicious and most importantly at a reasonable price. However, both of us agree that Set A is a better choice compared with Set B.
If you are looking for what to eat in Uji, Nakamura Tokichi Honten is one of the best places for their excellent matcha. But take note that Nakamura Tokichi Honten is popular among locals and tourists. So be prepared for a long wait.
Nakamura Tokichi Honten
How to get there: 3 minutes wait from JR Uji station.
Operating hour: Daily 10:00 to 17:30
Cross the Uji-Bashi Bridge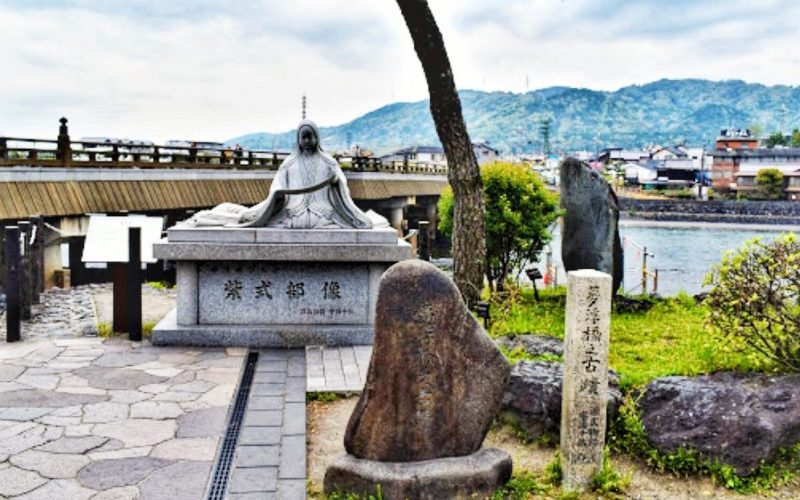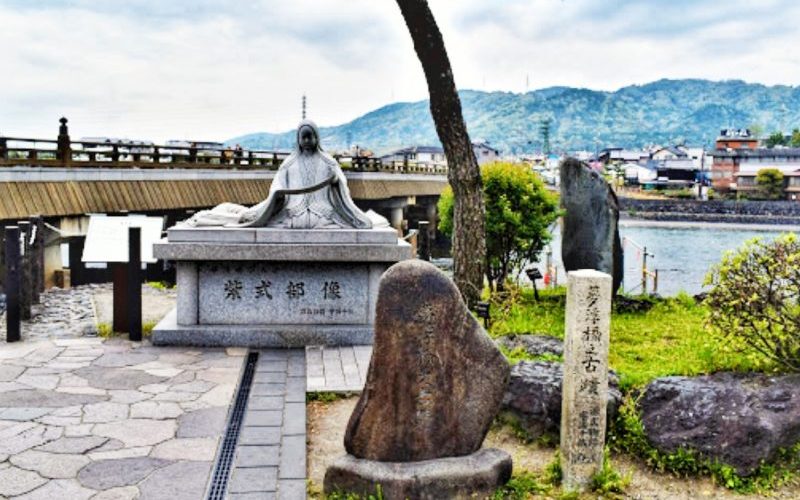 Next, we proceeded with our visit to Uji after the filling meal at Nakamura Tokichi Honten. About 5 minutes walk from the shops, the Uji-Bashi Bridge is the first major sight before visiting other attractions in Uji. It is one of the oldest bridges in Japan, first constructed around 646. It spans across the Uji river with fairy busy road passing over it.
You will spot the statue of Murasaki Shikibu at the south end of the Uji-Bashi Bridge. Murasaki Shikibu is Japan's most well-known novelist. Her romantic novel, Tale of Genji is one of the essential parts of the Japanese literary world. This romantic tale is still read and loved by people today. Most scenes are associated with the story and still can be found in Uji town. If you are interested, you may visit The Tale of Genji Museum to learn all about this literary and historical masterpiece.
Take a Stroll on Byondo Street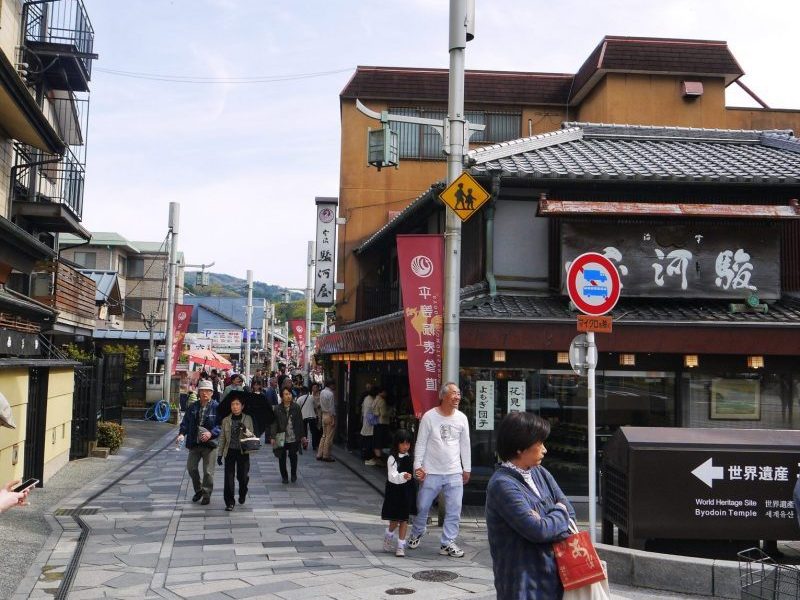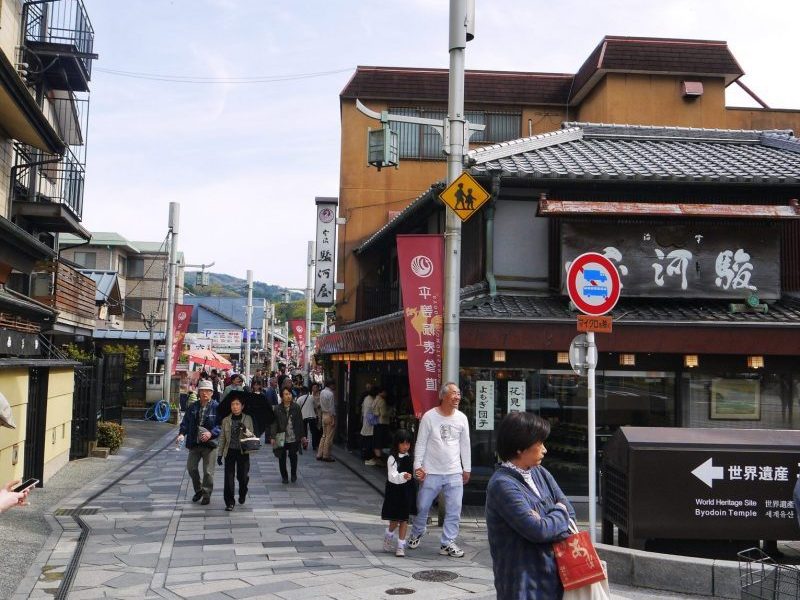 Located just beside the Uji River, you will find Byodoin Omotesando Street or Byodo-in street. This 300 meters long quaint street is lined with many restaurants and shops. The majority are selling green tea, tea-related product, and flavored green tea desserts.
The best place to purchase tea and tea-related souvenirs in Uji.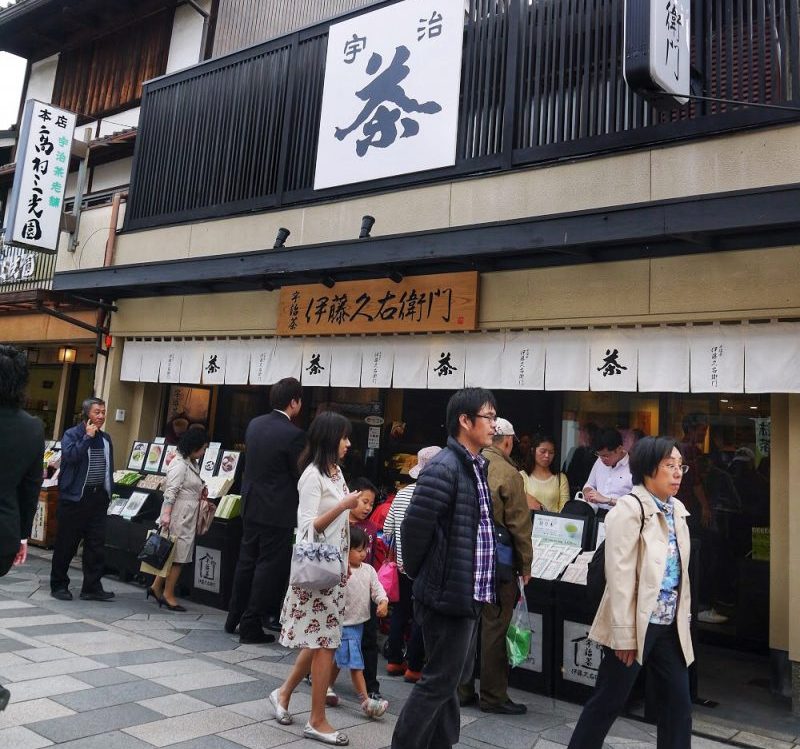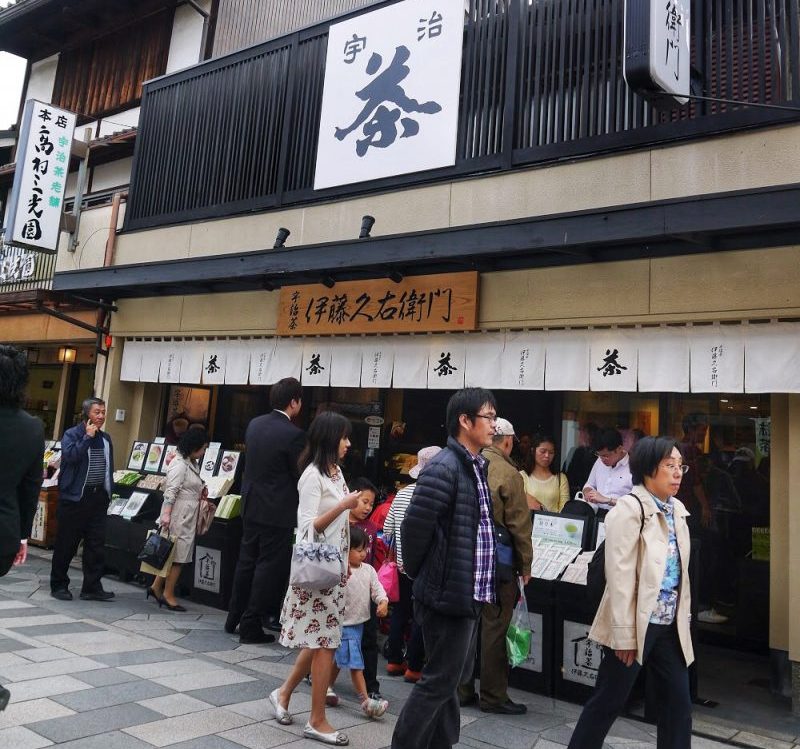 Itohkyuemon is a long-established Japanese tea shop based in Uji. You can also grab some green tea products at Itohkyuemon.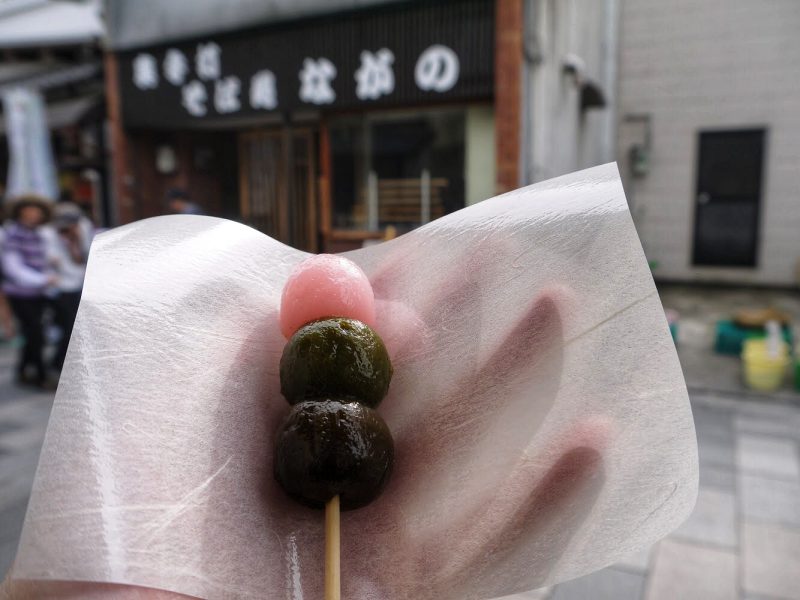 Feel free to take your stroll and explore the souvenir shops and eateries here. Don't forget to try tea-flavored Japanese rice dumpling Dango, a sweet dessert, or sample some freshly brewed tea in traditional tea houses here. Although we were still full, really can't resist getting another sweet to try.
Visit Byodoin Temple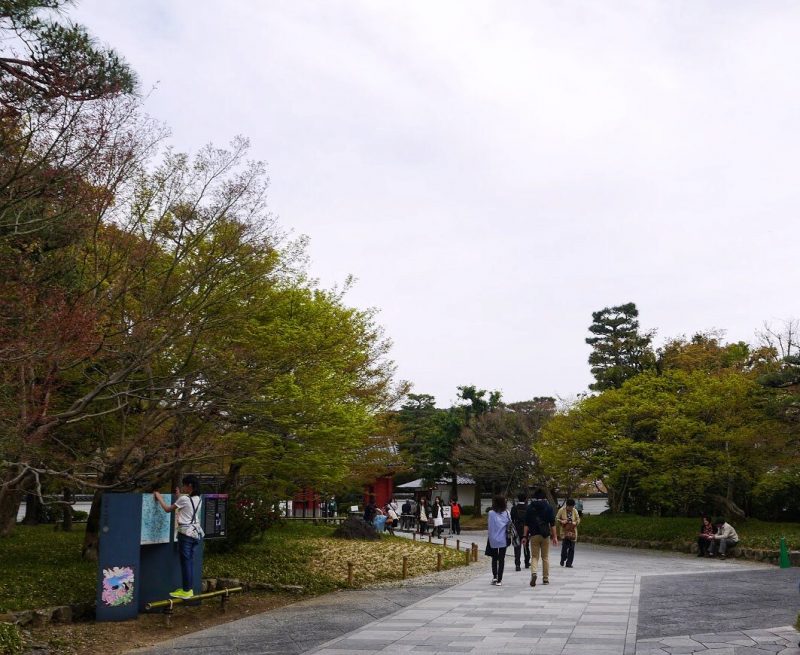 Continue walking along Byodo-in street will lead you to the next famous attraction in Uji: Byodo-in Temple. As one of the UNESCO World Heritage sites in Uji, Byodoin Temple is a beautiful example of Japanese Buddhist architecture.
Similar to most of the temples in Kyoto, Byodoin Temple was originally built as a villa for political Fujiwara no Michinaga in the late Heian period. But it was turned into the temple by his son after his death.
The entrance fee is ¥600 which will grant you access to the temple grounds and museums. But the fee does not include the admission to Phoenix Hall, famous for being featured on the back of a ¥10 coin. It required an extra ¥300 if you wish to admire the famous Phoenix Hall.
Byodoin Temple
Operating hours: Daily 8:30 to 17:30 (last admission at 17:15)
Entrance Fee: ¥600 and an additional ¥300 for Phoenix Hall.
Walk Along the Uji River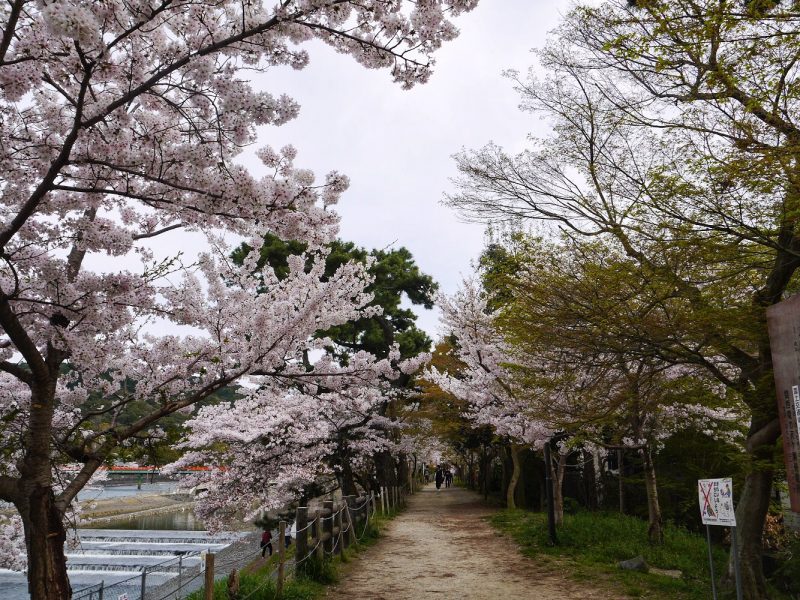 Next, continue your Uji walking itinerary along the street will lead you to Prefectural Uji Park. Uji park is located on Tounoshima Island next to the Uji River. It is a popular spot among locals for leisure activities, especially during cherry blossoms in spring and fall colors in autumn.
There were beautiful views of sakura blossoms along the walking path to Uji Park. Benches are available where people can take a rest and take in the beautiful scenery. The atmosphere is incredibly relaxing and peaceful.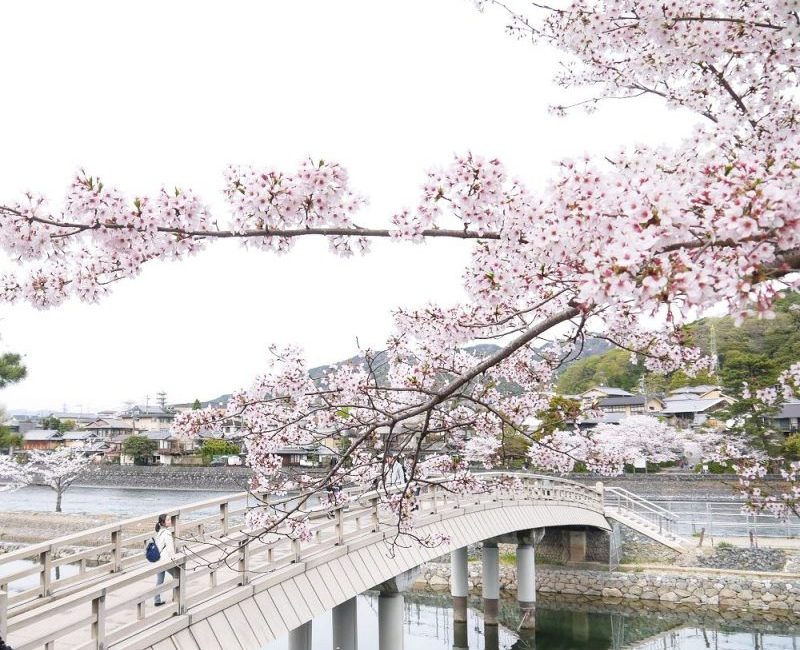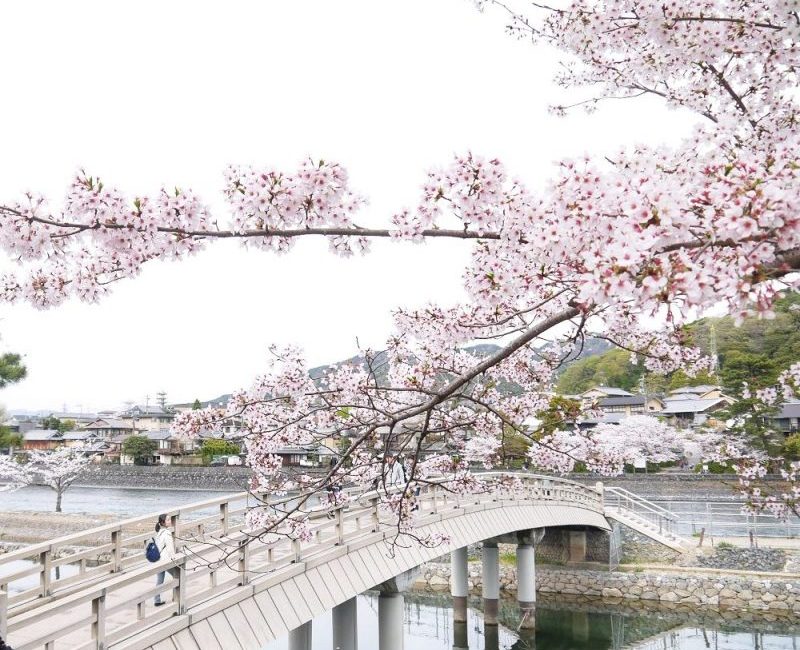 Uji Park consists of Tonoshima and Tatibanajima islands, which are linked by several stone bridges along the river. There are colorful vermillion colored Kisenbashi Bridge, Tachinbanabashi Bridge, Asagiri Bashi Bridge, and Nakajimabashi Bridge.
Enjoy the beautiful view of sakura blossom and forest hill with bridges along the Uji River. Stunning!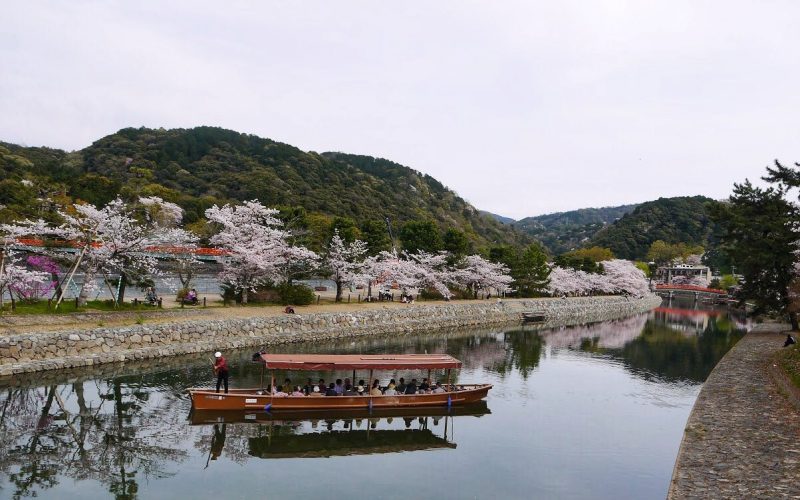 There are also sakura viewing boat rides along the river during our visit to Uji. The reflections of vermillion bridges on the water with the lush greenery mountain were perfectly matching. A great way for mesmerizing the tranquility in Uji Park.
It was a nice stroll along the Uji river at your own pace leisurely. There are also several riverside cafes and tea houses where you can take your rest with a great view. Taiho-an Teahouse is the perfect place if you are looking for the best tea house along the Uji River.
After the leisure walk, we retrace our footsteps back to JR Uji station and take our train ride back to Kyoto.
Where To Stay in Uji
Uji is great for a day trip from Kyoto and staying overnight is not necessary. However, for those who love to escape the hustle and bustle of city life. If you are planning to stay in Uji, we recommended staying along the Uji River.
Below are a few recommendations if you are looking for where to stay in Uji:
Hanayashiki Ukifune-en is a traditional Japanese ryokan in Uji. Spacious room with comfortable bed, facing with Uji river. Some of the rooms are even featuring with private onsen bath. Added, Japanese Kaiseki Dinner is available. One of the best places for a luxury stay in Uji.
For the budget traveler, consider the Cha-gan-ju-tei House located nearby the JR Uji station. It is a cozy and clean accommodation in Uji. Free-flow beer and miso soup are available. Choose from the western or Japanese room.
Day Trip To Uji
All in all, we spend about 3 hours wandering around Uji. The beauty of Uji does not renowned like Arashiyama which is famous for the bamboo grove. However, it is a great place to see the rural side of southern Kyoto Prefecture with the locality surrounded.
Is Uji worth visiting?
Uji is a beautiful place that is highly recommended for a day trip from Kyoto, especially during the spring and autumn seasons. Uji is absolutely worth spending a half-day to a day visiting.
How much time do you need in Uji?
There are many more things to do in Uji where you can easily plan for your 1 or 2 days trip. However, if you are limited in time, 3 to 4 hours of the half-day trip to Uji should be included in your Kyoto itinerary.
What must eat in Uji?
Uji tea (宇治茶, Uji-cha) is arguably considered to be the finest matcha in Japan. You can taste the Uji matcha, green tea products, and food in Uji.
Hopefully, my Uji travel blog can help you to plan your best day trip to Uji. If you are interested to know more about our Japan Kansai itinerary, you may want to check below related post with the travel guide provided:
Osaka itinerary: Things to do in Osaka: Ultimate Travel Guide Blog
Kyoto itinerary: 15 Things To Do and Eat for 3 Days in Kyoto
Best Day trip from Kyoto or Osaka
Accommodation in Kyoto and Osaka: