Last updated on December 11th, 2023
Planning on visit Arashiyama in Kyoto? Read on our walking guide with Arashiyama itinerary with top things to do listed for half day trip to Arashiyama during cherry blossom.
Arashiyama (嵐山) is one of the popular sightseeing places in Kyoto. It is famous for its beautiful scenery, well-preserved ancient buildings, and sightseeing experience. No doubt, there are many things to see and do in Arashiyama. All the must-visit attraction is ideal to put into one-day itinerary from Kyoto. However, if you only have limited time, Arashiyama is a good place for a half-day trip to explore its natural beauty.
Arashiyama also rated as one of the best spots for March/April cherry blossom and November fall foliage in the Kyoto district. We visited Arashiyama during early April in the cherry blossom season. It is so amazing with sakura in full bloom.
Read on how we plan on our half-day Arashiyama itinerary from Kyoto.
How To Get To Arashiyama
First of all, Arashiyama is located slightly far distance with seven kilometers away from downtown Kyoto. However, it is pretty easy to get to Arashiyama from Osaka and Kyoto by train or bus. The train is a better option as you may get struct in the traffic by bus.
From Kyoto to Arashiyama by train or bus.
By JR train: Take the JR Sagano train to JR Arashiyama station from Kyoto. The 15 minutes train journey will cost about ¥240.
By Sagano Scenic Railway: From JR Umahori and transfer to Kameoka Torokko station. Next, take the Sagano Torokko to Arashiyama with a scenic train ride.
By Bus: From Kyoto station and take the Kyoto City Bus (#28) and get off at Arashiyama-Tenryuji-mae.
From Osaka to Arashiyama is also doable by train. There are few train operators connected between Kyoto and Osaka such as JR, Hankyu, or Keihan Main Line. It depends on where is your departure from Osaka or arrival stop in Kyoto.
By JR train: Take the JR train from Osaka to JR Kyoto station, then transfer to JR Saga-Arashiyama station.
By Hankyu train: Take the train to Katsura Station, and then transfer to Hankyu Arashiyama Line to Arashiyama Station.
Arashiyama Itinerary
When you are getting to Arashiyama, all the attractions are accessible by walking. There are many things to do on a sightseeing trip to Arashiyama. The whole visit can be finished by one day or a half-day trip within four to six hours.
Here is my walking route on Arashiyama itinerary for things to do in one-day:
Ride on Sagano scenic railway (1 – 2 hours)
Leisure walk in the bamboo grove – Must visit spot in Arashiyama (1 hour)
Pray on Nonomiya Shrine (30 minutes)
Visit World Heritage Site Tenryu-ji Temple (1 hour)
Have Some Snack at Food Street (30 minutes)
Try the traditional Kyoto yudofu (30 minutes) 
Cross the Togetsu-kyo Bridge (30 minutes)
Hozugawa River Boat Ride (1 -2 hours)
1. Ride on Sagano Scenic Railway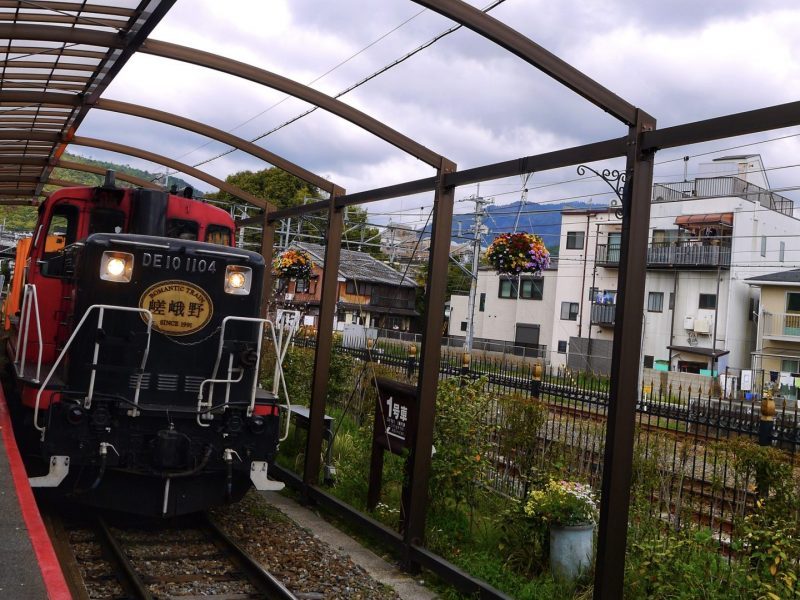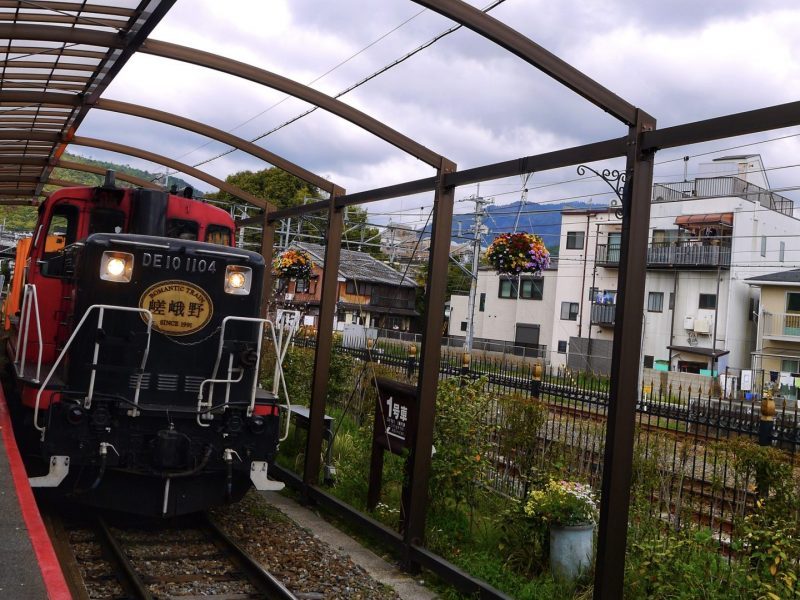 The scenery train ride on Sagano Railway is one of the popular activities in Arashiyama. Enjoy the beautiful countryside mountain view with nostalgic trains along the Hozugawa River.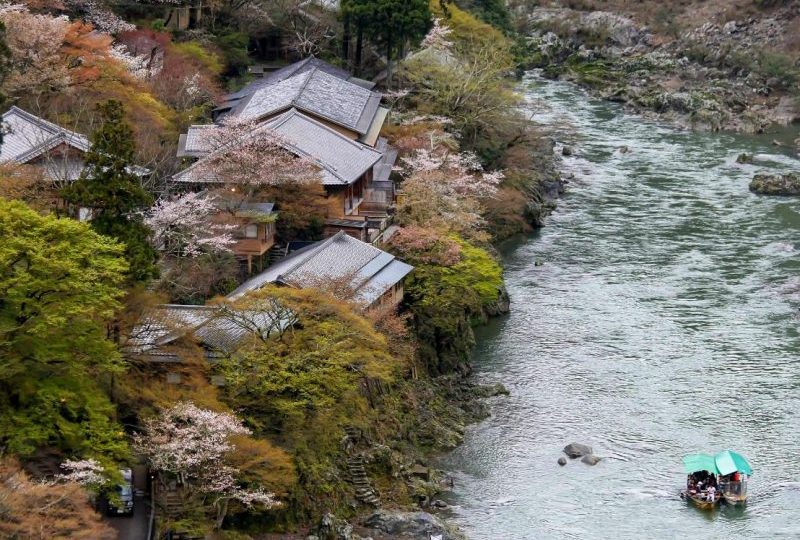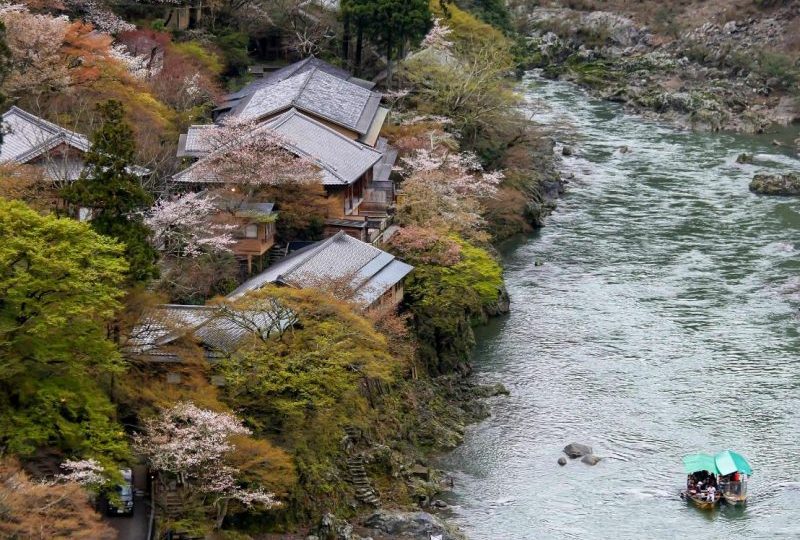 This scenic train takes around 25 minutes for a single ride from Kameoka to Saga Torokko station. However, you can choose to take off at Arashiyama Torokko station which located nearby the bamboo forest. It is a great stop to proceed for our next stop in Arashiyama's visit.
Read more: Ride on Arashiyama Sagano Scenic Railway
Very popular and you need to get your ticket before boarding the train.
Getting there: Take JR train from JR Kyoto Station to JR Umahori station. Next, board the Sagano Scenic Train at Kameoka Torokko station for scenery ride.
Train fare: 620 yen, 25 minutes
Good News:
Sagano Romantic Train Ticket
is available in Klook now! And travelers does not required rush for train ticket once reached Japan. Book
Sagano Romantic Train Ticket
through Klook and avail of a ticket to ride the famous Sagano Romantic Train in Kyoto! Paid for convenience and secure your ticket to avoid disappointment.
2. Leisure Walk in Bamboo Grove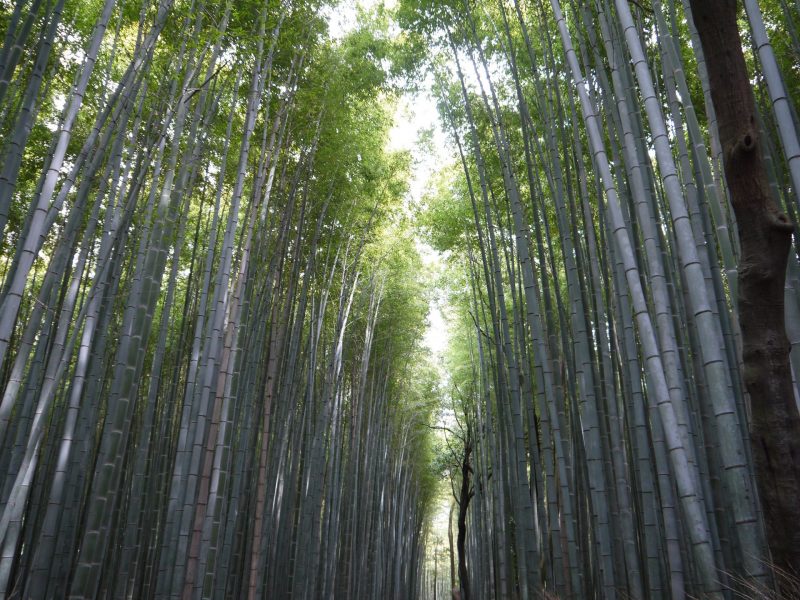 Arashiyama bamboo grove or bamboo forest is another must-see in Arashiyama, Kyoto. It is also one of the top sights where you can discover the refreshing natural beauty.
From Arashiyama Torokko station, take a short walk will lead you to the bamboo grove. Word couldn't describe our excitement as these places have been in our travel bucket list for so long. It is a leisure walk with soaring stalks bamboo aside along the path. Sadly that it is very much touristy very many people surrounded. Probably it's better to come here in the morning or late in the afternoon to avoid the crowd for a peaceful visit. Worth visiting when visit Arashiyama.
Besides, you may also take advantage of the Arashiyama rickshaw tour. This tricycle experience tour will bring you through the bamboo forest and few best sight in the forest. A great option for those who want to save some walking energy.
Getting there: 5 minutes walk from Arashiyama Torokko station.
Entrance fee: Free
3. Pray at Nonomiya Shrine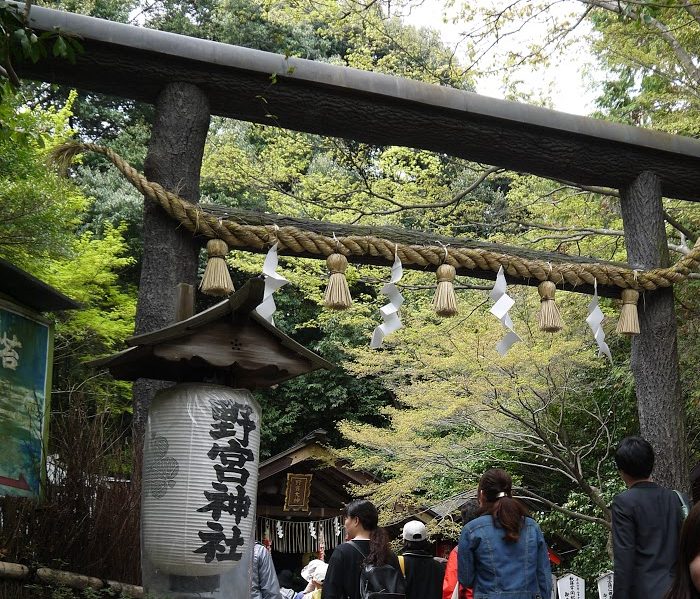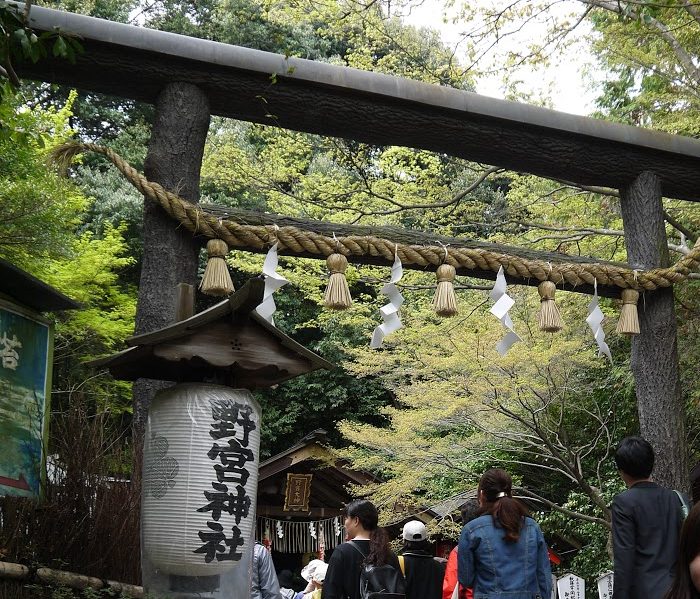 The Nonomiya Shrine (野宮神社) is a small Shinto shrine located in the Arashiyama bamboo grove. It is dedicated to the Sun Goddess and to the deity of fire. Locals and visitors, especially for single ladies, are coming to Nonomiya Shrine to seek for purity and pray for love.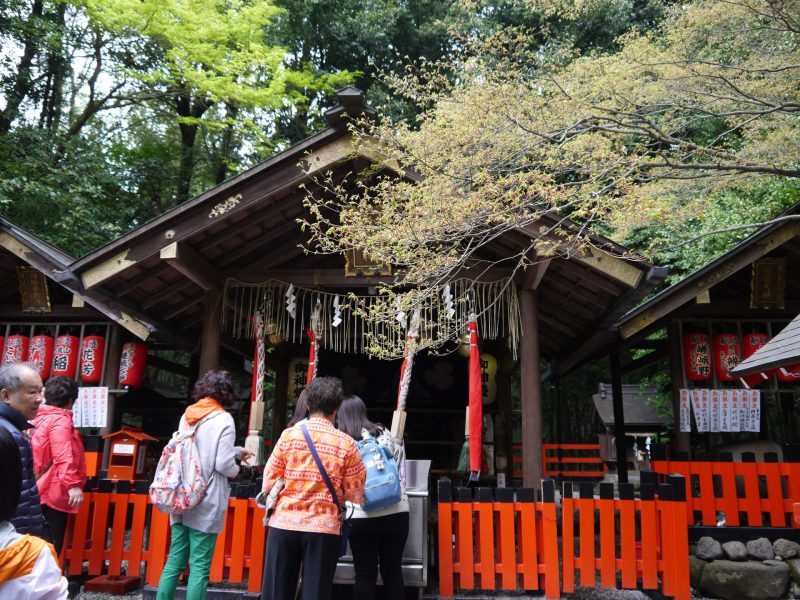 Not too big but worth taking a look when passing by. It was beautiful as it located in the forest surrounded by trees and bamboo. A brief stop when you are in the bamboo forest.
Getting there: located inside the bamboo forest.
Entrance fee: Free
4. Visit World Heritage Site Tenryu-ji Temple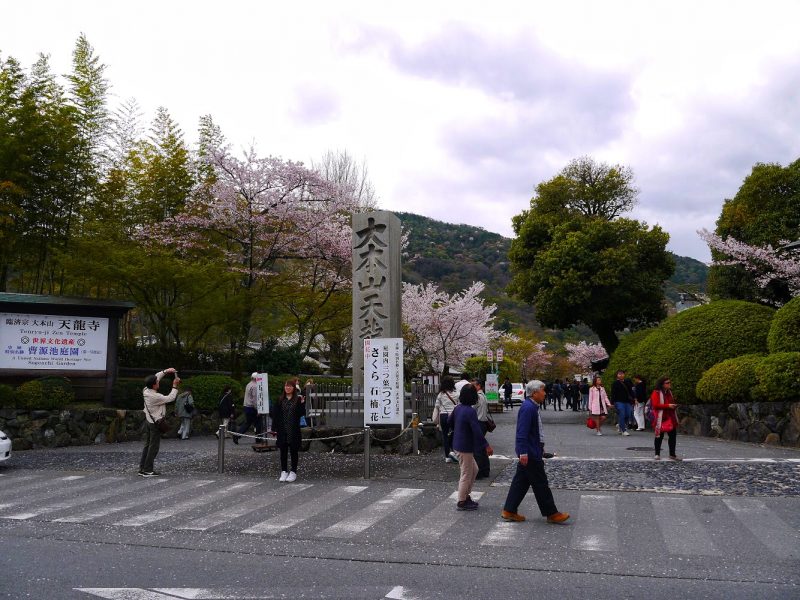 Tenryuji (天龍寺, Tenryūji) is one of the important temples in Kyoto. It is a famous Zen temple and now registered as a world heritage site.
The most beautiful part of Tenryu-ji Temple is the finest garden inside with a tranquil atmosphere. It features a is a beautiful pond surrounded by pine trees, rocks and mountain view of Arashiyama. The view is very beautiful, especially in sakura or autumn foliage season.
Getting there: less than 10 minutes walk from Nonomiya Shrine
Opening Hours: 8:30 to 17:00-17:30
Entrance fee: ¥500 (additional ¥300 to temple buildings)
5. Have Some Snack at Food Street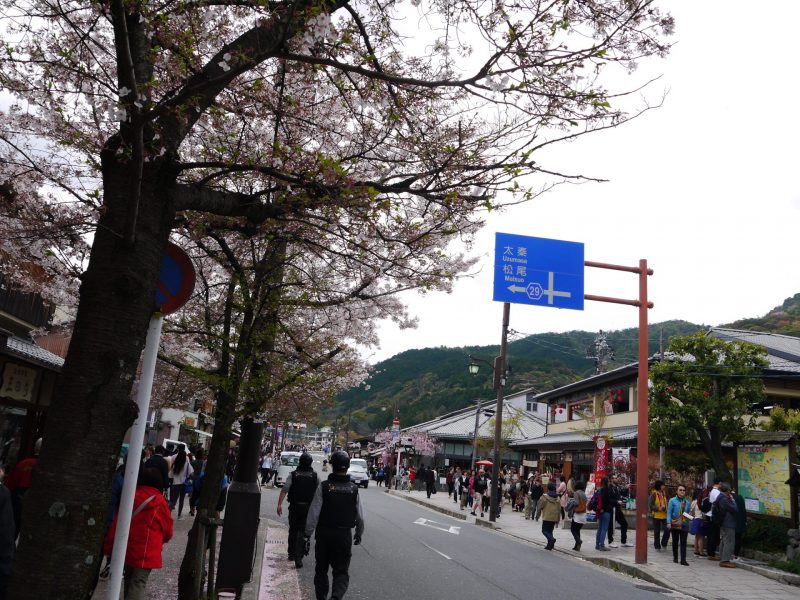 From Tenryu-ji Temple to the Togetsukyo bridge, there are a lot of restaurants along the roadside. Take a stroll along the street and choose what to eat in Arashiyama. From a Western cafe, Japanese restaurants or small shops are all available on the main street.
Added, there are also many Japanese local street snacks to try along the way. Take the opportunity to grab some snacks and refreshments.
Getting there: 5 minutes walk from Tenryuji Temple
6. Try the traditional Kyoto yudofu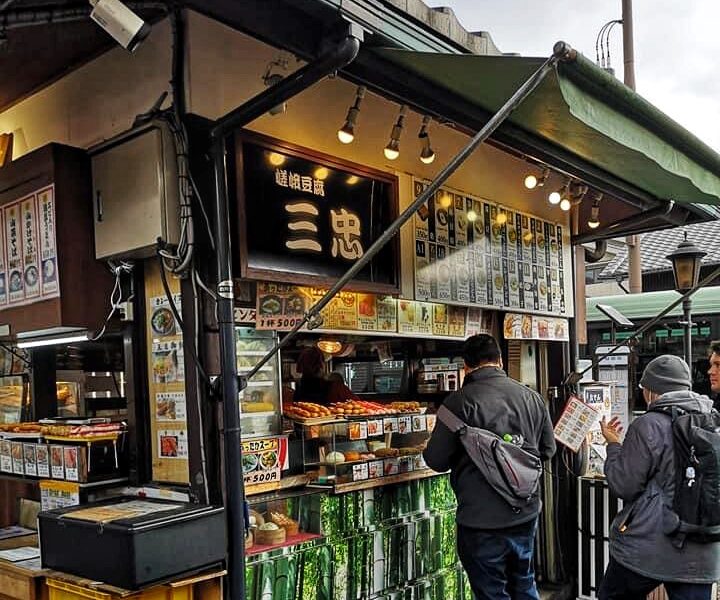 Kyoto is the place in Japan to eat yudofu. There are many places to try this specialty in Kyoto.
If you want to have a great tofu dining experience in Arashiyama, you should try Yudofu Sagano! This restaurant is famous for tofu dishes in Arasihayama. Your food journey will be pleased not only through your taste buds but also through your eyes, as the restaurants are located in the beautiful gardens. The Yudofu course meals are generally available from 3,000 yen up to 4,000 yen depending on the number of items in the meals.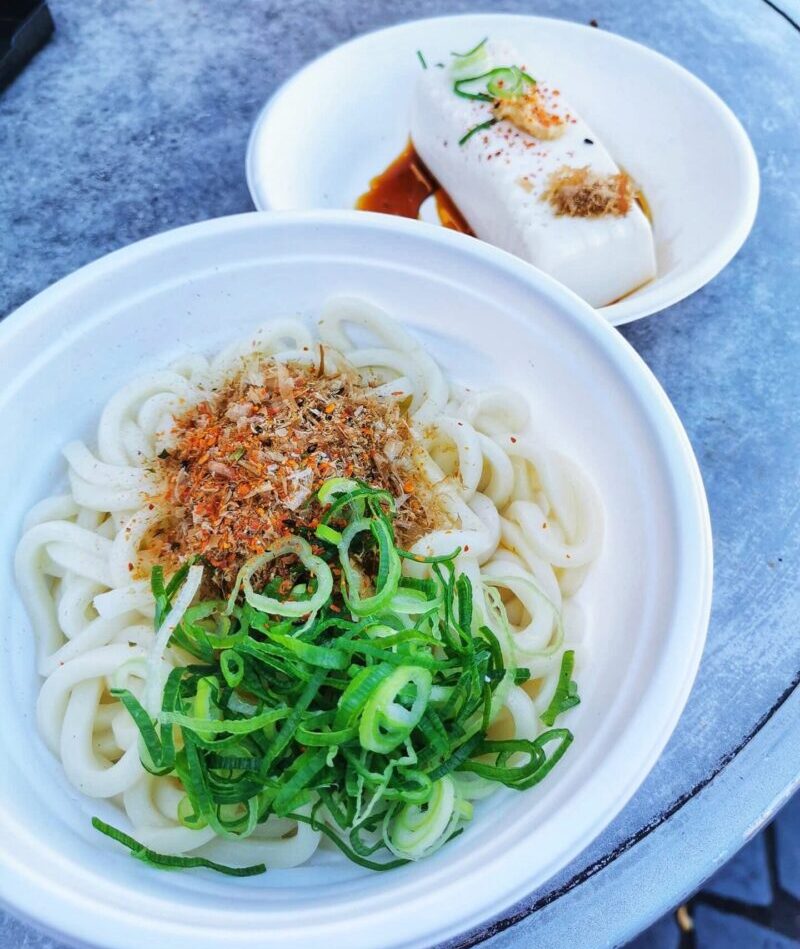 Another worth recommendation is the Yudofu Chaya Sagatofu Sanchu. This cabin kiosk offers some quick snacks, noodles dishes, and yudofu at a decent price. This may be a perfect stop on your way when visiting Arashiyama.
7. Cross the Togetsu-kyo Bridge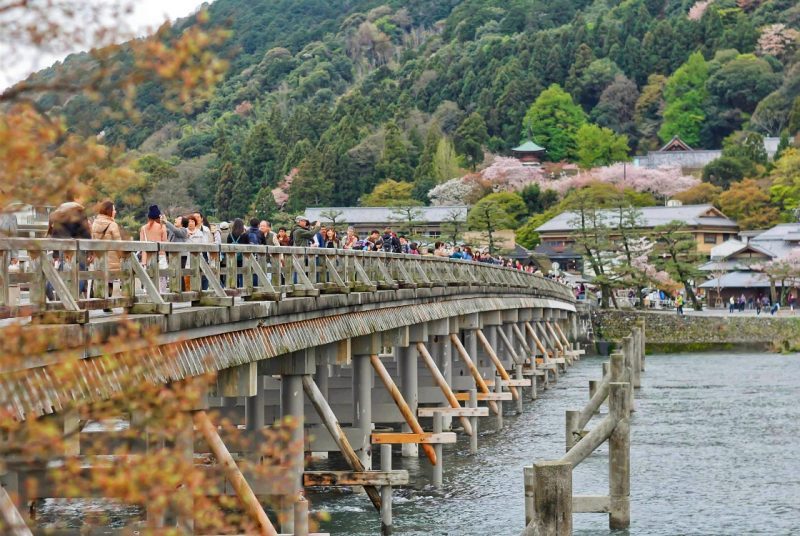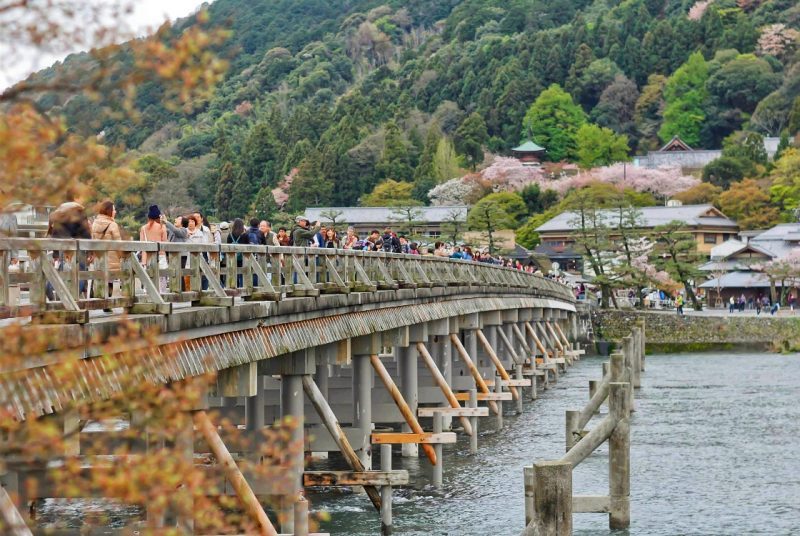 Walk along the main street of Arashiyama toward the riverside. The Togetsu-kyo Bridge is another iconic landmark in Arashiyama. It is a well-known symbol of Arashiyama which spans across Katsura Rivers for more than 1000 years.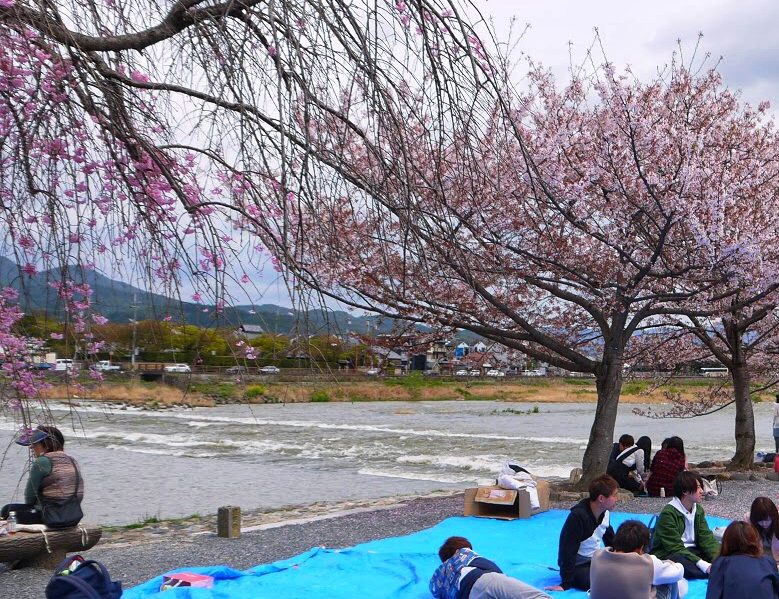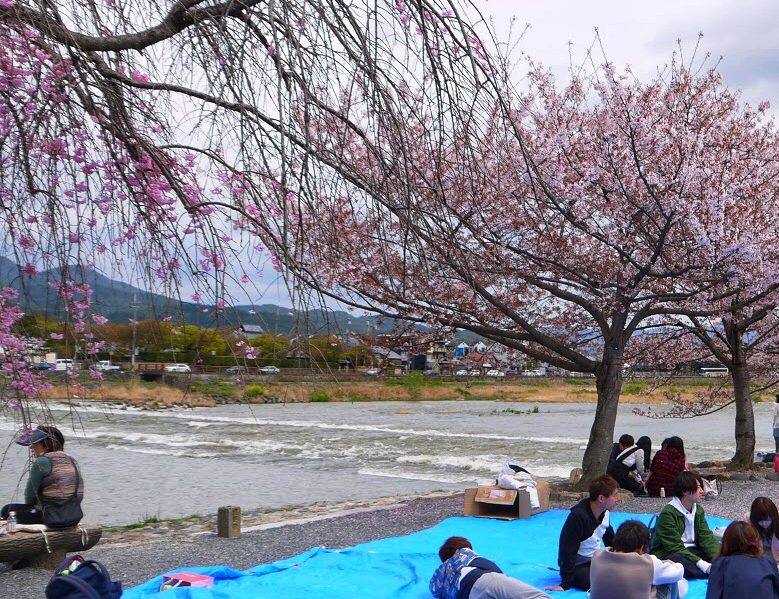 It was so beautiful with cherry trees along the river. Locals were picnic at the riverside park which adjacent to the Togetsu-kyo Bridge.
Getting there: 5 minutes walk from Tenryuji Temple
8. Hozugawa River Boat Ride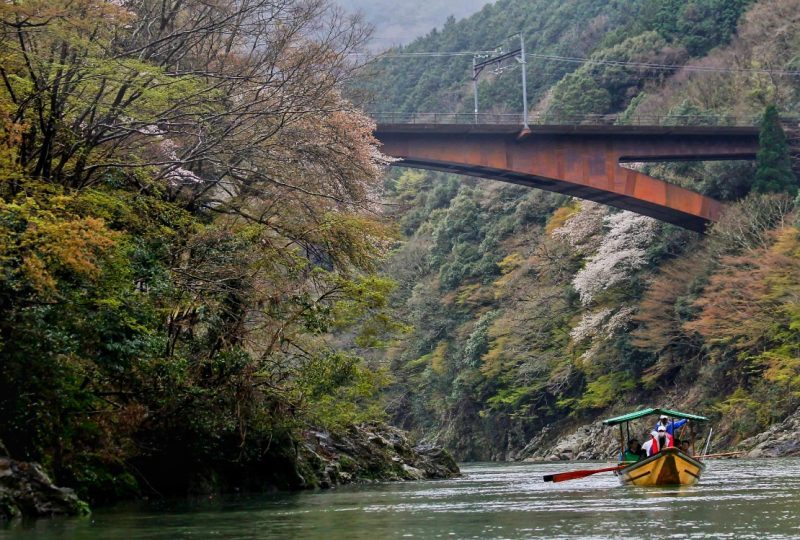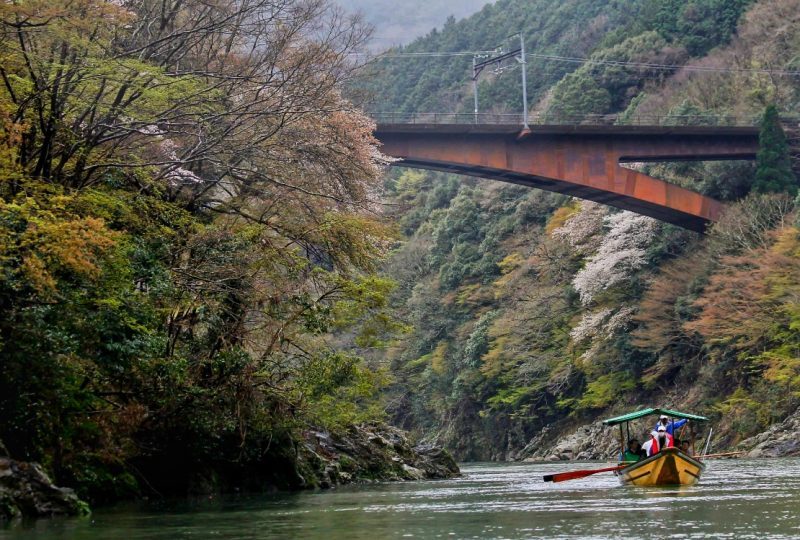 If you are interested, you may consider to include the Hozugawa River Boat Ride in your Arashiyama itinerary. The boat will be rowing at the Hozugawa river with beautiful scenery along the journey. It one of the best ways to embrace the greatness of mother nature in Arashiyama.
Unfortunately, we did not know about this boat ride before our Arashiyama trip. And only get to know this amazing experience when we take the Sagano train. Hopefully, we have a chance to come back for the boat ride.
Anyway, this 1 to 2 hours Hozugawa River Boat ride is not cheap. But worth for the best view especially during cherry blossom or autumn foliage.
Getting there: Purchase your boat package at the ticket counter (train station). Get to boarding point which required 5 minutes walk from Kameoka station. 
Boat Fare: ¥4,100
Official website: https://www.hozugawakudari.jp/en
Where To Stay? Kyoto Or Arashiyama
Arashiyama is very ideal for a day trip from Kyoto with well-connected transportation. But, it is great to stay overnight to enjoy beauty peacefully when all the day-tripper leaving. If you want to stay overnight in Arashiyama, we highly recommend you to stay overnight in a traditional ryokan there.
Rangetsu, Suiran Hotel, and Arashiyama Benkei are the best finest ryokan in Arashiyama. All are perfect traditional ryokan that made you feel like your own Japanese home with onsen facilities. A great place for your perfect stay in Arashiyama who want to be based here. Friendly reminder that limited rooms are available for ryokan. Reserve your rooms as earlier as possible to avoid disappointment.
Arashiyama Itinerary Tips
How long do you need in Arashiyama?
Plan for at least three to four hours to visit Arashiyama in leisure.
What is the best time to visit Arashiyama?
Sakura season and Autumn is the best time to visit Arashiyama.
Is Arashiyama worth visiting?
Arashiyama is one of the must visit in Kyoto especially for first time visitor. The bamboo grove is the top popular sights in Arashiyama.
How do I get to Arashiyama bamboo grove?
From Kyoto Station, take the JR Sagano/San-in Main Line to Saga-Arashiyama Station with approx. 15 min train ride. Next, another 10-min walk will get you to Arashiyama Bamboo Grove.
Half Day Trip To Arashiyama
All in all, we enjoy our half-day trip to Arashiyama. All the must-visit attraction was included in my walking itinerary. It is a leisure trip and a great retreat outside of Kyoto city. Even if you only have half-day in Arashiyama, you still can manage to accomplish most of them.
However, if you have time for one day in Arashiyama, we highly recommended go for the Hozugawa River Boat ride and enjoy nature along the river. There are still many places like Jojakukoji Temple, Gioji temple, Hogonin, monkey park to visit in Arashiyama. In short, Arashiyama worth for allocating more time for exploring. If you are interested, continue to read on my related travel blog on Kansai itinerary planning.
How to Plan Your 7 Days Kansai Japan itinerary
Osaka itinerary:
Kyoto itinerary: 
Best Day trip from Kyoto or Osaka
How to travel to Osaka, Kyoto & Nara: