Last updated on May 28th, 2023
Visiting Kyoto and looking for what to eat in Kyoto? Here is the top 8 must-eat food that you shouldn't miss when visiting Kyoto.
Kyoto is world-famous for its historical stunning shrine and beautiful garden. If you come to Kyoto, you will want to try their local food. Compare with Osaka which is famous as Japan's kitchen, Kyoto food is more focused on traditional local dishes. Kyoto is known for its clean water. Consequently, Kyoto is famous for Tofu, Sake, and Soba which required good quality water to produce.
Added, one of the important tips for your Kyoto food hunt trip. It is important to look for accommodation for your food trip. Some people only plan for a day trip from Osaka to Kyoto. But it is a better idea to stay in Kyoto for 2 to 3 days to explore the beauty of Kyoto and also Kyoto food hunting. For a smart traveler, consider staying nearby Kyoto station for easy getting around. We recommended Daiwa Royal Hotel Grande Kyoto with a great-sized room and tons of restaurants and shops within walking distance.
In this food post, I will introduce you to the top 8 must-eat food in Kyoto. Most of the food is very extraordinary and only can be found in Kyoto. Make sure to give this food a try when visiting there.
Kyoto Food Guide
There are definitely heaps of traditional Japanese foods on offer, as well as local specialties in Kyoto. Here is some of the recommendation Kyoto's best food if looking for what to eat in Kyoto.
Top 8 Must Eat Food in Kyoto:
Kyoto Fire Ramen
Nishin Soba
Kyoto Ramen
Handwoven Teori Sushi
Yudofu
Kyoto Style Sushi
Green tea dessert
Japanese street food
What is Kyoto famous food?
Kyoto is famous for its traditional style of Japanese cuisine with a long history. Kyoto cuisine has its unique characteristic of using seasonal ingredients without over-flavoring the dish when eating.
What should I eat in Kyoto?
Tofu is almost synonymous with Kyoto cuisine. Almost every shop and restaurant will serve tofu as part of their meal.
Where To Eat Cheap in Kyoto?
One of the best places to eat cheap in Kyoto is at Nishiki Market with loads of great street foods, Kyoto snacks, and more.
Kyoto Fire Ramen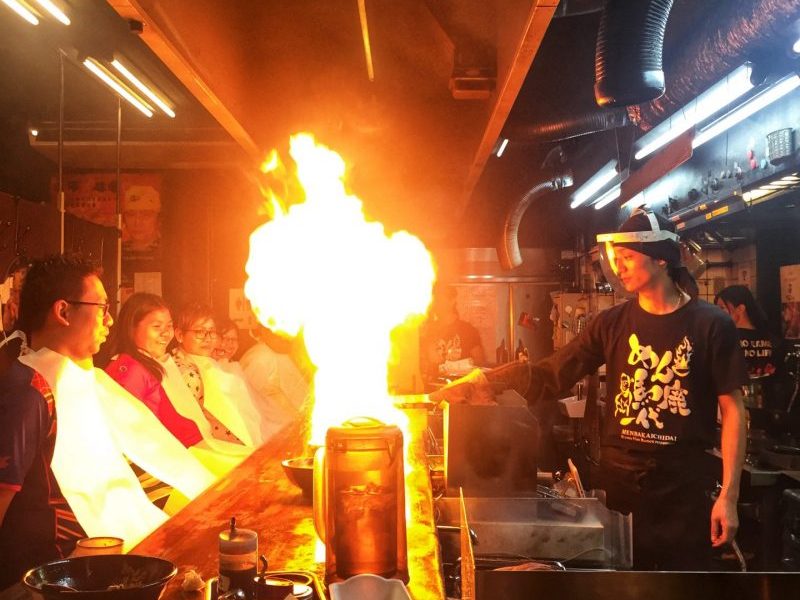 Our top 1 must-eat food in Kyoto is the Menbakaichidai Kyoto fire ramen. This flaming ramen is an extraordinary dining experience where the ramen burning right in front of you. Located nearby Nijo Castle within 10 minute walk, Menbakaichidai is very popular among visitors. People are coming here to try on ramen on fire. While the shop is very small with only can for 12 people. So expected to wait in line.
I visited Fire Ramen Menbaka during my 3 days Kyoto itinerary. There were about 30 minutes of waiting time for this hot bowl of ramen. Clear instruction and safety rules required you to follow to try on the flaming Kyoto ramen. It was amazing when the staff pour the flaming oil into your ramen. Truly a memorable dining experience in Menbakaichidai.
For detailed food review and dining experience: Kyoto fire Ramen Menbaka.
Kyoto Fire Ramen Menbaka:
Kyoto Travel Tips:
When looking for the best price and biggest selection of hotels in Kyoto check prices for Kyoto Best Hotel from
Booking.com
. We found they are the best option and have a great cancelation policy. We recommended staying nearby Kyoto station for easy getting around. The
Daiwa Royal Hotel Grande Kyoto
is in a great strategic location with 5 minutes walk from Kyoto Station. Great sized room, and tons of restaurants and shops within walking distance.
Nishin Soba
One of Kyoto's specialty cuisine is Nishin soba. It is a local herring fish soba noodle dish with flavored soy sauce broth. The herring fish was perfectly smoked with sweet and salty tastes. It is a very unique Kyoto-style soba noodle that you can't simply find it anywhere. A representative specialty of Kyoto!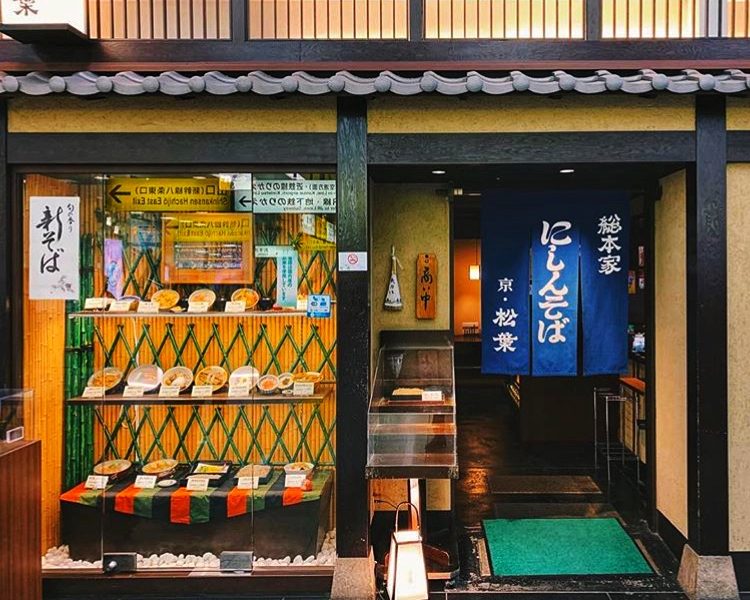 Matsuba Soba is the oldest and most famous Nishin soba restaurant in Kyoto. It is said is the inventor of Nishin soba and is highly recommended by locals.
The main store of Matsuba Soba is located beside Minamiza Theater. It is easy to find at Kawaramachi downtown. Alternatively, you can try the Nishin soba at Matsuba Kyoto Station.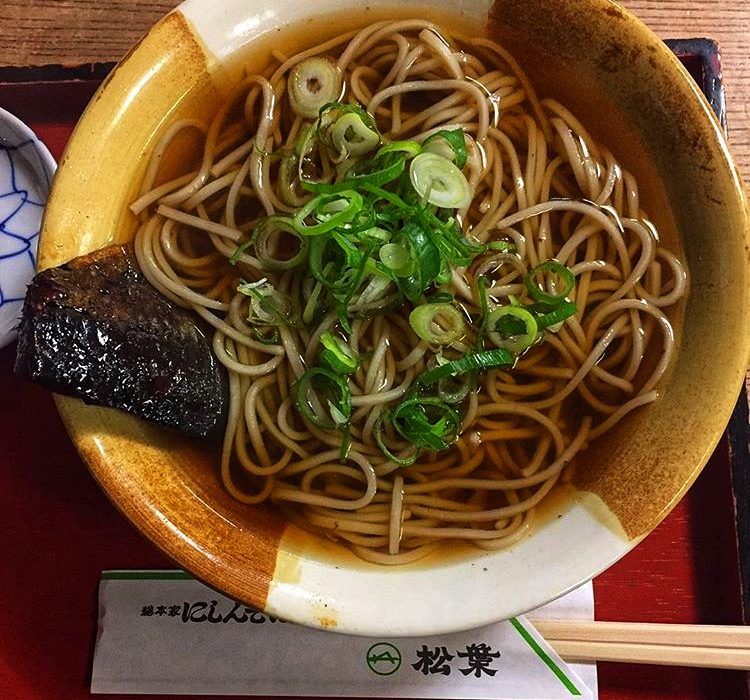 The handmade soba noodles from Matsuba with different structures compared to ramen. The Nishin soba was delicious and the taste was exceptional. Added, warm service by lovely staff to make you feel at home.
How to get to Matsuba Soba Main Store: From Kyoto station, take the Kyoto City Bus to "Shijo-kawaramachi". Next, 5 minutes walk will get you to Matsuba.
Best Nishin soba in Kyoto, Matsuba:
Address: 192 Kawabata-cho, Shijo-ohashi Higashi-iru, Higashiyama Ward, Kyoto City, Kyoto.
Operating Hour: Daily 11:00 to 21:30
Price: Approximate 1400 yen.
Kyoto Ramen
Ramen is the typical Japanese noodle with different types of broth and is topped with a variety of meat and vegetable. No doubt, ramen is one of the most popular dishes in the whole of Japan. While each city has its local recipe and sure Kyoto has its version of Kyoto ramen.
We got our taste of Kyoto ramen in Kyoto Ramen Koji on the 10th floor of Kyoto station. It is home to eight ramen specialties from Hakata, Sapporo, Fukushima, Tokyo, Toyama, Tokushima, Kyoto, and Osaka.
For sure, we decided to try on Masutani ramen shop which origin in Kyoto. This ramen store was established in 1948 and it is the birthplace of ramen in pork back fat soy sauce. The broth was very flavorful and tasty. Of course, there is a wide variety of Kyoto ramen shops to try during your trip. Make sure to try on a hot bowl of ramen in Kyoto.
Kyoto Ramen Koji
Address: Kyoto, Shimogyo, Karasuma-dori, Shiokoji-Sagaru, Higashi-Shiokojicho 901, Kyoto Station building 10F
Operating hour: 11:00 to 22:00 (Last order 21:30)
Price: less than 1000 yen for a hot bowl of ramen.
Handwoven Teori Sushi
The new kind of sushi style called tengiri-zushi has a unique artistic twist between traditional and modern sushi. The handwoven sushi is kind of like a de-constructed meal. You're free to DIY and make your own Teori sushi according to your desire.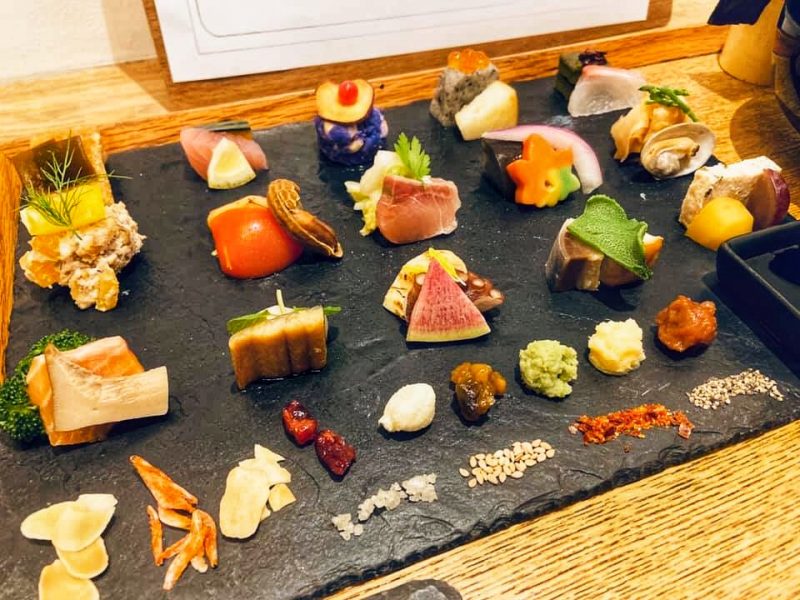 The AWOMB Karasuma Honten is the origin of this hand-woven sushi. The unique sushi-style platter set meal comes with fresh local obanzai, where you can roll your own sushi with nori (seaweed), obanzai, and rice of your own choice. But what is so overwhelming is the obanzai and condiments were served in a beautifully arranged tray for you to make your own sushi. What's an eye feast dining experience in Kyoto!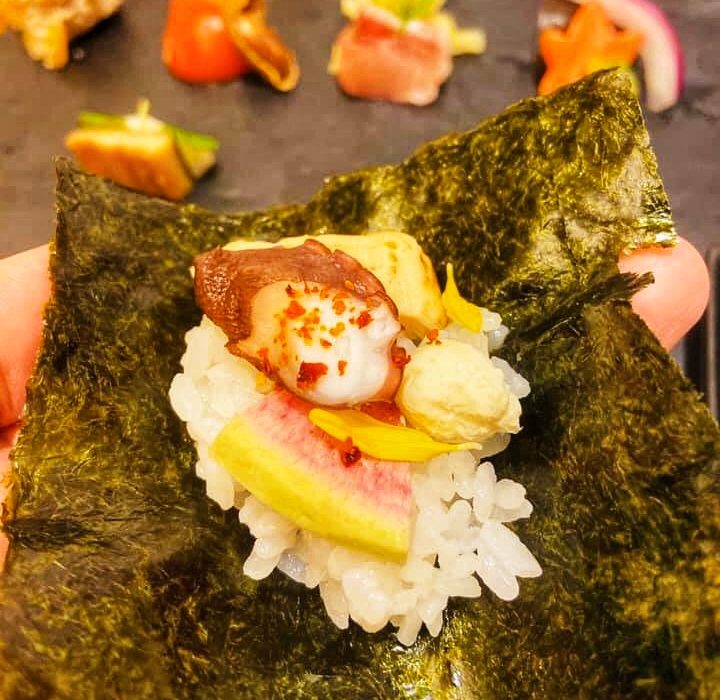 Apparently, there is a total of 4 shops in Kyoto. We visited the AWOMB Karasuma Honten, located about 30 minutes away from downtown. From our hotel, Daiwa Royal Hotel Grande Kyoto, we took the train to Shijo Station and walked to the AWOMB Kyoto. It was about 7 minutes walking distance to the shop. Be sure to book in advance, as very limited table capacity. Feel free to read on our Kyoto food blog at AWOMB Kyoto.
AWOMB Kyoto An Unique Teori Sushi Dining Experience
AWOMB Karasuma Honten
Address: 189 Ebanagicho, Nakagyo-ku, Kyoto-shi, Kyoto
Operating hours: Lunch 12:00-14:00 LO, Dinner 18:00-20:00 LO
Price: The supreme set comes with 3,000 yen
Yudofu
One thing listed as a must-try in Kyoto is yudofu. It is boiled tofu that places in a hot pot with vinegar sauce. Sound simple right? Don't underestimate these simple dishes as it need clean water and quality soybean to process good tofu. Kyoto has met all of its criteria. Moreover, it was used to be vegetarian cuisine for Buddhist monks.
For the best place for you in Kyoto, most people will vote for Yudofu Sagano. It is famous for tofu kaiseki in Arasihayama. Enjoy the traditional Japanese garden during your yudofu kaiseki meal. If you love tofu, you'll sure enjoy eating here. A great tofu dining experience in Arashiyama in Yudofu Sagano.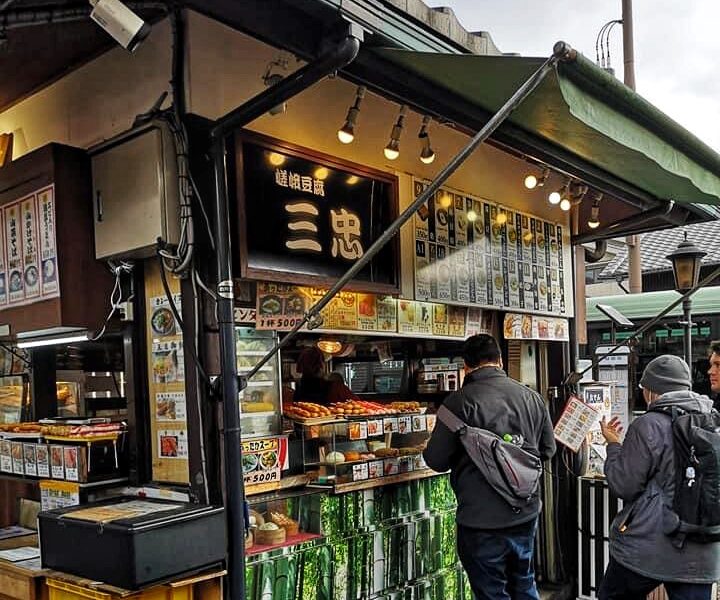 I am not a fan of tofu. Since yudofu is one of the most eaten food in Kyoto, we decided to try the tofu dishes in Tofu Chaya Sagatofu Sanchu. It is a cabin kiosk on the main street of Arashiyama, selling various kinds of tofu dishes.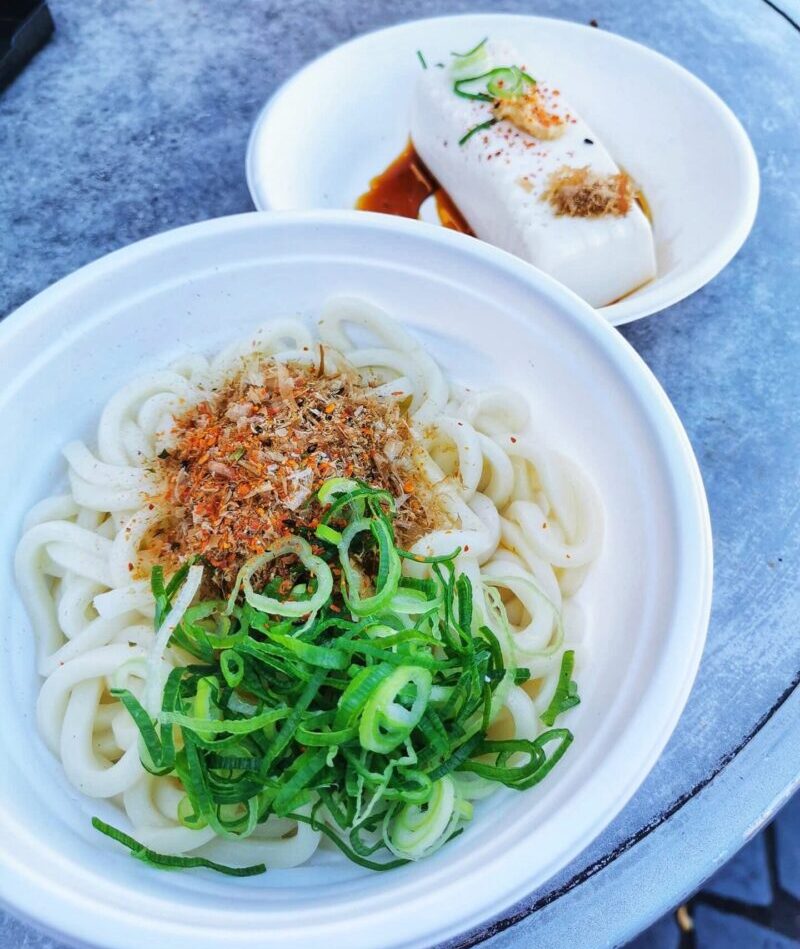 While the price is relatively cheap at about 500 yen for one dish. However, don't underestimate its popularity. A lot of locals were queuing for the tofu dishes. All of us ordered a bowl of soba and the yudofu at Tofu Chaya Sagatofu Sanchu to try.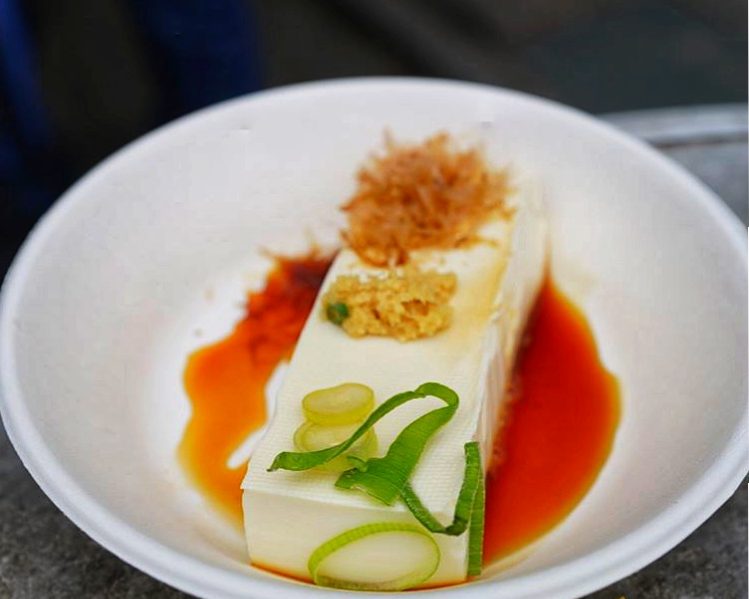 The yudofu was so soft like melted in your mouth. And I can't imagine that it was delicious. It changes my image of the traditional tofu dish. So be sure to try it for yourself. A popular shop in Arashiyama if you are looking for the best cheap eats in Arashiyama.
Tofu Chaya Sagatofu Sanchu (嵯峨豆腐 三忠)
Address: 2-1 Sagatenryuji Tateishicho, Ukyo Ward, Kyoto, 616-8375, Japan
Price: Ranging from 300 yen to 700 yen depending on the item.
Kyoto Style Sushi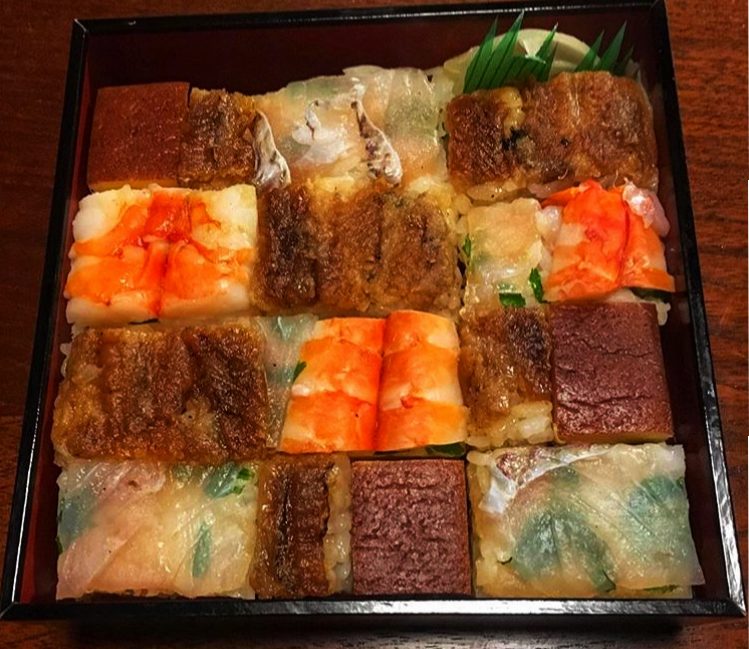 For authentic Kyoto-style sushi, Izuju Sushi is one of the must-try tastes the Kyoto. Located nearby Yasada Shrine, Izuju Sushi is a quaint century-old sushi restaurant in Kyoto. Compare with the regular nigiri sushi, sushi in Izuju is prepared differently. Their sushi rice is marinated with vinegar. So the taste will be different from this traditional Kyoto-style sushi. It has a stronger burst of flavor when tasted.
Limited tables available and long queue especially during peak hours. While most of the customers are takeaway for a picnic. So the queue moves very fast. Please be sure to write down your name on the reservation list. The staff will be called you according to the running number.
If you'd like to have normal sushi, then this restaurant is not for you. However, if you'd like to feel and taste the authentic Kyoto sushi, this is the perfect restaurant for you.
Izuju Sushi Kyoto:
Address: 292 Gionmachi Kitagawa, Higashiyama Ward, Kyoto, 605-0073, Japan
Operating hour: Daily from 10:30 to 19:00. Closed at Wednesday.
Green Tea Dessert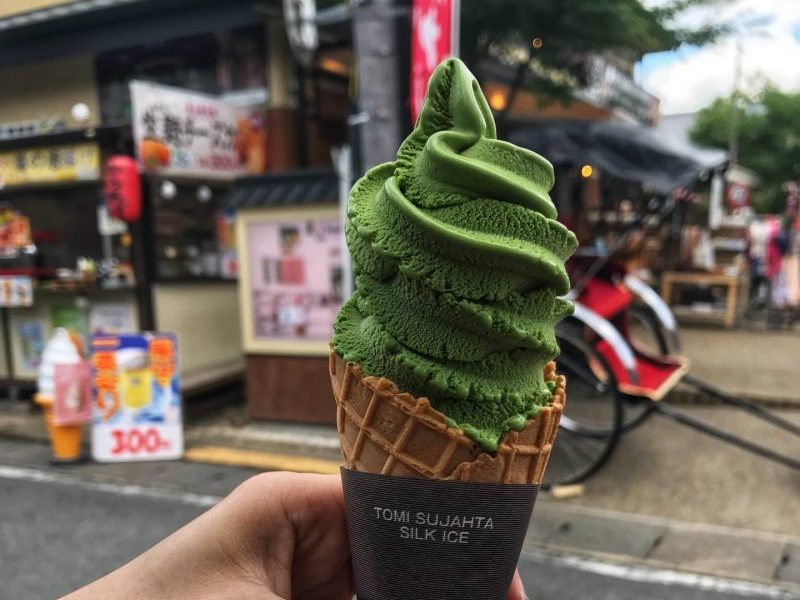 Located 30 minutes from Kyoto, Uji is the birthplace of Japanese green tea. So, no surprise that Kyoto has tons of green tea specialty stores selling kind of match products. Matcha lovers don't miss the opportunity to try as much as possible.
Among them, Tsujii Gion is one of the must-try desserts in Kyoto. It is a popular dessert cafe in Kyoto, specializing in green tea and matcha. Most importantly, Tsujiri uses the top-notch green tea from Uji. It gained its popularity by serving various kinds of sweets. For example shaved ice, cake, jelly drinks, green tea noodles, and more. Moreover, their hojicha parfait is the best selling, especially during summer.
We originally planned for afternoon tea at Tsujiri. However, the line was so long. While this dessert shop has many branches in Japan and even oversea, we ended up giving up and proceeded with our Kyoto itinerary. So for those who want to try on the dessert in Tsujiri, please be ready for the queue..
Tsujiri Gion Kyoto
Address: 573-3 Gionmachi Minamigawa, Higashiyama Ward, Kyoto, 605-0074, Japan
Operating hour: Daily from 10:00 to 19:30 or 20:00
Japanese Street Food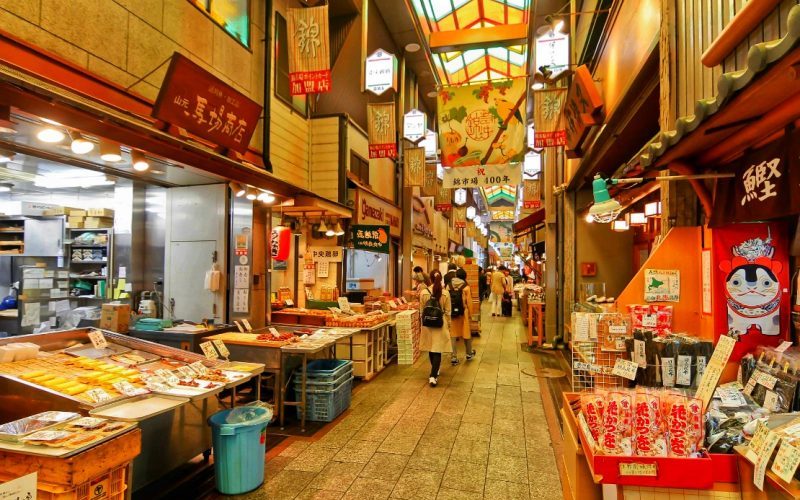 Last but not least, remember to try on Japanese street food in Kyoto. While the Nishiki Market is the most popular food market in Kyoto. It is a narrow street filled with more than a hundred food stores and restaurants. So, this is one of the great places to sample as much as possible Japanese street food in Kyoto.
Nishiki Market
Address: 609, Nishidaimonjicho, Nakagyo Ward, Kyoto.
Operating Hour: Daily from 9:30 to 18:00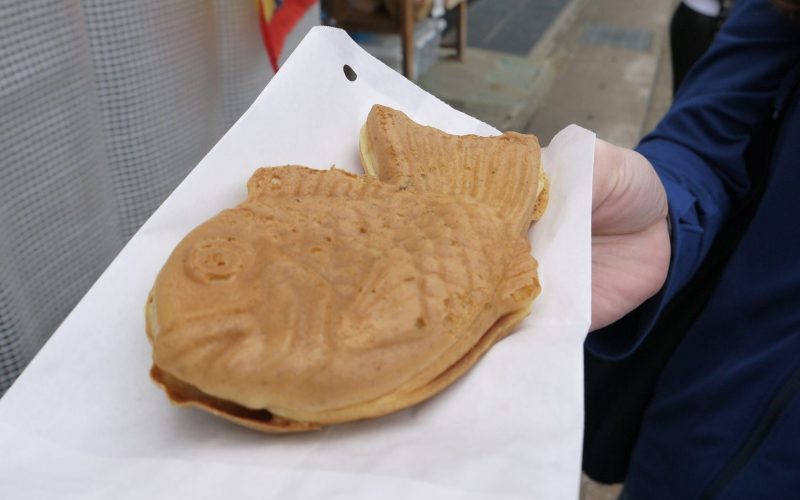 Moreover, we also recommended street food hunting in Arashiyama street. There has a variety of snack food on the busy street of Arashiyama. We tried fried chicken, takoyaki, matcha ice cream, mochi, and various street food. A great place to sample Japanese snack food.
Kyoto Travel Guide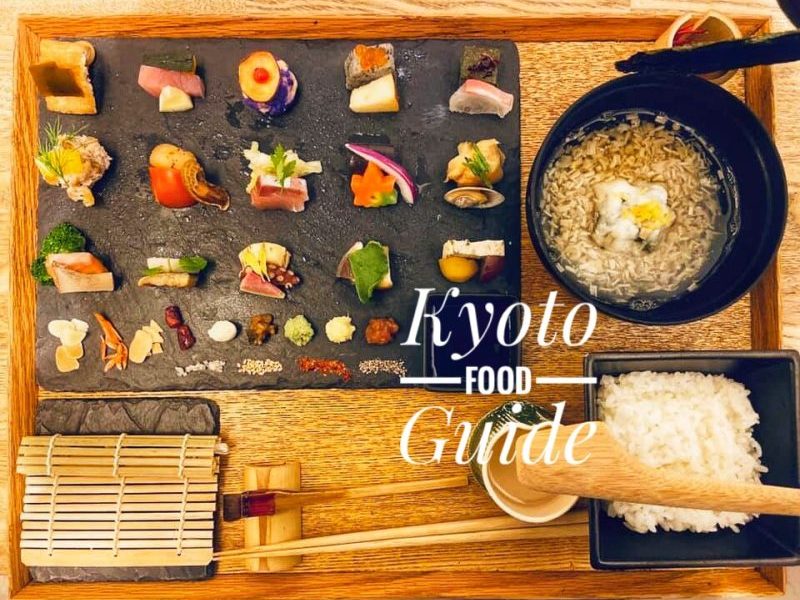 This top 7 must-eat food in Kyoto is part of our Kyoto travel blog. For travel tips to Kyoto, check out our Kyoto travel guide below. We have included the 3 days Kyoto travel itinerary, food review, and transportation guide. Happy travel to Kyoto!
Kyoto itinerary: 15 Things To Do and Eat for 3 Days in Kyoto
Kyoto Transportation Guide:
Kyoto Accommodation Guide: Where to Stay in Kyoto (Tips For Your Best Stay in Kyoto)