Last updated on June 3rd, 2023
Eating like a local! The exclusive Vienna food guide on where and what to eat in Vienna. Perfect for your holiday itinerary planning to Vienna.
Vienna offers a wide range of food that you should try when you visit the city. The most popular are Wiener schnitzel, Tafelspitz, and mouth-watering juicy spare ribs. Well, another not to be missed in Vienna is its delicious pastries and dessert! Sacher Torte, Apfelstrudel, Kaiserschmarrn are a perfect match with a cup of Viennese coffee.
While it can be tough to decide what to eat in Vienna if you have a limited two or three days in Vienna. In this article, you will check out the best Austria food and restaurant that you simply must eat in Vienna. And the Vienna dishes are what make the city more special and unique.
Vienna Food Guide: What To Eat in Vienna
Hopefully, our Ultimate Top 10 Viennese Foods can give you a hint for the taste of Vienna. Vienna's rich history and old tradition had a great impact on the city's culinary legacy. While most above all recommended is must try in town.
What to eat in Vienna? For the best Vienna foodie hunt please try the best Vienna food listed as much as you can. From classic schnitzel, goulash, tafelspitz; must eat dessert like apfelstrudel, sachertorte with Viennese coffee; or the tender pork ribs. We suggest you try out at least some of our Ultimate Top 10 Viennese Foods listed down. Otherwise, your Vienna itinerary is incomplete without being packed with one of the local flavors. Happy travel to Vienna!
Vienna Food Guide (Top 10 Vienna Must Eat Food)
Wiener Schnitzel
Kaiserschmarrn
Sachertorte
Apple strudel / Apfelstrudel
Juicy Spare Ribs
Tafelspitz
Viennese Coffee
Naschmarkt's Food (Vienna Local Food Market)
Viennese Goulash
Manner Wafer
Pro Tips: If you're planning a trip to Vienna, then be sure to check out our detailed Vienna itinerary with detailed guide and budget tips. It'll have all the information you need – like which area to stay, what to do, how to get around, etc. – to help you plan your trip.
Vienna On Budget: One Day Itinerary Travel Guide Blog
When looking for the best price and biggest selection of hotels in Vienna, we recommended below:
We highly recommended the Motel One Wien-Hauptbahnhof. The property is located right next to Vienna's Main Train Station. It is very convenient as tram, metro, and bus stations in 1-2 minutes walking. Added, cafes and supermarket is located right in the same building or nearby. A popular pick!
Hotel Kaiserhof Wien offers luxury at reasonable price accommodation stay in Vienna. It located in a quiet side street of Vienna and within walking distance to every sign in Vienna city center.
More Accommodation Options: Where To Stay in Vienna: Best Areas and Wien Hotels
Travel Tips:
When looking for the best price and biggest selection of hotels in Vienna check prices for
Vienna Best Hotel from Booking.com
. We found they are the best option and have a great cancelation policy.
Best overall hotel in Vienna – Hotel Kaiserhof Wien
. It offers luxury at reasonable price accommodation stay in Vienna. It located in a quiet side street of Vienna and within walking distance to every sign in Vienna city center.
Wiener Schnitzel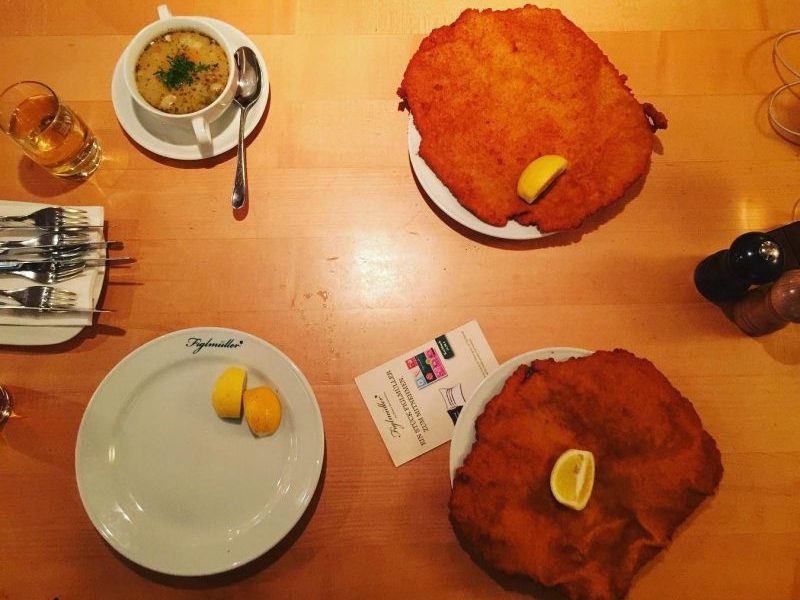 Top of the Vienna must eat food. Wiener schnitzel is one of Austria's national dishes and mostly all restaurants and eateries will be served this dish. It is made from a thin cutlet of veal, pork, or chicken; breadcrumbs and pan-fried in butter or oil. Normally served with a slide of lemon and potatoes, makes an excellent accompaniment. You can't miss this dish when visiting Vienna.
Best schnitzel in Vienna: The most famous Figlmüller, founded over 110 years ago served the biggest schnitzel in town. The portion for the schnitzel in Figlmüller is the size of a plate they're served on! There are two Figlmüller branches nearby; Bäckerstraße and Wollzeile. Schnitzelwirt (Neubaugasse 52) is another great choice for an enormous portion of schnitzel at a reasonable price.
Kaiserschmarrn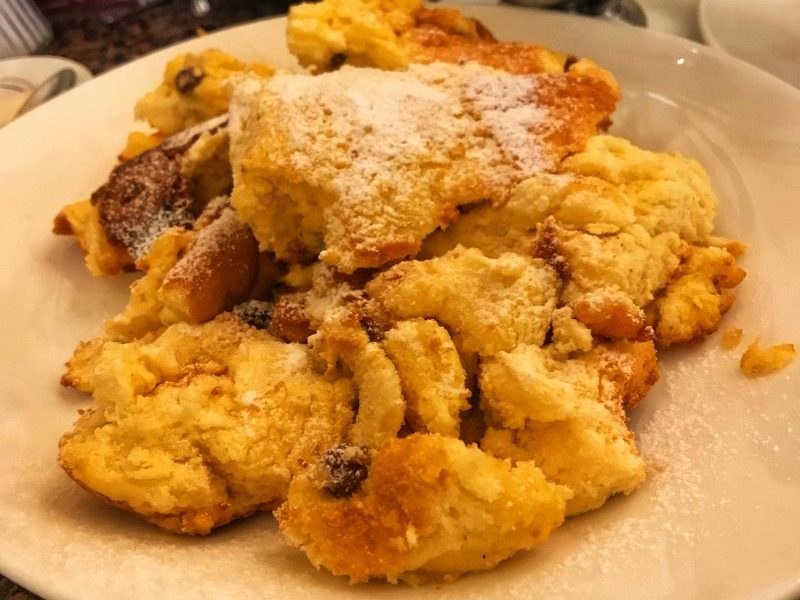 When visiting Vienna, you simply can't leave without trying nice pastries or dessert. Kaiserschmarrn is the number #1 dessert listed in Vienna. It is a shredded pancake, topped with raisins, powdered icing sugar, and apple or plum sauce. Designed to satisfy your sweet tooth and perfect match with a nice cup of coffee. A desert out of heaven!
Best kaiserschmarrn in Vienna: Cafe Central (Herrengasse 14) served their version of Kaiserschmarrn and is often rated as one of the best kaiserschmarrn in town. While Cafe Landtmann (Universitätsring 4) also served a variety of Austria pastries and the best in their Kaiserschmarr. Lastly, Heindls Schmarren & Palatschinkenkuchl (Köllnerhofgasse/Grashofgasse 4) is a classical pancake house with huge sweet and savory pancakes including the famous Kaiserschmarrn.
Sachertorte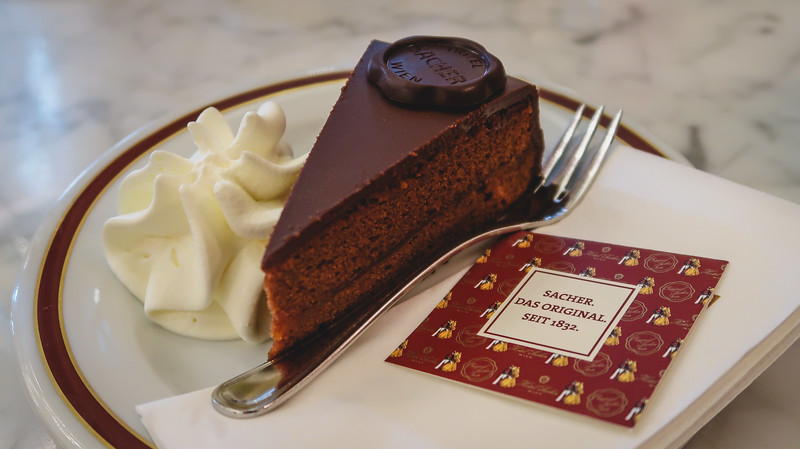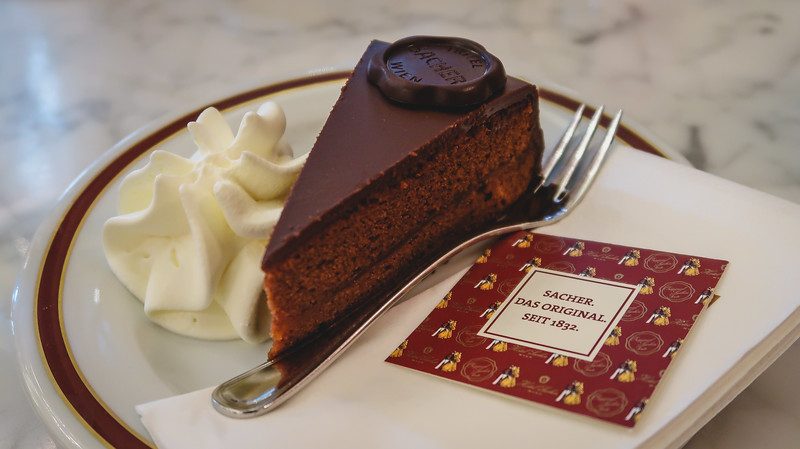 The dense chocolate sponge cake was invented in 1832, by Franz Sacher for Prince von Metternich 1832. Sachertorte is made with thin layers of apricot jam and coated with dark chocolate icing, sachertorte is often accompanied by unsweetened whipped cream.
Best Sachertorte in Vienna: Café Sacher (Philharmoniker Str. 4) and Café Demel (Kohlmarkt 14). Legal battle over the use of the label 'The Original Sachertorte' developed between these two cafes. Finally, the dispute ended in Hotel Sacher's favor but both are supposed to be excellent.
Apple strudel / Apfelstrudel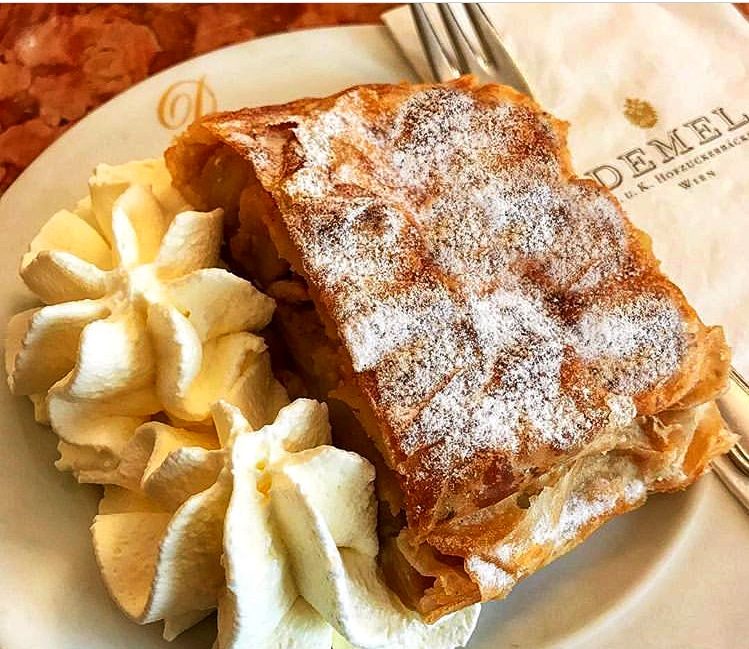 Another best-known classic pastries in Austria is apple strudel or Apfelstrudel. Made with super-thin crispy pastry, and traditionally stuffed with cooking apples, raisins, rum, and cinnamon, the apple strudel often dusted with a sprinkling of sugar. With each bite, you can taste the sweetness of the fresh apples and the flaky pastry. Another perfect accompanied with a cup of hot coffee or tea.
Best apple strudel in Vienna: Basically any local bakery can get the applestrudel. While Kaffee Alt Wien (Bäckerstraße 9), Café Prückel (Stubenring 24) and Café Demel (Kohlmarkt 14) are great places to taste the traditional pastries in truly authentic Viennese surrounding.
Juicy Spare Ribs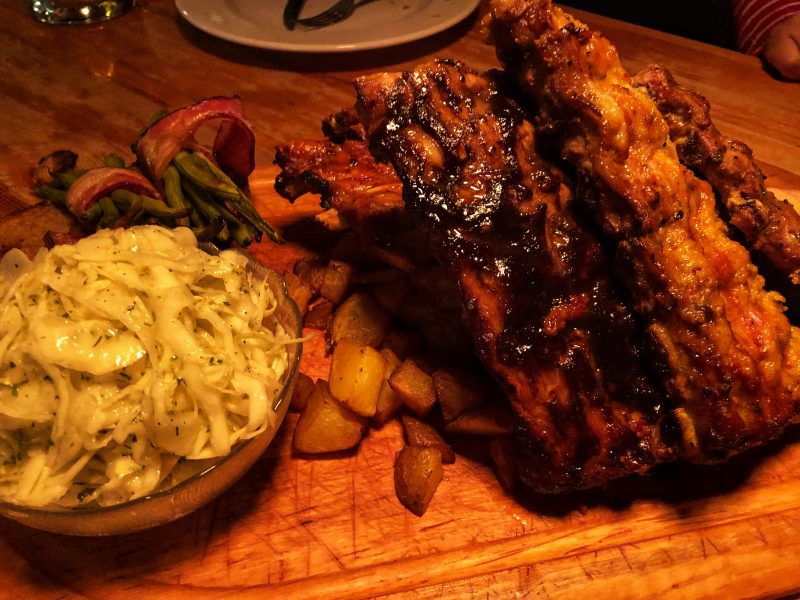 Another must-try food in Vienna is a spare rib, a local specialty for meat lovers. Almost every traditional Austrian restaurant offers them. The well-flavored ribs are incredibly juicy, tender, and delicious.
Best spare ribs in Vienna: Ribs of Vienna (Weihburggasse 22) are very popular for their famous spare ribs. It offers a wide range of mouth-watering pork spare ribs with different flavors and side dishes. Reservation is a must as the restaurant is super busy. While both Salm Bräu (Rennweg 8) and Brandauers Schlossbräu (Am Pl. 5) are other great options with huge spare ribs and a local brewery in a traditional beer garden.
Tafelspitz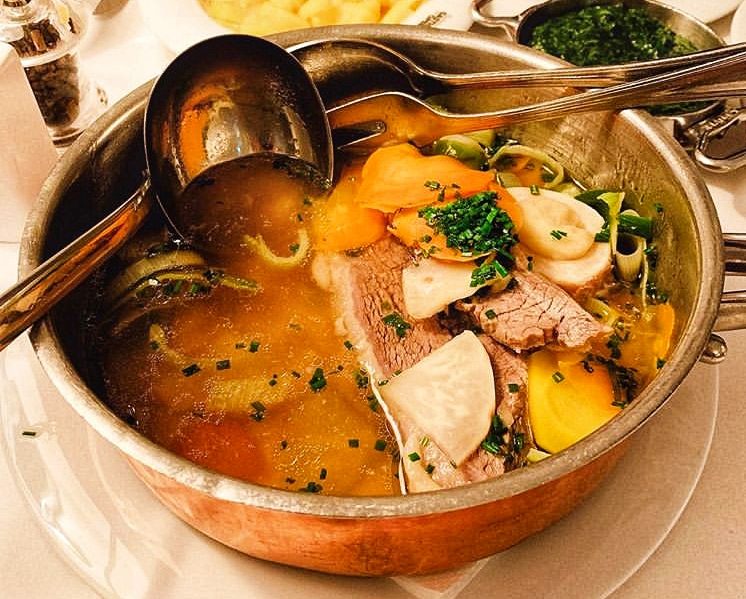 The Tafelspitz (boiled beef) is a bone marrow broth with a special cut of beef served in a big pot together with side dishes like horseradish, spinach, and usually potatoes. It is local Austria cuisine, which was also favored by Franz Joseph I, the Emperor of Austria.
Best Tafelspitz in Vienna: Plachutta (Wollzeile 38), famous for their special cut of prime Tafelspitz in town. Served in a copper pot together with soup and assorted side dishes. There is no better way to enjoy this Austria traditional food.
Viennese Coffee
Coffee houses are nearly everywhere in Vienna and people here love to spend time enjoying a nice cup of coffee. The Viennese style coffee is something unique with a coffee culture all of its own. Learn about "Schwarzer' for black coffee, 'Brauner' for black coffee with milk, or a 'Melange' for coffee with cream in Vienna.
Best Viennese coffee in Vienna: Each Viennese has its preferred coffee shop. The top three well-respected coffee houses to try in Vienna are Cafe Central (Herrengasse 14), Julius Meinl (Graben 19), and Cafe Demel (Kohlmarkt 14). No doubt Cafe Central is the grandest and beautiful coffee shop in Vienna. Famous with their vaulted ceiling and splendid interior; and finest homemade pastries and coffee.
Naschmarkt's Food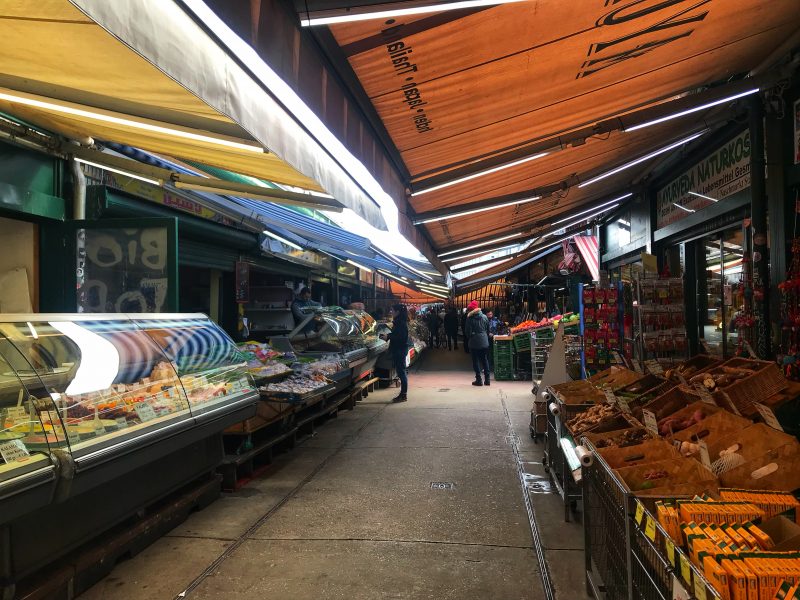 Naschmarkt is the most popular market in Vienna with all kinds of goods, like fresh fruit, vegetables, exotic herbs, and cheese from all over the world. A great location to grab a bite; enjoy your breakfast or lunch with some fresh delightful Viennese specialty.
Best food in Naschmarkt Vienna: While a large community of Turkish people in Vienna, Naschmarkt is one of the best places to find falafel, hummus, and kebabs. Choose to take away or eat in Naschmarkt.
Viennese Goulash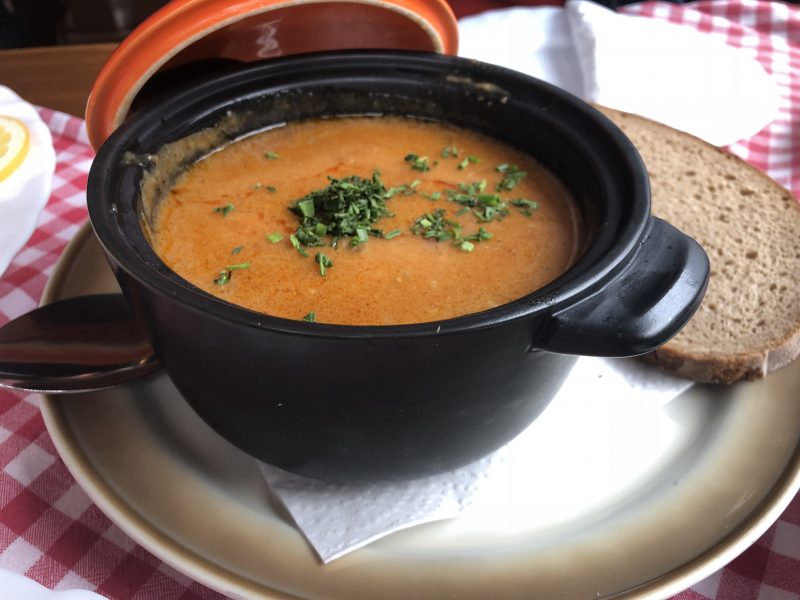 Goulash or beef stew is one of the popular dishes in Central Europe. Mostly all restaurants in Hungary, the Czech Republic, and Austria served this dish in their own recipe. Vienna found its way to develop many variations like the Esterhazy goulash or the Fiaker goulash. The slow-cooked fatless meat with onions and spices is the secret of great goulash.
Best goulash in Vienna: Gulaschmuseum (chulerstraße 20) serving large choice and different types of goulash. A good place to have goulash in different variety. Ilona Stüberl ètterem (Bräunerstraße 2) and Gasthaus Rebhuhn (Berggasse 24) served traditional and authentic Austrian cuisine and famous for its goulash.
Manner Wafer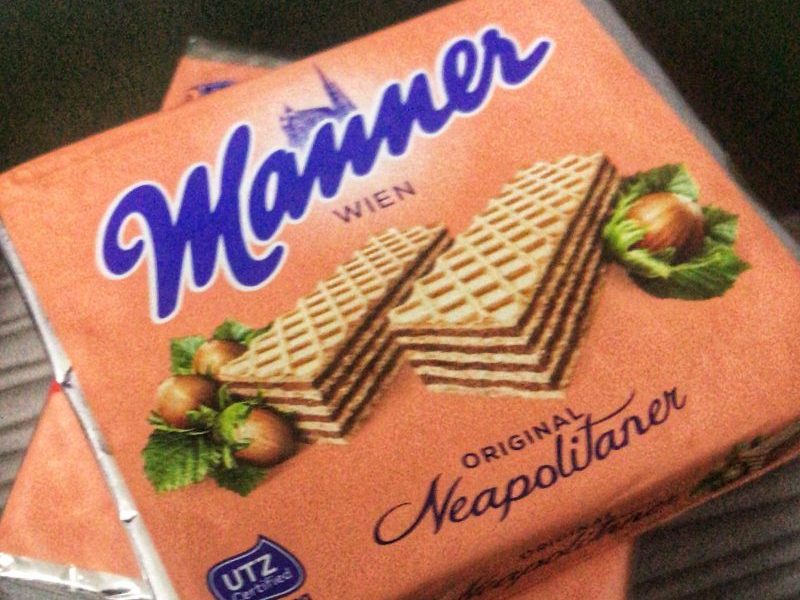 Don't miss these delightful Neapolitan wafer biscuits when visiting Vienna. Invented in 1898, the manner wafer is now the symbol of Viennese culture and one of the best-selling products in Vienna. Made with crunchy wafers layered with delicate hazelnut and cocoa cream; cut into bite-sized pieces. Get them at almost all shops and supermarkets; or special Manner shop at Stephansplatz.
Central Europe Itinerary
Read on where we go, what to eat, and how we spend our days in the top three must visit country in Central Europe. We have listed and recorded down the country visited, which we think is the perfect place to visit in Central Europe travel.