Last updated on December 11th, 2023
Looking for where to stay in Cesky Krumlov? Here are the best Cesky Krumlov hotels and accommodation guides for your trip to this small picturesque town.
Located in the south Bohemian area, Český Krumlov truly is a fairy tale town that comes alive. The old town is built along the Vltava river with a stunning view. Imagine meandering in cobbled alleys, wandering in an artistic impression of quaint houses and medieval castles. One night stay in Cesky Krumlov remains one of my favorite and most memorable memory of my Central Europe trip.
Many day-trippers choose a day trip from Prague by spending here with few hours on a quick visit. But this amazing CK town is worth lowering your speed and staying at least one night in Cesky Krumlov.
In Cesky Krumlov, you will find everything from Luxury Hotels that can rival the finest in the world to an affordable budget hostel that meets your budget. Alternatively, you can choose to stay in a pension, a popular accommodation similar to a guest house that provides room or even an entire unit. Many residential houses in Cesky Krumlov have been converted into a pension to accommodate tourist demand.
Here, we listed down the best hotels, ranging from luxury, and mid-range to budget hostels if you are looking for where to stay in Cesky Krumlov.
Where To Stay in Cesky Krumlov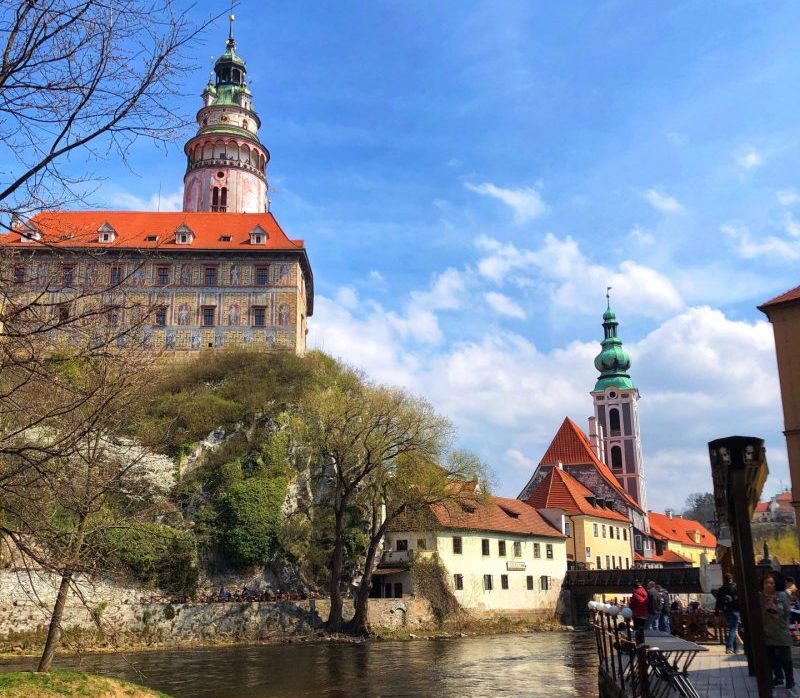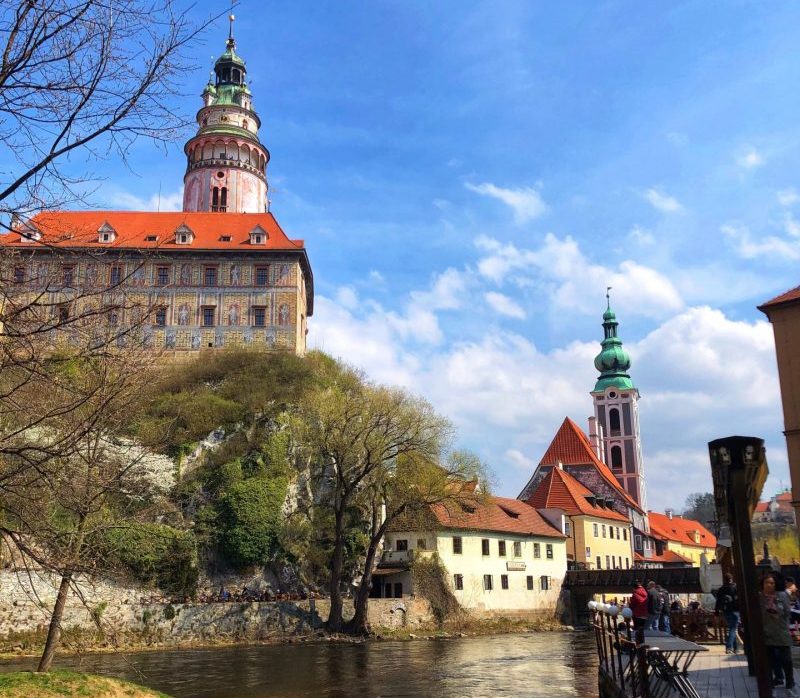 Here are some quick and useful tips when looking for where to stay in Cesky Krumlov.
How much for staying one night in Český Krumlov?
The accommodation in Cesky Krumlov is considered reasonable. Staying one night in Cesky Krumlov can be as cheaper as $20 to $200 per night.
What is the best area to stay in Cesky Krumlov?
Cesky Krumlov is very small. That means no matter where you stay, everything is within walking distance.
Staying in pension or hotel in Cesky Krumlov?
I highly recommend booking a pension if you prefer a cozier, comfortable stay and not too expensive. Apartment Soukenicka 44 is a great choice for travelers.
Where to park my car if I travel to Cesky Krumlov by car?
If you are traveling in a car, the nearest parking with ample parking lot is available. Alternatively, look for pensions or guest houses outside the town area as they usually offered free parking.
Cesky Krumlov Luxury Hotel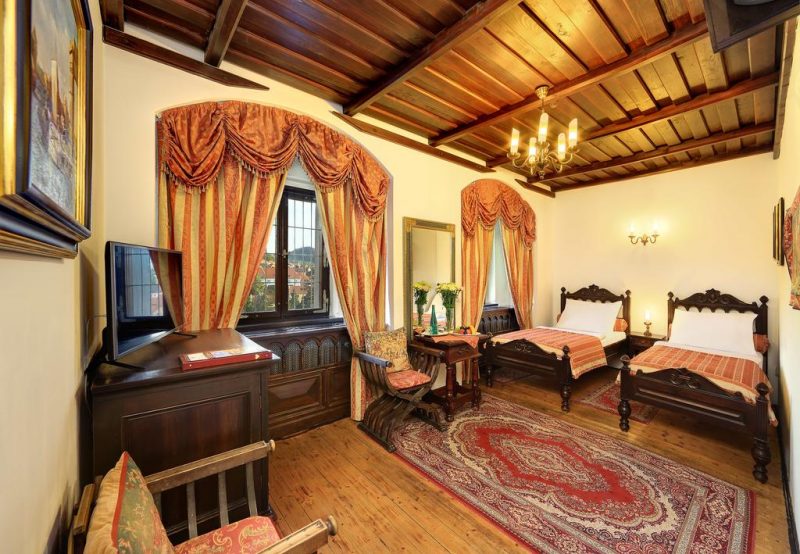 Hotel Ruze – Cesky Krumlov's most famous and high-rated five-star hotel. The building was the Jesuit quarters and was converted into a hotel in 1889. The whole building is a beautifully restored 15th-century Franciscan monastery, filled with gorgeous antique furniture and historical detail. It has a super nice view of the San Vita church, the old town center, the castle complex, and the castle tower right from your window.
Hotel Bellevue – Most romantic hotel in Cesky Krumlov. It is perfectly located near the castle within a 2-minute walk from Cesky Krumlov Castle. This 16th-century building offers a good breakfast and a comfortable room with amazing views.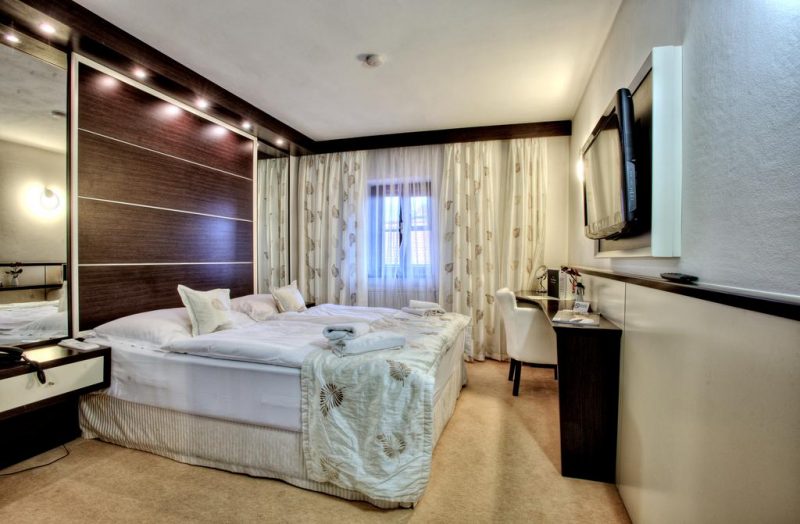 Hotel Grand – This highly rated hotel is just located right in front of Municipal Square. Spacious and large clean room for your best stay in Cesky Krumlov. Some even recommended comes to having a nice breakfast or afternoon tea at the Grand Hotel.
Pension And Holiday Apartment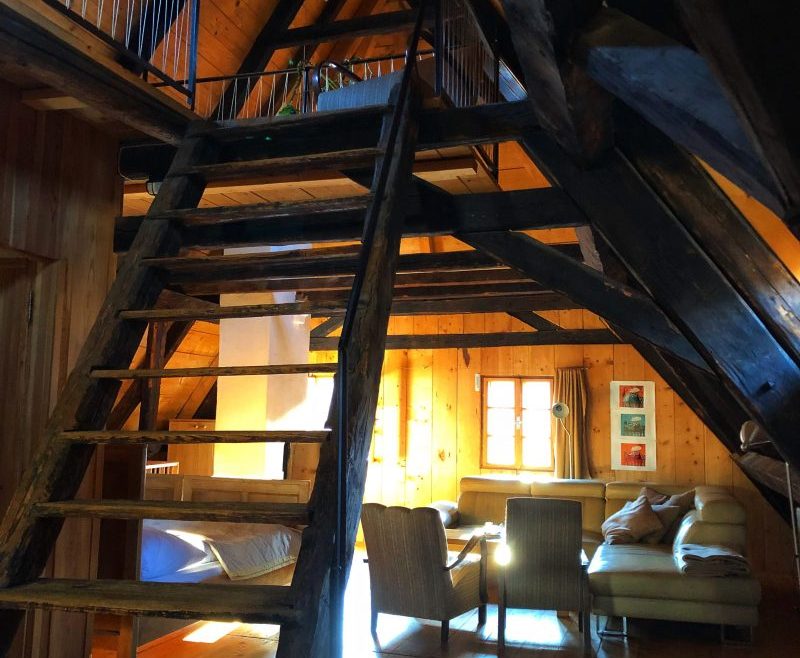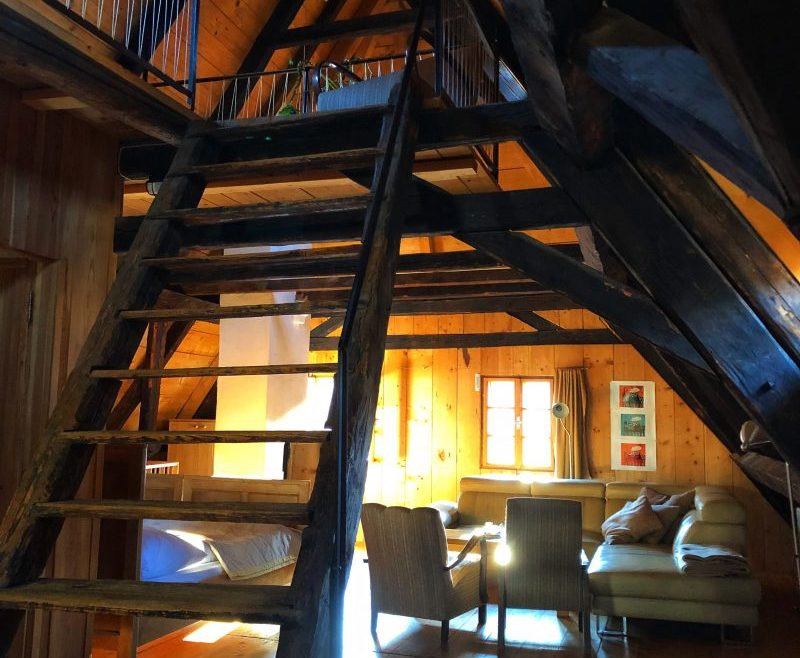 Pensions are popular accommodation in Cesky Krumlov. Pension is like guesthouses that provide a room, maybe breakfast/food but otherwise lack hotel amenities like pools, spas, etc. Many of the houses or apartments are converted to a pension to accommodate demands in tourism.
I highly recommend booking a pension if you prefer a cozier, comfortable stay and not too expensive. But their room is very limited, please sure to book earlier to guarantee your room. See below for recommendations.
Apartment Soukenicka 44 – Cozy stay at this Gothic cultural monument, well equipped with a blend of modern elements, hardwood floors, and wood-beamed ceilings. This apartment is centrally located at Ck town, with 3 rooms cater for triple and 5 people.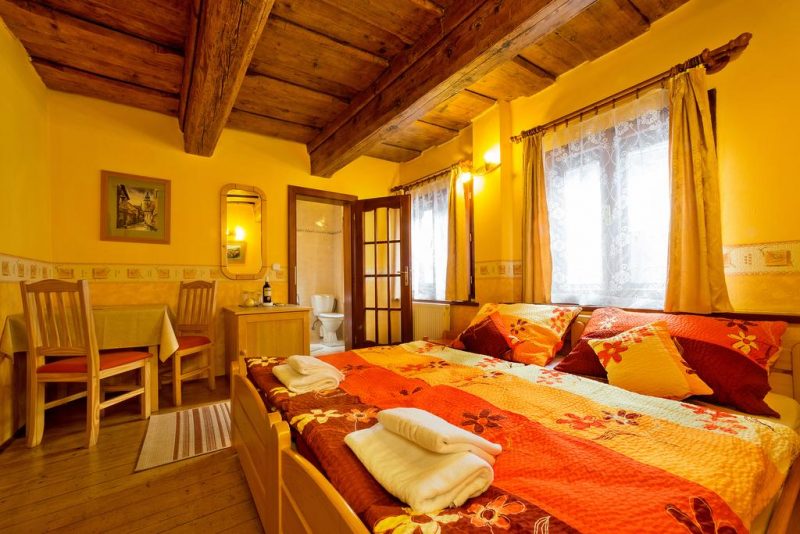 Ubytování Zámecké Schody is another popular pick for best stay in Cesky Krumlov. Ideally located in central town and easily accessible for all the attractions in town. It offers single, double, twin, and even triple rooms for guests staying in this cozy building. A nice breakfast was served in your room.
Pension Faber – Highly rated accommodation in the center of Cesky Krumlov. Located at Latran Street, Pension Faber is a historical building with 3 double rooms, 1 triple, and 3 suites for four-person.
Cesky Krumlov Budget Hostel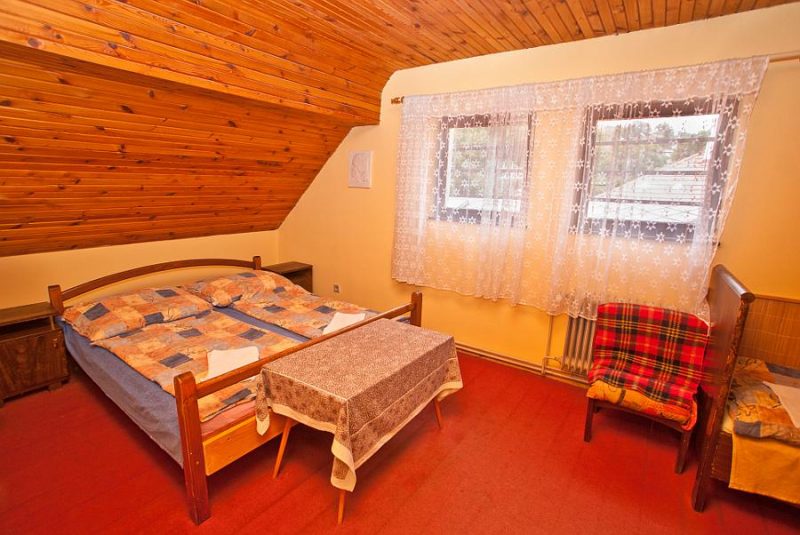 If you are on a budget, you might think to stay at a budget hostel during your visit to CK town. Here is a hostel to check out for a cheap and comfortable place.
Hostel Melin is a great option for the best budget stays in Cesky Krumlov. It featured with shared lounge, private parking, a garden, and a terrace. Located in central town and close to everything. Choose from single room, a twin room, and a single bed in a dormitory room. Perfect for the solo traveler.
Hostel Havana – Three adjacent houses with a total of 40 beds from 12 rooms with a view of the Vltava river. Fully equipped kitchen, Wifi, and free parking in front of the hostel. You can also rent a canoe, raft, or bicycle for your stay at Hostel Havana.
Overview: Best Stay in Cesky Krumlov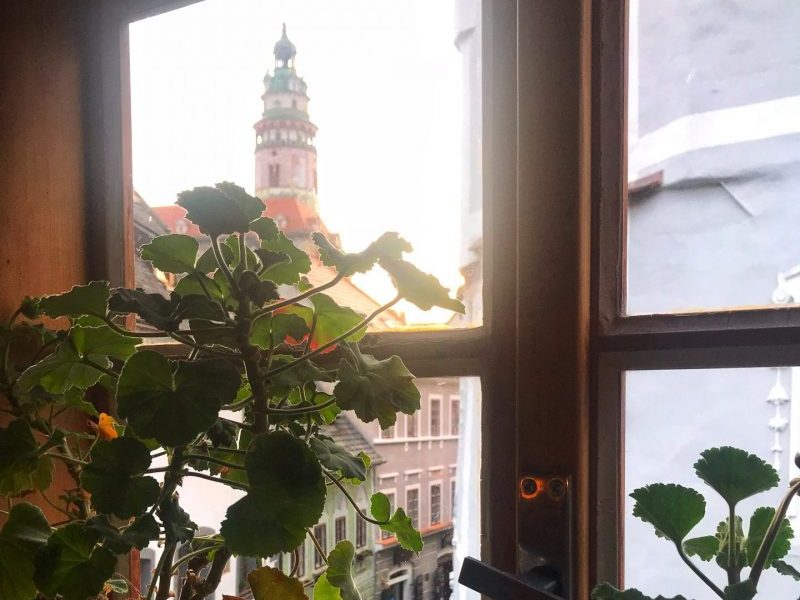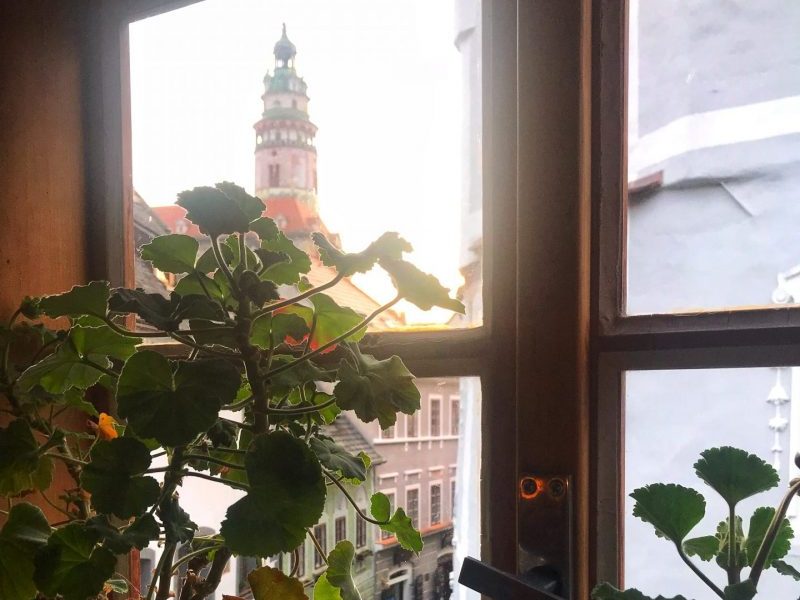 Last but not least, hopefully, this simple accommodation guide is helpful to find your best stay. There are many options to cater to all kinds of travelers and budgets. However, please take note that the old town can be packed with tourists, especially during peak seasons like summer. It is advisable to book your stay in advance to secure your stay. Happy travel to Cesky Krumlov!
Related Cesky Krumlov travel and food blog:
Lastly, read next our central Europe itinerary: