Last updated on December 11th, 2023
Here is our Prague food guide that covers the best food from must-eat street food to traditional Czech dishes in a unique restaurant scene. A wonderful Prague foodie hunt if you are looking for where and what to eat in Prague.
Whenever I go to travel, I always feel compelled to write out all the best food that we tried during the trip. There's so much delicious food in one country and trying new food and drinks is one of the best things during travel. Although we did not spend many days in Prague, what we eat in this Prague food guide is something highlighted during our trip.
This Prague food guide blog post isn't a definitive answer to the question of the best food in Prague by any means, but I hope that I can give you even the tiniest idea of what to eat and where to find them in Prague.
Tips For Prague Food Guide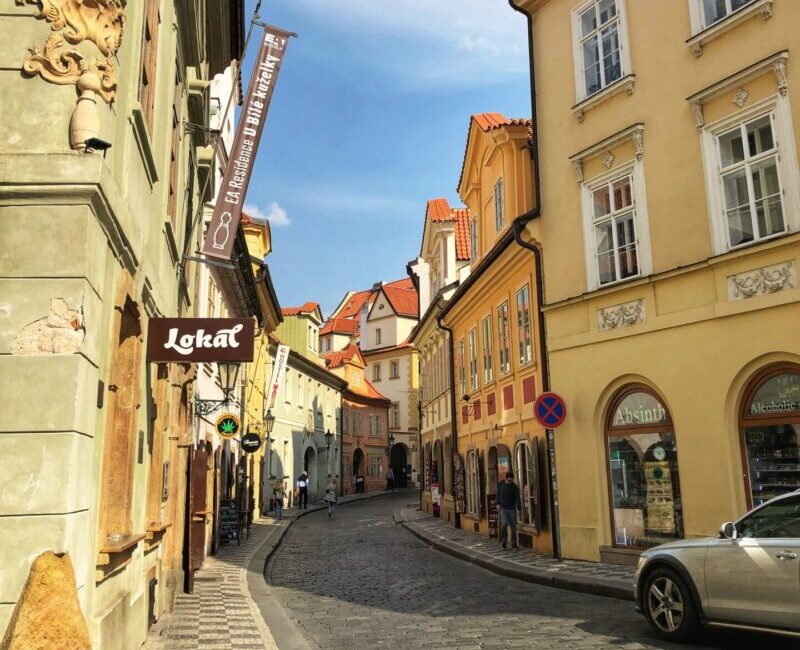 There is much mouthwatering food in Prague awaiting you to discover. The amazing Prague city is littered with countless food spots and restaurants that you hardly can't miss during your visit. Most importantly, the food price is so cheap in Prague. You can have a food feast in Prague without breaking your pocket. Here, we listed down some of the tasty best food we had in Prague.
If you're curious about it, read on for more details on what to eat in Prague if you want to visit Prague with a happy tummy!
Prague Food Guide (Where and What to eat in Prague):
Prague Must Eat Street Food: Trdelnik from Trdlo
Best Czech Cuisine from Lokal: Beer Foam, Fried Cheese, Czech Goulash, Svickova
Best Value Czech Food from Restaurant V Cipu: Goulash in the Loaf, Pork Knuckle, Roasted Duck Leg
Framer market: local Prague beer and sausage
Pro Tips: Prague is a foodie paradise but if you want to find the most authentic spots, you need a local guide. Join the Prague Foodie Tour to find these hidden places to sample the food and learn about Czech culture and cuisine in the process!
Prague Travel Tips:
We recommended to stay nearby Prague Area 1 for easy getting around and food hunting. The
Hotel Rott
is centrally situated on the historical Malé Naměstí, next to Old Town Square. It has a high reputation by offering great size rooms with clean bed. Popular pick in Prague.
Trdelnik: Must-Eat Prague Street Food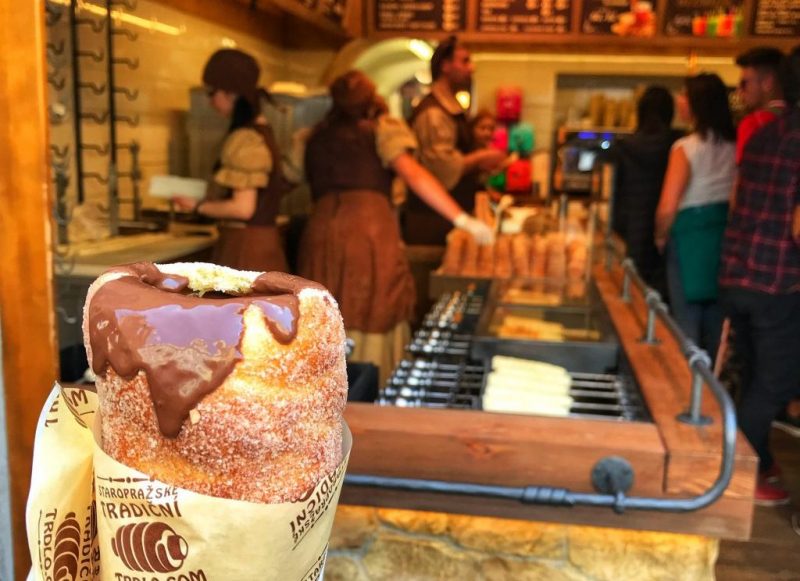 Of course, we're starting with the must-eat food in this Prague food guide list. Trdelnik or chimney cakes are a type of sweet pastry that is made with yeast dough glazed in sugar that is wrapped around a spindle called "trdlo". It is then cooked over an open flame by rotated continuously until the dough is cooked in golden brown color perfection with sugar caramelized.
For me personally, Trdelnik is my favorite street food that we tried during our trip. It is a classic Prague street food that can be found in almost every stand or corner in Prague. Although this popular sweet pastry is not a traditional food and is known made for tourists. But we doubt you can't visit Prague without trying one of these. We can't resist it during our trip and truly love it.
Best Trdelnik in Prague: Trdlo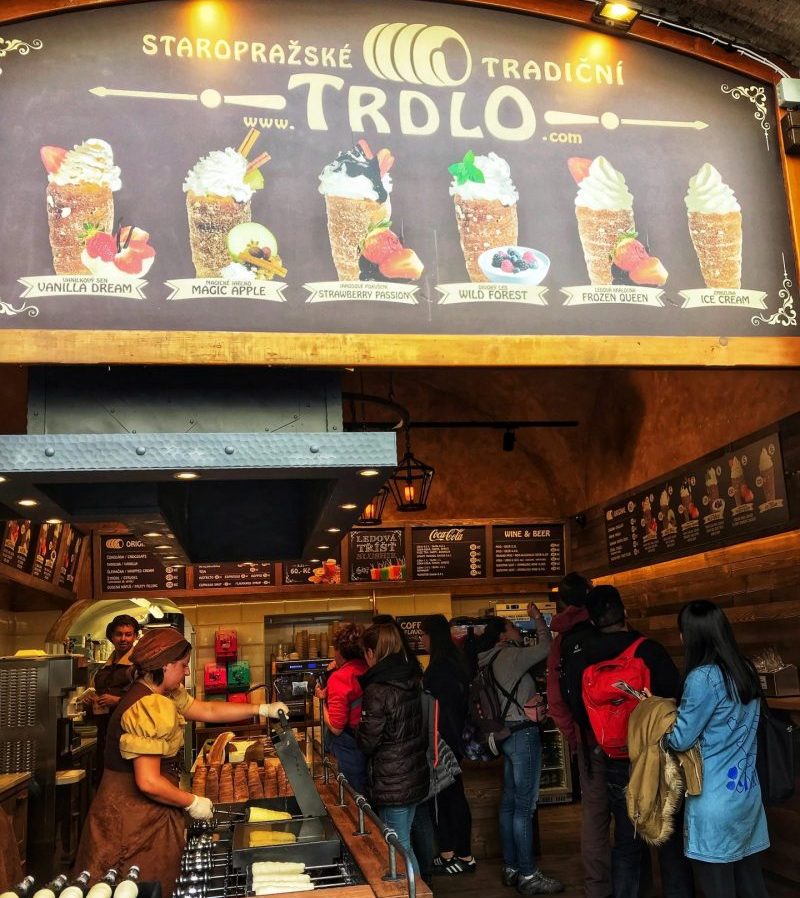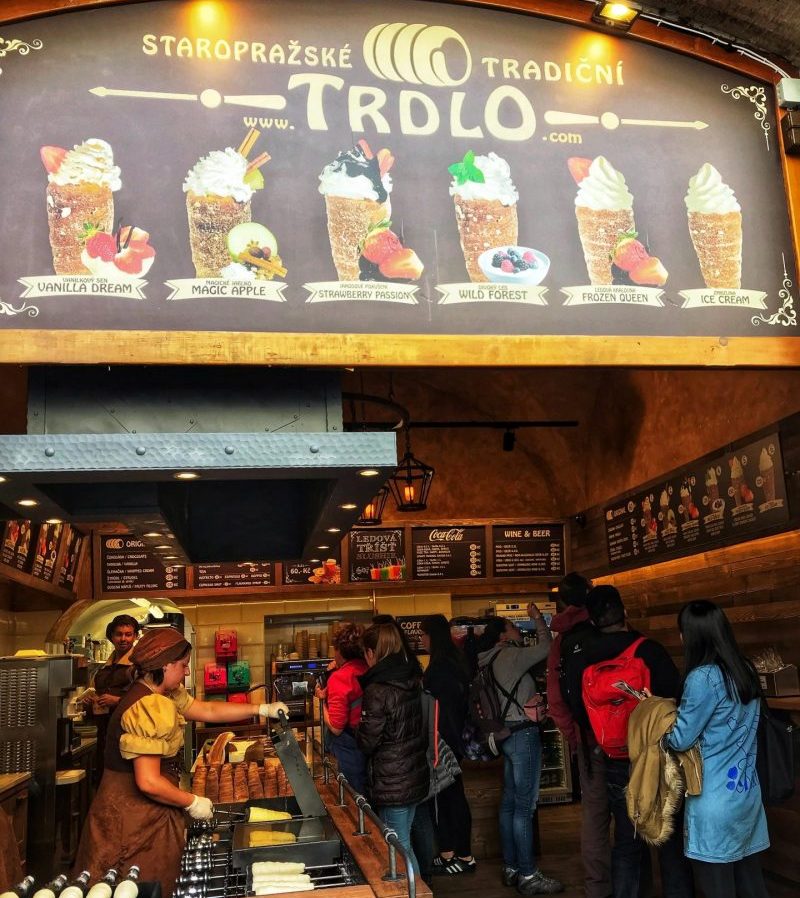 For the best Trdelnik in Prague, we recommended Trdlo, possibly the biggest name around the old town serving up this Czech favorite. We had the best Trdelnik from the Trdlo located nearby the Charles Bridge. It is just on the left once you cross the bridge from the old town.
There is always a queue outside but the staff is very efficient. Take note that there is no seating inside the shop. You make your order follow the queue and take it to go.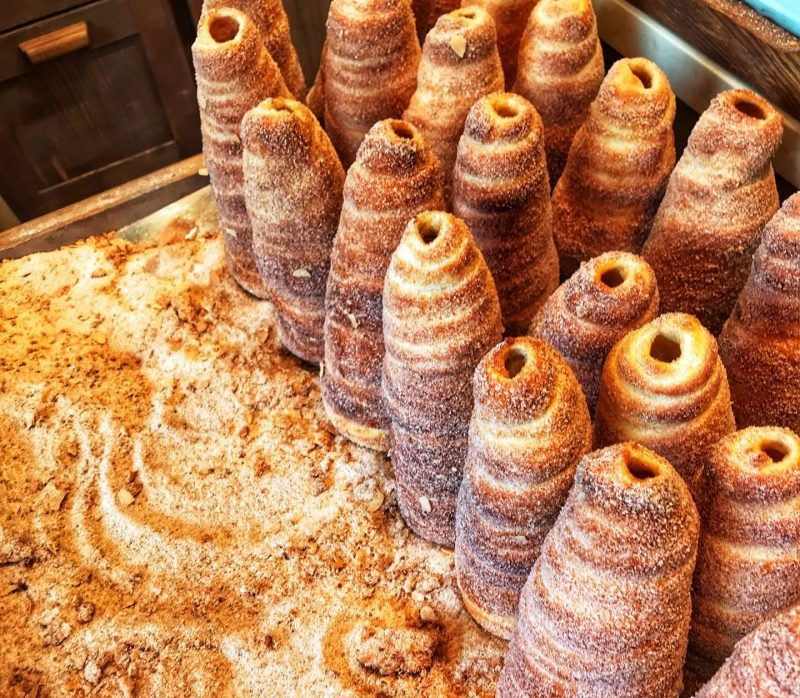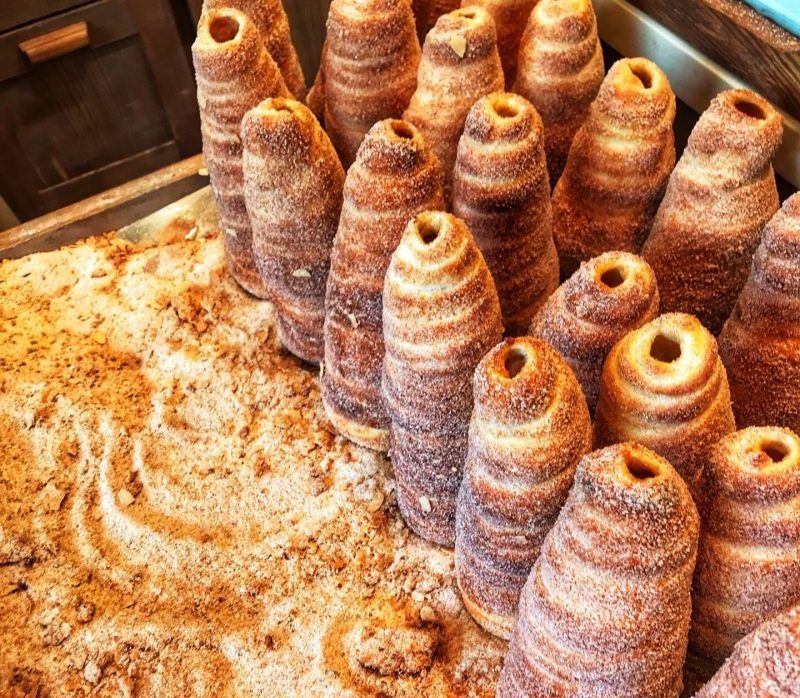 Good variety to choose from to suit everyone. You can just have a plain cone or choose different fillings. Ice cream, whipped cream, fruits or Nutella, or all of the above. The price is not cheap to try on this Czech favorite. But then it is a big serve that can be shared for two.
We opted for the chocolate one which was filled with warm runny chocolate. It was so fresh, and delicious, and we love it! A fresh, warm trdelník is a treat well worth savoring. Highly Recommend!
Best Czech Food from Lokal Prague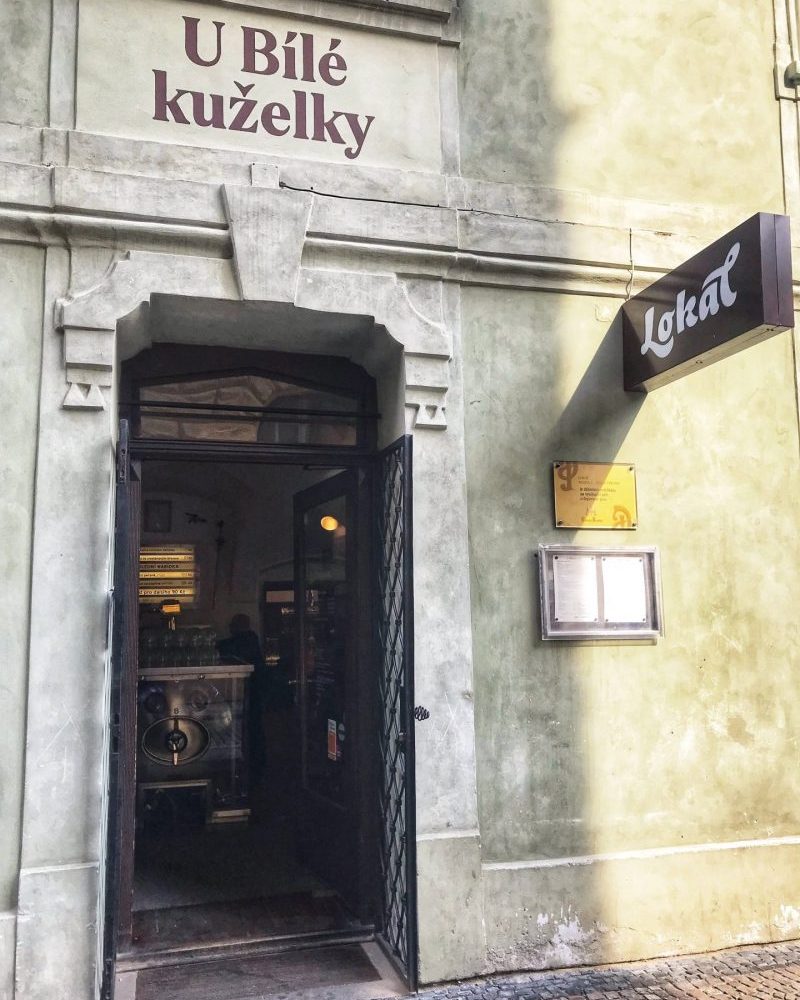 One of the best meals during our Prague visit was lunch in Lokal. The popular Lokal was a very good place for classic Czech food. It is a chain of stylish gastro-pubs, which boasts 5 locations in Prague. All the places are always busy and usually have to wait for a table.
We visited the Lokal U Bile Kuzelky after our visit from Prague Castle in the late afternoon. But still, it is massively popular with both locals and visitors. But glad that we soon got a table after a short wait.
The Lokal menu featured interesting Czech culinary delights like steak tartare, fried cheese, organ meat sausage, lard bread, and shaved ham with horseradish. We ordered some of the best picks and all the food we tried was delicious.
Beer Foam From Lokal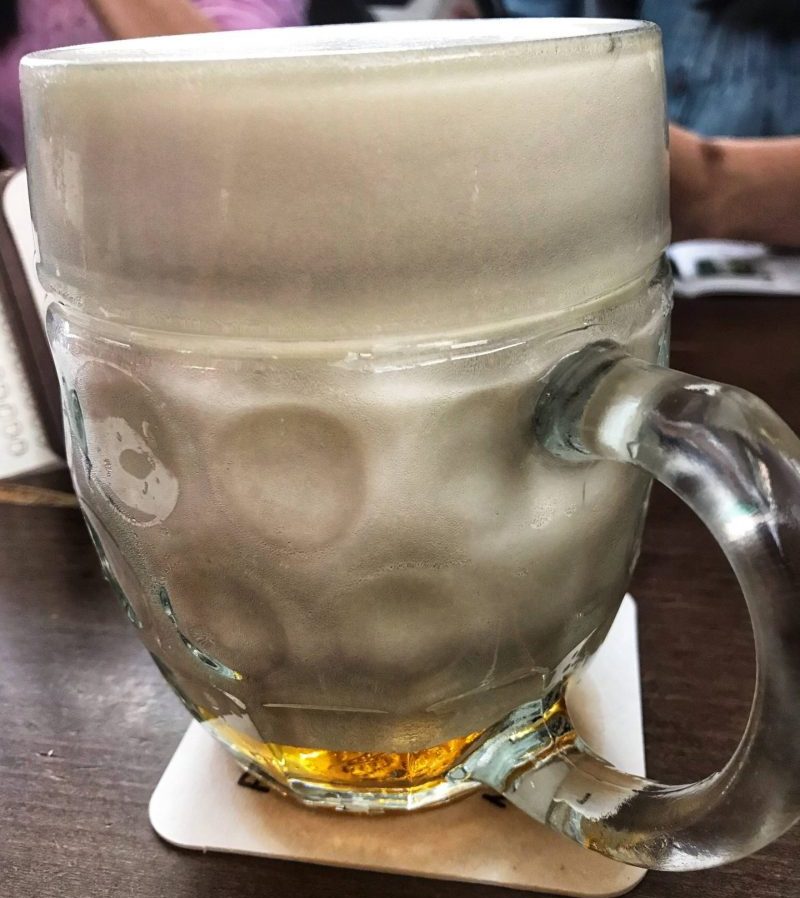 Make sure to try their beer in Local as their beer is made locally and served cold and crisp within a short distance from the cask to the table. The "beer foam" with different levels of foam was unique to the Czech beer-drinking culture.
We tried the foam beer, mainly because we were curious about what it was. It was so refreshing and fun experience. We completely enjoyed the beer served with more than half a mug with foam (milk) and loved drinking it that way. I highly recommend it and make sure to give it a try.
Fried Cheese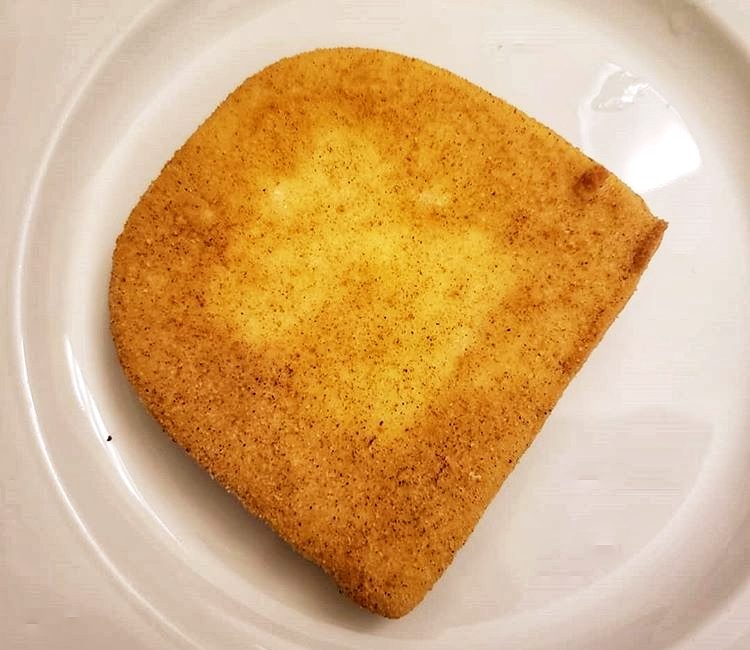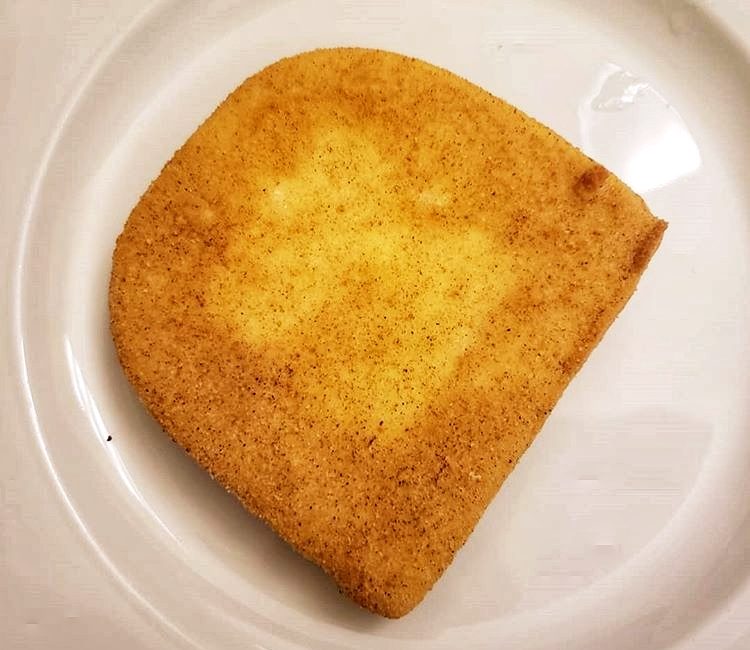 The Fried Cheese is one of the popular dishes which apparently is a must-to-eat in Lokal. The Adam cheese is fried in deep oil, and smeared with flour, eggs, and bread crumbs. Dutch originated Edam cheese is the most consumed cheese in Czechia.
We ordered the fried cheese in Lokal and it was so good. The cheese was perfectly warm and melted without being runny.
Czech Goulash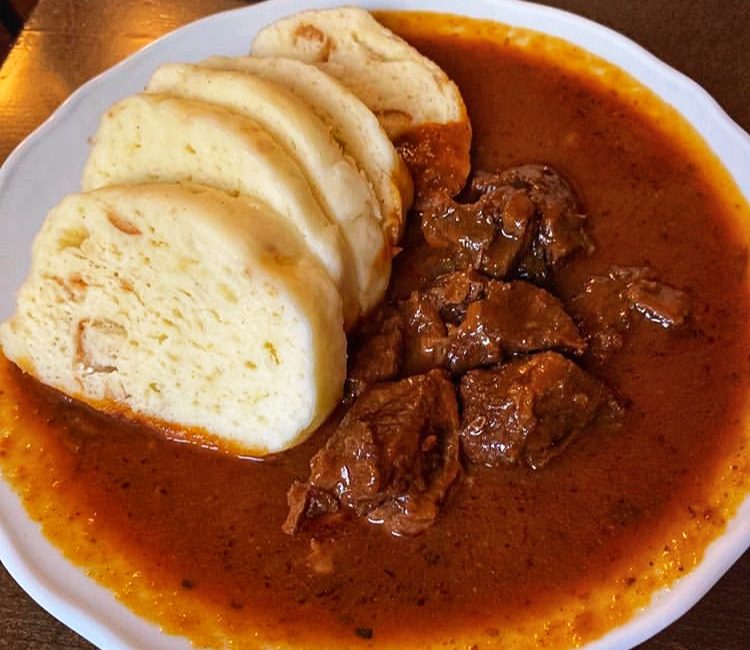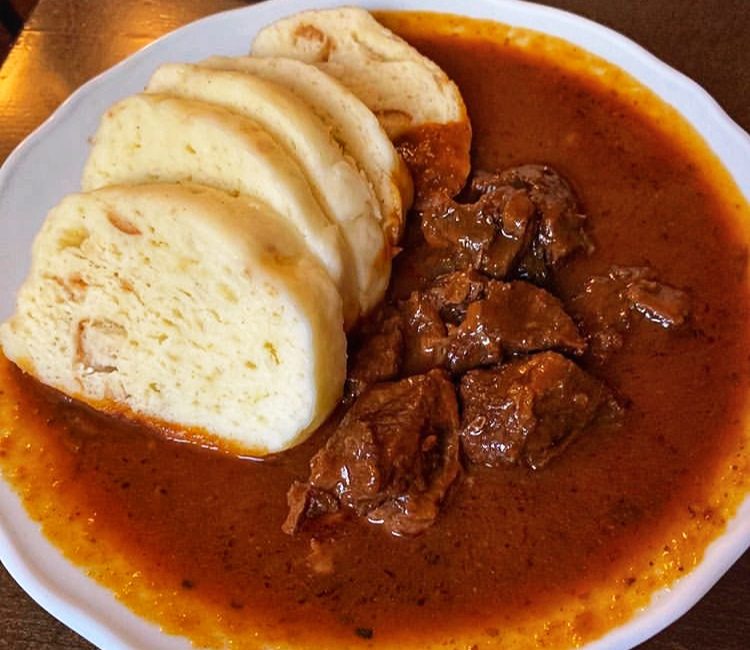 The beef goulash from Lokal was fantastic. The delicious tender meat in a tasty sauce topped off with heavy bread dumplings were served alongside which are all you can eat. The goulash tasted good but the dumplings were not to our liking. The texture was like spongy white bread, not as expected.
Svickova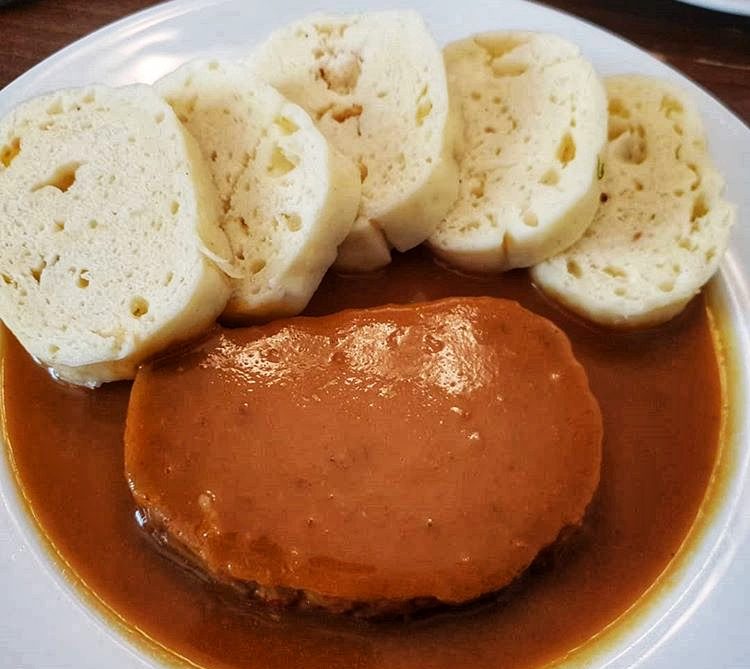 Next on our order is Svickova; Sirloin beef in cream sauce is considered the queen of Czech sauce-based dishes. The roasted beef went well with the cream sauce and was flavorful. But still, we voted for the goulash compared with Svickova.
All in all, Lokal is one of the best restaurants for the best Czech food in Prague. Basic fare, very filling, and tasty too. It was a very good experience during our food trip. The service was friendly and efficient. Moreover, the ambiance was lively. Worth a visit if you want some authentic traditional Czech food.
Best Value Prague Restaurant: V Cipu
Another worth recommended restaurant for the best Czech food in Prague is Restaurant V Cipu. This Czech pub restaurant serves Czech classics food at reasonable prices near the Old Town square. It is accessed either via a small arcade or a narrow street leading towards Old Town Square.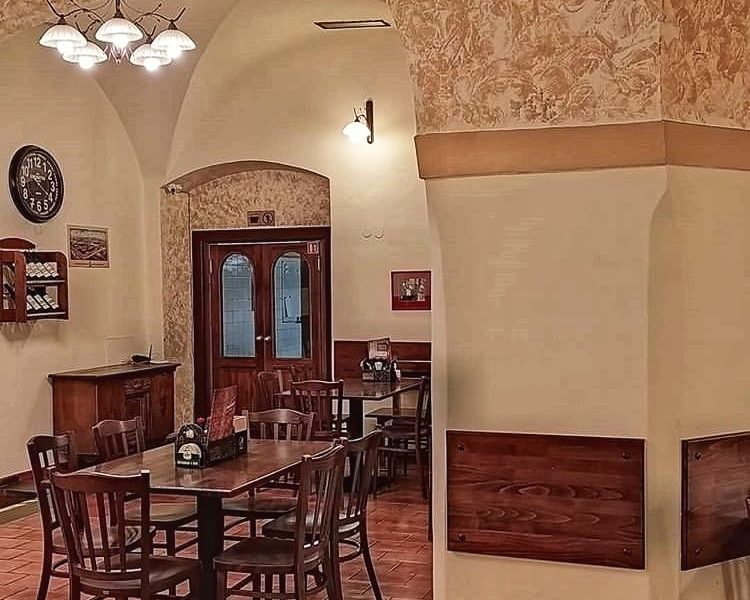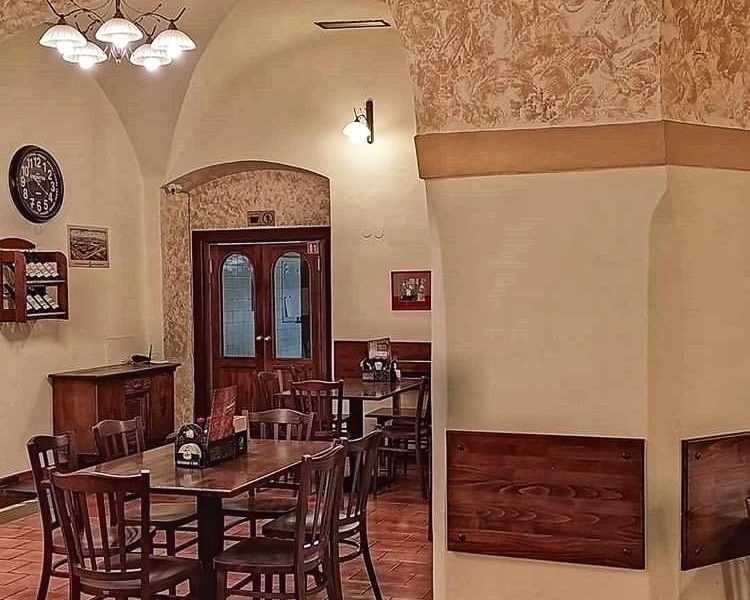 Restaurant V Cipu is a lovely busy place with a vaulted ceiling typical restaurant in Prague. The service was good but not great. But we wouldn't complain as they were very busy dealing with many customers in different languages. Besides, their menu is quite extensive and offers Czech dishes like goulash, and schnitzel but also pasta, fish, and salads.
Goulash in the Loaf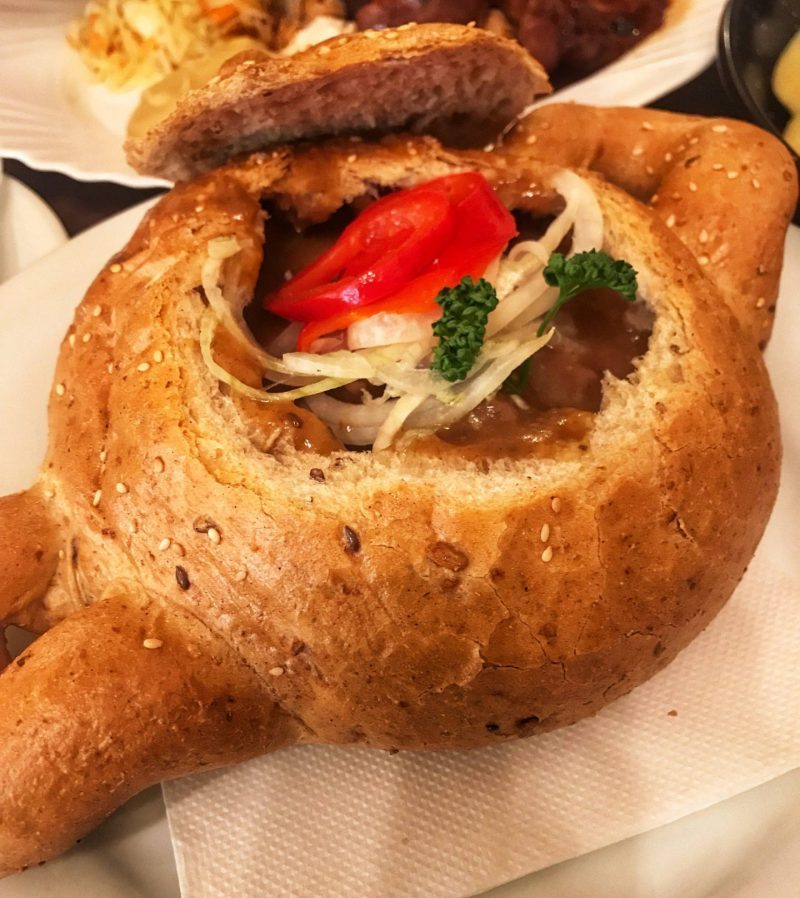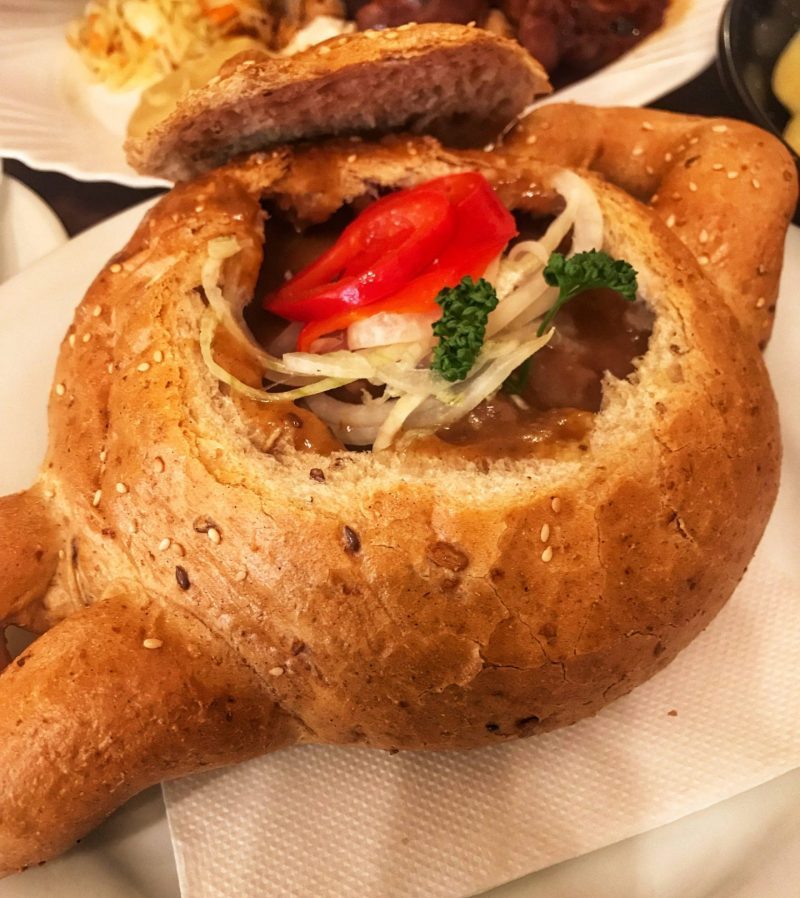 Among all the dishes ordered, we particularly like the tasty goulash served in the loaf. It was an entire basket of bread and we couldn't finish all of it. But don't get me wrong. The goulash was plentiful, hot, and very tasty.
Pork Knuckle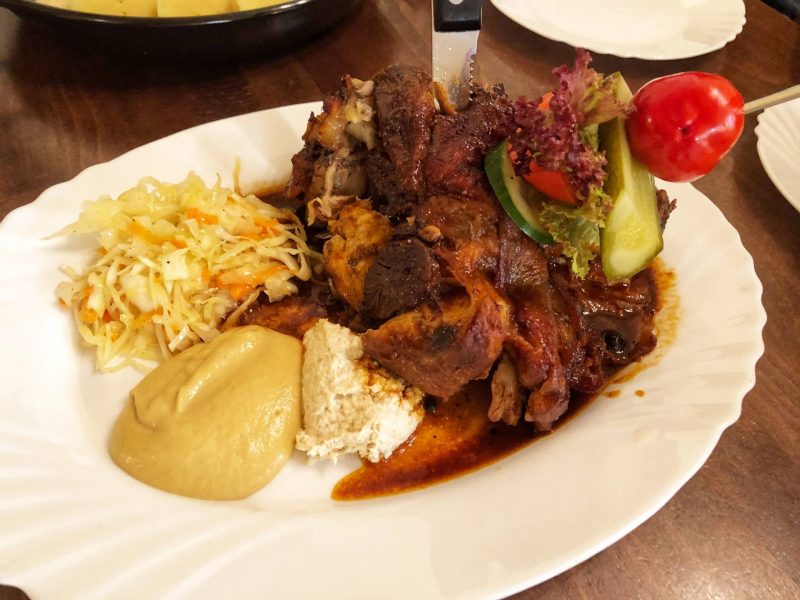 Next, the gorgeous pork knuckle was another great find. It was crispy on the skin, and juicy, tender inside. Although it might a bit greasy we all love it!
Roasted Duck Leg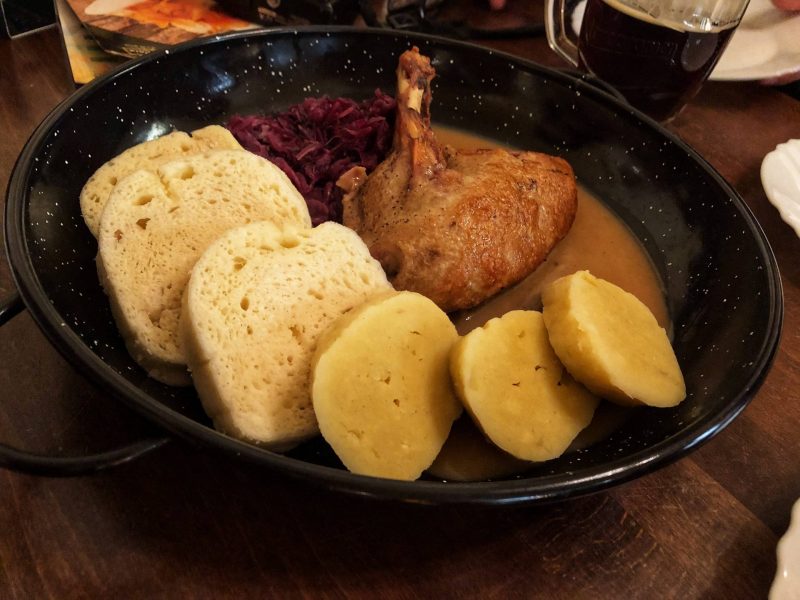 Besides, we also ordered the excellent roast duck leg. A quarter of duck leg was served with red cabbage and dumplings as the perfect side. Absolutely delicious and huge portions.
Our meal in V Cipu is a wonderful dining experience. For the price, location, and food value, this restaurant can't be beaten. The portions were quite big and the side dishes also came in big portions. You'll be pleased with the bill, compared to other places in the Old town square. The best restaurant in Prague with tasty food at a very decent price.
Prague Farmer Market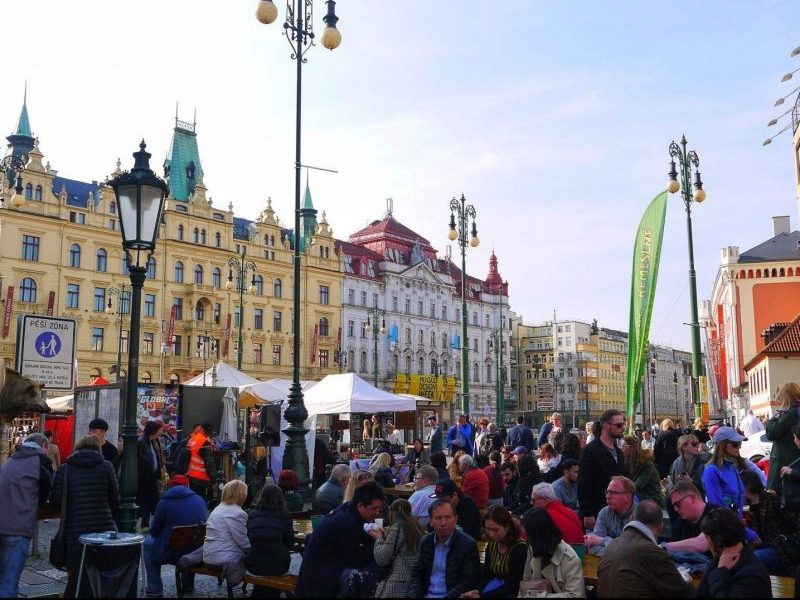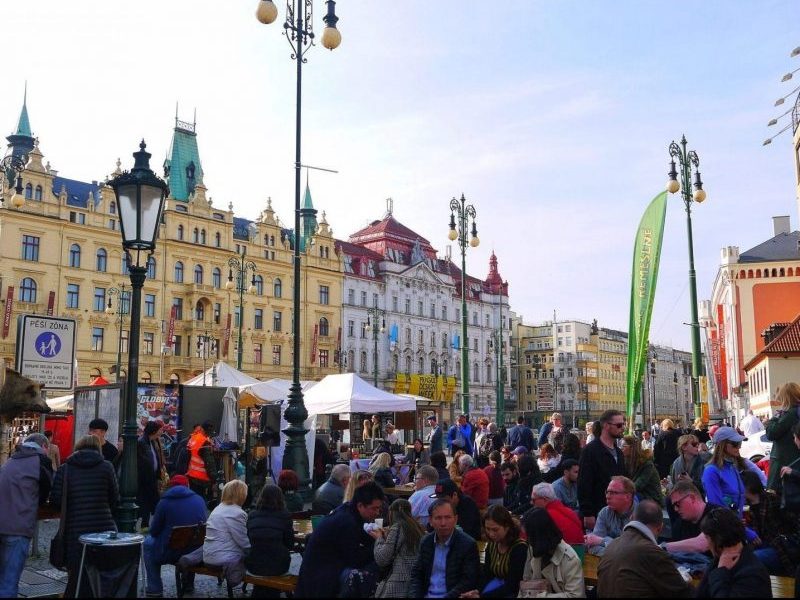 If you want an authentic local vibe of street food to eat then Farmer Market is the place to go. This is where you can grab some beer and eat like a local. There are several farmer markets in Prague city.
Although these places aren't exactly something that SHOULD eat in Prague. But it is something you might want to consider if you find yourself looking for a place to rest or some snack or drink when you're wandering in town.
Local Prague Beer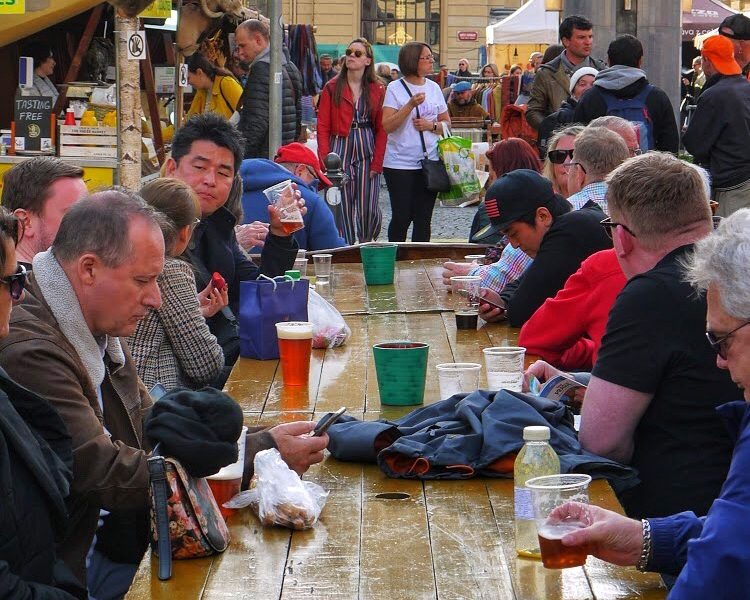 We went to Farmers Market in Prague 1 which is conveniently located nearby the city area. There were many stands selling traditional food, handmade clothing, toys, and local produce.
Variety of Sausage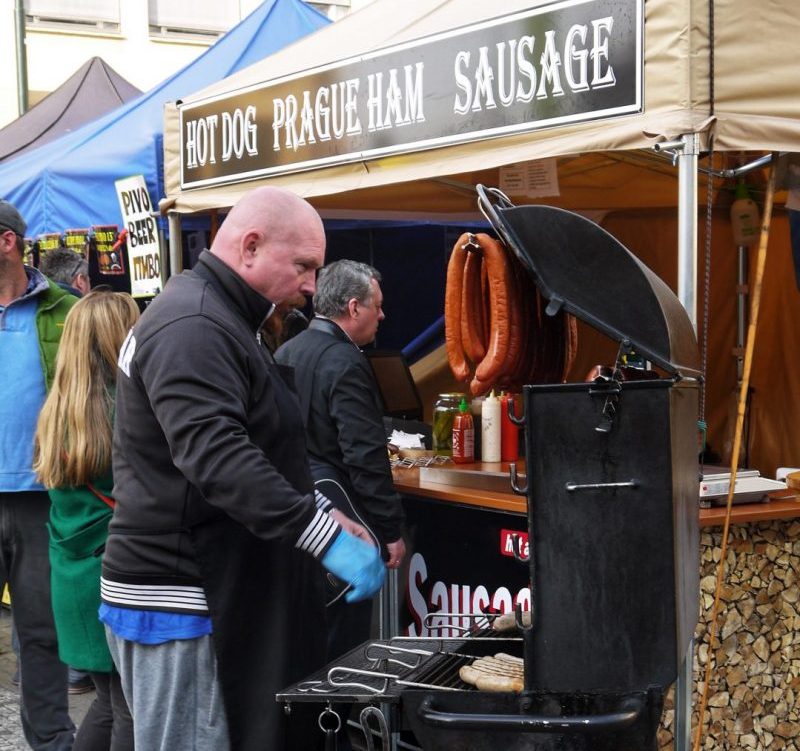 We were surprised that many people were enjoying their time here. You can pick the freshly baked sausages with local beer and enjoy it. One of the best cheaps eats in Prague. Besides, here are some of the popular local beers in Prague: Pilsner Urquell, Budweiser Budvar, and Staropramen.
Something to note is that we recommended visiting the Farmer's Market Naplavka if you are in Prague on Saturday morning. It is the most happening farmer market in Prague along the Vltara River. You can taste beer, wine, cheese, ham, sandwiches, sausages, and all sorts of local food here.
Overview: Prague Food Guide
There you have it, my edition of the Prague food guide for the best food to eat in Prague. It's numerous must-eat food from every price range, doesn't it? Of course, there is still much more delicious Czech food that we missed out in this Prague food blog. But we hope it has met your appetite for Prague's gastronomic offerings. Lastly, share with me your favorite food you tried in Prague. Enjoy your food hunting in Prague.
Next, the following posts provide more in-depth information about Prague travel including transportation, foodie guide, travel tips, and tours in Prague. Be sure to check out our travel guide below if you are looking for a little inspiration.
Prague Itinerary: How To Spend Three Perfect Days in Prague
Useful Prague travel guide:
For an itinerary that covers the Czech Republic, Austria, Hungary, and other interesting cities, feel free to check out this Central Europe Itinerary in more detail.