Last updated on December 11th, 2023
Planning a Vienna itinerary on a budget is pretty easy. Vienna, also known as "Wien" in German, is a UNESCO world heritage site bursting with Imperial history and Baroque architecture with musical accompanied by Mozart and Strauss. Let's check out how we visit Vienna on a budget with money-saving tips in this travel guide blog. An ideal two or three days of Vienna itinerary.
Located east of Austria, travelers would fall in love with its charm, history, art, music, and true tales of princesses and kings. This beautiful city is well known for Maria Theresa's reign as well as Emperor Franz Joseph I and his beloved wife, Empress Elisabeth of Austria, aka Sisi. Travelers can explore the world's cultural heritage by planning a self DIY Vienna itinerary to the world-famous attraction in Vienna.
Despite the history tales, there are so many attractions in Vienna to explore and traveler can plan their day trip based on their interest. For an art lover, you can spend the whole day visiting the museum, enjoying a world-class music concert, or just doing nothing by enjoying a nice cup of Viennese coffee at an elegant classic cafe.
We have summarized all the useful Vienna travel tips in this simple and easy Vienna travel guide blog. You can find the information for a transportation guide on how to get to Vienna city from the airport and getting around in Vienna, a food guide for what to eat and drink, an accommodation guide for where to stay, and of course things to do in Vienna and nearby attraction in budget.
See how we spend three days in this Vienna itinerary full of fun and excitement, especially since we were visiting Vienna on a budget which is something more challenging. Take note that this travel guide to Vienna is compressive. For your convenience, I've compiled links to hotels, tours, and other services here. Let's check it out!
How To Get To Vienna City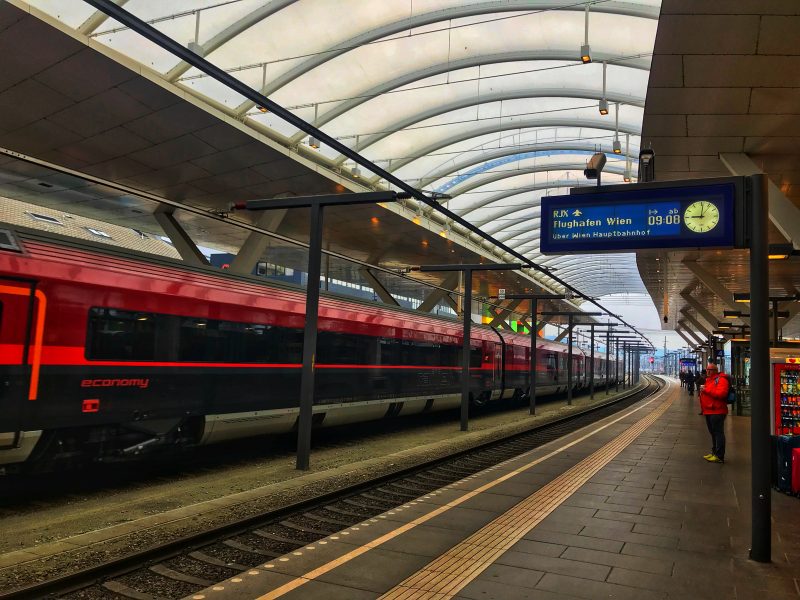 Transportation is one of the main considerations when planning on the Vienna itinerary. The nearest airport is Vienna International Airport (Flughafen Wien-Schwechat, airport code: VIE), located 12 miles (19 km) east of the heart of Austria's capital. The airport and city are well connected by various public transport with different option available.
Transportation From Airport To Vienna City
By Bus: €8 with 20 minutes traveling time. You can purchase tickets directly from the driver on the bus.
By taxi: cost approximately €36 and it will only take 20 minutes to reach the downtown area of Vienna.
By private transfer: The most comfortable transport serves as a driver will be waiting for you in the Vienna airport arrivals hall. Remember to pre-book your private airport transfer and enter your flight information correctly. Cost is similar to a taxi, but a private transfer will guarantee your arrival and send you to your destination as desired.
By Train: Express CAT (City Airport Train) or the slower S7 Schnellbahn (city train). CAT is a dedicated airport train, that costs €11 for one way or €17 for a return ticket with the non-stop route from Wien Mitte to the airport (and vice versa) in 16 minutes. Travelers can easily connect to Subway (U3 and U4), Tram (line O), Train (S1, S2, S3, S4, S7, and more), or Bus (74A) once reach Wien Mitten. So some people will choose to stay at the Wien Mitte area as it is the central location and well connected with various public transport.
The S7 city train is much cheaper compare with CAT, whereas the traveler can get the ticket for €4.20 for a single ticket; €1.80 if you already have a travel pass for the city. As this is the city train, so please expected the crowd during the peak hour and there will be no extra space for luggage. Traveling time is approximately 30 minutes.
Getting Around In Vienna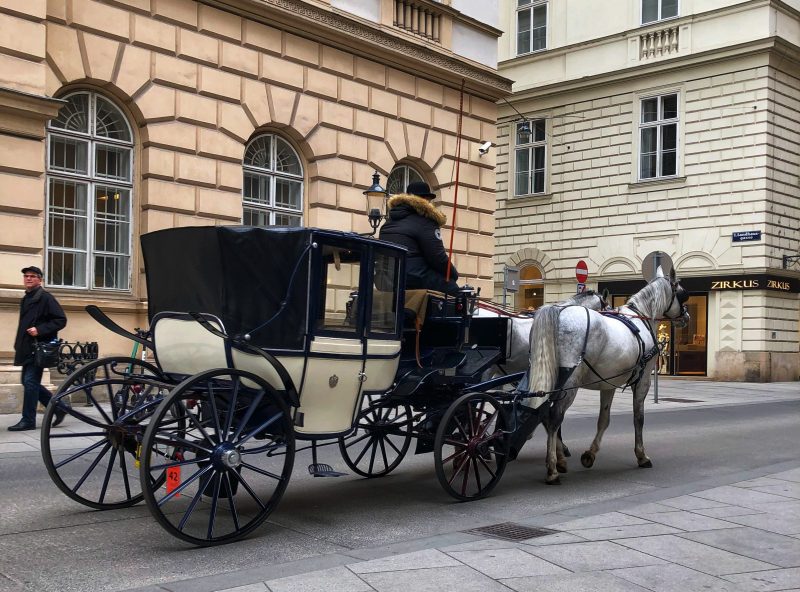 First of all, Vienna is the capital of Austria, boasting of great transportation links of buses, trams, trains, and metros.
The city of Vienna is not big, and mostly all the sightseeing spots are quite concentrated within walking distance. I enjoyed adventure the beauty of the city and getting lost by walking. However, certain locations like Schönbrunn Palace and Belvedere Palace are hardly reached on foot and required to take the transport.
Costly Transportation Fee In Vienna
Save by getting the Vienna transportation pass for 24/48/72 hours with €8/€14.10/€17.10 based your need
Where to Stay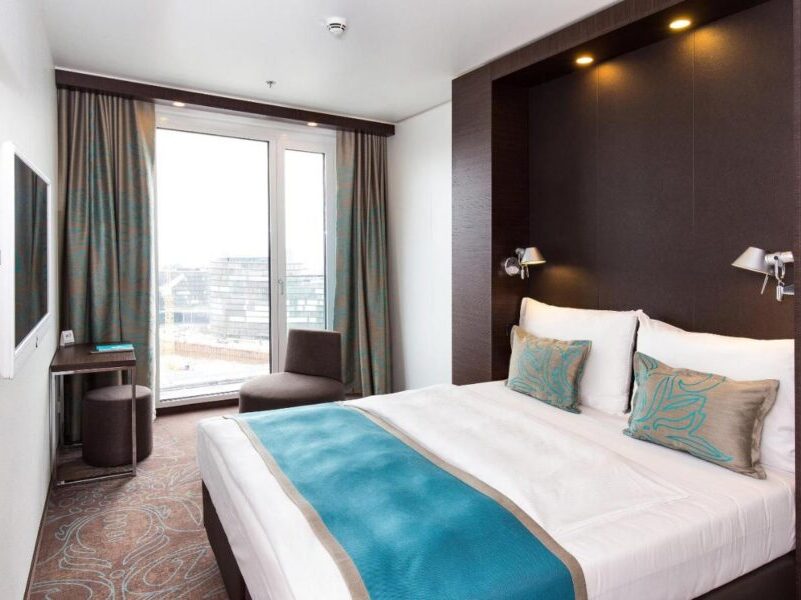 The public transport of Vienna is so convenient with well connected by great public transport. This makes finding accommodation in Vienna much simpler. A wide range of hotels, hostels, and apartments with different budgets can be chosen.
We highly recommended the Motel One Wien-Hauptbahnhof. The property is located right next to Vienna's Main Train Station. It is very convenient as tram, metro, and bus stations in 1-2 minutes walking. Added, cafes and supermarket is located right in the same building or nearby. A popular pick!
More Accommodation Options: Where To Stay in Vienna: Best Areas and Wien Hotels
Luxury Hotel In Vienna
Hotel Sacher Wien is one of the top choices for staying in Vienna, located directly opposite the Staatsoper Opera House. Classical Victorian-era decor with excellent room service.
Well, Grand Hotel Wien is a good option for a luxury stay featuring a rooftop terrace with panoramic views of Vienna and a three-minute walk from the famous Kärntner Straße Shopping Street.
Mid Range Accommodation In Vienna
Hotel Kaiserhof Wien offers luxury at reasonable price accommodation stay in Vienna. It is located in a quiet side street of Vienna and within walking distance of every sign in Vienna city center. Travelers love its strategic location and excellent breakfast with a nice variety of choices.
You may also consider the Austria Trend Hotel Savoyen Vienna, located next to Belvedere Palace within walking distance of the tram station.
Budget Hostel In Vienna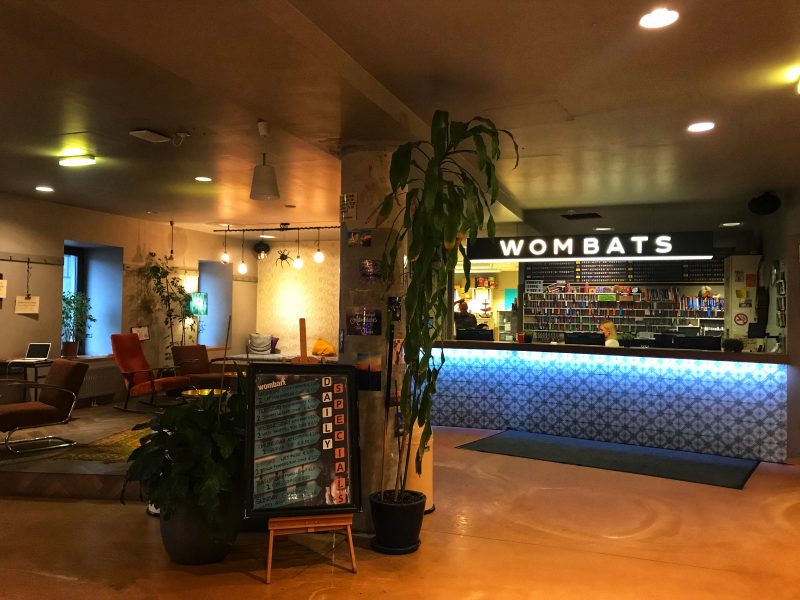 If you are the budget type, you can choose the Wombats Hostel Naschmarkt with a clean and spacious room. The location is incredibly central in the city within walking distance of Naschmarkt and the train station. Alternatively, consider a&o Wien Hauptbahnhof with a lower price yet accessible by public transport.
Vienna Travel Tips:
When looking for the best price and biggest selection of hotels in Vienna check prices for
Vienna Best Hotel from Booking.com
. We found they are the best option and have a great cancelation policy.
Things To Do in Vienna Itinerary
Planning on Vienna itinerary for the first time? Here are my Top 10 Things To Do in Vienna for a beginner's guide. There are so many exciting things to try out in Vienna and the activities are catered to all types of travelers.
If you're a historical lover, you can plan one or two days of museum trip to explore and experience the centuries-old development of Central Europe. Don't forget to spend some time enjoying the classical music concert or enjoy a nice cup of coffee at an elegant coffee house.
Things To Do in Vienna Itinerary:
Schönbrunn Palace
Belvedere Palace
St. Stephen's Church (Stephansdom)
MuseumsQuartiers
Enjoy World-Class Classical Music Concert
Naschmarkt (Snack Market)
Vienna Cafe Tour
Spanish Riding School
Hundertwasserhaus, World Most Quirky Building
Prater Park And The Giant Ferries Wheel
Schönbrunn Palace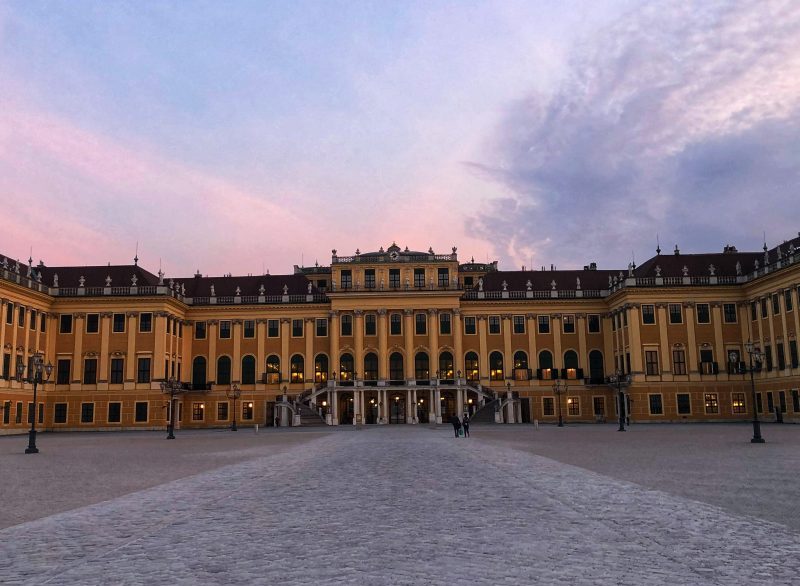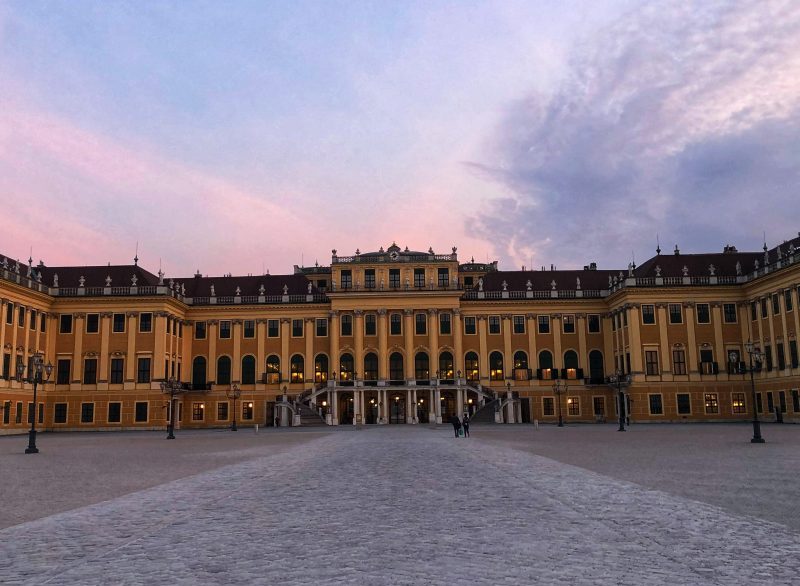 Schönbrunn Palace is one of the most historic buildings in Vienna and it is the former summer residence of Hapsburgs with over 1,400 rooms in this palace. However, not all the rooms are open to the public and you can visit the 40 rooms by joining the Imperial tour or visiting 22 rooms with the Grand tour. You could easily spend the whole day at Schönbrunn Palace.
Large line form all year round, please come early or consider the Schönbrunn Palace-skip the line ticket. Audio guide available in 21 different languages free of charge.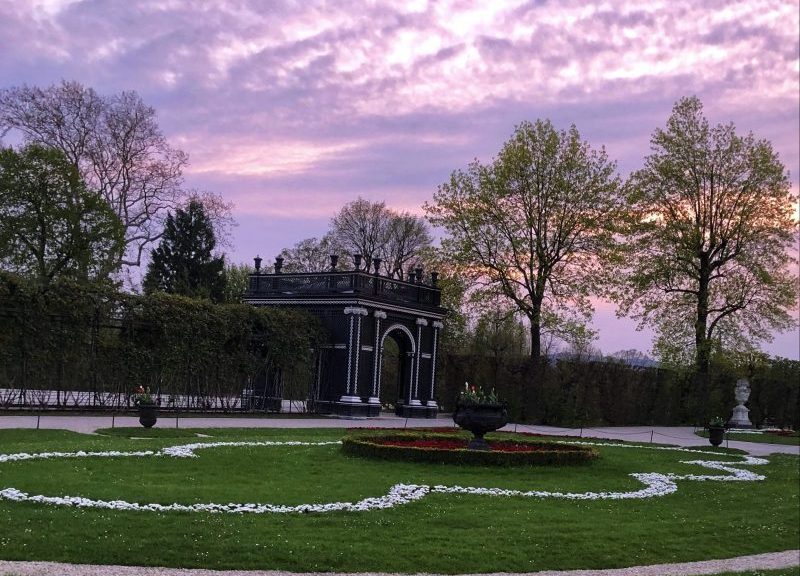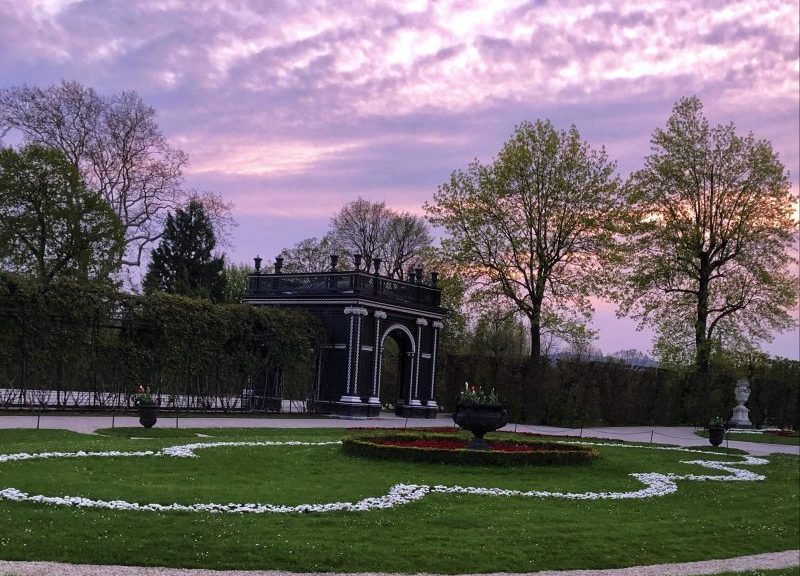 Don't forget to take a walk in the large, beautiful, and spectacular garden with free entry. Locals come here for morning jogs or to enjoy the sun.
Address: Schönbrunner Schloßstraße 47, 1130 Wien, Austria.
Admission: Imperial tour at €16 and Grand Tour at €20.
Getting there: Closest station Schloss Schönbrunn stop.
Belvedere Palace
Many people came to the Belvedere Palace for the Kiss of Klimt. The 18th-century Belvedere is a UNESCO heritage site, that features a beautiful garden with the world's largest collection of Gustav Klimt's art.
The palace is split into two Baroque palaces, Lower Belvedere and Upper Belvedere, which is also home to the largest Gustav Klimt collection including the famous The Kiss of Klimt.
Address: Prinz Eugen-Straße 27, 1030 Wien, Austria.
Admission: Upper/Lower Belvedere at €16/ €14, visit both at €22.
Getting there: Tram 0, 18 to "Quartier Belvedere or Tram D to "Schloss Belvedere".
St. Stephen's Church (Stephansdom)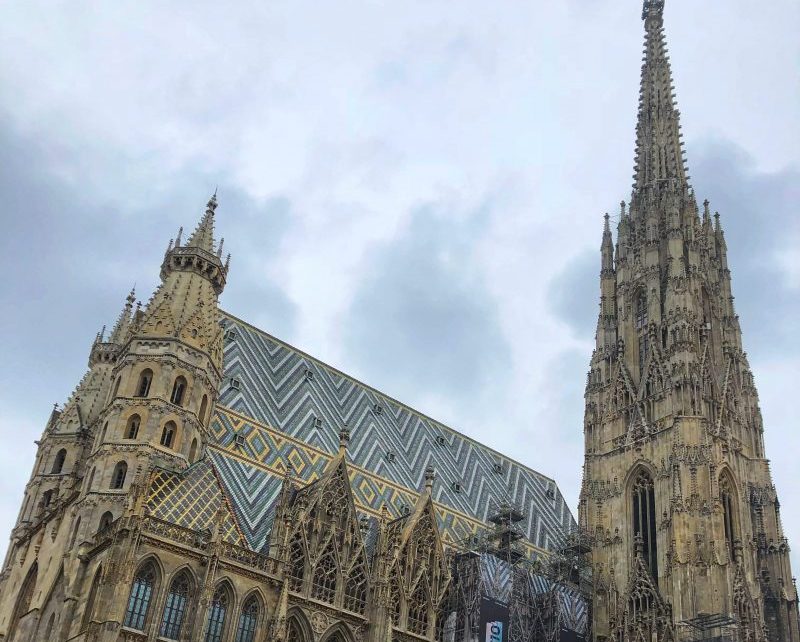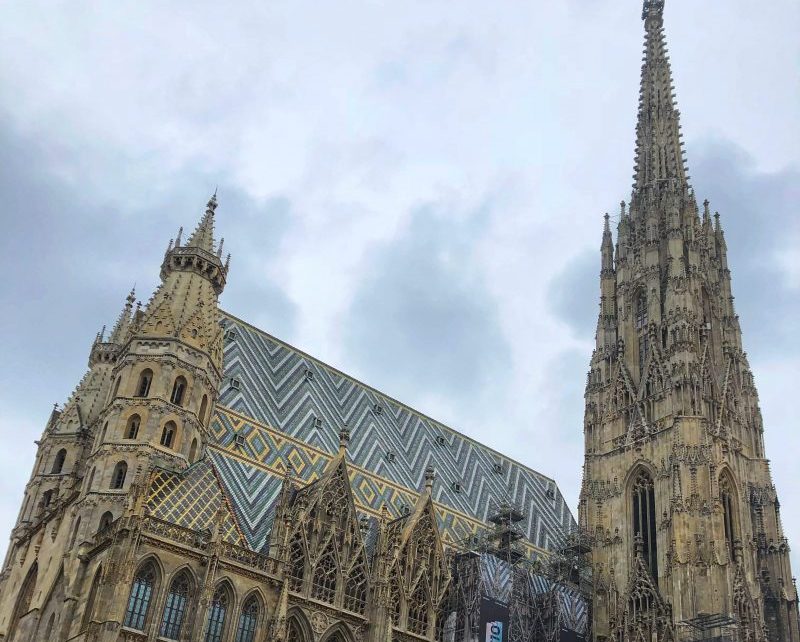 Stephansdom cathedral is built in Romanesque and Gothic styles in the 12th century with a 137-meter high spire and beautifully decorated roof.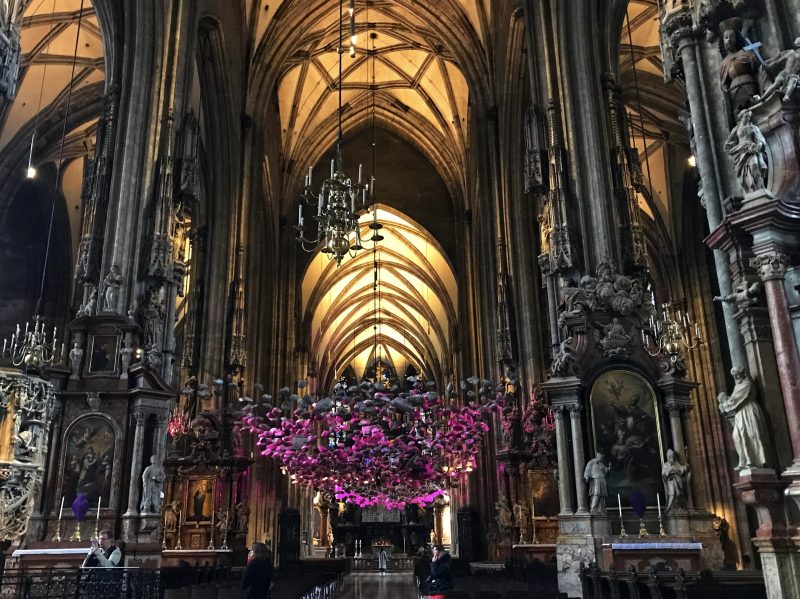 You can walk around Stepansplatz to discover one of the most impressive landmarks in Vienna. Added, you can explore the catacombs below the cathedral by paying €6 extra. Alternatively, consider paying an additional €5 to climb up a total of 343 steps of the south tower to the highest point in the city of Vienna for a watchman's lookout.
It's a great place for a visit to explore the architecture of Catholicism.
Address: Stephansplatz 3, 1010 Wien, Austria.
Opening Hours: Daily 6:00 to 22:00 except Sunday 7:00 to 22:00.
MuseumsQuartiers
Neat collection of museums with home to different museums; the Leopold Museum for Art Noveau and Expressionism; Kunsthalle Wien for contemporary art; and the Mumok for Museum of Modern Art with the largest collection in central Europe.
Enjoy World-Class Classical Music Concert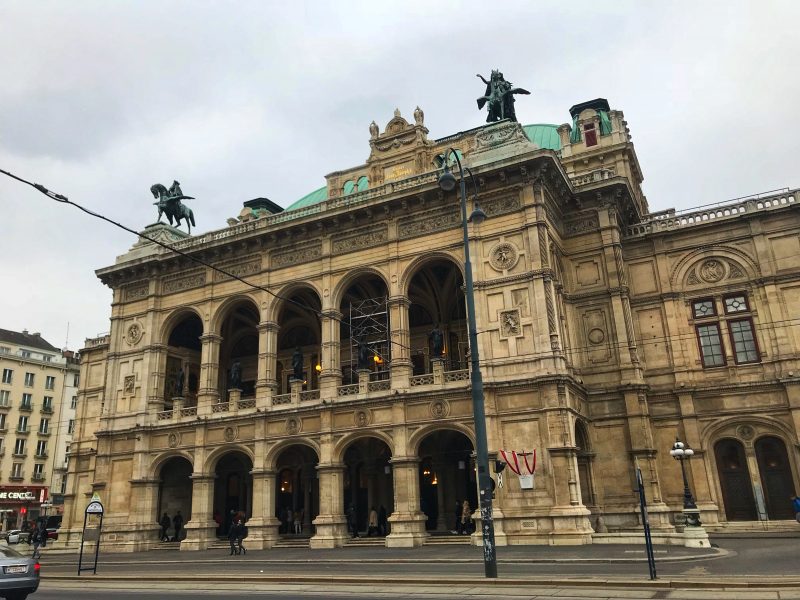 Vienna has a strong influence on the culture and the music scene. Getting tickets to a classical concert is ABSOLUTE MUST in Vienna.
During our visit to Vienna, we have to spend a night enjoying the opera music at Staatsoper or State Opera House. Staatsoper is one of the largest and most famous opera houses in the world.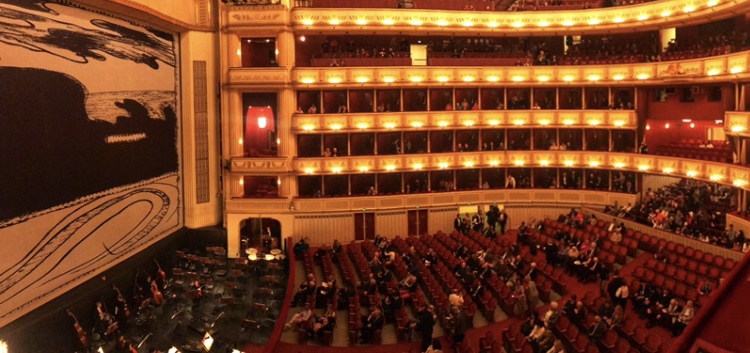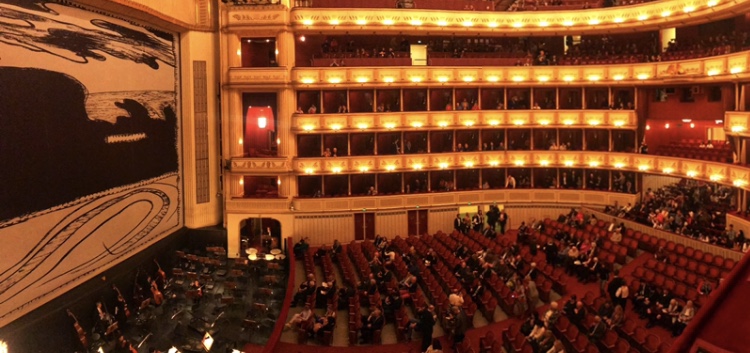 Remember to reserve your ticket, especially for the weekend show as cheap tickets sell out extremely fast. See how we save our money by spending €15 only for a seated ticket for a great wonderful performance at Staatsoper.
Naschmarkt (Snack Market)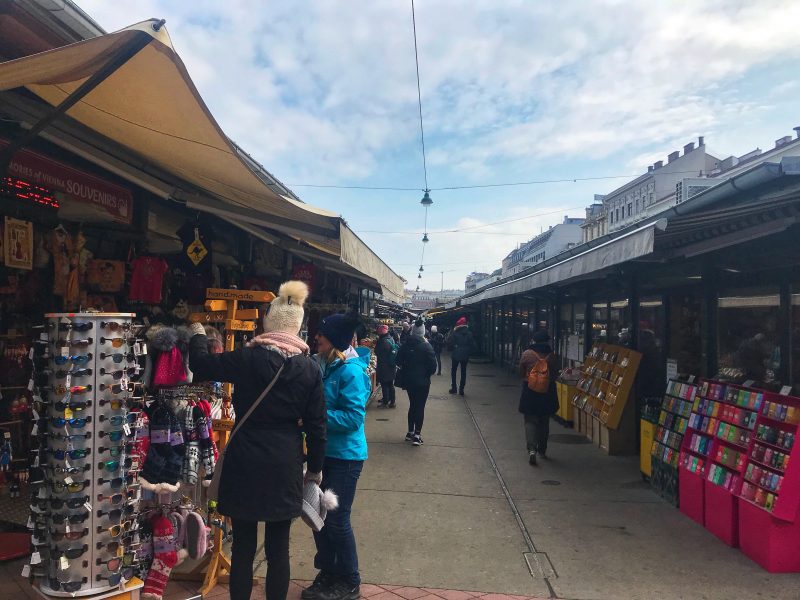 Naschmarkt (snack market) is Vienna's most eclectic largest open-air market with over 120 market stalls selling local produce. You can easily find fruits, vegetables, and exotic foods and spices from all around the world.
It's nice to feel like a local by enjoying a meal here with wine. A great location to grab a bite or enjoy your lunch with some fresh delightful Viennese specialty.
Recommended Food Tour in Vienna: Food, Coffee, and Market Small-Group Walking Experience
Address: 1060 Vienna, Austria.
Opening Hours: Daily 9:00 – 18:30. Close on Sunday.
Admission: Free!
Getting there: U4 "Kettenbrückengasse".
Vienna Cafe Tour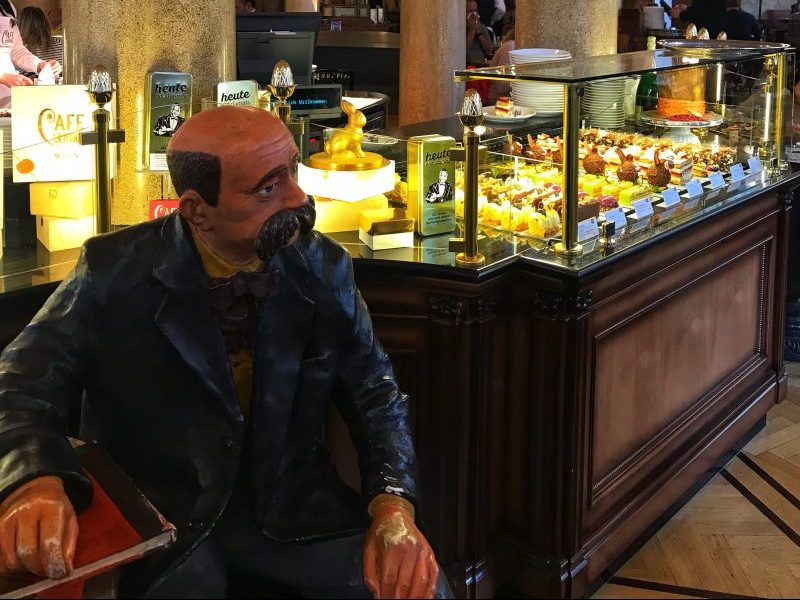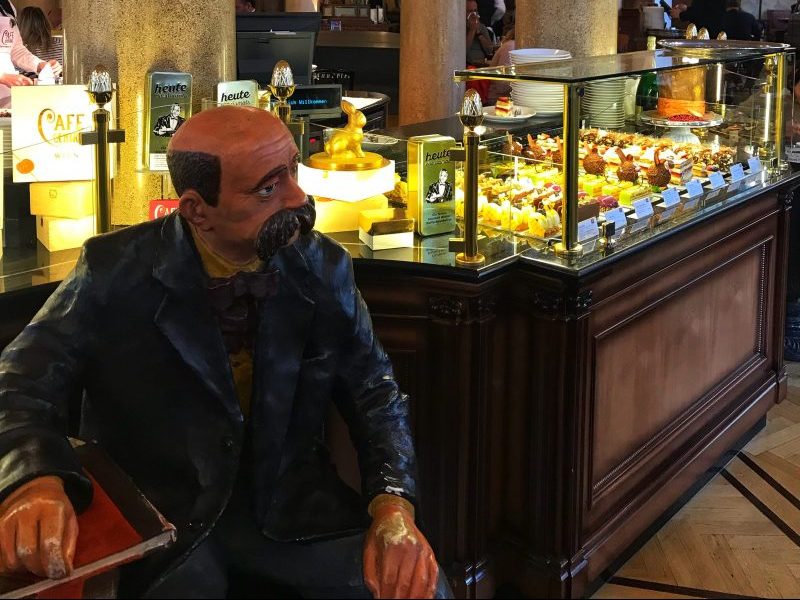 One of the best things to do in Vienna is to sit in one of the Viennese coffee and enjoy a cup of nice coffee. There are many world-class cafes available like Julius Meinl, Café Central, Café Demel, and many more in Vienna for Vienna your cafe tour.
Order a "Schwarzer' for a black coffee, 'Brauner' for a black coffee with milk, or a 'Melange' for coffee with cream
Spanish Riding School
One of the famous things to do in Vienna. The superb Spanish Riding School was established after the ruler had the famous Lipizzaner horse introduced to his courtesans in 1562. You can witness the training of Lipizzaners and their riders during the morning exercise.
Hundertwasserhaus, World Most Quirky Building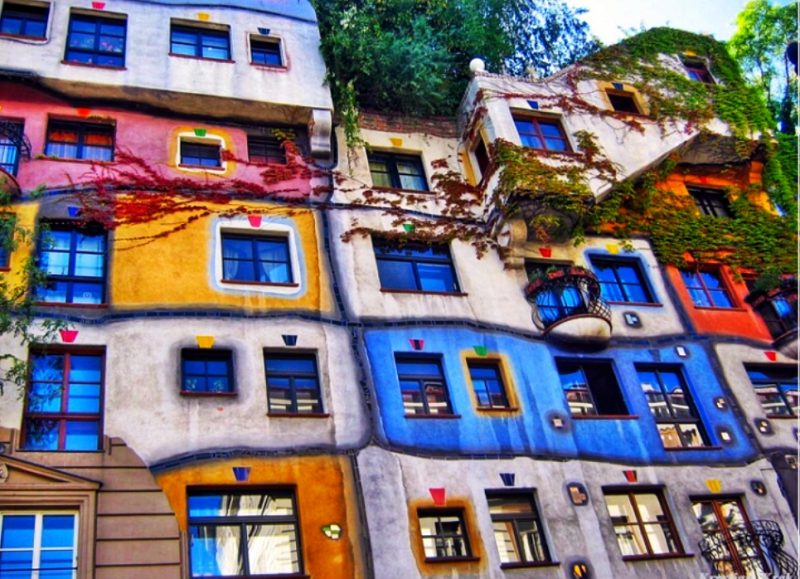 A quick stop to visit the shrine to one of Austria's most important artist's works, Hundertwasserhaus. This colorful apartment is famous as the "nature and human-friendly" house and build after the idea of the Austrian artist, Friedensreich Hundertwasser with the colorfully decorated facade.
You cannot visit it as people are living inside. Take a picture from outside with this world's most quirky house.
Address: Kegelgasse 36-38, 1030 Wien, Austria.
Getting there: From U1, U4 "Schwedenplatz", take tram 1 and stop at Hetzgasse.
Prater Park And The Giant Ferries Wheel
Prater is a large natural park located in Vienna's 2nd district (Leopoldstadt) between the Danube and the Danube Canal. It is the oldest amusement park in the world, so-called the "Wurstelprater".
However, the highlight in Prater Park is the Giant Ferries Wheel which has been turning since 1897. It has the most luxurious cabin for parties up to 12, helping get a wonderful view of Vienna from above.
Address: 1020 Vienna, Austria.
Opening Hours: Daily 10:00 – 23:00.
Admission: Free entree but charged on attractions.
Getting there: U1, U2 "Praterstern".
Day Trip Nearby Vienna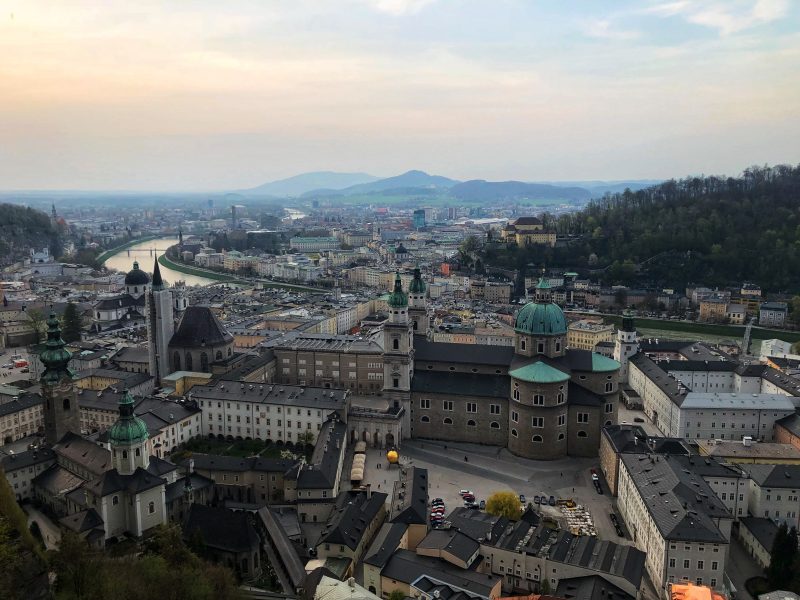 There is also day trips nearby Vienna waiting for you to explore.
Wachau Valley Cruise and Melk Abbey – Take A day tour on Danube Valley to enjoy the beautiful scenery of Wachau valley by the 90 minutes boat ride with an English guided tour. You will see how the river Danube flows into lush hills, surrounded by vineyards and the Krem and Melk medieval castle.
Visiting Bratislava, Slovakia – Located only an hour away from Vienna, you can plan a short trip to the capital of Slovakia, Bratislava. The train departs from Vienna at one-hour intervals with a return ticket from OBB costing you only €16 for a round trip. Or going by Flixbus which runs regularly with around €5 one way. Bratislava is a small capital and easy to travel around on foot. See how we spend a day trip to Bratislava from Vienna.
Alternatively, consider going for a Bratislava Day Trip from Vienna Including Catamaran Cruise.
UNESCO World Heritage Site, Salzburg – A day trip can bring you to the scene of the classical movie "The Sound of Music" and the birthplace of Wolfgang Amadeus Mozart at Salzburg. Getting around in Salzburg for its world-famous Schloss Hellbrunn and Trick Fountains, Hohensalzburg Castle, Mirabell Palace and Gardens, Mozart's birthplace, or as simple as strolling around the Salzburg old town can easily spend the whole day. See how we spend our one-day itinerary in Salzburg here.
Optional, a day tour is available for the Salzburg Day Trip from Vienna.
What To Eat In Vienna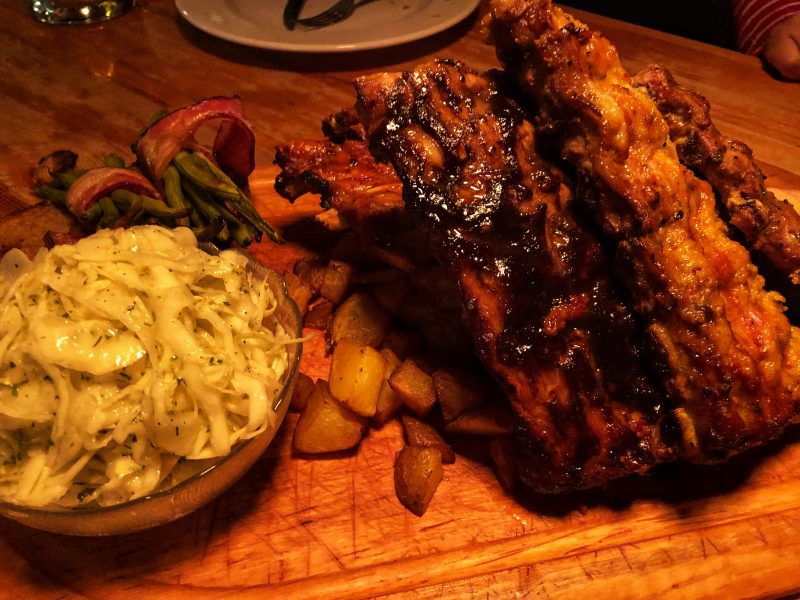 Even though we were visiting Vienna on budget, we ere forgot about saving some money on food. You hardly can't miss the best food and cafe in Vienna. Listed are some of the recommended food to eat in Vienna. For something authentic, make sure you try various traditional dishes. Not the MUST EAT but it is worth giving a try to taste Vienna.
Sacher-torte – One of the most decadent desserts served at Hotel Sacher. Some say it is overrated and very pricey because of the name. But I still give it a try for this famous rich dark chocolate cake. Don't forget to pair it when a strong Viennese coffee.
Apfelstrudel – One of the traditional desserts is Apfelstrudel. It is an apple strudel with sweet, cinnamon, and apple-filled pastry, topped with some whipped cream or warm vanilla source. Perfect match with a hot coffee.
Schnitzel – You can't go to Vienna without a Wiener schnitzel. Austria is the birthplace of Schnitzel. Plenty of restaurants served this dish and the most famous Figlmüller served the biggest schnitzels in town. Please beware that it's huge and easily serves two people.
Spare ribs – The popular food in Vienna and mostly all traditional Austrian restaurants served them. One of the famous restaurant, Ribs of Vienna offer a wide range of mouth-watering pork spare ribs. Don't forget to book your reservation as the restaurant easily gets full with locals and tourists.
Continue to read on: Vienna Food Guide: What and Where to Eat in Vienna
How To Spend Two or Three Days In Vienna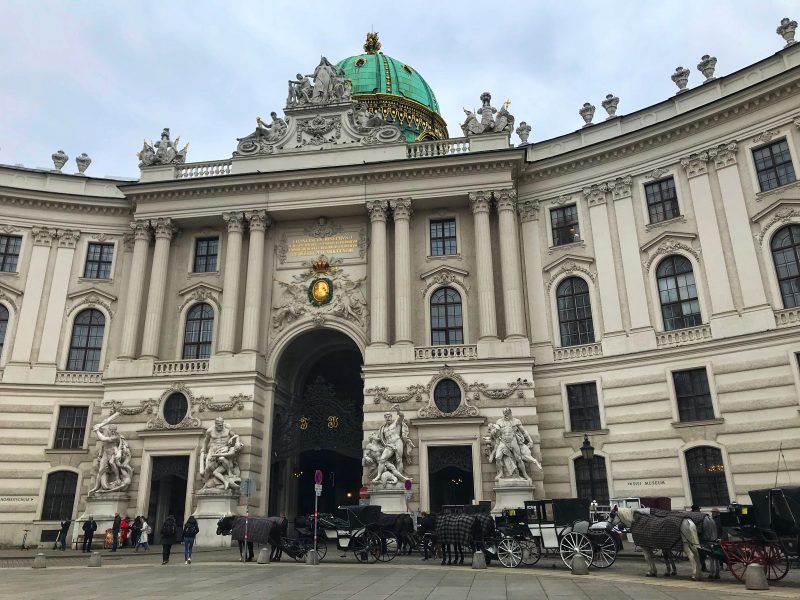 When planning the Vienna itinerary, we found out that there are so many things to do in this gorgeous Vienna city that could not cover in one or two days of a short visit. After considering our Central Europe trip itinerary, schedule, and planning, we spend a total of three days in Vienna strolling around including a half-day trip to Bratislava.
See how we spend three wonderful days in Vienna itinerary on a budget:
Day 1: Arrive in Vienna. Visit Schönbrunn Palace and Schönbrunn park.
Day 2: Visit Hofburg, Graben, Stephansdom. Tea break in Cafe Central.
Day 3: Day Trip To Bratislava from Vienna
Day 1: Arrive in Vienna – Schönbrunn Palace
We arrived in Vienna after two hours of a train journey from Salzburg. The first day of the Vienna itinerary is more of a historical visit to Schönbrunn Palace. We spend most of our time exploring the important architectural, cultural, and historical monuments in Vienna.
In the evening, we also have a leisure walk in the huge beautiful garden at Schönbrunn park. We end our day with juicy ribs and a cooling beer at Ribs of Vienna. Very delicious!
Day 2: Hofburg, Graben, Stephansdom
The second day in Vienna is very leisure and free. We enjoy our time exploring Naschmarkt in the morning, while afternoon we are wandering around and take a detailed look at Hofburg, Graben, and Stephansdom at the city center.
Lunch at the most famous Figlmüller for the biggest schnitzels in town and spending leisure time at cafe central for their gorgeous cakes and dessert. Not to forget to enjoy a world-class opera show at Staatsoper Vienna.
Day 3: Day Trip To Bratislava
Vienna and Bratislava are well coupled up together when traveling in Vienna. Thanks to its excellent train system, we have a day trip to Bratislava from Vienna on the last day of the Vienna itinerary.
See my guide on Bratislava: A Charming Unpolished Old Town in Slovakia.
How to Visit Vienna on a Budget
Vienna is not a cheap city and can consider one of the most expensive cities in Austria. You need to prepare to pay a lot of money for entrance, concerns, food, and drinks. However, planning a Vienna itinerary on a budget is still achievable. The first thing to understand is how to explore Vienna by spending less yet enjoying the most.
Don't forget to read our money-saving tips if you plan to visit Vienna on budget.
Visit With Vienna Pass Including Hop-On Hop-Off Bus Ticket.
Travel With Vienna Transportation Pass.
Visit With Vienna Pass
The first money-saving tip for visiting Vienna on a budget is getting Vienna Pass. Vienna has a great selection of museums and Palaces with entry fees that can be very costly if you buy one by one. Forget about the Vienna Pass if you do not plan on visiting the museum or palace.
However, if you are planning to visit a lot of the city's attractions, it's worth investing in the Vienna Pass which cost €70/€95/€125/€125 for 1/2/3/6 days with free entry to over 70 of Vienna's most popular attractions and museums, including the Imperial Palace, Schönbrunn Zoo and the Natural History Museum as well as a hop-on hop-off bus tour. It also covered the fast track entry to certain top attractions. Optional, you may also include the travel card which will cover all your transportation when getting around Vienna.
Book your Vienna Pass here and easily redeem it at Vienna. This Vienna Pass includes the Hop-On Hop-Off Bus Ticket to get around in town. Alternatively, grab the Vienna Big Bus Hop-On Hop-Off for 360-degree views of Vienna's top attractions with a 1-, 2-, or 3-day hop-on hop-off ticket!
Travel With Vienna Transportation Pass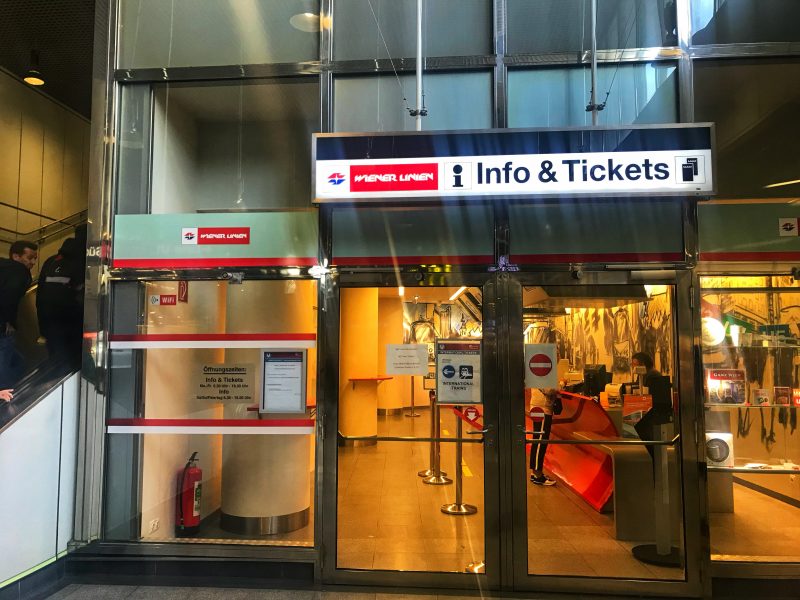 If you just want to get around and visit Vienna on budget, we are highly recommended you get the Vienna transportation pass for 24/48/72 hours with €8/€14.10/€17.10 respectively.
You may be questioning why you need the transportation pass as mostly you will explore the beauty of Vienna on foot. A single-trip ticket on the metro will cost a flat rate of €2.40 each way no matter how far you go. If you will take at least two times of public transport, the Vienna transportation pass is a worthy investment. Do your smart calculation!
If you need a longer stay for seven full days, there's also a weekly ticket for €17.10. Take note that this weekly ticket is followed as per calendar week which is valid from Monday midnight until next Monday at 9 a.m.
Plan your Vienna itinerary ahead and it can save you a lot of money by getting the right transportation card. Visiting Vienna on a budget is pretty easy. However, remember to validate your Vienna card before starting the first journey.
How We Plan On Our Central Europe Trip
Planning to visit Central Europe? Check out our perfect itinerary to Prague and the Cesky Krumlov in the Czech Republic for three to five days.
Exploring the World's Most Beautiful town, Hallstatt, visit Salzburg and Vienna in Austria. 
Have a side visit from Salzburg to Munich and Berchtesgaden, a day trip to Bratislava, Slovakia from Vienna. Lastly, see how we plan three days in Budapest.