Last updated on May 28th, 2023
Read on our Top 8 Best Food To Eat In Osaka. An ultimate Osaka food guide if you are looking for what and where to eat in Osaka.
Welcome to Osaka! Osaka is Japan's kitchen' for your food adventure in Japan! It is a very popular destination for many travelers. Centrally located in the Kansai region, Osaka is a great location to visit other cities such as Kyoto, Nara, Uji, and Kobe. It is famous for its modern architecture, shopping and best eat in Japan.
There is a few iconic and famous food in Osaka that must eat when visiting here. In this article, we will introduce each of these foods and why it is so special. Most importantly, we listed our Osaka eating guide from what we ate and try during our visit to Osaka. Together with a location map and how to get there to help you to decide on your Osaka food tour.
Meanwhile, continue to read on our food blog for the ultimate Osaka food guide for the best Osaka specialties.
Osaka Food Guide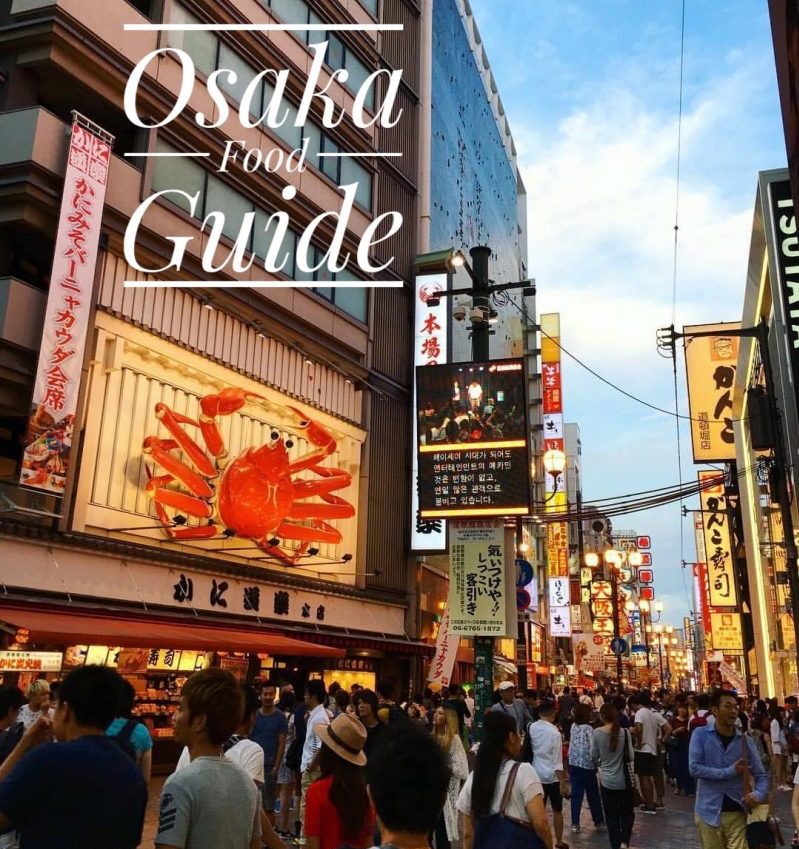 That is to say, the most challenging isn't finding what to eat in Osaka. You will find it is more difficult when to decide on the best food in Osaka. There are so many great choices recommended from the Osaka travel food blog with various opinions.
We understand that sometimes it is hard to make the arrangement to eat all of them especially since we have only a limited 1 or 2 days in Osaka. In this Osaka Food guide blog for food lovers, find out what and where are the best places to eat in the city.
Osaka Food Guide: The Must-eat Best Food in Osaka
Takoyaki – Octopus Ball
Okonomiyaki – Japanese Savory Pancake
Kushikatsu – Battered, Deep-Fried Skewer
Yakitori in Izakaya
Fugu, Exotic Special Delicacy
Local Street Food from Kuromon Ichiba Market
A Hot Bowl of Tasty Ramen
Desserts and Snacks
Osaka Food Tips:
When looking for best food in Osaka, we recommended staying nearby subway station to ease on transport arrangement. Check for the best price and biggest selection of hotels in Osaka check prices for
Osaka Best Hotel from Booking.com
. We found they are the best option and have a great cancelation policy.
Takoyaki (Octopus Ball)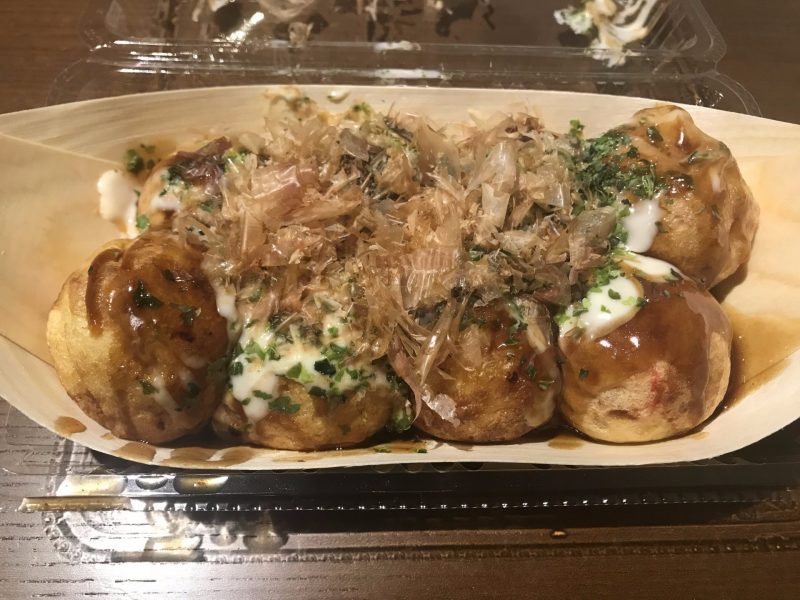 The Takoyaki, also known as octopus ball. It is Osaka's most famous snack and can be considered a synonym for Osaka. This classic Osaka snack is made from eggs and flour filled with octopus, ginger, and green onions. It is then fried into bite-sized balls and topped with a savory sauce, mayonnaise, seaweed, and katsuobushi flakes.
Remember to eat it while is still hot and fresh. It is crispy crust at the edge but soft in the middle.
Best Takoyaki in Osaka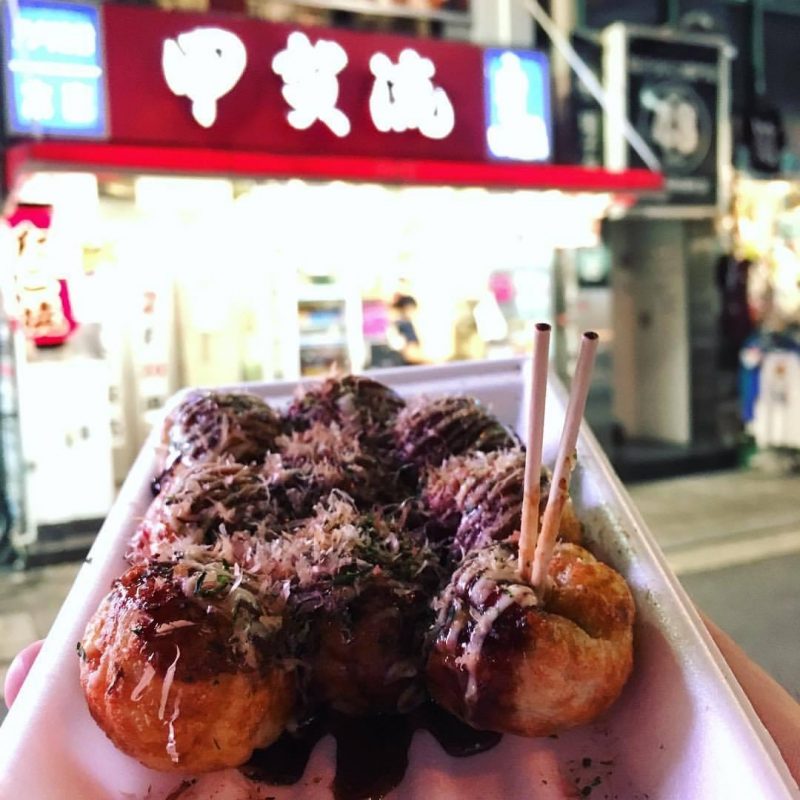 No doubt, Takoyaki is one of the most famous street food. So sure the Takoyaki is one of our top three must in our Osaka food guide list. You can easily find them on any busy street in Osaka and even in Japan. It is something that you need to try, especially for first-time visitors.
One of the best takoyaki in Osaka:
Kogaryu (甲賀流): Takoyaki from Kogaryu is topped with a sweeter sauce. It is best to match with their sweet sauce and their special mayonnaise sauce. Takoyaki fans rated it as one of the best takoyaki in Osaka. Kogaryu has a couple of sister branches across Osaka, including Dotonbori.
Best takoyaki in Dotonburi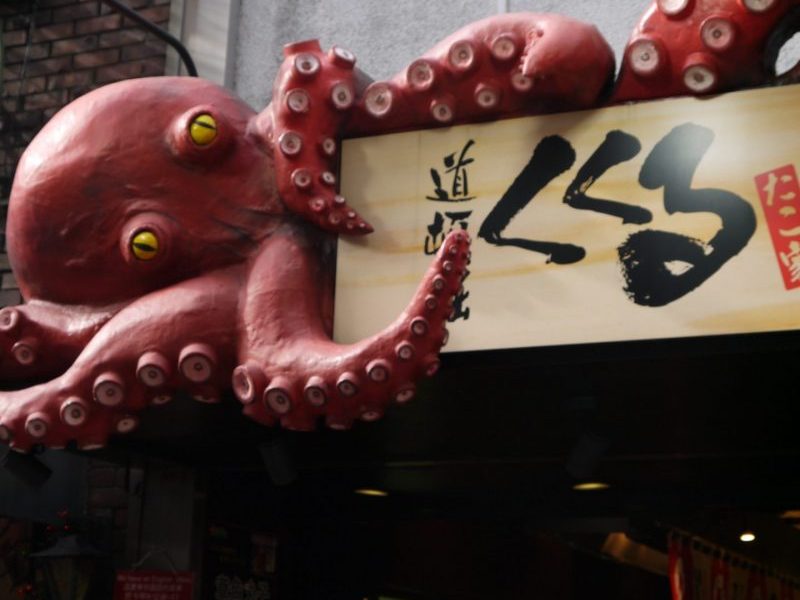 Dotombori has the most takoyaki stores and is famous for this Osaka's best cheap eat. So, remember to enjoy this flavored snack when you are in Dotonbori.
Below are the few popular shops serving the best takoyaki in Dotonburi, Osaka. All have their supporter for this tasty Osaka food.
Aizuya claimed for the first and invented for Takoyaki. So this is the best place for you to try the most authentic takoyaki in Osaka. Their takoyaki is best to taste without the sauce. So that you can know how tasty the original takoyaki.
Secondly, one of the more famous takoyaki stores in Dotomburi is Kukuru. It stands ahead of the fierce competition in Dotomburi. You can easily spot it with a gigantic octopus signboard on its shopfront when you are in the busy street. There is always a long line waiting to try on their famous takoyaki.
Wanaka is one of the most popular takoyaki shops in Osaka. Their handmade takoyaki is so crisp yet melts in your mouth when you eat. It is located on the same street as Kukuro in Dotomburi.
Getting there: 3 to 6 minutes walk from Namba station.
Okonomiyaki (Japanese Savory Pancake)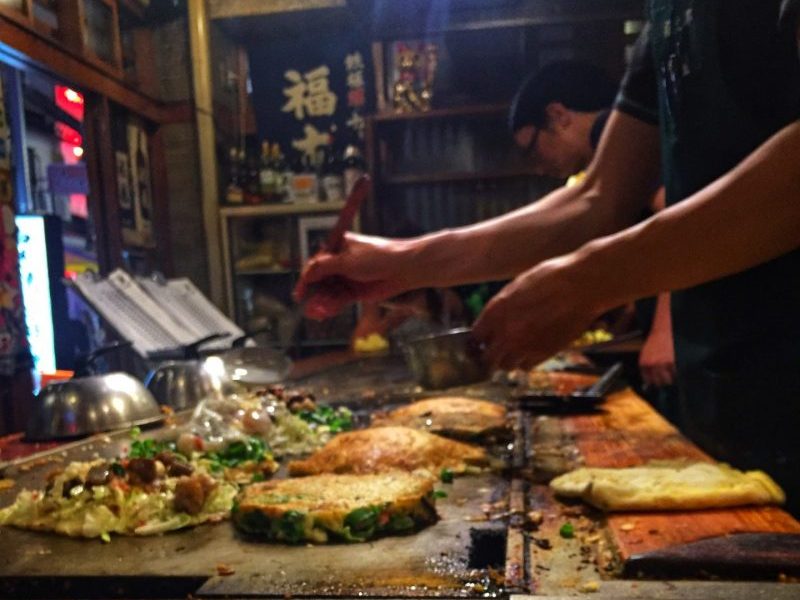 Next on our Osaka food guide. The Osaka-style okonomiyaki is another must-eat when visiting Osaka. Okonomiyaki is a kind of savory pancake made from eggs, flour, and shredded cabbage. It was grilled into round shapes by topped with different ingredients such as pork, squid, shrimp, beef, seafood, and more.
You'll fall in love with Okonomiyaki after trying on it in Osaka, just like me! Whenever I visited Osaka, I am always looking for a chance to try at least one Okonomiyaki in Osaka.
Best Okonomiyaki in Osaka
Many places offer this savory Japanese pancake, okonomiyaki in Osaka. Each shop has its recipe for tasty okonomiyaki.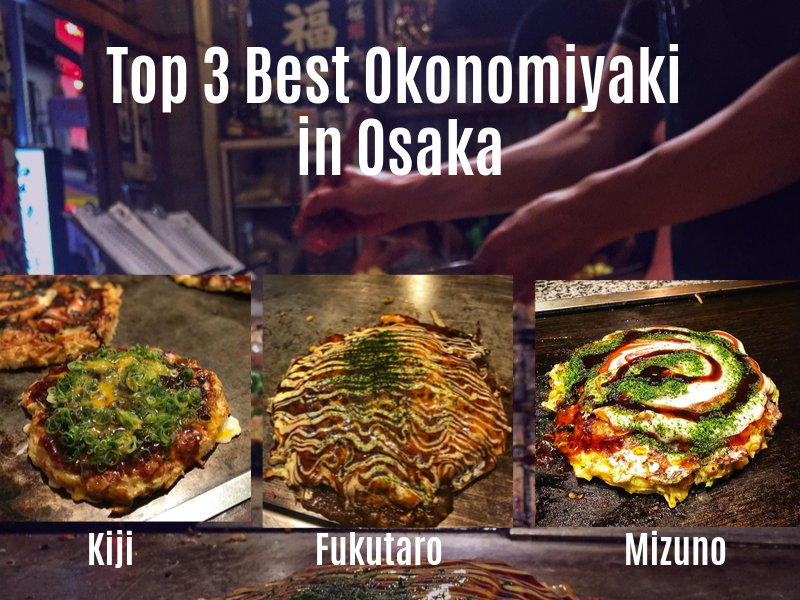 Below is the highly recommended okonomiyaki that was rated as the Top 3 best okonomiyaki in Osaka after my food review:
Mizuno (美津の) is one of the Michelin-starred restaurants in Osaka that specialized in Okonomiyaki. It is a family-run restaurant with a long history since 1945. It was best known for its unique okonomiyaki called yoshokuyaki with noodles on top. Extremely popular among locals and visitors with consistently waiting lines in front of the shop.
Fukutaro (福太郎) is one of our favorite takoyaki while we were in Osaka. Their okonomiyaki is prepared and cooked in front of you at the counter bar where customers are seated surrounded. You can try on their Negiyaki which replaces the cabbage with green onion.
Kiji (きじ 本店) is another popular Okonomiyaki in Osaka. Even locals flock to Kiji to try on this best Okonomiyaki. It is located in the quaint basement of the Umeda sky building with a queuing line always front from the shop to the staircase. So be prepared to wait to taste it.
Lastly, make sure to read on our food blog the top 3 best okonomiyaki in Osaka. We have listed our dining experiences to Kiji, Fukutaro, and Mizuno. The best and quick way if you are looking for where to eat okonomiyaki in Osaka.
Kushikatsu (Battered, Deep-Fried Skewer)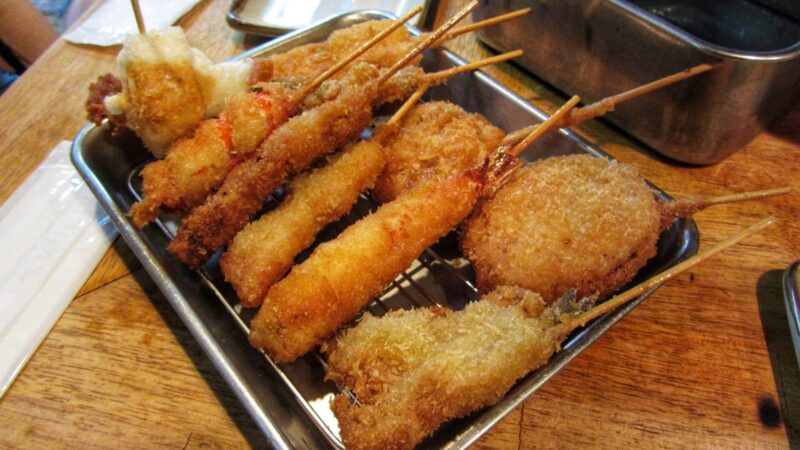 Besides okonomiyaki and takoyaki, Kushikatsu is one of the signature Osaka food that you hardly can't miss when visiting Osaka. It is a deep-fried, battered skewer of meat or vegetables. Typical the menu of kushikatsu is meat and vegetables. For example pork, beef, shrimp, pumpkin, onion, quail's eggs, asparagus wrapped in bacon, shiitake mushrooms, and more.
Normally kushikatsu is served hot by the chef in front of you. Next, dip it into the thin and black special recipe sauce. The dipping sauce is shared among the customers. So please take note no double-dipping is allowed. A stick of kushikatsu is priced from as low as 100 yen to 500 yen depending on the kushikatsu you choose.
Best Kushikatsu in Osaka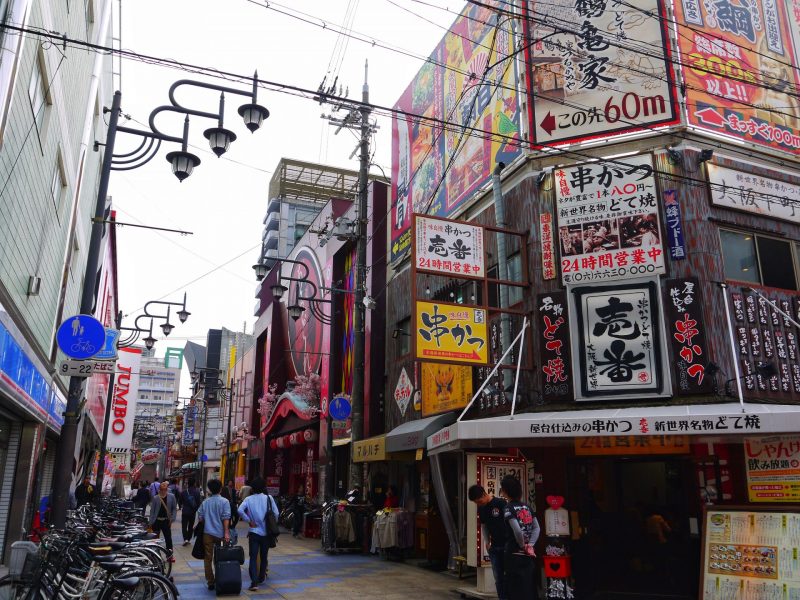 This Osaka's best cheap food, Kushikatsu can be found all over Osaka and Japan. However, Shinseikai is the birthplace of kushikatsu. Therefore, this is where to eat the best kushikatsu in Osaka. To get there, there is about a 3-minute walk from Subway Sakaisuji-line Ebisucho station.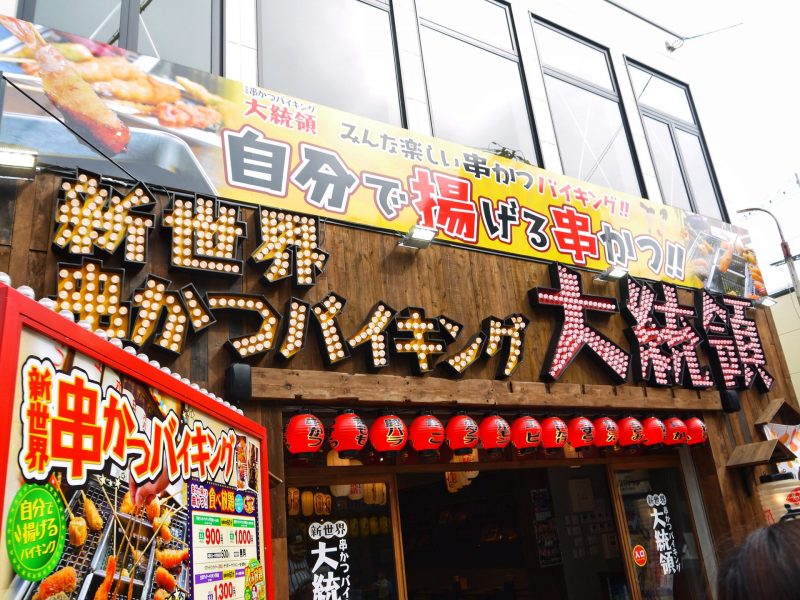 Best Kushikatsu in Shinseikai, Osaka:
Ganso Kushikatsu Daruma is one of the most popular kushikatsu restaurants in Osaka with shops in Dodomtori, Shinseikai, and many other branches scattered around central Osaka. While Daruma's flagship store is located in Shinseikai, so don't forget to head over to taste it if you are visiting Tsutenkaku and nearby neighborhoods.
Kushikatsu Baikingu Tabehokdai Daitoryo is the buffet-style kushikatsu restaurant in Shinseikai. You have freely selected any item from the menu to eat with various flavor combinations of sauce. The price is very reasonable with lunch at around 1000 yen and dinner at 1600 yen for all you can eat within one hour. The weekend will be slightly more expensive compared with weekdays. Local's favorite kushikatsu!
Another popular restaurant in Shinseikai serving the best kushikatsu is the Yaekatsu. Founded 50 years ago, this popular restaurant is famous for its fluffy kushikatsu which is deep-fried at high temperatures. There is always a line to try on in the morning. Wide variety of kushikatsu up to 30 items on the menu.
Yakitori in Izakaya
Next on our Osaka must-try food guide. Yakitori is a traditional Japanese grilled chicken skewer from various parts of the chicken. For example, it widely consists of different cuts of meat, skin, wing, heart the organ. Normally it is cooked with either sweet soy sauce or just salt.
I am sure you will love how simple, tasty and fun it is to eat yakitori in Osaka. It is a simple dish but can also be specialized by its cooking method and sauce. Moreover, the best part of eating yakitori is drinking alcoholic beer or Japanese sake with a group of friends in Izakaya (Japanese pub). Enjoy Yakitori in Izakaya!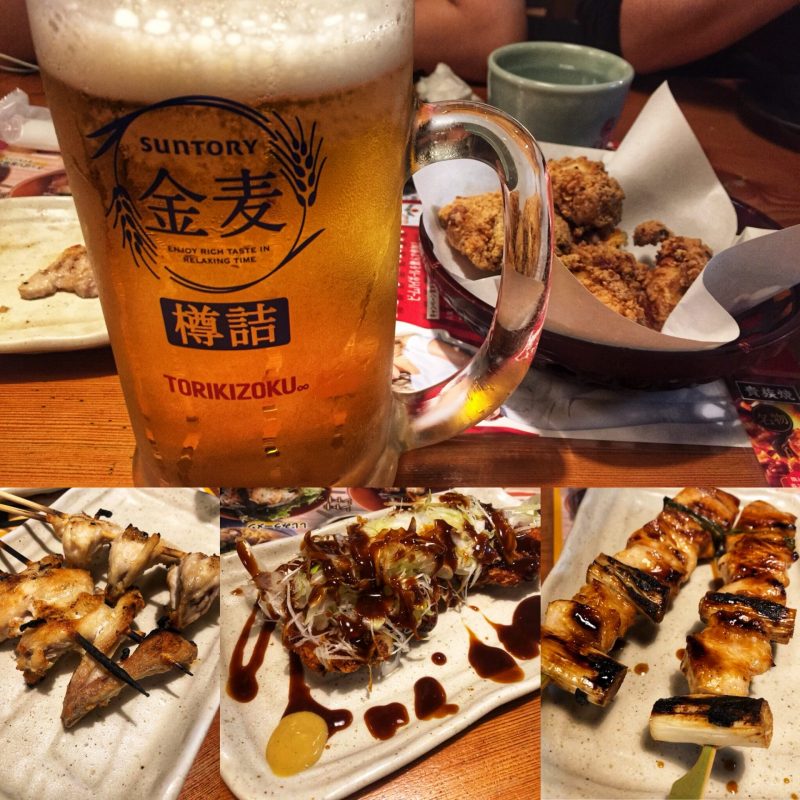 Popular Izakaya in Osaka
Torikizoku is the Yakitori specialty restaurant in Osaka. This budget-friendly Yakitori restaurant has many branches in Osaka including Dodomburi, and Namba, and is scattered around the Kansai region.
One of the best parts of Torikizoku is their yakitori are using Japanese domestic chicken. Additionally, it is offered at the fixed price of 280 yen including tax. A perfect place for people who experience the Japanese izakaya culture without breaking their bank.
We visited Torikizoku for supper during one of our stays in Osaka. The menu consists of Japanese grilled skewers with up to almost 30 kinds of yakitori to choose from. We ordered various yakitori to try on. The yakitori was so juicy and tasty. It tastes so good with cooling beer. The best place to look for what to eat in Osaka for late night or supper. Highly recommended if you are looking for the best Yakitori in Osaka.
Best Yakitori in Osaka: Torijiro Dotombori Branch
Address: 4-5F, Bonchi Bldg., 1-10-7, Dotonbori, Chuo-ku, Osaka-shi, Osaka
Operating hour: Daily from 17:00 to the next day at 2:00 a.m. Added, Friday and Saturday will be until 5:00 a.m.
Legendary Osaka Street Food Izakaya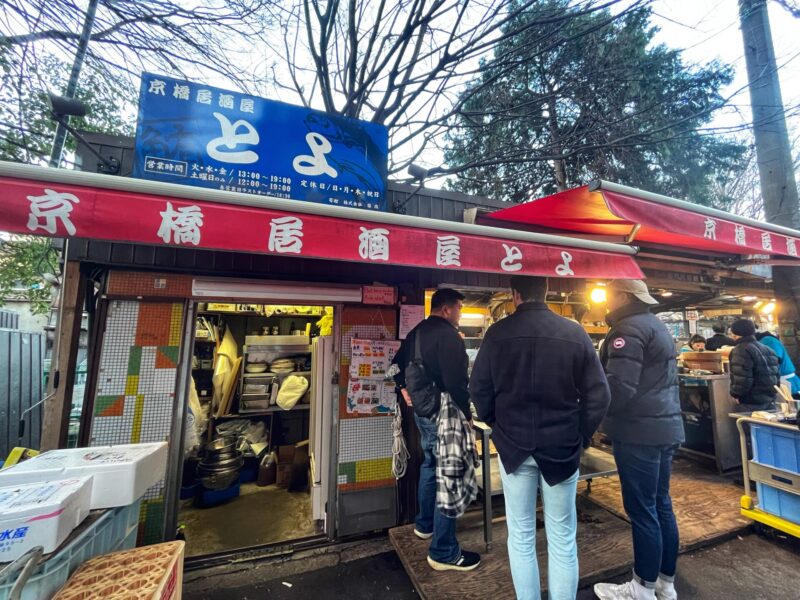 If you are in Osaka you simply must go and experience the legendary Izakaya Toyo! A standing street food stall specializing in seafood and sushi with a local vibe located close to Kyobashi Station.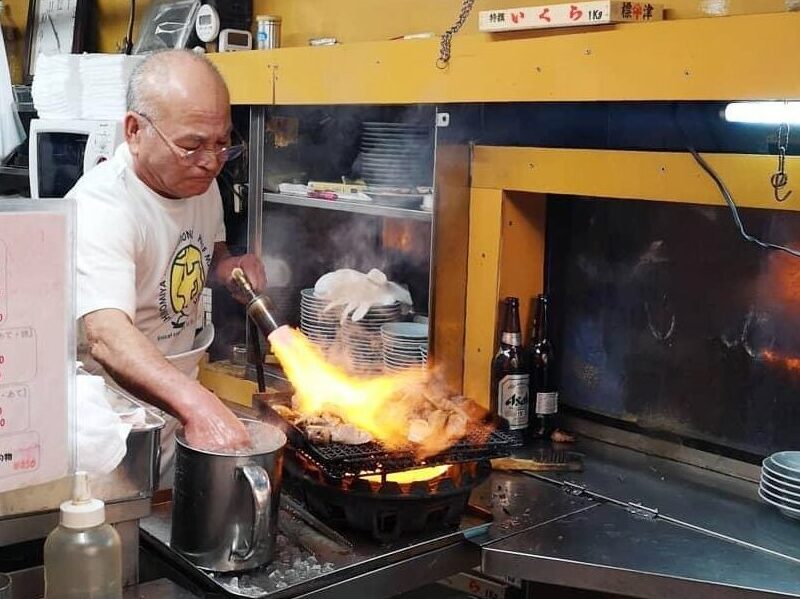 Izakaya Toyo (居酒屋とよ) is a popular Osaka street food vendor that specializes in seafood. It was started by owner and chef Toyoji Chikumoto in 1992. Toyo-san has been through so much and he has succeeded in his dream. His life story appeared in the Netflix episode on Osaka's street foods and you will have a deep appreciation for Toyo-San.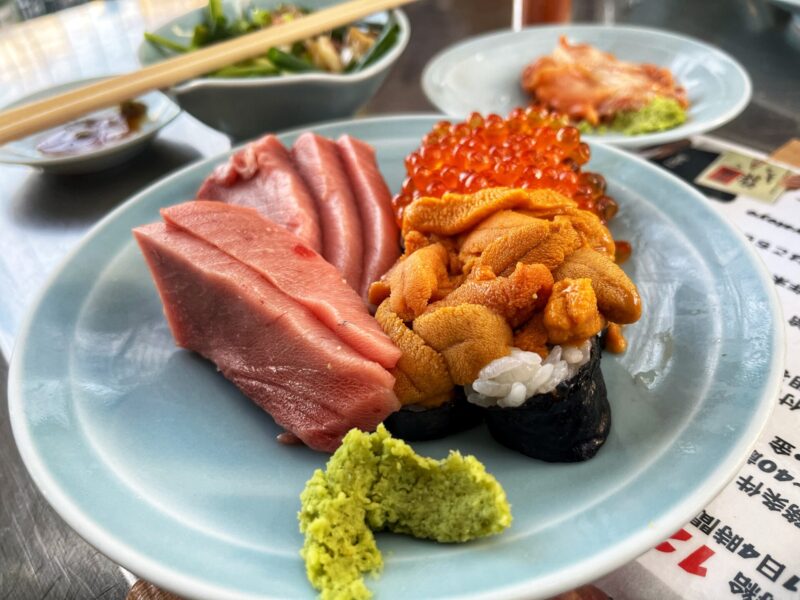 We highly recommended Izakaya Toyo to experience the charm and passion of Toyo san. The casual vibe and the chef's loud energy makes for a great experience. The quality of the food is excellent and fresh. You won't be disappointed!
Read more on our food trip: Izakaya Toyo: Legendary Osaka Best Street Food
Izakaya Toyo (居酒屋とよ)
Address: 3 Chome-2-26 Higashinodamachi, Miyakojima Ward, Osaka.
Getting there: 3 minutes walk from Kyobashi Station.
Operating hours: Closed on Thursday, Sunday, and Monday.
Pro Tips: Always check their website for the opening time before your visit!
Fugu, Exotic Special Delicacy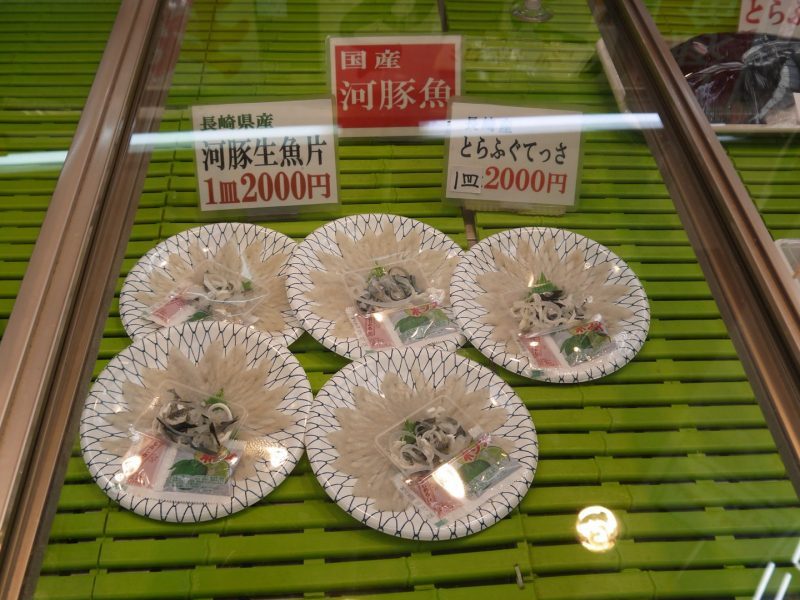 Fugu or also called blowfish or pufferfish. It is one of Japan's exotic special delicacies and be very poison if it does not handle properly. Every Fugu chef is specially trained to qualify for a license.
That's no other better place than Osaka to try the fugu. You can try to taste blowfish at the cheapest price in the Kuromon market. But the Zuborayo is the most famous blowfish restaurant in Osaka. You can easily spot this restaurant with its large inflated blowfish lantern. The fugu course set consists of various ways of dishes. From fugu sashimi, shabu-shabu, karaage, or even fugu in sake. A unique food experience in Osaka.
Local Street Food from Kuromon Ichiba Market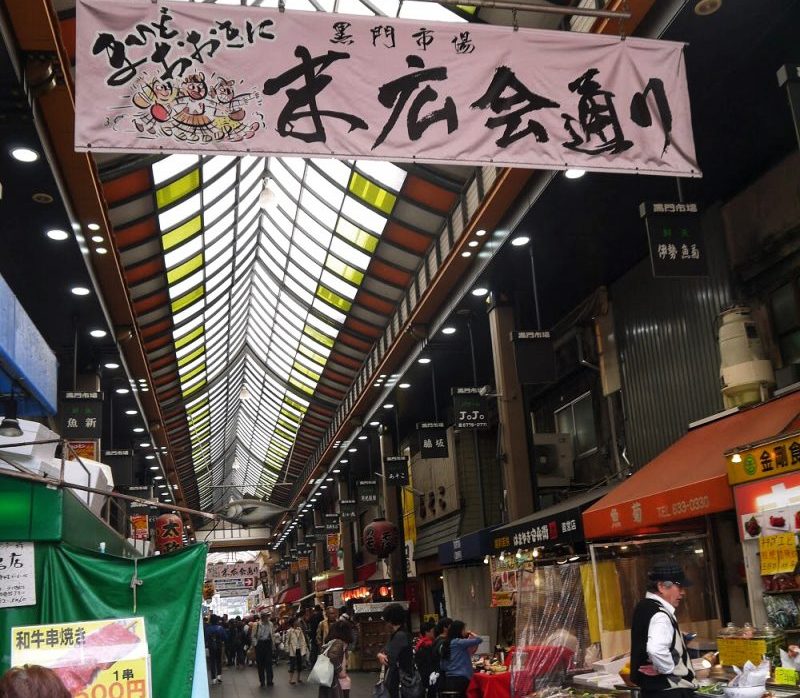 One of the best spots for local street food in Osaka is Kuromon Market. No doubt, Kuromon Ichiba market is the best place to taste Osaka's best food. This food market is home to hundreds of shops selling local produce such as seafood, fruits, vegetables, and meats. Most importantly, all kinds of prepared food samples of the best food in Osaka.
Food Hunting in Osaka Local Market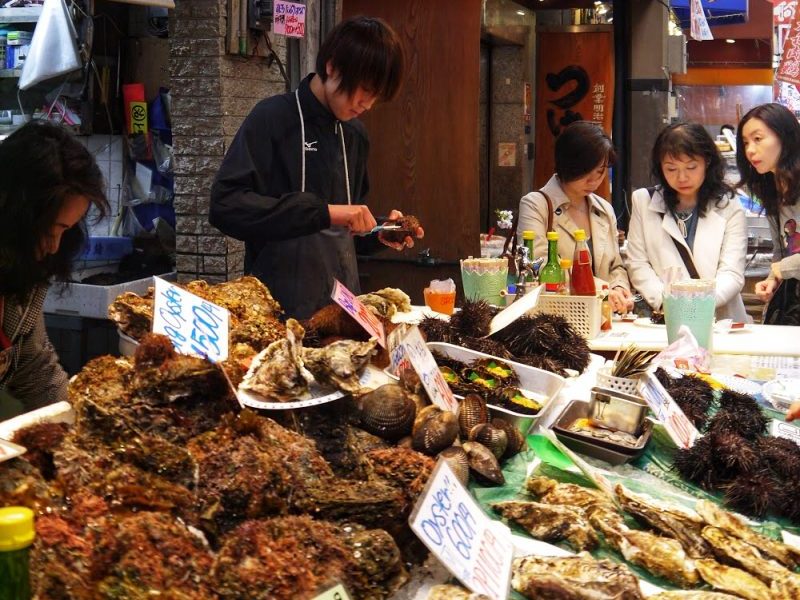 There is a variety of seafood and street food available for your food hunting in Kuromon Ichiba Market. I have visited Osaka three times and the Kuromon market is one of the must-visit places for food. It is best to visit during the morning before getting crowded by visitors.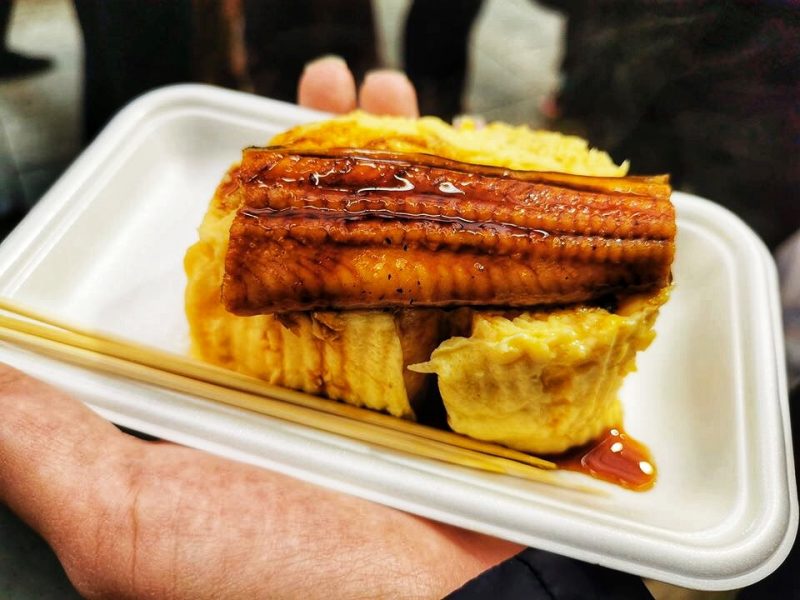 We enjoyed our food tour in the Kuromon market from start until the end of the street. Enjoy the seafood feast here with fresh uni (sea urchin), oyster, grilled scallop, crab leg, and prawns. Besides, don't forget to taste the fatty tuna as it was cheaper compared with other places.
Meanwhile, we have listed down the top 10 must-eat food if you are interested to look at what to eat in Kuromon Market.
Related Food Blog: What to eat in Kuromon Ichiba Market
A Hot Bowl of Tasty Ramen
Osaka is the hot spot for the ramen battleground in Japan. There are so many ramen shops opened in Osaka for competing for the best ramen restaurants in Osaka. From popular chain restaurants to local home ramen stores.
For first-timer, probably you'll confuse about the best place to enjoy a bowlful and flavourful ramen.
Osaka Best Ramen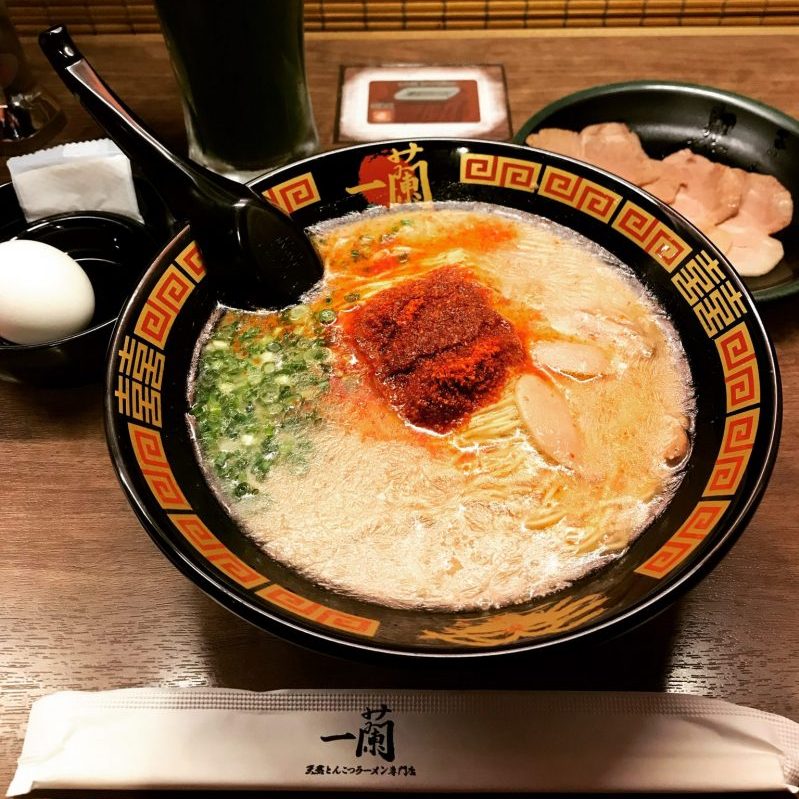 Where to find the best ramen in Osaka? Here is the top pick for the best ramen in Osaka that you should not miss.
Origin from Fukuoka, Ichiran Ramen is one of the largest Japanese Ramen chains in Japan. Famous for its Tonkotsu ramen, Ichiran is popular among foreigners. Many people love their favored and rich taste of Tonkotsu broth soaked with thin noodles. There are even three Ichiran ramen shops in the Dotonburi area. But still, a long line always especially at Ichiran Dotonbori Main Building.
For local's favorite, we recommended you headed to Ramen Jinsei JET in Fukushima. This ramen specialty in Osaka served the best chicken simmered soy-based noodles. You can add on with Berkshire char siu pork topping to satisfy your appetite. Tasty and flavorful ramen in Osaka.
We opted for Ichiran Ramen when looking for the best ramen in Osaka!
Desserts and Snacks
Aside from must-try local specialties, Osaka has a wide variety of delicious dishes including dessert. There are so many cafes, patisseries, coffee, and dessert shop scattered all over Osaka. After your delicious lunch or dinner, don't forget to stop by for one of the best desserts in Osaka to satisfy your sweet tooth.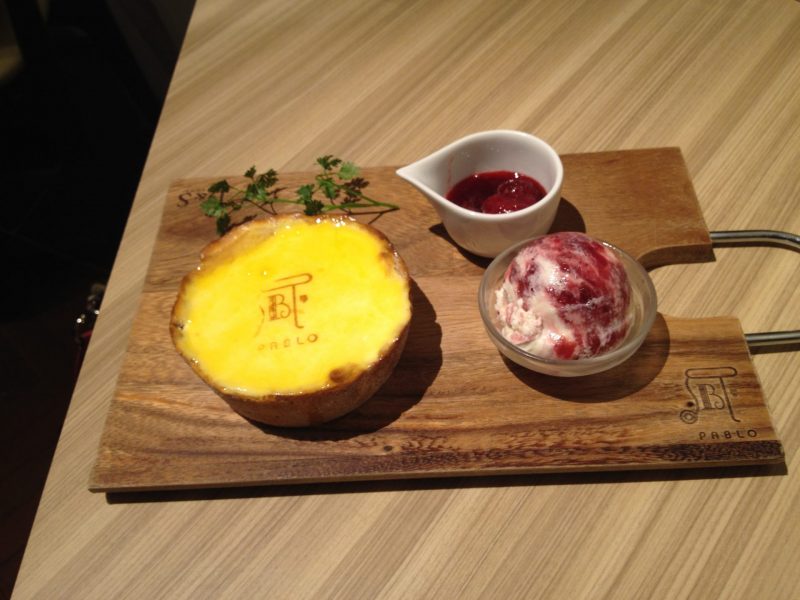 Popular Osaka Cafes
Here are the top three popular dessert shops you need to visit in Osaka!
My vote goes for PABLO for the best dessert in Osaka. PABLO is famous for its freshly baked cheese tart throughout Japan. There are many PABLO shops in Osaka. We recommended you try the PABLO Dotonbori with a seating area. The freshly bake Pablo cheesecake is just like melting in your mouth. Read my food review in PABLO Dotonori Osaka here.
Next, Herb is one of the popular Japanese chain cake shops. Origin from Nagoya, Harbs Osaka is located inside the 6th floor of Daimaru 6th floor in Osaka station. Their most famous and signature Mille Crepes are stuffed with fresh thick cream and freshest fruit in each layer. A perfect place for tea time in Osaka.
Last but not least, you may consider trying on the Meotozenzai. It is a Japanese sweet red bean soup made with premium red beans. They say that people who ate their red bean soup will be blessed with a good marriage. While one order will come with two bowls of red bean soup which represent husband and wife.
More Osaka Food Tips
What is Osaka's famous food?
In our opinion, Osaka is a widely popular travel destination and food paradise for many.
What is Must Eat food in Osaka?
Osaka is well-known for Takoyaki and okonomiyaki. These two food specialties are the must-eat food that you hardly can't miss in Osaka.
How much does food cost in Osaka?
The meal prices in Osaka can vary and the average meal price in Osaka normally costs about ¥2,000 to ¥4,000 per person. While expected the dinner price will be more experience than lunch.
Where To eat cheap in Osaka?
Ramen is one of the best cheap food in Osaka. A bowl of ramen usually costs around ¥800 to ¥1,100.
Overview: Best Food in Osaka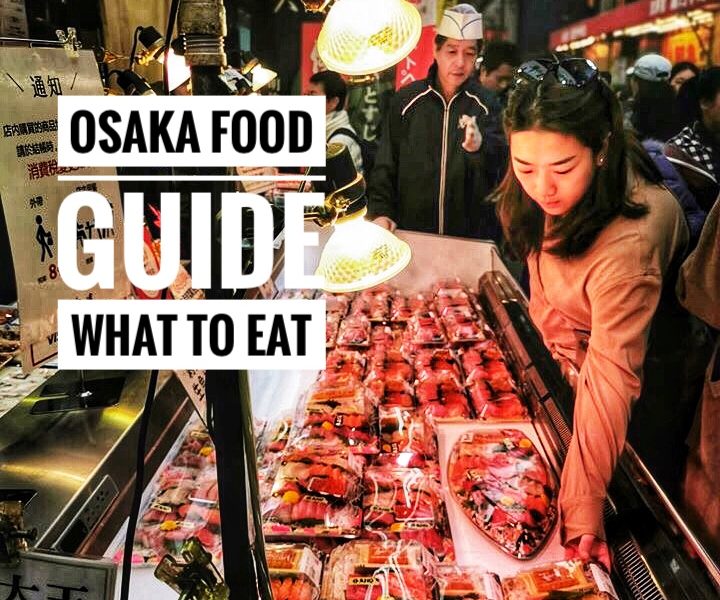 All in all, hopefully, my Osaka food guide will help in planning what to eat in Osaka. There are so many mouthwatering foods that you can't miss during your visit. Enjoy your Osaka food tour!
Lastly, this Osaka Food Guide is part of my Osaka travel blog. Read on my other travel post to Kyoto, Osaka, Nara, and Uji on my 7 days Kansai itinerary.
How to Plan Your 7 Days Kansai Japan itinerary
Osaka Itinerary: Things To Do With Osaka Amazing Pass
Kyoto itinerary: 15 Things To Do and Eat for 3 Days in Kyoto
Best Day trip from Kyoto or Osaka