Last updated on September 23rd, 2023
See how we plan and enjoy on 2 days 1 night stay Noboribetsu itinerary. A travel guide blog to onsen heaven packed with spectacular volcanic sights, abounding in nature and rich in culture.
Noboribetsu (登別) is Japan's most famous hot spring resort town and well known for its natural hot springs water. Thanks to Jigokudani, which also known as Hell Valley. A geothermal wonder volcanic valley situated just above the town. Most importantly, it is the main source of all year warm natural hot spring.
Noboribetsu is reputed as one of the best therapeutic hot spring waters in Japan. Their 7 types of hot spring water are boosted by a variety of different minerals such as sulfur, calcium, sodium and more. The natural hot spring water is very efficient for therapy treatment. It is good for blood circulation, healing skin problems, pain relieve and others. As a result, my eczema trouble me for the past 2 years has cure by the amazing hot spring water.
However, Noboribetsu is not only known for its natural onsen. That is to say, there are many more exciting things to do in Noboribetsu awaiting you to discover. Continue read on my Noboribetsu travel blog. I will introduce where to stay, what to do and eat in Noboribetsu.
How Many Days in Noboribetsu
Noboribetsu is a great place for onsen and relaxing. Staying one night in Noboribetsu is well-worth. This place is great whether you are planning for a natural onsen bath at ryokan or resort, or admire the geothermal wonders at a closer view. Day trip to Noboribetsu is doable. However, this onsen paradise is worthwhile for at least one night stay.
It's even ideal staying at Lake Toya and Noboribetsu one night each. These two places are nearby with only 40 minutes' distance by express train. Added, these two places have many attractive things to do and getting around.
My 2D1N Noboribetsu Itinerary
You may be wondering what to do in Noboribetsu other than enjoy for hot spring bath. My main reason for visiting Noboribetsu is mainly for our hot spring experience in Hokkaido. But we never expected Noboribetsu is so much lively and fun.
Firstly, we enjoyed our geothermal adventure to Jigokudani, aka Hell valley. Added, we further our hike to Oyunuma and Okunoyu Pond. These two crater land are created by volcano activities. Lastly, the hiking journey ended in nearby Oyunuma River Natural Footbath with natural hot spring water in the forest. Besides, we joined the Demon's fireworks in Hell Valley with fantastic fireworks and fiery sparks at night. This event is started from early June to the end of July.
Here is the overall of my Noboribetsu itinerary:
Getting to Noboribetsu from Lake Toya and check in to Noboribetsu hotel
Visit the Jigokudani Hell Valley (Must visit in Noboribetsu)
Get closer to geyser, called "Tessen Ike"
Short hike to Oyunuma Pond and Okunoyu Pond
Dipped your foot into Oyunuma Natural Footbath
Back to Noboribetsu onsen town. Quick visit to Sengen Park for geyser erupting
Enjoy the best therapeutic hot spring bath in Noboribetsu
Join the Demon's Fireworks (Oni-Hanabi) at night (Noboribetsu Summer Festival)
As above, there are so many things to do and see in Noboribetsu. My 2 days 1 night stay in Noboribetsu was full of fun and excitement.
Top 8 Things To Do in Noboribetsu
Most of the things to do in Noboribetsu revolve around the awesome volcanic Hell valley, Jigokudani. This natural geothermal wonders is a great start for Noboribetsu itinerary.
1. Jigokudani aka Hell Valley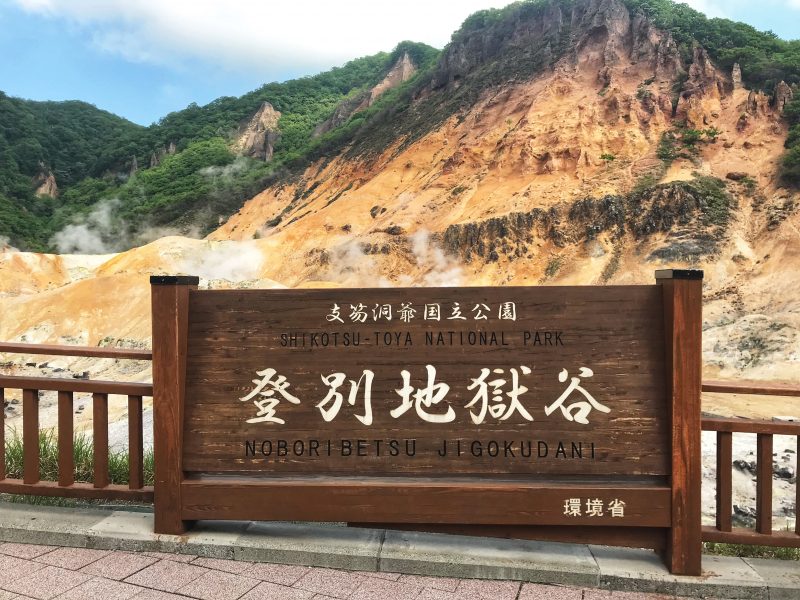 Jigokudani, also known as Hell Valley is the must-see for visitors to the Noboribetsu. It is an explosion crater of Mount Kuttara. The largest source of hot spring water to town, supplied by the valley with hot sulfurous streams all year long.
It is a great place to witness and experience the power of hot springs gushing out of volcanic craters!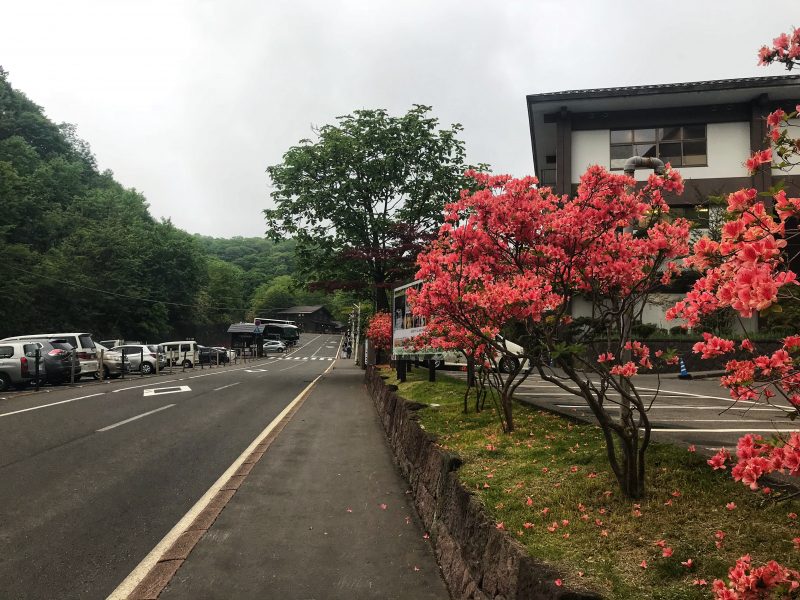 We departed from Lake Toya to Noboribetsu with express train. From Noboribetsu station, it required to take the 40 minutes bus to onsen town. After dropping our luggage at the hotel, it's time to head up to Jigokudani for volcanic experience.
Our hotel, Dai-ichi Takimotokan is located at the end of Gokuraku Dori Shopping Street. Turn left and proceed our walk to Jigokudani.
Firstly, a large sign with red and blue demons welcome you at Onibokora. It is also a popular photo spot in Noboribetsu! Continue your walk with a slightly uphill walking path to the entrance.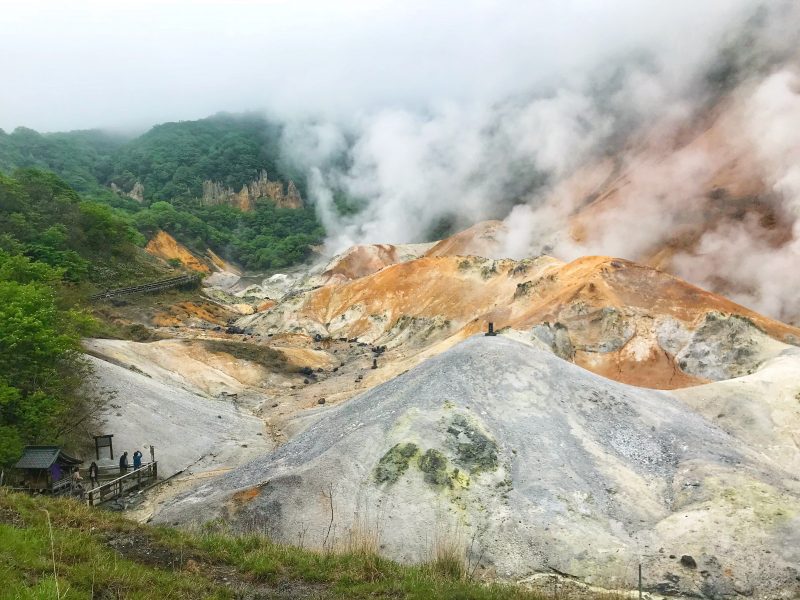 Once there, the strong sulfur smell permeating the entire valley. There is a large viewing platform for spectacular volcanic sights.
Enjoy the breathtaking view of the volcanic valley landscape of yellow and orange volcanic rock. The hot steam is kept rising from the crater. It was impressed to visible signs of volcanic activity bubbling just below the surface right in front.
Added, Noboribetsu Visitor Center and restroom are located at the entrance. You can have the souvenirs, sightseeing brochures and tourist information at the center. Snow boots also can be rented here if you coming during winter.
2. Geyser in Jigokudani, Tessen Ike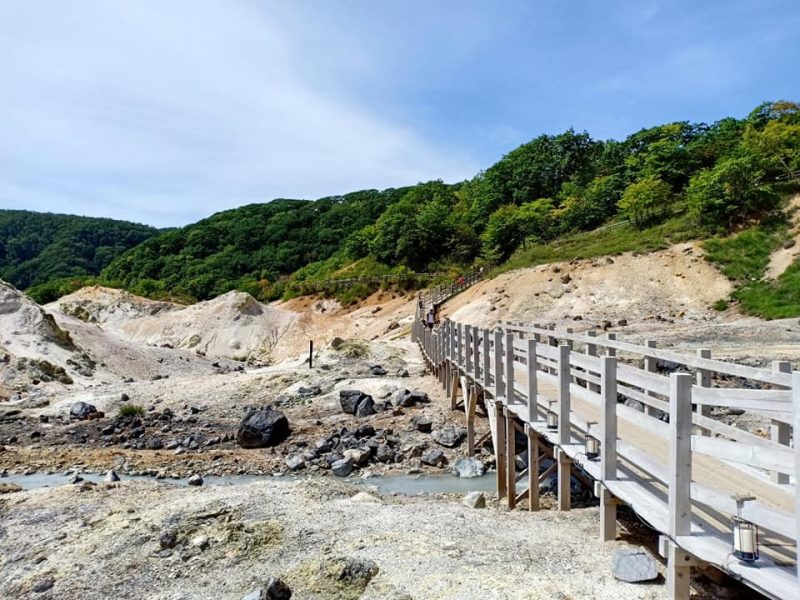 You can get closer to the center of Jigokudani to the geyser, called "Tessen Ike". Just follow the wooden walkway to Tessen Ike with about 10 minutes walk.
The sulfur-smelling steam rising from all around makes this place seem like hell. It can be rather warm during mid-afternoon with hot sulfurous steam surrounded.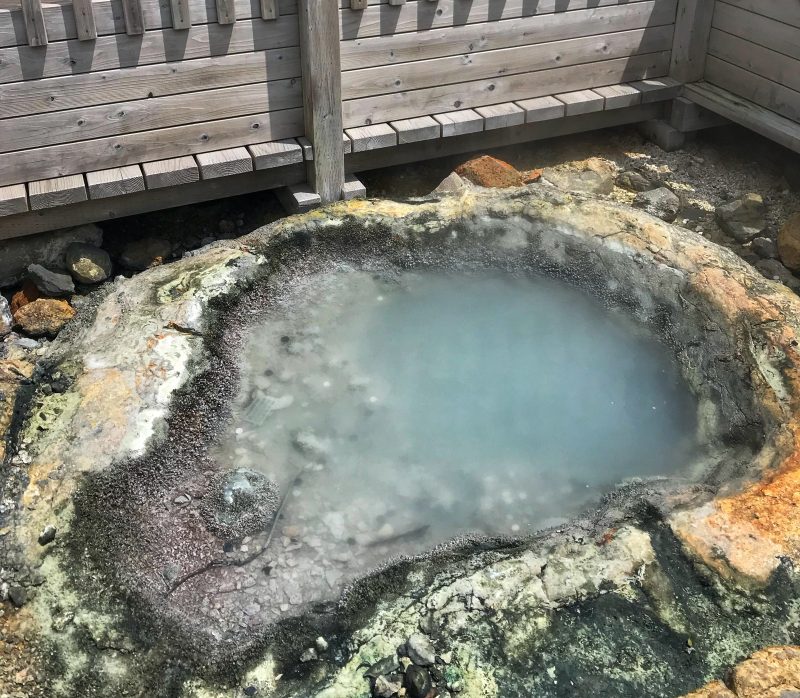 The Tessen Ike is located at the end of the walkway. Hot boiling water bubbles up from time to time at irregular intervals.
It is one of the hot spots. Many people were surrounded at the observation rail to watch for this scene.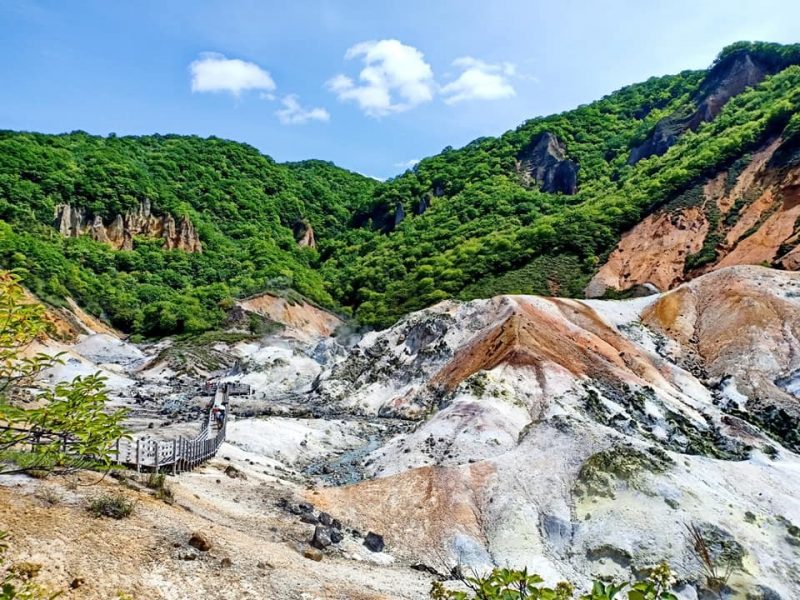 The actual hike through Jigokudani doesn't take long with one to two hours. But, it one of the must-visit when planning out what to do in Noboribetsu.
A great opportunity to get so close with the geothermal wonder in Noboribetsu!
3. Oyunuma And Okunoyu
Continue the thermal geography journey to Oyunuma Pond and Okunoyu Pond. Both ponds are part of the Noboribetsu's best scenery, created by the eruptions of the Kuttara volcano activities.
From the visitor center, we took another 30 minutes hike to the lakes. It is a relaxing stroll into the hill and forest, along with well-marked trail. Enjoy the forest bathing along the way.
Added, you can have a view on Oyunuma from above when you're walking along the trail.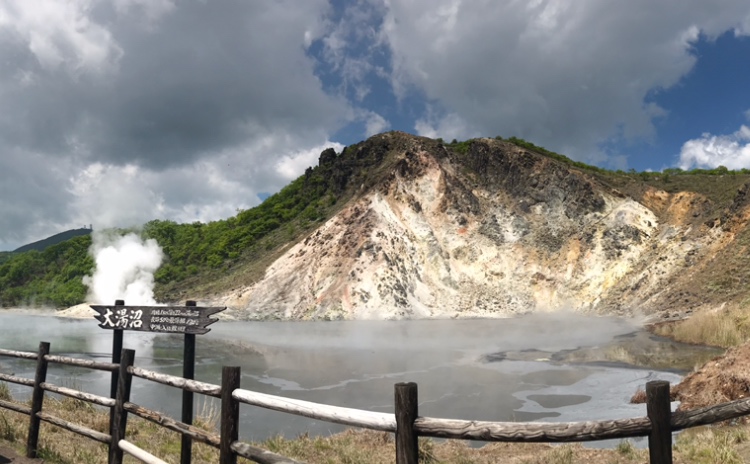 Oyunuma and Okunoyu are located next to each other. The hot springs water from Mt. Hiyori cratered well into these two ponds. Both are sulfurous crater pond, created by a volcanic eruption and still active today.
Oyunuma is a place where you can feel the power of the earth. The hot spring water keeps bubbles up and the surface temperatures can go up to 50 degrees celsius.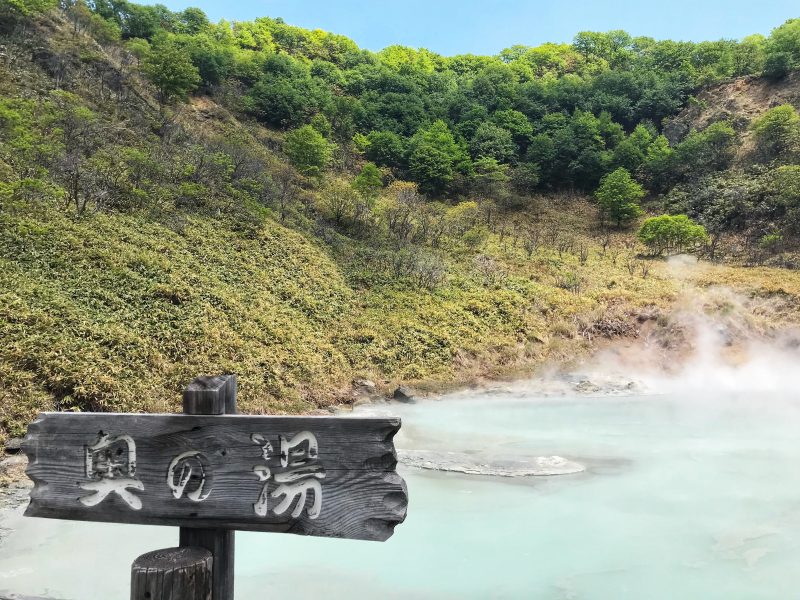 Likewise, the greyish-blue waters in Okunoyu create a scene to behold. You'll feel the heat by just stand on the observation deck.
A great experience to get closer to the volcanic lake. The 30 minutes hike to Oyunuma and Okunoyu is well-worth.
4. Oyunuma Natural Footbath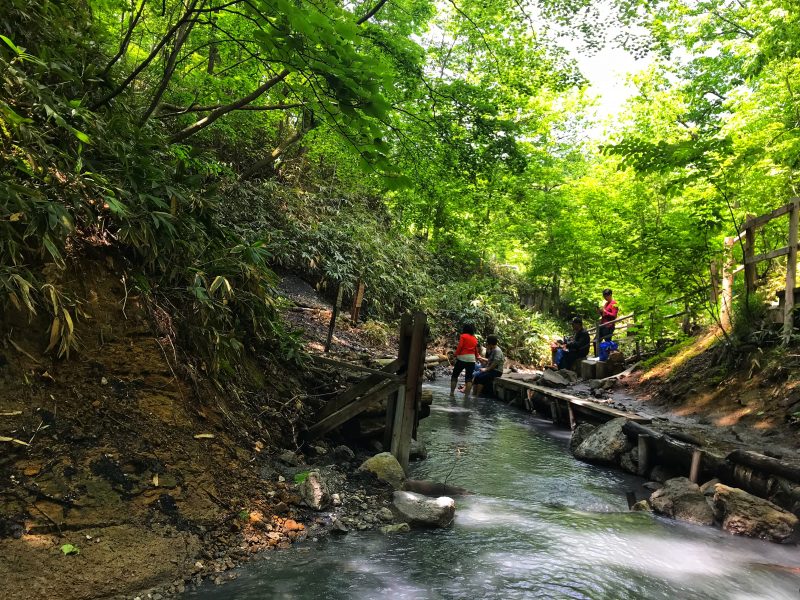 The hot water from Oyunuma flows into the Oyunuma River (Oyunumagawa). Follow the river through the woods, you will get into the natural foot bath at Oyunuma Natural Footbath.
A special treat for your feet after the little hike. Dip your feet into the free-flowing natural spring waters and soft black sand. This natural outdoor footbath is one of the unique experiences in the misty forest.
Soft reminder, please bring your towel to dry your feet after gangling your feet.
Soft reminder, please bring your own towel to dry your feet after gangling your feet.
5. Sengen Park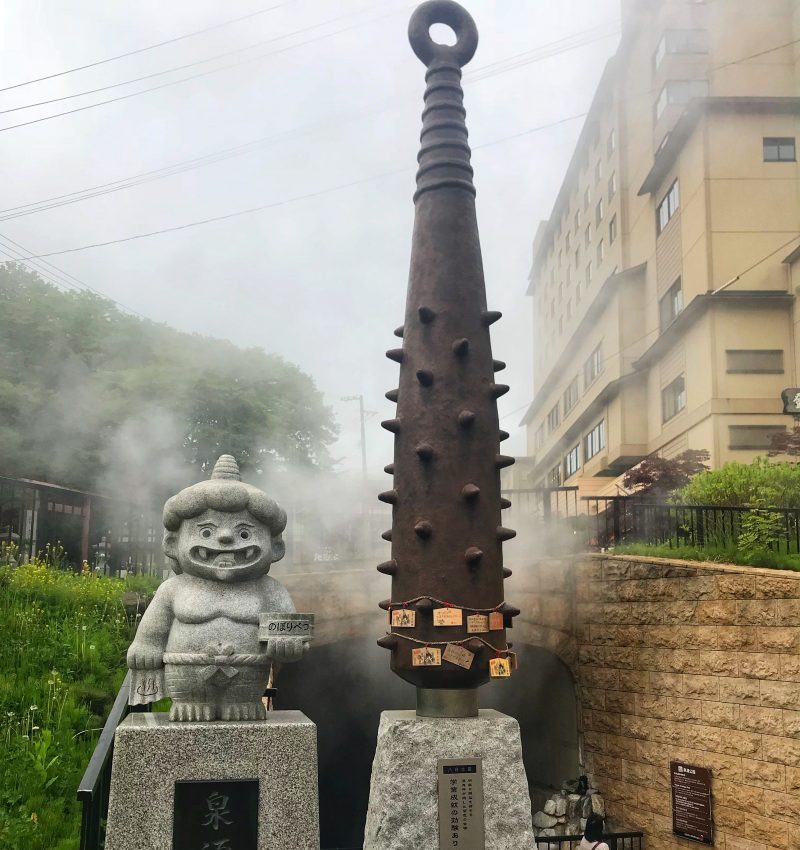 We dropped by Sengen Park while on the way back to our hotel, Dai-ichi Takimotokan. Sengen Park is a little cemented park right in front of the hotel. Meet the Demon statues and geyser hidden below the road.
The geyser keeps erupting periodically every three hours and spouting the water out from the cave. We were lucky as it is the timing for eruption when we passed by. Strong cloud of steam from the geyser with rumbling sound.
Overall, a good few minutes stop to catch the geyser.
6. Natural Hot Spring Baths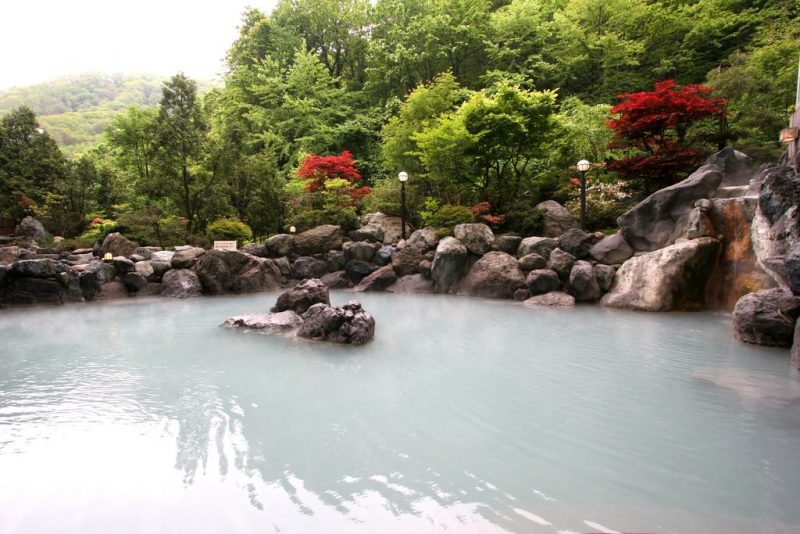 The best Noboribetsu itinerary is incomplete without experiencing a traditional Japanese hot spring bath. Almost all the accommodation such as resorts, hotels, ryokan come with their indoor or outdoor onsen. Hot spring bath is the main reason for visiting to Noboribetsu.
We ended our hike and back to Dai-ichi Takimotokan for the onsen bath before our dinner. Visitors with day trip to Noboribetsu without staying one night also can have the hot springs bath experience. You will only need to pay for the admission fee, ranging from ¥400-¥2,000 for onsen access.
Here are a few recommendation for day use onsen in Noboribetsu without stay:
Dai-ichi Takimotokan: One of the Noboribetsu and even Japan's best onsen bath. It is the closest ryokan to Jigokudani in the onsen town. Famous with featuring all the seven types of hot springs in Noboribetsu. Admission is ¥2,000 for non-guests.
Kashoutei Hanaya: Known for using 100% pure hot springs water and popular by onsen enthusiasts. A great choice if you love the traditional, quiet and calm atmosphere of onsen bath. Pay for an entrance fee of ¥700 to enjoy the bath facility.
7. Meet The Demon (Oni)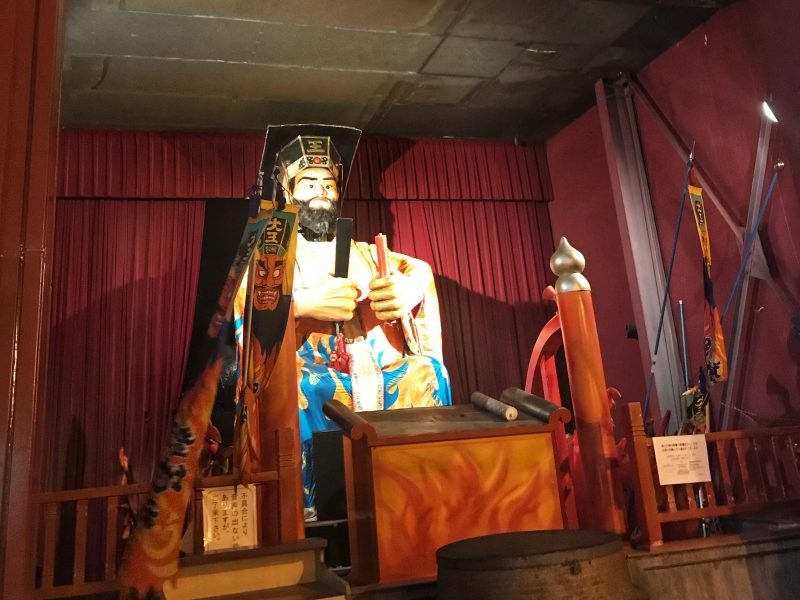 Noboribetsu is rumored to be inhabited by demons, so-called Oni in Japanese. It is one of the symbols of Noboribetsu. So it's no surprise to see the demon statues in this onsen town. There are many demon statues along the main street. Each represents to pray for love, health and happiness, good luck and prosperity, and even wish come true. Check them out when you are getting around in Noboribetsu.
There is a shrine for Enma, King of Hell if you are walking along the street. During the showtime, there will be some little performance with face expression change by Enma. It is interesting to watch if you dropped by during the performance time.
Enma Performance Times: 10:00. 13:00, 15:00, 17:00, 20:00, 21:00
8. Demon's Fireworks (Oni-Hanabi)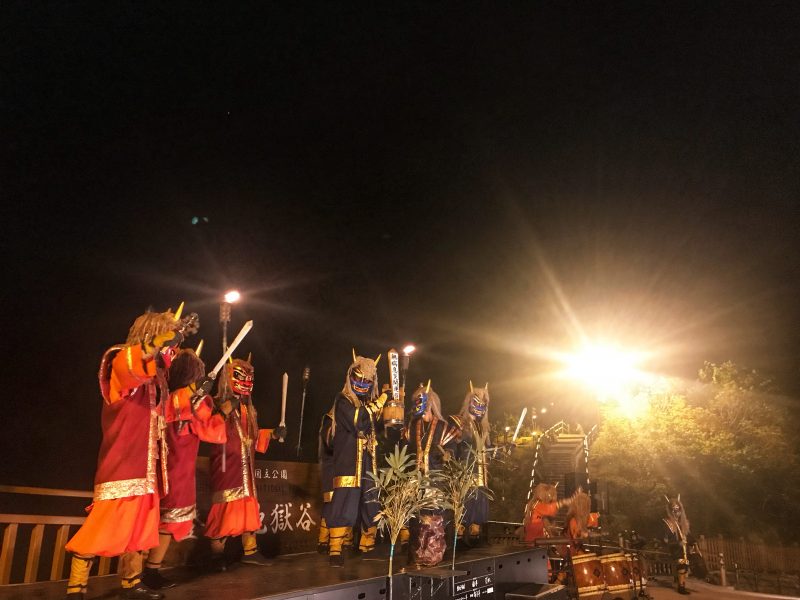 If you're visiting Noboribetsu in summer, don't miss the chance to join the firework festival together with demons. Demon's Fireworks, known as the Oni-Hanabi in Japanese is one of the unique festivals in Noboribetsu.
This annual event is held on Thursday and Friday during summer, from June to August.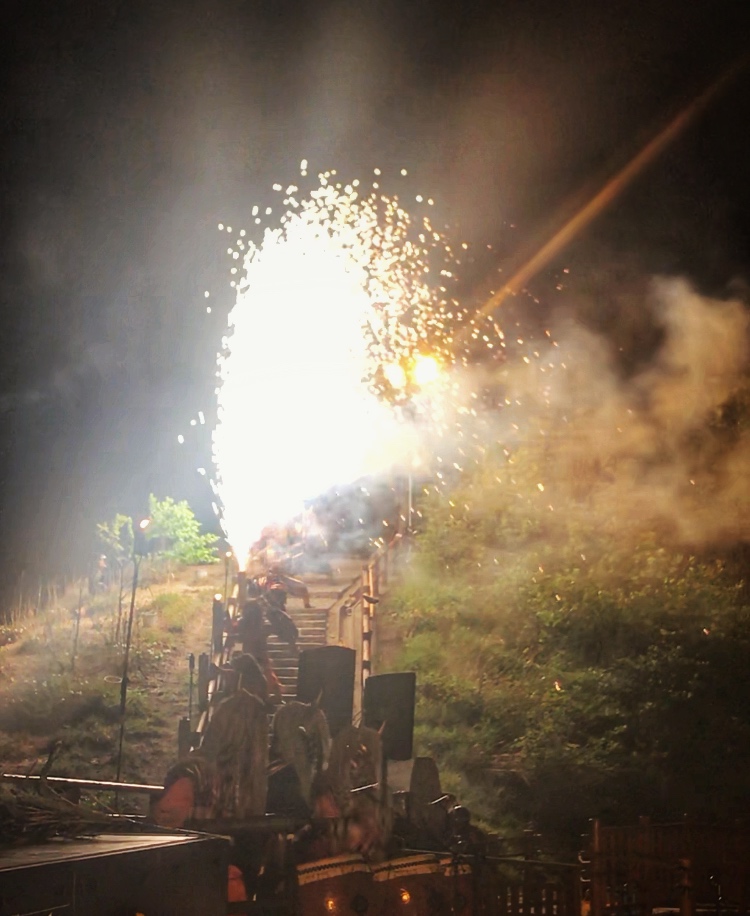 We were lucky to witness the dazzling and daring firework performance during our visit to Noboribetsu.
The "yukijin", masked demons with handheld fireworks were shooting up fiery sparks into the dark sky. Ritualistically beat drums, dance performance and fireworks display by yukijins. It is a memorable night in Noboribetsu for my trip to Hokkaido.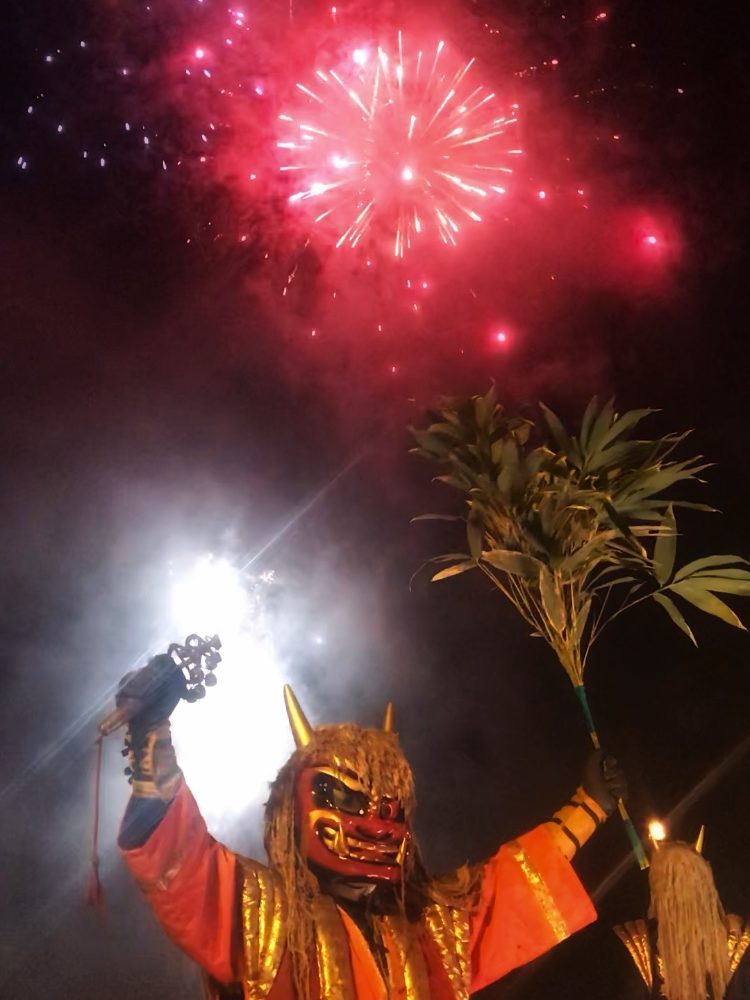 Noboribetsu Demon's Fireworks, Oni-Hanabi
When: Every Thursday and Friday, from June to August
Time: Start from 8:30 pm (around 45 minutes)
Venue: Hell Valley's observation platform
Where To Stay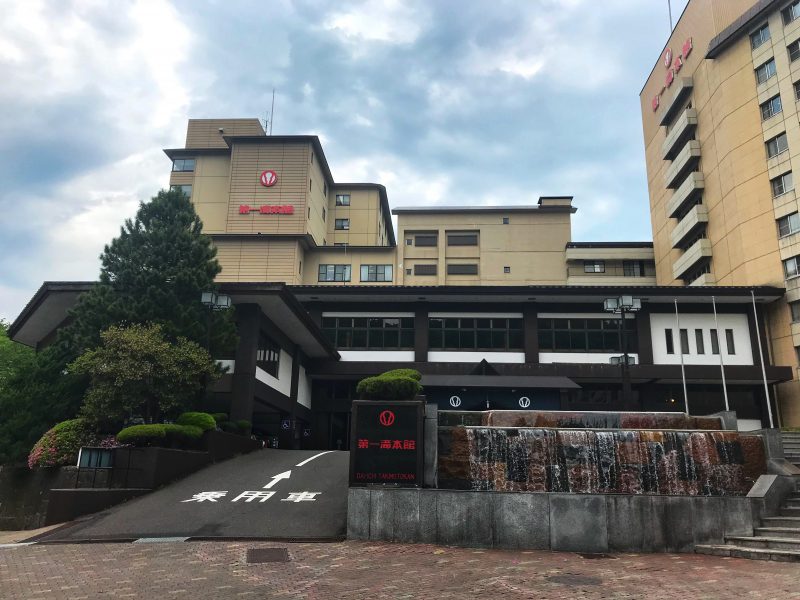 With nearly twenty accommodations to choose from, it is pleasure to stay one night in Noboribetsu with onsen bath. Choosing where to stay in Noboribetsu for a relaxing bath is well worth for consideration. You'll fall in when you are soaking into the natural hot spring water to wash away your stress.
For instance, here are the few recommended accommodation in Noboribetsu for your consideration:
Dai-ichi Takimotokan: You'll simply love everything about this family-friendly 4-star resort, one of the best onsen in all of Japan. There has 3 outdoor and 12 indoor baths for man. While women has 4 outdoor and 8 indoor bath. I enjoyed my onsen time during my stay in Dai-ichi Takimotokan. The views from to Jigokudani from the hot spring tubs are stunning.
Takimoto Inn: For a budget traveler, Takimoto Inn is one of the great value for economy stay. This western-style accommodation offering per person prices for one, two, to three people at a very reasonable price. It not only offering in house onsen bath, as well as 24 hours access to its sister hotel, Dai-ichi Takimotokan just over the road.
Hotel Mahoroba: Another popular pick for traveler, boasts by over 30 on-site public indoor and outdoor hot spring baths and spas. Impressive buffet dinner menu with kings crab, sashimi and seafood.
Noboribetsu Manseikaku: 3-star economy accommodation stay in Noboribetsu. Stay in Japanese style tatami with futon or Western-style room. Location is superb with a few minute's walk from the bus station. Great indoor and outdoor onsen for your hot spring experience.
Read on my memorable one night stay in Daiichi Takimotokan. The best onsen hotel in Noboribetsu with huge onsen facilities for Japanese hot spring bath experience.
Related post: Best Onsen Hotel in Noboribetsu: Daiichi Takimotokan Review
What To Eat In Noboribetsu
Most of the accommodation provides breakfast and dinner options for hotel guests. However, if you are looking for a food option for your meal, check out our top pick food when planning on Noboribetsu itinerary.
Fukuan Soba is the number one popular eatery restaurant in Noboribetsu. It is specialized in handmade soba noodles from Hokkaido buckwheat flour.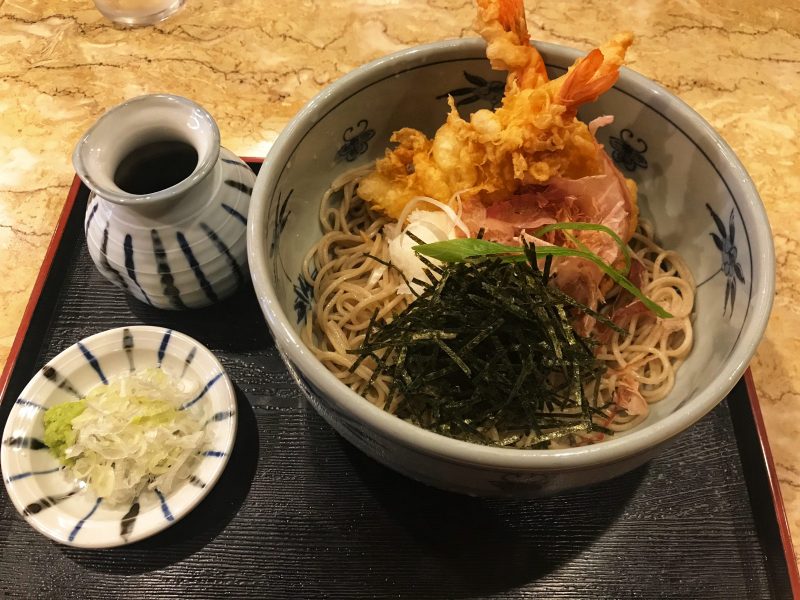 Soba can be served either in cold or warm. Table and bar seating in front of the chef are great options to see the soba making performance. Their tempura is so crispy and tasty. My top choice for the best restaurant in Noboribetsu.
Getting to Fukuan Soba Restaurant: Located at the Gokuraku Dori Shopping Street. Short walk with 5 minutes from the bus station.
How To Get There
Noboribetsu is easily accessed by car or public transport such as trains and buses. Getting to Noboribetsu from New Chitose Airport, Sapporo, Lake Toya or Hakodate is pretty simple. Choose the best transportation to get there which best suits your Noboribetsu itinerary.
Getting to Noboribetsu by Train
From Sapporo: Limited express train is the quickest way to get to Noboribetsu from Sapporo. This approximate one hour journey costs about ¥4,780. To save on some money, local trains which twice of traveling time with approximately 2 hours will cost you about ¥2,950.
From Hakodate: The 2 hours 30 minutes express train journey at ¥7,460 will get you to Noboribetsu.
From Lake Toya: One-way trip will cost about ¥1,390 for express train with only 30-40 minutes. While the local train is ¥540 for 60 minutes of train journey.
From Noboribetsu Station to onsen town, take the 15 minutes bus ride (¥340) to get to the onsen town center. Donan Bus connected these two places and operate once or twice per hour.
Noboribetsu Transportation Tips:
All the train journey getting to Noboribetsu from Sapporo, Hakodate or Lake Toya are cover by
Japan Rail Pass
and
JR Hokkaido Pass
. However, both pass did not cover the bus ride.
Getting To Noboribetsu by Bus
From New Chitose Airport to Noboribetsu: Express bus run between Noboribetsu New Chitose Airport (40 minutes) or Sapporo (90 minutes). Three times per day from Donan bus at ¥1,400. (Donan Bus schedule from Airport).
From Sapporo Station to Noboribetsu: Chuo bus (中央) and Dounan bus (道南) are offering bus ride at ¥1900 (one-way). Alternatively, most of the Noboribetsu accommodation offers a direct shuttle bus from Sapporo Station to hotels. Normally, the bus ride is free or required minor charges. My return journey from Noboribetsu to Sapporo was using this great money-saving option. Reservation required, please check with the hotel respectively.
All in all, we really enjoy our 2 days in Noboribetsu. Below is the location map for places to visit and things to do in Noboribetsu. The Noboribetsu Date Jidaimura is another worth recommendation if you want to experience the Japan's Edo period with Samurai and Ninja show. We didn't included this due to the schedule. You can considered to include in your Noboribetsu itinerary.
Lastly, the Noboribetsu travel blog is part of our Hokkaido trip in end up May. Hopefully, this travel guide can give you some ideas on what to do in Noboribetsu. If you are interested, please check out our remaining travel post here:
How To Plan Your Hokkaido Trip On Budget: Travel Guide, Itinerary & Money Saving Tips!
For more detail for best place to visit in Hokkaido travelogue