Last updated on December 11th, 2023
Looking for what to do in Jeju? Here are the best things to do and places to go to Jeju Island. Dedicated some best for nature lovers, family with kids, and elderly with places to visit at different seasons.
Jeju Island is one of my favorite places in South Korea. It is rich in natural wonder, historical and cultural attraction. I have spent an amazing self-driving road trip in Jeju with my friend. There are many things to see and do on this tiny island. But your Jeju itinerary can be different depending on your interest.
We have the best pick some best things to do in Jeju Island and wanted to share our Jeju travel guide. There are Jeju attractions are best to visit by family, hiker, or nature lover. Feel free to include those Jeju best sights to keep your version of the best Jeju itinerary.
I hope this list of places of attractions in Jeju has helped you with your trip planning. If you would like to check out my self-driving in Jeju, this travel post will show you a 6-day Jeju self driving itinerary of my places to visit and foods to eat in Jeju.
To ease your Jeju itinerary planning, we've outlined the things to do in Jeju into different areas. Added, best places to visit by family or hiker. Each area has it's own charming and must-see attractions. Read through and pick the attraction as a starting point to plan your own Jeju trip.
Here are the best things to do in Jeju by area:
How Many Days For Jeju Island
Most people visit Jeju Island as part of the Seoul Korea trip. Depending on how long you have for Jeju Island. We recommended allowing 3 or 4 nights in Jeju for a great start to know about the island. But for people who prefer slow travel, Jeju Island can easily plan up to 6 to 7 days for a relaxing trip. It is best to visit Jeju for couples, friends and family trip in Jeju.
Where To Stay in Jeju Island
The beautiful Jeju Island features a wide variety of accommodations from a luxurious sea-view hotel, budget hostel to a local pension stay. The majority of the hotels are located in Jeju City and Seogwipo. Most of the attractions can be easily accessed within 1 to 2 hours.
Astar Hotel: centrally located with public transport accessible. It is a perfect stay in the downtown area with lots of restaurants and facilities within walking distance. Check prices now
The Shilla Hotel: is located nearby Jungmun beach with a comfort room, infinite pools, sauna with an incredible view. It is the best area for a relaxing gateway in Jeju. Check prices now
Jeju Solarseado Pension is a lovely guest house stay run by a friendly and helpful lady owner. Located nearby Seongwipo city, this pension features with amazing sea view and beautiful sunrise. Check prices now
Jeju Travel Tips:
When looking for the best price and biggest selection of hotels in Jeju, check prices for
Jeju Best Hotel from Booking.com
. We found they are the best option and have a great cancelation policy.
Best Way To visit Jeju Island
Jeju can be explored by public transport with intercity buses connected all around the island. However, it is often time-consuming with some attractions that are not reachable by public transport. Renting a car in Jeju is the best way to visit the island at your own pace.
Driving in Jeju is relatively easy and flexible. During my Jeju self-driving trip, we rented our best car rental through RentalCars.com. It has all the best selections of cars in Jeju with price comparison. Our rental car is rented from AJ Rent-A-Car which is a budget Avis in Jeju. It is the cheapest price based on the similar car range that we've found.
But, make sure to reserve your car rental one month in advance to ensure the availability of your ideal car.
Jeju Day Tour
If you are visiting Jeju for a short visit and lazy to plan on your Jeju itinerary. We recommended you take the day tour without worry on too much. The tour is running by an experienced tour guide and you can choose the day tour for East, West or South Coast. Either one is a good option to plan on things to do in Jeju.
Jeju Travel Guide
Here are some of the recommended top things to do in Jeju Island. We help to split it into Jeju city at North, Seogwipo city at South, West coast and east coast of Jeju Island. Hope this Jeju travel guide can give you some brief idea on best things to do in Jeju island.
What is the Top Things To Do in Jeju City?
We recommended visiting the Yongduam Rock, mysterious road, Dongmum market, food hunting and also watch some variety shows in Jeju city.
What is the Top Things To Do in Seogwipo?
We recommended visiting the three famous waterfalls such as Jeongbang Fall, Cheonjeyeon Fall, Cheonjiyeon Fall, Daepo Jusangjeolli, and Oedolgae Rock, and some unique museums.
What is the Top Things To Do in West Coast Jeju?
We recommended visiting Hallim Park, O'Sulloc Tea Museum and Innisfree's Jeju House, Sanbangsan, and Yongmeori coast.
What is the Top Things To Do in East Coast Jeju?
We recommended visiting Seongsan Ilchulbong, Udo Island, Manjanggul Lava Cave, and Seopjikoji coast walk.
Things To Do in Jeju City
Connected with Jeju airport, the city area is the busiest city on Jeju Island. It is the most convenient location to stay on for those visiting Jeju using public transport. Many famous restaurants are located in Jeju city. There are even black port streets, sashimi street, Guksu Geori (Noodle Street) to try on that delicious food in Jeju.
Things to do in Jeju City:
Yongduam Rock, volcano rock formation.
Mysterious Road
Dongmun Market, a traditional local market.
Yongduam Rock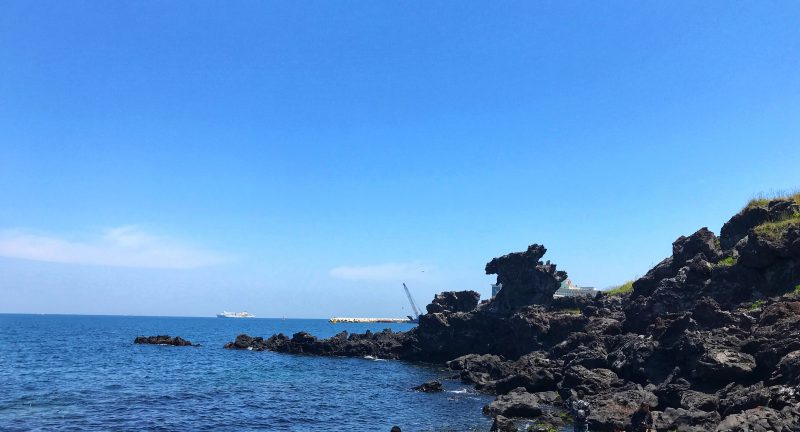 Situated nearby the downtown and airport, Yongduam Rock is a popular sightseeing scene to see volcano rock formation. It is easily accessed by public transport with car park to cater to the visitors.
The shape looks like a dragon's head, created by strong winds and waves over thousands of years.
Enjoy the good views of the coast from the viewing deck. There are Haenyeos, women sea-divers are selling their fresh-caught if you getting down to the coast. It is best to visit during sunset time. At night, there will be lighting to bring out the features of the dragon head.
Mysterious Road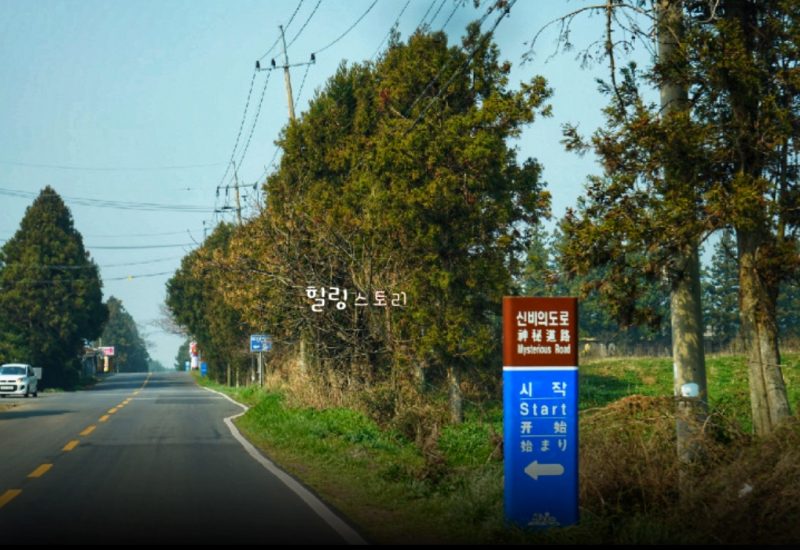 As the name suggests, part of the Mysterious Road/Dokkaebi Road is "mysterious". It is caused by optical illusion that made you feel looks uphill while running downhill.
Just turned off your car engine and let gravity do its work. Interesting place if you've never seen one before. A great pit stop if you are passing nearby.
Dongmun Market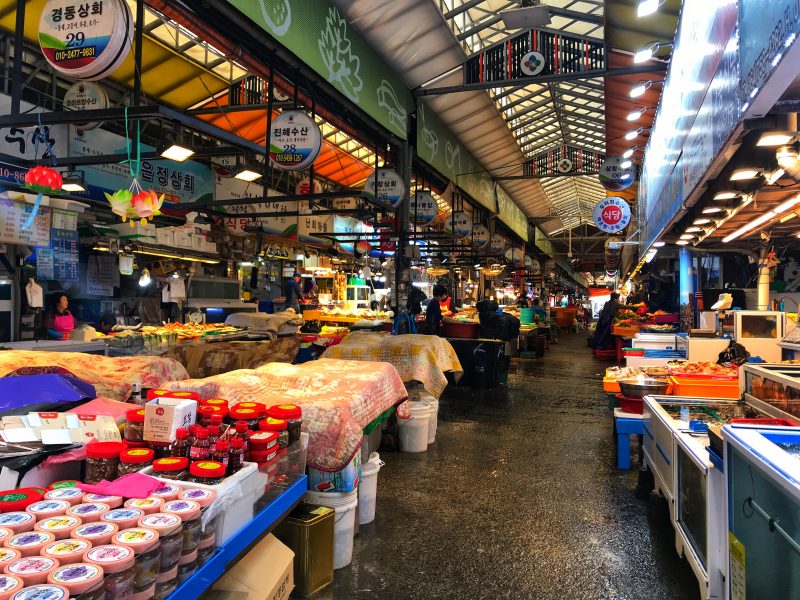 A traditional market where you can shop for local produce, souvenir and sample some snacks and food here. Dongmun Market is well organized and divided into rows for fruits, meat, seafood, and some other stuff.
At night, stalls are selling some local Korean street food such as fried chicken, rice cake, and snack food. The best place to experience the local vibe.
Jeju Travel Tips:
There are variety of unique shows available in Jeju city. Take a look below if you are interested.
Jeju Nanta Show: The Korea's longest running kitchen-based show performance – BEST Seller!
The Painters Show: The World's First and Only! The Best-selling Show for Audiences for the three consecutive years.
Things To Do in Seogwipo, South Coast
The South of the island is the ideal place to visiting the top attraction in Jeju. Seogwipo is the second-largest city on the island. It is full of Jeju's most incredible sights. Pick the best things to do in Jeju into your itinerary.
Things To Do in Seogwipo:
Three famous waterfalls such as Jeongbang Fall, Cheonjeyeon Fall, Cheonjiyeon Fall
Volcano rock formation in Daepo Jusangjeolli and Oedolgae Rock.
Teddy Bear Museum and Alive Museum are best to visit with family and kids.
For a unique experience, plan for the visit to Seogwipo Submarine to marvel at the underwater world.
Tour Recommended: Join a fun-filled adventure in Southern Jeju Adventure Day Tour
Jeongbang Falls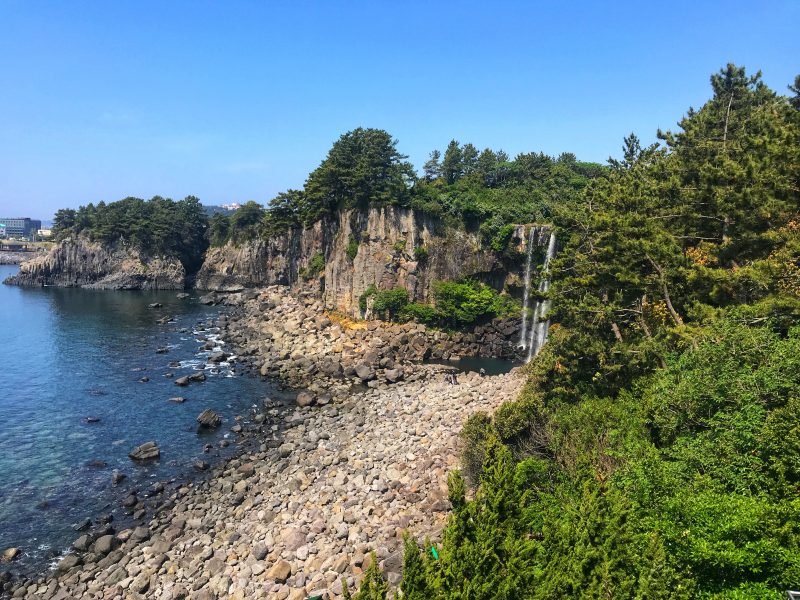 Situated at a high cliff by the sea, Jeongbang Falls is the only waterfall in Asia to fall directly into the ocean. It is one of the most visited famous waterfalls in Jeju Island.
There are flights of stairs to get to the Jeongbang Falls. You can get even closer to this grand waterfall by venture in with some loose rocks. But please be extra careful as it can be dangerous. There is another Sojeongbang Waterfall located at east of Jeongbang Falls if you want to spend more time on the waterfall.
Cheonjeyeon Falls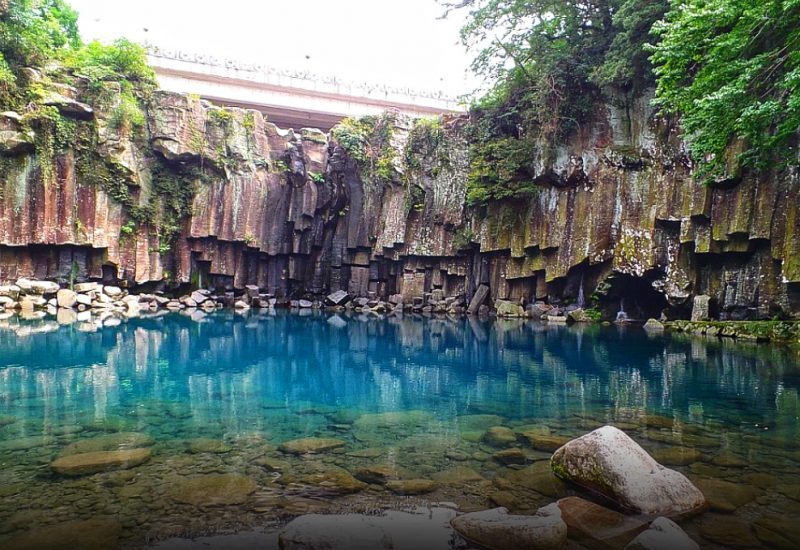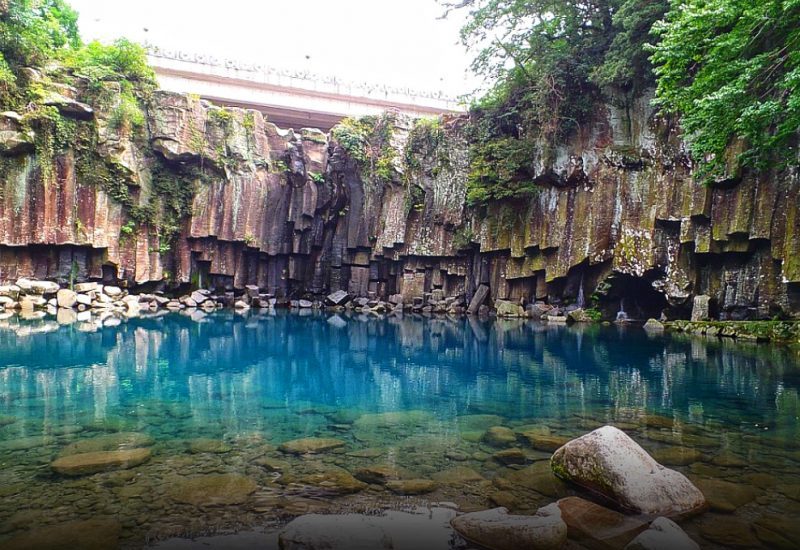 While Cheonjeyeon Waterfall is known as "The pond of Emperor of Heaven" with the legend behind on how seven fairies took care of the king by playing in the pond every night.
Being one of the three famous waterfalls in Seogwipo, Cheonjeyeon Waterfall is a three-tier waterfall and the largest one among the three falls. You will need to have a walk for some long trail to see all the three tiers. It is surrounded by rare species of subtropical flora which value for scientific research.
There is a famous arch bridge called the "Seonimgyo Bridge" which means the seven nymphs bridge. It connects Cheonjeyeon Falls with the Jungmum Tourist Complex. This bridge provides visitors a spectacular view of all three falls.
Cheonjiyeon Falls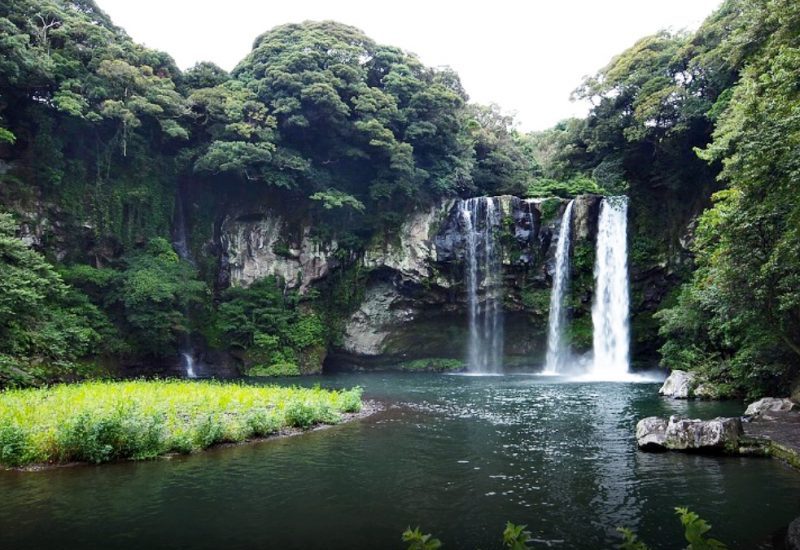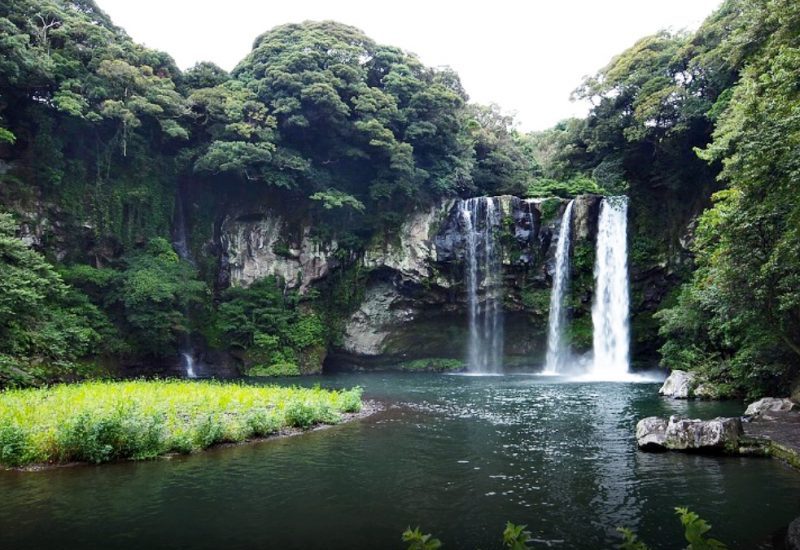 Not to mistake by Cheonjeyeon Falls, the Cheonjiyeon Falls is a peaceful stop to see the gushing waterfall. Known as Pond of God which derives from the legend that seven fairies serving the King of Heaven came down to the pond and bathed in the waters. It is a beautiful waterfall with light illumination up at nigh.
You can also take a glimpse of tropical nature by taking a relaxing stroll at the 1-kilometer walking path.
Daepo Jusangjeolli Cliff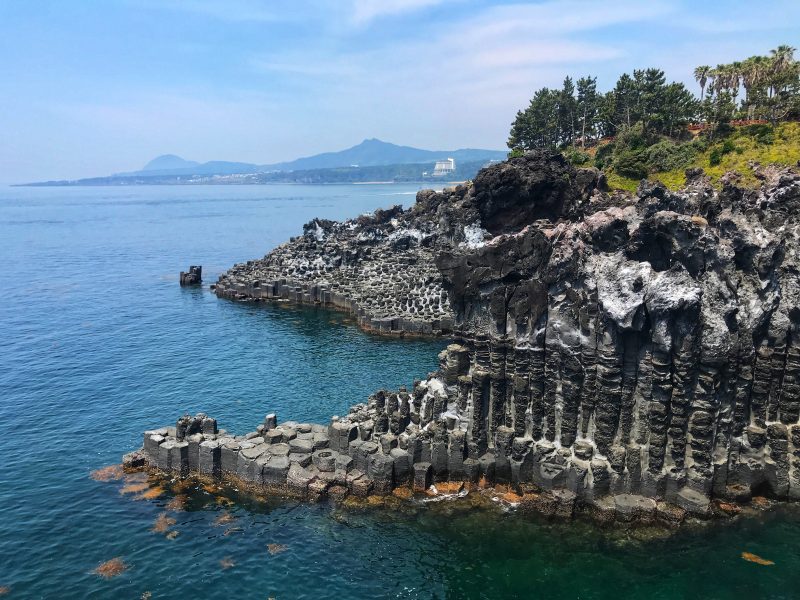 The eruption of Mt Hallasan formed up this one of the best sights in South Jeju. This spectacular Daepo Jusangjeolli is a cliff formation when the lava erupted into the Jungmun sea.
You can walk to the viewing platform to see the beautiful cliff. There are various shapes such as pillar, hexagons and cubes rock with blue water keep crashing on the rock. A great scenery for pictures and relaxing stroll.
Oedolgae Rock
Known also as Changgun Rock, Oedolgae Rock is a quirky rock formation rises above the sea. This towering natural wonder is surrounded by cliff and best to visit during sunset. A short walk will lead you to the view the Oedolgae Rock from different angles.
It is worth a brief stopover or plan for a lovely walk along the coast. It is part of the Olle Trail No.7 in Seogwipo, the popular walking trail at Jeju Island. So if you are coming for trekking, be prepare for 2 hours for it.
Besides, the beauty of Oedolgae Rock has been filmed under the famous Korean drama "Jewel in the Palace". So Korea drama fans must be happy to see it.
Teddy Bear Museum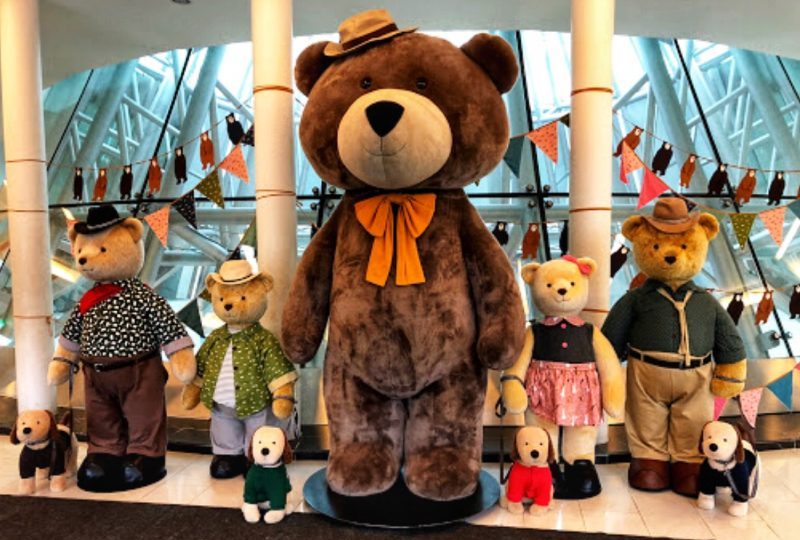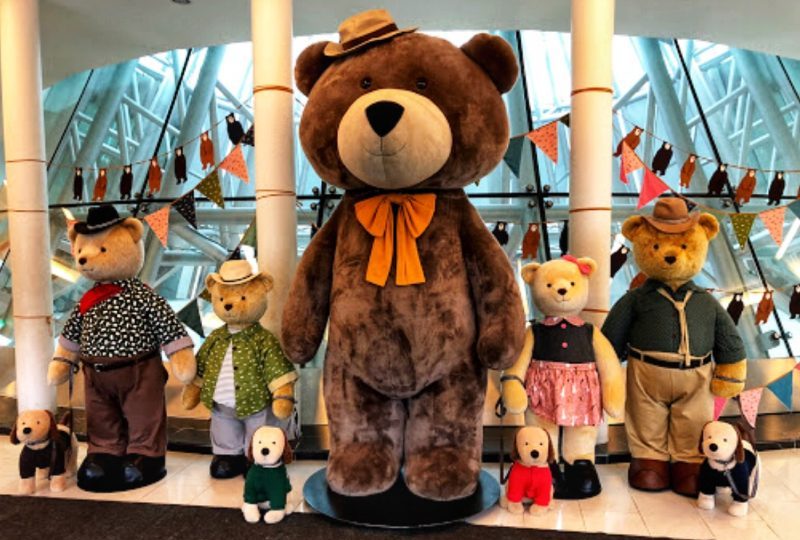 For sure Teddy bear lover go crazy here. The Teddy Bear Museum is a dedicated place with hundreds of teddy bears from all over the world. It truly is a fun time to find such many teddy bears throughout the museum. Some of the teddy bears are designed and created by hand.
You can walk through the history of teddy bears in Main Hall, spot the smallest teddy in the world or meet the Mona Lisa Bear in the museum. It is a great place for families with kids and anyone who loves furry bears.
Click here to purchase tickets to Teddy Bear Museum.
Seogwipo Submarine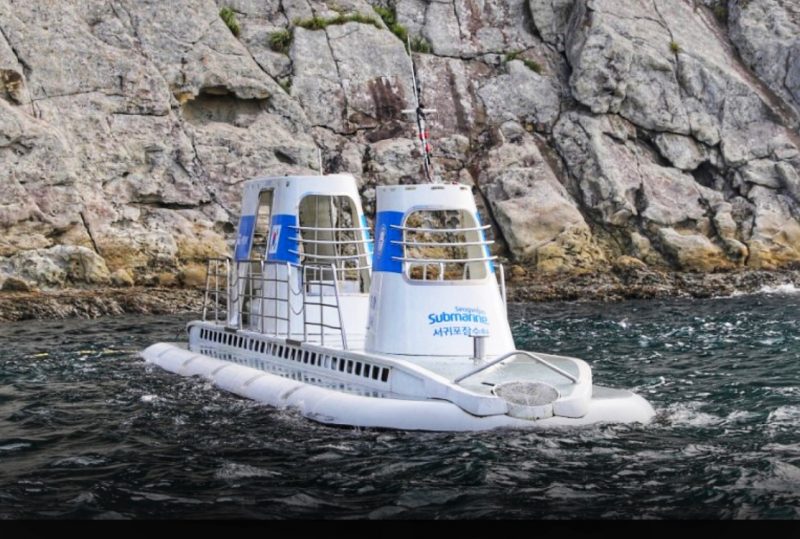 A new experience in life to discover Jeju's underwater world by submarine. The Seogwipo Submarine will bring you down to depths of 40 meters to see the undersea world without getting wet. It is a great place to marvel the marine life and surrounded by colorful sea life.
Book your tickets online for a discounted price.
Wind 1947 Go Cart Riding
If you're tired for all the natural scenery, consider for riding the Go Cart in Jeju. The pleasure of stepping on the accelerator while listening to the motor sound is so much fun! The thrill of riding the cart while looking at Hallasan Mountain make this a pleasure driving experience. It's super fun!
You can get the discount price for Wind 1947 Go Cart from Klook at cheaper price. It was nice to be able to make reservations faster and cheaper than other places
Jeju Travel Tips:
There are variety of unique shows available in Seogwipo. Take a look below if you are interested.
Hello Kitty Land: Heaven for Hello Kitty fans, adults, kids and who always have a little princess by heart.
Teddy Bear Museum: Dedicated place with hundreds of teddy bears from all over the world.
Seogwipo Submarine: Discover Jeju's underwater world by submarine.
Things To Do in West Coast
Explore the Jeju West Coast for its beautiful coast, towering mountain, and taste on the top-notch quality green tea.
Things to do in Jeju West Coast:
Hallim Park, a well maintained tranquil botanical garden.
O'Sulloc Tea Museum and Innisfree's Jeju House.
Sanbangsan and Yongmeori coast.
Tour Recommended: Unparalleled nature in western Jeju – Western Island Exploration
Hallim Park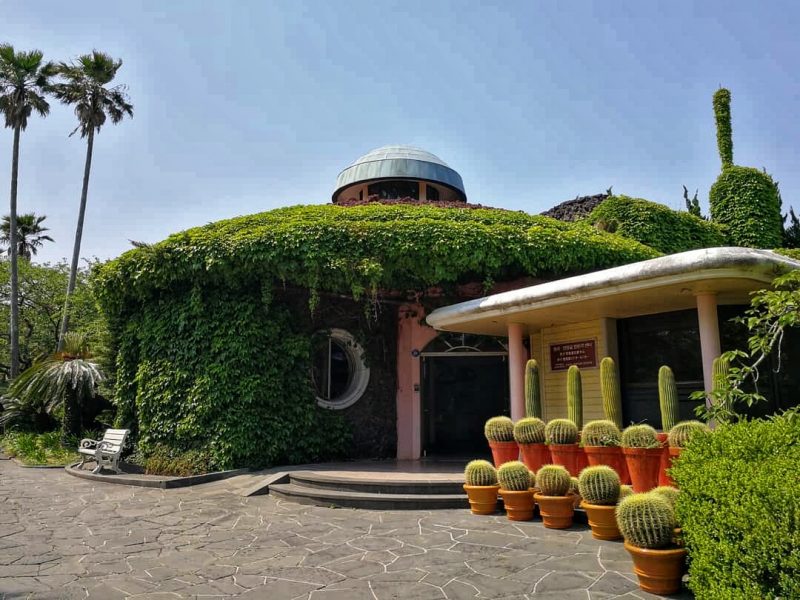 A well maintained tranquil botanical garden with a nice collection of flowers, cacti and bonsai trees. Hallim Park has many beautiful views inside for photo opportunities. Visitors can take slowly strolling through the different sections for plants and visit the underground caves.
There is also a very small folk village showing the olden days of Korea. Small animals such as peacock are roaming around you inside the park. A place best to spend leisurely for family with kids or senior citizens.
Besides, Hyeopjae Beach is located nearby. It is also best to visit beautiful beaches together and enjoy the ocean.
Hyeopjae Beach and GeumNeung Beach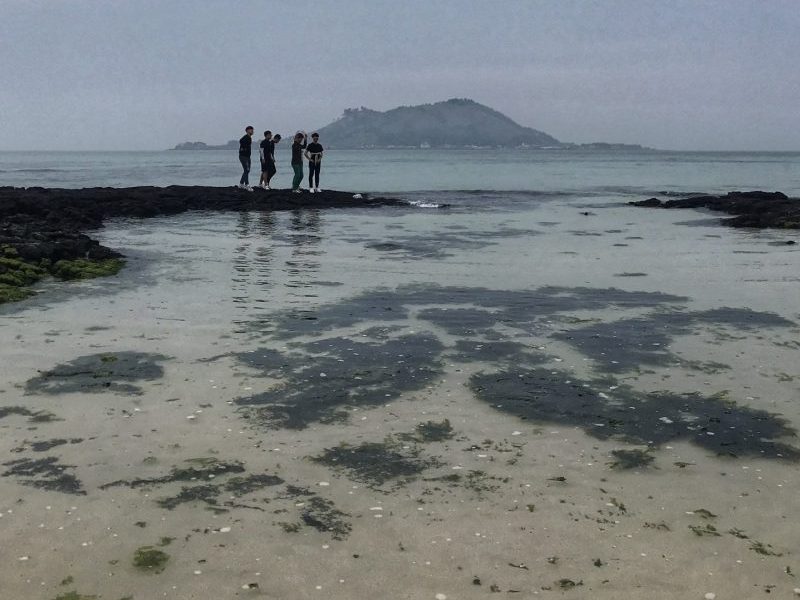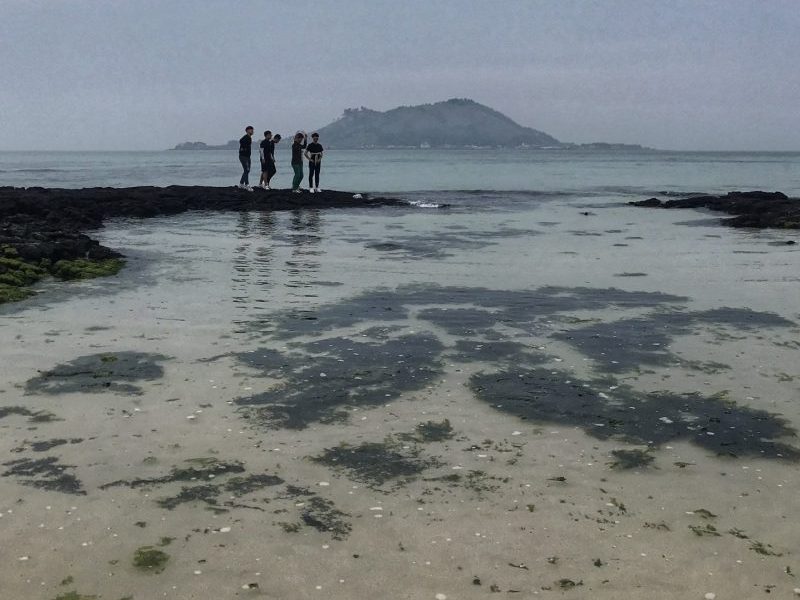 Hyeopjae Beach is one of the best beaches in Jeju Island with glistening white sand and crystal clear blue sea. Dipped your toes into the water and enjoy the waves. It is the best place for relaxing stroll along the sandy beach.
Summer is the best time for water activities when the weather is not so cold. Else, it has also great scenery in winter too. Many Korean families with young children and couples are coming to enjoy their beach vacation here. Plenty of seaside café and restaurants around. So you can enjoy a nice cup of coffee and admire the surrounding. You can also walk to the GeumNeung Beach which located adjacent to the Hyeopjae Beach.
O'Sulloc Tea Museum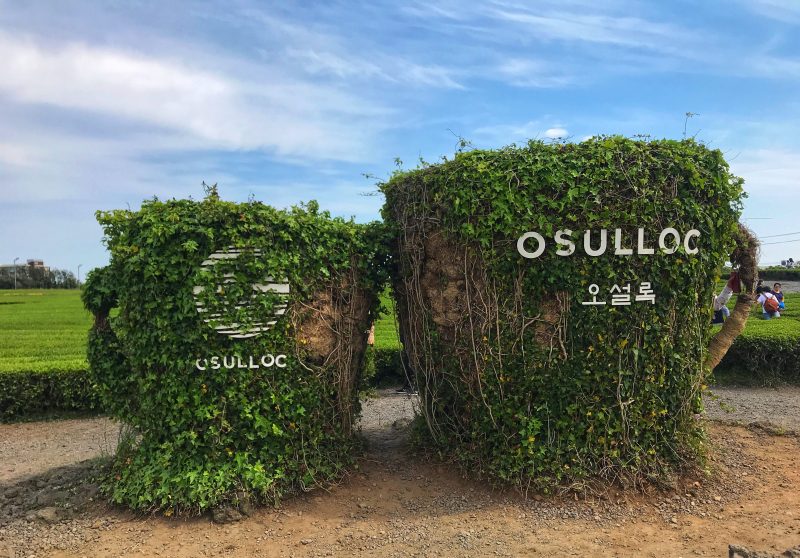 Don't get mistaken for the name of the museum. O'Sulloc Tea Museum is a tea house with an exhibition for green tea and teacups from different countries. You can learn about Korean tea culture and try on different types of tea in the O'Sulloc Tea Museum. But most of the people are visiting the O'Sulloc Café for their green tea dessert and drinks.
Enjoy a Hallabong (Jeju Mandarin orange) drink or green tea-infused desserts in the indoor garden or on the observatory deck. After the snack, take a short walk to the tea plantations opposite the museum.
You can visit the Innisfree's Jeju House besides. This is where you can buy their product or join the handmade
Sanbangsan Mountain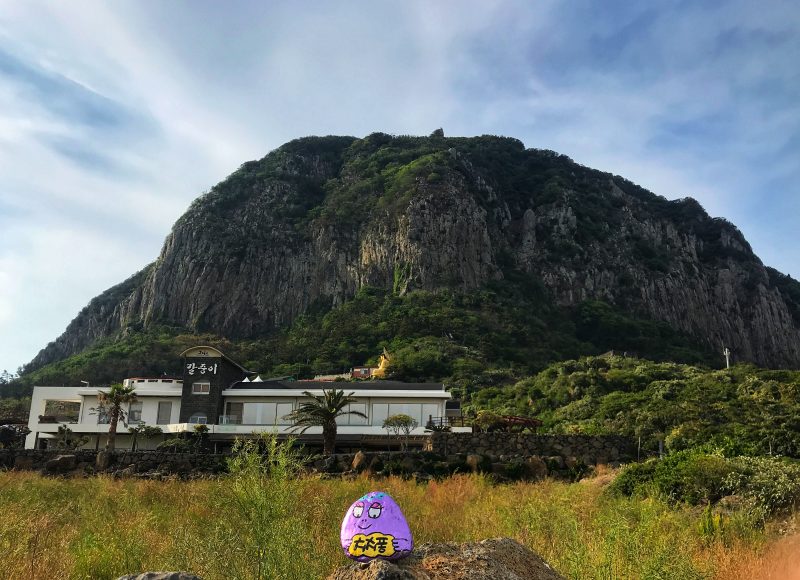 Similar to most of the best attractions in Jeju, Sanbangsan believed to be formed by the volcanic lava from Mt. Hallasan. It houses a nice temple at the base of the mountain called Sanbanggulsa (산방굴사). Further up to the mountain with some flights of stairs, there is another Bomunsa Temple with Buddha sitting in the cave. It takes a little effort to get up to the cave and can be a little tough for the elderly.
It is a great place for a photo with a stunning view of the town and ocean. During March, this area is very beautiful with a canola field in front of the mountain. There are paid fields if you want to take photos with better view costs around ₩1,000.
Yongmeori Coast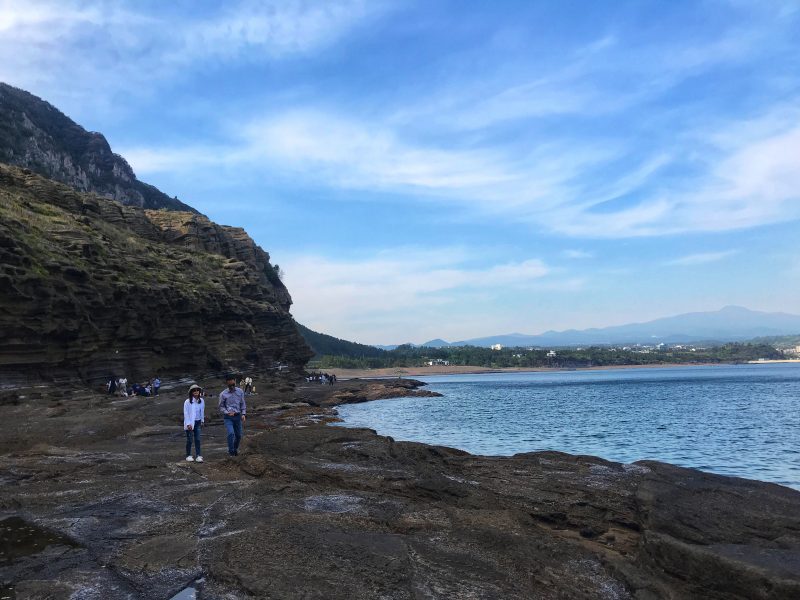 Also, know as Dragon Head cliff, Yongmeori Coast is a rocky coastline where Mt Sanbangsan stretches into the ocean. It is named due to it look like the dragon head goes into water.
Yongmeori coast is a unique cliff erosion and fantastic lava rock formation. You can enjoy beautiful coast walk with a stunning view along the rocky trail. But be careful as it can be rather slippery due to waves keep on slashing to the shore. Added, there are steep stairs when you go to the left entrance/exit.
Hanyeos are selling seafood if you want to try out some special food in Jeju. It is also the best place for canola flowers scattered around during March. But be prepare to pay for money to get into the flower field.
Things To Do Nearby Mt Hallasan
Mount Hallasan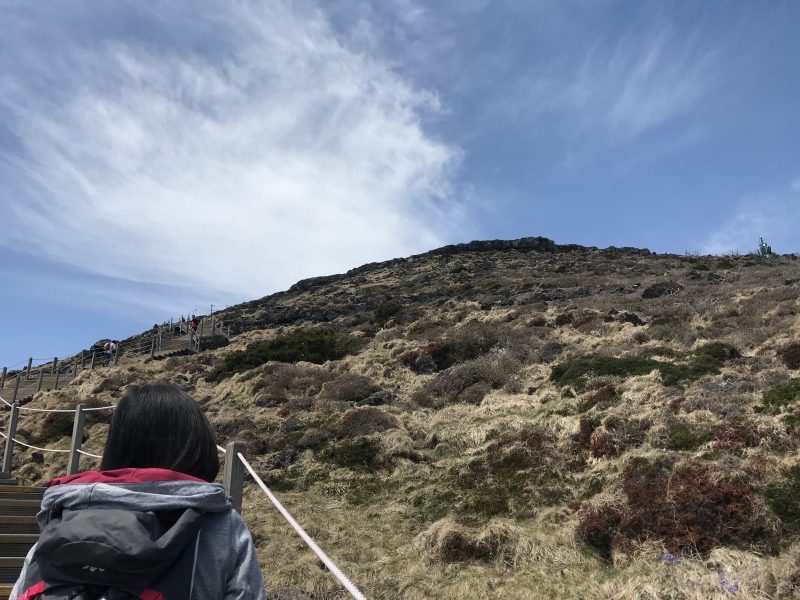 Listed as UNESCO World Natural Heritage sites, Mt Hallasan is located in the center of Jeju Island. It is a dormant volcano with 368 parasitic volcanoes called Oreums (peaks) scattered around the main mountain.
Many hiking enthusiasm is coming to Jeju Island to conquer this highest mountain in Jeju Island. While Mount Hallasan only can plan for a day hike as it can be very dangerous at night. It has many hiking trails but the most common are five hiking routes that official listed. Hikers are rewarded with a huge beautiful crater lake as well as breath-taking views of Jeju at the peak. However, please take not only Seongpanak or Gwaneumsa can reach to the peak.
For those not up for a hike to the peak, Mount Hallasan also has seven scenic trails, each less than 10 kilometers. There are also nearly 6000 species of plants and animals in the area, so nature lovers can knock themselves out! Do make sure you check the weather conditions before going and dress warmly as the winds can be quite strong.
Sangumburi Crater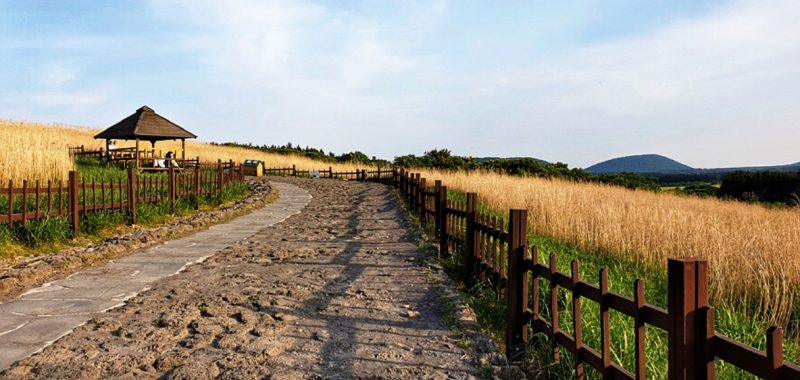 An extinct volcano crater with a well-designed park to view on it. To get to Sangumburi Crater, you need to take an easy walk to the high viewpoints overlooking the crater. The view along the path to the crater is beautiful especially during sunset. Sangumburi Crater is also a UNESCO heritage site in Jeju.
In fall, there will be a silvery wheat field along the path which is amazing.
Things To Do in East Coast
For the most stunning and unique experience in Jeju, visit the Jeju east coast. There are a lot of interesting places to visit and see the unique part of Jeju's cultural heritage.
Things To Do in Jeju East Coast:
Seongsan Ilchulbong, Sunrise peak
Udo Island, the miniature of Jeju Island.
Manjanggul Lava Cave
Seopjikoji coast walk.
Family activities in Aqua Planet.
Tour recommended: Nature and heritage abound in Jeju's east – Eastern Jeju Discovery
Seongsan Ilchulbong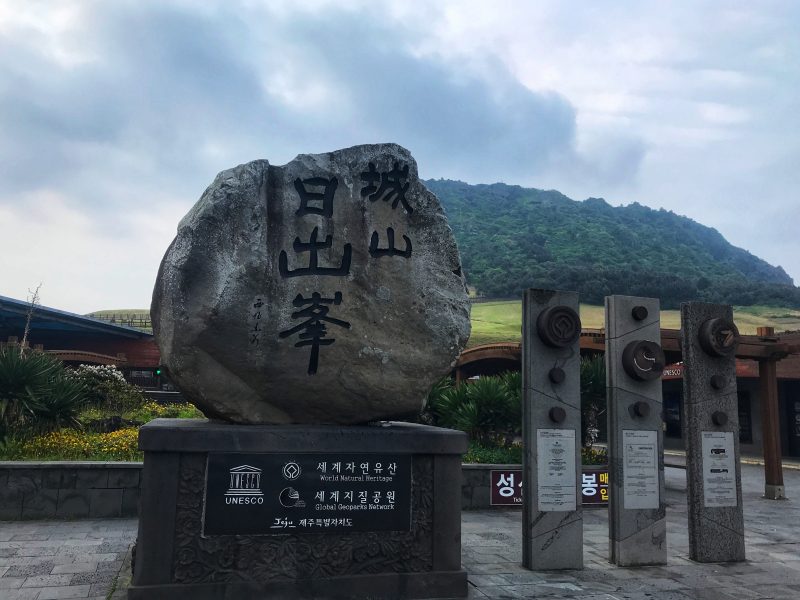 The Seongsan Ilchulbong is one of the most recognizable landmarks in Jeju. It is an extinct volcano with a huge crater at the top. It rose from the sea more than 100,000 years ago in a series of volcanic eruptions. This UNESCO Heritage Site is one of Jeju's must-see natural attractions.
Known as Sunrise Peak, Seongsan Ilchulbong is also the best place for its incredible sunrise views. Korean are coming here to celebrate their New Year with the first sunrise of the year. Depend on your physical fitness, the hike to the peak of Seongsan Ilchubong is rather steep. It is a mix of paved paths and wooden stairs. But still can be manageable at about 30 minutes to one hour. We highly encourage you to climb up to the peak as the scenic view is well worth it. It is the best place to visit the beautiful geographical landscape in Jeju. Remember to bring along a jacket as it can be windy.
The best time to visit Seongsan Ilchubong is early morning as the tour buses normally arrived in the afternoon. But if you're there during the afternoon instead, remember to catch the haenyeo performance at 1:30 pm.
In spring, the Seongsan Ilchubong is surrounding with yellow rapeseed flowers in full bloom.
Udo Island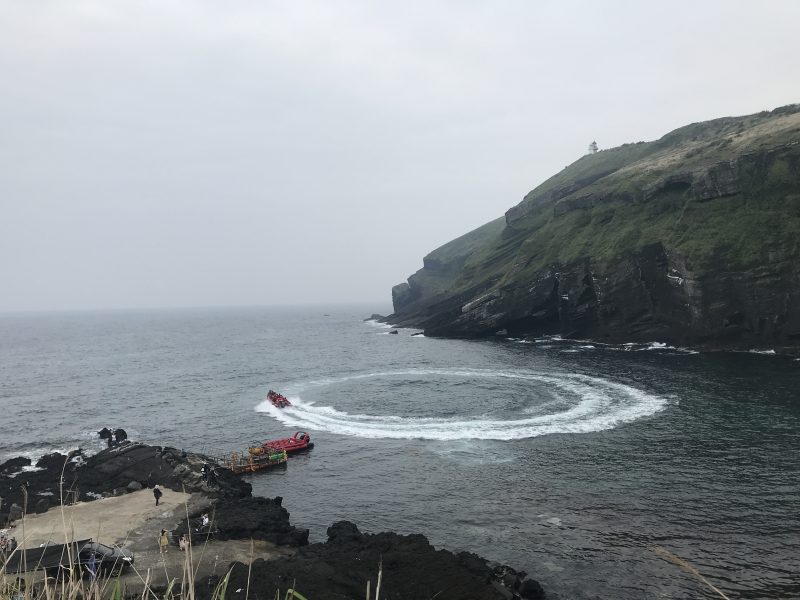 The U-do means 'the shape of laying down cow'. It is a miniature of Jeju with beaches and coastal scenery surrounded island. A 15 minutes ferry ride from Jeju will get you to Udo Island.
The round island journey can be tour within 4 hours or even a whole day. There are several types of transportation for you to choose from. For instance, Hop-on-hop-off buses, electric cars, motorcycles, electrical bicycles and even walking. International driving permit required for motorized vehicles.
In Udo Island, you can just go with the round island flow and stop at leisurely. There are several stops worth staying for pictures taking. Be sure to try its delicious peanut ice cream when visiting Udo Island.
Manjanggul Lava Cave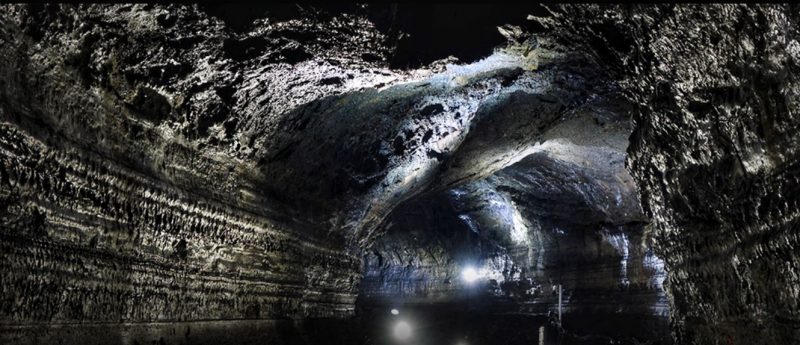 Jeju is well known for its natural monuments and thus visiting the Manjanggul Lava Tube. For geological features to experience, considered to visit this finest lava tunnels in the world. It is one of the top 10 longest lava tubes in the world and stretches for 13.4 kilometers long. But for natural protection, only one kilometer is accessible to explore for visitors.
The visit to Manjanggul Cave is indeed a unique experience. It is well maintained and informative. There are proper explanation on how it was formed in Korean, English & Chinese language.
The temperature inside can go down to a range of 11°C to 21°C. So please along jacket as it can be chilly can cold. Added, make sure to wear shoes with good grip as the ground is uneven and slippery.
Seopjikoji Coast Walk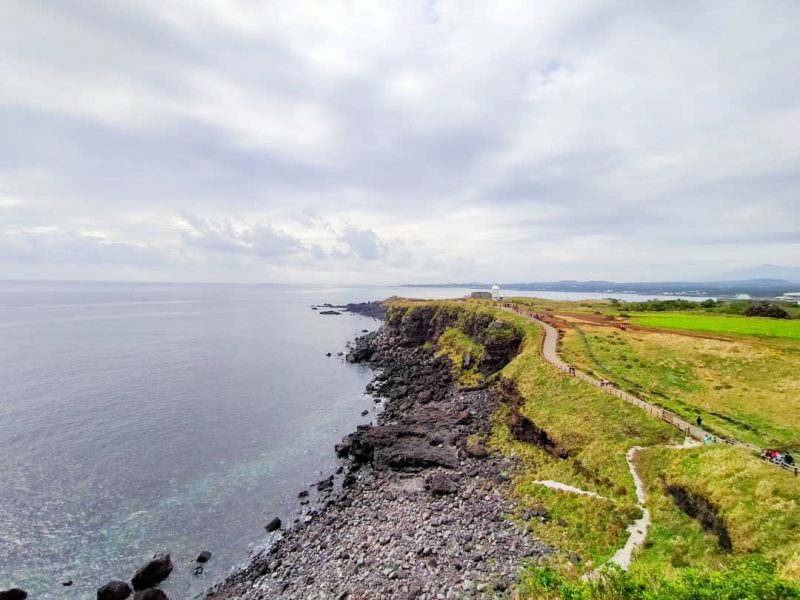 Located at the end of the eastern shore, Seopjikoji is a beautiful coastal area with cliffs and lighthouse. It is famous among KPOP fans as its appearance in Korean television dramas. But one can't deny that the Seopjikoji coast walk is a stunning scenic walk for beautiful scenery. The view is very breathtaking during sunset.
This area is cover with canola flower is in blooms during Spring (March and April).
Aqua Planet
The Aqua Planet is one of the largest aquarium in Asia with many varieties of fishes and a huge aquarium. There are plenty to see and can get closer with marine animals such as stingrays, sharks, seals, penguins, and more.
Get Discounted ticket Aqua Planet Discount Ticket online via KLOOK
The entry is including with live shows such as animal feeding and female divers diving. Don't miss it as it's very interesting. Families can easily spend a few hours inside the aquarium. The best place for a family to bring their kids to spend the day in Jeju.
The admission fee is excessive, so it is recommended to book the Aqua Planet Discount ticket online via KLOOK. Easy to use and simple ticket redeemption by using the mobile or printed voucher. For people who love to visit the aquarium, this is the place to go.
Jeju Olle Trail Route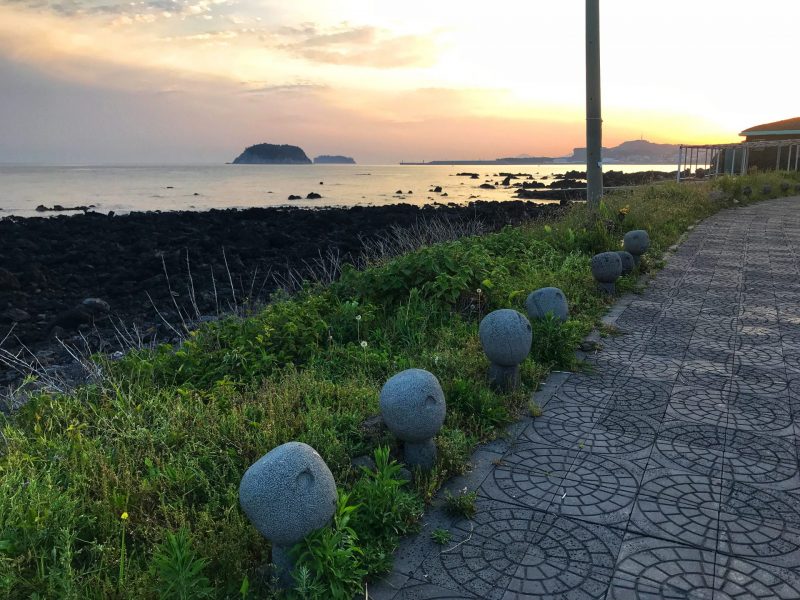 These outdoor activities is getting popular among travelers to Jeju. The island has a trail system called Jeju Olle Trail Route. It is a walking trail where you can enjoy the beautiful scenery on the island. The trails will take you to the climb up the hills, rivers, beaches, into the woods, or walk along the coast on foot. There are even Jeju Olle Walking Festival organized every year.
Well, the most popular is Olle route 6 and 7 which classified as the most scenic and easiest route to walk on. You may check with the tourism organization for route recommendation which suitable for you. Highly recommended to natural lover to join at least one of the Olle trail.