Last updated on December 11th, 2023
Planning on a one-day Hallstatt itinerary? Located in Upper Austria, Hallstatt is a picture-perfect lakeside village with magnificent views and dubbed the "most beautiful lake town in the world".
This Austria gem of quaint European town is no longer hidden away in the Salzkammergut region, thanks to the iconic scenery photo you see on the postcard. Listed in the UNESCO World Heritage Site, Hallstatt is widely considered one of the most beautiful places to visit in Austria.
One day trip to Hallstatt can be a very wonderful experience, but be sure to read our travel guide before you go. Hallstatt used to be an idyllic charming town, but it is getting over-tourism with millions of visitors from all around the world.
Our visit to Hallstatt is still one of the most memorable journeys on our Central Europe trip. See how we avoid the crowd when we visited this fairy tale Austrian village. Keep reading on how to get to Hallstatt, the best thing to do and not to do, where to stay, what to eat, and money-saving tips at Hallstatt.
How To Get To Hallstatt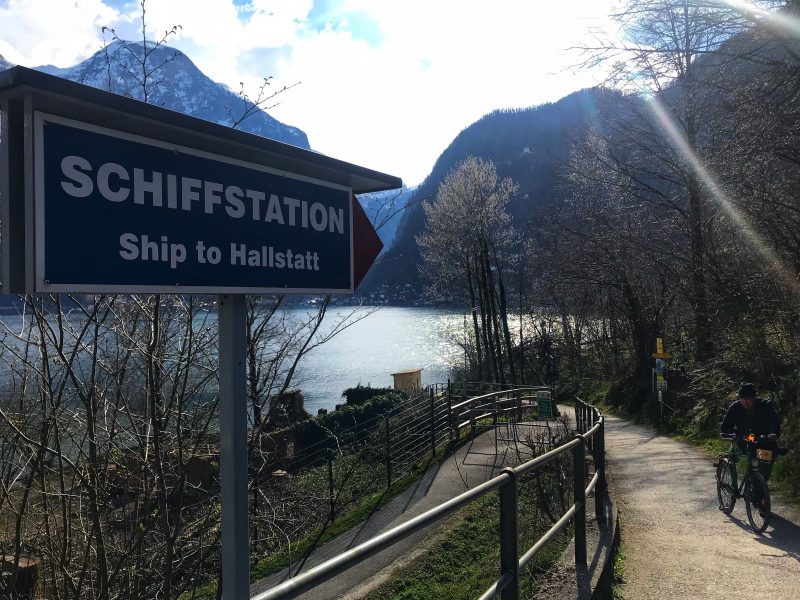 Getting to Hallstatt is simple but also can be complicated depending on your departure location, money, and time concern.
Cheap public transportation makes it easy to travel from Salzburg, Vienna, and Cesky Krumlov to Hallstatt. However, both buses and trains required at least a one-time change unless self-driving.
The best part of taking the train is your traveling journey will be ended with the ferry ride across the Hallstätter See from the Hallstatt train station to Hallstatt Markt. This is the prime and best moment to snap your photo.
From Salzburg To Hallstatt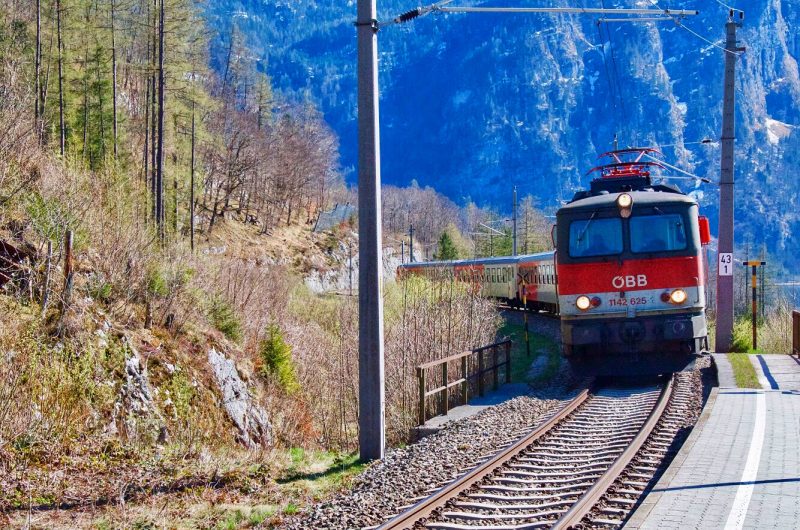 Salzburg is the most ideal place to plan a one-day itinerary in Hallstatt. It is the closest place to reach Hallstatt by bus or train from ÖBB and Westbahn. Getting to Hallstatt by bus is cheaper but taking the train might be a better option.
By Car: Easiest and most convenient option if you are on a road trip in Austria. Compare your car rental price at Rentalcars.com, the lowest price guarantee and reliable customer reputation. If you are driving, please note that visitors do not have access to the historic center of Hallstatt and are required to park at the desired car park. There are three parking areas within easy walking distance but limited.
By Bus: Board bus #150 from Salzburg bus station, Südtiroler Platz to Bad Ischl Bahnhof with 1.5 hours bus ride. After that, proceed to Hallstatt Gosaumühle via bus #542 and lastly board bus #543 to Hallstatt Lahn. Approximate 3 hours with a total fare of €14.6.
By Train: Transfer at Attnang-Puchheim is required before heading to Hallstatt. From Salzburg hbf to Attnang-Puchheim by Westbahn or ÖBB, and transfer to ÖBB train at Attnang-Puchheim to Hallstatt station. Total fare of €29.6 + €3 of 15 minutes of ferry ride from Hallstatt station to Hallstatt Markt. The ferry time will correspond with train arrival at Hallstatt station.
Read more on: How To Get To Hallstatt From Salzburg By Train
Money Saving Tips:
Get the ÖBB Sparschiene ticket, the early bird ticket as low as €9 with no further change allow.
From Vienna To Hallstatt
By Train: Westbahn and ÖBB operated from Vienna to Attnang-Puchheim and then board for ÖBB train to Hallstatt station. The direct train departs from Wien Hbf to Hallstatt station every weekend, which takes about 3 hours journey.
From Cesky Krumlov To Hallstatt
No public transport is operated from Cesky Krumlov to Hallstatt directly. You can choose to stay in Salzburg or Vienna before heading to Hallstatt by bus or train. Another option is getting to Hallstatt from CK by shuttle service.
By Shuttle: Private companies like CK Shuttle and Beam Shuttle run between, Prague, Vienna, Cesky Krumlov, and Hallstatt with several departure times per day with prices starting from 800 CZK ($35).
A Perfect Hallstatt Itinerary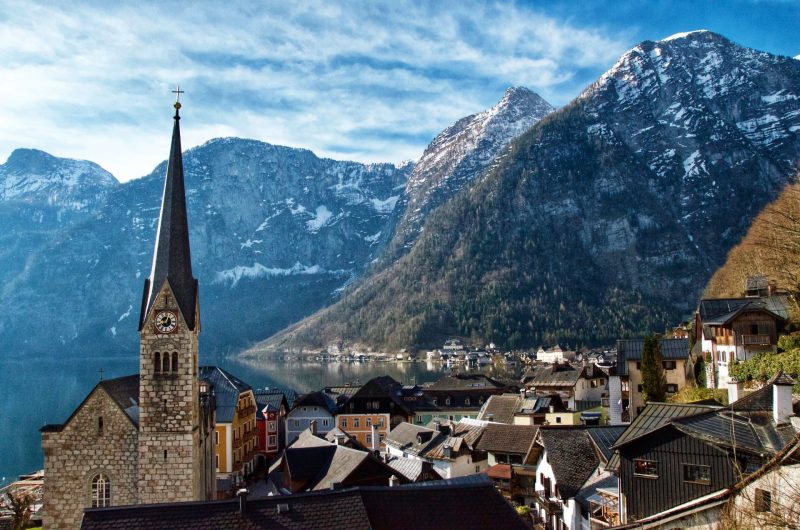 A perfect Hallstatt itinerary starts in the early morning. The morning at Hallstatt is magnificent. Wake up early and explore Hallstatt before the town gets overrun by tourists. Tour the salt mines and visit Skywalk in the afternoon. Return to town in the late afternoon.
Hallstatt itinerary (What To Do in Hallstatt):
Take a Postcard-Perfect Photo Of Hallstatt
Enjoy a 360-degree Panorama View At World Heritage Skywalk
Tour At Oldest Salt Mine In The World
Strolling Around Or Walk Outside Of Hallstatt
Try the Hallstatt's fish specialty, freshly caught from Hallstatt Lake
There are so many things to do for a one-day itinerary in Hallstatt. All the hidden beauty is awaiting you to slowly explore and discover. Most day-trippers arrive at Hallstatt around 11 a.m to 4 p.m. If possible, avoid these peak hours and explore Hallstatt in the morning or late afternoon. We arrived at Hallstatt after spending our perfect day in Cesky Krumlov by shuttle service after 3 hours of road journey.
After checking in to Gasthof Simony, our one-night stay hotel at Hallstatt, We choose to take the funicular and ride up to salt mines and Welterbeblick Skywalk. The charming town is awaiting us to explore in the early morning before the tourists come in. We also spend time strolling around and going upper and outside of the Hallstatt for the best photo shooting.
A few hours of the brief visit is not enough. Of course, you have the choice of just spending several hours, taking a look or photo at this quaint European town and leaving. But Hallstatt is worth an overnight or maybe longer stay to discover this charming village.
Take a Postcard-Perfect Photo Of Hallstatt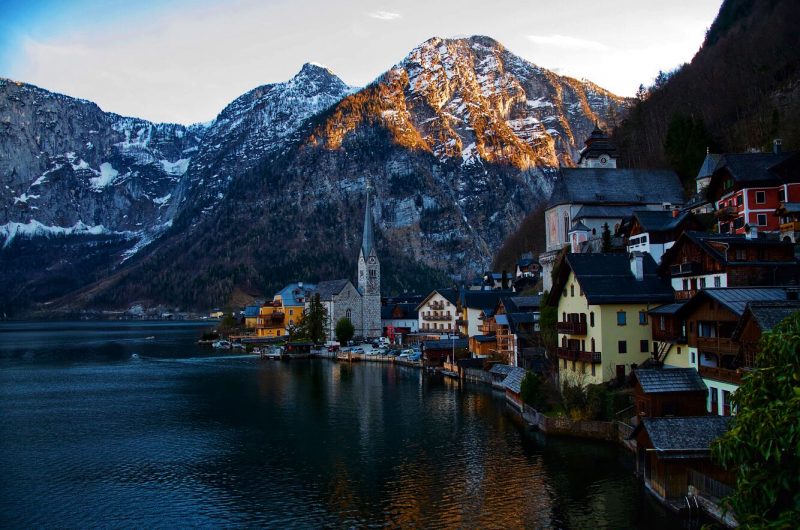 The first come across a top thing to do at Hallstatt is to take a postcard-perfect photo of this Austria lakeside village. There are two locations for taking the postcard-perfect photo of Hallstatt, both located at the corner end of the village in the north and south. The ideal walking guide of Hallstatt is started from the north to the south end. Anyway, Hallstatt is a relatively small village and there is only probably one hour of walking journey from one end to another end.
It started on the north side. Talk a short walk toward the north corner of the town after passing the ferry station. This bending road will take you to the most breathtaking view of Hallstatt, and this is where you can take the first iconic photo you see on a postcard.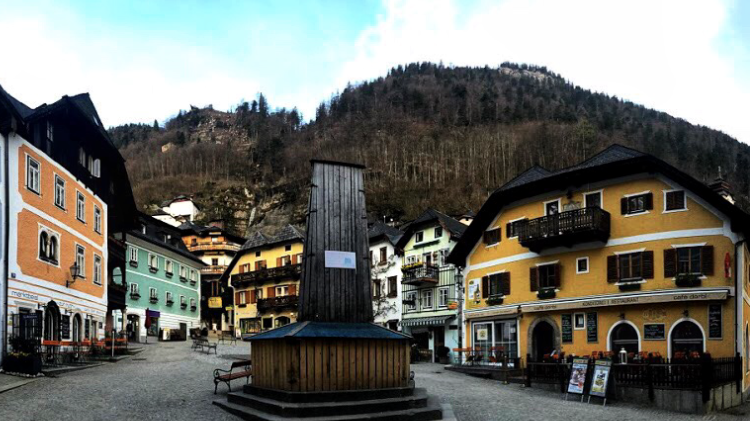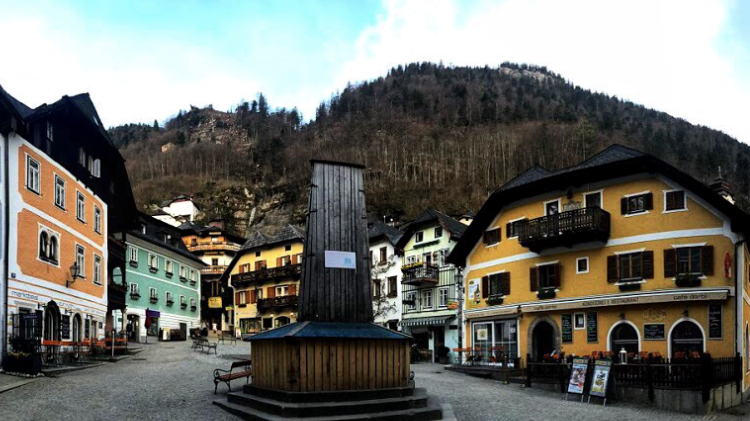 From there, walk along the boardwalk and stop by the marketplace, one of the most stunning places at Hallstatt. Viewing the 16th-century Gothic building with a beautiful balcony at the historical center can be enjoyed.
Make your way along the street and stop by any souvenir shops or houses at your own pace. Take a photo of the photogenic flower-decked houses or the lively ducks and swans at the lake.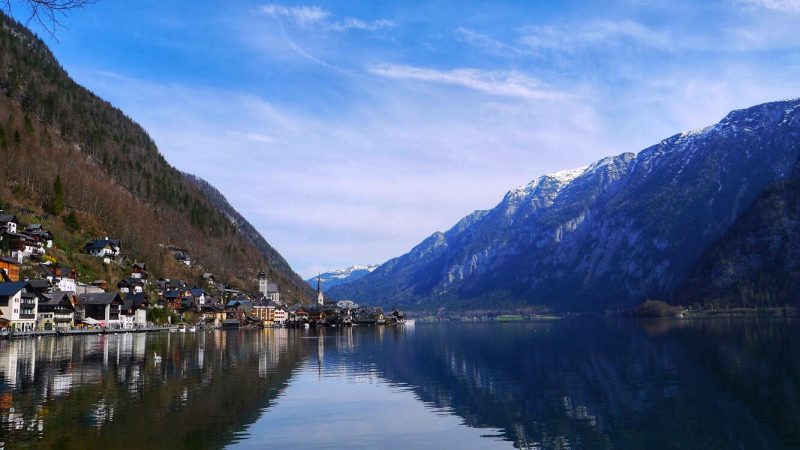 At the end of the walking journey, you will enter another best viewing point at the south end. This location is where you can take the second postcard-perfect photo of Hallstatt from another angle.
360-degree Panorama View At World Heritage Skywalk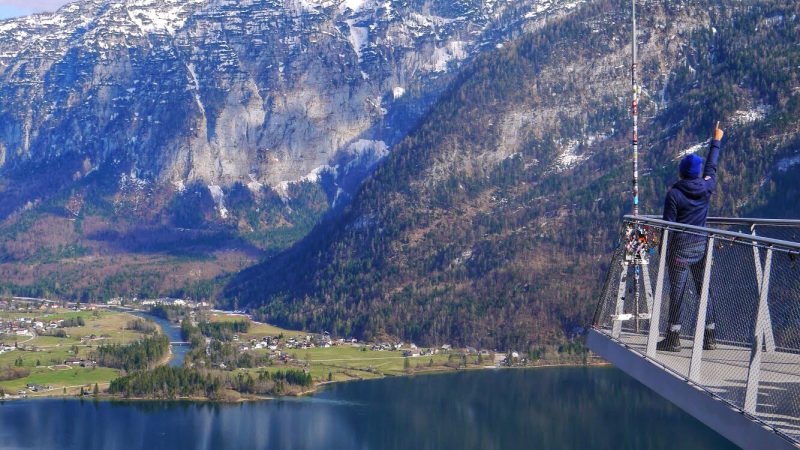 Hallstatt Skywalk observation deck offers a breath-taking panoramic view of the entire Dachstein Salzkammergut region. This 350-meter high platform can be reached by 1 hour of hike or €16 of the funicular ride.
From the south viewpoint, follow the sign and walk down the road until you get to the funicular. You can purchase the funicular ride separately or together with the Salzwelten tour which is worth for visit.
Tour At Oldest Salt Mine In The World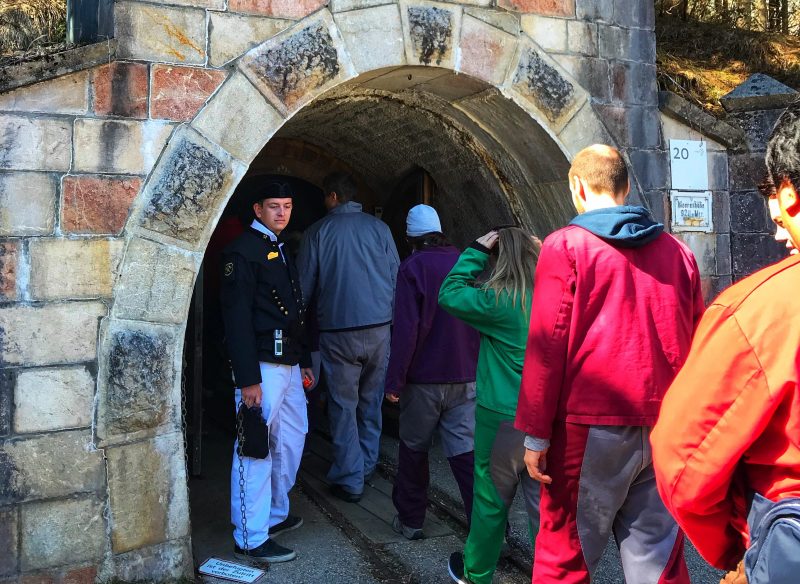 Many peoples are coming to Hallstatt for its picturesque charming village, but they don't know the best attractions in the area are above the village. Hallstatt Salzwelten is considered some of the oldest salt mines in the world, dating back 7,000 years of history. It is also part of the reason why Hallstatt is recognized by UNESCO.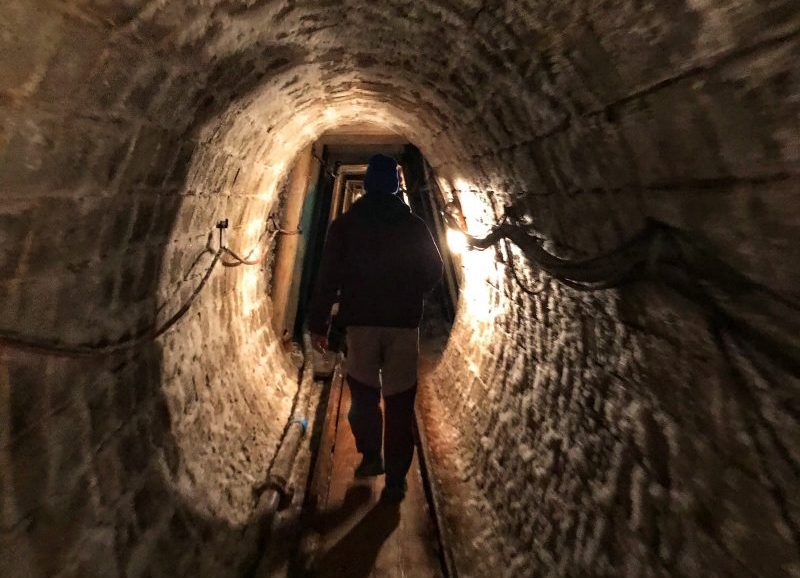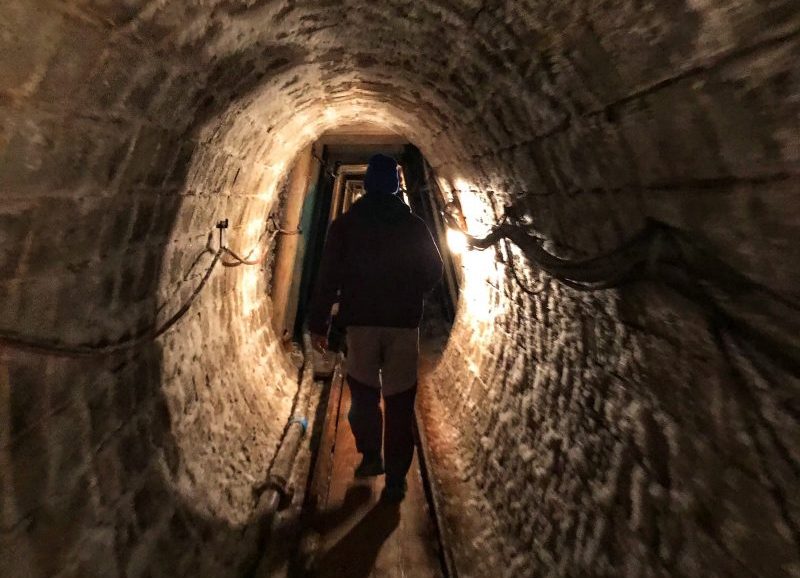 Be prepared for an enjoyable and educational experience in the darkness. This €34 guided tour will explain the mining process and history of salt mining. There are two wooden slides and a train ride out from the tunnel which adds to the excitement of the tour. Worth a visit.
The salt mines tour is approximately 80 to 90 minutes. But please budget for at least 3 to 4 hours including the return journey of the funicular ride and a visit to Skywalk. Normally the line is extremely long, especially in summer, so please come early or book your ticket in advance if you intend to visit the Hallstatt Salt Mines.
Strolling Around Or Walk Outside Of Hallstatt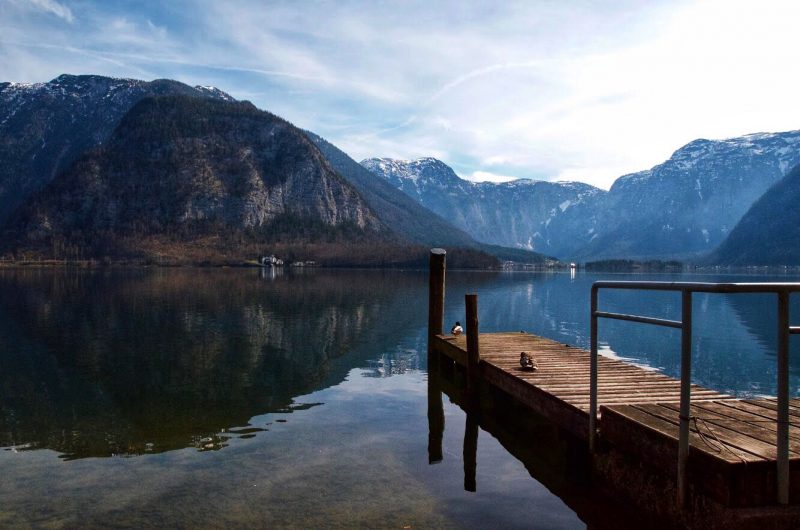 Another best thing to do at Hallstatt is strolling around through the narrow streets and elevated upper level of the town. There is so much to explore at Hallstatt besides the lakeside walk.
Instead, you can also walk out of the village and head to Badestrand, one of the locations with stunning views of Hallstatt. With 10 minute walking journey, you can have a peaceful Hallstatt on your own.
Things Not To Do In Hallstatt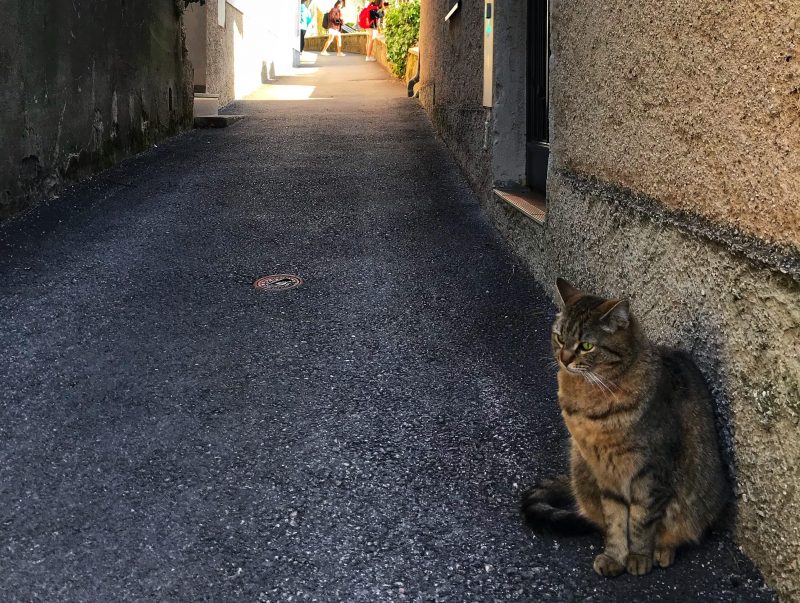 Tourism is booming in this small mountain village of only 750 residents. Over 600,00 people are visiting Hallstatt per year for its stunning architecture and well-maintained landscape. But keep in mind that we are visiting other houses and communities.
That's why it's important to show respect.
Things Not To Do in Hallstatt:
No flying drone
No trespass on property
Keep your voice down
No Flying Drone: Drone is prohibited with a brunch of signs sprinkled around Hallstatt. Please be aware that Austria has the strictest laws about drones with very hefty fines. You don't need this. Just climb up the stairs to the upper Hallstatt or take the funicular up to the Skywalk to get the beautiful panoramic view of Hallstatt.
No Trespass On Property: Show your respect to residents as people are living at Hallstatt. Don't trespass just for a better photo.
Keep Your Voice Down: Don't ruin the peaceful and quiet village with your high-pitched voice. Many residents have been put up a sign and hoping for visitors to lower their voices.
Hallstatt Travel Tips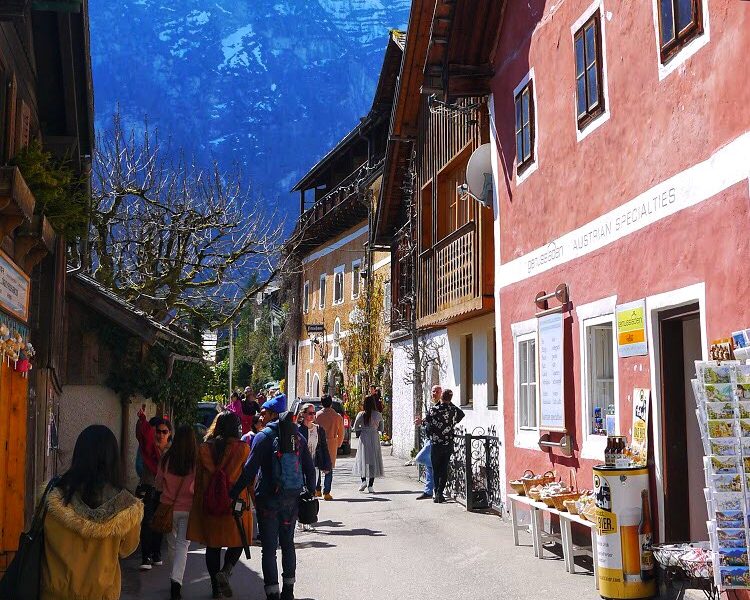 Here are some of the useful Hallstatt travel tips for planning a relaxing holiday:
Arrive at Hallstatt early.
Stay for a night in Hallstatt.
Wake up early.
Off-season trip.
Arrive at Hallstatt Early if you wish to avoid crowds. Else, consider staying at night at Hallstatt to enjoy this stunning village in the late evening or early morning before the visitors come in.
Stay For A Night at Hallstatt or nearby. Most day-trippers are arrived in the afternoon and will be leaving after spending a few hours at the market square and Seestraße.
Wake Up Early: A few hours in the morning before the arrival of day-trippers is the best time for you to explore the Hallstatt peacefully.
Off-Season Trip: Expect a large crowd and higher prices during the peak season, especially the summer holiday. If possible, avoid peak season so that you can experience the peaceful and calming European village.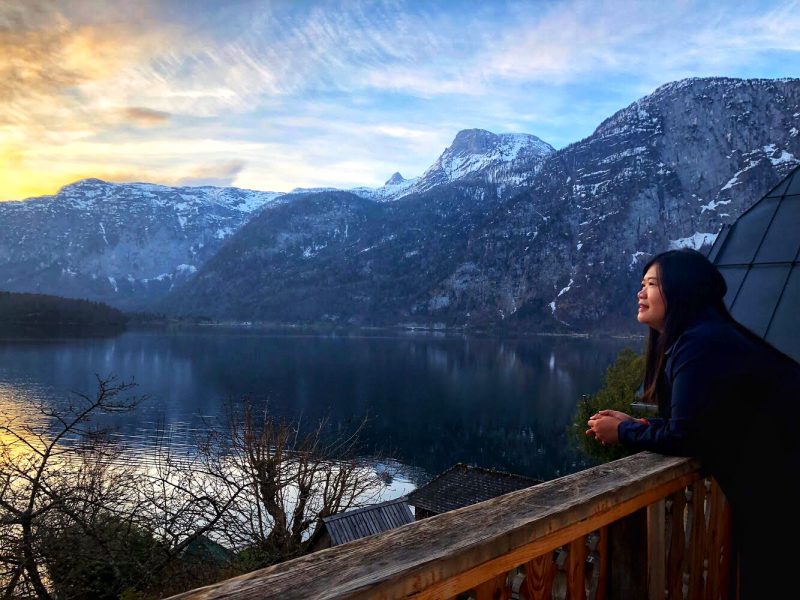 We kept debating whether to stay one night in Hallstatt or just a day trip from nearby places such as Salzburg or Bad Ischl. A day trip to Hallstatt is enough for a brief visit to this tiny town. However, you have to stay one night in Hallstatt to fully explore the beauty of the serene town when the day-tripper leaves.
Due to the size of the town, there is very limited accommodation in Hallstatt town. The price is not budget-friendly, especially for those rooms overlooking the lake. Some accommodations even required at least 2 nights' stay if you choose to stay in Hallstatt.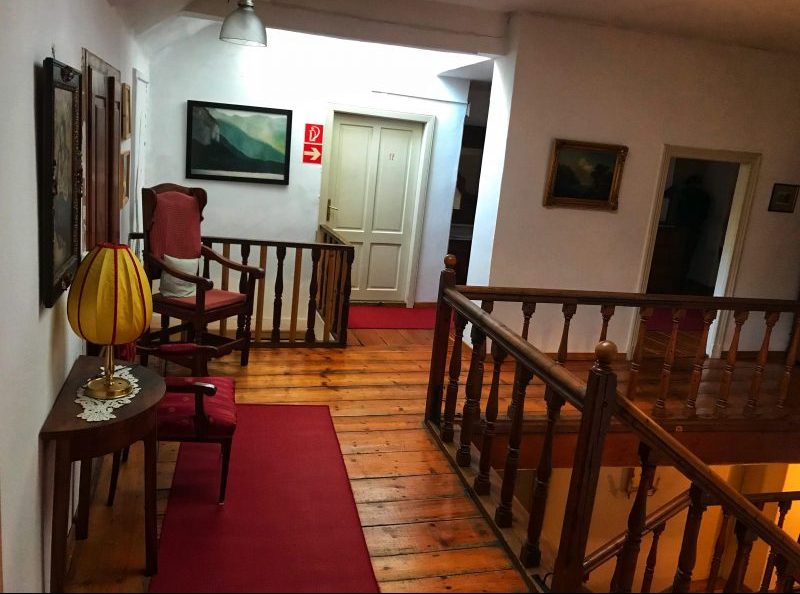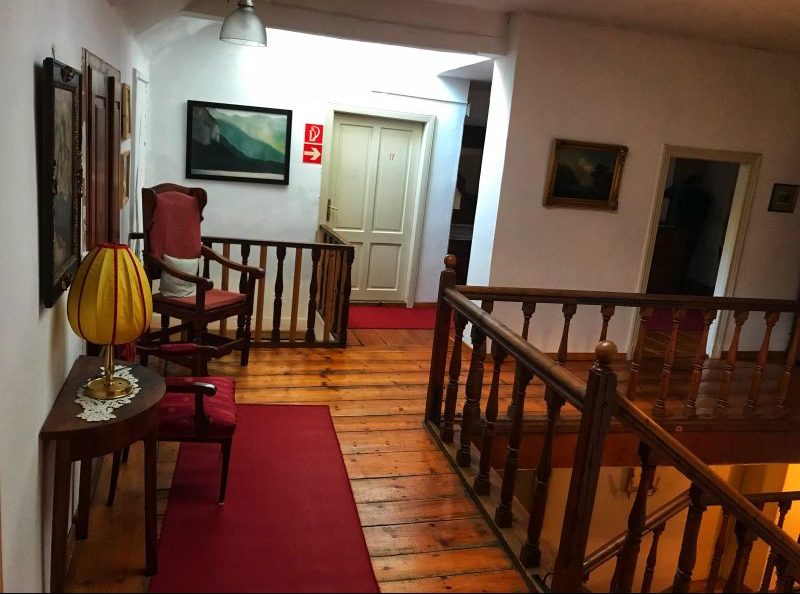 But glad that we managed to find the Gasthof Simony, a historical wooden building located in the center of Hallstatt with a panoramic view of Lake Hallstatt. A little bit rundown but consider being one of the cheapest accommodation at the center of Hallstatt with superb scenery. Most important, we managed to book a room with a lake view. The view was truly unearthly with Alpine views, especially in the morning. It was truly my best memory in my Hallstatt itinerary. So skip the day trip and go for at least an overnight trip.
Another worth recommendation is Seehotel Gruner Baum. Probably the best lakeside hotel in Hallstatt and served as scenography in many movies. Many celebrities and even Empress Sisi stayed here before. Extremely popular, so please reserve early.
Where To Stay in Hallstatt: Old Town or Obertraun
Friendly reminder, Hallstatt is a very popular tourist destination. Make sure to reserve your stay in advance if you plan to overnight at Hallstatt. Alternatively, look for accommodations in Obertraun, which is located opposite Hallstatt across the lake at a cheaper price.
What To Eat Hallstatt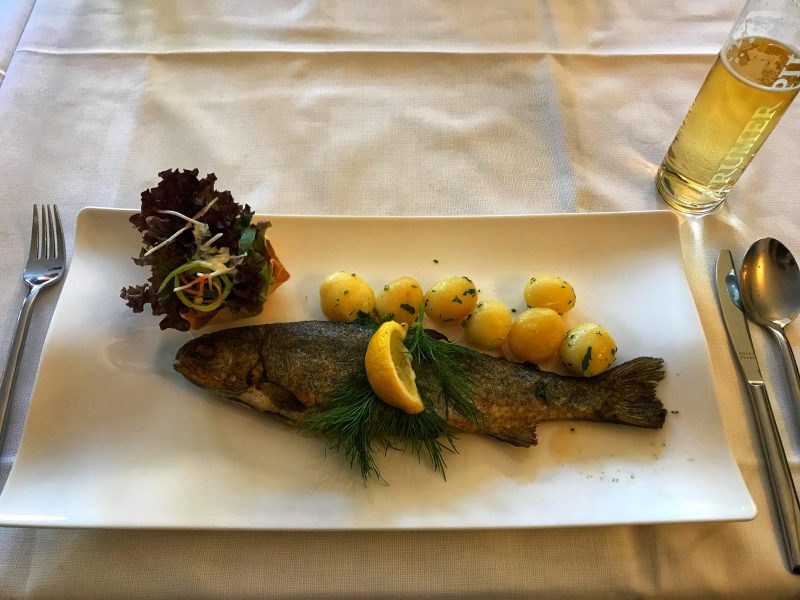 Not many choices and limited restaurants mostly located in the market square. Some of the Gasthof also served food but only until lunchtime and mostly not open during Sunday.
Elevated price for food in Hallstatt. If you have the budget, look for the restaurant at the lakeside to enjoy your meal with a great view. Don't forget to eat fish, Hallstatt's specialty. Hotel Seewirt Zauner served the best fish dishes in Hallstatt. They proudly serve the local fish which is freshly caught from Hallstatt Lake.
The local Gasthof restaurant like BRÄUGASTHOF and Gasthof Zauner also served traditional local dishes in a nice environment.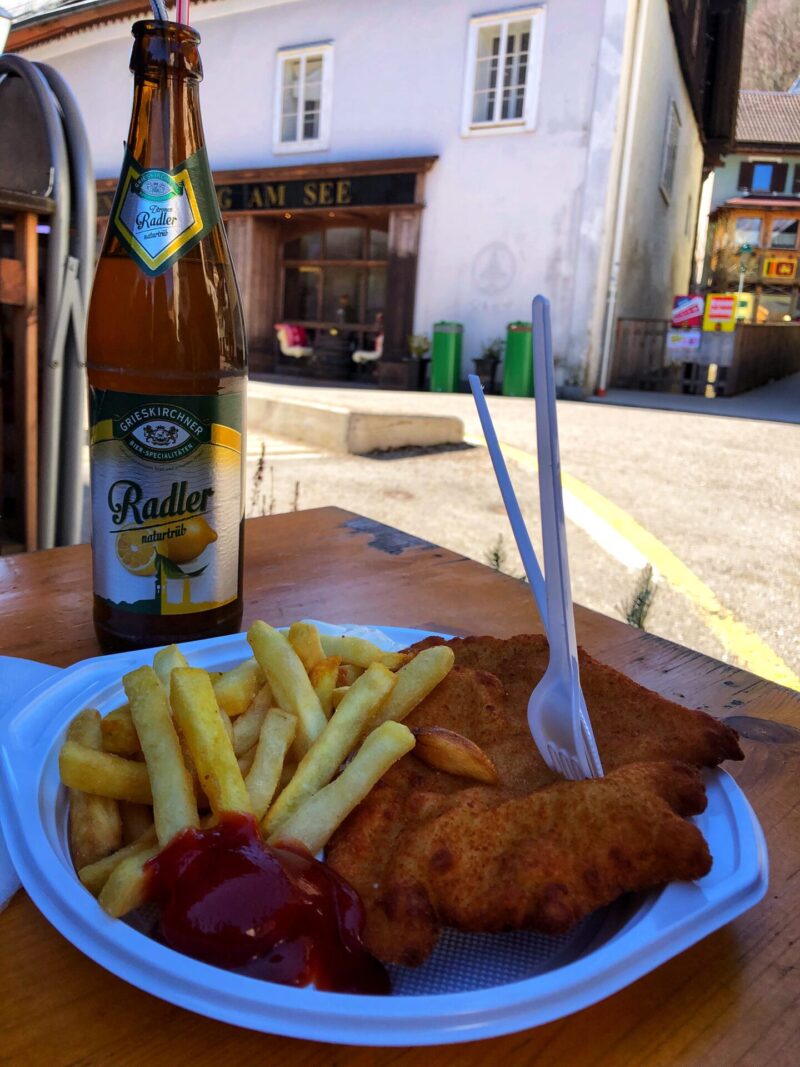 Alternatively, look for Maik's Heisse Hutte, a small cabin located at the Hallstatt Markt that served street food like kebab, hamburgers, and fries at a cheaper price. But don't expect too much from the food.
We had our lunch in this budget place during our visit to Hallstatt. We ordered the Wiener schnitzel and a beer. The food was not too bad and we enjoyed the food. Couldn't have asked for more for this price at Hallstatt.
Best Time To Visit Hallstatt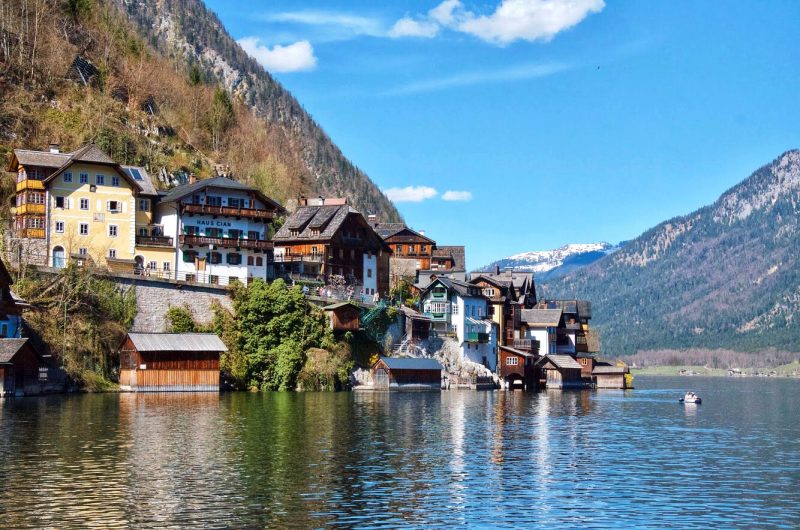 We visited Hallstatt at the beginning of April, not yet the peak season but unfortunately, we also miss the chance to explore the Dachstein Krippenstein's Giant Ice Cave and Five Finger. I would suggest coming at the end of April or the beginning of May. It should be the best time to visit Hallstatt when everything opens.
There are so many things to do and see at Hallstatt, for sure a few hours for a brief visit with only a one-day itinerary in Hallstatt may not be enough. The charming village, Salzwelten salt mine with Welterbeblick Skywalk, Dachstein Krippenstein with Giant Ice Cave and Five Finger, which easily need to spend at least one or two nights stay at Hallstatt.
Hallstatt Still Worth To Visit?
Last but not least, I hope my little guide can help you plan your perfect one-day Hallstatt itinerary. Seriously, Hallstatt is one of my favorite places during my Europe trip. Despite the large crowd, Hallstatt is very charming. We choose to stay in the lake view front room with slightly expensive but it was worth it. The view is superb breathtaking and unforgettable when you are viewing it barefoot on the room's balcony. Travel smart and you are actually can escape from the tourist crowds.
If you have any questions, let me know in the comment. I will try my best to answer you. Thanks for reading my post on how to plan your one-day Hallstatt itinerary. Happy travels to Hallstatt!
Planning One Day Hallstatt Itinerary
If you are planning on Hallstatt itinerary by using public transport, make sure to read our transportation guide on:
Planning on a day trip or staying one night in Hallstatt? Here is the best accommodation guide for where to stay in Hallstatt.
Read next:
If you're traveling to Central Europe for the first time, here are more helpful guides to help you plan your trip.