Last updated on December 11th, 2023
The best way to visit Osaka is with Osaka Amazing Pass! My 2-Days Osaka itinerary includes how to fully utilize the Osaka Amazing Pass within one or two days.
Osaka is one of the main prefectures in Kansai Japan. It is also the second-largest metropolitan in Japan after Tokyo. Nowadays, Osaka is booming with tourists. It is one of the must-visit when getting to the Kansai region. There are many things to do and see in Osaka. In fact, this wonderful city is also a kitchen hub for some of the best restaurants in the country.
For those who still don't know about these money-saving tips. Osaka Amazing Pass is the must-buy item when visiting Osaka. It allows FREE access to up to 40 iconic Osaka attractions with unlimited subway use. Choose from either one or two days. This wonderful pass will save you a lot of money when visiting Osaka.
Additionally, getting around in Osaka can be daunting, especially for first-time travelers. The best thing with Osaka Amazing Pass does not only provide free access to 40 sightseeing spots. You can also travel around Osaka with unlimited rides on the subway and buses for free!
In this post, we will share our Osaka itinerary and how to fully utilize the Osaka Amazing Pass. However, make sure to keep some time for the must-eat food in Osaka.
Travel Tips:
Get access up to 40 sightseeing spot and free subway ride in Osaka with
Osaka Amazing Pass from Klook
. Choose from 1-Day or 2-Days to experience the true vibe of Osaka.
Top 10 Things To Do in Osaka
Osaka is a big and amazing city. There are so many things to do and see in Osaka. Most importantly, it is always not enough time for you to see all the must visit attraction in Osaka. So it is very important to plan your Osaka itinerary ahead before your trip.
We purchased 2-Days Osaka Amazing Pass from Klook during our Japan sakura trip to Osaka. The pass was very easy to redeem at Kansai Airport. You can choose from 1-Days (¥2,800) or 2-Days (¥3,600) depend on your Osaka itinerary.
Listed below are the attractions that we found interesting and had put into our Osaka itinerary. Feel free to adjust accordingly based on your Osaka itinerary and interest.
Pro Tips: Always check the opening hours and facilities available for free at Osaka Amazing Pass Official Website.
1. Osaka Castle (Osakajo)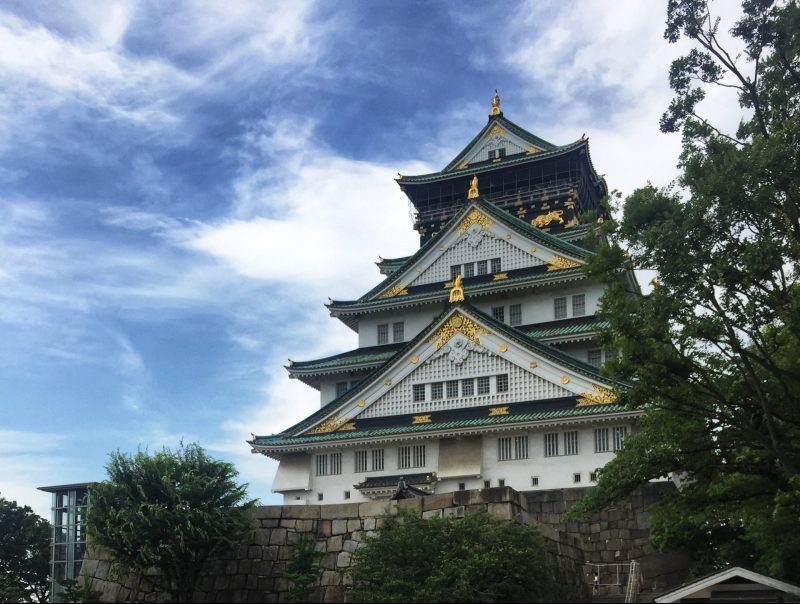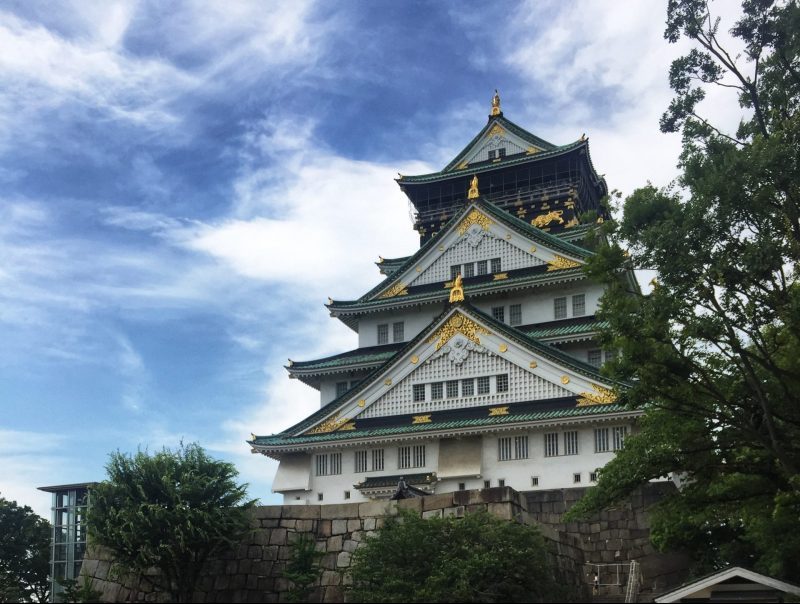 Located in the heart of Osaka, Osaka Castle (大阪城, Ōsakajō) is one of Japan's famous landmarks. It is also a few historical sights in the modern city of Osaka since the 16th century. The main tower of the castle had been burnt and destroyed in the war.
However, thanks to the support from the government and Osaka people. Osaka Castle was restored to its original and reconstructed to new glamour. Its exterior was designed to what it looked like centuries ago. But, the interior is utterly modern with air-conditioned and lift support. People can go onto the viewing platform on the 8th floor. It now houses museums and exhibitions for historical of Japan. 
Nowadays, Osaka Castle is one of the major tourist attractions. Thousand of tourists and even locals are flocking to the castle. So we decided to visit Osaka Castle as our first stop and must-see in Osaka itinerary.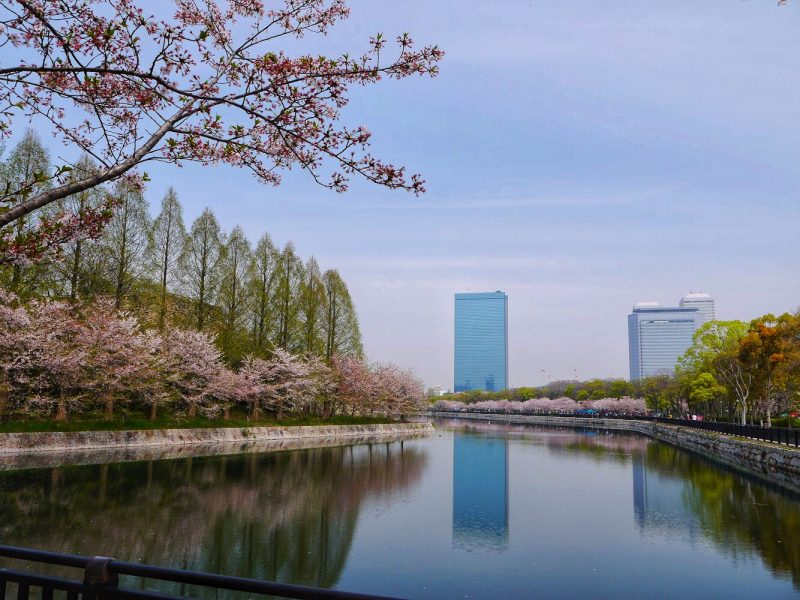 We exited from the subway to Osaka Castle Park. It was so beautiful with cherry blossoms along the river. Additionally, many locals came here for sakura viewing picnics during this hanami season. 
It took us about 15 minutes to walk through the castle park to the entrance. The castle tower is surrounded by citadels, gates, impressive stone walls, and moats.
The View From Osaka Castle Observatory Deck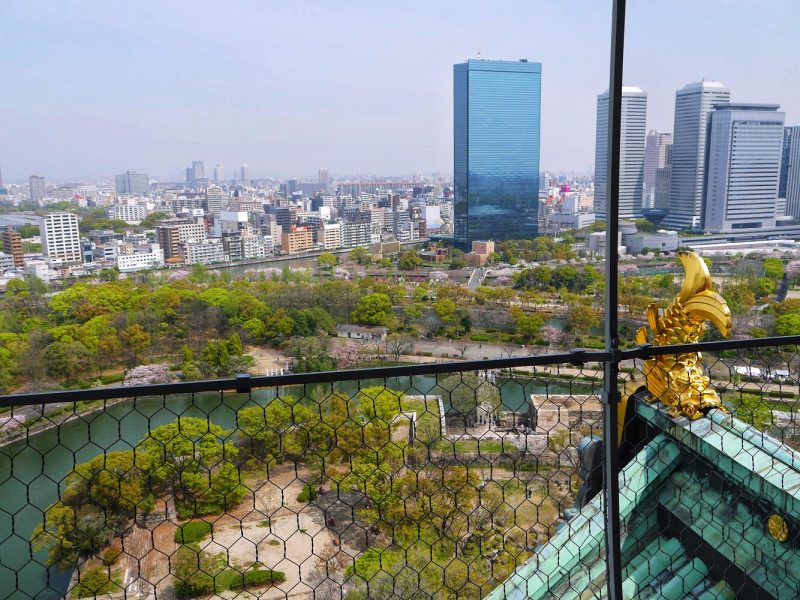 Once entered to castle building, we started our castle visit from the highest floor. There is an observation deck that overlooks the castle from above. Good place for panoramic views and photo opportunities for Osaka Castle.
From there, we took the castle self-touring and slowly walked down to the ground. Each floor features different themes with interesting exhibition pieces along the way. Take a look at intricate screen prints, decorated weapons, and armor on display.
All in all, Osaka Castle is definitely one of the must-visit in Osaka. The castle itself is huge and physically demanding. It required a little hike to the castle tower and walking to a beautiful garden, museum, and shops. Please give yourself 2 to 3 hours to visit Osaka Castle leisurely.
If you are interested, you may also take to Osaka-Jo Gozabune boat which cruises around the inner castle's moat. However, we skipped it and have others plan on a river cruise ride. Limited seats are available. So, we recommend an early exchange if you plan to take the Gozabune boat as part of your Osaka itinerary.
Getting there: 20 minutes walk from Tanimachi 4-chome Station, exit at #1B and #9. Alternative, Morinomiya Station, exit #1 and #3B.
Operating hours: 9:00 to 17:00 (entrance until 16:30)
Entrance Fee: ¥600 (Free with Osaka Amazing Pass)
2. River Cruise Ride: Osaka Wonder Cruise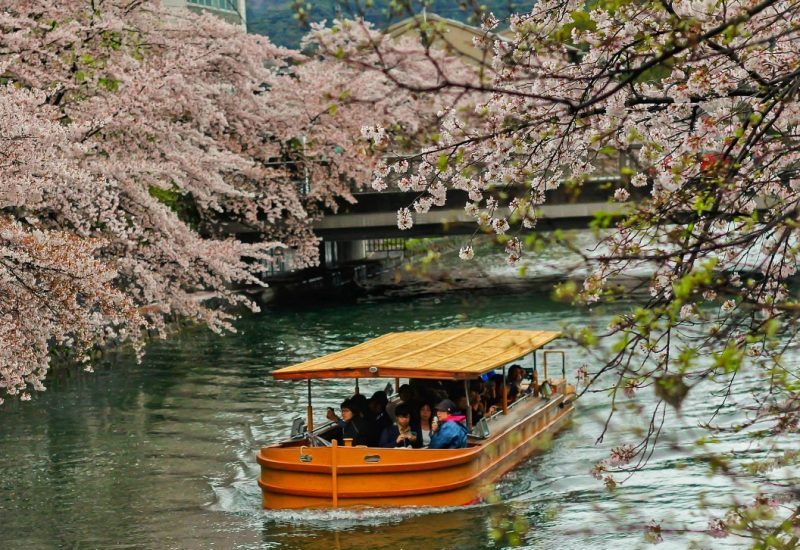 Next, we proceeded to a river cruise ride. There are various river cruises available in Osaka City. For example Osaka Suijyo Bus (Aqua-Liner), Cruise Ship Santa Maria Day Cruise, Pirates Of Osaka, and more. Among these options, we choose the Osaka Wonder Cruise.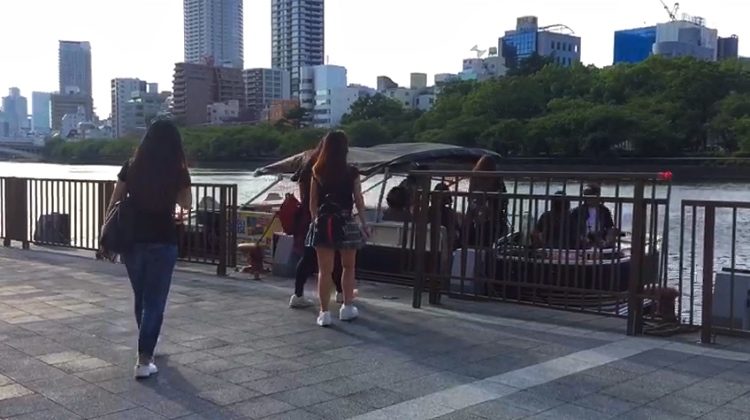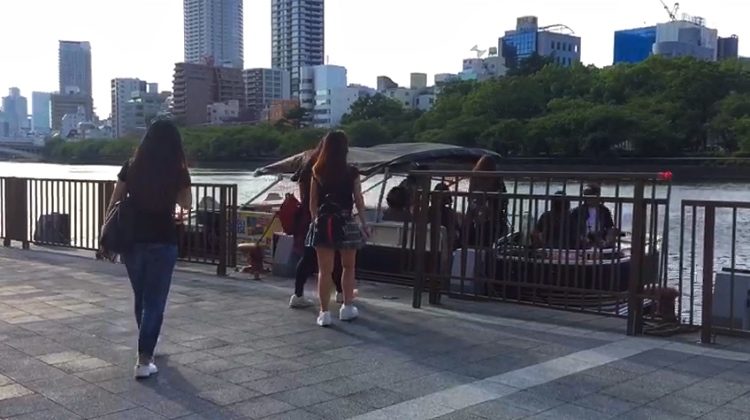 Osaka Wonder Cruise offers three different routes between Dotombori and Temmanbashi from 20 minutes to 35 minutes. We opted for the Temmanbashi route which starts from Tenmabashi (close to Osaka Castle) and finishes at Dotonbori. The capacity is 12 people per boat. So reservation is preferable.
Starting from the Tenmabashi-Hachikenya pier, the cruise will go under the Temmabashi bridge to get a glimpse of Osaka Castle. Next, it will pass through some old bridge with a watergate opening and a closing show. Not very interesting but we enjoyed the leisure river cruise trip. In the end, the cruise stops us at Dotonbori street.
Getting there: 2 minutes walk from Temmabashi Station. Else, 20 minutes walk from Osaka Castle.
Operating hours: Depend on route selection with reservation required.
Entrance Fee: ¥1000 (Free with Osaka Amazing Pass)
3. Shinsekai And Tsutenkaku Tower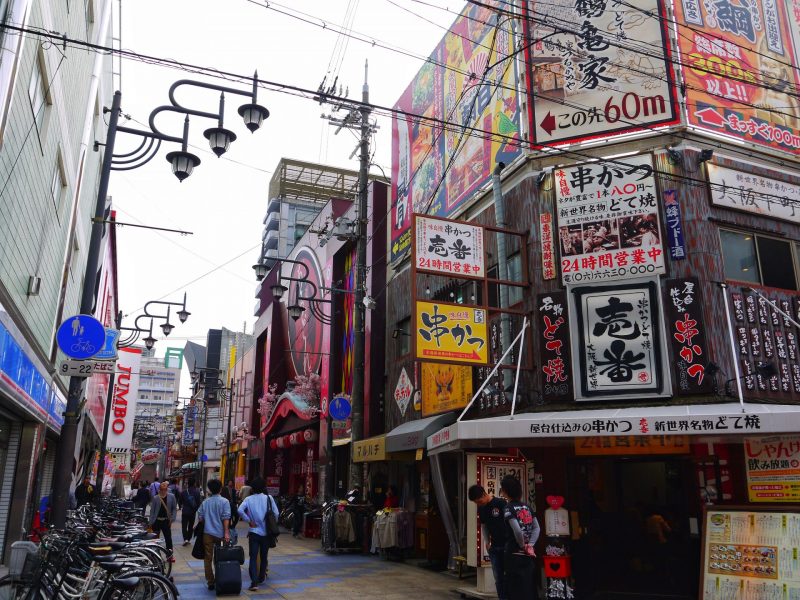 The "Shinsekai" is also translated as "New World". It was designed as an entertainment district in the early 20th century. Originally was modeled from the cities of New York and Paris with a modern image for tourist attraction purposes.
Unfortunately, Shinsekai was neglected in the decades afterward. It is now an old neighborhood with a run-down atmosphere. But, don't get me wrong. Shinsekai is full of uniqueness and memorability. This area was bursting with colors and banners with many nostalgic and vintage things. All these make it like old times Japan for good photo opportunities.
We visited Shinsekai at the noon and not much of people there. Enjoy the stroll and took some great photos here. However, late evening probably was better timing if you want to experience the lively Japanese culture.
Tsutenkaku Tower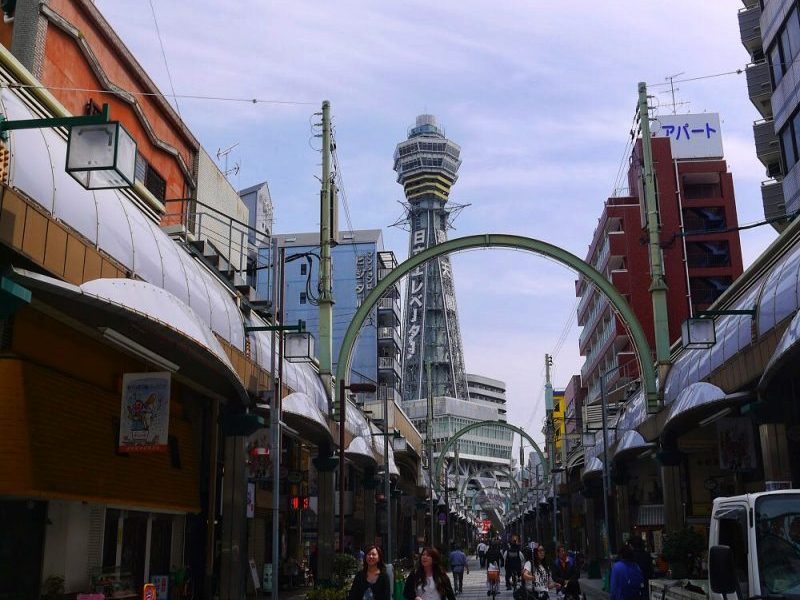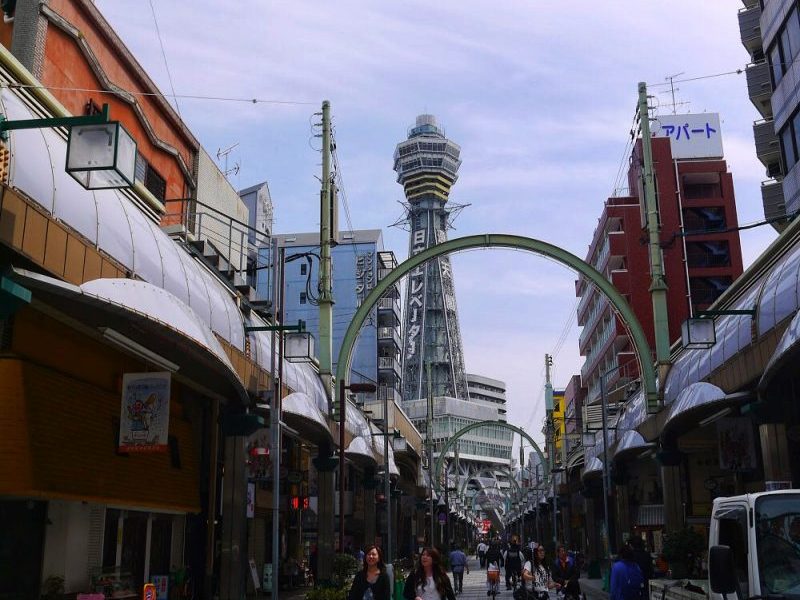 Next, we arrived at Tsutenkaku Tower. It is one of the attractions in Shinsekai which stands right in the middle of the area. The tower was scrapped during WWII and reconstructed in 1956. It is now a 103-meter high tower and one of the well-known landmarks in Osaka.
We used the Osaka amazing pass for free entrance. It was accessed from the basement level from a door that led down. From there, we took the slow lift ride with a brief introduction to the tower inside the lift. 
In addition, you will find a very special deity: Billiken. It is a statue that Japanese people believe will give you a good fortune if you touch his feet. So, just touch for good fortune. Also, glico museum and cafe were inside the tower. Stop by if you want to take some rest.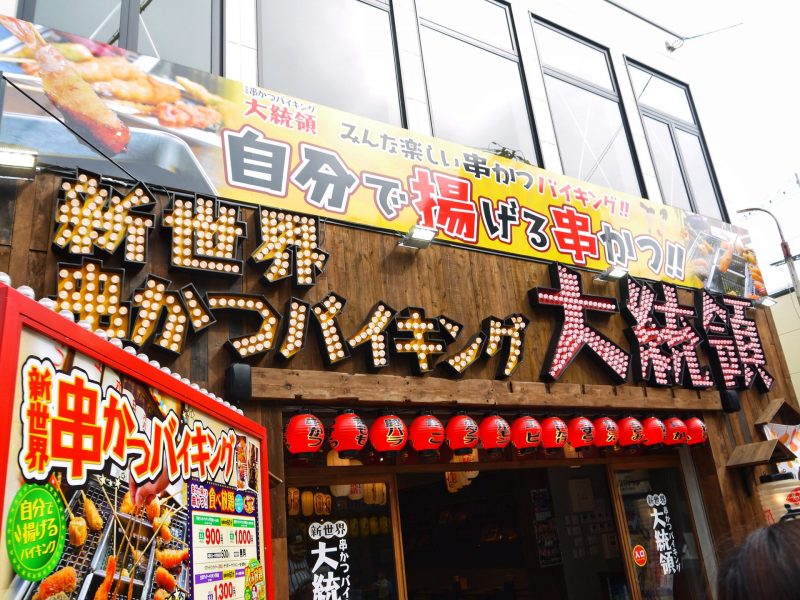 Before you proceed to the next Osaka attraction, don't forget to try the Kushikatsu in Shinseikai. Kushikatsu is one of Osaka's specialties with deep-fried skewers of seafood, meats, and vegetables together with breadcrumbs. Very fattening but delicious.
Getting there: 2 minutes walk from Dobutsuen-mae station. Else, Ebisucho Station on the Sakaisuji Subway Line, exit #3.
Operating hours: Tsutenkaku is open daily from 09:00 to 21:00
Entrance Fee: ¥800 for Tsutenkaku (Free with Osaka Amazing Pass during the weekday)
4. HEP Five Ferris Wheel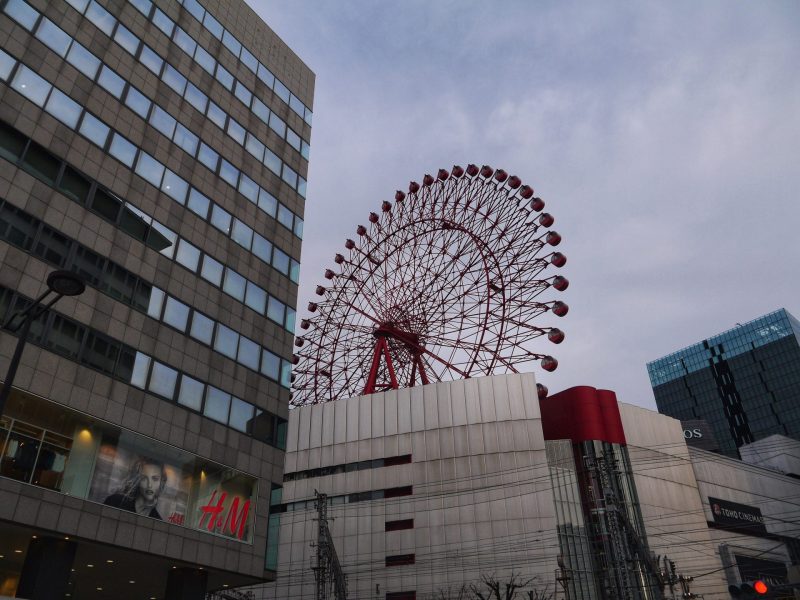 If you have more time and are still not yet tired. Consider taking the quick ride on the HEP Five Ferris Wheel. The Ferris wheel is located on the top floor of the HEP FIVE shopping complex in the Umeda area. It provides 360 degrees of Osaka city view. In fact, both of us were not fans of Ferris wheels. But worth for ride since it was covered by Osaka Amazing Pass.
Luckily the queue was not too long and we didn't have to wait long for the ride. The Ferris wheel moves relatively slowly and comfortably. Enjoy the decent view of Osaka from a new angle!
5. Umeda Sky Building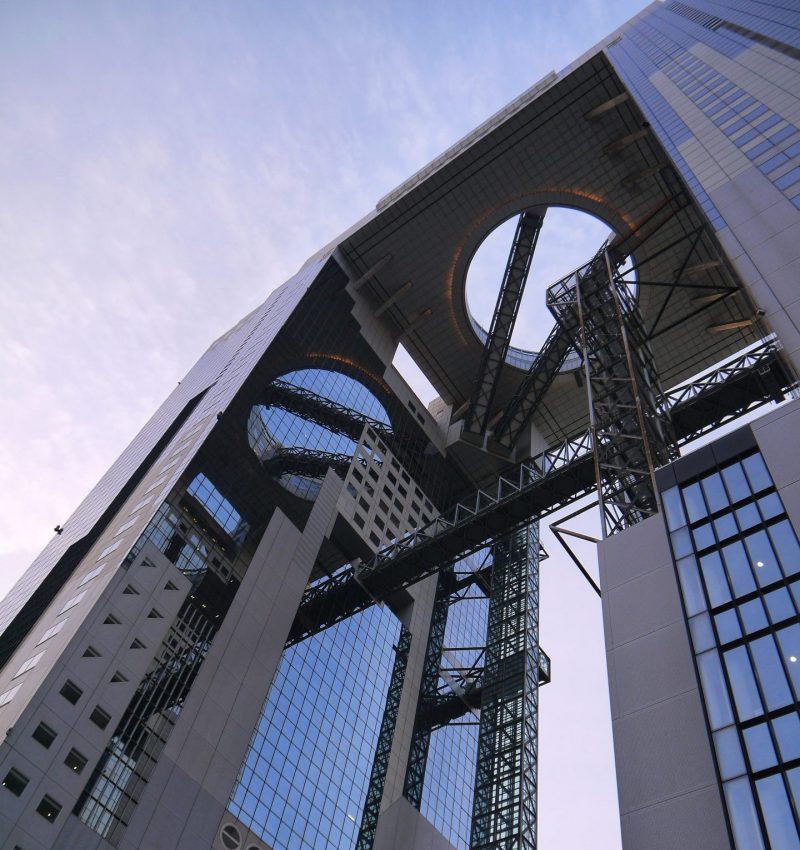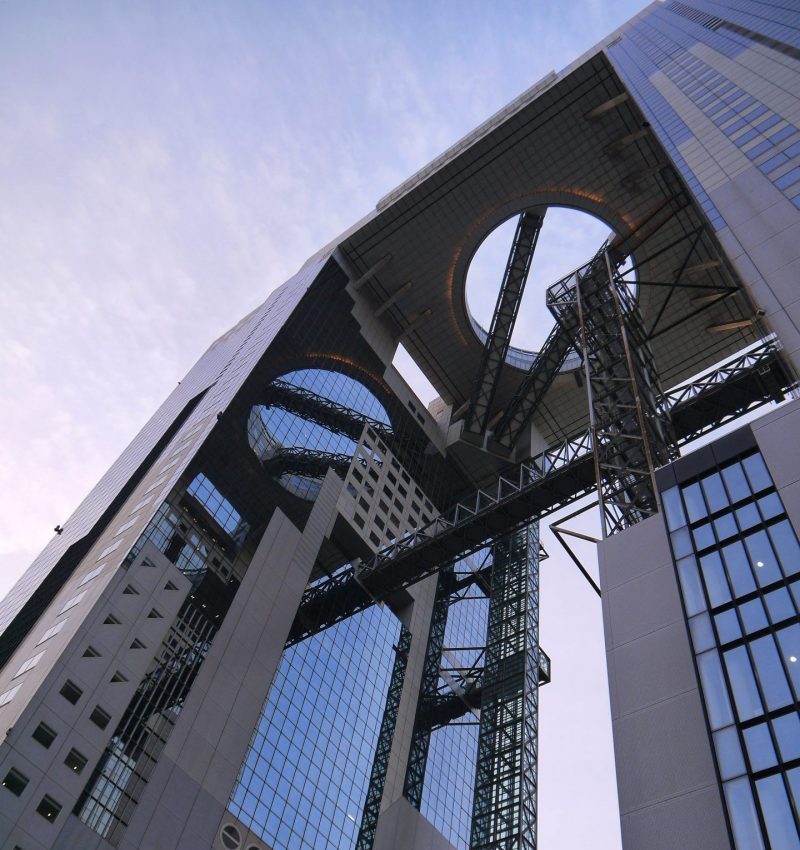 No doubt, Umeda Sky Building is one of the must-visit with Osaka Amazing Pass. This unique building design consists of two towers connected by the "Floating Garden Observatory" on the 39th floor.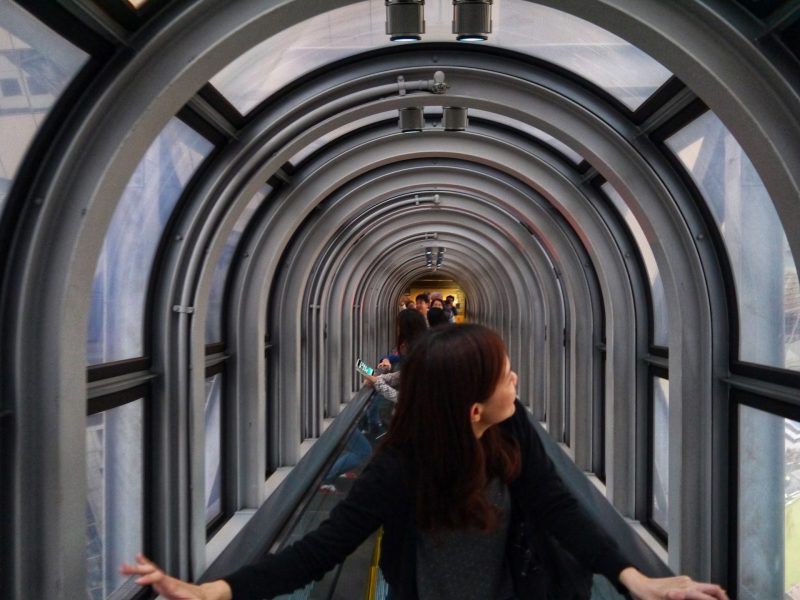 We were enchanted by the steepest escalators' tunnel trip. It was so cool as it takes you from one tower to another across the wide-open space between buildings. An engineering marvel!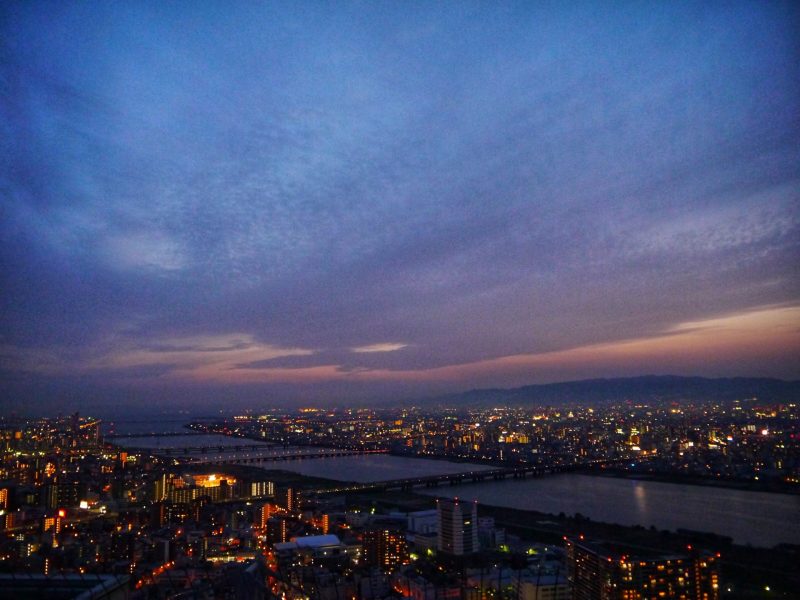 We managed to get to the observatory deck in the late evening. And it was the best time to get a glimpse of Osaka's majestic sunset. The view was so breathtaking. It was one of the best times for us in Osaka.
With Osaka Amazing Pass, Umeda Sky Building is free to access but opted for a skywalk with an additional fee. However, take note of the last entrance time is before 16:00 with Osaka Amazing Pass.
Getting there: 9 min walk from Hankyu, Hanshin & Midosuji Line Umeda Station.
Operating time: From 9:30 to 22:30 (last entry: 30 minutes before closing)
Entrance Fee: ¥1500 (Free with Osaka Amazing Pass before 16:00)
6. Osaka Must Eat: Okonomiyaki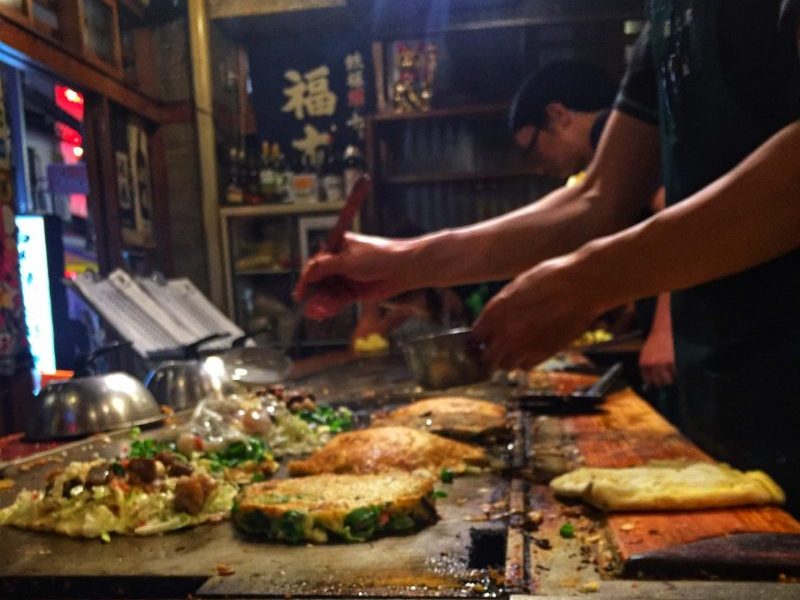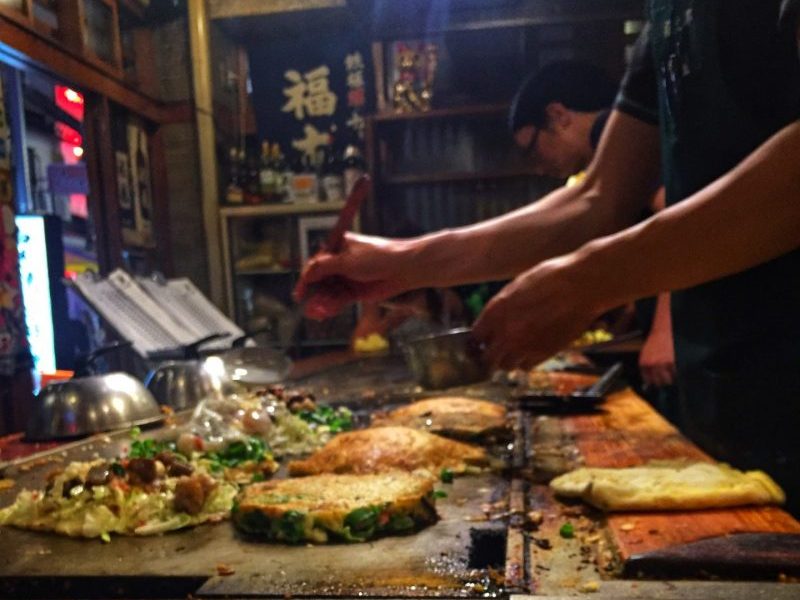 We ended our one-day Osaka itinerary with delicious okonomiyaki at Fukutaro Restaurant. The dining atmosphere is so great. We ordered the two okonomiyaki with beef and pork, and yakisoba. All freshly cooked to order and placed in front of you on the hot plate. It was so good with hot okonomiyaki with a glass of cold beer.
Don't forget to check out our food review at Fukutaro for the best okonomiyaki in Osaka.
Getting there: 4 min walk from Namba Station.
Operating time: From 17:30 to 23:30
In fact, we have been tried on okonomiyaki at Kiji, Mizuno and Fukutaro. Want to know what is their difference? Read on our okonomiyaki food review with top three best okonomiyaki in Osaka.
7. Kuromon Ichiba Market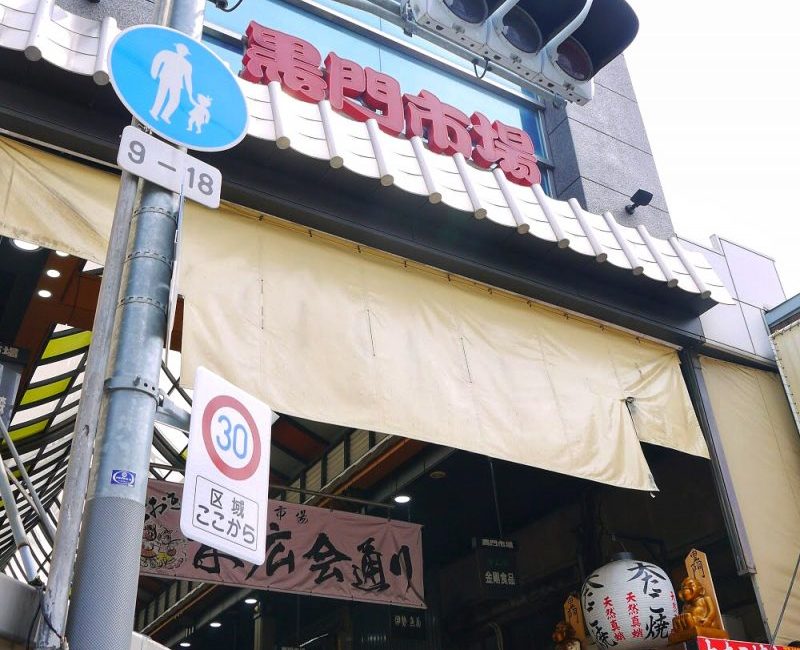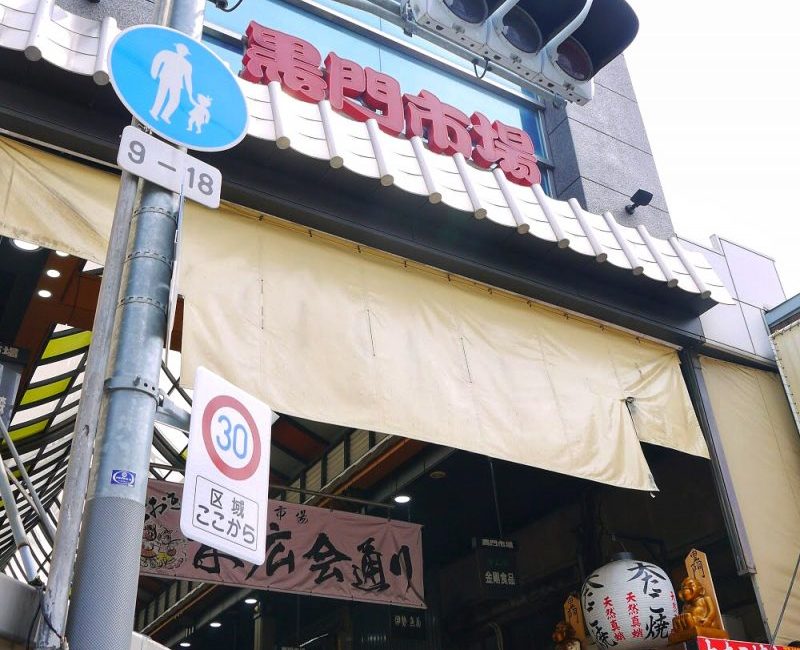 On day 2 in Osaka, we first headed to Kuromon Ichiba market for our breakfast our first stop. It is a lively covered market full of shops selling local produce and a huge variety of fresh seafood. Lobsters, abalones, gigantic tiger prawns, sea urchins, octopuses, king crabs. You can eat it fresh or cooked on the spot immediately.
We took a snacking stroll with plenty of seafood choices along with the market. There was so many foods we would like to eat. Most eateries have little tables and chairs where you can eat in the stores.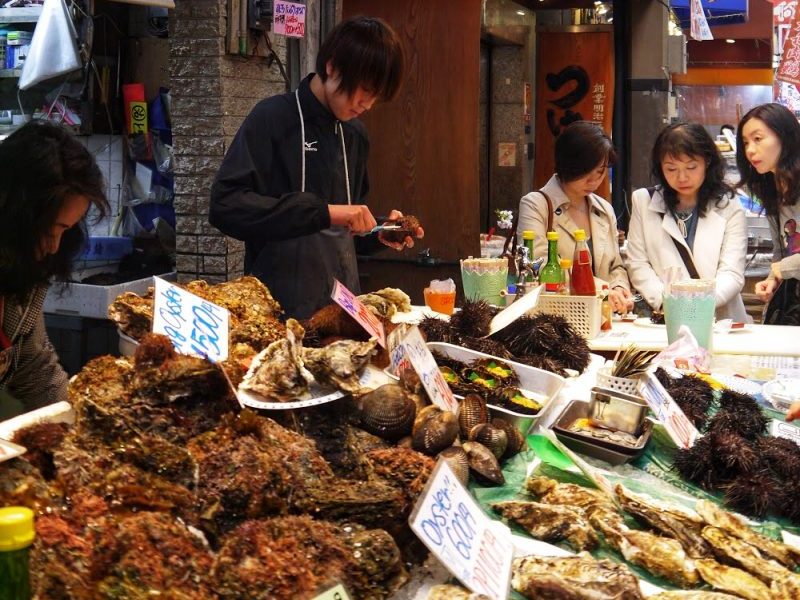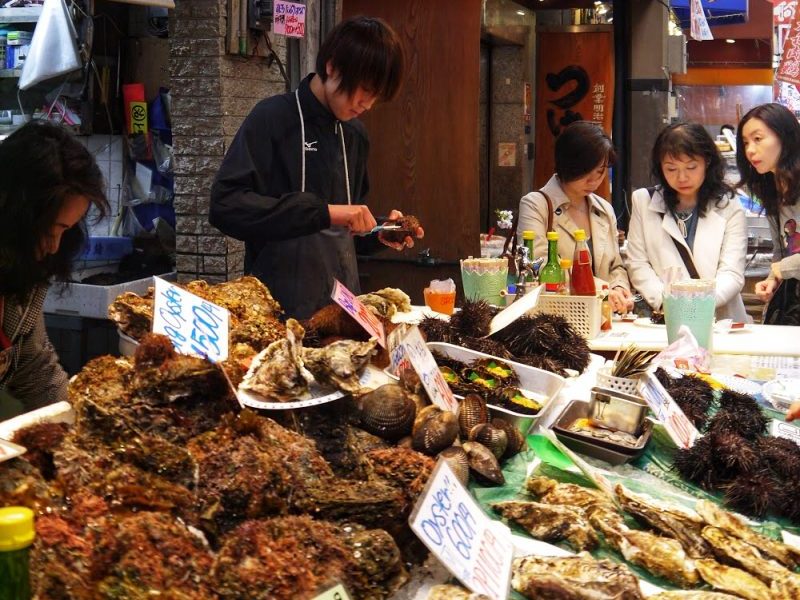 Enjoy our food hunting in the Kuromon market. Firstly, we ate the delicious toro sushi at one corner shop. It was so nice like melting in your mouth. Love it! Next, we enjoy the fresh oysters and sea urchins from one of the fish stalls. The seller opened your seafood selected on the spot immediately and served it fresh. The oysters were so large and succulent.
Last but not least, we also have the gigantic crab from one of the restaurants. All in all, we still preferred the fresh seafood. Nice place to get local food and fresh seafood. It was very interesting to just walk around the market.
Getting there: Right outside at the exit of the Nippombashi subway.
Operating hours: Daily from 09:00 to 18:00
Entrance Fee: Free.
8. Osaka Aquarium Kaiyukan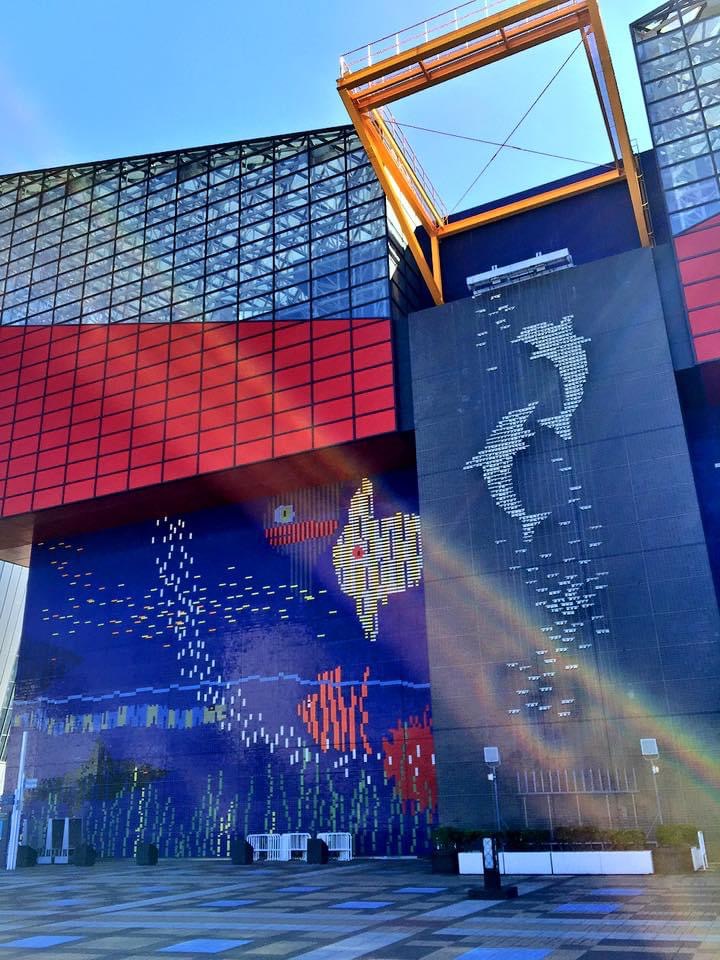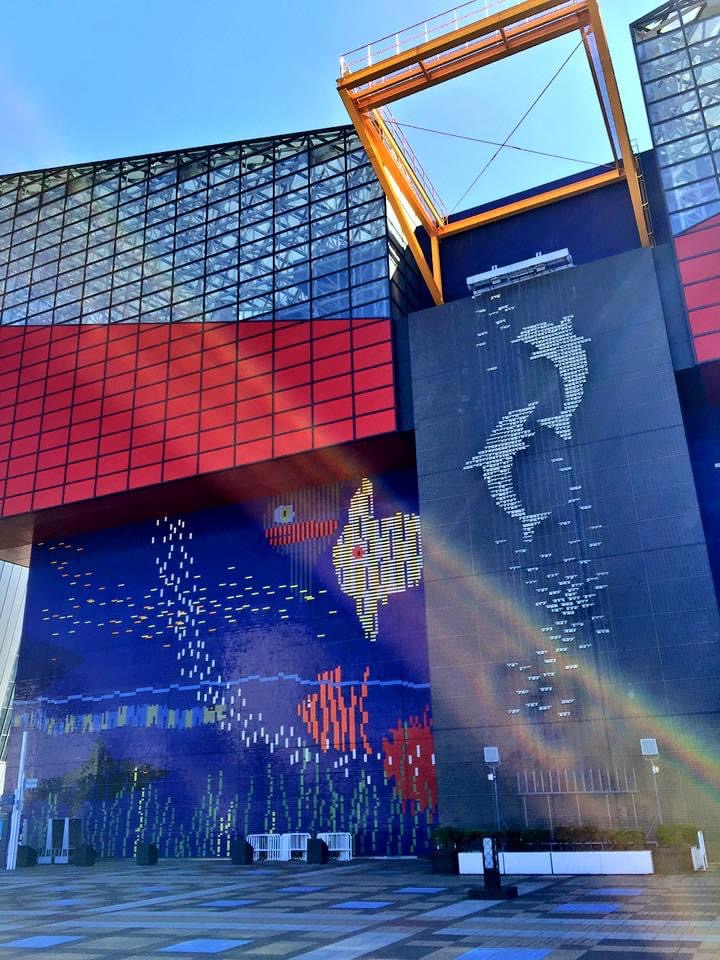 Osaka Aquarium Kaiyukan is one of the must-go attractions for marine life lovers. You can enjoy seeing the deeper depths of the ocean and the Arctic. The biggest aquarium featuring a shark whale is one of the biggest attractions in Osaka Aquarium Kaiyukan. Penguins, stingrays, and any type of marine life can be found here. Added, there are food feeding activities, so please come early.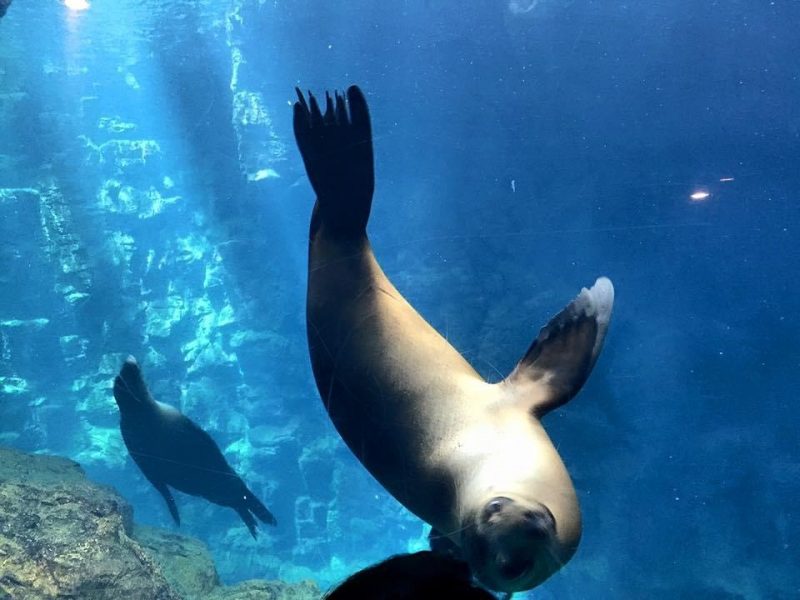 The Osaka Aquarium Kaiyukan is not part of the Osaka Amazing Pass and is required for separate purchase. But you get a free ride from Osaka Amazing Pass. Additionally, we recommended getting your ticket in advance from Klook. (Check price here). It was a super easy entry by scanning tickets directly at the gate, and you can bypass the queue, especially during weekends or holidays. Highly recommended.
Getting there: 5 min walk from Osakako Station, Exit 1.
Operating hours: Daily from 10:00 to 20:00
Entrance Fee: ¥2300. Kids ¥1200 for ages 7-15 and ¥600 for ages 4-6.
Travel Tips:
Visit
Osaka Aquarium Kaiyukan
, one of the world's largest aquariums, with over 600 species of animals and witness aquatic animals of the Pacific Rim in the recreation of their habitats. Skip the ticket queue with Klook voucher!
9. Dodonbori and Tombori River Cruise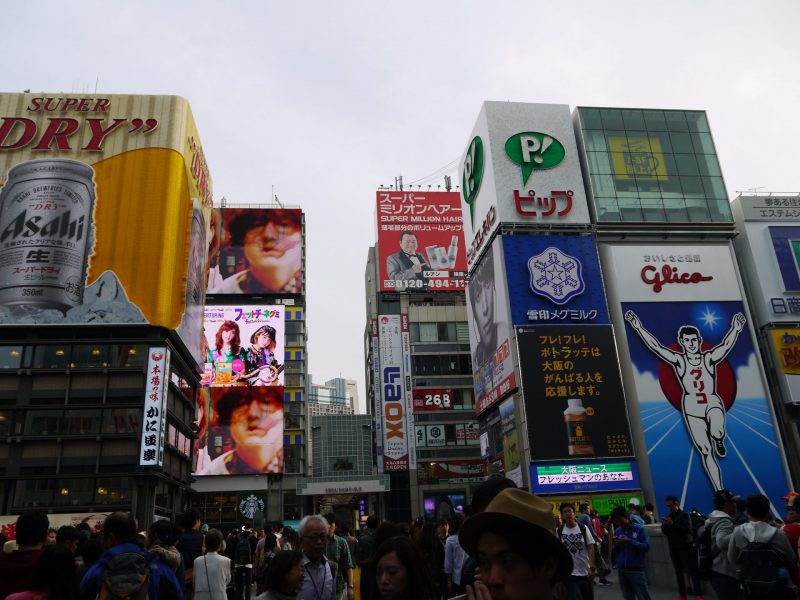 We spend our afternoon for a relaxing stroll and the best dessert at Dodonbori.
Dodonbori is Osaka's famous attraction and is renowned for its energetic arcade. This lively entertainment area is full of shops, restaurants, and bars with eye-catching billboards and neon lights. The signature Glico's Running Man signboard is located at Dodonbori!
Tombori River Cruise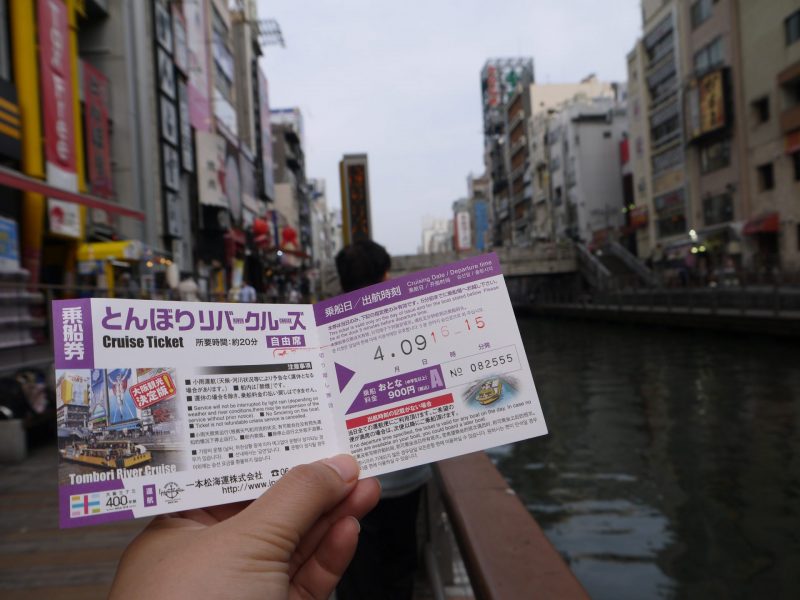 Walking along Dotonbori street, you will likely see the yellow river cruise along the river. Do you know that this Tombori River Cruise also comes for free with the Osaka Amazing Pass?
It was a special experience by visiting Dotonbori on this river cruise. What you need to do is reserved your seat at the ticket counter in front of the Don Quixote discount store. This 20 minutes cruise will bring you passing through Dotonbori street and some of the must-sees in Dotobori for a quick photo session.
Dessert Time in PABLO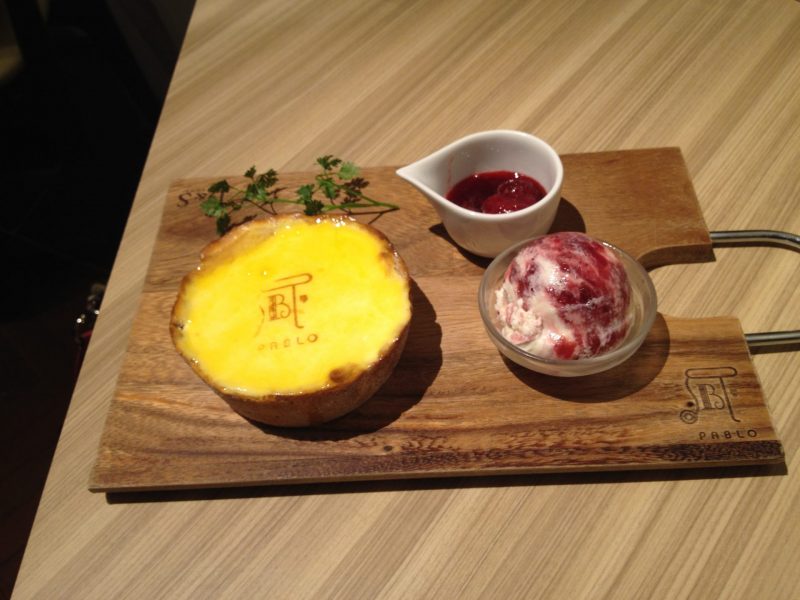 While waiting for the boarding time, we went to PABLO for dessert. PABLO is a famous cheesecake in Osaka. They have several stores throughout the city. But the largest store is located at Dotonbori. Still, we have to wait for 30 minutes to get into PABLO. Enjoy our strawberry cheesecake at PABLO. It was so delicious! Make sure to check your board time for the Dotonburi River Cruise.
Related Food Review: PABLO Dotonbori Osaka: The Best Cheesecake Dessert
Shopping at Shinsaibashi
Don't forget to walk to Shinsaibashi which is located nearby Dondobori street. Shinsaibashi is Osaka's most important shopping area with hundreds of shops lining this shopping street. Some of the big names on this street are H&M, Uniqlo, Zara, United Arrows, GU, and department stores like Daimaru. You may also find some of the Japanese unique boutiques here.
Shop till you drop at Shinsabashi here!
10. Hot Spring Bath: Spa Suminoe
Want to experience an amazing onsen experience in Osaka? Added, it is free entry with the Amazing Osaka pass! Well, there are two hot springs with free access with Osaka Amazing Pass: Spa Suminoe and Naniwa no Yu. You can choose one of them from the past.
Our last thing to do on the Osaka itinerary is a hot spring experience in Osaka. We decided to go to Spa Suminoe with 6 spas targeting different parts of your body after discussion. So glad that we made the right decision. It was located in a residential area and not much of tourists. Just follow the onsen ethic to enjoy the hot spring bath. Don't be shame and just do whatever others do. Separate bath for male and female.
There are indoor and outdoor spa facilities. I personally like the outdoor setting with green and natural surroundings. Good place for relaxation and refreshment after a long day. Remember to bring your own towels if you don't want to pay ¥200.
Natural Open-air Hot Spring Spa Suminoe
Getting there: 5 min walk from Suminoekoen Station, exit #2.
Operating hours: 10:00 to next day of 2:00

Please take note of public transport is operated until 12:00 midnight.
Supper in Izakaya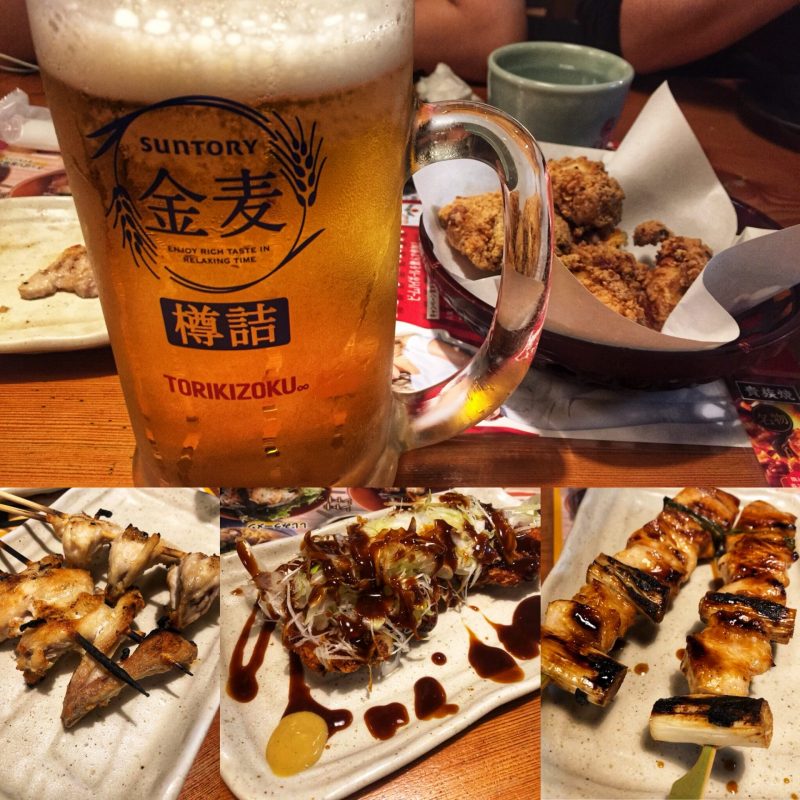 After the relaxing public bath, we went to Torikizoku for supper. The Torikizoku is one of the famous Izakaya (Japanese pub) among locals in Osaka. It served the Yakitori (chicken skewer) from various parts of the chicken. The best thing is only domestic chicken is used for their Yakitori. 
While the price was so cheap and fix at 280 yen after including tax. So you can imagine how busy the restaurant is even late at night. We ordered quite a number of yakitori to try on. And it was so good with a cold beer.
The Torijiro has a few branches scattered around Osaka. We went to the Dotombori branch which is located nearby our hotel. Pick the one closest to your hotel.
Torikizoku Dotombori Branch
Address: 4-5F, Bonchi Bldg, 1-10-7, Dotonbori, Chuo-ku, Osaka-shi, Osaka
Operating hour: Daily from 17:00 to the next day at 2:00 a.m. Added, Friday and Saturday will be until 5:00 a.m.
More time in Osaka? Universal Studios Japan (USJ)
For Theme-Park lover, check out the Universal Studios Japan (USJ). Experience the thrill of the world at Universal Studios Japan in Osaka. It is Japan's best theme park for four years in a row! Must-visit the Harry Potter world and the Mario Adventureland.
Universal Studios Japan (USJ) with 1, 1.5 and 2-day Studio Pass
Osaka Travel Tip: Definitely recommend getting the Universal Studios Japan ticket through Klook. Purchasing the USJ tickets through Klook will help to get in the park faster and avoid long queues on the day. Besides, it is less expensive than the original price!
How To Plan Your Osaka Itinerary?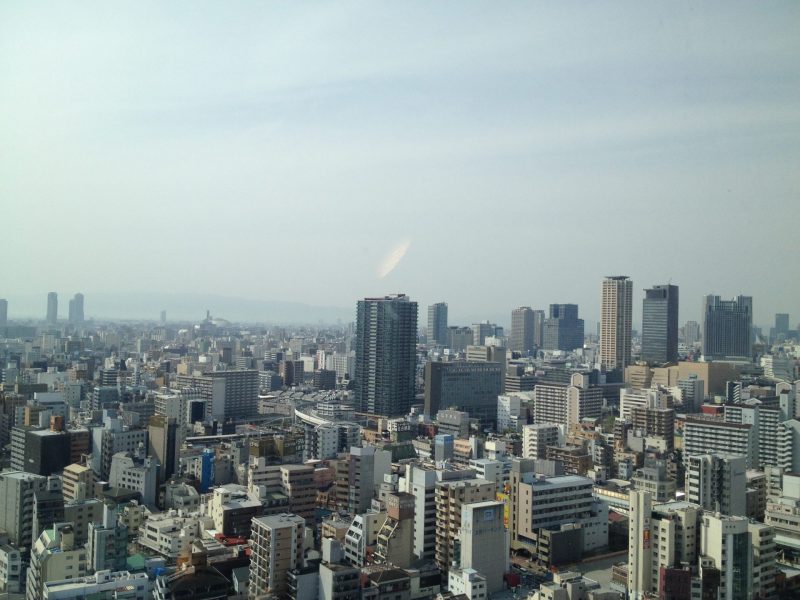 All in all, Osaka is an amazing and wonderful city. There are so many things to do and see. For sure you will find something that suits your interest to put on your Osaka itinerary. Depends on your traveling purpose. If you are putting too many attractions within one day, you may end up visiting something that you don't like.
For first-time travelers, we advise Osaka Castle, the Umeda Building, and one of the river cruises. We were highly recommended and rated as top three must-visit with Osaka Amazing Pass. Actually, we only fully utilized the Osaka Amazing Pass for one day.
However, thinking of the price difference are only ¥900 and covered for transportation ride in Osaka city. So, we decided to purchase the Osaka Amazing Pass for 2-Days to save money on the subway ride. It was so great to visit the Osaka Aquarium Kaiyukan to complete the Osaka Amazing Pass itinerary for 2 days.
2-Days Osaka Amazing Pass Itinerary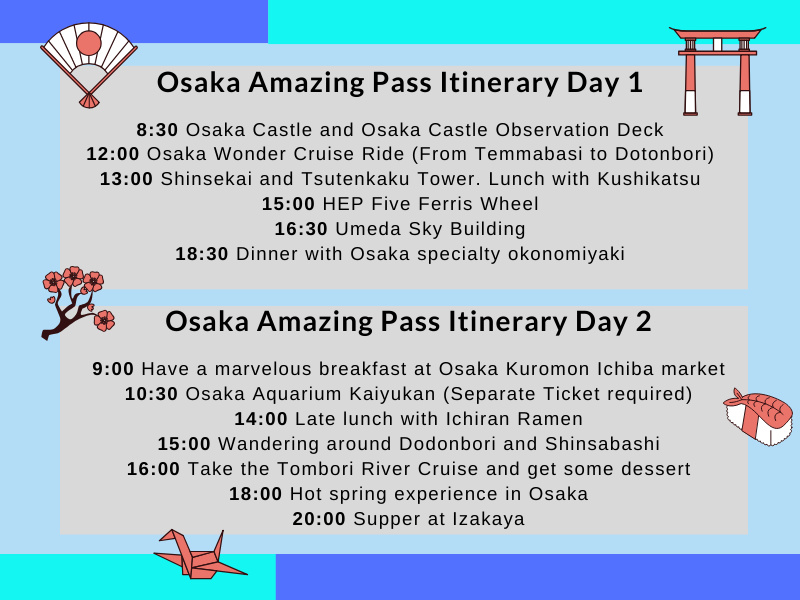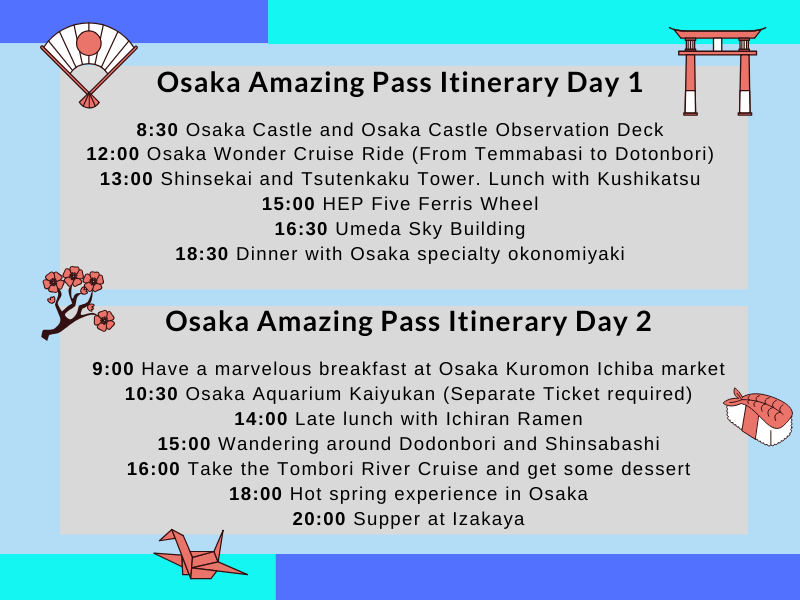 Below is my detailed time schedule for my 2-Days Osaka Amazing Pass itinerary. Feel free to adjust based on your interest.
Osaka Amazing Pass itinerary Day 1:
8:30 Osaka Castle and go up to Osaka Castle Observation Deck
12:00 Osaka Wonder Cruise Ride (From Temmabasi to Dotonbori)
13:00 Shinsekai and Tsutenkaku Tower. Lunch with Kushikatsu
15:00 HEP Five Ferris Wheel
16:30 Umeda Sky Building
18:30 Dinner with Osaka specialty okonomiyaki
Osaka Amazing Pass itinerary Day 2:
9:00 Have a marvelous breakfast at Osaka Kuromon Ichiba market
10:30 Osaka Aquarium Kaiyukan (Separate Ticket required)
14:00 Late lunch. We ate the fabulous Ichiran Ramen
15:00 Wandering around Dodonbori and Shinsaibashi
16:00 Take the Tombori River Cruise and get some dessert (PABLO)
18:00 Hot spring experience in Osaka
20:00 Supper at Izakaya
In short, make sure to include Osaka Amazing Pass into your Osaka travel list. For more about Klook and their Osaka Amazing Pass offers, click here.
Where To Stay in Osaka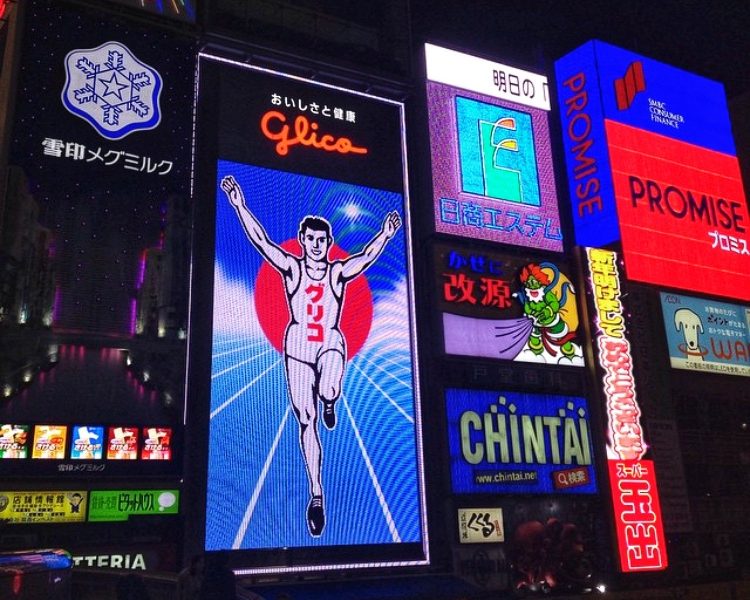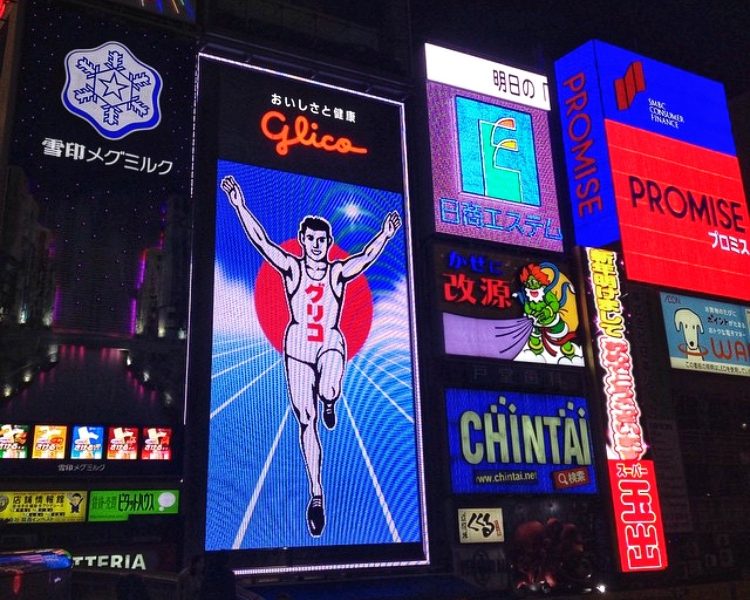 When looking for where to stay in Osaka, we highly recommended hotels and hostels located nearby the station. We listed out a few choices which under our consideration during our trip to Osaka:
Hotel Monterey Grasmere Osaka is an unbeatable pick. It is directly connected to JR Namba Train Station and OCAT (Osaka City Air Terminal) located right next to the hotel within a minute's walk. You can direct the airport shuttle bus to/from Kansai Airport easily.
Cross Hotel Osaka is located about 5 minutes walk from the Namba Station Midosuji Line. This 4-star hotel is always the top pick of travelers due to its fantastic location situated between Dotonbori and Shinsaibashi.
Centurion Hotel CEN Osaka Namba is located 5 minutes away from Namba and OCAT. Everything you need is within walking distance. Shinsaibashi, donburi, and eateries are surrounded nearby.
Nest Hotel Osaka Umeda is a 3-star hotel situated nearby Umeda Station. It is a decent chain of business hotels in Japan. All rooms are cozy and modern. Very suited and practical for the traveler who looks for a comfortable stay. Reasonable price tag too!
For the budget traveler, consider the Khaosan World Namba. This hostel is super convenient and strategically located nearby Namba Subway Station and Osaka City Air Terminal (OCAT). Choose from the dormitory, double room, quadruple, or room up to 6 people.
Complete read on the full list of recommendation list: Where To Stay in Osaka: Umeda or Namba?
How To Plan On Kansai Travel Itinerary
This Osaka Amazing Pass 2 days itinerary is part of our travel blog when we visit the Kansai region. If you are interested, please read about our visit to Kyoto, Nara, Uji
Kyoto itinerary: 15 Things To Do and Eat for 3 Days in Kyoto
Best Day trip from Kyoto or Osaka
Kyoto and Osaka Food Guide:
How to travel to Osaka, Kyoto & Nara: