Last updated on November 9th, 2023
Lake Toya itinerary is especially for hot spring and scenic lover. Spend your day at Mt Usu by Usuzan ropeway, enjoy the onsen bath with amazing lake view. It's more incredible when firework explores over the lake.
Toya (洞爺) is a peaceful and quaint little town that is known for its hot springs and the magnificent view of Lake Toya. Being as part of the Shikotsu-Toya National Park, Lake Toya (洞爺湖, Tōyako) is well renowned for its mesmerizing landscape and natural beauty.
Board a pleasure boat or taking a long stroll at the lakeshore to enjoy the unfrozen Lake Toya. For natural lovers, take the ropeway to the Mt Usu, one of the active volcano in the world. At night, there is a fireworks display over the lake from May to October!
Read more on below Lake Toya travel blog with our itinerary, what to do, and where to stay during our journey to Mt Usu. Hopefully, my Lake Toya travel guide is helpful!
Transportation Guide: Getting To Lake Toya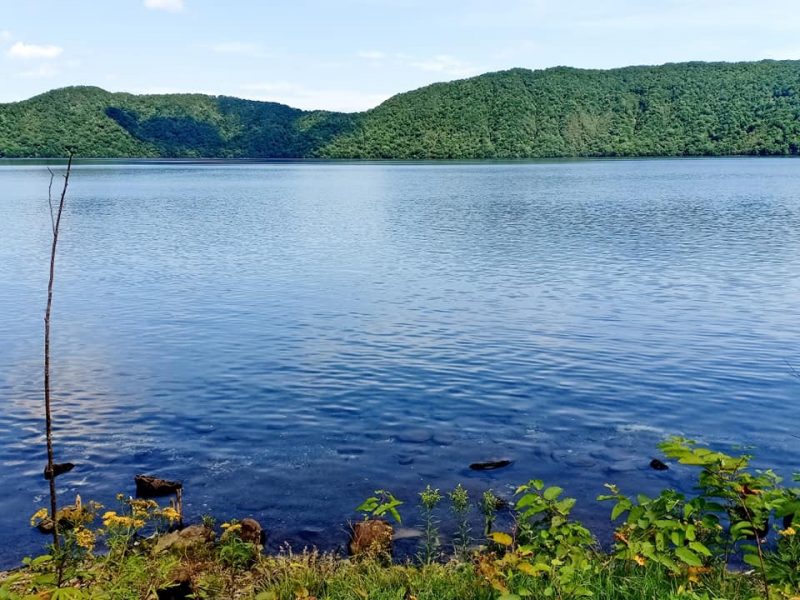 From Hakodate by JR Train: The rail journey between Hakodate and Lake Toya station, TOYA 洞爺 (JR-MURORAN line) is direct without required any transfer. It's about 2 hour's journey which cost ¥5,390. Get off at the station and take the connecting bus to the Lake Toya. Single bus fare is ¥330 while the return is ¥600 for an adult.
From Sapporo by JR Train: Same for traveler from Sapporo. Get off at TOYA (JR-MURORAN) and continue with local bus to Toyako Onsen. Rail fare is ¥5,830 for 110 minutes of the train journey.
Self-driving: Rental car is still the best-recommended transportation for exploring Lake Toya at your own pace. Don't forget to check your rental car price at RentalCars.com. Best price guarantee and high reputation.
Shuttle Bus from hotel: Most of the hotels at Lake Toya provide free shuttle bus service from Sapporo City. Toya Sun Palace Resort is one of the accommodation provide this daily free shuttle service. Reservation required, please book your seat in advance.
Lake Toya Itinerary: 2 Days 1 Night Stay
Japan is world-famous for its hot spring, so-called Onsen. Ever since my first try on onsen in Hakone, all my Japan itinerary for sure will spare one to two days for this amazing experience. And this also applies for my Hokkaido trip. During my visit to Hokkaido, I am so greedy to put both Lake Toya and Noboribetsu into my Hokkaido itinerary.
My Hakodate Trip was ended after the wonderful city exploring. Next, we proceed with our Lake Toya itinerary for 2 days 1 night stayed at Toya Sun Palace Resort.
Getting To Lake Toya From Hakodate
From Hakodate, we took the JR train from Hakodate JR Station to TOYA (JR-MURORAN) with seat reservations. Enjoy the scenic train journey for 2 hours.
Once reached, we proceed to take the Donan bus to the hotel for check-in. The bus station is located on the right side once exiting from the JR station. Buses from Toya station to Toyako Onsen was very ordinary commute bus. The bus fare is a flat rate with ¥330 in one way. One bus per hour.
Travel Tips:
Toya Sun Palace Resort And Spa
is just located right in front of Higashimachi station, the last stop of Donan bus route. However, please take note of not every bus will reach this station. Please double-check the bus schedule or ask the bus driver before boarding. The distance from Toyako Onsen Bus Terminal to Toya Sun Palace Resort And Spa required 10-15 minutes on foot. Our room is a double bedroom with a lake facing. Breath-taking.
Wandering in Toyako Onsen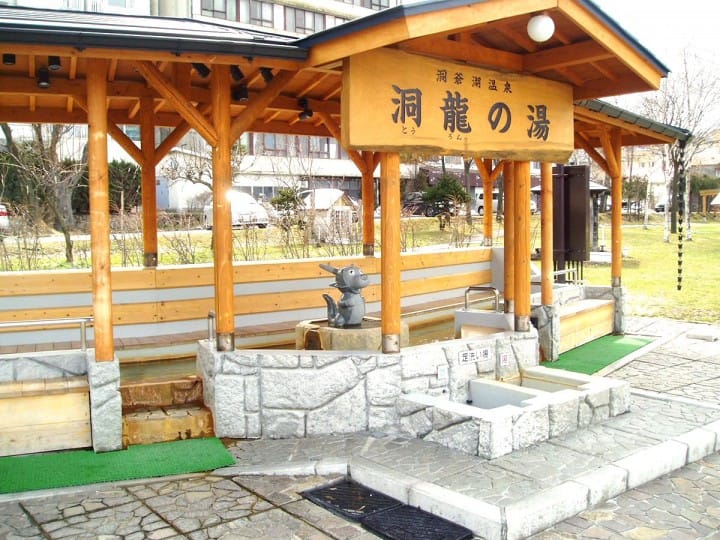 We took a slow walk to Toyako Onsen. The walking is very nice along the lakeshore. Many lakeside resort hotels and restaurants available at this Onsen town. For visitors dropped by Lake Toya for a short time, you may also enjoy a foot bath, called Ashi-ui with free at here.
Simply choose a restaurant for lunch before heading to our next destination, Mt. Usu.
Take The Ropeway Ride To Mt. Usu
Mt. Usu (有珠山) is located in south of Lake Toya in Shikotsu-Toya National Park. It is one of the active volcano in the world, which erupted four times within 100 years ago. Together with Shōwa-shinzan, Mt. Usu has been authorized in the UNESCO Global Geopark. Both are popular attractions when visiting Lake Toya.
We took the Donan bus bound for Showa Shinzan from Toyako Onsen Bus Terminal to the Mt. Usu. At the foothill, there are various restaurants and souvenir shops at Kazan-mura, the so-called Volcano Village.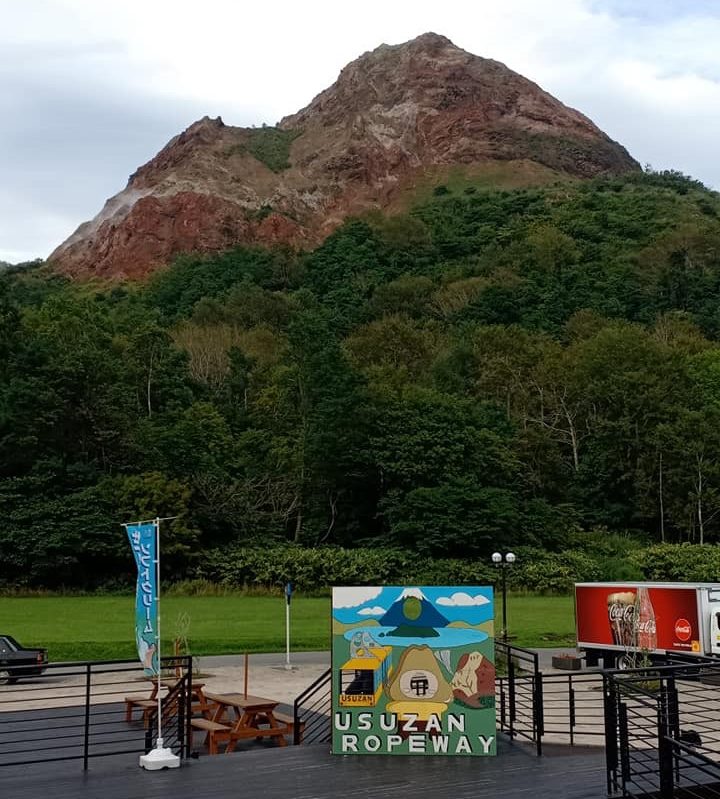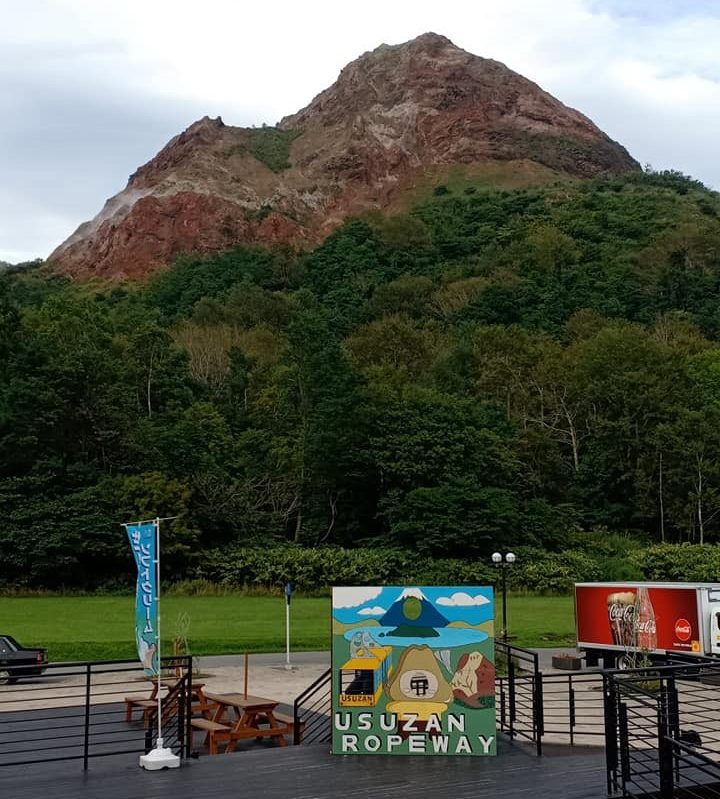 Without hesitation, we redeem the return ropeway ticket at the counter. Usuzan ropeway is the most popular and easiest way to reach the summit, but visitors can choose for hiking.
Say cheese to Usuzan Ropeway!
Traveler Tips: Get the Special Discounted Usuzan Ropeway Roundtrip ticket from Klook at ¥1,600 (¥200 cheaper compare with buying onsite). Just show the mobile voucher for redeem from the ticket counter and take the ropeway. (Check Usuzan Ropeway Price)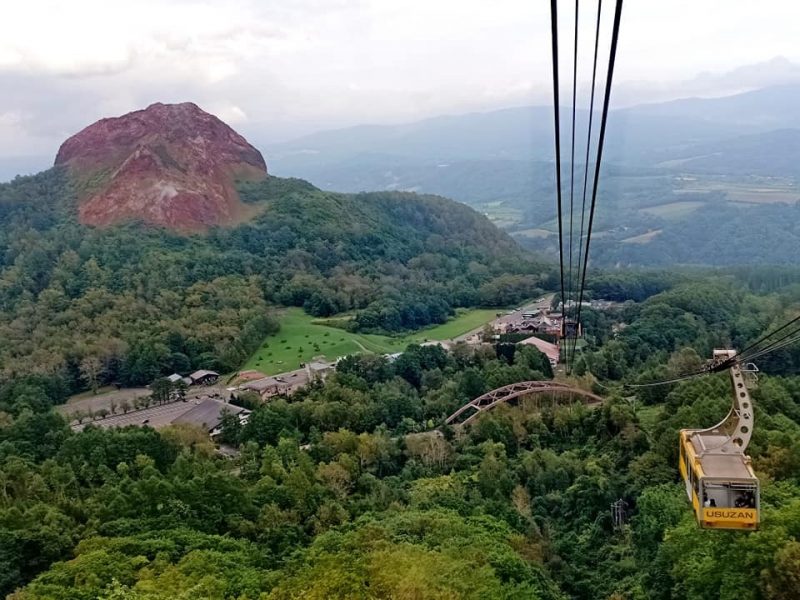 The 6 minutes short gondola ride on Usuzan ropeway bough us up near the summit. Enjoy the stunning view while getting up to the peak.
Toyako Viewing Platform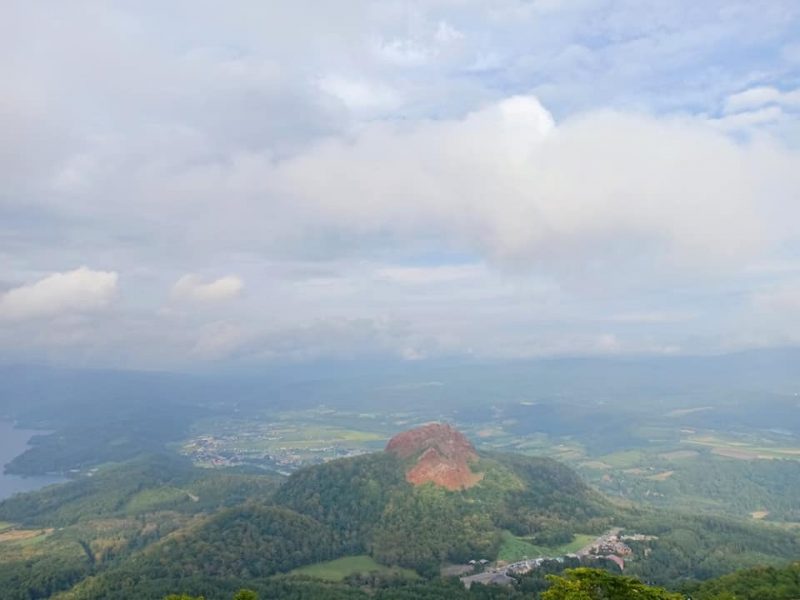 The view right when you get off the ropeway is spectacular.
At Usu-sancho Station (有珠山頂駅), there are two very picturesque observation decks: Toyako Viewing Platform and Usu Crater Observatory.
Toyako Viewing Platform (洞爺湖展望台) is just outside from ropeway station. This wooden platform offers an amazing panoramic view of Lake Toya and Showa Shinzan. Enjoy the amazing view of Mt. Showa Shinzan with Lake Toya.
Usu Crater Basin Observation Deck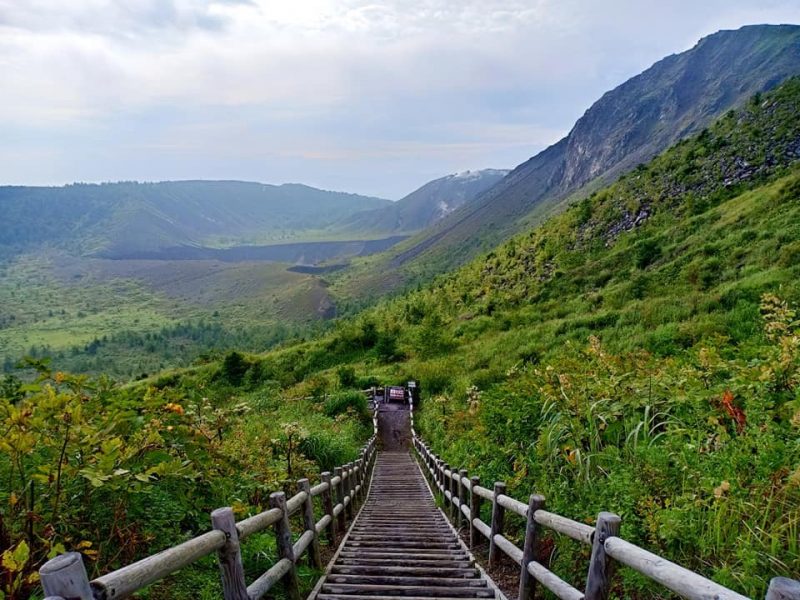 The next observation deck is Usu Crater Observatory (有珠山火口原展望台). It required some hike to this observation deck. Added, the trail is not a flat boardwalk and can be very steep along some parts. It is not too hard and very worthwhile for the best view of craters.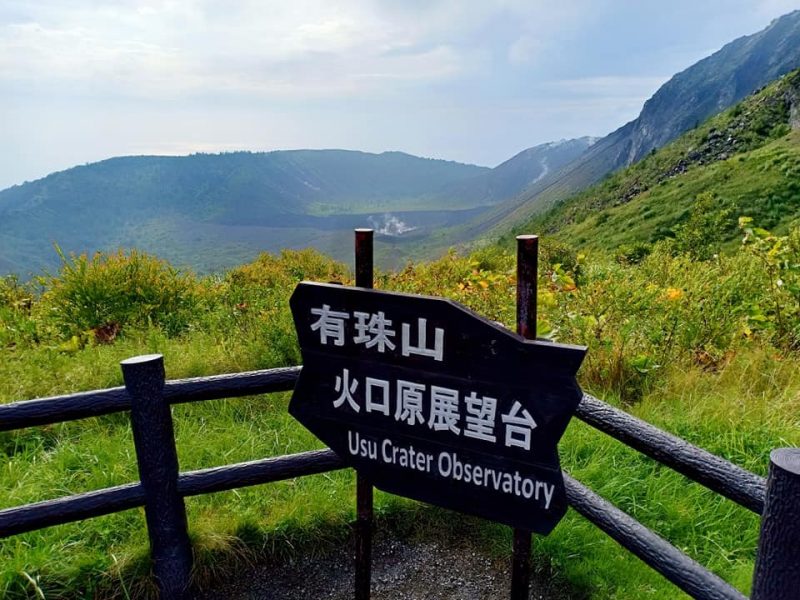 It took us about 20 minutes to the Usu Crater Basin Observation Deck. The observatory has a view of Lake Toya, Showa Shinzan, and the central crater of Mount Usu.
The view is so magnificent and we took countless of photo here.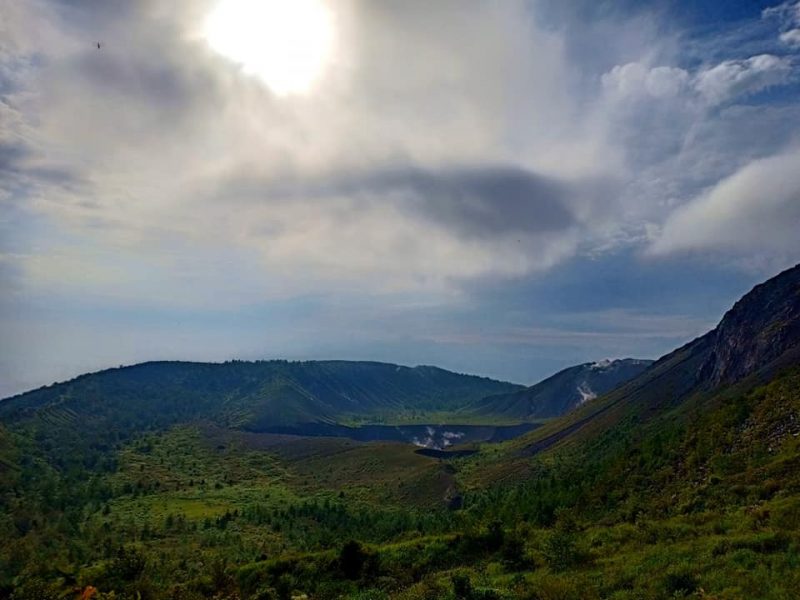 Last look on the breathtaking view before heading back down via ropeway.
Side note: There is a mountain trail circling the outer rim of the crater. The hiking journey took about 1.1 km with 40 minutes on foot for a closer look at the crater. The largest crater, Ginnuma Crater was created by the 1977 eruption. We did not plan for this due to time constraints. Hiker can consider for this.
Getting to Usuzan Ropeway from Toyoko Onsen bus terminal: Local Donan bus connected between onsen town and Mount Usu. From Toyako Onsen Bus Terminal, take the donan bus bound for Showa Shinzan and get off at last stop. The bus journey takes about 15 minutes with ¥340 for one way. Four buses per day. Parking fee is ¥500 for self-driving.
Ticket Price: Free admission to Mt. Usu. But, the ropeway is cost ¥1,600 to the summit. Get the discounted price for Usuzan Ropeway Ticket from Klook.
Operating hours: 08:15 – 17:30
Fantastic Firework Show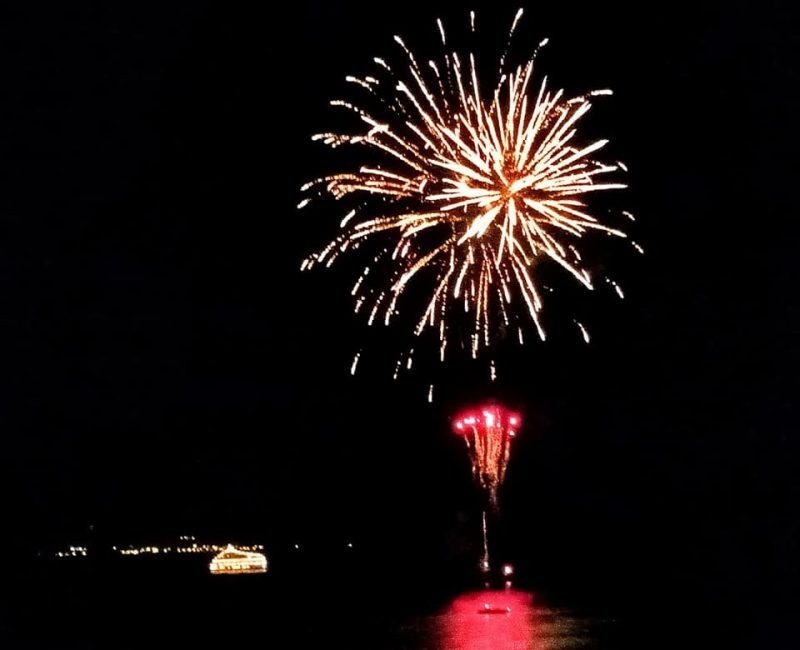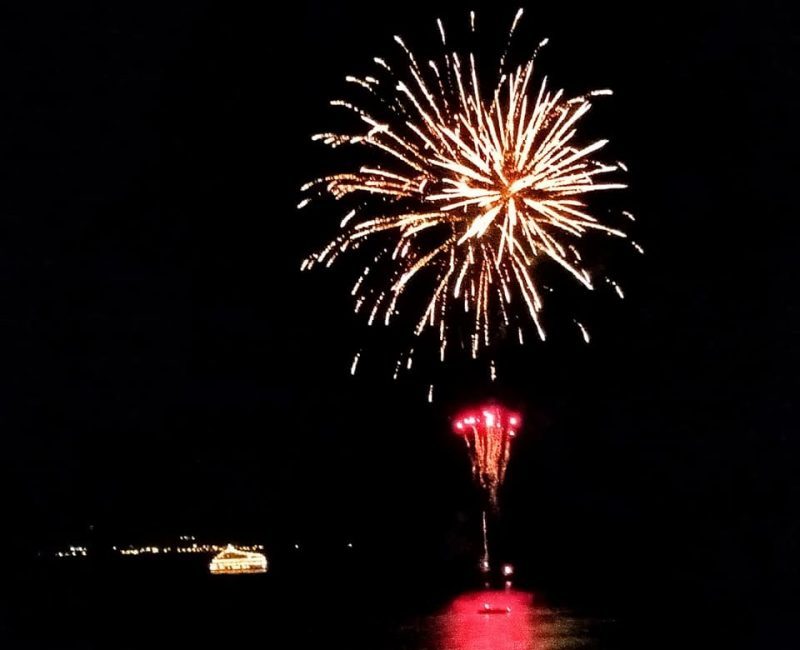 Getting back from Usuzan ropeway to Toya Onsen by donan bus in reserve direction. We have an enjoyable dinner while waiting for the highlight at night.
Lake Toya held the summer event from the end of April to end of October. Started at 20:40 every night, fireworks will explode over the calm and alluring Lake Toya for about 20 minutes.
Enjoy the fantastic front-row views of the fireworks over the lake from the hotel.
Enjoy Onsen Bath With Lake View
Don't forget to enjoy your time in the renowned water of the Toyako Hot Spring. Take your time to relax in the hot spring with a spectacular lake view.
It is best that choose accommodation with outdoor baths look out over Lake Toya. Imaging enjoy your bath during the evening firework. It was such an incredible way to relax and watch the fireworks explode over the lake.
Where To Stay at Lake Toya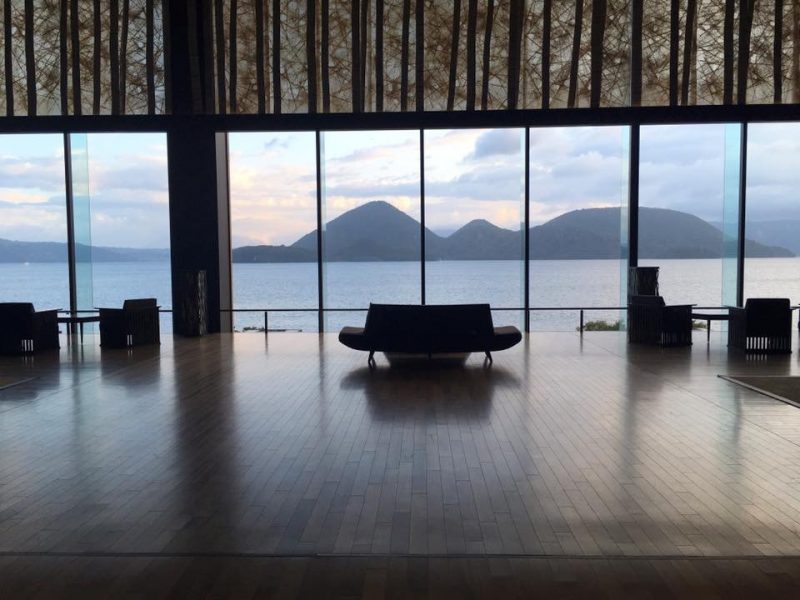 The best stay in Toyaka is the hotel features with lake view. Enjoy the quiet lake in the morning with sun reflection as if time has stopped. While most of the accommodations in Lake Toya feature this spectacular view of Lake Toya. So choose the one best suit your budget and requirement.
We recommended few hotels in Lake Toya as per below:
Toya Sun Palace Resort And Spa: A luxury stay with a lakefront view at Toyoko. Please enjoy your time relaxing while overlooking the beautiful picturesque scenery of Lake Toya. The onsen was one of the best in Toyoko with an infinity pool that overlooked Lake Toya. Free shuttle with reservation from Sapporo and New Chitose Airport by reservation.
Lake View Toya Nonokaze Resort: Another best recommendation in Toyoko provides a panoramic view of Lake Toya from their infinity onsen. Fantastic room with amazing lake view. The bus stop is just opposite to ease for train connection. Added, free shuttle from JR Sapporo Station and New Chitose Airport is available upon prior reservation.
Toyako Manseikaku Hotel Lakeside Terrace: Middle range lakeside accommodation in Lake Toya. Fabulous location in front of the lake which is great to enjoy the firework from the room. Amazing indoor and outdoor onsen available.
Overall: My Lake Toya Itinerary
As compared to Noboribetsu, Lake Toya is more interesting and scenic. We love the scenic view of Lake Toya, especially in the onsen bath. It is a unique bathing experience with a splendid lake view.
So please don't forgot to stop by Lake Toya or Noboribetsu for your Hokkaido trip. We were traveling from Lake Toya after 2 days in Hakodate.
This Lake Toya travel blog is part of our travel itinerary in Hokkaido. If you are interested, read on our travel post below: