Last updated on December 11th, 2023
If you are traveling to Prague for 2 or 3 days, we hope this Prague itinerary will help with your planning! Prague is a wonderful city full of historical squares, a world-famous castle, and awesome food. My Prague travel guide blog included!
The wonderful Prague is home to some of the best sights in Central Europe. It is known for its historical monuments, world-class castle building, and mouthwatering Czech food. The best part, for those who do not have that much time or budget, Prague is becoming more and more affordable and accessible. Enjoying a Prague itinerary is one of the most popular things to do when visiting Central Europe.
To make the planning process as easy as possible, we compiled the perfect Prague itinerary for first-time visitors. The 3-Days Prague itinerary is packed with all the must-see and amazing Prague food during your visit to Prague.
Prague Travel Guide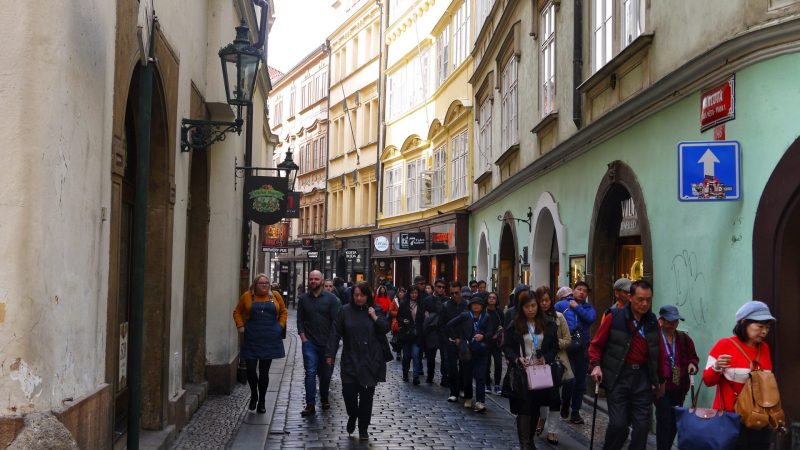 Knowing what to do in Prague is always a little bit challenging. Prague is a lively city with millions of visitors per day. If it's your first time in Prague, the city can be overwhelming. But don't worry, that's why we're here. It's quite simple. Just make sure you continue to read our Prague travel guide below.
Getting Around By Foot
No worry about getting lost in Prague. A lovely way to explore the beauty of Prague is by wandering around the Old Town Square, Prague Wenceslas Square, and the narrow streets in all directions. If you are tired of walking, public transport in Prague is very cheap. Just hop up on any tram, metro, and even bus for 30 minutes ride by combined ticket at 24 CZK.
Best to Go As Early As Possible
The popular attractions in Prague are Charles Bridge and Prague Castle. It can be teeming with tourists at all times. It the best to go as early as possible. During our 3-day Prague itinerary, we went to Charles Bridge in the morning at 7 a.m for an amazing sunrise photo shooting. Don't worry as you are not alone, though there were far fewer people.
There are more travel tips for visiting Prague. Be sure to check out our Top#10 Prague Travel Tips including transportation, money exchange, money-saving guide, and more.
Recommended Prague Tour
For hassle free, here is a few popular tours that we recommend when visiting Prague. Free feel to take a look.
Some quick Prague Travel Guide for travelers:
How many days do you need in Prague?
2 days is enough to see the major sites of Prague. But if you love exploring Prague at a relaxing pace, 3 days might be better.
What is the best time to visit Prague?
The best times to visit Prague are spring and early fall. The weather is mild and not too hot. Most importantly, fewer crowds and less expensive hotel rates in Prague.
Is it worth going to Prague?
It's worth it! Despite the crowd, Prague is the cultural and historical heart of the Czech Republic. It should visit at least once in a lifetime.
Where should I stay in Prague?
Location is one of the major concerns. We recommended staying in Prague 1 area so they can easily walk to and from the Old Town.
Where To Stay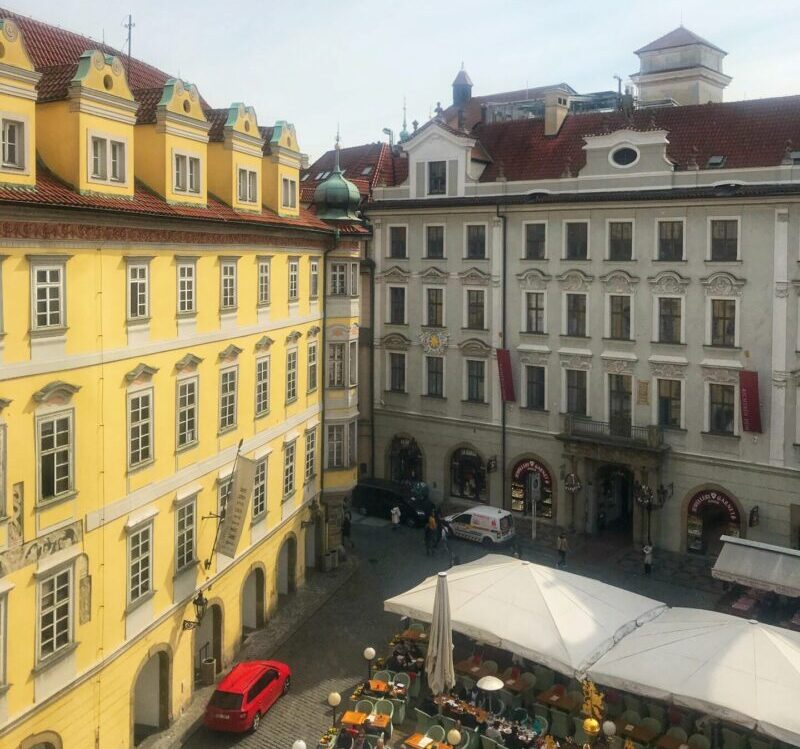 For first-time visitor, we recommended to stay nearby Old Town (Prague Area 1) for easy getting around and food hunting. Accommodations in Old Town are just minutes away from historic attractions, shopping and nightlife. This area has by far the most attractions and is the most popular place to stay in Prague.
Editor Pick: The Hotel Rott is centrally situated on the historical Malé Naměstí, next to Old Town Square. It has a high reputation by offering great size rooms with clean bed. Perfect location, comfortable room, friendly and welcoming staff, and the breakfast was wonderful! Popular pick in Prague.
If you're looking for more accommodation options, feel free to read on Where To Stay in Prague: Popular Areas with Best Hotels.
3-Days Prague Itinerary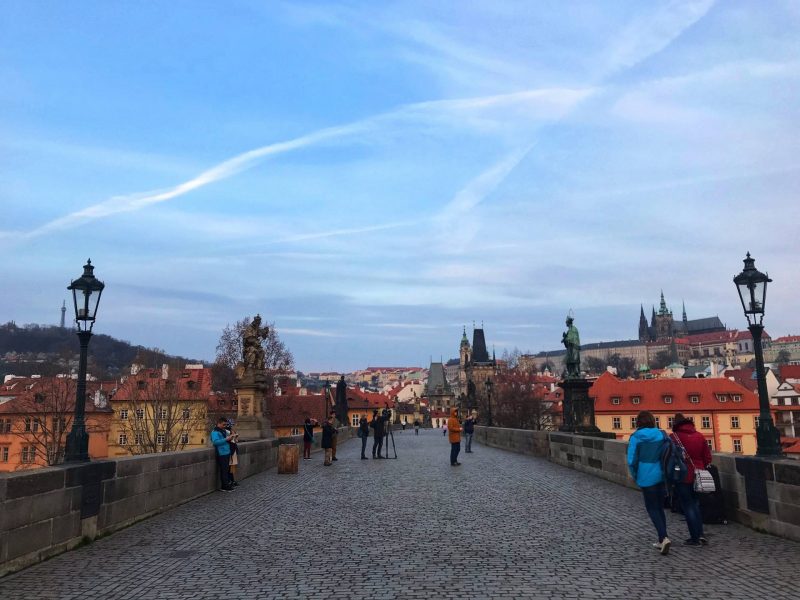 With so many things to do in Prague, you should not miss it while you're visiting Central Europe! If you want to fall in love with this country, we highly recommended to slow down your pace and exploring the hidden gem. We spend an amazing 3 days trip to Prague and truly enjoy our time here.
Here is the Prague itinerary with tips and advice for visiting this amazing city that includes the must-see attractions, accommodation recommendations, food, and more.
Day 1 Prague itinerary Explore Old Town)
Arrived in Prague and check-in at the hotel.
Old Town Hall With Astronomical Clock
Church of Our Lady Before Tyn
Visit Farmers' Market In Prague
Taste The Mouthwatering Czech Food
Day 2 Prague itinerary (Charles Bridge & Prague Castle):
Charles Bridge (Karlův most)
Prague Castle (Pražský Hrad)
St. Vitus Cathedral, Old Royal Palace, St. George's Basilica, Golden Lane
John Lennon Wall
Paddleboat At Vltara River
Day 3 Prague itinerary (Explore Prague Modern City)
Petrin Lookout Point
Post at The Dancing House
Wandering at Wenceslas Square
More detail of my Prague travel blog with stories as below.
Day 1: Exploring Prague Old Town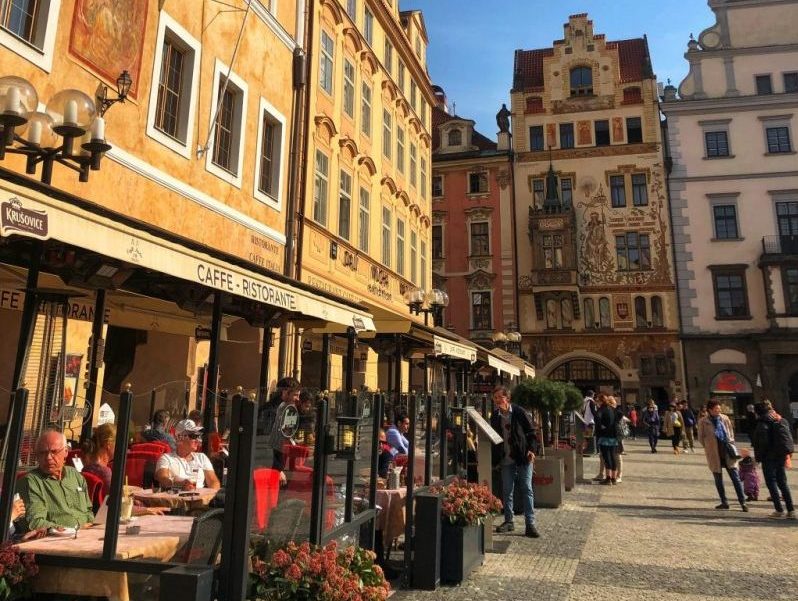 The first day of Prague 3 days itinerary should start with Old Town Square (Staromestska Namesti) exploration especially when you are just reaching Prague from somewhere else after a long hour's journey. The Old Town Square exploration is relatively relaxed in free and easy mode. We enjoyed our relaxing stroll to Old Town Square once we dropped our luggage at Hotel Rott.
Generally, Old Town square is big and wide, consisting of impressive buildings surrounding it. The Old Town Hall, Astronomical Clock, Church of Our Lady, of them are all relatively close to one another.
The Christmas Market or Easter Market will be located here if you come in the right season. On normal days, the square will be crowded with tourists like you and me! There is a lot of fun walking and wandering around the narrow streets in the old town.
Day 1 on Prague itinerary (Exploring Prague Old Town):
Old Town Hall With Astronomical Clock
Church of Our Lady Before Tyn
Visit Farmers' Market In Prague
Taste The Mouthwatering Czech Food
Pro Tips: Join the Best of Prague: City Walking Tour, Boat Cruise, and Typical Czech Lunch with experience guided tour. This tour covered almost of all the popular Prague spots on foot, and sharing on the history of Prague along with the highlights. Highly recommended!
Old Town Hall With Astronomical Clock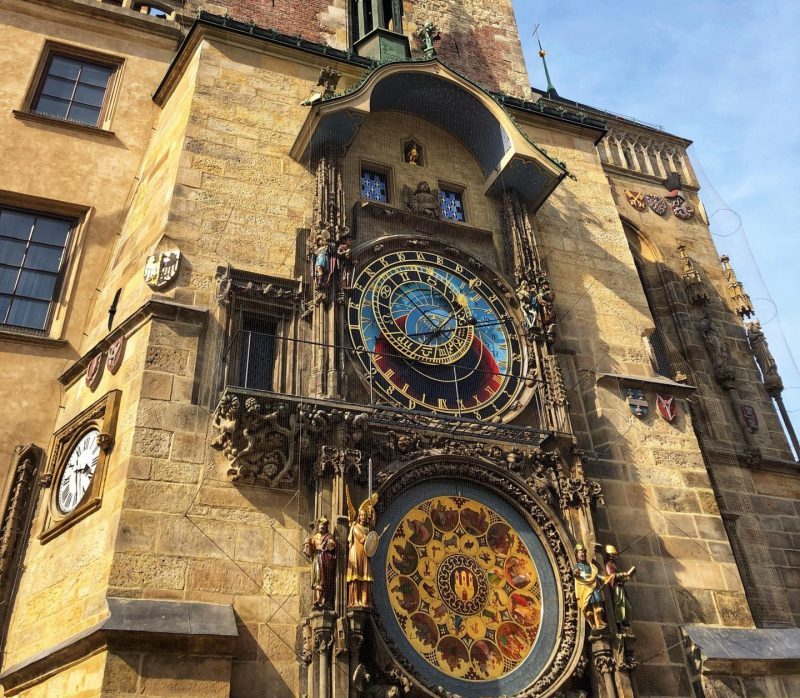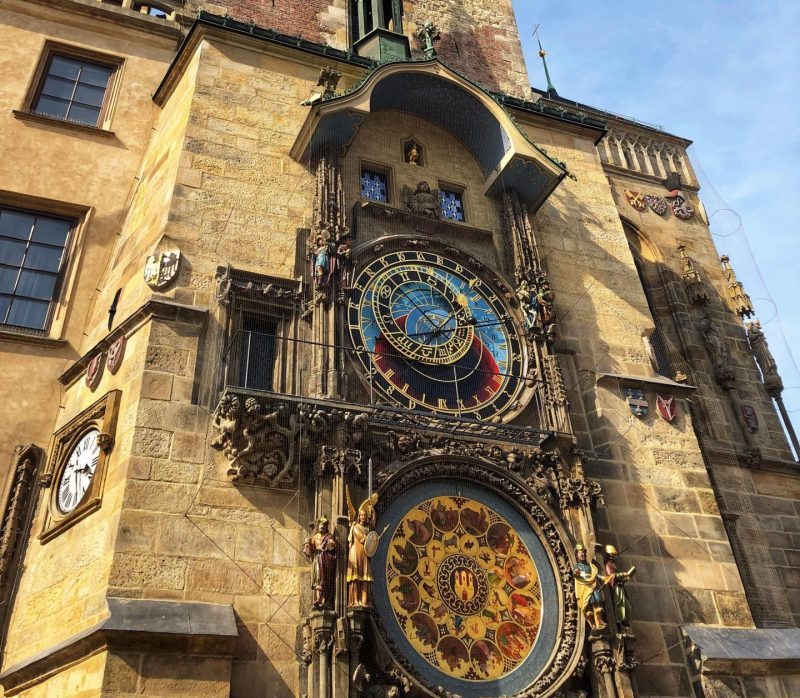 The Old Town Hall was established in 1338 and consists of a beautiful Gothic tower with a bay chapel and a unique astronomical clock. Visitors can climb up to the top of Old Town Tower for spectacular views of the heart of Prague of Old Town Square and its surroundings by paying an additional 250 CZK. The views were amazing!
The Astronomical Clock is mounted on the southern side of the Old Town Hall. Every hour on the hour, the mechanical Apostles will show up for some mechanical show, called Procession of the Twelve Apostles from 9 a.m. to 11 p.m. During this time, dozen of visitors will be standing at the front of the Astronomical clock witness the procession of the 12 Apostles set in motion.
Old Town Hall and Astronomical Clock
Address: Staroměstské nám. 1/3, 110 00 Staré Město, Czechia
Opening Hours (Tower): Monday from 9.00 to 22.00, Tuesday to Friday from 11.00 to 22.00.
Admission (Tower): 250 CZK
How To Get There: From the entrance, climb up the stairs or take the glass elevator.
Church of Our Lady Before Tyn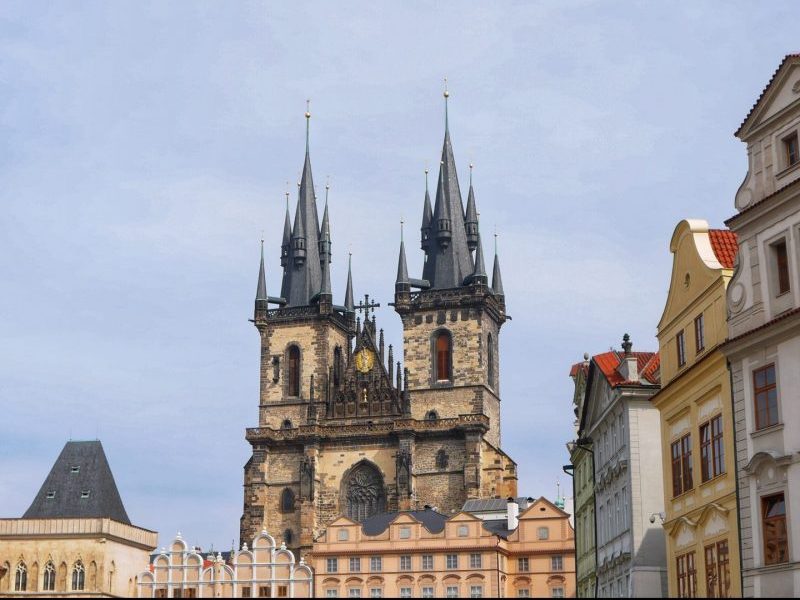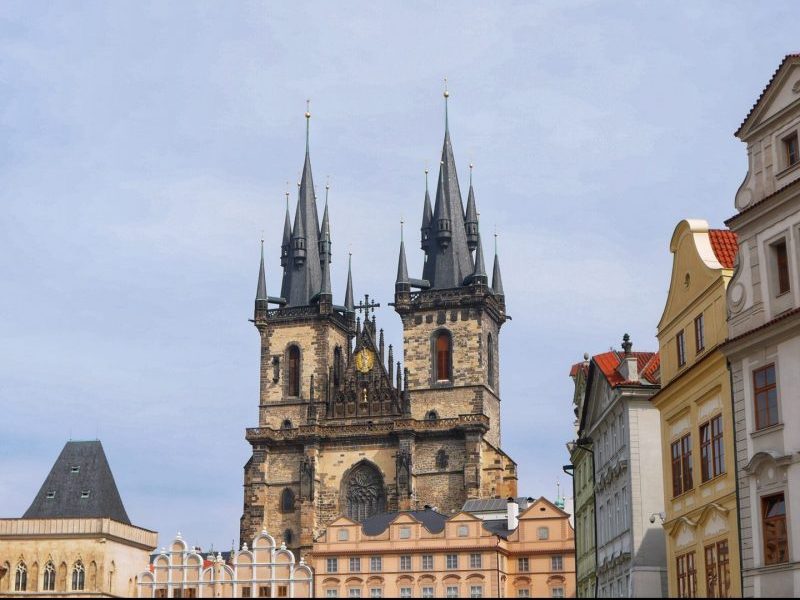 The Tyn Church is one of the finest examples of Gothic architecture, built in the mid-14th century. With its twin spires, this is one of the impressive landmarks and can be easily found in old Town Square.
Visit Farmers' Market In Prague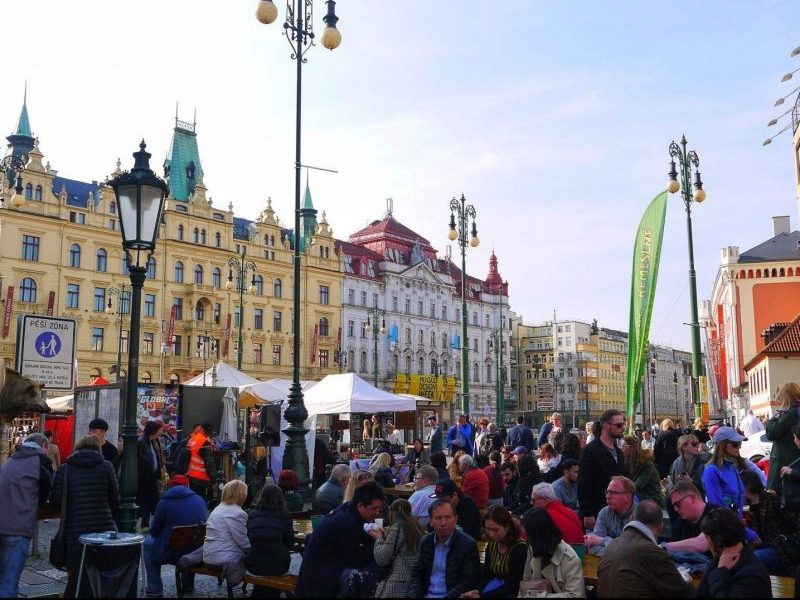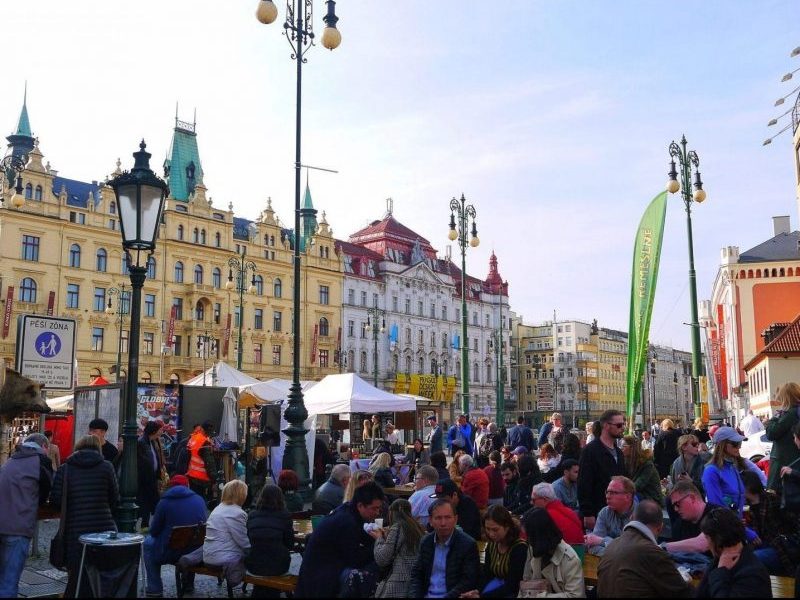 Don't miss the farmer's market when you visit Prague. There are few farmer markets in Prague, and the nearest one is Farmers Market in Prague 1 if you're nearby the old Town area.
There are local dairy, vegetables, and fruits, as well as food and a great local brewery selling top-quality beer. From the live music to the unique Czech food back to the intimate atmosphere that we're all here to enjoy for some snack and drink. Take a break with local beer after a long day's walk.
Farmers' Market In Prague 1
Address: Náměstí Republiky, 110 00 Praha 1- Nové Město
Opening Hours: Monday to Friday, 9.00 a.m – 6.00 p.m (March to November)
Admission: Free!
How To Get There: Opposite the Municipal House and near the Palladium.
Taste The Mouthwatering Czech Food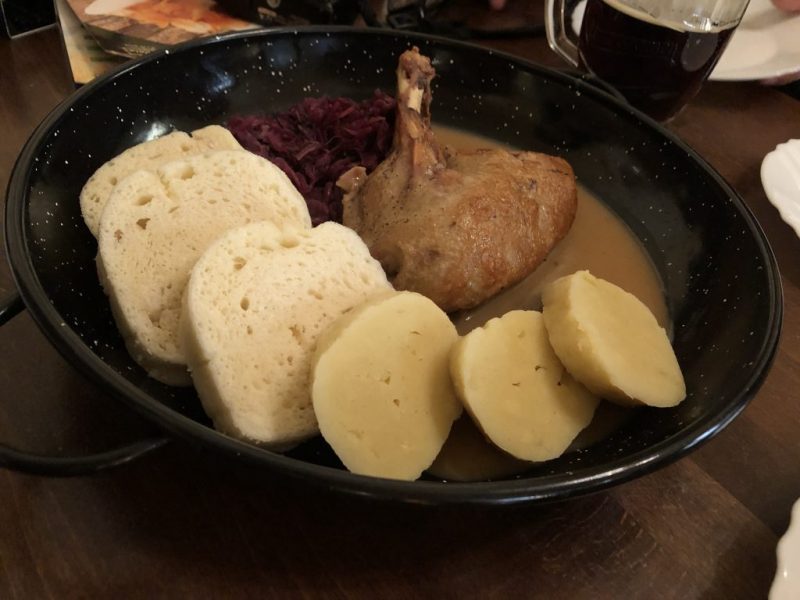 If you are hungry, V Cipu Restaurant, located in Old Town is the perfect place to recharge your energy with its amazing food and refreshing beer. Their Czech cuisine like duck leg and pork knuckle is pretty amazing here! Most important, the price is very reasonable with tasty food in the old town square area.
Related Article: Prague Food Guide – Where and What To Eat in Prague
Day 2: Charles Bridge, Prague Castle
To learn about the culture and history of Prague, we highly suggest you visit the Prague Castle and Charles Bridge. If you only have one day in Prague you should make your visit to these two places, and there is no other way to learn so much about Prague.
The second day on the Prague itinerary will be spending most of our time in Charles Bridge and Prague Castle. We spend our remaining time at John Lennon Wall and also have an amazing paddle boat ride on the Vltava river.
Day 2 on Prague itinerary (Charles Bridge & Prague Castle):
Charles Bridge (Karlův most)
Prague Castle (Pražský Hrad)
St. Vitus Cathedral, Old Royal Palace, St. George's Basilica, Golden Lane
John Lennon Wall
Paddleboat At Vltara River
Pro Tips: Discover Prague on a Comprehensive Full-Day Prague Tour, including lunch and a relaxing Vltava River cruise. Enjoy a panoramic city coach tour and a walking tour around the exterior of UNESCO-listed Prague Castle.
Charles Bridge (Karlův most)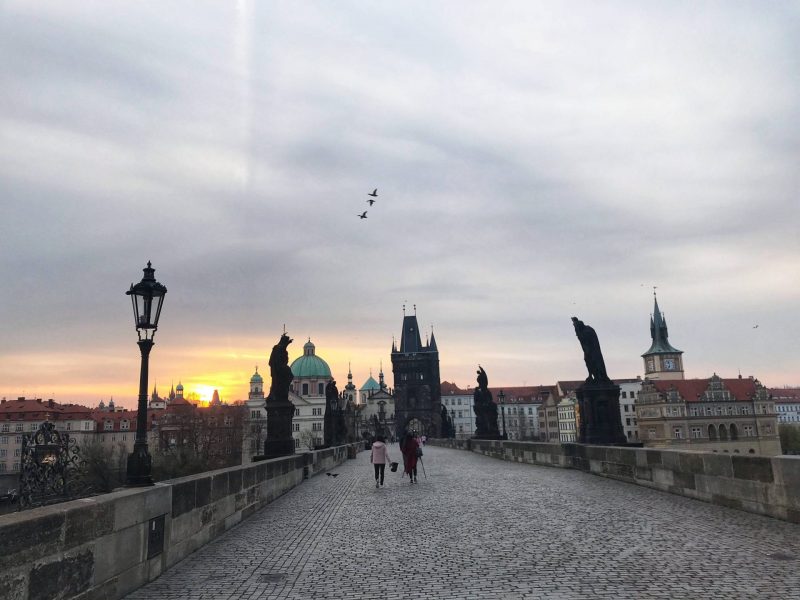 Charles Bridge is the most iconic landmark in Prague. It is a Gothic stone bridge that crosses the Vltava river and is connected Old Town and Lesser Town (Malá Strana). The bridge is lined with 30 Baroque statues, where the original are located at National Museum.
Charles Bridge is extremely crowded and it is not easy to take photography without a photobomb. A morning walk across the 14th Century Charles Bridge is one of the most enjoyable and memorable experiences of visiting Prague.
I enjoyed my time strolling over the bridge, admiring the continuous alley of Baroque statues lining the bridges, and snapping photos without the crowd. You will be amazed by how beautiful this moment is with the sunlight slowly seeping over the horizon.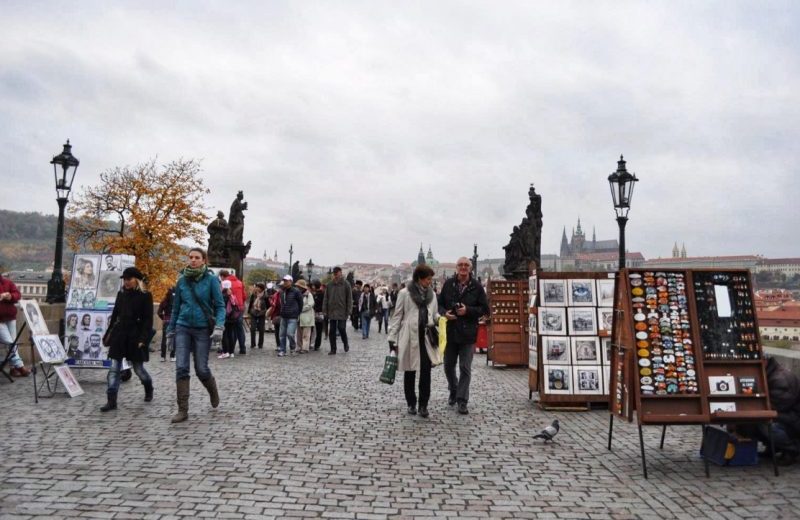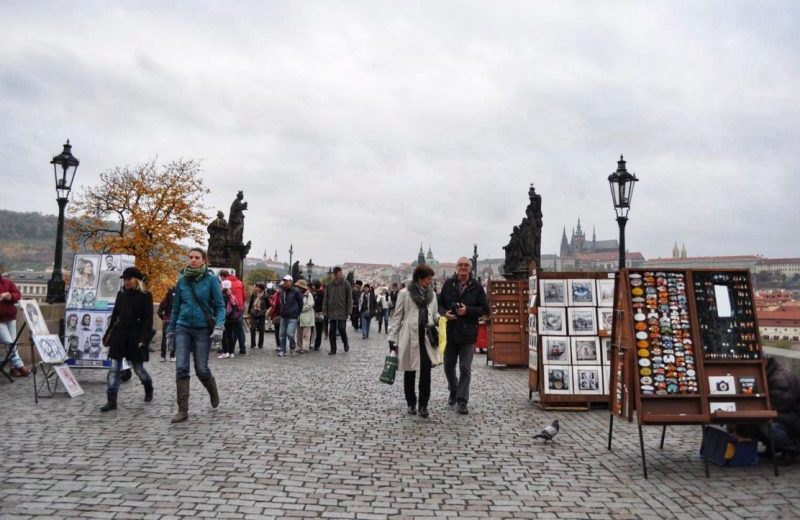 If you're too lazy to wake up in the morning, come back in the evening time. The magical atmosphere and musical performances, show you the different beauty of Charles bridge.
Charles Bridge
Address: Karlův most, 110 00 Praha 1, Czechia
Opening Hours: Anytime!
Admission: Free!
How To Get There: Nearest tram station is Karlovy lázně. Walking distance from Old Town Square
Prague Castle (Pražský Hrad)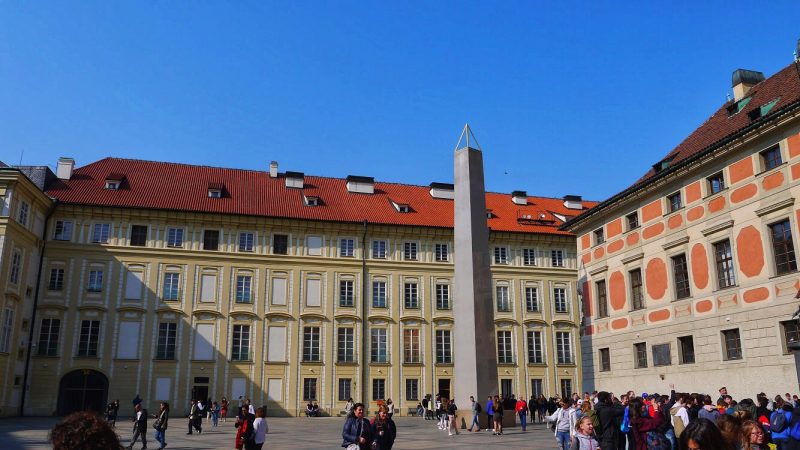 We continue our journey after having breakfast at Hotel Rott. Prague castle is one of the must-see sites in the city on the hillside. Instead of taking a tram, we enjoy our walking time toward the top of the hill where the famous Prague Castle is located.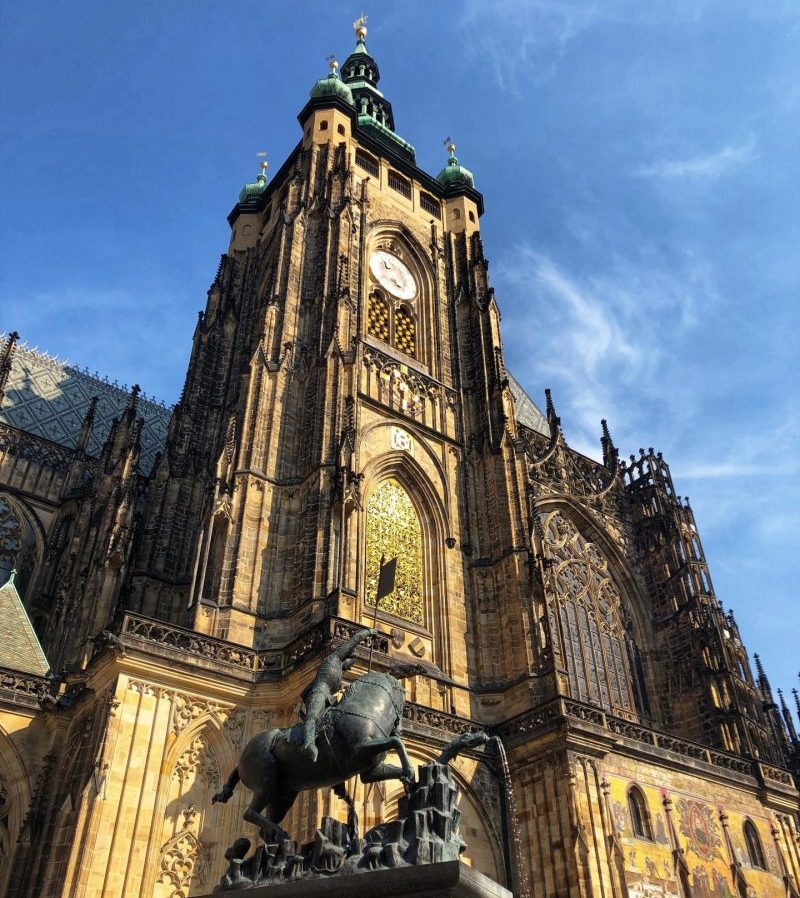 The magnificent Prague Castle is complex building, consists of multiple sections: Gothic St. Vitus Cathedral, the Old Royal Palace, The Story of Prague Castle, Romanesque St. George's Basilica, Golden Lane with Daliborka Tower, the Powder Tower, Rosenberg Palace, and several museums. It is the largest castle in the world and covers an area of 45 hectares.
Before entering the Prague Castle ground, there is security checking in place at all entries. So do expect to queue to get in.
Prague Castle Ticket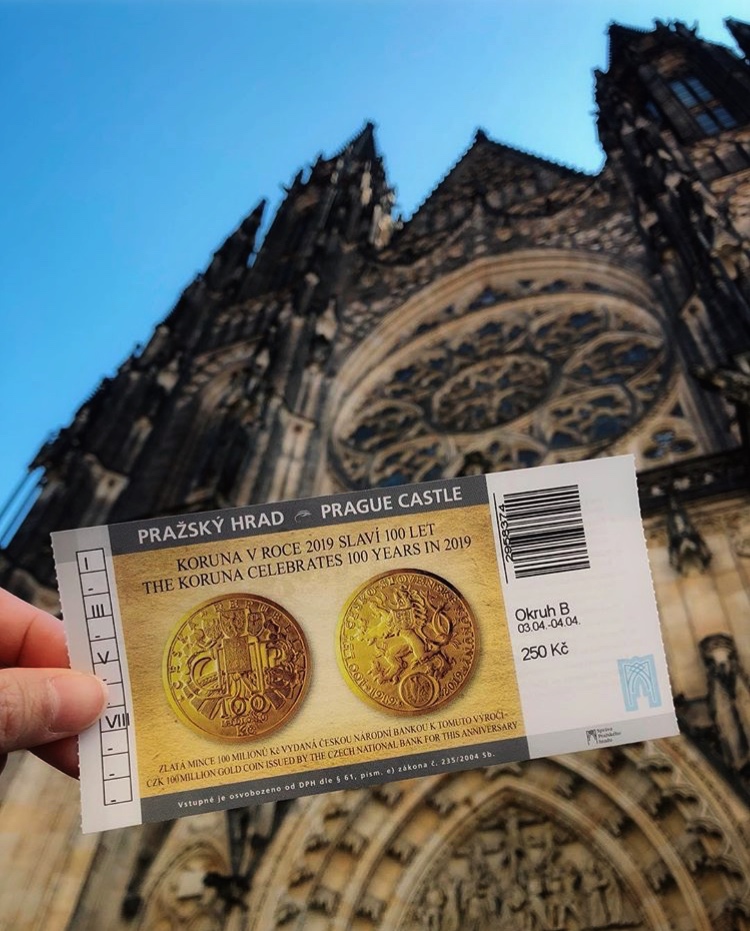 Entering Prague castle ground is free but you will need to get a ticket to go into most of the building. Some people just visit Prague Castle without buying a ticket as the entry to most remarkable St. Vitus Cathedral is free, but you cannot go into more inside of the cathedral.
You probably will get shocked by the long queue especially at peak sessions when purchasing the Prague Castle Ticket. Try avoiding the crowd by entering it before 10 a.m. Alternatively, you can consider buying the Skip the Line: Prague Castle Ticket.
We choose the Circuit B ticket as it covered most of the attractive points. The visit probably takes around 3 to 4 hours.
Prague Castle Ticket Types:
Circuit A: St. Vitus Cathedral, Old Royal Palace, the exhibition "The Story of Prague Castle", St. George's Basilica, Golden Lane with Daliborka Tower, Rosenberg Palace (350 CZK).
Circuit B: St. Vitus Cathedral, Old Royal Palace, St. George's Basilica, Golden Lane with Daliborka Tower (250 CZK)
And also some other exhibition tickets type.
How To Get to Prague Castle:
By Tram: Use tram No. 22 from Národní třída or Malostranská metro station to stop at Pražský hrad, turn left, and in 5 minutes you reach the Courtyard of Prague Castle.
By Foot: From the Malostranskà metro station, climb the Old Castle Staircase up to the Hradčanské square. The entrance is close to Golden Lane.
The Changing Guard Ceremony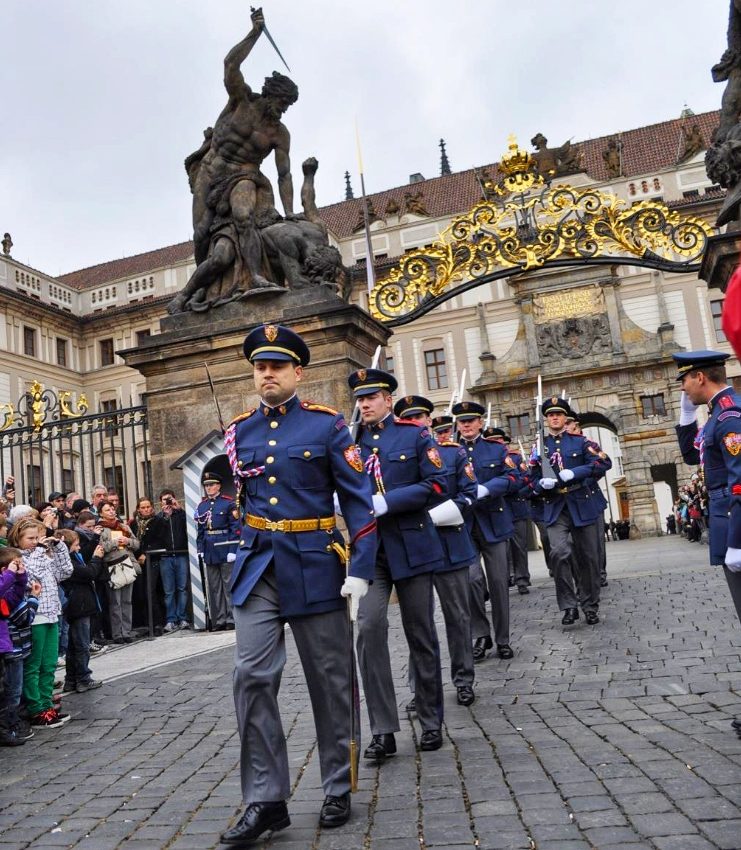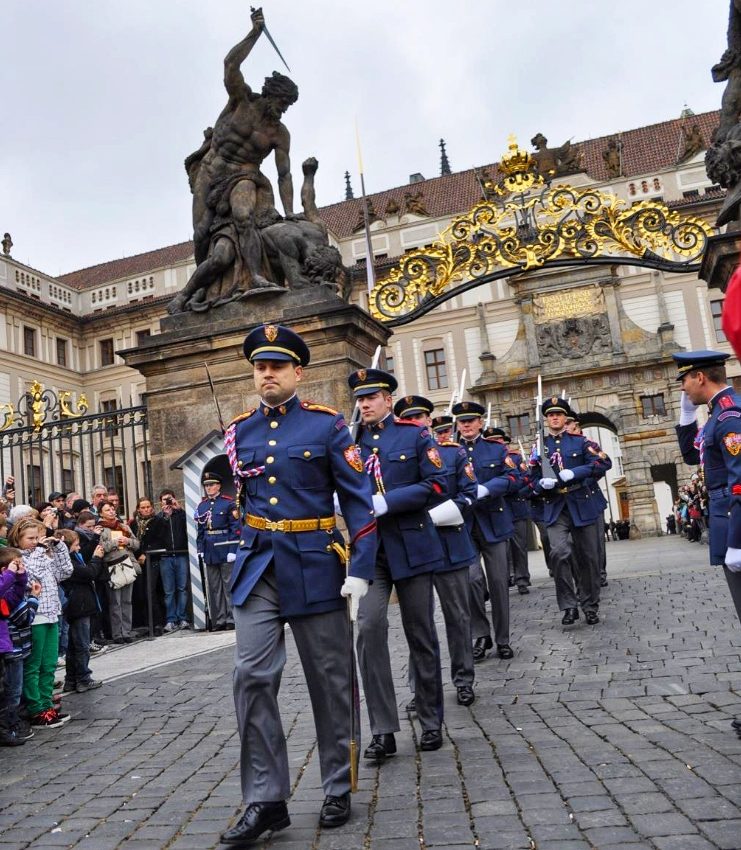 Every hour, there is a changing guard ceremony at each entrance on the hour. During this time, a large audience will be waiting especially in the main country yard. The guards at the main country will ceremoniously march and present arms, while an upbeat military band provides a fanfare in the background.
St. Vitus Cathedral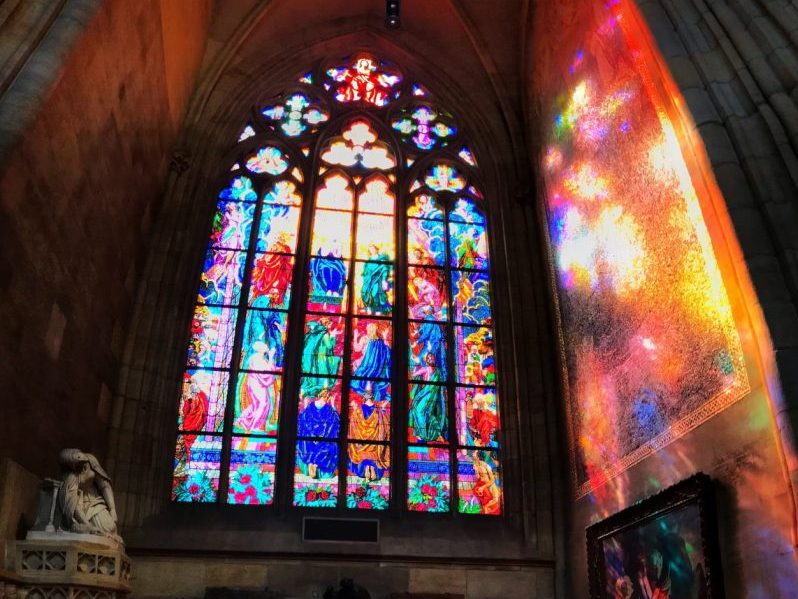 The tours of Prague Castle must include a visit to the St Vitus Cathedral. The Cathedral took hundreds of years to complete the exceptional design and decoration. This is one of the places where you'll spend more time. Its towers dominate the skyline of the hill, and are famous for the stained colorful glass windows when the sun is shining through them.
Old Royal Palace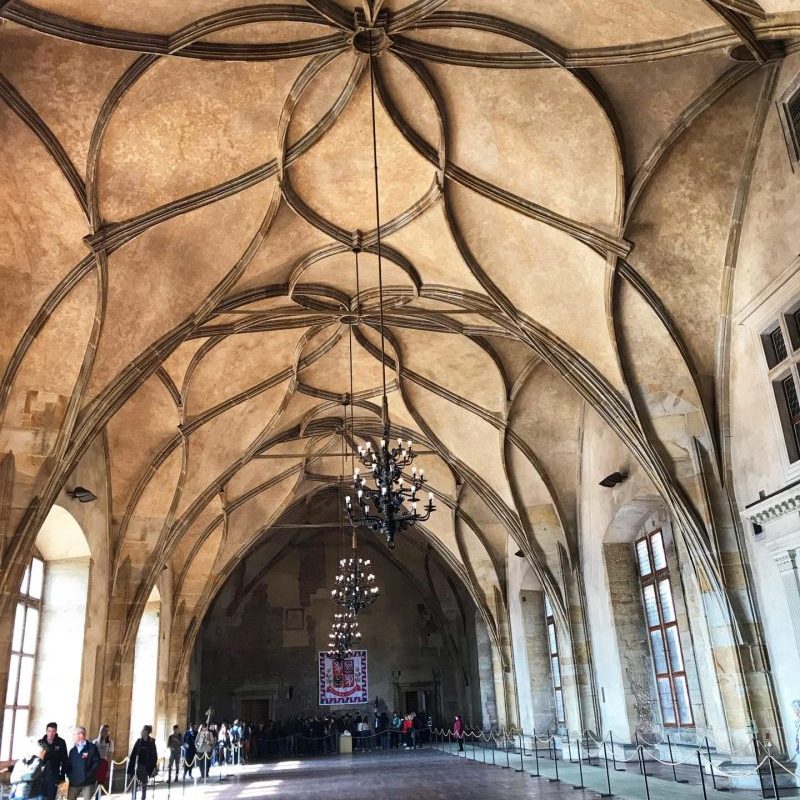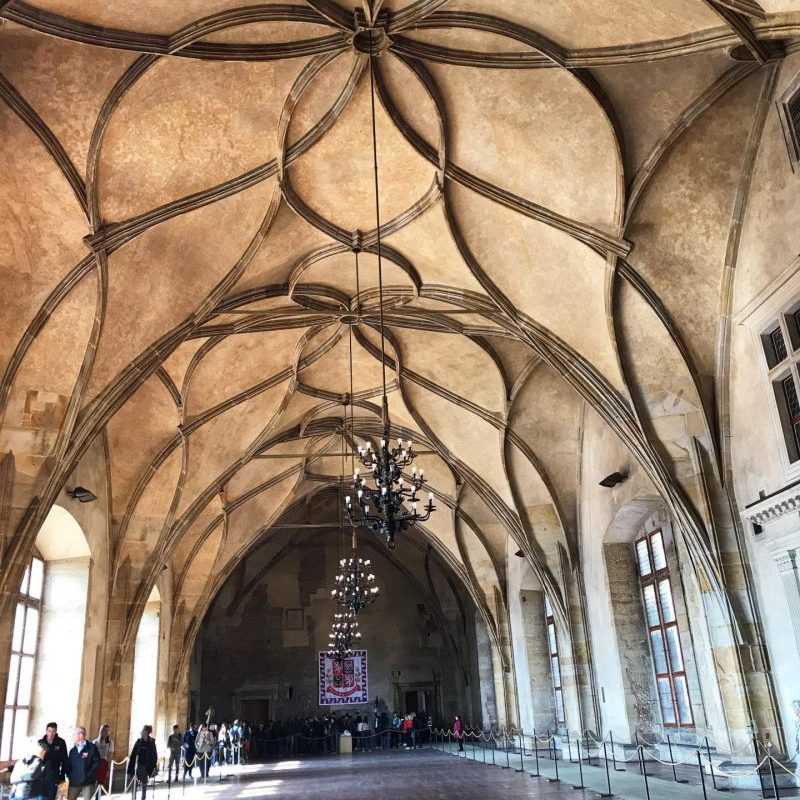 The Old Royal Palace and St George's Basilica are quick visits. We follow the crowd walk through the Old Royal Palace, one of the oldest structures in the Castle Quarter. The must-see part of the Old Royal Palace is Vladislav Hall. The halls, corridors, and buildings are in Gothic and Renaissance architectural styles.
St. George's Basilica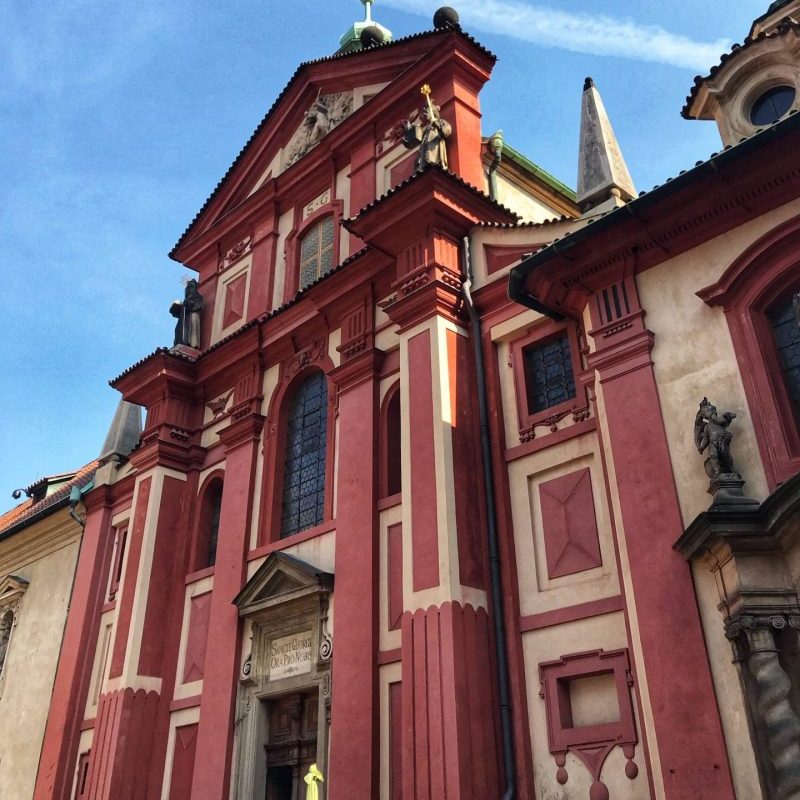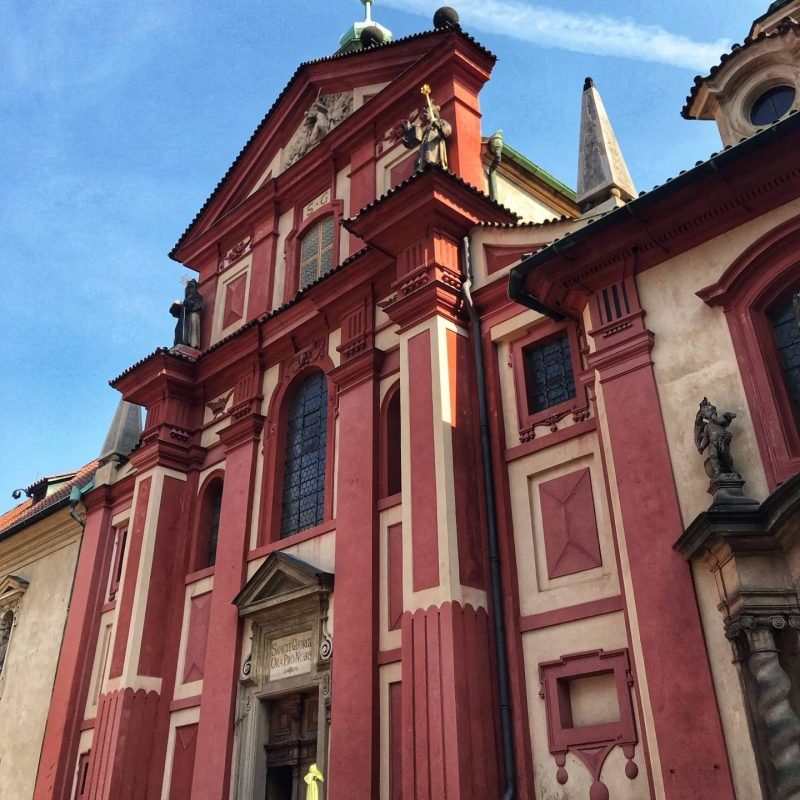 We continue our journey to St George Basilica, the red color building in Prague Castle. St George Basilica is the first church built within the grounds of the present Prague Castle. Today, it also serves as a concert hall and you can book tickets to see live classical music.
Golden Lane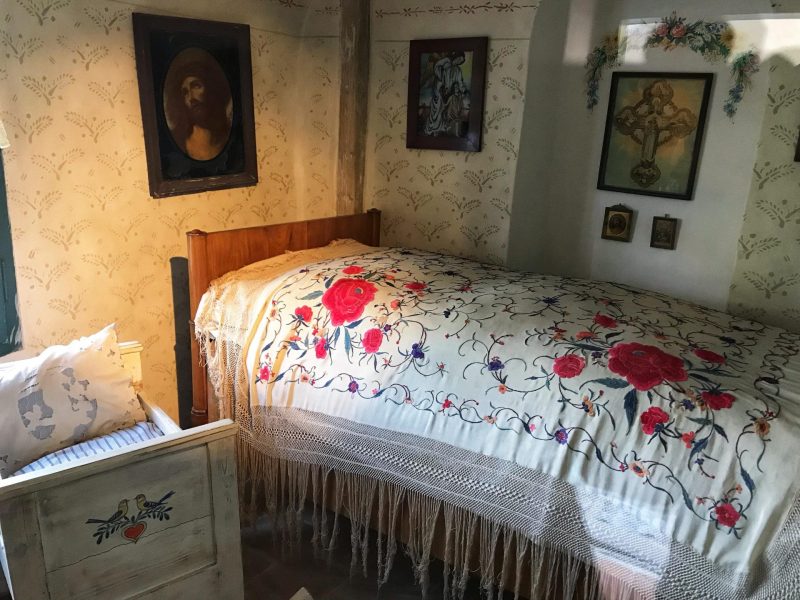 Golden Lane is a narrow, scenic, and colorful alleyway that was used to house goldsmiths' workshops in the 17th century. Franz Kafka, the Czech Republic's most noteworthy figure used to live here. Now the Golden Lane is full of souvenir shops, and there's even a small museum of medieval armory, that opens for a visit.
The Back Gate Of Prague Castle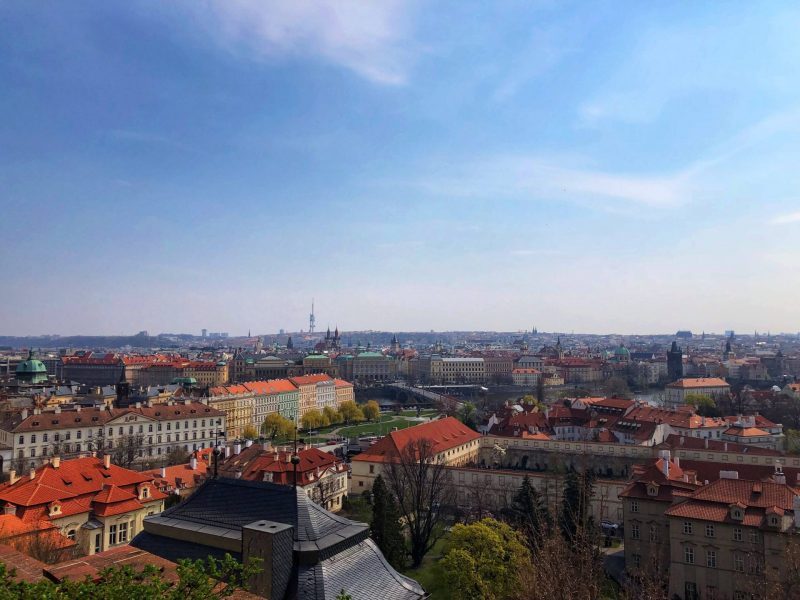 Exit the Golden Lane and continue to pass through the Black Tower to the back gate. Before leaving Prague Castle, remember to stop off at the viewing platform for the unparalleled views of the entire city from the castle walls. From here you can see thousands of red-roofed buildings and most of the iconic landmarks that make up the city of Prague.
We follow the walkway and castle stairs down to the Mala Strana or the Lesser Quarter by a few minutes' walk.
John Lennon Wall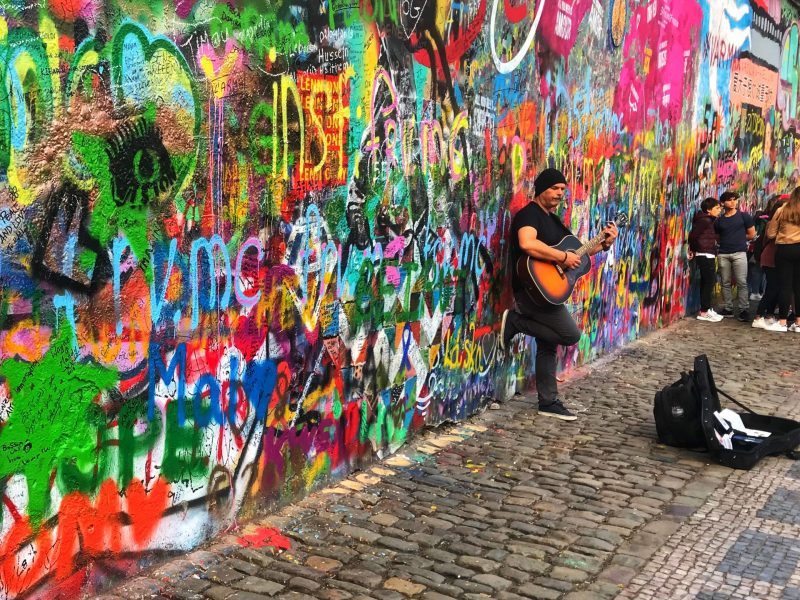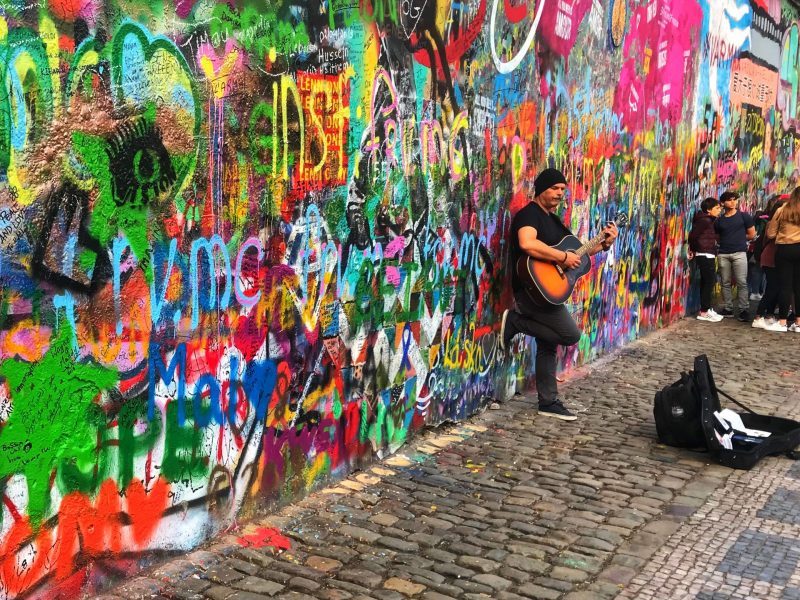 On the way back down through the Prague Castle towards the river, we make a quick stop at Lennon Wall for some colorful photos. Since the 1980s it has been filled with John Lennon-inspired lyrics, inspirational messages, and political graffiti by Prague youth and artists.
Despite repeated coats of whitewash, Lennon Wall became a popular spot for youth artists and tourists nowadays. This is the only place in Prague where graffiti is legal. The messages of peace and love remain although the graffiti on the wall keep changing. We took some photos and listen to the Live performance from street artists at Lennon Wall before we continue our journey.
John Lennon Wall
Address: Velkopřevorské náměstí, 100 00 Praha 1
Opening Hours: Anytime!
Admission: Free!
How To Get There: Walking from Malá Strana or the Old Town walking toward the end of Charles Bridge and then taking the stairs down.
Paddleboat At Vltara River
The paddleboat riding at Vltara River is something that unexpected. While we continue our journey, we saw quite a number of paddle boats on the river and we decided to rent a small boat.
Out of our expectations, this is something that was most memorable for our Prague trip. You can't imagine how charming and romantic the view of Prague Castle and Charles Bridge is during the evening. The view is amazing especially when you wander the unique architectural complex from the bottom view!
For the best experience, take the Prague Boats 3-hour Dinner Cruise down the Vltava River!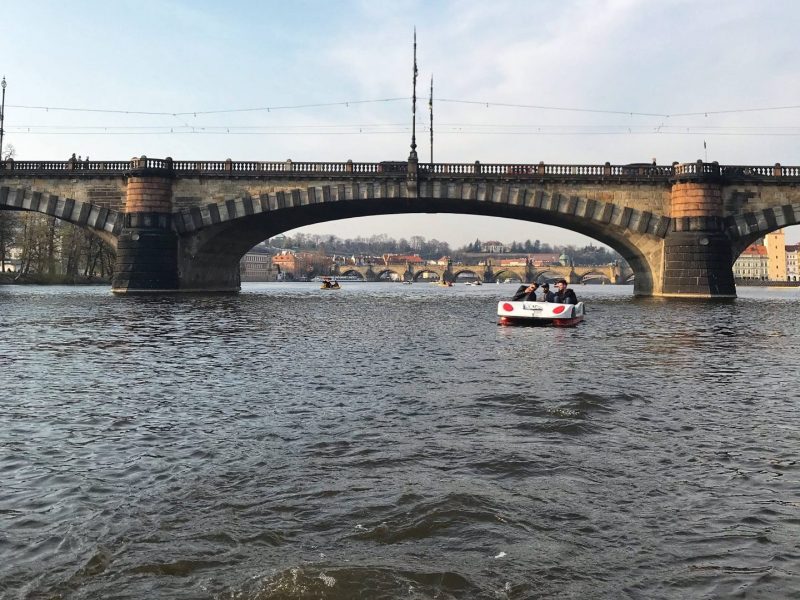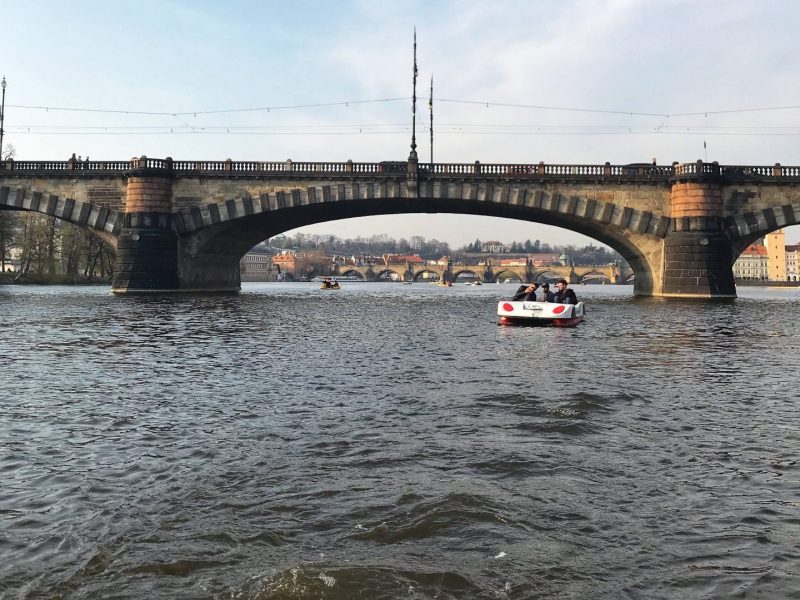 The river is very calm and paddling at the Vltara river is very easy without any strong effort. One of the must-try in your Prague itinerary.
Paddleboat Ridding in Prague
Opening Hours: Normally from 11:00 to 22:00. Depending on the season and weather.
Admission: Price may vary. The standard fee is 200 CZK for up to 4 adults for 60 minutes.
How To Get There: Walking over the Vtara River and choosing either rental company.
Day 3: The Modern View Of Prague
Day 3 in Prague itinerary is focusing on the modern view of Prague. We visited the Petrin Lookout point, the Dancing House, and Wenceslas Square.  We didn't plan too many of the things to do in the Prague itinerary and just wandered around the city.
Day 3 on Prague itinerary (The Modern View of Prague):
Petrin Lookout Point
The Dancing House
Wenceslas Square
Petrin Lookout Point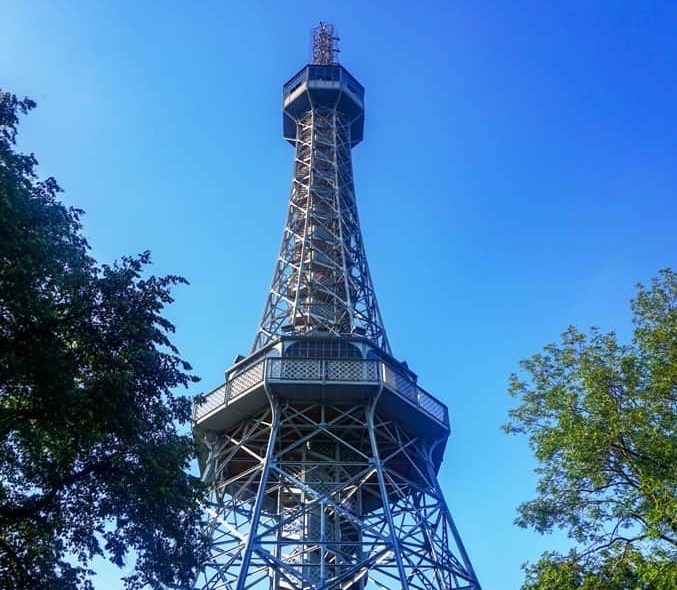 On the last day of our Prague 3 days itinerary, we climbed up to Petrin Hill for a nice view over the city in the morning. The journey takes roughly 30 minutes to walk up the path, or you can take the tram to the top of the hill.
From there, you can go further up to the Petrin Lookout tower for a lookout point over the castle and river. Petrin Lookout tower is a 63.5-meter tall steel-framework tower, that resembles the Eiffel Tower in five times small. You can either walk the 299 steps or take the elevator by additional 60 CZK to the observation deck.
Petrin Lookout Point
Address: Petřínské sady 633, 118 00 Praha 1-Malá Strana, Czechia
Admission: 60 CZK for elevator
How To Get There: 30 minutes hike or take tram 22 to Pohorelec, then walk 10 minutes along Strahovska street.
The Dancing House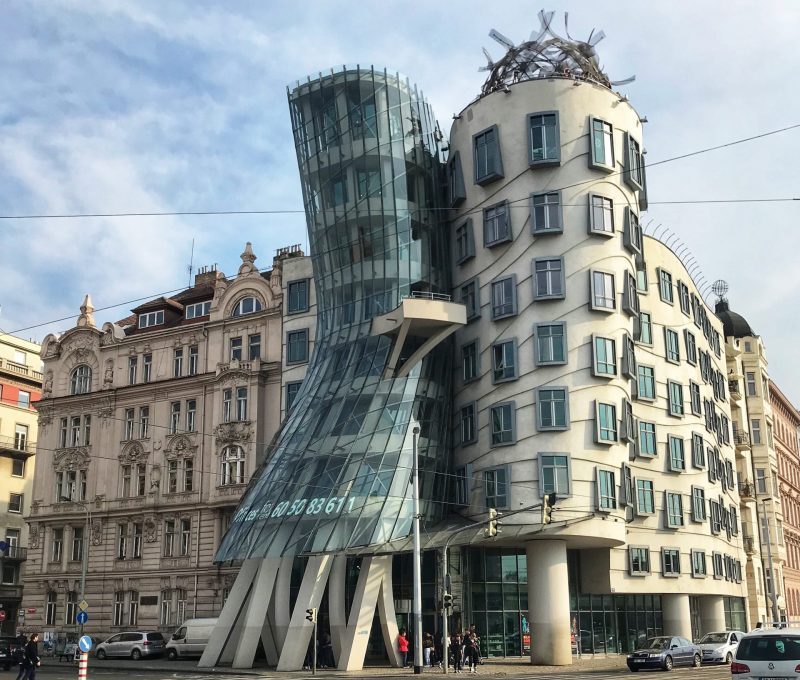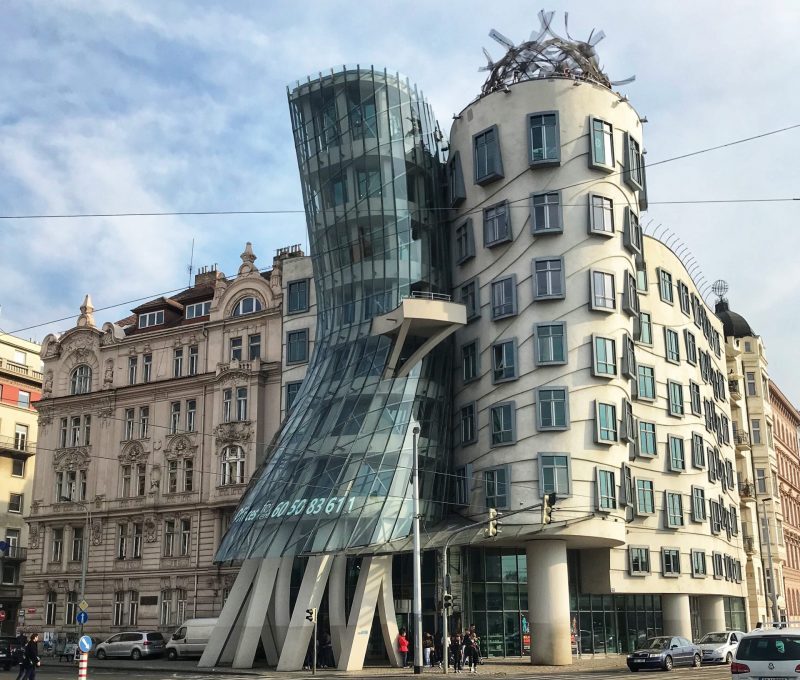 The Dancing House is a modern building designed by the Croatian-Czech architect Vlado Milunicin, in cooperation with Canadian-American architect Frank Gehry. It is also known as Fred and Ginger inspired by the famous dancers Fred Astaire and Ginger Rogers. This architectural wonder stands out from its surrounding buildings of Baroque, Gothic, and Art Nouveau buildings in Prague's new town.
Prague Dancing House
Address: Jiráskovo nám. 1981/6, 120 00 Nové Město, Czechia
How To Get There: Nearest tram station is Jiráskovo náměstí
Wenceslas Square
Wenceslas Square is one of the main squares in Prague surrounded by international shops and restaurants for cultural and business activities. The National Museum is also located at the center of Wenceslas Square. We spend our time scrolling around by sitting on a bench in the center of the square and enjoying a cup of coffee at one of the cafes.
Wenceslas Square
Address: Between Magistrála and "Na Příkopě" street
How To Get There: The nearest tram station is Muzeum or Můstek Metro station.
Day Trip From Prague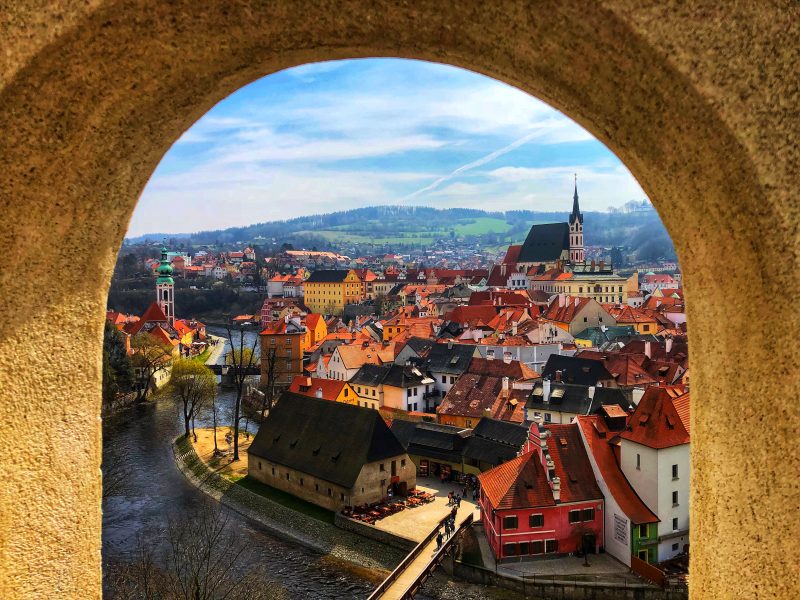 Prague is located in central Europe and travelers can cross the border to explore the other parts of the country by day trip. Listed below are some of the famous day trips from Prague highly recommended if you have more time to travel. You can consider taking a day tour with a well-organized local tour guide.
We went to Český Krumlov after three days in Prague to continue on our Central Europe journey. If you are interested, you can read more on our Cesky Krumlov Itinerary including how to get there from Prague, where to stay, and what we eat in Cesky Krumlov.
Planning Prague Itinerary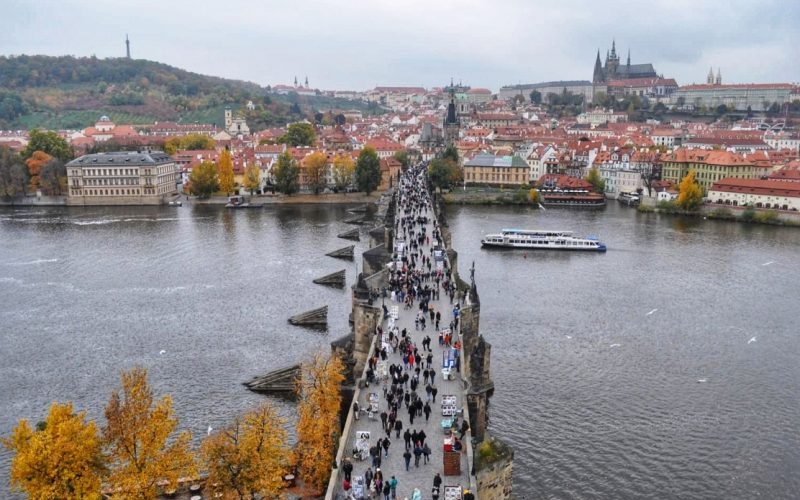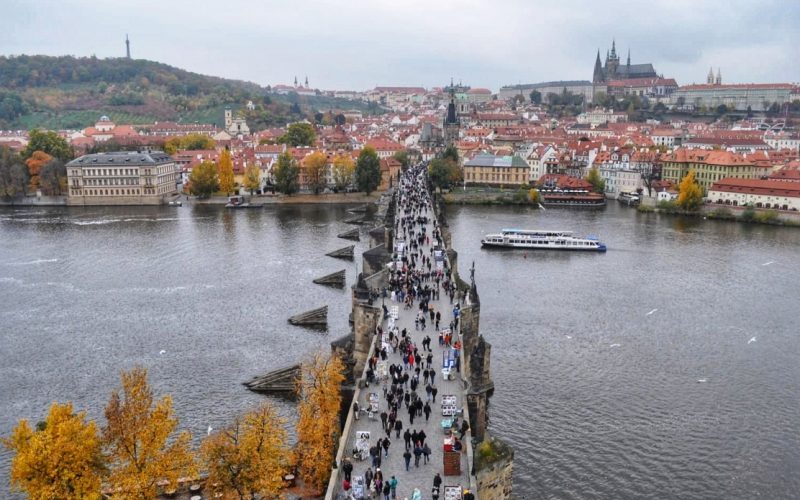 We spent a wonderful three days in Prague and continue our journey to Český Krumlov. Hopefully, our 3 days Prague travel blog with detailed itinerary and travel tips are helpful. Don't forget to check out our Český Krumlov Itinerary here.
The following Prague travel blog posts provide more in-depth information about Prague travel including transportation, foodie guide, travel tips, and tours in Prague. Be sure to check out our travel guide below if you are looking for a little inspiration.
Read More on Our Central Europe Itinerary
For an itinerary that covers the Czech Republic, Austria, Hungary, and other interesting cities, feel free to check out this Central Europe Itinerary in more detail.