Last updated on April 6th, 2022
Renting a car to drive in Jeju is highly recommend. It is the best way to explore the island at your own pace and discover everything it has to offer. But, how to rent a car to drive in Jeju? Don't worry, it's a lot easier to do than you think for driving in Jeju.
Jeju is a beautiful island and the only way to explore the beauty of Jeju is by public transport or by car. Diving in Jeju island is a great experience as you can travel in leisure. Taking public transport is very common but not flexible due to not all attractions on Jeju island being linked by public transport. So, self-driving is the best way to explore the beauty of Jeju.
Here is our Complete Step-By-Step Guide for renting a car for your Jeju road trip! This is my true experience of renting a car at Jeju island through RentalCars.com, rented through AJ Rent A Car. We choose AJ for our 6 days self-driving trip in Jeju as it is the cheapest car rental company provider after price comparison. Most important, AJ is the budget Avis in Jeju with a high reputation worldwide. English speaking staff supported and no worry about communication problems. Take note that AJ car rental has been integrated into SK Rent-A-Car in 2020, another reputation car company in Korea. Still, they are one of the best budget car rental company in Jeju.
At the end of the travel guide blog, I also include the top 10 useful tips for driving in Jeju Island. Continue read on!
How To Rent A Car In Jeju Island?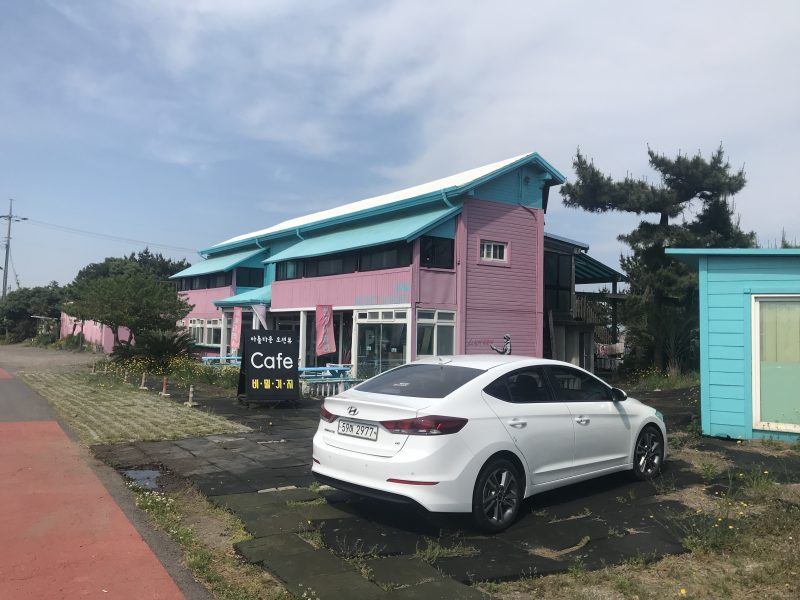 Here is our simple guide for how to rent a car in Jeju Island. Start from renting your car before the trip, pick up and return rental car, and lastly some useful tips for driving in Jeju Island. Click on below for quick access to each section.
Renting Car in Jeju Island
That is to say, having a car provides a lot of freedom and convenience when traveling through Jeju island. Travel at your own pace and stop for the best view, and access to some places that difficult to reach by public transport. It is the best thing for self driving in Jeju Island.
Renting a car in Jeju is extremely simple and easy. For group traveler or family, it is the most budget and can consider the cheapest transport in Jeju. However, there are some things to know about renting a car in Jeju. Knowing these differences in advance can save you some money and maybe even a big travel headache.
Before The Trip: Choose Your Car Rental
We would recommended comparing various of car rental companies at RentalCars.com. There are many different options and a wide selection of cars with price comparison. Choose your preferable car rental based on your requirements and then booked it online directly!
The rental rate is similar or less, so compare them before you decide on your best rental car. If you are looking for the cheapest car rental company, do remember to compare the price for your best rental car.
Best Rental Car Company in Jeju: SK Rent A Car, Lotte Rent A Car (KT Kumho), Sixty, Jeju Rent A Car, Tamra and more
Car Type: Premium, luxury, standard, SUV, van
Fuel Type: Diesel, gasoline, LPG, electric (EV), hybrid
Rental Car Price: Depend on your selection but generally starting from ₩30,000. The cheapest car rental is Kia Morning and Spark. But more suitable for 2 people with limited luggage.
Before The Trip: Book Your Rental Car Earlier
We recommended book your rental car in advance. Our car was booked about one month earlier through RentalCars.com, rented through AJ Rent A Car, Avis at South Korea. Jeju has many rental car companies and you can make a price comparison at RentalCars.com for the best option. We don't have a preference and we just want the best deal with a good reputation. While AJ Rent-A-Car offers the cheapest rental car on our selection, so we just go for it.
Note, AJ car will be integrated into SK Rent-A-Car in 2020, another reputation car company in Korea. But no worry. There are still operational. Alternative, There are still many rental car companies operate on Jeju Island such as Lotte Rent A Car. It is another reputation car rental company in Jeju Island and even South Korea. The pickup procedure is similar to AJ. The only difference is the shuttle bus is located in different parking areas.
Booking online doesn't require any payment and you still have the option to cancel or amend your details later on. Do book the car in advance to ensure for lowest price and availability. You can request an extra child seat at a minor charge. Most importantly, make sure the GPS navigation is equipped for free.
Before The Trip: Choosing The Car Rental Insurance
All the vehicles are required to cover basic general insurance, Collision Damage Waiver (CDW) for car coverage protection.
This basic protection is a must according to car rental policy, and optional you can choose the Super CDW at additional charges for full protection.
Before The Trip : Get The International Drivers Permit (IDP)
For foreigners, driving in Jeju and other parts of South Korea, you will need a International Driving Permit (IDP) and local country driver's license to rent a car in Jeju island and South Korea. Together with a passport, these are the compulsory documents the driver must bring on the pickup date. You will ask to see your International Drivers Permit (IDP) when you pick up the rental car, so make sure to have this on hand.
The IDP must have been issued within a year by the Embassy or Consulate of your home country registered by Geneva or Vienna convention. The country like Indonesia, China, Taiwan is not accepted for car rental in South Korea due to not listed under the Geneva convention.
Do check on your application requirement in your home country. The IDP is mandatory and makes sure the driver has the required documentation when picking up the car rental! You will be asked for it when you pick up the rental car, else your reservation will be canceled. So don't forget it!
Note: All motorized vehicles including motorcycle, ATV, and scooter are required IDP for rental.
How To Pick Up Your Rental Car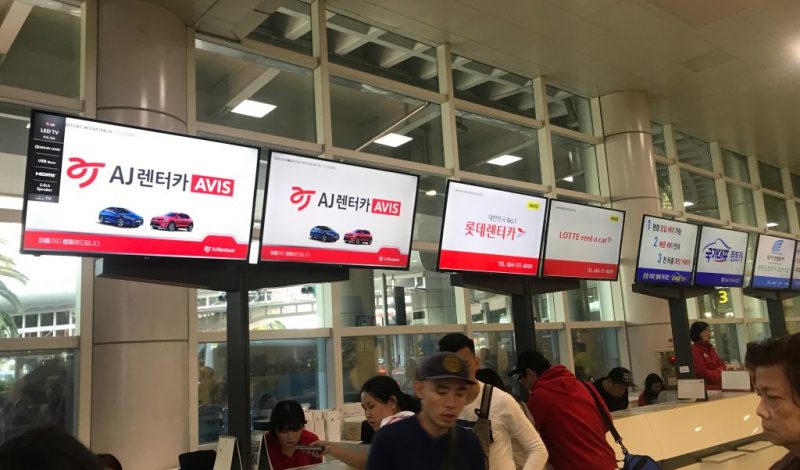 After finish the above step, you are already completed on how to rent a car in Jeju before your trip. The next step is the car rental pick up process after you reach Jeju island.
However, you will not pick up your car rental at the airport directly. All the car rental companies located at the same Rent-A-Car building nearby Jeju Airport with free shuttle bus provided. Don't worry as the picking up process is very easy.
Below are step-by-step guide on how to pick up my rental car from AJ Rent-A-Car from Jeju Airport,
Proceed To The Car Rental Counter At Jeju Airport
Firstly, heading to the car rental company counter at the airport after exit from the custom check. All the car rental company counters are located at Gate 2.
Show your booking confirmation to the service counter. They will check through your document quickly and direct you to exit through Gate 5 with simple instruction by a small note.
Follow Simple Instruction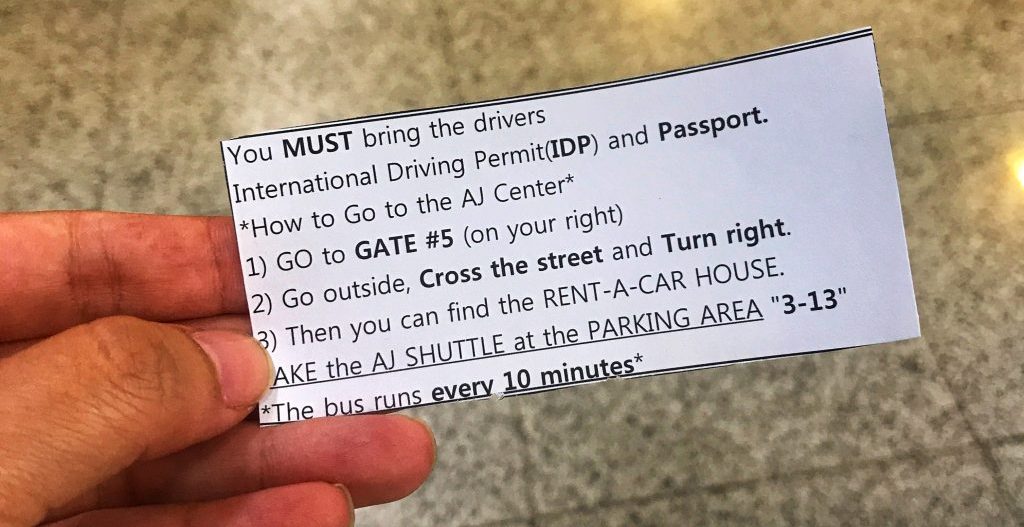 The note already covered all the necessary steps for how to go to AJ center from Jeju airport.
Again, reminder on the international driving permit and passport to pick up the car.
Take Shuttle Bus To The AJ Center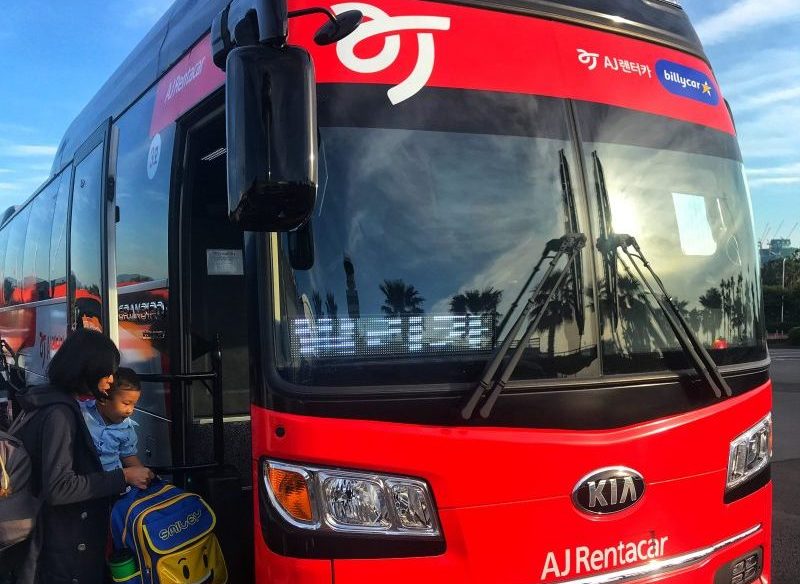 Exit from Gate 5 and cross the road to the parking area.
Turn right and continue heading to the parking lot follow the instruction to take the free shuttle bus located outside of the arrival hall. The shuttle bus from AJ parked at almost the end of the parking area.
Put your luggage into the bus and ready to AJ center.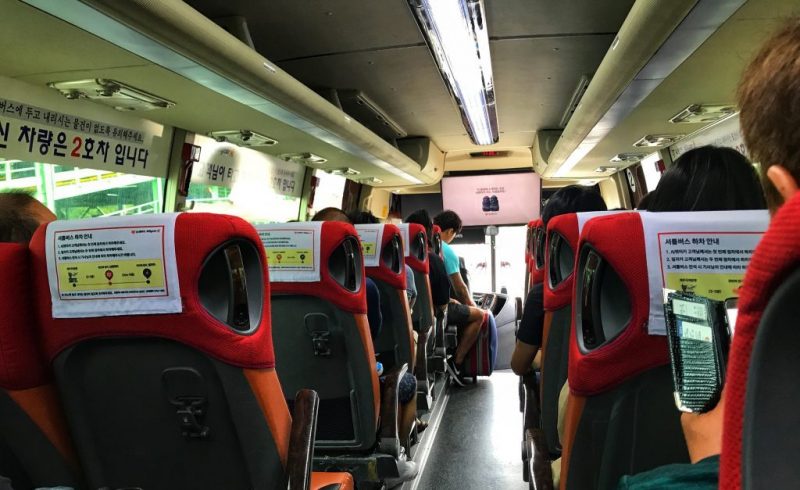 The Shuttle bus service run between Jeju airport and the car rental depot at every 5 to 10 minutes.
This journey takes around 5 minutes of bus ride to the car rental office.
Sign On Your Car Rental Agreement Form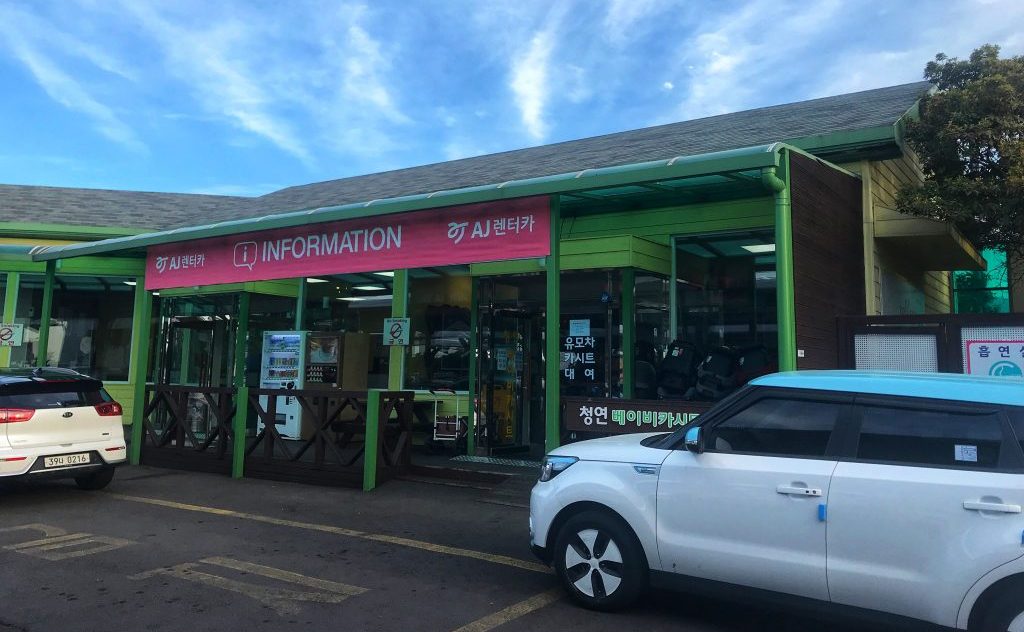 When you reach the car rental office, take the queuing ticket and wait for your turn. The waiting time is normally is very fast. I waited for around 5 minutes for counter serviced two customers before my turn.
The staff will check again your document properly and ask you to confirm again before sign on the rental car agreement form. Only a credit card is acceptable for your car rental payment.
Out of my expectation, I got a free upgrade for my rental car from Hyundai RAY to Hyundai Avante! Thanks to AJ Rental Car.
Note: No cash deposit or debit card is allowed.
Check And Visual Inspect Your Car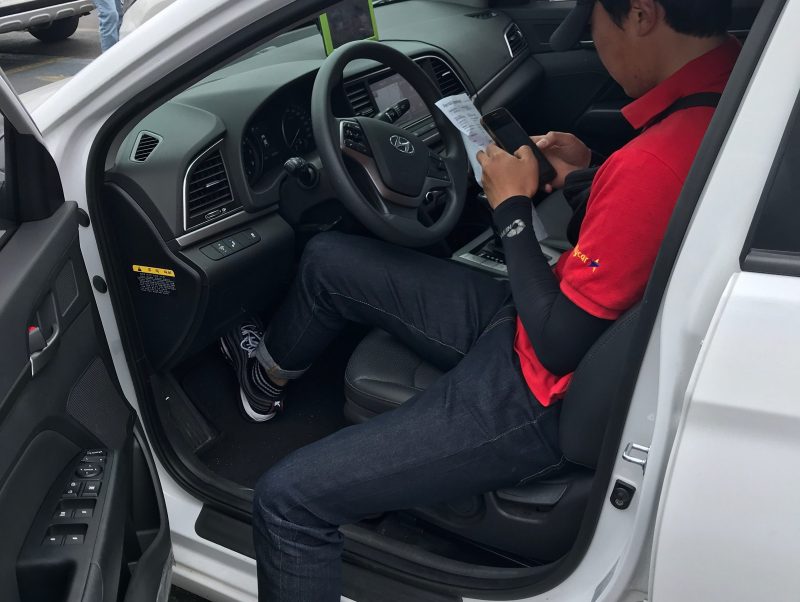 Once everything settled, the car rental agency staff direct us to take the car and drove to the exit gate.
Another car agency staff will be waiting at the exit gate for the final inspection check for scratches and fuel levels are recorded. Make sure to check your car condition and inspect the car thoroughly.
Note: Don't skip this process as you might need to ask for paying unnecessary charges that you didn't do.
Ask For Changing GPS To Your Preferable Language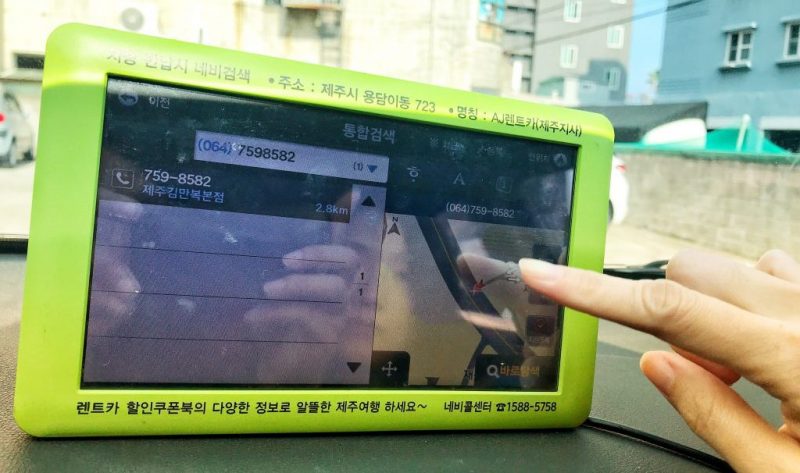 At the last checkpoint, GPS will be installed and remember ask for a quick demonstration and change the language to English (or your preferred language) before you drive off with your car! Only voice guidance will change to English and the characters on the GPS still appear in Korean.
Phone Number is very important for GPS Navigation at Jeju. Ask help from the car rental agency staff to demonstrate step by step how to search your destination sites using telephone numbers.
Once everything settles, you're ready to explore the beauty of Jeju with a wonderful road trip!
How To Return Your Rental Car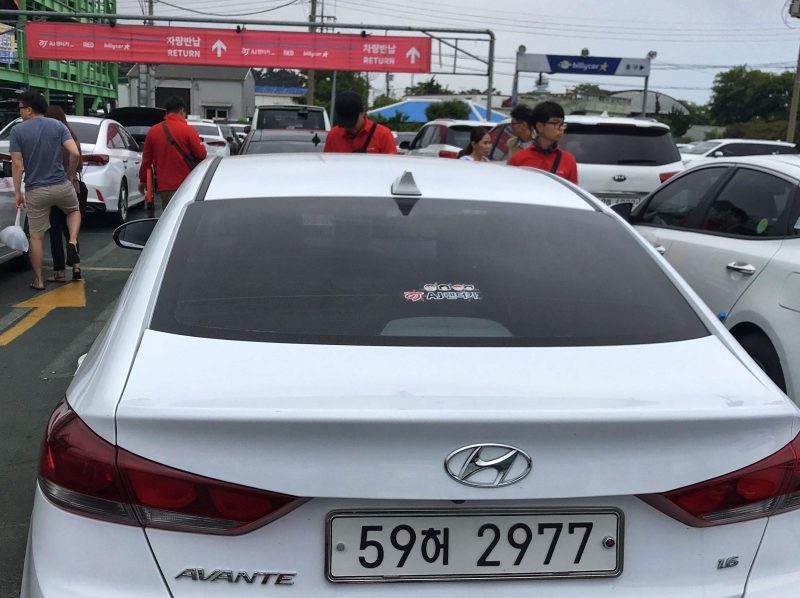 Return car to rental company is super easy. A clear instruction will point you to park your car at a parking area when you reached AJ center. The car rental agency staff will check again your car for any damage.
Remember to refill to full tank or same amount of fuel level at the time when you received your rental car. Otherwise, refueling charges will apply.
There are fuel stations nearby the Car Rental Depot. So you may just refill at there before you return the car.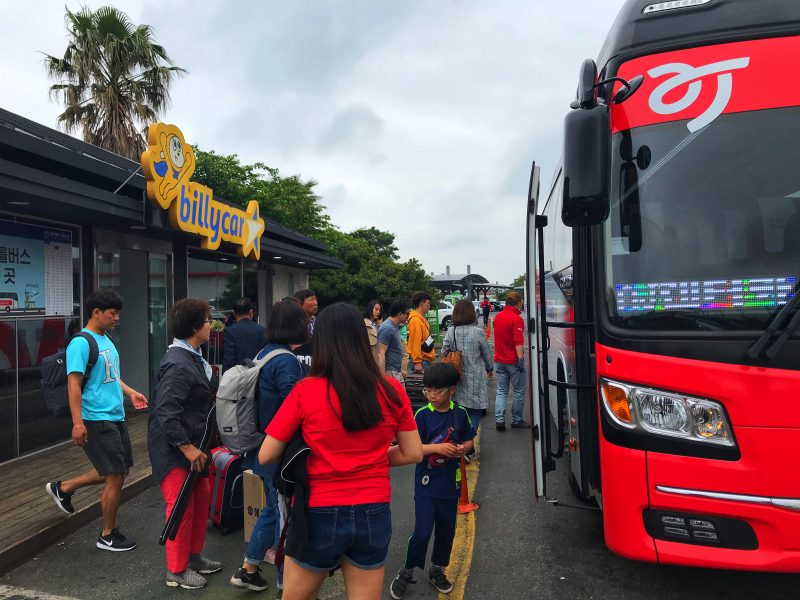 After the car return process complete, proceed to the Billy Car office nearby and wait for the shuttle bus back to the airport. It just located beside the return car parking lot where you can easily see it.
The whole return process is very fast and easy with approximate 30 minutes. But, it is strongly recommended that you keep some buffer time to return the car before your flight!
As per above, it is pretty easy and simple on how to rent a car in Jeju from booking, pick up and return your car rental. As easy as 1, 2, 3 step!
Driving in Jeju Island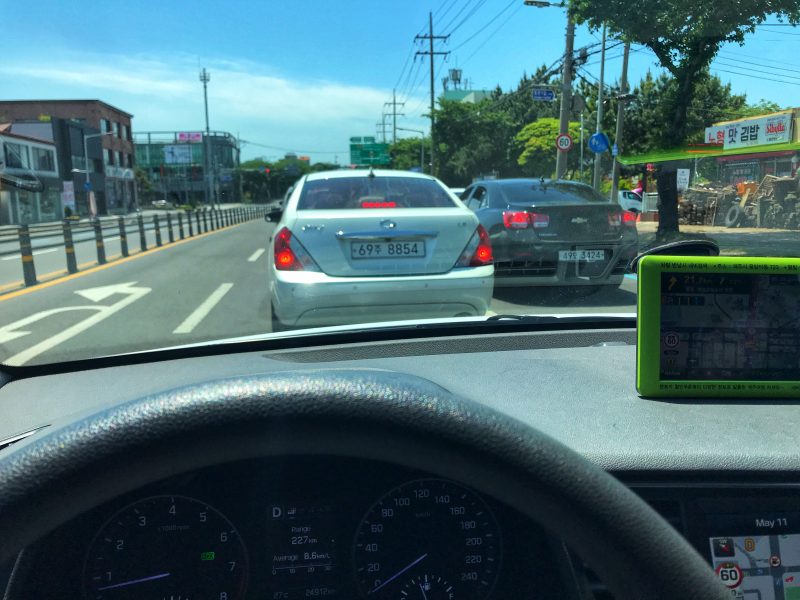 Below are the few simple tips for driving in Jeju Island. Just plan your Jeju self driving itinerary based on your interest and you are ready to go.
Below are 10 useful tips for driving in Jeju Island:
Driving on Left Hand Side
Driving in Jeju Island is very relax
Phone Number is the GPS Navigation
Mobile Data is very important
Google is not work in South Korea
Simple Road System
Ample of Car Parking available
Filling Fuel
Don't Do This when Driving in Jeju Island
Tip#1: Driving On Left Hand Side
Similar to the US, cars are driving on the left-hand side instead of the right-hand side. That's means, the steering wheel is located on the left side and car drives on the right. Don't panic! Switching over is very easy and you can take some time to practice by driving slowly once you get the car. It takes a lot of concentration when you first driving on different sides. Give it some time and it does get easier.
Remember to keep driving a car on the right side of the road. At an intersection, the driver needs to check on the left side, and then the right side. It can be helpful for the passenger to remind the driver as well.
Tips#2: Driving in Jeju is Very Relax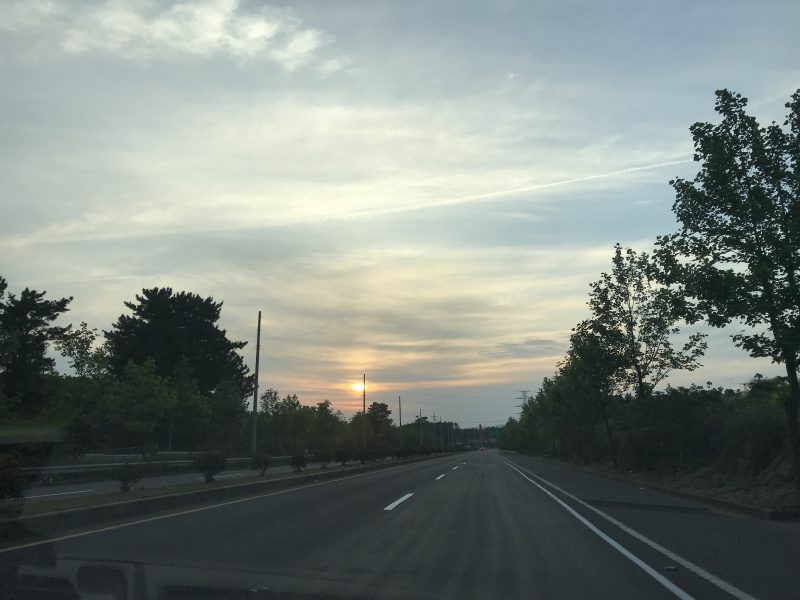 It's easy and relax to drive in Jeju Island. The road condition and driver's quality are generally good and polite. Driving at the town area may be slightly challenging but it is much more relaxed than driving at mainland of Korea.
Tips#3: Phone Number is The GPS Navigation
To use the Korean GPS navigation system, you can type the name of a destination in English. However, the easier navigation method is by phone number.
The last 7 digit of the phone number of the destination can route you to the desired destination.
Tips#4: Mobile Data Is Very Important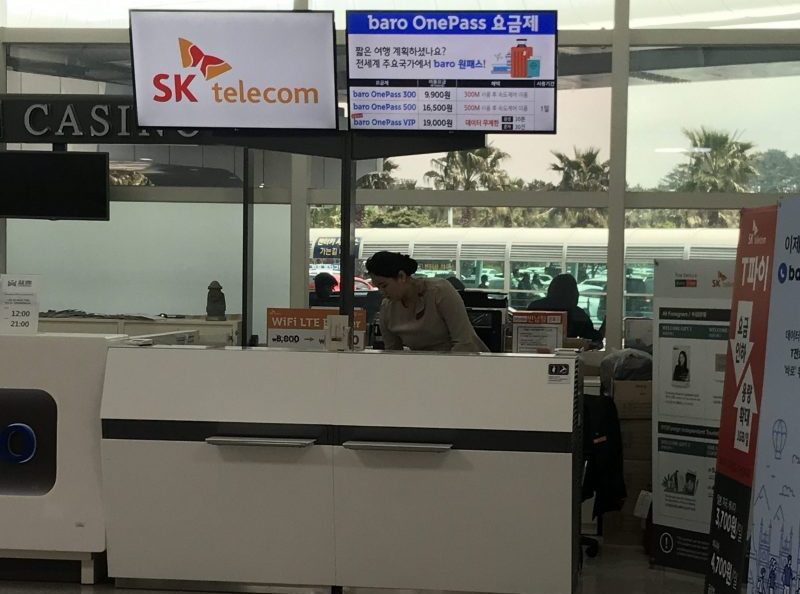 For real-time navigation, mobile data is very valuable as all the navigation app required mobile data. We highly recommend purchasing a 4G SIM card or rent a Wifi egg to keep you online. Just grab a wifi data device at Jeju airport directly if Jeju is your first arrival destination from home country.
Pro Tips: Pre-book early for cheaper price and collect at SK Telekom once you exit from the arrival hall.
Tips#5: Google is Not Work at South Korea
Google maps is not working in South Korea, including Jeju Island. So you will need to find the alternative app for navigation. Korea based navigation application like Naver map or Kakao Map is very useful to search for places and restaurants.
Tips#6: Simple Road System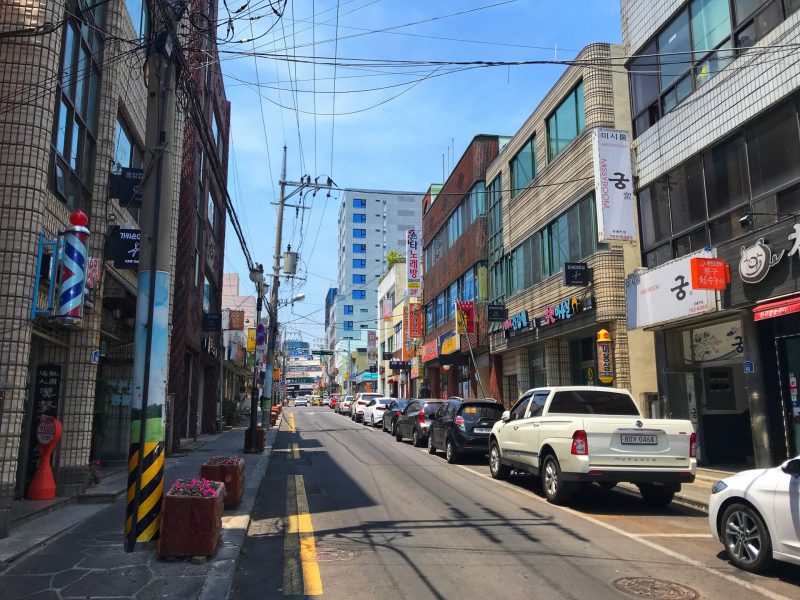 Jeju has a very simple road system and relatively straightforward with only a few main roads connected all around Jeju. The road sign is general in English and landmarks are signposted. Added, most of the roads are flat and not much traffic. Sometimes, you may route to backstreet with one-lane road especially when hunting for local food. But no worry. Just drive and park follow the others.
Tips#7: Watch Out For Speed Camera
Generally, the speed limit is 70 – 80 km/hour at most of the roads. The village entrance and school area may be reduced to 50 km/hour. We found out there is many speed camera along Jeju roads. The GPS will prompt the driver with loud warnings if speeding towards the speed camera.
Tips#8: Ample Of Car Park Available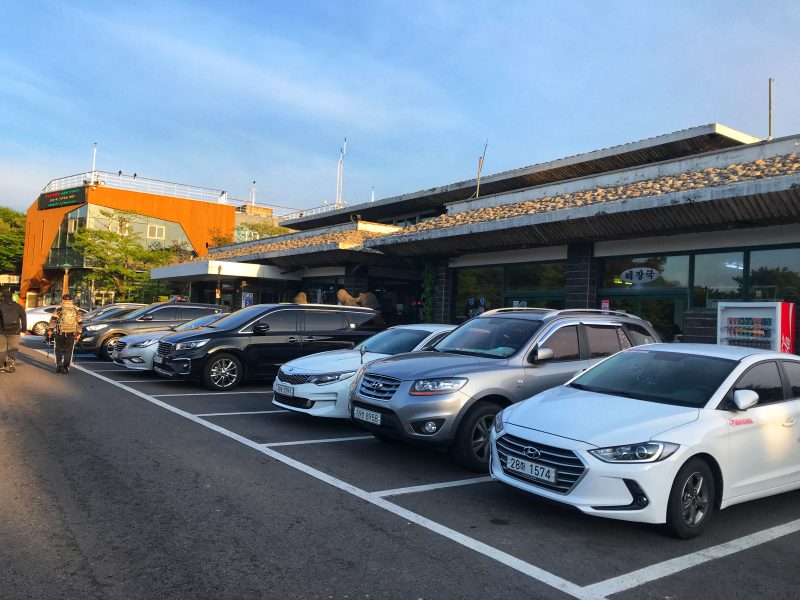 The car park at Jeju Island are plenty and normally is free at the restaurant, hotel, and town area. The size of the parking lot is small and you will find some difficulty to park if you are driving a big car.
Look for car parks near the shopping mall and tourist attractions. Just park follow how others park. Some of the famous attractions will need to pay for the parking, normally at ₩1,000 or ₩2,000.
Tips#9: Filling Fuel
The fuel is not cheap, and some will choose for electric car when driving at Jeju. There are a lot of garage on the Jeju and nearby Car Rental Depot. The attendants will help to fill up and credit cards and cash were accepted. The petrol price may slightly vary even in the same street. We observed that the petrol price at Seogwipo is slightly cheaper at Jeju City.
If you are driving an electric car, recharge stations are available at most hotels and restaurants.
Tips#10: Don't When Driving in Jeju Island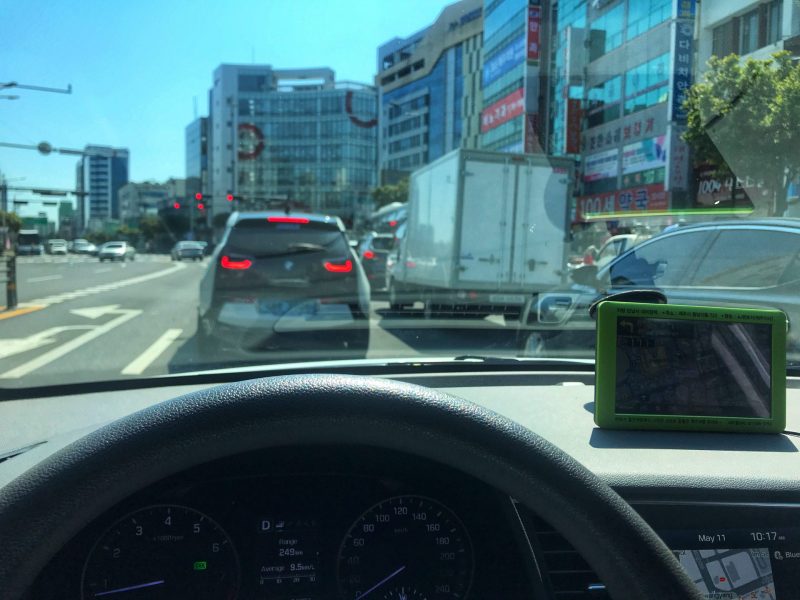 Don't drink and drive, I know Korea Soju is very refreshing. Random breathalyzer tests may be conducted by police. Added, don't use a mobile phone while driving. Most of the roads are well maintained with light traffic except peak hours in Jeju downtown. Just be patient and careful when driving in Jeju.
Final Tips For Driving in Jeju Island
My final tip on driving in Jeju Island is don't rush. Don't forget you are visiting Jeju for a relaxing trip. Most likely you are visiting Jeju for scenery and enjoy the beautiful view. There are so many beautiful views especially when you are driving on the coast. Be relax and enjoy yourself.
Lastly, We have received some questions on any possible for driving in Jeju Island without International Driving Permit? The answer is impossible. Driving in Jeju without the IDP is illegal in Jeju Island and even South Korea. The rental car company will make sure you are holding a valid IDP when picking up your rental car. Just apply the IDP before your visit. Alternative, consider for private day tour if obtaining IDP is impossible.
Self Driving in Jeju Island For 6 Days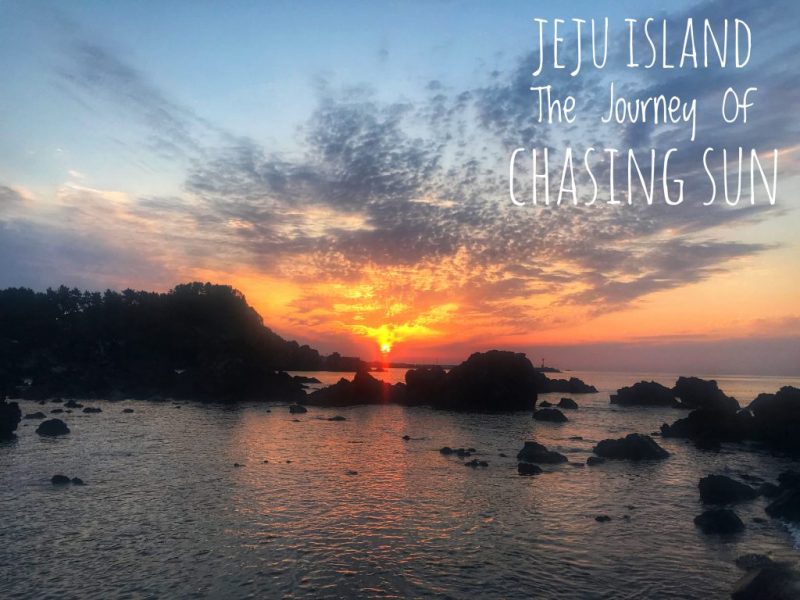 Self driving in Jeju by rental car is very easy and relax. Renting a car in Jeju for self-driving to discover the natural beauty at your own pace is the best way to travel at Jeju Island. My 6 days Jeju itinerary is completed with a round journey by single driver, ME!
We spend our 6 days watching the gushing waterfall, dipped our toes into crystal clear water at Hyeopjae beach, hike up to South Korea's highest mountain – Mount Hallasan, watching the sunrise at New Seven Natural Wonder of Seongsan Ilchulbong crater or enjoy a cup of coffee at ocean front view cafe.
We also explore the unique local Korean food, highly recommended by locals. Some of the restaurants are hard to reach by public transport. So we highly suggest renting a car for self-driving if this is permitted by your country.
Hopefully this guide will help for planning your Jeju road trip! Don't forget to check out our 6 days wonderful road trip itinerary here.
Jeju self-driving itinerary for 6 days: How To Plan Your Wonderful Jeju Road Trip Itinerary!
Day 1: Jeju City Exploration

Say Hello to Jeju! Take my rental car.

Day 2: Jeju West Coastline
Day 3: Jeju South Coastline
Day 4: Jeju East Coastline
Day 5: Hallasan Mountain
Day 6: All about the beaches and sea

Hyeopjae and Geumneung beach
Goodbye Jeju!
Wonder where to stay at Jeju? Continue reading the Ultimate Guide For Your Jeju holiday – Where To Stay In Jeju
Jeju Must Eat Food Guide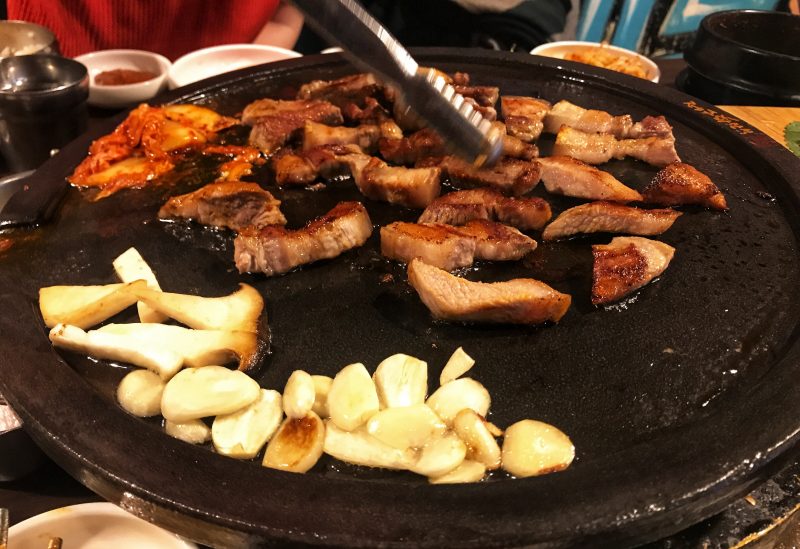 For food lovers, please check out our Jeju must eat food guide. Listed our Top 5 Best Restaurant At Jeju: