Last updated on September 23rd, 2023
To learn about the Nagoya must-eat food, read our Nagoya food guide with all the best food as well as a recommended restaurant if you are looking for what to eat in Nagoya.
Being Japan's third busiest city, Nagoya is an important access place for travelers visiting the Chubu region. It also offers a stop on the Shinkansen ride when traveling from Tokyo and Kyoto. But, Nagoya is more than just a stopping point when visiting Japan. There are so many interesting attractions to see and delicious food to eat in Nagoya. We like the variety of food that we tried on our visit to Nagoya. The mouthwatering local cuisine is an unforgettable experience for our trip.
This Nagoya food guide can give you some idea of the best food to eat in Nagoya. Most importantly, where to find all the most delicious culinary delights.
What To Eat in Nagoya?
Nagoya cuisine is unique in its way and taste. It has been cultivated with miso, one of the important seasonings used for many Nagoya cuisine. To learn about the culture and history of Nagoya, we suggest you allocate some time to try the must-eat food in Nagoya. You will find out there is no other way to find so many unique foods that can be only found in Nagoya.
Nagoya Food Guide: Top 6 Must-Eat Food in Nagoya
Nagoya Style Breakfast
Hitsumabushi (Unagi Rice)
Miso Nikomi Udon (Udon Noodles Simmered in Miso Broth)
Miso Katsu (Panko Miso Pork Cutlet)
Tebasaki (Nagoya Fried Chicken)
Uiro (Nagoya Traditional Sweet)
If you're curious about the best food listed, read on for more details on where to try them during your visit to Nagoya.
What are the top five must-eat foods in Nagoya?
The top 5 must-eat foods in Nagoya are Hitsumabushi, Tebasaki, Miso Katsu, Miso Udon, and Nagoya-style breakfast.
Why Nagoya food is so special?
Nagoya is unique in its own way, especially since most of the food has cultivated with miso or tamari. The miso is the most important seasoning in Nagoya cuisine and gives a strong taste to Nagoya cuisine.
What food is Nagoya famous for?
Hitsumabushi, probably is the most famous food in Nagoya. The freshwater eel (unagi), which is typically grilled, slathered in a rich, dark sauce, and served over rice is extremely delicious.
Nagoya Style Breakfast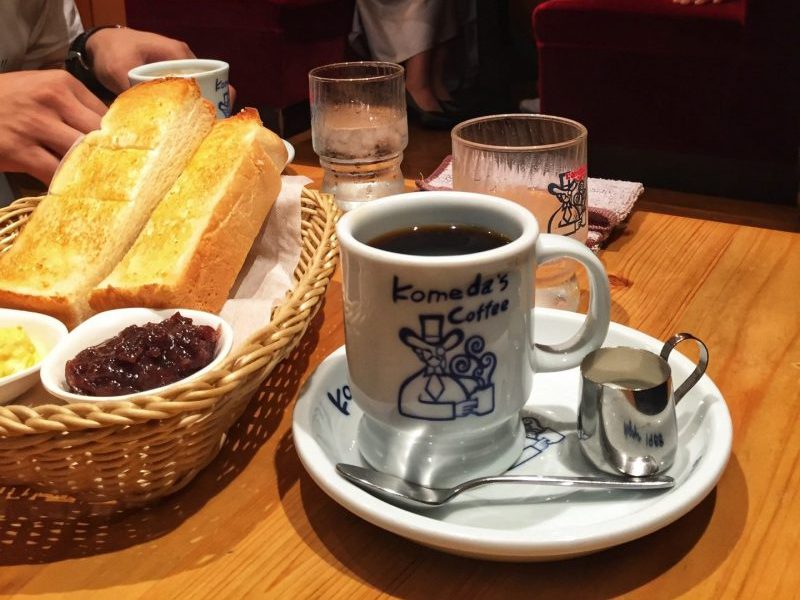 First of all, we are starting with the Nagoya breakfast tradition culture in our Nagoya food guide. Nagoya has a special breakfast culture, called morning service (モーニングサービス. mouninugu saabisu) which developed only in the region around Nagoya.
When you order a drink in the morning at a Nagoya cafe, you will get a morning service for free. This often includes a toast with the spread for your toast, boiled egg, miso soup, or salad depending on the cafe. For the price of a drink, you will get a complete set of breakfast. Such a great deal!
Best Place for Nagoya Style Breakfast:
Komeda's Cafe is the most popular Kissaten for Nagoya-style breakfast. Origin from Nagoya, Komeda's Cafe is now a popular local chain cafe that can be found all over the country. Normally, a breakfast set costs less than ¥500 for a drink and complimentary toast with spread. We highly recommend trying the Ogura set which is served with a toast with Ogura sweet bean paste spread. Another specialty that can be only found in Nagoya.
Opening Hours: From 7:00 to 22:00. The morning service starts from 7:00 to 11:00.
Address: It can be found all over Nagoya. Just look for the closest shop.
Price: around ¥500.
Website: http://www.komeda.co.jp/
Hitsumabushi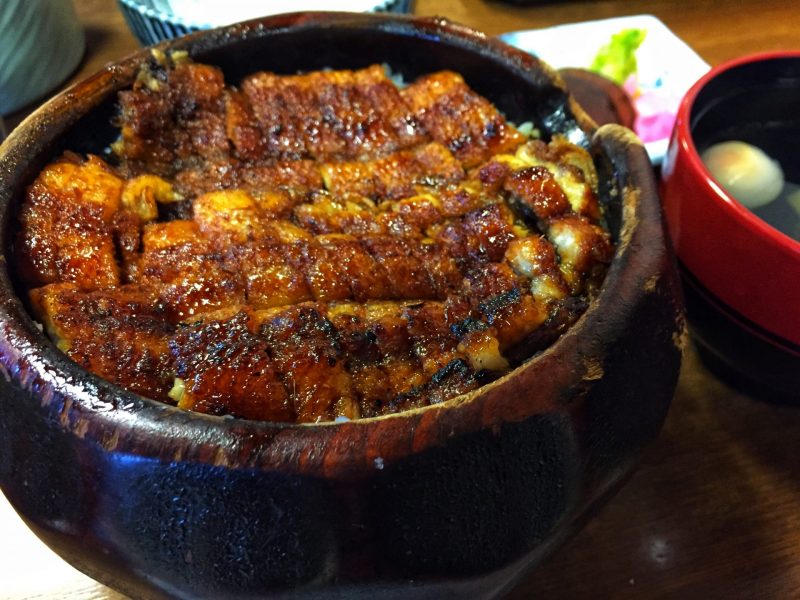 Next on the Nagoya food guide is the Hitsumabushi (unagi rice). Originating around the Meiji period, the Hitsumabushi is prepared in the unique Nagoya style. The Japanese eel is handled with care where the bones are removed without damage to the body. The whole eel is then grilled in the open charcoal and served in an individual bowl with wooden tubs to each customer.
There are a few simple steps to taste this real delicacy in Japan. Firstly, separate the bowl of unagi rice into four portions. Then, try the first portion of unagi with plain rice without adding anything for the most original taste of unagi. Next, mixed the unagi rice with condiments such as spring onion, wasabi, and seaweed. You can then pour the hot broth into the third portion of unagi rice. Lastly, enjoy the fourth portion based on your liking from the above three ways.
It is my favorite food and one of the must-try food in the Nagoya food guide. However, please take note that the price to taste this real delicacy is not cheap. A bowl of Hitsumabushi can easily cost more than ¥3,000. But still, prepare to queue to taste this Nagoya's best food.
Best Hitsumababushi in Nagoya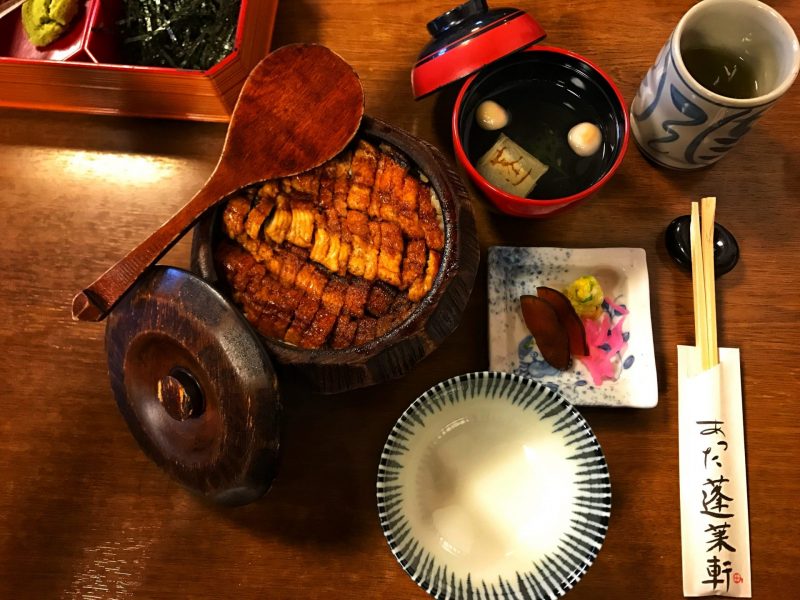 The restaurant serves the best Hitsumabushi in Nagoya:
Atsuta Houraiken Honten (あつた蓬莱軒 本店) probably is the best restaurant serving the most delicious Hitsumabushi in Nagoya. Founded in 1873, Atsuta Houraiken Honten is the origin of the mouthwatering Hitsumabushi that started in Nagoya and even Japan. The Hitsumabushi is also a registered trademark of Atsuta Horaiken.
Alternatively, try the Hitsumabushi in Maruya Honten (まるや 本店). This is the best place where you can try the Hitsumabushi around Nagoya Station. The shop is located in the Meitetsu Department StoreMeitetsu Department Store at Nagoya Station.
Hitsumabushi Inou is another popular Hitsumabushi specialty shop in Nagoya. It served the Hitsumabushi in different sizes whereas the mini Hitsumabushi is served at a cheaper price tag compared with the normal size. One of the great options for budget travelers is to try the Hitsumabushi.
We visited Atsuta Houraiken for its superb and succulent Hitsumabushi in Nagoya. Read on my food review here: Hitsumabushi Atsuta Houraiken – Nagoya Must Eat Food
Miso Nikomi Udon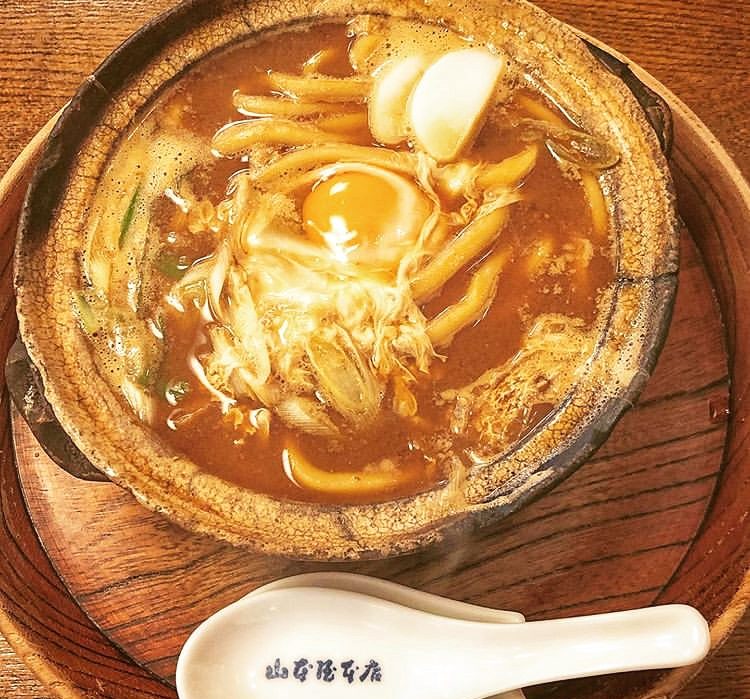 Another miso-based Nagoya specialties are Miso Nikomi Udon (味噌煮込みうどん), which literally means simmered udon noodles in miso. Nagoya used the "Haccho miso", a brown color salty miso paste made from fermented soybeans to make this unique dish. The "Haccho miso" is used to simmer the udon noodles together with other fresh ingredients like green onion, shiitake mushrooms, chicken, tofu, and served piping hot in a small earthen pot.
The rich broth fills your senses on the first sip. While the udon noodles are also super slurp-able and in good texture. Truly a heartwarming comfort food especially on a cold winter day.
For the best Miso Nikomi Udon, please visit the famed Yamamotoya Honten. It is one of the oldest restaurants and its secret family recipe has been passed down for generations. It only serves the Miso Nikomi Udon shop but in different variations come in the different topping. A simple dish that must eat in Nagoya.
Yamamotoya Honten
Price: about ¥1,500
Opening Hours: From 10:00 to 22:00.
Miso Katsu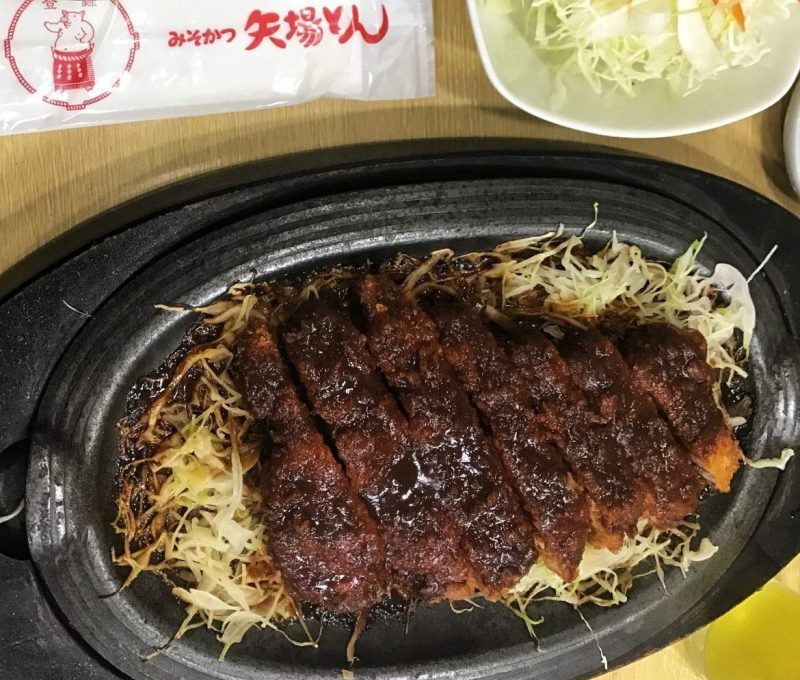 The Miso Katsu (みそかつ) is one of the Nagoya versions of Tonkatsu. It is another type of tonkatsu dish with a deep-fried port cutlet topped with flavorful miso sauce. It normally is served with shredded cabbage, a bowl of rice, and soup, which make it a complete meal.
Generally, the pork cutlet is coated with bread crumbs and deep-fried into a golden brown. It is crispy on the outside yet juicy inside. The secret of the mouthwatering miso katsu is their special sweet and savory miso sauce, which makes the breaded pork cutlet into an entirely different dish.
Best Miso Katsu in Nagoya:
The most famous miso katsu restaurant in Nagoya is Misokatsu Yabaton, which served the katsu miso for more than 70 years. You will find several outlets for Misokatsu Yabaton throughout the city. We visited the Misokatsu Yabaton in the Esca underground shopping street in Nagoya station. The miso katsu was so flavorful and wonderfully addictive. High recommended!
Alternatively, try the Ajidokoro Kanau (味処叶). It is a long-established store that declares the birthplace of the delicious miso katsudon. One of the local favorite restaurants in Nagoya.
Tebasaki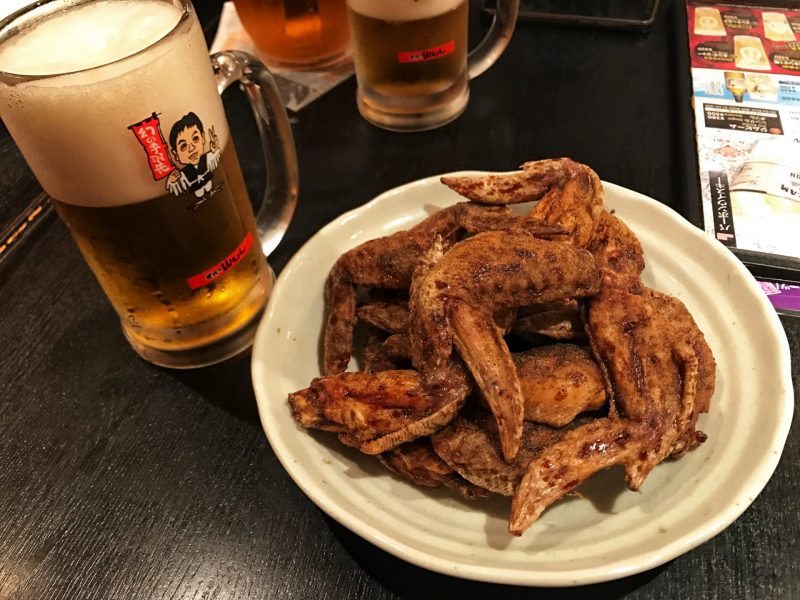 Next, the Tebasaki (手羽先) is Nagoya's deep-fried spicy chicken wings. The chicken wings are flavored with secret ingredients and spices and then deep-fried into perfection. The flavorful chicken wings are extremely popular in Nagoya. Locals love to enjoy their dinner or supper with the tasty Tebasaki. It is even perfectly to accompaniment with a cold pint of beer or sake in the izakaya with friends and family.
Besides, there is a special local way to eat the Tebasaki without having a scrap left on the bone. Just pulling out the meat with one swipe! Make sure to try the Tebasaki when visiting Nagoya.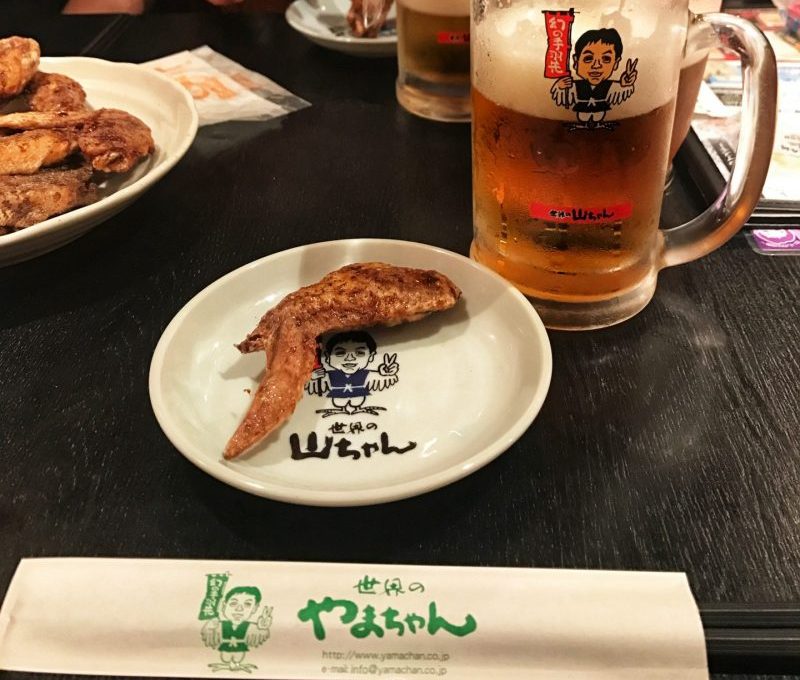 The best Tebasaki is served in the Sekai no Yamachan. It is the most popular restaurant specializing in Nagoya-style Tebasaki. The secret to the popularity of Yamachan is their mouth-tingling spices which are seasoned with special ingredients and techniques on the chicken wings. Nowadays, you can find numerous Yamacan outlets throughout Nagoya and even Japan. It even opens its oversea store in Malaysia, Thailand, Taiwan, and Hongkong.
Complete read in Sekai no Yamachan: Nagoya Famous Tebasaki
Sekai no Yamachan
Price: A set of Tebasaki costs about ¥500 for 5 pieces of chicken wings
Opening Hours: From 17:00 to 00:00.
Address: It can be found all over Nagoya. Just look for the closest shop.
Nagoya Traditional Sweet: Uiro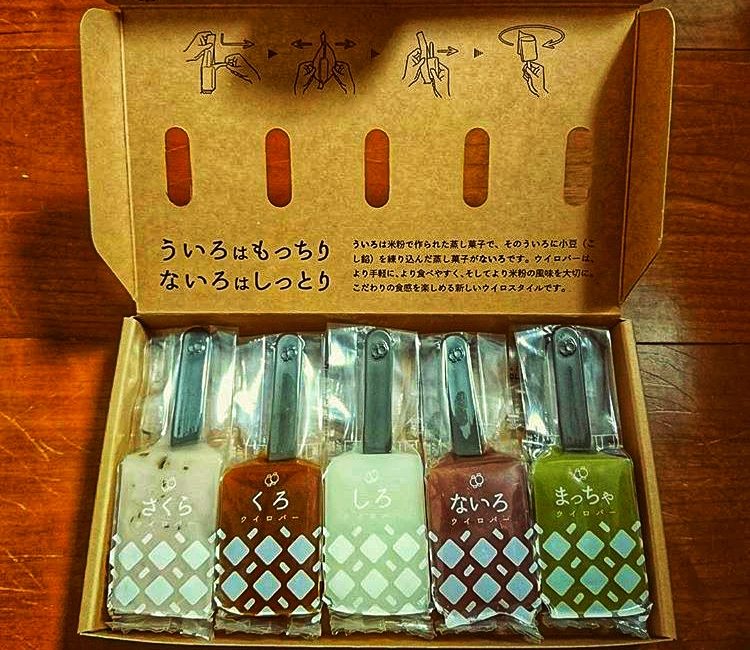 Lastly, don't forget to try the Nagoya traditional sweet, Uiro. It is said that Uiro has been produced since the Edo period and is recognized as Nagoya Uiro to the whole of Japan. The Uiro is made from rice flour, sugar, and water. It is then steamed into a rectangular shape with added subtle flavors such as cherry blossom, red bean, green tea, brown sugar, yuzu citrus, and more.
Uiro is a popular souvenir to bring home to friends and family after a visit to Nagoya. It can be found in department stores and souvenir shops. But the most popular Uiro specialties shop can be found in Uso. The Osu Uiro and Aoyagi Uiro offer the best Uiro in different varieties.
A box of Uiro normally costs about ¥600 for 5 pieces of Uiro.
Overview: Nagoya Best Food
All in all, Nagoya is a city that will not disappoint your taste buds. We ended our Nagoya food tour with a happy tummy. We managed to try all the must-eat food during my 2-days trip to Nagoya. The only complaint was that we could not try for the second time due to the limited time in Nagoya. From the Nagoya style breakfast, mouthwatering Hitsumabushi, the miso inspires katsu and udon to the traditional Uiro sweet. Definitely one would enjoy the best food in Nagoya.
So, did you find anything you like in this Nagoya food guide? Make sure to try one of the best food during the visit. It would be a waste if you do not get to try them when you go to Nagoya. Enjoy your Nagoya food trip!
Lastly, below is the useful Nagoya travel guide including Nagoya itinerary planning, things to do and see, and where to stay in Nagoya.
Planning for a Chubu itinerary to Takayama, Kamikochi, Shirakawago, Kanazawa, and other interesting places in central Japan? Feel free to continue to read on our Chubu travel blog.
8-Days Chubu Itinerary: Complete Central Japan Travel Guide
Related Chubu travel blog: