Last updated on December 11th, 2023
Need help on how to plan your day trip to Kanazawa? Read on below the Kanazawa travel guide blog on what to do and eat in Kanazawa for your complete 1-day Kanazawa itinerary.
Located in Ishikawa prefecture, Kanazawa (金沢/金澤) is known as little Kyoto in Northern Japan. It is a well-preserved historical city since the Edo period. Being one of the popular sightseeing attractions in Japan, Kanazawa attracts many visitors every year. Unlike the bustling larger cities of Tokyo or Osaka, Kanazawa is full of traditional houses and historic structures. Many travelers flock to Kanazawa to experience its Japanese culture, history, and architecture.
When planning on the Kanazawa itinerary, for sure, Kenrokuen Garden is the most popular spot that you can't miss in Kanazawa. But did you know, there are many more things to do in Kanazawa? From ancient samurai houses, beautifully preserved Higashi Chaya District, 21st Century Art Museum, or local vibe traditional Omicho Ichiba Market. All can easily be filled up for one day or two days Kanazawa itinerary. But no worry.
Here is the ultimate Kanazawa travel guide blog to the best use of your travel time to the must-visit attraction in Kanazawa. So, let's get ready for planning your Kanazawa itinerary in this full of historical and modern art city.
How To Get To Kanazawa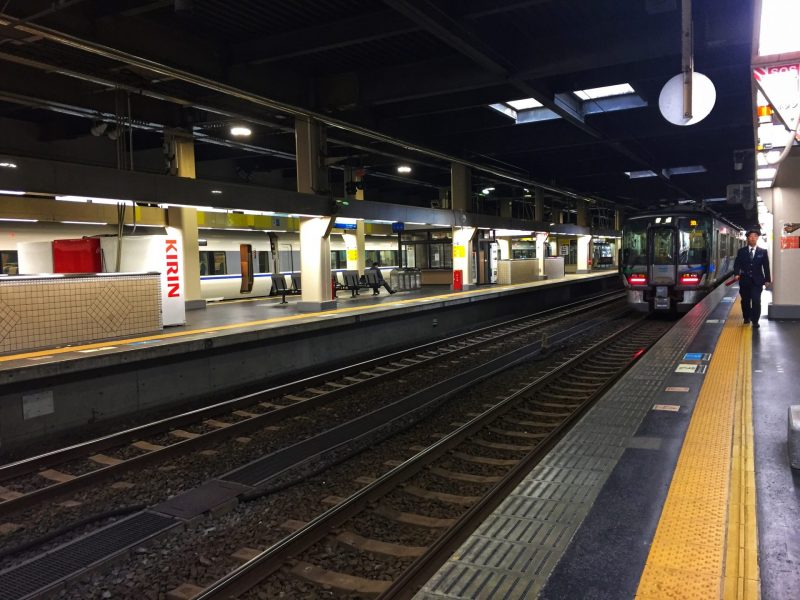 Thanks to the new Hokuriku shinkansen line and well-connected rail system, make the trip to Kanazawa so easy.
From Tokyo To Kanazawa: There are two trains running from Tokyo Station to Kanazawa. The fastest Kagayaki train takes about 2.5 hours to get to Kanazawa with a seat reservation required. While Hakutaka has more stops and takes almost 3 or 3.5 hours. However, the Shinkansen ride is very expensive and costs about ¥14,000. For foreign visitors, it is best to get the Japan Rail Pass to save on money.
From Kyoto or Osaka to Kanazawa: JR Thunderbird limited express line runs from Osaka and Kyoto to Kanazawa once or twice an hour. The 2 hours train ride cost about ¥6,400 for one way. Again, Japan Rail Pass is covered for this ride. The earliest train departs at 7:30 morning from Kyoto Station.
From Toyama to Kanazawa: Shinkansen is the fastest route which takes only 23 minutes at about ¥3,200. This bullet train ride is covered by JR Pass. Alternatively, a local train (operated by a third-party company) for a 1-hour ride at ¥1,240 is another budget option.
From Takayama to Kanazawa: The Nohi highway bus from Takayama to Kanazawa runs every few hours. Some travelers even coupled up their visit with a trip to Shirakawa-go before getting to Kanazawa. A seat reservation is required for the Nohi Bus ride. Alternatively, you can also take the JR Hida limited express line to Toyama Station. From there, change for the Hokuriku shinkansen or local train to Kanazawa.
From Nagoya to Kanazawa: The JR Limited Express Shirasagi directly connects to Kanazawa in about three hours train ride from Nagoya Station.
Kanazawa Travel Tips:
When looking for the best price and biggest selection of hotels in Kanazawa check prices for
Kanazawa Best Hotel from Booking.com
. We found they are the best option and have a great cancelation policy.
Getting Around in Kanazawa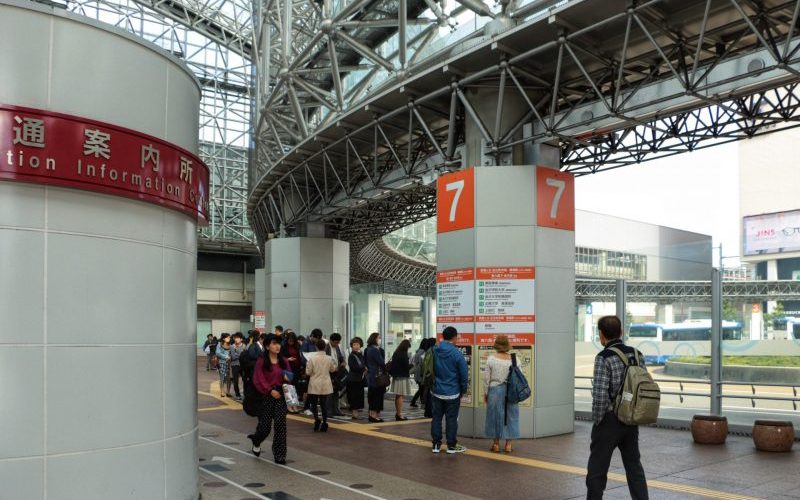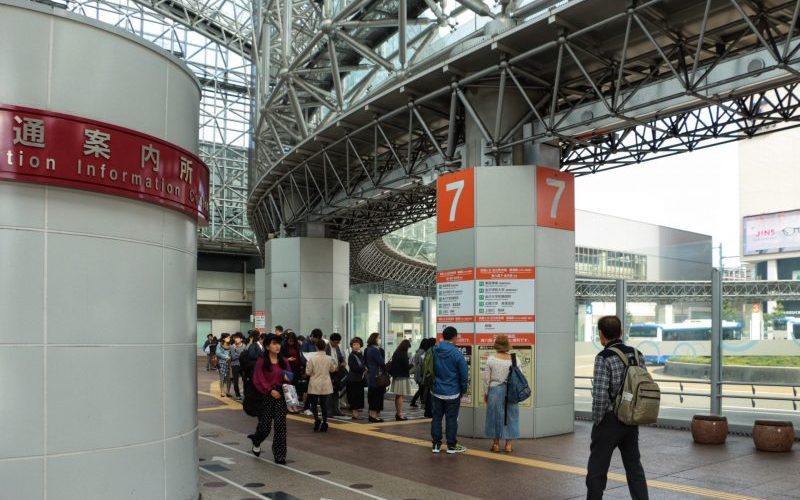 There is no subway service in Kanazawa. However, Kanazawa has excellent bus transportation services that make it very convenient to get around in the city. Most of the attractions are located in the central town and can be easily reached by public bus. Once you are in the central town, everything can be accessed on foot.
Besides the regular city bus, there are special bus services which greatly help visitors for getting around. The Kanazawa Loop Bus that follows circular routes will take you from Kanazawa Station to Higashi Chaya District, Kenrokuen Garden, museum district at Hirosaka, Kohrinbo shopping districts, and Omicho Market before return to Kanazawa station. It is very convenient as the bus departs quite frequently every 15 minutes from 8:30 to 18:00. Flat rate fee at ¥200 per ride for adults. Just choose to board the left loop or right loop bus to your destination.
While the Kenrokuen Shuttle Bus is the faster bus that will get to Kenrokuen Garden in 16 minutes with a lesser stops on the way.
Please take note that buses in Kanazawa only accept cash and pay upon exiting. Suica, Pasmo, and other Electronic IC cards are not accepted. Get the Hokutetsu One Day Pass at Kanazawa Station that covers the Kanazawa Loop and Kenrokuen Shuttle at ¥500. This money-saving pass covers all the major sights and can easily hop on and off for your Kanazawa day trip.
Where To Stay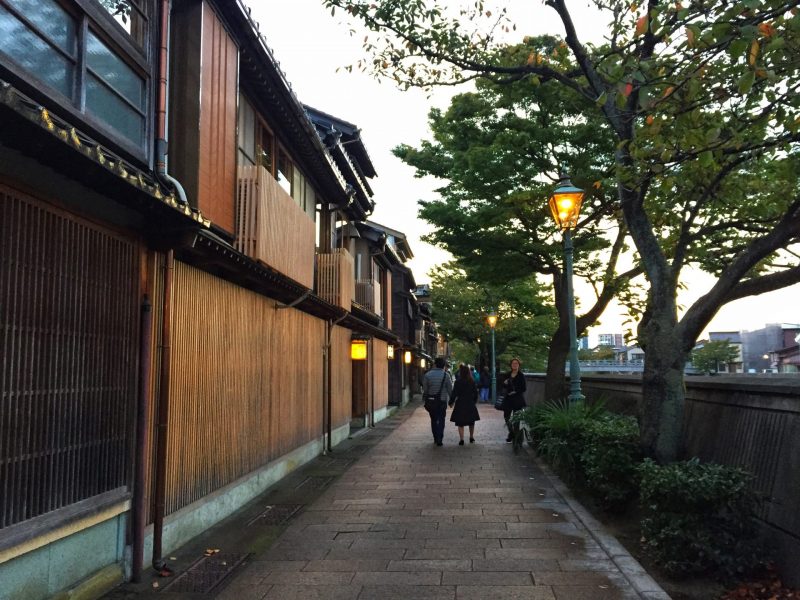 There is a large selection of the best hotels are available if you are looking for where to stay in Kanazawa. We recommended staying nearby the Kanazawa Station to ease the transportation arrangement. Take a look at our recommendation for the best hotel in Kanazawa below:
Dormy Inn Kanazawa Natural Hot Spring is conveniently located within a 2-minute walk from Kanazawa station. Spacious room and comfy bed make your stay in Dormy Inn.
Hotel MyStays Kanazawa Castle is located about 5 minutes walk from Kanazawa Station. Great size room and come with plenty of amenities.
APA Hotel Kanazawa Ekimae is strategically located just beside the JR Kanazawa station. Within 1 minute walk, you can rest your head in the comfortable bed in the hotel.
Kanazawa Itinerary
Depending on your Kanazawa itinerary, you could take the Right Loop or Left Loop Bus to visit this amazing city. There are so many things to do and see in Kanazawa to keep you busy for an entire day. You will find traditional and modern art that perfects the unique culture in Kanazawa.
One Day Kanazawa itinerary:
Start your day from Kanazawa Station
Try Local Cuisine at Omicho Ichiba Market (1-2 hours)
View on Unusual Gate at Oyama Shrine (1 hour)
Explore Samurai Residences (1 hour)
Kanazawa 21st Century Museum (1 hour)
Leisure Stroll in Kenrokuen Garden (1-2 hours)
Historical Kanazawa Castle (1 hour)
Wandering in Higashi Chaya District (1-2 hours)
Taste The Gold Leaf Ice Cream (30 minutes)
Dinner with Kanazawa Best Miso Ramen, Menya Taiga (1 hour)
Can't wait to know more detail on how to plan your Kanazawa itinerary? Here is a detailed list of what to do and eat in Kanazawa in one day.
Start Your Day From Kanazawa Station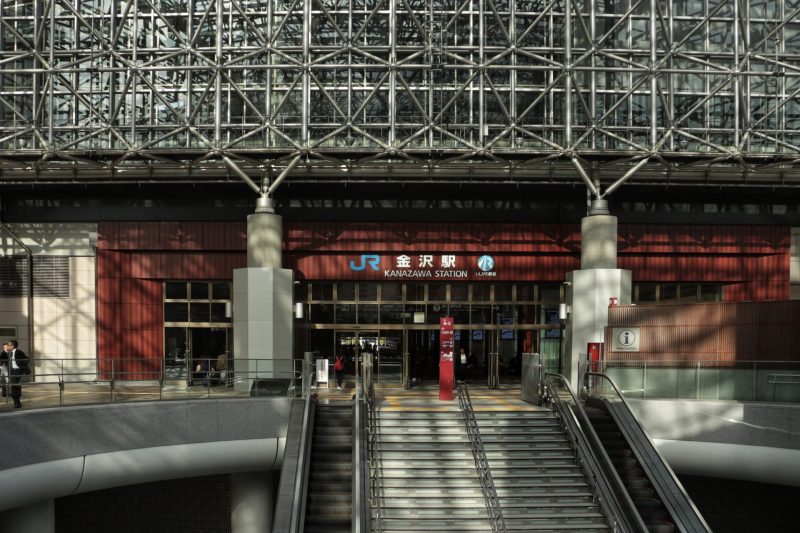 Start your day in Kanazawa Station, one of Japan's most aesthetically pleasing station buildings. The Kanazawa Station not only served as an important transportation hub for trains and buses. The whole building of Kanazawa Station was very well and an impressive dome was designed. The glass roof was designed to collect rainfall and used for recycling in gardening and fountain area.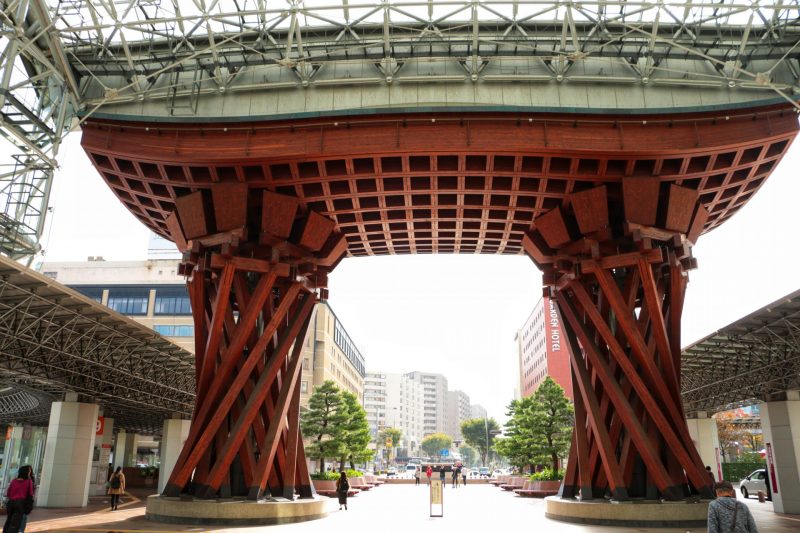 Additionally, its massive wooden gate welcomes visitors once exit from the Kanazawa Station. It is awarded as one of the "world's most beautiful train stations" by travel magazines.
We all were impressed by this symbol of Kanazawa and took a few memorial pictures in front of the wooden gate. But the most important thing to do in Kanazawa station is to get the Hokutetsu One Day Pass at Tourist Information Center. This value bus pass will cover our bus ride when getting around Kanazawa.
Try Local Cuisine at Omicho Ichiba Market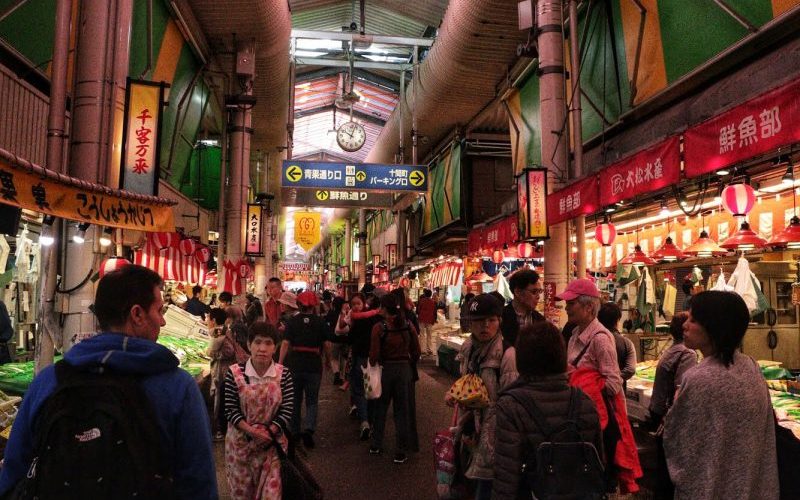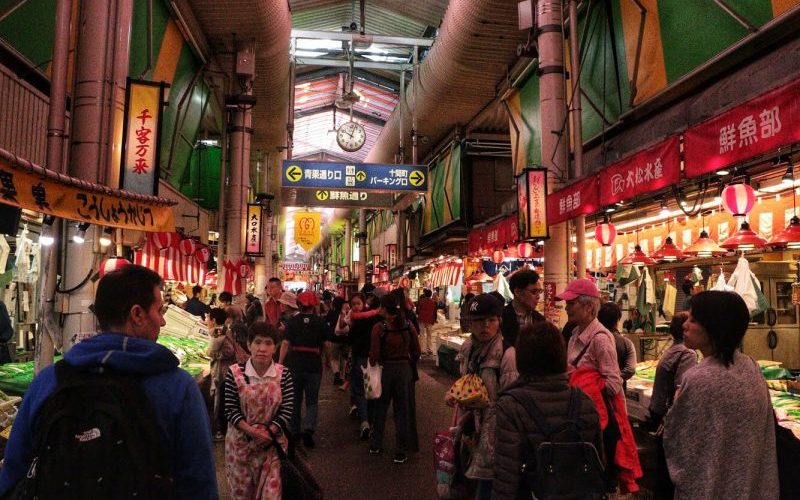 Next, we boarded the Kanazawa Loop and started our Kanazawa itinerary to Omicho Ichiba Market. It is the best place to start our day with some local dishes in the traditional market. The Omicho Market (近江町市場, Ōmichō Ichiba) has been around since the Edo period and remains a very local traditional market in Japan. Locals come here for local produce such as seafood, vegetables, fruits, and more. But for visitors like us, we visit Omicho Ichiba Market for various local foods and other delicious Japanese dishes.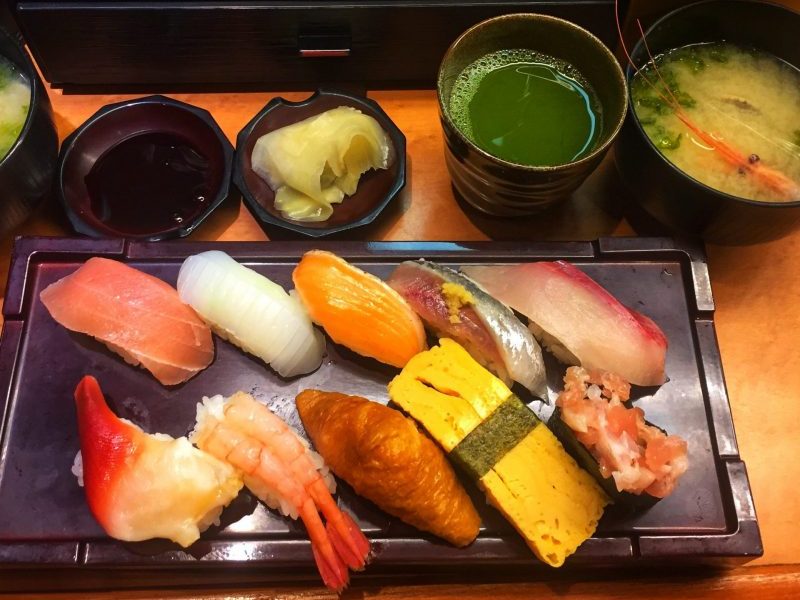 We had a Japanese street food tour in Omicho Market. We tasted the croquette, super fresh sea urchin, and also the beautiful assortment of fruits. Besides, we also visit one of the conveyor belt sushi restaurants and managed to get the limited edition of the sushi platter at ¥500. What a deal!
Read on our Food Tour in Kanazawa Omicho Market: What To Eat When Visit
If you are visiting Kanazawa, don't forget to come here to fill your stomach. Omicho Ichiba Market is also very famous for the kaisendon seafood rice bowl. Come early to avoid the crowd.
Getting there: 15 minutes walk from the east exit of Kanazawa station. Alternatively, take a short bus ride and get off at Musashigatsuji bus stop.
View on Unusual Gate at Oyama Shrine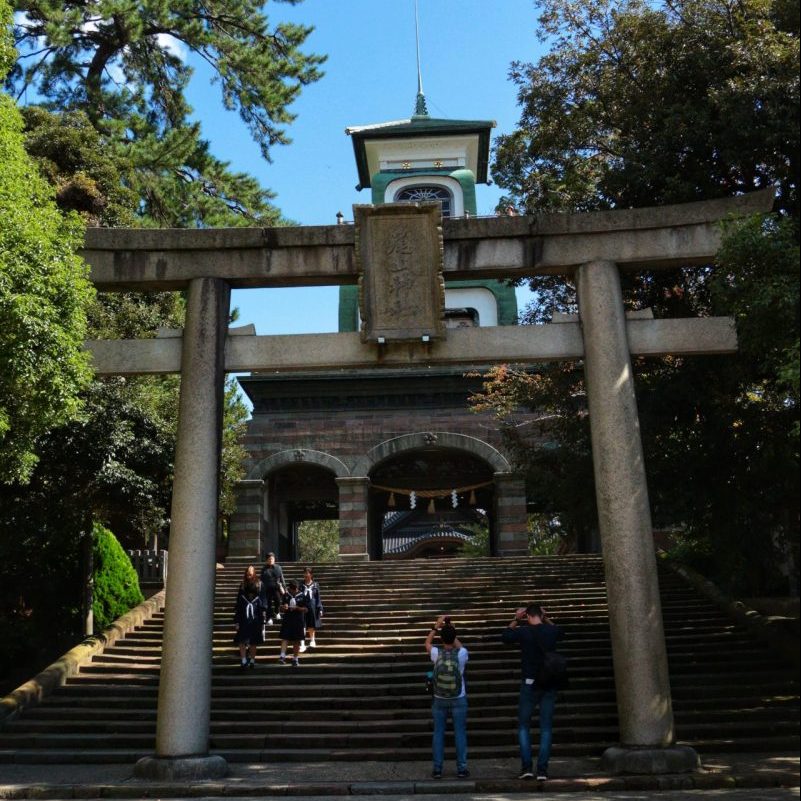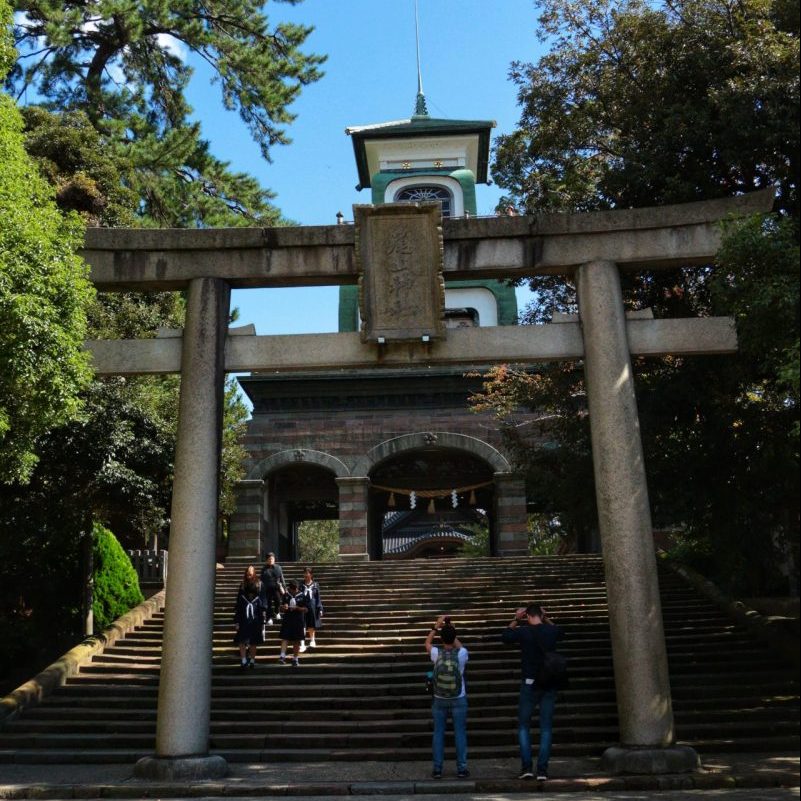 Next, we get to Oyama Shrine (尾山神社, Oyama Jinja). Oyama Shrine is not part of our Kanazawa itinerary. But it is conveniently located nearby Korinbo Bus Stop when we get off the bus. So, we decided to have a quick visit to Oyama Shrine before getting to Nagamachi Samurai District.
One of the highlights of the Oyama Shrine is its unusual gate which is designed with European, Japanese, and Chinese religious themes element.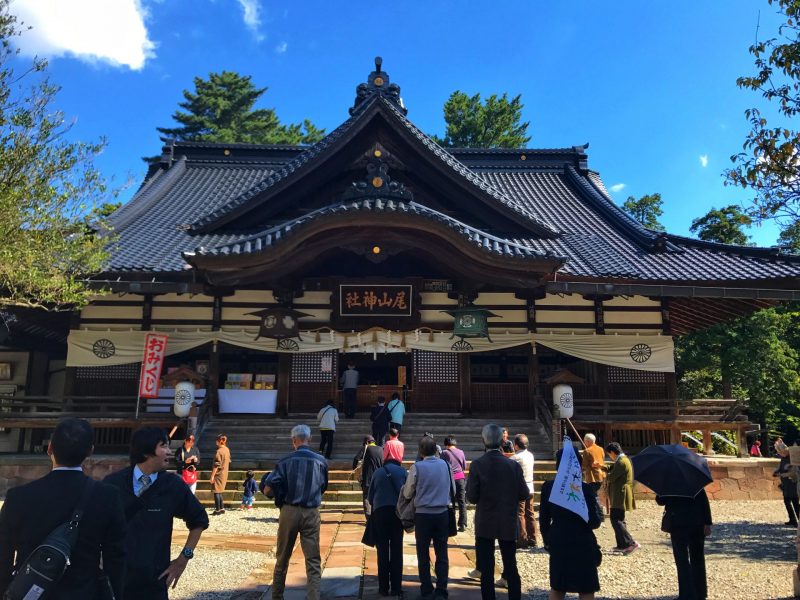 Oyama Shrine was founded in 1873 in Utatsu-Yama and is dedicated to the Maeda Tori family. It was then moved to the current location in Kanazawa City. Inside, there is a beautiful, idyllic, serene ground. Worth to stop by and making a good pit stop before to the next attraction.
Getting There: Take the Kanazawa Loop Bus and get off at Korinbo/Minamicho bus stop. Alternative, 10 minutes walk from Omicho Ichiba Market.
Explore Samurai Residences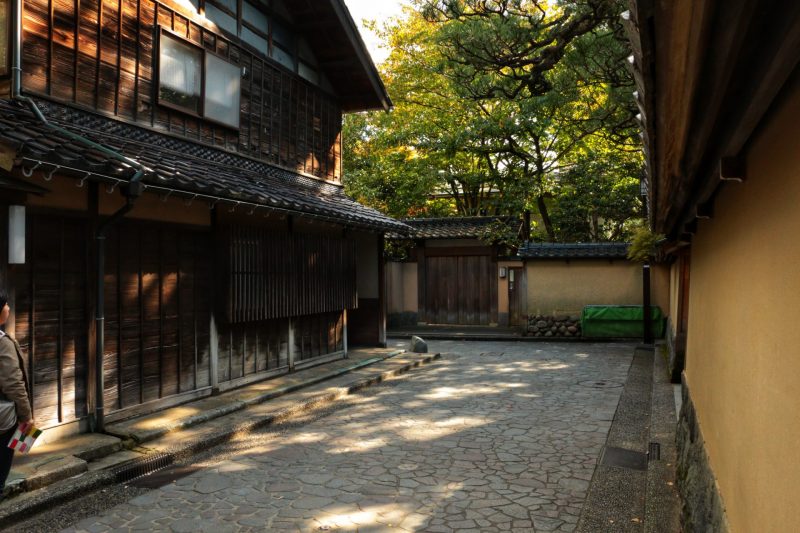 Next, we headed to the Nagamachi Samurai District to get a glimpse of samurai life. From the shrine, we walked a few blocks west to the historical areas of the city. This neighborhood with old samurai residences is called Buke Yashiki. It was once a site where samurai used to live. The whole area is full of the Edo period atmosphere with Samurai houses, cobbled streets, short walls, and sloped roofing.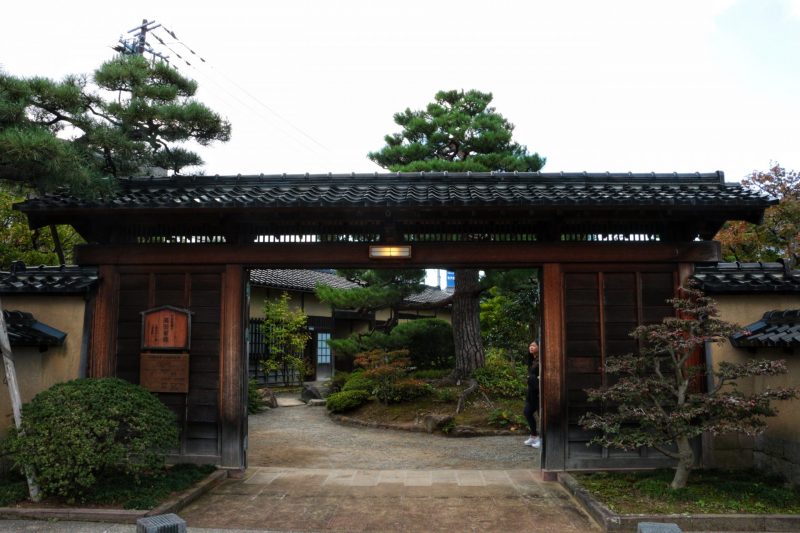 Few historical buildings are open to the public to immerse yourself into samurai home life. Among them, Nomura Clan Samurai Home is the most popular and tends to get the most foot traffic. Insides, there are beautiful Samurai armor suits, wooden crafts, painted screen doors, and traditional furniture. You can also enjoy your time with Japanese green tea while viewing the beautiful inner Japanese garden with stone lanterns.
Walking down an alley that is lined with houses will make you feel like returning to the Edo period.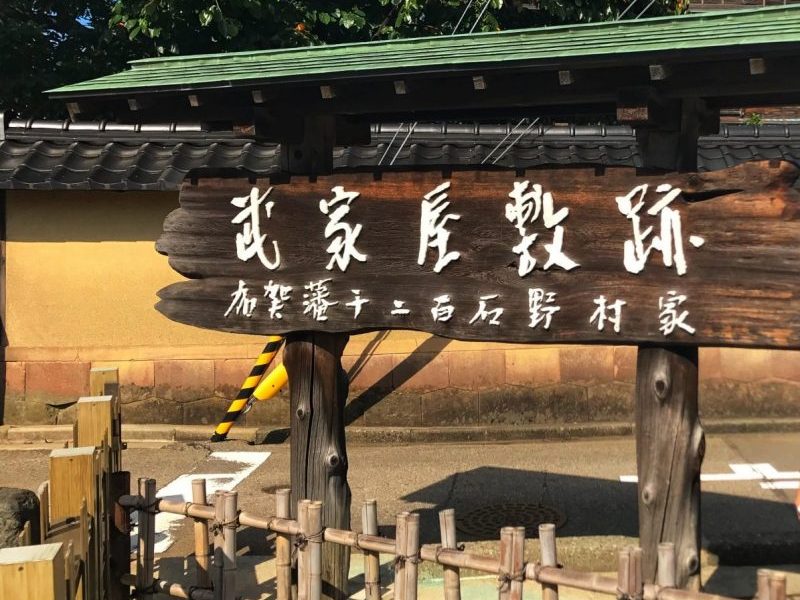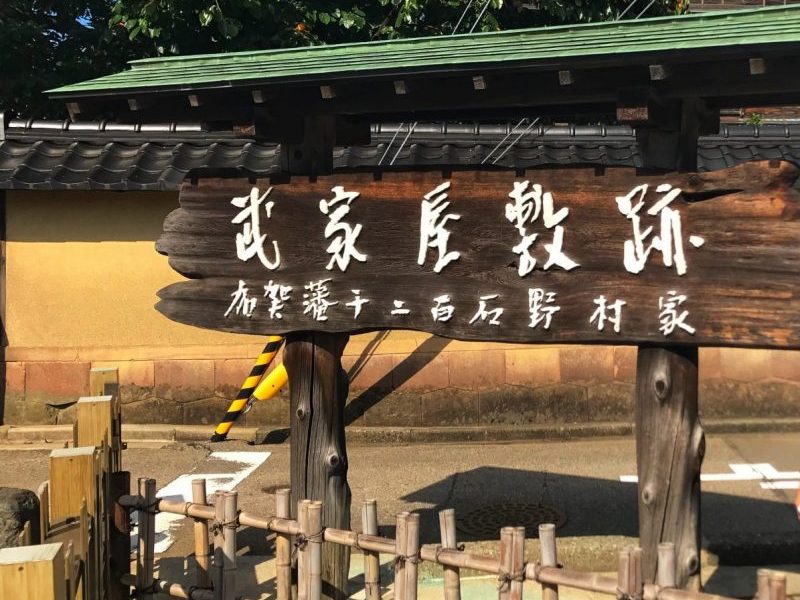 Nomura Clan Samurai Home (武家屋敷跡 野村家)
Address: 1 Chome-3-32 Nagamachi, Kanazawa, Ishikawa 920-0865, Japan.
Fee: Adult ¥550, 15 to 17 Years Old ¥400, 7 to 14 Years Old ¥250.
Operating Hours: 8:30-17:30 (April-September), 8:30-16:30 (October-March)
Getting There: Board the Kanazawa Loop Bus and get off at Korinbo (香林坊) bus stop. Next, walk for 5 minutes to Nagamachi Samurai District.
Kanazawa 21st Century Museum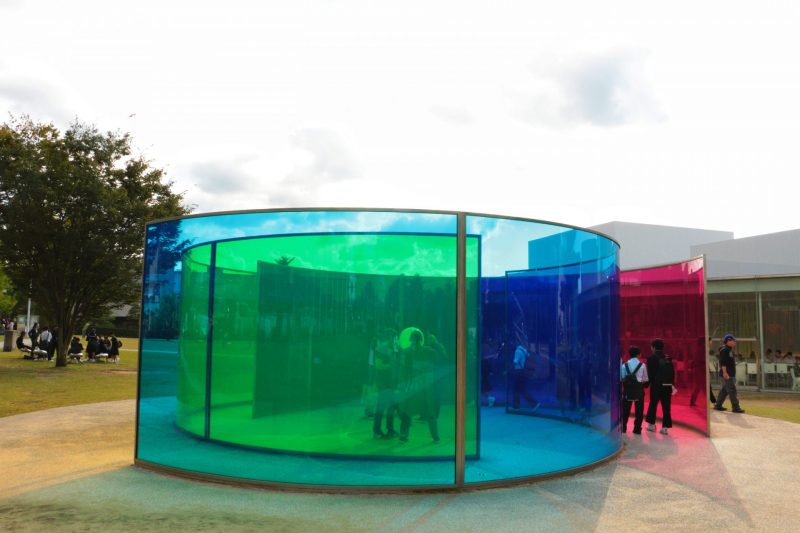 Next, we boarded the Kanazawa Loop bus to Kanazawa 21st Century Museum (金沢21世紀美術館, Kanazawa Nijūichiseiki Bijutsukan). For an art lover, don't miss the chance to visit the 21st Century Museum. There are several museums in Kanazawa but the 21st Century Museum draws most of the attraction among the visitors. It is known for its contemporary design and showcases the best contemporary pieces from all over the world.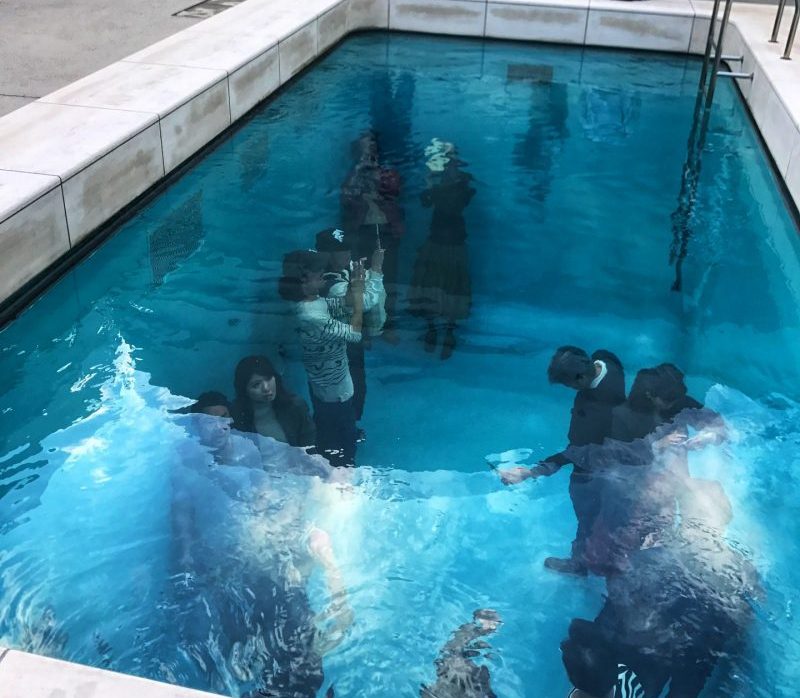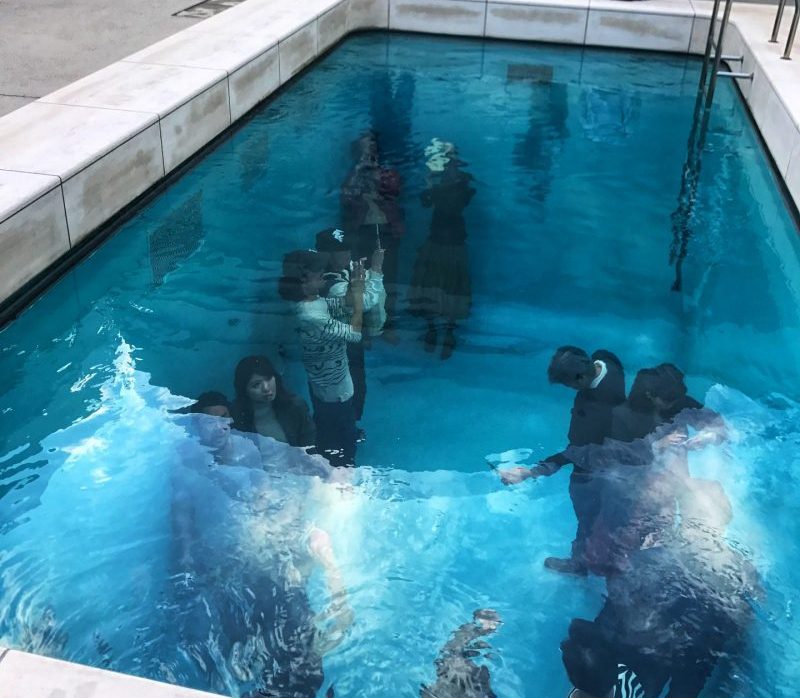 Exhibitions are open to the public with both entrance fees and free admission areas. Visitors can explore the permanent collections for free and unique artwork in the public zone. The most popular is Leandro Erlich's "Swimming Pool" where people appear to be standing underwater when viewed from above. Truly a unique artwork. Viewing from above is free, but you need to pay for the ticket to get to the bottom of the swimming pool. We enjoyed our time and spend about 30 minutes seeing the artwork.
Kanazawa 21st Century Museum
Address: 1 Chome-2-1 Hirosaka, Kanazawa, Ishikawa 920-8509, Japan.
Operating Hours: Public Zone 9:00-22:00, Exhibition Area 10:00-18:00 (open until 20:00 on Fridays and Saturdays). Close on Monday.
Getting there: From the Samurai Residences neighborhood, Kanazawa 21st Century Museum takes about 15 minutes walk. Alternatively, just take a bus ride from Kanazawa Station and get off at the Hirosaka bus stop.
Leisure Stroll in Kenrokuen Garden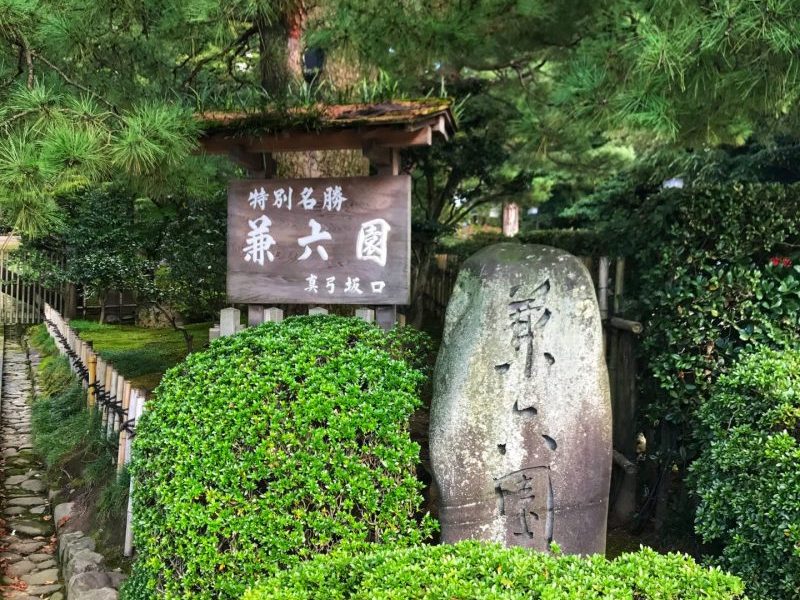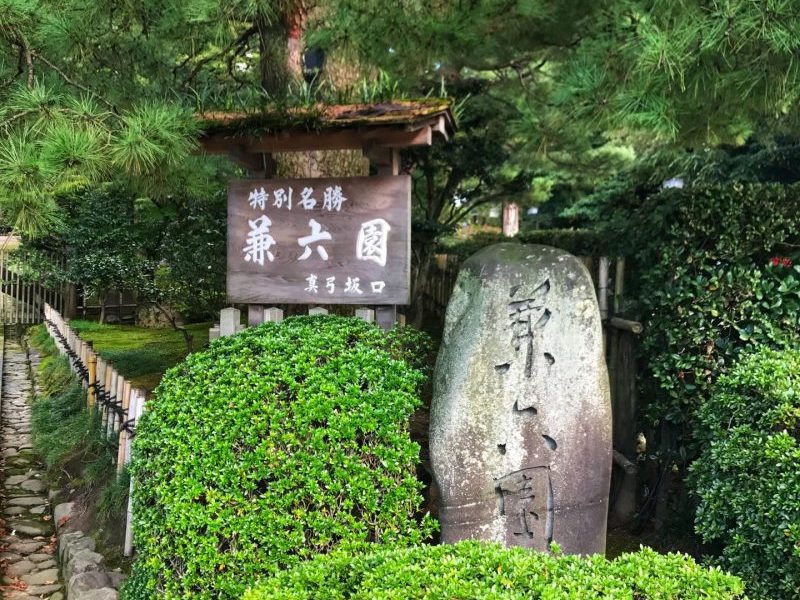 From the North exit and walk across the road will get you to another must-see attraction in Kanazawa. The Kenrokuen (兼六園), is one of Japan's Three Most Beautiful Gardens. Kenrokuen was once a private garden belonging to the Maeda family and opened to the public in the late 1800s.
The whole area of Kenrokuen Garden is very huge and features a variety of flowering trees. Many locals are coming for its gorgeous garden landscape.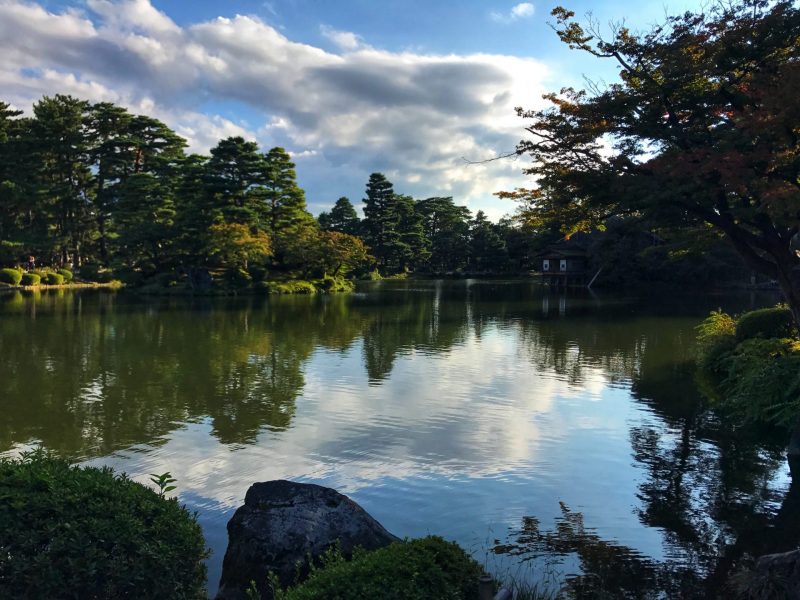 Each season has its uniqueness and beauty in Kenrokuen Garden. Visitors come to Kenrokuen Garden to see plum blossoms and cherry blossoms in Spring.
During summer, you can expect to see the whole garden area full of greenery. However, trees started to change their color to red leaves during Autumn. It is also one of the best places for fall foliage in Kanazawa. Lastly, the freshly fallen snow gives the garden a very serene winter atmosphere.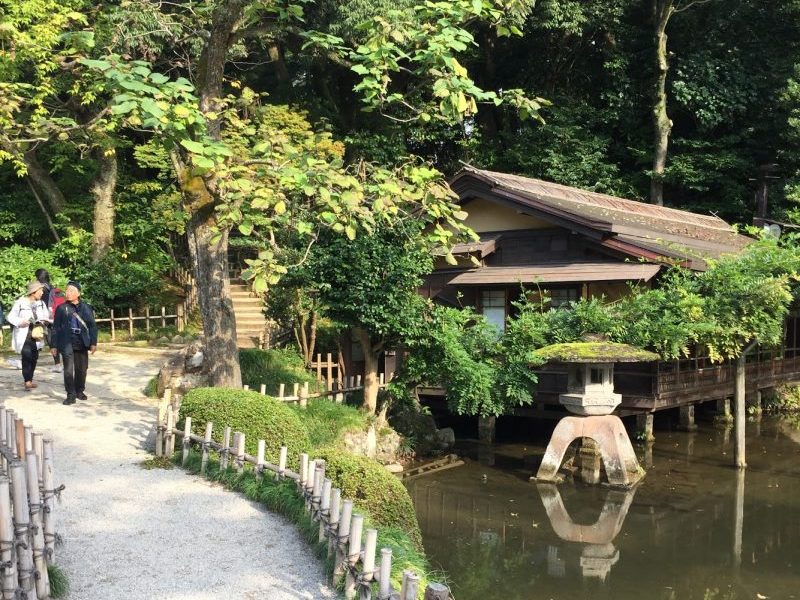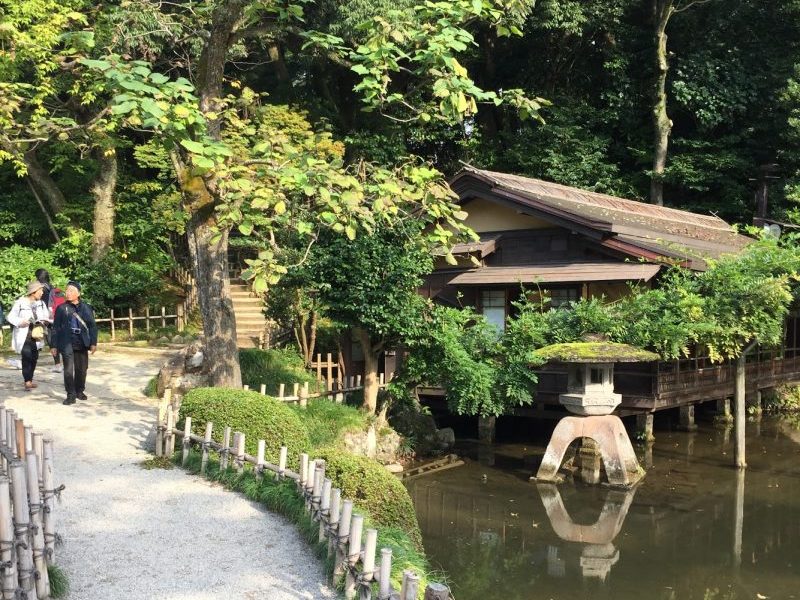 Enjoy strolling around the beautiful Japanese landscape of Kenrokuen Garden leisurely. Follow the meandering path that takes you past gentle streams and small ponds.
The relaxing stroll also takes you past multiple reflecting pools, stone lanterns, waterfalls, and traditional tea houses. The best place to see the traditional Japanese garden.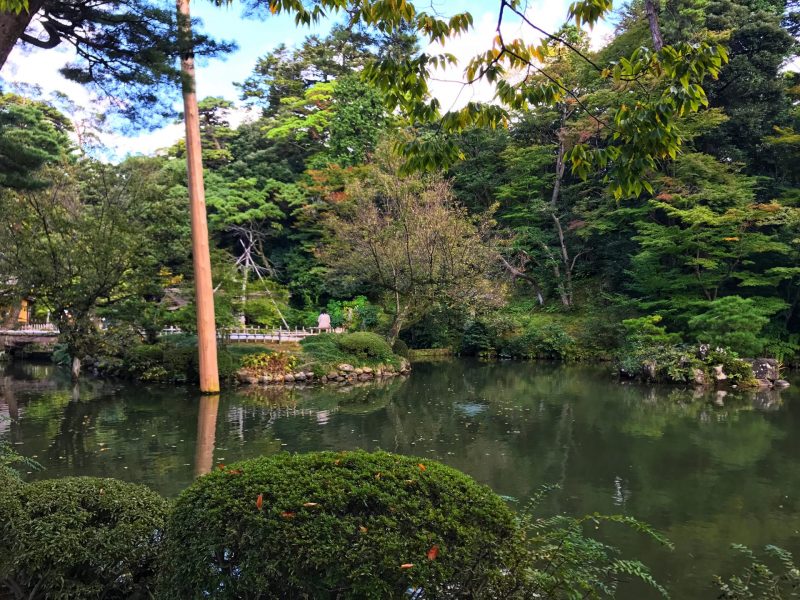 One of the special notes is the 200 years old Karasaki pine tree. It is one of the garden's most prominent trees. At the end of Autumn, this Karasaki pine tree and other pine trees create a wondrous sight with Yukitsuri. It is one of the traditional winter protections to prevent heavy snow.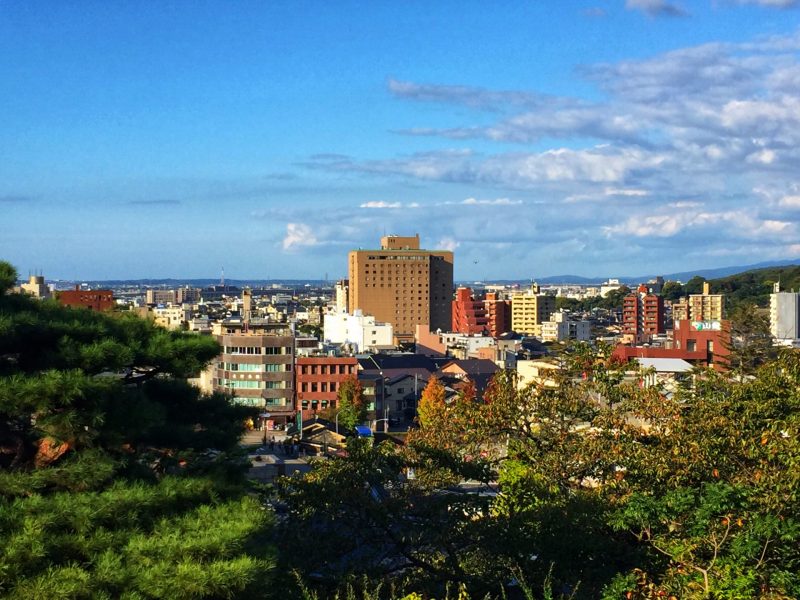 Additionally, several spots provide panoramic viewpoints of Kanazawa city when wandering around Kenrokuen Garden.
Kenrokuen Garden
Address: 1 Kenrokumachi, Kanazawa, Ishikawa 920-0936, Japan.
Entrance Fee: ¥310 (cash only).
Operating Hours: 7:00 to 18:00 (March to October 15) and 8:00 to 17:00 (October 16 to February).
Getting There: From Kanazawa station, take the Kenrokuen shuttle bus and get off at Kenrokuenshita/Kanazawajo bus stop.
Historical Kanazawa Castle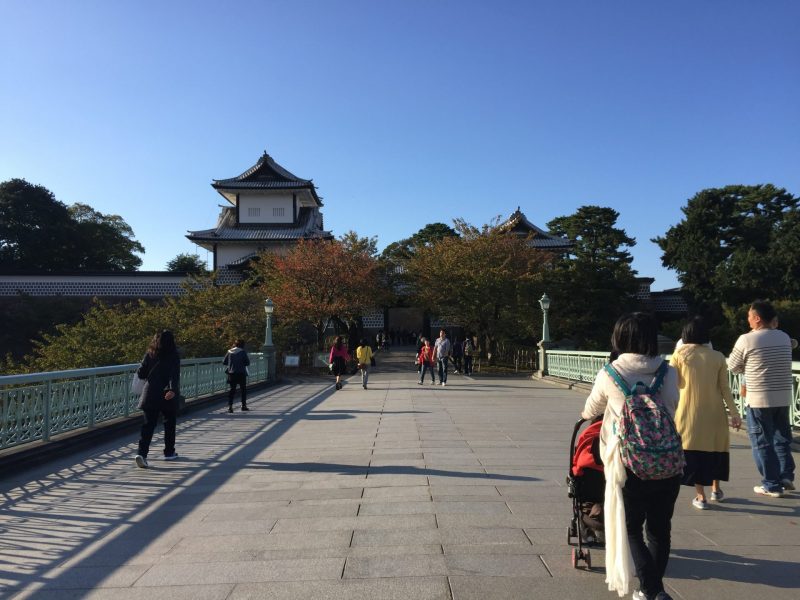 After you've finished exploring this famous Japanese attraction, simply cross the bridge once exit from Kenrokuen to reach Kanazawa Castle. The Kanazawa Castle (金沢城) was once the residence of the Maeda family and was constructed in 1583. It was one of the largest wooden castles and build with traditional techniques without any single nail or screw being used. Although it was burned down by fire several times, the castle was restored to its original and is well kept until today.
The Kanazawa Castle Park (金沢城公園) is open to the public for free. But you need to pay admission to get into Castle. It is an interesting attraction if you love to explore the castles building. But we only get a good look at the castle building and did not enter it.
Kanazawa Castle
Address: 1-1番1号 Marunouchi, Kanazawa, Ishikawa 920-0937, Japan.
Entrance Fee: Free for Castle Park.
Operating Hours: 7:00 to 18:00 (March to October 15) and 8:00 to 17:00 (October 16 to February).
Getting There: Kanazawa Castle is about a 10-minute walk from Kenrokuen.
Wandering in Higashi Chaya District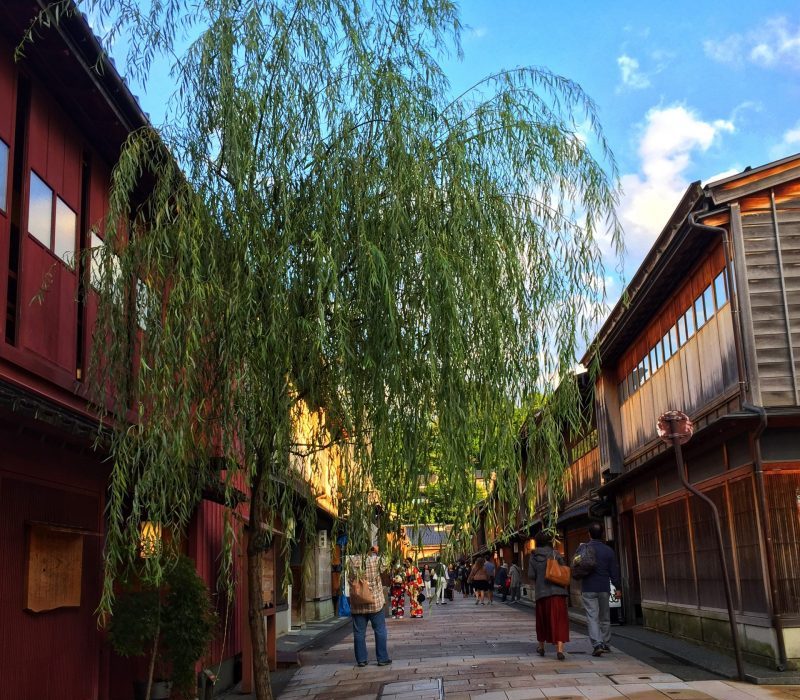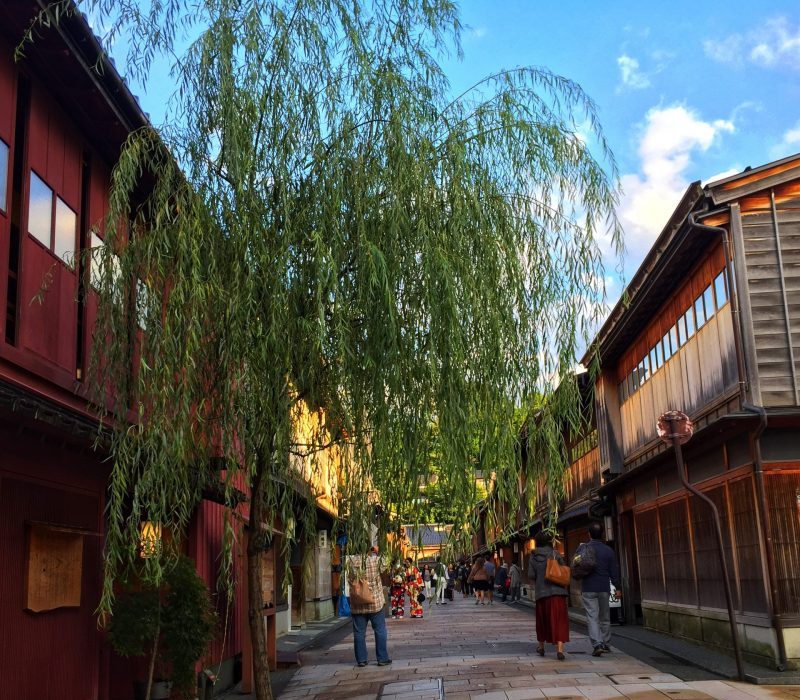 During the Edo period, Chaya (Japanese Tea houses) were designed as entertainment districts with geisha performances. In Kanazawa, there is three well preserved Chaya district which is Higashi Chaya District (ひがし茶屋街 ), Western Chaya District (にし茶屋街), and Kazuemachi (主計町茶屋街).
Among the three, Higashi Chaya District is the largest and most popular attraction in Kanazawa. It is where you can find a lot of old and well-preserved traditional buildings in this neighborhood.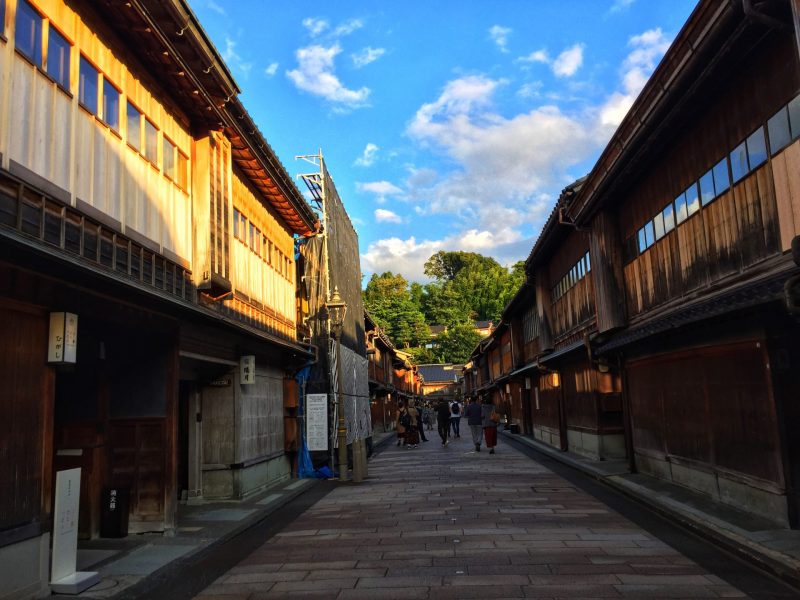 Most of the buildings were converted into cafes and souvenir craft shops over the years. But you can still experience the traditional culture in Ochaya Shima and Kaikaro Geisha Teahouse. Both historical geisha houses are open to the public with entrance fees.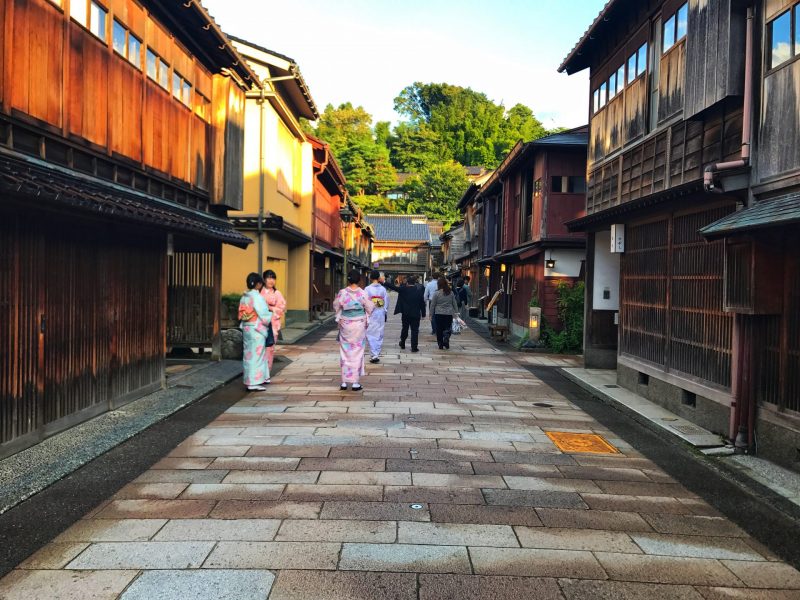 The whole area was registered as an Important Preservation District. We enjoy our time wandering in the winding streets and took a lot of lovely photos. Locals and visitors were wearing yukata or kimonos while exploring the historical town. When tired, we just stopped by and take a break at one of the cafes. It was a lovely evening walk in Higashi Chaya District.
Higashi Chaya District
Address: 1 Chome-13 Higashiyama, Kanazawa, Ishikawa 920-0831, Japan.
Entrance Fee: Free.
Operating Hours: Always Open. Shops will close after business hours.
Getting there: Take the Kanazawa Lopp bus and get off at Hashibacho Station. Walk for about five minutes will get you to Higashi Chaya District.
Taste The Gold Leaf Ice Cream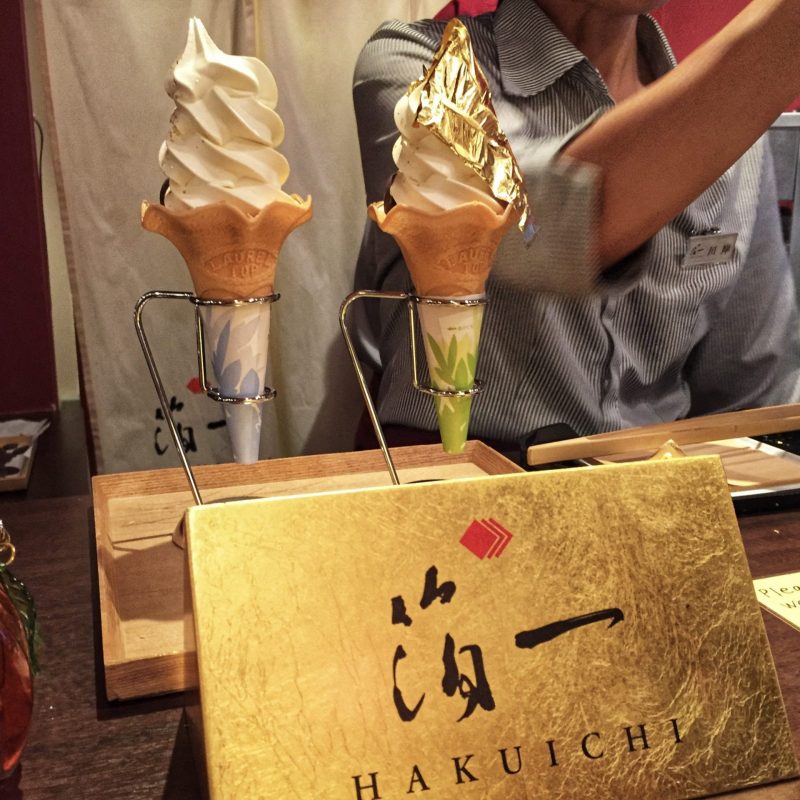 Walked along the street, you can find a lined with souvenir shops and cafes. While Kanazawa pride itself in specializing in gold leaf products. So it is not surprising to see a wide range of gold-related products such as cosmetics, tea ceremony utensils, souvenirs, and foods. You can even find gold flakes when eating ramen in Kanazawa.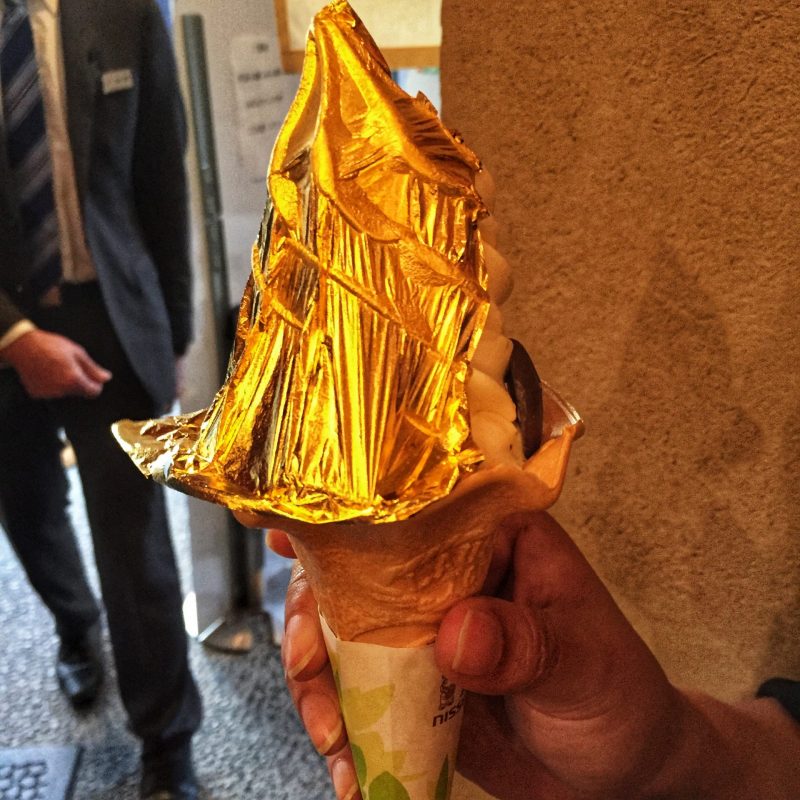 Hakuichi is one of the popular shops and is famous for its amazing gold leaf-wrapped soft vanilla ice cream. The thin square piece of 22 to 24-carat gold leaf was placed on the ice cream. It is biologically inert and can safely indulge. We tried the gold leaf ice cream as it looks so impressive. Overall, the gold leaf itself doesn't have much taste. But, definitely one of the must-try local specialties in Kanazawa.
The Hakuichi is open from 9.00 until 18.00 evening. And a gold leaf ice cream costs about ¥1,000.
Dinner – Miso Ramen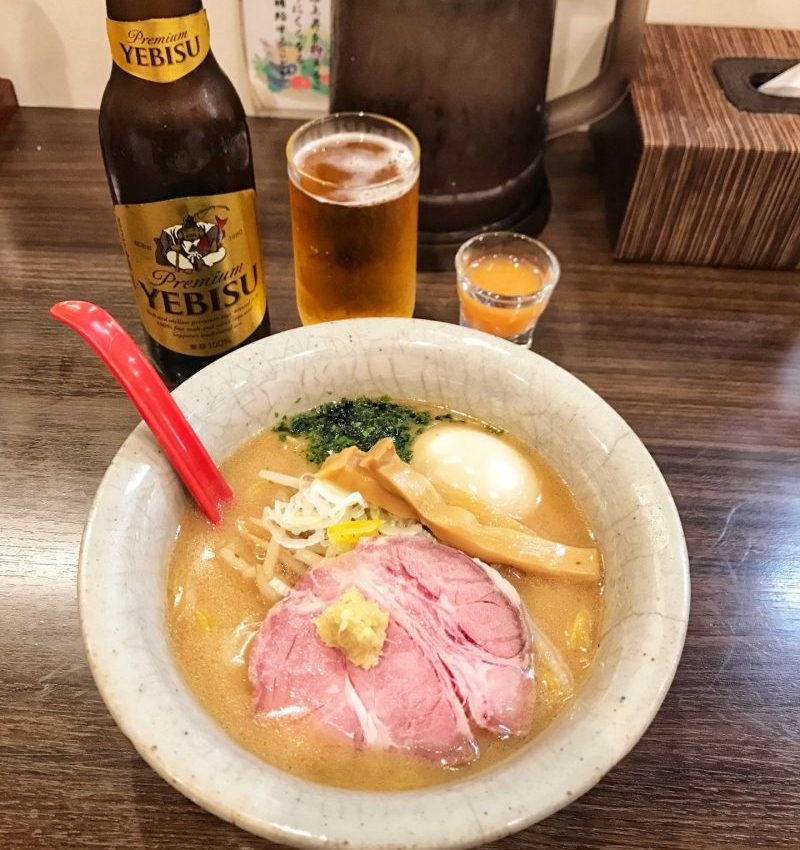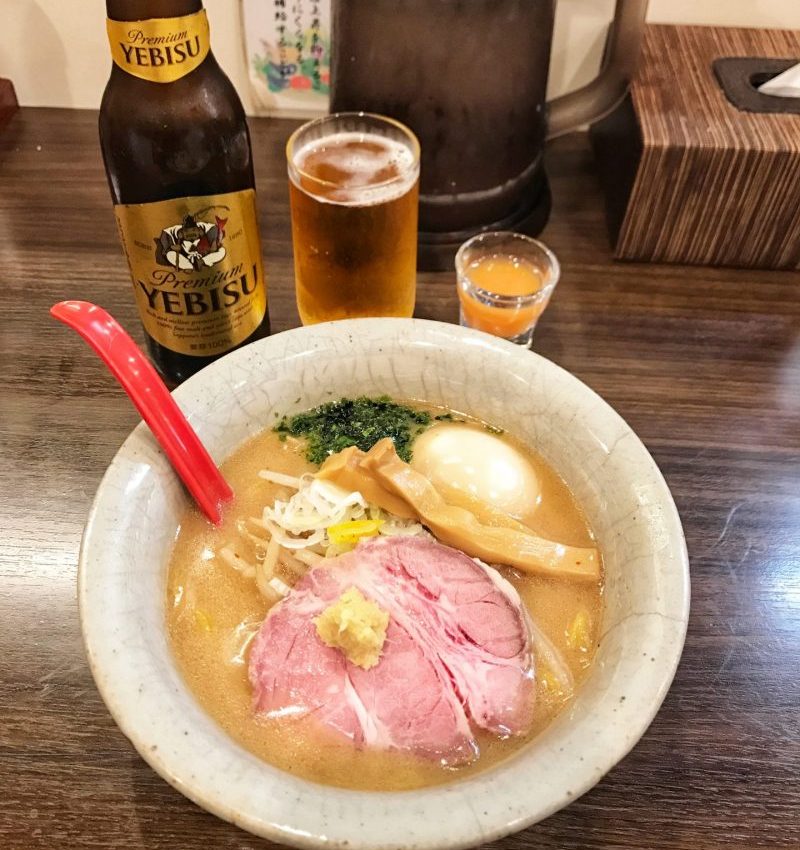 End your Kanazawa itinerary with the best miso ramen in town. We went to Menya Taiga for its popular miso ramen for dinner after we checked in to our hotel, Hotel MyStays Kanazawa Castle. Located just 5 minutes from the Kanazawa station, Menya Taiga is a tiny ramen shop that hides in the alley with a long queue always.
When we got the ramen, we could understand why there were so many locals and food hunters coming for the bowl of miso ramen in Menya Taiga. It is extremely delicious ramen, with flavorful miso broth, smoky flavor pork slides, and fabulous extra added onsen egg. Simply amazing! One of the best ramen I ate in the central region. Visit here if you are looking for what to eat in Kanazawa.
Menya Taiga opens late until 23:00, and perfectly fits into any schedule on your Kanazawa itinerary. Expected wait time due to long queue.
My Food Review on Menya Taiga: Kanazawa Best Miso Ramen
Menya Taiga (麺屋大河)
Address: 6-3 Horikawamachi, Kanazawa, Ishikawa 920-0847, Japan
Business Hours: 11:30 – 15:00;17:30 – 23:00 (Closed on Mondays)
Getting there: 5 minutes walk from Kanazawa Station.
Overview: Planning on Kanazawa Itinerary
Last but not least, hope this Kanazawa travel guide helps you plan your trip to Kanazawa much easier!
How many days should I spend in Kanazawa?
Kanazawa is perfect for 1 day to 2 days itinerary. It is also possible to plan for a day trip to Kanazawa with a well-planning itinerary.
What is Kanazawa known for?
Kanazawa is renowned for its iconic Japanese garden, impeccable geisha, samurai districts, and fresh seafood cuisine.
Is Kanazawa worth visiting?
It depends on your interest. Kanazawa is a great way to experience traditional Japan from a different viewpoint such as Japanese gardens, Samurai culture, and architecture. It is less crowded compared with Kyoto.
Which is better Takayama or Kanazawa?
It is hard to choose between Takayama and Kanazawa. Both places are similar but actually different. Takayama has an old town feel while Kanazawa has interesting sites with beautifully preserved areas.
Continue Read on
If you have any questions about your trip to Kanazawa, get in touch, and I'll do my best to help you out. Happy travel to Kanazawa. Lastly, feel free to continue reading on our Chubu travel blog to other interesting places below.
Complete read in Chubu travel blog:
Takayama and Shirakawago Travel Blog:
Tateyama Alpine Route and Kamikochi Travel Blog:
Nagoya Itinerary and Food Guide: