Last updated on December 11th, 2023
Český Krumlov, a fairy tale town jumped out of the illustration and comes to life. There are many things to do in this fairy tale town to plan on your Cesky Krumlov itinerary. A great place to spend two days or a single day trip from Prague.
This magical town was entered into the UNESCO World Heritage Site and is probably the most beautiful town in the Czech Republic. Rated in the Top ten most beautiful towns in the world, Cesky Krumlov is one of the most stunning places and should not be missed on a trip to the Czech Republic.
If you are visiting Prague for two or three days and only have time for a single day trip from Prague, make sure to visit Český Krumlov. This fairy tale town is worth planning for one day or 2 days Cesky Krumlov itinerary.
There are plenty of things to do for the 1-Day Cesky Krumlov itinerary. Here are a few highlights that you need to know before making your trip. Make sure to continue reading on our Cesky Krumlov travel guide blog to plan your wonderful trip!
Pre-Trip Essential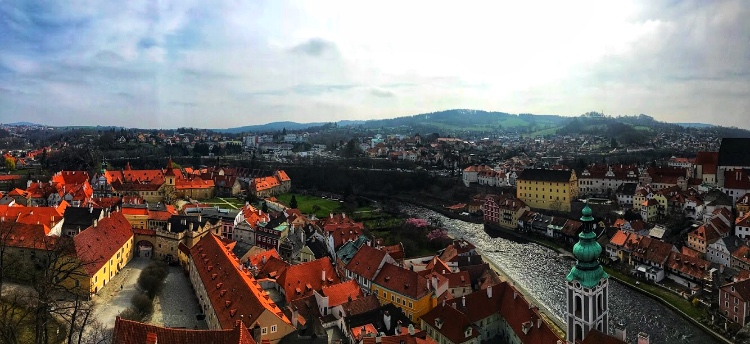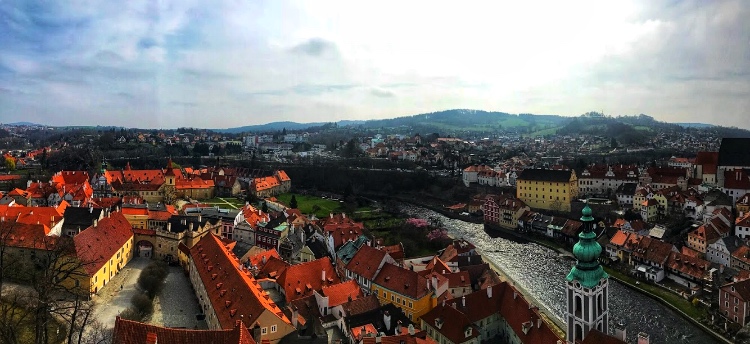 Located in South Bohemia, Cesky Krumlov, also known as CK town, is charmed by its artistic impression of quaint houses, medieval streets, an intact Baroque castle, and a meandering river. The picturesque old town is well preserved from the past and bombing of War War II. All make this scenery town feels like a fairy tale from the middle ages into reality.
Before we get into different things to do in this wonderful town, let's get some basic on transportation how to get to Cesky Krumlov from Prague, where to stay, what to eat, and things to do at Cesky Krumlov, the beautiful little town.
From Prague To Cesky Krumlov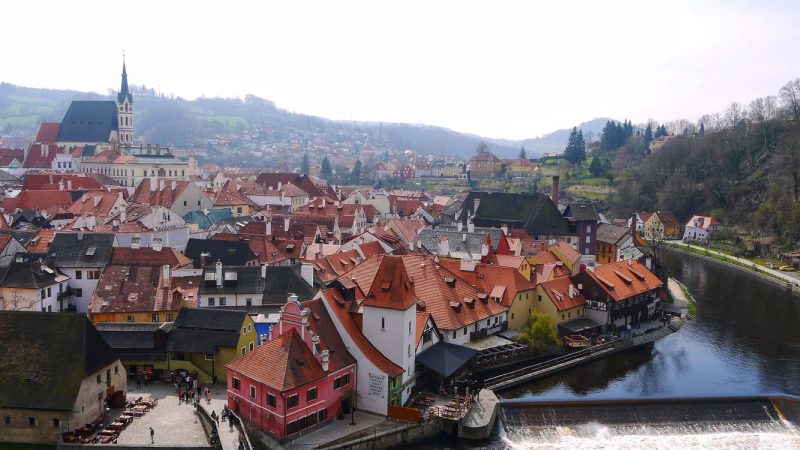 Cesky Krumlov is very convenient to visit as part of the central Europe trip. A visit to Cesky Krumlov can be easily worked into part of the travel itinerary from Prague, Vienna, Hallstatt, or Salzburg. There are many options available but the most convenient is getting from Prague to Cesky Krumlov due to a variety of transportation arrangements.
Getting To Cesky Krumlov By Public Transport
From Prague to Cesky Krumlov By Train
Trains connect Prague and Cesky Krumlov with a required one-stop transfer at České Budějovice. It takes a slightly longer time compared with a bus with 3 hours journey at a similar cost. Just recently, a direct train route is running from Prague and Cesky Krumlov. Trains leave from Prague's main train station at 8.01 a.m and the last train to go back to Prague at 2.07 p.m. Both train journeys take almost three hours. You can either walk to the town or take a taxi to the city center.
From Prague to Cesky Krumlov By Bus
Student Agency from RegioJet and Flixbus run between Prague's Na Knížecí station and Cesky Krumlov. Buses leave every hour from Prague with approximately 2.5 hours of the journey at 200 CZK. There are two bus stops on either side of the city within 10 minutes of walking distance. Choose the one near your accommodation as most roads are cobblestones. If you are visiting Cesky Krumlov for a day trip, you can consider getting off at the first one and then returning to the other one.
MAKE A RESERVATION: If you are heading to CK during peak season or on a weekend, make sure to book the seat in advance through their website. The tickets are selling extremely fast, especially during those peak times for a day trip. Make a bus reservation via Bookaway.
Getting To Cesky Krumlov By Car and Share Shuttle
From Prague to Cesky Krumlov By Car
Self-driving takes approximately 2.5 hours (175 km) of driving journey from Prague to Cesky Krumlov. By driving, you are free to stop by any scenery point along the journey at your own pace. Park your car outside the Cesky Krumlov town as there is no car parking in the town center.
If you need to rent a car to visit Cesky Krumlov, make sure to Compare Best Car at RentalCars.com with the best rate offer and high reputation from customers. And make sure to purchase a highway vignette required for driving at the Czech Republic.
From Prague to Cesky Krumlov By Shuttle Service
Shuttle service is one of the good options with point-to-point pick-up service from the hotel directly. CK Shuttle connects, Prague, Vienna, Cesky Krumlov, and Hallstatt with several departure times per day. The shuttle service from Prague to CK cost about 800 CZK ($35) per person with hotel pick up.
From Prague to Cesky Krumlov By Guided Tour
A nice way to visit Cesky Krumlov with hassle-free worry about. Most tours are coming from Prague to Cesky Krumlov, taking you through the most sights to visit. It normally runs around 10 or 11 hours for a day trip.
The Best Budget Transport Option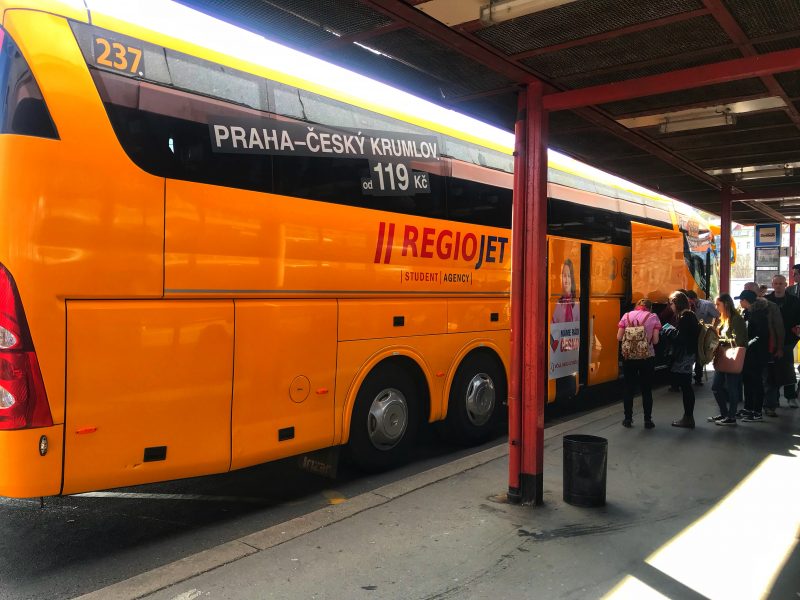 If you are coming from Prague, I would highly recommend you get the express bus to Cesky Krumlov. During our central Europe trip, we choose the Student Agency's express bus from RejioJet for our transportation, which run from Praha, Na Knížecí to Český Krumlov, AN. The cost is less than 10 euros for early bird promotion. The bus ride from the Student agency is very comfortable with television, free Wifi, charging electronics, and a cup of one hot drink is serviced.
Make a bus reservation from Prague to CK
We are taking a shuttle service from CK Shuttle to our next destination, Hallstatt. The public transport from Český Krumlov to Hallstatt is not well-connected. CK Shuttle helps us arrive in Hallstatt hassle-free. The cost is about 800 CZK ($35) per person, shared with other travelers.
Cesky Krumlov Itinerary Planning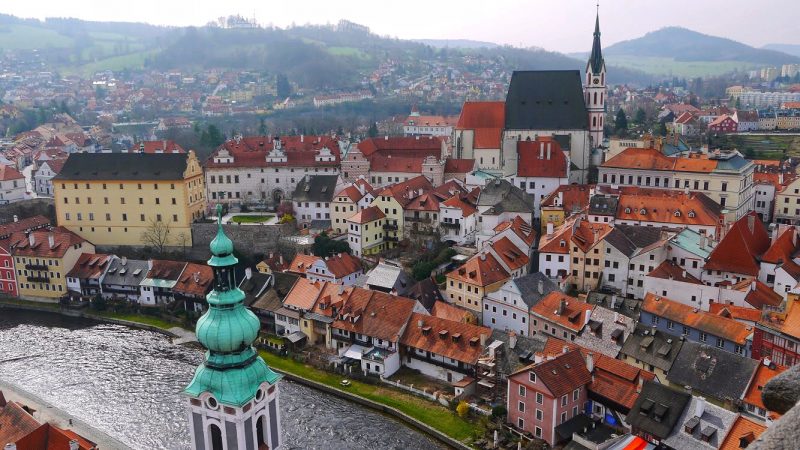 A visit to Cesky Krumlov doesn't take too long and can be finished in a few hours. Many travelers choose to take a day trip from Prague or as a pit stop before going to the next location. But this charming small town is worth an overnight stay as it is so beautiful.
Surrounded by the Vltava River, Cesky Krumlov is separated into an old town area and castle distinct in the northeast. We choose to stay a night at Cesky Krumlov to experience the calming of the European town before heading to our next destination, Hallstatt.
Here are things to do in Cesky Krumlov itinerary (1-Day):
Old Town Walking
Climb Up to Highest View Point, Castle Tower
Explore Cesky Krumlov Castle Complex
Take A Panoramic View At Mantelbrücke
Leisure Walk At Castle Garden
Reward Yourself With Trdelnik
Look for Best Panoramic Photo Spot In Cesky Krumlov (Castle Tower, cloak bridge, Seminární Zahrada)
How long does it takes from Prague to Cesky Krumlov?
From Prague to Cesky Krumlov, the journey take about 2.5 hours by bus and 3 hours by train.
How long do you need in Cesky Krumlov?
While Cesky Krumlov is a perfect day trip from Prague, we highly recommended staying at least one day in Cesky Krumlov. Staying one night in CK town is the best way to beat the day-tripping crowd to the town's most popular sites.
Is Cesky Krumlov worth visiting?
Definitely worth it! Cesky Krumlov is truly a charming town of its artistic impression of quaint houses, medieval streets, an intact Baroque castle, and a meandering river.
Old Town Walking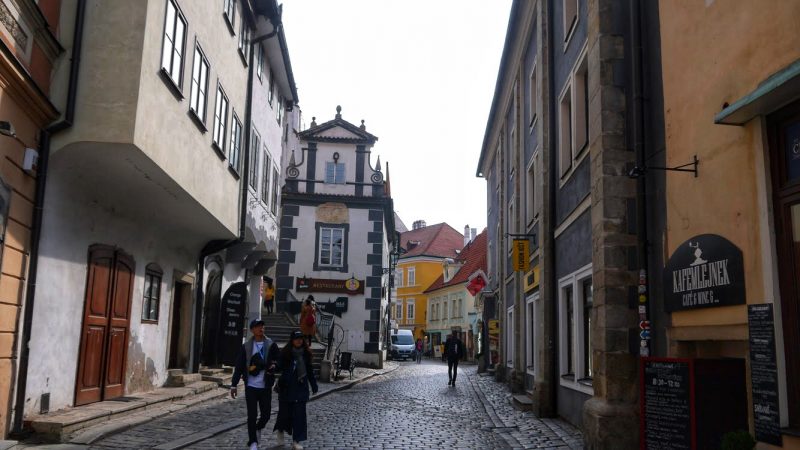 Cesky Krumlov's old town is compact and walkable. Start your visit from Municipal Square (Namesti Svornosti), the main town square of Cesky Krumlov with beautiful gabled houses painted in romantic and colorful bohemian style surrounded. Strolling along the cobblestones street, you can easily find a variety of specialty shops, artist shops, and street performances along the street.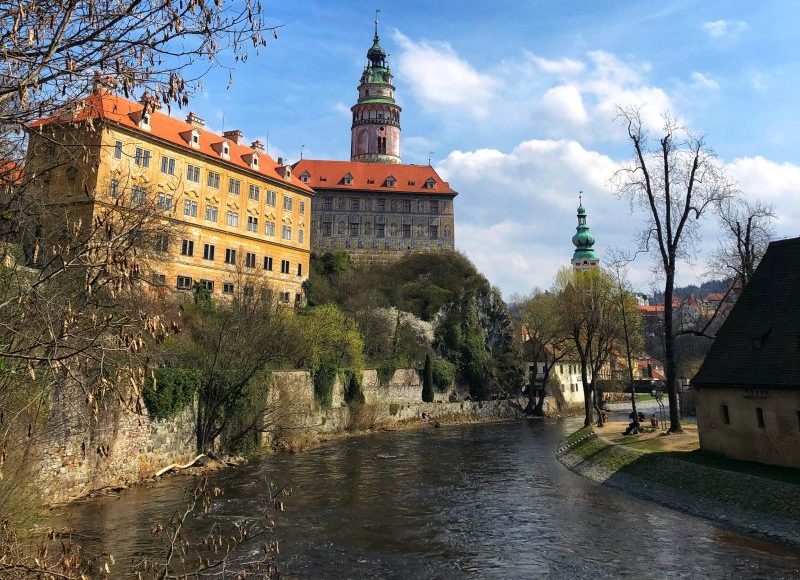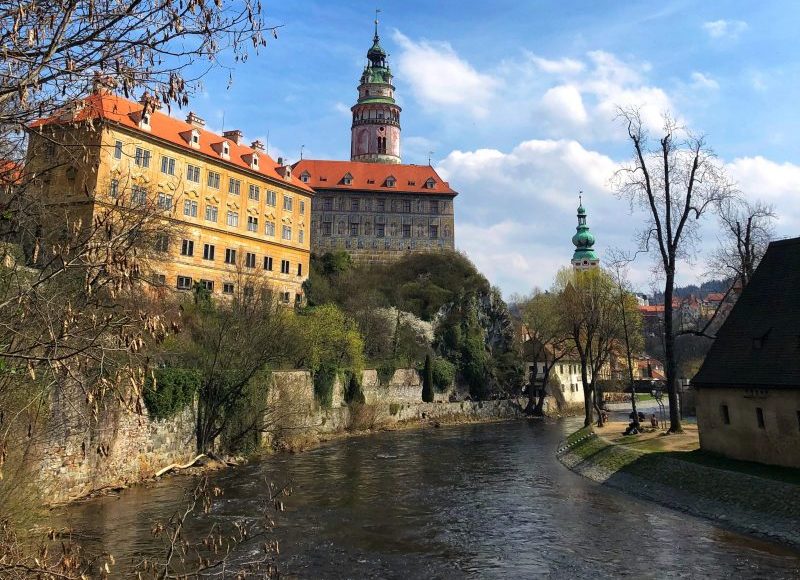 Don't miss to take a moment though at Lazebnický Bridge, one of the best views at Cesky Krumlov. If you are interested, you can experience the creative hand-made shops, pottery experience, woodwork, metal carving, and leather carving in the old town area. No need to plan much of an itinerary but just wandering around and learning about some of its hidden secrets is the best thing you can do at Cesky Krumlov.
Climb Up To The Highest View Point, Castle Tower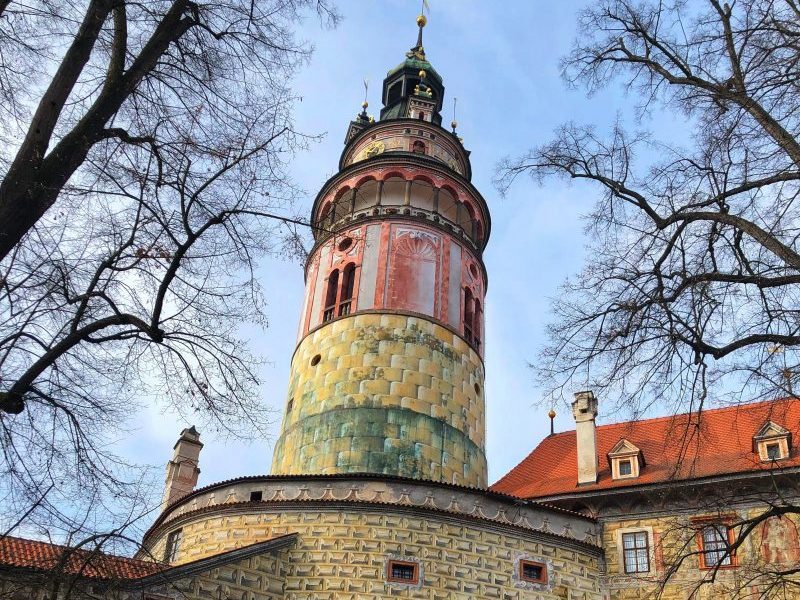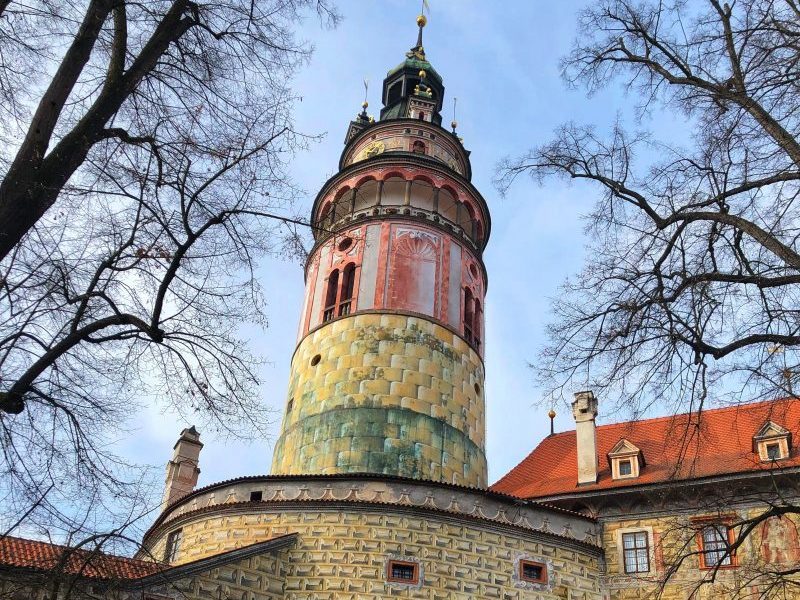 Standing on the hillside of the Castle District, Castle Tower is the tallest building in Cesky Krumlov with 162 stories of the staircase. It was the symbol of the town, its history, and its beauty.
To access the castle tower, you will be required to buy the admission ticket of 250 CZK which bundles together with the Castle Museum. The exhibition was relatively simple with some decent displays about life in the castle. But the view of this lovely town and its vicinity from the castle tower is so delightful and worth paying for the visit.
Explore Cesky Krumlov Castle Complex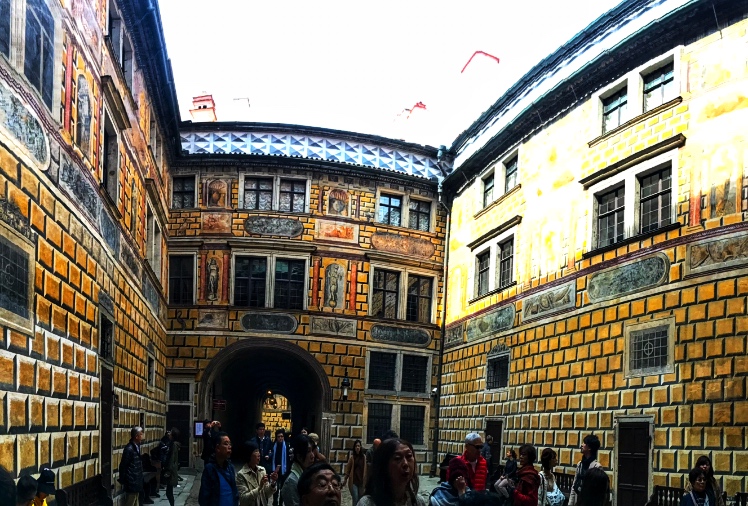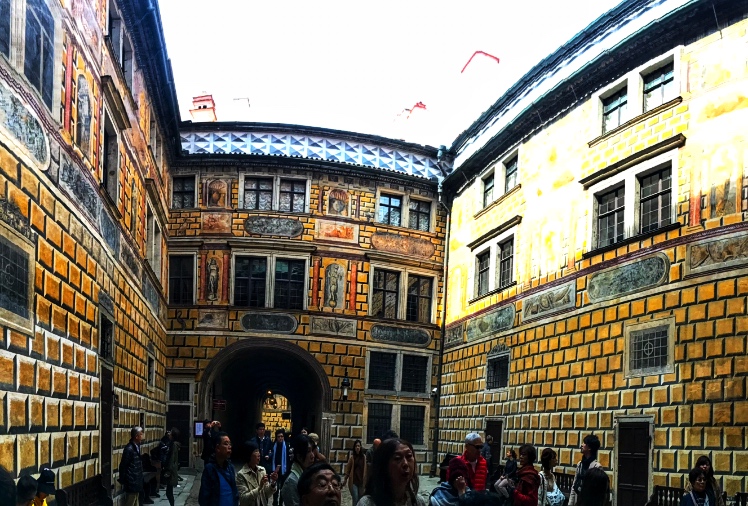 Proceed to the main area of the castle distinct after the visit to the castle tower. Don't miss the visit to Cesky Krumlov Castle, the second largest castle in the Czech Republic. The entire castle has a few forty buildings, courtyards, a theater, a museum, and a 7 hectare of the castle garden. There are few ground-tour offerings for families and visitors guided by knowledgeable guides if you want to enter the castle area.
Several areas within the castle complex can be visited without the need to buy a ticket. If you are limited on time and don't want to spend money, you can just wander around the grandly colorful painted castle courtyard. It is worth seeing.
Take A Panoramic View At Mantelbrücke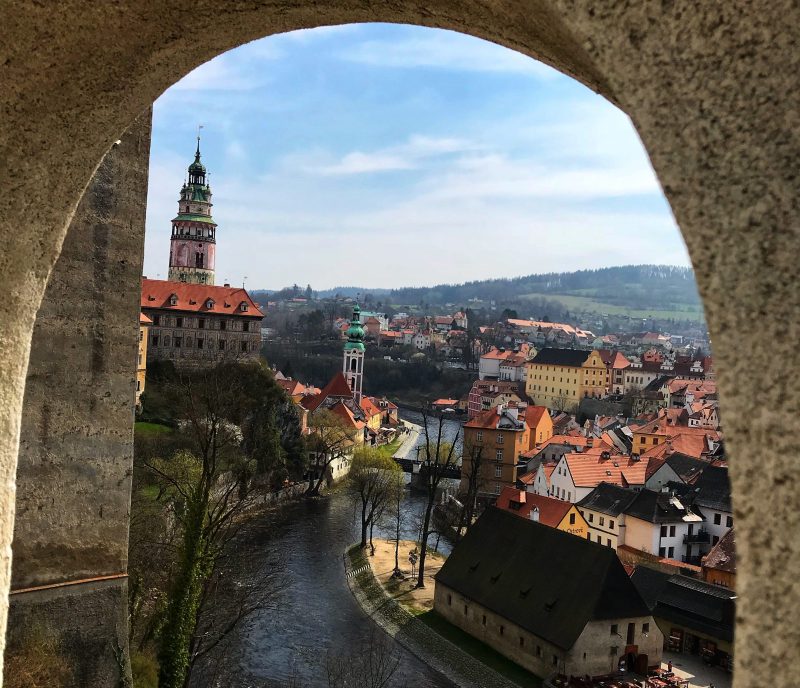 After passing through a series of courtyards, you will enter an elegant bridge that can look out over the entire Cesky Krumlov town. This "Stone Column Sky Bridge Gallery" was built in the 15th century and is now known as the "Mantelbrücke" bridge. The view from the cloak bridge and the neighboring lookout platform is where you can get the classic panoramic view of Cesky Krumlov with the beautiful castle tower and the twin towers of the St. Vitus church together.
Leisure Walk At Castle Garden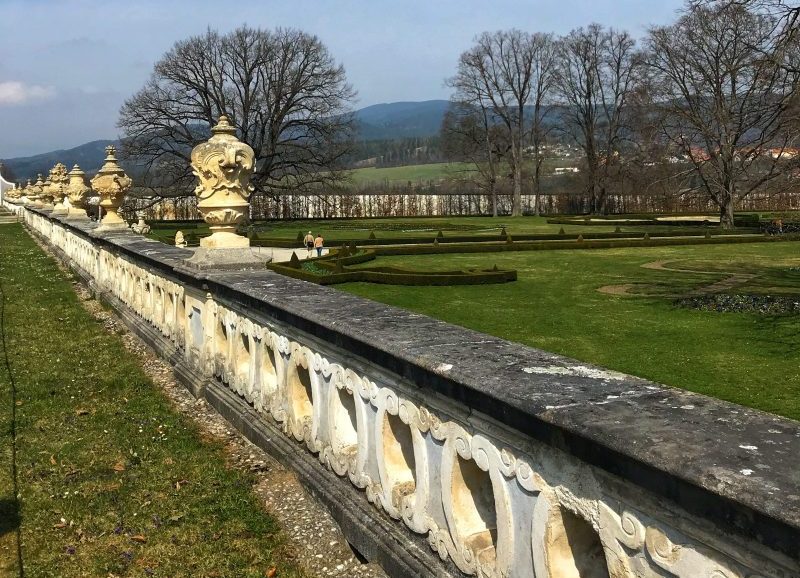 The last part of Cesky Krumlov Castle's visit is the Castle garden at the end of the castle distinct. Up the slope adjacent to the complex of castle buildings, the royal garden was founded in the 17th century with a total build-in of 11 hectares with the gorgeous Neptune Fountain at its center.
Enjoy a leisure walk in the castle garden and slowly find a path that takes you down to the historic center of Oldtown.
Reward Yourself With Trdelnik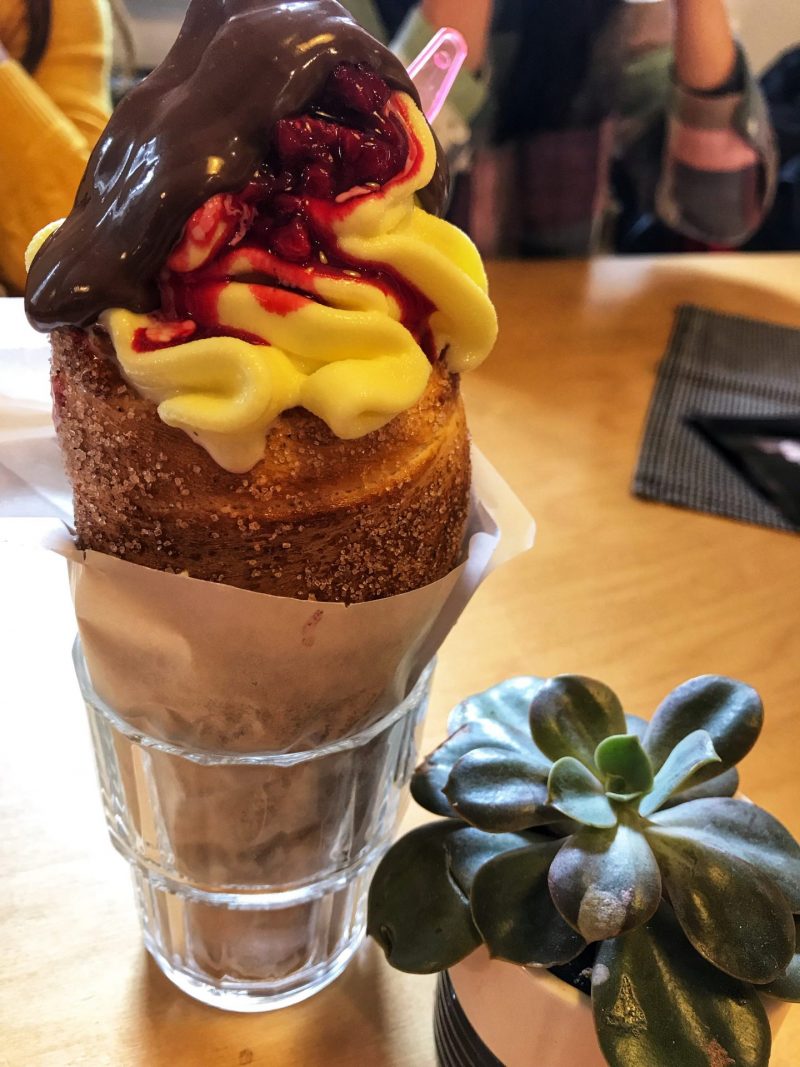 Treat yourself with a Trdelnik after a long hour castle walk. Trdelnik is one of the street food in the Czech Republic and is known made for tourists. While a bit overpriced, I couldn't resist grabbing another one after I tried it in Prague.
This sweet pastry is so tasty and refreshing especially added the ice cream topping. The dough is wrapped cylinder around a spindle and continuously rotated over an open flame until cooked in golden brown color. You can easily find Trdelnik the Old Town street but the one most famous is sold at MLS Crepe Bistro.
Best Panoramic Photo Spot In Cesky Krumlov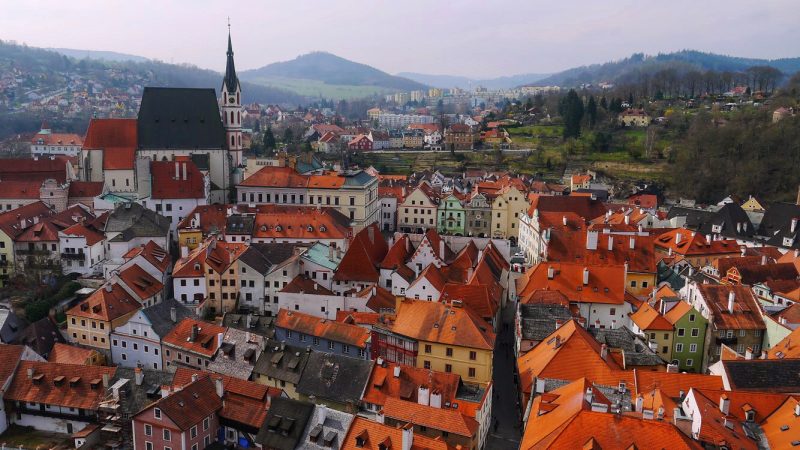 You couldn't resist taking the endless photo of Cesky Krumlov. This photogenic town is so beautiful with its colorful street, Baroque castle, and snaking river. Here are the few best places if you are looking for where to take a good panoramic photo for your great moment at Cesky Krumlov.
Castle Tower: My personal favorite! But you need to pay a small fee and climb up the 162 stairs to take the best view of Cesky Krumlov. It is worth the visit.
Cloak bridge and viewing platform: The most popular spot that you can find at the castle complex. This platform gives you the best spot in the city center with free entry. Get the different views of Cesky Krumlov through a stone arch.
Seminární Zahrada: A perfect photo shot at a little peaceful courtyard with different layered of buildings and skyline. And it is free!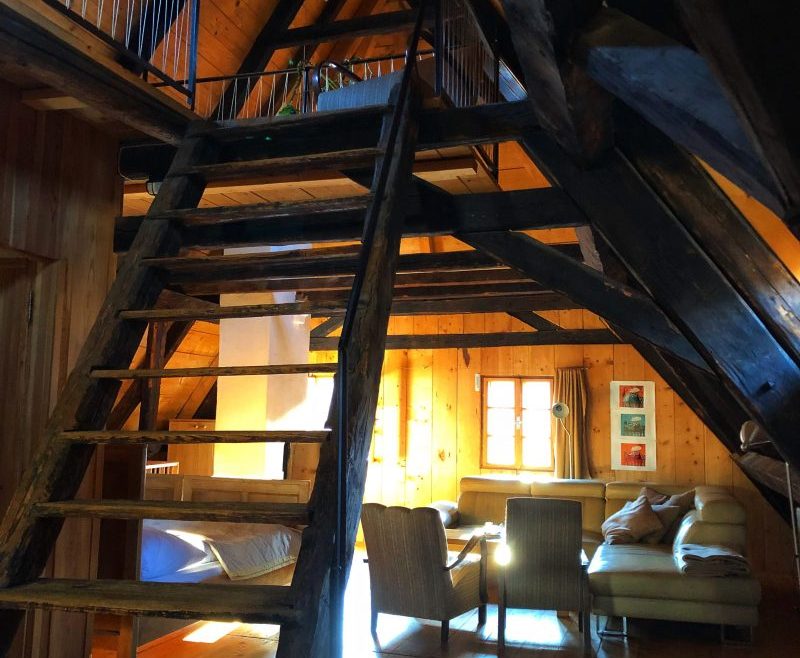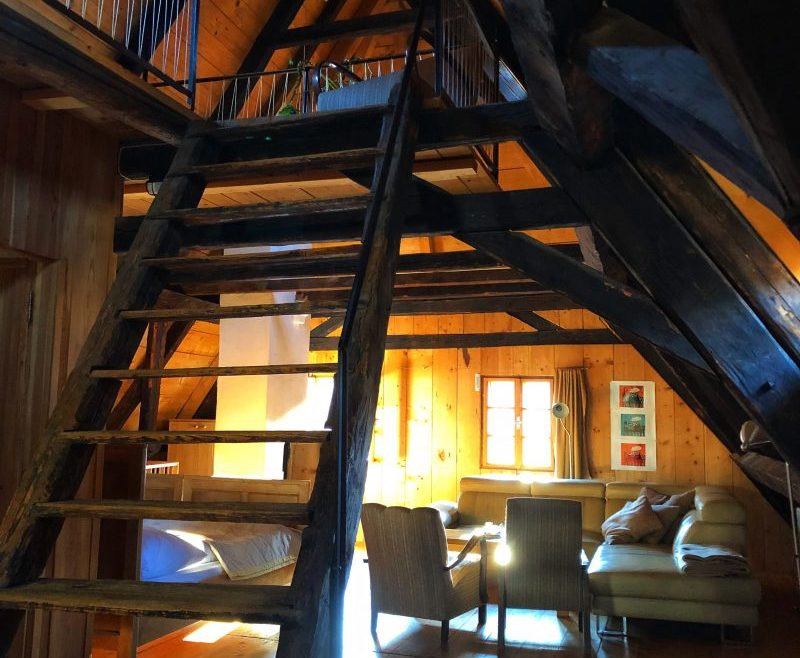 We stayed in Apartment Soukenicka 44 during our visit to Cesky Krumlov. It is a cozy stay and is listed in a Gothic building with Renaissance elements. It is located in the central town and everything was within walking distance.
While we had a total of 4 people, so the duplex department with 3 single beds and 1 double bed fulfills our need can up to 5 people. It was well equipped with a blend of modern elements, hardwood floors, and wood-beamed ceilings. We enjoyed our cozy stay here and truly feel at home. Besides this, Apartment Soukenicka 44 also has a smaller room to cater for 2 to 3-person travelers. Take a look if you need more information.
For more accommodation options, check our simple guide on where to stay in Cesky Krumlov.
What To Eat in Cesky Krumlov
There are plenty of restaurants to choose from for their delicious Czech cruise. Here are some highly recommended restaurants that I have visited during my trip to this wonderful town: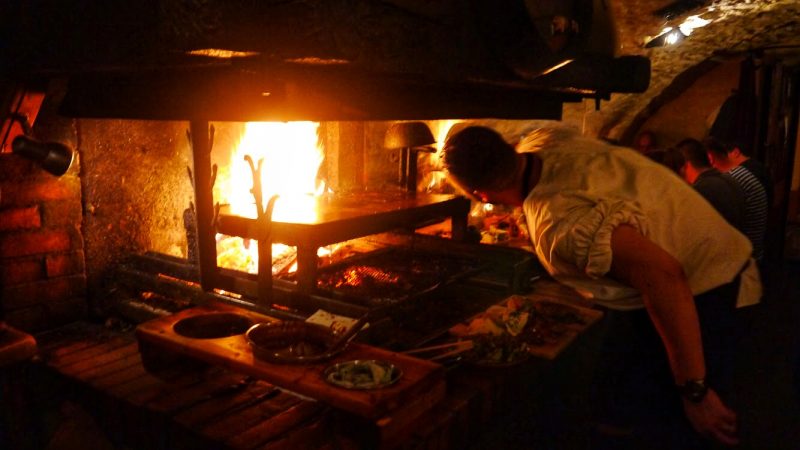 Krčma v šatlavské Ulici: Most famous tavern restaurant with a super unique dining experience with delicious food. This little tavern restaurant will make you feel like stepped back in time to the Medieval feast in a cave with a burly man cooking up the meat in a roaring open fire in the middle. You will enjoy your dining here which is filled with delicious smelling meat and loved every bit of the atmosphere it created. A huge portion yet delicious. However, make sure to reserve a table, especially for dinner!
We are having a medieval feast at Krcma v Satlavske Ulici with great food, nice beer, and a unique tavern atmosphere.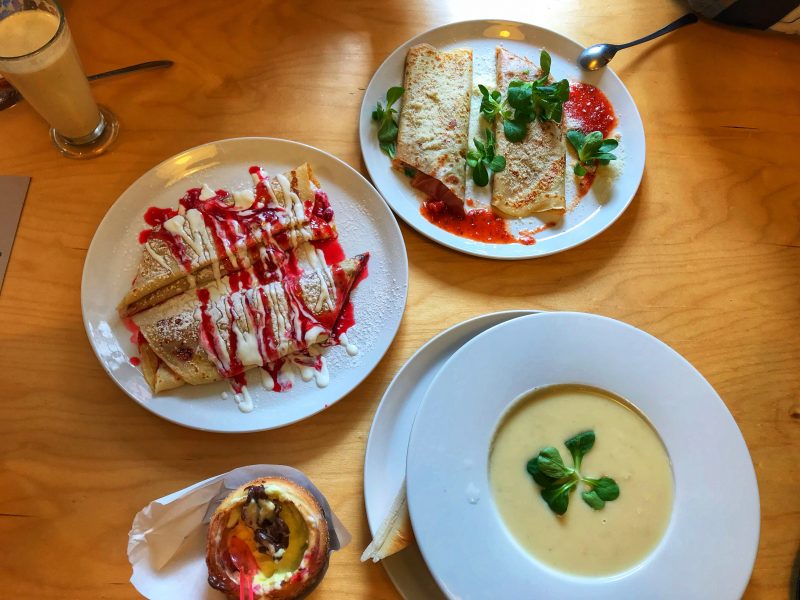 MLS Bistro: Probably the best restaurant for brunch, light lunch, and tea break in town. Try their delicious sweet crepe with a cup of nice coffee. This cozy place and nice atmosphere is your option for your breakfast or afternoon tea. You can choose to dine in or take away for their famous crepe or Trdelink.
Related food blog: MLS Creperie – Delicious Best Crepes in Cesky Krumlov
Papa's Living Restaurant: If you are looking for something not in Czech traditional cuisine, get a table in Papa's Living. One of the best riverside restaurants to enjoy the charming town and watch the sunset. This Italian restaurant served excellent tasty modern food, wine in the middle of quaint.
Important Tips To Know Before Visit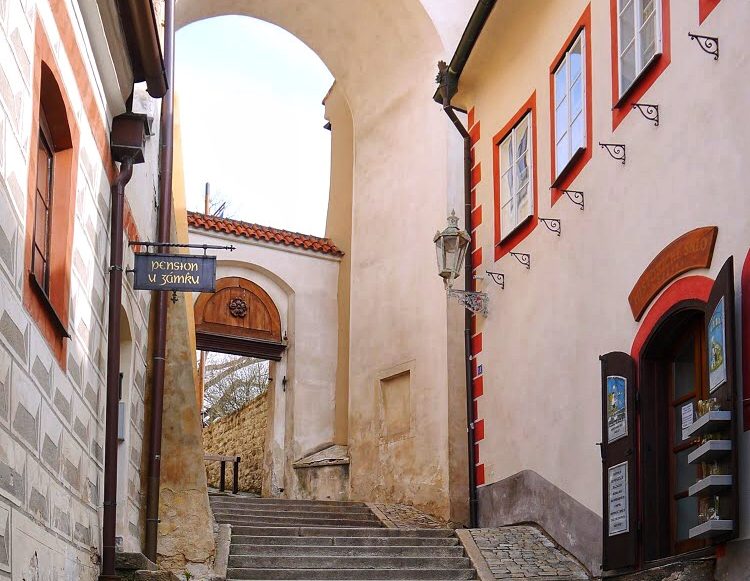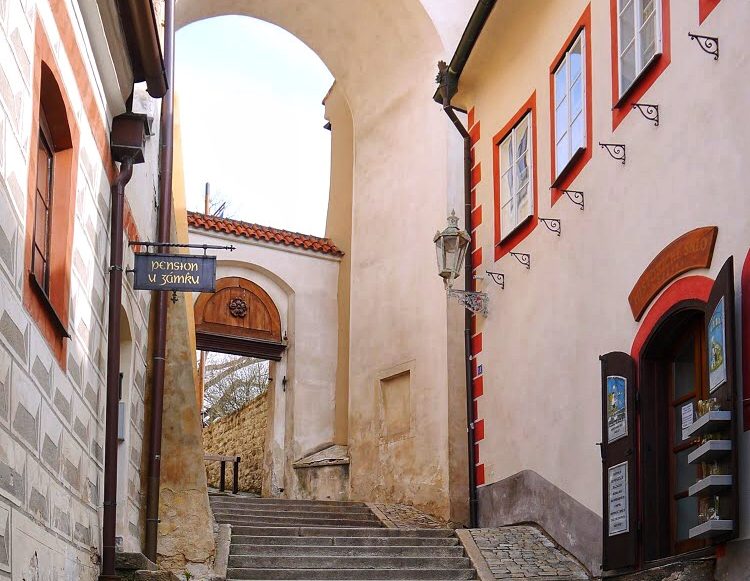 Wake Up Early: Explore the city before the crowds settled in. Most buses and tours are arriving at Cesky Krumlov in the afternoon after three hours of road journey from Prague. So get up early to visit this charming town before the crowd comes in.
Cesky Krumlov Card: This card cover five entrances of the most popular museum including the castle museum with a free castle tower entrance for an amazing view of the town. If you are planning to visit more than one museum, the Cesky Krumlov card can greatly save your money.
Stay at Least One Night: We highly recommended to stay at least one night in this charming town. It can get super crowded, especially during the afternoon. Being there in the early morning and late afternoon gives you a chance to have the town all to yourself. It was magical walking the street in the early morning.
Where To Go Next: Combine your visit and worked into part of the Central Europe itinerary. From 3 days in Prague to Cesky Krumlov, and hop over to Austria to visit Vienna, Hallstatt, or Salzburg.
Overview: Cesky Krumlov Itinerary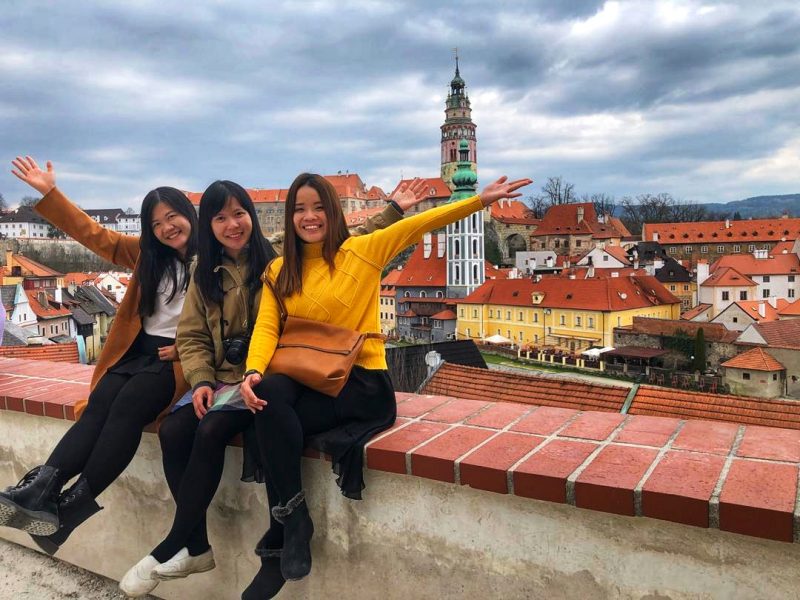 There are many things in Cesky Krumlov awaiting you to discover. One of the most visited cities in the Czech Republic and possibly the Best Day Trips From Prague. While most day-trippers from Prague leave the town and didn't plan to stay at least a day or more. This amazing city deserved at least one or two nights' stay. A great place for South Bohemia's charming gateway.
Lastly, I hope this Cesky Krumlov travel post did help you plan your Cesky Krumlov itinerary. If you have any questions, feel free to contact me or ask me in the comments form. Happy travel to CK town!
Don't forget to check out our Central Europe travel blog, itinerary and travel tips here:
Our next destination is Hallstatt: World Most Beautiful Lakeside Town