Whether you're in the mood for an exciting road trip, sign-seeing, food hunt, beach gateway, or volcanic mountain hiking, 6 days Jeju self driving itinerary awaiting you.
Jeju Island (제주도, 濟州島, Jeju-do) is pretty small and the best way to explore the natural beauty of Jeju Island is self-driving. The round island trip can be done in a few days from 3 days to 7 days depending on your point of interest.
While most would recommend spending just 3 or 4 days in Jeju, we felt the 5 days road trip itinerary is the best and relaxing without skipping any of the cool stunning natural beauty. We spend another one more day to conquer the summit of Mount Hallasan, the highest mountain in South Korea, which ended with a total of 6 days at Jeju Island.
Beware of this Jeju travel blog post as my Jeju self driving itinerary is not a budget trip. I enjoyed my travel time watching the gushing waterfall, crystal clear beaches, hike up to South Korea's highest mountain – Mount Hallasan, watching the sunrise at New Seven Natural Wonder of Seongsan ilchulbong crater. And I also enjoyed my foodie hunt for live octopus and abalone seafood pot, grilled black pork BBQ, fresh seafood caught by haenyeo (female free divers), and a relaxing time at a Korean café.
There are many things to do in Jeju island. We have the best pick a few attractions that we love the most to visit. Free free to click on each section to read on my Jeju travel blog below. 
Jeju Island Travel Tips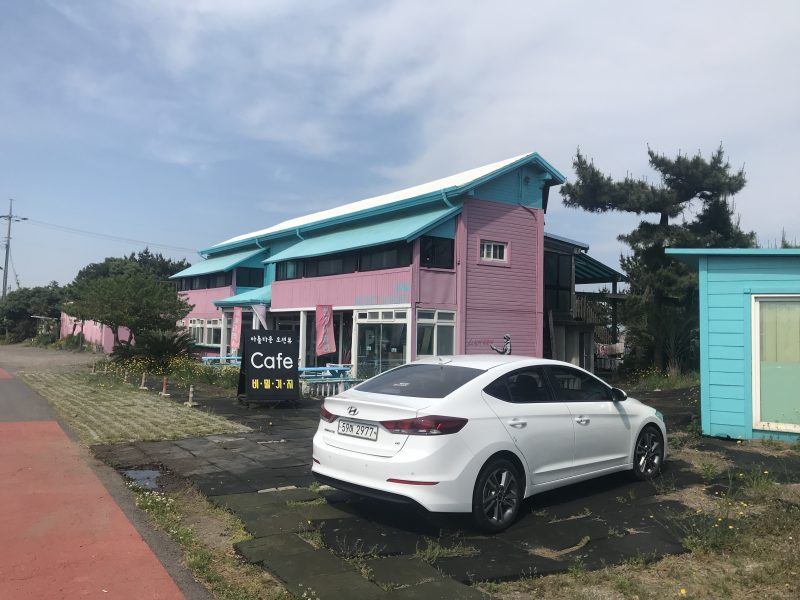 Tips#1: Rent A Car For Wonderful Road Trip
Renting a car for self-driving to discover the natural beauty at your own pace is the best way to travel at Jeju Island. We have to rent a car for my Jeju road trip through RentalCars.com, rented through AJ Rent A Car Company.
AJ Rent A Car is Avis in South Korea with English spoken staff supported, which is important for foreigners like us. We booked our car for two months in advance to ensure availability. See How To Rent And Picked Up Our Rental Car when we arrived at Jeju Airport.
Tips#2: Jeju Island Is Relatively Small
Jeju Island is a volcanic island, dominated by Hallasan at the center of the Island. The driving distance from North of Jeju City to South of Seogwipo is only required 1 hour or little more by passing through the center of Hallasan. Alternatively, a traveler can choose for two hours of road journey by driving through the east or west coastline.
Tips#3: Planning Your Jeju Driving Route
The land area of Jeju Island is relatively small with merely 1849km2. Planning the order of places to visit wasn't difficult. The best way is just going one round and stay at different places to minimize the traveling time.
Getting There
Jeju Island is a Korean favorite domestic holiday destination, situated 90km away from the southern tip of the Korean Peninsula. It served by Jeju International Airport in Jeju City with domestic flights like Eastar, Jin Air, T'way Air from Seoul, Busan, etc or international flight from Hong Kong, China, Taiwan, Malaysia. Alternatively, traveler can be accessed to Jeju Island by ferry from Busan.
My travel tips! What I normally do is found and booked my cheapest fight deal with Skyscanner! And the same for my Jeju trip. It is very simple and addicting to look for my next travel destination.
Where To Stay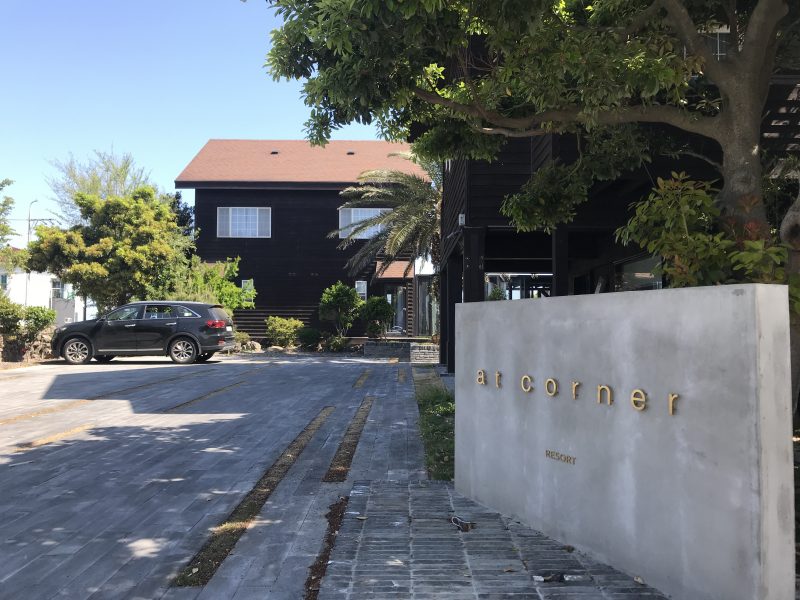 As I mentioned at the beginning of the post, my Jeju road trip is not a budget trip and most of our accommodation chosen is seaside pension or hotels with sea view designed for relaxation.
However, out of our expectations, the cost of accommodation at Jeju Island is relatively cheap, ranging from ₩40,000 to ₩100,000 for a double room. Families with more members can get an even cheaper price for the entire pension. The accommodation at Jeju City is slightly higher compare with Seogwipo.
To make your vacation easy, check out our accommodation guide to find out where to stay in Jeju. Your stay decide how's your holiday!
Ultimate Guide For Your Jeju holiday – Where To Stay In Jeju
Check out where we stayed during our Jeju road trip!
Hotel and pension in Jeju City: We stayed at two different places in Jeju city, before and after the round island trip. Hotel Whistle Lark is strategically located with walking distance to the black pork street and Dongmun Market. While Yedaoom Pension (At Corner Garden Resort) is a wooden holiday house with overlooked garden and sea view.
Pension in Seogwipo: Jeju Aurum is a beautiful lava beach front pension with a beautiful sea view with sunrise featured.
Pension in Seongsan: B&Sun Pension is a cozy pension run by ahjumma with her family. A budget guesthouse with unique Korean homestay experience in Jeju.
Alternatively, we also listed down the Top 10 Best Pension in Jeju if you looking for a unique Korean stay experience.
6 Days Jeju Road Trip Itinerary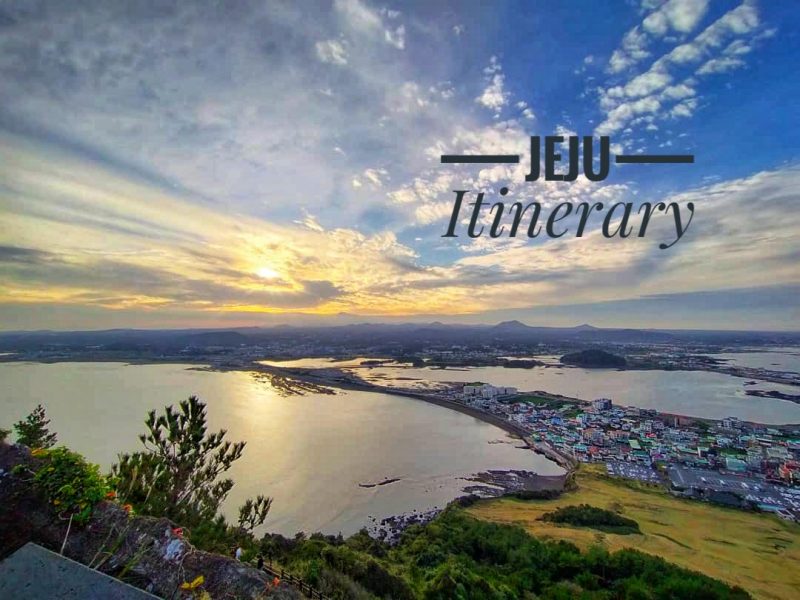 If you are planning for a road trip at Jeju Island, I hope this blog can help to plan on your self driving Jeju itinerary. As a nature lover, my journey is more on exploring the natural beauty of Jeju Island and does not add the museum or theme park into our itinerary.
Jeju Island is also famous for theme parks and theme museums like Teddy bear Museum, Hello Kitty Museum, which very suitable for a family outing. So do make a suitable itinerary for your holiday!
Check out our 6 Day wonderful Jeju itinerary with self driving!
Day 1: Arrived Jeju. Yongduam Rock, Dongmun traditional market. Dinner at black pork street
Day 2: Jeju O'Sulloc Tea Museum and Innisfree Jeju House, Yongmeori Coast
Day 3: Jeongbang waterfall, Daepo Jusangjeolli Cliff, Seogwipo Maeil Olle Market, Seopjikoji
Day 4: Seongsan Iluchulbong and Udo Island
Day 5: Hike Up to Mount Hallasan
Day 6: Relaxing walk in Geumneung and Hyeopjae beach. Goodbye Jeju.
Day 1: Jeju City Exploration
Our flight landed at Jeju in the late afternoon. So we decided to stay at Jeju downtown before kick start our Jeju road journey. Nothing much can visit at the Jeju downtown except the Yongduam rock. So the main focus of the first day is more on exploring city area and Jeju foodie hunt.
Yongduam Rock (Dragon Head Rock) (용두암)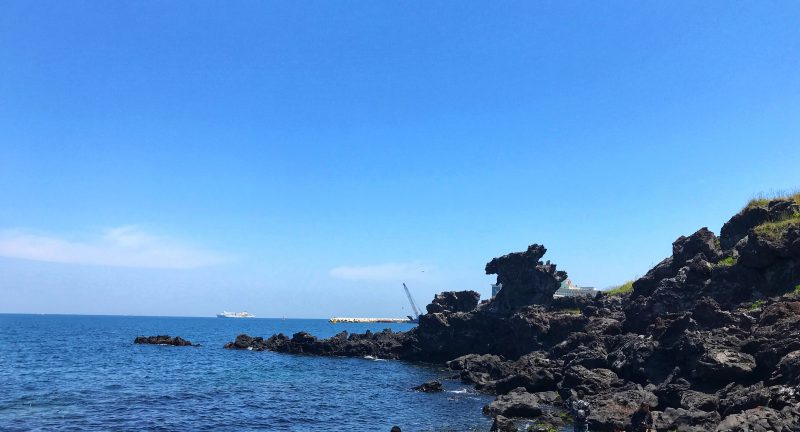 The oceanfront volcanic rock formation in the shape of dragon's head created by strong winds and waves over thousands of years. Don't forget to follow the downhill stair to take a close look.
Address: 15 Yongduam-gil, Yongdam 2(i)-dong, Cheju, Jeju-do, South Korea
Admission: Free!
Parking Fee: ₩2,000
Opening Hours: Anytime!
Korea GPS Tel No: 728-3918
Dongmun Traditional Market (동문시장)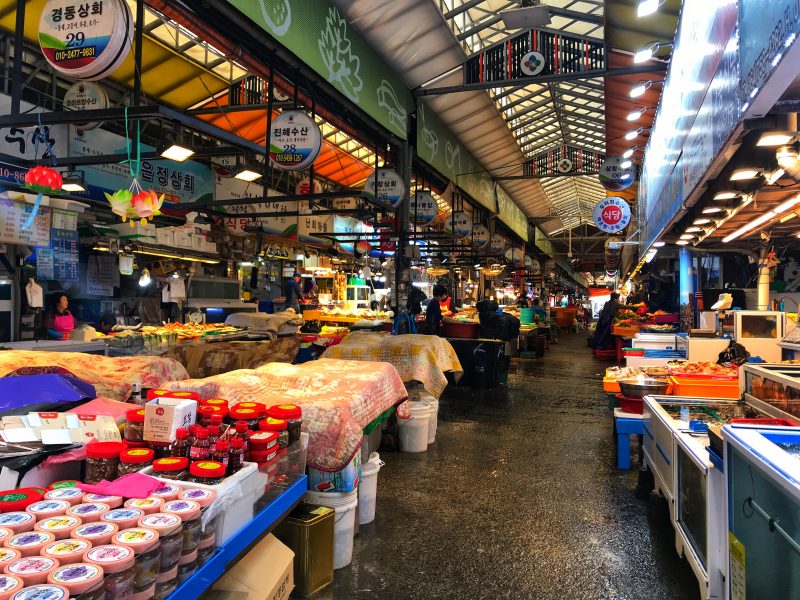 The oldest traditional indoor market at Jeju Island, selling local produces, seafood, souvenirs and more. Take a visit to soak up some of the local flavors at the Dongmun Market.
Dongmun Market will transform into night market, selling Korean street food like fried chicken, topokki, fish cakes, and grilled octopus. The night market located at entrance 6.
Address: 20 Gwandeong-ro 14(sipsa)-gil, Idoil-dong, Cheju, Jeju-do, South Korea
Admission: Free!
Opening Hours: Daily from 8 a.m. to 9 p.m.
Korea GPS Tel No: 752-3001
Dinner At Black Pork Street
(Heuk-Dwaeji/흑돼지거)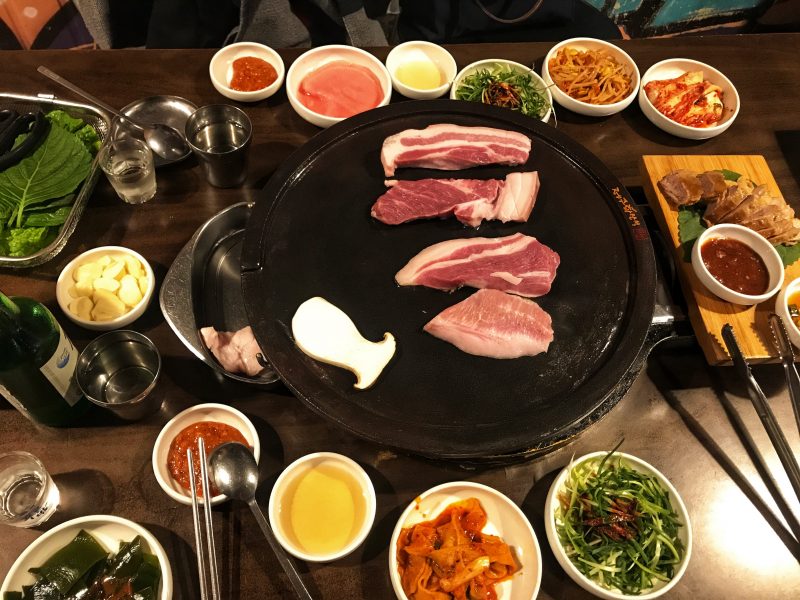 Wide range of restaurants that specialize in black pork in a row at Black pork street. The black pork BBQ is one of the Jeju delicacy and i have put it as one of the must eat at my Jeju foodie hunt. You won't go wrong with any of the restaurants here!
We choose the Michelin star-rated restaurant, Dombedon for our first dinner at Jeju Island.
See our Dining Experience At Dombedon.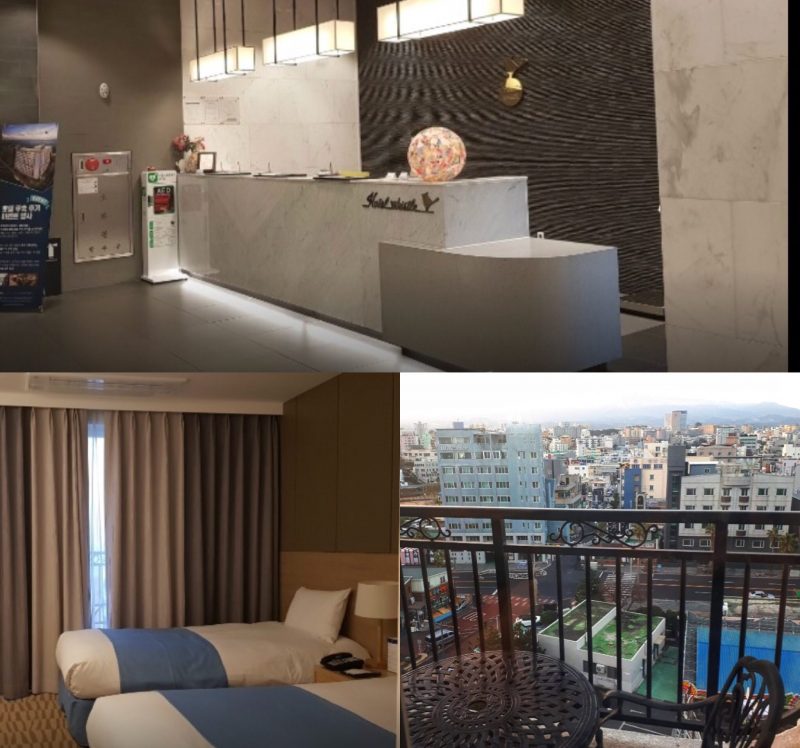 Whistle Lark Hotel is a newly open hotel, located in Jeju old town. It is strategically located with walking distance to Dungmun Market, E-mart, black pork street, sashimi street, and Jungang underground shopping street. A good location with easy access to lots of eateries, shopping, and the city's top sight.
Nearby with other 4-star and 5-star hotel: Ocean Suites Hotel, Hotel Regent Marine The Blue
Day 2: Jeju West Coastline
The second day on Jeju road journey started with mouth-watering pork noodles at Jamae Guksu. We continue our driving journey to Jeju Osulloc Tea Museum and Innisfree Jeju House for a brief visit. The whole journey takes with an approximate 1-hour drive from Jeju city. After the break, we are heading to the highlight of the day – Yongmeori Coast.
Sister Noodles (Jamae Guksu /자매국수)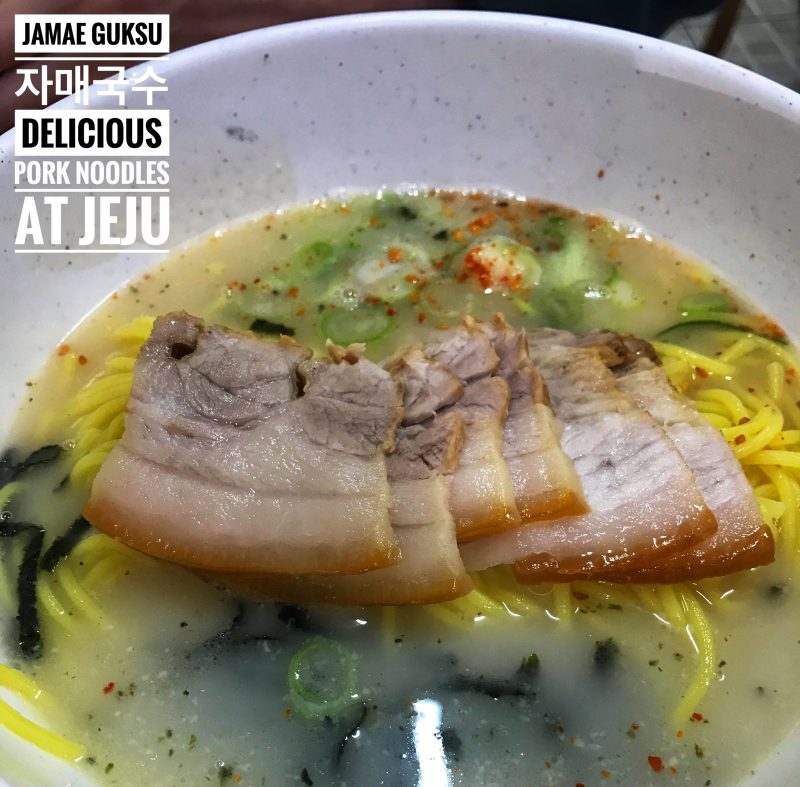 Located at Guksu Geori (Noodle Street) at Jeju city, Jamae Guksu is one of the hidden gem restaurants which very famous among the locals. It is well known for Bibim Guksu (비빔국수 / mixed spicy noodles) and Gogi Guksu (고기국수 / pork noodle soup).
You probably will need to wait in line to taste these noodles, and you won't regret giving them a try. Price is relatively cheap with ₩7,000 to ₩8000 (less than $8) for a large bowl of noodles with several pork slices and customary side dishes.
Check out our Food Review At Sister Noodles!
Address: 6, Wollang-ro 4-gil, Jeju, Jeju Island 63098, South Korea
Opening Hours: Daily from 9 a.m to 9 p.m
Korea GPS Tel No: 727-1112
Jeju O'sulloc Tea Museum (오설록티뮤지엄)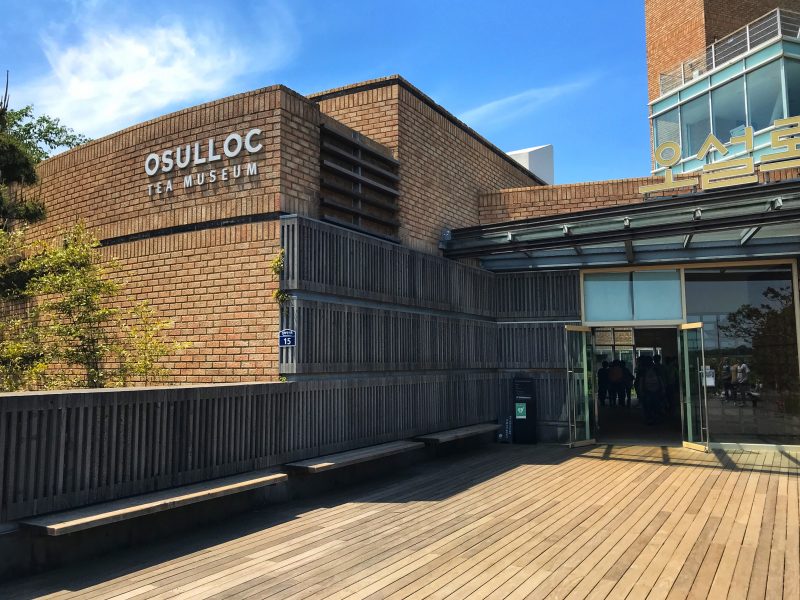 The famous O'Sulloc Tea Museum is the place you should not miss for tea lovers. Instead of the museum, the cafe located in the museum catches our intention to pay for the visit. The cafe was crowded with tourist and they formed a long line to order food and drinks.
Follow the small path beside the museum will leading to Innisfree Jeju House. Innisfree which is the Korean company selling skincare products made from natural ingredients in Jeju.
There was another cafe in Innisfree too if you don't want to wait too long at O'Sulloc café. The crowd is much less at Innisfree café. You may also try their soap-making workshop at Innisfree Jeju!
Address: 15 Sinhwayeoksa-ro, Andeok-myeon, Seogwipo, Jeju-do, South Korea
Opening Hours: Daily 9 a.m to 6 p.m
Admission: Free!
Korea GPS Tel No: 794-5351
Yongmeori Coast (용머리해안)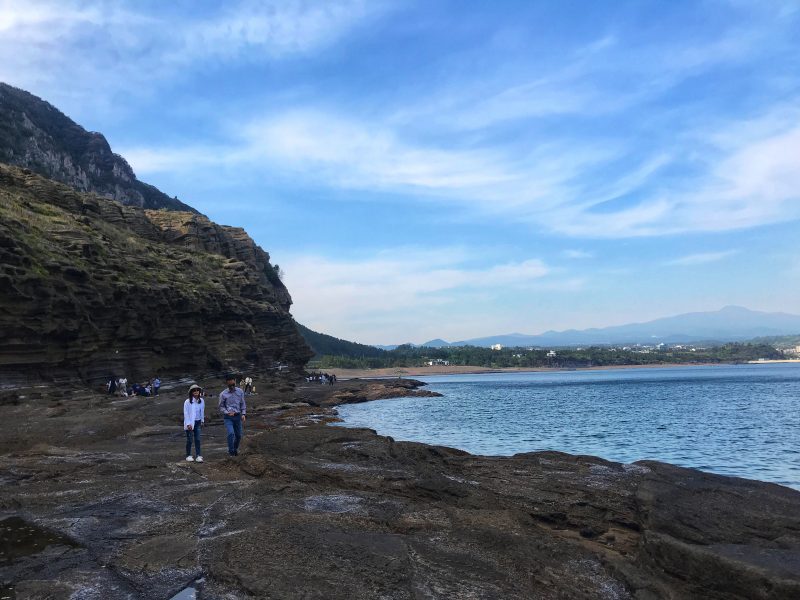 One of my favorite places visited in Jeju. The breathtaking view of rock formations, the sea, and the sky! Yongmeori Coast is a rocky coastline where Mt Sanbangsan stretches into the ocean, features with unique cliff formations that have turned the coast into a stunning walk.
Meet the Haenyeos, women sea-divers of Jeju who sell fresh raw seafood like sea cucumber, sea snail and sea squirt.
Address: South Korea, Jeju-do, Seogwipo, 안덕면 Andeok-myeon, 사계리
Opening Hours: 8 a.m. to 6 p.m (summer) and 8 a.m. to 5 p.m (winter)

Note: Subject to change as it will be close if high ties or bad weather

Admission: 2,000 won
Korea GPS Tel No: 760-2940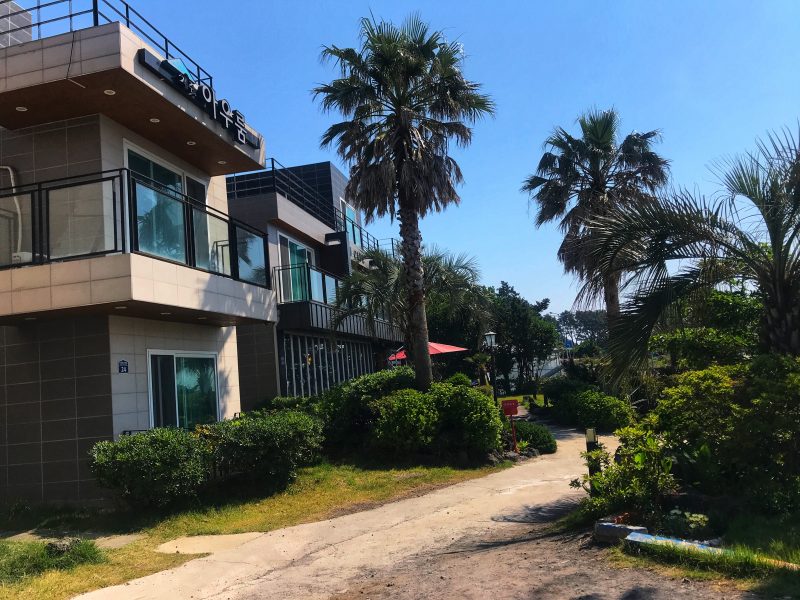 That night, we stayed at Jeju Aurum, a family-run pension at Seogwipo. It is a lava beach front pension with a beautiful sunrise view that can be seen at the front. Our host, Mr. Kim is very friendly and nice.
Limited room available, so don't forget to book your room as earlier as possible.
Day 3: Jeju South Coastline (Seongwipo)
We started our journey late as we are wake up and catch the sunrise at 5 a.m. from our pension. We just need to wake up and cross the road to the seafront to wait for the sun to come up. The view is spectacular!
Jeju is gifted by heaven with 3 famous waterfalls: Jeongbang waterfall, Cheonjiyeon waterfalls, and Cheonjeyeon Waterfalls. All of them located at Seowigpo, the Southern part of Jeju Island. We did not go to all and instead only choose one of it, the Jeongbang waterfall.
Jeongbang Waterfall (정방폭포)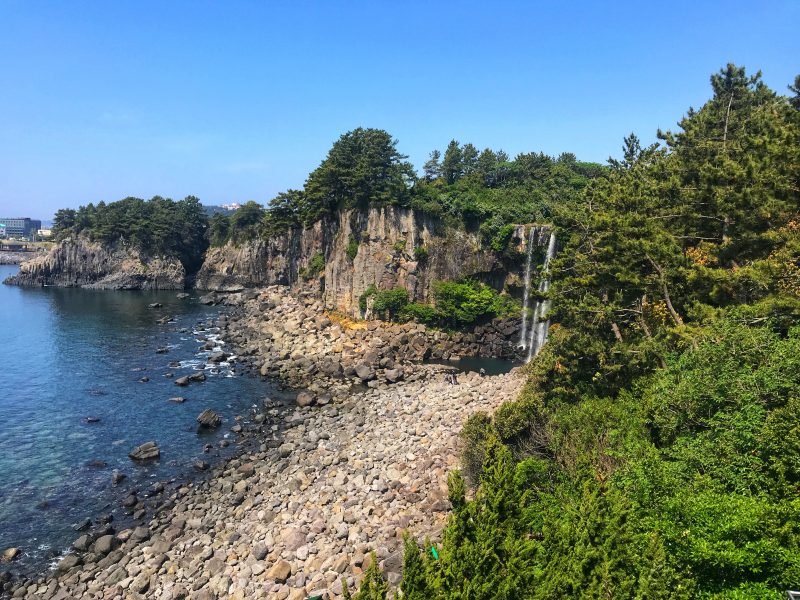 Jeongbang Waterfall is the only waterfall in Asia that falls to the ocean. This was a beautiful place to be in the morning, there was just a bit of rainbow in the mist at the bottom of the waterfall.
To reach the bottom of the waterfall, you need to fight with several steps and some big slippery rocks to get the best vantage point for viewing.
Address: 37 Chilsimni-ro214beon-gil, Donghong-dong, Seogwipo, Jeju-do, South Korea
Opening Hours: Daily 9 a.m to 7 p.m (Last admission 6 p.m)
Admission: ₩2,000
Korea GPS Tel No: 733-1530
Daepo Jusangjeolli Cliff (중문 대포 주상절리대)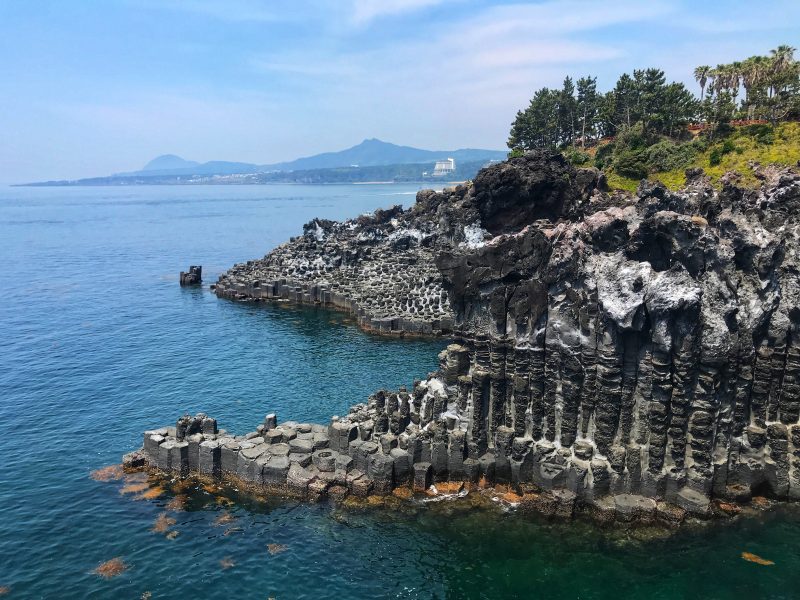 Another cliff formation when the lava from Mt. Hallasan erupted into the sea of Jungmun. The volcanic rock formed into various shapes like pillar, cubes or hexagons along the coast at the southern of Jeju Island.
The view is magnificent!
Address: 36-30, Ieodo-ro, Seogwipo-si, Jeju-do
Opening Hours: Daily 9 a.m to 7 p.m (Last admission 6 p.m)
Admission: ₩2,000
Parking fee: ₩2,000
Korea GPS Tel No: 738-1521
Seogwipo Maeil Olle Market
(서귀포매일 올레시장)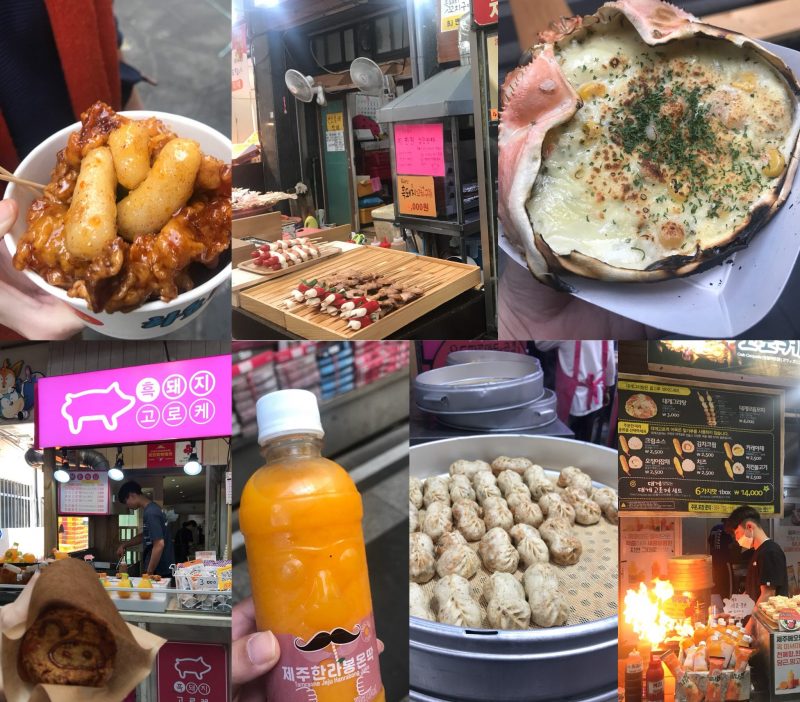 Seogwipo Maeil Olle Market is one of the traditional market located at southern Jeju. Wide variety of goodies like souvenirs, fresh produces, meats, seafood and a variety of other things.
Seats lined along the middle of the market and customers are more comfortable to enjoy their food at the seats. Snack food like black pork and crab croquettes, gimbap (Korean rice roll in seaweed), fried chicken, rice cake can be found at the market.
Seopjikoji (섭지코지)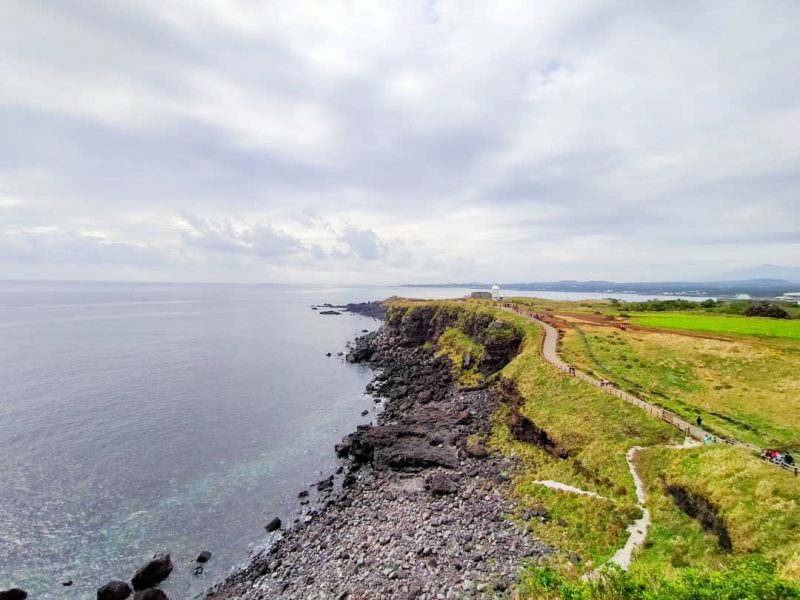 Lastly, we ended our exploring at the South coast and drove the Seopjikoji. Located at end of the eastern shore, Seopjikoji is a popular attraction in Jeju, thanks to its appearance in the Korean drama scene. But don't get me wrong. Seopjikoji is a fantastic scenery for a coastal walk.
Walking along the coast awarded with spectacular and breathtaking. Make sure to visit Seopjikoji during spring. It is one of the best places for blooming canola fields in Jeju Island.
Address: 107, Seopjikoji-ro, Seogwipo-si, Jeju-do
Opening Hours: Always Open
Admission: Free but with parking fee of ₩1000
Korea GPS Tel No: 784-2810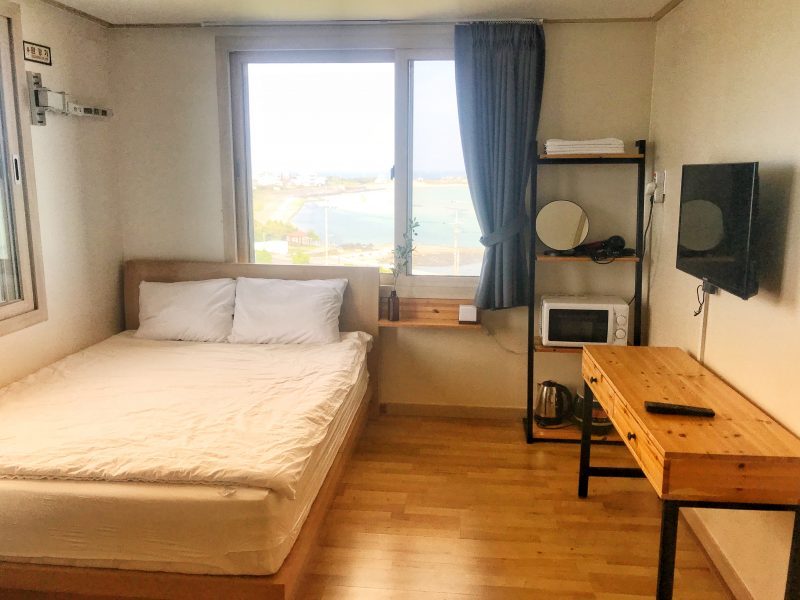 We stayed at B&Sun Pension run by ahjumma. It is a 4 stories building and the ahjumma with family are staying on the second floor. The remaining rooms are rent out as bed and breakfast to guests. It is a pretty cozy room with microwave, kitchenware, washing machine, TV and other electronic devices well equipped. The location is only less than 10 minutes' drive to the Seongsan Ilchulbong.
Day 4: Jeju East Coastline
Jeju east coast is the best scenic destination you should not miss on your Jeju trip. It is very perfect by coupled up the Sunrise Peak Seongsan Iluchulbong and Udo Island in one day as both located very close. Our day 4 Jeju itinerary are focusing on these two popular attraction. If you have more time, you can consider going to Manjanggul Lava Tube.
Sunrise at Seongsan Ilchulbong (성산일출봉)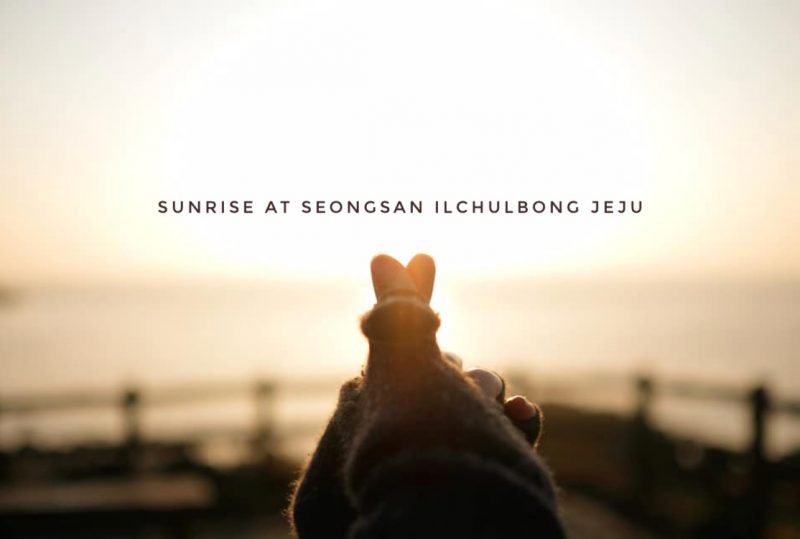 Seongsan Ilchulbong, also known as 'Sunrise Peak', is a UNESCO World Heritage site and one of Jeju Island's most famous geographical features. Listed in the new seven wonders of the world, Seongsan llchulbong is a tuff cone crater that was formed when the volcano erupted under the ocean about 5000 years ago.
There are also Haenyeos showtimes at 1.30 pm and 3.00 pm daily. Be there earlier to get a first-row view of the action if you wish to see the performance.
Address: 284-12, Ilchul-ro, Seongsan-eup, Seogwipo-si, Jeju-do , South Korea
Opening Hours: April-October 07:00-20:00 and November-March 07:30-19:00
Admission: ₩2,000
Korea GPS Tel No: 733-1530
Udo Island (우도)
A miniature of Jeju island with beautiful beaches, lava rock and cliff and scenery along the coastal road. Prepare to spend a day relaxing in a peaceful atmosphere with no crowd, no nightlife and no major attraction but beautiful natural.
The name "Udo" was given because it resembles the shape of a lying cow. Ferry departs from the Seongsan Passenger Terminal Port every 30 minutes and it takes around 15 minutes to reach the Udo Island.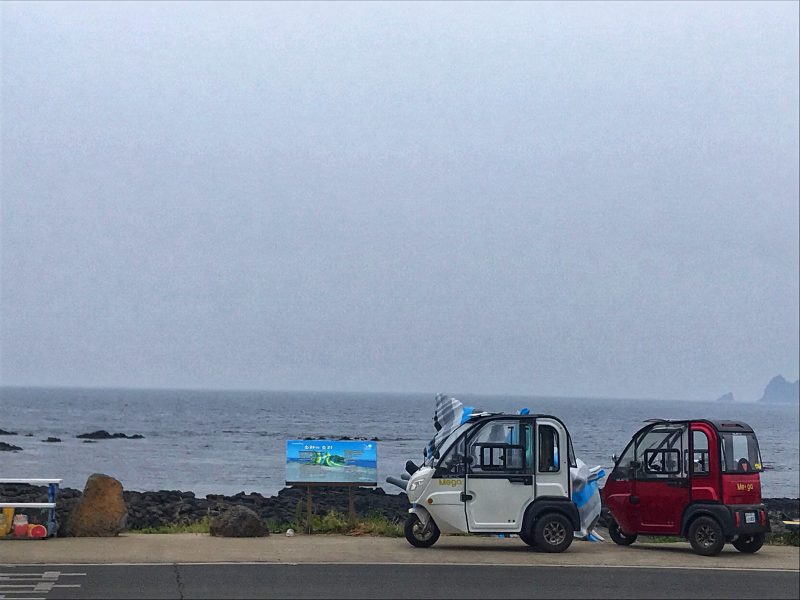 The round island journey can be finished by walking with a total length of 16 km of Udo Olle trail. Travelers can also rent the bicycle, electric bike, scooter, electrical car, ATV or taking the hop on hop off tour bus to go round the Udo Island.
Ferry Ticket: ₩8,000 for return trip
Parking Fee at Seongsan Port: ₩8,000
Korea GPS Tel No: 783-0533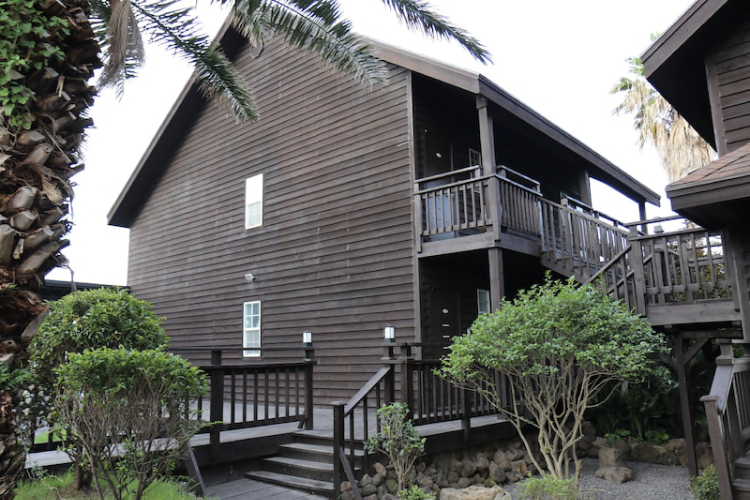 Our last two nights are stayed at Yedaoom Pension aka At Corner. It is a wooden holiday house with an overlooked garden where you can have a BBQ there and featuring a nice view of the sea from far. Location is also very strategy with 10 minutes drive to the airport.
Day 5: Hike Up To Mt Hallasan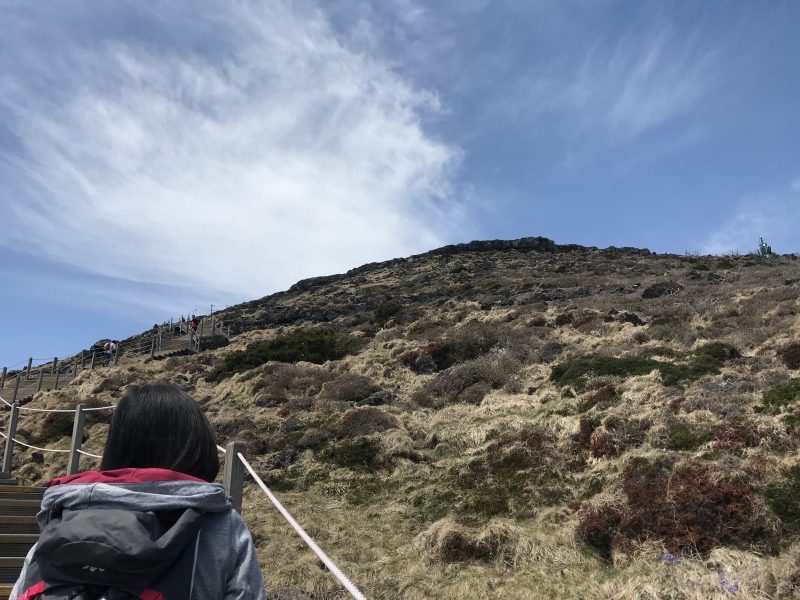 Natural hikers don't miss out on the opportunity to hike up to the tallest mountain in South Korea! Mt Hallasan is the most memorable landmark of Jeju Island with an altitude of 1950 meters above sea level. It is an active volcano but the last eruption was 1007 years.
Hike up to the summit via Seongpanak or Gwaneumsa trails. Alternative, Yeongsil or Eorimok is a good option for those want to enjoy a stunning view of the mountain but it won't take you to the top.
Day 6: Northwest Coastline (Aewol)
We did not plan for any attraction on our last day. Instead, we decided to spend our time on the beautiful beaches in the northwest before leaving Jeju.
Geumneung and Hyeopjae Beach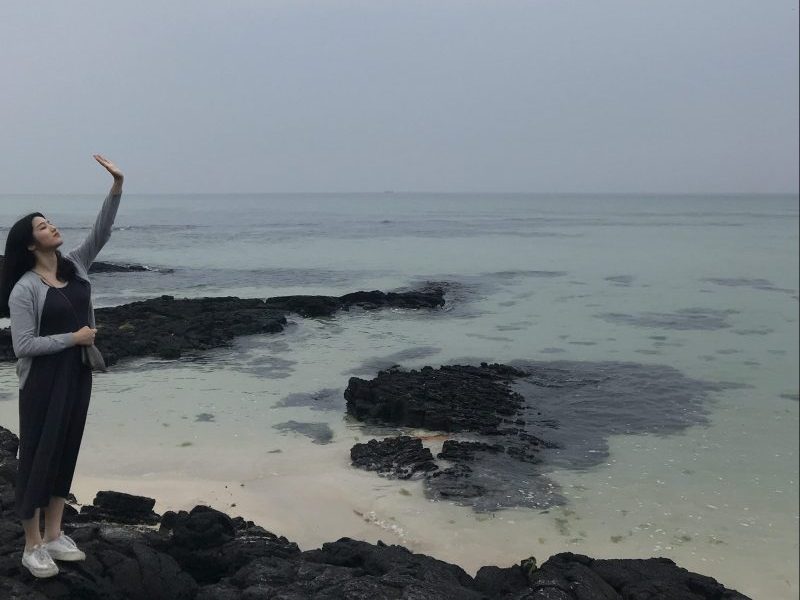 Thanks to the beautiful sandy white beaches with crystal clear azure seawater, Geumneung, and Hyeopjae beach are popular for beach gateway. These two beaches are just next to each other, so it is very good to visit at one go.
The long seashore is around nine kilometers long with beautiful white sand and black lava rocks. Together with the clear pristine waters, making the scenery at Geumneung and Hyeopjae beach very beautiful.
Be ready to dip your toes into clear water and walking along the shore. You can easily spot the seaweed at the crystal clear water.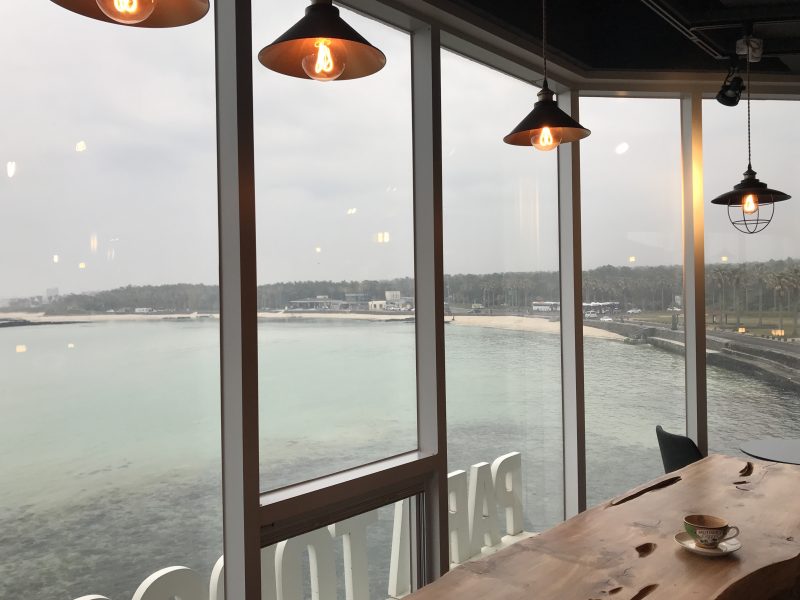 Picked a cafe nearby for a cup of coffee.
Enjoy your day listening to the classical music inside while drinking cappuccino with the ocean view. You'd think you're in Hawaii or something from the picture-perfect window views!
Address: 329-10 Hallim-ro, Hallim-eub, Cheju, Jeju-do, South Korea
Opening Hours: Anytime!
Admission: Free
Korea GPS Tel No: 796-0001 (Halim Park, opposite of Hyeopjae beach)
What To Eat In Jeju?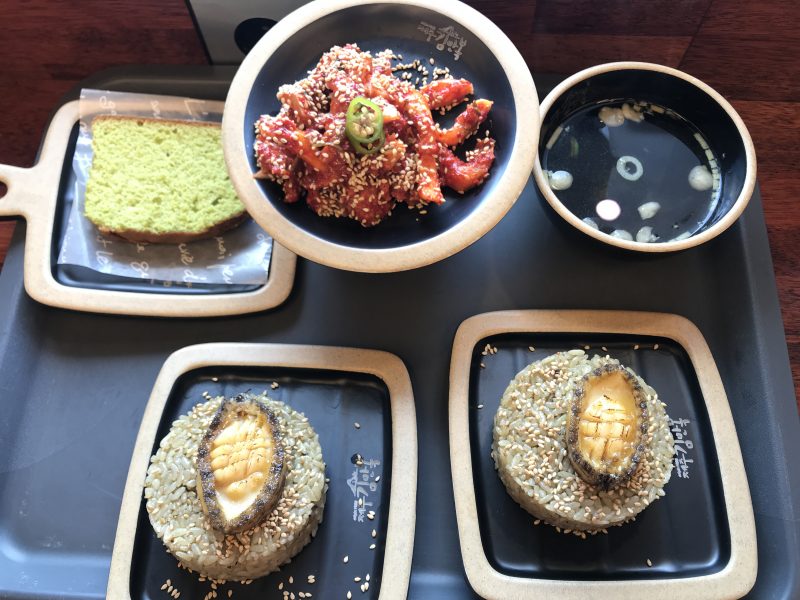 Wondering what you should eat at Jeju? If you love to explore the unique local food during travel, I am sure you want to try out all the Jeju food follow our food guide. Live seafood hot pot, fresh raw abalone, grilled black pork, Korea fried chicken and more.
Listed below are the MUST EAT Jeju food and restaurant, highly recommended by locals and us! Try at your preference! And risk…..
Complete Jeju Food Guide: The Best Local Dishes to Eat in Jeju Island.
Budget And Expenses For 6 Days
How much to spend in Jeju for 6 days? My 6 days Jeju road trip is not a budget trip, we enjoy eating fresh abalone, seafood pot, grilled black pork, or drink a cup of coffee with a nice dessert at a cafe. However, we did not do a lot of shopping at Jeju island and major activities are sign-seeing and food hunting.
Below is my rough estimation for my Jeju trip for your reference. We almost spend ₩550,000 on the 6 days Jeju road trip itinerary, not including the flight ticket. You may spend lesser if you are not fancy about the seafood.
Most restaurants, cafes, hotels are accepted credit cards. But you are advised to exchange some Korean won for personal use. Certain pension, haenyeo stalls, food stalls at the traditional market are only in cash.
Expenses listed is for 2 people (for reference):
Accommodation: ₩300,000 for 5 night stay at 3-star to 4-star hotel or pension
Car rental with CDW covered: ₩160,000 for Hyundai RAY for 6 days
Gasoline expenses for a round island trip in 6 days: ₩60,000
Entrance and parking fee: ₩28,000
Food expenses:

Medium to light breakfast and lunch, ₩20,000
Dessert or snack, ₩15,000
Proper dinner like seafood or grilled black pork, mostly cost about ₩60,000
Don't forget to compare your rental car to Rentalcar.com with the best price guarantee and high customer reputation!
Complete Jeju Road Trip Itinerary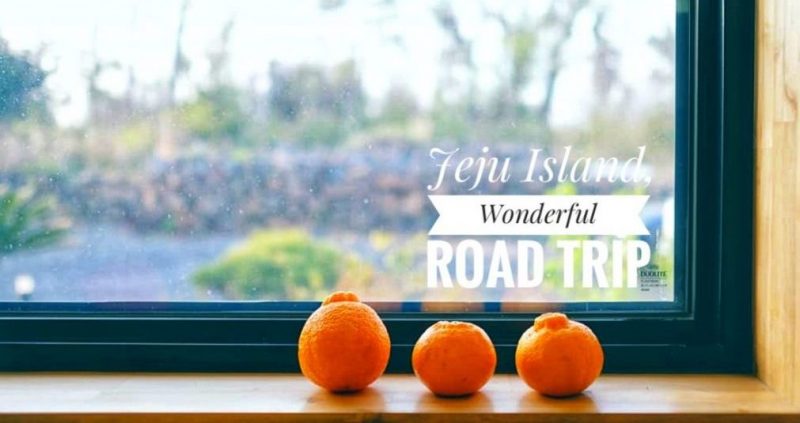 Jeju Island is the perfect destination for you. Whether you're in the mood for an exciting road trip, sign-seeing, unique food hunting, beach holiday gateway, or extreme volcanic mountain hiking, Jeju has the best holiday awaiting you.
Here are the simple Jeju travel tips for you to quickstart your trip:
What is the Best Time visiting Jeju?
March to May and September to November are the best time to visit Jeju. You'll have the best chance of comfortable weather to explore the attractions in Jeju.
How Many Days in Jeju is enough?
At least 3 days! But 3 days is only enough for you to see the major attractions in Jeju at a rushing pace if you're on a tight schedule. We recommended spending 5 days visiting Jeju Island at a relaxing pace.
How much does a meal cost in Jeju Island?
The average cost of food in Jeju is ₩10,000 to ₩20,000 for a standard Korean meal. However, you will need to pay ₩30,000 to ₩40,000 if you want to try the Jeju specialties such as seafood and grilled black pork.
Is it Worth Visiting Jeju?
If you like to explore the wonder of nature, then yes, it's definitely worth the visit. Jeju Island has an incredible amount of things to do and a lot to explore.
Is Jeju Island Expensive?
Jeju Island is an inexpensive and easy to plan travel destination. It is a known Korean travel destination with a variety of accommodations available (from budget to luxury) which helps to keep the price low. You can choose the lodging and travel plan based on your budget.
Best To Visit Jeju by self driving or public transport?
If possible, renting a car for self-driving in Jeju is the best way to visit Jeju at your own pace. Else, city buses are cover almost all Jeju Island.
For sure, there are still many more things to do in Jeju. There are many activities for outdoor, family with kids. Want to know more? Check out our ultimate guide to ease your Jeju itinerary planning if you are looking for what to do in Jeju island.
Things To Do in Jeju Island: A Complete Travel Guide For What To Do in Jeju
Overall our detailed Jeju travel blog journey for 6-Days Jeju self-driving road trip itinerary listed as below:
We truly enjoy our 6 days at Jeju Island with fun and relaxation. If you need more inspiration and help on visiting Jeju, check out visitjeju official site.