Last updated on October 2nd, 2023
Take a look at our Budapest itinerary for some inspiration on your coming visit. There are so many things to do in Budapest for 1, 2, or 3 days and we truly understand you'll want to get most of it. A Budapest Travel Guide Blog for first-timers.
Budapest is the capital of Hungary, one of the most beautiful cities in Europe with an amazing range of incredible things to see and do. From the historical and gorgeous building, and delicious street food to Michelin star restaurants, steam baths, and buzzing ruin bar. I guarantee you'll fall in love with the place, boasting of its amazing attractions.
If you're visiting Budapest for the first time, then this comprehensive travel guide will tell you all you need to know to plan your trip. We have put together our favorite stops in a 3-day Budapest itinerary so that you can capture some memorable and unique attractions on your Budapest trip. While a perfect itinerary in Budapest should include the Budapest food guide as the food is amazing. We also have listed down the awesome food and restaurant that we try during our visit.
Let's start to explore Hungary's capital city even if you only have limited time for your Budapest itinerary to see everything. We'll share some great ways for you to spend your time for 1, 2, 3, or 4 days in this welcoming city.
Budapest Travel Tips
First of all, in case you might not be sure about the uniqueness of this wonderful city, here are some Budapest travel tips and information here.
Budapest (pronounced as Bu-da-pesht) is split down the center by the majestic Danube River, will hilly Buda in the west and flat Pest in the east. Loosely translated, this is a city of hot water as "Buda" derives from the Slavic word "voda" ("water") while "Pest" originates from the Slavic word for oven "pech".
If you only have three days to spend in Budapest, the itinerary can be broken down by these two areas. The first day will be spending time discovering the Buda side while the next day will be exploring the different neighborhoods on the Pest side of the Danube River, including relaxing at a thermal bath. Lastly, you can freely enjoy your time on food and continue to explore what you have missed during the first two days.
What is the best time to visit Budapest?
The best times to visit Budapest are from March to May and September through November. During this time, the weather is idyllic and the city isn't overcrowded with tourists
Is Budapest a cheap holiday?
Budapest is a great city for a holiday if you are on a budget. The accommodation, transport, and food are not expensive compared with other cities in Europe.
How To Get Around in Budapest?
Walking is the best option to visit Budapest downtown. Besides, Budapest is well connected with tram, subway, and buses to help you get to most places in the city center.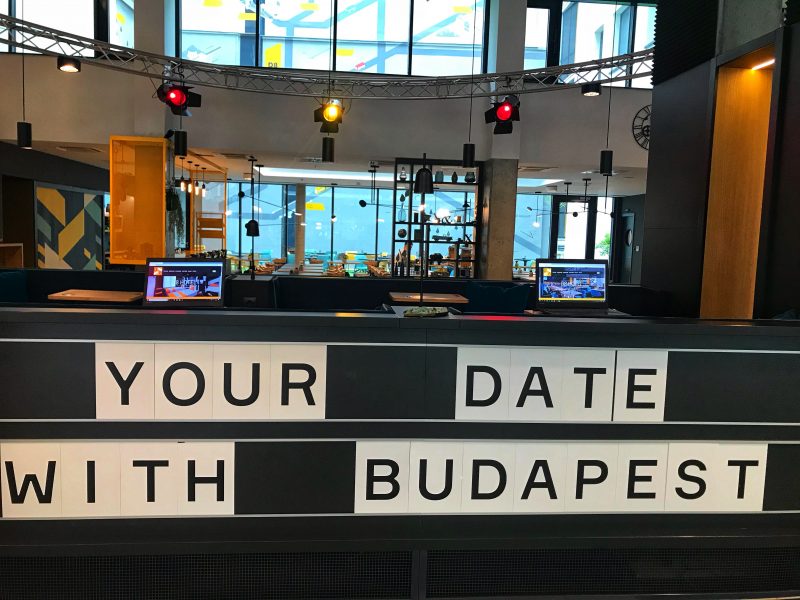 We spend most of our time exploring the important sights along the river bank. So it is highly recommended to stay right next to the Danube bank. Anyway, Budapest is well connected with public transport and most of the accommodation is located close to the city landmark or metro station.
Our stay at D8 Hotel perfectly suited our purpose, located right next to the Danube River and within walking distance to the Chain Bridge, Deák Ferenc Tér Square, as well as Vaci utca for shopping. The price is very reasonable with a trendy room at a strategic location.
For the best view of the Danube bank, you may consider the InterContinental Budapest and Sofitel Budapest Chain Bridge which is on the bank of the Danube, offering breathtaking views of Chain Bridge and Buda Castle.
For a budget traveler, there is plenty of apartments or hostels to suit your budget. My personal is highly recommended for Maverick City Lodge, a boutique hostel with an excellent location. Located at 750 meters from the Deák Ferenc Tér, the main transfer station, and within walking distance of the city's landmark. Plenty of food options surrounding. From single bed, twice and double room or 4 people superior room for share and private bathroom are available to choose from.
Make sure to read our accommodation guide for where to stay in Budapest to make sure you pick the best neighborhood for you. Choose the one suit for your requirement or budget!
3 Days Budapest Itinerary
Our itinerary to Budapest is three and a half-day as we are getting to Budapest from Vienna at noon and flying back to our home country in the late evening after three nights staying at the Budapest D8 hotel. It was newly renovated and located right next to the Danube River and within walking distance to the Chain Bridge, Deák Ferenc Tér Square, as well as Vaci utca for shopping.
The location is superb and we can have more time to explore Budapest including awesome Hungarian cuisine and unique street food.
3 to 4 Days in Budapest itinerary – What To Do and See:
Day 1: Arrive in Budapest. Visit Chain Bridge, Shoes on the Danube Bank, Hungarian Parliament Building. Adventure with Tram#2.
Day 2: Explore the Buda Side: Budapest Castle Hill Funicular, Fisherman's Bastion, Matthias Church, Buda Castle.
Day 3: Explore the Pest Side: St Stephen's Basilica. Széchenyi Thermal Bath. Ruin Bar.
Day 4: Budapest Central Market. Goodbye Budapest.
We will have more detail on things to do on each day for the Budapest itinerary. Make sure to read on.
Budapest Travel Tips:
When looking for the best price and biggest selection of hotels in Budapest, check prices for
Budapest Best Hotel from Booking.com
. We found they are the best option and have a great cancelation policy.
Day 1: Strolling Along The Danube
After freshening up after the long travel journey from Vienna, we headed out for venturing out into a city for the first time by strolling along the Danube bank on foot. We have no route planned and just stop by at any location we wanted. Our hotel, D8 Budapest was right next to Elisabeth Bridge. So it is pretty easy for us to have a scenic walk along the river.
Day 1 in Budapest Itinerary:
Arrived Budapest. Strolling along the Danube.
Visit Chain Bridge, Shoes on the Danube Bank, Hungarian Parliament Building.
Dinner at Kiskakukk Étterem.
Adventure with Tram Number 2.
Széchenyi Lánchíd | Chain Bridge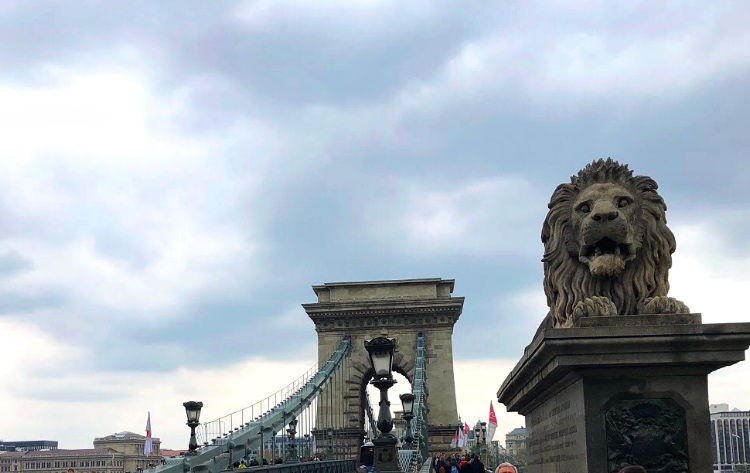 On the banks of the Danube, we first arrived at the Széchenyi lánchíd (Chain Bridge). This historical bridge was built in the mid-19th century and it was the first bridge connecting Buda and Pest. Complete with its iconic lion statues and the four lions clung to the ends of the bridge, which symbolizes the power and close connection between Buda and Pest.
Although many bridges have been built on the Danube today, the chain bridge is still historically important and a national bride for Hungary.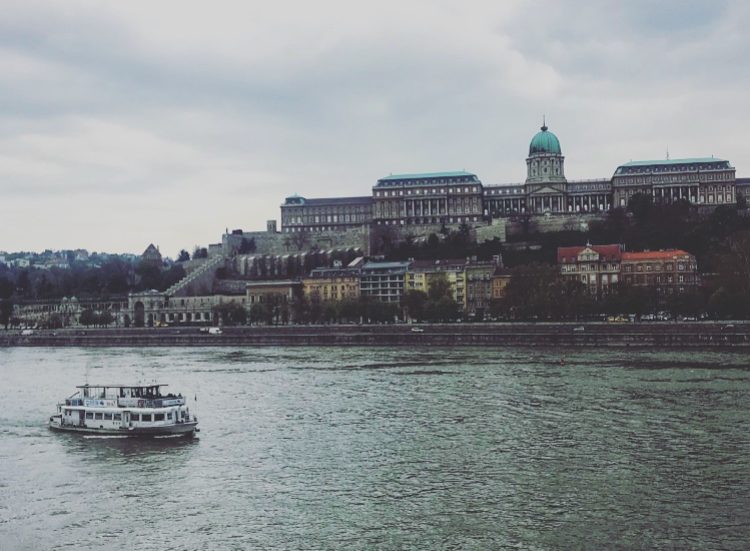 From here, you can have a full view of Buda with Buda Castle not far behind the bridge, as well as the Matthias Church and Fisherman's Fort on the other side. In my humble opinion, the chain bridge is the most beautiful and mesmerizing bridge of all the ones I saw in Central Europe.
Cipők a Duna-Parton | Shoes on the Danube Bank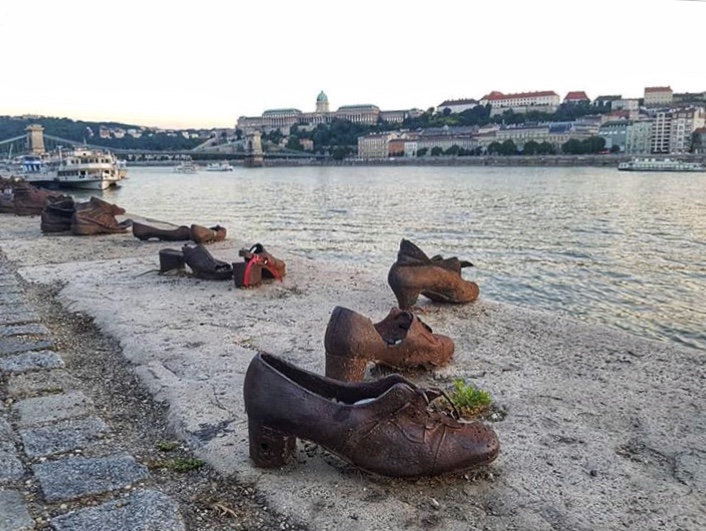 Then, follow the river and walk to the Houses of Parliament. Along the Pest riverbank to the left, from afar you would notice some of the sculptures with many pairs of iron shoes lining the embankment. It is unlikely that one would miss it because likely there would be people taking shots of it.
Established in 2005 and is called Cipők a Duna-Parton (Shoes on the Danube Bank). This monument consisted of 50 pairs of bronze shoes, commemorating the Jews who were killed when the Nazis' puppet government, the Arrow Cross came to power in Hungary in 1944.
These shoes are a heart-breaking memorial to honor a total of 3500 victims killed by Nazi Germans during World War II. They were forced to take off their shoes before being shot, having their bodies fall into the Danube to be swept away.
Országház | Hungarian Parliament Building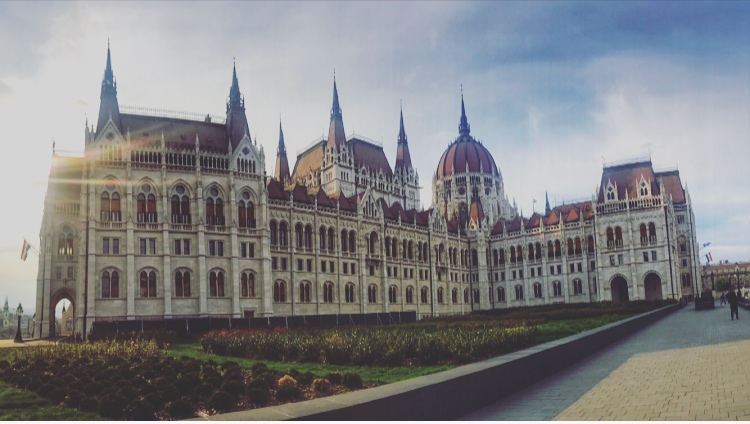 We continued strolling along the riverbank until we meet with Országház (Hungarian Parliament Building). The impressive sugar-white building is exquisitely decorated with a reddish dome, which even impresses us in real life than in the pictures.
Budapest Parliament building is the largest building in Hungary and one of Budapest's most important landmarks. It was built in the early 20th century in Gothic Revival design. Admiring the building up close from the outside is still worth stopping by. You can also do a 45-minute Budapest Parliament Tour to learn about the history and see the stunning interiors of this Europe's oldest legislative buildings.
As an alternative option, you may also do a Budapest Evening Sightseeing Cruise to see the Parliament building from a different angle. Enjoy the evening or night view along the Danube bank is amazing!
Dinner at Kiskakukk Étterem
Time flew over us. We ended our Danube walk and proceed for our first Hungarian dinner at Kiskakukk étterem. This traditional restaurant is located a little bit outside the tourist district, but it is worth getting. You will be delighted with both the excellent food and the tranquil atmosphere. We make our reservation one week before to secure our dinner.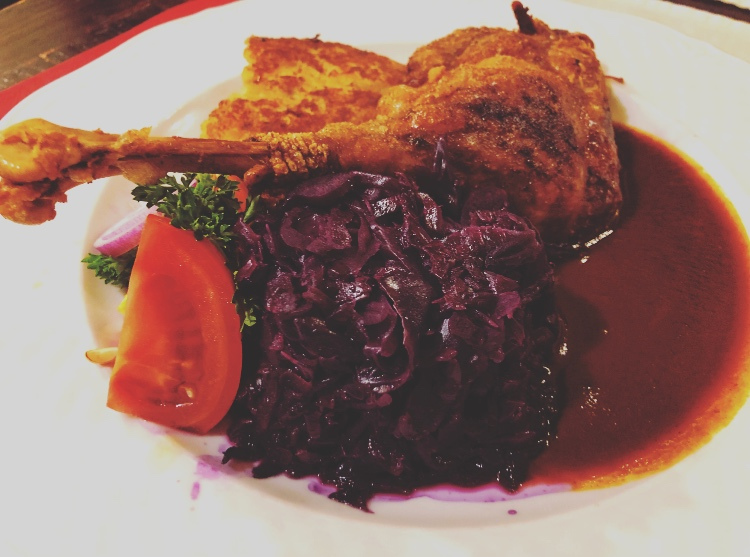 All dishes are excellent, we especially like the goose dishes served in Kiskakukk étterem. Strongly recommend! Our wonderful meal ended with a nice dessert at Kiskakukk étterem. We love their excellent food and professional staff. Most importantly, the price is very affordable, especially for the quality and quantity of food presented.
Read more on our dining experience at Kiskakukk étterem.
Adventure with Tram Number 2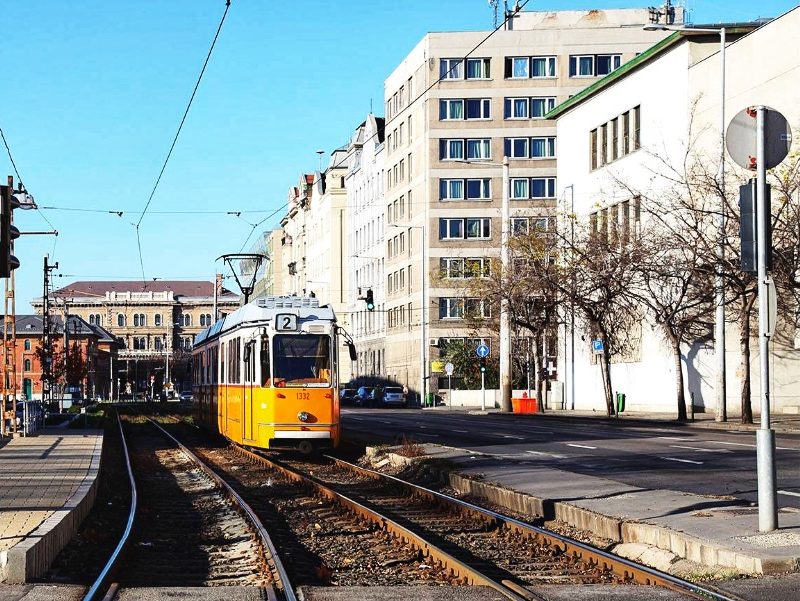 The dinner was so filling and we decided to end our day by adventure the Danube River with tram number 2. We jumped on the old school streetcar and have the scenic route along the river. This line runs along the Danube, remember to enjoy your time watching the scenery along the route. The Parliament building is more impressive when the light is lit up.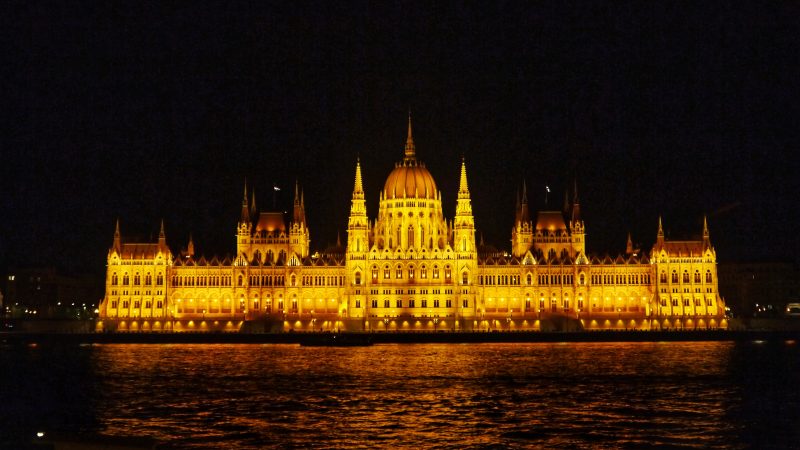 Thanks to our 24-hour transportation pass, we just simply hop on and hop off at any stop that we want. The night view in Budapest is amazing! Our first day on the Budapest itinerary draws a romantic ending with a memorable ride at the Danube River.
Day 2: Explore the Buda Side Of Budapest
Exploring the Buda side is a perfect way to start your day on the Budapest trip. We spend our time wandering around the castle hill. There are three ways to get to castle hill from the base; ride the funicular up to castle hill, take the castle bus or make your way up via a long and steep walk.
Day 2 in Budapest Itinerary:
Explore the Buda Side Of Budapest.
Ride on Budapest Castle Hill Funicular, Fisherman's Bastion, Matthias Church, Buda Castle.
Tea Time at New York Palace Café.
Wandering Around City Center.
Ride on Budavári Sikló | Budapest Castle Hill Funicular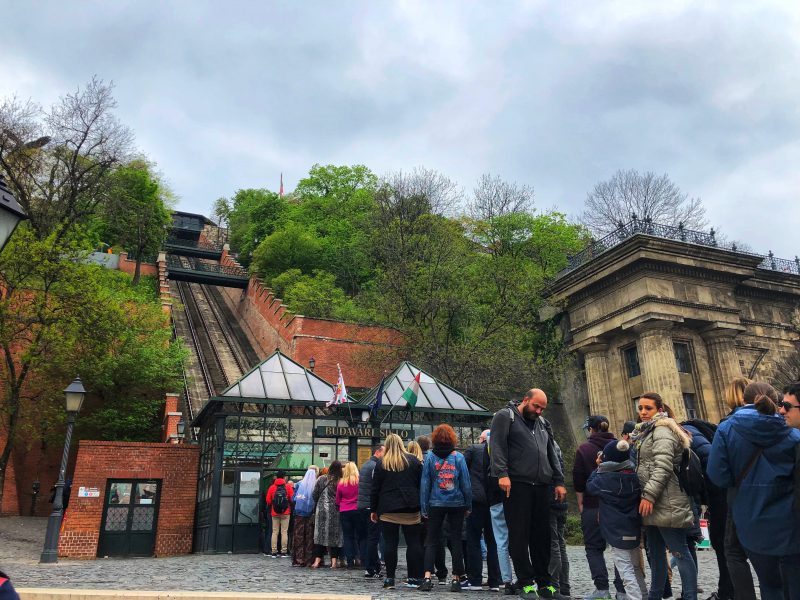 We choose to take the castle bus to the hill and walk down on foot. You may also consider taking the Budavári Sikló (Budapest Castle Hill Funicular) up to the hill. The cable car has been over 100 years old, while the ride is pretty short with only 3 minutes. The one-way fare is 1200 HUF (about 4 Euro), and the round-trip fare is 1800 HUF (about 6 Euro). For details, please refer to the official website of Budavári Sikló.
The (#16) bus stops us at Donáti Utca and we make our 1-minute walk to the Fisherman's Bastion.
Halászbástya | Fisherman's Bastion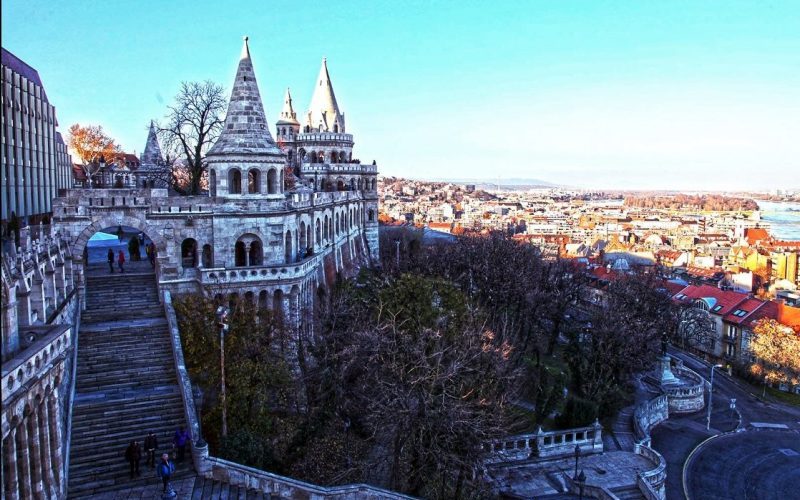 One of the best views of Budapest is from the lookout point at Fisherman's Bastion. In the Middle Ages, this part of the rampart was guarded by fishermen and there was a fish market just below here. Hence, the name of Fishermen's Bastion. Even originally built for military purposes, Fisherman's Bastion is now the best lookout in Budapest.
The towers at Fisherman's Bastion make it very Disney feel. There are seven pointy towers that represent the seven Magyar tribes and are open to enter. The lower deck is open for free, and the upper entrance fee is 800 HUF (approximately 3 Euro).
For unforgettable views in a fairy-tale setting, there's nowhere better. We love climbing all over the towers and seeing the magnificent Pest view on the other side.
Mátyás-templom | Matthias Church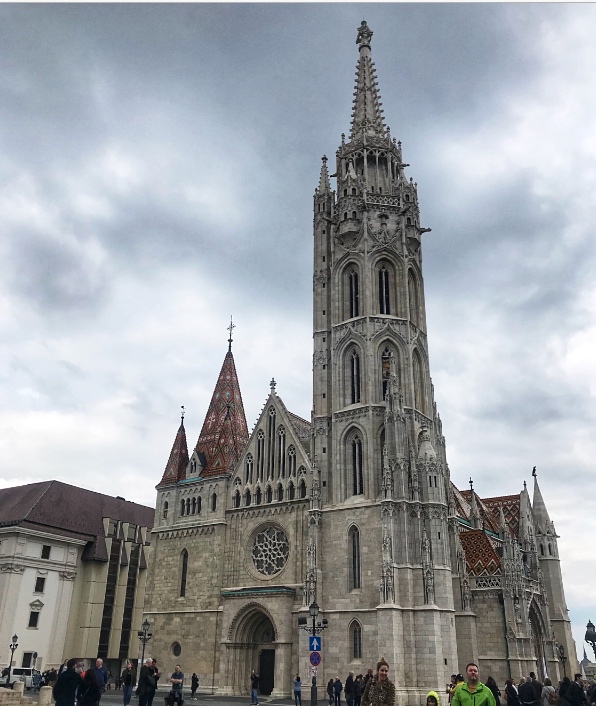 Directly behind Fisherman's Bastion sits the colorful and striking Matthias Church, one of the oldest buildings in Buda. The history of Matthias Church dates back to the 11th century and was the site of the coronation of several Hungarian kings.
It is a Roman Catholic church, just in front of the Fisherman's Bastion at the heart of the Buda's Castle District. This Gothic-style cathedral with a colorful tiled roof is one of the city's best sights. The church is open to visitors and the entrance fee is 1500 HUF (about 5 Euro).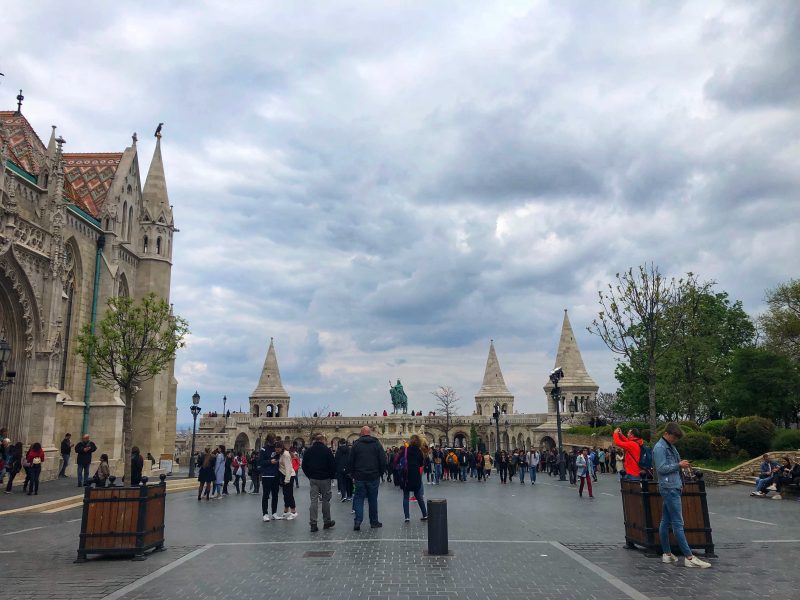 We didn't visit the church but admired the building up close to the outside. We spend some time wandering around at the square in front of Matthias Church and Fisherman's Bastion.
Budavári Palota | Buda Castle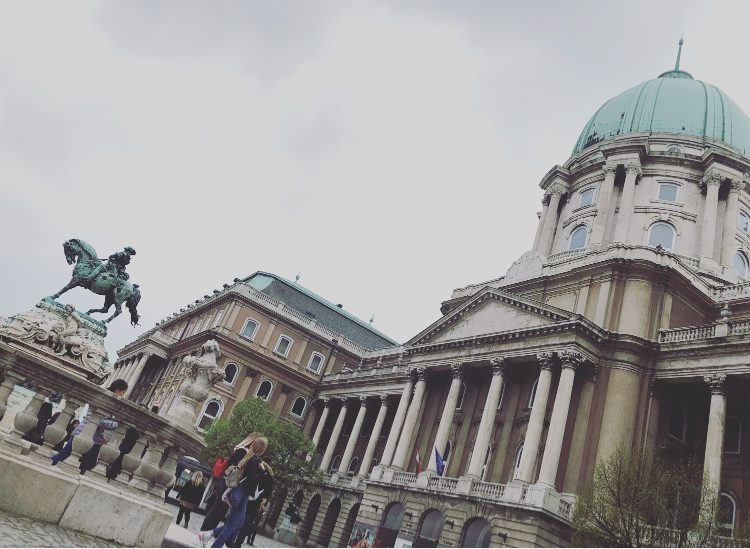 A spectacular 13th-century palace perched atop Castle Hill and overlooking the Danube River is the domineering Buda Castle. Buda Castle is an iconic landmark in the city and has a very long history. Formerly a Royal Palace that was home to Hungarian kings and queens of times gone by.
The Buda Castle is now the home to the Hungarian National Gallery, the Budapest History Museum, National Library, and art galleries and offers various exhibitions. This place is massive, it took us a while to walk about.
We were not interested in the exhibition. If case you would like to take a tour of the Castle and learn all about its fascinating history. Check out the official website of Budavári Palota.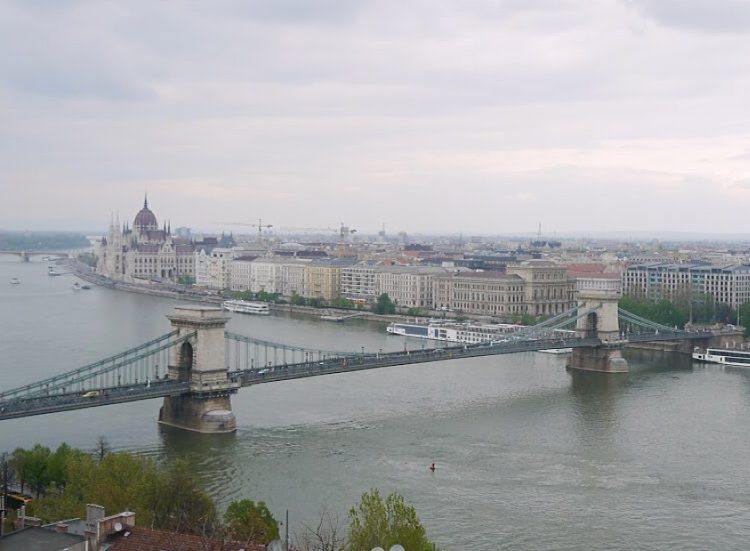 We enjoy our time wandering around castle hill for beautiful views overlooking the Danube and admiring the impressive architecture. We took countless photos and went for a great dessert at Ruszwurm.
Oldest Budapest Cafe, Ruszwurm Confectionery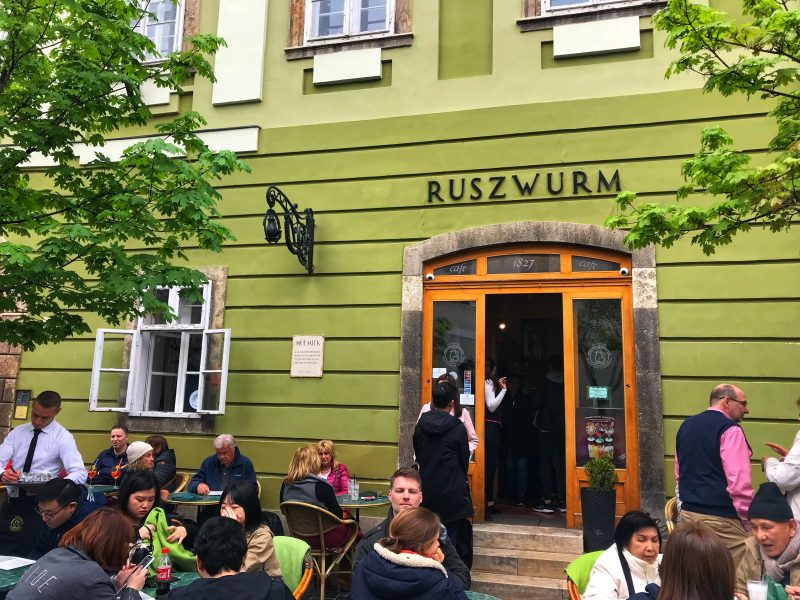 Ruszwurm Confectionery is the oldest of the Budapest cafes, and one of the few to survive the world wars. It is a family-run cafe, serving homemade pastry, cakes, coffee, and strudel. Some cakes are also recommended in Rick Steve's book.
We wish to taste the Ruszwurm Creme, so it is so popular that it was once the Queen of Hungary was craving for the cakes as breakfast. However, that day was superb crowded with a lot of people waiting for their table. Looking at the time, we decided to proceed as we planned to our next destination. Share your experience with us if you have a chance to taste the Ruszwurm Creme.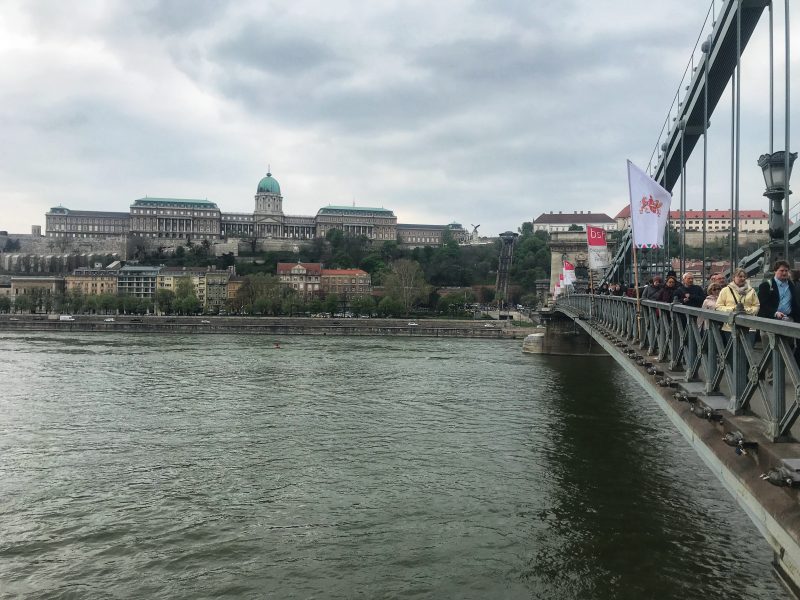 We end our visit at castle hill and slowly talk walk down to the ground and walk across the Széchenyi lánchíd (Chain Bridge). Again, we are still impressed by the beauty of the Danube river when we cross the Chain Bridge.
After that, we took a tram to New York Café for a nice break after a long day's walk at castle hill.
New York Palace Café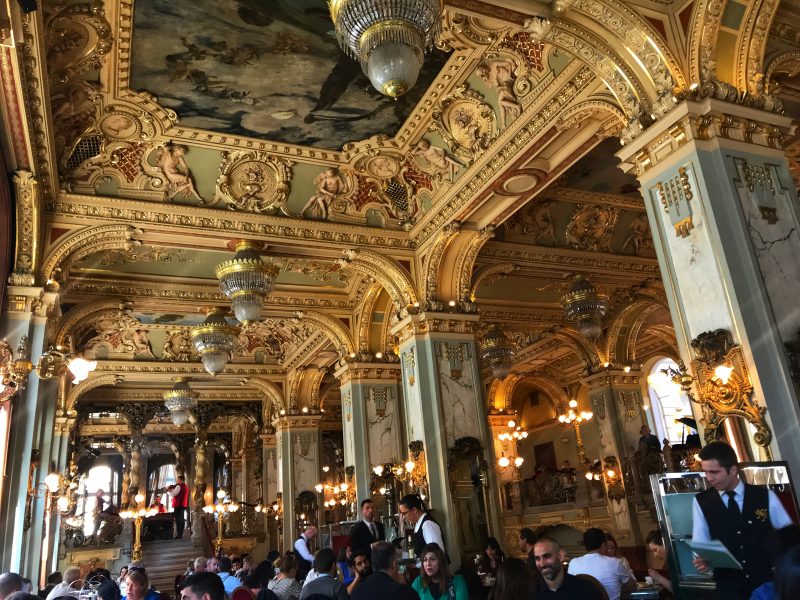 New York Palace Café is the most beautiful cafe in the world. Enjoying leisure evening tea at New York Café is one of the must-do on our Budapest itinerary bucket list. And we are so glad that we have made a reservation one day before as the queue was super long.
Once we entered, we are impressed by the beautiful and elegant interior design, which reminded me of a royal dining room. The service was so fabulous and professional. We ordered coffee and dessert after a long day's walk from the castle hill. We had a great experience at this cafe and would love to visit it for a second time! One of the best places to visit in Budapest.
Wandering Around City Center Nearby Hotel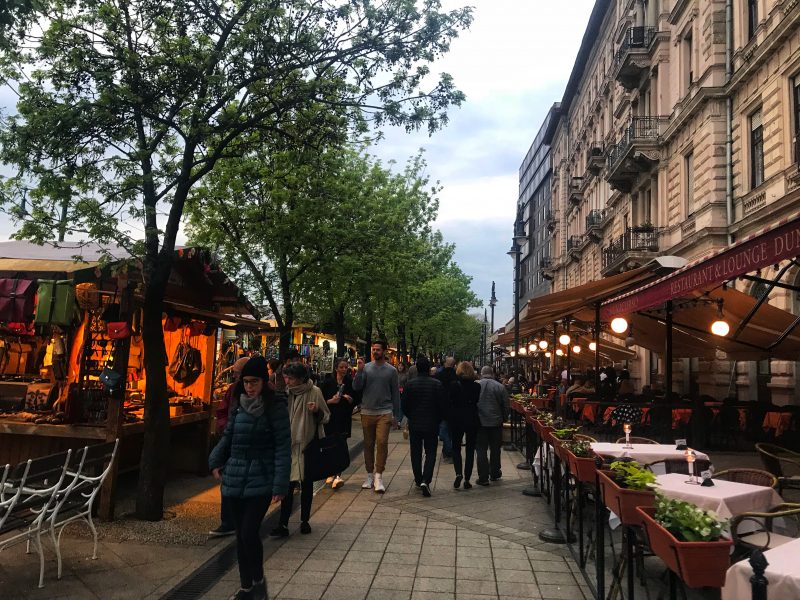 That night, we wandered around nearby our hotel onto Váci Utca, Budapest's famous pedestrian shopping street. We also bumped into the weekend market with lots of Budapest's unique street food, Hungarian local beer, and souvenir nearby the Danube River.
We enjoy our time together with tourists and also locals at the weekend market. A great ending to our second day in Budapest.
Day 3: Explore the Pest Side Of Budapest
We have an enjoyable sleep before kick start our third day on the Budapest itinerary. Somehow skipping the breakfast, we went to Costes Downtown for their business lunch for brunch. It is just a short walking distance from our hotel, D8 Budapest.
Day 3 in Budapest Itinerary:
Explore the Pest Side Of Budapest.
St Stephen's Basilica.
Széchenyi Thermal Bath.
Relaxing Time At Ruin Bar.
Having a meal at the Michelin Star Restaurant.
Lunch at Costes Downtown – Michelin Star Restaurant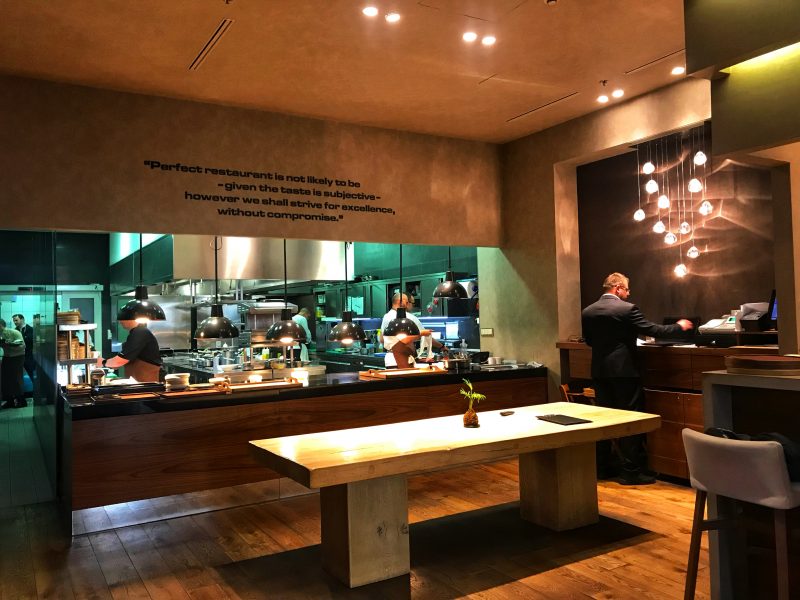 Budapest is a food paradise and Michelin Star Costes Downtown would be on the list of best restaurants in Budapest. Again, we reserved a table in advance to avoid disappointment.
Once we entered the restaurant, we received a warm welcome from the professional staff. We ordered and enjoyed the lunch offer with wine pairing at the most wonderful experience! The food was outrageously good and the atmosphere was perfect.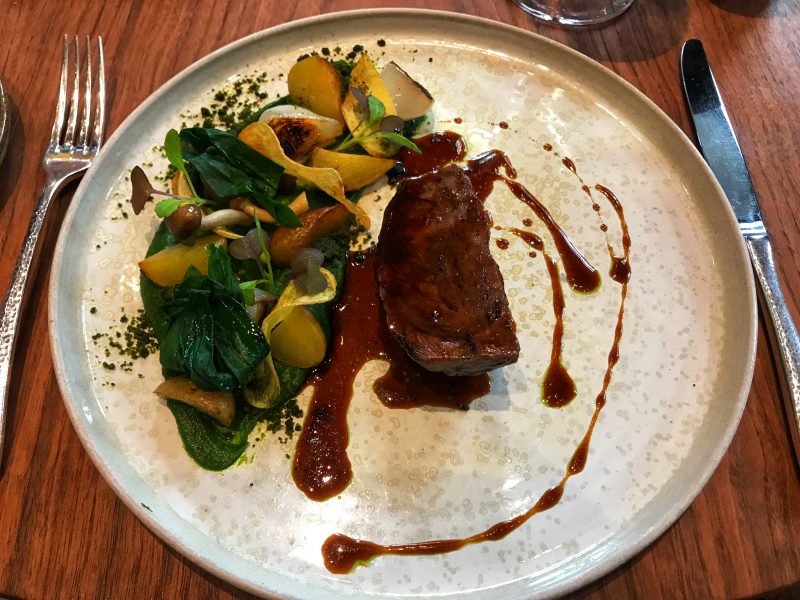 The business lunch menu served at Costes Downtown that we choose comes with a three-course meal. But end up we received more like seven-course if you count the complimentary appetizer, the amuse-bouche, the palate cleanser, and the after dinner confections. The Tokaji wine selected was excellent.
Highly recommended Costes Downtown, especially the lunch offer is a great value for the money!
Read more: See our mouth-watering dining experience in Costes Downtown.
St Stephen's Basilica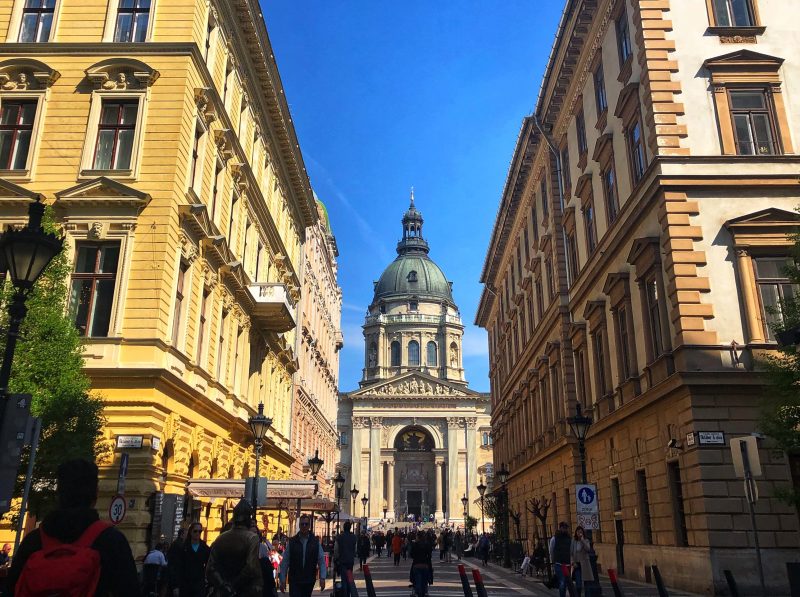 After the wonderful brunch, we were headed to St Stephen's Basilica, one of Hungary's most iconic structures with its 96-meter-high dome. It is the largest church in Budapest which can hold up to 8,500 people.
There is an observation deck for an epic panoramic view of Budapest. It costs HUF 400 by access using 365 stairs while an additional 200 HUF by elevator. The church is free to enter, however, there is a sign suggesting a 1 Euro or 200 HUF donation.
We have a quick visit to St Stephen's Basilica to burn some of the calories before proceeding to the thermal bath.
Széchenyi Thermal Bath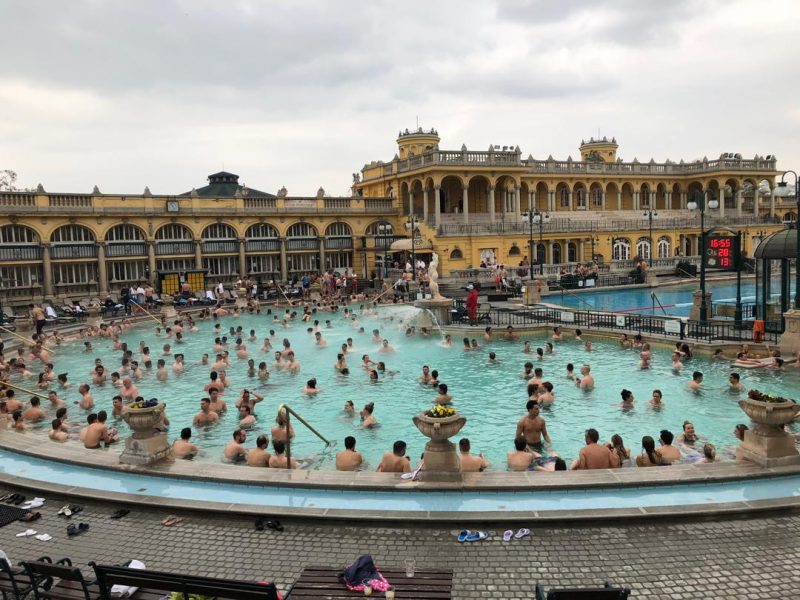 One of the unique things to do in Budapest is relax in a thermal bath. We choose the most famous Széchenyi Thermal Bath to try on our first thermal bath in Europe. We are looking forward to the visit as it is so special just like you are bathing in the luxurious palace.
The Széchenyi Thermal Bath is a luxury Neo-baroque palace with thermal water that is warm year-round. There are so many pools, both inside and outside at varying temperatures. The architecture is amazingly beautiful, you feel as if you are doing something unique to Budapest. Not to be missed!
We love the environment and stayed longer than we expected. Many people including locals come here for relaxing. Beat the queues by booking your Széchenyi Spa ticket online.
We took the full day bath ticket with locker usage. A ticket with the cabin is more expensive because there is much more privacy. Please be warned that there is no changing room in the Szechenyi bath. Even bathrooms for showers are doorless. Oh and please bring your own towel, toiletries, and slippers.
Relaxing Time At Ruin Bar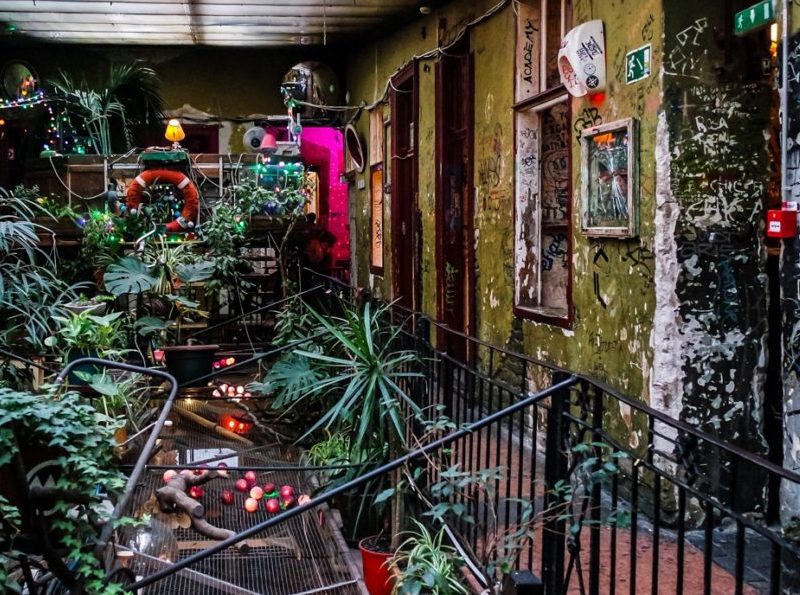 We continue our Budapest exploration to Szimpla Kert, the oldest and largest of ruined pubs in Budapest. Szimpla Kert is the first ruin bar that started the whole concept. The ruin pubs are one of Budapest's unique features and one of the must-visit on your 3 days in Budapest itinerary. The pubs are set up in what used to be abandoned buildings in Budapest's old Jewish Quarter (technically called District VII).
During the daytime, this bar is no less fun! It is packed with people with a great vibe at the ruined buildings. The mismatched furniture, funky art, and music could easily spend a few more hours there. We ordered beers, snacks, and burgers for dinner, and enjoy the wonderful atmosphere.
A spot you can't afford to miss in Budapest. If you'd like to make your way through ruin pubs crawl, you can choose to come at night to experience the unique nightlife in Budapest.
Day 4: Half Day To Explore Budapest That You Miss
This is our last day in Budapest and we only have a half-day before ready to fly back to my home country in the late evening. Instead of planning to visit any attraction to visit in Budapest, we decided to have a nice breakfast and do some shopping in Budapest.
Day 4 in Budapest Itinerary:
Breakfast at STIKA Budapest.
Shopping In Budapest Central Market.
Goodbye Budapest.
Breakfast at STIKA Budapest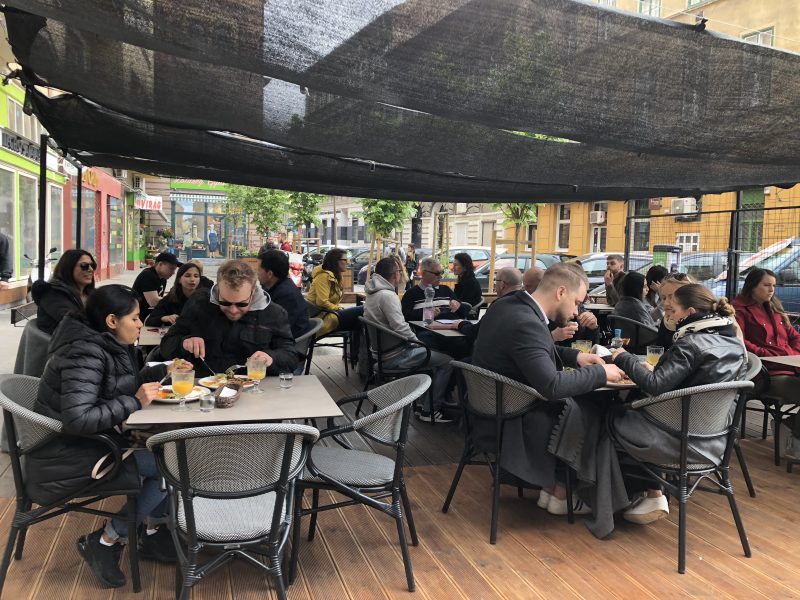 If you are looking for the best breakfast in Budapest, STIKA is the place. This is a very nice place for breakfast or brunch in a cozy area to treat yourself. We went on a weekday morning but also need to queue outside to wait for a table.
After 10 minutes, we were seated outside the covered terrace as the inside is actually limited space.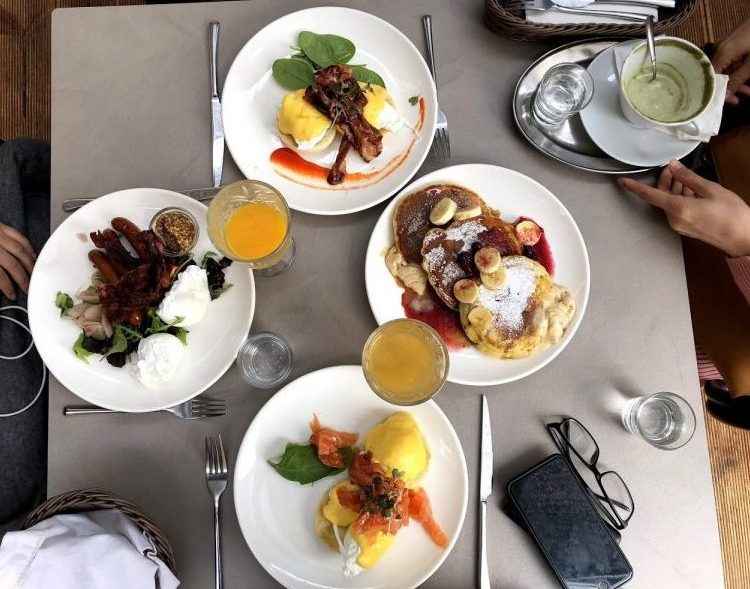 Fantastic choice with a wide range of coffees, juices, and breakfast menu to choose from at a reasonable price. The breakfast set comes with an eggs option and combinations of french toast, mushroom, smokey ham, and greens. We also love Eggs Benedict and pancakes. that we ordered extra.
Well worth a shout! Breakfast heaven and definitely will visit again if we ever come back to Budapest. Prepare to queue as STIKA is superbly popular with visitors as well as locals.
Shopping In Budapest Central Market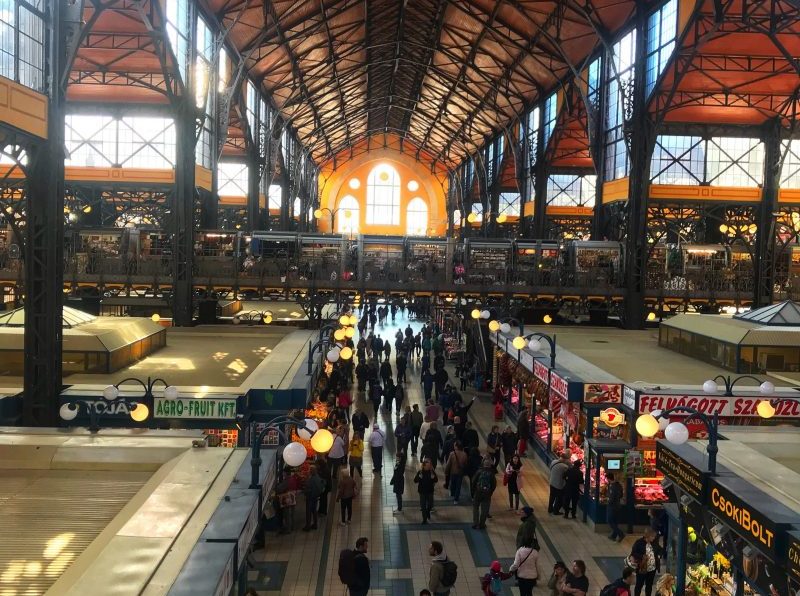 We love to include the market visit when traveling to a new country because the market is so interesting to see the local daily life. We went to Central Market during our last day in Budapest to pick up some souvenirs.
The first floor of the Central Market is full of local produce. Examples like Hungarian red pepper powder and various spices, foie gras, cheese, meat, fresh fruits, vegetables, and a lot of other food products. Yes, foie gras is cheap in Budapest and you would be able to find this low price in Europe.
On the other hand, all kinds of non-food items, souvenirs, and food stalls are located on the second floor to fill you up. So remember don't eat before heading to the Central Market Hall. We had our lunch here too – nothing like having a goulash in a market hall!
In the end, we bring back three full packs of Paprika, local Hungarian sweet wine Tokaji and foie gras from Central Market.
How Many Days In Budapest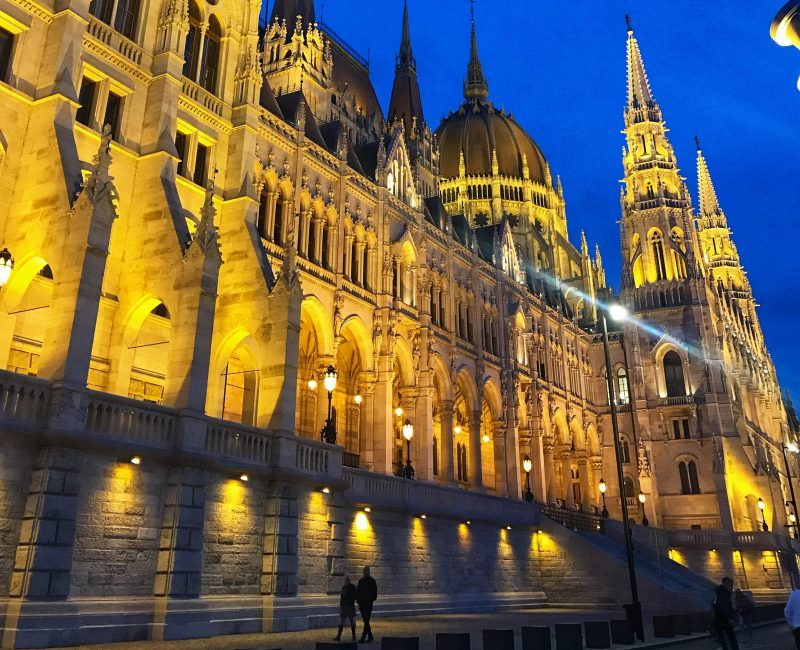 Budapest is a lively city full of exciting sightseeing and awesome food and you hardly feel bored. We have fully utilized our three days in Budapest but it seems like can't get enough.
For first-time visitors, we spend most of our time visiting those MUST VISIT attractions in Budapest. However, we wish to spend more time exploring local's unique activities like Farmer Market, more Ruin Bar, and taste in other restaurants in Budapest. Our Budapest food bucket list includes Menza Restaurant, Ruben Étterem, Gundel Etterem, and more. We never had an empty stomach during our three days in Budapest. Added, we still haven't included the Margaret Island, beautiful Szentendre town nearby, or a day trip to Vajdahunyad Castle.
In short, Budapest is perfect for longer stays, and should not limit to only one or two days of a short visit. But if you wish to pack Budapest into your Central Europe itinerary, probably three or four days in Budapest is a perfect decision.
How To Get To Budapest
Budapest and Vienna are located so close to each other and visiting them both during your Central Europe trip are pretty easy and convenient.
Here is our little transportation guide on how to get to Budapest from Vienna, from and to Budapest Airport, and get around in Budapest with money-saving tips.
Budapest Transportation Guide:
From Vienna to Budapest.
Getting Around in Budapest.
How To Get To Airport From Budapest City Center.
From Vienna to Budapest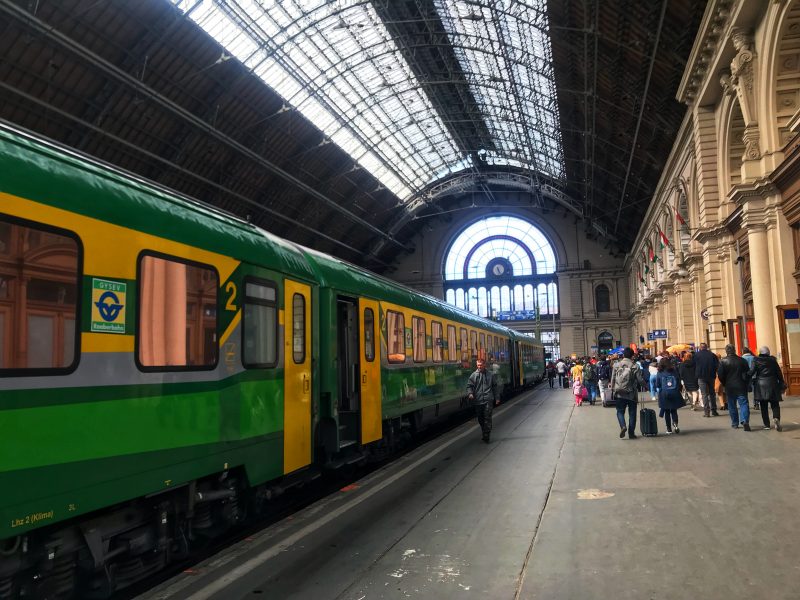 By Train: The faster and easiest way of getting to Budapest from Vienna is by train. ÖBB offers a direct train connection between Wien Hauptbahnhof and Budapest Keleti with approximately 2 hours and 40 minutes ride.
By Bus: One of the cheapest ways to travel from Vienna to Budapest start at €9 with a travel journey is about 3 hours. Flixbus and Rejiojet are the main two companies that offer a seamless bus service to Nepliget bus station in Budapest city center.
By Car: For ease and flexibility, traveling in Central Europe including Hungary or Austria by car is one of the good options. The driving journey from Vienna to Budapest is less than 3 hours. But you can consider dropping by for a day trip to Bratislava or visiting Esztergom at the Slovakian border. Take a look at RentalCar.com to compare your car rental price with the lowest price guarantee.
Early Bird Train Ticket From ÖBB
Booking in advance to save on your transportation fee on getting to Budapest from Vienna. price start from €19 to €40
Getting Around in Budapest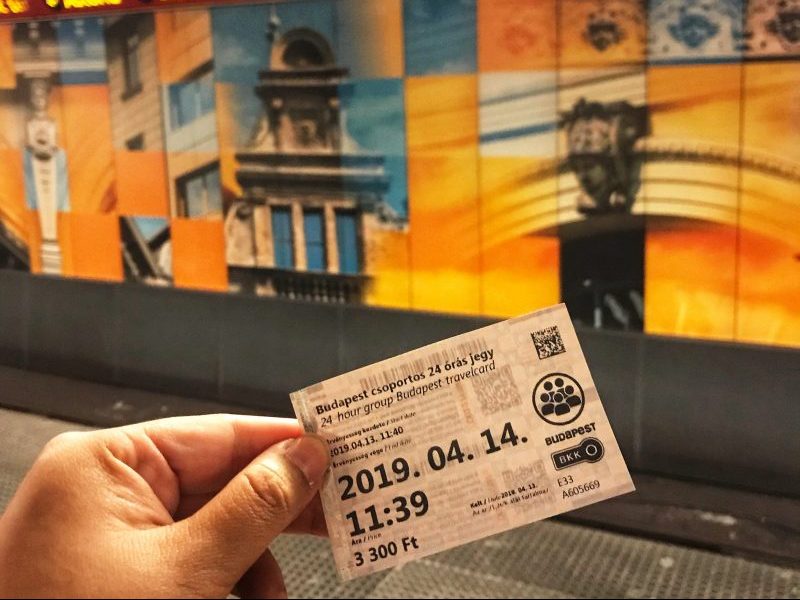 Budapest is not small but very walkable. Besides, one of the best things about traveling to Budapest is a well-connected public transportation network comprised of trams, metro, and buses. You can even get to the city center from the airport by public transport.
However, it may confuse as there is plenty of Budapest transportation ticket or pass selection for the transportation system. For example, you can buy single tickets, a discount coupon book of 10 tickets, a 24 or 72-hour pass, and a 7-day pass to get around in Budapest. Choose the best one that suits your situation.
For group travelers, a 24-hour buddy pass is one of the best money-saving options if you have up to five people traveling together. Don't forget to validate your ticket as the hefty fine for not doing so. We bumped into a few officers to check on the ticket during exit.
Likewise, Budapest Card is another good option for first-time travelers to Budapest with unlimited free rides, free or discounted entry to 60 museums and more than 100 restaurants, tours, and the majority of Budapest attractions. You can choose one day, two days, all the way up to five days, depending on your decision.
It should also be noted that there are three major train stations in Budapest – Keleti ("Eastern") Station, Nyugati ("Western") Station, and Deli ("Southern") Station. So make sure you check which station your train departs from.
How To Get To Airport From Budapest City Center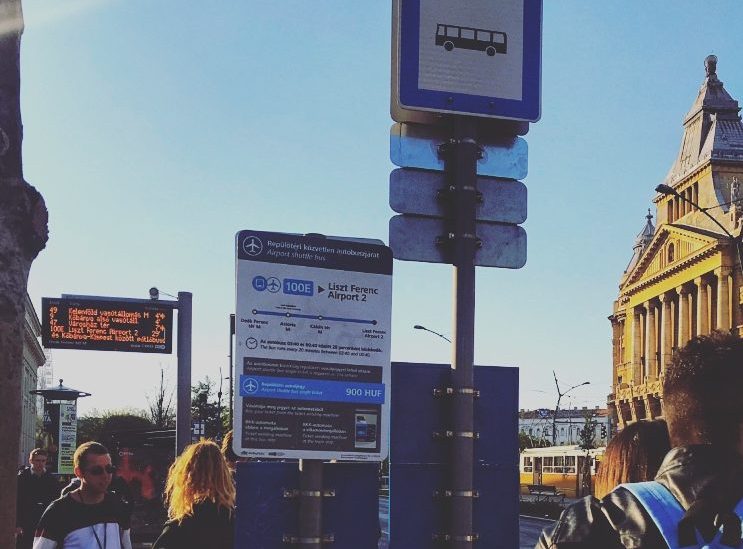 Getting to Budapest Ferenc Liszt International Airport (BUD) from the city center or reserving directions by using public transport is pretty simple. Two lines connect the airport and Budapest city center; 100E and 200E.
By Bus 100E: Take the airport bus line 100E directly from Deák Ferenc tér to the airport. It cost about €3 (900 HUF) and departs every 30 minutes with an approximately 35 minutes bus journey.
By Bus 200E: Alternatively, you can also take the tram to the M3 Metro line to Kőbánya-Kispest station, and then changed it to bus line 200E. The transportation fee is included if you are using the day pass.
If you are a first-time traveler and prefer to travel in comfort and ease, you may consider taking a private transfer from BUD Airport to your hotel in the city. This is the best decision as it saves you a lot of hassle and the price is reasonable. Booking was very easy and straightforward. High recommended.
Overview: Planning on Budapest itinerary
As you can see, there are so many attractive places to visit and things to do in Budapest. This amazing city exceeded all of our expectations. We spend three full days in Budapest in total excluding the traveling time. We have initially planned to do a day trip out of Budapest but canned the idea later and decided to spend a little more time in Budapest.
With some careful Budapest itinerary planning, we truly enjoyed this spectacular place and saw a lot in these few days. But still only a fraction of what the city has to offer. We know we'll be back to visit Budapest again.
Lastly, we hope this Budapest itinerary with all insider tips and recommendations can help you to plan for your incoming trip. Have a great trip to Budapest. Don't forget to check out our Budapest travel blog below:
Find out where and what to eat when visiting Budapest: The Must Eat Food Guide in Budapest.
Read More On Our Central Europe Trip
For an itinerary that covers the Czech Republic, Austria, Hungary, and other interesting cities, feel free to check out this Central Europe Itinerary in more detail.