Last updated on December 11th, 2023
While making your trip to Hokkaido, there are many things to do in Sapporo. This Sapporo travel guide blog with introduce my 2-Days Sapporo itinerary and all the must-visit best sights in town.
Sapporo is located in the northern Prefectures of Japan. It is the fourth largest city in Japan by population and the largest city in Hokkaido. Sapporo offers so many things to do, places to visit, and food to eat here. It is best to give yourself at least 1 day to 2 days in Sapporo to explore this charming city. You will be delighted by its attraction, food, and drink, shopping as well as nightlife in this wonderful city.
If you are to visit Sapporo during winter, remember to include Sapporo Snow Festival. This Japan's greatest winter festival is usually held in February at Sapporo. I can imagine it would be super cold though.
Sapporo is our last visited city before leaving Japan. It is the closest city to the international airport, New Chitose Airport. My visit is at the end of May. This is not a peak season for the flower blooming in Hokkaido. However, we enjoyed our trip to Hokkaido.
In this Sapporo travel guide blog, we will show you how to plan your Sapporo itinerary with top things to do, where to stay and food to eat, and transportation for getting around in Sapporo. And some of the money-saving tips and travel guides. Let's check it out.
Pre-Trip Essential: Transport
By Air: New Chitose Airport (CTS) is the largest and busiest airport in Hokkaido. However, this international airport is limited to direct flights from certain Asia countries including China, Korea, Malaysia, Thailand, Taiwan, and Hongkong. Most journeys are flying domestic from Tokyo or Osaka which is served by Japan Airlines (JAL) and All Nippon Airways (ANA).
Use Skyscanner to find the Best Flight Deal
By Rail: Sapporo is accessible by rail from other major cities in Hokkaido and even Tokyo. However, it is advisable to book a JR pass if you are planning to get to Sapporo from Tokyo. You may include Hakodate into your Hokkaido itinerary before visiting Sapporo.
JR Pass will save you a lot of money if you are traveling from Tokyo to Sapporo by rail. The JR Whole Japan Pass and JR East South Hokkaido Rail Pass are great options.
To save on transportation, Klook offers the cheapest JR pass with free delivery to your home.
From New Chitose Airport to Sapporo City
From New Chitose Airport, the JR train is the easiest way to get to the city center. Rapid Airport Express has connected to Sapporo from New Chitose Airport Station. The train station is located on the first floor of the domestic terminal building. Follow the well-marked sign that will get you to the train station. The fare is ¥1,070 for one way and an additional ¥520 for reserved seats. But you can just simply hop on to the train with unreserved seats. Travel time is approximately 37 minutes.
Alternatively, you can use the Airport Buses to Sapporo downtown including Susukino, Odori Park, and Sapporo Station. Bus fare at ¥1,030 with 80 minutes.
Getting Around in Sapporo City
It is easy to explore the city center on foot. Else, the subway is a great option for long-distance. One way of a subway ride is about ¥200 depending on the distance. Get the one-day pass if there is more than three subway ride per day. The Subway 1-Day pass costs ¥830 and Donichika Ticket, only weekends costs ¥520 for unlimited use of Sapporo's subway line within one day.
Alternatively, it is advisable to get the IC card to skip the ticket purchasing process. Kitaca Card is Hokkaido's IC card, similar to Tokyo's Pasmo or Suica and Osaka's ICOCA. All the IC cards can be used within Japan for It can be used for both train and bus rides.
You can book your Kitaca card via Klook and pick it up at the airport or Sapporo TV tower. The card is preloaded with ¥1,500.
Planning on Sapporo itinerary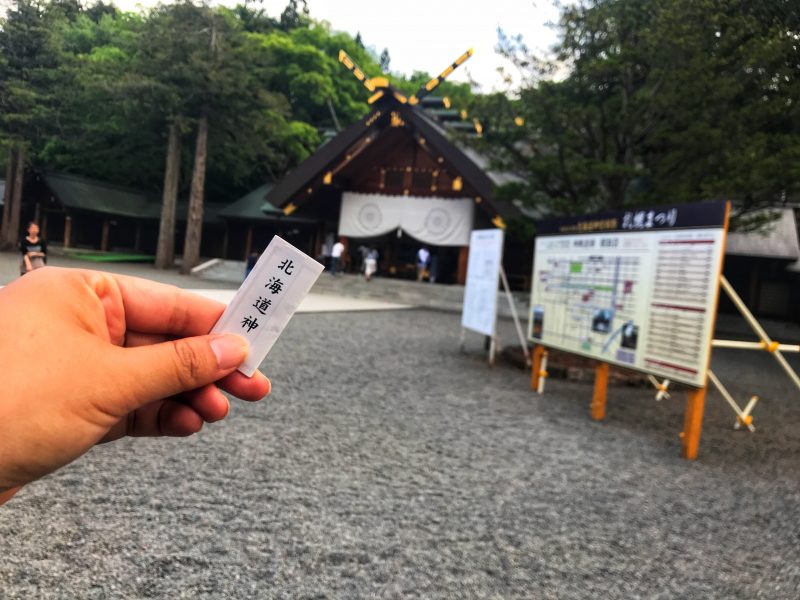 There are plenty of things to do in Sapporo and nearby for your Sapporo itinerary. It is always a great base to travel around within Hokkaido. Here are the suggested places for getting around in leisure within 1 or 2 days. Some of the attraction is not centrally located in the city area and required traveling time. So please allow on some buffer time when you planning on your itinerary.
Day 1 Sapporo Itinerary:
Seafood feast in Sapporo Central Wholesale Market or Nijo Market (1-2 Hours)
Visit Shiroi Koibito Park (2 Hours)
Hitsujigaoka Observation Hill (2 Hours)
Know the history and beer testing at Sapporo Beer Museum (2 Hours)
Dinner with Sapporo local specialties (2 Hours)
Day 2 Sapporo Itinerary:
Relaxing stroll at Odori Park, Sapporo TV Tower, Former Hokkaido Government Office, and Sapporo Clock Tower (1-2 Hours)
Pray in Hokkaido Shrine and Maruyama Park (2 Hours)
Sapporo Night Life: Susukino and Tanukikoji Shopping Street (2 Hours)
All the attractions are only a suggestion and can be visited all year long. You are free to squeeze and adjust into a day Sapporo itinerary. But taking account of the time to taste Sapporo's best food, we make it into two days Sapporo itinerary for a leisure trip.
Day 1 Sapporo Itinerary
I've put together some of Sapporo's must-visits on the first day but some of the attractions are not located in the central town. You can adjust your trip by choosing which sights you want to visit on the first day.
Day 1 in Sapporo: Sapporo Central Wholesale Market, Shiroi Koibito Park, Hitsujigaoka Observation Hill, Sapporo Beer Museum.
Sapporo Central Wholesale Market
It is so interesting to see the local daily life through a visit to the local market. We love to include a market visit when traveling to a new country.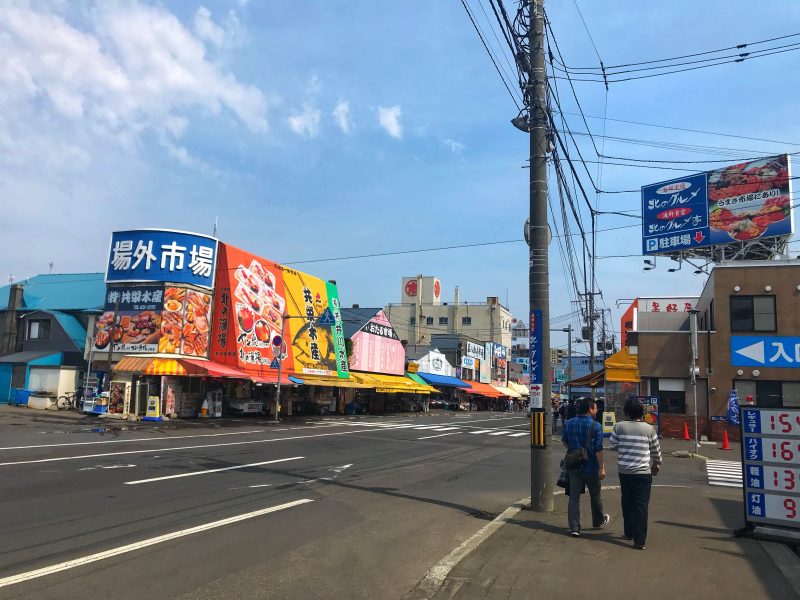 Sapporo Central Wholesale Market (札幌市中央卸売市場) is the central market hub in Hokkaido. It has over 60 stores in 2 lines, selling fresh ingredients, live seafood, and fruits at a cheaper price. The best place to eat fresh seafood, sashimi, and local product here.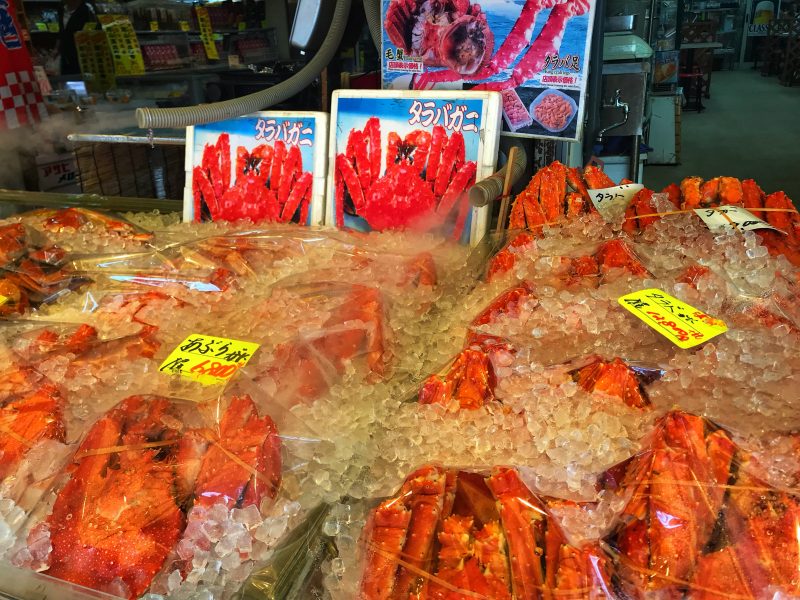 It was interesting to walk around and enjoy the sights of customers negotiating prices with vendors at the stalls in Japanese.
We love to check on the different types of crab such as king crab, hairy crab, and snow crab. All are very famous and signature in Hokkaido. While the price is not cheap even in the wholesale market.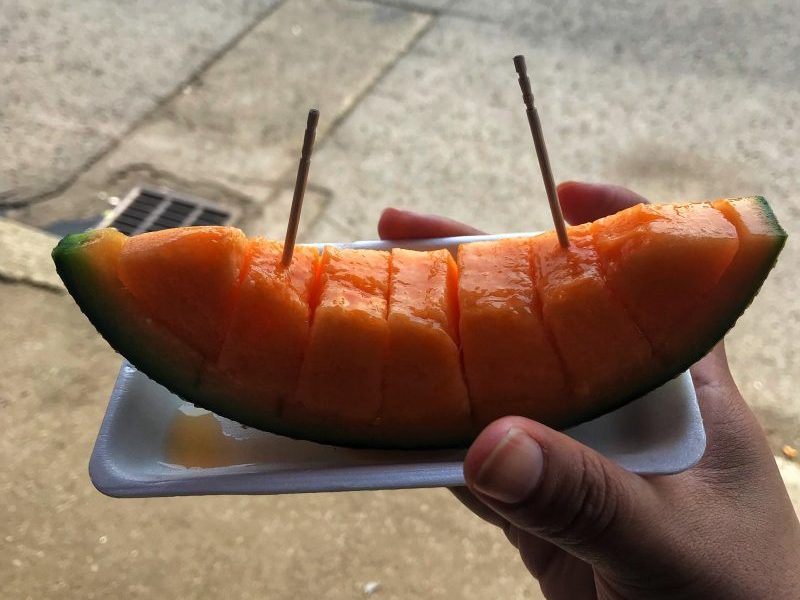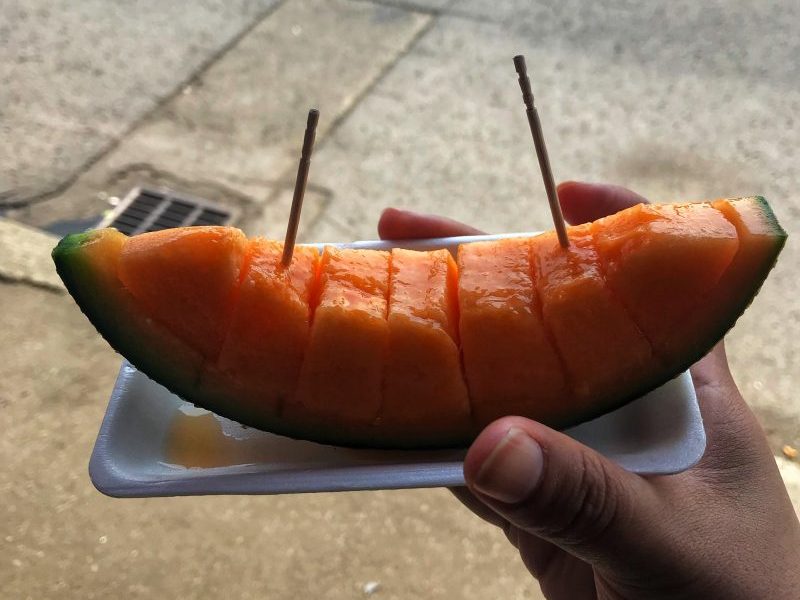 Don't forget to try Hokkaido's most famous fruit, the Yubari melon. The expensive Yubari Melon is sold here and it cost about ¥300 on a single slide. We have a great visit to the wholesale market.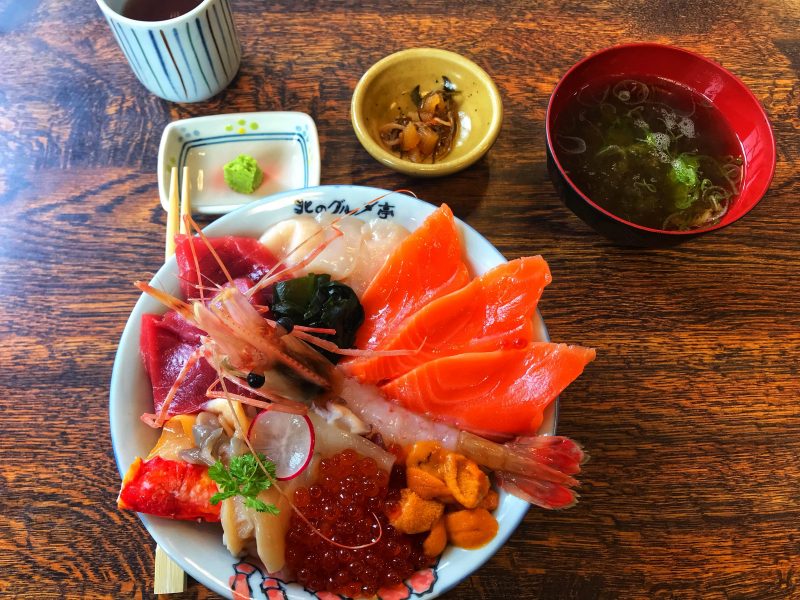 Next, we proceeded to Curb Market. The Curb Market, or called Jogai Ichiba (札幌場外市場) is the ideal place for yummy local breakfast. It is just located beside the wholesale market, served freshly cooked food.
Our breakfast is ended with a big bowl of seafood don (Kaisendon) in one of the famous restaurants (海鮮食堂 北のグルメ亭). It is the seafood market where you can get some fresh seafood to go. But you can opt to purchase and ask the kitchen to serve fresh or cook it for you. The fresh sashimi rice bowl is one of the best kaisendon in Sapporo. The taste was not too bad but we still preferred the one in Otaru. The Kaisendon costs about ¥3,200.
Sapporo Central Wholesale Market
Address:
2-3 North 11, West 21, Chuo-ku
Price:
Free admission.
Opening Hours:
Daily from 6:00 – 15:00 (restaurants open at 7:00).
Duration:
1 to 2 hours required.
Access:
7-minutes walk from Nijyu-yonken Station, Exit 5.
Nijo Market
If the Sapporo Central Wholesale Market is not convenient for you, consider visiting the Nijo Market. The Nijo Market (二条市場, Nijō Ichiba) is a public fish market in Central Sapporo. It is easy to access in Sapporo downtown and nearby the Tanukikoji shopping street. So, it is more commercial compared with Sapporo Central Wholesale Market. It is not too big with shops that occupy about one or two city blocks. Majority of shops sell both fresh and dry seafood, and local produce.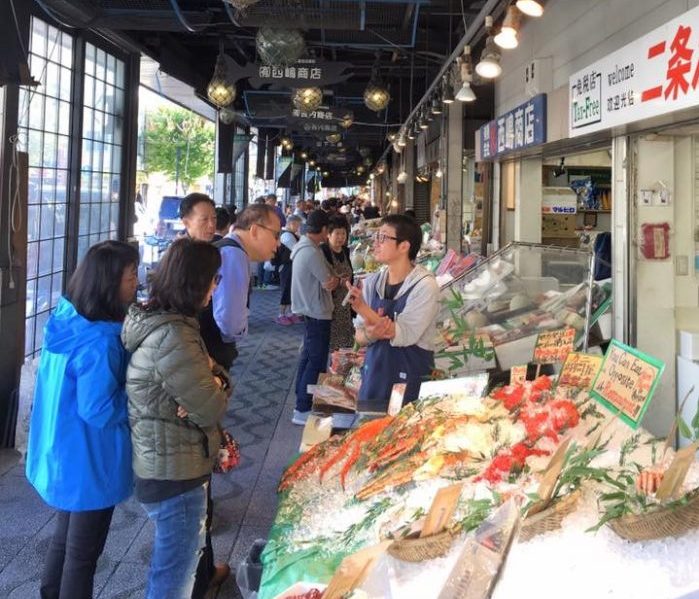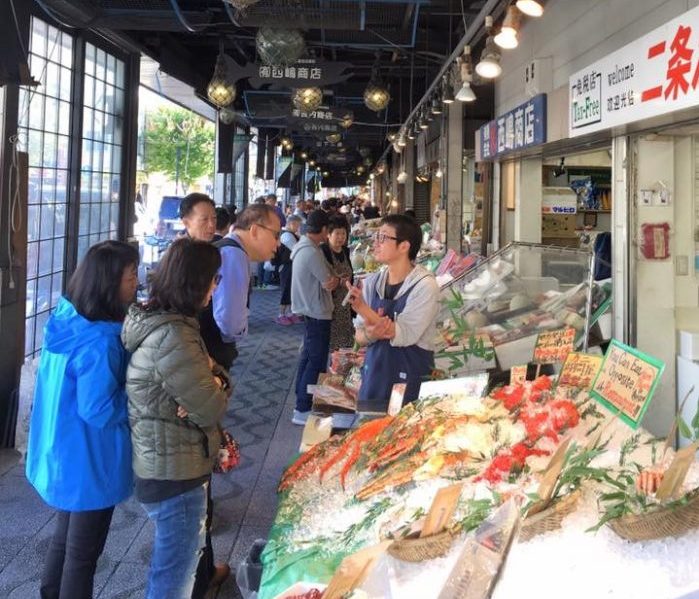 The location is easily accessible and convenient located in the city center. So most of the time it is crowded with tourists from all around the world. But it is worth spending some time wandering around to check on any local products and souvenirs.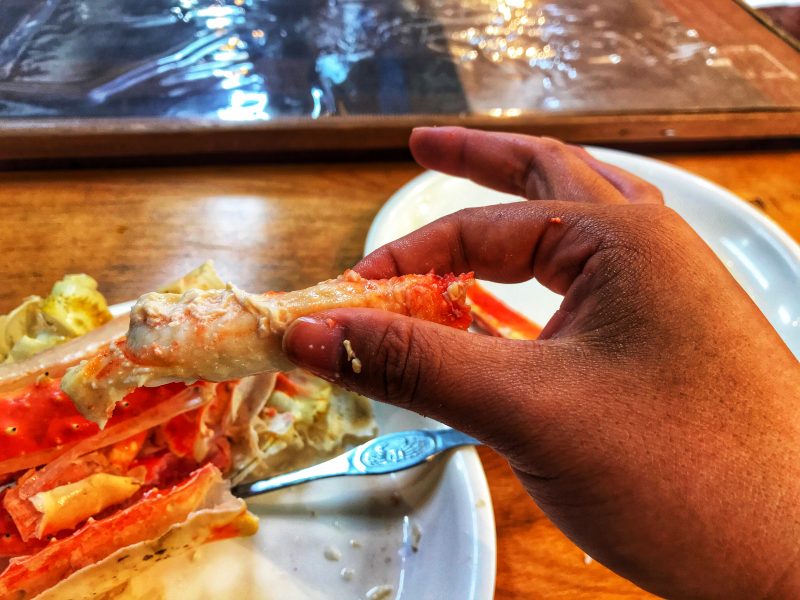 It was not too bad during our visit. We got the fresh crab for snacks at a cheaper price in the late morning. If you are interested, Nijo Market is a great place to know more about the fish market in Sapporo. Crabs line up in front of the stores with a unique taste of the market.
There have many small stalls where you can choose your live crab cooked for you immediately. We bought a king crab from one of the seafood stalls and have a taste of it. Fresh!
Nijo Market (二条市場)
Address:
1 Chome Minami 3 Johigashi, Chuo Ward, Sapporo
Price:
Free Admission
Opening Hours:
7:00 – 18:00
Duration:
Around 1 hour
Access:
5-minute walk from Odori Station
Shiroi Koibito Park
Next, we proceeded to Shiroi Koibito Park (白い恋人パーク). Shiroi Koibito Park is a mini theme park, run by Ishiya Company with a beautifully decorated tin toy exhibition and flower garden.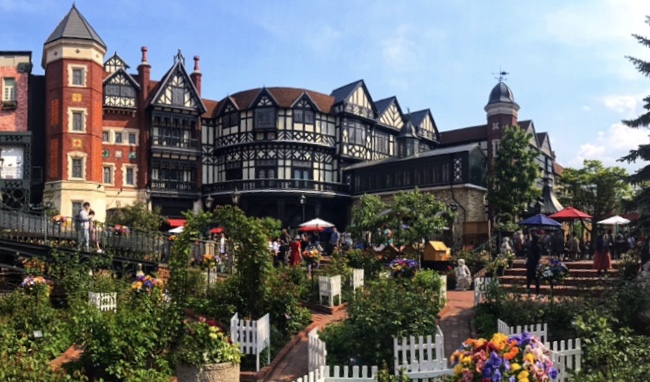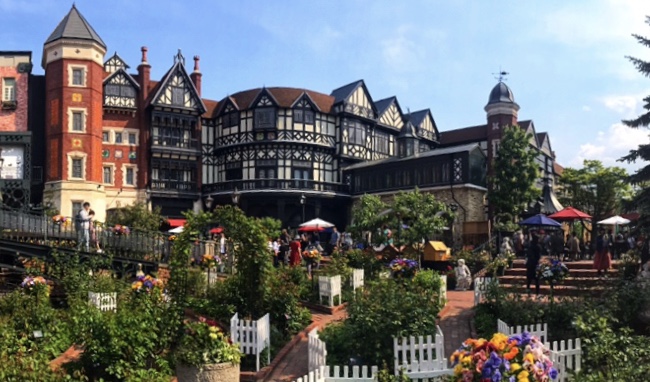 The company's flagship product is the famous Shiroi Koibito cookie, which consists of a layer of white chocolate sandwiched by two thin butter cookies. Many people are craving this sweet dessert and it is one of the famous souvenirs from Hokkaido.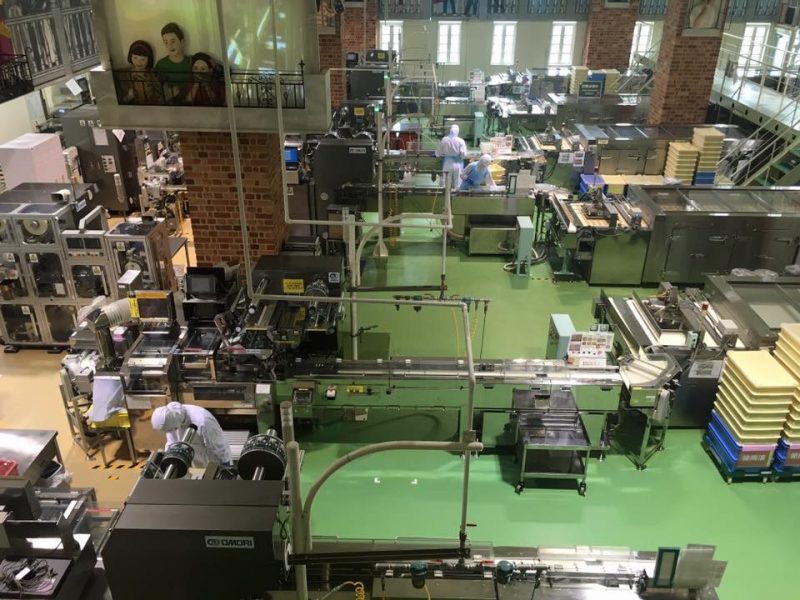 The park entrance is free but you can join the factory tour which costs ¥600. The tour will show you how the Shiroi Koibito cookies are made from assembly into the packaging.
Make sure to reserve the cookie-making class in advance if you wish to make your own Shiroi Koibito cookies. We did not join the class and enjoyed taking photos in the park. (Click for booking here)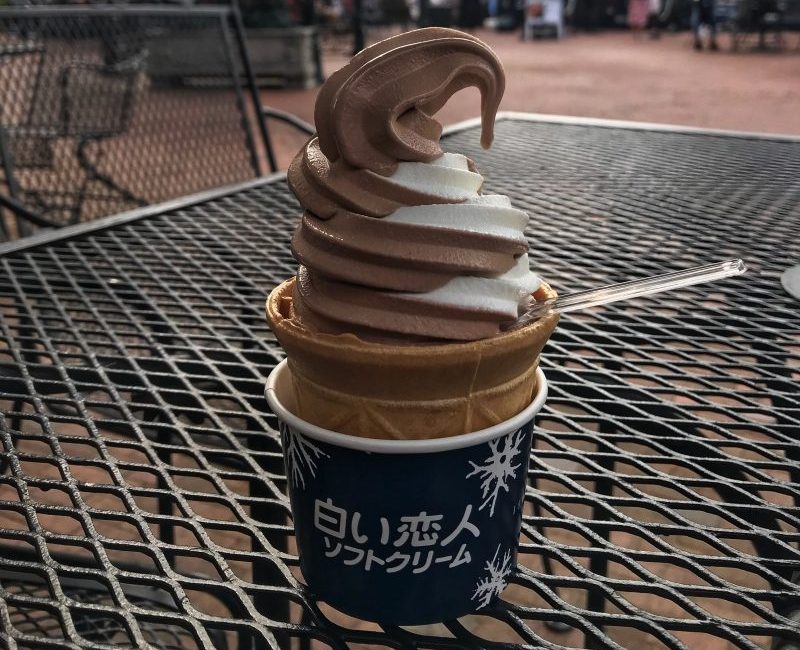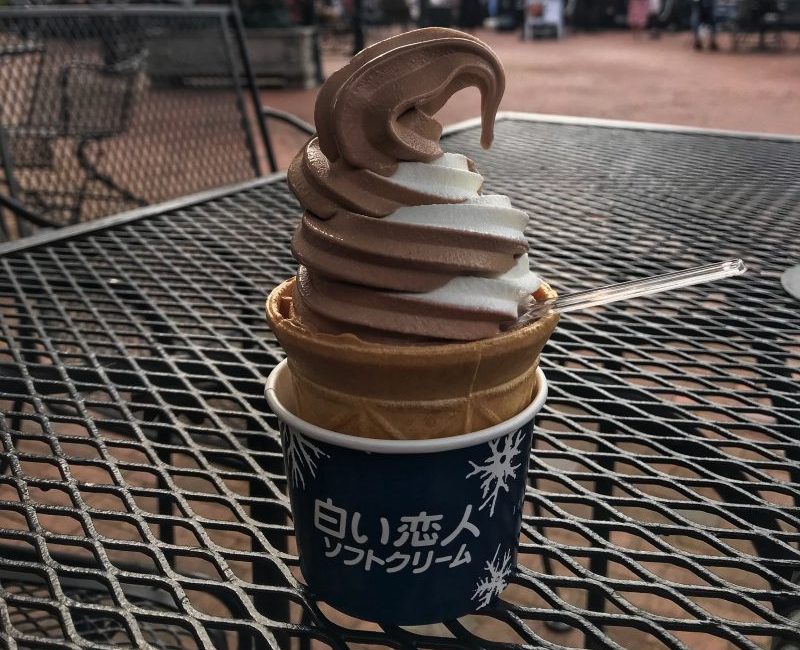 Do try their soft serve ice cream after walking and taking photos. A good cup of coffee or a blended white chocolate ice cream visits sweet memory. The selling price of the Shiroi Koibito cookie is the same at other places. So, no need to purchase here unless you are getting the exclusive cookies.
Shiroi Koibito Park (白い恋人パーク)
Address:
Miyanomori 2-jo 2-chome, Nishi-ku
Price:
Park entrance is free and ¥600 for factory tours. Separate charges apply for Cookie Craft Studio workshops.
Opening Hours:
9:00 – 18:00 (last admission at 17:00)
Duration:
Around 2 hours.
Access:
7-minute walk from Miyanosawa Station on Tozai Subway Line
Hitsujigaoka Observation Hill
Our next stop is Hitsujigaoka Observation Hill (羊ヶ丘展望台) which is located 40 minutes away from the city center. We took the subway to Fukuzumi station (Toho Subway Line). Next, change to the bus (No. 84) that will take you to the hill.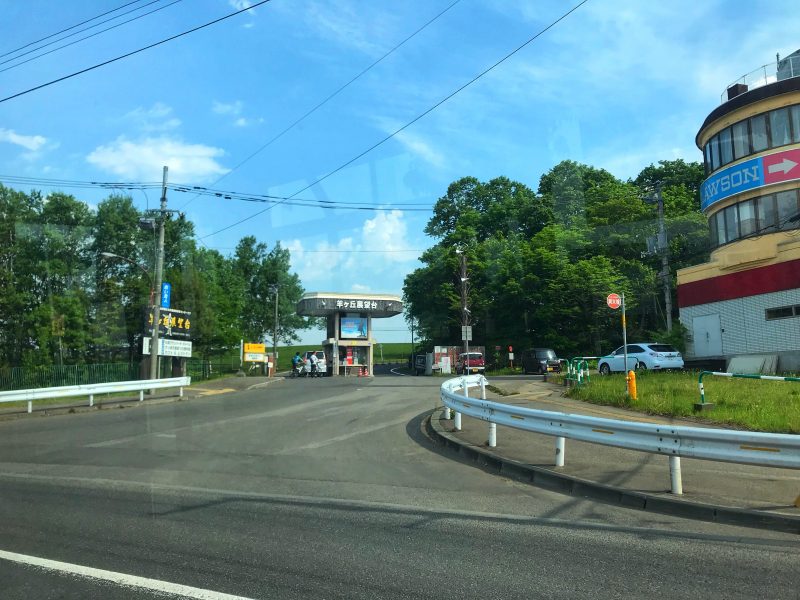 Hitsujigaoka Observation Hill is the last stop of the bus ride. The bus stops conveniently just outside the ticket booth.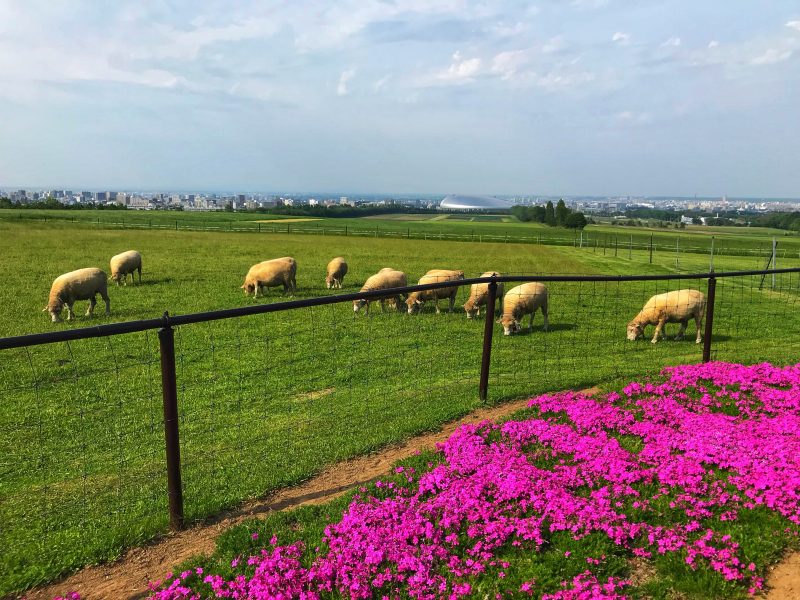 Hitsujigaoka Observation Hill is an important historical place and was very important for agriculture. This place will make you feel like in the countryside with sheep in the gated fields.
Check out the famous bronze statue of Dr. William S. Clark and his famous quote "Boys, Be Ambitious". Overall, the view was nice but nothing special. It is good to have one hour of relaxing time here. We spend about 1 hour before heading to the next destination.
Book Your Hitsujigaoka Observation Hill from Klook to speed up the ticketing process.
Hitsujigaoka Observation Hill (羊ヶ丘展望台)
Address:
Hitsujigaoka-1, Toyohira-ku, Sapporo City
Price:
¥540
Opening Hours:
All-day
Duration:
1 to 2 hours.
Access:
10-minute bus ride from Fukuzumi station on Toho Subway Line.
Sapporo Beer Museum
Built on the grounds of a former brewery during the Meiji Period, the Sapporo Beer Museum has been registered as a Hokkaido Heritage Site since 2004.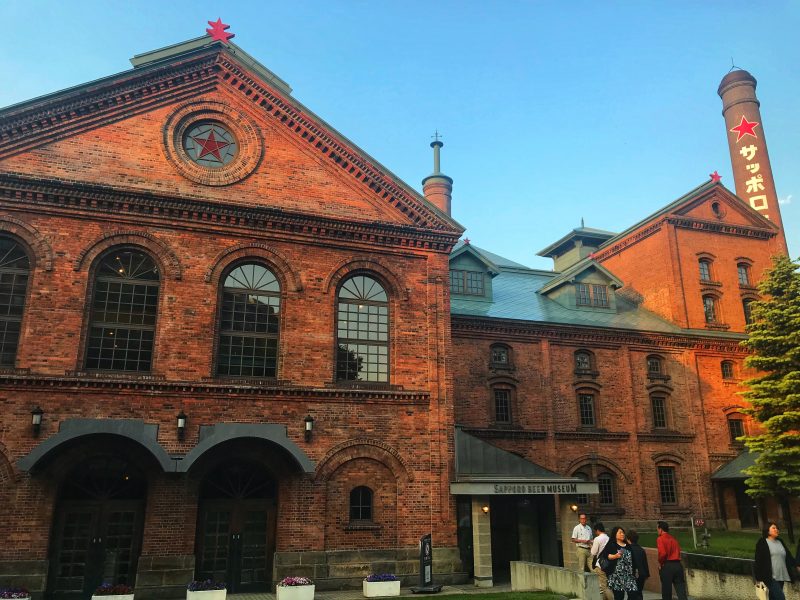 Visit Sapporo Beer Museum to know more about the history of Sapporo Beer. Sapporo beer and Asahi are the two famous beer producers in Hokkaido.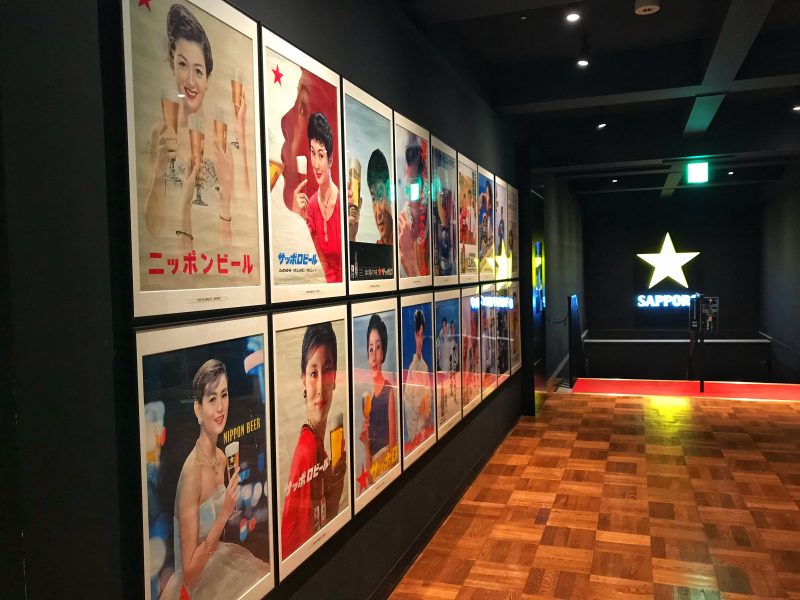 We choose to visit Sapporo Beer Museum as it is the only beer museum in Japan. However, the tour is only offered in Japanese. So we did the self-guided tour through the displays for a free beer factory tour.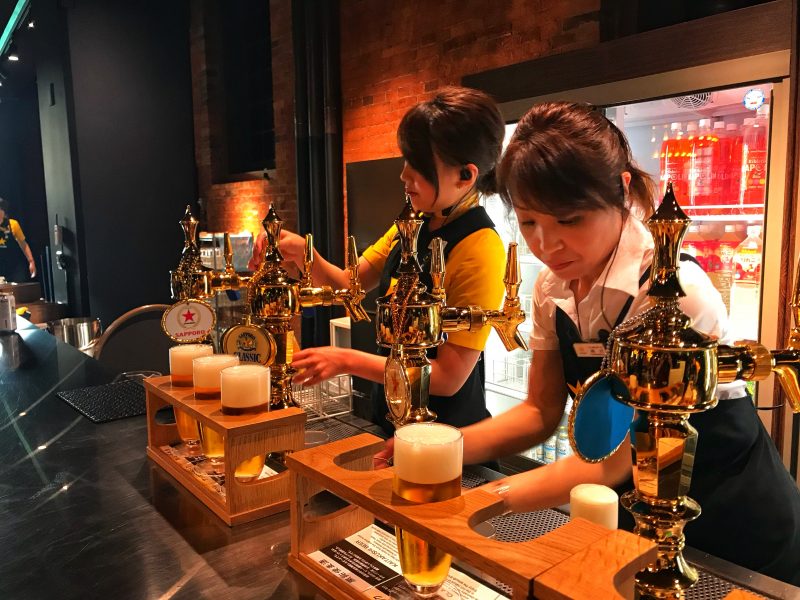 Don't forget to get the full experience with beer tasting at the end of the tour. Just purchase the tasting ticket at the vending machine and stand in line for the beer. You can have 3 different types of beer at ¥800. The Sapporo black label is my favorite!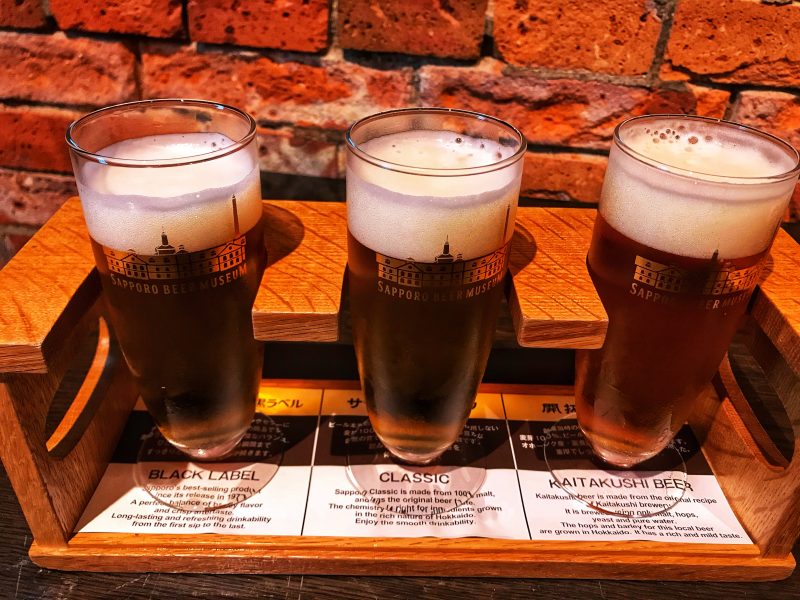 Additionally, you may also enjoy the all-you-can-eat buffet with over 20 types of local specialty dishes, including king crab, snow crab, and Genghis Khan pot at Trommell Hall dinner. Additionally, you can pair your food with a free flow of Sapporo beer, and sake. It is one of the popular buffets in Sapporo. Reservation is highly recommended as it is always fully booked. (Prebook your unlimited crab and Lamb BBQ dinner here)
Sapporo Beer Garden
Address:
9-2-10, Kita7Jo, Higashi-ku, Sapporo City
Price:
Free Admission.
Opening Hours:
11:00 – 20:00
Duration:
1 to 2 hours
Access:
10-minute walk from Higashi Kuyakusho Mae Station, exit 4.
Day 2 Sapporo itinerary
Our second day in Sapporo is more focusing on the city center. Some of the attractions are approximately close to each other within walking distance.
Day 2 in Sapporo: Odori Park, Sapporo TV Tower, Former Hokkaido Government Office, Sapporo Clock Tower, Hokkaido Shrine, Susukino, and Tanukikoji Shopping Street.
Odori Park And Sapporo TV Tower
The Odori Park (大通公園, Ōdōri Kōen) is lovely and well-kept in the heart of the city. It is a popular picnic and relaxation spot for locals and visitors. Enjoy the relaxing stroll and stop to admire the flowers or feel the wind in your hair.
The Sapporo TV Tower is located at one end of the Odori Park in central Sapporo. This iconic tower is hard to miss when you are getting into Odori Park. It was once the tallest building in Sapporo until replaced by Sapporo Station in 2003.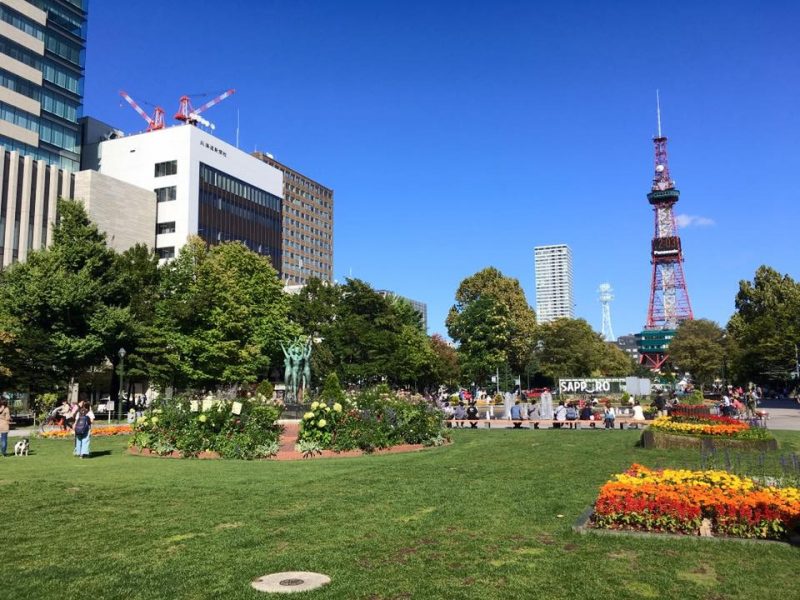 Nowadays, Sapporo TV Tower is the prime viewing location above Odori Park. Added, you will get to see a 360-degree view of Sapporo City from above. The best viewing time is during the evening. So do expect a queue at the ticket booth. Alternatively, you can purchase tickets online to skip the queue.
Klook offers a discounted ticket for Sapporo TV Tower. Instant confirmation on Sapporo TV Tower and present the e-voucher at the Observation deck entrance. (Sapporo TV Tower from Klook)
While Odori Park is the place for many Sapporo Festivals such as Sapporo Snow Festival during winter If you are coming in February, Odori Park is the biggest of the venues, hosting the Sapporo Snow Festival for a 7-days celebration. Snow and ice sculptures emerge at a handful of sites around Sapporo, creating a lovely winter wonderland scene. Don't forget to include Odori Park in your Sapporo itinerary if you are coming during the festival season.
During Summer and Autumn, there is also a seasonal festival with massive food and drink stalls will be run inside the park. Locals enjoy their time to relax and unwind with family and friends.
Sapporo TV Tower
Address:
1 Chome Odorinishi, Chuo Ward, Sapporo, Hokkaido 060-0042, Japan
Price:
Adult (¥720), children at ¥600(16-18), ¥400(13-15), ¥300(6-12), ¥100(3-5)
Opening Hours:
9:00 – 20:00 (Hour of operation change at different season)
Duration:
1 to 2 hours
Access:
3-minute walk from Odori Station. Alternative, 15 minutes walk from Sapporo Station.
Former Hokkaido Government Office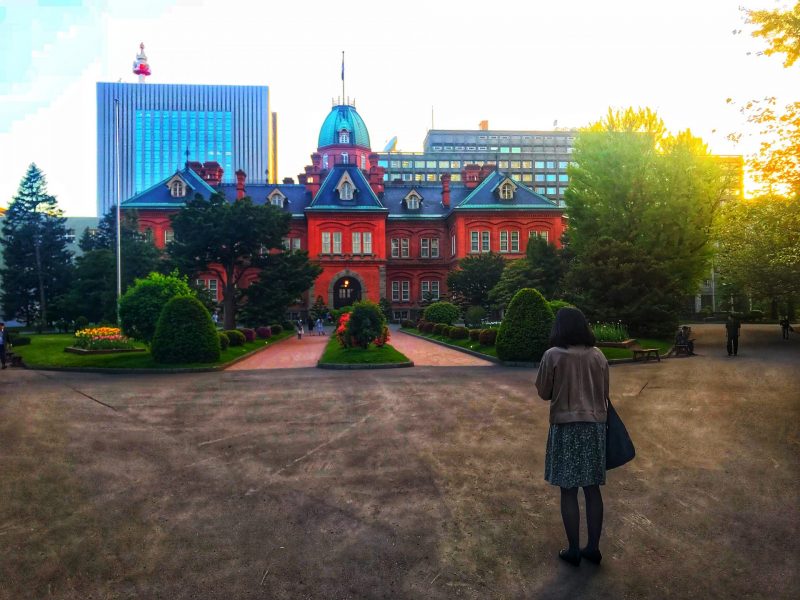 There is also the Former Hokkaido Government Office located nearby Odori Park. Nowadays, this historical building has been preserved as a museum and is open to the public for free. It holds and displays a lot of information and the history of Sapporo.
The Baroque style red brick house is one of the popular attractions for visitors. Get in your step to wander around in the beautiful garden and enjoy the unique red building. A lot of photo opportunities and worth to detour to take some nice photos here.
Former Hokkaido Government Office
Address:
6 Chome Kita 3 Jonishi, Chuo Ward, Sapporo, Hokkaido 060-8588, Japan
Price:
Free
Opening Hours:
8:45 – 18:00 (Close at Saturday and Sunday)
Duration:
30 minutes to 1 hour
Access:
10-minute walk from Odori Park.
Sapporo Clock Tower
A few blocks away is another iconic Sapporo attraction. The Sapporo Clock Tower (時計台, Tokeidai) is one of the symbols of Sapporo. This wooden building was constructed in 1878 but still functions today.
It is now served as a museum with the first floor exhibited about Sapporo's history. While the second floor hosts a music hall and an exhibition about the clock itself. The entrance fee is ¥200. We did not visit inside, instead, take a look at the building outside.
Sapporo Clock Tower (時計台)
Address:
North 1, West 2, Chuo-ku, Sapporo City
Price:
¥200
Opening Hours:
8:45 – 17:10 (last admission at 17:00)
Duration:
Less than 1 hour.
Access:
10-minute walk from JR Sapporo Station, south exit.
Hokkaido Shrine
Build-in 1869 after the Meiji Emperor, Hokkaido Shrine (北海道神宮, Hokkaidō Jingū) is the most important Shinto shrine in the city.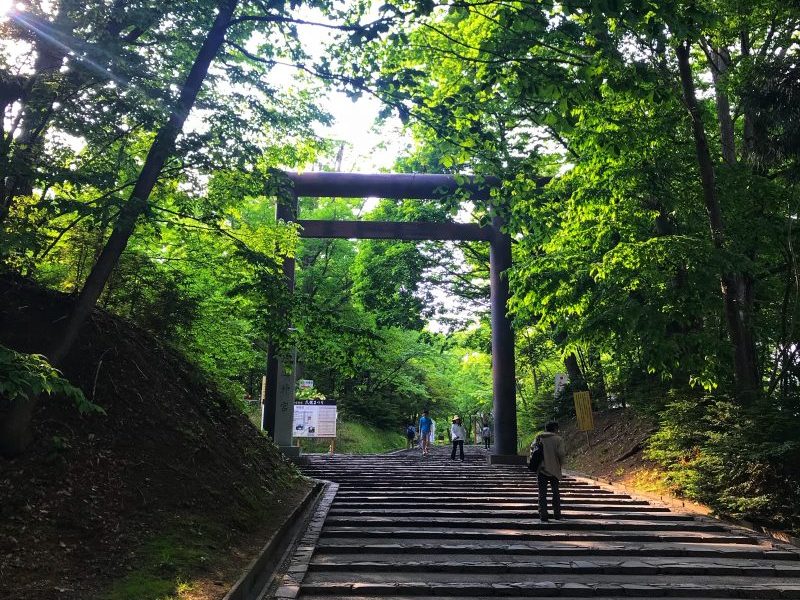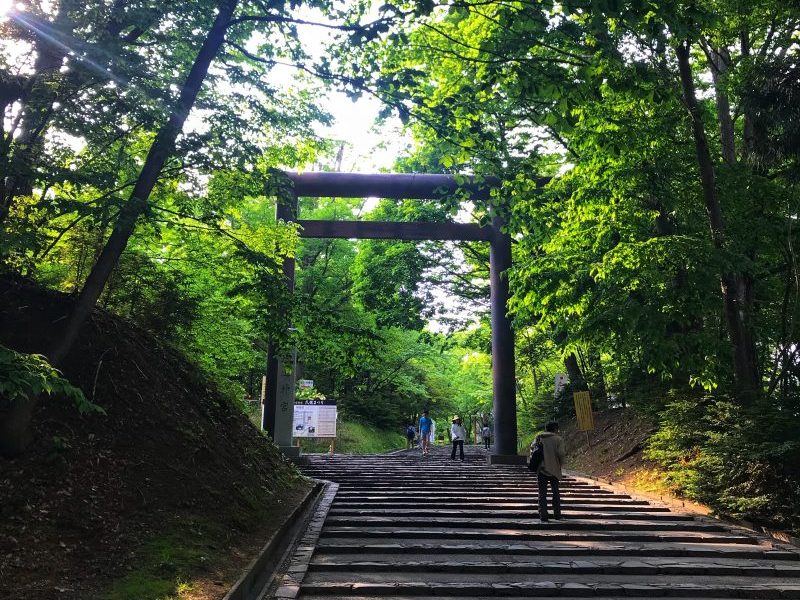 Get down at Maruyama Koen station and take exit 3 to Maruyama Park. The 10 minutes walk through the Maruyama Park to Hokkaido Shrine was lovely and beautiful. The path grew with a tall cedar tree and lovely foliage.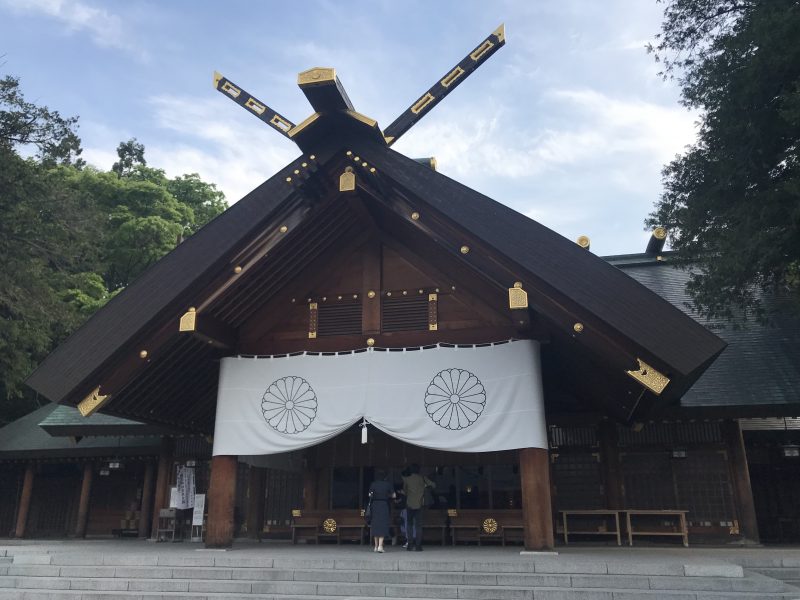 Hokkaido Shrine is located in the central park after walking through the tranquil cedar forest. It is a magnificent example of simplicity shrine yet impressive.
A good place to feel the peace and make the Japanese pray is a traditional temple in Hokkaido.
Hokkaido Shrine (北海道神宮)
Address:
474 Miyagaoka, Chuo Ward
Price:
Free
Duration:
Around 1 hour.
Access:
10-minute walk from Maruyama Koen Station, exit 3.
Sapporo Night Life: Susukino and Tanukikoji Shopping Street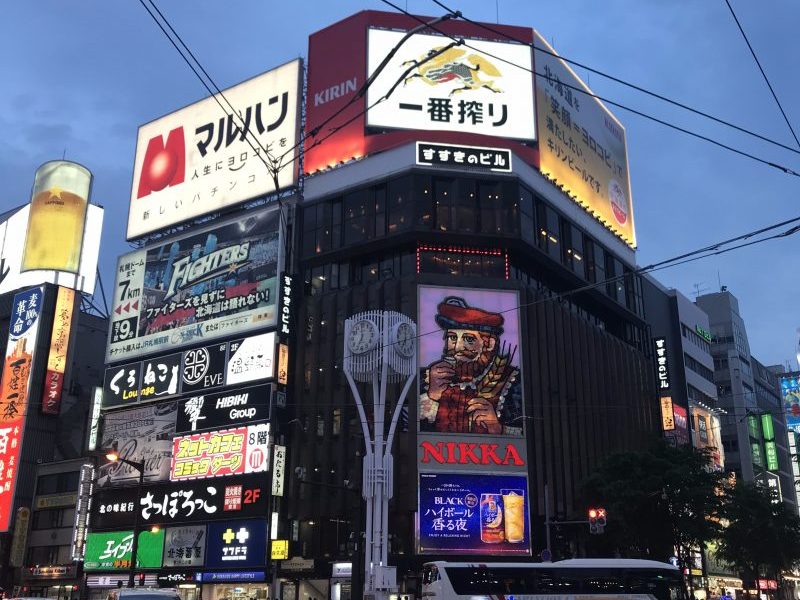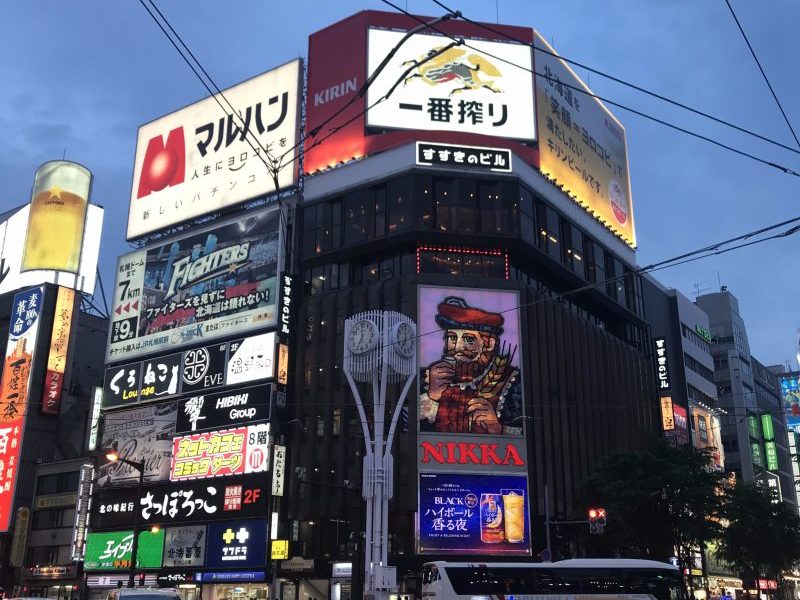 If you have more time and looking for some entertainment at night, Susukino is the one that you looking for. This entertainment district is packed with stores, bars, restaurants, karaoke shops, pachinko parlors, and "adult-friendly" places with bright light welcoming you. Just like the busy street in Tokyo, it is very safe walking around even with kids.
Added, there are also a lot of restaurants if you are hunting for food. The Ramen Yokocho is hidden in the narrow lane in Susukino. It is lined with shops serving the famous miso ramen here.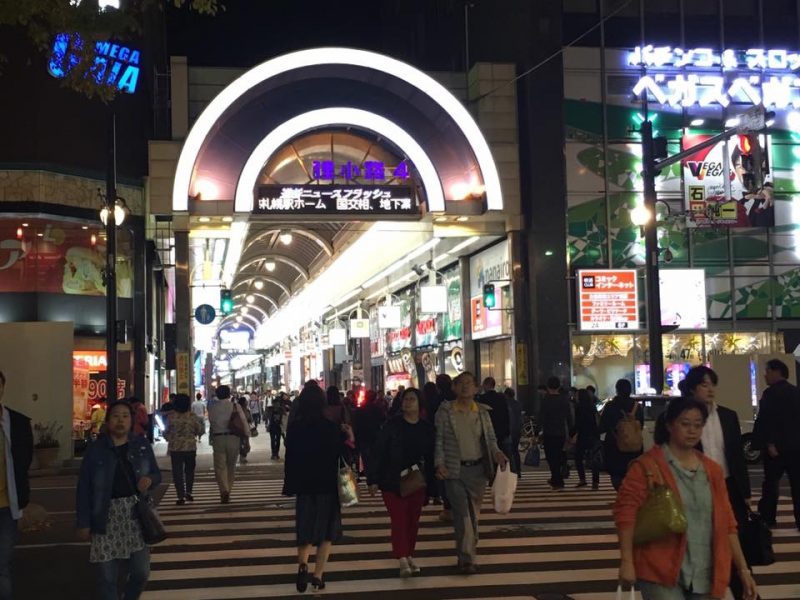 Nearby the Susukino with less than 5 minutes walking distance, Tanukikoji shopping street is where you want to do shopping in your Sapporo itinerary. This covered shopping street is the best place for last-minute shopping as it sells almost everything. The 1km-long arcade with around 200 shops including eatery and retail shops. A wide range of products is gathered on this street including souvenirs, clothes, skincare, and cosmetics.
Tanukikoji Shopping Street
Address:
Minami 2 & 3-jo Nishi 1-chom ~ 7-chome, Chuo-ku
Opening Hours:
Depend on shops. Open 24 hours
Duration:
1 to 2 hours.
Access:
3-minutes walk from Susukino Station on Namboku Line
More Days in Sapporo?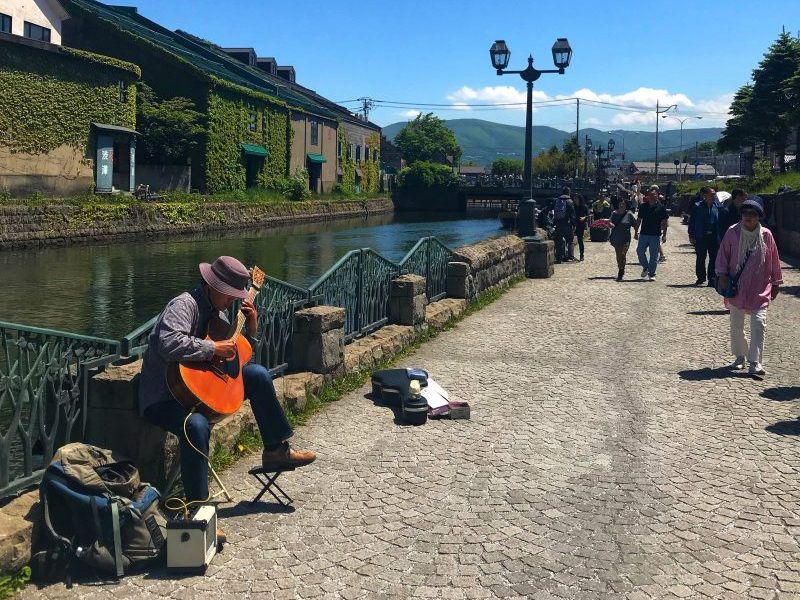 Sapporo is a great base when visiting Hokkaido. Some travelers even plan for 3 days to 5 days Sapporo itinerary and travel to attractions nearby for a day trip. Below are a few popular attractions that easily adjust to your Day 3 Sapporo itinerary.
Day trip from Sapporo:
Day trip to Otaru: A charming canal city for a relaxing stroll.
Jozankei Onsen: Hot Spring town with 1-hour driving journey from Sapporo
Mount Moiwa: Best place to enjoy the Sapporo city view.
Asahiyama Zoo: Popular family activities for animal encounters.
Day Trip to Otaru
Located just 30 minutes away by train, Otaru is one of the charming canal cities that you hardly can miss. The picturesque town is perfect for a relaxing stroll along the historical canal and tasting the absolute fresh seafood and sushi. It is also home to famous Japanese desserts such as Letao, Kitakaro, Rokkatei, and more.
Getting there: 30 minutes by JR train from Sapporo Station
Related Article: Otaru Itinerary: A Guide To Explore Otaru in 1-Day
Jozankei Onsen
Hokkaido is famous for its hot spring bath. The Noboribetsu and Lake Toya are particularly popular among locals and tourists for an onsen bath. If you have limited time, consider getting to Jozankei Onsen which is located only a 1-hour driving journey from Sapporo city. Imaging soaks in the natural hot spring in majestic mountains view. It is also one of the best places to view colorful maple leaves for fall foliage during Autumn.
Getting there: 1 hour by bus from Sapporo
Mount Moiwa
For a glimpse of Sapporo from above, consider spending some at Mt. Moiwa. At an altitude of 531 meters, Mount Moiwa is the best place to enjoy the beautiful night view in Sapporo. Just recently, Sapporo has been selected as New Top Three Best Night Views in Japan. It is easily reached using a ropeway and mini cable car up to the observation deck. Ring the famous Bell of Happiness. It is said the couple will flourish together with ring the bell together.
Getting there: 30 minutes by subway from Sapporo Station
Asahiyama Zoo
For animal encounters, consider visiting the Asahiyama Zoo. It offers a uniquely immersive experience compared to most zoos. It is especially popular during winter with adorable Penguin Walk and sees these flightless birds up close. Highly recommended for families with young children and spend some time at the zoo.
Getting there: about 3 hours from Sapporo. For easy arrangement, consider taking the Asahiyama Zoo Day Tour from Klook. The bus departs from Sapporo Station and you can visit the Zoo freely.
Where To Stay in Sapporo?
Choosing where to stay in Sapporo is not too hard. There is a large selection of hotel, hostel or family stay available with a fairly decent price and quality. Depending on your Sapporo itinerary, we preferred to stay nearby Sapporo Station or Tanukikoji shopping street. It is a great base to get around and look for food and shop in Sapporo.
Here are a couple of the best hotels in Sapporo:
Hotel Mystays is a chain hotel company in Japan. And we are highly recommended to stay in Hotel MyStay. The rooms are clean and bigger compare with other business hotels in Sapporo. Few Mystays hotels are widely available at Sapporo Station, Susukino, Nakajima Park, and more. Choose the hotel based on location and price. We preferred Hotel MyStays Sapporo Station and Hotel Mystays Sapporo Aspen which excellent locations near the Sapporo Station.
For budget travelers, consider the Grids Sapporo Hotel&Hostel. The location is perfect and exactly located in the Tanukikoji shopping street. It provides a spacious dormitory room, single, double, triple, and family room to choose from. Newly build and clean with helpful staff willing to help.
Read on our full list of Where To Stay in Sapporo: The Best Accommodation Guide.
What To Eat in Sapporo?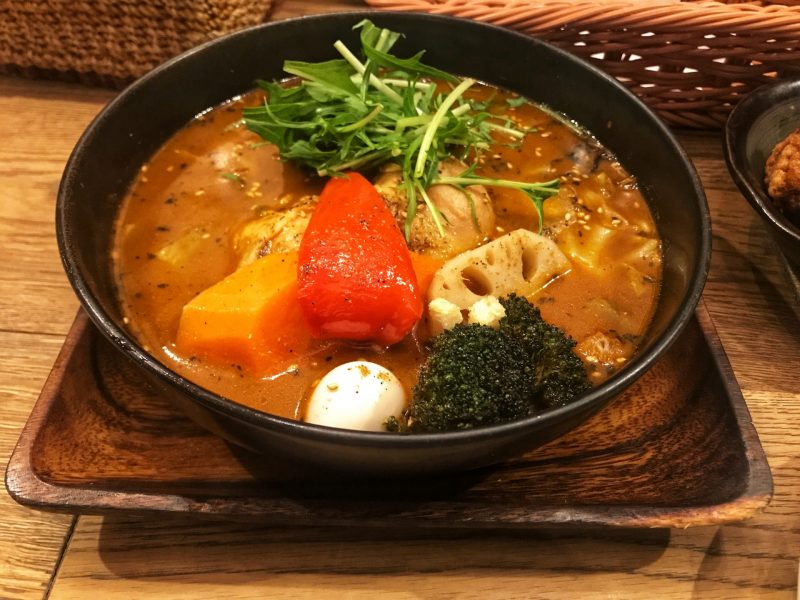 Sapporo is one of the food paradises and the center food hub in Hokkaido. A wide variety of local delicacies are available. Don't miss the top 5 must-eat food: fresh crab, kaisendon, miso ramen, soup curry, and Genghis khan. We love to spend time food hunting in Sapporo.
#1: Crabs: King Crabs, Hairy Crabs, and Snow Crabs
#2: Soup curry: Garaku, Samurai, Suage+, PICANTE, and more
#3: Miso Ramen: Sapporo is famous for miso broth. Have a hot bowl of miso ramen at Ramen Kyowakoku, Ramen Mokuren, Yugeya.
#4: Genghis Khan (grilled lamb with vegetables)
#5: Kaisen Don, literally "seafood bowl" with a wide range of seafood on rice.
Sapporo Food Guide: Where and What To Eat in Sapporo
Overall: My 2-Days Sapporo itinerary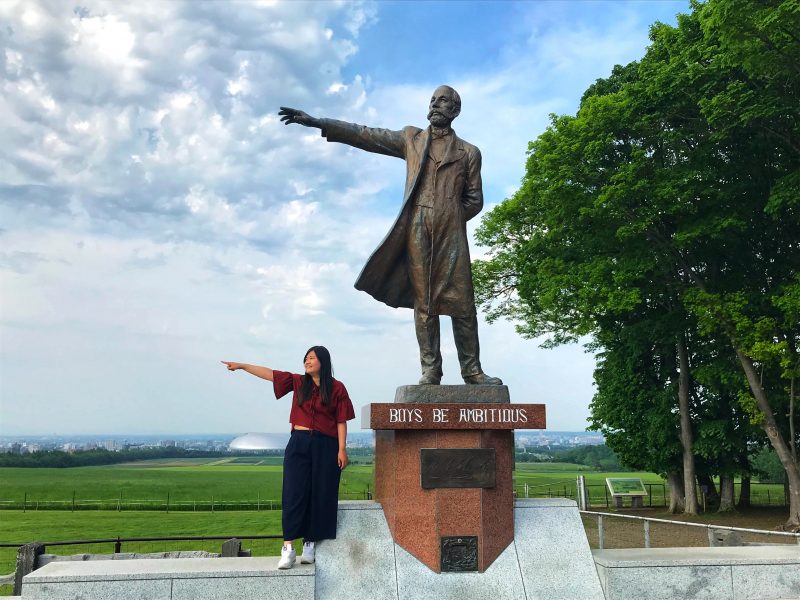 My 2-Days Sapporo itinerary is very relaxed. We utilized the 1-Day transportation pass and visited most of the attractions which required transportation during the first day. The next day is more concentrated in the city area. And we choose to get around on foot.
How Many Days Should I Spend in Sapporo?
You can complete your visit to Sapporo city within 1 fulfilling day. But we choose to separate it into 2 days so that we can explore the charming city at a more relaxed pace. We tasted the yummy local delicacies including fresh seafood at the local market, miso ramen, soup curry, and more. Besides, we allocate more days to explore the attractions nearby Sapporo.
What is the Best Season To Visit Sapporo?
Winter is the most popular season to visit Sapporo but it's a great city to visit all year. The snow festivals in the winter and Sapporo Beer Festival in the Summer are the peak season for visiting Sapporo.
What To Do in Sapporo?
Similar to Japan's city, the thing to do is quite similar to Tokyo or Osaka. If you only have limited time, just visit the attraction that you would like to see. And we love to spend more time on food, especially fresh seafood.
How To Get Around in Sapporo?
The most convenient way to get around in Sapporo is by subway with about ¥200 per ride depending on the distance. Alternatively, it is easy to explore the Sapporo city center on foot.
Is Sapporo Worth Visiting?
Definitely worth it! Sapporo is a city full of cultural diversity, natural beauty, and most importantly mouthwatering food. There are many wonderful attractions to visit regardless of the season.
Continue Read On
Lastly, thanks for stopping by my Sapporo travel blog. Sapporo is one of the main highlights of a visit to the island of Hokkaido. This amazing place is a must-visit for many tourists to Hokkaido and worth adding to your itinerary. We had a great time during our trip to Sapporo and would love to come back again!
If you need more help planning your Hokkaido trip, check out our travel blog below:
How To Plan Your Hokkaido Trip On Budget: Travel Guide, Itinerary & Money Saving Tips!
For more detail on the best place to visit in the Hokkaido travel blog: