Last updated on June 3rd, 2023
Discover the best one-day Berchtesgaden itinerary for top things to do in Berchtesgaden and the surrounding area including the Königsee ferry boat ride, Hitler's infamous Eagle's Nest, Jenner Mountain cable car, Ramsau and Hitersee, and more.
Berchtesgaden is a charming, postcard-perfect town, with easy access from Salzburg or Munich. Located on the German-Austrian border, it is ideal for a one or two-day itinerary across the border to Germany from Salzburg. Beautiful mountains, valleys, and glacial lakes surround the region and attract all kinds of nature lovers.
While most visitors only plan for a one-day itinerary in Berchtesgaden. So we highly recommended keeping your itinerary for the major sights.
There is plenty to do in Berchtesgaden National Park and the surrounding area. Nestled in a valley between the Jenner, Hagen, and Watzmann Mountains, you hardly can miss the chance to visit Königssee for its emerald mirror lakes at the foot of snowy mountains. Enjoy a ride on one of their eco-friendly passenger boats, which operate on Berchtesgaden's pristine lake. Not to forget take a visit to Hitler's infamous Eagle's Nest for a marvelous and unforgettable view over the eastern alps.
Learn about how to plan your one-day Berchtesgaden itinerary from Salzburg, Munich, and discover the hidden natural gem in this stunning protected park in the Alps.
Berchtesgaden Transportation Guide
From Salzburg To Berchtesgaden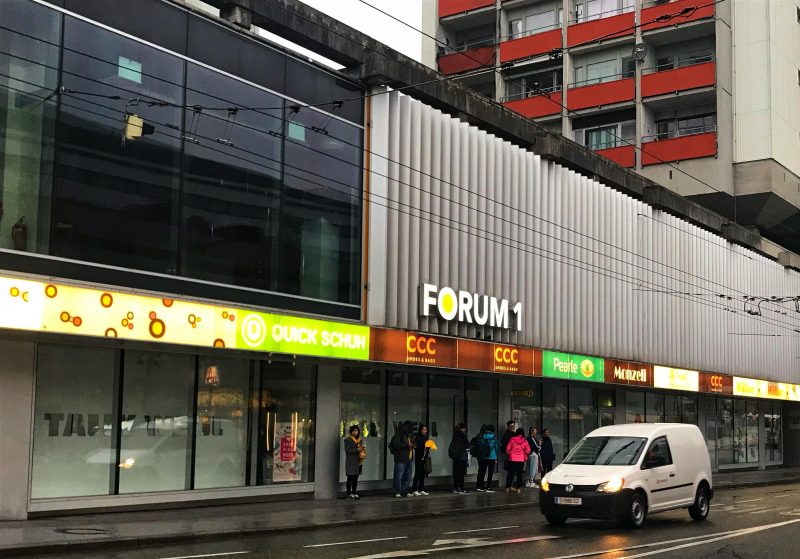 From Bus: Take Bus RVO#840 which jointly operated by the RVO (Regional Verkehr Oberbayern) and SVV (Salzburger Vekehrsverbund), which known as "Watzmann Express". Buses leaves from Salzburg Hauptbahnhof to Berchtesgaden Hauptbahnhof with 45 minute ride, as early as 8 a.m.
While the bus stop for the RVO bus at Salzburg hbf is located on Karl Wurmb Straße, between the Forum One buildings and McDonald's. Please double-check the bus schedule posted at the bus stop to make sure you are boarding the correct bus.
By Train: Train departs from Salzburg Hauptbahnhof to Berchtesgaden Hauptbahnhof, with a one-time change required at Freilassing. The train journey takes approximately 75 minutes.
By Car: The most convenient way to explore Berchtesgaden is by self-driving. Compare the car rental price at Rentalcar.com from various reliable rental car companies to guarantee the best price. Added, please make sure you have proper snow tires and equipment for travel between October and April.
From Munich To Berchtesgaden
By Train: No direct rail services connecting Munich and Berchtesgaden. From München-Ostbahnhof or München Hauptbahnhof, change to Salzburg train and next at Freilassing before reaching Berchtesgaden Hauptbahnhof. The journey usually required two to three hours with changeover times between trains.
Consider travel as early as possible as the train journey take more than two hours.
Getting Around In Berchtesgaden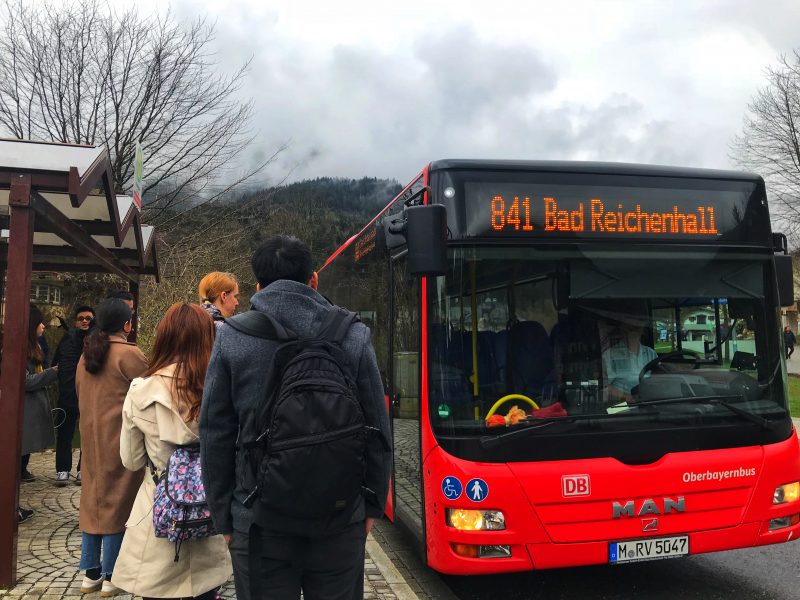 Getting around in Berchtesgaden by public bus is the most convenient way to visit this German National Park. The main bus station is just right in front of Berchtesgaden Hauptbahnhof.
It is super easy with a well-connected bus schedule. Once you get there, you can board the next buses to the Obersalzberg (#838) where the Eagle's Nest, Kehlsteinhaus buses leave from, to beautiful Lake Königsee and Jennerbahn (#841 & 842), Ramsau and Hintersee (#846), and the salt mines (#848). And return to Salzburg, please board (#840) bus.
A single bus ride is cost €1.5. So it is best to use a day pass to save money.
Berchtesgaden Travel Tips: Download the latest RVO Bus Schedule and plan for your Berchtesgaden itinerary.
Money-Saving Tips for Getting Around In Berchtesgaden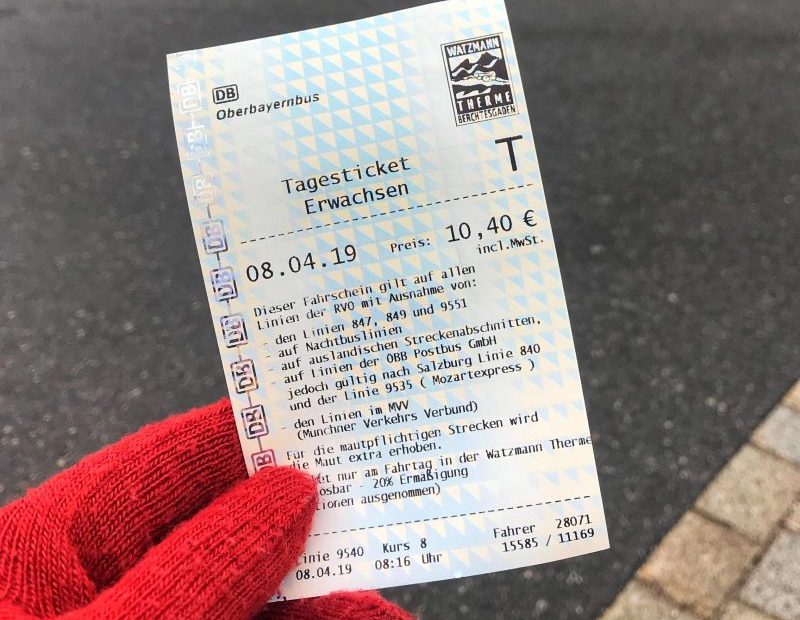 Consider getting the day ticket to save some money if you plan on doing some exploring in Berchtesgaden and its surroundings. There are a few transportation deals available and choose the best one for your trip.
RVO (Regionalverkehr Oberbayern) Tagesticket from Watzmann expres will cover your return bus trip from Salzburg to Berchtesgaden and any buses in Berchtesgaden. The last bus from Berchtesgaden back to Salzburg at 18:15. The ticket cost 10,40€/person.
BGL-Tagesticket, Bus & Bahn includes the RVO bus Watzmann Express from Salzburg to Berchtesgaden, trains from Salzburg Hbf to Berchtesgaden Hbf via Freilassing, and most of the buses in Berchtesgaden. Ticket cost 12€/person.
Gästekarte, Guest pass. Most of the hotels in Berchtesgaden will give a guest pass to hotel guests which entitled to receive free rides on all the local buses. It will valid from the day of arrival to the day of departure.
Bayern-Ticket or Bavaria ticket allows unlimited train travel through Bavaria (except the fast, intercity ICE trains) and also the RVO buses in Berchtesgaden for the day.
Starting from €25 for the first person, €7 for each additional person up to five. The more people, the less per person. A good option for larger groups, longer distances, or those that take more than one train trip in a day, as in there-and-back. Start your train journey from 9 a.m. on weekdays or anytime during the weekend. See the Bayern ticket for more info.
Berchtesgaden Travel Tips:
If you consider to spend one night in Berchtesgaden,
Hotel Bavaria Superior
is a great option. It is a mid-high range accommodation with 10 minutes walk to Berchtesgaden station. Popular pick in Berchtesgaden.
One Day Berchtesgaden Itinerary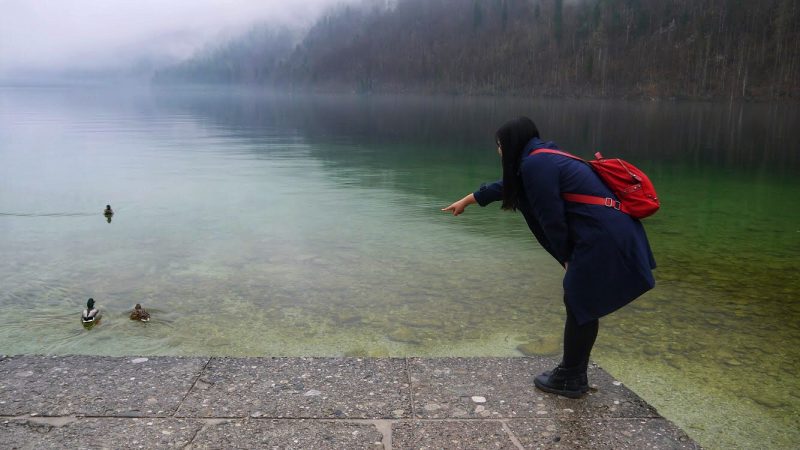 Berchtesgaden is very ideal for those who prefer spending their most valuable time closer to nature and mountain scenery. You cannot imagine how diverse Berchtesgaden and its surroundings are. It offers numerous things to do and waiting for you to self-exploring it.
Things to do for Berchtesgaden itinerary:
Ferry boat ride in Königssee (King's Lake) to St. Bartholomä and Salet
From Salet, hike to Lake Obersee and the Röthbach
Hiking in Ramsau, Zauberwald, and Hintersee
Take the gondola ride to Jenner Mountain
Explore Wimbachklamm Gorge
Visit Obersalzberg's Eagle Nest
It would be worth spending a few days in Berchtesgaden. While some of the attractions in Berchtesgaden are still close during April, we only have one day extra to spend during our Central Europe Trip. So we have come out with this Perfect one-day Berchtesgaden itinerary which covers things we want to see yet is not tightly packed.
If you are planning on a Berchtesgaden itinerary from Salzburg like what we did, please continue reading on for some inspiration on your planning. Our trip to Beschtergaden starts early from Salzburg by bus with the RVO ticket, which covered the whole transportation fee to all the attractions. We spend our day in Konigsee with a lovely boat tour to St. Bartholomä, enjoy the fresh trout caught from the lake, and take a leisure hike at Ramsau from Saint Sebastian Church through the Zauberwald (Enchanted Forest) and end at Hintersee.
Königsee, The King's Lake
Königssee, also called King's Lake is one of the most majestic places in Germany. It is an angelic emerald fjord lined by powerful Alpine mountains that never fails to wow its visitors. This picturesque emerald lake sits at the foothills of the mountains with a reputation as Germany's cleanest lake.
It's easy to get to Berchtesgaden with short 10 minutes bus ride from the bus station.
Ferry Boat Tour Coupled with Enchantingly Trumpet Echoed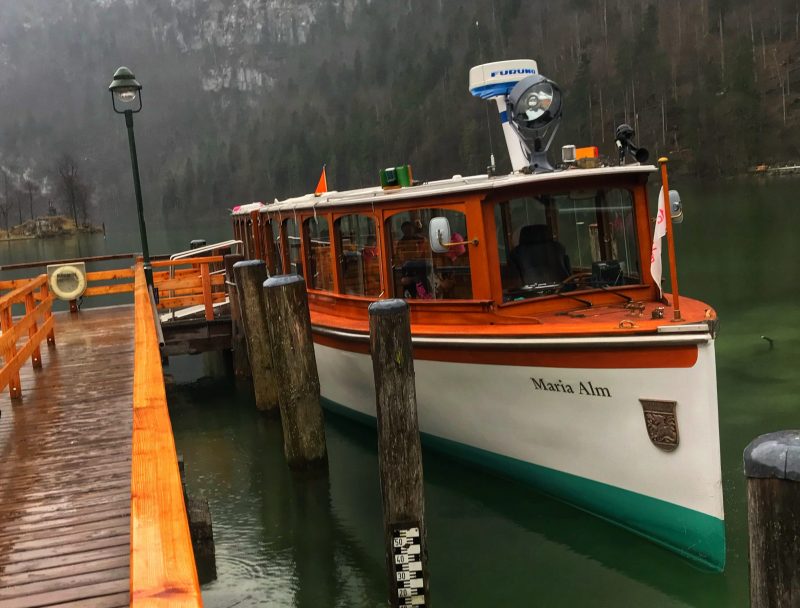 For an enchanting alpine lake experience, a ferry boat trip on the Königsee is well worth considering. The boats run all year round except when the lake freezes.
The boat journey will feast your eyes on the dramatic alpine landscape of the lake.
Tours on the lake take place on lovely environmentally friendly electric passenger ferries which quietly glide past lazy boathouses, roaring waterfalls, and lofty mountain faces. The Scenery is gorgeous with crystal clear waters surrounded by rugged mountains.
The incredibly stunning views are coupled with a beautiful haunting trumpet melody that's enchantingly echoed from the steep Königsee rock face.
St. Bartholomä Church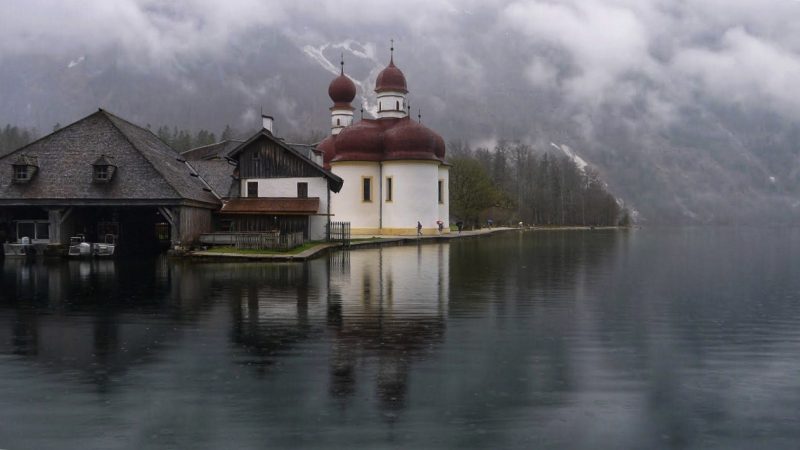 There are only two stops: St. Bartholomä and Salet for the Königssee ferry boat ride. About two-thirds of the way out, roughly 30 minutes, is the Saint Bartholomä.
While founded in 1134, this Roman Catholic pilgrimage church is picture-perfect with its red onion-domed roof and sits on the edge of Königsee with the rugged Alps providing a stunning backdrop. The interior of the church is designed in stucco style.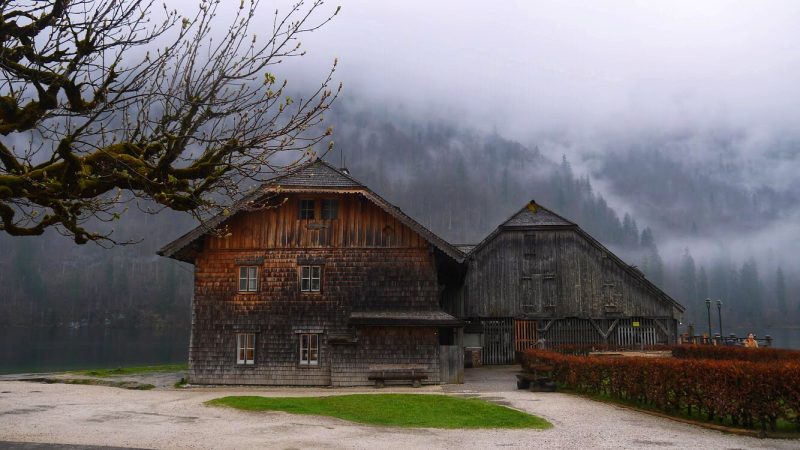 You can get there off at St. Bartholomä stop and explore around. Take a hike along the edge of the lake, climb 6 km up to the Ice Chapel, or enjoy your meal at the restaurant. During summer, the restaurant serves fresh and smoked trout and whitefish, pulled from right the lake.
We spend an hour strolling around, then back to the pier by boat and had a wonderful lunch at a restaurant nearby.
Salet (am Obersee)
We are unable to sail to Salet as it still closing in early April. During summer from mid of April through October, the ferry will sail to the southern end of the Königsee, Salet. From here, walk for another 15 minutes to the hidden treasure of Konigsee, Lake Obersee, and the Röthbach Waterfall, the highest waterfall in Germany.
The gorgeous views of the mountains reflected in the mirror-like surface at Lake Obersee are pristine beauty which well worth the time and money!
Getting to Königsse
Several buses (#841 and #842) stop at the Königsee with 10 minutes bus ride from Berchtesgaden station. A quick taxi journey to the lake will cost a couple of Euros.
Return ferry tickets are €15.50 – €19 (depending on destination) for adults, €9.50 for children over 6, and family tickets are available.
Travel Tips: Getting to the King's Lake as early as possible to beat the lines, especially during peak season. The full round-trip boat ride will take around 2 hours (35 minutes to the church, 20 minutes to the end, and back). Expected an average of 4-5 hours if you choose to hike up to Obersee during summer. Don't miss the last return ferry trip as there is NO footpath to get you back to the pier.
If you have a plan to hike to Obersee, we highly recommended you direct go to Salet and only take your visit to St. Bartholomä during your return.
Ramsau, Zauberwald And Hintersee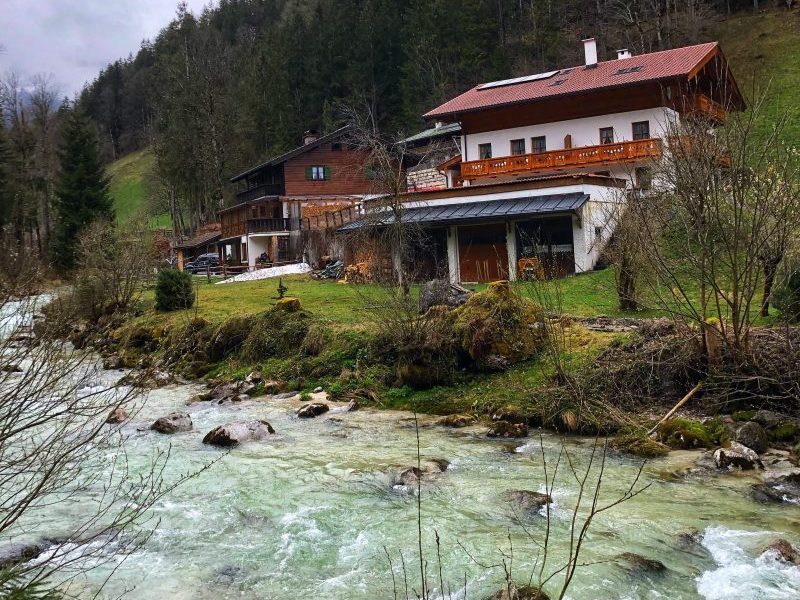 Ramsau is Germany's first mountaineering village on the edges of Berchtesgaden that has been lining postcards for as long as we can remember. Photographers will love taking photos are this riverside St. Sebastian Church which is awesome any time of year.
Take a half-day walk to a lovely mountain village at Ramsau. The walking trail is one of the beautiful footpaths at Ramsau and is perfect for a nice leisure walk even for small kids.
The best way to do the Ramsau hike is to start from Saint Sebastian Church through the Zauberwald (Enchanted Forest), along with wild mountain streams to the alpine lake, Hintersee. And, this is what we did during the second half of the Berchtesgaden trip. The whole journey is about 4.2 kilometers with approximately one to two hours of hiking.
Saint Sebastian Church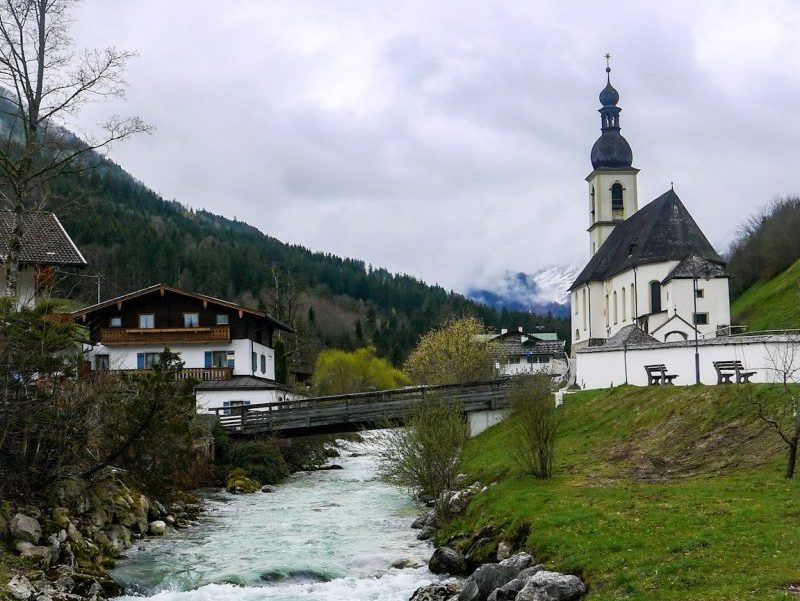 Saint Sebastian Church, is a charming riverside church framed by lush trees and a quaint footbridge with Alpe Mountain as a backdrop. This picture-perfect view is well famous and ends up put into many local postcards. Gorgeous!
We take a lot of nice shots here and truly admire this charming lovely church.
Zauberwald (Enchanted Forest)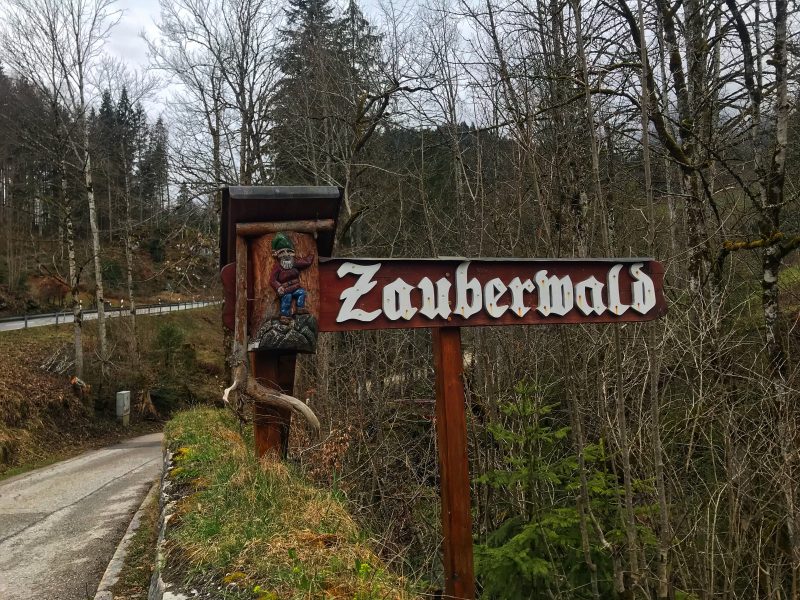 Cross the rushing river using the footbridge and started your hiking route toward the magical forest, Zauberwald. The rushing water in the river, tall trees, and moss-covered rocks make it a special place and worthwhile to visit.
Hintersee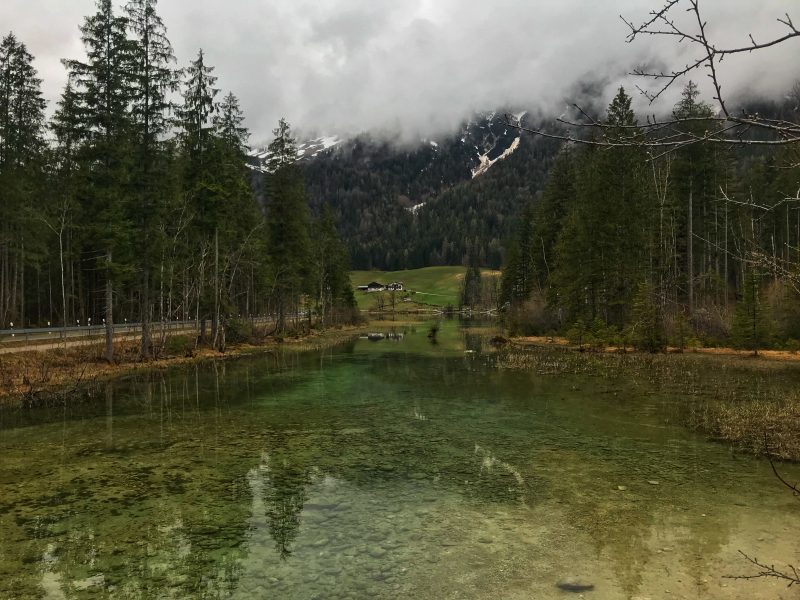 Follow the easy, well-signposted paths along the trails. The short hike will lead you to the lake, Hintersee. Admiring the clear lake and the reflection of the mountains at Hintersee.
The whole hiking journey took us about two and a half hours including the time for taking photos.
Getting to St Sebastian Church, Ramsau: Bus (#846) leaves from Berchtesgaden Station every hour to Ramsau. Get down at Ramsau Kirche, the 9th stop from the station with St Sebastian Church right in front of you.
Other Things To Do In Beschtergaden
While there are still many other things to do in Berchtesgaden and well worth spending one, two, or three days exploring around. Our one-day itinerary in Berchtesgaden does not include the below-listed attractions due to not being in season and time constraints.
Jenner Mountain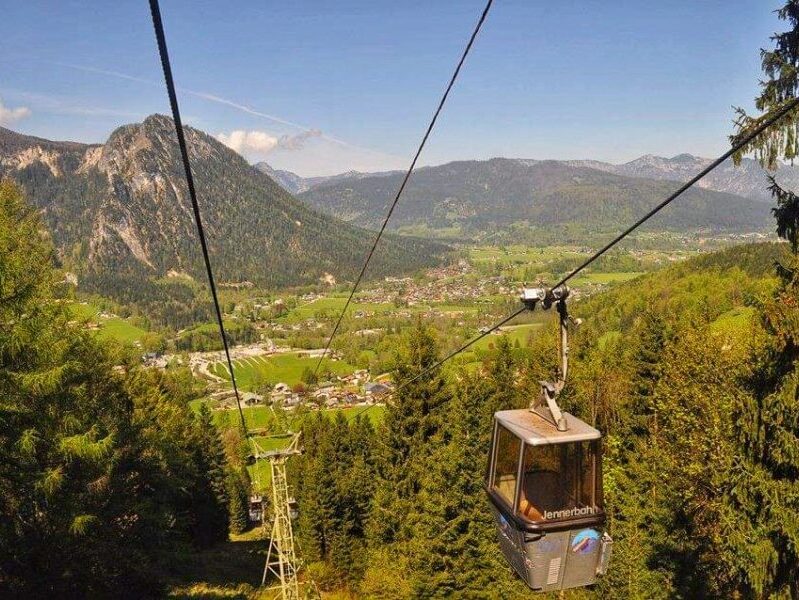 Jenner Mountain is the highest peak in Berchtesgaden and promises a jaw-dropping panorama of the German and Austrian Alps. The peak can be reached by two-person gondolas (Jennerbahn) and its new spacious 10 person cabs which started operating in June 2019 to the top station.
Sail over dark forests, alpine lakes, and rugged mountain terrains gracefully to the top of the mountains at 1,800 meters. From here you can look into the whole Berchtesgaden National Park, or gaze down to emerald Königssee.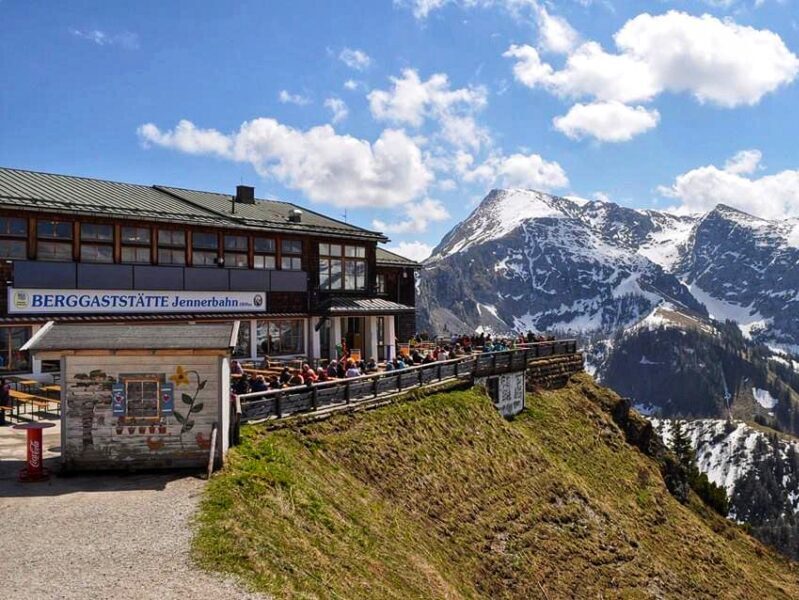 Come to enjoy the wonderful view of mountains and lakes during summer. More active travelers can try paragliding, hang-gliding, or hiking here. In winter, join for their winter activities like skiing and snowboarding here.
Getting to Jennerbahn: Take the same bus (#841 and #842) going to Konigsee if you wish to get to Jennerbahn from Berchtesgaden station. A five-minute walk from the Königsee parking lot brings you to the Jennerbahn. Round trip to the top cost €27.50. You can also choose to leave the cable car at the halfway station and continue with hiking paths down to the lake.
Wimbachklamm Gorge
Wimbachbrücke Gorge is one of the hidden gems at Berchtesgaden located at Ramsau village. Thousands of years of trickling melt and rainwater created the Wimbachklamm Gorge out of the rocky stone.
Today, visitors can explore this natural beauty along wooden boardwalks through the gorge. The trail starts at the bottom and gradually goes uphill with icy glacial waters winding through the landscape. It is a great place for photos at every turn. The gorge is not long and takes about 20-30 minutes to finish.
Getting to Wimbachklamm: Take Bus (#846) and get off at Ramsau Wimbachbrücke, the 5th stop from Berstegaden station. Or choose to walk from St Sebastian church with 1.5 miles away.
Please take note that Wimbachklamm is only open between May and October.
Eagle Nest
Lastly on this Berchtesgaden itinerary guide is the Eagle Nest. The Obersalzberg's Eagle Nest, a building is perched at the summit of Kehlstein Mountain with an elevation of 1,834 meters. It was built as a 50th birthday present to Adolf Hitler, although he visited relatively few times.
To reach Eagle's Nest, you will ride on the Kehlsteinhaus bus and take the world-famous elevator to the top of the mountain. Once you go out of the elevator, you will reward with a marvelous and unforgettable view over the eastern Alps of Germany and Austria.
You can also consider visiting the Dokumentation Obersalzberg, which cost €3 for information collection and exhibitions about Nazi history.
Getting to Eagle Nest: Take (#848) bus to the Obersalzberg and get your Kehlsteinhaus bus ticket to the top of the mountain. Be sure to make your reservation for the return bus journey when you arrived at the top. Suggested two hours is good for strolling around at the summit and photo shooting. Highly suggest coming early as possible as the crowd is huge, especially the long line waiting for the elevator.
Alternatively, you can get the Eagle's Nest in Berchtesgaden Tour from Salzburg. Led by an expert guide, this half-day tour will bring you through the stunning scenery of the Bavarian Alps of the Eagle's Nest, Hitler's former mountain retreat, from Salzburg. If you are from Munich, then this Berchtesgaden and Eagle's Nest Day Tour from Munich will be the best pick for you.
Accommodation Guide: Where To Stay
Most people will choose to stay in Berchtesgaden town within walking distance of the bus stop. There are ample accommodation options at a reasonable price, modern or traditional hotels are worth considering. The good thing about staying at Berchtesgaden is that you are entitled to the Gästekarte, a Guest pass for the free local bus ride in Bestesgaden and surrounding.
Consider the Hotel Bavaria Superior, a mid-high range accommodation with 10 minutes walk to Berchtesgaden station. Warming and cozy stay with a friendly host.
Don't forget to check on Kempinski Hotel Berchtesgaden, family-run accommodation at Berchtesgaden. Spacious and clean room with a spectacular view of snow-capped mountains. Complimentary coffee, tea, and snack for free are available 24 hours. Best value for money. Alternatively, look for Hotel Edelweiss, which is also highly recommended by travelers.
But if you opted for a day trip from Salzburg to Berchtesgaden, we highly recommended choosing your accommodation close to the train/bus station which greatly helps for moving around. Hotel choice nearby Salzburg Hauptbahnh: arte Hotel, H+ Hotel and ACHAT Plaza Zum Hirschen with walking distance to bus/train station.
For more accommodation options, free feel to read through our accommodation guide on where to stay in Berchtesgaden.
Read More On Our Central Europe Trip
This Berchtesgaden itinerary is part of our travel blog when visiting central Europe. We spend our time exploring Prague, Cesky Krumlov, Salzburg, Hallstatt, Budapest, and some of the beautiful cities. If you are interested, continue to read on our travel post for trip inspiration.
How To Plan Your Central Europe Itinerary: Top 3 Must Visit Countries