Last updated on December 11th, 2023
If you are planning for a Big Sur itinerary, we've got you covered. Here we'll share the notable stops with the best viewpoints along this coastal route for the California Highway 1 road trip. Let's check it out!
We were doing a California road trip vacation from San Francisco and then down the coast back to Los Angeles. The Big Sur road trip was the most unforgettable and also the best road trip I have ever done in the United States.
There are lots of things to do in Big Sur and make sure you make the most of it. You could certainly spend several days exploring it on your Big Sur road trip itinerary. But if you only have a limited one day, it is also possible to squeeze it into a day trip.
In this Big Sur travel guide blog, we'll share the best Big Sur itinerary with the key stops and viewpoints along the coastline. You can visit most of the main attractions for your weekend gateway or simply a short day trip. I will explain more in detail with travel tips to help you make the most of your time there.
So, read on for the most perfect Big Sur road trip itinerary!
Big Sur, California Highway 1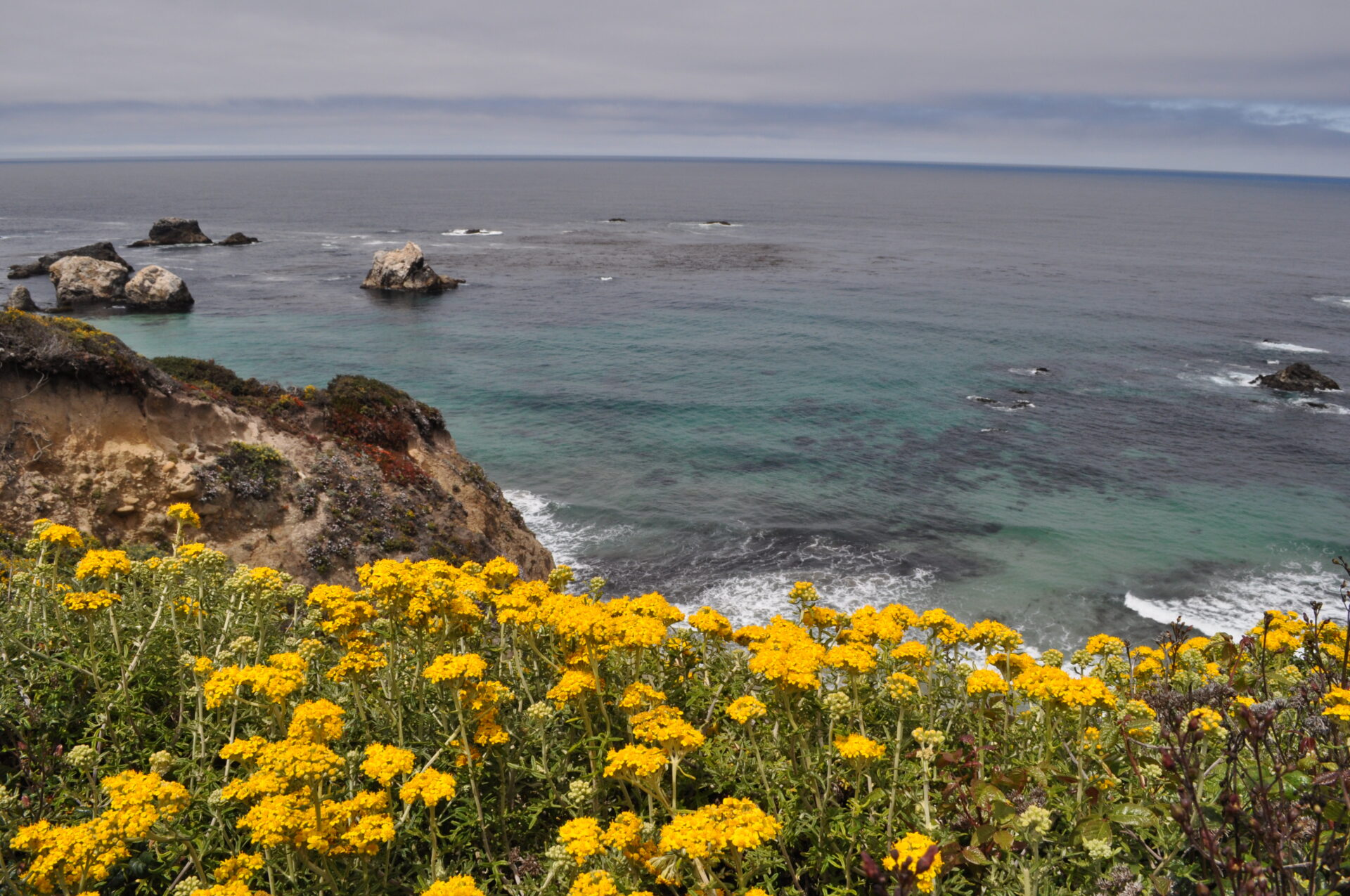 Known as California Highway 1, Big Sur is a popular strip of California highway that runs from the Central Coast of California near Carmel-by-the-Sea to the San Simeon area. The dramatic coast is one of the most scenic stretches of California coastline and is best to plan for a California road trip.
Along the 96 miles drive, you'll be seeing the pristine coastline with rocky cliffs, well-preserved states parks, stunning ocean with beaches, rustic natural scenery, and a relaxing ambiance.
The Big Sur road trip is best done from north to south. Many of the beaches and viewpoints are right on your sides which gives you the best coast view. We drove along the coast from San Francisco to Los Angeles, stopping in Carmel, and Santa Barbara along the way.
Big Sur Travel Tips: If you need a rental car for your California Big Sur road trip, we recommend booking your car with RentalCars.com, where you will find the best rental car prices. You can save up to 70% on your rental car booking!
Big Sur Travel Guide Tips
To make the most of your Big Sur itinerary, here are a few travel tips you should know before hitting the road!
What is the best time to visit Big Sur?
You can visit Big Sur at any time of the year and the most popular season is April through October. We highly recommend visiting Big Sur in early spring as it is a nice time to catch the gorgeous wildflowers along the trails and coast. The weather is nice and the skies are very likely to be clear.
Is one day enough for Big Sur?
With proper arrangement and planning, a day trip to Big Sur is doable. But you'll need to get there early and come back late. If possible, I would recommend staying a few days to enjoy the majestic view at a relaxing pace.
How long does it take to drive through Big Sur?
The drive through Big Sur is a 90-mile stretch along California's Pacific Coast. It will take you approximately two to three hours without making any stops. But trust me, you probably need a day to explore this beautiful coastal adventure.
Do I need to pay to visit Big Sur?
All of the California state reserves and parks charge $10 per vehicle for day use. This means that you'll need to pay once and it allows you to access other California state parks within the day. Just make sure to show and taped it on your windshield.
Is Big Sur worth visiting?
Definitely worth it! California's Highway 1 through Big Sur offers insane views and picturesque landscapes. Your trip to Big Sur will leave you with the most beautiful sights your eyes will see.
1-Day Big Sur Itinerary
Below are the best stop and viewpoints along Highway 1 for the 1-Day Big Sur itinerary:
Point Lobos State Natural Reserve (1 to 2 hours)
Garrapata State Park (30 minutes)
Lunch at Rocky Point Restaurant
Bixby Creek Bridge (30 minutes)
Pfeiffer Big Sur State Park (1 hour)
Pfeiffer Beach (1 hour)
Julia Pfeiffer Burns State Park & McWay Falls (1 to 2 hours)
Elephant Seal Vista Point (30 minutes)
Big Sur Travel Tips: The allocation time is based on the assumption and it can be different depending on the activities and traffic. You may also need to include the traveling time from one point to another point along the journey.
Big Sur Travel Tips:
If you are planning for Big Sur trip but tired of driving, you can consider to join the tour. The
Monterey, Carmel and 17-Mile Drive – Full Day Tour from San Francisco
from Viator (A Tripadvisor Company) drive down this one of the most scenic roads in California with breathtaking scenery along the journey. It is hasstle free without planning on too much for a wonderful trip!
Point Lobos State Natural Reserve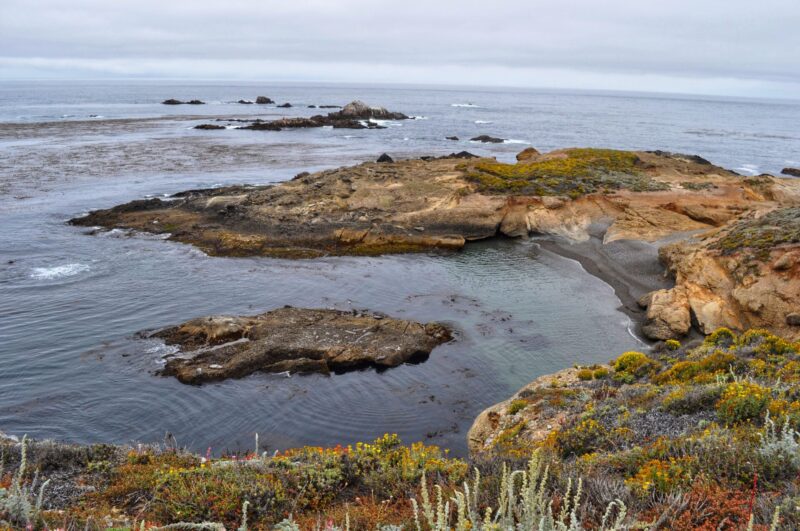 Point Lobos State Natural Reserve is definitely one of the best places to visit on a Big Sur itinerary. This natural reserve is full of breathtaking scenic views, unique geological formations, and plenty of marine wildlife.
You can go sightseeing, photography, hiking, picnic, or even go Scuba diving.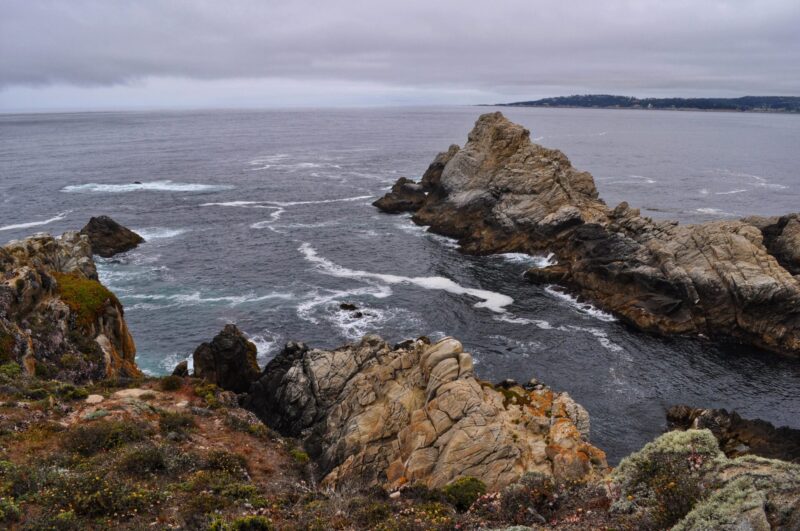 There are a few suggested route and hiking options at Point Lobos. Most are relatively short (~1 mile or less) loop trails that were pretty simple to hike but had amazing scenery. You could spend all day hiking around and enjoying the spectacular scenery.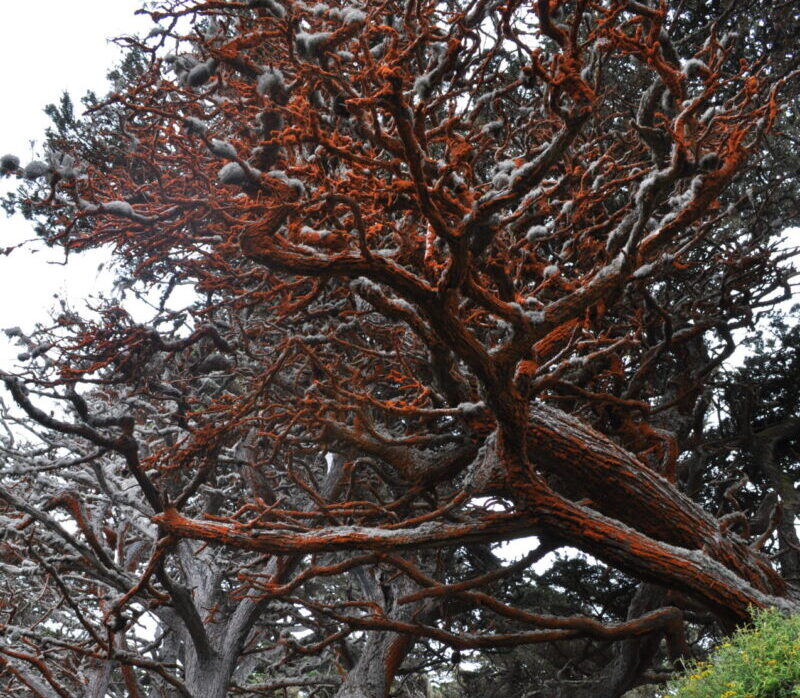 Due to our relatively limited time here, I recommend taking a short trail. We spent about an hour on a beautiful short hike at Point Lobos. We parked at the Sea Lion Point parking area and took the Cypress Grove Trail.
This 0.8-mile Cypress Grove Trail is relatively flat with several small elevation changes. It is an easy trail loop through the cypress groves with a spectacular rocky shoreline view. Highly recommended.
Official Website: https://www.pointlobos.org/
Park Opening Hour: 8:00 to 17:00 (Last entry at 16:30).
Parking: Parking is very limited so get there early, or plan to park on the road shoulder and walk in.
Estimate time: 1 to 2 hours for a short hike.
Big Sur Travel Tips: Please take note that dogs are not allowed anywhere on the Natural Reserve. It does not even allow them to be kept in the car while you explore the park.
Garrapata State Park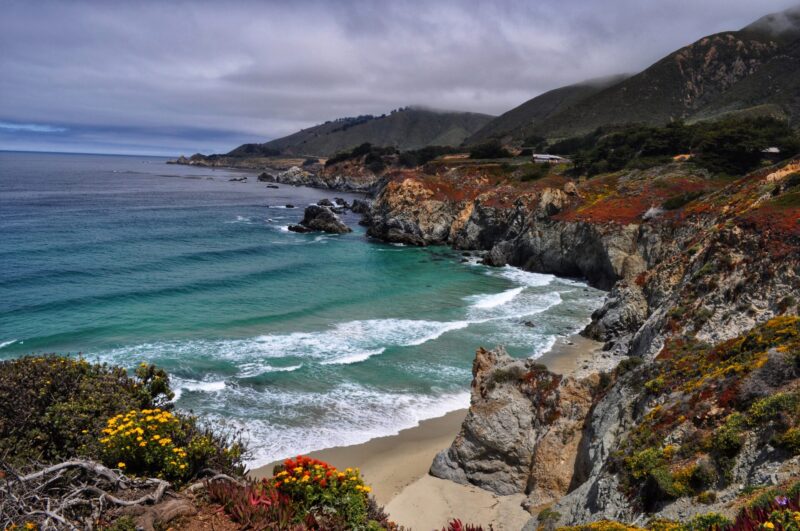 Garrapata State Park is a hidden jewel that is just a short drive from Point Lobos. It is one of the lovely nature spots on California Highway 1 and you can't go wrong stopping here while exploring Big Sur.
The enchanting state park offers rocky coast with amazing views of the ocean, rocks, and cliffs. You can stay at the top viewing on the ocean and cliff, or walk down the steps right to the water. There are a few optional hiking trails where you can spend hours admiring nature beauty.
We spend about 30 minutes here at the top and took many beautiful pictures. We were blown away by the stunning scenes and spectacular coastline. Everything is awesome!
Rocky Point Restaurant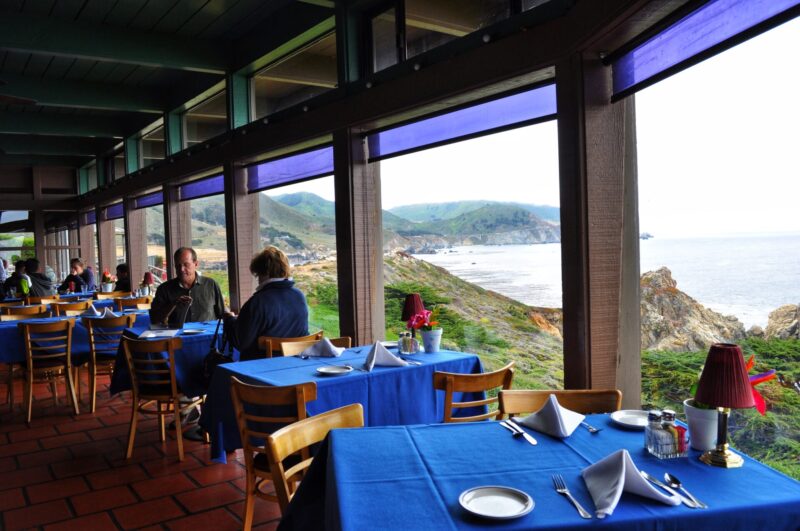 We decide to stop off for early brunch and it turned out to be one of the best meals I have ever had.
Opened in 1947, the Rocky Point Restaurant is a great place for food while enjoying the spectacular view of the Pacific Ocean coast. The scenery outside of the restaurant was stunning.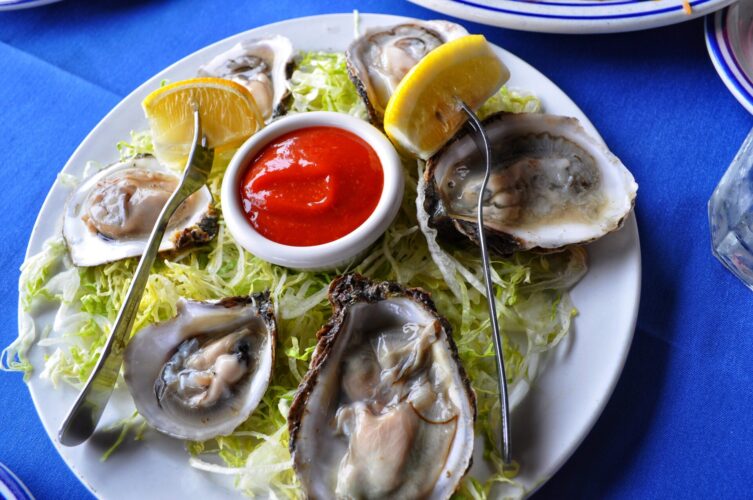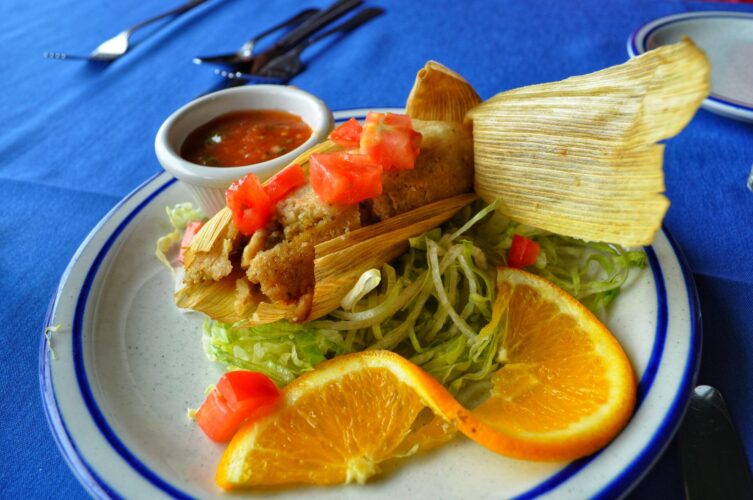 The food was marvelous and tasty. All are beautifully plated and prepared with fresh ingredients. The price is slightly expensive but worth going for the great view.
If you have time you can stroll the paths behind the restaurant and breathe in the delicious fresh air and the beautiful flowers. What a perfect place to stop for brunch while enjoying stops along Big Sur.
Note: This nearly 75-year-old Rocky Point Restaurant is temporarily closed. You may consider Nepenthe, another popular eatery perched on a Big Sur cliffside located 30 minutes away.
Bixby Creek Bridge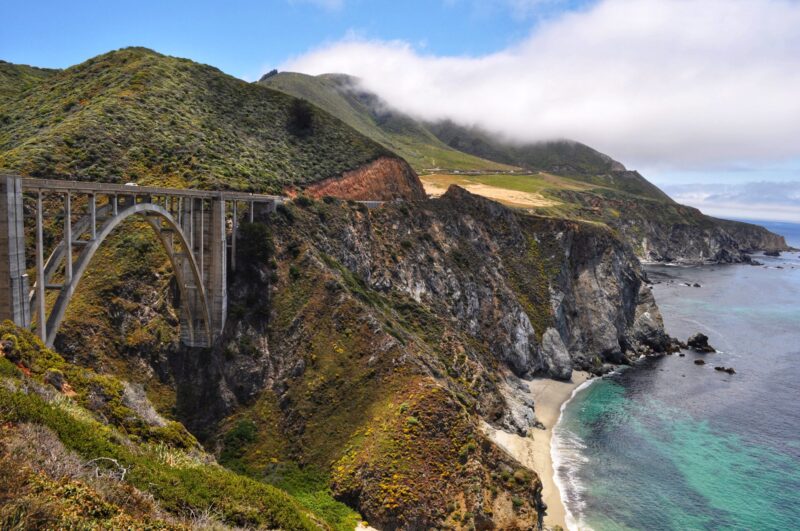 Known as 'Bixby Bridge' or 'Bixby Canyon Bridge', Bixby Creek Bridge is an iconic landmark in Big Sur. This feat of engineering is built in 1932 and connected two rocky cliffsides along highway 1. It is one of the most photographed bridges in California due to its design, graceful architecture, and magnificent setting.
We stopped at the viewpoint and were able to get many stunning pictures. The bridge itself is marvelous as it's a true engineering achievement. Together with the natural scenes all around the bridge, it is at the top of Instagram-worthy destination lists. Definitely worth the stop on your way through Big Sur.
There is no clear sign on Bixby Bridge, but you'll know when you arrive because of the crowds and cars dotted around the roadside. There is a convenient pull-out but be warned of parking issues on winding roads.
Estimate time: 30 minutes for viewing.
Pfeiffer Big Sur State Park
After admiring Bixby Bridge, continue the Big Sur itinerary to the next destination. The Pfeiffer Big Sur State Park is a large beautiful park in Big Sur that covers approximately 1,006 acres of land.
There are many different trails that each offer something different to explore. You can take the easy 1.5 mile Pfeiffer Falls trail or the moderate 2.6 miles Buzzard's Roost trail for redwoods. Besides, there's a nice hotel, a cafe, and a large campground on-site to accommodate hikers, bikers, and RVers.
Pfeiffer Beach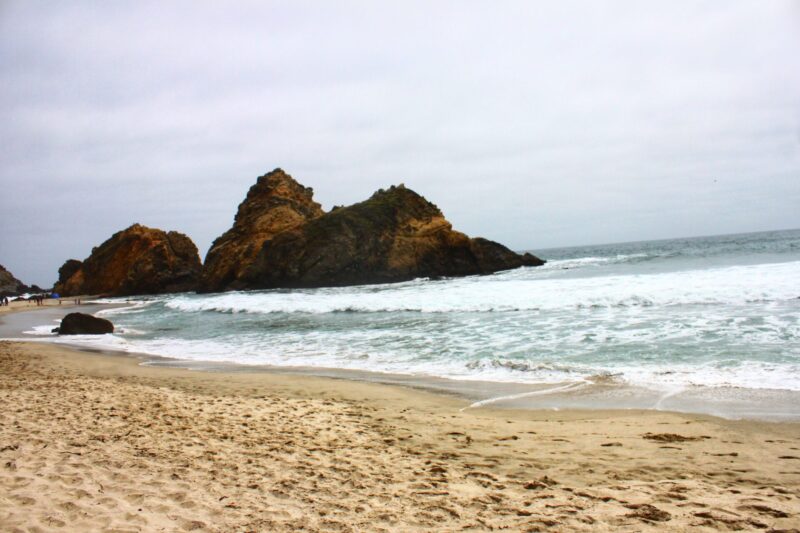 Next, head to Pfeiffer Beach. The Pfeiffer Beach is a secret gem of the Big Sur area and the entrance is a bit hide. There are no signs from the highway leading to the Pfeiffer beach and one could easily miss it.
To get to Pfeiffer Beach, you'll need to make a sharp right turn onto unsigned Sycamore road located 13.7 miles south of the Bixby Bridge. Following the one-lane narrow paved road for 2.5 miles, you'll reach the entrance of Pfeiffer Beach. The parking lot is limited and easily fill up on busy days. The rangers will ask you to wait until a parking space opens up.
A short walk from the car park will lead you to the beach with spectacular views of rock formations. The beach isn't large, but it's a nice spot for relaxing and enjoying the beach.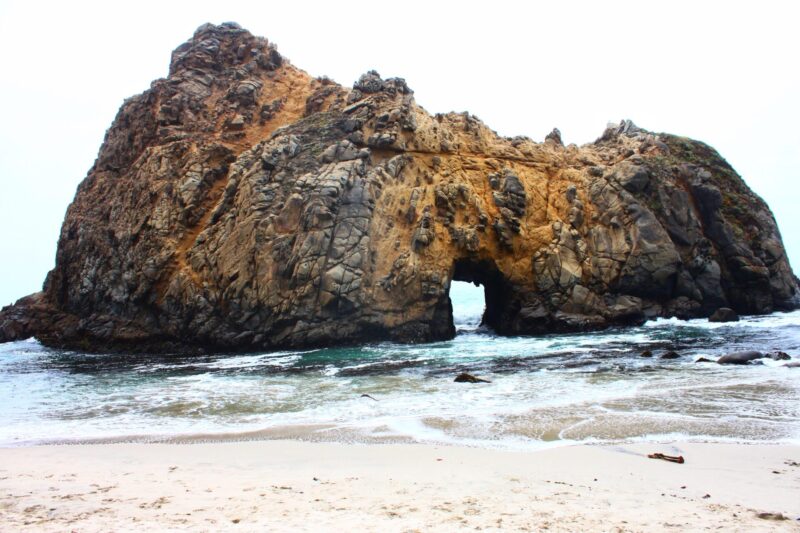 We were amazed by crashing waves, keyhole rock formations, and natural scenes. The interesting thing about Pfeiffer beach is the unique distinctive purple sand created by the manganese garnet that is washed down from the hillsides above.
Dip your toes in the magical purple sand and listen to the waves crash along the shore. A must-visit in the Big Sur itinerary!
Opening Hour: From 9:00 until sunset.
Estimate time: 1 to 2 hours for viewing.
Note: Pfeiffer Beach is operated by Parks Management Company for the Forest Service and not under California State Park. You'll need to pay the day-use fee costs $12 to access the area.
Julia Pfeiffer Burns State Park & McWay Falls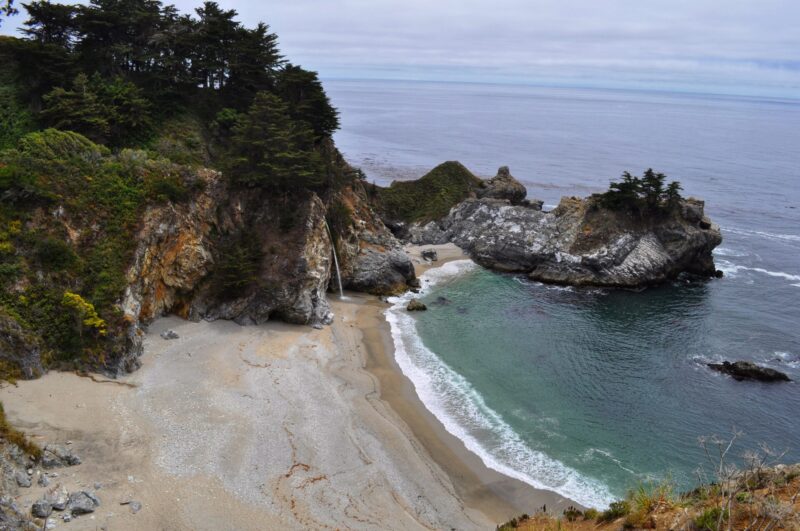 If you are driving on Highway 1, a visit to Julia Pfeiffer Burns State Park is an absolute must. This state park is characterized by steep canyons and ancient redwood trees. The popular stop in Big Sur, McWay Falls is located in Julia Pfeiffer Burns State Park.
A short half-mile trail leads you to the falls overlook for McWay Falls.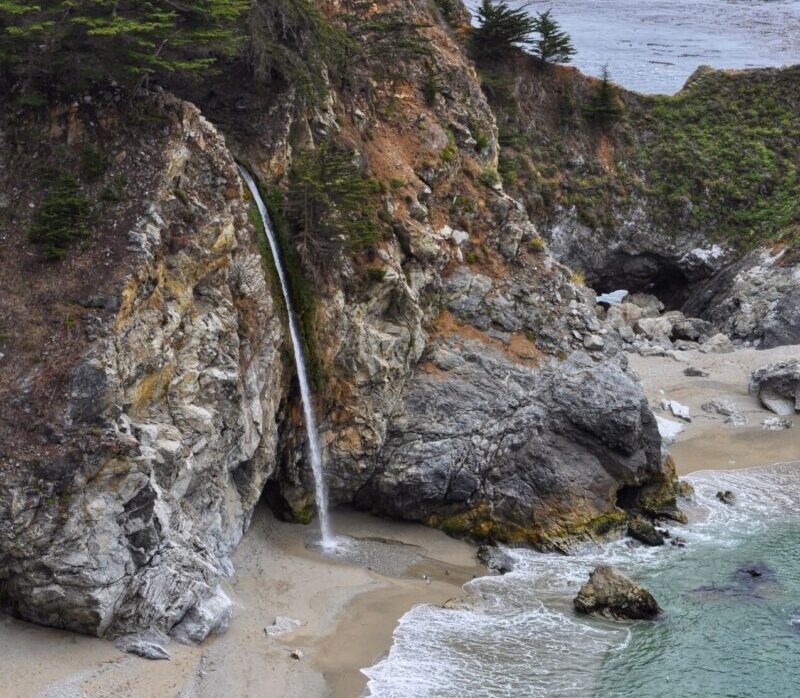 It is an easy walk around the cliffs where you get an amazing view of the ocean and the waterfall. You'll be mesmerized by the magical view of the McWay Falls that tumble down onto a pristine beach from different angles. Truly spectacular to behold.
If you have more time, you can explore the Julia Pfeiffer Burns State Park by taking the 5.8-mile Ewoldsen loop trail.
Big Sur Travel Tips: Drive into Julia Pfeiffer Burns State Park required to pay $10 for parking. Alternatively, you can park on the roadside and walk-in for free.
Official website: https://www.parks.ca.gov/
Park Opening Hour: From 8:00 until sunset.
Estimate time: 1 to 2 hours for viewing.
Elephant Seal Vista Point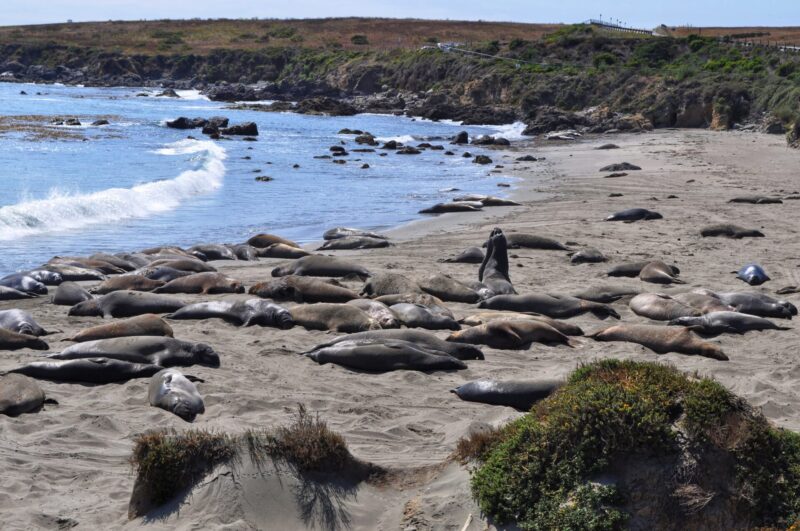 For animal lovers, the Elephant Seal Vista Point in San Simeon is one of the most interesting stops you can make along Highway 1. It is the best spot to see these magnificent marine mammals up close on one of the prettiest coastlines in California.
We were pleasantly surprised to see hundreds of seals laying all up and down on the beach during our visit. All the elephant seals are playing around, chilling and cuddling under the California sun. There is also helpful signage with good information about the elephant seals
We stayed about 30 minutes just watching them. Very entertaining!
Opening Hour: Always open!
Estimate time: 30 minutes for viewing.
Where To Stay
You could easily do the whole Big Sur itinerary in a day if you started early enough in the morning. But if you want to take more time on the drive, consider spending one night at Big Sur and exploring Big Sur leisurely. However, note that the accommodation in Big Sur is limited and the average price is also slightly on the high side.
If you want to stay in the mid-point of the Big Sur, you may consider the Big Sur Lodge. You'll stay in a clean and beautiful cabin, surrounded by beautiful trees. It is located in the Pfeiffer State Park and has easy access to the hiking trails and the beach. A comfortable stay in a beautiful setting. Check Rate here: Big Sur Lodge
For an upgrade, I would highly recommend Alila Ventana Big Sur which is surrounded by redwoods with stunning views of the coast. This adult-only property is very peaceful and well maintained. It features 2 heated pools adjoined by a Japanese hot bath and an on-site art gallery. The location is excellent which is about 10 minutes from Pfeiffer Beach, and minutes to the nearby state park. Check Rate here: Alila Ventana Big Sur
Another best option for Big Sur accommodations is staying in San Simeon. The accommodation options here are cheaper and you can even extend the Big Sur itinerary to Hearst Castle.
Cavalier Oceanfront Resort is a beachfront resort with an incredible view. It is one of the best options nearby with an affordable price, given the quality and the prime location. The property also features 2 heated outdoor pools and a hot tub, a nice on-site restaurant, and provide free wifi for the guests. Check Rate here: Cavalier Oceanfront Resort
Overview: Big Sur Itinerary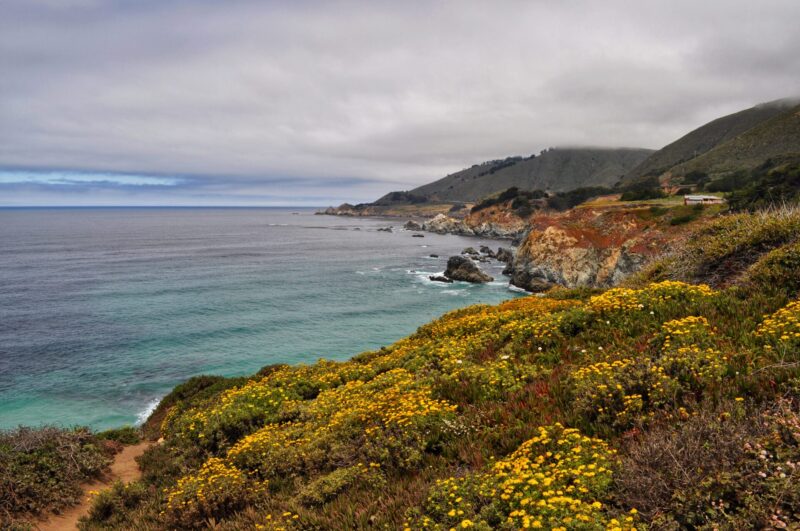 All in all, I am highly recommended Big Sur for you to experience the California coastal view. Of course, there are a few more interesting places in Big Sur awaiting you to explore. But all the attractions above are good enough if you only have one day in Big Sur. Plan ahead your Big Sur itinerary and start your day early, you should be able to experience the best of the Highway 1 road trip in one day. Enjoy!
Planning a Trip to California? We've got plenty of California travel guides to help you plan an amazing trip.