Last updated on September 23rd, 2023
This Sentosa island itinerary shows you why this charming island resort deserves more than just a day trip from Singapore!
Sentosa Island is a popular holiday destination in Singapore. This beautiful island is home to beautiful sandy beaches, exciting events, theme parks, lush rainforests, adventure activities, and more. There are numerous things to do on Sentosa Island to keep you busy. It has everything you could be looking for! Visitors easily spend a whole day or a few days when exploring the island.
The best part? Sentosa Island is well-conned to the city by road, cable car, monorail, and a pedestrian boardwalk. So it's easy to add it to your Singapore itinerary. It is also possible to visit Sentosa island by day trip from Singapore. But no matter how long you decide to spend on Sentosa, it promises to be an experience you'll never forget.
In this Sentosa travel guide blog, we've listed some of the best things to do on the island to help you plan your Sentosa island itinerary.
How To Get To Sentosa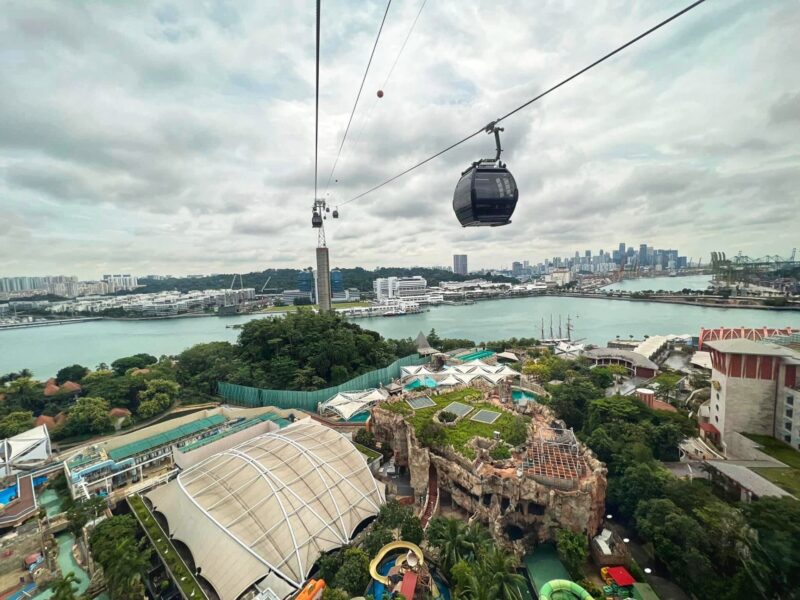 There are multiple ways to get to Sentosa Island from Singapore. The island is connected to mainland Singapore by road, monorail, cable car, and pedestrian bridge.
How To Get To Sentosa Island from Singapore:
Vehicles: The quickest way to get there is via taxi or rideshare app Grab. This is noted the vehicles are charged a fee to enter Sentosa unless visiting a resort, theme park, or attraction.
MRT: The most popular way is taking the MRT to the HarbourFront Station, and then transferring to Sentosa Express monorail through VivoCity Mall.
Cable Car: The most exciting way to reach Sentosa island using cable car. It provides a great view of the island along the journey. The cable car departs from Faber Peak, with a stop at Harbourfront Tower II on the way to the island. You can also take the MRT to Harbourfront, then use the cable car station in Harbourfront Tower II. Get the Singapore Cable Car Sky Pass here.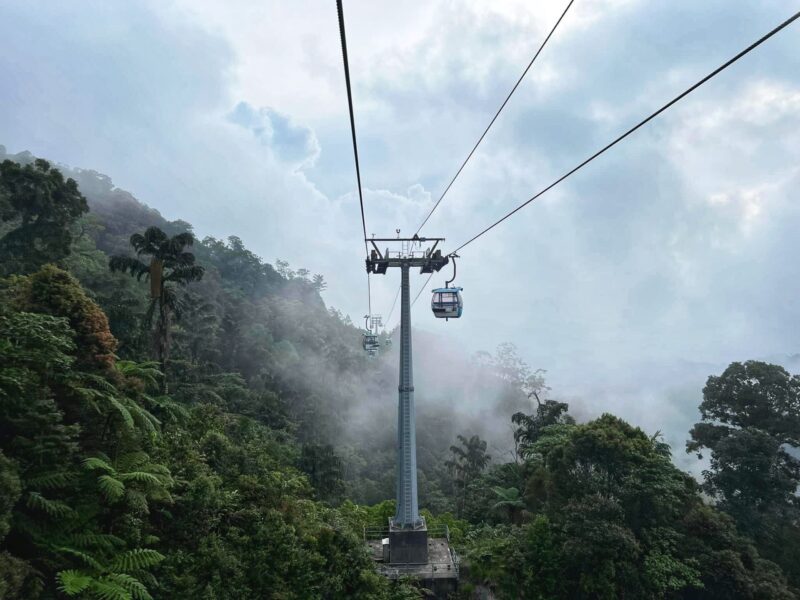 Once you arrived in Sentosa, traveling within the island is also simple. Plus, transport on Sentosa Island is free. You can get around around the island with a free shuttle service.
Sentosa Island Travel Tips: When you leave Sentosa, the Sentosa Express is free! Just hop on the monorail from any station (Resorts World, Imbiah, or Beach Station) on Sentosa Island and ride the monorail back to VivoCity for free.
Where To Stay in Sentosa Island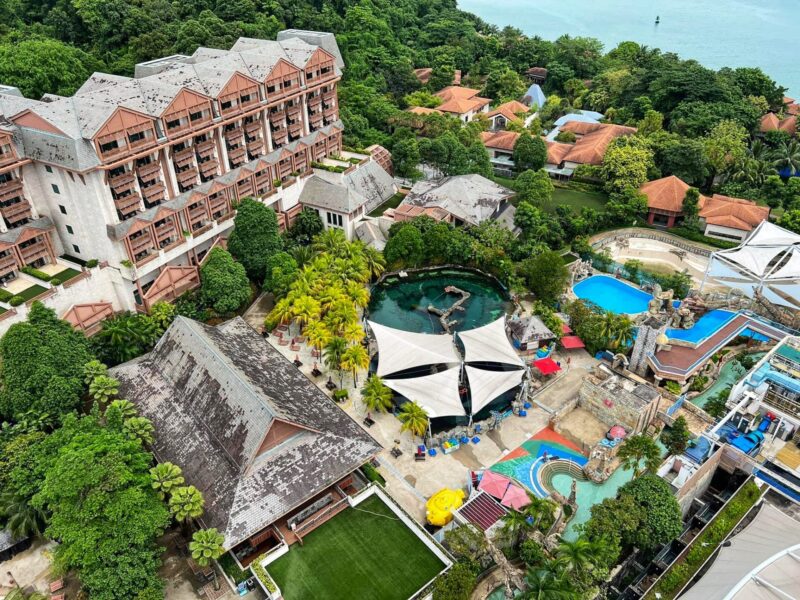 One of the highlights of visiting Sentosa Island is to experience a world-class hotel. The island lives up to its reputation with resort-style hotels. So it is best to plan on a staycation or short trip to Sentosa Island for a relaxing gateway. Plus, staying on Sentosa Island is also more convenient so that you can access attractions when wandering around.
Here are a few recommendations on where to stay in Sentosa Island:
Luxury: W Singapore – Sentosa Cove is an excellent resort-style hotel in a less crowded part of Sentosa. The property is elegant and beautiful. Rooms feature either partial or full views of the pool or ocean, with select rooms offering a balcony.
High-Range: Village Hotel Sentosa is a fantastic family-friendly option, this hotel delivers a unique offering on the island with brand-new amenities and activities. The rooms are comfy and super clean.
More accommodation options: Where To Stay in Singapore: Best Places and Hotels
Things To Do in Sentosa Island Itinerary
Our Sentosa Island itinerary is mainly for sightseeing and relaxing. So we didn't plan many activities during our trip. But to make your sightseeing Sentosa itinerary more efficient, you should try working your way in a north-to-south or south-to-north direction to save on traveling time.
Things To do in Sentosa Island itinerary:
Exploring the beaches (Siloso Beach, Palawa Beach, Tanjong Beach)
Try the Fun-filled Adventure Activities (We recommend Skyline Luge)
Visit S.E.A. Aquarium
Universal Studios Singapore
Fort Siloso
This Sentosa Island travel blog is only a guide and feel free to deviate from the itinerary planning.
Exploring the Beaches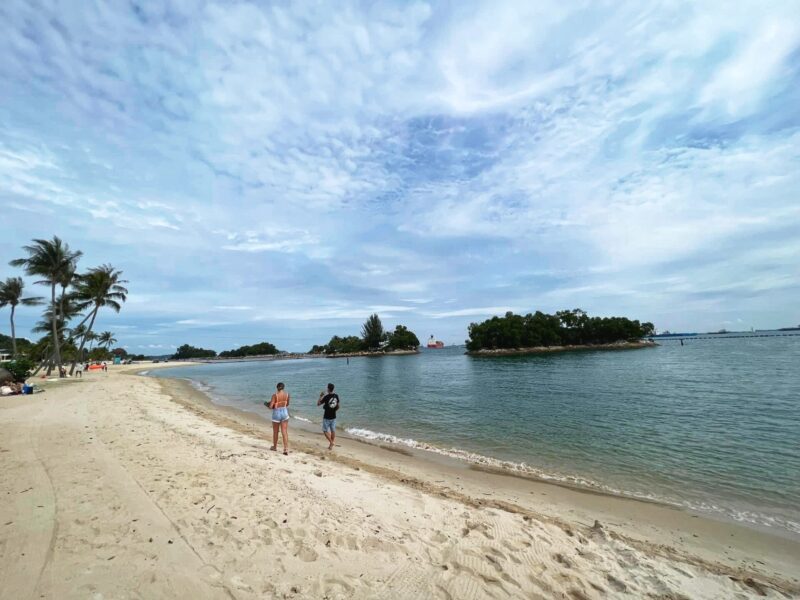 Sentosa Island has three beautiful beaches along its southern shoreline on Sentosa Island. All the beaches are spotlessly clean and great for sunbathing, relaxing, and swimming. It is best to come early or late evening as the weather is so hot in Singapore.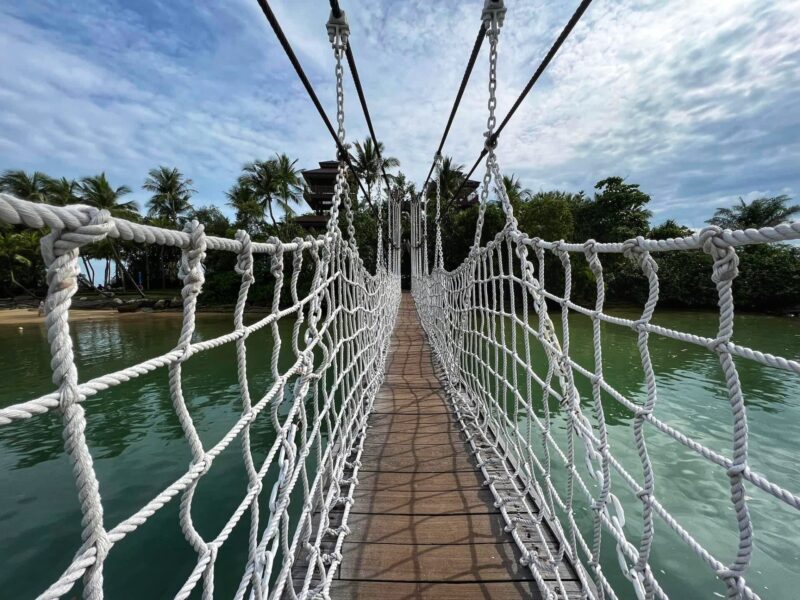 Beaches in Sentosa Island:
Siloso Beach (west side): One of the best beaches with great views on Sentosa island. It tends to be busier with plenty of beach sports activities.
Palawan Beach (middle) is more popular with families with young children. The beach is beautiful and scenic. You can walk across the rope bridge to reach the southernmost point of Asia.
Tanjong Beach (east side) is more remote with a romantic, quieter vibe.
We strolled around Palawan beach when getting around Sentosa island. The beach is easily one of the most beautiful places on the island. The beach is well-kept and clean, perfect for a stroll even at night. We dipped our feet in the water, and enjoy the view.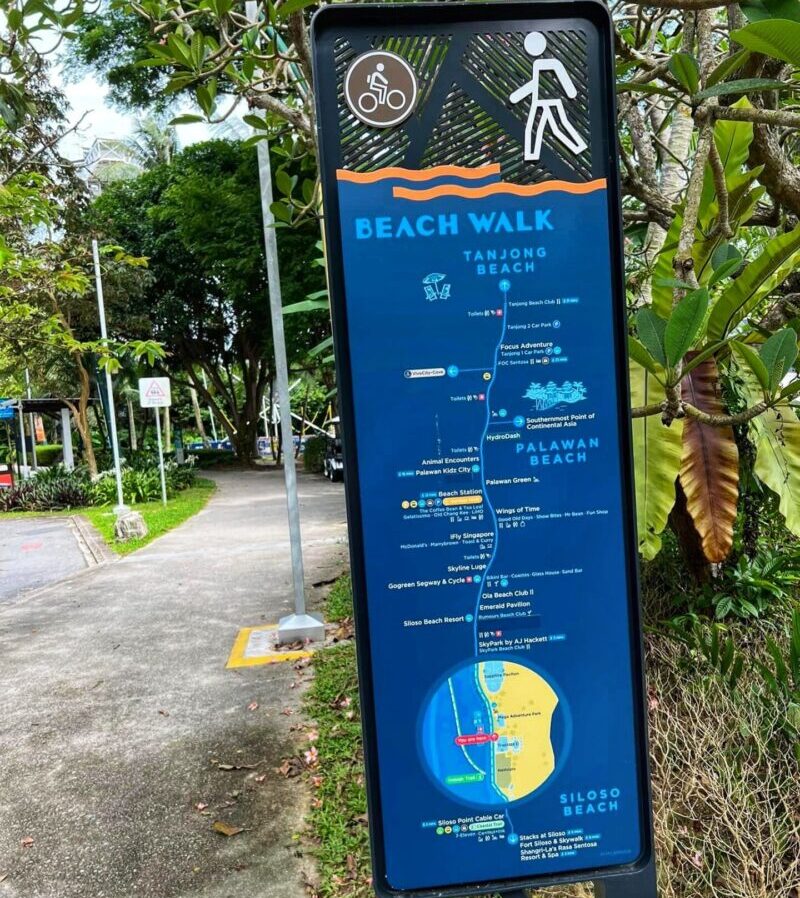 Getting to Sentosa's beach is easy. Firstly, take the Sentosa Express to Beach Station, then take the Sentosa Beach shuttle to any one of these. Besides, it is also possible to walk between all three of them.
Try the Fun-filled Adventure Activity
Sentosa is a fun-filling destination with a wide variety of attractions. There are also a few adventures for you to try on when visiting the island, such as iFLY Singapore, Skyline Luge, Gogreen Segway Eco Adventure, and Skypark Sentosa by AJ Hackett. You can pick and choose which activities you want to do on your Sentosa Island itinerary.
We suggest that you try at least one!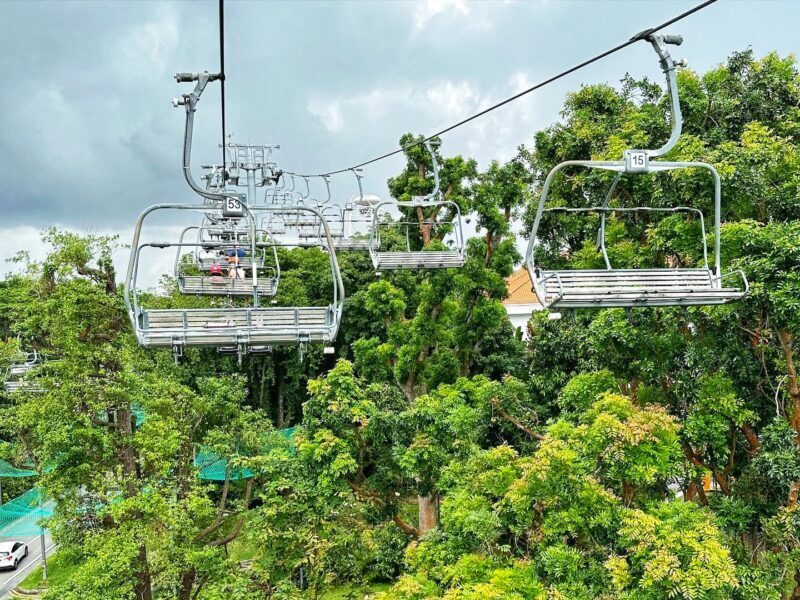 Among them, we highly recommended the Skyline Luge. It is one of the best adventures that is perfect for all ages of riders, family, and friends. A must-do for Sentosa Island itinerary.
Get the Package Deal for Skyline Luge from Klook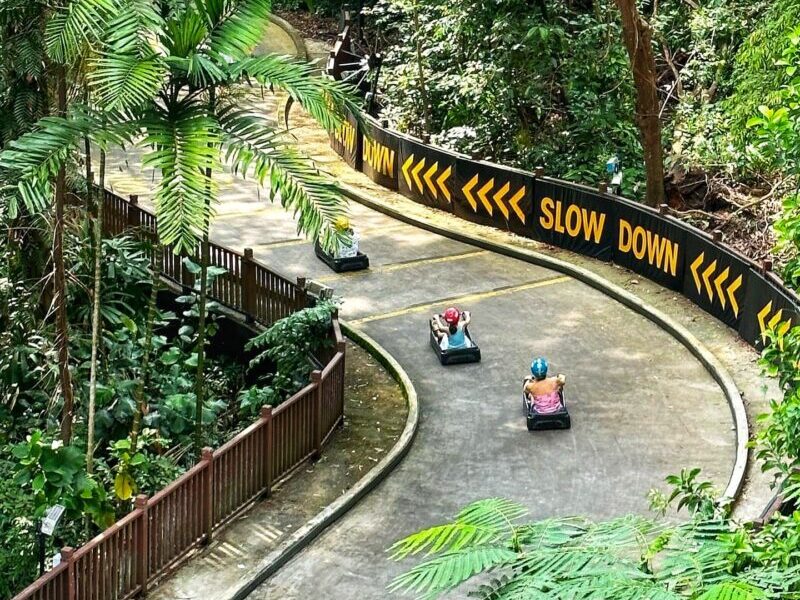 The Skyline Luge offers a fun ride down a safe, moderate-speed track that snakes down toward the beaches. The course is split into four tracks, each offering a different level of speed and excitement. A unique kind of thrill!
S.E.A. Aquarium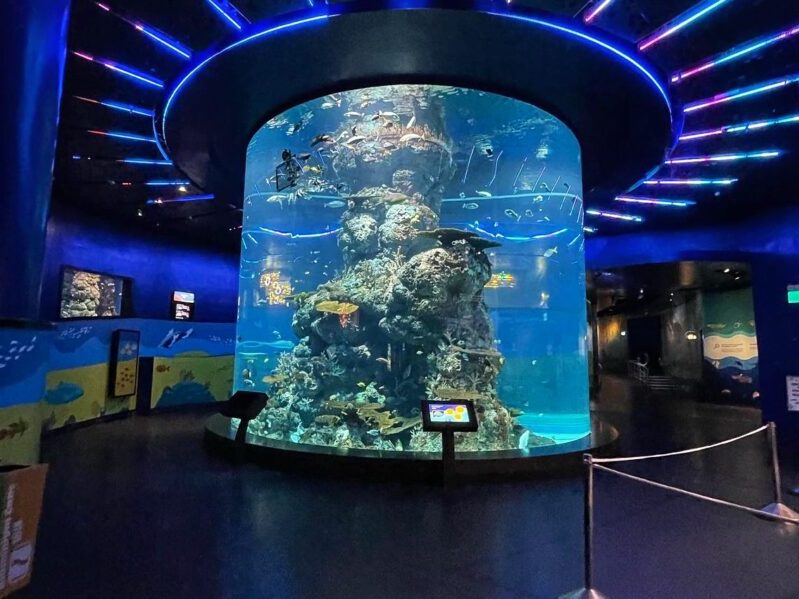 Officially the world's largest aquarium, S.E.A. Aquarium features unique marine habitats, and thousands of marine life and underwater animals. This is also the best chance to meet some sharks, dolphins, jellyfish, and colorful fishes, up-close! One of the best activities for the Sentosa Island itinerary.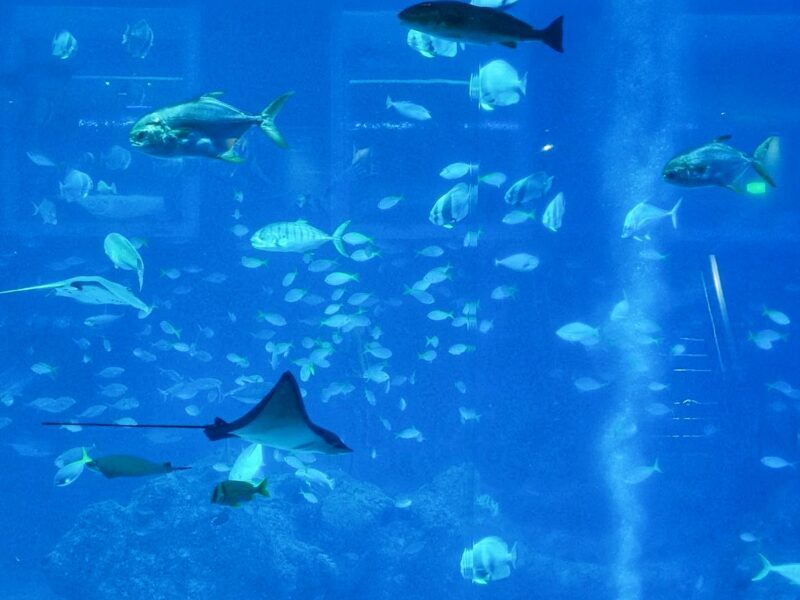 The aquarium is divided into 10 different zones, letting you observe marine animals from a variety of areas of the world's oceans. Highlights of the S.E.A. Aquarium include the gigantic Open Ocean habitat, which offers an amazing view of marine life in a completely open habitat. It is a thrill to take a stroll through it and Shark Sea Habitat flying above your head.
Get Discounted Aquarium tickets online from Klook
Plus, each section with well-display information is very informative. All this makes the entire experience not just visually pleasing but educational as well.
A visit to S.E.A Aquarium is a wonderful Waterworld experience for both adults and children alike. Please allocate about 2 to 3 hours for the visit. Definitely worth a visit.
Sentosa Island travel Guide Tips: It is great to know that an S.E.A Aquarium ticket is cheaper if bought in advance online, rather than through the ticketing machines outside. Purchase it earlier from Klook to get the discounted rate!
Universal Studios Singapore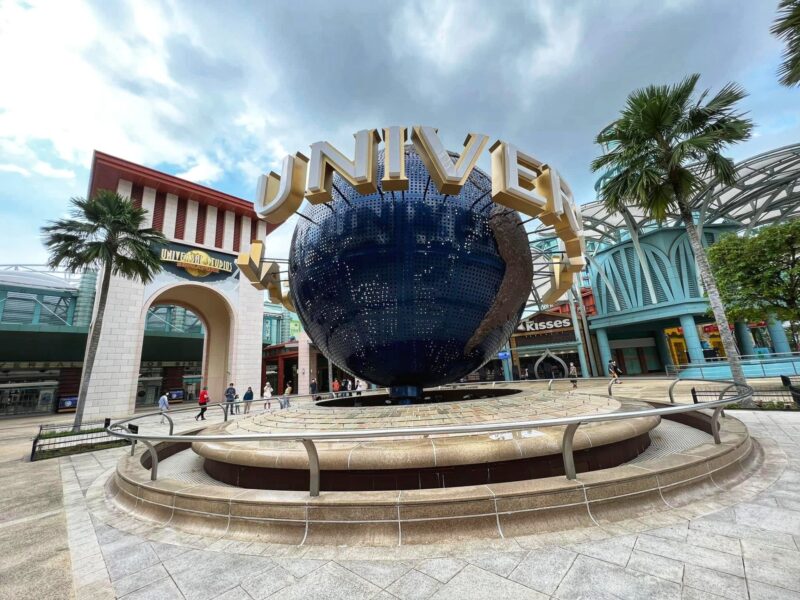 Open since 2010, Universal Studios Singapore (USS) is a modern theme park that must-visit on your Sentosa Island itinerary. It is an awesome experience for all ages!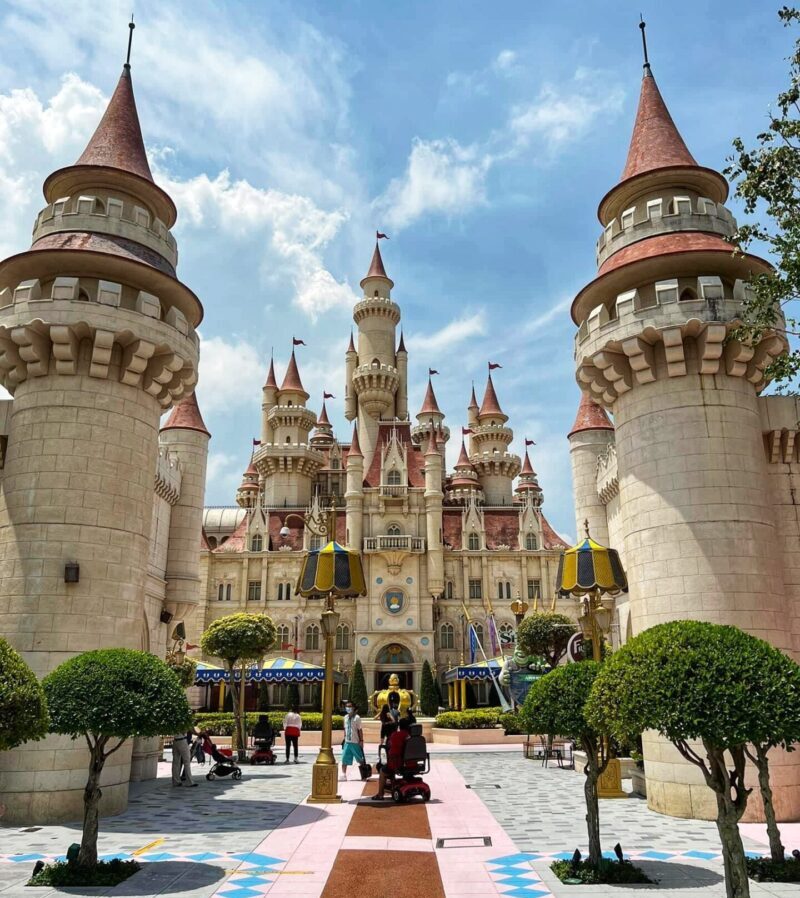 The theme park features many fun rides and shows inspired by blockbuster movies and tv series. Don't miss exhilarating rides like Jurassic Park, Battlestar Galactica, Transformers, Revenge of the Mummy, and many more.
Get Universal Studios Singapore Ticket from Klook
There is also a great selection of live and 3D shows such as Shrek 4-D, Puss in Boots, and Sesame Street. We also loved the live shows and performances.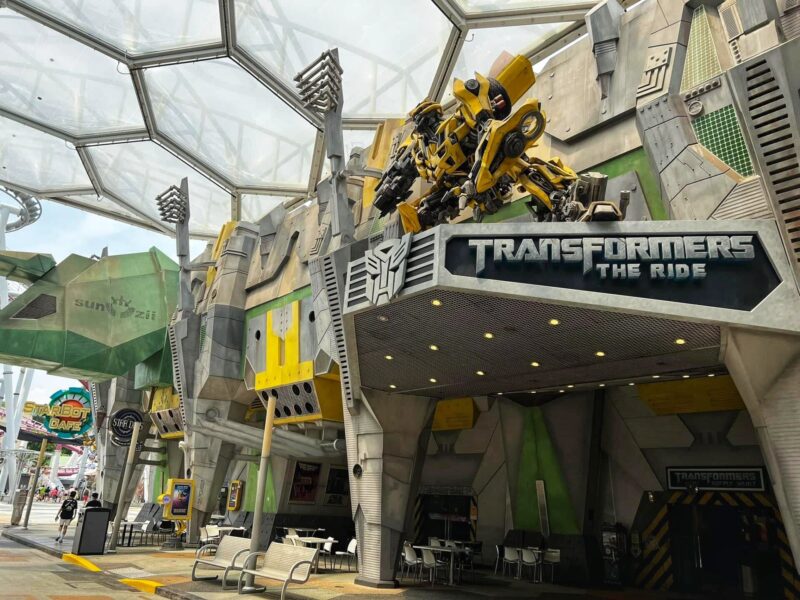 A trip to USS is a great way to spend the day on Sentosa Island to experience all the fun rides and performances. It will keep you entertained for an entire day!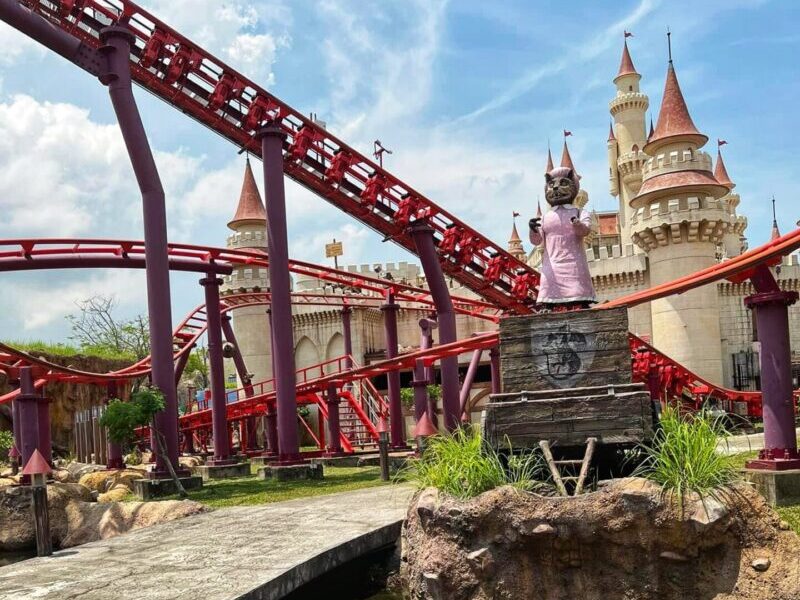 A 1-day pass to Universal Studios Singapore typically costs SGD 70 for adults and SGD 58 for kids. You can buy tickets at the gate or in advance through Klook online to beat the queues. You can sometimes get a discount if you purchase advanced tickets through Klook.
Also, be prepared to spend your time on the line for those rides. If you want a fast lane, you should try their VIP or Express ticket. This gives you access to each of the rides once via the Express Pass queue so that you won't spend most of the time on the line.
Fort Siloso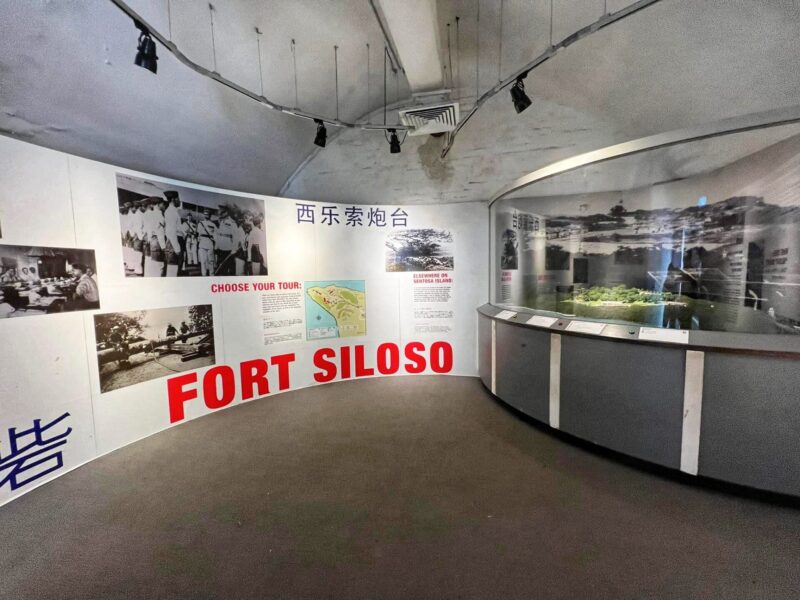 Located at the edge of Sentosa Island, Fort Siloso is a restored gun battery that was designed to serve as part of the defense from an invasion by sea. The guns were turned inland as part of the defense against the Japanese position.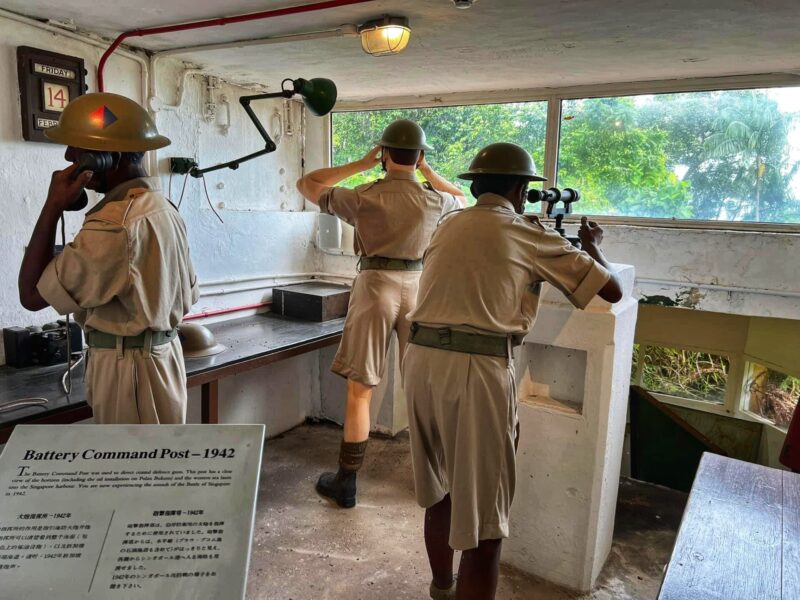 Today, Fort Siloso turn into an interesting military museum with exhibits and historical information from WWII. It is well preserved with interpretative displays. There are gun placements, bunkers, and numerous chambers detailing aspects of Singapore during the war. Take your time and learn about the WWII history of Singapore.
Fort Siloso is entrance free and visitors are welcome to wander around the fort. Worth a visit on your Sentosa itinerary.
Getting there: Fort Siloso could be reach from Siloso Beach on foot.
Overall: A Visit To Sentosa
All in all, we hope that this Sentosa itinerary will help you plan an amazing trip to this beautiful island in Singapore. The island is not just the beach but also a great destination for anyone who has a bit more time and needs a break from all the cultural attractions in Singapore. It is one of the top places to visit in Singapore and highly recommended. A fun-filled trip especially for family travelers with kids.
Thanks for reading my Sentosa Island itinerary post. Enjoy your trip to Sentosa!
Are you planning on going to Singapore? Check out our Singapore travel stories on what to see and do in this fantastic and vibrant city!