Last updated on September 23rd, 2023
To help you plan your Singapore itinerary, we've put together some top tips and a handy guide to the best things to do in this Singapore travel guide blog.
Singapore is an ultramodern country that is full of fascinating and energetic. The nation was once a small fishing village, but it paved its way to being one of the most prosperous nations in the world. This island country is populated with an impressive skyline, high-end shops, and bustling activities day and night.
However, at the same time, Singapore retains much of its ethnic and cultural diversity. The city is also accentuated by beautiful gardens and boasts over 50 major parks and 4 nature reserves. The modernity, greenery, and cultural preservation are what make Singapore so fascinating.
There are so many interesting things to do and see to keep you busy. Travelers fall in love with this perfect combination of a bustling city and a tropical island.
Planning on a Singapore itinerary for the first time? In this Singapore travel guide blog, we will share with you all the best places and attractions to visit in the city. This is an easy-to-follow Singapore itinerary to help you plan your trip. Keep reading and learn everything you need to know before traveling to Singapore.
Singapore Travel Guide: Things To Know Before Your Trip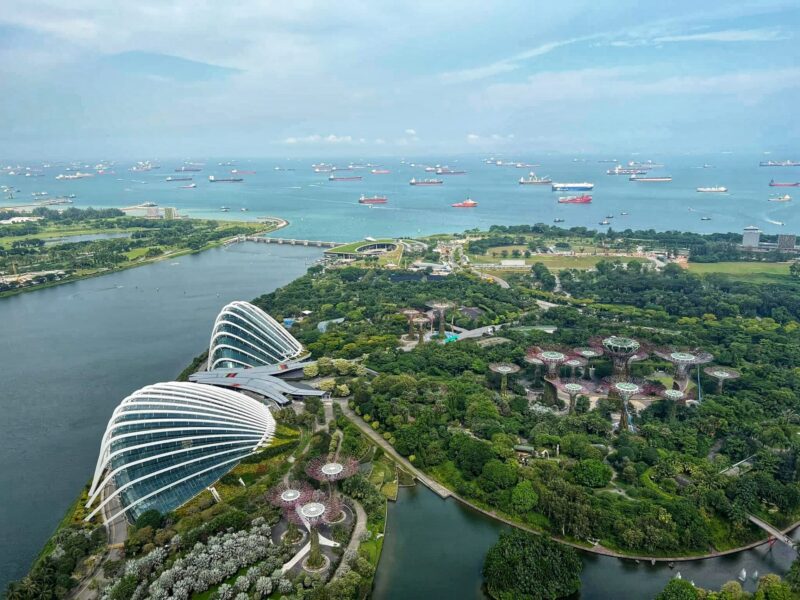 When visiting Singapore, you might have many questions about Singaporean culture, how to get around, where to go, and what to see. After several incredible trips to this amazing Singapore, it's time to share all of my Singapore travel guide with tips to you.
Here is a quick and easy travel guide when visiting Singapore:
What is the best time to visit Singapore?
Singapore is a great year-round destination and you can comfortably arrange for your holiday at any time of the year. The weather is hot and humid the whole year. But November to February is a monsoon season with lots of rainfall.
Can I travel to Singapore alone?
Singapore is a great city and you will have no problem traveling alone to one of the safest cities in the world.
How many days for Singapore?
3 days is a good amount of time to get a taste of the island's culture, natural beauty, and recreational activities. If time is permitted, we recommended 5 days in Singapore to experience everything at a more relaxed pace.
What to do in Singapore for one day?
If you only have one day in Singapore, then we recommend choosing your favorite activities from the this Singapore itinerary that are centralized in one area. We suggest visiting the Marina Bay area as this is the most exciting place to visit and lots to see in a short time.
From Changi Airport To Singapore City Center
Most of the visitors to Singapore will be arriving by plane at Changi Airport. There are several ways to get to downtown Singapore from Changi.
SMRT: The SMRT is the fastest and cheapest way to get to downtown Singapore from the airport. The fare depends on where you are getting off and generally is around SGD 2.70. If you have purchased an EZ-Pass before arriving you can use that for the fare.
Public Bus: Another inexpensive option and it takes about an hour from the airport to the downtown area. The fare is depending on the destination and it starts fare from SGD 2.50.
Airport Shuttle: The 24-hour shuttle buses will take you to the hotel directly. Refer to the list if your hotel is one of their serviced hotels. The bus fare is around SGD 9 for adults and SGD 6 for kids (under 12). You can follow book tickets on Klook.
Taxi: A convenient way to get from the airport to the downtown city. It'll cost you between SGD 20-40 directly to the destination. Bigger groups can consider taking the Maxi Cabs which can accommodate up to 7 people for a flat fee of SGD 60.
Private Transfer: The most convenient way to get to and from the airport but also the most expensive. You can book your private transfer through Klook in advance.
Getting Around in Singapore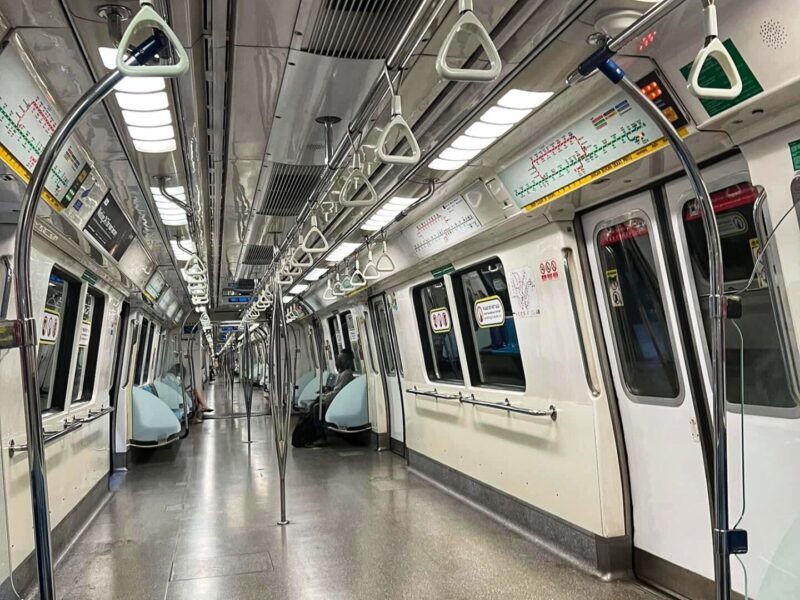 For exploring the city, there are a few good ways to get around Singapore.
The city is boasted great public transportation links and taking public transport in Singapore is so convenient. Singapore's MRT system is very efficient and it can take you to most of the attractions in the city. We used public transport to go pretty much everywhere.
Once we are in the area, most of the attractions can be easily reached on foot. But if you are lazy, you can always hop into a taxi or use Grab.
If you plan on using public transportation often, then there are a few transport cards you can get to make it cheaper and more convenient.
Singapore Transport Card / Pass:
Singapore Tourist Pass (STP) – a special card that will allow you unlimited access to the MRT and public system for one day (S$10), two days (S$16), or three days (S$20).
EZ-Link or NETS FlashPay Card may be better options if you don't need unlimited daily rides. Each ride will come out cheaper than single journey fares and it will save you the hassle of having to buy tickets before each ride.
Singapore Travel Guide Tips: There is also the popular Singapore Sightseeing Hop-On Hop-Off Tour. A great way to see many famous landmarks around the capital at ease.
Where To Stay
Singapore isn't that big but it is such an incredibly varied island city. Broadly speaking, your choice of places to stay here are Marina Bay Sands, Orchard Road, Sentosa, and Riverside (Boat Quay, Clarke Quay, Robertson Quay).
If you are the budget type, you can choose to stay in Bugis, Chinatowns, and Little India. Those locations offer accommodations at lower prices yet are accessible by public transport. While hostels and budget guesthouses are also mostly scattered in these areas for budget travelers.
Here is our popular pick for choosing your best stay when visiting Singapore:
For more Singapore accommodation, read on: Where To Stay in Singapore: Best Places and Hotels.
How Many Days for Singapore itinerary
A trip to Singapore can be as short as a few days or as long as a couple of weeks, depending on your itinerary and what you plan to do. However, a good starting point for a first-time visitor is to plan for at least three to five days.
Singapore isn't that big but the island city is packed with fun and interesting things to do. We recommended 5 days for Singapore itinerary to get a taste of the island's culture, natural beauty, and recreational activities. If you're in a rush and only have 3 days in Singapore, then you can probably focus on the major sights. But if you want to have a more relaxed visit, then visit Singapore for at least 5 days at a comfortable and relaxing pace.
Next, follow my 5-day Singapore itinerary if you are visiting the city for the first time.
Singapore Itinerary: What To Do in Singapore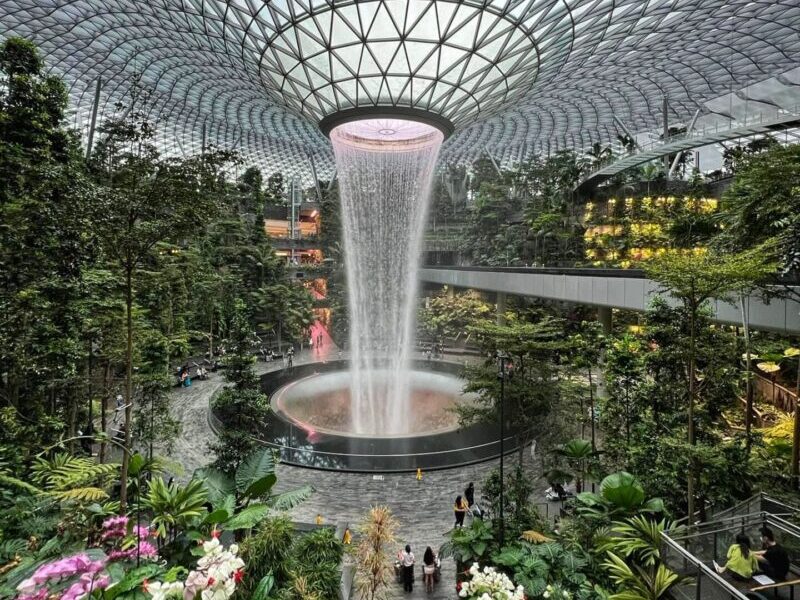 Here is the Singapore itinerary with the best things to do in Singapore for 5 days. There are so many exciting things to try out in the city and the activities cater to all types of travelers including family travelers. What are you going to choose? Here's a 5-day Singapore itinerary to help you plan your trip.
Singapore Itinerary: What To Do in Singapore
Day 1: Marina Bay Area. Places to visit: Merlion Park, Helix Bridge, Gardens by the Bay, ArtScience Museum, Sands Skypark Observation Deck.
Day 2: Sentosa Island
Day 3: Universal Studios Singapore
Day 4: Wildlife Park (Singapore Zoo, River Wonder, Night Safari)
Day 5: Cultural Tour to Little India, Arab Street, Haji Lands, and Chinatown. Visit Botanic Gardens and shop at Orchard Road.
Good bye Singapore. Don't forget to take a look on The Jewel at Changi Airport before flying back!
Singapore Travel Guide Tips: If you don't find the time to arrange your own travel plans you choose for an organized tour where you will be in the capable hands of an experienced guide.
Choose from: Singapore Half-Day City Tour – Garden By The Bay Area
Day 1: Marina Bay Area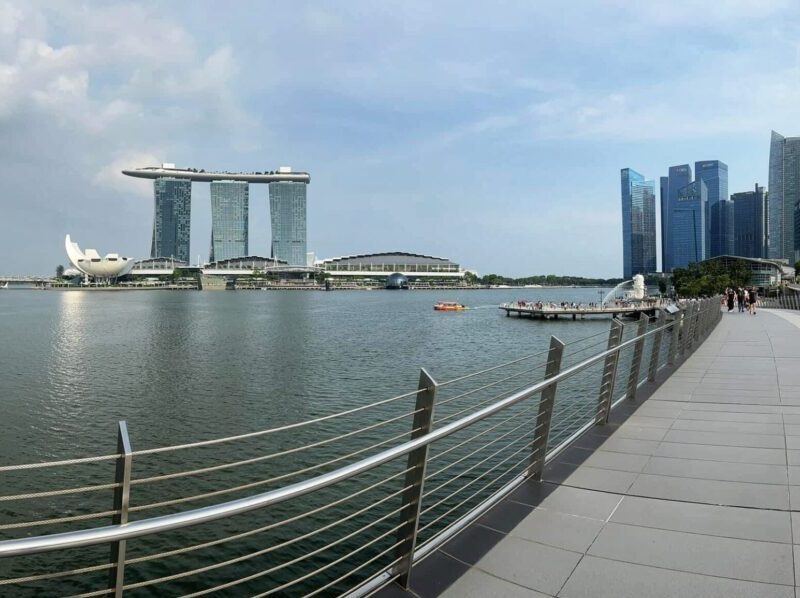 The popular Marina Bay Area is the best place to start the Singapore itinerary!
Known by the iconic Marina Bay Hotel and its proudly standing Merlion, Marina Bay Area is the hub of the city. The area is beautifully located on the water and has an upscale area of skyscrapers, posh hotels, and luxury malls. It is popular for travelers day and night!
Plan your Singapore itinerary to visit the Gardens by the Bay, Skydeck, Art Science Museum, and the area. You can also spend your time strolling along the waterfront, admiring the Merlion statue and stunning architecture, doing river cruising, shopping, or wandering around. You will find many food outlets, coffee shops, and restaurants along the way.
A good place to unwind and admire the city view of Singapore.
The Merlion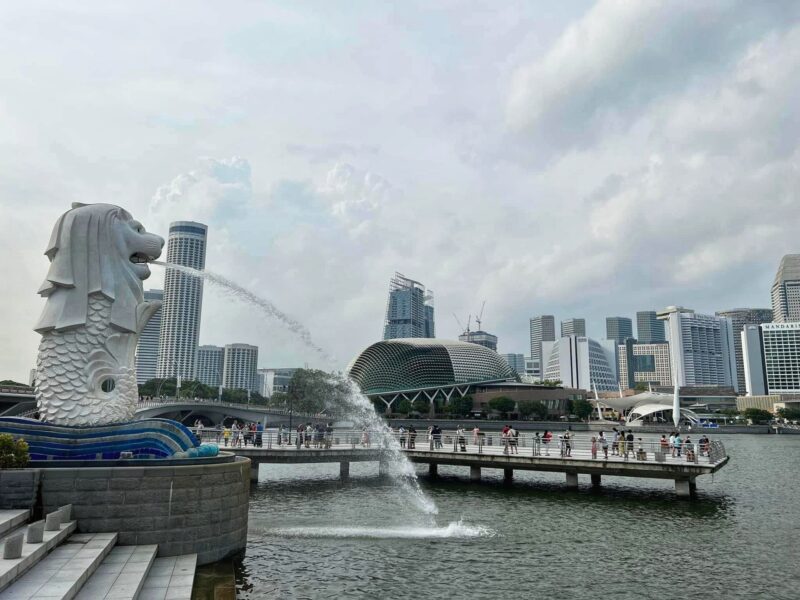 Located at the mouth of the Singapore River, Merlon Park is a popular tourist destination in Singapore. It features Singapore's most iconic Merlon statue, a mythical creature that is a half-body with a lion while the half-body is of a fish.
The Merlion statue stands proud and it represents Singapore's origin as a fishing village, and its original name (lion city). It is the unofficial mascot of Singapore. When people think of the Merlion, then they think of Singapore.
Visitors can take photos of the statue and enjoy panoramic views of the city skyline. If you take a river cruise you will also get a different perspective for pictures. Spend 30 minutes or spend an hour or more in the area. The park is easily accessible via public transportation and is open 24 hours a day.
Merlion Singapore
Opening Hours: Always open!
Nearest MRT: Raffles MRT
Estimated Time Needed: About 30 minutes to 1 hour.
Singapore Travel Guide Tips: Nearby there are a few other attractions you could hop on this Singapore Half-Day City Tour when visiting the area.
Helix Bridge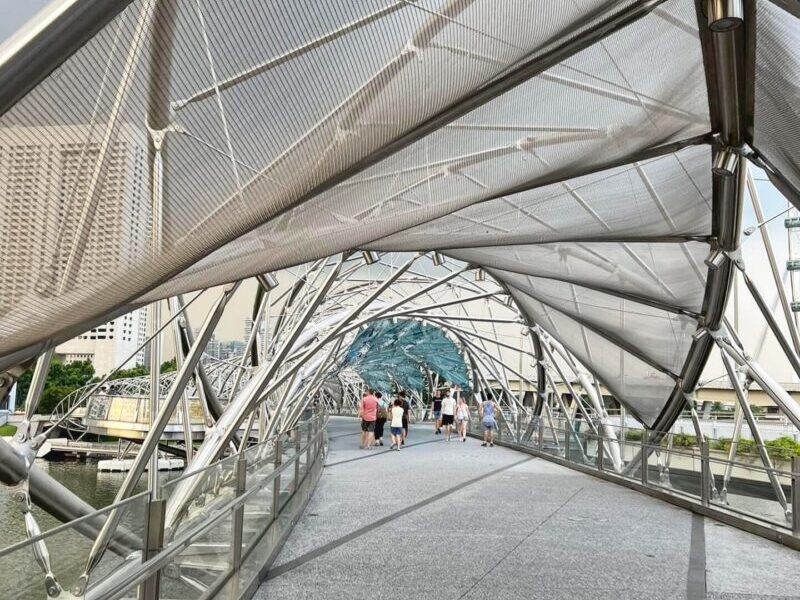 Walk from Merlion and continue to Helix Bridge.
The Helix Bridge is a fascinating curve bridge that spans across Marina Bay that connects Marina Bay (or more precisely, Marina South) and Marina Centre. This pedestrian bridge features a helix-like structure that is both stunning and functional. It has won many design awards and is a popular attraction for both tourists and locals.
It was a lovely walk and crossing the bridge offered panoramic views of the city and its many landmarks. In the evenings, the bridge is lit to show off its unique shape. We were impressed by its beauty and unique design.
A great place to take a leisurely stroll or simply stop and admire the impressive design. Highly recommend it!
Garden By The Bay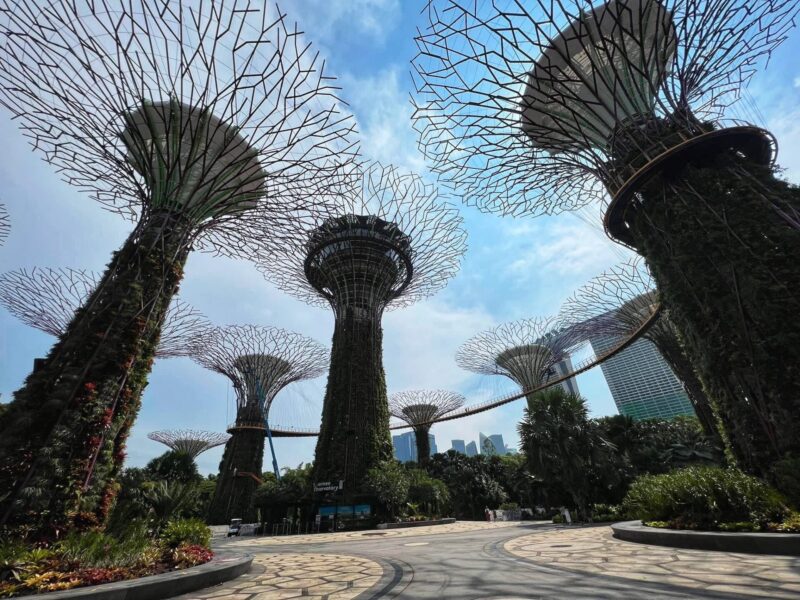 A must-visit on your Singapore itinerary are the Gardens by the Bay. It is the most popular attraction in Singapore and it isn't hard to understand why. This place is mind-blowing and there are many sights to see and exhibitions to explore. If you have time for just one attraction in Singapore, then this should be it!
Get the Gardens Bay the Bay Ticket from Klook
Gardens by the Bay has a diverse range of botanical gardens, and giant indoor waterfalls, and is home to the iconic Supertrees. You can easily spend at least half a day exploring the area. At night, don't miss the spectacular light and music show where the Supertrees light and change colors to the beat of the music. The ambiance is truly amazing!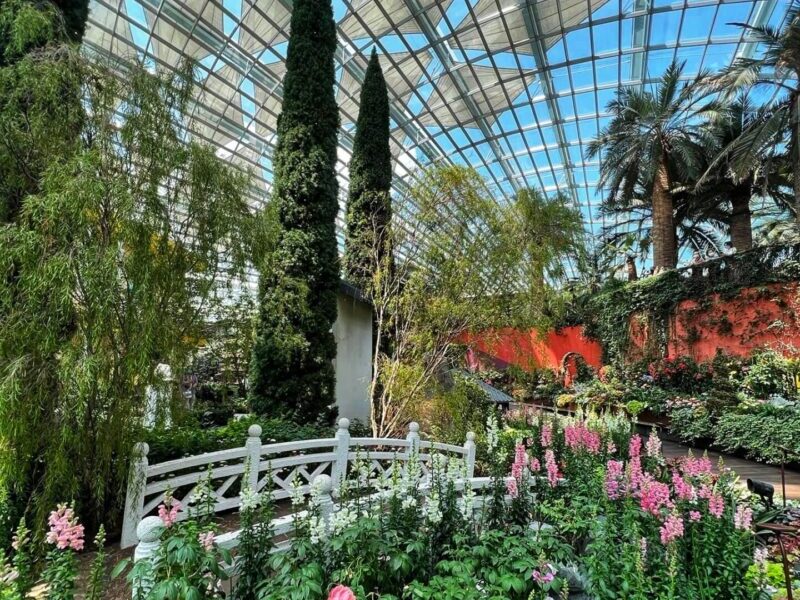 The entrance to the gardens is free and required admission fees to the Flower Dome, Cloud Forest, Supertree Observatory, OCBC Skywalk, and Floral Fantasy. Tickets can be purchased at the entrance door but you can get discount E-tickets if you purchase them in advance through Klook. It is hassle-free to redeem and can skip the queueing time.
Find out more in Gardens by the Bay Itinerary: A Travel Guide Blog to must-see attractions at Gardens by the Bay. Don't forget to book the admission tickets from Klook here to skip the long lines.
Gardens by the Bay
Address: 18 Marina Gardens Dr, Singapore
Opening Hours: Daily from 5:00 to next day of 2:00
Admission Fee: Depending on the attractions (Get the Gardens Bay the Bay Ticket from Klook)
Estimated Time Needed: At least 4 hours.
Official Website: https://www.gardensbythebay.com.sg/
ArtScience Museum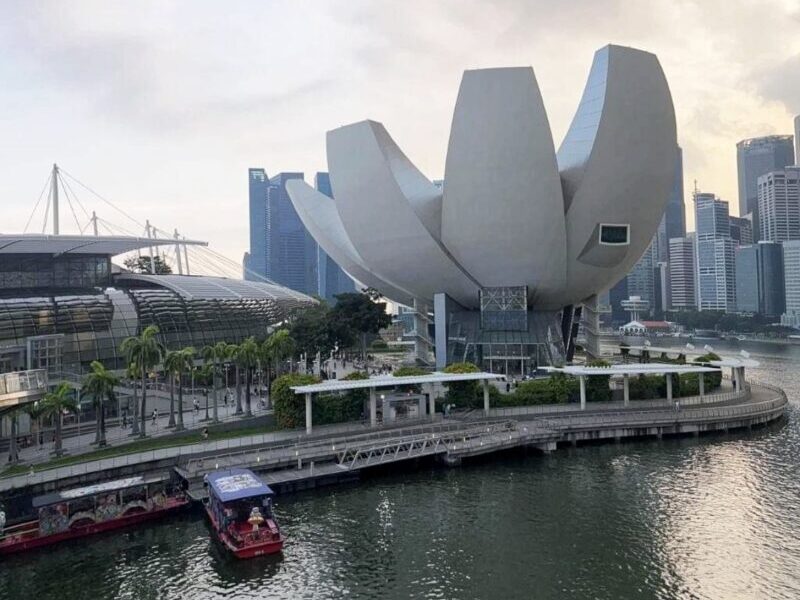 For family travelers with younger teenagers, consider visiting the ArtScience Museum. The museum is situated right in the Marina Bay area, so you can easily tie in on your Singapore itinerary when visiting the area.
The ArtScience Museum itself is impressive architecturally, with a lotus-shaped building. Its even very own lotus garden located at the foot of the Museum. Inside, there is a museum and three different exhibitions offer the guest to experience the combining of modern art and science. These include various interactive installations as well as fun artworks. The place is great for kids, and you can walk through the famous sparkling lights feature and exhibitions.
Get Singapore ArtScience Museum Ticket here
Note that it is a hefty price to get in. But fortunately, you can get some discounted tickets by buying online from Klook. Check here for more detail.
ArtScience Museum
Address: 6 Bayfront Ave, Singapore 018974
Opening Hours: Daily from 10:00 until 19:00
Estimated Time Needed: About 1-2 hours.
Sands Skypark Observation Deck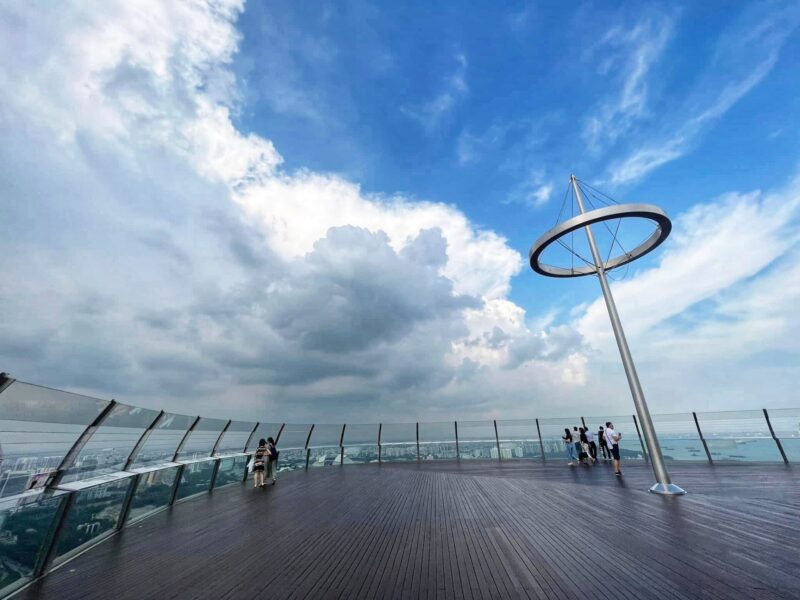 Another must-do thing to do in Marina Bay Area is to the Skypark observation deck which offers unparalleled views of the Singapore skyline.
The Marina Bay Sands is the most iconic hotel in Singapore. Many people came to the Sands Skypark Observation Deck on the 57th level to get some of the most stunning views of Singapore. It gives a 360-degree view of the adjacent bay, the city landscape, and the skyline of Singapore city.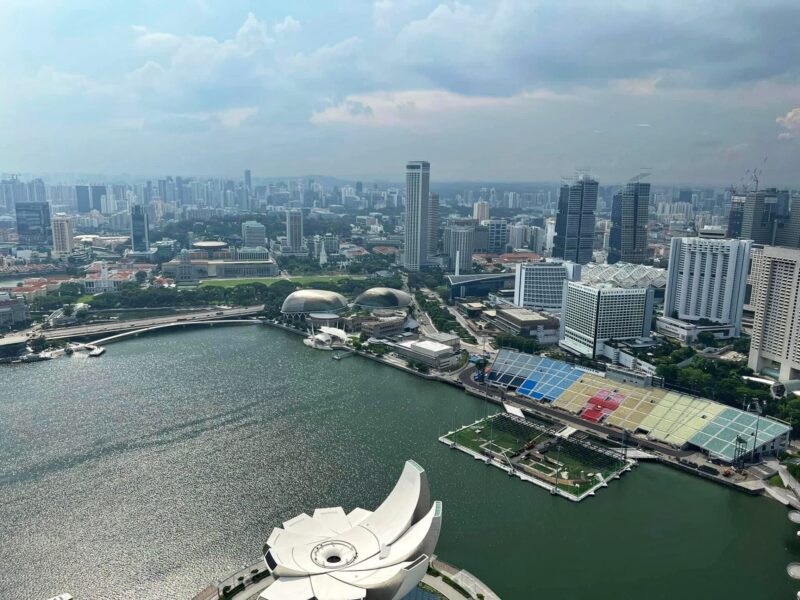 However, outsiders can access only a part of the ocean surfboard-shaped deck. The incredible infinity pool, unfortunately, it's only open to guests of the hotel.
There is limited capacity and the slot is pre-booked each day. So we would advise you to book up in advance to avoid disappointment. You can buy tickets at the gate but you may get a discount if you purchase them in advance through Klook.
SkyPark Observation Deck
Address: 10 Bayfront Ave, Singapore 018956.
Opening Hours: Daily from 11:00 until 21:00
Estimated Time Needed: 1-2 hrs
Admission: SGD 25 (adults), SGD 19 (kids)
Day 2: Sentosa Island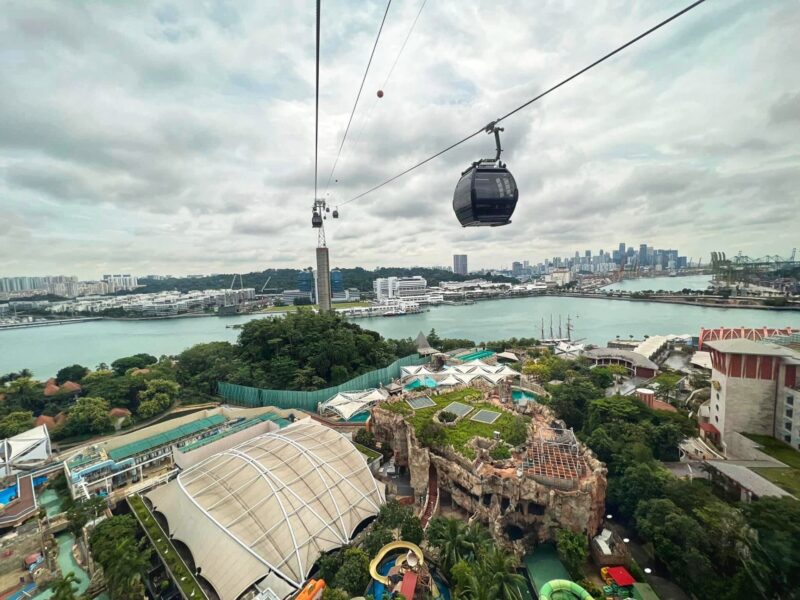 Sentosa Island is a small island in Singapore with beaches, hiking trails, golf courses, and resort hotels. This island is home to some of the world's most prestigious resorts, action-packed theme parks, fast food and fine dining restaurants, and the best beaches in Singapore.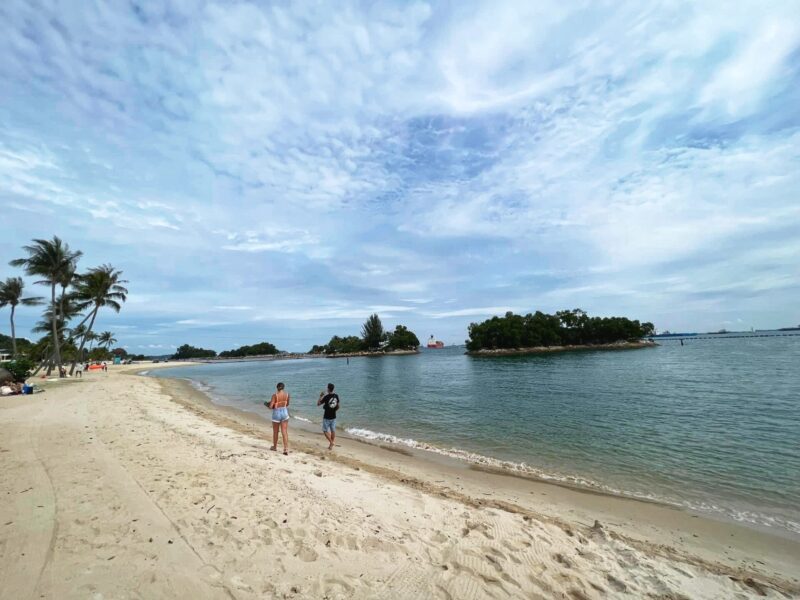 Popular places to visit on Sentosa Island including Universal Studios, Madame Tussauds Wax Museum, S.E.A. Aquarium, Fort Siloso, Siloso beach, and many more.
Check out my travel blog on Sentosa Island for more travel information: Sentosa Island Itinerary
A visit to Sentosa presents endless options for attractions, food, and fun. It is the best destination for locals and travelers for exciting activities and scenic beaches. You can spend your whole holiday in Sentosa Island or just visit for 1 to 2 days. The Universal Studios will easily take up an entire day so you may want to reserve another day to explore the rest of the island.
Day 3: Universal Studios Singapore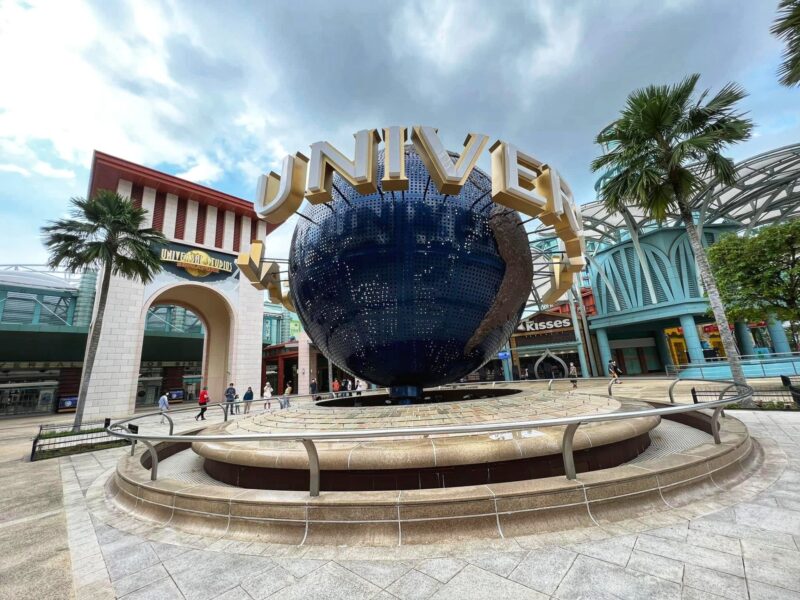 Ready for some theme park action? Located on Sentosa Island, Universal Studios Singapore is one of Singapore's most visited attractions and exciting theme parks to experience in the city. It is a once-in-a-lifetime trip to visit. So, make sure to add this to your Singapore itinerary.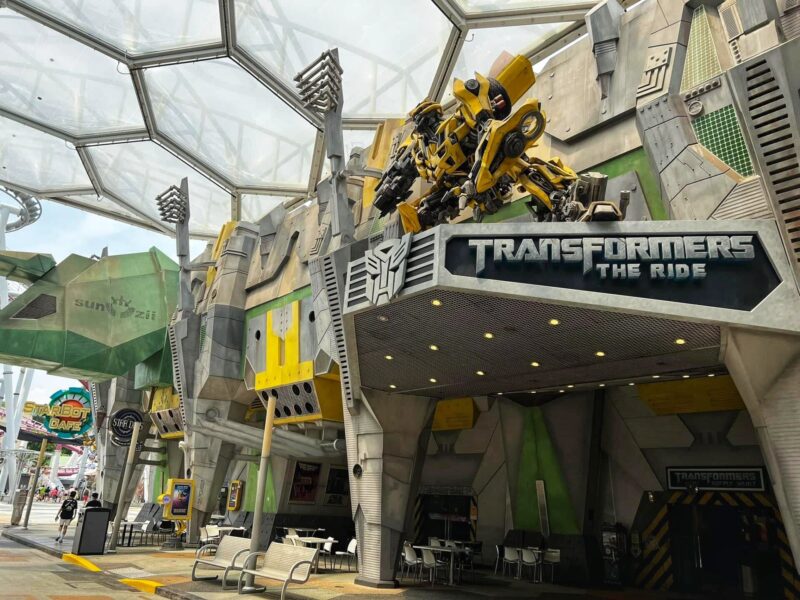 Universal Studios Singapore offers exhilarating rides like Jurassic Park, Transformers, Revenge of the Mummy, and many live shows/performances. There are many rides and activities where you can have fun.
Get Universal Studios Singapore Ticket from Klook
We highly recommend spending a full day exploring your inner child at this incredible adventure park. Truly a magical fun day!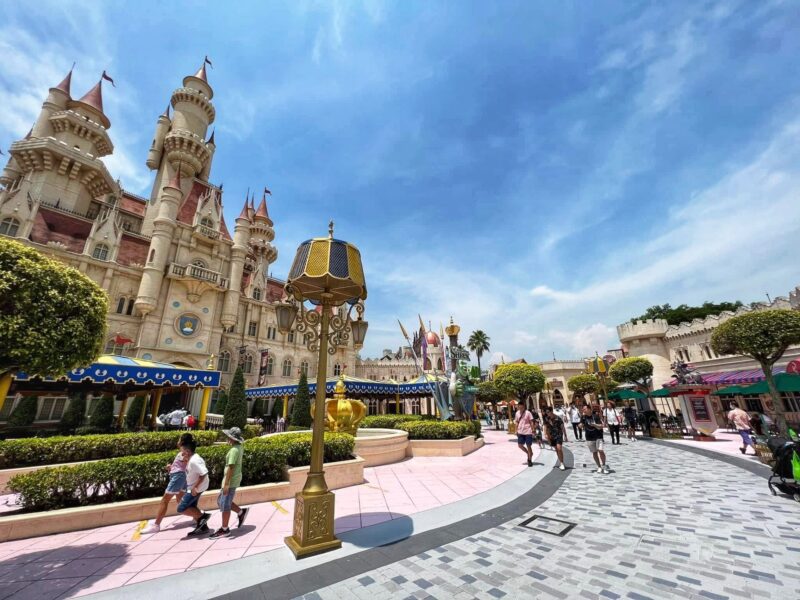 A 1-day pass to Universal Studios Singapore typically costs SGD 70 for adults and SGD 58 for kids. You can buy tickets at the gate or in advance through Klook online to beat the queues. You can sometimes get a discount if you purchase advanced tickets through Klook.
Universal Studios Singapore
Estimated Time Needed: At least one and a half days
Universal Studios Admission: SGD 77 (adults), SGD 58 (kids)
Day 4: Wildlife Park
Singapore is full of modern architecture and skyscrapers, but you can find nature within the city just minutes away. There are many lovely garden scenes and adorable animals that you can include in your Singapore itinerary.
On your day 4 of the Singapore itinerary, you will spend your day exploring the Singapore Zoo, River Wonder, or Night Safari. Combo ticket available, so choose your best option and interest.
Singapore Zoo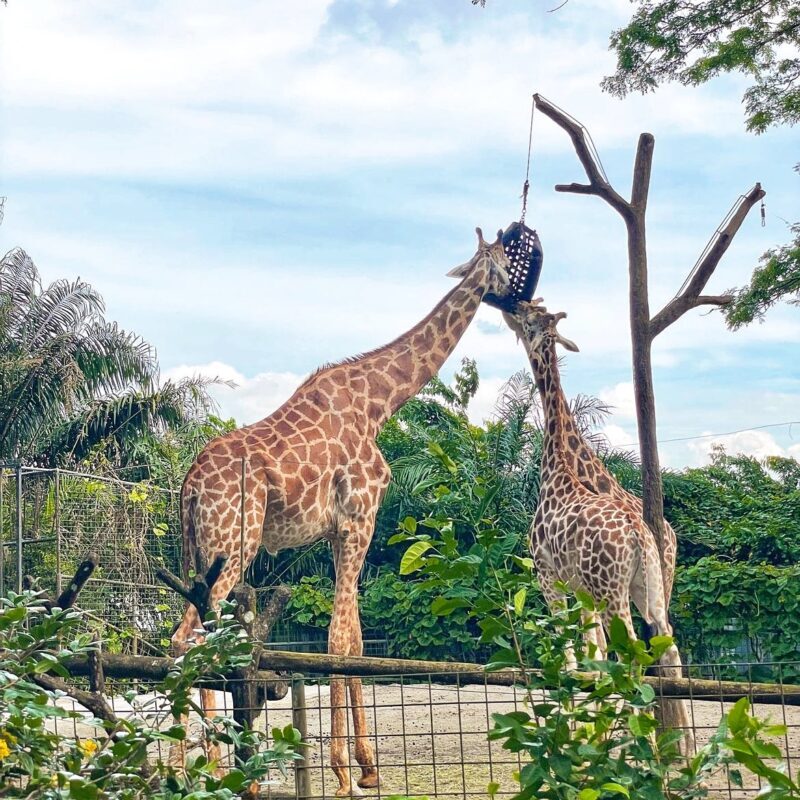 If you are visiting Singapore with kids, we highly recommend including Singapore Zoo on your itinerary.
Formerly known as the Singapore Zoological Gardens or Mandai Zoo, Singapore Zoo is rated as one of the best zoos in the world. It has a large variety of animals, from Orang-utans to Otters, and the exhibits mostly feel natural and spacious for the animals. Everything is well maintained and well kept.
Get Singapore Zoo Ticket from Klook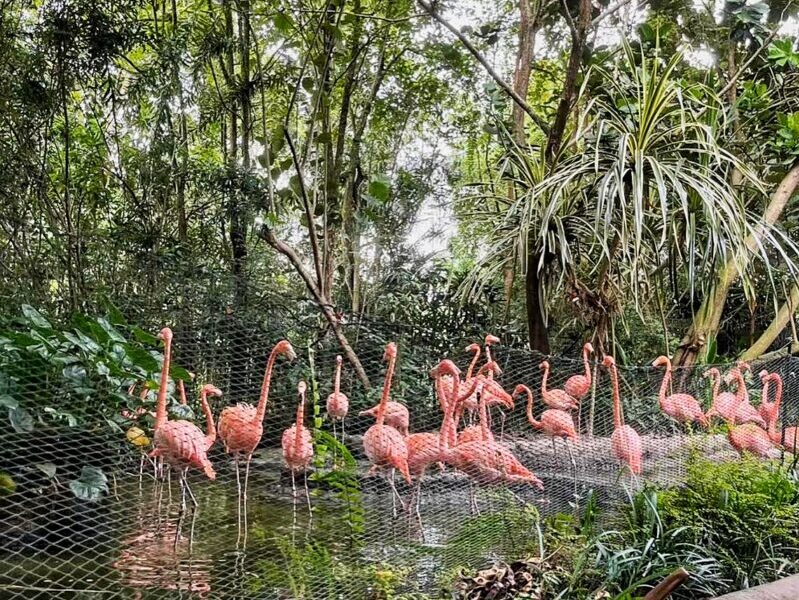 You can also include your visit to other parks, which is River Safari and Night Safari, or Jurong Bird Park. Each park required an entrance ticket. You can buy entrance tickets at the gate or in advance through Klook.
Singapore Zoo
Address: 80 Mandai Lake Rd, Singapore 729826
Opening Hours: Daily from 8:300 until 18:00
Estimated Time Needed: Half to full day
Admission: Yes (Combo ticket available, check for Combo ticket from Klook for more detail)
Day 5: Cultural Tour and Shopping
Lastly, start off the last day of the Singapore itinerary with a shopping and cultural tour in the downtown area. It's suggested that you start off at Little India, Bugis, Arab Street, Kampong Glam, and Chinatown, all within the span of half an hour. All these are a perfect treat for history lovers and cultural enthusiasts. Lastly, visit the Botanic Gardens and end your day with a little shopping therapy on Orchard Road.
Singapore Travel Guide Tips: To fully understand the history of Singapore, you can try this Singapore walking tour itinerary with Viator Tours. You can also hop on a city sightseeing bus and you'll be treated to colorful neighborhoods.
Little India
Little India is a bustling, colorful business community to explore. It is a unique cultural spot where you can spend some time visiting the Tan Teng Niah and the Traditional Trades of Little India. If you are interested, you can also visit the Veeramakaliamman Temple and Abdul Gaffoor Mosque.
Bugis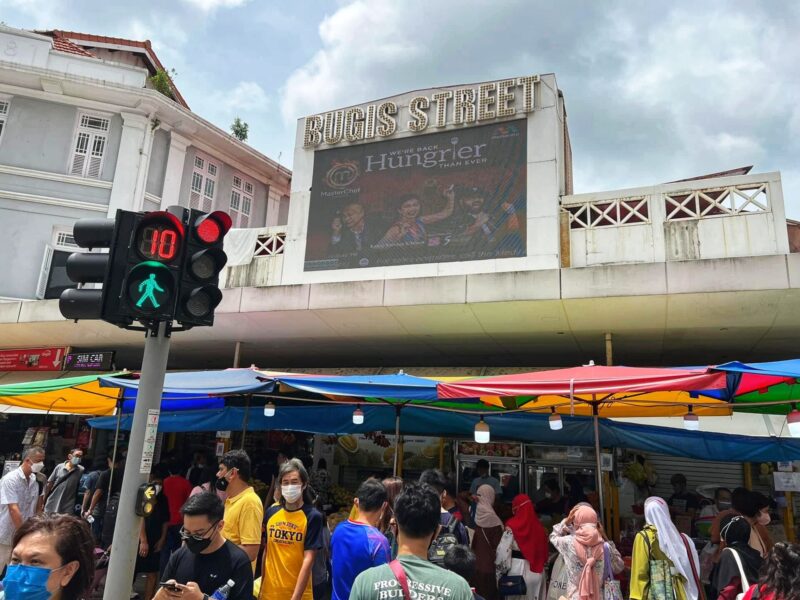 Bugis is a popular area to explore and discover. Your visit should be included with the trendy Kampong Glam neighborhood, Arab Street, and adjacent Haji Lane. The area is full of trendy boutique fashion, clever craft places, souvenir shops, cafes, restaurants, and colourful painted buildings.
Easily accessible by MRT with Bugis station nearby. Come visit and wander around in the morning or afternoon and have some drink and food at night. Well worth a trip.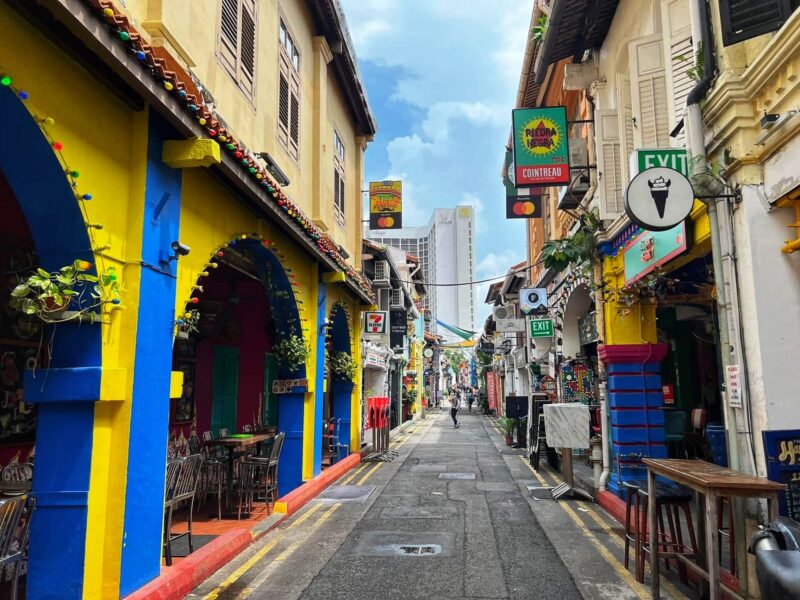 Haji Lane is the most happening street in Singapore. It is a colorful alley stretching for about two blocks in the trendy Kampong Glam neighborhood. There are brightly painted murals on the buildings, wonderful displays, artsy and unique cafes, and small shops. Many colorful backdrops are worthy of a photo.
Arab Street – Next on your list should be Arab Street, where you'll be surrounded by more colorful shops focused on fabrics and floor coverings.
Sultan Mosque – If you have time, you can also walk not far around the corner to the very famous mosque, Masjid Sultan. The Sultan Mosque is well-known for its stunning structural design. You will be amazed by looking at the towering spires and golden domes.
Chinatown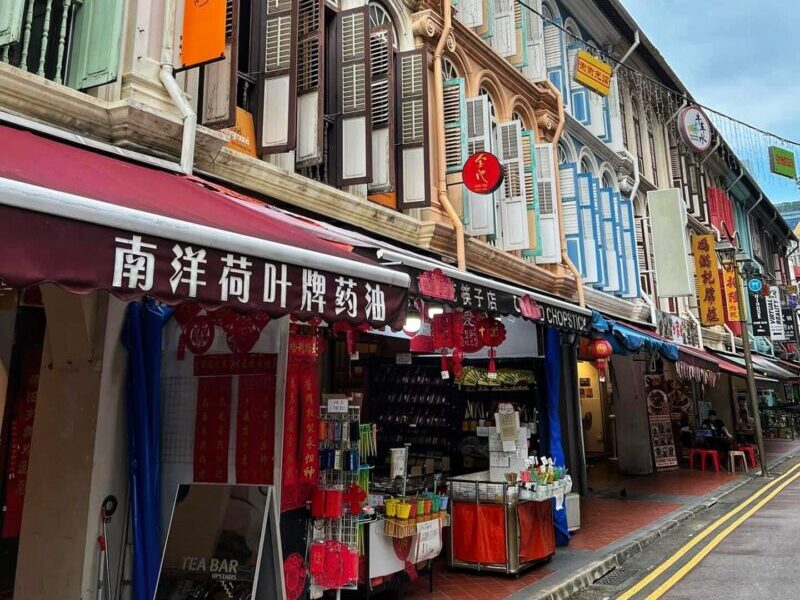 No Singapore itinerary would be complete without a visit to Chinatown.
Singapore's Chinatown is once a place for Chinese immigrants, and it has now been transformed into a bustling neighborhood full of great shops. Food, antique shophouses, souvenir shops, monuments, and Buddhist temples all resemble china around. You will also find food houses serving traditional cuisines. Be sure to try out the food along these streets and the hawker centers.
The highlight is the Buddha Tooth Relic Temple which is probably one of the most beautiful temples in Singapore. It is a large museum complex and a four-story-high Buddhist Temple. An amazing structure!
Singapore Botanic Gardens
Nestled near Orchard Road Shopping District, Singapore Botanic Garden is a 158-year-old tropical garden with diverse flora and fauna throughout the gardens. It is also Singapore's first UNESCO World Heritage Site. The park is a stunning outdoor park with tons of beautiful plants, trees, flowers, birds, and a lot of nature. It houses an over more than one-hundred-year-old tropical rainforest, and is simply breathtaking. You can easily spend at least half a day here.
Entrance to the gardens is free but you'll need to pay SGD 15 fee to enter the National Orchid Garden. It's a must-visit on your Singapore itinerary so don't miss it. Well worth a visit.
Botanic Gardens, Singapore
Estimated Time Needed: 2 to 3 hours
Admission: FREE
Orchard Road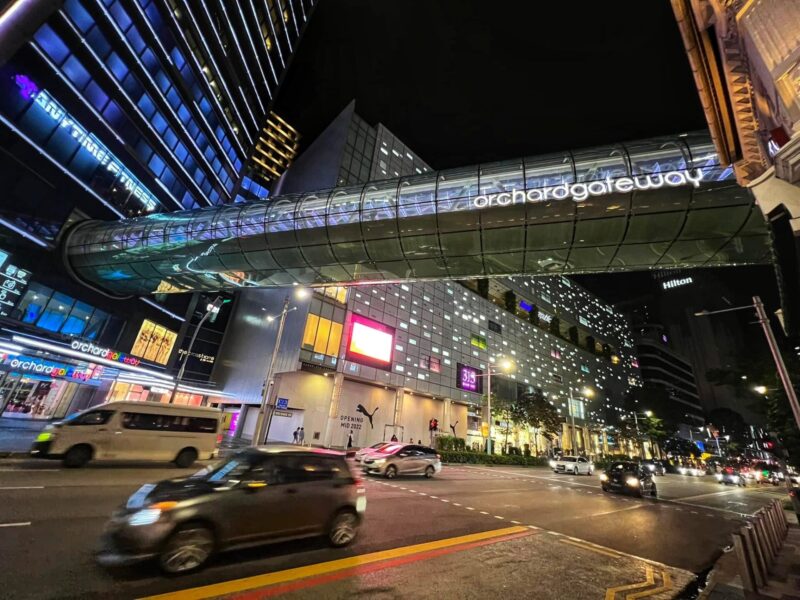 Lastly, end your day by shopping on Orchard Road. This famous lively Orchard Road is one of Singapore's top-visited spots by both locals and tourists. Many shopping malls line both sides of this glitzy road for several blocks. It houses some of the world's most famous brands, luxury items, designer shops, and distinctive stores. Shop till you drop!
Money Saving Tips: Visiting Singapore on a Budget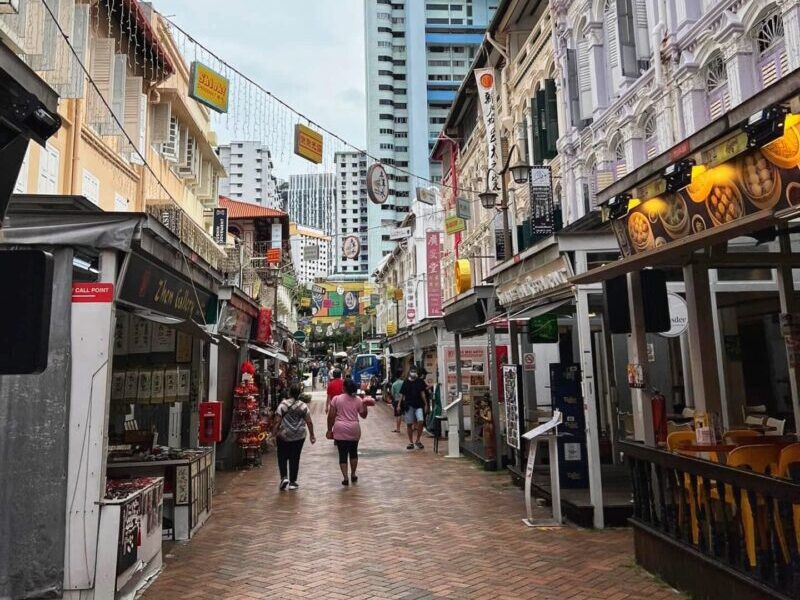 Singapore is considered one of the most expensive city to travel in Asia. But traveling in Singapore on a budget is still achievable. The first thing to understand is how to explore Singapore by spending less yet enjoying the most. Singapore has a great selection of places and attractions with entry fees that you can visit.
Traveler can plan their Singapore itinerary trip based on their interest. For example, natural lovers, you can spend the whole day visiting the Gardens by the Bay, Botanical Gardens, and parks, or just doing nothing by enjoying a nice cup of Hainanese coffee at a classic cafe. It is also best to pre-book the entrance ticket online with some additional discount.
Below are some of the popular attractions in Singapore:
Singapore is well-connected with an efficient public transportation system. You can walk around the city to see all the attractions by public transport. You can also best use the Singapore Tourist Pass (STP), EZ-Link, or NETS FlashPay Card when visiting the city.
Overall: A Visit To Singapore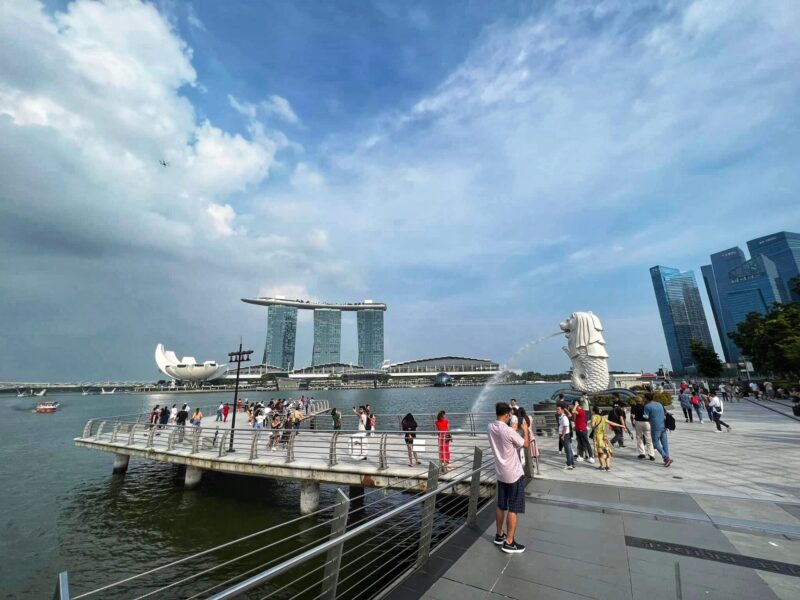 All in all, we hope this Singapore travel guide blog helps you plan the Singapore itinerary and you enjoy your visit to the city. We have been to Singapore multiple times over the last couple of years and always had a great time in this wonderful island city. By no means that we are experts on Singapore, but we do hope our tips will help you plan your Singapore itinerary.
Thanks for stopping by and enjoy your trip to Singapore!
Are you planning on going to Singapore? Check out our Singapore travel stories on what to see and do in this fantastic and vibrant city!