Last updated on December 11th, 2023
Planning your visit to Siem Reap? I'll show you how with my Siem Reap itinerary in this detailed travel guide blog! Take the extra time to fully appreciate the incredible UNESCO world World Heritage Site, local Khmer food, and smiling locals!
A visit to Siem Reap is a must-in-a-lifetime experience for those traveling in Southeast Asia. Located in northern Cambodia, Siem Reap is the gateway to one of the greatest wonders of the world, Angkor Wat. This wonderful city should be on every traveler's bucket list.
The stunning Angkor Wat is the largest and best-preserved temple within the complex of the "Angkor Archaeological Park", a UNESCO appointment since 1992. As the best-preserved temple at the site, Angkor Wat is the only one to have remained a significant religious center since its foundation. The temple is at the top of the high classical style of Khmer architecture.
Siem Reap has so many historical and cultural perspectives that it deserves a few days of visit. I've been lucky enough to travel to Siem Reap twice and it is still amazing to see the beauty of this place. Compared to reading this in a book for watching it online, walking along in the well-preserved temple made me cry. It's one of those places that you need to go and experience for yourself to know how amazing the whole thing is, especially if you're into temples, culture, and traditions.
In this Siem Reap travel guide blog, we will share the best things to do, food to eat, and some useful travel tips and information to help planning on Siem Reap itinerary. Read on to learn more about the beauty of Siem Reap!
Best Time To Visit Siem Reap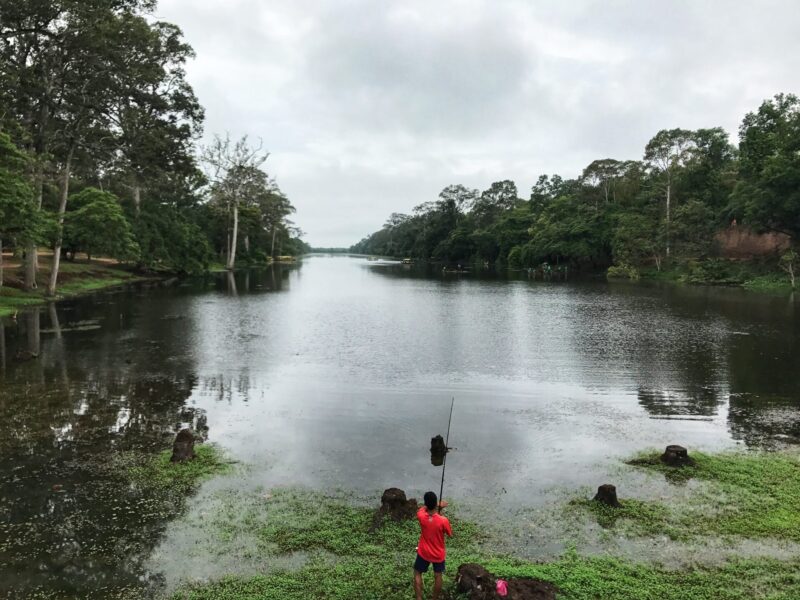 The best time to visit Siem Reap is from November to early February. These are the best time to go to Siem Reap as the weather is more pleasant. But this is also very busy and crowded during this peak tourist season.
It is followed by the hottest season in Siem Reap from May to mid of June. The temperature can be reaching up to 38°C at noon. While June to November is the rainy season in Siem Reap. It is cooler but does expect rainfall, especially in late afternoon.
I've been to Siem Reap twice – the first time at end of November and more recently in mid of May. November is a great time to visit as the weather is more pleasant but we did experience late afternoon rain during our trip. While my second trip during May was extremely hot and humid. We toured around Angkor Wat in the morning and choose to rest at the hotel in the late afternoon due to can't withstand the heat.
Where To Stay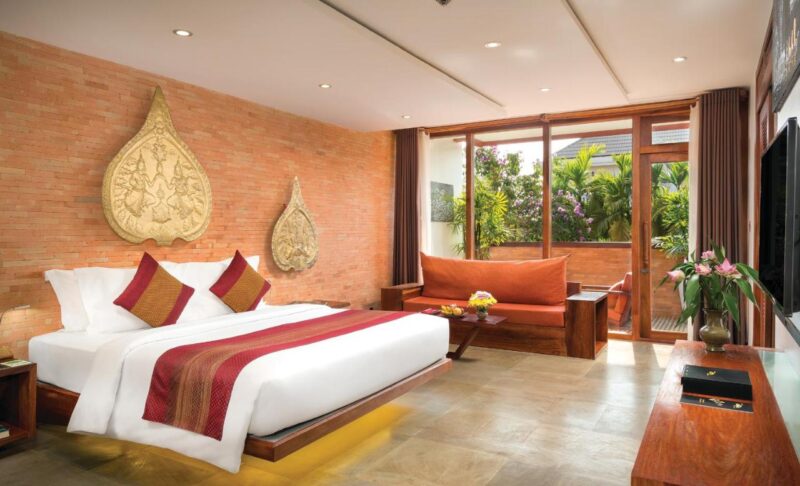 Depending on what you want to do in Siem Reap this will largely determine where to stay in Siem Reap. Generally, as long as you stay within walking distance of Pub Street, then you shouldn't have any problems getting around. Most importantly, the accommodation price is very reasonable. Here you can enjoy a luxurious stay at a cheaper price in Siem Reap.
We recommended staying in Old French Quarter, Old Market, Wat Bo, and Taphul Village if you're getting Siem Reap for visit. Here are the popular pick for staying in Siem Reap:
Luxury: Golden Temple Residence offers elegant accommodation in the heart of Siem Reap, within walking distance from the lively Pub Street. Alternatively, Royal Crown Hotel & Spa offer spacious and clean room for your stay in Siem Reap. The location is perfect, at the very center of Wat Bo.
High-Range: Chateau d'Angkor La Residence is one of the popular accommodations that is centrally located in the Old French Quarter. It is within walking distance to the famous Old Market (Phsar Chas), as well as the lively Pub Street.
Budget hostel: Onederz Siem Reap and Lub d Cambodia Siem Reap is popular hostels among budget travelers to Siem Reap. Both hostels are located in Wat Bo and within walking distance of the lively Pub Street which is great for street food and nightlife.
For a full list of hotels and hostels, check out my detailed Siem Reap accommodation guide: Where To Stay in Siem Reap.
Siem Reap Travel Guide
To get the most from your visit, you must plan the Siem Reap itinerary. The famous ruins are located less than six kilometers from the city. But Angkor Wat itself is huge and the number of temples in the wider area is staggering. This is best to plan before your trip especially if you want to watch the sunrise at Angkor Wat.
Several set 'loop' itineraries practicing by the locals based on the distance of each attraction. You can customize your route or choose from it. But no matter what you plan, you have to decide and arrange the transportation on how to visit Angkor Wat.
Most people will join the guided tour, hire a tuk-tuk or driver to take them for a temple visit. I have to admit that I'm not a huge fan of guided tours as I prefer with the flexibility to take as much time as I need in each place. However, Siem Reap is the place I recommended to sign up for a guided tour. We strongly suggest you take the English-speaking guide if you want to know more about the history of Angkor Wat.
The reason is simple! Having access to a tour guide's local knowledge is invaluable in a place like Siem Reap, where the history runs deep and the culture is complex. Here is a few popular tours that we recommend when visiting Siem Reap. Free feel to take a look.
Siem Reap Travel Tips: Most Angkor tours do not include tickets to the park. So you need to buy your own ticket before joining the tour. Make sure to communicate early to avoid any unwanted confusion.
3 to 4 Days Siem Reap Itinerary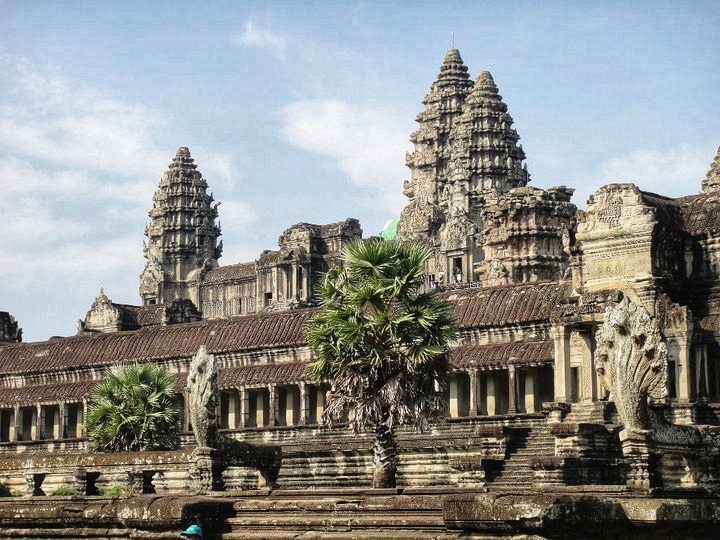 In this section of the Siem Reap travel guide blog, I've outlined what to do and places to go when visiting Siem Reap. This is the best itinerary after gathering useful information from my two actual visits. Hope this can inspire you when you planning on the Siem Reap itinerary.
Day 1 Siem Reap itinerary:
Arrived at Siem Reap International Airport. Checked-in hotel and get ready for the Angkor Pass to enter Angkor Wat. Alternate option with a sunset walk around Phnom Bakheng.
Day 2 Siem Reap itinerary:
Watch the sunrise at Angkor Wat, and continue the temple's visit to Angkor Thom Complex. Further with Big or small circuit tour. Lastly, end your day by chilling at pub street.
Day 3 Siem Reap itinerary:
Continue with temple ruins visit at Big or Small Circuit or opted to the outlying temple such as Banteay Srei and Beng Mealea.
Day 4 Siem Reap itinerary:
Join a half-day trip to Tonle Sap Floating village. In the late afternoon, join the Cambodian Pottery Class.
Angkor Wat Admission Ticket
For those planning to visit any temples in Angkor Archaeological Park, the Angkor Wat Admission Ticket is a MUST-HAVE! The Admission Ticket, often called Angkor Pass can be purchased at the official ticket center, located 4 km away from Siem Reap town. The counter is open from 4:30 am to 17:30 every day. A visit to the Angkor temples is free for Cambodians.
Angkor Wat Admission Ticket – Must Have!
There are currently three types of standard Angkor Pass available and the prices are as below:
1-day pass – US$ 37 (2022: Valid for 2 days access for 2 consecutive days)
3-day pass – US$ 62 (2022: Valid for 5 days access within 10 days, non-consecutive days)
5-day pass – US$ 72 (2022: Valid for 10 days access within a month, non-consecutive days)
Siem Reap Travel Tips: The ticket is signification increased in 2017 but it is also gaining additional days for each pass type. You basically gain extra days to fully utilized on temple visits.
Every time you enter the park a hole will be punched on your ticket at the different checkpoints. If you are getting the admission ticket after 16:00, you can gaining the access to the temples. Go for a sunset walk around Phnom Bakheng (Bakheng Hill), just make sure they don't punch your ticket.
Things To Do in Siem Reap Itinerary
Angkor Wat is the reason most people visit Siem Reap. I've been to Siem Reap and visited the stunning temples two times now – once on a tour, and once on a tuk-tuk. Don't miss sunrise at Angkor Wat as this is truly magical. It's recommended to continue touring other temples as it gets very hot in the afternoon.
Here are the things to do on your Siem Reap itinerary:
Angkor Archaeological Park
Watching Sunrise in Angkor Wat
Angkor Thom (Baphuon and Bayon Temple)
Big Circuit or Small Circuit Tour (Ta Prohm,

Ta Som, and more)

Banteay Srei
Chill in Pub Street
Siem Reap Night Market
Try the Khmer Cuisine
Foot Massage
Tonle Sap Floating Village
Cambodian Pottery Class
Angkor Archaeological Park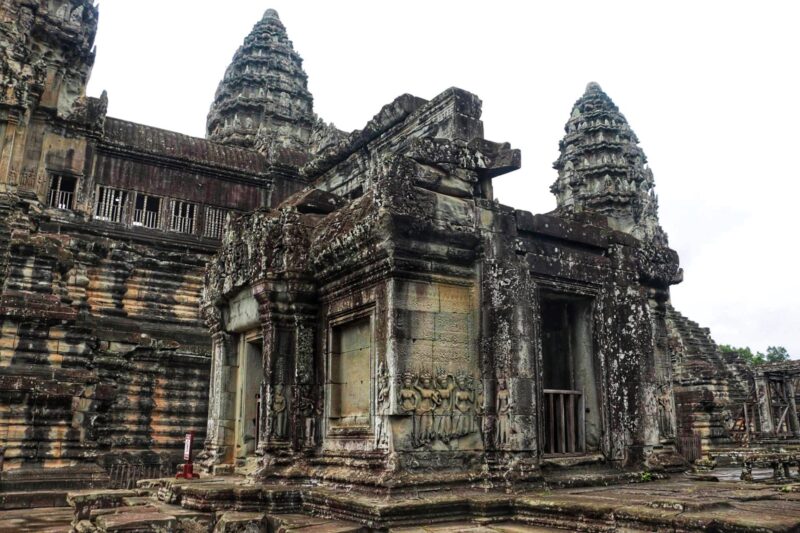 Stretching over some 400 square kilometers, the Angkor Archaeological Park is one of a series of gems strung through the forests north of Siem Reap. The massive temple complex offers a deep insight into the history of the amazing and thriving culture. In 1992, Angkor Archaeological Park has declared a UNESCO World Heritage site.
Below is the highlighted temples that should not be a miss on your Siem Reap itinerary: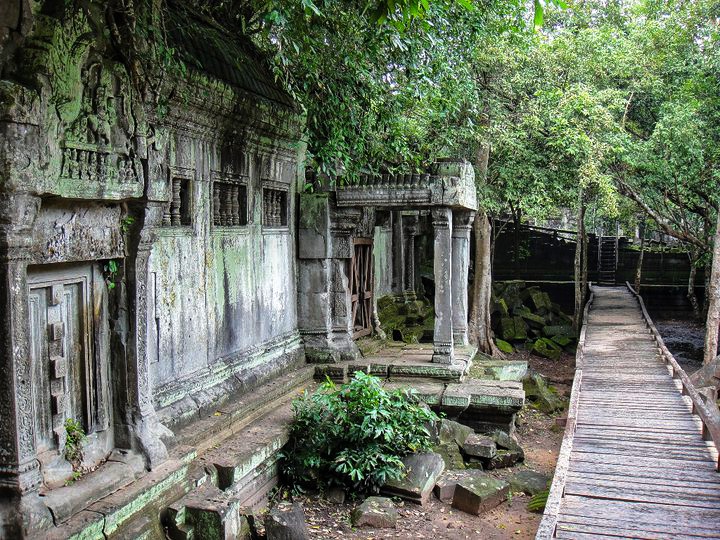 Generally, the temple ruins can broadly be categorized into few groups:
Angkor Wat and Angkor Thom – Bayon and Baphuon temples, The Elephant Terrace, The Terrace of the Leper King, Five entrance gates, Phnom Bakheng.
Small Circuit (Le Petit Circuit) for major sites to the east of Angkor Thom – Ta Keo, Ta Prohm, Banteay Kdei, Sras Srang, Prasat Kravan.
Big Circuit (Le Grand Circuit) for major sites north and further out east – Preah Khan, Neak Pean, Ta Som, East Mebon, and Pre Rup.
Roluos Temples which located 15km east from Siem Reap along National Highway 6 – Bakong, Lolei, Preah Ko.
Outlying temples which located over 20km from Angkor Wat – Banteay Srei, Kbal Spean, Beng Mealea, Phnom Krom.
Among all the temples, Angkor Wat is the most popular and most visited by travelers. Beyond that, there are also many smaller, less popular temples worth a visit. Don't miss the Angkor Thom with the amazing Bayon Temple, Ta Prohm, and Preah Khan are must-sees! Spend your day visiting those fabulous temples and take ample time looking at the carving and understanding the historical details of the temples.
Take note that distances between the temples can be fairly away. Of course, you can mix and match freely. But those tuk-tuks and guides can share their expertise on how to visit the temples effectively with their best Siem Reap itinerary in hand.
Sunrise in Angkor Wat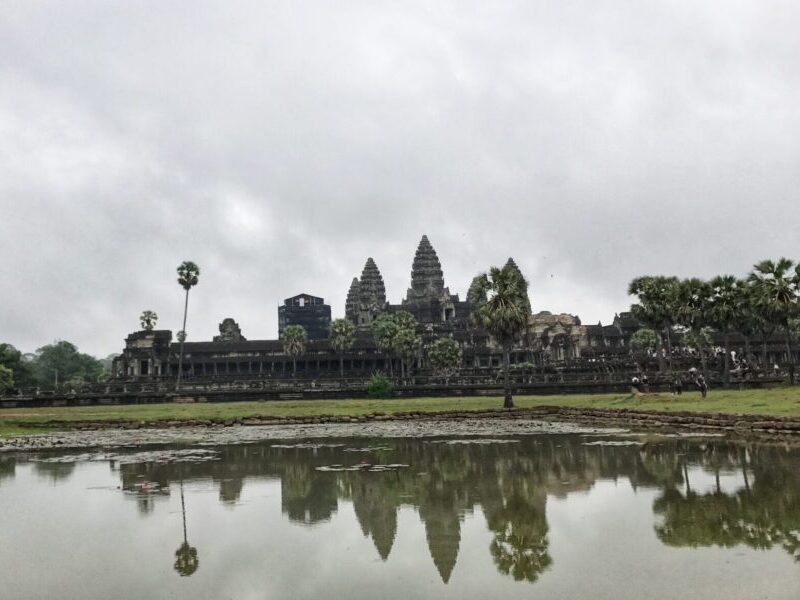 Angkor Wat Temple is a recognized architectural masterpiece and one of the finest monuments in the World. Being the largest religion in the world in South East Asia, the stunning Angkor Wat is famous for its magnificent bas-reliefs sculpting and the mightiness of its five towers.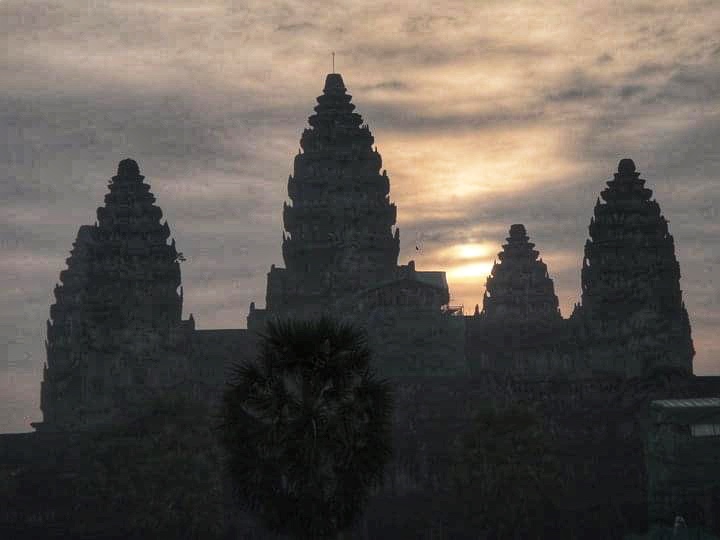 Catching a sunrise photo in front of the reflecting pool of Angkor Wat is practically a rite of passage for any visitor to Siem Reap.
During our trip to Siem Reap, we settled on the first day at the Siem Reap hotel stayed. We started the next day with the sunrise at Angkor Wat. In the early morning, we left our hotel before sunrise and entered Angor Wat followed the advice of the tour guide.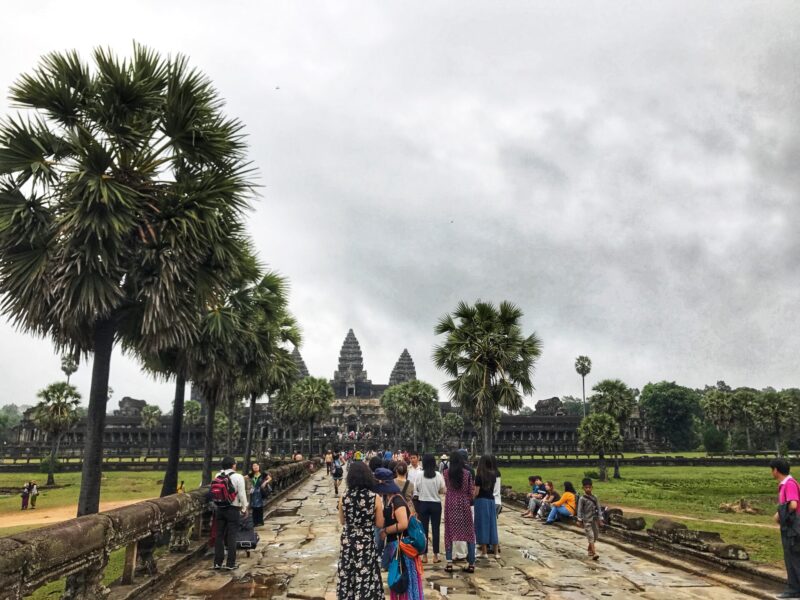 When we walked to the main entrance, we could hear the monks beating drums. The closer we walked there, the more crowded it became. There are thousands of people who are also waiting for the sunrise just like us. We were lucky and able to see the sunrise over the temple. Truly magical!
Pro Tips: Depending on the time of year, typically the sun rises in Siem Reap between 5:30 and 6:30 morning. The ticket office normally only opens at 5:00 morning. So If you planning to watch the sunrise in Angkor Wat, you should get ready for your Angkor Pass earlier.
Angkor Thom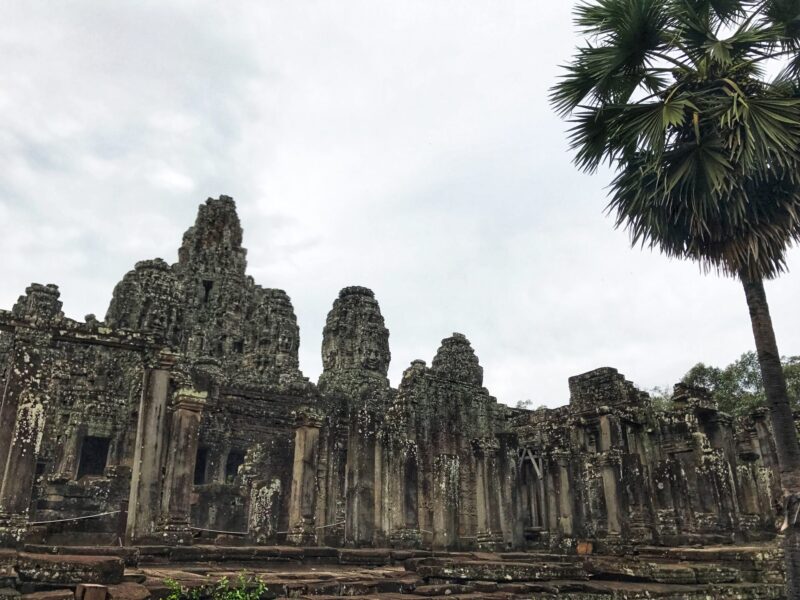 Angkor Thom is the last Capital City of the Khmer kingdom and translates literally as 'great city'.
Founded in the late 12th century by King Jayavarman VII, Angkor Thom is the largest complex of Khmer ruins with up to a 12-kilometer geographic site. It is a square city, surrounded by stone walls and accessed through five city gates and central by the Bayon temple.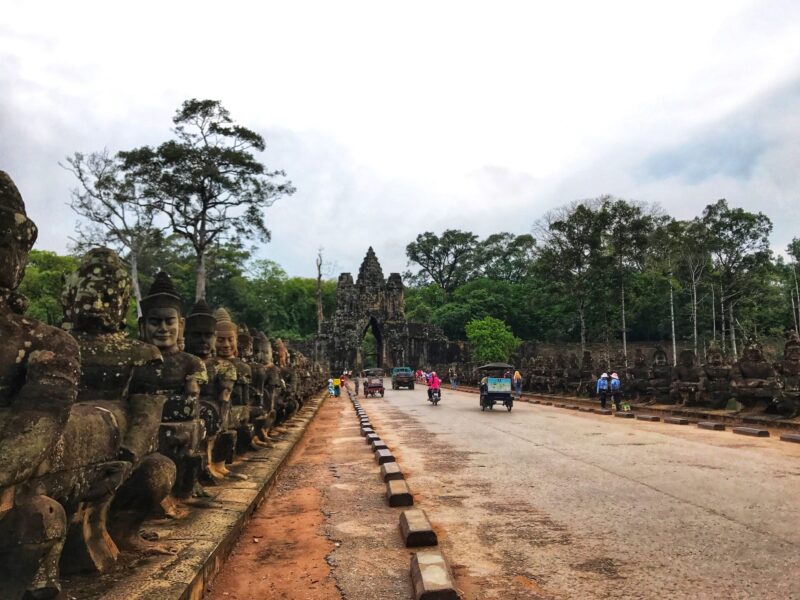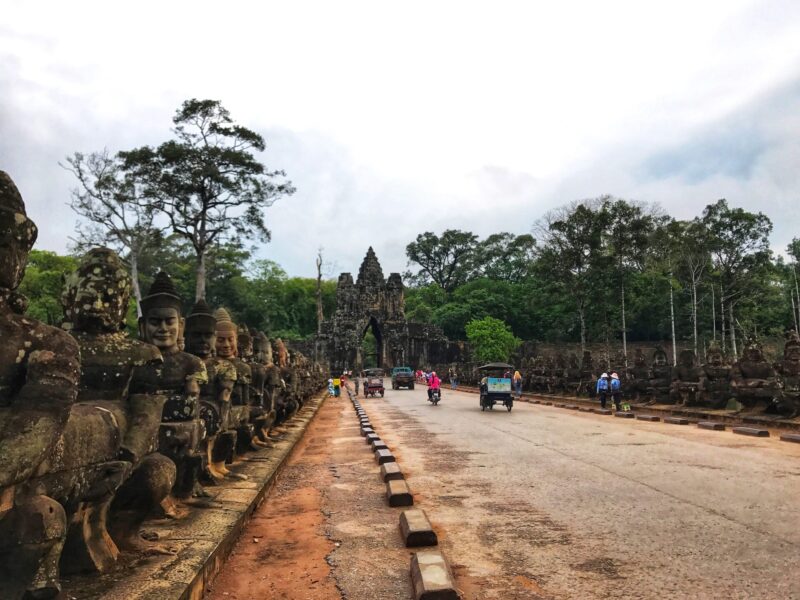 The ancient city of Angkor Thom holds a number of other sites of interest to explore. Don't miss the South Gate Angkor Thom with the 54 statues on each side that crosses over the river heading to Bayon Temple. Two rows of figures each carrying the body of a seven-headed naga. This gate is now by far the most visited and is the main entrance for tourists.
The Royal Palace, Prasat Chung and Mangalartha, Phimeanakas, Baphuon, Terrance of the Elephants, Terrance of the Leeper King, and much more are also worth the visit. Truly impressive with its towering ruins and intricate building towers.
Bayon Temple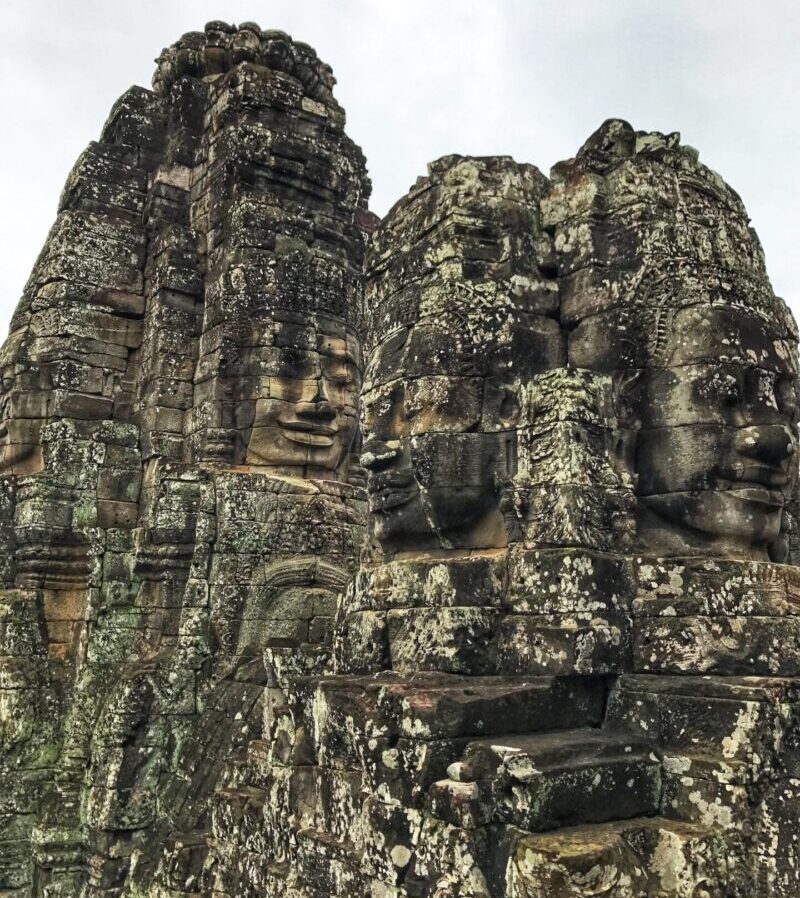 The stunning Angkor Thom Complex contains the iconic Bayon Temple which is famous for its countless sculptural decorations. It is situated in the center of the Angkor Thom complex, north of Angkor Wat.
As a Buddhist temple, "Bayon" got its name after the innumerable sacred "Banyan" trees that surround its structures. It is one of the most widely recognized temples in Siem Reap and is truly eye-catching and interesting. No word to describe the feeling when you standing in front of this temple with spectacular architecture.
The Bayon Temple ruins are highly decorated with impressive bas-reliefs, Apsara figures, and most famously, the numerous smiling stone faces. There are a total of 216 faces serenely smiling faces that were originally carved on the 54 stone towers. The 54 towers are representing the original 54 states of Cambodia throughout the Bayon Temple at Angkor Thom. All the towers are very well preserved, with a very interesting history behind them.
Ta Prohm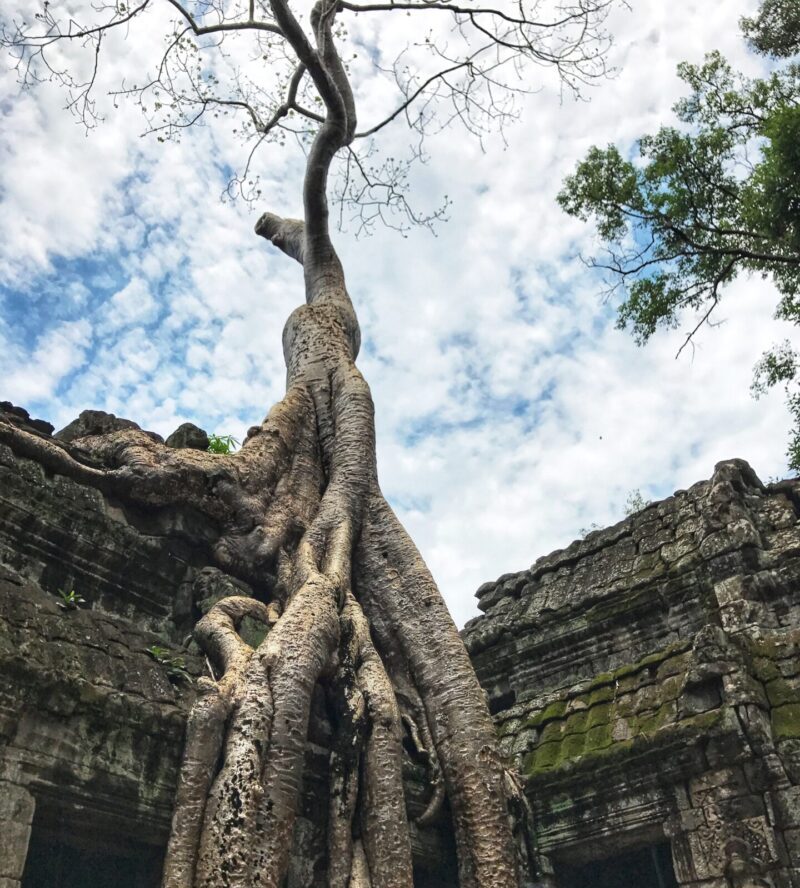 Located around 1 km from Angkor Wat, Ta Prohm is an incredible temple nestled among rainforests built by the Khmer King, Jayarvaman. It is one of the famous attractions to visit in Siem Reap and gaining popularity as this is where the setting for Angelina Jolie's Tomb Raider movie was released in 2001.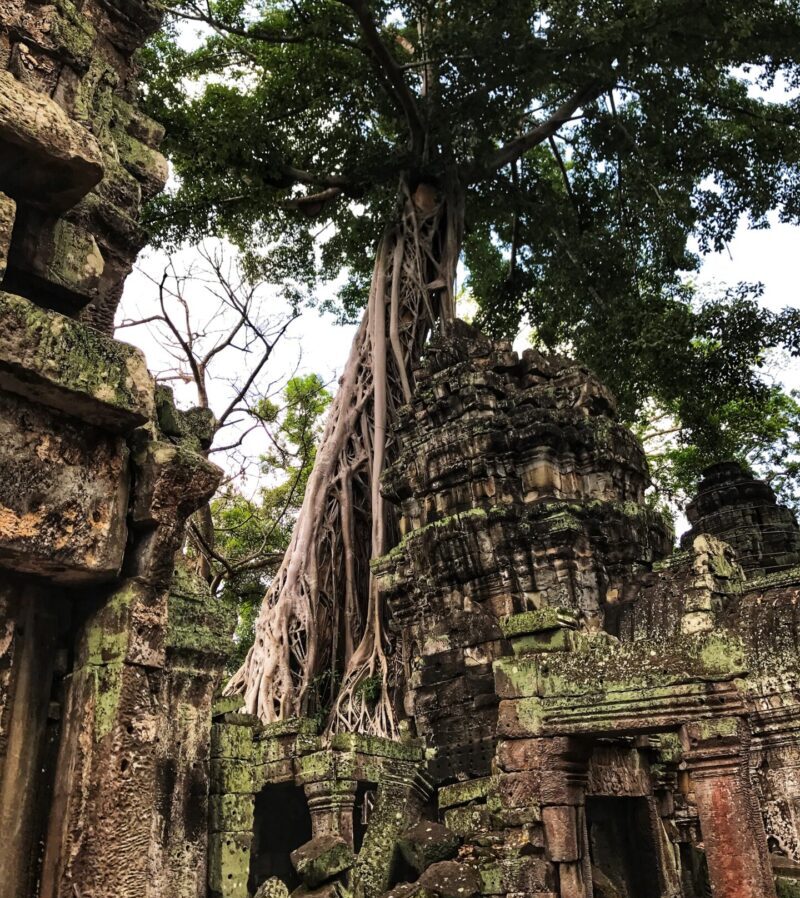 Ta Prahm makes for very interesting photo opportunities. The temple has been overgrown with trees where the tree roots appear to be dripping down the ruins. It is so incredible to see powerful forces of nature (roots of trees) have overtaken the sandstone and lava rock temples in real life. No words can explain how amazing this place is.
Banteay Srei
Banteay Srei is a beautifully preserved temple dating to around 967AD. It was originally built as a temple for the Hindu God of Destruction, Shiva, and was rediscovered in 1914 by the French. What makes the temple special are the highly decorative and elaborate carvings, walls, and pediments you will see in the Banteay Srei.
The well-preserved Banteay Srei is also known as the Lady Temple or 'City of Women'. The ruins are older than the other temples and have the best preserved and detailed carvings of them all. The spectacular pink sandstone and detailed intricate carvings will take your breath away.
This little gem hidden in the jungle is about 20 miles from Angkor Wat. So be prepared for about 45 minutes of traveling to get to the Banteay Srei. The temple ruins are slightly isolated from the main complex but still worth the visit if you have more days in your Siem Reap itinerary.
Note: Banteay Srei can be visited by utilizing an Angkor Wat pass.
Chill at Pub Street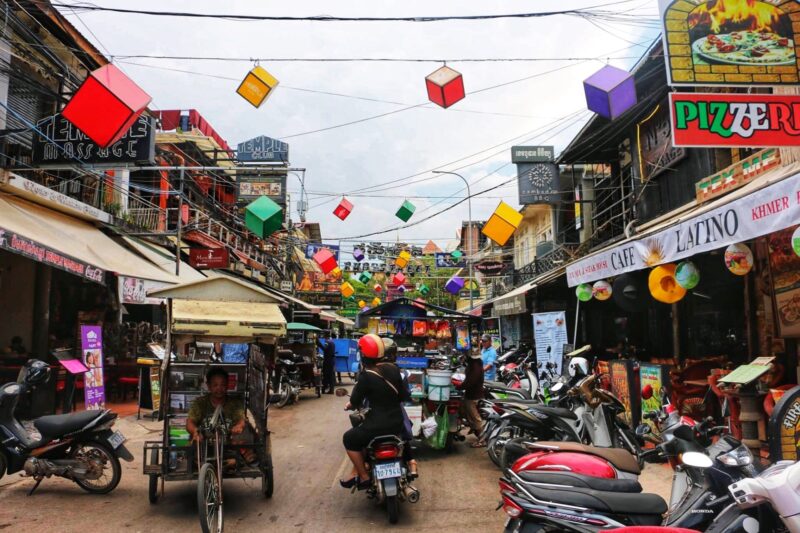 As the name suggests, Pub Street is the center of Siem Reap and is extremely well known for its thriving nightlife and immensely diverse crowds. It is the party hub and the street is filled with a good selection of neon-lit pubs, restaurants, massage and entertainment establishments.
Pub Street comes alive during night time! The happening street is very busy and loud at night. Tourists around the world love to chill in the street after a long day's tour in the temples.
Red Piano is the most popular bar on Pub Street as this place is the favorite frequented place by Angelina Jolie when filming the Hollywood blockbuster "Tomb Raider" in Cambodia. Angelina's favorite concoction (Cointreau, tonic, and lime) has also made it into the menu, now known as the Tomb Raider. You will get the free drink if you're lucky to be the tenth buyer of the drink!
We visited Pub Street a couple times during our visit to Siem Reap. We enjoyed touring the various shops and restaurants to see what was on offer. There are also plenty of eating places, from western restaurants to traditional street food. It is also the perfect place to unwind with chilled beers and a cocktail.
We also enjoyed our local food hunting at Pub Street and it was perfect. We randomly choose one street food vendor which looks comfortable and clean. The menu comes with pictures and the price tag is ready which is helpful when ordering the food. The food tastes delicious and the price is reasonable. Good atmosphere and never felt uneasy at all.
Note: Sadly pandemic has affected Cambodia and Pub Street may not be very happening at this moment. It wasn't too busy compared to previous years ago as some bars are shut and closed down. But it is still fun to look around at clubs and restaurants for food and entertainment on Pub Street.
Siem Reap Night Market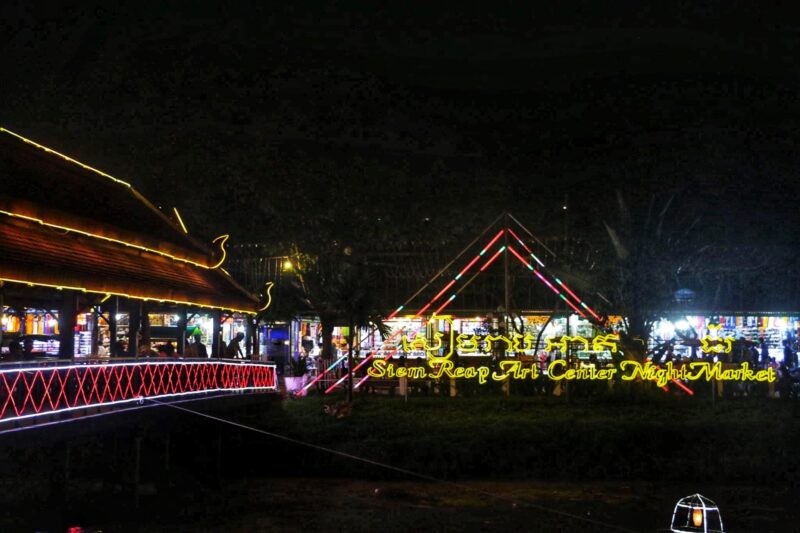 Not too far from Pub Street is the Siem Reap Art Center Night Market. The market is one of the tourist spots with a wide range of goods such as souvenirs, watches, replica bags, and clothes. Ask for a discount when buying anything from the night market. Besides, you can also try exotic food like snakes and cricket at the street stall here. A nice walk-through to enjoy the local vibe.
Try the Khmer Cuisine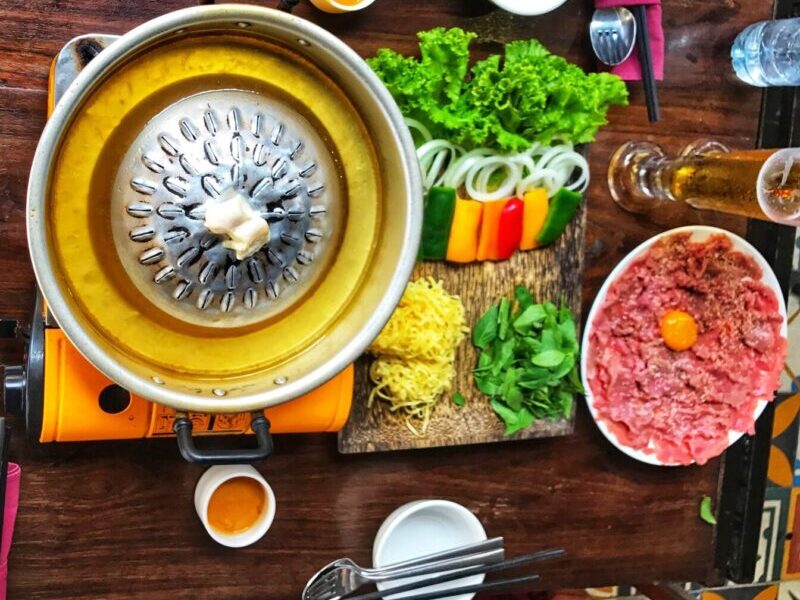 Pub Street is full of eating places, ranging from street food booths to classy restaurants. You'll find Khmer, Indian, European, Vietnamese, Lebanese, Chinese, Japanese, and more with a wide range of restaurants and bars along the street.
While you are there we would suggest you try the Khmer cuisine. Don't miss Cambodia's national dishes, Khmer steamed fish curry (amok) with a mousse-like consistency. Besides, we all fall in love with the Phnom Pleung, or Cambodian bbq which features a variety of meats that you cook yourself on small tabletop grills.
You can opted for a local food tour where you can truly enjoy the local Khmer cuisine. If you prefer to be a spectator, this alternative tour allows you to watch an Apsara performance while enjoying a Khmer dinner (tuk tuk transfer also included).
Besides, you'll find a couple of cooking school opportunities here as well. There are Khmer Cooking classes to introduce you with an introduction to local ingredients and cooking methods. Take a look if you are interested – Khmer Cooking Class at a Local's Home in Krong Siem Reap
Foot Massage
After the tiring temple tour, it is best to rest and got a relaxing foot massage in the evening. There are plenty of massage parlors promoting along Pub Street. We enjoyed our foot massage in the indoor air-cond room and came back every day for a massage. The price is extremely cheap but remember to haggle the price.
There is also the fish massage where you sit at the edge of the fish tank and immerse your feet so the tiny fish can eat the dead skin off your feet and provide a gentle massage. I did not try as worry about the hygiene issue. Alternatively, enjoy a luxurious detox package in Siem Reap's well-loved establishment, Spa Khmer.
Check for more detail: Spa Khmer Luxury Experience.
Tonle Sap Floating Village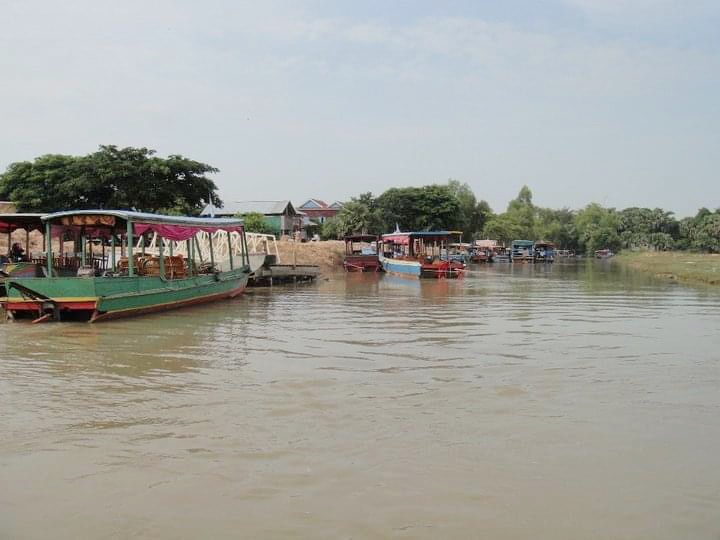 If you want a break from them and see something different from Cambodian temple ruins, Tonle Sap Floating Village is a really nice option. Tonle Sap Lake is one of the biggest freshwater lakes in Southeast Asia.
The local village on the Tonle Sap such as Kompong Phluk Floating Village and Chong Kneas Floating Village is a fantastic place to see rural Cambodian life. It is wonderful to take a boat ride to see all the houses on stilts and the local community that live and work on the Tonle Sap Great Lake!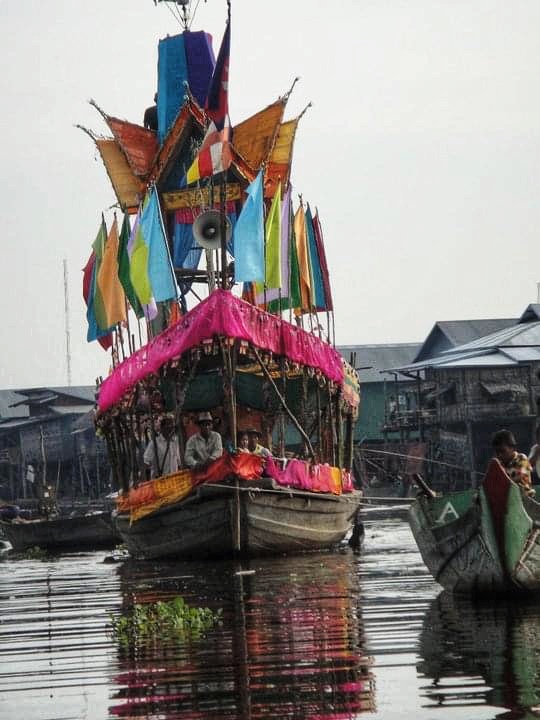 One of the interesting about Tonle Sap is the lake changes dramatically during the different seasons. Depending on the time of year, the floating village is either in or on the lake as there is a huge difference in seasonal water levels. The high stilt houseswill show you how much the water level changes from season to season.
Siem Reap Travel Tips: Beware of scams when visiting the Tonle Sap Floating Village. A mere US$20 would get you a boat for roughly an hour. We recommended you join the reputation tour where you may charge a higher rate on a boat tour.
Recommended Tour: Tonle Sap Lake & Kampong Phluk Half-Day Tours from Siem Reap
Cambodian Pottery Class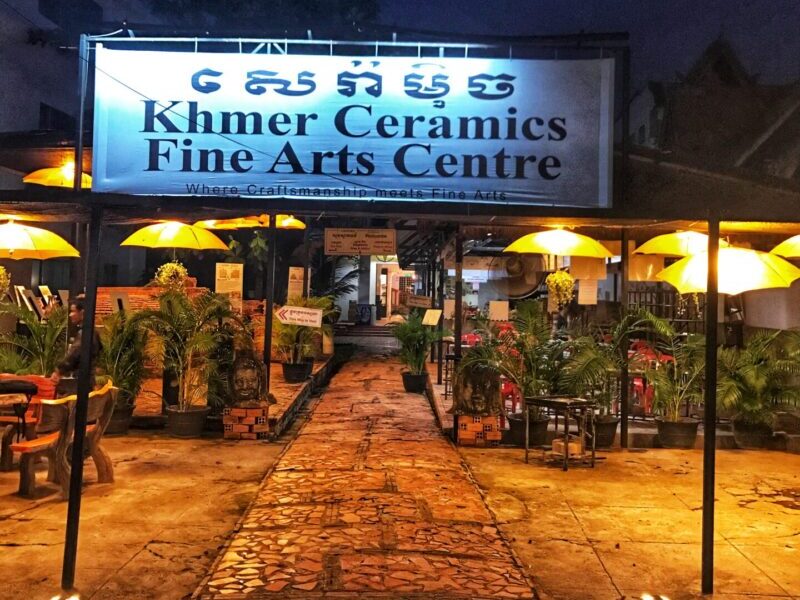 The Cambodia Pottery Class is a fun class where you can experience making Cambodian ceramics in the traditional way during a pottery workshop in Siem Reap. The class is supported by young Cambodians with hearing impediments, so it is a good approach by providing them with training and employment in the ceramics industry.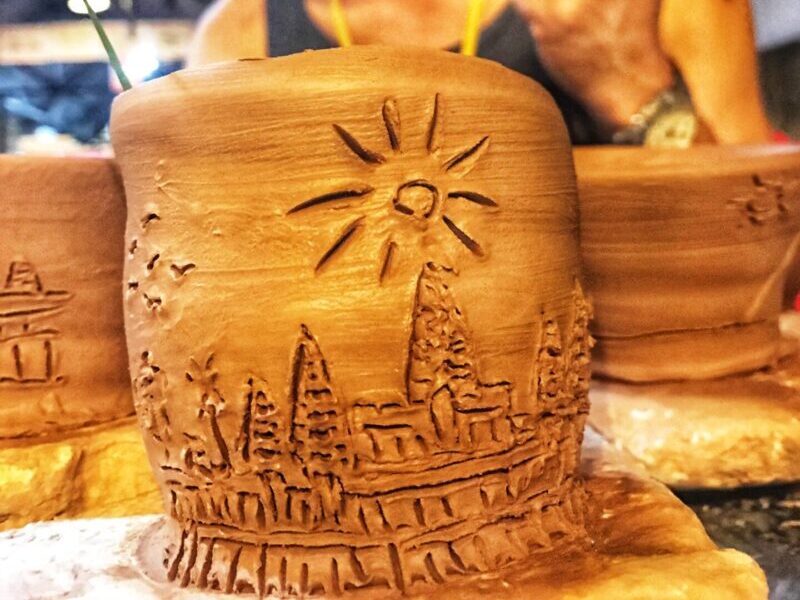 We joined the Cambodian Pottery Class and have a lot of fun. We learn about making and decorating the Khmer Ceramic for this almost 2 hours pottery workshop. The masterpieces are fired overnight and sent to my hotel the next morning. It is one of the memorable souvenirs that bring back the home country from the Siem Reap trip.
Read For More Detail: Cambodian Pottery Class in Siem Reap
Final Tips on Siem Reap Itinerary
There is always useful if you know more with some handy travel tips before traveling to Siem Reap. The Angkor temple ruin is truly an amazing place full of history and stories behind. Make sure you spend the money to get a private guide if you can. An English-speaking guide is a must if you want to know more about the history of Angkor Wat.
Do wear comfortable walking shoes and an umbrella is a must-have here. For the elderly, it can be tiring as they need to climb many steps, as well as the flooring, has many ups and downs. Mind your heads and your steps as the floor is very uneven and stones stick out and can trip you if you are not careful.
The weather in Siem Reap is hot and humid. Always keep yourself hydrated and take water with you. There are lunch places and shops all around Angkor Wat if you need some rest. The price is slightly expensive but still reasonable. Ask the Tuk-tuk or driver to stop if you are taking a private tour.
Always be careful of your belonging, especially when strolling on Pub Street. We almost lost our bag when we are chilling at a bar. So please be mindful with your stuff.
How many days for a visit to Siem Reap?
At least 3 days! 3 days is enough to see the major sites of Siem Reap. But if you want to explore more hidden temple ruins, it is best to spend at least 5 to 7 days for discovery.
Is Siem Reap worth the visit?
Definitely Yes. The temples of Angkor are stunning and worth traveling to Siem Reap to check out. We highly recommended visiting Siem Reap at least once in a lifetime.
What is the difference between a group tour and a private tour?
Private Tour gives you the freedom to decide which temples you want to visit and decide how long you want to stay. You are also freely custom your temple visit with the advice from the experience tour based on your interest.
Overview: A Trip to Siem Reap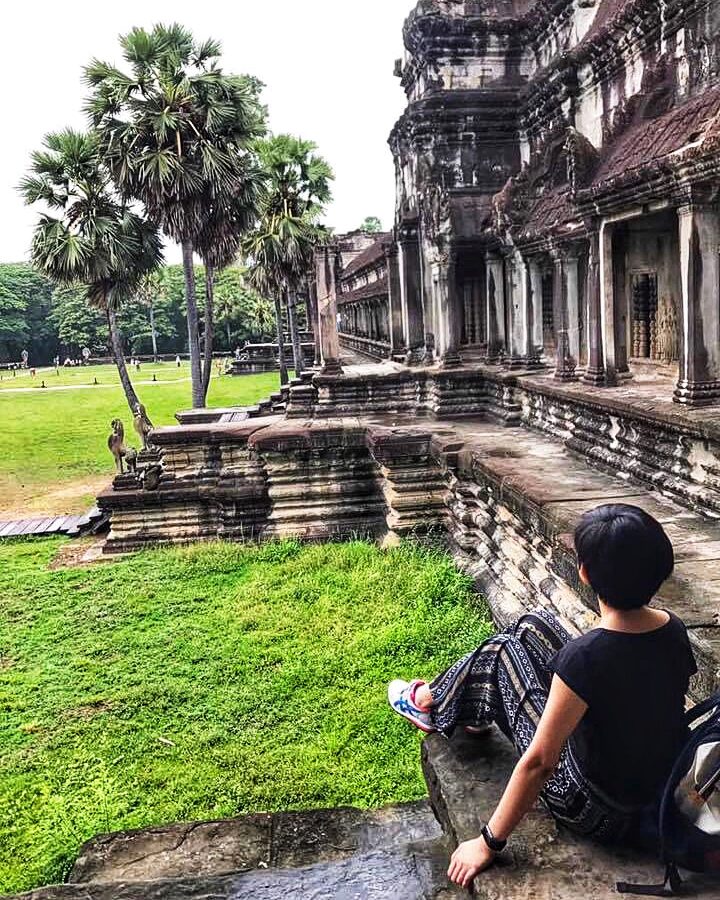 All in all, Siem Reap is truly an amazing place to soak in the magnificence of the famous UNESCO world heritage site – Temples of Angkor Wat. It is truly an incredible, awe-inspiring, and mind-enhancing site. Most of the temples are anywhere from 900 to 1100 years old. One of the most amazing ancient sites I have ever been to.
We had an excellent time exploring the temple ruins and listening to the stories behind the carvings. It is so wonderful to admire up close how they ever created these works of art. Highly recommend a trip to Siem Reap and a must-visit once in a lifetime!
Last but not least, we hope you enjoy reading our Siem Reap Travel Guide blog. We are not able to write very detail about everything in this article. Free feel to contact me if you need any help in planning your Siem Reap itinerary.
Here are some resources and useful Siem Reap travel blogs to help you plan your trip there. Enjoy your trip to Siem Reap!