Last updated on October 2nd, 2023
Prepare your taste buds as here are some of the most appetizing food options that introduce to you in this Siem Reap Food Guide. Let's check out where and what to eat in Siem Reap!
Home to one of the world's most famous ancient ruins Angkor Wat, Siem Reap is the most visited city in Cambodia. Because Cambodia shares borders with other countries, it is not surprising that Khmer food is often stereotyped to be similar to Thai, Philippines, and Vietnamese cuisines. You will find the food in Siem Reap shares much in common in the cuisine and taste compared to the neighbor countries. The confluence of culinary influences is part of what makes Khmer food so appealing.
The food in Siem Reap is full of variety and finding what to eat in the city is never an issue. You can eat like a local along the street or in classy restaurants. Being the travel hub in the country, you'll also find a large variety of foreign food in the city. Indian, European, Vietnamese, Lebanese, Chinese, Japanese, and more when you are strolling along the city.
During our trip to Siem Reap, we sampled a lot of mouthwatering Khmer food. We truly enjoy our food hunting and fall in love with the food scene in the city. There is a huge variety of food items that you can sample and are worth trying when you are in the ancient city.
Plenty of food to explore in Siem Reap, ranging from local Khmer cuisine, to street food, and drink. The Khmer food in Siem Reap is an integral parting of the Cambodia experience and should be missed by travelers when visiting the city. Let's check out where and what to eat in this Siem Reap food guide!
Siem Reap Food Guide
For your convenience, refer to this list of food that should add to your Siem Reap food guide list.
Traditional Khmer Cuisine: Amok, Nhoam Svay Kchai, Samlor korko
Khmer Curry
Khmer Noodle (Nom Banh Chok)
Cambodian BBQ (Phnom Pleung)
Siem Reap Street Food
Cambodian Baguette (Num Pang)
Khmer Bamboo Sticky rice (Kralan)
Balut (Pong Tia Koon)
Blue Pumpin Ice Cream
Angkor Beer and Cocktail
Siem Reap Food Tour and Cooking Class
If you're visiting Siem Reap and want to really learn about Khmer food, then you may be interested in joining a food tour or taking a cooking class. Here is our recommendation:
Traditional Khmer Cuisine
When you are being in Siem Reap, why not sample some of the local Khmer cuisine as well? Khmer cuisine is one of the world's oldest living cuisines. Prahok (fermented fish paste) and kroeung (curry paste) are local favourite seasoning and widely used in Cambodian cuisine.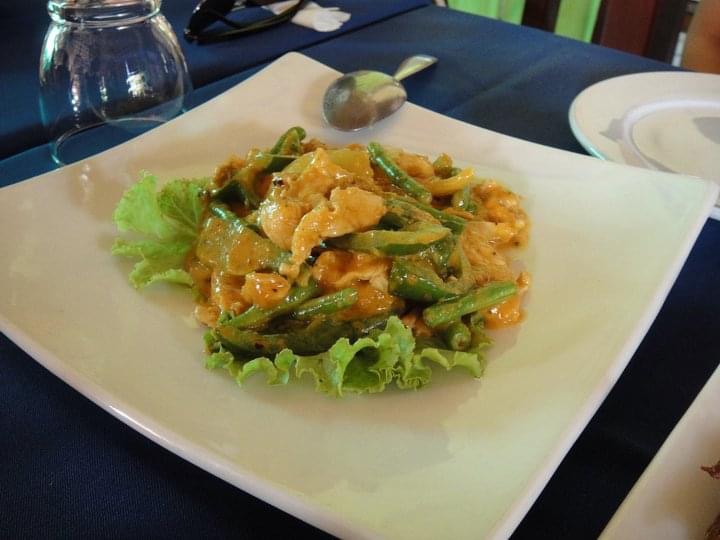 There is plenty of classic Khmer cuisine that is worth recommending to try during your trip to Siem Reap. The food is healthier than many other regional cuisines as it commonly contains various fresh vegetables and herbs. Most importantly, the food in Siem Reap is inexpensive and easy to find everywhere in the quaint town.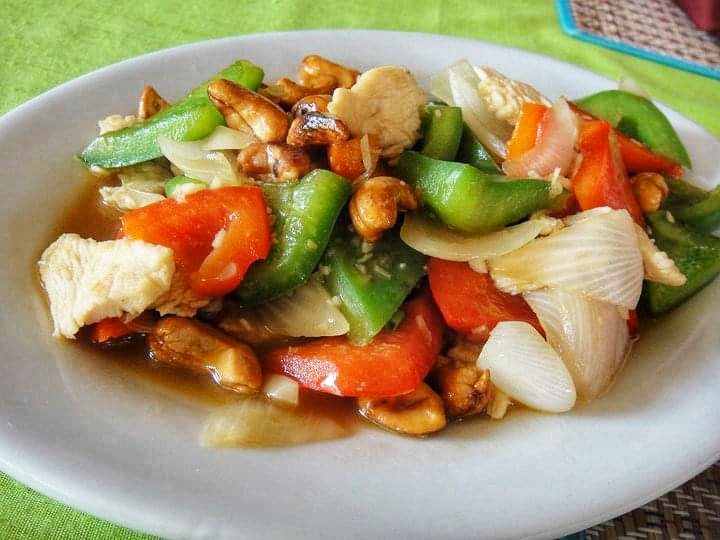 Here we recommended some of the must-try Traditional Khmer food that you should not miss when dining in the Siem Reap restaurant.
Khmer Stream Fish Curry (Amok)
Green mango salad (Nhoam Svay Kchai)
Cambodian Fish Soup (Samlor korko)
We have the Khmer Food Platter with a a great selection of Khmer food. Banana leaves are used as a bowl to served some of the must-try Khmer food that should be on Siem Reap food guide list. The food served is a nice combination flavorful for your Khmer food experience.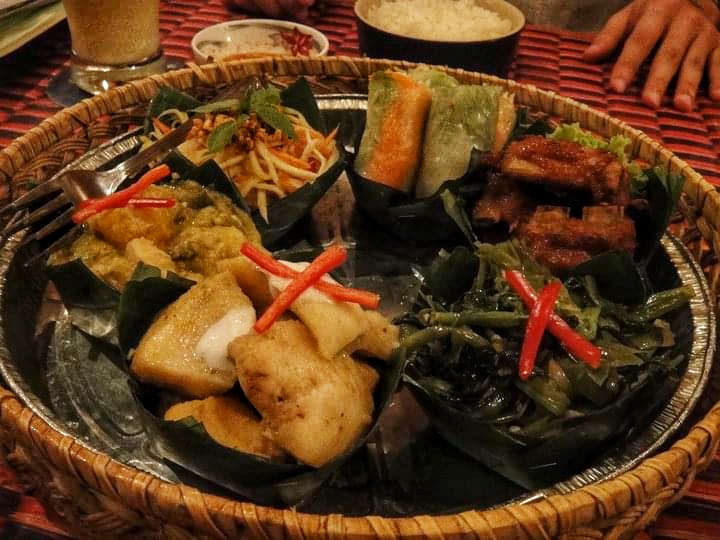 Khmer Stream Fish Curry (Amok)
Among all the Khmer food, Amok is an extremely popular national dish and might be the one most familiar to tourists. The fish is marinated in a curry paste and steamed in a banana leaf which resulting a soft and creamy texture. It carries an indelible sweetness followed by robust herbs. Amok is typically served in a coconut or wrapped in a banana leaf which gives it a visually appealing appearance. Every visitor should try this dish at least once when in the city. Almost all Siem Reap restaurants served this traditional Khmer food and it is also easy to pick up from street food vendors.
Green mango salad (Nhoam Svay Kchai)
Green mango salad (Nhoam Svay Kchai) is one of the best salad dishes you can eat in the country. It is a classic dish that is commonly found in Thailand, Laos, Cambodia, and Vietnam. This Cambodian salad is often made with shredded unripe fruit and usually contains a mix of other ingredients chili pepper, fish sauce, smoked fish, and small dried shrimp. All the ingredients form a beautifully harmonious taste for this salad dish.
Cambodian Fish Soup (Samlor korko)
Samlor means soup and korko means to mix or stir in Khmer. Once a royal dish fit for the king, the samlor korko is a traditional Cambodian national dish that is widely popular by the local population. It's basically a spicy fish-based soup with various vegetables. Local used the kroeung (curry paste) and prahok (fermented fish), along with fish or meat and vegetables such as green papaya, green papaya, long bean, eggplant, and bitter gourd leaves.
Khmer Curry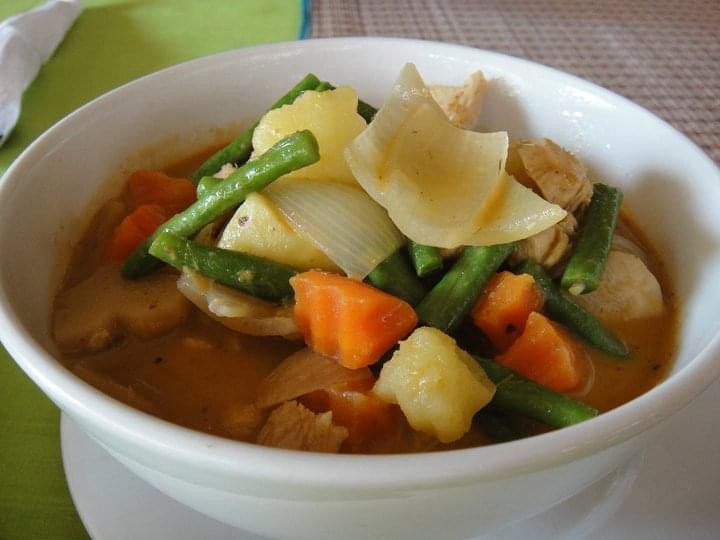 Khmer curry is another dish we enjoyed on our trip to Siem Reap. The Cambodian version of red curry is made from Cambodian spices kroeung instead of chili. So it is less spicy and mild than the Thailand and Indian version but remains flavorful. The delicious dish usually offers a few choices between vegetable or meat options that contain pork, chicken, or fish. The curry will be cooked with your choices of meat, topped with vegetables, fresh coconut milk, and of course kroeung.
We enjoyed the Khmer curry as the food is packed with all sorts of vegetables, including potatoes, white radish, long beans, carrots, and eggplants. It tastes extremely wonderful when you mix those ingredients in your bowl of rice and add a generous amount of curry into it. Simply fantastic!
Khmer Noodle (Nom Banh Chok)
Noodles dish is a typical local favorite breakfast dish in Southeast Asia. The Nom Banh Chok is a beloved Cambodian breakfast dish that consists of fresh rice noodles, topped with meat of your choice, vegetables, herbs, and coconut-based fish curry gravy.
This quick and inexpensive noodles dish can be found around the market in downtown Siem Reap. For an authentic expensive, look for local women carrying handwoven baskets with a pole balanced on their shoulders. A bowl of Khmer noodles costs between US$0.50 and US$1. Alternatively, Nom Banh Chok is also served in the restaurant.
Cambodian BBQ (Phnom Pleung)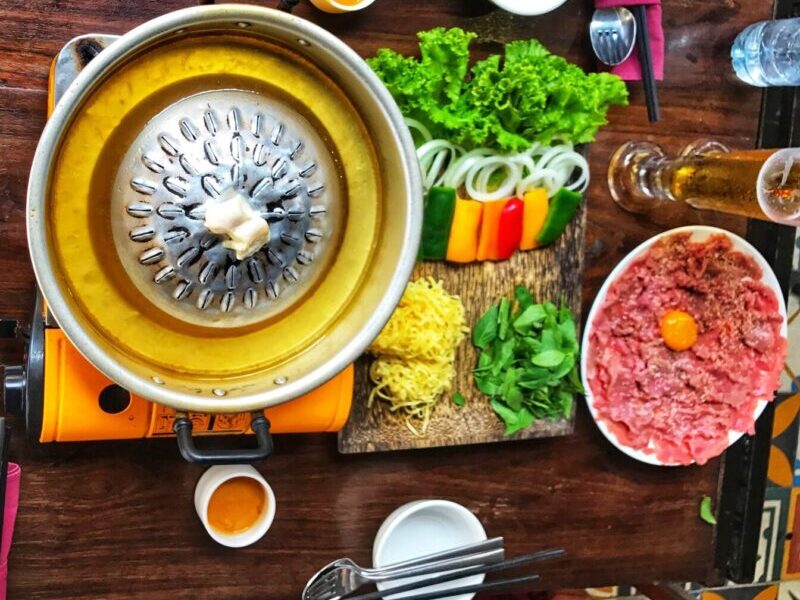 Phnom Pleung or Cambodian bbq is a barbeque-style meal that features a variety of meats cooked on a volcano-shaped grill on the tabletop. The cooking style is similar to Thailand bbq and a lot of restaurants in and around Pub Street in Siem Reap offer this unique dish.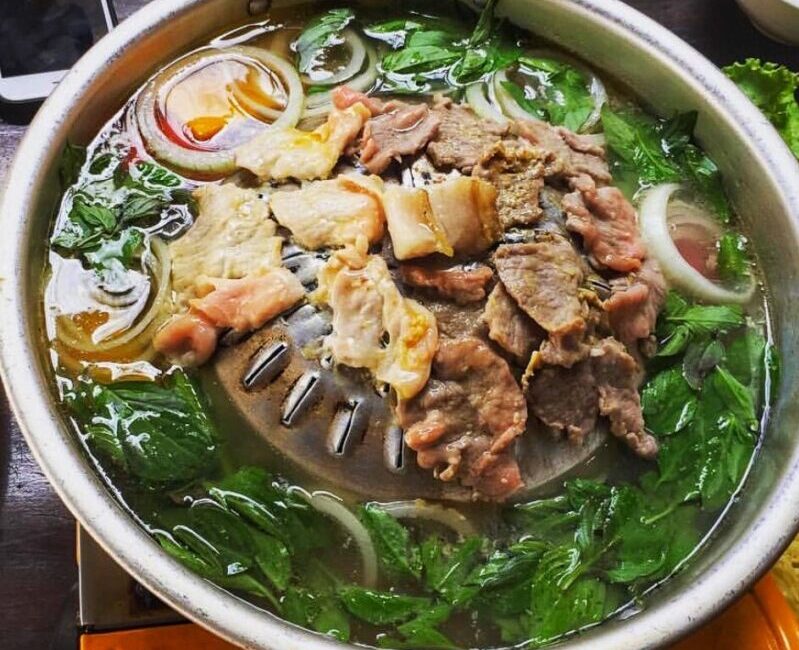 There are choices of meat to cook at your table from the basic to the exotic such as pork, beef, chicken, shrimp, crocodile, and frog. Grilled the meat and enjoyed it while it was hot, dipped the noodles and vegetables into the broth around the grilled set, and cooked it. Absolutely delicious!
A fun way to enjoy Siem Reap food.
Street Food in Siem Reap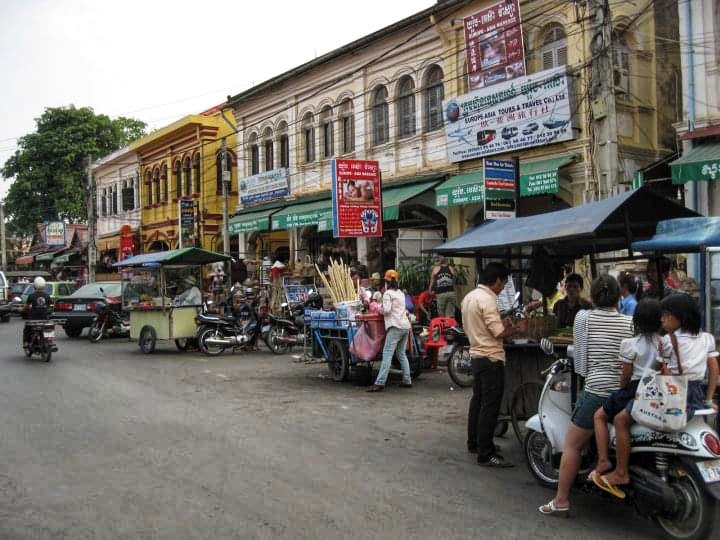 Whenever visiting a new city or new country, we love exploring street food and try to experience as much of the local street food as we can. Being the most popular street in Siem Reap, Pub Street is the best place to sample some of the local street food. Although it is a bit commercial, if you wander around, you'll find stuff that's good.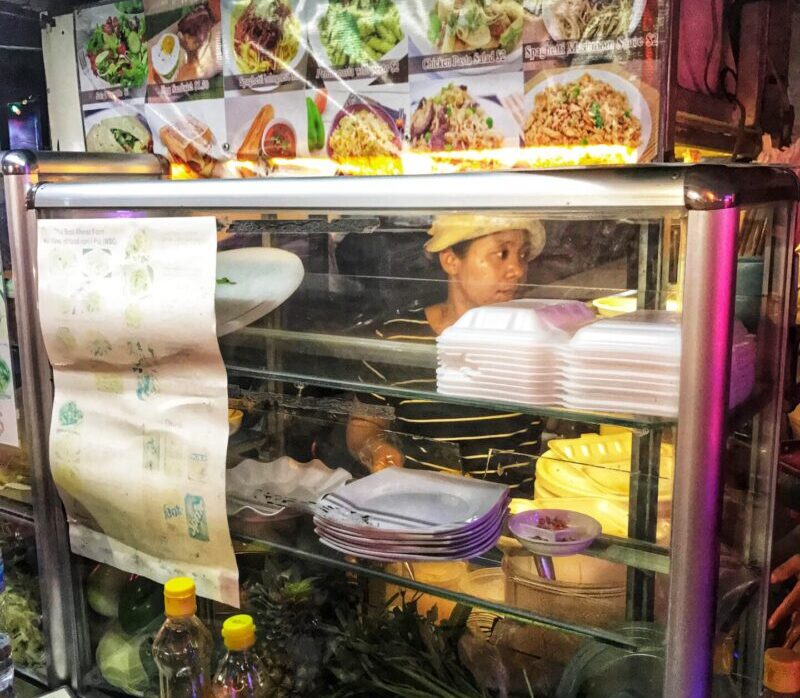 At night, there are even many mobile and street vendors selling street food along the pub street. You can choose to have a street meal at a cheaper price by getting a table along the street. Stir-fried noodles, noodles soup, and traditional Khmer dishes can be found here. There are also many street vendors selling fruits, snacks, and desserts such as fruit smoothies, rice cake, and fried/rolled ice cream that you can snack on as you walk the length of this road.
For an exotic food experience, you can also the crickets, scorpions, grasshoppers, ants, and little snakes on a skewer!
Cambodian Baguette (Num Pang)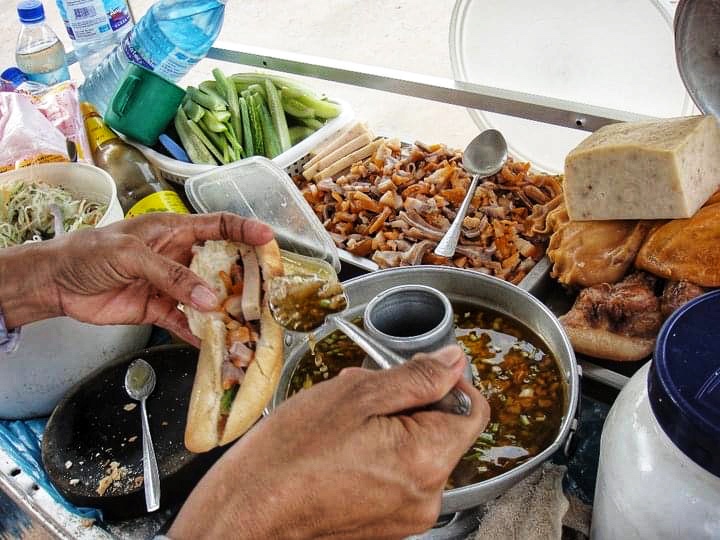 The Cambodian version of baguette or Num Bang is a sandwich or technically a French baguette packed with pork, ham, and beef, along with salad such as onion, tomato, and fresh herbs. It is similar to Vietnamese banh mi and both are also inspired by the French baguette that was introduced to the South Asian countries during the Indochina colonization.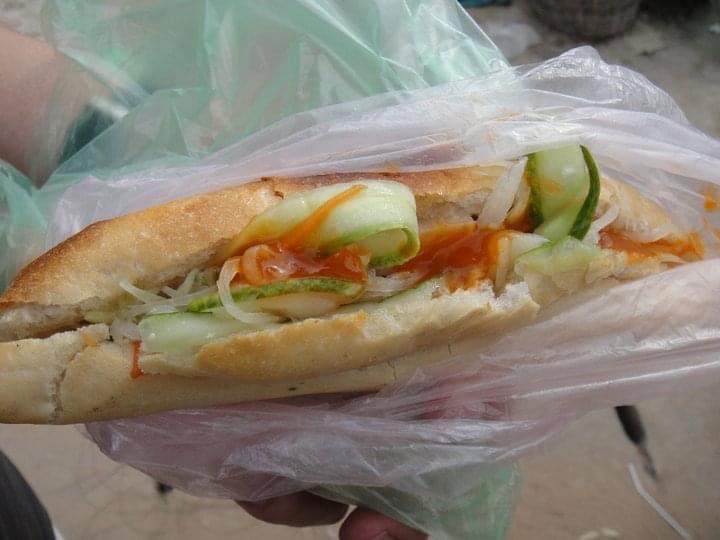 Num Bang is one of the popular Siem Reap street food. Many mobile sellers load their version of num bangs such as fermented fish cakes, meatballs, and meat. Whatever it was, it was extremely tasty. The bread was light and crispy on the outside without being overwhelming with a soft, chewy interior. Perfect for less than USD$1 snack.
Khmer Bamboo Sticky rice (Kralan)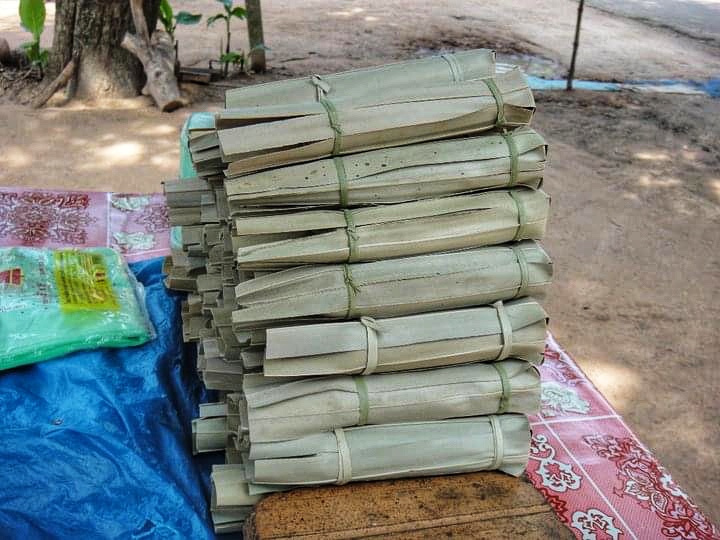 Bamboo sticky rice is also known as Kralan in Siem Reap. It is a traditional Cambodian rice dish, where rice and other ingredients such as coconut water, black peas, or beans are stuffed inside a bamboo stick. The rice is placed directly on burning coals for about an hour until it's ready.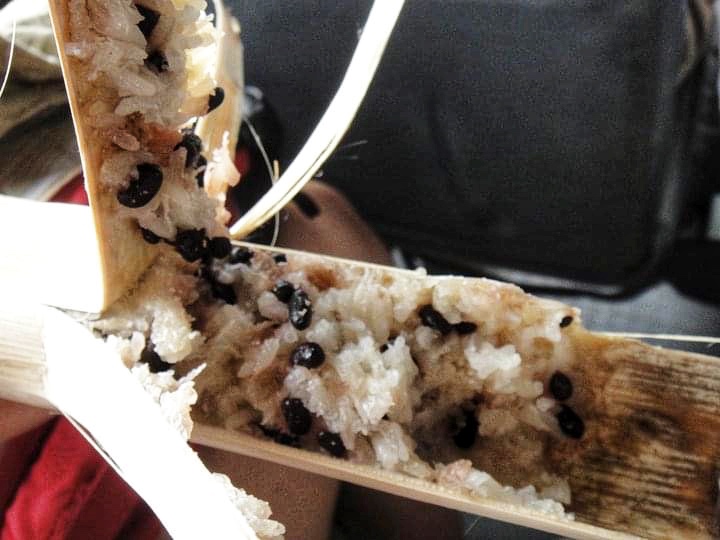 Kralan is a typically Cambodian savory snack and you can easily find this along the street in Siem Reap.
Balut (Pong Tia Koon)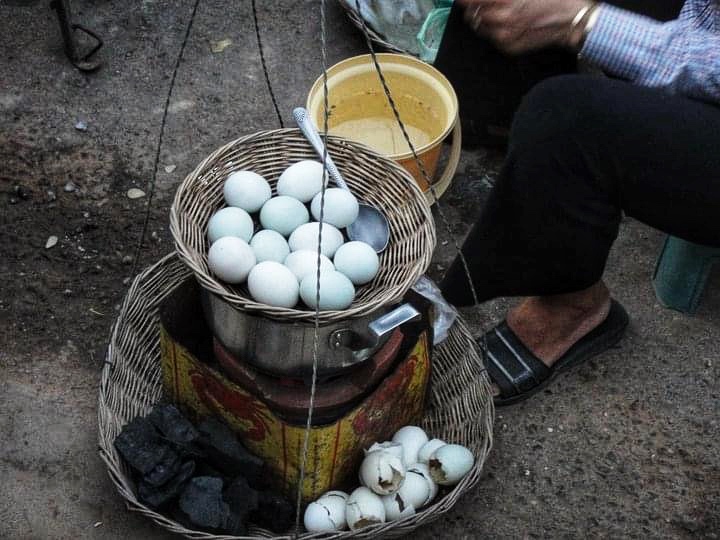 If you are someone who loves to explore exotic cuisines, you should definitely try Balut in Siem Reap!
Balut is a dish made of a duck's fertilized embryo. It is normally boiled and eaten whole from the shell when the bones of the embryo are still soft. Balut is widely popular in the Philippines but it is also one of the national dishes in Cambodia. You can easily find the street vendor selling this Cambodian version of balut, Pong tia Koon in Siem Reap.
The way to eat Pong Tia Koon is also different compared to the Philippines. In Cambodia, a wide variety of condiments are added to the fertilized duck embryo before it's ready to eat. You can top with some flavors such as salt, pepper, and lime juice which adds tanginess to the fetal egg. Try this unexpectedly extraordinary street food in Siem Reap if you are an adventurous eater!
Blue Pumpkin Ice Cream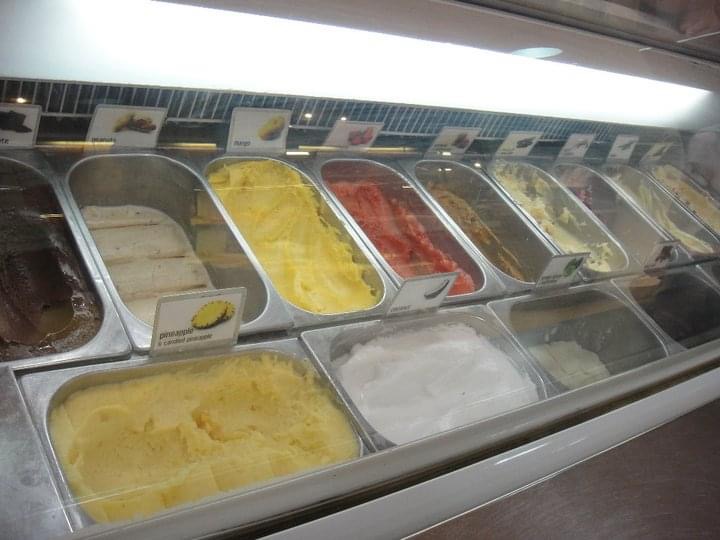 If you still have room for the dessert, don't resistant to try the ice cream from Blue Pumpkin. The local favorite Blue Pumpkin has been in town since 2000, and you would probably see the Blue Pumpkin everywhere in Siem Reap including the International Airport.
This famous bakery offers exceptional freshly baked pastries as well as homemade Ice Cream and sorbets. There are some funny flavors for the adventurous and we like their signatures- Cinnamon and Vanilla Brownie. On a sultry hot afternoon, a serving of ice cream sure helps and is great for unwinding after exploring Siem Reap. The shop also offers simple Western and local dishes if you want to get introduced to Khmer cuisine.
Angkor Beer and Cocktail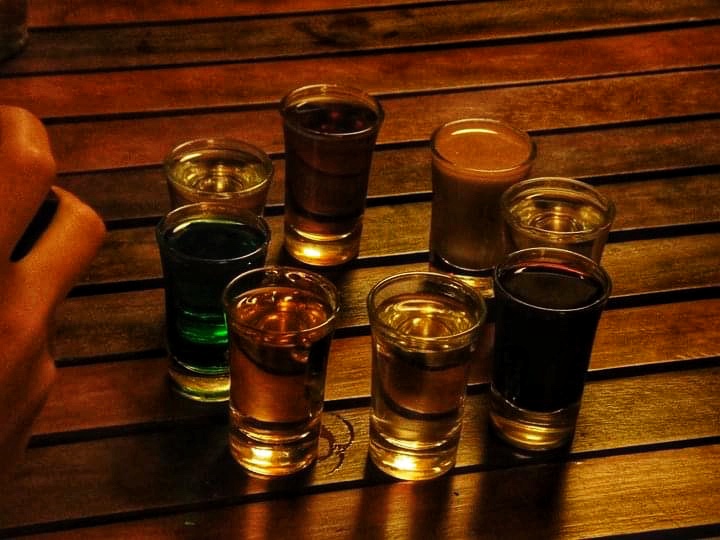 After the long walks visiting the temple ruins, it is perfect to unwind with a few chilled beers or a cocktail in Siem Reap. Cheap drinks and beer specials are $0.50 for a local draft and cocktails average around $2-$3 in most shops along Pub Street. It can be slightly expensive in bars and clubs.
Just grab a drink, it back, and people watching.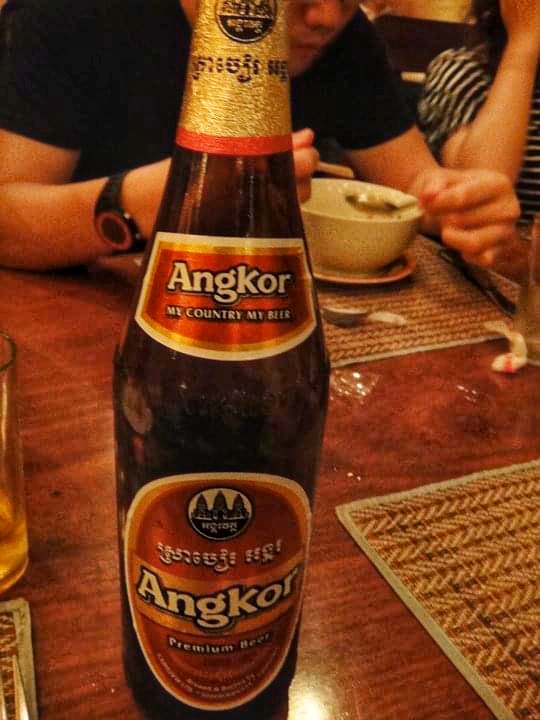 Where To Eat in Siem Reap
There are many local restaurants in Siem Reap that serve delicious food at really affordable prices. You opt for finer dining at a classy restaurant with good service or enjoyed the street food from the mobile or street vendor. No matter what you choose, I'm sure that is something that suits your liking. We enjoyed and really liked how good the food tasted, and how reasonable the prices were for such delicious meals.
If you are looking for where to eat in Siem Reap, here is our recommendation:
Khmer Kitchen Restaurant is a family-run eatery that serves an extensive menu of Cambodian cuisine at affordable prices. Generally, a proper main meal is around USD$3-4. The restaurant has several branches within Siem Reap, though the most frequented one is located at the corner of Street 11. All get busy during the high season and are particularly popular with visitors.
If you are looking for a stylish dining venue, head to the Malis Cambodian Restaurant. The restaurant features a sleek bar and lounge, ample private dining rooms, a garden, and a stage where Apsara dance performances regularly take place. The recommended popular authentic Khmer delicacies are fish amok, chicken or beef curry in lotus leaf, Kampot crab fried rice, and Khor pork with bamboo shoots.
Last but not least, there is also a variety of food stalls lining the corner of Pub Street and Street 11 in Siem Reap. These local vendors serve Khmer rice dishes, noodles, soups, and traditional Khmer dishes at affordable prices.
Overview: What To Eat in Siem Reap
All in all, I hope this list of Siem Reap food guide can help you find where and what to eat in Siem Reap. There's no reason why you don't try the Khmer food while adventuring around Siem Reap. But, no matter where and what food you try I'm pretty sure you will like it. Just make sure you have a bite while in Siem Reap!
After reading through so many amazing dishes are you getting hungry to eat all these food in Siem Reap? So, book your trip to Cambodia and satisfy your tummy! And, make sure to read my other posts about Siem Reap. Thanks for reading and enjoy your trip!