Last updated on October 17th, 2023
Read more on how we spending time to explore the Panorama road and Patchwork road during our Biei cycling trip.
Furano-Biei, located in the middle of Hokkaido. It is world-famous for its flower field and Japan's scenic countryside. Started from April, Furano-Biei is scattered with various flowers field and continue to bloom until around October. Depend on what flowers you would like to see. The peak time for the flower full blossom is from June to August with multiple flower field will cover the great land.
Our visit to Furano-Biei is at the end of May. This is not the best season for famous lavender. So, instead of spending time to flower field, we choose to take a bicycle tour to explore the natural beauty of the Japanese countryside.
Best Time to Visit Furano-Biei
Just in case you needed more information for the flower field in Furano-Biei. Usually, the flowering season started from April to October. Various of flower field will start blooming until winter at Furano-Biei.
May: lupine and tulips
June: blue mealy cup sage and poppies
July: The best time to see the early blooming lavender will come at the end of June with its full bloom occurring around the middle of July.
August: sunflowers and cosmoses
September to October: rapeseed flowers and dahlias
My Biei Cycling Trip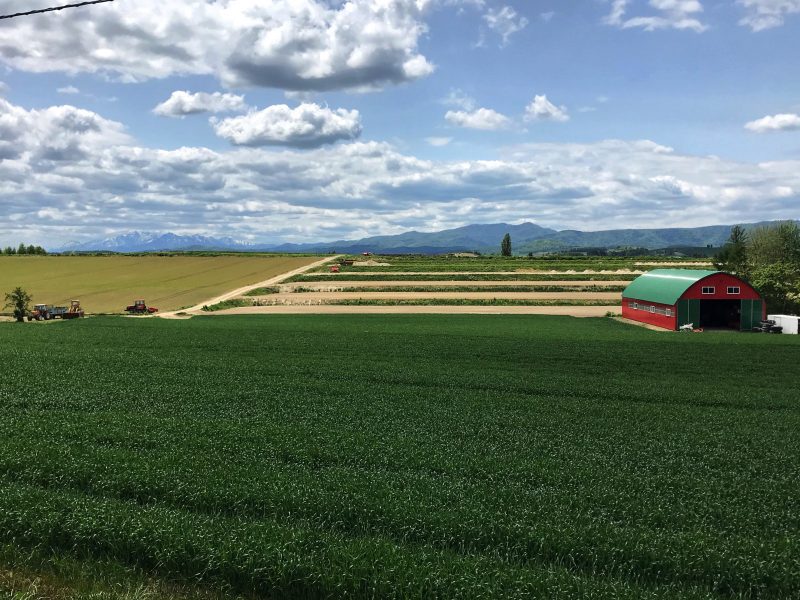 Biei (美瑛) is a small town surrounded by vast expanses of gently rolling hills, fields, and wide meadows. This ''Hilly Town" offers a picture-perfect setting and well-known for photo shootings. Thanks to its countless up-down hills, colorful flower fields and uniquely-shaped trees for a pleasant countryside vacation.
Renting a car is essential so you can stop by and see the beautiful scenery at your own pace. Get your car at RentalCar with best price guarantee and high customer reputation. If you are not planning for self-driving, then go on a bicycle like us! It is one of the best ways to discover the wonderful scenery in Biei. Cycling through the stunning views of Biei is one of the most enjoyable and unforgettable experiences in our life.
More information can be found at the Biei tourism website. While there are many lovely sightseeing attractions in Biei. Listed below are what our thinks the best places to visit in Furano/Biei during May or June!
How To Plan Bicycle Trip In Biei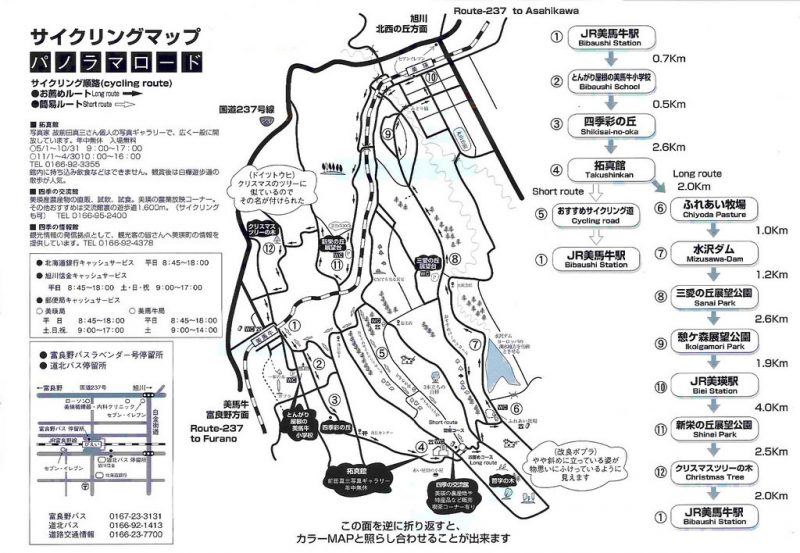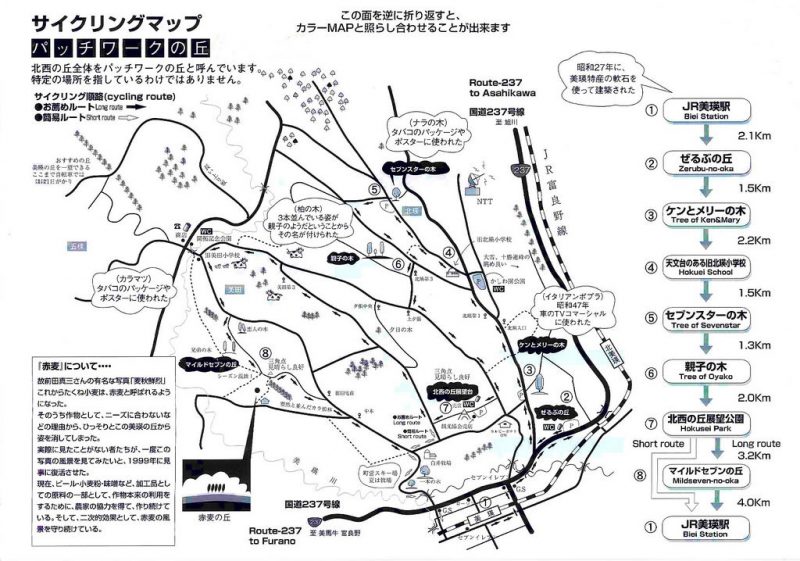 There are two amazing driving roads and good for biking course in Biei, called "Patchwork Road" and "Panorama Road". These two biking courses are located at north-west and south of the town center respectively. Panorama road is located closed to Bibaushi station. Well, Biei station is a great start to explore the Patchwork road.
It is advisable to choose one of the biking course to enjoy the beauty of the countryside in Hokkaido. You still can enjoy your cycling journey from Patchwork road to Panorama road within one day. However, it will quite tiring as this is not a short journey.
We were too greedy to see both places within one day. So what we did is start from Bibaushi station for Panorama road in the morning. After finished, we took the train to Biei station for Patchwork road and continue our Biei cycling trip at noon.
Panorama Road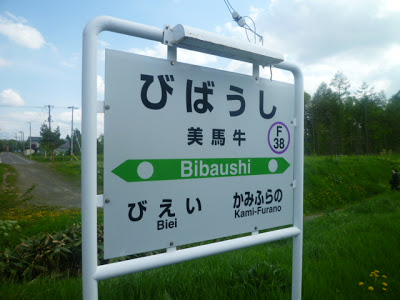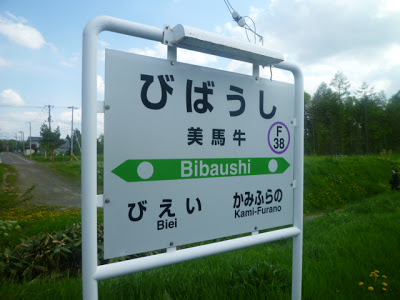 There are 3 stations by JR Furano line in the Biei. Kita-Biei Station (北美瑛駅), Biei Station (美瑛駅) and Bibaushi Station (美馬牛駅). From Asahikawa, we took the earlier train to Bibaushi station and take our rental bike at "Guide-no-Yamagoya" (美馬牛ガイドの山小屋).
Guide-no-Yamagoya was the only bicycle rental shop in Bibaushi station. It is located just in front of the station and you will need to close the road to get there. The cost for a normal bicycle is about 200 yen/hour or electric bike with 600 yen/hour.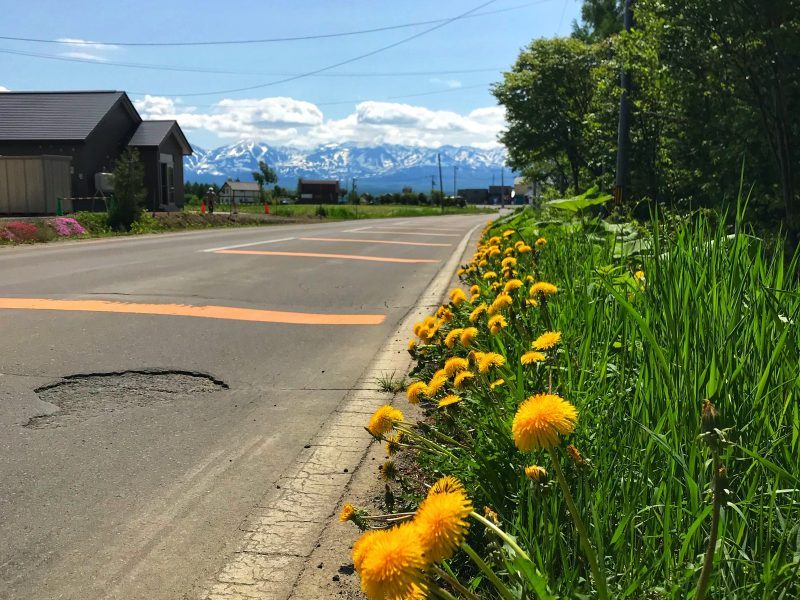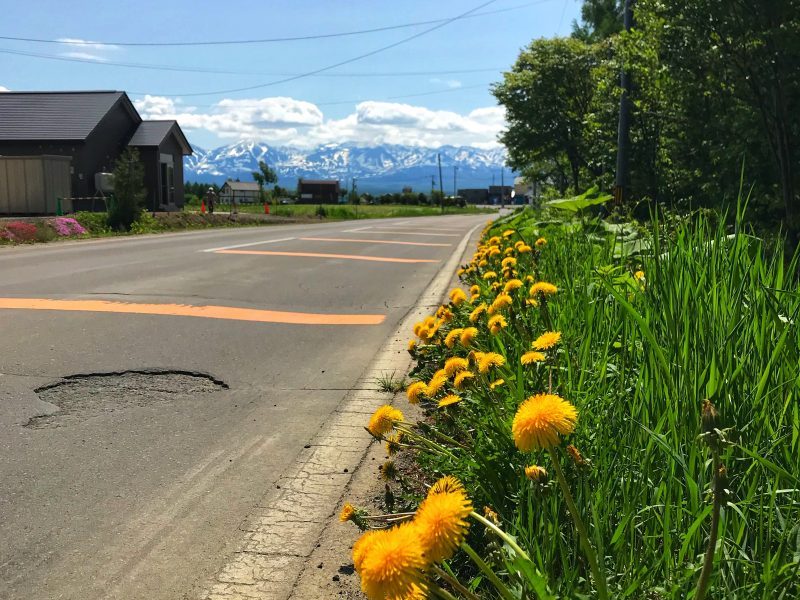 Panorama road is famous for its several hills path and beautiful overlook observatories. The scenery is so romantic and you can have a panorama view of the field in distance.
However, we do not plan too much of itinerary for the biking course in Panorama road. Our main purpose is to Shikisai-no-oka. You can also choose to walk to Shikisai-no-oka. The distance is about 1.2 km from Bibaushi station with 30 minutes walking journey.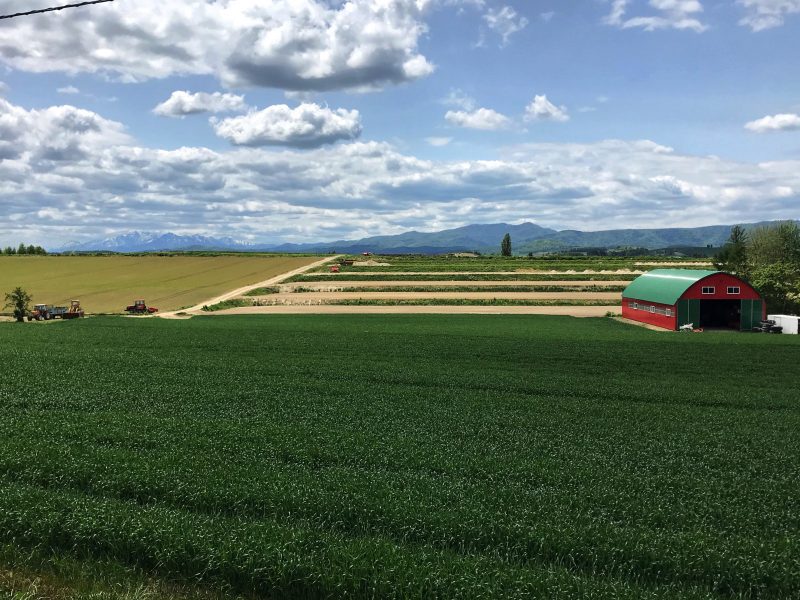 The cycling journey is full of beautiful scenery along the way and we stop several times on the way to Shikisai-no-oka. It is extremely enjoyable to visit by bicycle at your own pace.
Shikisai-no-oka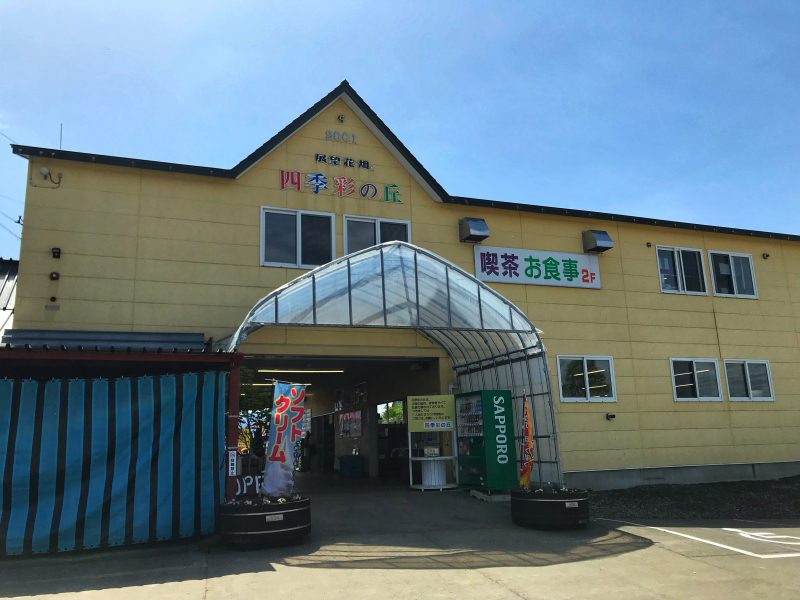 The Shikisai-no-oka (四季彩の丘) is one of the famous place in Hokkaido. It is well known as Flower Paradise for its colorful flower field on this farm.
No entrance fees but a donation is encouraged to maintain the farm.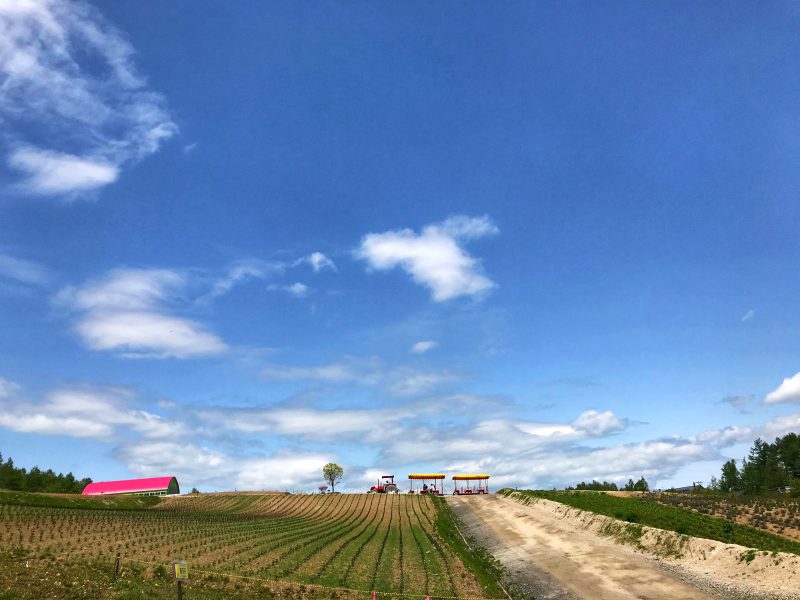 The farm is not too big at around 7 hectares with an up-down hill which required little hike. However, visitors can choose to ride on tractors, golf buggies or flower bus by paying a minor cost to go around the farm.
We choose to slowly walk to visit the farm at our own pace.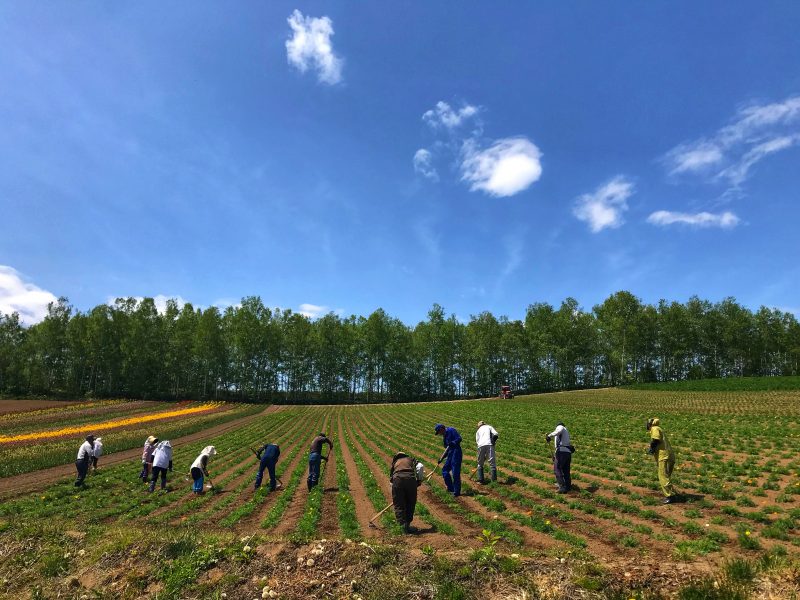 As per what we expected, our visit was not the best season as the flowers weren't in bloom. Farmers were still working hard on the field and busy planting for the coming flower field.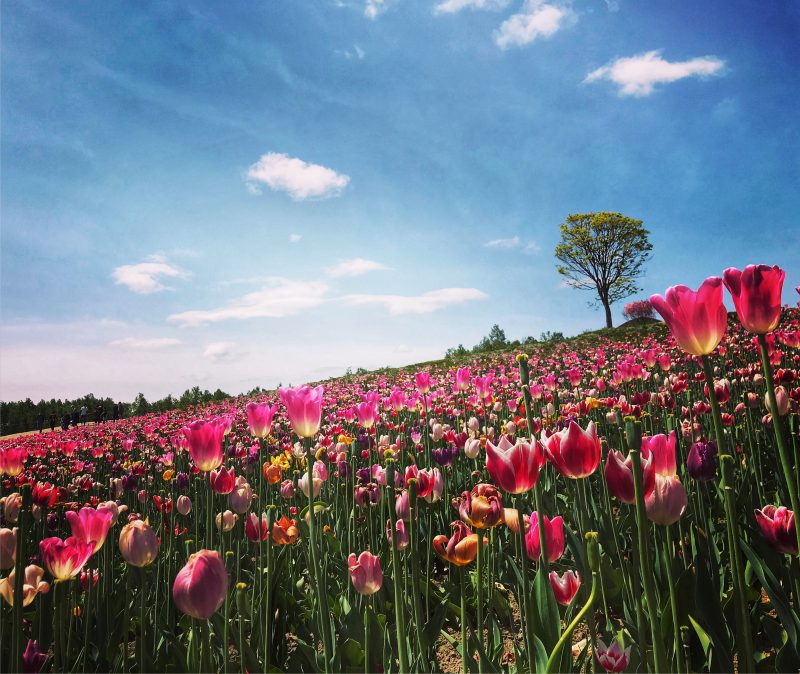 Still, we were delighted to see some of the flowers colorfully growing on the field.
There is one part inside the farm with colorful tulip in full bloom. But this alone made for great photo opportunities! We captured one of the best views with tulip during our Hokkaido trip.
Alpaca Farm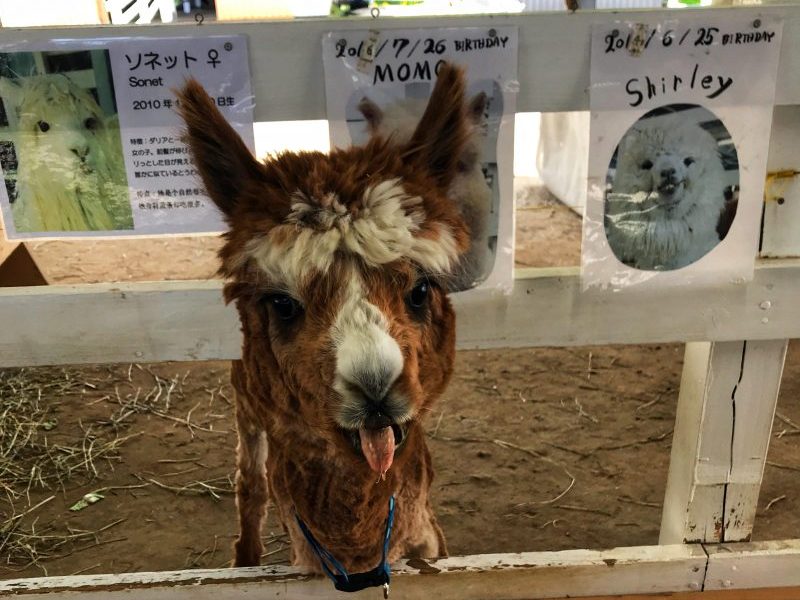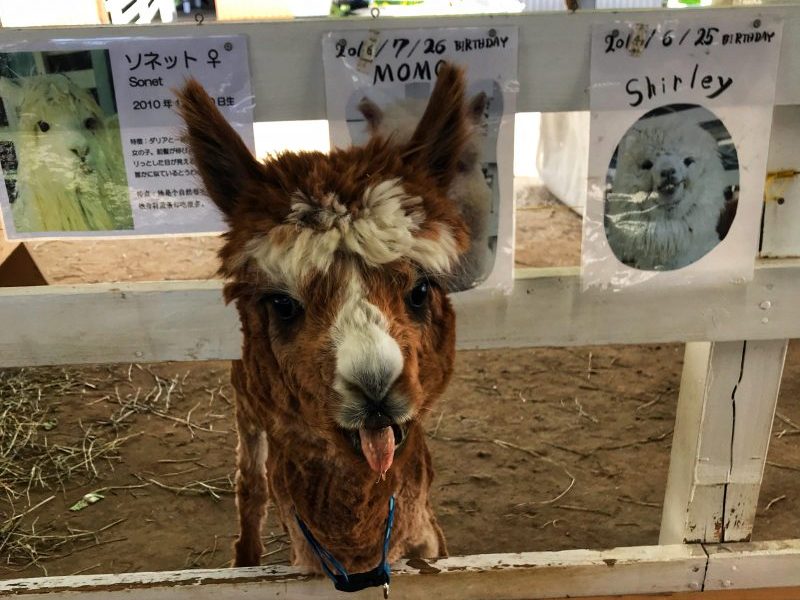 There is Alpaca Farm (アルパカ牧場) if you want to see the little alpaca in close encounter. Entrance fee cost 500 yen per pax and an additional 100 yen for a small basket of vegetable to feed the cutie alpaca. It was a fun experience for us with these amazing animals.
We returned to Bibaushi station after the visit to Shikisai-no-oka. The total biking journey took us about 2 hours. Next, we board the train to Biei station and continue our biking tour to Patchwork Road.
Patchwork Road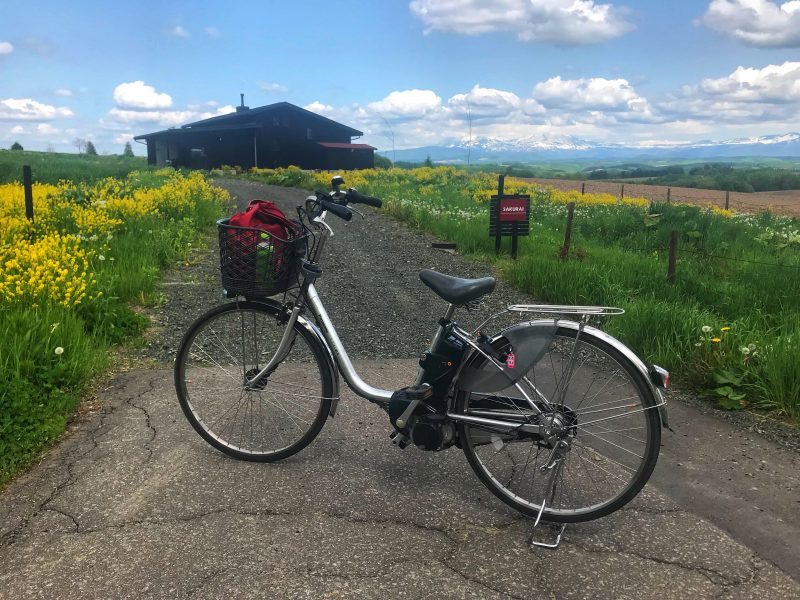 Patchwork Road is good to start from JR Biei station. This route will go around those photogenic trees and the wheat field covered the rolling hills. The whole cycling journey can be finish within two or three hours.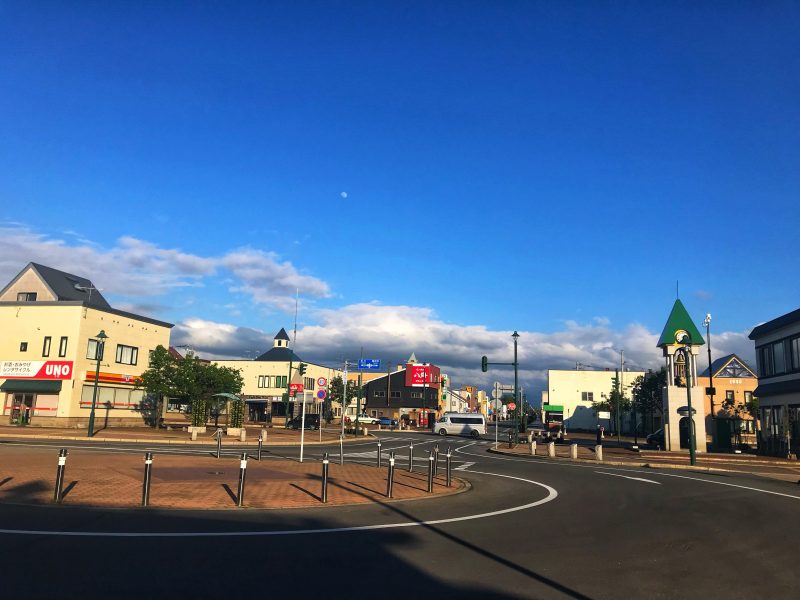 Several rental shops are available nearby Biei station, including Matsuura Shokai (松浦商店), Takikawa Cycle (滝川サイクル) and Uno Shoten (宇野商店).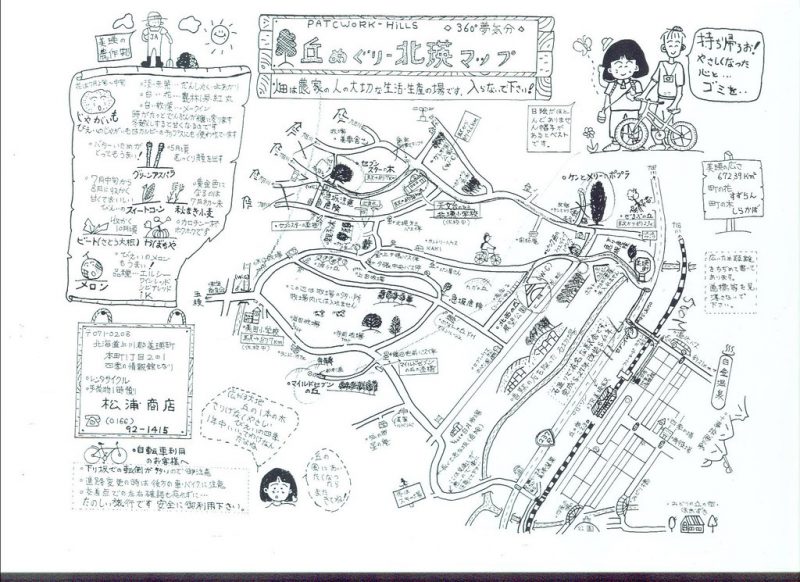 Our bicycle were rented from Matsuura Shokai (松浦商店). The shopkeeper was very helpful in offering us with hand-drawing map and explained on the direction. Well marked uphill and downhill slope with different color pencils.
We choose the electrical bike for our cycling tour in Patchwork Road. The hybrid electric bike will greatly help you to cycle through the amazing hilly village by two wheels. It make the trip easy with electric assistance especially riding up slopes.
Famous Tree Spot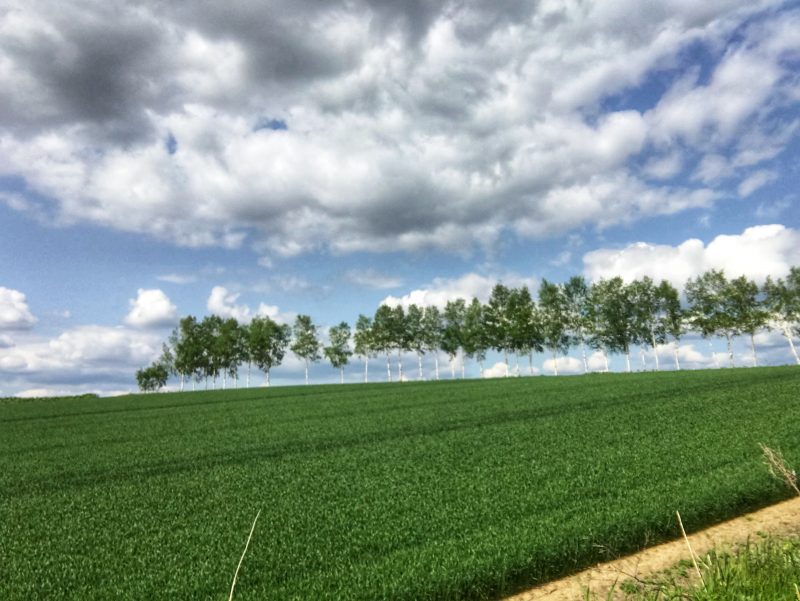 The whole area of Patchwork road is like a green open space. It is so picturesque and filled with popular tree which great for photo spots. You can check out every famous tree spot along the cycling journey.
However, we just did the normal bicycle ride follow the map provided. We enjoyed the scenery instead of focusing on particular trees.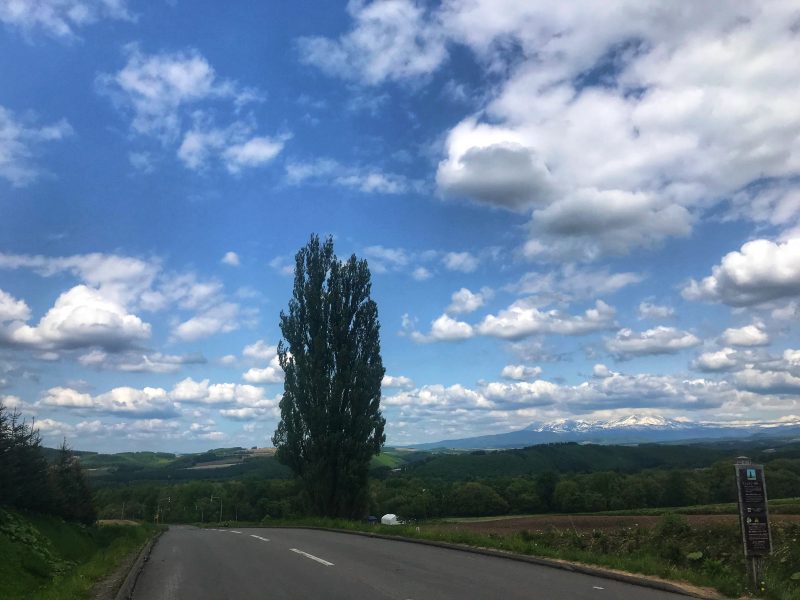 Anyway, this is the six famous tree spot in Patchwork road:
Ken and Mary: one of the iconic trees in Hokkaido and get famous from a car commercial at 70's.
Mild Seven Hill: Row of larch trees on top of the hill and get famous from a cigarette commercial.
Seven Star Tree: Another trees which has been shoot for commercial which appeared on cigarette packages
Parents and Child Tree: A group of three Oak tree with 2 large (mother and father) and 1 small (child) which create nice scenery.
Christmas Tree: A single Tohi spruce tree with a shape like a Christmas tree and appears like a star at the treetop.
Philosophy Tree: Tree with tilting its head back and indulging in thought like a philosopher. However, it was fell in 2016 and no longer exist.
Overall: My Biei Cycling Trip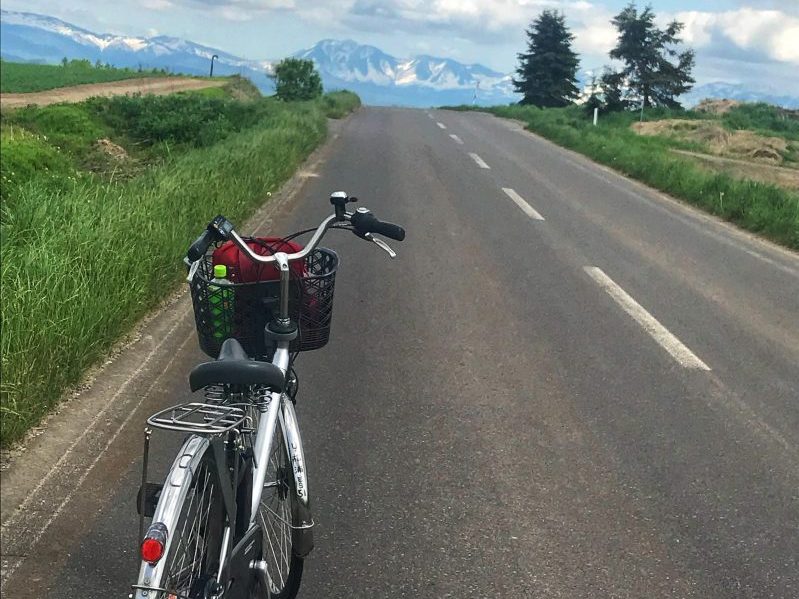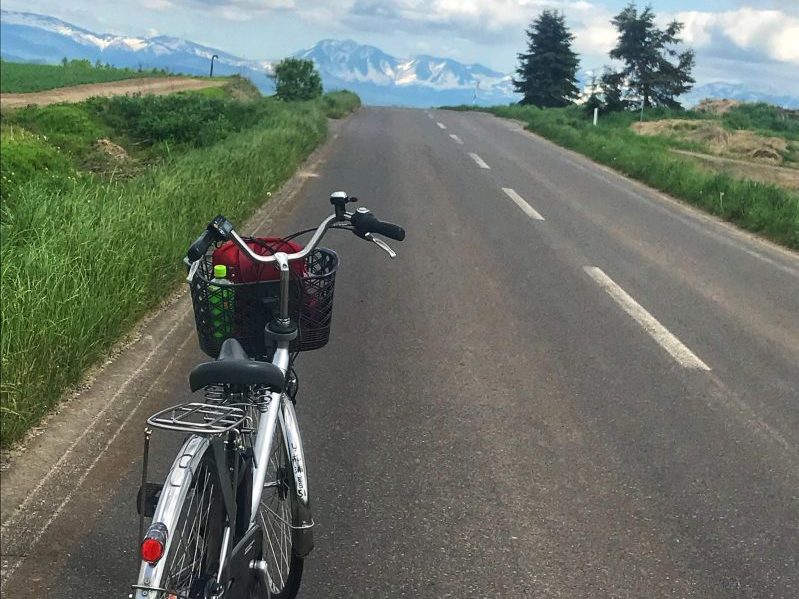 We were so thankful to the great weather during our Biei cycling trip. As you can see we managed to cover Panorama road and Patchwork road within one day by bicycle.
Well, we did not cover all the must-go places in Furano-Biei. Instead, we choose cycling in Biei freely and stop by any spot to enjoy the view at our own pace. In the evening, we took the bus and visit the famous blue pond at Biei.
Anyway, self-driving still the best way if you wish to cover so many places within one day. We skipped Furano and focus on Biei as this is not the best season for Furano. And we are not interested to visit those cheese or wine factory. However, if you have more time there you may want to check them out as well.
How To Get To Furano-Biei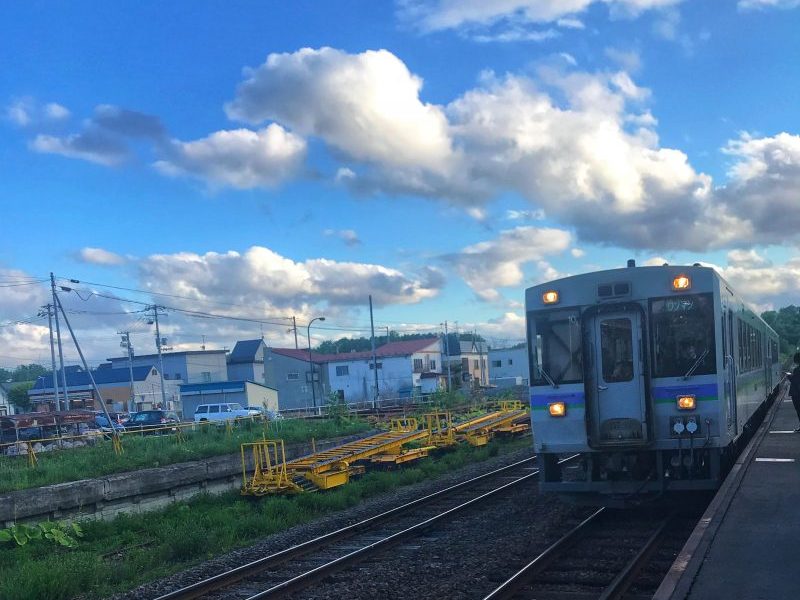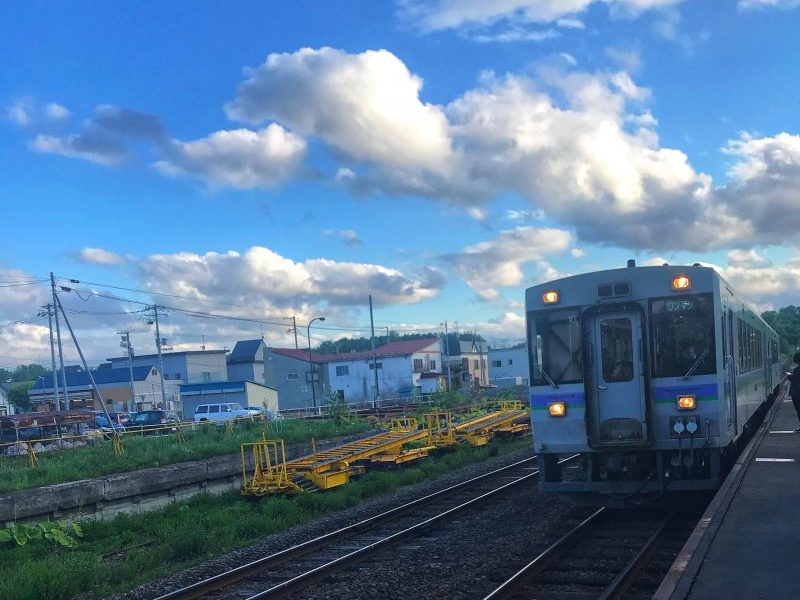 Furano-Biei are positioned close to the city of Asahikawa. So, it is best to plan your Furano-Biei itinerary from Asahikawa by train if you not staying one night there. From Sapporo, it will take approximately three hours by using the JR train (4,510 yen).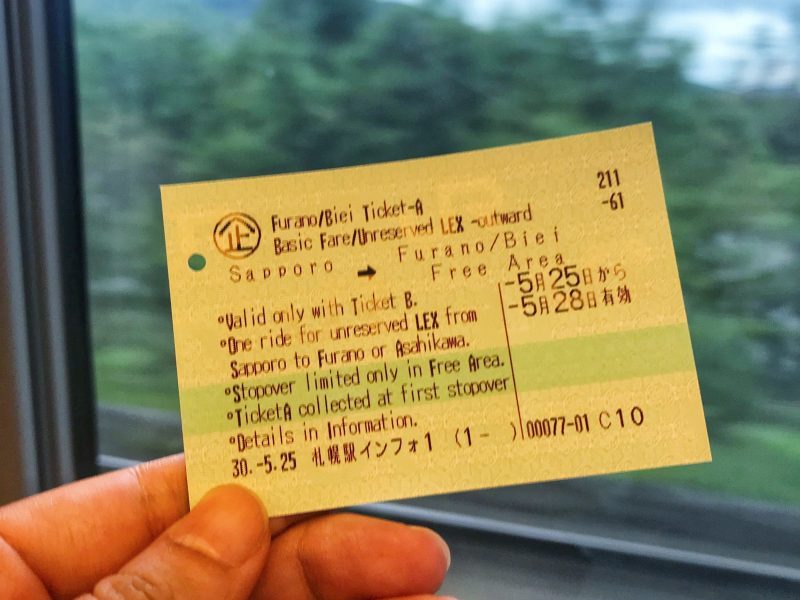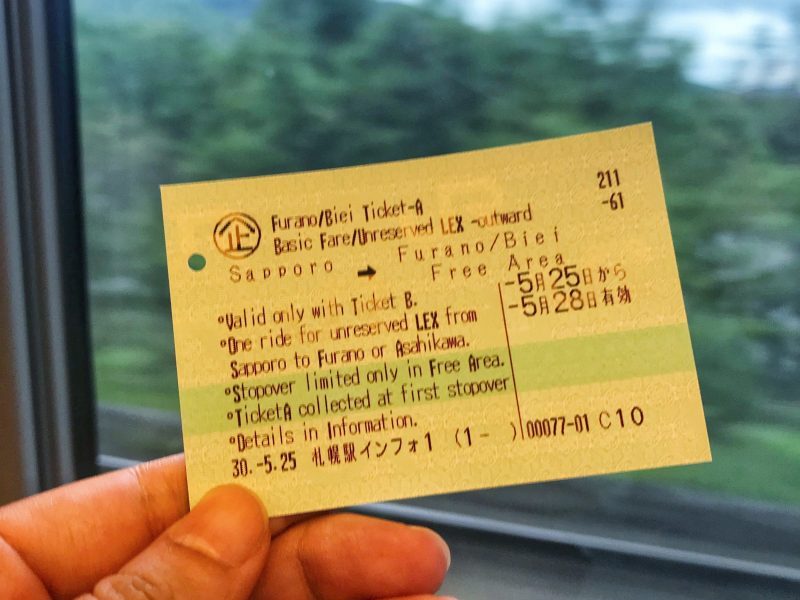 We were using the Furano Biei Rail Ticket for our Biei cycling trip. This pass will cover my return train journey from Sapporo to Asahikawa with unlimited train ride within Furano, Biei, Asahikawa and Takikawa area within 4 consecutive days. So basically my train journey within Asahikawa, Biei, Bibaushi are covered by the pass.
It is always better to visit Furano-Biei by car. However, it was not too bad after our true experience in Biei cycling trip. Alternatively, you may join the KURURU sign-seeing bus, which operates only in the summer, stops at all the main sightseeing spots, such as Furano Marche, Furano Cheese Factory, and the Furano Winery.
Read also: How to Plan for 10-Days Hokkaido Itinerary: