Last updated on September 23rd, 2023
Soup Curry is known as must-try food in Hokkaido. We tasted the Soup Curry Garaku Sapporo and highly recommended it to everyone when visiting Sapporo.
Hokkaido is famous for its fresh seafood and local produce. There are so many best food in Sapporo awaiting you when visiting here. Among all the must eat food, you should try a Soup Curry at least once in Sapporo.
We had soup curry as planned on the Sapporo itinerary. After check on many food reviews, we decided to Soup Curry Garaku during my 2 days in Sapporo.
Read on my food review on Garaku Restaurant, probably the best soup curry in Sapporo and Hokkaido.
Soup Curry Garaku Sapporo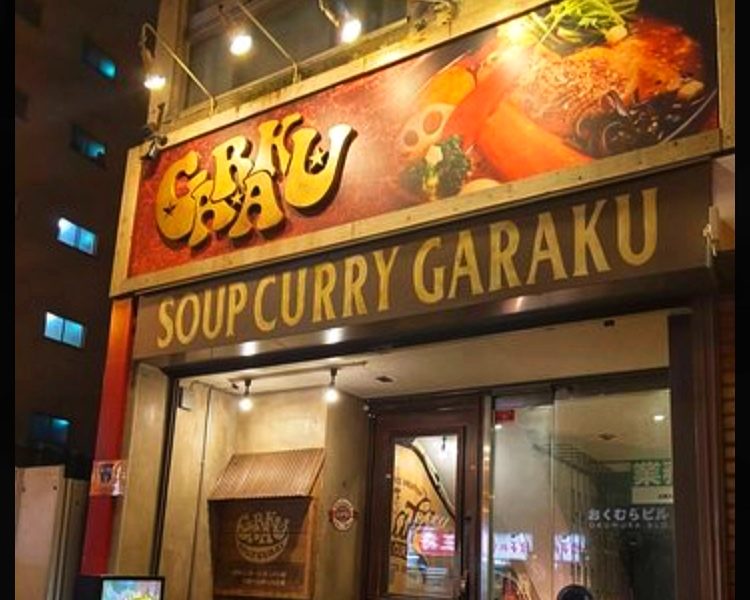 Garaku Restaurant is located in located nearby Tanuki Koji shopping street as well as the Susukino metro stop. While it is probably one of the most popular soup curry in Sapporo. There are always long lines to try on their soup curry. Since it's popular the wait can be long, so be prepared to wait especially during lunch and dinner time.
Soup Curry Garaku Sapporo
Address: 2-6-1 Minami 2-jo Nishi | Okumura Bldg. B1F North Entrance, Chuo, Sapporo 060-0062, Hokkaido
Operating Hours: Lunch from 11:30 to 15:30 and Dinner from 17:30 to 23:30 (last order 23:00).
Price Range: A bowl of Garaku soup curry is ranging from 1100 to 1500 yen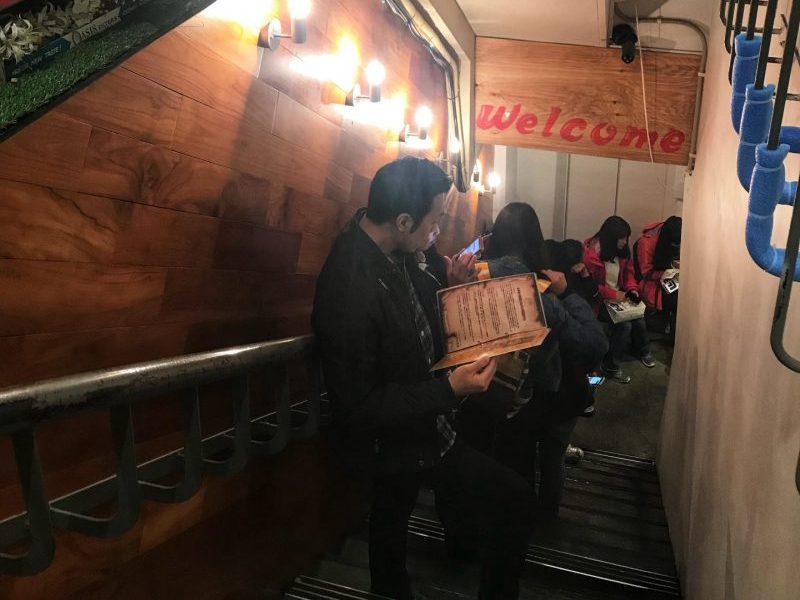 We went to Soup Curry Garaku around 7.30 p.m and hope that the waiting line can be shorter. However, there was still a queue was forming at the basement level leading from the restaurant. It was not difficult to imagine how packed this eatery could be during the peak dinner time.
The staff was attentive and take a record of your name and number of pax while line up. Luckily the queue cleared up pretty fast. We waited about 30 minutes to be seated inside the restaurant. The restaurant is not big and can be seated for probably 40 people. There are tables cater for larger groups and bar seating areas for solo or couple visitors.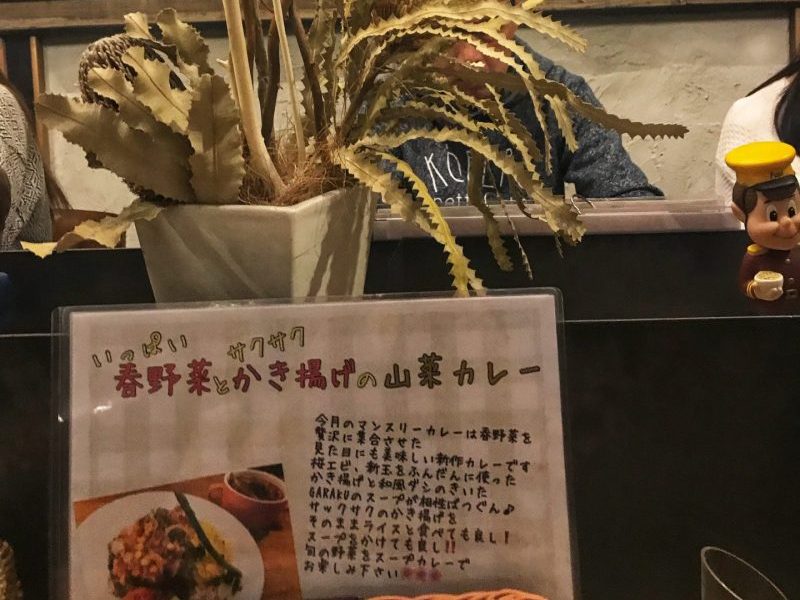 One of the reasons people are craving about the Garaku soup curry. The best part soup curry of Garaku Sapporo is using the fresh ingredient and cook with MSG-free. Thumb up for Garaku Sapporo.
Although Garaku restaurant is serving the Hokkaido local dishes, the decorated is more like a North American ski lodge cabin resort. It also accompanied with music from the 70s and 80s.
In short, the dining ambiance inside was cozy and comfortable.
How To Order in Garaku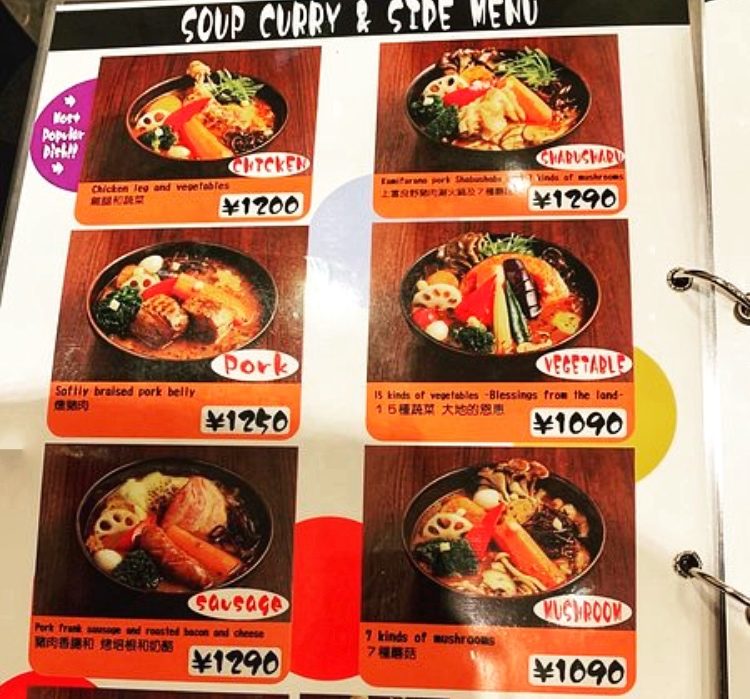 Garaku has an English menu for foreign visitors. So no worry about how to order in Garaku Sapporo. The price is very reasonable, ranging from 1100 to 1500 yen (might be different after the tax increase in 2019).
The top seller soup curry from Garaku is their softly braised pork belly and chicken thigh soup curry. Since we only have two people, so we decided to try on both dishes. Besides, their vegetarian option soup curry for non-meat friendly customers.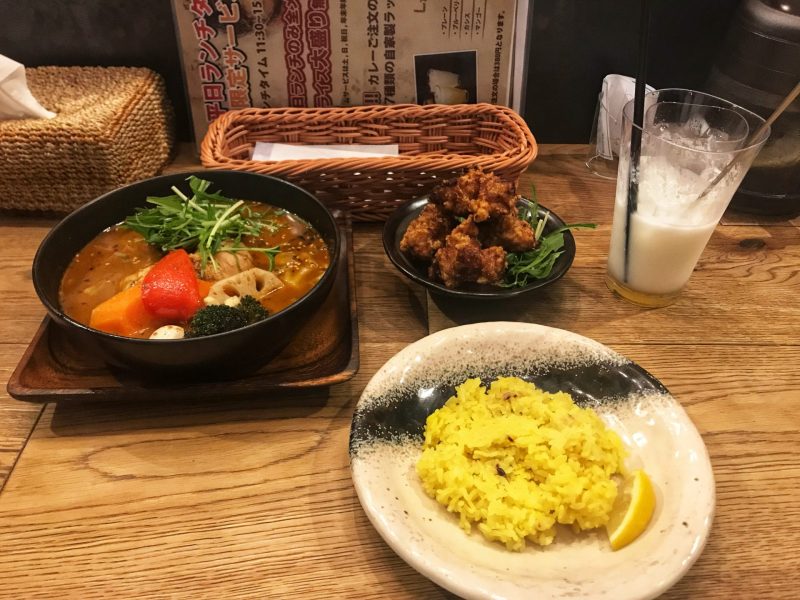 Next, you have a choice of the size of rice and different levels of spiciness based on your spicy tolerance. The array of spice levels can choose from level 1 to a maximum of 40. You will need to top up an additional 110 yen or 210 yen for the highest spicy level. I chose level 19 of the spice level which is in the middle level without paying additional extra.
While for rice, you can choose from 100g, 200g or 300g amount of rice. I opted for the medium at 200g of rice. Added, I also ordered the yuzu lassi for drink and fried chicken for side dishes.
After finish choosing the soup curry, spice level, amount of rice, we were ready for the best coup curry in Sapporo.
The Taste on Garaku Soup Curry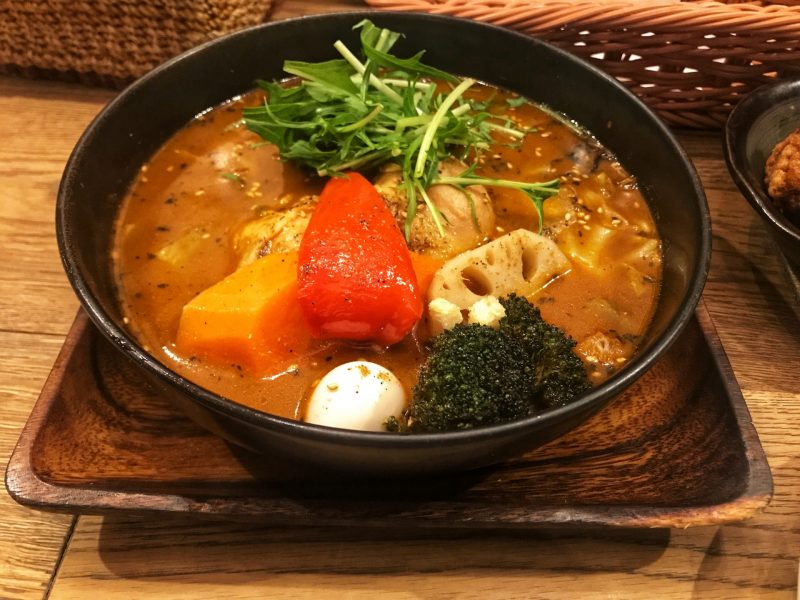 It took us about 10 minutes to serve the dishes. The soup curry bowl came with a good mix of meat and vegetables. It looks so good and colorful.
We were amazed by the soup curry and aroma. Firstly, the soup curry broth from Garaku has rich in curry flavors although it was on the thin side. It has its distinct taste unlike typical Asian curry with coconut milk nor the typical Japanese curry. It may look like soup but was so delicious with the texture of spicy stew. In our opinion, it was easier to eat than normal thick curry.
While the chicken thigh was very tender soft. Added, the remaining ingredients were fresh and tasty. I especially like the pumpkins which tasted very nice. It was awesome to eat with the butter rice.
We finished off with the whole bowl of soup curry till the last drop. Added, the yuzu lassi was so perfect match with soup curry. High recommended order together for a complete meal.
Food Review on Soup Curry Garaku Sapporo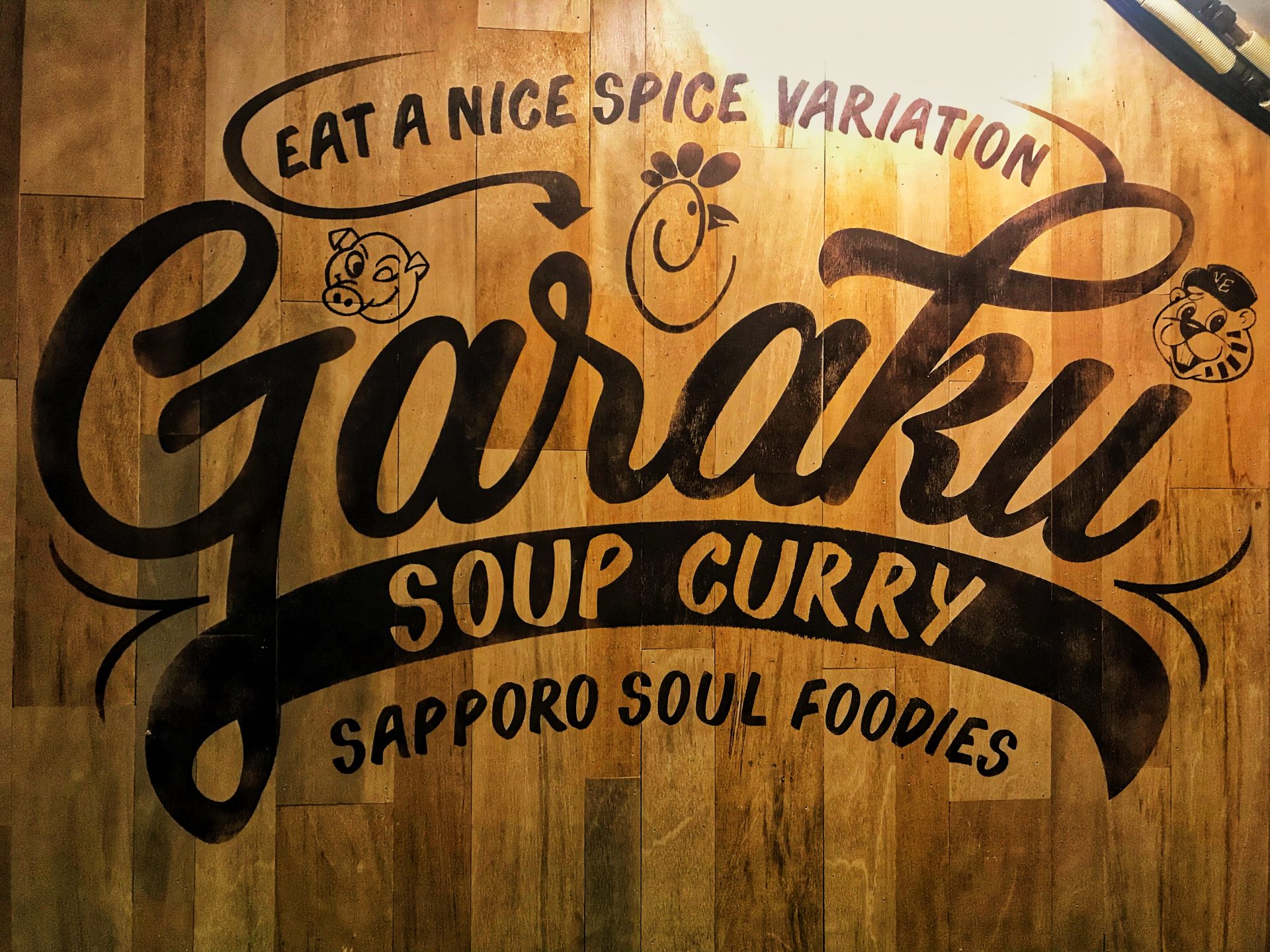 All in all, it was a wonderful experience being able to taste the Soup Curry Garaku Sapporo. Since soup curry is very well known in Sapporo, please consider trying at least once when in Sapporo. We have try on other soup curries in Hokkaido, but the Garaku Sapporo has much stronger herbal taste and aroma.
This little gem restaurant is highly recommended by locals and visitors. So won't be surprise there are always long lines awaiting to taste on this best soup curry from Garaku. Truly a must-try in Sapporo. It's worth trying when visiting Hokkaido.
Lastly, this Garaku Soup Curry Sapporo is part of my Sapporo travel blog when visiting Sapporo. Check out our Hokkaido food review on all the must try food in Sapporo, Asahikawa, Otaru, Noboribetsu and more.
2-Days Sapporo itinerary: Things to do in Sapporo
Hokkaido Food Guide: Top 10 Must Eat Food in Hokkaido