Last updated on September 12th, 2023
We stayed in Gasthof Simony for one night during our visit to Hallstatt. It is the best budget to stay in Hallstatt, with a historical wooden building located in the center of Hallstatt.
Hallstatt is a top-rated tourist destination and world-famous for its quaint lakeside town in Austria. Many day-trippers are visiting Hallstatt for a few hours of a brief visit, But we highly recommended staying in Hallstatt to explore its serene clam when day-trippers leave.
However, it is not easy to look for cheap accommodation in Hallstatt due to its small size of the town. The price is not budget-friendly especially those rooms overlooking the lake. Some of the guesthouses even request for at least two nights of stay.
But glad that we managed to find the Gasthof Simony, a historical wooden building located in the center of Hallstatt with a panoramic view of Lake Hallstatt. The price is a little bit high but acceptable in consideration of the good location and in comparison to the other accommodations in Hallstatt center.
Read on to know more about this best value budget stay in Hallstatt – Gasthof Simony Hallstatt.
Hallstatt Accommodation Tips:
Make sure to reserve your stay in advance if you plan to overnight at
Gasthof Simony Hallstatt
. Limited Rooms available and easily get fully book.
Gasthof Simony Hallstatt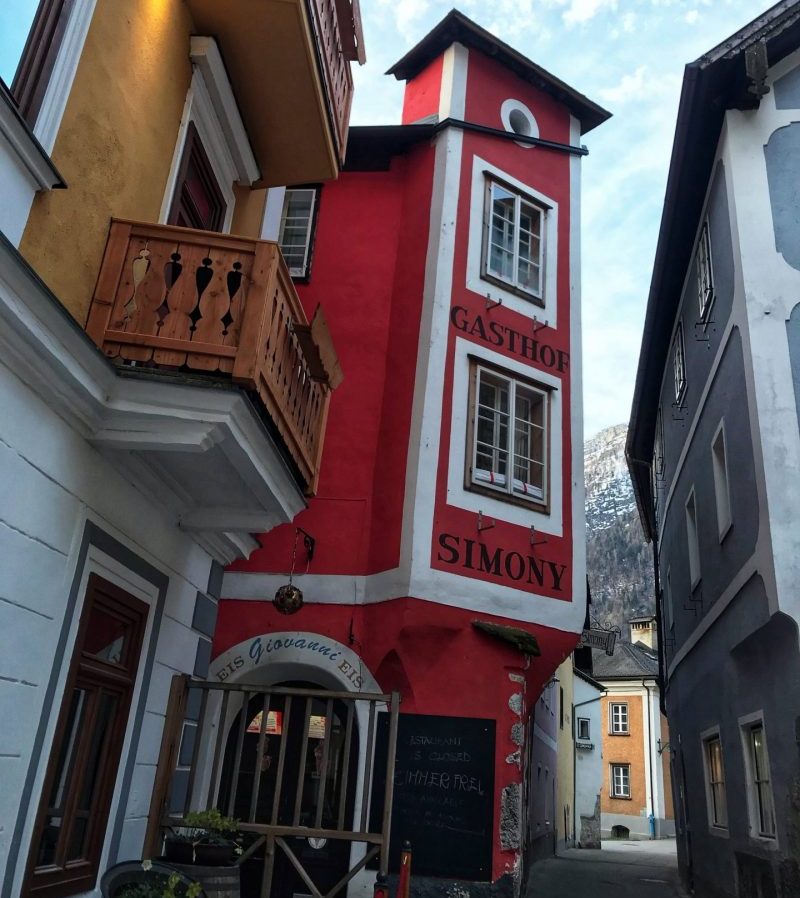 The Gasthof Simony is an authentic old style Austrian inn located in the center of Hallstatt town. Although it is not a high-class 5-star hotel and a little bit old, we so glad that we make the right choices for staying in Gasthof Simony. The whole unit even the upper part of the building was decorated with wooden. Besides, the location couldn't be any better. It is easy to find with only a 1-minute walk from the Hallstatt Markt.
After the tiring traveling from Cesky Krumlov to Hallstatt, we arrived in the early afternoon. Once stepped in, this place makes us feel relax and warm. While it is still early, we would like to ask for luggage storage so that and we can spend time wandering in the Hallstatt town. The host was friendly and helpful. She helped us to put our luggage in the store and we can come back to take it after check-in.
Room with Lake Side View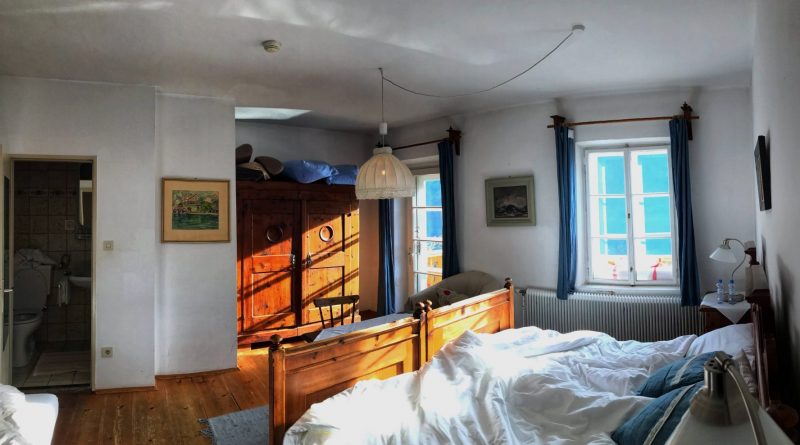 Make sure to book for a room with a lake view in Gasthoy Simony Hallstatt. The rooms are quite different, some with ensuite bathrooms and some with good views. Limited rooms are available. So make sure to book early to avoid disappointment.
We managed to book the two best rooms with an ensuite private bathroom and lake view two months ago before our visit to Hallstatt. Our rooms are basic but adequate. Comfy bed with classic furniture. Besides, the shower was just great.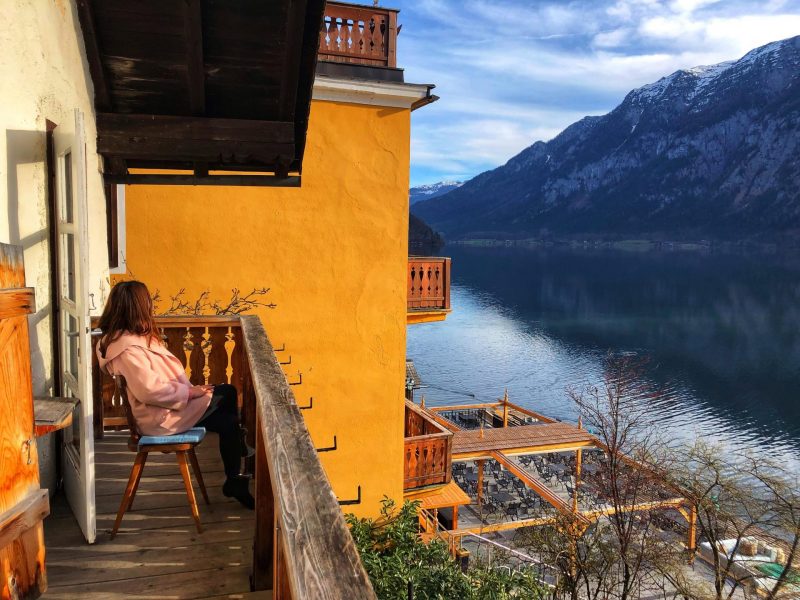 While the highlight of our stay was the big balcony that had a panoramic of the lake view. In the morning, we first get out to enjoy the beautiful and incredible view after get up. Such an amazing view.
Everything was so perfect and comfortable, though there is no lift in the building. But with such a room price for the two people in Hallstatt, it seems like an excellent bargain. Our stay in Hallstatt is one of the most beautiful places I have been to.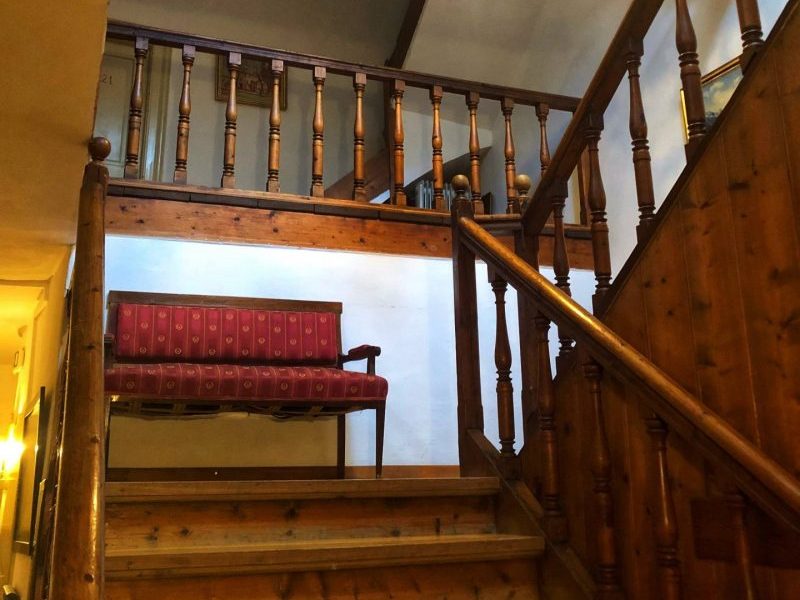 The only downside is the wood floor and stairway. So, it might be quite squeaky when walking on it. However, it is the case in most old buildings around Hallstatt. Besides, we didn't hear the creaky sound at night time. So it is not an issue for us.
Side note: Gasthof Simony does not take credit cards so make sure you have cash.
Simple Breakfast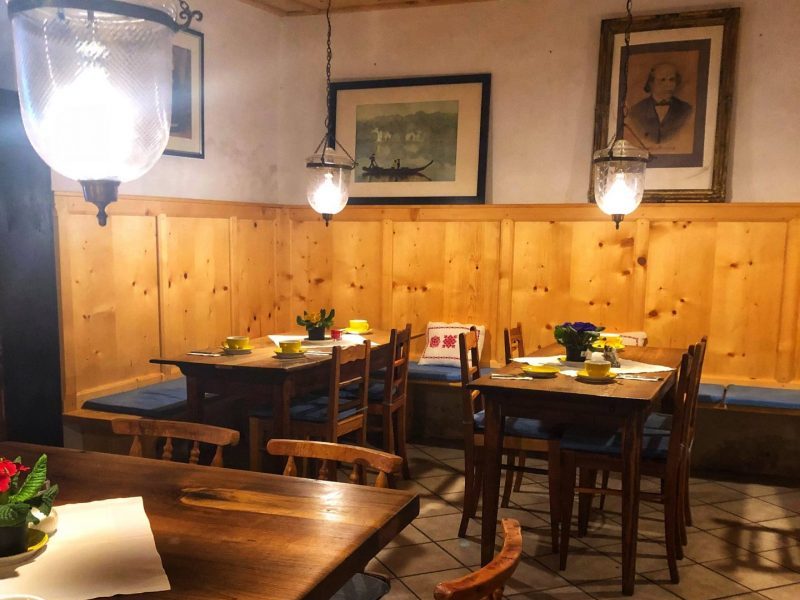 Besides, our stay included a continental breakfast. We served with tea or coffee, some bread, cake, salad, ham, cheese, and cereal before kick starts our day in Hallstatt. Unfortunately, the outdoor was closed for breakfast during our stay, so we ate inside the small restaurant downstairs from the lobby.
Breakfast was not the best if you compare to the other hotel but not bad in the small town. However, it can be crowded with guests serving themselves during peak hours. Try to get there early as they do not replenish the food very often.
Overview: Best Budget Stay in Hallstatt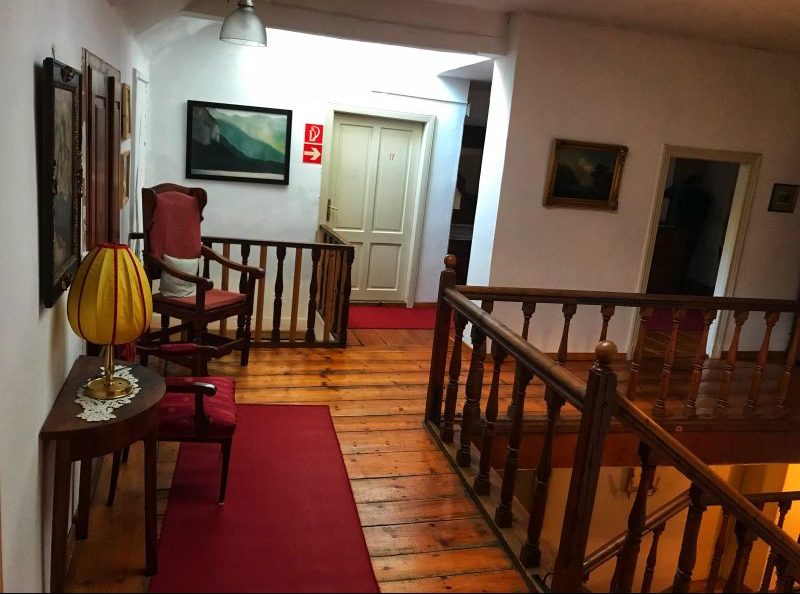 All in all, the Gasthof Simony Hallstatt is a great place for the budget stay in Hallstatt and value for money. The location is super close to the Market Square and ferry, you don't need to worried about too much walk with your luggage or to rush for catching the boat on time.
If money is not a concern, consider staying in Seehotel Gruner Baum located next door with better renovated, modern, and service. But, if you're looking for something relatively inexpensive with great views but accept for basic stay, Gasthof Simony is your great choice. We really recommend this hotel since its a high CP value option for visitors.
Planning on a day trip or staying one night in Hallstatt? Make sure to read on our travel guide on:
Read next:
If you're traveling to Central Europe for the first time, here are more helpful guides to help you plan your trip.