Last updated on December 11th, 2023
This Salzburg Food Guide has tips for what and where to eat in Salzburg, including few must-try dishes recommended for you to taste the Austrian food in Salzburg.
When planning on the Salzburg itinerary, I've done some research and come up with some of the best selection of delicious things to eat in Salzburg. All the best food we ate in Salzburg is delicious and amazing! To ease on your Salzburg food tour, we had put together all the impressive Salzburg restaurants and locations for your recommendation.
If you're looking for where and what to eat, let's check out my Salzburg Food Guide below.
Salzburg Food Guide: What and Where To Eat
Here is some of the best food and restaurant that we would like to introduce to you if you're visiting Salzburg.
Salzburg Food Guide:
Traditional Bosna Sausage from Balkan Grill Walter.
Monk Beer from Augustiner Braustubl.
Salzburg Beer from Stiegl-Brauwelt.
Traditional Austrian Cuisine from Alter Fuchs.
Let's check out more detail on the best food in Salzburg.
Traditional Bosna Sausage from Balkan Grill Walter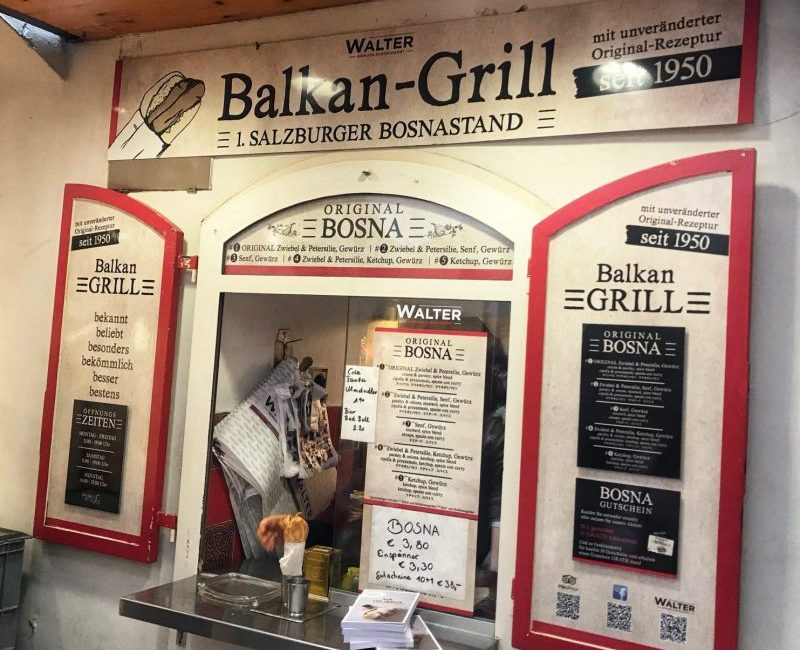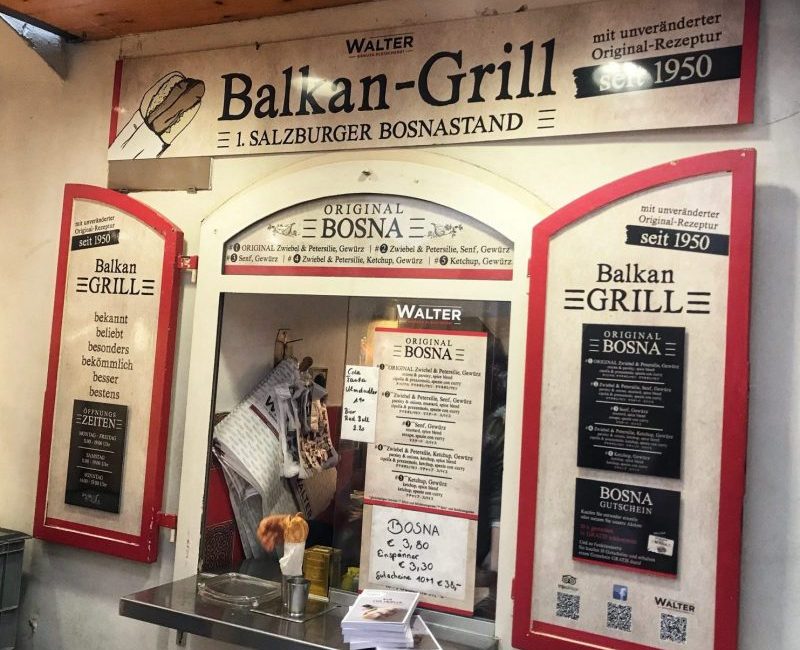 In Europe, nothing is a better snack than a wurst in a brotchen from a street vendor, and some for Salzburg! Balkan Grill Walter is one of the oldest and most recommended places for local Bosna grill sausage. This Bosnal sausage probably is one of the most popular cheap street food in Salzburg, loved by locals and tourists.
Hidden away from the main shopping street, the Balkan grill is worth seeking out. Always a long queue in front of the window counter, but moving very fast. Everything was made fast and clean. The menu is in German, English, Italian, and Japanese, and you'll need to choose from the five-item on the menu.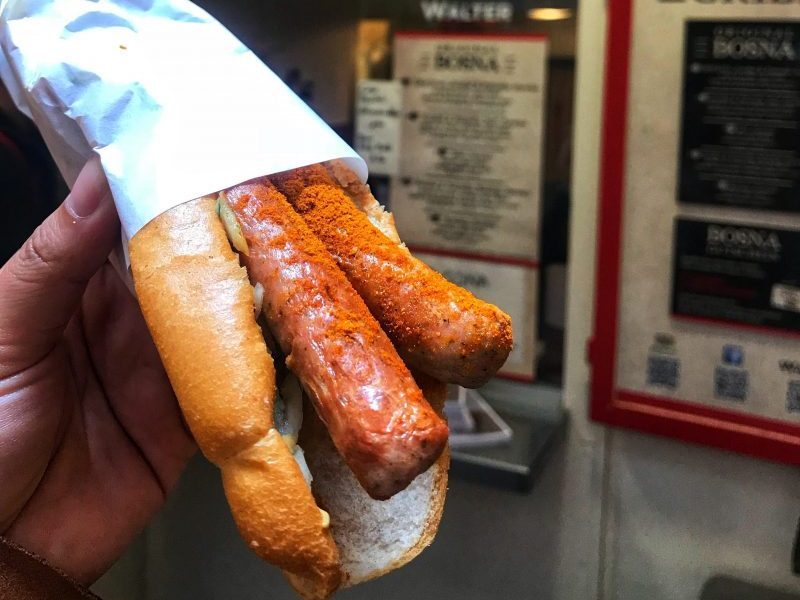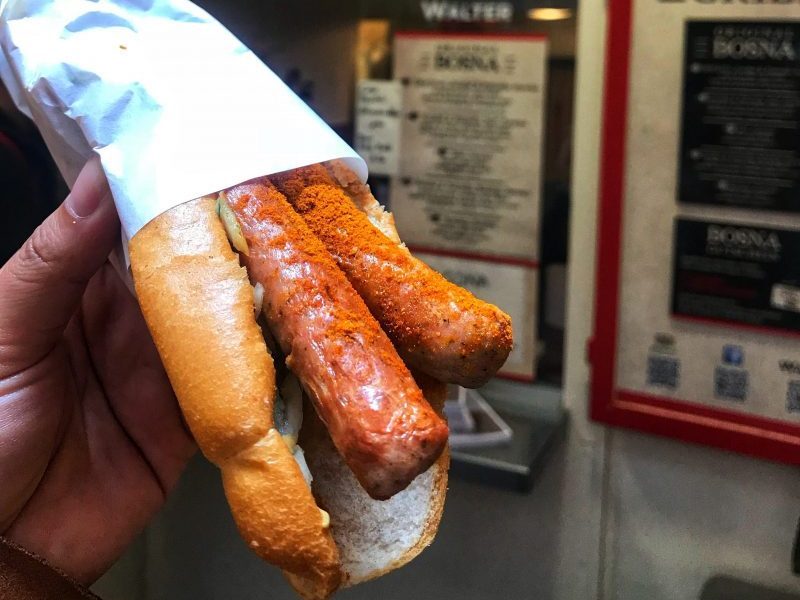 We waited for 5 minutes to get our Bosna sausage grill. We chose the one with fresh onions and Currywurst sausage on bread. Both taste great and delicious. Tasty sausage seasoned perfectly.
It's like a quick snack when you're touring the Salzburg old town. Perfect for lunch on the go. I especially liked my Currywurst sausage, with a nice hint of curry, a nice hint of mustard, and nice onions. Yummy!
Balkan Grill Walter
Address: Getreidegasse 33, 5020 Salzburg, Austria
Business Hour: Daily from 11:00 to 18:30
Monk Beer from Augustiner Braustubl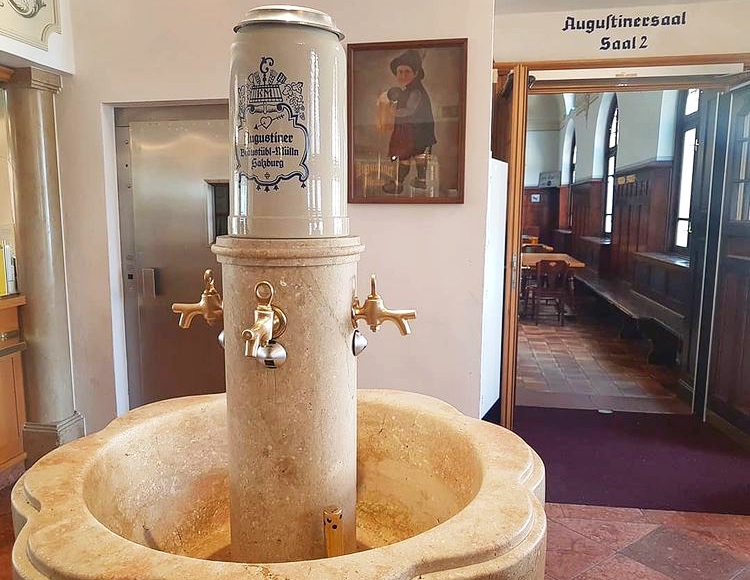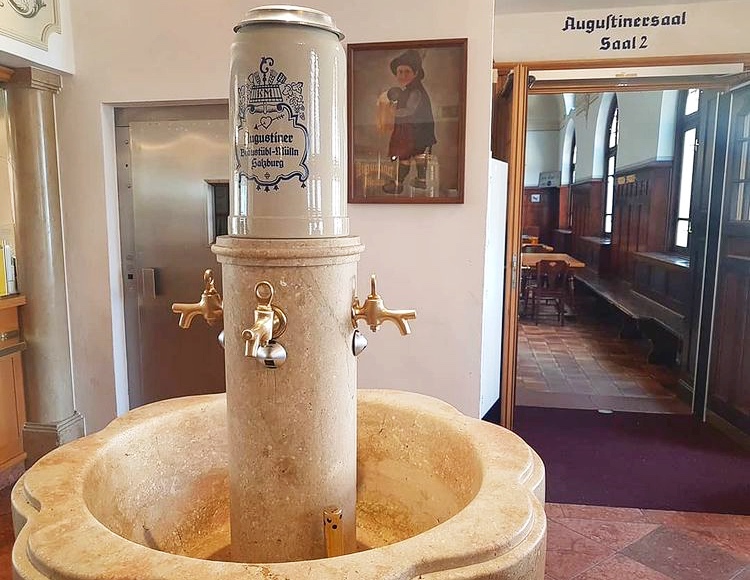 If you're looking for an authentic place to taste some local beer, Augustiner bräustübl is a must-visit for a unique food experience in Salzburg.
The Augustiner Braustubl is a 600-year-old monk brewery in Salzburg, with 5 incredible beer halls to enjoy your beer. Unlike the typical bar or brewery house, your beer is delivered the old-fashioned way! You'll need to pay at the cashier, grab a stein, rinse it with cold water, then hand it over to be filled from the tap.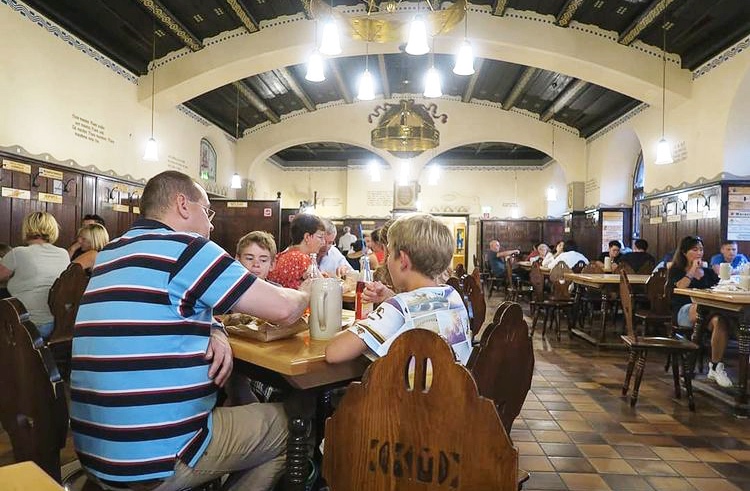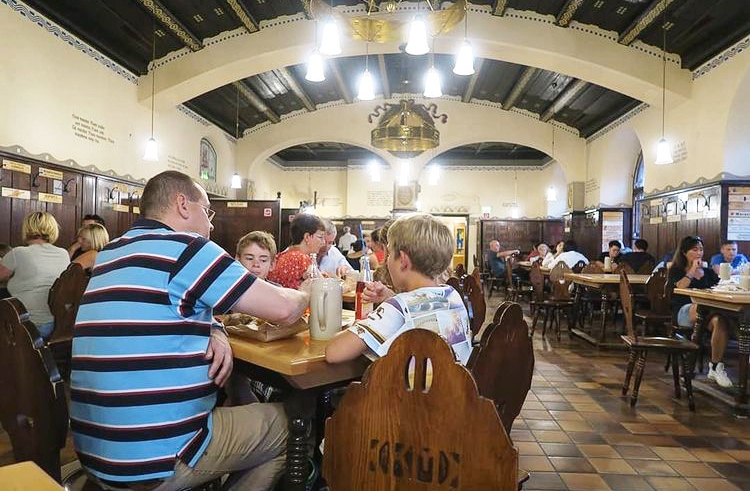 You can enjoy the beer in the old wooden hall or outdoor beer garden if the weather is nice. There are food stalls selling specialties, such as pork knuckle, sausages, salami, pork roasts, fried chicken, roast potatoes, even whole grilled fish. Everything is self-serve and the food is cheap.
We choose to enjoy our beer in the beer hall in a great dining atmosphere. Enjoy the locally brewed beer and lots of fun people here. Be prepared for long lines to purchase your beer and bring cash.
Augustiner Bräustübl
Address: Lindhofstraße 7, 5020 Salzburg, Austria
Business Hour: Weekday from 15:00 to 23:00, Weekend from 14:30 to 23:00
Salzburg Beer from Stiegl-Brauwelt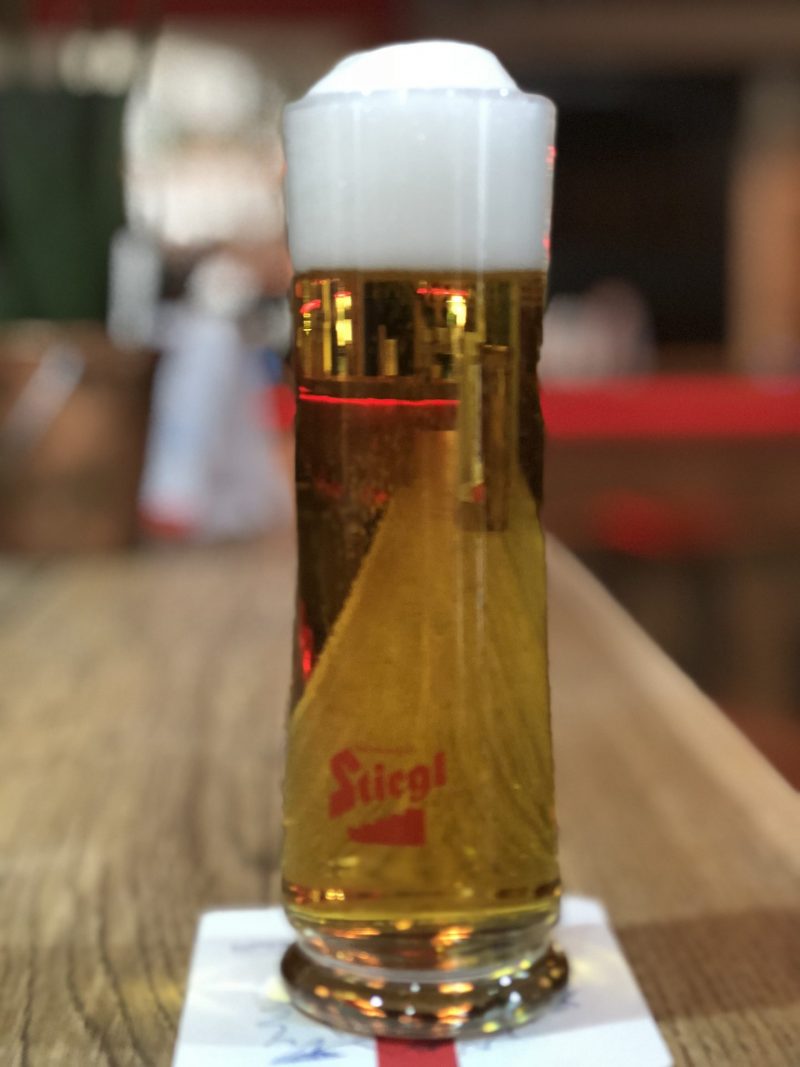 We visited Stiegl Brauwelt for its Brauwelt Tour, an interesting tour for the brewing exhibition. In the end, we got a small souvenir in the gift shop and a free taste of beer.
The restaurant is a nice casual bar where you can eat and drink something here. A great variety of beer is available, so here's a good opportunity to explore the world of craft beer.
We were still stuffed and did not go for the food and had a good complimentary stiegl beer at the restaurant. Recommending a visit to taste the Salzburg's beer. But if you are looking for gastronomical treats, you should look elsewhere.
Stiegl-Brauwelt
Address: Bräuhausstraße 9, 5020 Salzburg, Austria
Business Hour: Daily from 10:00 to 22:00
Traditional Austrian Cuisine from Alter Fuchs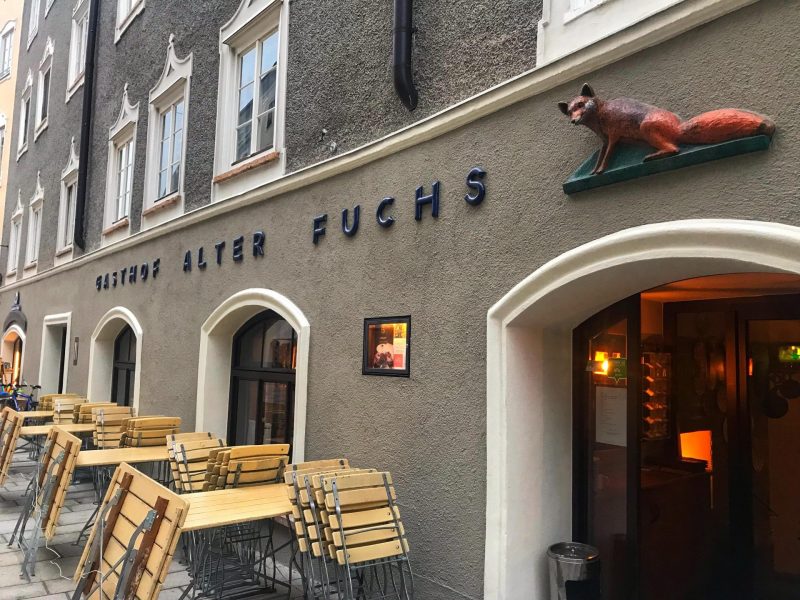 The friendly Austrian restaurant, Alter Fuchs served awesome traditional Austrian cuisine, great wine at a fair price. The atmosphere here is very charming with rustic and cozy decor, which offers their guests comfort in combination with serving local treats.
This Salzburg best restaurant is located at Linzer Gasse, about 5 minutes walking distance from our hotel, ACHAT Plaza Zum Hirschen.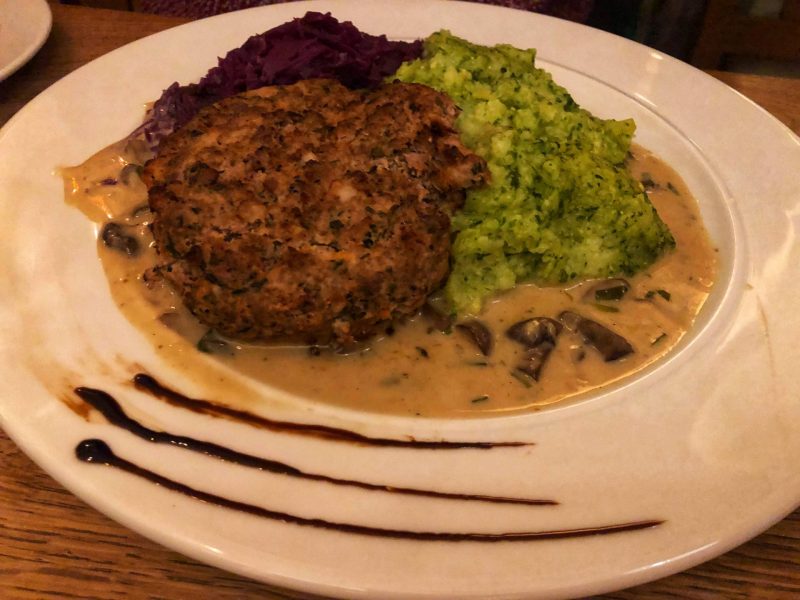 For food, Alter Fuchs served all kinds of typical dishes of the Austrian/German kitchen, with some Aperol Spritz and Wieninger beer. The food is all about meat and you need to try the Schnitzel, goulash, dumplings, and the biggest ham hock you've ever seen. Try the specialties and have a good beer or great wine.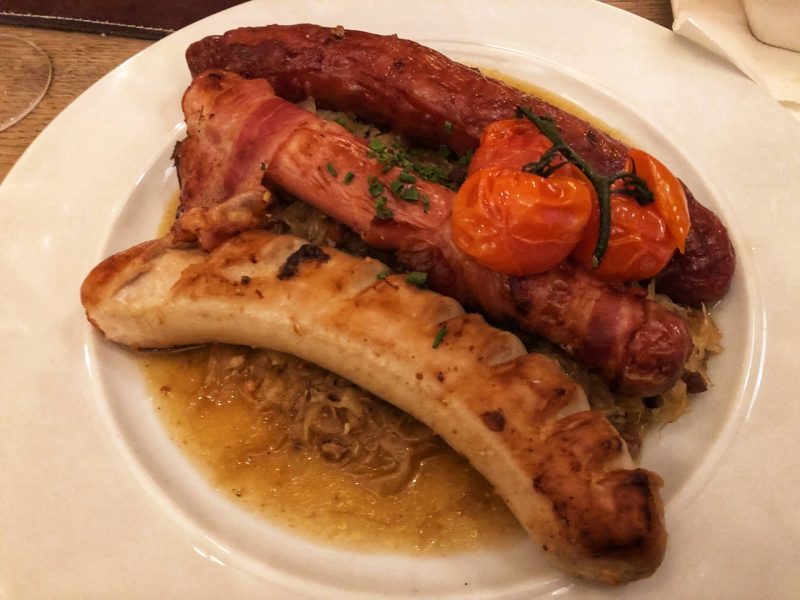 We sampled the Fuchs-Gordon-Bleu, Sausage Variation, and also the Alter Fuchs specialties. All the food portion are huge. See the big plate of mixed grill over a bed of sauerkraut could hardly move afterward.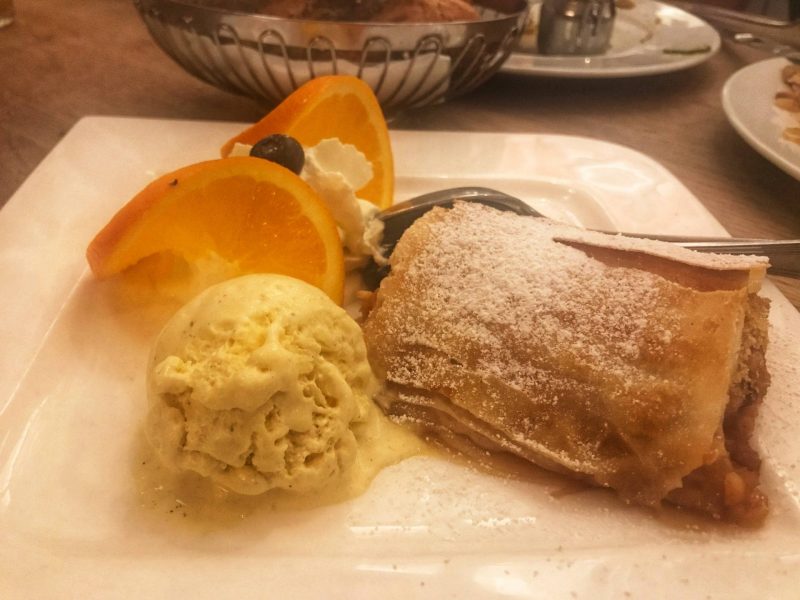 Overall the food is excellent but we have never been disappointed. Recommended to try on their apple strudel after the main course. Freshly made, a little crispy with a little burst of flavor when chewed.
A pleasant dinner at a reasonable price in Salzburg. Always full, so better to reserve a table to avoid disappointment.
Alter Fuchs
Address: Linzer Gasse 47-49, Salzburg 5020 Austria
Business Hour: Daily from 12:00 to 00:00
Wrap Up: Salzburg Food Guide
All in all, we truly enjoyed all the best food in Salzburg. Exploring Austrian food is part of the food journey in our trip to Austria. Although it seems like a little more on meat and potatoes and beer. A classic European food. But, I assured you all the food in Salzburg is really delicious and awesome. Enjoy them while visiting Salzburg!
Besides, this is not a Salzburg food guide expert review on Michelin-star rated, but just recommended some of the best food and restaurants that we ate during our trip to Salzburg as part of the Salzburg itinerary. Thanks for reading and have a wonderful time eating your way through Salzburg!
Here is some travel guide for you to plan on your trip to Salzburg:
Done planning on your Salzburg trip? Here is some idea for an itinerary that covers the Czech Republic, Austria, Hungary, and other interesting cities in Central Europe.
How To Plan Your Central Europe Itinerary: Top 3 Must Visit Countries