Last updated on September 12th, 2023
Do visit MLS Creperie for its tasty and flavorful crepes. One of the best places for brunch, light meal, and desserts in Cesky Krumlov. Highly recommend both the savory and the sweet crepes with lots of options and surprisingly filling.
After strolling around the castle area, my friends and I were looking for a light meal for lunch in the beautiful Cesky Krumlov downtown. We ran across MLS Creperie and decided to stop at this wonderful quaint restaurant near the castle area for its tasty crepes.
The MLS Creperie is located in the side alley near the Latran street. It is about 3-minutes walk from our accommodation in Cesky Krumlov, Apartment Soukenicka 44. So it is very convenient to get there if you are in town.
Read on our food experience in MLS Creperie and food recommendations. We like this place so much for its tasty crepes and other food and drink. A pleasant place to take a short break after walking around in the Czech Krumlov.
MLS Creperie Cesky Krumlov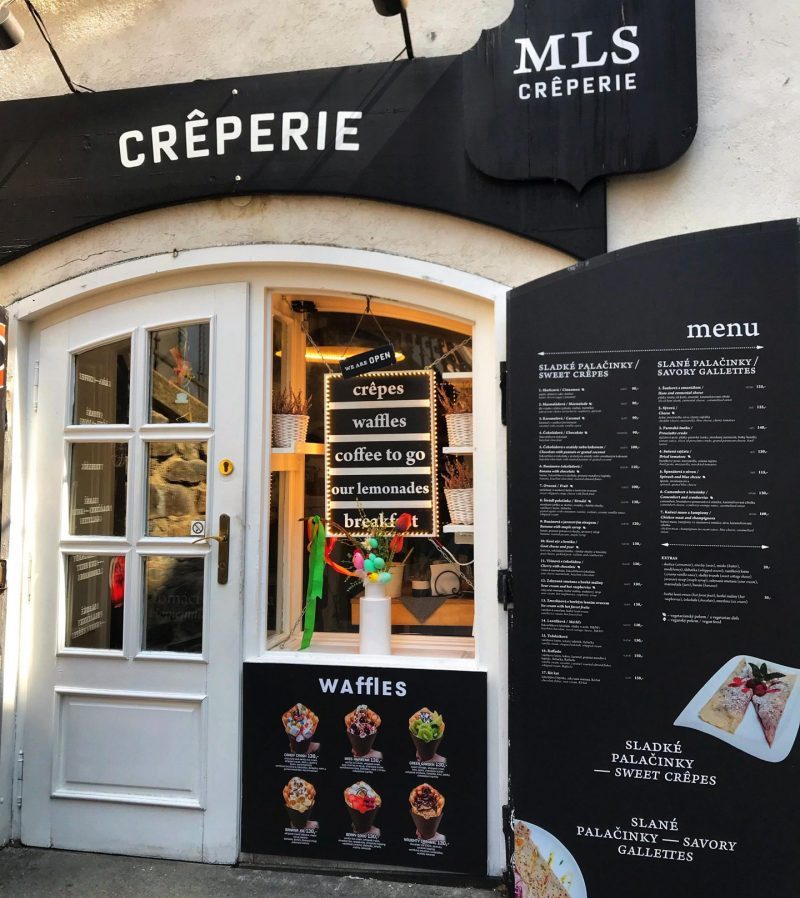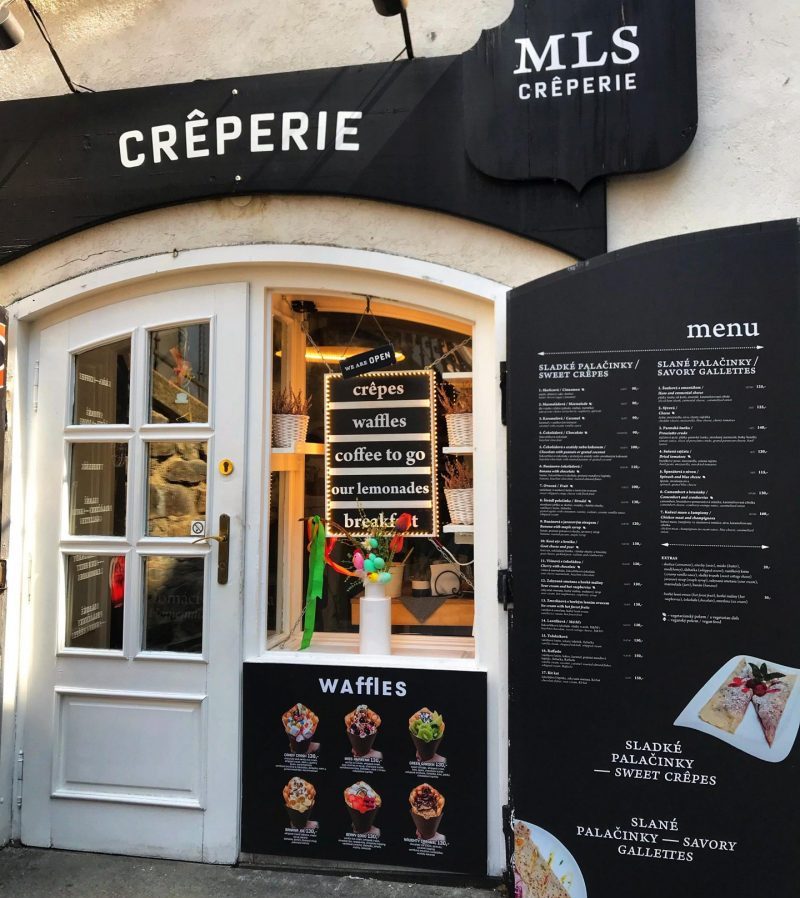 The MLS Creperie is a tiny restaurant and their seating space was very limited. So, it appears that many people take the crepes "on the go". Luckily we able to get a table to rest our tired feet.
The atmosphere in MLS Creperie was lovely with a casual vibe. The waitresses speak English and very helpful. They did help us find the nearest market in town. However, take note that they do not take credit cards and cash only. But they did accept the Euro but on their exchange rate which is common in the Czech Republic.
Refreshing Lemonade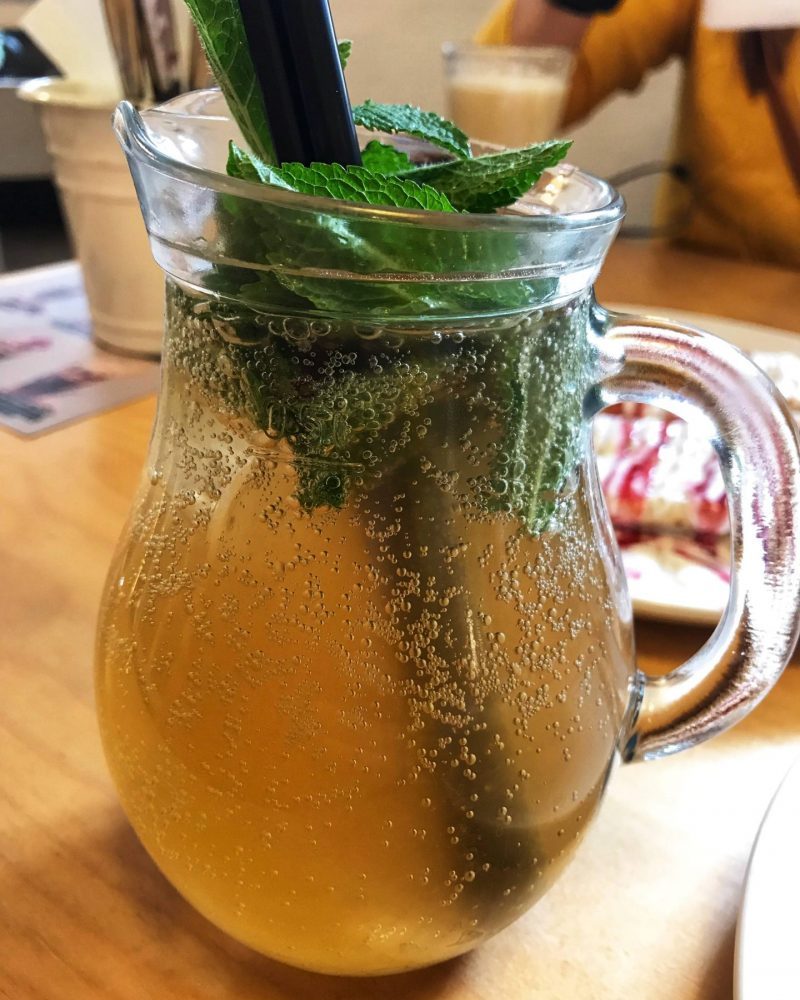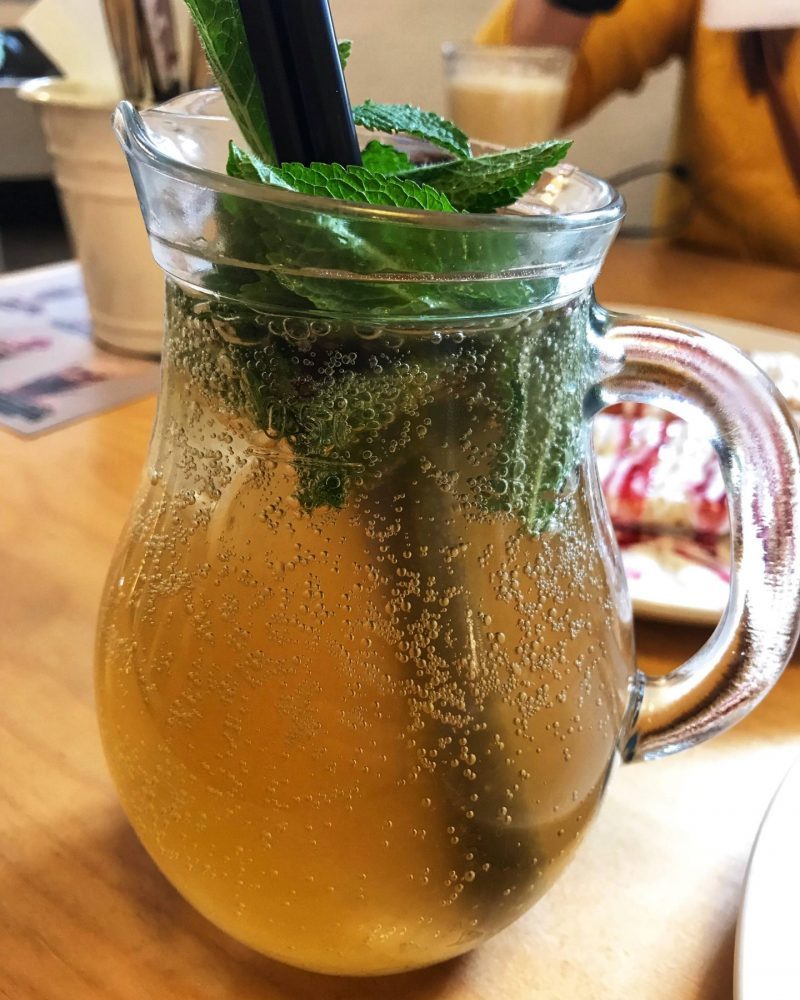 We ordered both the sweet and savor options for the crepes, along with their housemade lemonade and coffee.
Make sure you try their lemonade. It was surprisingly good and freshly made for each order. We saw the staff squeezed the lemon, added fresh herbs.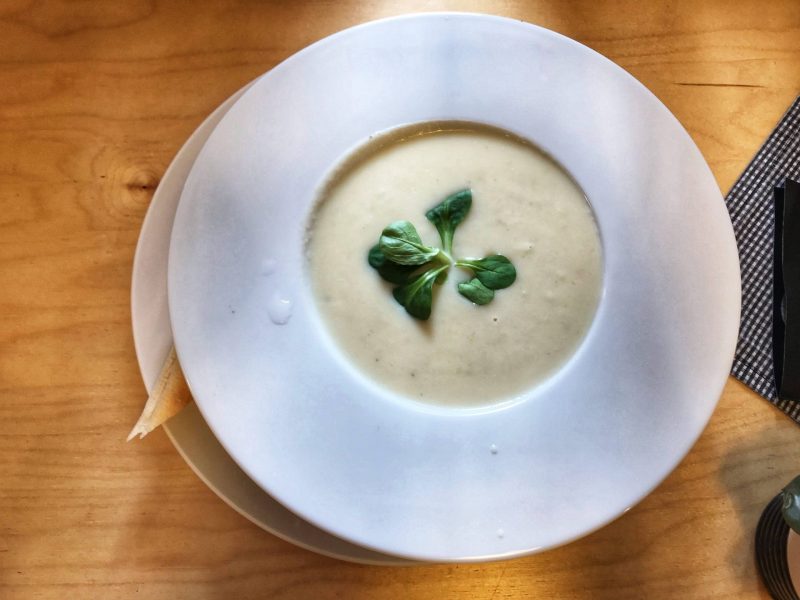 The broccoli soup was simple and delicious, not too creamy, great to warm up in the cold weather.
Best Trdelnik in Cesky Krumluv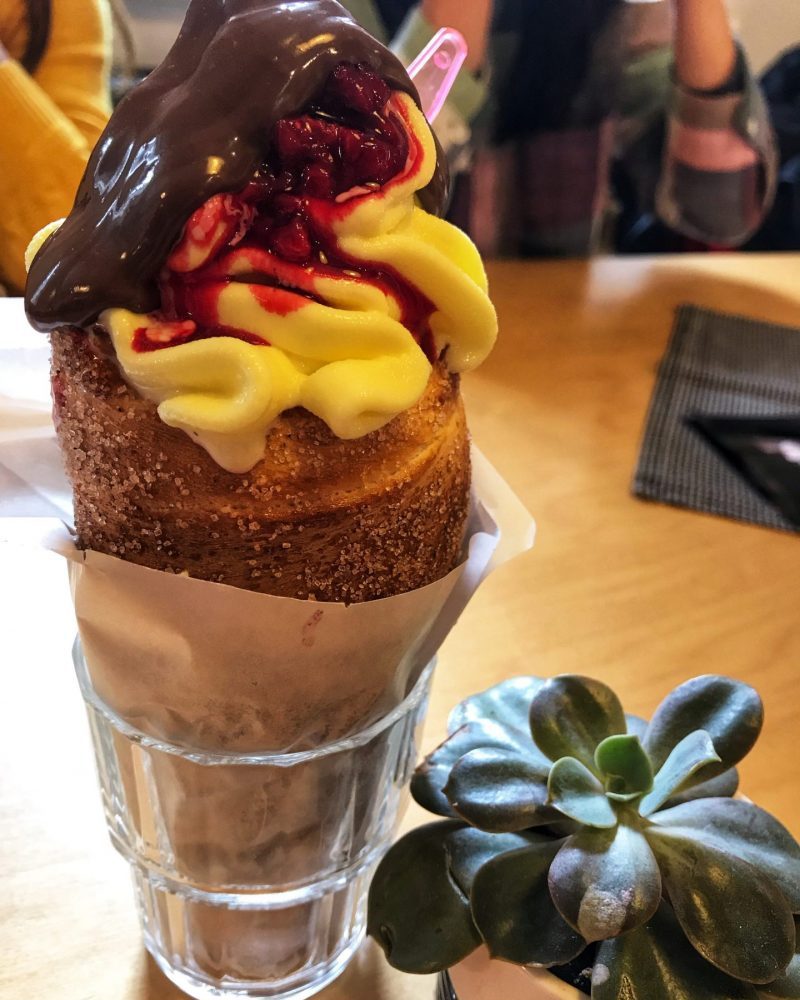 Trdelnik is a classic Czech Republic dessert. You can smell their sweet doughy bodies being cooked over an open flame and sprinkle with cinnamon and sugar until they become perfectly golden.
Many Czech restaurants will serve the Trdelnik. MLS Creperie also serve this famous and incredibly tasty trdelnik for in-house and "on-the-go" option. You can have them with lots of different fillings for your trdelnik. It was fun enjoying the staff making it in MLS Creperie.
We took almond trdelnik with ice cream filling coated with chocolate. It was a great option after the tiring walk. Although not the best place to get one to compare with Prague, the trdelnik in MLS Crepe is very good. It was warm and soft. Most importantly, you can sit down with a coffee while having it.
Incredible Delicious Crepes
MLS Creperie has about 20 flavors of crepes including some interesting combos to choose from. The price of the crepes is ranging from 90 to 160 Czk depend on your selections.
All their crepes are freshly made by order. We tried both the sweet and savory crepe and its were delicious.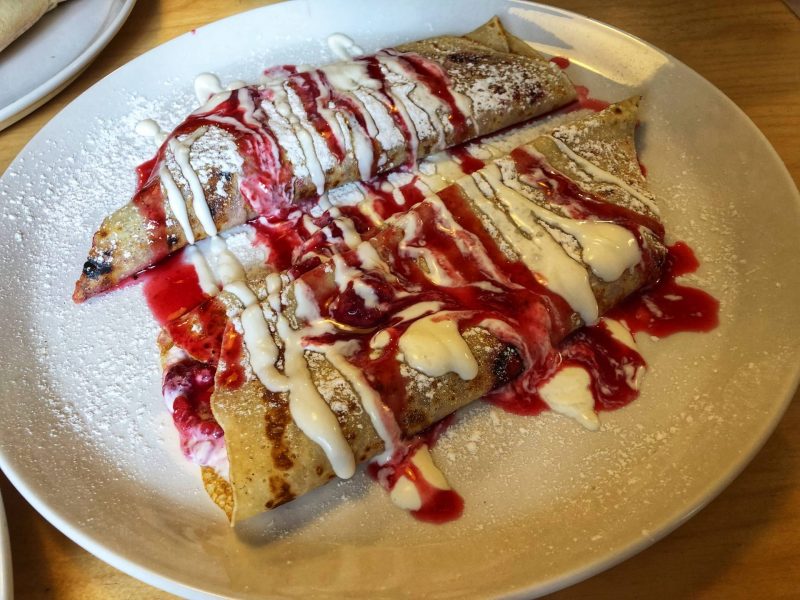 The berry sweet crepes with grated bananas and maple syrup on top. The sweet crepe was tender with a chewy texture and perfectly filling. The size was bigger than we expected and can feed for two people.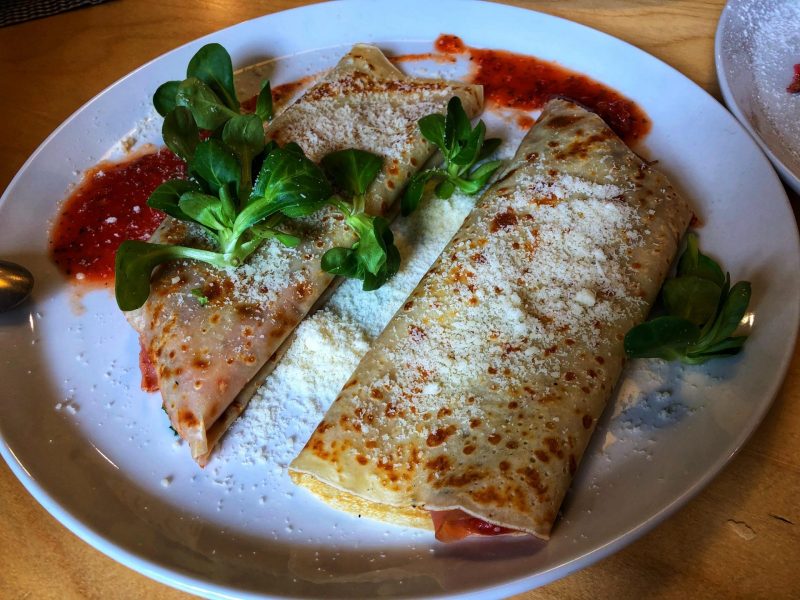 While we choose the salmon savory crepe which is nice too. But all of us agree that sweet ones are better than savory. I would like to try waffle but it was too filling.
In short, all the tasty sweet and savory crepes hit the spot and better than expected. All were truly flavorful and provided the needed energy to continue our walk throughout the Crezh Krumluv town. One of the must-eat food if you are looking for a brunch or light meal option in Czech Krumlov.
Overview: One of the Best Restaurant in Cesky Krumlov
All in all, we would recommend MLC Creperie for a quick stop, coffee, and crepes if you are looking for some best food in Cesky Krumlov. It is a good place to go if you wanna enjoy the typical Czech dessert or brunch option.
The price was inexpensive for the amount of quality food that you get. The service was excellent as the chef actually served the crepes hot from the grille to our eating area. Highly recommended.
Besides, feel free to continue reading on our Cesky Krumlov itinerary and food tour if you are looking for what to do, the best food to eat at our Cesky Krumlov travel guide below. We got the best of Cesky Krumlov for you!
Lastly, don't forget to check out our Central Europe travel blog, itinerary and travel tips here:
Our next destination is Hallstatt: World Most Beautiful Lakeside Town