Last updated on September 23rd, 2023
Here is our Ise food guide including what to eat in Ise Shima and where to try it. Don't miss the chance to taste all the Ise's unique food culture when visiting the area!
Ise is one of the popular places to visit in Mie Prefecture. It is home to Japan's most sacred Shinto shrines and is well known for its natural beauty and cultural importance.
When visiting Ise, for sure one will look for what to eat in Ise. Ise City has a great many restaurants that can show you the best of what Japan's food culture has to offer. We recommended going to Okage Yokocho Ancient Street for food hunting. The street has a variety of Ise restaurants and street food stalls. It offers a plethora of local cuisine and affordable street eats, making it a spot you can enjoy all day. There's one you should be checking out especially when you are in the area
Here is our highly recommended must-eat food listed in our Ise food guide if you are looking for what and where to eat in Ise Shima. Let's have a look!
Ise Food Guide: What To Eat
For a quick overall on this Ise Food Guide, here is the must-eat food including traditional cuisines and places to eat in Ise.
Ise Food Guide (What to eat in Ise):
Ise Udon
Akafuku mochi
Matsuzaka Beef
Beef Rice Bowl (Gyudon)
Deep-Fried Croquettes
Beef Skewer
Beef Nigiri Sushi
Mitarashi dango
Ise Lobster
Soft Tofu Ice Cream
Ise Udon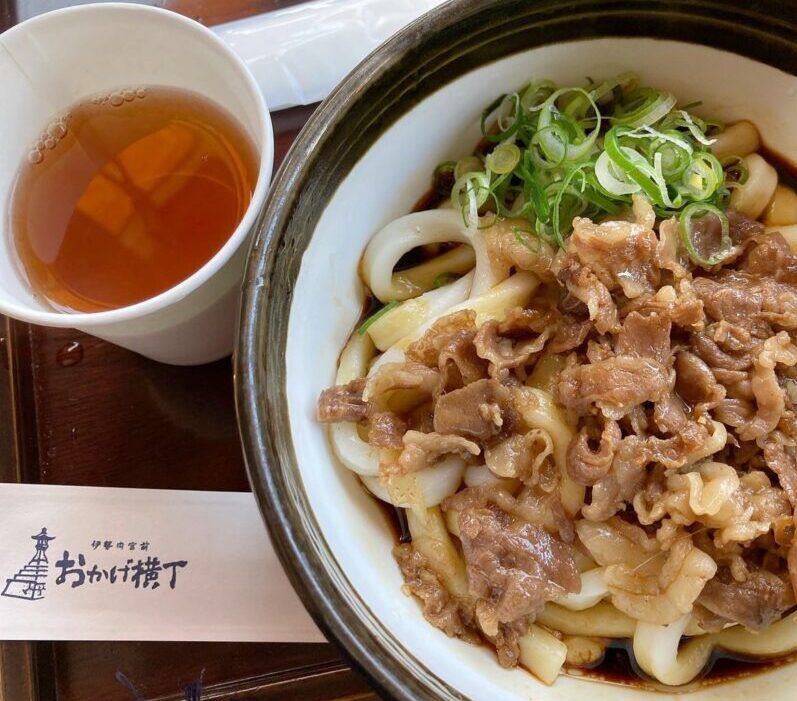 Representing local Ise cuisine in the Ise Food Guide is the Ise Udon. These udon noodles aren't your ordinary udon. The noodles are particularly soft, easy to eat and almost melt in your mouth. The soft Udon noodles are perfect for a quick meal and has been revitalizing travelers and pilgrims for generations.
Ise Udon is served with tsuyu sauce, making them almost black. Make sure to mix the Ise Udon noodles up with the tsuyu before eating. They are topped with bonito fish flakes as well. Similar popular is the Tsukimi Ise Udon, which has an egg for flavor, and the Matsusaka Gyuniku Ise Udon topped with Mie's local Matsusaka beef.
Where to eat Ise Udon in Ise city:
Fukusuke served the Ise Udon with dense tsuyu sauce and thick noodles. It is one of the popular restaurants if you are looking for the best Ise Udon in Ise Shima.
Fukusuke (ふくすけ)
Address: 52 Ujinakanokiricho, Ise, Mie 516-8558.
Business Hours: Weekdays from 9:00 to 17:30, and Weekends from 9:00 to 18:00.
Akafuku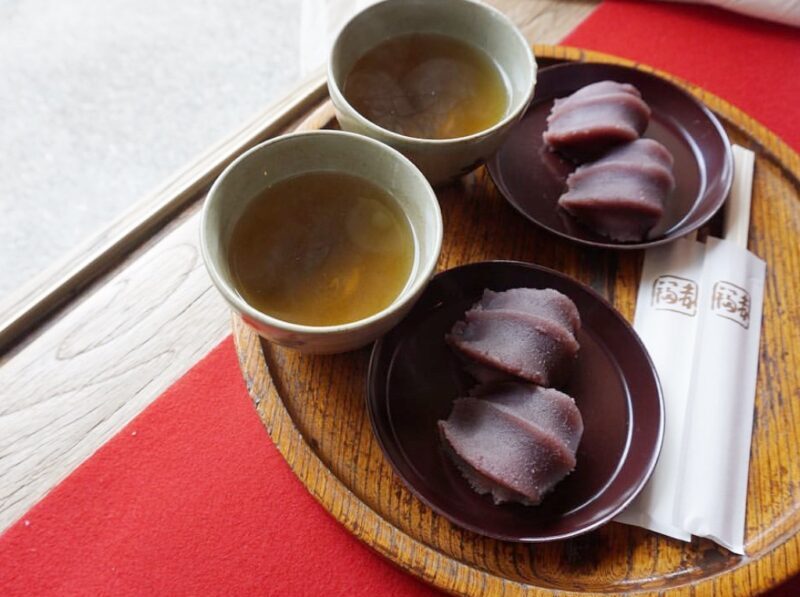 Akafuku mochi (赤福餅) is a Mie Prefecture's signature treat you must try on your visit to Ise. This Japanese traditional sweet is a rice cake confection topped with anko (sweet red bean paste). The bean paste symbolizes the flow of the Isuzu River that flows through the precinct of Ise Jingu. It has been loved by worshippers going to Ise Jingu for more than 300 years.
Akafuku also can be eaten as a topping for shaved ice in spring or eaten in a sweet red bean soup in winter.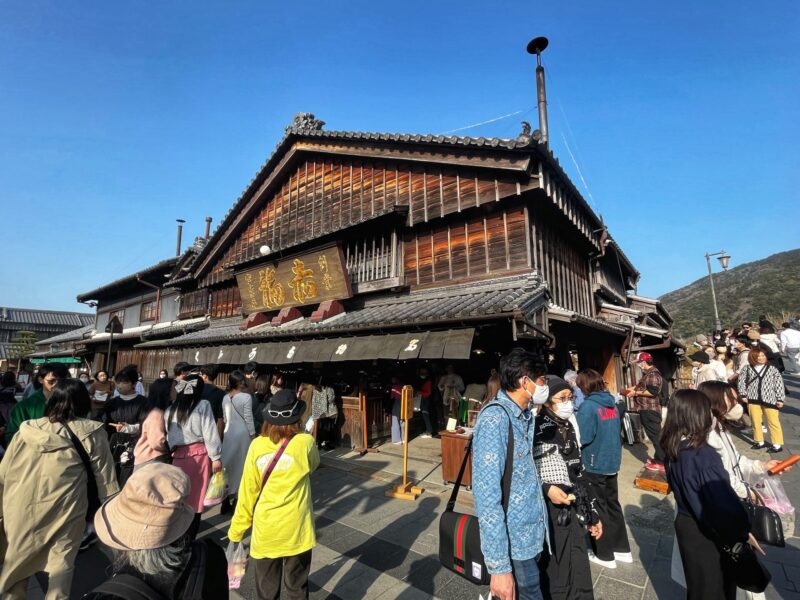 This soft, tasty Akafuku is beloved by all. It is so popular and you can spot it at most other souvenir shops or even at train stations or even outside of Mie. But you need to come to the first original Akafuku Store and its flagship store is located in Oharai-machi.
Akafuku is best eaten along with hot tea as it brings out the classy sweetness of the bean paste. Enjoying Japanese sweets and hot tea in the old establishments with over 300 years of history.
Akafuku Honten (赤福本店)
Address: Japan, 〒516-0025 Mie, Ise, Ujinakanokiricho
Business Hours: Daily from 5:00 to 17:00
Matsusaka Beef
When you visit the Ise Shima area, you need to have Matsusaka beef. The Matsusaka beef is one of Japan's top three Wagyu brands and it must be on your bucket list to eat especially if you're traveling to Mie Prefecture. Matsusaka beef is one of Japan's top three Wagyu brands.
Several restaurants or eateries are selling Matsusaka beef cuisine.
Beef Rice Bowl (Gyudon)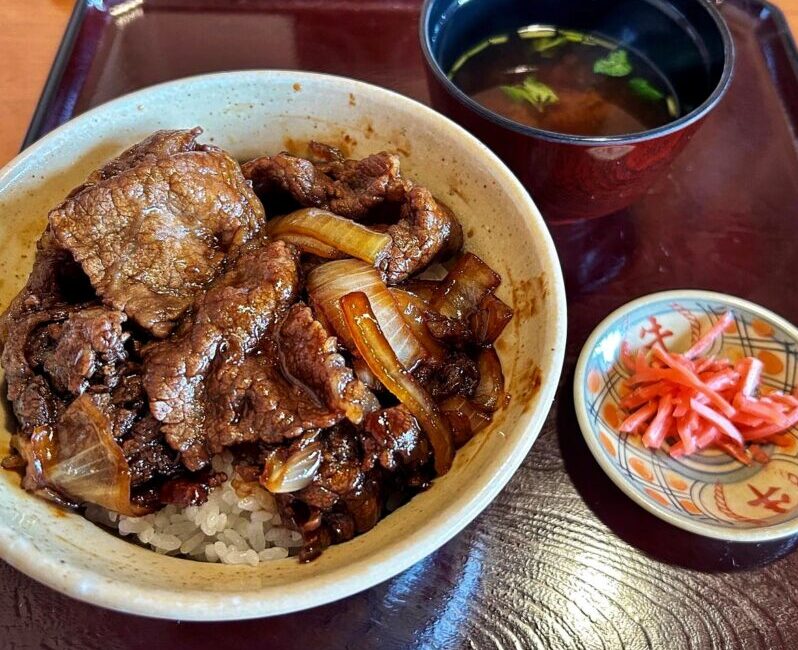 One of the popular restaurants for Matsusaka beef in Ise is the Butasute. Butasute has more than 100 years old and it offers to dine-in and take-out options. You can enjoy a variety of beef cuisine including the mouthwatering gyudon (beef and onion over rice), sukiyaki, grilled beef (yakiniku), and beef hot pot when dining in.
Deep-Fried Croquettes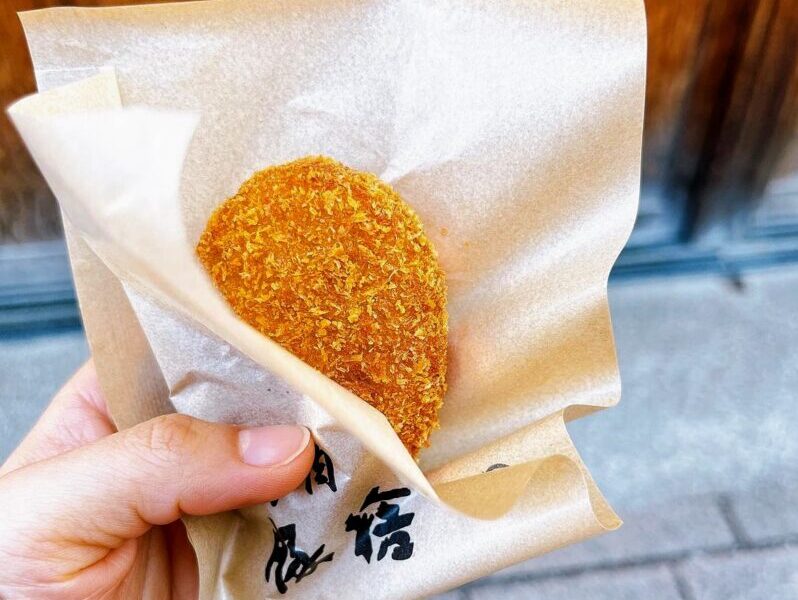 Another worth recommended item from Butasuke is the deep-fried croquettes and minced pork cutlets. The beef croquettes are extremely popular and long-time alaways.
The crispy batter is truly irresistible!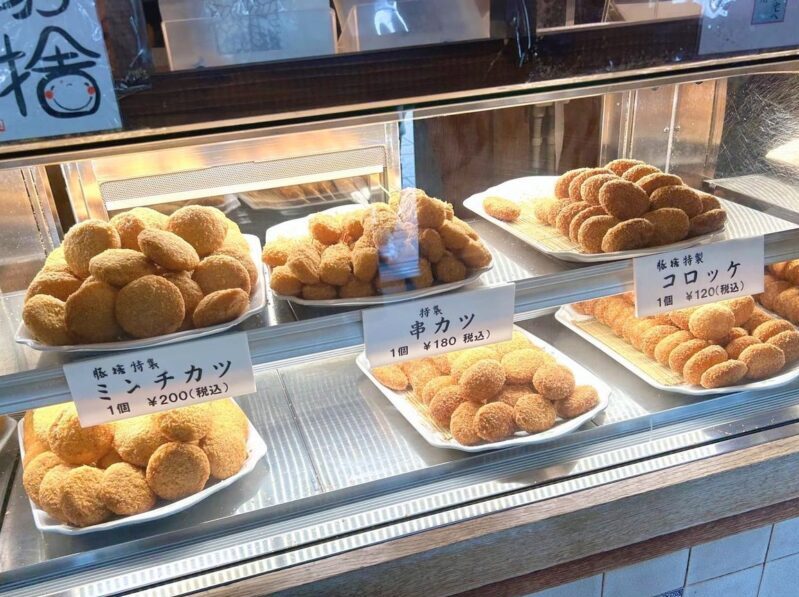 The deep-fried croquettes are popular items and available to take-out.
Butasute (豚捨)
Address: 52 Ujinakanokiricho, Ise, Mie 516-855.
Business Hours: Weekdays from 9:00 to 17:30, and Weekends from 9:00 to 18:00
Beef Skewer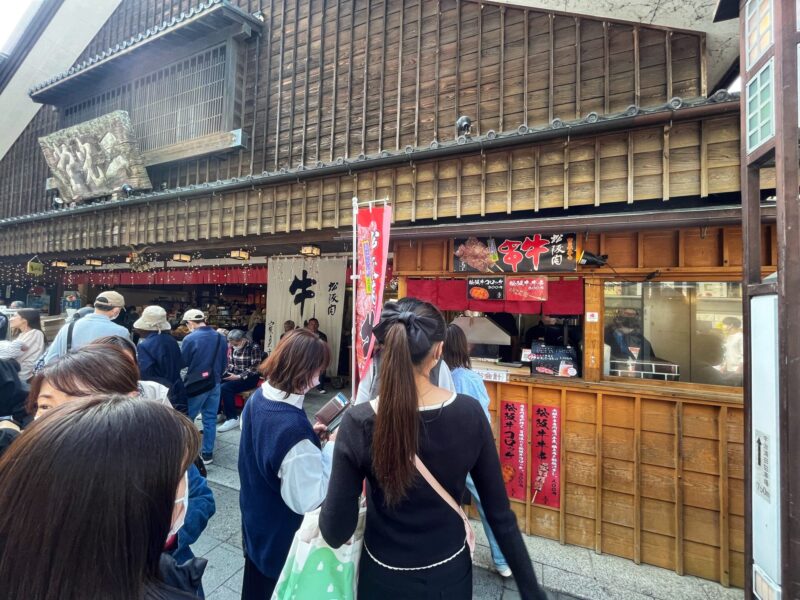 The best place to savor the finest Matsusaka is to enjoy it inside a restaurant. But you can also taste the Matsusaka Beef without breaking the bank. Many stalls are selling grill matsusaka beef along the Okage Yokocho Ancient Street.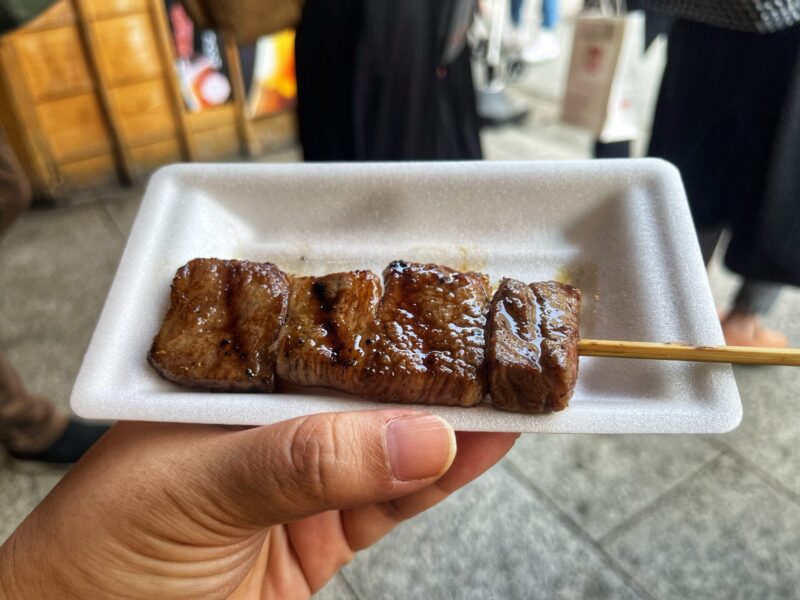 We bought the grilled beef skewer to try on. The meat has a sweet and rich scent. It is so tender and melts in the mouth!
Beef Nigiri Sushi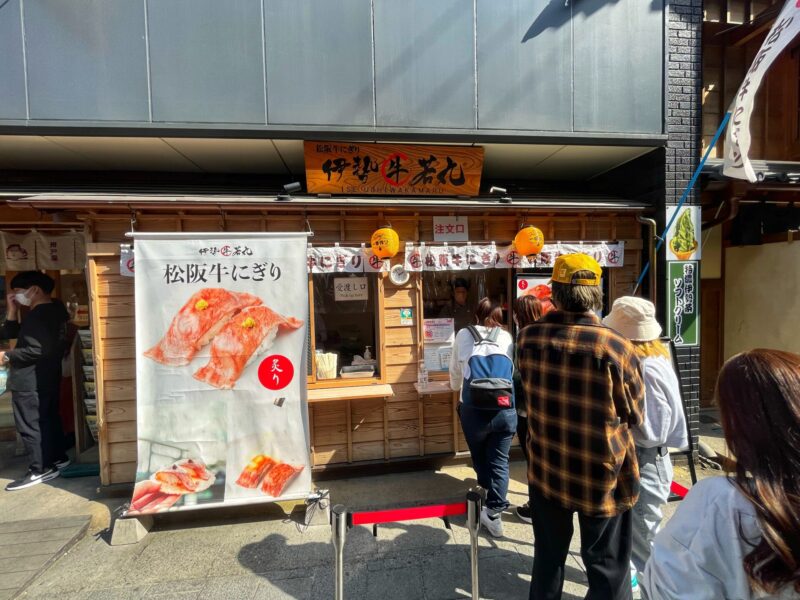 Food lovers also can try the Matzuzaka Beef Nigiri if you are looking for what to eat in Ise. Ise Ushiwakamaru (伊勢牛若丸) is a specialty store located in front of the Okage Yokocho Ancient Street. This store is popular with beef nigiri and long lines always.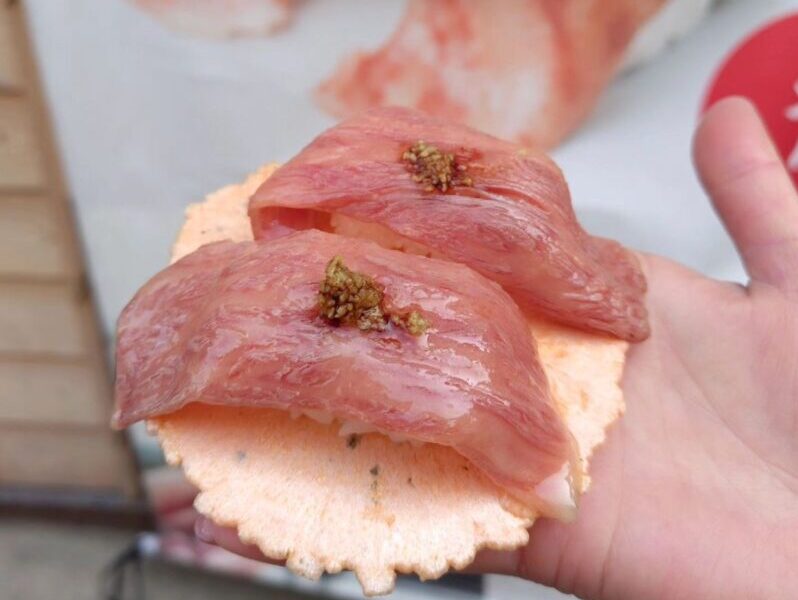 The mouthwatering Matsuzaka beef is just melted in your mouth when eaten. Perfect match with the sushi rice!
Ise Ushiwakamaru (伊勢牛若丸)
Address: 63 Ujiimazaikecho, Ise, Mie 516-0024
Mitarashi dango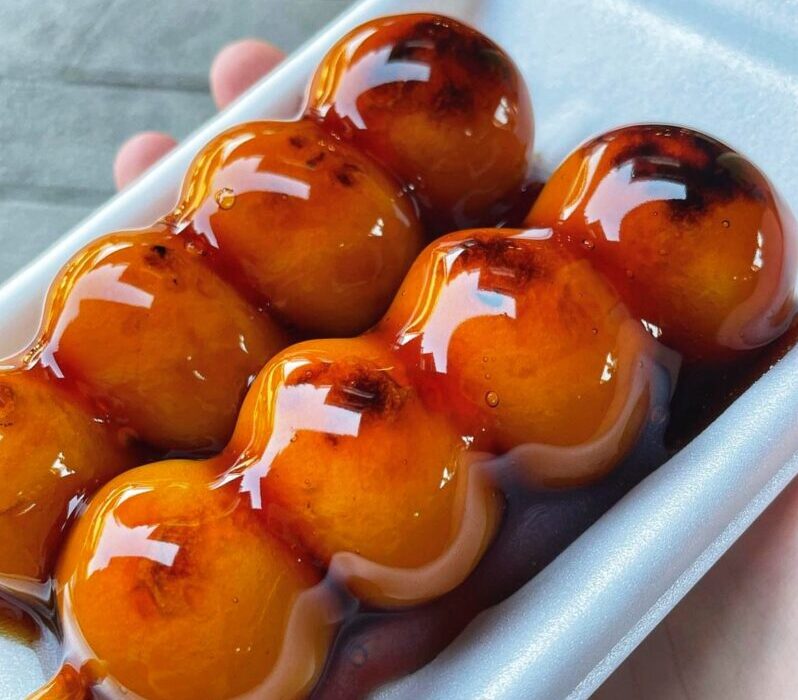 If you are looking for a Japanese traditional snack, try the dango – grilled rice flour dumplings on a stick. This Japanese traditional sweet has been enjoyed in the Ise region for generations. It is made with sweet soy sauce mitarashi and covered over the rice ball.
The Mitarashi dango from Dango-ya is especially recommended. The freshly made dango from Dango-ya are grilled on the spot so there is always an aromatic grilling scent in the air. There are several benches where visitors can enjoy the food or take them to go.
The rich sweetness of black honey dango is so flavorful and unique!
Dango-ya (だんご屋)
Address: 12 Ujinakanokiri-cho, Ise-shi, Mie-ken
Ise Lobster
Located nearby Ise Bay, the region is known throughout Japan for its fantastic seafood. One of the great pleasures of visiting the city is trying its famous seafood. You can find some of the tastiest seafood and taste the Japanese spiny lobster or "Ise lobster". The lobsters caught in Ise are considered top quality and considered as a high-end delicacy. The best month to consume Ise lobster is between October and April.
Unfortunately, we didn't have a chance to try it during our visit. For those who prefer to taste the Ise lobster, there are seafood restaurants offering this local specialty in Iseshi town.
Soft Tofu Ice Cream
Overall: Ise Food Guide
Hopefully, our Ise food guide can give you some ideas for where and what to eat in Ise. There are so many historical long restaurants with wonderful cuisine and snacks to try along Oharaimachi Street and Okage Yokocho.
In short, we spend more than 3 hours wandering around for food and shopping. There are still many local snacks and we wish to eat them all. Make sure to come here with an empty tummy!
Traveling to Ise and looking for some inspiration? Here is our travel blog below: