Last updated on September 23rd, 2023
If you're looking for a diverse Paris food experience, then this Paris Food Guide with a round-up of authentic French cuisine from the lists of best Paris restaurants, cafes, and food markets will give you some idea of what and where to eat in Paris.
Paris is one of the gourmet capitals of the world. It is such an exciting city with a strong passion for food. One cannot simply travel to Paris without feasting. There are more than 44,000 restaurants in the French capital just waiting to be discovered.
The food in Paris runs the gamut from traditional to trendy, from classic to contemporary. Aside from traditional classical Parisian food, you'll also find plenty of modern restaurants offering global dishes from all over the world.
How could you resist Paris's best food when visiting Paris?
I was so excited to Paris for my Western Europe trip. Finding the best food in Paris is part of the travel itinerary when visiting here. Some of my best memories in Paris are coming from food as French food is amazing! There are so many things to eat in Paris and I'd far from sampled everything. The search for a decent best for great food in Paris can be a little daunting, but we think, we can help.
Here are my tiny recommendations for where and what to eat in Paris so you know what to eat in Paris during your trip.
Paris Food Guide: What To Eat in Paris
With so many options and so little time to spend in the city, this Paris Food Guide highlights the best food you have to eat in Paris!
Here is what we've found for the best food in Paris:
Parisian Breakfast at local boulangerie: croissant, Pain au chocolat, baguette, Jambon-beurre.
French Cuisine: Escargot, Fois Gras, French onion soup, steak tartare, Steak-Frites, Confit de Canard.
Seafood: Lobster, oyster, mussel.
Delicacies and Pastries: Macarons, Éclairs , Crepes, Créme Brûlée, Soufflés.
Paris Food Market
Pro Tips: If you're planning a trip to Vienna, then be sure to check out our detailed Paris itinerary with detailed guide and tips. It'll have all the information you need – like which area to stay, what to do, how to get around, etc. – to help you plan your trip.
Paris itinerary: 4 Days in Paris Travel Blog
When looking for the best price and biggest selection of hotels in Paris, we recommended below:
Luxury: Hôtel & Spa de Latour Maubourg is among the most expensive hotels that welcome you in stylish interiors.
High-mid range: Jardins Eiffel is one of the best 3-star hotels in Paris near the Eiffel Tower!
Budget: Hôtel de la Tour Eiffel is one of the budget-friendly hotels conveniently located on a side street just 750 m from the Eiffel Tower.
More Paris accommodation option? Read more on Where To Stay in Paris: The Best Areas and Hotels.
Parisian Breakfast at a Local Boulangerie
No one does breakfast better than the French. A typical Parisian breakfast isn't much more pastry and coffee. You can find a decent set menu at a lot of the Parisian cafés. The pastry can be a simple croissant, tartine (toast), baguette, or the Pain au chocolat. It is also possible with a more hearty breakfast with eggs, yogurt, or pancake to kick start your day in Paris!
Find yourself a quality Artisan Boulanger (bread shop), and make sure to enjoy your fair share of goodies daily!
Paris Food Tips: Typical breakfast at a local café will cost you around 10 euros and it is much cheaper than a hotel breakfast.
Croissant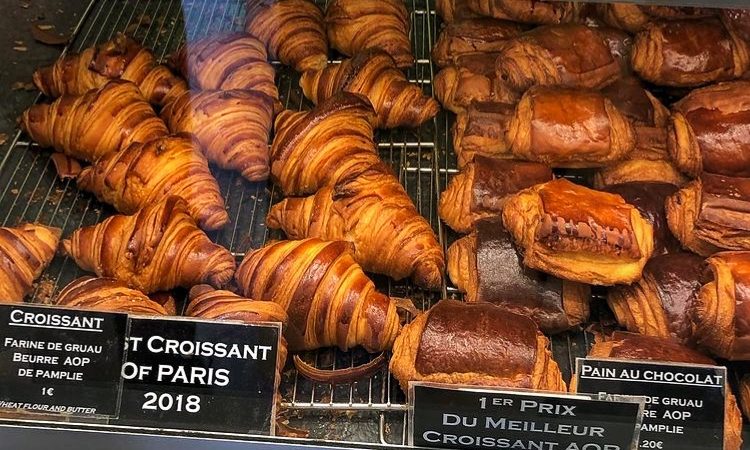 The flaky, golden-colored croissants are so symbolic of French culture although it is origin from Viennese. You can get this crescent-shaped pastry almost everywhere in French, and it tastes best in Paris!
The best croissants have a shattering, delicate, caramelized exterior and soft sigh-worthy buttery layers of interior made by French butter.
Get the croissants fresh from the oven. You can buy fresh and warm croissants from a Boulangerie where they make them fresh each day.
Best croissants in Paris: La Maison d'Isabelle | 47ter Bd Saint-Germain.
Pain au chocolat
Sometimes referred to as a chocolate croissant, the pain au chocolat is a French viennoiserie roll made with yeast-leavened dough and chocolate ganache. Layers of butter dough are rolled, filled with firm, dark chocolate, perfectly baked, and served hot or warm. Perfectly melt on your tongue!
Simply head directly to the nearest French bakeries, and they'll no doubt be there. Easily find in Paris.
Baguette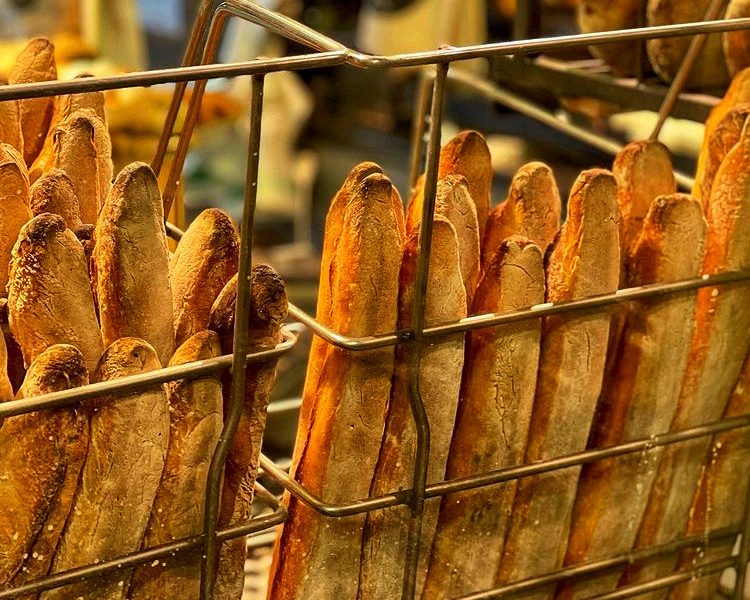 In France, there are about ten million baguettes are baked every day in Paris. Fresh, homemade baguettes at the market are always tempting. The long, light, crispy Baguette probably is the most iconic pastry. Grab more than one when visiting Paris.
To ensure you get the good baguette, ensure that the baguette you're buying was freshly baked and traditionally baked by hand naturally with yeast.
Jambon-Beurre
The jambon-beurre (ham-butter) sandwich is an iconic staple of Parisian gastronomy with more than a billion jambon-beurre sold in France every year. By combining the high-quality boiled ham and finest butter on a crunchy baguette, you will get the best jambon-beurre in Paris.
Traditional French Local Cuisine
Many famous restaurants in Paris serve incredible French food. Escargot, Foie Gras, Confit de Canard, steak-Frites, beef bourguignon, you won't go far in Paris without seeing these classics of French food appear time and again on the menu. The perfect destination for food lovers.
Escargot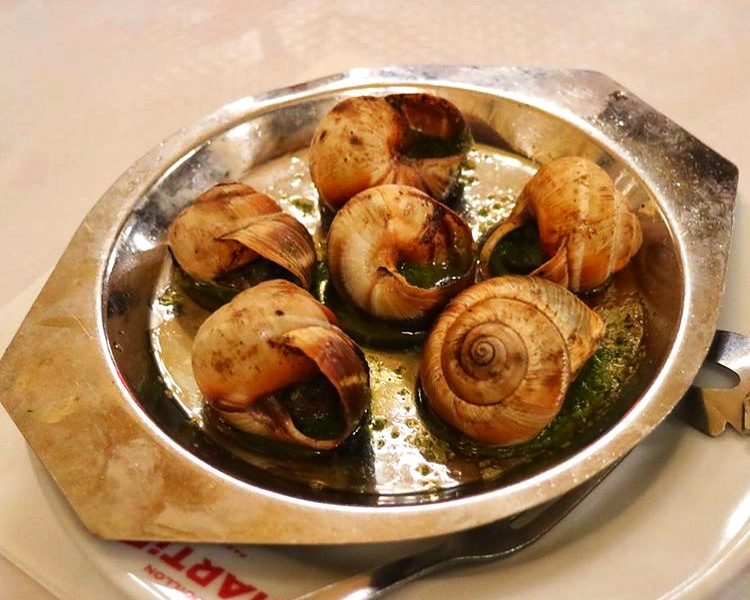 For first timer visiting Paris, you had to try the escargot or cooked snails.
Every year, this beloved French delicacy is consumed by more than 16,000 tonnes on French tables, restaurants, and supermarkets. These snails are usually served as entrée or a starter. Their tender texture and clean, woody flavors pair especially nicely with herb-infused butter. Garlic, thyme, and parsley are the most common choices.
Where to taste the best escargot in Paris:
Au Doux Raisin | 29 rue Descartes.

L'Escargot Montorgueil | 38 rue Montorgueil.
French onion soup (Soupe à l'oignon)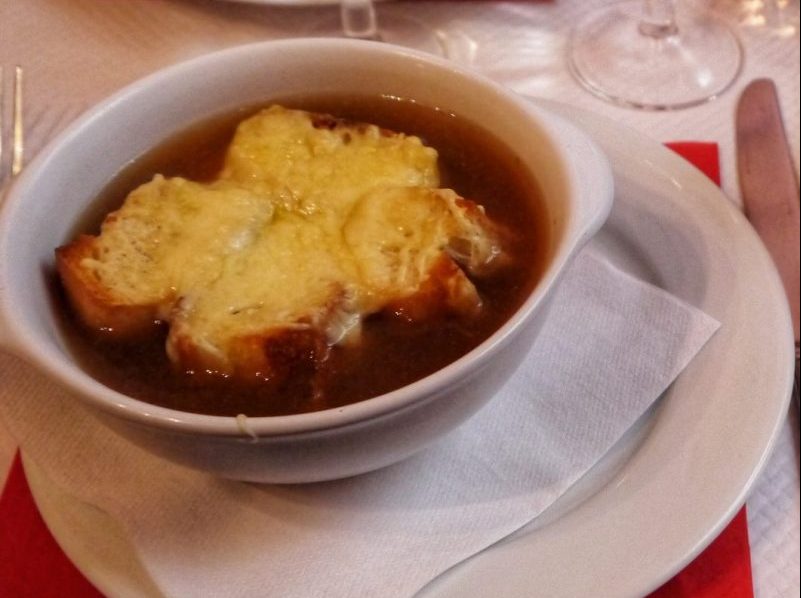 Eating Soupe l'Oignon may be one of the more touristic things to do in Paris. This classic humble French cuisine is made with meat stock and caramelized onions, often served with crispy baked bread floating on top of the soup and generously covered with cheese.
A slurp on the French onion soup is super warming on a cold Paris day. You'll fall in love with Soupe à l'oignon.
Soupe l'Oignon can be found in the many traditional bistros and brasseries throughout Paris and France.
Confit de Canard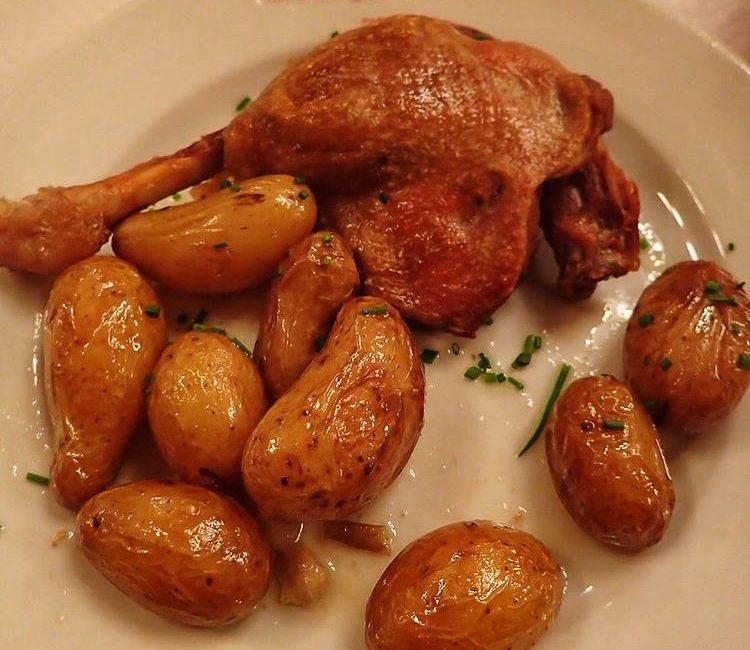 The French have been cooking duck for centuries, and there are many ways to cook every part of the animal.
The Confit de canard is the French national dish and almost all Parisian restaurants serve this classical dish. It's a leg of duck that is cured and seasoned with salt, pepper, and fresh herbs, often garlic and thyme, and then slow-roasted in its fat. A perfect confit has crispy skin, with moist, succulent meat underneath. One of the must-eat food that you should have at least once in Paris!
Best Confit de canard in Paris: Canard & Champagne | 57 passage des panoramas.
Steak Tartare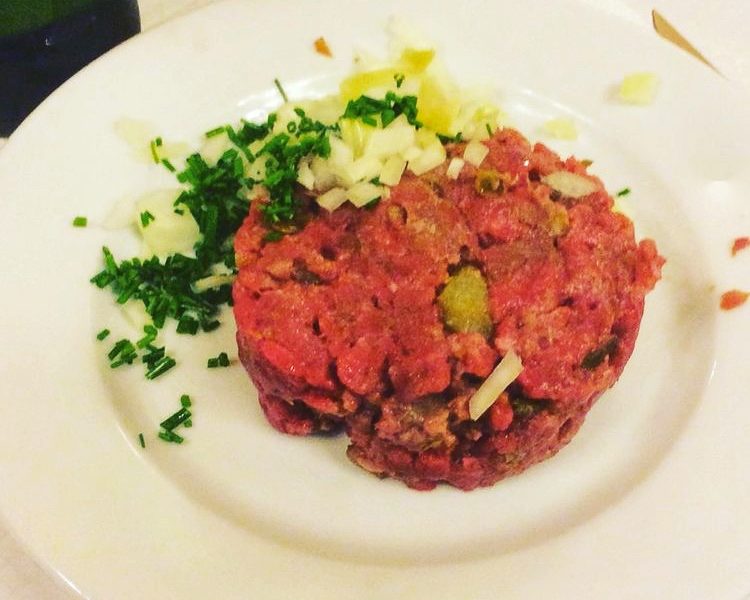 Another of the best things to eat in Paris is the Steak tartare. It is an appetizer that dates back to medieval times and is made with finely chopped raw beef or horse meat that is seasoned with salt, pepper, and some spices. The meat is then combined with raw egg yolk, capers, onions, and parsley. If you are into raw food, you will love it.
The steak tartare is often served, with a raw egg yolk on top, toasted bread, or a side of fries.
Steak-Frites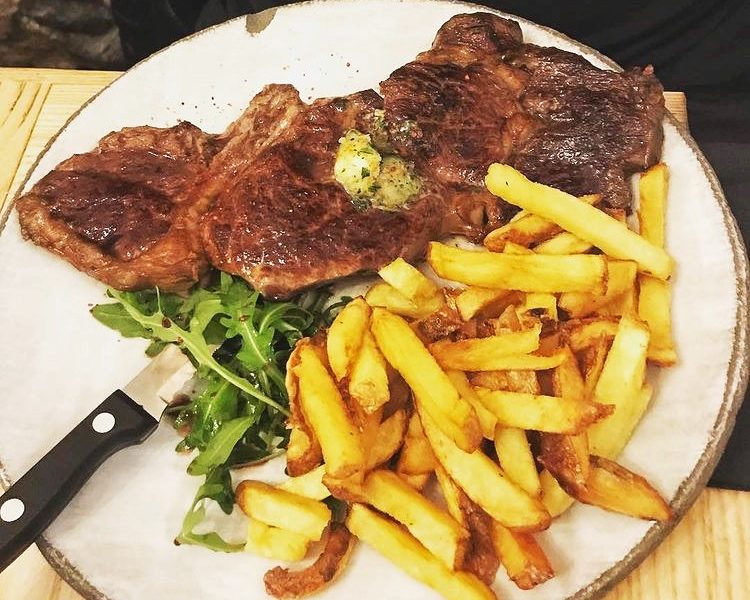 If you only eat one meaty dish, go with this one. Origins trace back to France and Belgium, steak-Frites (steak and fries) is a simple dish with a cut of steak alongside strips of deep-fried potato. This national classic dish may seem easy, but it required high quality meat and freshly prepared fries for this excellent French meal.
The most common steak used in the dish is the rib eye cut, but sirloin steak or the famous T-bone is also commonly found on restaurant menus. A must-try food during your trip to Paris.
Paris Restaurant served the best steak-Frites:
Le Relais de Venise l'Entrecôte.
Bistrot Paul Bert | 22 Rue Paul Bert.
Aux Tonneaux des Halles | 28 Rue Montorgueil.
Where to Eat French Cuisine
While there are endless cafes in Paris serving authentic French cuisine, I tucked in at Chartier if you're looking for what to eat in Paris. This legendary Belle Epoque restaurant is affordable, inexpensive, and serves almost every French traditional dish. It's not Michelin-star fine dining but the food quality and budget are compatible. Arrive early as it is extremely popular with tourists and locals.
Read Next: Bouillon Chartier – Best Paris Restaurant for Affordable French Cuisine.
A neighborhood bistro serving up classical French cuisine at Montmartre, Le Poulbout is a very affordable dinner option in a casual, relaxed atmosphere. There are several delicious dishes to choose from for each course. Check out my full review of the restaurant here: Le Poulbout.
Seafood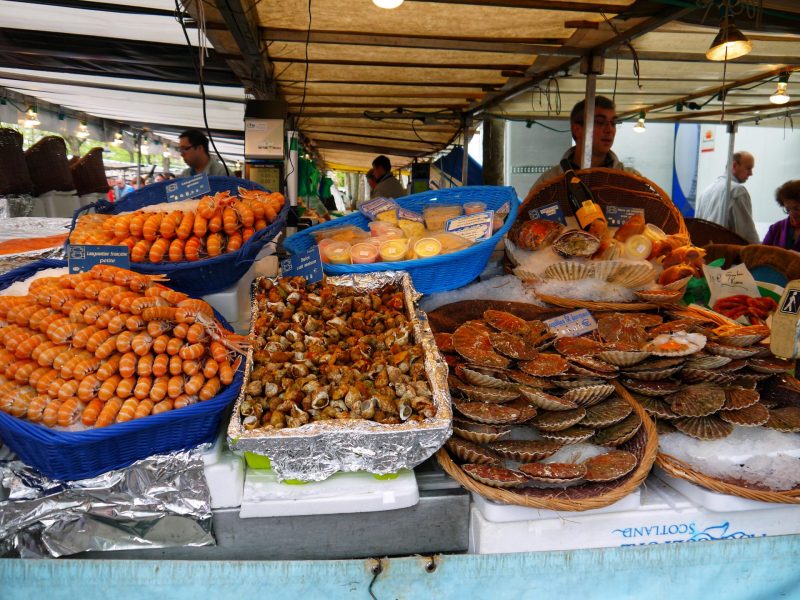 Paris isn't by the sea, but there is some seriously fresh seafood in Paris. Lobsters, oysters, octopuses, shrimp, and more seafood get fresh delivery from the sea daily. So Paris is still a brilliant place for seafood lovers.
The garlic and butter are traditionally drenched on a seafood platter.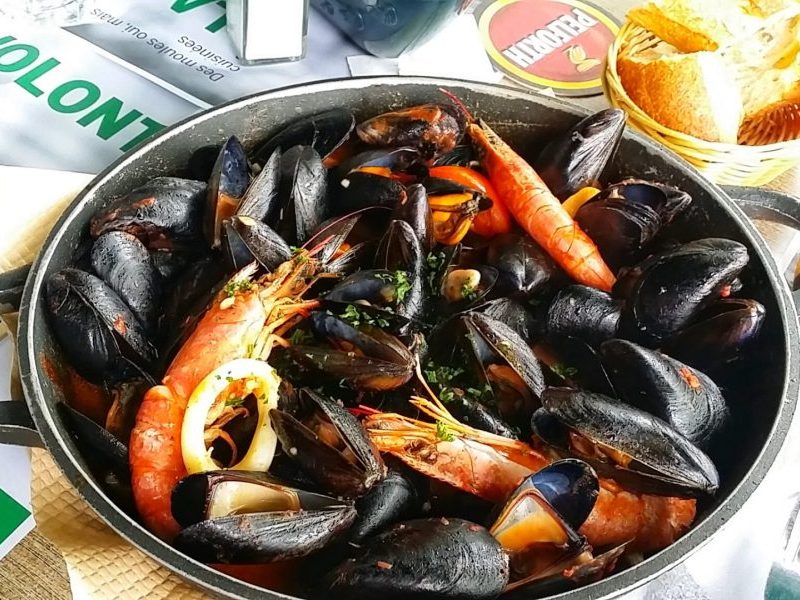 Léon de Bruxelles is a famous restaurant chain in Paris, known for their mussels or "moule" in French.
Macarons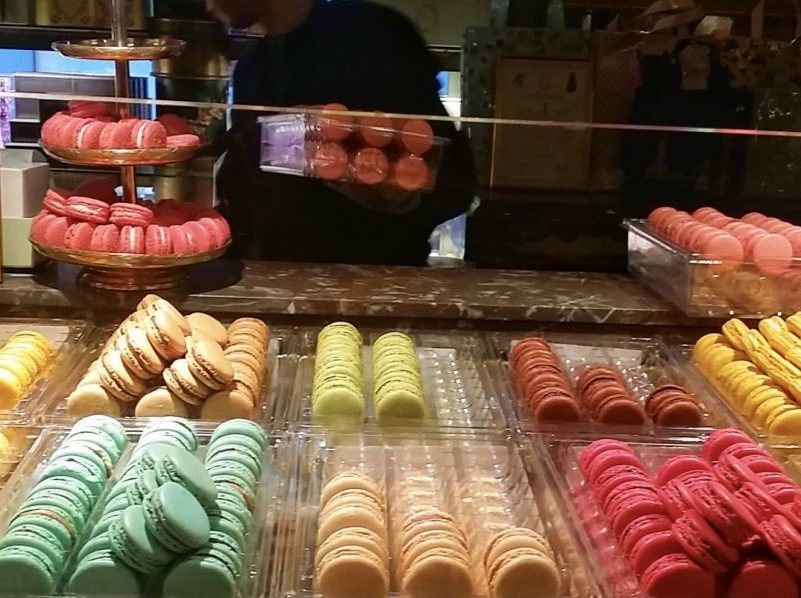 The macarons are the picture-perfect French patisserie that is served as a bite-size snack with some tea or champagne. Two delightfully colored mini-meringues made with egg whites, icing sugar, and almond flour are held together by a pleasantly gooey filling of cream, jam, or ganache-type filling.
Popular flavors include pistachio, chocolate, vanilla, or raspberry, but don't be scared to try some of the more unusual options: salted butter caramel, green tea, or rose petals, just to name a few. Once bitten, you can feel it is crunchy on the outside and chewy in the middle. A must-eat in Paris.
The Parisian's favorite patisserie for best macarons in Paris:
Ladurée: There are seven stores of various sizes and specialties in central Paris
Pierre Hermé: You can try them and more at his 11 stores in Paris.
éclairs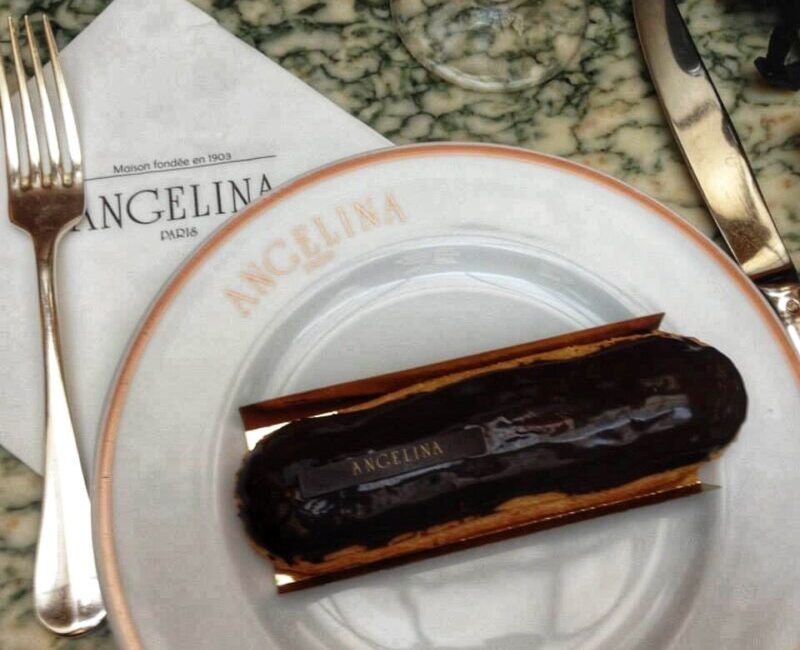 The éclair is a long narrow choux pastry, rich filled with fresh cream, and complimented topped by sweeter icing. It is widely popular in France and you may find the different versions in every patisserie. The most common éclair flavors are chocolate, vanilla, and coffee, which are offered at most French bakeries.
Established in 1903, Angelina's is the perfect place for afternoon tea in Paris. It is one of the most renowned patisserie cafes, well-known for its almost pudding-like hot chocolate (Chocolat l'Africain), signature Mont Blanc dessert, and also éclairs.
We ordered the famous hot chocolate and éclairs during our visit to Angelina. The chocolate eclairs had a lovely chocolate filling and were the best we've ever had in our lives. Definitely put this on a return visit list.
Crepe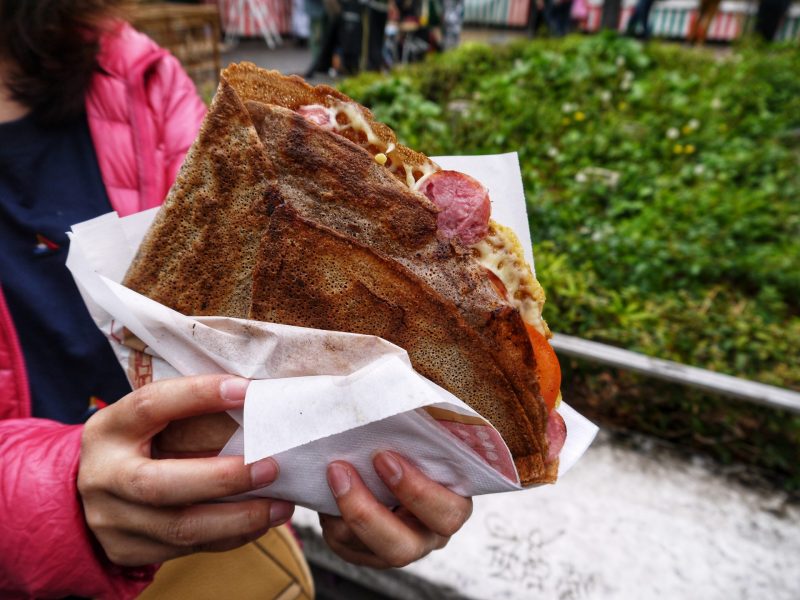 Be sure to try the crepe while in Paris. The traditional crêpe comes from the region of Brittany, and it gets its popularity in Paris. You can try the piping hot buckwheat pancake with the sweet or savory filling of your choice.
You could get a crepe for a €4 ham and cheese from one of those ever-present street-side stands at Champs-Elysées while on the go. Or head to one of the best Breton crêperies in Paris and dine in to properly enjoy the dish.
Get a classic Banana Nutella crepe or a savory ham and cheese crepe.
Créme Brûlée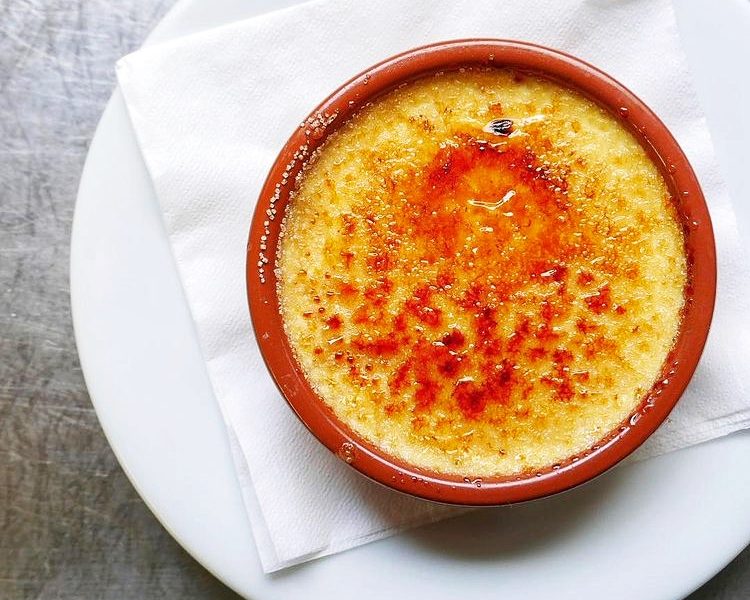 This French classic tastes even better as a dessert after dining in a Parisian restaurant. Delicious eggy custard with a crunchy brûlée (burnt) top is pure heaven in your mouth. This dessert can be found in most Parisian restaurants around the city.
Soufflés
We'll always love to have Soufflés in Paris and did not disappoint. Known to gourmets for their soft, airy texture, this wildly popular French dessert is beloved all over the world. Soufflés can be either sweet or savory, both equally good. It is light on the tongue and soft to the touch.
Best Soufflés in Paris:
• Le soufflé | 36 Rue du Mont Thabor.
• Le Recamier | 4 Rue Juliette Récamier.
Paris Food Market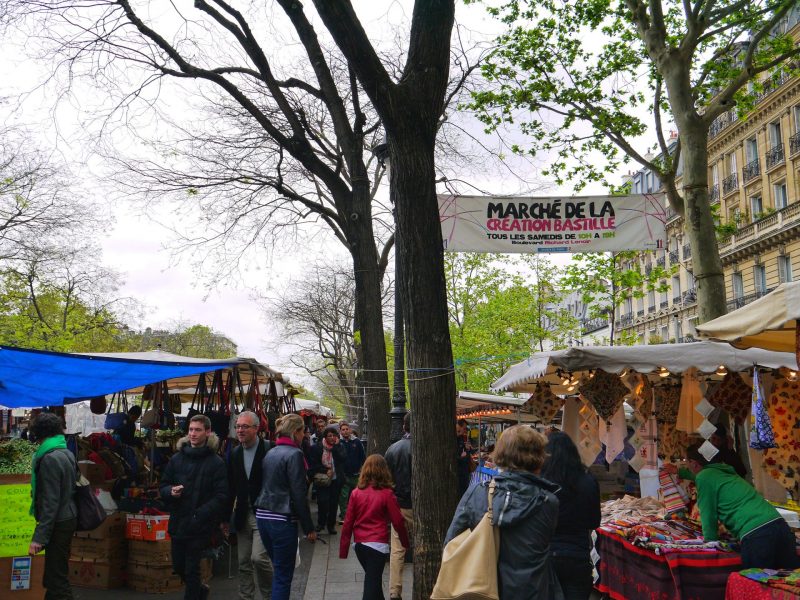 When you're in Paris, don't forget to choose a Paris food market to visit. Marche or market serves regular Parisians who come in huge numbers for groceries. Food stalls sprawl up in the market with an excellent array of fruits, veggies, cheeses, meats and so much more local produces, all at great prices.
As you go, pick up spices, vegetarian delights, or simply the beautifully fresh French produce.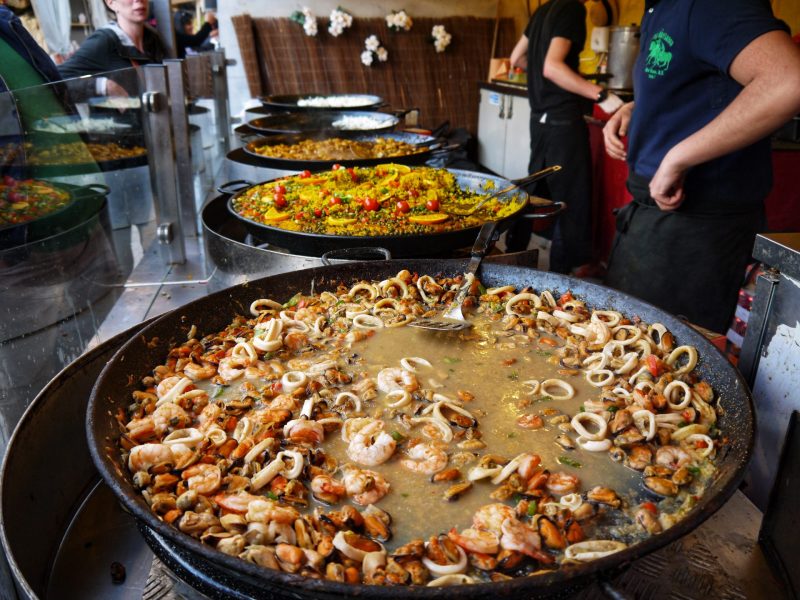 Besides, the Paris food market is a delicious outing for food and the best place for skipping meals elsewhere. There is a variety of wines from local growers, many choices of raw seafood, and excellently prepared food stalls as well to provide a relaxing lunch break on the spot.
The atmosphere is electric with very positive energy and friendly faces are everywhere. Enjoy strolling along is such a fine tradition among the many vendors. Great place to taste Paris culture while you snack on delicious local street foods.
Marché Bastille: Open Thursdays and Sundays in the morning.
Overall: What To Eat in Paris
Lastly, I hope you enjoy your trip and have a good idea of what to eat in Paris. There are so many other things to eat in Paris but these delectable dishes are a solid start for your food hunt in Paris.
Related Paris Food Blog:
If you are looking for some inspiration for traveling to Paris, feel free to check out our Paris travel itineraries: