Last updated on December 11th, 2023
This Shifen & Jiufen itinerary highlights the best things to do and what you need to know, including transport details for your trip there. An ideal day trip from Taipei.
My visit to Shifen and Jiufen was one of the highlights of my trip to Taiwan. These two scenic places are located an hour east of Taipei, making an ideal places to visit. Both places are perfect addition to a Taipei itinerary, especially considering how beautiful it is. We highly recommend visiting those places when you are visiting Taipei.
If you planning the Shifen and Jiufen itinerary, you must know it can be a bit confusing expecially for first timers. Due to the popularity, it is advice to plan and decide what to do, what to eat, and know your transport before your trip.
That's why we have come out of this Shifen and Jiufen travel guide blog for you, so you don't have to do a crazy amount of research! In this article we will be sharing about our travel experience, how to plan your itinerary, and what to look for on a tour that you can choose from!
Check out our Jiufen and Shifen travel guide blog for more information.
How To Get to Jiufen and Shifen from Taipei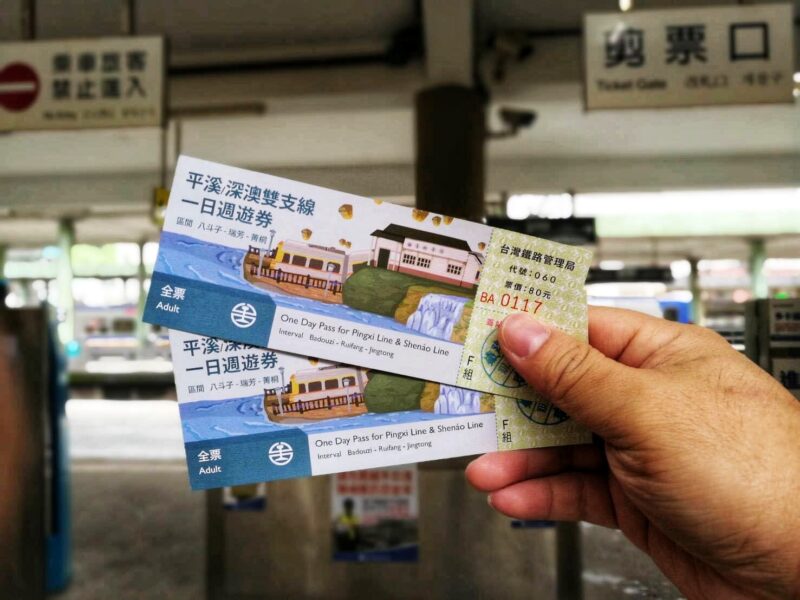 Getting from Taipei to Shifen or Jiufen is quite straightforward. You can either go by public transport, hire a taxi or a guided tour.
From Taipei to Shifen: It is the cheapest option. Take a local TRA train from Taipei Main Station (or Songshan if you're staying east) to Ruifang Station. From there, you will need to transfer to the Pingxi Line to Shifen Station. Train goes once hourly and you make stops along the way including Houtong Cat Village and Pinxi Village. 
The train trip to Shinfen should cost you about NTD $40 per one way. Consider getting a day transport pass for the Pingxi Line at NTD $56. It is a great option if you plan to use the train to many stops.
From Shinfen to Jiufen: There's no direct transportation from Shifen to Jiufen. If you follow our Shifen and Jiufen itinerary below, you'll need to go back to Ruifang Station first. Once at Ruifang, walk a few minutes from the main road to the bus station (beside the police station). There are a few buses running for this route. You can catch the #827 or #788 buses on weekdays or an additional #825 bus at weekends to Jiufen. The ride from Ruifang to Jiufen takes about 20 minutes and costs NTD $15.
From Taipei to Jiufen: Some people will opt to get to Jiufen first before heading to Shifen, or only plan for Jiufen itinerary alone. If you are taking a day trip to Jiufen only, you can catch a direct bus from Taipei Zhongli train station to Jiufen.
Public transport can be overwhelming at first glance. An alternative option, take a Day Tour to Jiufen, Shinfen, and Yehliu Geopark hassle free.
Planning the Jiufen and Shifen Itinerary
It would be fun to visit Shifen and Jiufen from Taipei. Pick your stops and plan your itinerary carefully if you want to do the Shifen and Jiufen itinerary on the same day. With a proper itinerary, a day trip is doable.
Planning for Jiufen and Shifen Itinerary:
Take the TRA train from Taipei Main Station to Ruifeng Station.
Take the Pingxi train to Shifen
Stop by Houtong Cat Village (Optional, 1 hour)
Shifen Old Street, release a sky lantern at Shifen Old Street and have some snacks (1 – 2 hours)
Walk to Shifen Waterfalls (1 hour)
Take the train back to Ruifang Station then catch the bus to Jiufen (Estimate 1 hour)
Jiufen (3 to 4 hours)
Jiufen and Shifen Travel Tips: We have squeezed into Houtong Cat Village during our trip to Shifen and Jiufen, and we feel it would be too tight. We would rather spend more time in each attraction. So plan your itinerary based on your interest and time arrangement.
What to do in Jiufen and Shifen
Below, we are going to share with you what to do and see during your trip to Shinfen and Jiufen. The Shifen is in located Pingxi (平溪) District while Jiufen is in Ruifang (瑞芳) District. Although both places are located in different districts, they can be reachable by a little effort and transfer.
Most travelers will couple together with a day trip to maximize the travel experience. Besides, there are also some little gems such as Pingxi Village, Houtong, Sandiaoling along the Pingxi line that you include on your itinerary.
Recommended Tour:
Houtong Cat Village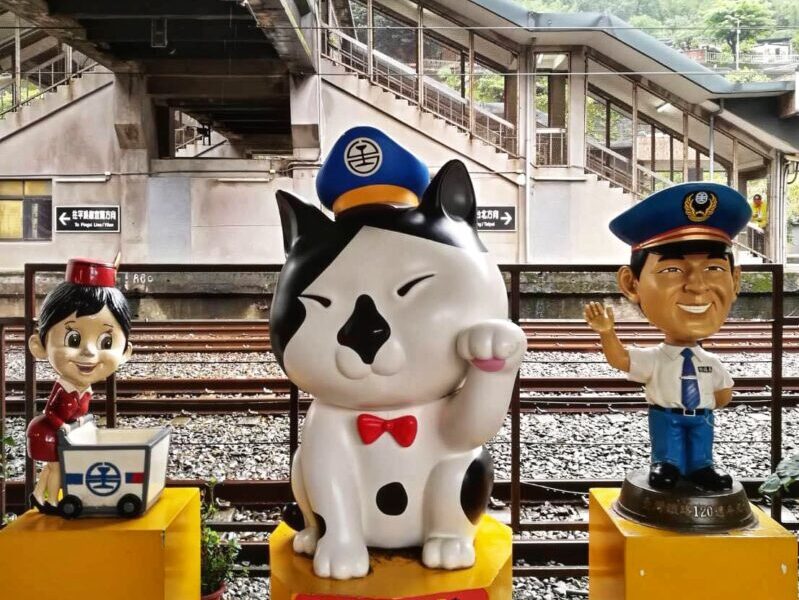 On the way to Shifen, you can stop at Houtong Cat Village (猴硐貓村).
This used to be a coal mining village and it is now overpopulated with cats. There were lots of cats around that you could feed and pet and most wanted the attention.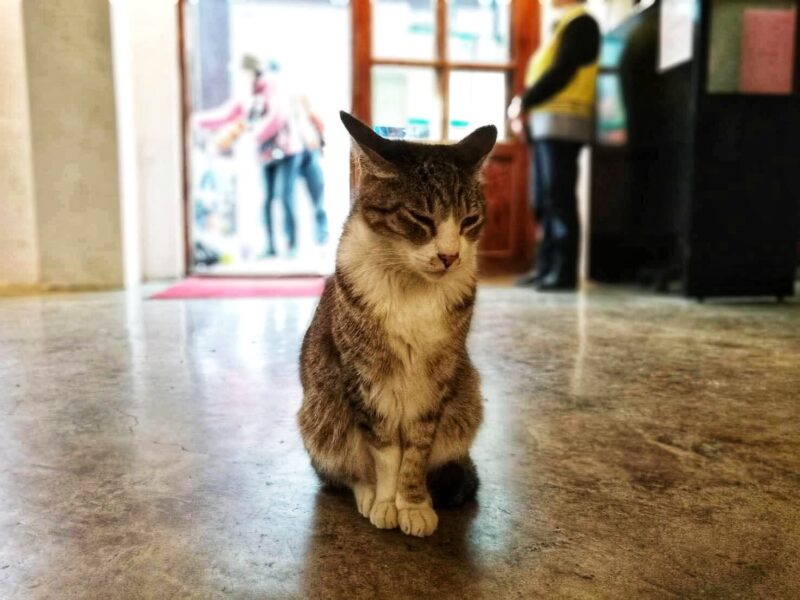 Pick a cafe, get an ice-cold coffee, and play with some adorable cats. Cat Village Houtong is a must-go place for cat lovers for your Shifen & Jiufen itinerary.
Shifen travel Tips: Trains run hourly so you can have a stroll around the cat village and catch the next one to the next destination.
Shifen Old Street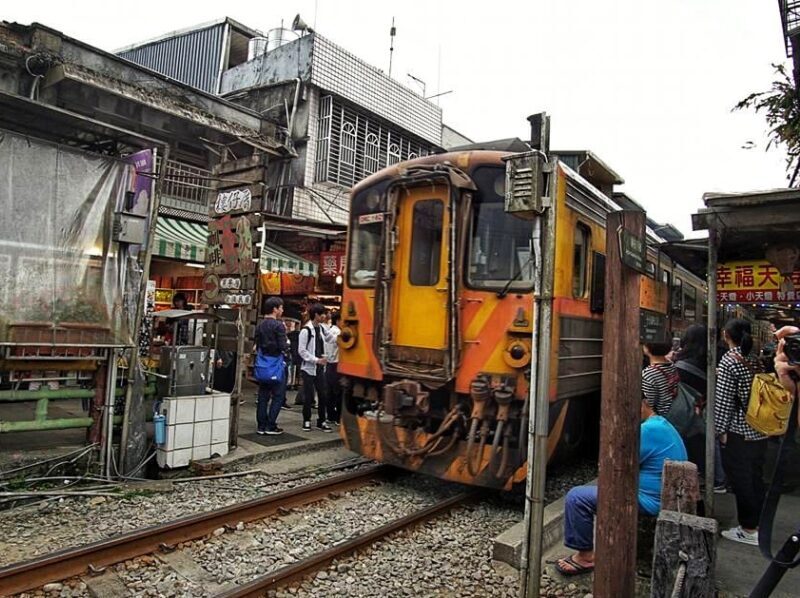 Nested in spectacular mountain ranges, Shifen Old Street (十分老街) is a albeit busy town with local charm. There are plenty of shops located along an actual rail track still in use. Trains come in every hour, and people will jump off the tracks to allow the train to rumble through this charming village.
Travelers coming to Shifen to draw their wishes and release sky lanterns. But it is also worth checking out the shops around for some souvenirs and to try out some food like the infamous wrap ice cream.
It is best to allocate about one to two hours in Shinfen Old Street to soak in the atmosphere.
Release Sky Lanterns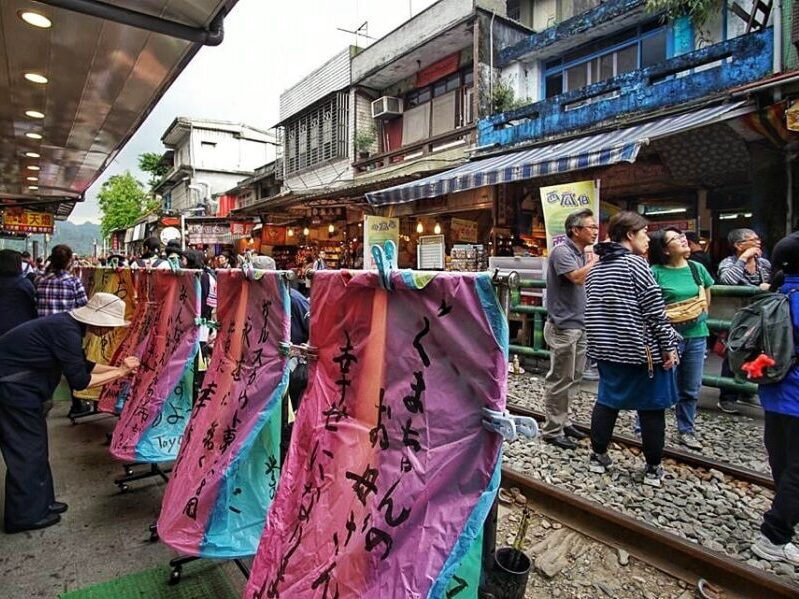 Shifen Old Street is one of the famous spots to experience the sky lantern activity. This is the also main reason why people flock to Shifen. The sky lanterns release activities takes place on the functional railway track that runs through the main street.
When a train approaches, the people would move away from the tracks.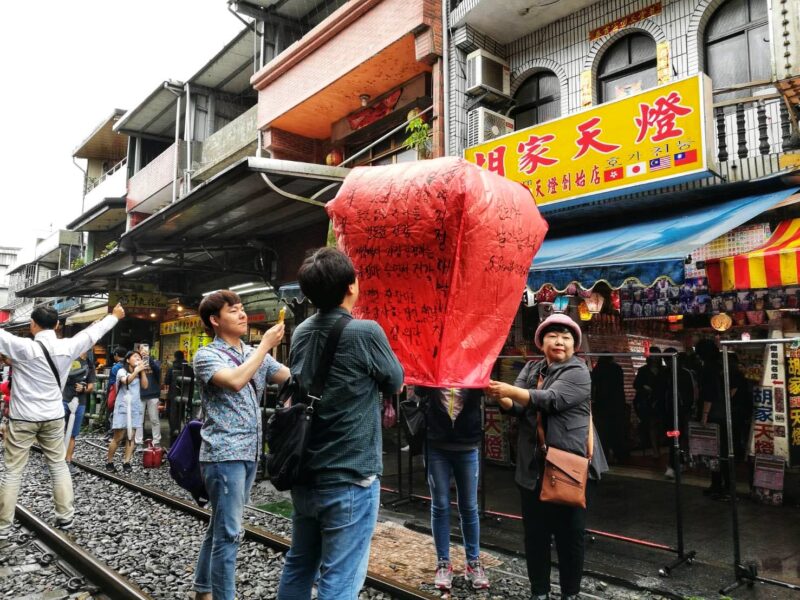 There are many sellers offering release sky lanterns activity. The lanterns come in a variety of colors and each color has its own symbol and description. Once you have selected and paid for which color you want, you can decorate the lantern, writing down your wishes or messages on it. The seller will assist you in releasing it into the sky.
Watching the sky lanterns floating away was magical!
Shifen Travel Tips: All the shops selling the sky lantern for about the same prices, so save your time and just pick one of the sellers. But you can get a further discount if you are buying in large quantities.
Shifen Waterfall
Continue down the Shifen Old Street and take a 15-minute walk to Shifen Waterfall. The walk is serene and you have to walk over the suspension bridge before reaching the falls.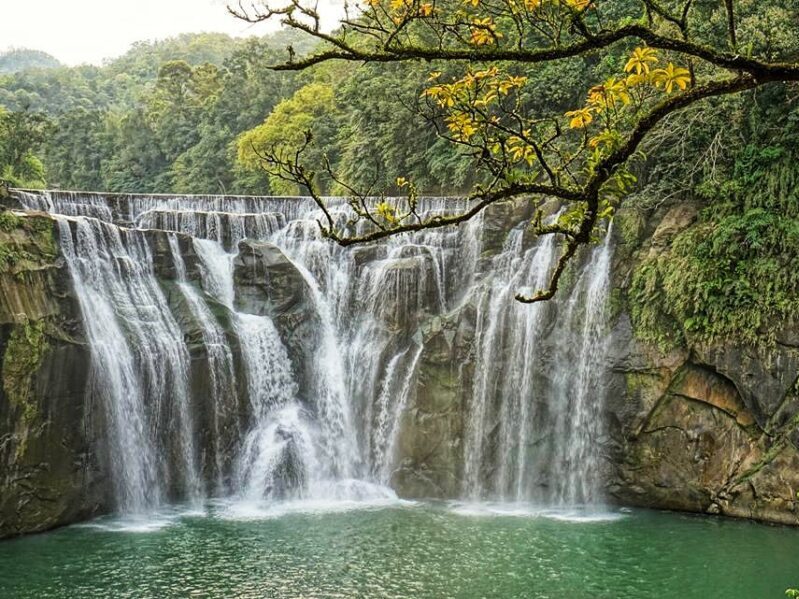 Shifen waterfall is a 20-meter-tall cascading waterfall. It isn't the biggest waterfall but it's scenic, with plenty of viewing platforms set up all around. Shifen Waterfall has also earned it the nickname the "Little Niagara of Taiwan".
There are eateries in the area, so if you're hungry, you can grab something to eat.
Time to Spend: 30 mins to 1 hour.
Pingxi Village
If you travel from Taipei to Shifen and plan to spend a whole day in the area, you could take the Pinxi line further to Pingxi Village (平溪). It is another old street where you can experience the local Taiwanese vibe and atmosphere.
Pingxi Village is the final stop of the Pingxi train line.
From Shifen To Jiufen
Going to Jiufen by public transport is quite easy. If you are following this Shifen and Jiufen itinerary, you will need to take a bus from Ruifang train station. The ride from Ruifang to Jiufen takes about 20 minutes and costs NTD $15.
You can also come directly from downtown Taipei, Zhongli train station. It takes an hour from downtown Taipei to get there.
Jiufen Old Street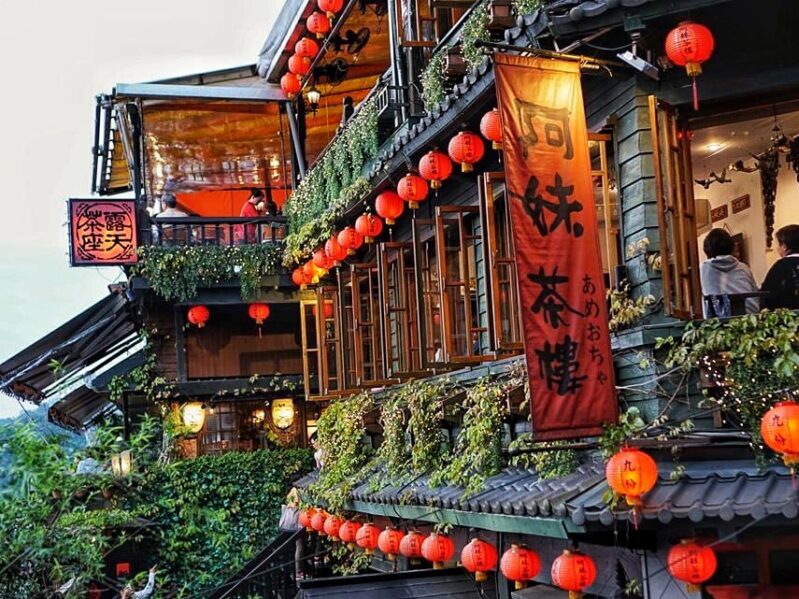 Visit Jiufen (九份), an iconic hillside town village overlooking mountains and ocean. It is an old mining settlement dating back to the Japanese rule. The village is now transformed into one of the popular attractions to visit with an easy day trip from Taipei.
Locals and travelers visit Jiufen for scenery and food. The quaint mountain Jiufen village with narrow winding up and down walking. Plenty of shops, authentic historical tea houses, restaurants, and souvenir shops lined along the narrow street.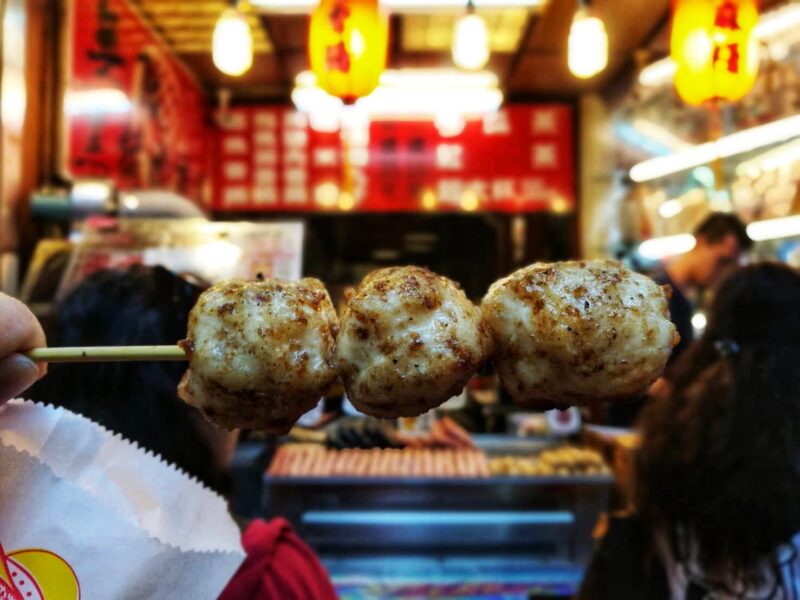 Beware that Jiufen is crowded and packed with tourists. Wandering round the main Street is fun but exploring above the crowds and going off the main street to see the scenery along the coast. It's an amazing place that should be on everyone's itinerary in Taipei.
Food Feast at Jiufen Market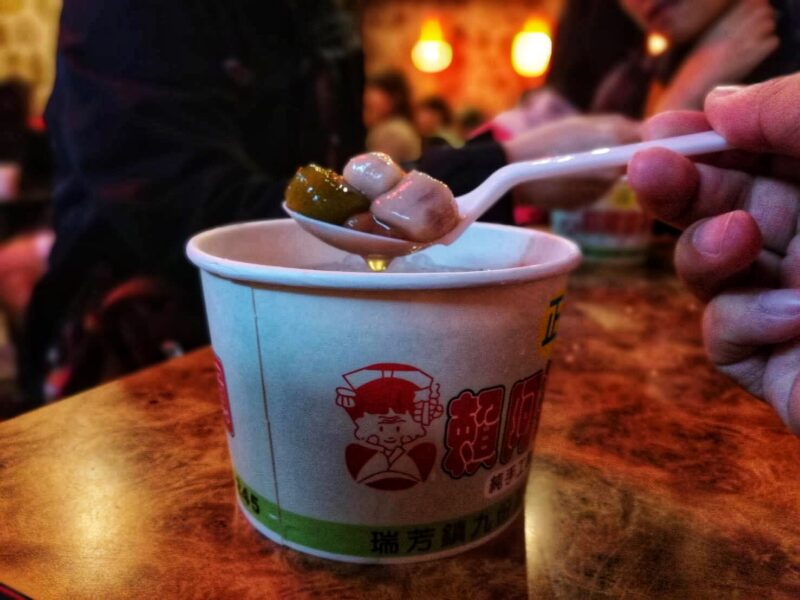 Jiufen is known for its street food and this is another reason we keep going back. There are tons of delicious street food snacks along the market street. From glutinous rice cakes to peanut ice cream rolls, you will never come out with an empty stomach.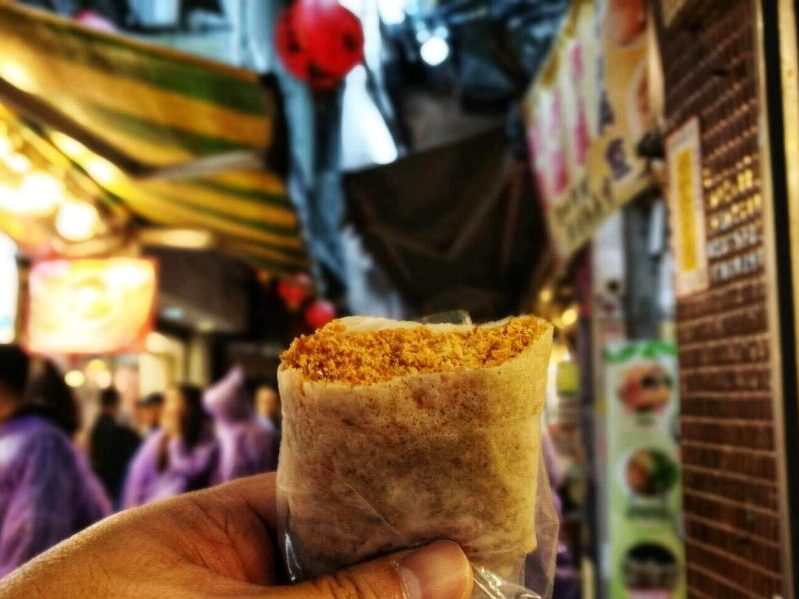 Below are some of the must-eat foods with popular shops in Jiufen that are worth trying during your visit:
Jin Zhi Red Yeast Meatball Dumpling (金枝紅槽肉圓)
Grandma Lai's Taro Balls (賴阿婆芋圓)
Ah-Zhu Peanut Ice Cream Roll (阿珠雪在燒花生捲冰淇淋)
Hakka Glutinous Rice Cake
Fishball or meatball
Steam buns
Beef Noodles
Taiwanese Pork Sausages
Stinky tofu
Deep-fried battered seafood
and many more!
Jiufen Food Trip: Our advice is do not stuff yourself in one single eatery and try to sample the local delicacies as much as you can!
Drink Tea at a Traditional Tea House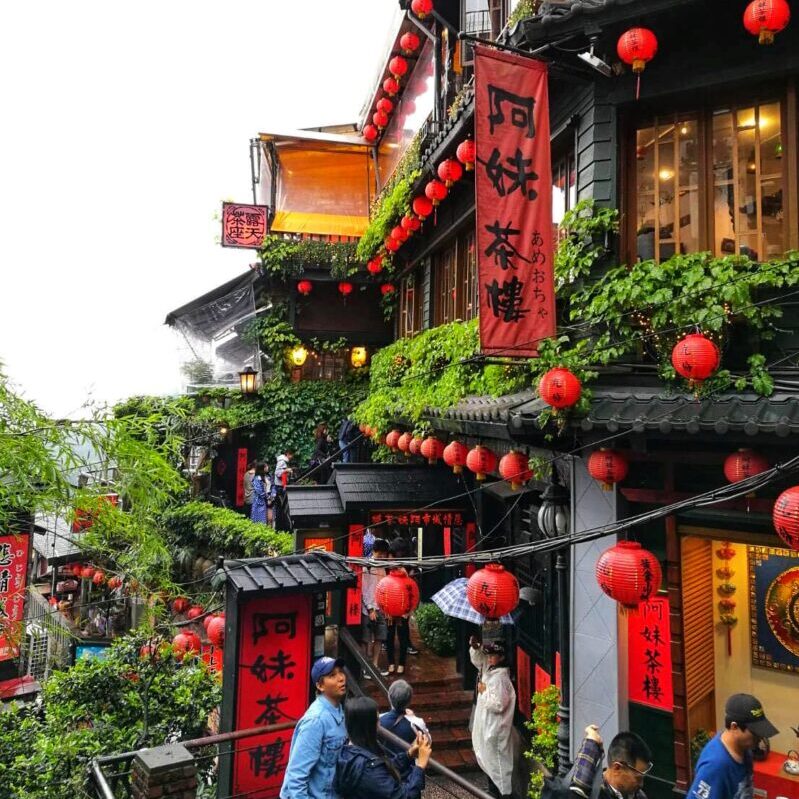 Drinking tea is one of the cultures inherited from past times. so you can experience this Chinese culture in Jiufen.
There are many authentic tea houses in Jiufen, perhap the most popular spot in Jiufen is the A-Mei Tea House. It is the most iconic building in Jiufen and is often featured in Jiufen advertisements. The tea house is said to inspire the animation movie 'Spirited Away'.
Sitting in the tea house, sipping oolong tea on the terrace, and looking out the panoramic view of the bay area.
Jiufen at Night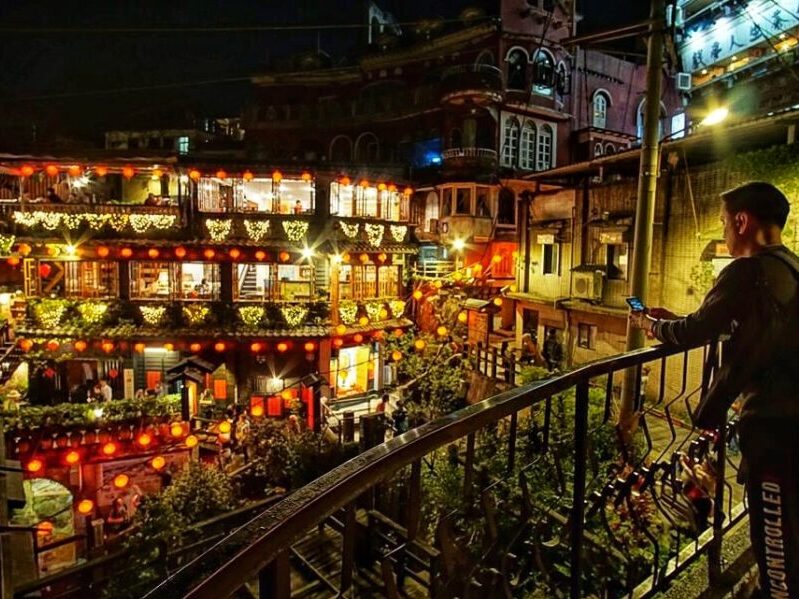 Jiufen at night is truly magical.
When the sun goes down, locals start turning on the red lanterns in Jiufen. Everything simply becomes wonderful. It is such a fantastic view when lanterns light up along the narrow winding streets.
If possible, it is worth staying at Jiufen until the nighttime visit or spending an overnight in one of the hostel or guesthouses.
Visiting Jiufen and Shifen in One Day
As per the above Shinfen and Jiufen travel blog post, Jiufen and Shinfen in One Day is absolutely doable. You can visit both places on a day trip, either on your own or on a guided tour.
Doing this day trip on your own will mean lots of time spent on buses and trains to get to all the destinations. From Taipei to Jiufen, the train ride takes you about 1.5 hours. You will need to look for the public transport arrangement from Shifen to Jiufen which usually take you about 1.5 hour. This does not count the 1.5-hour bus journey from Jiufen back to Taipei.
As it is a long traveling day start your itinerary as early as possible. Besides, try to avoid weekends and public holidays to avoid the extreme crowds.
While the tour option is less flexible, but you can visit more places within a day's tour. Most tours will be coupled together with Yehliu Geopark which is another interesting place to visit nearby. Check on below tour options below if you are interested in it
Staying in Jiufen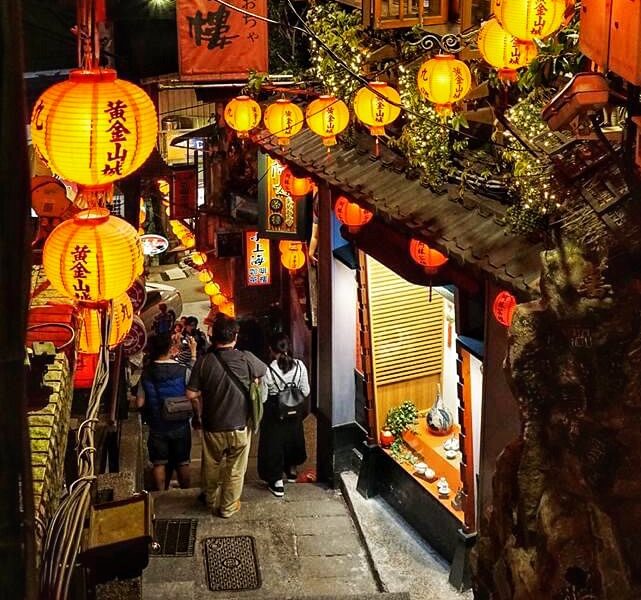 We would absolutely recommend staying a night in Jiufen. This place is best appreciated at night when the lanterns are lit up. Jiufen is also less crowded when all the day-trippers leave. I think you'll appreciate it more if you stay the night. But accommodation in Jiufen is limited, so it is best to reserve early.
Recommended places to stay overnight in Jiufen include:
Chiu Chunt Dint B&B is located on Jiufen Old Street with 3-minute walk from the market and bus stop. The guesthouse boasted with stunning view. The scenery is perfect with the balcony and large windows.
Dosun B&B is a charming guesthouse boasting beautiful ocean views from the terrace. The host is very friendly and the rooms are spacious and clean. It takes about 5 5-minute walk from the Jiufen Old Street.
H& Jiufen The Ocean Theory is gaining popularity when looking for where to stay in Jiufen. This charming guesthouse is located at the top of the stairs in Jiufen. It is away from the bustling but just a step away from the food stalls on Old Street. The room is compact, tidy, and clean. The communal space is decent with a nice view. Stay here for relaxing and a great unwind experience.
Overall: A Trip to Shifen and Jiufen
All in all, there are many things you can put into your Shifen and Jiufen itinerary. It is a good day trip to soak in the atmosphere, taste the local Taiwanese food, and experience the uniqueness of the location. Worth a visit especially for first-timers to Taiwan.
However, Jiufen is packed with tourists and even locals. It would be a great idea if you could split Jiufen and Shifen into two separate day trips or stay overnight. But if you're tight on time, it's easily possible to see them in one day. Just best to avoid weekends and public holidays. Thanks for stopping by and have a great time in Shinfen and Jiufen. Enjoy your trip!
Traveling to Taiwan and looking for travel inspiration? Here is our itinerary to some of the interesting places: