Last updated on December 11th, 2023
Keelung is a charming port city filled with history, culture, and amazing food. Read my Keelung Travel Guide blog with an itinerary of what to do and see to help you discover all of the city's attractions. An easy day trip from Taipei!
Out of the places that we've traveled to in Taiwan, Keelung (基隆) is one of the quieter and less touristy cities. It's one of Taiwan's major ports and is located less than an hour away from Taipei. Keelung is a charming coastal town for a chill-out day trip from Taipei. There are many great things to do to plan for your one-day Keelung itinerary. Popular attractions in Keelung include a colourful harbor and an enormous food market.
During one of my Taiwan visits, we finally made a day trip to Keelung from Taipei. We love seeing its coastal seaside and enjoying the sea breeze. Keelung is very relaxing with local charm.
Here's my Keelung Travel Guide blog with suggestions on things to do and how to get around easily. My one-day Keelung itinerary for an easy day trip from Taipei is included!
How to get from Taipei to Keelung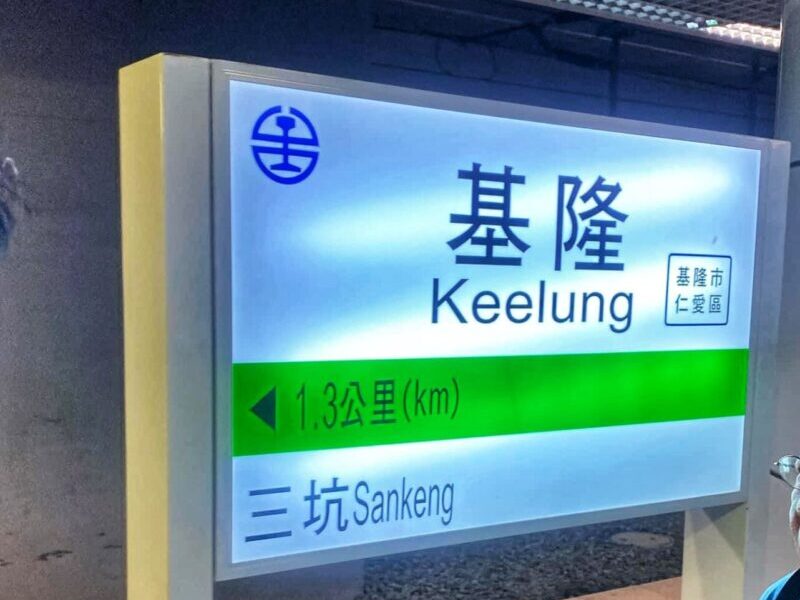 Keelung is located less than 1 hour away from Taipei and is ideal for an easy day trip. The location is located in the northeast of Taipei between popular spots Yehliu in Wanli and the mountainous Jiufen.
The port city is superb and easy to reach via public transport. You can choose to get to Keelung by TRA train or bus from Taipei.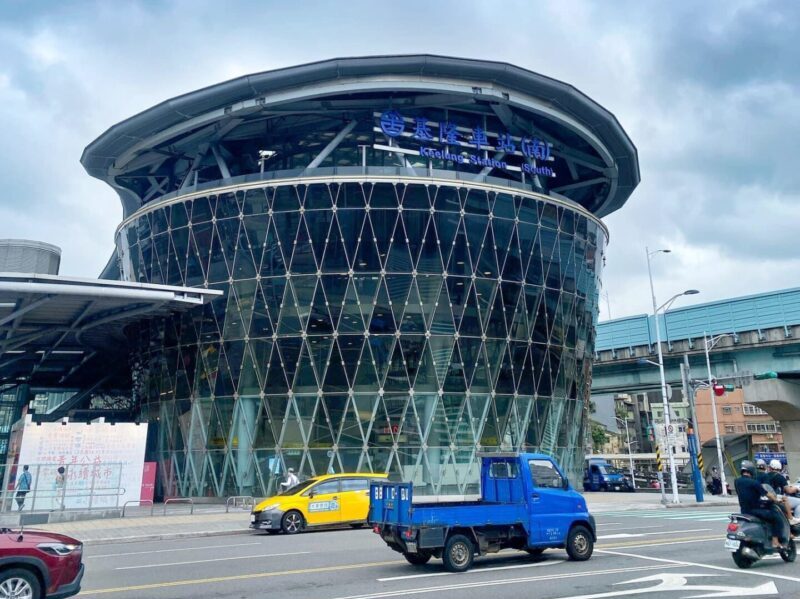 Keelung Station is the main public transport for Keelung port city.
From Taipei to Keelung by train: Take any local TRA to Keelung City from Taipei (Taipei Main Station, Songshan Station, or Nangang Station). Trains come every 15 to 20 minutes, and the journey takes 45 minutes. The fare costs NTD $41 and you can pay by using Easycard during entry. No reserved seating.
From Taipei to Keelung by bus: Hop on KuoKuang Bus 1813, departing from Taipei Main Station. The ride takes 50 minutes or slightly longer depending on traffic conditions. Avoid using the bus to Keelung during weekends or public holidays as road traffic is normally congested.
Rental Car: Self-driving to visit Keelung is another great option. This is the most convenient option and less hassle. You can save a lot of time and energy compared to taking public transport. It is also the cheapest option for groups of travelers. If you are looking to rent a car to visit Keelung, check out the RentalCar.com to compare the prices and car models.
Where To Stay in Keelung
While you can visit Keelung on a day trip from Taipei. But if you want to spend a night in Keelung to better enjoy this port town, we recommend that you stay for a full day or spend one day in Keelung. The port city is also a stopover before or after visiting Jiufen. Plus, hotels in Keelung can be very affordable in comparison with Taipei.
Below are some of the best pick accommodations in Keelung:
Evergreen Laurel Hotel – This is a popular modern accommodation for travelers when looking for where to stay in Keelung. The hotel is located beside Keelung Harbour and boasts enchanting harbor views. Getting around in the downtown area is also very convenient. Many room options are available to choose from.
Just Live Inn – This is a mid-budget accommodation for those who want to be near the Keelung Train station. Staffs are all friendly. Free soft drinks and snacks are served to the guests.
For budget travelers, Light Inn is a modern and clean budget hotel. It is located close to the night market and easy to get around in Keelung. Staff are helpful and welcoming.
Things to do in Keelung
People visit Keelung City to see the harbor and some of the city's cultural sights and stunning nature. Most of the attractions all within walking distance of the Keelung Train and Bus Station. You will need to take a bus or taxi to some seaside attractions such as Helping Island Park and Chaojing Park.
Here are the top attractions in Keelung to visit on your Keelung day trip itinerary:
Heping Island and Heping Island Park
Zhengbin Fishing Port and its colourful houses
Zhongzheng Park
Keelung Maritime Plaza
Keelung Miaokou Night Market
Dianji Temple
Keelung Travel Tips: If you prefer to visit Keelung as part of an organised tour, there are several itineraries departing Taipei city that combine a visit to Keelung with other attractions in the area.
Recommended Tour to Keelung:
Heping Island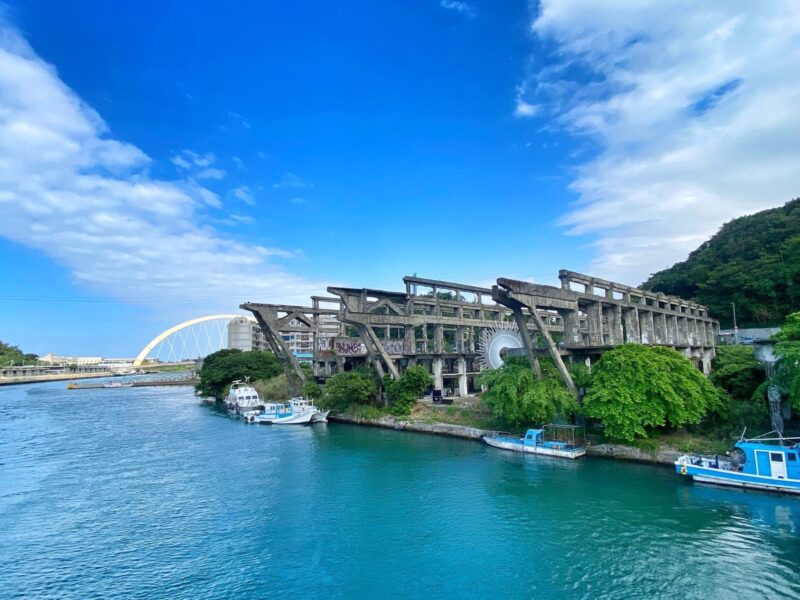 If you're looking for lovely coastlines around Keelung, Peace Island or Heping Island is a popular place to visit. 
Heping Island was also called Sheliao Island (社寮島) during the Qing Dynasty and the Japanese Occupation. The island used to be separate from the mainland until the Heping Bridge was built to connect with Keelung City.
Getting there: Hop on a Keelung City Bus (#101) or (#102) which bus stop is located just outside Keelung's train station. Get off at Heping Island Park stop and the bus ride takes about 15-20 minutes.
Heping Island Park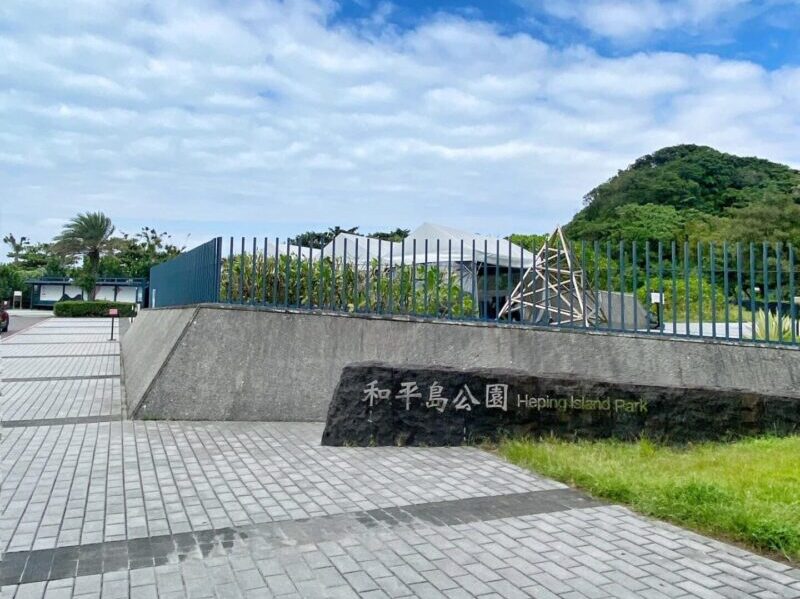 Next, continue your Keelung itinerary by exploring the Heping Island Park (和平島地質公園). The huge geopark is filled with incredible seaside views and interesting rock formations. The park is similar to the famous Yehliu Geopark (野柳地質公園) but it is less crowded.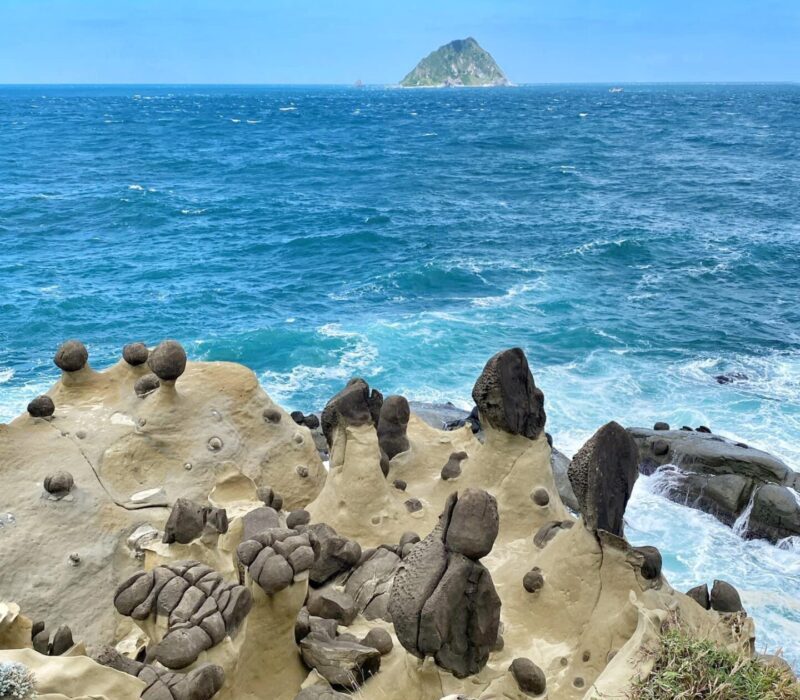 There are several walking trails that skirt the rugged coastline which provide wonderful views of unusual rock formations. It has lots of interesting coastal formations after years of erosion by the wind and sea. The sandstone-rock formations are spread out over a huge area.
Some eroded rocks formed in the shapes of animals, which is interesting.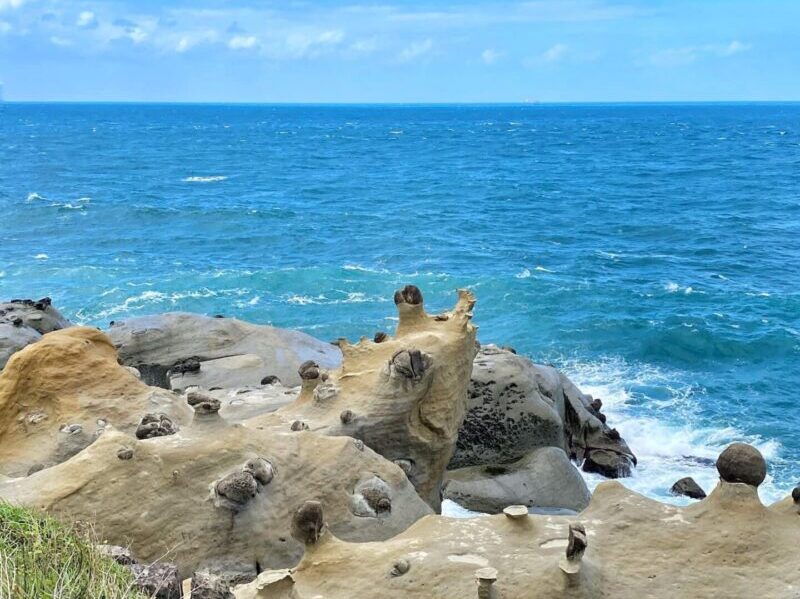 Use some vivid imagination to see what rock formations look like. It looks like a turtle!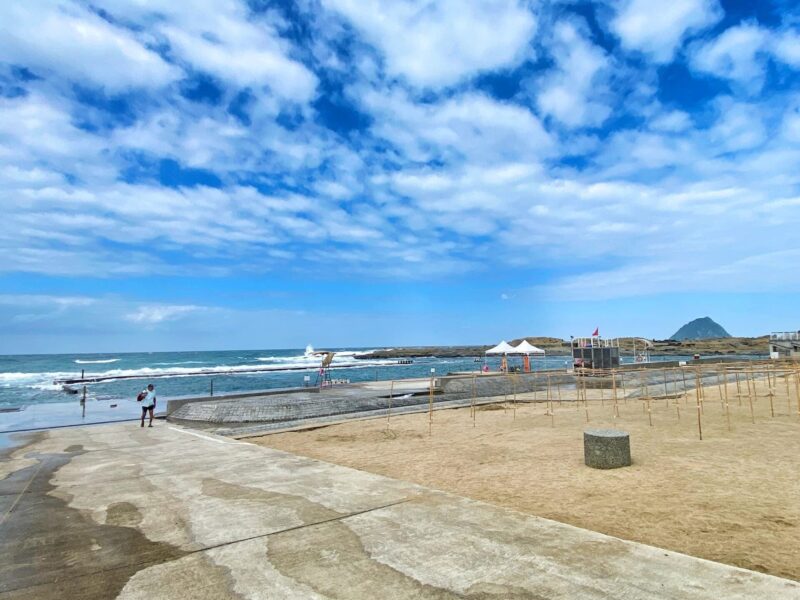 The park lies in a beautiful nature surrounded by seawater pools where you can walk along the coast.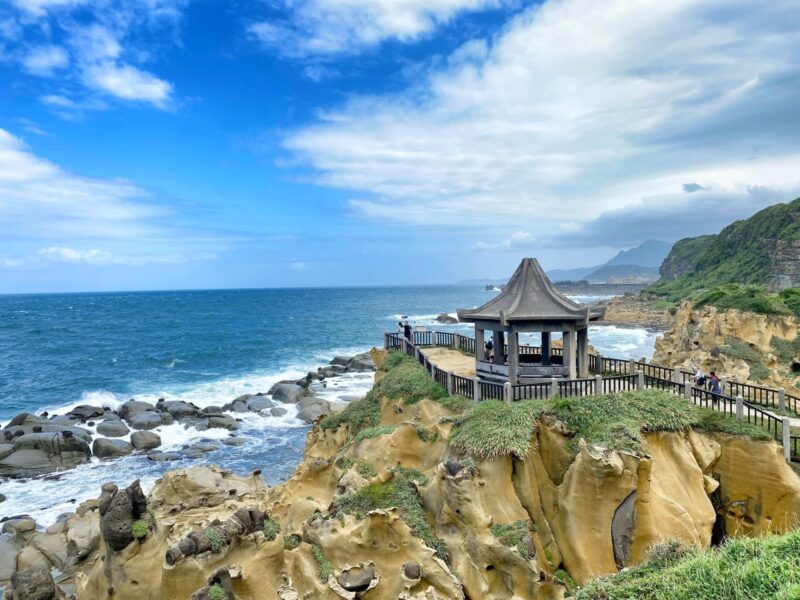 Follow the circle trail up to the Scenic Pavilion (等嶼亭). It is a perfect place to take some rest and enjoy the view. You can see the Keelung Islet (基隆嶼) from far away and surrounded by a sea cliff.
The visit is to Heping Island Park worthwhile and breathtaking.
Heping Island Park
Location: No. 360 Pingyi Road, Zhongzheng District.
Opening Hours: 8:00-19:00 (May-Oct) and 8:00-18:00 (Nov-Apr). Note that tickets are sold until one hour before the closing time.
Entrance fee: NTD $120 (Purchase E-Ticket from Klook)
Getting there: Walk 10 minutes to Heping Island Park after getting from the Heping Island Park bus stop.
Zhengbin Fishing Port Colourful Houses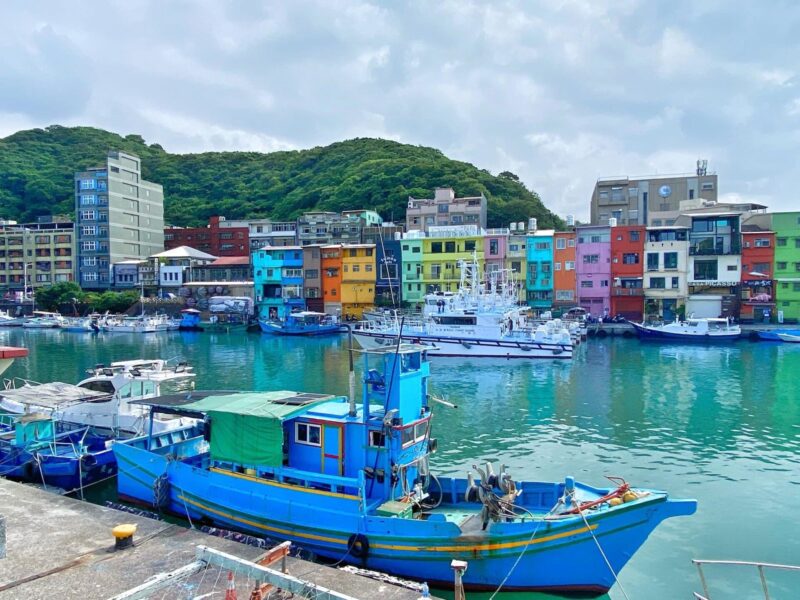 If you have some time for your Keelung itinerary, it is worth to visit the Zhengbin Fishing Port (正濱漁港) on your way back to Keelung Station area. Zhengbin Fishing Port was established by the Japanese in the 1930s. It was once the biggest fishing harbor in Taiwan during the Japanese era. It gradually became a lot quieter as the fishing boats moved to neighbouring Badouzi.
The Zhengbin Fishing Port Colourful Houses is one of the popular IG sights in Keelung. This is one of the spots you'll see most of when looking for Keelung. Here you'll find dozens of colorful shophouses lining a sleepy fishing harbor. Rows of brightly painted houses along the coastlines and add some vibrancy to the harbor view.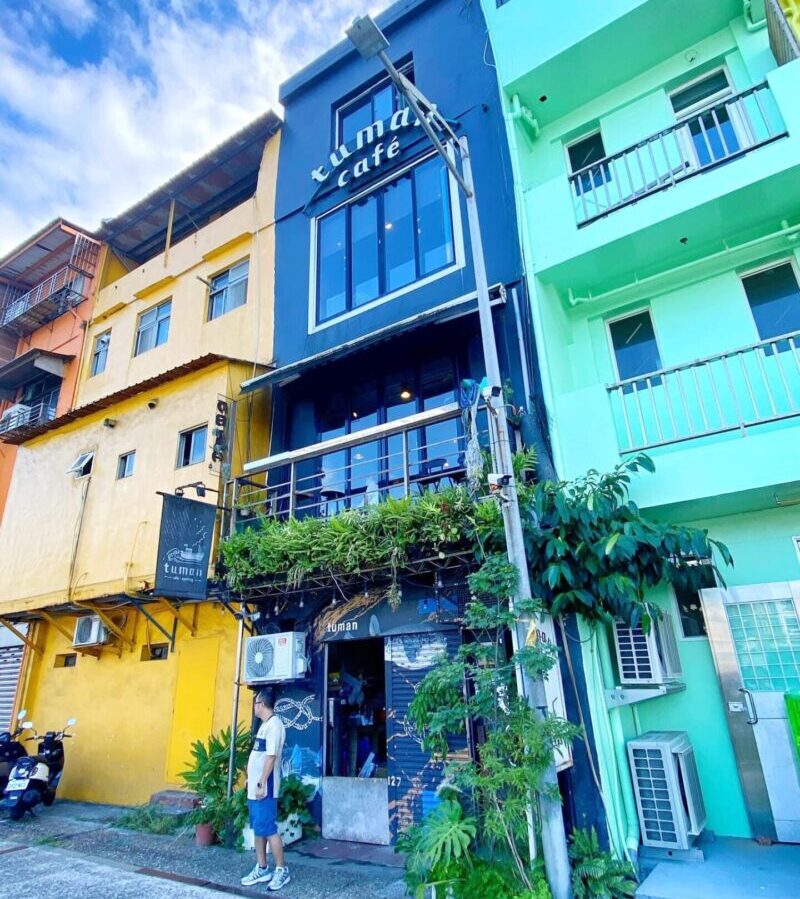 After some nice photo shoots, you can walk over to the colorful houses for shopping and cafe hopping. There are plenty of harbor-side spots where you can sit back and have some drinks or coffee. We had our afternoon break at Tuman Cafe.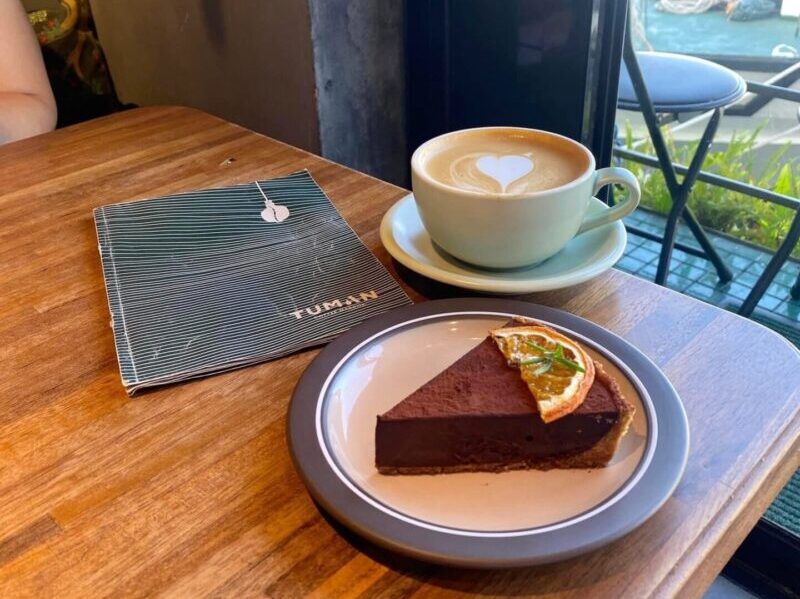 How to get there: Zhengbin Fishing Harbour is about 20 minutes by bus from Keelung Train Station. There is no proper bus stop to get to the harbor. You can ask the buses to stop at the Zhongzheng Road-Zhengbin Road intersection stop and then walk for a few minutes.
Keelung Maritime Plaza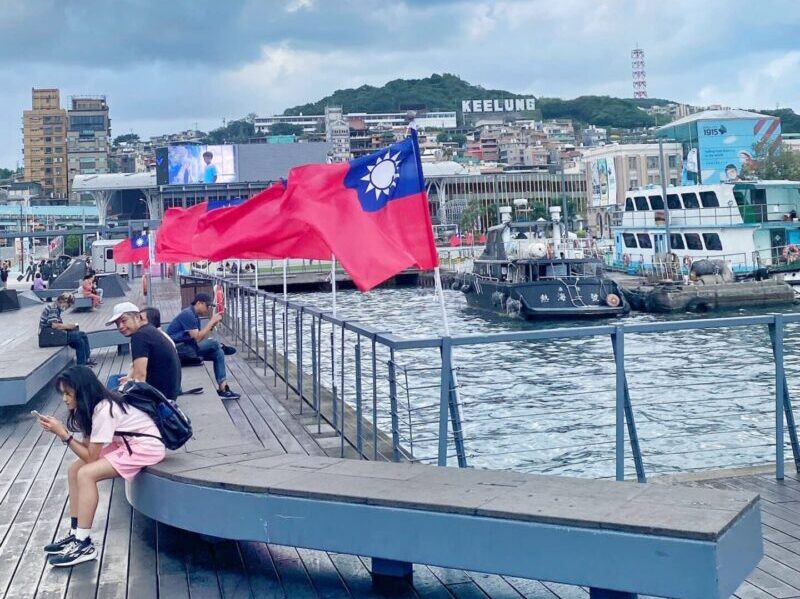 Keelung Maritime Plaza (海洋廣場) is a lovely wooden promenade by Keelung's Harbour. It is a nice place to just sit down with plenty of benches. Grab a drink from the nearby shops and enjoy the view of the Harbour and surrounding hillside. You can also spot the "Keelung" letters from the hillside.
Keelung Maritime Plaza is located on the way from Keelung Station to the Miaokou Night Market. It is so worth stopping by to have some rest and enjoy the view.

How to get to Keelung Maritime Plaza: A short 2 to 3-minute walk from Keelung Station.
Keelung Miaokou Night Market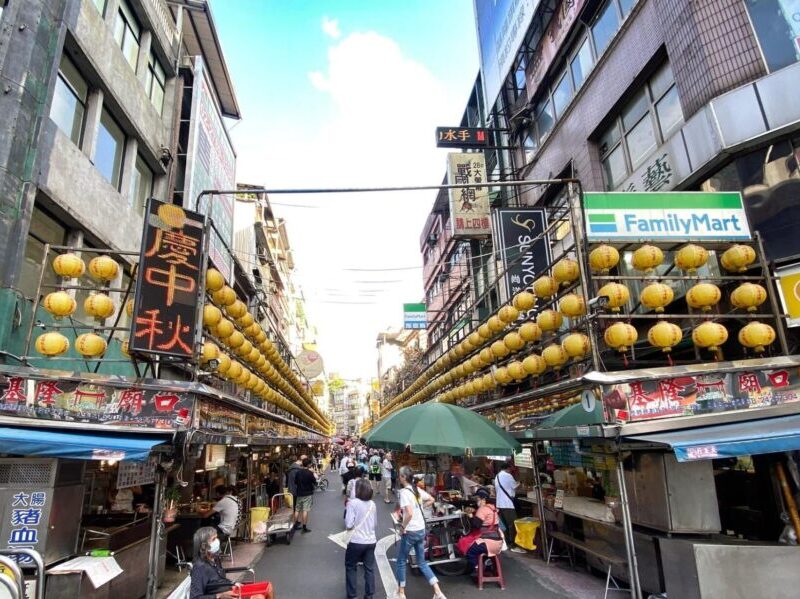 After a busy day of sightseeing Keelung itinerary, lastly, head to the Miaokou Night Market for food!
Also known as Keelung Night Market, the Miaokou Night Market (基隆廟口夜市) is a lovely market street packed full of good and delicious food. It is easy to locate and navigate in the market as the stall number and name are displayed on the metal signage. The market with rows of yellow lanterns along the street, giving it with nostalgic vibe.
What To Eat at Keelung Miaokou Night Market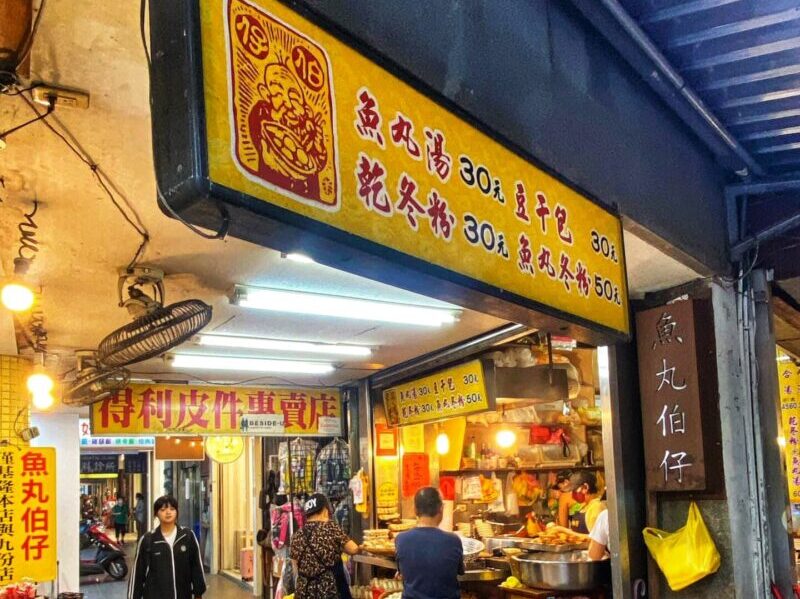 There is an incredible range of stalls covering almost every taste. Some of the stalls are very well known amongst locals and food bloggers. Long queues form at these stalls. We are able to try different foods throughout the market.
Here's a collection of the food we ate in Keelung.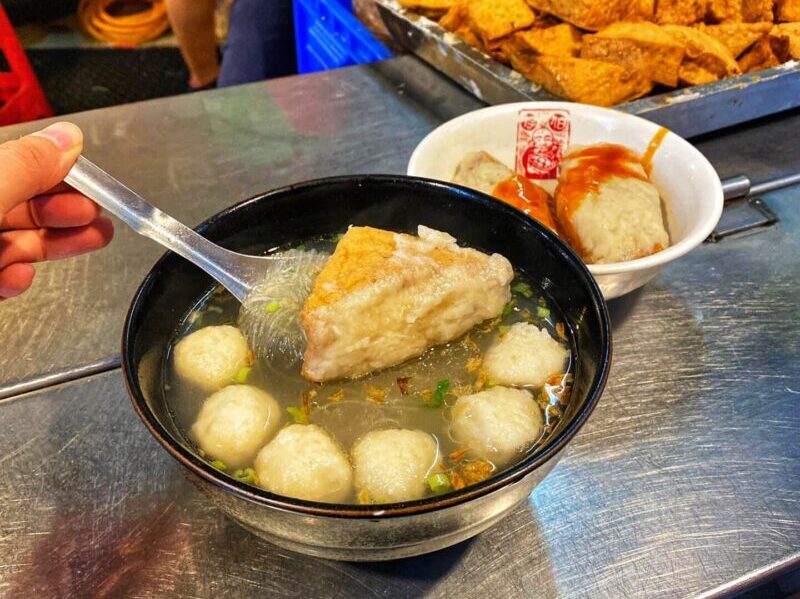 Seafood is fresh in Keelung. A small bowl of fishball noodle soup. This is a pretty classic Taiwanese snack staple but somehow I found it was most delicious in Keelung. Not something to shoot but truly local taste.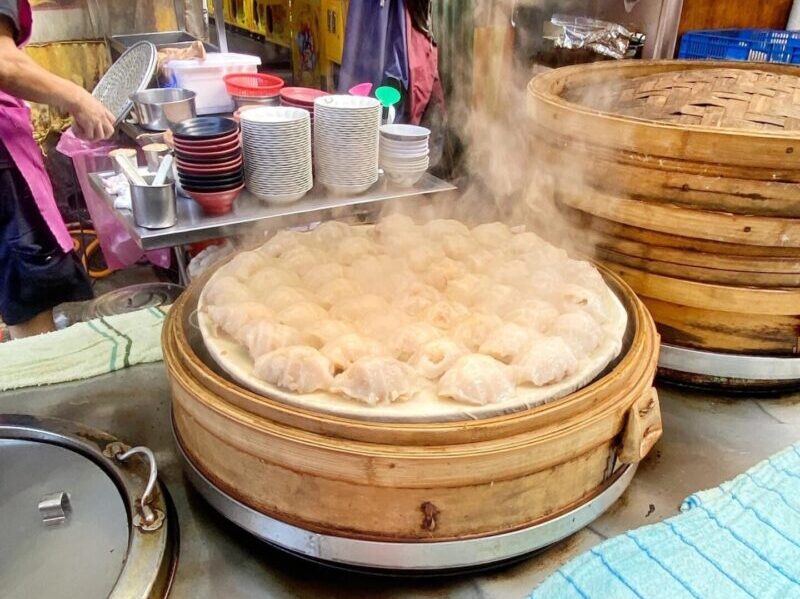 We didn't have any must-eat food in Keelung Night Market and just picked what we liked when strolling along the market street.
Some other popular foods to try in Keelung Night Market include Fish paste tianbula, deep-fried sandwiches, Crab thick soup, barbeque seafood, and many more street food.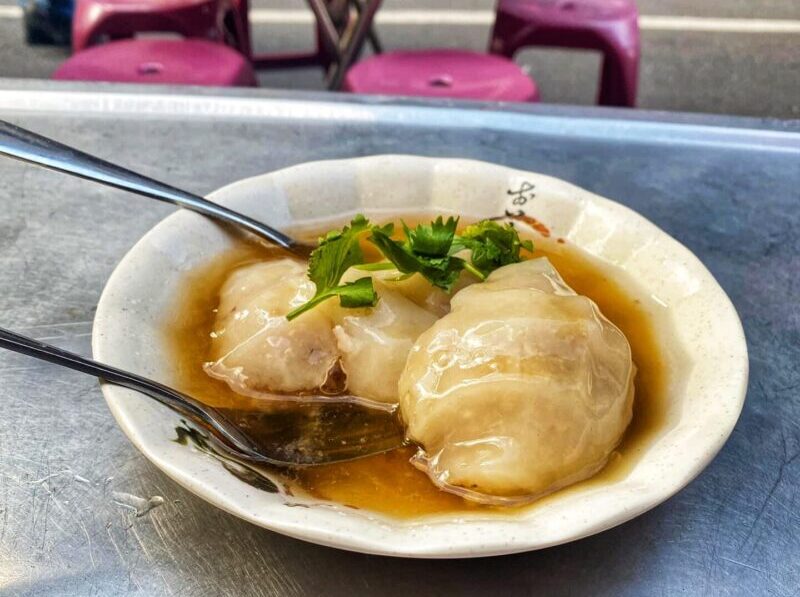 We tried the freshly steam prawn paste dumping which is vey delicious.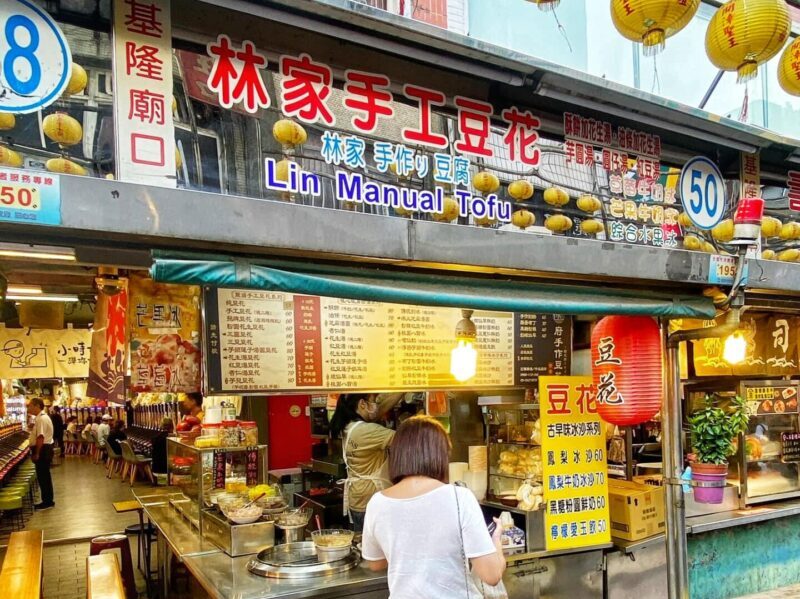 Lastly, lured by the dessert with a bowl of shaved ice (paopao bing 泡泡冰) or tofu. We were completely blown away by a bowl of ice tofu after all the street food. So refreshing!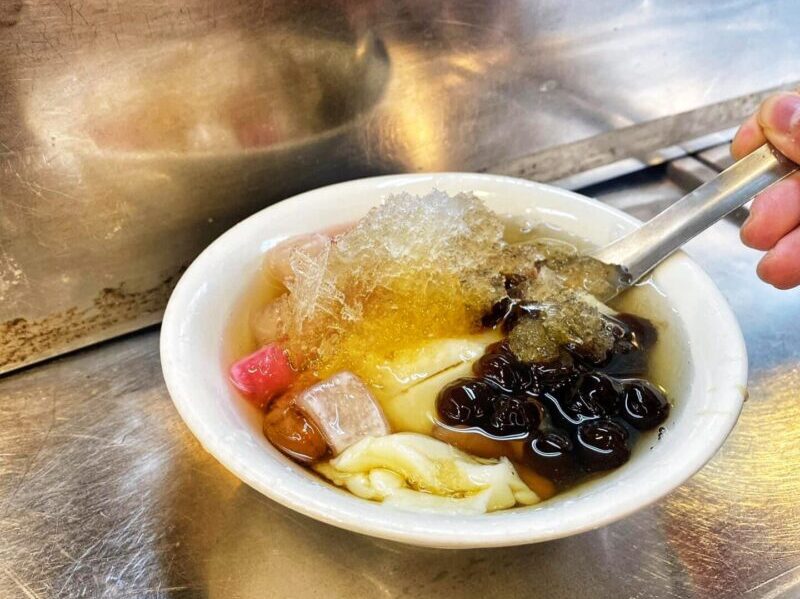 In short, we experienced and tried a variety of food in Miaokou Night Market. It was one of the favorites among all the night markets we visited in Taiwan!
Miaokou Night Market is open from early afternoon until night. It can be crowded at night, so best to come at around 17:00.
How to get there: Miaokou Night Market is a 10 minute walk eastwards from Keelung Train Station.
Dianji Temple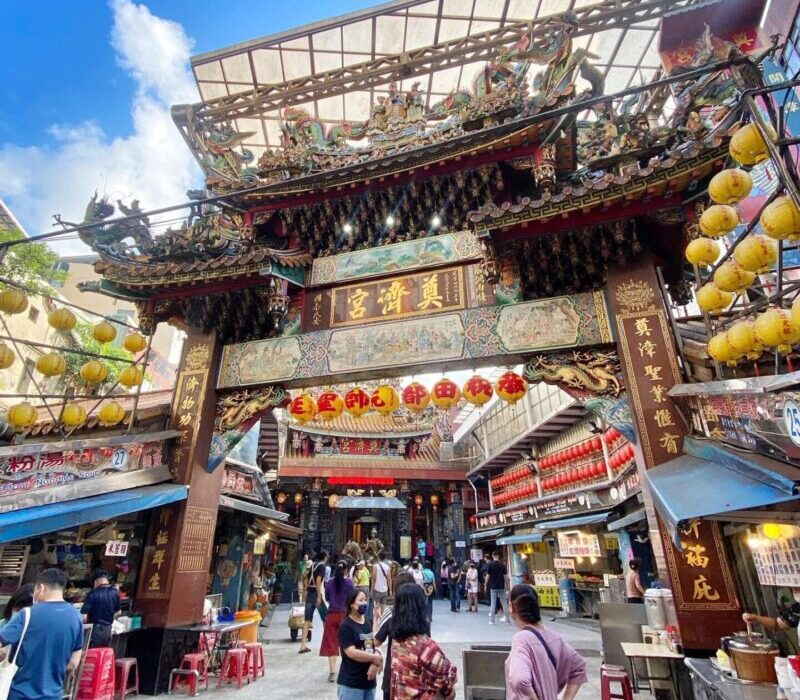 Dianji Temple (奠濟宮) is a small shrine over 100 years old in Keelung. It is one of the remarkable architecture buildings located in the middle of the Miaokou Night Market food street. In fact, "Miaokou" translates to 'Temple entrance' in Chinese. It was first started by the market stalls set up at the entrance of Dianji Temple until more and more stalls along the market street.
The architecture is typical Taiwanese and features lots of intricate carvings and colorful paintings. Locals come to pray and pay their respects in the temple. A quick 5-minute visit to Dianji Temple.
Ren'ai Market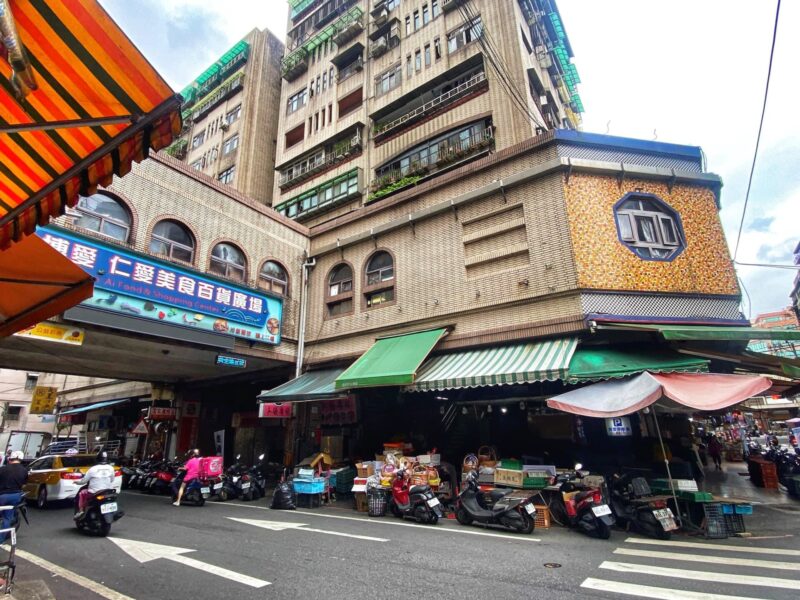 If you are looking for a wet market that sells fresh produce, head to Ren'ai market (仁愛市場). It is not a typical tourist place but if you can come here to look for some local food. There are many food stalls surrounding the market and eateries on the the second floor of the building.
The market is located about a block away from Miaokou Night Market along Aisan Road.
More Time for Keelung Itinerary
As aboved is an easy day trip from Taipei, so we didn't packed too much of attractions in this keelung itinerary. If have more time or days to spend, consider below during your trip to Keelung:
Zhongzheng Park (基隆中正公園) – This huge religious park is home to several beautiful temples and an enormous statue of Guanyin, the Goddess of Mercy.  The 25-metre Goddess of Mercy statue is flanked by grizzly gold companions. You'll also get the best view of the city from here!
Getting there: About 15 minutes walk from the east side of Keelung Station. 
Chaojing Park (潮境公園) – On the east of Badouzi Peninsula, Chaojing Park is a seaside park for a great stroll with family. It was formerly a dumping ground but today has been turned into a cute little coastal park with several interesting art sculptures and rock formations.
Getting there: Take Keelung Bus (#791) or Keelung City Bus (#103) to the National Museum of Marine Science direction. Get off at the Technology (Bishuixiang) stop.
Overall: A Day Trip to Keelung from Taipei
All in all, we hope you get an idea of how to explore the charming city for your Keelung itinerary. It's almost a little surprising how Keelung City offers visitors. We enjoyed our visit to the natural Peace Park, seeing the Zhengbin Fishing Port Colourful Houses, and eating at the Miaokou Night Market. This small and delightful port city is worth planning for an easy day trip from Taipei.
That's it! Thanks for reading my Keelung travel guide blog!
Traveling to Taiwan and looking for travel inspiration? Here is our itinerary to some of the interesting places: