Last updated on December 11th, 2023
If you're planning a trip to Taipei and are wondering what to do there, check out this massive Taipei itinerary with many useful travel tips!
Taipei, the capital of Taiwan is one of my favorite travel destinations in Asia. The city is lively and home to the iconic 101 Tower. At the same time, the city's history is rich and diverse. The people are nice, welcoming, and open-minded. Taipei is also a haven for foodies. You can enjoy delicious local cuisine, and immerse yourself in the vibrant night markets.
With so many things to see, to do, and to experience in Taipei, it is not easy to write a perfect Taipei itinerary. We want to show you how amazing this city and make it to be one of the most memorable trips as much as possible. So let's plan your trip.
If it's your first time visiting Taipei, then I hope this Taipei travel guide blog helps you make the most of your time in the city. Here's the perfect Taipei itinerary to help you plan for your trip!
Pre-Trip Essential
Connectivity: It is important to keep connected. With an internet connection, you can easily find directions, and research on the go to help you plan your Taipei trip. Preorder your 4G SIM card or Wifi and pick it up from Taiyuan airport.
Transportation: Get an EasyCard if you plan to use public transport for traveling in Taipei. Together with the Wifi SIM card, both can be collected from the Ezfly service counter at Terminal 1 or 2 at Taoyuan International Airport.
Intercity Transport: For fuss-free traveling through different cities in Taiwan, the Taiwan High Speed Rail Ticket Pass is essential. The pass included with unlimited use of the THSR on any 2/3/5 days in a week. It is not required if your trip is focused on Taipei and its surroundings. But you can be considered if you are traveling to different cities in Taiwan.
Traveling To Taipei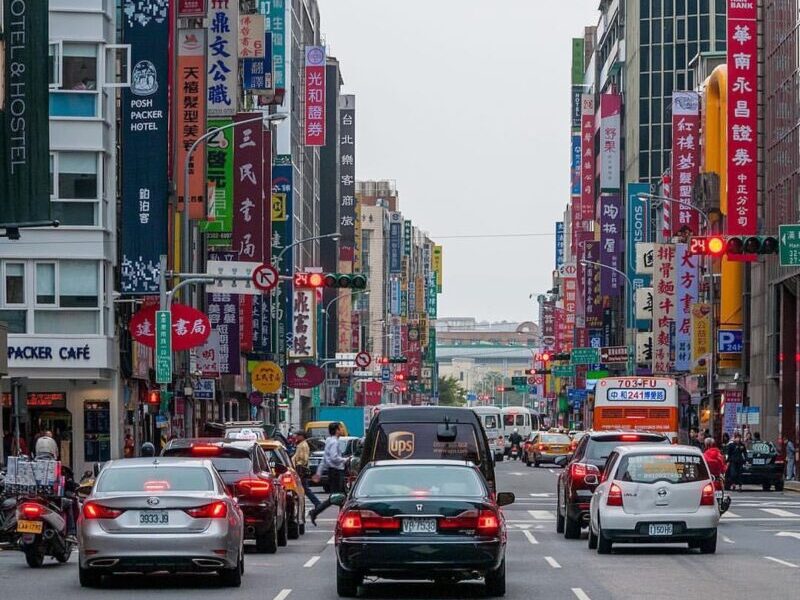 Most travelers arrive in Taiwan by air and its main international gateway is Taoyuan Airport. From Taoyuan Airport to Taipei City is pretty easy. There are several ways to get to your hotel from the airport.
Taking the MRT: From Taoyuan Airport to Taipei City using MRT is superbly easy. From Terminal 1 or 2, once you've exited the immigration area, just take the MRT and the train will take you to Taipei Main Station. From there, you can resume your journey via the Taipei Metro train to the closest station to your destination.
Private / Shared Transfer: This is the most convenient way of getting to your hotel from Taoyuan Airport but it's also one of the most expensive. Klook (Private / Shared Airport Transfer) offers airport transfers from Taoyuan to your hotel in Taipei.
Yellow Taxi is also available and ready to pick up travelers from the airport to Taipei. It'll cost you NT$1,200 to get to your hotel in the downtown area.
Getting Around in Taipei
Getting around Taipei is easy; public transport is inexpensive and reliable.
Taipei Travel Guide Tips: If you plan on using public transport a lot, then an EasyCard is very useful for you. This card will not only save you from the hassle of having to buy single journey tickets every time. And the best is, that you'll get a discount with every ride on the Taipei MRT and Kaohsiung MRT. EasyCard can be used for most public buses as well. Plus, EasyCard works throughout the country, so it is super convenient.
You can purchase and top up an EasyCard from any MRT station. For less hassle, get the EasyCard from Klook and redeem it at the airport.
Best Time To Visit Taipei
The best time to visit Taipei depends on what you want to do and each season have its own beauty. But no matter when you visit, Taipei is sure to impress.
I would recommend visiting Taipei between March to April. The temperatures are relatively mild and perfect for outdoor activities. You can also seeing beautiful blooming flowers when visiting Taipei during this period. Try to avoid the rainiest months from May to September and tyhoon season at August.
How Many Days for Taipei City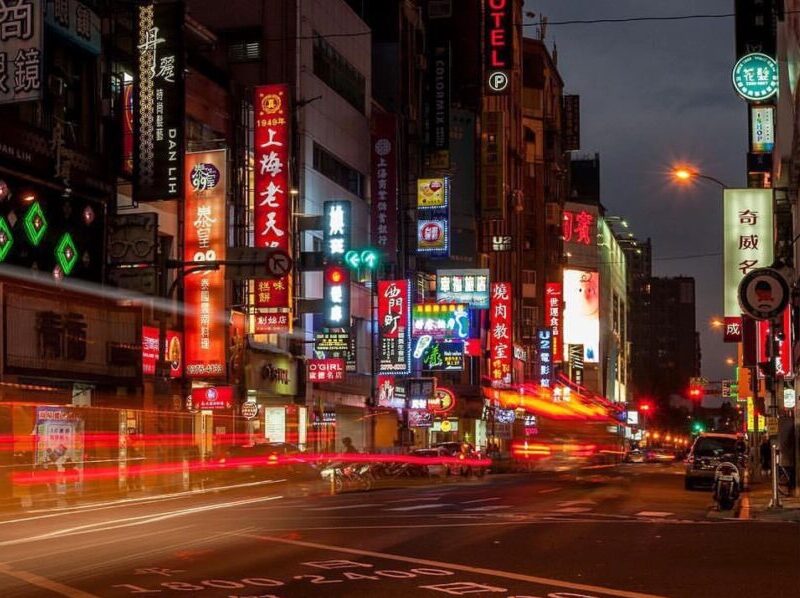 Taipei is such a big city with much to see and do in Taipei so you should easily spend days or even weeks exploring. For first-timers, I'd recommend planning 5 days for your Taipei itinerary.
Spend about 2 to 3 days focusing on the major attractions in the city area. With Taipei as a base, do a side trip to such as Jiufen, Shifen, Yehliu Geological Park, Keelung, Beitou, or more to see some nature attractions.
Where To Stay
The public transport of Taipei is so convenient with well connected by great public transport. This makes choosing where to stay in Taipei is much simpler. However, we still highly suggest you choose the accommodation nearby the station which will greatly help you to save a lot of travelling time.
If you follow my sample Taipei itinerary below, it would be best to stay near the Ximending area. This area is one of the best and most convenient areas to stay in Taipei. Plenty of shops, restaurants, and cafes can be found in the area.
Green World Hotel (Zhonghua) – A popular choice among travelers. The hotel is located at Ximending, with 5-minute walk from Taipei Railway Station.
Just Sleep Ximending – Conveniently located with a short 2-minute walk from MRT Ximen Station and Ximending Shopping Area.
Hotel Midtown Richardson – A simple and sleek room located right next to MRT Ximen Station.
For more Taipei accommodation, read on: Where To Stay in Taipei – Our Favourite Areas and Hotels
How To Plan Taipei Itinerary
Planning on visiting Taipei for the first time? There are so many things to do in Taipei that it is hard to decide where to begin. There's a ton to do here whether it's admiring temples, playing through hiking trails, or stuffing yourself at night markets.
Here is our suggestion of what to do on your Taipei itinerary to help you plan your trip. 
Taipei 101 and Observatory Deck
Bangka Longshan Temple and nearby historical temples
Bopiliao Ancient Street
Strong at Ximending in the late afternoon or nighttime
Shinlin Night Market
Raohe Night Market
Chiang Kai-shek Memorial Hall
Tamsui Old Street and Fisherman's Wharf
Day trips from Taipei (Beitou, YangMinshan, Yehliu Geological Park, Shifen, Jiufen, and more)
The above suggestion of places to visit can easily fill up your 3 to 5 days of Taipei itinerary. Throughout this Taipei itinerary, you'll also get handy tips to help you experience the best of Taipei. Feel free to adjust based on your interest.
Taipei 101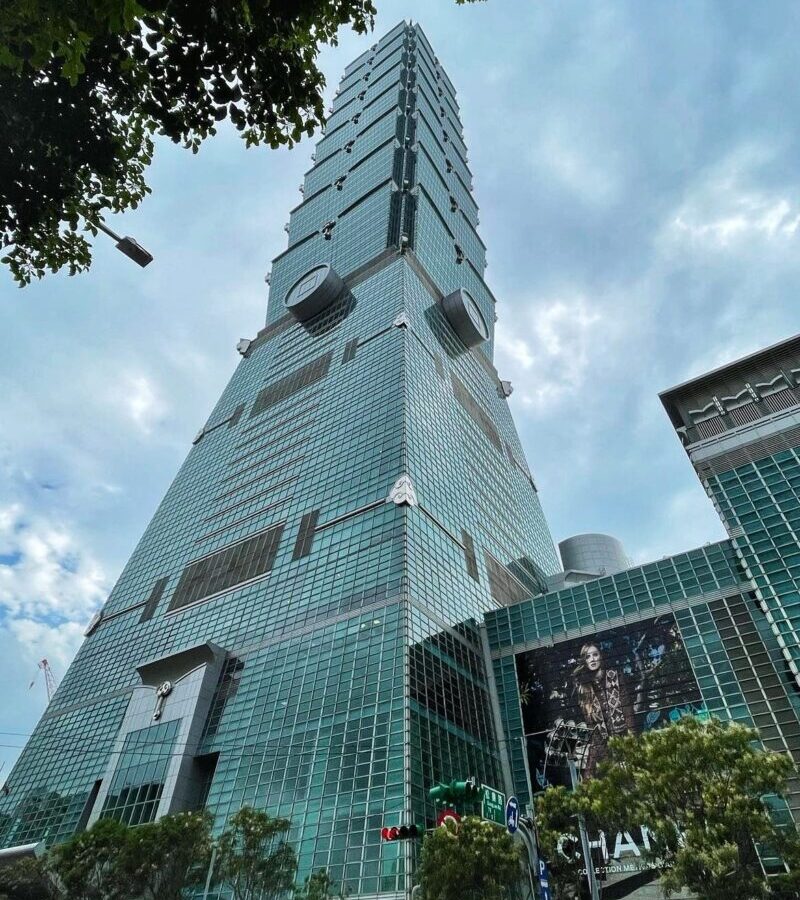 For first-time visitors, don't forget to visit the city's most iconic attraction – Taipei 101 on your Taipei itinerary.
Taipei 101, as the name suggests, is a magnificent building that stands on 101 floors. Built in 2004, the building resembles a giant bamboo stalk. It was once the world's tallest building until Burj Khalifa in Dubai took the throne five years later.
Still, Taipei 101 is the tallest skyscraper in Taiwan. It's hard to miss and can be seen from anywhere in Taipei.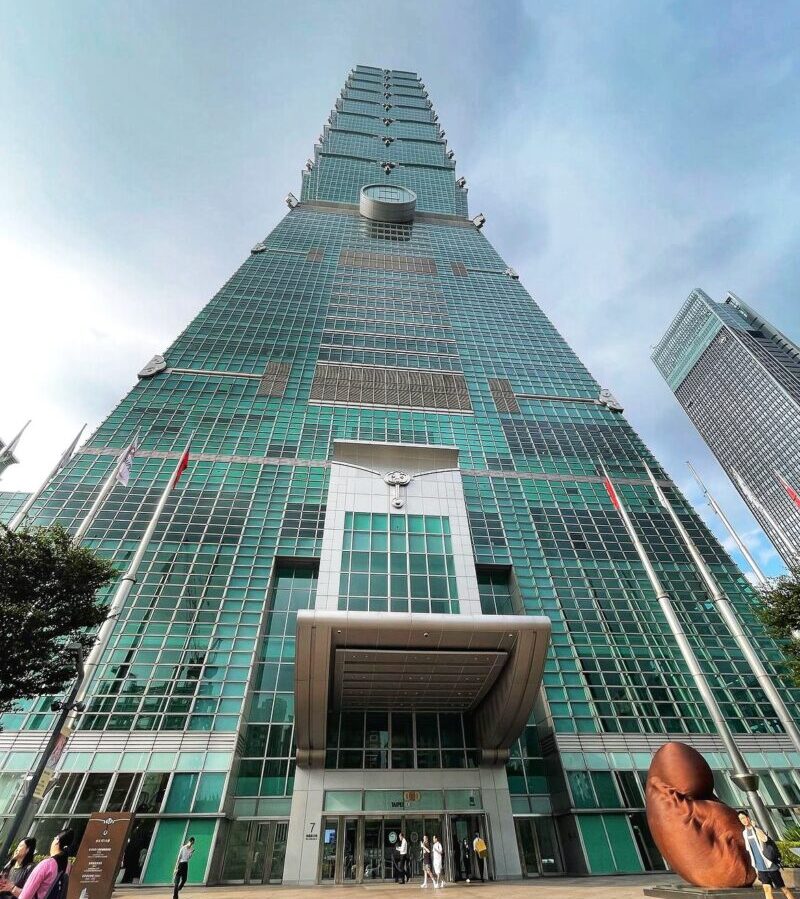 The lower levels of Taipei 101 have a variety of retail stores, including high-end designer outlets. It has mostly everything from luxury to street brands. A few restaurants, cafes, and a busy food court are also available if you want to grab some food here.
You can also go up to take a picture-perfect view of the Taipei skyline. It has a high-speed elevator going to the observation deck. But if you want to go to the observation deck, there is a fee. It is worth buying the ticket online from Klook in advance and booking the fast lane because the crowd is usually very large. Tickets normally cost NTD 600 but you can get the discounted ticket from Klook.
Follow the link to purchase Taipei 101 Observatory tickets through Klook.
Taipei 101 and Observatory Deck
Admission: NTD 600 for adults to access the Taipei 101 Observatory
Suggested Length of Visit: 1-2 hrs
Bangka Longshan Temple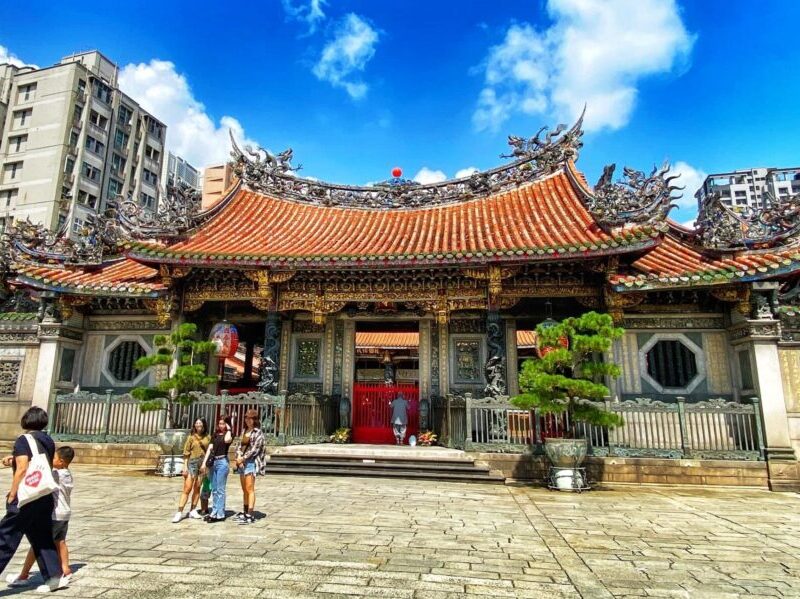 Bangka Longshan Temple(艋舺龍山寺) is one of the famous temples in Taipei. It was established in 1738 and dedicated to the Buddhist Goddess of Mercy (Kuan-in). With years of development and rebuilding, Longshan Temple now worships gods of three Chinese religions: Buddhist, Taoist, and Confucianism. The variety of deities shows the tolerant mentality of the Chinese people in their religious life.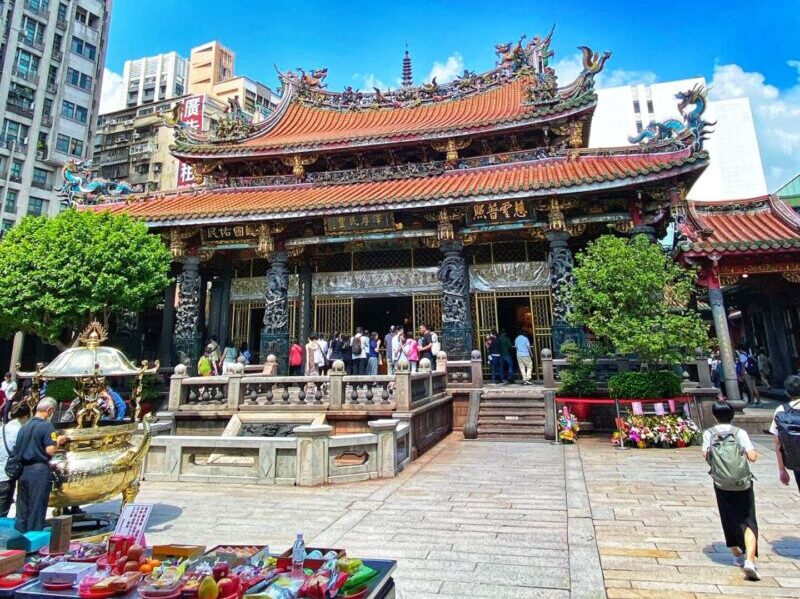 The temple is pretty busy and filled with many worshipers, flower arrangements, and offerings. Many locals come here for worshipers praying, seeking guidance, and blessing. Religious services are also being conducted by monks.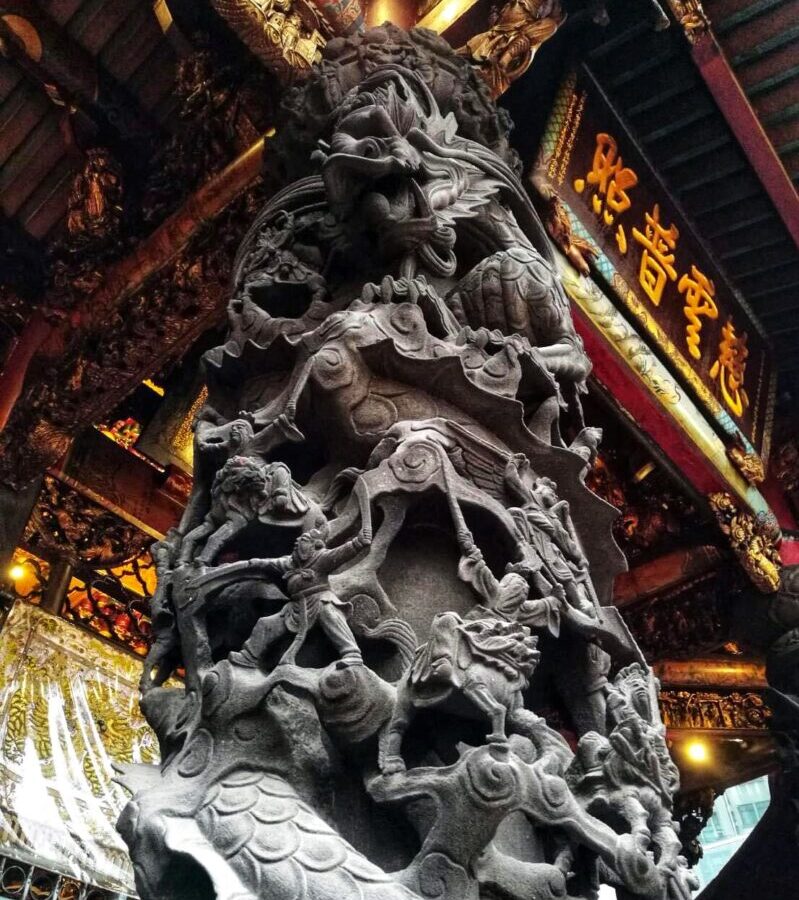 The design and intricate details of the temple were stunning. There are multiple Buddhist statues that you can walk around and appreciate. Worth stopping by if you are in the area.
Longshan Temple is located right next to Longshan MRT station and not too far from Taipei's main station. Entrance is free for Longshan Temple. But please remember to dress appropriately and be cautious not to disturb locals who worship inside.
Bopiliao Ancient Street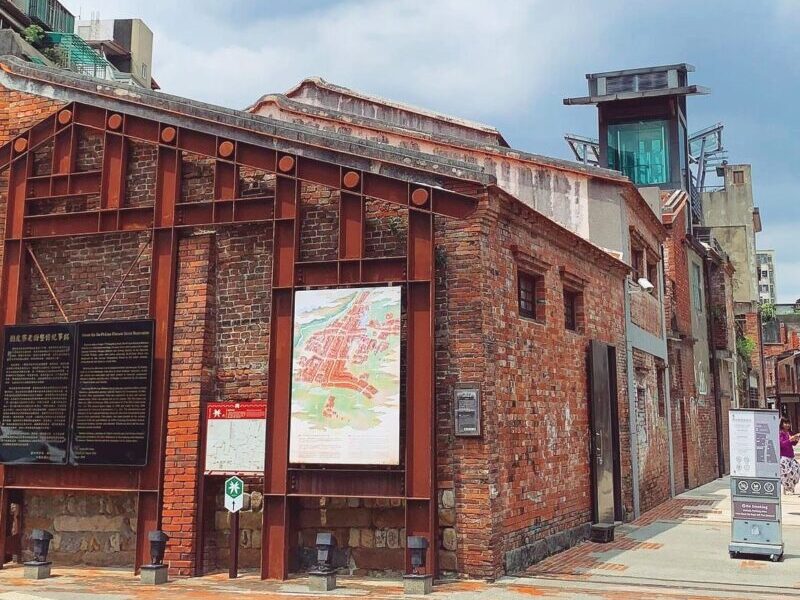 While you're in Longshan, you can also walk to the Bopiliao Ancient Street nearby.
Bopiliao Ancient Street (剝皮寮老街) is a preserved area with beautifully restored buildings from the Qing dynasty that survived the Japanese occupation. Many of the buildings date from the Japanese colonial period (1895-1945), so visitors can appreciate this artifact of Taiwan's history.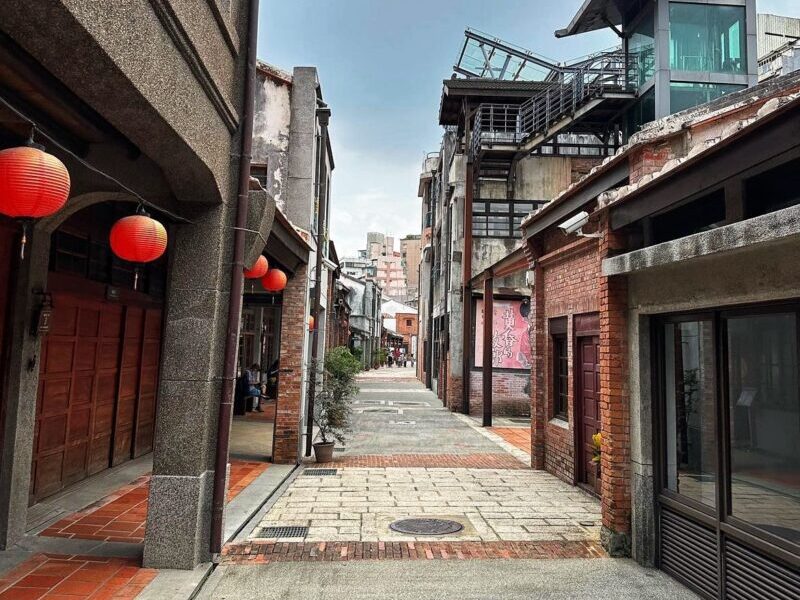 Bopiliao is also reserved as an art and cultural place to visit now. It's worthwhile spending some time exploring the Bopiliao Old Block.
Bangka Qingshan Temple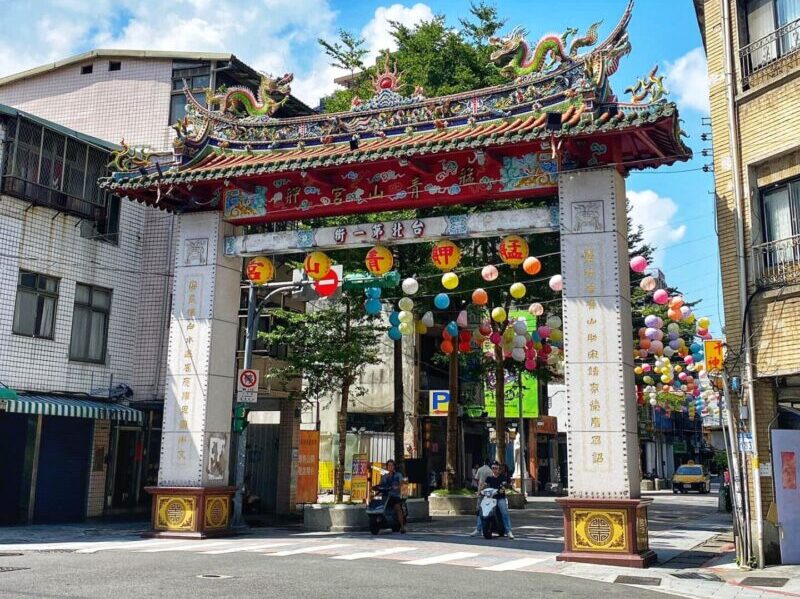 The Bangka area of Taipei is rich in temples and Bangka Qingshan Temple is one of the interesting sites. It is located near to the famous Lungshan Temple but it is not as well known. The temple is small but it has many interesting features.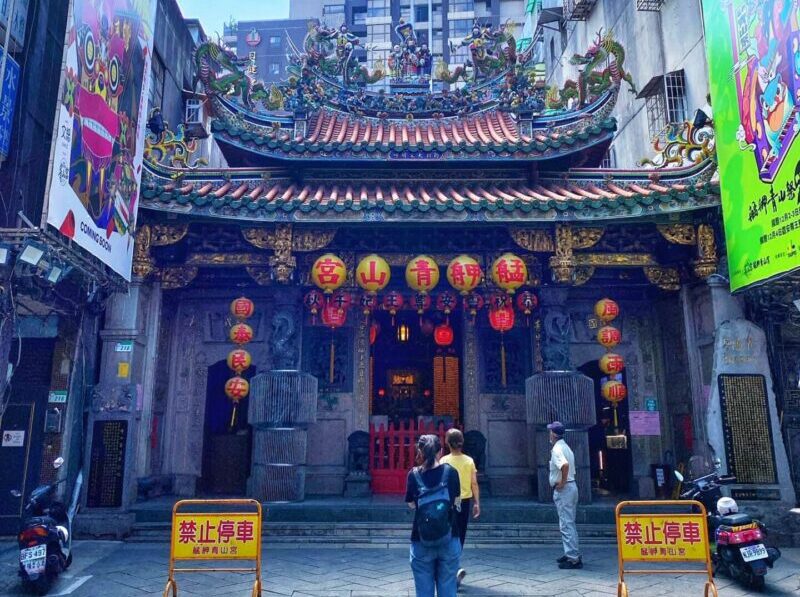 Local people passing along the street, stop and bow and make a quick prayer at Bangka Qingshan Temple. Worth a visit if you are in the area.
Tianhou Temple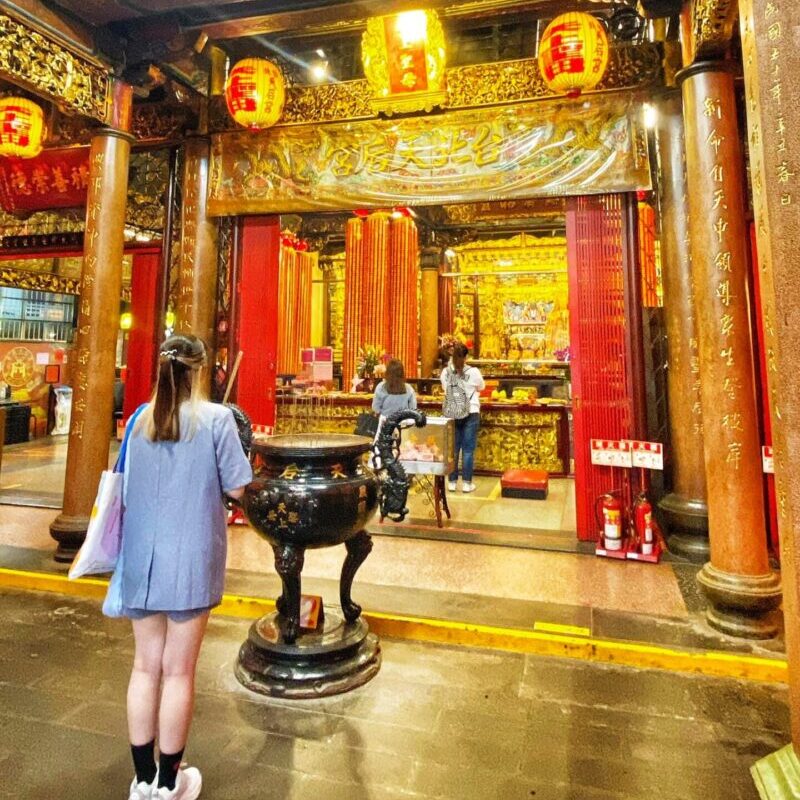 Tucked away on the busy streets of Ximending, Tianhou Temple is a beautiful spot to slip into your Taipei itinerary. The temple was built in 1746 and is a temple dedicated to the Sea Goddess, Mazu. The Tian Hou is also known as Ximending Mazu Temple.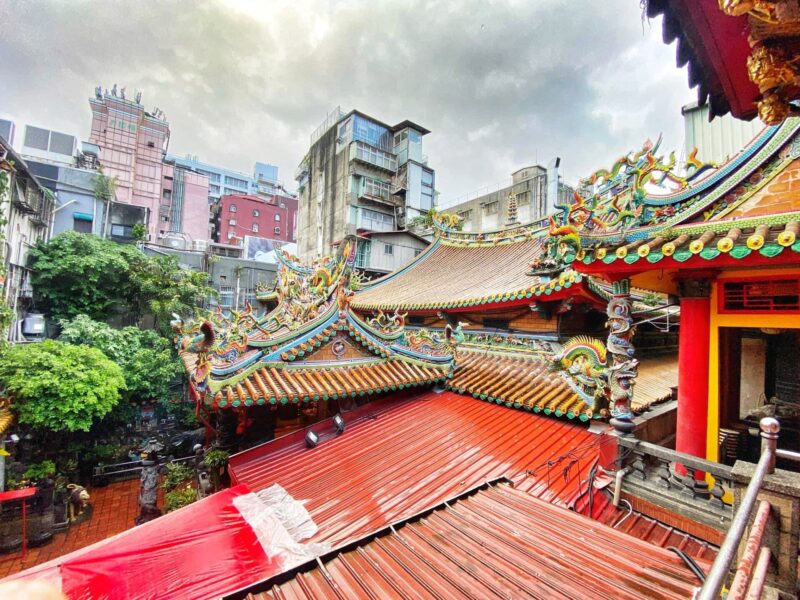 The temple is a small simple building but compact. It's very atmospheric and peaceful. You can also climb upstair to have a great view of the area. A quick visit to the Temple is recommended to understand the culture and beliefs.
Stroll around Ximending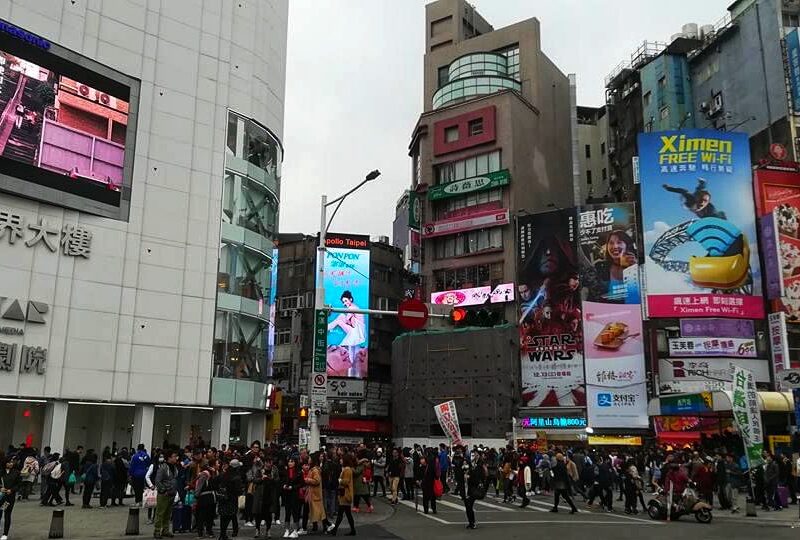 Located in the Eastern part of Taipei, Ximending (西門町) is a popular and lively destination that showcases the vibrant atmosphere of Taiwanese street culture. The area is filled with trendy shops, boutiques, restaurants, and cafes, making it a haven for food lovers, shoppers, and entertainment enthusiasts. It is regarded as a center for youth fashion and culture in the city.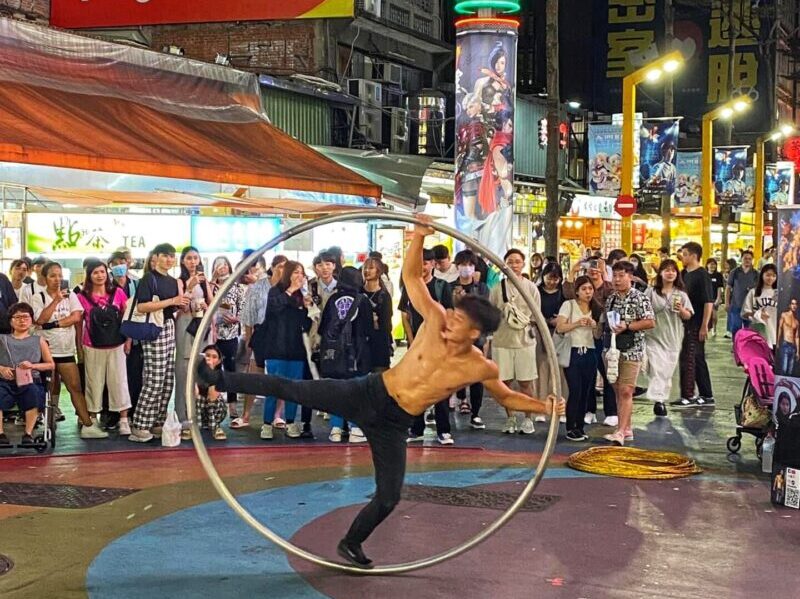 Ximending is always buzzing with activity day and night. But it starts warming up in the afternoon so we recommended coming to Ximending in late evening to see the market in full swing.
The market also showcases local talent with street performers, artists, and musicians adding to the vibrant ambiance. It's fun to visit so that you can people-watch or see the street performers.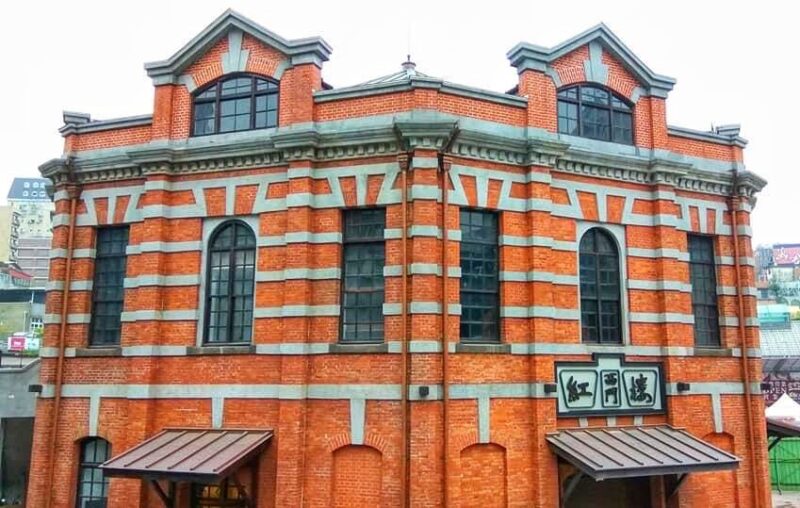 The Red House Taipei (西門紅樓) is a Ximending landmark. It is a historical brick building built by a Japanese architect in 1908. The building now houses a coffee shop, and creative handicrafts in an extended building. There is a theatre on the upper levels for performances.
Come visit Ximeding for an unforgettable night and immerse yourself in Taiwanese culture.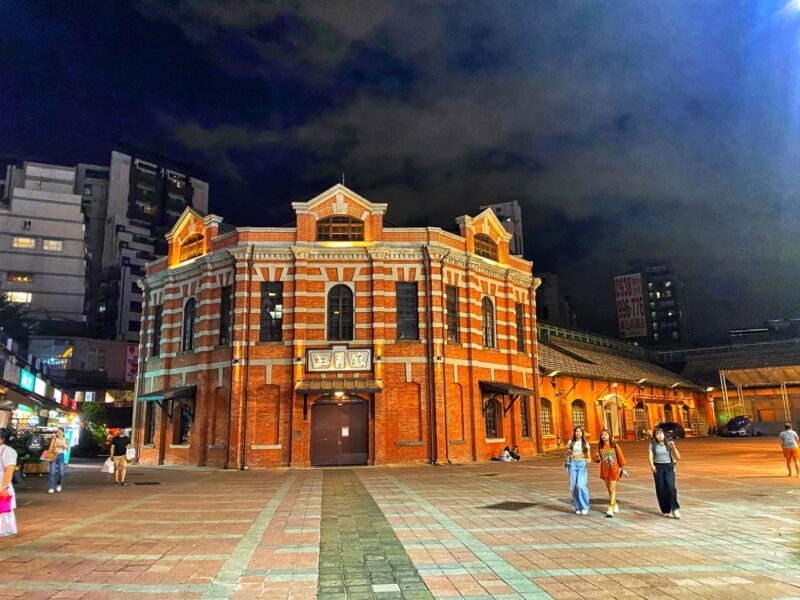 Ximending is full of delicious food and you can try many Taiwanese local dishes here.
One definitely has to go to when you come to Taipei is Ay Chung Flour Rice Noodle, better known as Ah Zong Mian Xian (阿宗面线). It is the most popular and must-eat street food in Ximending. A bowl of intestines mee sua, topped with a spoonful of spicy chili sauce. Cheap and delicious.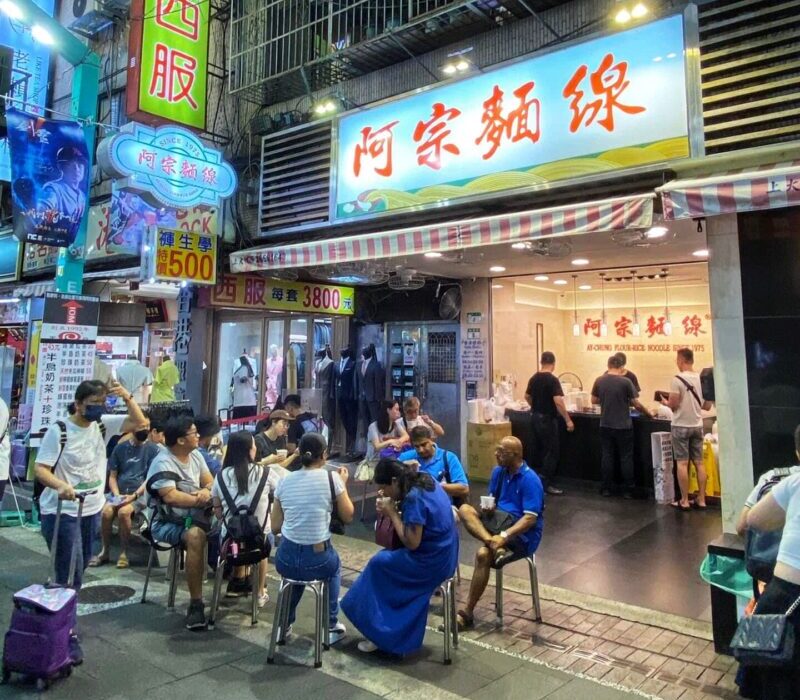 There are many local food you can only find in Ximending. Check out our Taipei Food Guide.
Getting there: Ximending is easily accessible by the Taipei MRT. Take the blue or green metro line to Ximen station, and take Exit 1 or 6 to the center of area.
Eat at Taipei Night Market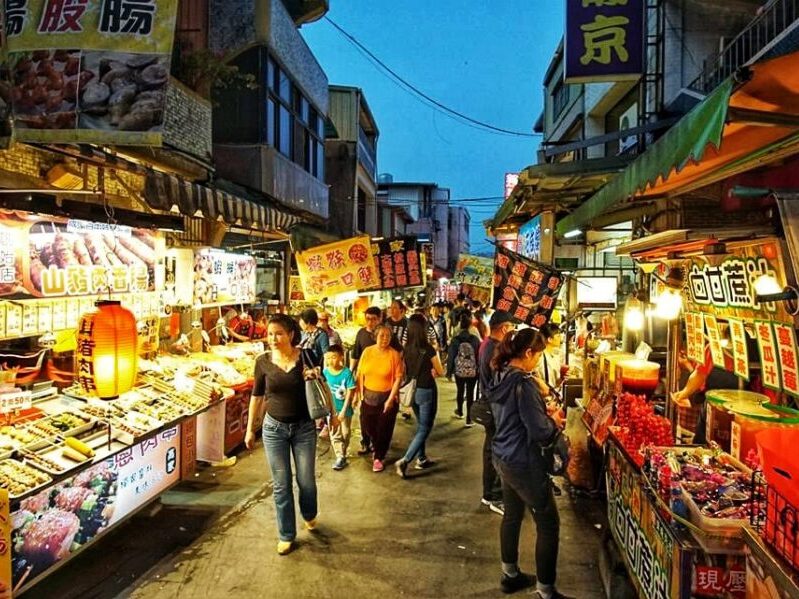 It's probably no exaggeration that one of the main draws of visiting Taipei is the vibrant night market scene. Taipei is a great place to experience it and make sure to allocate some time for the night market to your Taiwan itinerary. You can't go to Taiwan without eating your way through at least one.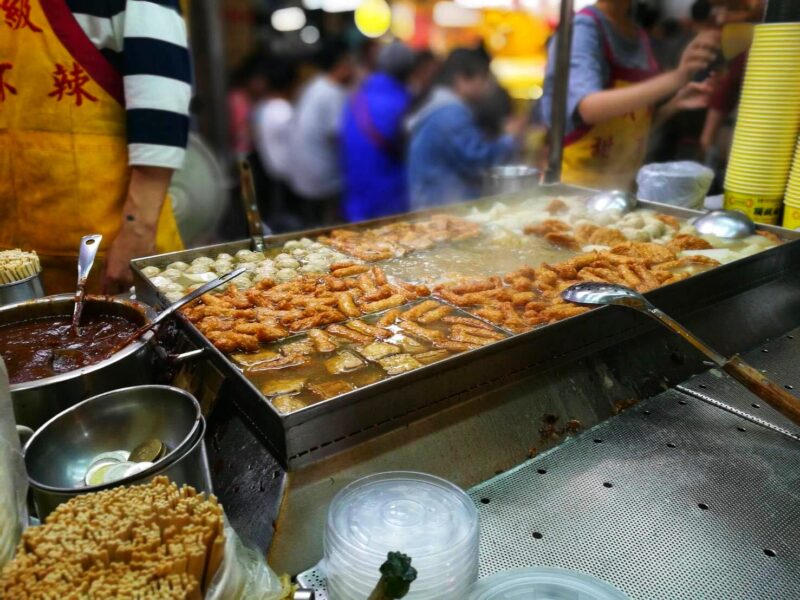 There are a wide variety of local Taiwanese delicacies that you can try out at very affordable prices. Some popular foods to try out on your Taiwan food trip include Taiwanese giant fried chicken, oyster omelets, stinky tofu, pepper buns, pork sausages, torched beef cubes, bubble tea, and a whole lot more. Be ready for the sounds, smells, and crowds, and also a full load of food!
There are several night markets you can visit in Taipei. Listed down some of the popular night markets in Taipei and travel information to help you plan on your Taipei itinerary.
Shilin Night Market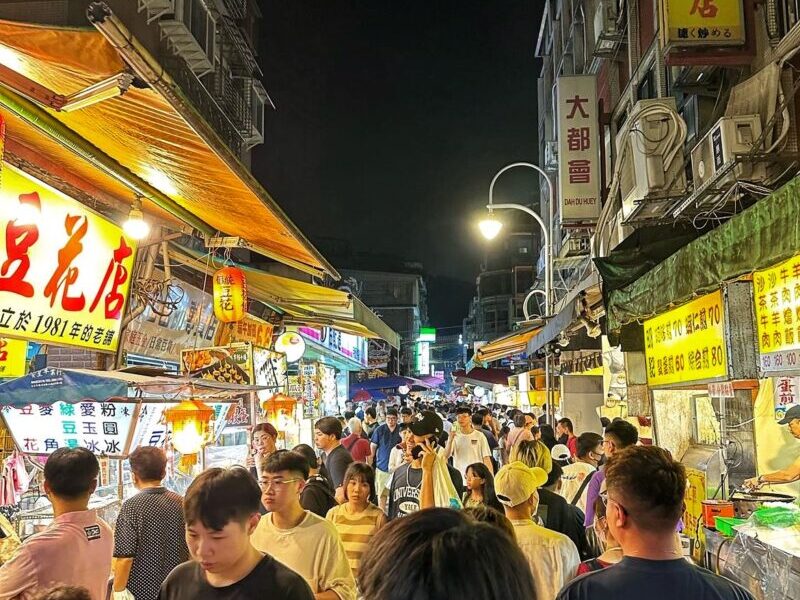 Shilin Night Market is apparently the biggest and most famous night market in Taipei. The market is huge and you can get lost there easily. Shilin Night Market sells all sorts of things, from trinkets to fashionable clothing at bargain prices. There is also a great variety of street food from authenticity to fusion and tradition to modern. A paradise for shoppers and foodies.
Nearest MRT Station: JianTan Station (Red Line)
Raohe Street Night Market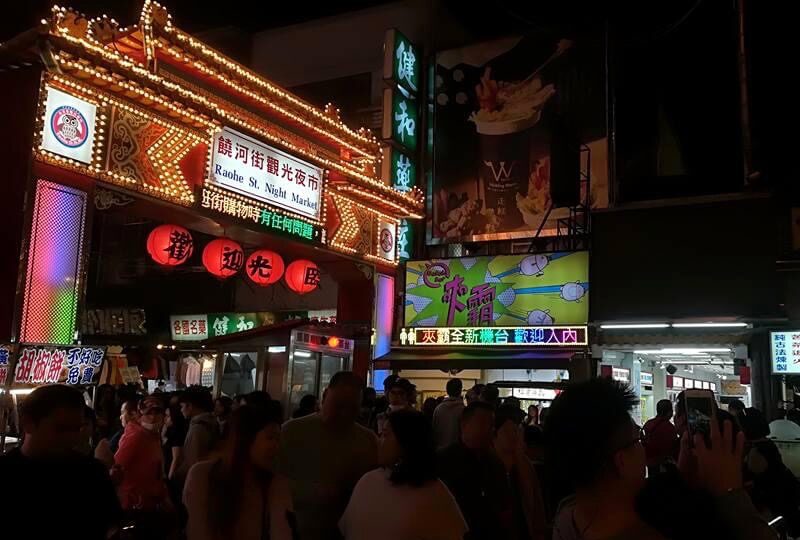 Raohe Street Night Market (饒河街觀光夜市) is an authentic Taipei night market and is best known for its traditional food. It is less crowded and frequented mostly by locals. The street is smaller compared to Shilin but still has great selections to suit every person's taste.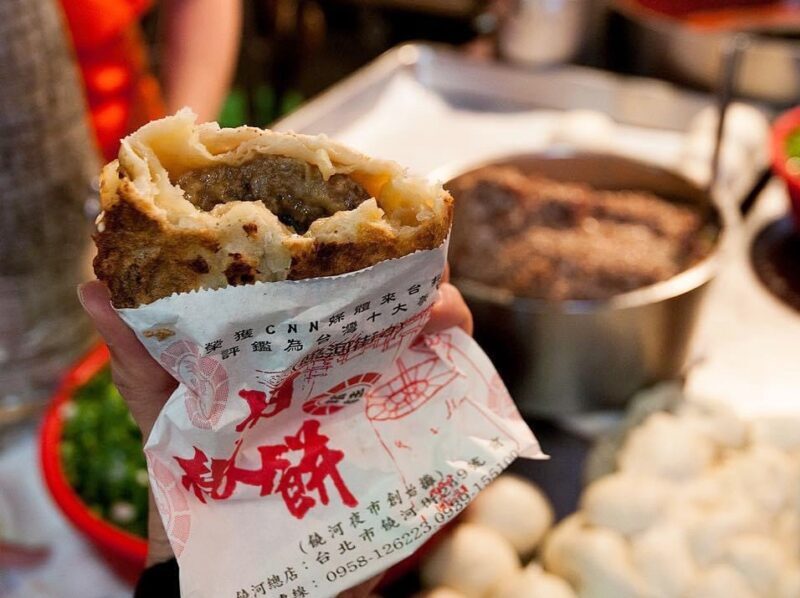 There are a variety of food to feast your eyes on. The black pepper pork buns are famous and a must-try when you are visiting Roahe Street Market.
Nearest MRT Station: Songshan Metro Station (Green Line).
Chiang Kai-Shek Memorial Hall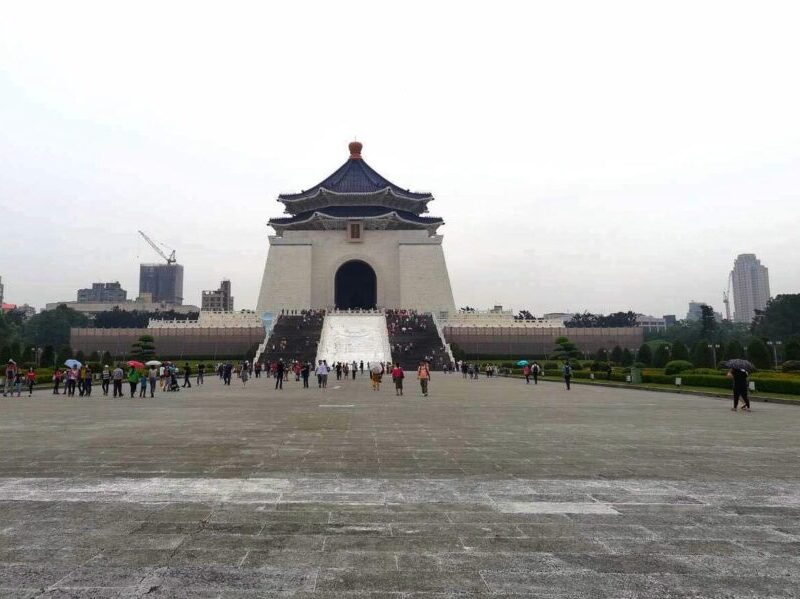 Chiang Kai-Shek Memorial Hall is another must-visit for first-timers to Taipei. It is a landmark of Taiwan erected in memory of former ROC president, Chiang Kai-shek. The monument, surrounded by a park, stands at the east end of Memorial Hall Square.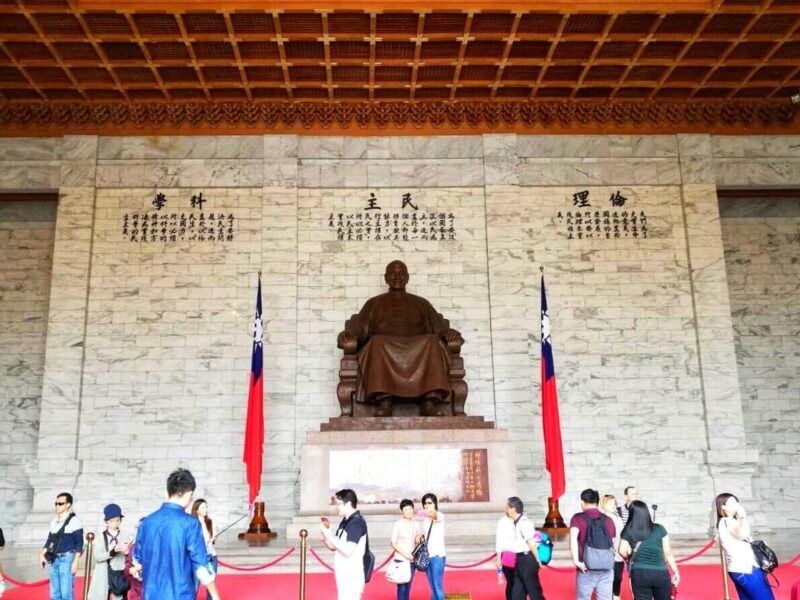 See the enormous statue of Chang Kai Shek in the main hall. An inspires awe!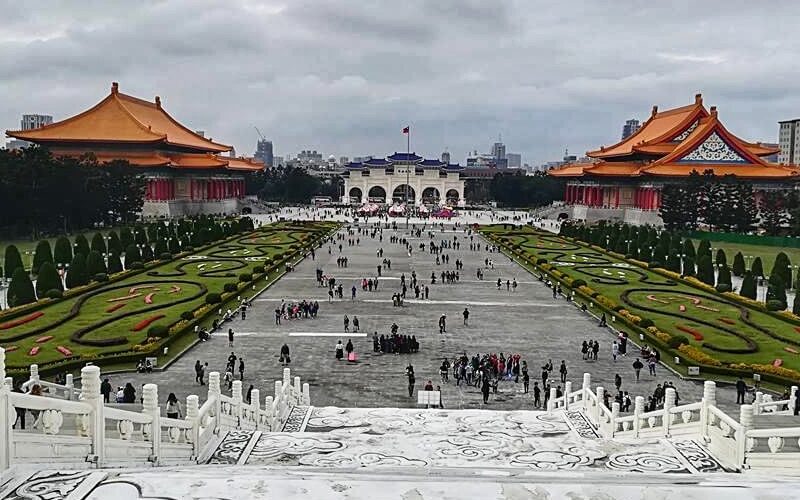 From the memorial hall, there are two buildings, one is the National Theater and the other one is the National Concert Hall. Spend some walk around the grounds and the museum. You can see the guard changing ceremony on the hour from 10:00 until 16:00.
Admission is free.
Suggested Length of Visit: 1 to 2 hours
Getting there: Take Metro red metro line (Tamsui-Xynyi Line) and get off at Chang Kai Shek Memorial Hall.
Tamsui Old Street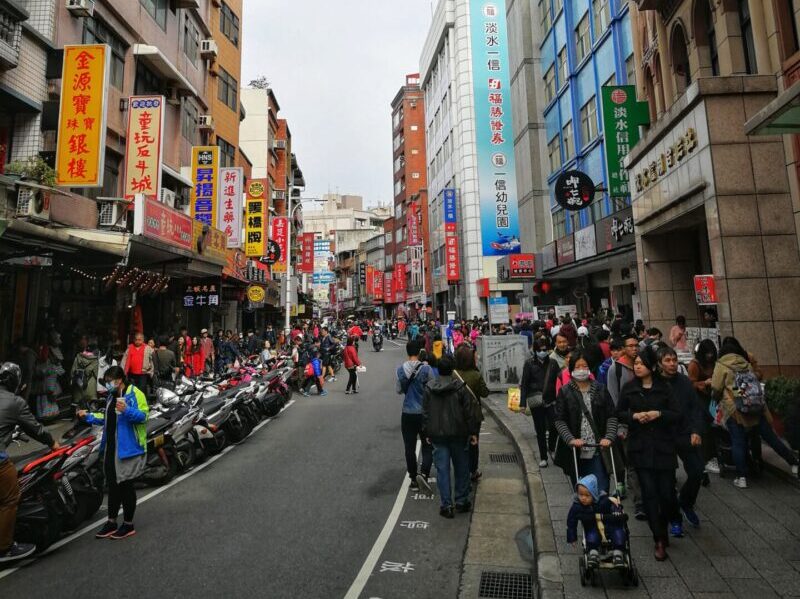 Tamsui, also often spelled Danshui is a seaside district in New Taipei City. It is one of my favorite places to visit in my Taipei itinerary. Take the MRT's Red Line all the way to the last station to Tamsui Station. It's about 30 minutes ride on the MTR from downtown Taipei and you get to enjoy some sceneries along the way.
The Tamsui old street offers a glimpse into how locals love every day. Take a walk in the nostalgic street with local shops stretched along the road.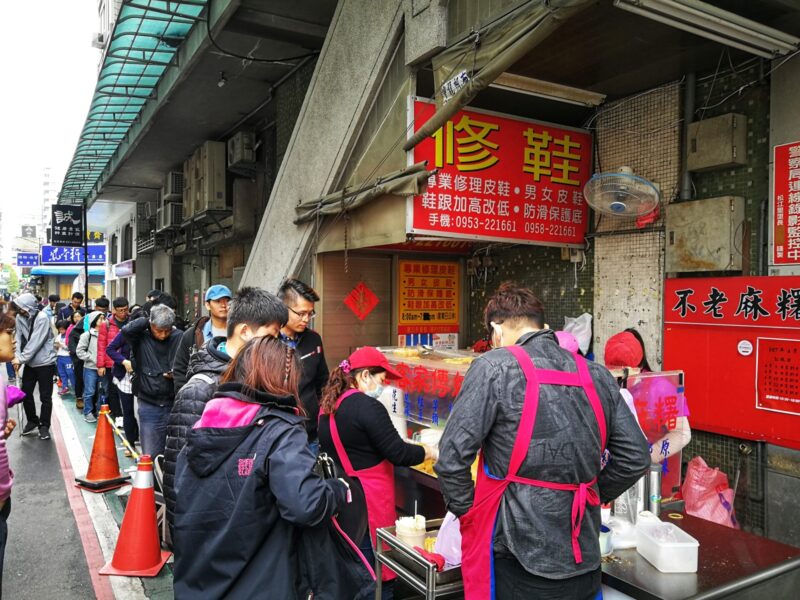 There are many food stalls with delicious local food that this place has to offer. You will definitely be able to find some authentic and delicious Taiwanese food. Don't forget to try out the famous local unique dishes like ah-gei and ironed eggs.
There are also many souvenir stores where you can bag home some lovely keychains or postcards.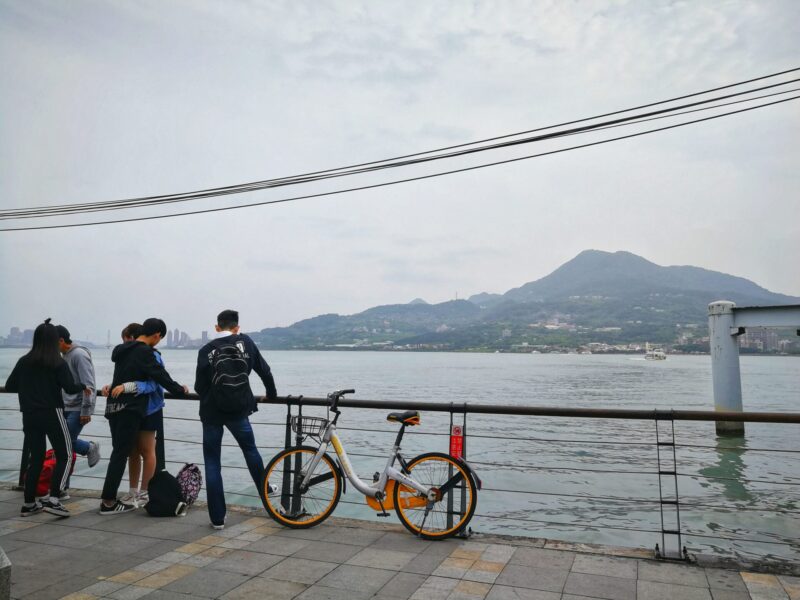 Once done with the street walk, continue walking toward the riverside and enjoy the cool breeze and sunset.
In short, we highly recommend paying a visit to Tamsui. I personally spend about half a day strolling the Tamsui old street and river shore.
Estimated Time: At least half a day
Tamshui Fisherman's Wharf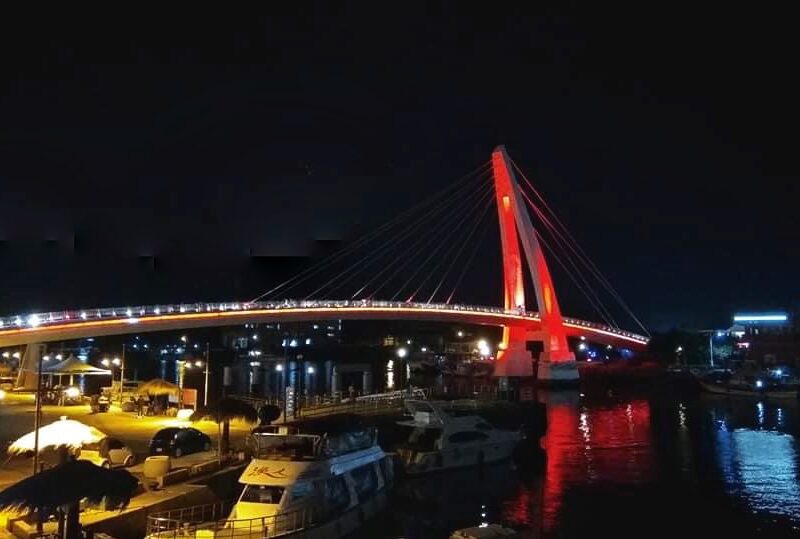 Tamsui is close to Fisherman's Wharf where you can couple your trip together. From Tamsui Old Street, you can take the ferry or bus to Tamsui Fisherman's Wharf. It's a beautiful area for scenic views, especially during sunset. There's nothing much to do in Tamsui Fisherman's Wharf. But what I loved here was the relaxation, the view of the sunset, and the people watching.
The Lover's Bridge is a must-visit and highly popular with young visitors and tourists. The night lights from the bridge make this a really stunning place to capture vacation memories in photographs.
Day Trip from Taipei
There is also some of the one-day trip nearby Taipei waiting for you to explore. You can plan for quick day trips or short 2-day trips from Taipei City. We recommend visiting Jiufen, Shifen, Yehliu Geopark if this is your first time in Taiwan.
Taiwan has a robust public bus and train system, so getting from one attraction to another is relatively easy. It's the most budget-friendly and best for solo travelers. For group travelers, you can opt for the Day tour to Jiufen, Shifen, and Yehliu instead of riding public transport. Less hassle and saves time lining up for trains and buses!
Shifen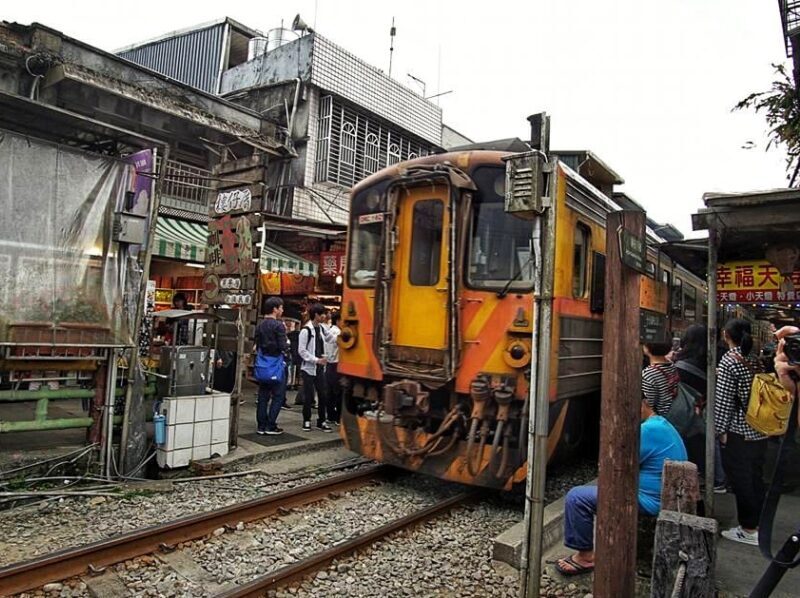 Located just outside of Taipei City, Jiufen and Shifen are popular day trips from Taipei. Many visitors come to visit Jiufen and Shifen for its extremely scenic views and great food.
Shifen Old Street (十分老街) is a quaint old town with a scenic view.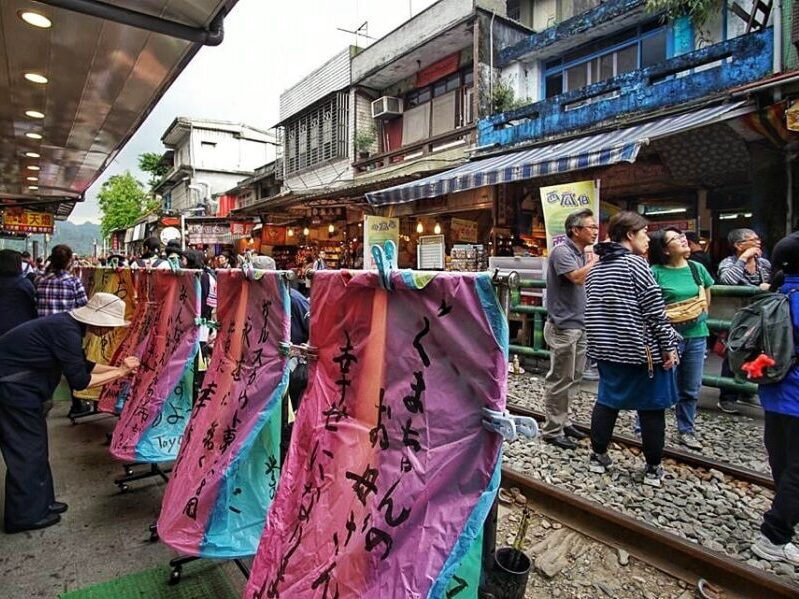 When visiting Shifen, you can release Sky Lanterns with well wishes on the old railway track. The railway track with two rows of shops is still in service, making it an interesting sight when the trains approach.
How to get there: Take a rail train from Taipei Main Station (台北車站) to Ruifang Station (瑞芳站). From there, transfer to the Pingxi Small Railway (平溪支線) to Shifen Station (十分站).
Jiufen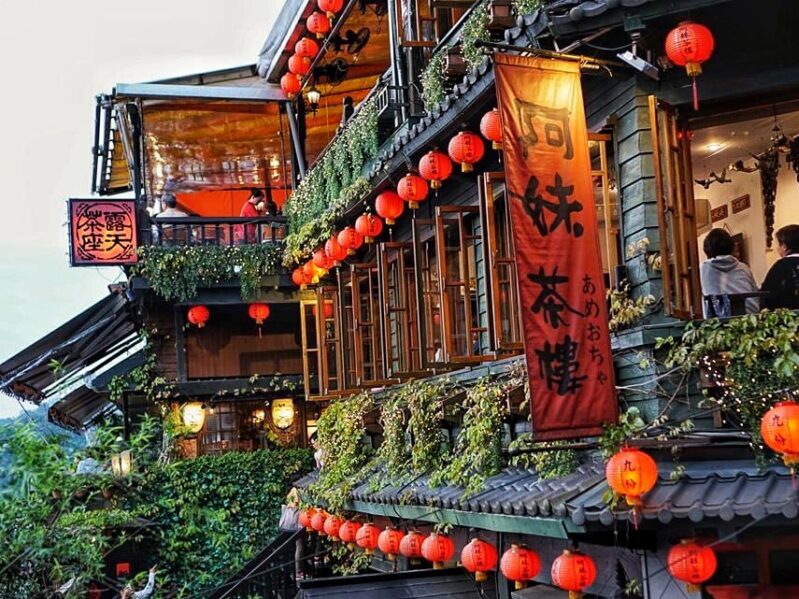 Jiufen (九份) is a laid-back mountainous town and well-known for its scenery. This formal gold-mining town is said inspired the setting for Hayao Miyazaki's award-winning movie Spirited Away. Besides, Jiufen is also a food paradise filled with endless local dishes. Many locals and visitors alike come to Jiufen to feast on Taiwanese snacks and food.
How to get there: Back to Ruifang Station from Shifen, and then transfer to bus #788, #827, or #1062 to Jiufen Old Street.
Taipei Travel Tips: It can take a while to get there with public transport. Alternatively, take a private city transfer or day tour to Jiufen instead if you are looking for convenience.
Yehliu Geological Park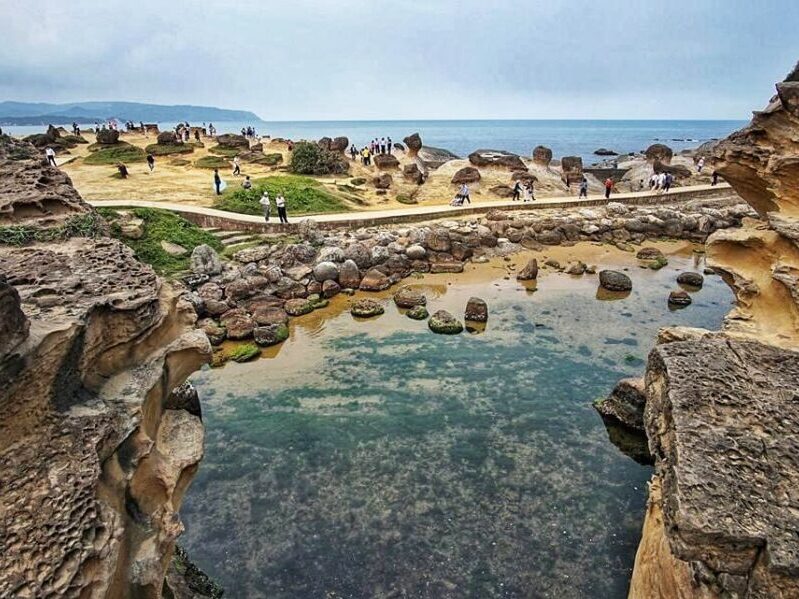 Yehliu Geological Park is a protected area that's home to these unusual, alien-like rock formations called hoodoo stones. Walk through the national park and be impressed by all the quirky and unique rock formations scattered all over the place. Everything is formed by mother nature!
Final Taipei Travel Tips
We have been visiting Taipei many times throughout the years. Here are some tips that would make your Taipei itinerary easier and able to save some money:
Plan in Advanced – The accommodations in Taipei can be expensive. But you can save some if you are able to reserve it in advance for a cheaper option.
Plan your Taipei itinerary transport: Taipei city is easily navigated and you can use public transport to get around. The outskirt area also can be reached with a combination of buses and trains. But it can be tiring and take up a lot of transit time. Consider looking for an alternate option with a private transfer and tour option.
Buy an EasyCard – EasyCard is a great transport card used across Taiwan. It works on the local trains as well as buses. You'll definitely want to get the card so that you can use public transport easily while you're in Taiwan. You can get your EasyCard from Klook and pick it up when you are at the airport.
Lastly, make sure to wear comfortable walking shoes as you'll be doing a ton of walking in Taipei.
Overall: A Trip to Taipei
That's it! It was a great visit to Taipei and its surroundings. We've fallen in love with Taiwan and keep coming back to visit. With the friendly people, beautiful and charming attractions, culinary delights of Taipei's night markets, and great side trip, you'll never go wrong with spending time in Taipei. Let's plan your visit to Taipei!
While this Taipei itinerary is more focused on city attractions, feel free to read through our Taiwan Travel Guide for more travel information!
Traveling to Taiwan and looking for travel inspiration? Here is our itinerary to some of the interesting places: