Last updated on October 2nd, 2023
While you're visiting Amsterdam, you might want to check out the Amsterdam food guide if you're wondering what to eat here. Sharing my take on all the must-eat food from local snack stalls, cafes, and restaurants that you should try in Amsterdam.
Beyond the windmills and tulips, Amsterdam offers hungry travelers plenty of unique culinary experiences. This Amsterdam food guide isn't a definitive answer to the question of what to eat in Amsterdam by any means. To be honest, I don't think I've tried out all the best Dutch food during our visit. But our goal is to give you the best, most complete, and most diverse food experience that we ate to save you some time when exploring here.
We've put together a list of the best food we recommend in this Amsterdam food guide. Let's check it out.
Amsterdam Food Guide: What To Eat
In our discovery of the local fare, we tried to find real Dutch food. The city has a multitude of dining options ranging from healthy, fast foods, snack foods, and more.
We recommend the following must-eat food when you're looking for what to eat in Amsterdam:
Traditional Dutch Dishes: stamppot, Hutspot, snert.
Amsterdam style breakfast: Bagels, muffins, pastries.
Pizzeria.
Haring (herring).
Dutch-Style Chips.
Dutch Pancakes (Pannekoeken).
Dutch Kaas (Cheese).
Beer Sampling in Amsterdam.
Dutch Dessert: Stroopwafel, Appeltaart (Dutch Apple Pie).
Snack Food in Local Market.
Pro Tips: If you're planning a trip to Amsterdam, then be sure to check out our detailed Amsterdam itinerary with detailed guide. It'll have all the information you need – like which area to stay, what to do, how to get around, etc. – to help you plan your trip.
Amsterdam Itinerary: A Complete Travel Guide Blog
For your best sleep in Amsterdam, we recommended below:
Mid-Budget – Amsterdam Wiechmann Hotel – Excellent location in Jordaan right on Prinsengracht canal. Great selection of rooms and some rooms offer a canal view.
Luxury – Monet Garden Hotel Amsterdam – Excellent location, comfortable and clean rooms, some rooms with a view of a canal, amazing staff.
More accommodation guide: Where To Stay in Amsterdam: Best Areas and Hotels
Traditional Dutch Dishes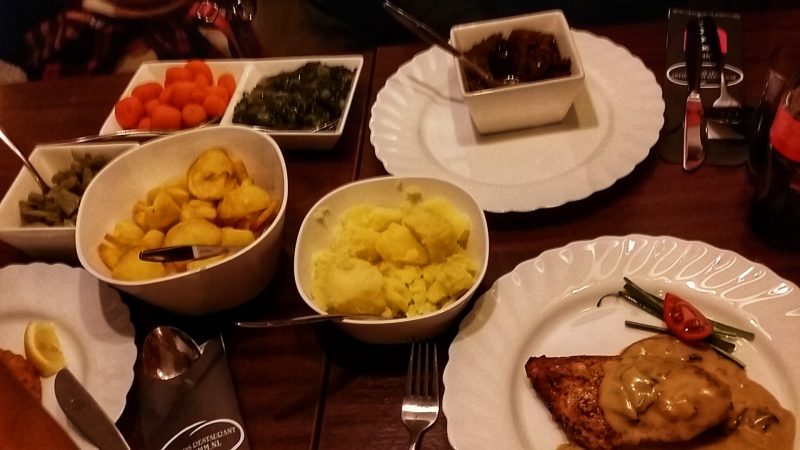 When it comes to food, the Dutch tend to stick to their tradition of simplicity and frugality. Traditionally, Dutch cuisine is simple, with many vegetables and little meat.
A favorite Dutch recipe is stamppot, the comfort food at its best. Literally translating to 'mash pot', this comfort food involves mashing together potatoes with an infusion of vegetables like kale and swiss chard. The creamy hearty mash is usually added with sausage on the side with gravy.
While Hutspot is a type of potato, carrot, and onion mash and usually with meat on the side. It is often eaten in winter.
Another traditional Dutch food is snert. This is a thick, hearty split pea soup with sausage and vegetables. It's a very dense type of soup that is usually eaten during the winter.
Few restaurants in the city center serve only the most traditional Dutch dishes. Here is a few recommended restaurant to taste traditional Dutch food:
Moeders | Rozengracht 251, 1016 SX Amsterdam, Netherlands.
Hap-Hmm | Eerste Helmersstraat 33, 1054 CZ Amsterdam, Netherlands.
De Silveren Spiegel | Kattengat 4-6, 1012 SZ Amsterdam, Netherlands.
Pro Tips: In most restaurants in Amsterdam, especially nicer ones, you can call a day or two ahead and make a reservation, which is highly suggested.
Hap-Hmm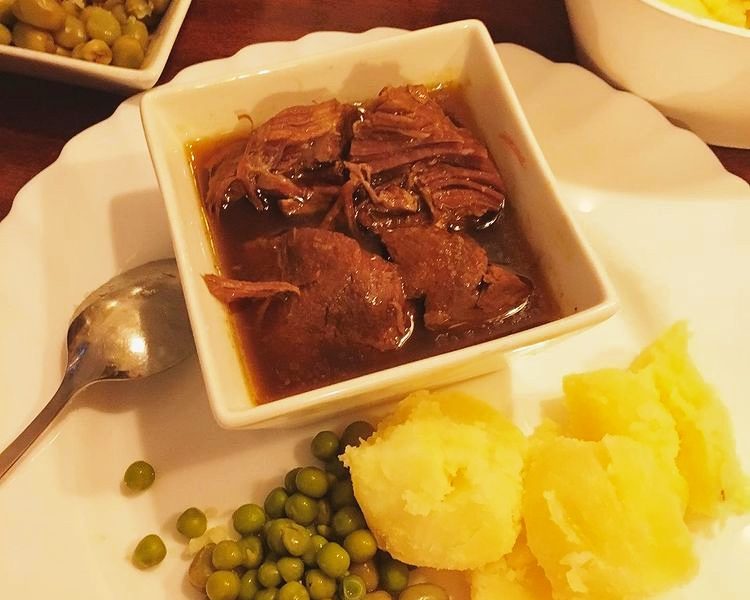 We went to Hap-Hmm for dinner to taste some authentic Dutch food during our visit to Amsterdam. It is a small and cozy restaurant with a nice friendly vibe in a quiet street. You can feel the local atmosphere as there are a lot of local guests dining here.
The menu was only simple with traditional Dutch food options. We had the beer chicken, fish of the day, and beef stew which were really nice. We like that potatoes and veg are served in one separate bowl to your table and you can just help yourself!
The price is very reasonable and the food is great. Would definitely recommend this place to anyone visiting Amsterdam.
Amsterdam style breakfast
It's always a good idea to start your trip with an Amsterdam-style breakfast. But, in a city often associated with being an expensive place, it was brilliant to find a delicious breakfast at great value for money.
An Amsterdam breakfast comes in a few different forms. And here are some of the best breakfast foods in Amsterdam to try and the best restaurants in Amsterdam to taste them at.
Bagels & Beans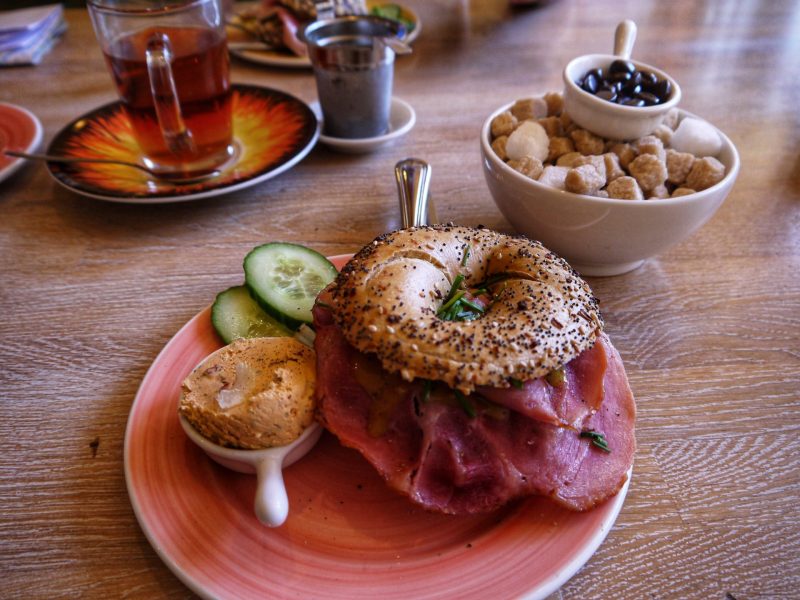 Bagels & Beans is a famous chain restaurant that specializes in bagels. It is a great place for breakfast, brunch, or coffee. The menu has a wide variety of bagels with all kinds of toppings and is very unique. Gluten-free option too. The price is about €7 for a good bagel. Eat in or take away to enjoy.
If you're looking for an inexpensive, filling, incredibly tasty place to eat and refuel, Bagels and Beans should be top of your list. Reasonably priced with fresh ingredients, we can recommend it. Perhaps the best simple yet delicious meal in Amsterdam
There are many chain stores for Bagels & Beans in the city. Found the one near you.
Bagels & Beans
Address: Van Baerlestraat 40, 1071 AZ Amsterdam, Netherlands.
Operating Hours: Weekday from 8:00 to 17:30 and weekend from 8:30 to 17:30.
B&B Lunchroom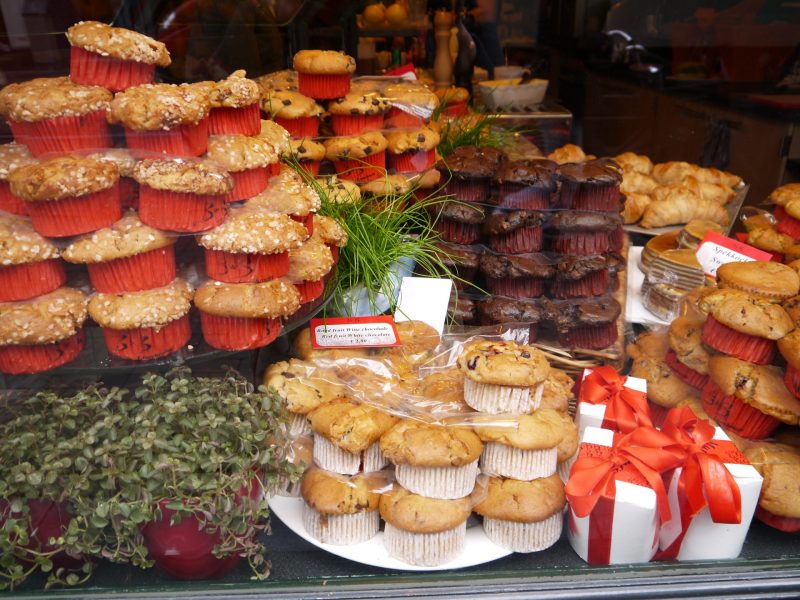 If you somehow still manage to find room in your stomach, the pastries from B&B Lunchroom are just as a decedent. This small but cozy shop has a huge selection of freshly prepared sandwiches, eggs, cakes, muffins, and much more. A favorite of the locals for breakfast and lunch!
All food is made in front of you with all fresh ingredients. Some you must pair with a nice coffee for your breakfast or lunch. Treat yourself, you won't regret it. It was very reasonably priced and very tasty.
B&B Lunchroom Leidsestraat
Address: Leidsestraat 44, 1017 PC Amsterdam, The Netherlands.
Operating Hours: Weekday from 8:00 to 18:00.
Pizzeria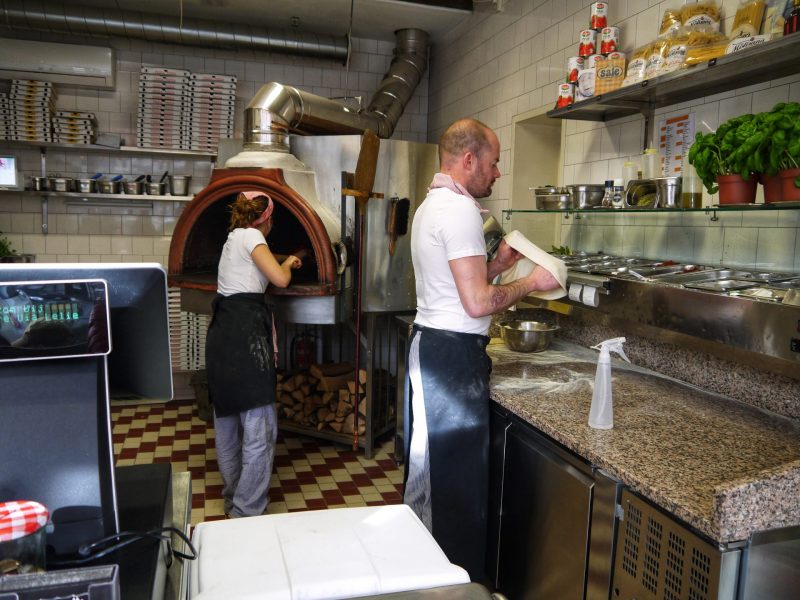 Go to Pizzeria if you are looking for what to eat for lunch or dinner in Amsterdam. Pizza is a popular food in Amsterdam and there are many pizza spots in Amsterdam.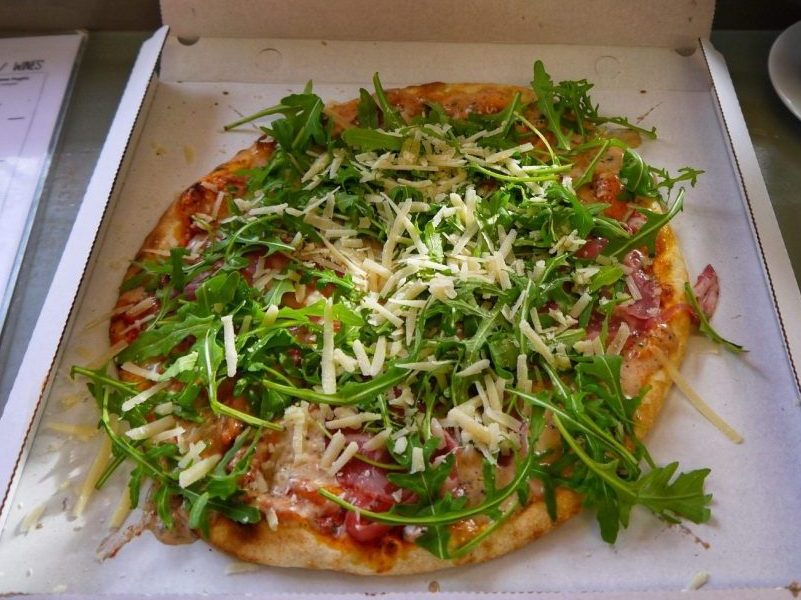 Locals and visitors flock to a pizza place for a hot slice. The fresh, thin, and crispy crust, is topped with the best ingredients. Nicely charred and slightly burnished from the intense heat of the wood-burning oven. The pizza is simply awesome with really authentic and tasty flavors.
Here is the best place where you can eat delicious pizza:
Dope: Eerste van der Helststraat 66, 1072 NZ Amsterdam The Netherlands.
Il Sogno Amsterdam: Koningsstraat 19, 1011 ET Amsterdam The Netherlands.
De Pizzabakkers Haarlemmerdijk: Haarlemmerdijk 128, 1013 JJ Amsterdam The Netherlands.
Haring (herring)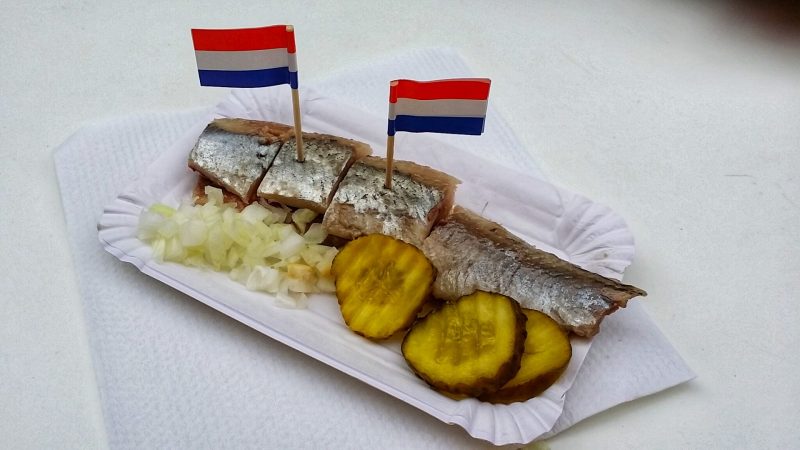 Don't leave Amsterdam without eating a haring (herring). This is one of the best cheap eats in Amsterdam and actually a very common snack in the Netherlands. Every visitor to Amsterdam should give it a try.
The haringhandels (herring carts) serve up this Dutch specialty, or you can also eat it at food stalls in the markets as well as at restaurants like Seafood Bar all over the city.
Herring can be served in varieties. The Amsterdam-style herring is served with onions and pickles and eaten with a toothpick. While the broodje is served in a bread roll with finely chopped raw onion and pickles. Don't be afraid to try a herring in Amsterdam even if you're not a herring fan. The herring tasted wonderful but they also have other choices of fish. Simple but perfect!
Frens Haringhandel
For the true experience of eating herring on the street, try the raw herring from Frens haringhandel. This seafood stall is a must for anyone curious about Dutch snack food and has the best herring in town. It is in a popular spot and conveniently located in the middle of the city.
Frens haringhande is a takeaway, to-go stand by the canals. We stopped off for a little snack. Besides the herring, the kibbeling (fried cod) from Frens haringhandel is also not too bad!
Frens Haringhandel
Address: Koningsplein/Singel, 1017 AW Amsterdam, Netherlands.
Operating Hours: Open daily from 12:00 to 16:00.
Dutch-Style Chips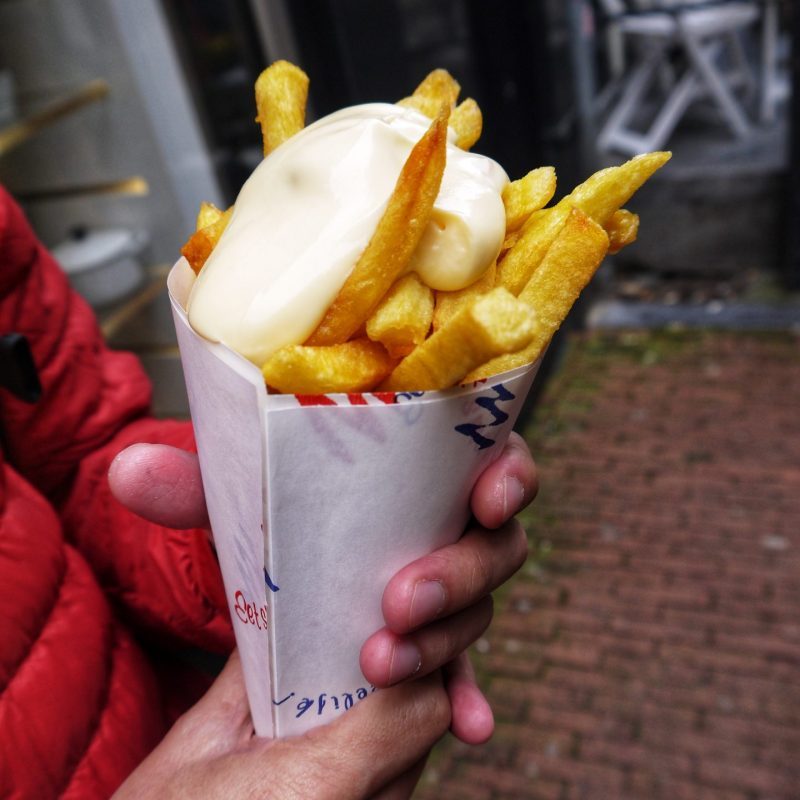 In fact, the Dutch are quite famous for their fries. Whether you call them fries, frites, chips, or, as the locals do "patatjes", these Dutch-style chips are flipping tasty and delicious. Commonly referred to as 'friet and mayo', Dutch-style chips are traditionally served in a cone and topped with Fritessaus or frietsaus ("fries sauce"), a lighter version of mayonnaise with less fat.
Try and enjoyed Dutch-style chips covered in Fritessaus. They were absolutely delicious and flipping tasty!
Best Places For Fries in Amsterdam:
Vleminckx de Sausmeester | Voetboogstraat 33, 1012 XK Amsterdam, Netherlands.
Manneken Pis | Damrak 41, 1012 LK Amsterdam, Netherlands.
Vita's Friet | Dapperstraat, 1093 CS Amsterdam, Netherlands.
Vlaams Friteshuis Vleminckx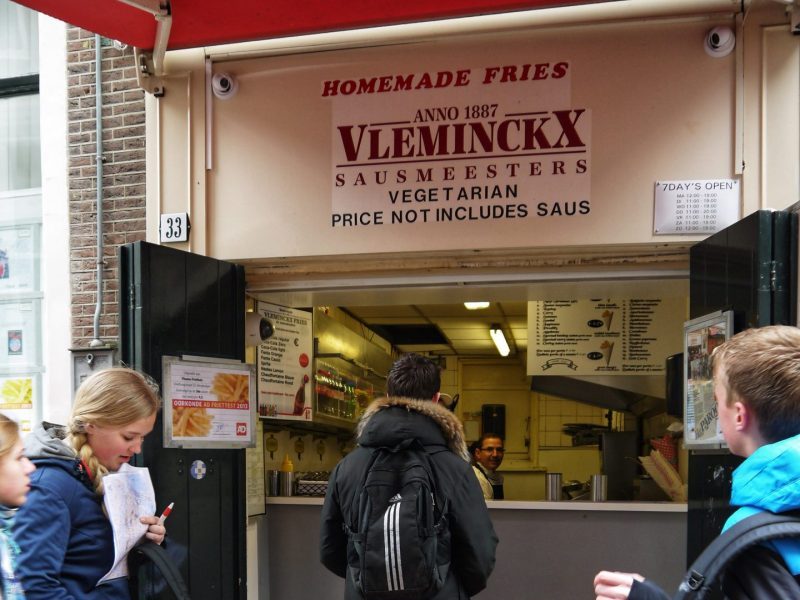 The Best Homemade Fries Shop In Amsterdam. Vleminckx de Sausmeester has been frying potatoes and topping them with sauce since 1957. All the fries are always freshly made and warm.
Great selection of sauces and massive portions. You can choose from up to 25 different selections of sauces and toppings to choose from based on your liking. The most common sauce in the Netherlands is traditional mayo, the classic Dutch condiment, or a curry-based mayo sauce (Joppie). We recommended trying the most popular Oorlog sauce where satay and Mayo and topped with onions.
Perfectly fried with a generous amount of sauce. We enjoyed dipping each potato stick into the sweet sauce on a cold day. These fries are so good, crispy, and soft at the same time! Please make it a point to visit this stand when you are in Amsterdam. You will not regret it.
There is always a line, sometimes long, but thankfully the line moves quickly and these fries are totally worth the wait.
Address: Voetboogstraat 33, 1012 XK Amsterdam, Netherlands.
Operating Hours: Open daily from 11:00 to 19:00.
Dutch Pancakes (Pannekoeken)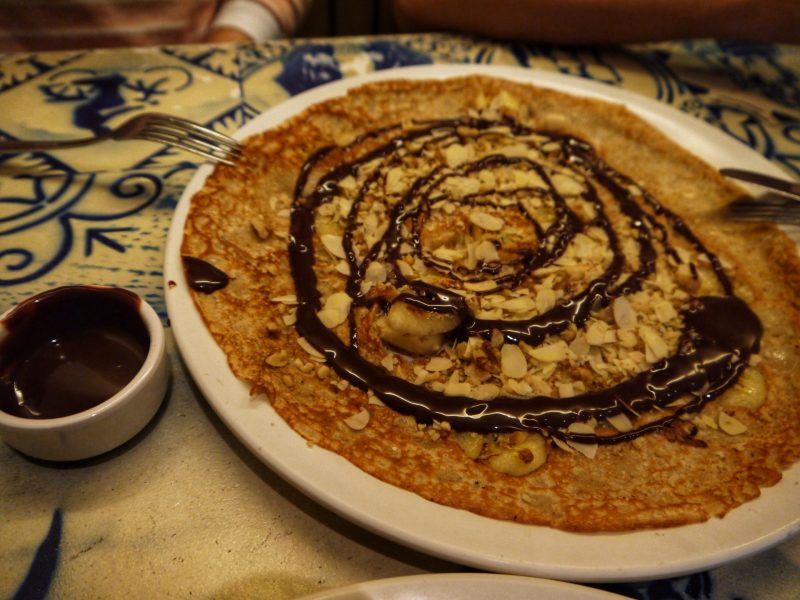 Every day is Pancake Day in Amsterdam! Amsterdam lets the whole world enjoy the traditional and typical dutch pancakes. Unlike the thick and fluffy American-style pancakes, Dutch pancakes are often topped with sweet and savory options, served with local ingredients such as bacon, ham, Gouda cheese, or sweet fruits.
You won't want to miss Pannenkoeken (buttery Dutch pancakes) or Poffertjes (pancake puffs made with yeast and buckwheat flour). Eggs, milk, flour (traditionally buckwheat flour), and a pinch of salt to make the batter for these delicious pancakes.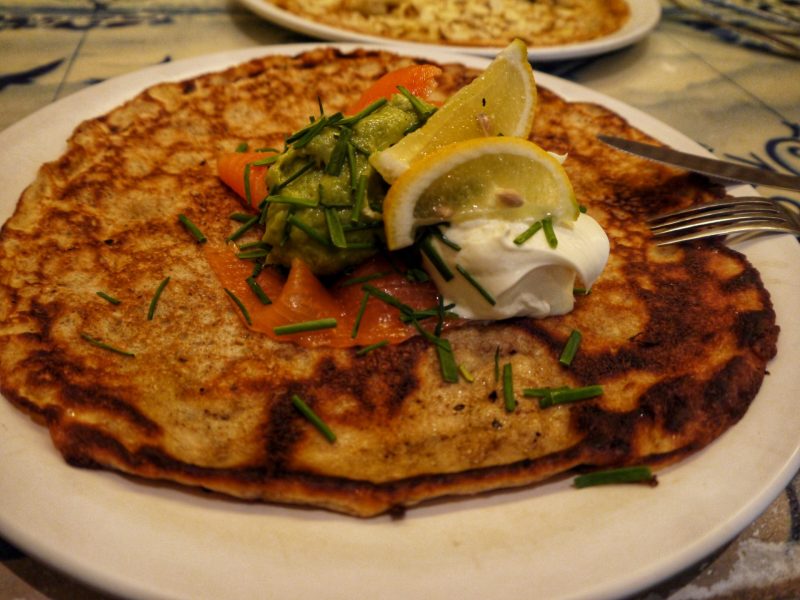 Visit one of the best pancake restaurants in Amsterdam before flying home. I promise they are really delicious. Be warned, though, that these pancakes are so large that people often eat them as a main course!
Check out our selection of the best pancake houses in Amsterdam:
PANCAKES Amsterdam, Berenstraat 38, 1016 GH Amsterdam.
The Pancake Bakery, Prinsengracht 191, 1015 DS Amsterdam.
The Happy Pig Pancake Shop, Rosmarijnsteeg 12, 1012 RP Amsterdam.
Dutch Kaas (Cheese)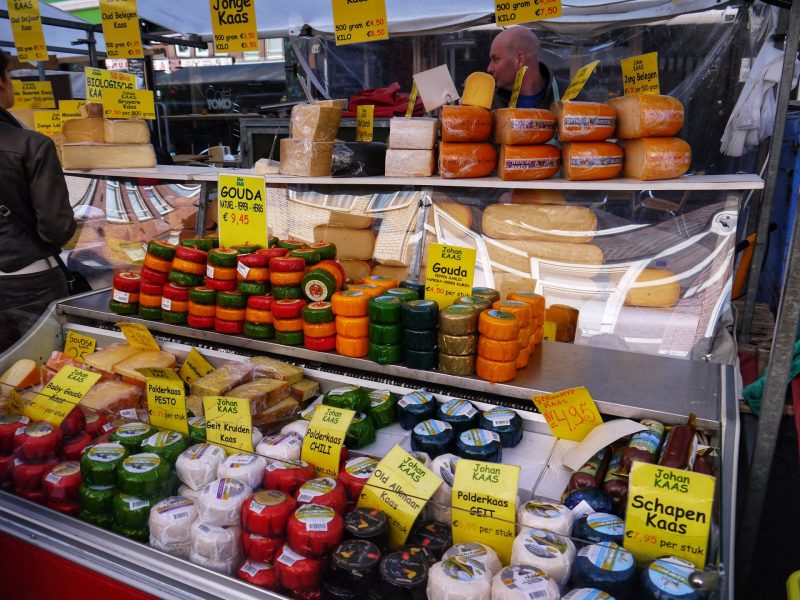 Next on the Amsterdam food guide is Dutch Kaas (Cheese). Holland produces almost 900 million kg of cheese annually and Dutch take pride in their delicious cheese. Among all the cheese produce, the most popular cheeses are Gouda which many of us might recognize as the small snack-sized cheese encased in red wax, and followed by Edam. Soft cheese, hard cheese, old or young, we like them all.
In Amsterdam, you can visit the Amsterdam Cheese Museum which features the history of cheese making and tastings. Alternatively, there are many 'kaas' shops or markets that offer free tasting on Gouda, Geitenkaas, or Maasdammer. Besides, almost all Amsterdam cafés offer some sort of kaas broodje (cheese on a bread roll).
Pro Tips: In fact, every cheese shop in Amsterdam that we visited had bowls of cheese nibbles for shoppers to try. So be sure you don't leave without tasting this Dutch specialty.
Beer Sampling in Amsterdam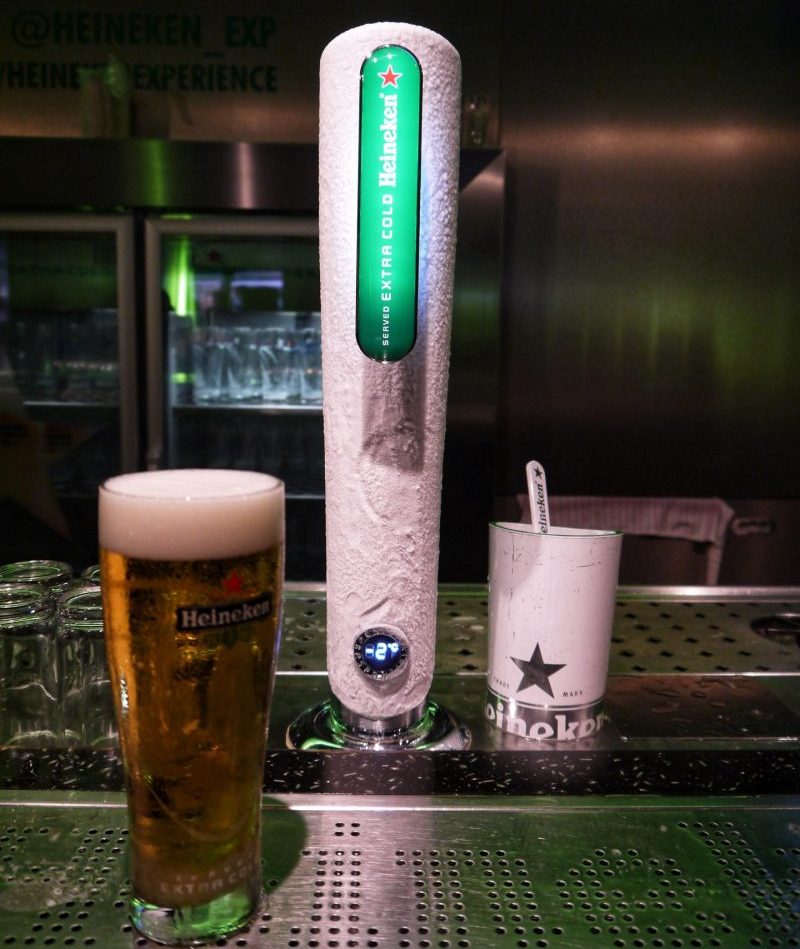 The Netherlands has a long history of beer and it is the most popular alcoholic drink in the Netherlands.
Known for its world-famous pale lagers like Heineken, Grolsch, and Amstel, the Netherlands is one of the world's most prominent exporters of beer. While Hollands have been brewing beer for centuries, you can find the nicest breweries in Amsterdam.
Here are a few selections of Dutch beer:
Heineken has been starting to brew beer since 1873. One of the biggest breweries in the world.
Amstel is a Dutch beer brand belonging to Heineken, another famous Dutch beer brand.
Grolsch is one of the oldest beer brands in the Netherlands since 1615.
Bavaria is the largest independent brewery in the Netherlands, with a yearly production of over 7 million hectolitres of beer.
Pro Tips: Join the Heineken Experience if you want to take a look at the history of Heineken and learn how they do it. A great experience visiting the fabulous ancient brewery.
Dutch Dessert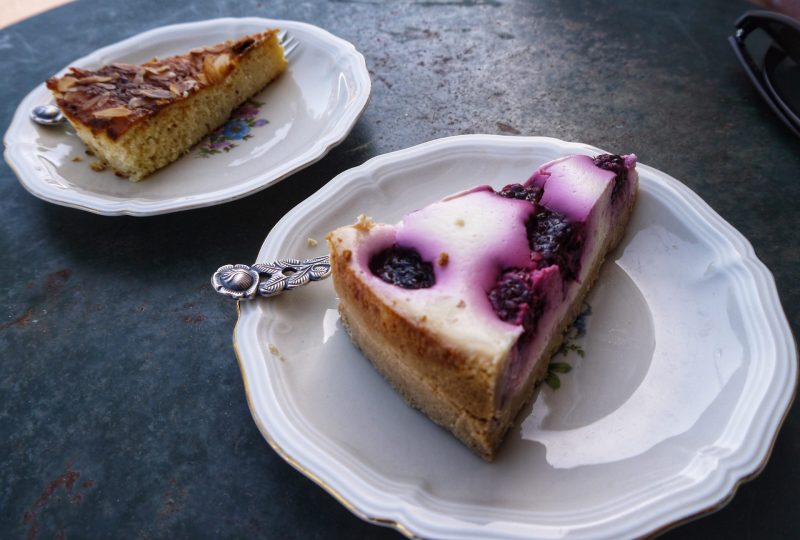 For sweet-toothed visitors to Amsterdam, for sure you won't disappointed with Dutch dessert.
Stroopwafel – Probably the most popular dessert in the Netherlands. The stroopwafel (syrup waffle) is made with two buttery waffle layers stuck together with sweet, gooey molasses. A perfect accompaniment to a cup of coffee. You'll find them at grocery stores, local markets, and even souvenir shops.
Appeltaart (Dutch Apple Pie) – The Dutch version of apple pie is infused with cinnamon, dotted with raisins, and served until a smothering of whipped cream. Café Papeneiland serves some of the best apple pie in Amsterdam that has been handed down through generations.
Snack Food in Local Market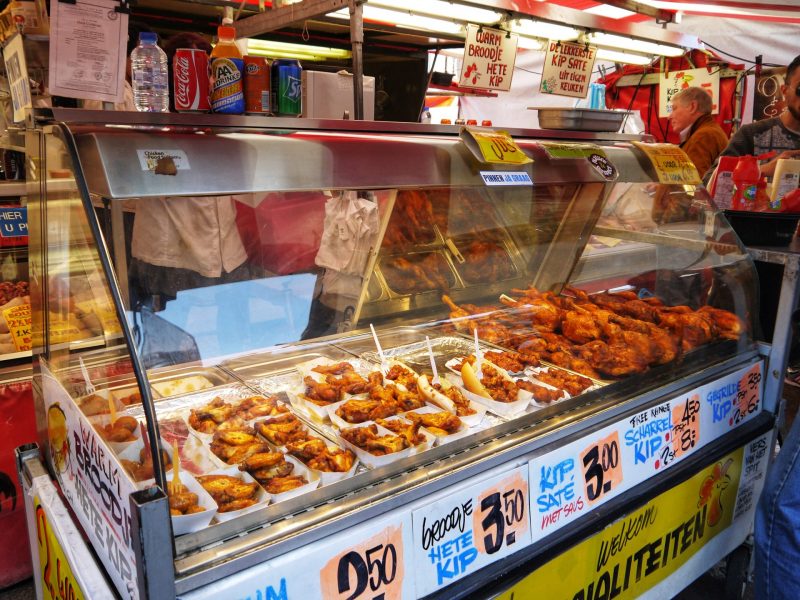 If you are looking for the "real" Amsterdam local snack food, you'll want to head straight to the local market. The Albert Cuyp Market is the largest and most popular outdoor market in the Netherlands, with 260 stands operating six days a week.
Albert Cuyp Market is the best place where you'll find friendly vendors selling seafood of any kind, cheese, and many more. Not to forget all those mouthwatering desserts such as Stroopwafels (syrup-filled waffles) and Poffertjes (sweet mini griddle cakes) if you are looking for Dutch sweet treats.
Overview: What To Eat in Amsterdam
All in all, here is my Amsterdam food guide for a taste of the Dutch food experience. We really enjoyed and liked the food we tried during our trip to Amsterdam. Although we didn't sample much variety of delicious Netherlands food, still, we hope that we can give you even the tiniest idea of the food scene here in Amsterdam, and then share the restaurants where we tried them.
From sweet treats and salty fries to traditional Dutch fish, have we missed any good food? Just try out as much as you can to get a true taste of Amsterdam!
Thanks for reading and I hope this Amsterdam food guide leads you to some exceptional meals in Amsterdam. Free feel to continue to read on our Amsterdam trip and also some other interesting places in Amsterdam.