Last updated on October 2nd, 2023
Planning for Zaanse Schans itinerary for a short day trip from Amsterdam? Here is the travel guide blog for everything you need to know for visiting this well-preserved Dutch village town.
For generations, Zaanse Schans has been a tourist mecca, welcoming tons of visitors from all over the world. It is a Dutch village town filled with sprawling green fields, fanciful windmills, and full of traditional handicrafts and culture. It is set up like an open-air museum and visitors can experience life as it was lived by Dutch people in the 18th and 19th centuries. The Netherland you've always pictured.
Zaanse Schans is a popular day trip from Amsterdam. Since we have one more day in our Amsterdam itinerary, we decided to visit Zaanse Schans to experience Dutch culture.
In this Zaanse Schans travel guide blog post, we are sharing all the things to do on a day trip from Amsterdam.
How To Get To Zaanse Schans
Zaanse Schans Windmills village is located in the Zaandam area of the Netherlands Europe. Distance is 16.5 kilometers one way. There are tours for a day trip to Zaanse Schans from Amsterdam every day. But it is also possible to visit Zaanse Schans from Amsterdam on your own by public transport. As I've said, public transportation in Europe is easy.
Getting to Zaanse Schans from Amsterdam:
By Bus: Take the bus (#391) departed from Amsterdam Central Station, which leaves twice hourly from Platform E to Zandaam/Zaanse Schans. The entire ride takes less than an hour and tickets can be purchased for €8 round trip.
By Train: From Amsterdam Centraal Station, takes a train to Koog-Zaandijk which takes only 17 minutes. Next, follow the direction board and walk for about 15 minutes to Zaanse Schans. Anyway, it is just a straight path, easy!
We highly recommended taking the bus to Zaanse Schans as it is the most convenient option and the bus stop is right outside of Zaanse Schans.
Zaanse Schans Tour Option
Another great way to get around to discover the typical Dutch countryside outside the capital is by joining the tour. Here is our recommendation from Viator (Tripadvisor) for a half-day or full-day tour to Zaanse Schans. Take a look!
Zaanse Schans Travel Tips
We recommended download the "Zaanse Schans" App" to enhance your experience in Zaanshe Schans. The app will become your digital tour guide, offering an interactive tour and sharing with you some hidden gems of the area.
It is free to visit the area when it is open. But you will require to purchase the entrance ticket to enter the windmill or museum. The price is vary based on the attractions.
Pro Tips: Always check the schedule of events during your visit at Zaanshe Schans official website.
Here are the travel tips to plan for your Zaanse Schans itinerary:
How much time do you need in Zaanse Schans?
You don't need a full day trip to Zaanse Schans, instead, a few hours should suffice. Personally, I would suggest planning for a half-day Zaanshe Schans with about 3 to 4 hours is sufficient to explore the area.
Is Zaanse Schans free?
There are no entry fees for Zaanse Schans, but you will need to purchase the ticket to enter the windmill or museum.
What is the operating hour for Zaanse Schans?
Zaanshe Schans is open every day from 9:00 to 17:00. However, not every portion of the museum is open every day, and each has a separate schedule for demonstrations and tours. Check the schedule of events during your visit at Zaanshe Schans official website.

Besides, specific highlights like the working windmills or clog factory demonstration have limited hours.
Things To Do in Zaanse Schans Itinerary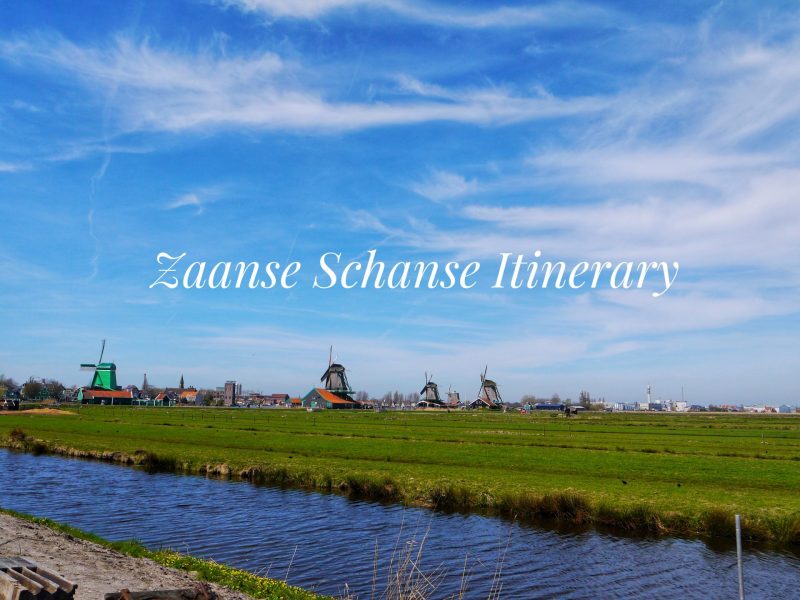 No matter whether you take a guided day trip to Zaanse Schans from Amsterdam or visit independently, there are enough attractions to keep you busy for half a day in Zaanse Schans itinerary. You will find windmills, museums, souvenir stores, a clog factory, and a Gouda cheese-making workshop inside the village.
Here is everything you need to do in Zaanse Schans itinerary:
Visit the historical Windmill (1 hour)
Clog making

demonstration

(30 minutes)
Go for cheese tasting (30minutes)
Strolling and admiring the Dutch scenery in Zaanse Schans (1 hour)
Visit the Historical Windmill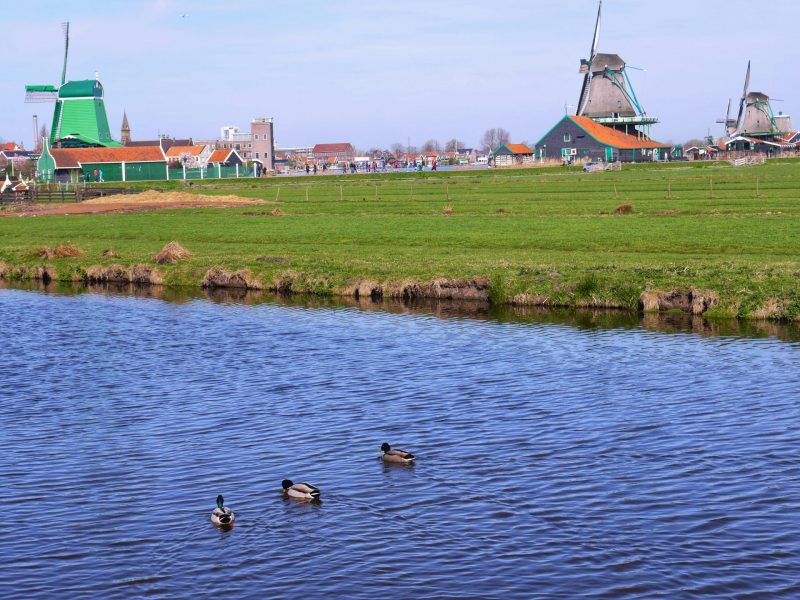 There's a reason when you think of the Netherlands, you think of windmills! The real draw of Zanse Schans is the historical windmills.
As soon as you enter the windmills village Amsterdam site, you will be welcomed by gorgeous greenery all around, including greenhouses and vintage windmills along the river. There used to be many more along the river, but now only 13 windmills are scattered all across the complex.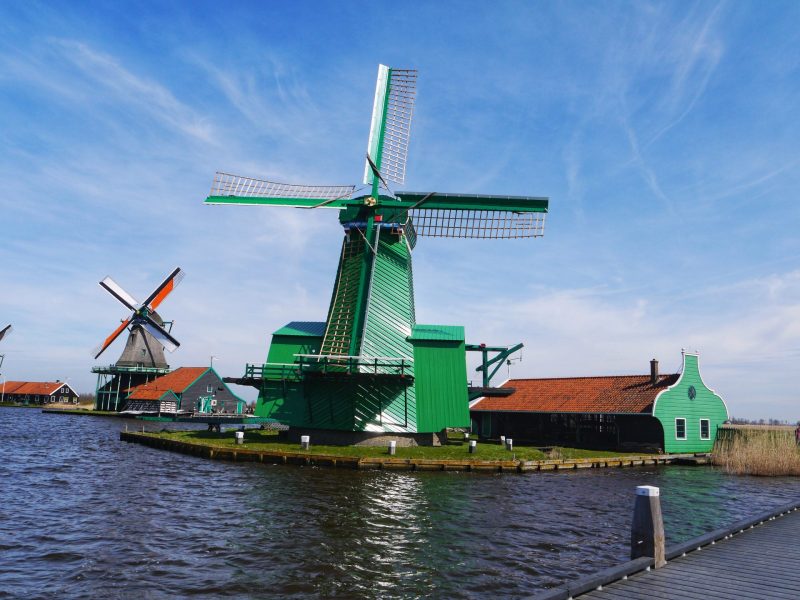 Of the 13 existing windmills, only 6 are in working condition, which is a mustard mill, two sawmills, two oil mills, and the world's last working dye mill, still operating in their full glory. They are vintage and historical, and completely functional to this day.
All these historical windmills are providing a great insight into what life must have been like back in the 17-18th century. Some have turned into shops, others have decks that can be climbed up to see the city from above.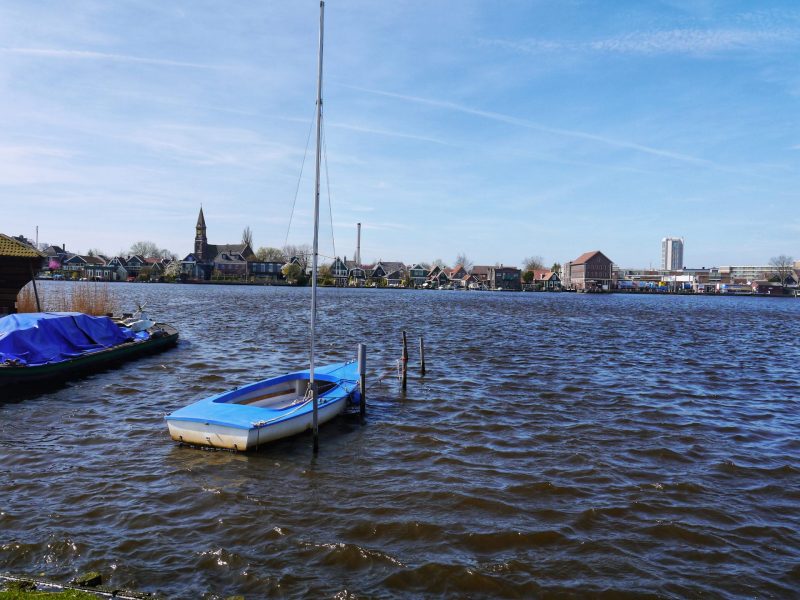 There is a boat rental service available where you can even rent the boat that crosses the Zaan River to admire the windmills. The windmills are technically open every day and operating at all hours, but check their schedule for a visit, especially if there is a specific mill you'd like to visit.
Zaanse Schans Travel Tips: A visit to at least one of the windmills is not to be missed when visiting Zaanse Schans. All windmills have separate admission tickets and each may costs €5 to visit. If you are interested in visiting all of them and also some of other attractions, I highly recommend you purchase a Zaanse Schans card. For only €29.50 you can visit several museums free of charge for an entire day.
Clog Making Demonstration
In the Netherlands, Dutch clogs are part of the heritage. But are really only worn mostly in rural areas by farmers and gardeners because they're great for walking around on the swampy ground.
At the entrance of the Zaanse Schans, there is a clog gift shop with a huge pair of brightly painted wooden clogs on display on the wall outside.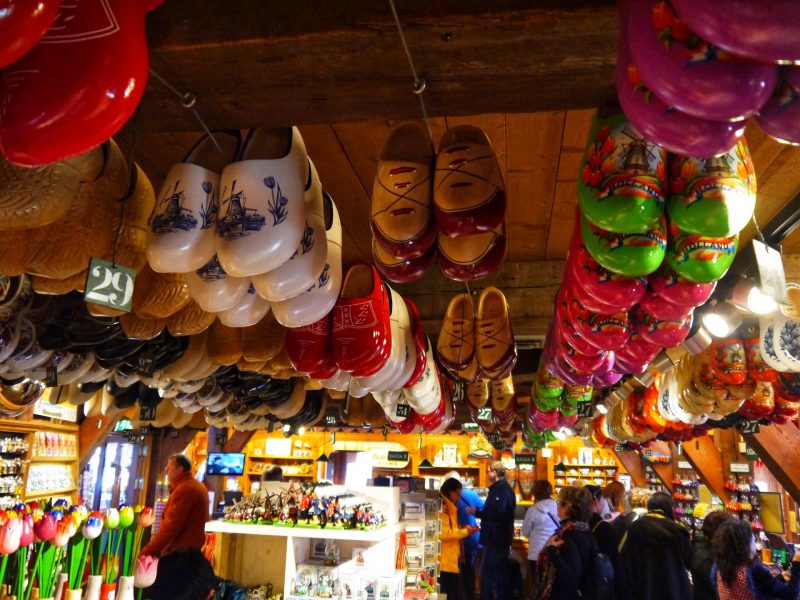 This shop is part of the Zaanse Schans Clog Workshop, dedicated to an interesting Wooden Shoe Museum where you can see clog roller skates, betrothal clogs, and many other unique clogs. It is the largest selection of clogs in all colors and sizes in The Netherlands. Be sure to try on a pair and see what it feels like to clomp around in your klompen.
In the past, clogs were made by hand and could produce up to seven pairs each day. But today machines are used to manufacture clogs, but clog makers still do make them by hand at the Zaanse Schans Clog Workshop.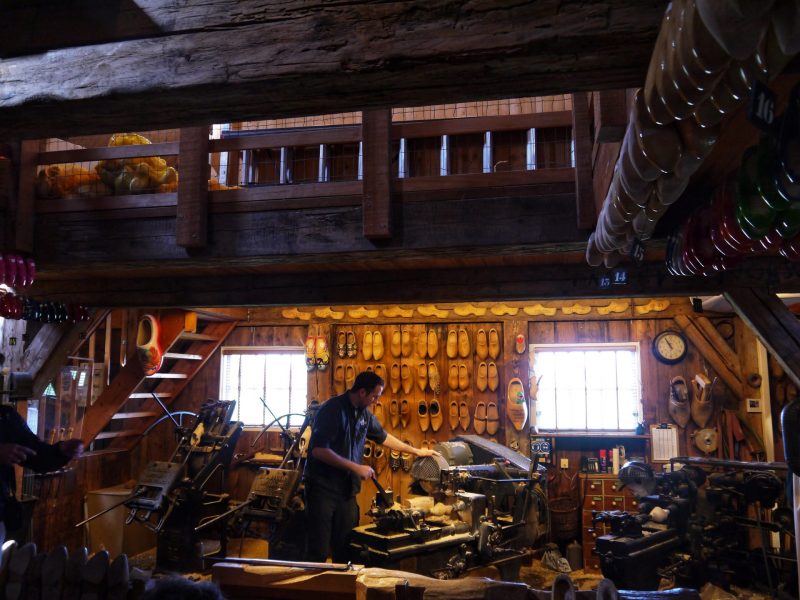 Free clog-making demonstrations take place continuously throughout the day. You'll get to see the making of a shoe from start to finish, presented by a young Dutch lad. The presentation takes about 15 minutes.
The Zaanse Schans Clog Workshop is open daily from 8:30 – 17:00. Free Entry.
Go For Cheese Testing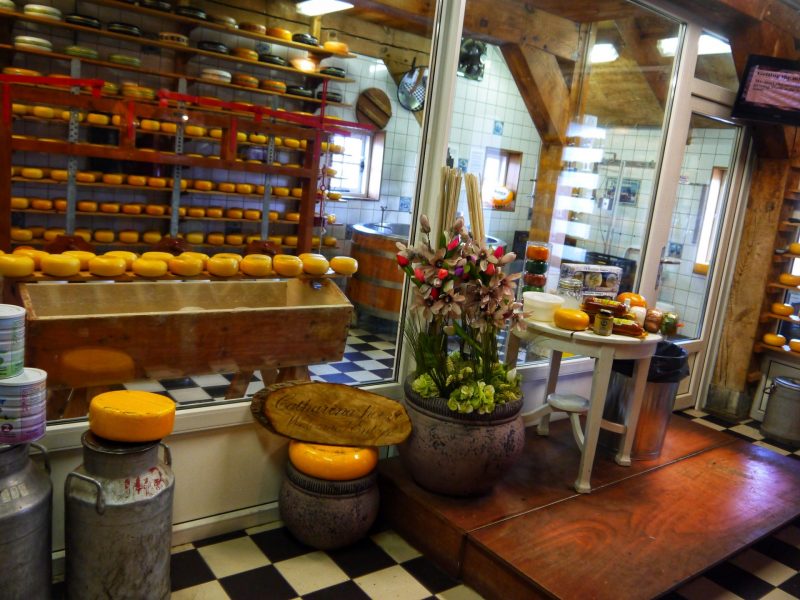 In addition to the shoe factory, there is a cheese store with seemingly endless samples that you can taste as you walk through the store on your way to visit the windmills.
We've never seen so many different types of Gouda in our lives. There was regular Gouda, smoked Gouda with herbs, Gouda with chilies, and even a neon green Gouda with pesto. If Gouda isn't your thing, there are many other Dutch kinds of cheese as well.
We happily sampled a huge variety of cheeses at the cheese factory.
The Farm de Catherinenoeve is open every day from 08:00 am to 06:00 pm.
Strolling and admiring the Dutch Scenery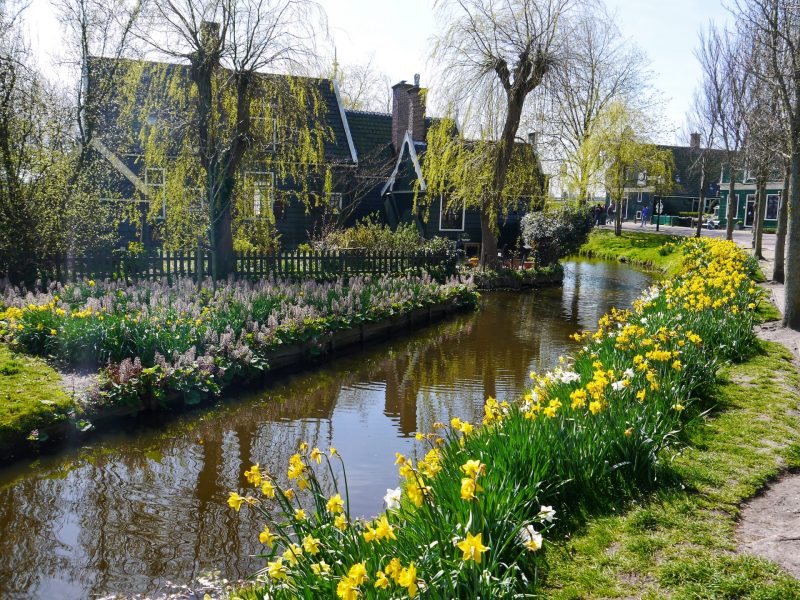 My favorite thing to do in Zaanse Schans. We spent hours just strolling around and admiring the Dutch scenery, busy photographing whatever stood out to us. From the entrance to the east bank of Zaan's River, typical green wooden houses lined up and showcasing the traditional architecture of the area.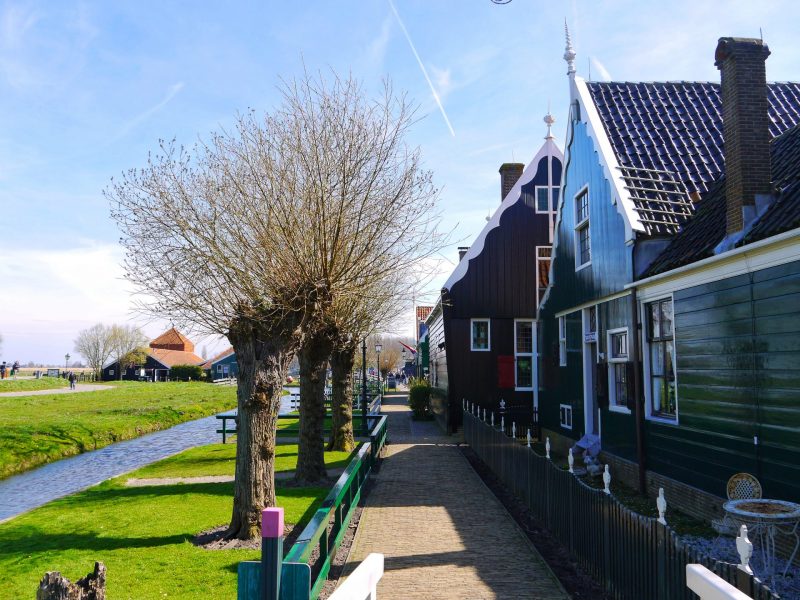 There is a farm opposite the windmills, we were thrilled to see cows pasturing freely in the area.
Additionally, there's also a distillery museum, soap factory, and weaver's house, if you want to wander around in Zaanse Schans.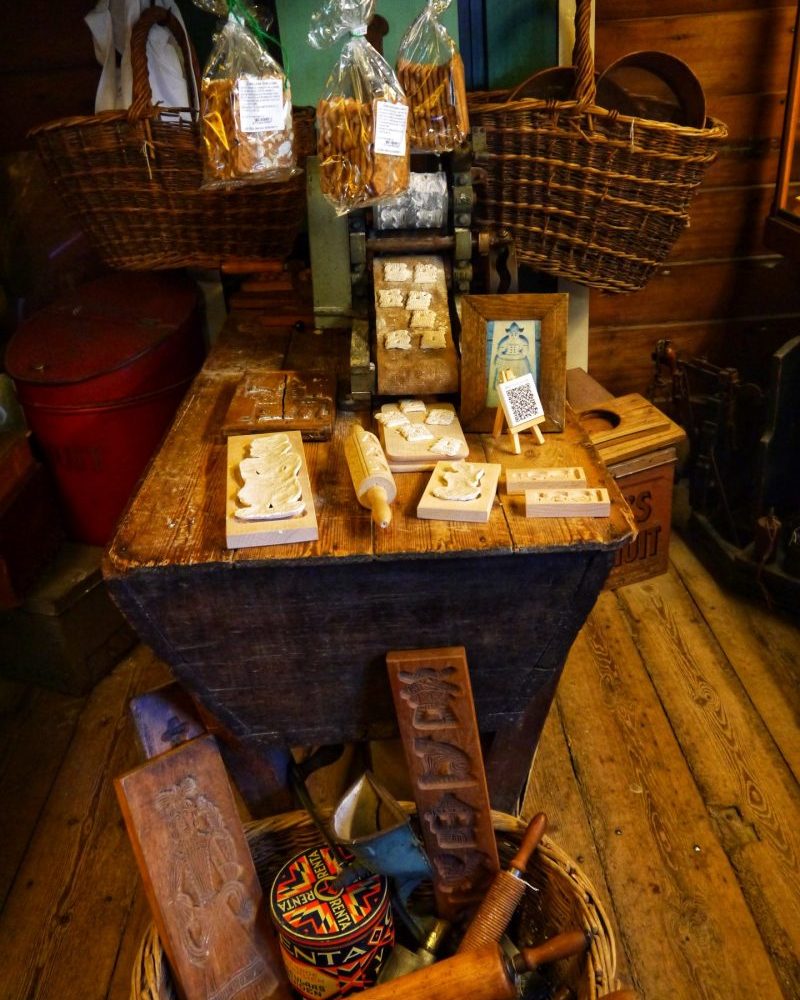 What To Buy in Zaanse Schans
We couldn't recommend anything to bring back from Zaanse Schans. Since it is a popular tourist hotspot, I honestly think that everything is kinda overpriced, correct me if I am wrong.
So the best thing to bring back home? Pretty photos and beautiful memories!
Overview: My Zaanse Schans Itinerary
All in all, our visit to Zaanse Schans was an educational one and a great detour from city life. Its picturesque settings with plenty of windmills, where you could spend a whole day here just strolling and admiring the scenery.
We spend about 4 hours for the Zaanse Schans including the traveling time. Honestly, I was slightly disappointed due to the lack of authenticity. The attraction is merely a recreation of a Dutch Village from the late 19th century, with most of its windmills relocated from other sites. But I appreciate the effort put into the reconstruction of the mill, shops, and restaurants where visitors can experience life as it was lived by Dutch people in the 18th and 19th centuries.
In short, Zaanse Schans is a perfect half-day trip from Amsterdam city center, and highly recommended adding Zaanse Schans itinerary to your trip to the Netherlands to get a glimpse of the windmills village in Amsterdam.
Lastly, free feel to continue to read about our Amsterdam trip and also some other interesting places in Amsterdam.