Last updated on December 11th, 2023
This Keukenhof travel guide blog will step you through the things to know, the best things to do, and how to plan for a tulip day trip to Keukenhof from Amsterdam! My itinerary to this flower garden explains!
Keukenhof is such an iconic sight in Netherland in regards to the famous windmills. Known as Gardens of Europe, Keukenhof is one of the world's largest flower gardens and probably the most beautiful spring flower garden in the world. Definitely, a must-visit place while you are in Amsterdam in Spring, and your Amsterdam itinerary can't be complete without it
Every year during Spring, Keukenhof is very busy with people flocking from all over the world to see the beautiful tulips, the floral displays, and flower-themed attractions. Make sure you stop for a visit, whether you just want to catch a glimpse of the famous flower bulbs or want to spend hours wandering through its garden's flowers. Trust us, the Keukenhof is one place you don't want to sleep on.
A trip to Keukenhof is very simple and easy. But you might still wonder when is the best time, how to go there, and what to do in Keukenhof when you are in the garden. For your convenience, we have compiled this Keukenhof travel guide blog with the detail on the necessary travel information including the transportation, tours, and other services for your trip there. Let's check it out!
Keukenhof, Lisse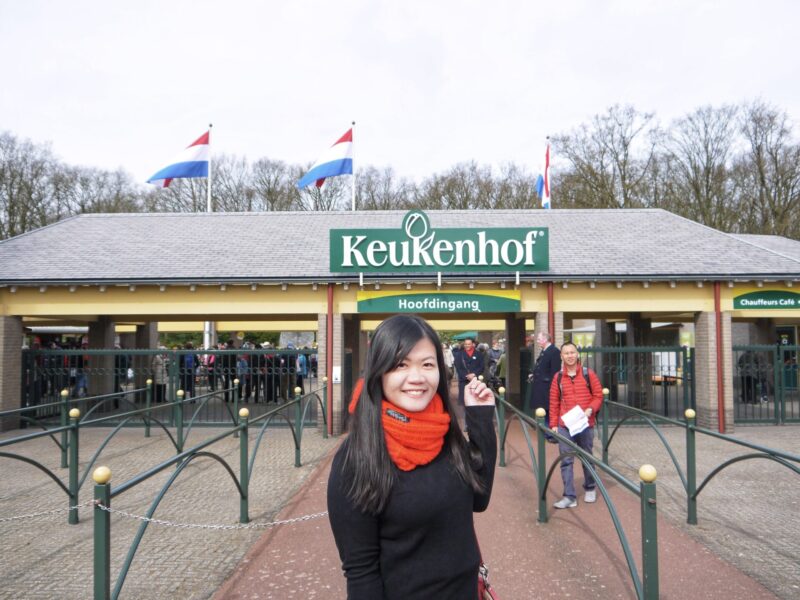 Keukenhof is located in Lisse, a small town in the Dutch countryside. This flower garden has the most Dutch tulips which are famous the world over, with more than 7million flower bulbs planted in Keukenhof every year during Spring.
You'll see the beautiful flowers of a different kinds (even though tulips are the most numerous) with different colors, beautifully combined like a painter would do. Every year there will be a theme for the flower show and it changed every year.
It is good to know that The Keukenhof Gardens are open only for about 8 to 9 weeks every year. 2023 marks the 74th opening of the gardens at Keukenhof. Besides, Keukenhof will be open from March 23 until May 14, 2023.
The blooming time will be around the end of April. If you are too early or too late for the garden's flower show, the visit to the pavilion garden is still unforgettable.
Keukenhof Netherland
Official Website: https://keukenhof.nl/en/
Opening Time: Daily from 08:00 – 19:30 (from 23 March to 14 May for 2023)
Ticket: Adult ticket costs $19 per person and $9 for Children (4 – 17 years)

Note: Combi ticket is available with public transport. Check for more detail.
Things To Know Before the Trip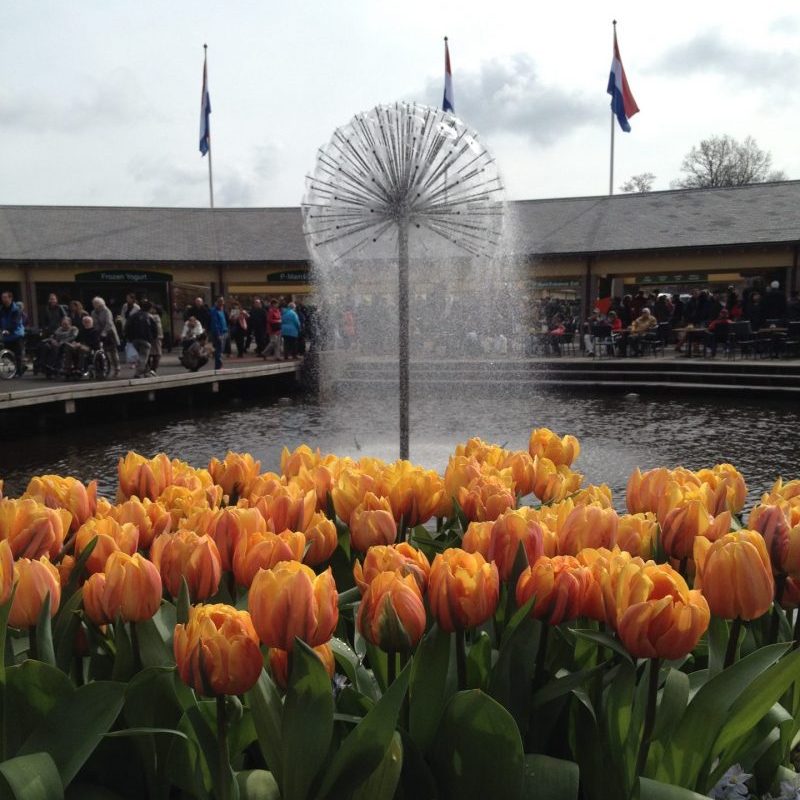 To ease your time and effort, here is an Insider's travel guide on things to know before visiting the Keukenhof,
What is the best time to visit Keukenhof?
The prime blooming time varies from year to year, depending on the weather. The best time to visit Keukenhof is the end of April as this is a higher chance of full bloom.
How much time do you need for Keukenhof?
We recommended at least 3 to 4 hours to explore the flower garden. Keukenhof is so huge and one can spend a whole day enjoying the beauty of all the flowers.
What time is best to visit Keukenhof?
The gardens can get very busy as it is only open for a few weeks every year. So expected huge crowd and long line-up during the weekend and school holidays. We recommend coming early when the garden is open so you can make the most of your time. Keukenhof opens at 8:00 daily until 19:30.
Can I cycle through Keukenhof's park?
No. Keukenhof is a pedestrian park and you will be required to park your bicycle at the entrances to the park. You are free to cycle and explore the surrounding area outside of Keukenhof by bike.
Getting To Keukenhof from Amsterdam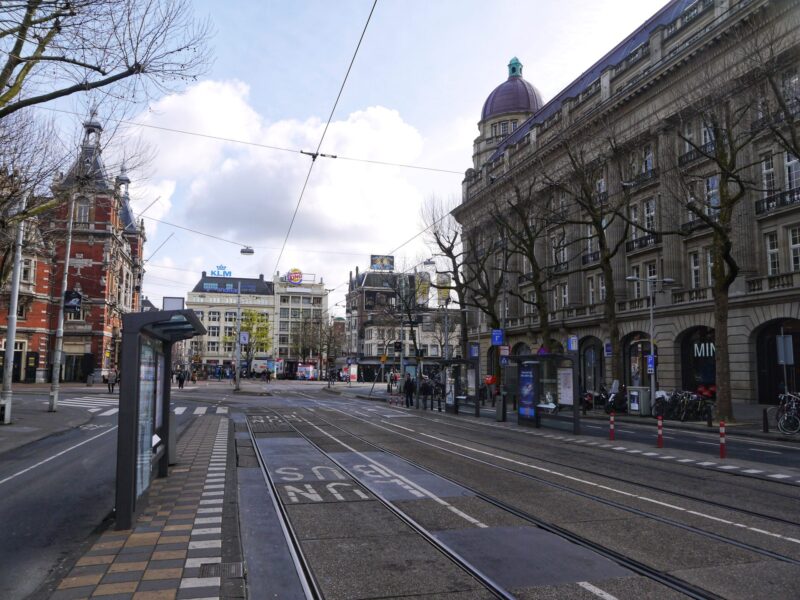 Depending on your departure location, there is various transportation to get to Keukenhof. But rest assured. It is relatively easy to get to Keukenhof from Amsterdam with public transport. Here is how to get to Keukenhof from Amsterdam with travel information.
From the Schiphol Airport – If you are just arrived Netherland via flight, or have taken the train or bus to Schiphol Airport, take the Keukenhof Express bus (#858) to Keukenhof. Bus departs from the exit of Arrival Hall 3 – 4 to Keukenhof six times an hour. The easy bus ride takes about 30 minutes from the airport to the main entrance of Keukenhof.
From the city – If you'd rather take the bus from the city, there are direct buses from Leiden Centraal station, and transfer to Keukenhof Express (#854) to the Keukenhof. The Keukenhof Express departs up to four times an hour and takes 30 minutes to get to Keukenhof.
You can also take the metro M52 to get to RAI Amsterdam from Amsterdam's central station or the city center. From there, take the Keukenhof Express (#852) straight to Keukenhof. This bus departs up to eight times an hour and it takes approx. 35 minutes to get to Keukenhof.
There are also buses departing from Haarlem station and Katwijk, Noordwijk or Noordwijkerhout. But the bus frequency is less.
Additionally, we recommended purchasing the Combi Ticket, which includes your transportation to and from Amsterdam, as well as your skip-the-line ticket into Keukenhof. It is helpful, especially the garden is always busy and you might end up spending a lot of time queueing for tickets. Price varies departing your departure point.
Keukenhof Travel Restriction: Because of the current global situation, Keukenhof can receive a maximum number of visitors per day although there is no corona measurement to visit the garden. The garden has implemented timeslots to prevent busy times during the day. The ticket can only purchase online with valid on a specific date and predetermined arrival timeslot arrival. Visit the Keukenhof official website for more details.
Tour To Keukenhof
If needed, there are also tours to Keukenhof from Amsterdam that takes to the garden from the city. These make good options if you want to take the hassle out of arranging your transportation.
My Visit To Keukenhof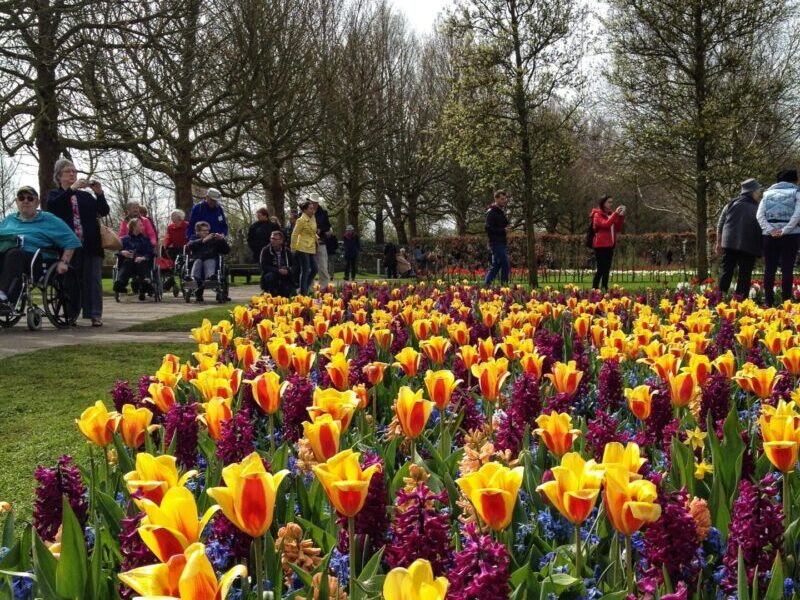 We visited Amsterdam as part of our Europe trip in April. The visit to Keukenhof is part of our itinerary as we were so excited to visit this Tulip flower garden. From the city center, we decided to take the direct bus from the Leiden Centraal station so without worry on too much about the transfer time. About 30minutes of bus ride brought us to the lovely, colorful town of Lisse.
Once we get down from the bus, the entrance of the garden is just in front of us. Admission was very easy as we bought the combi ticket to Keukenhof in advance. So it is very easy and fast for us to get into the garden.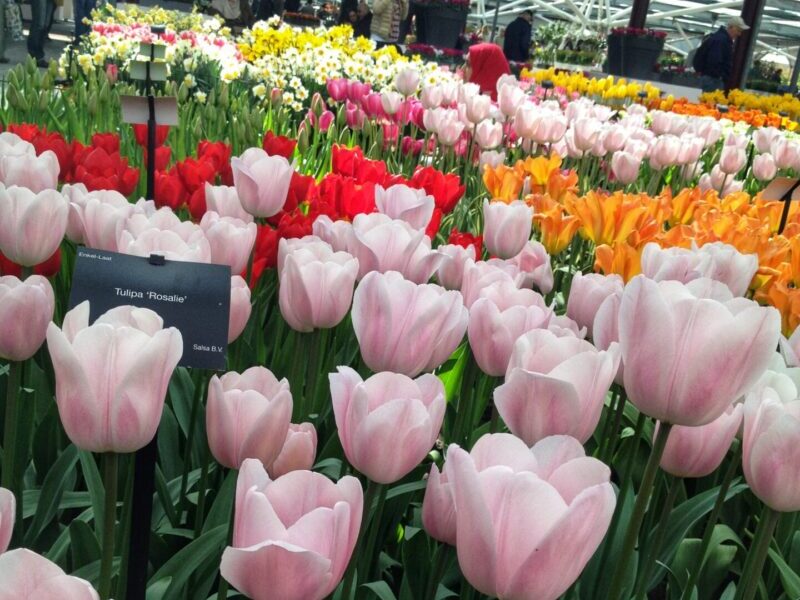 As soon as we walked in the front gate, we were greeted by spectacularly synchronized and coordinated colors of flowers. There are several areas of themed garden spaces, all nicely kept and clean and tidy grounds.
These gardens have SO many different kinds of flowers such as hyacinths, daffodils, carnations, crocuses, lilies, irises, roses, orchids, and of course, Dutch tulips!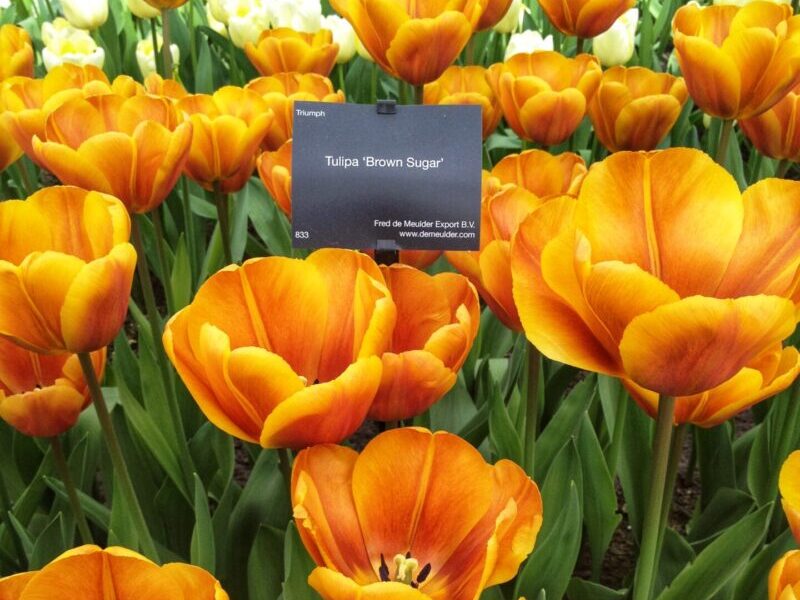 Over 7 million beautiful tulips and other flowers were nicely decorated in every corner of the park. Most of the tulips were in full bloom and were very beautiful. Can't imagine nature can be so gorgeous!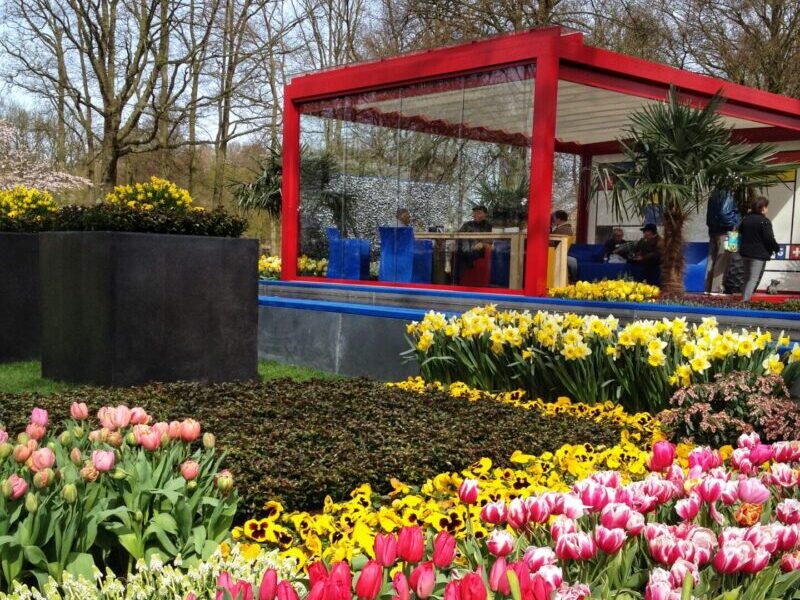 The Keukenhof is so enormous and you can spend hours walking around leisurely and taking hundreds of pics. Inside the garden, there are many benches to sit on and cafes or food stands if you are looking for some food or snacks. You can also buy tulips at the shops and they will explain to you how to plant the flower and take care of them. There even has an indoor flower exhibit inside the Keukenhof. Everything can be found inside the garden and is well-organized.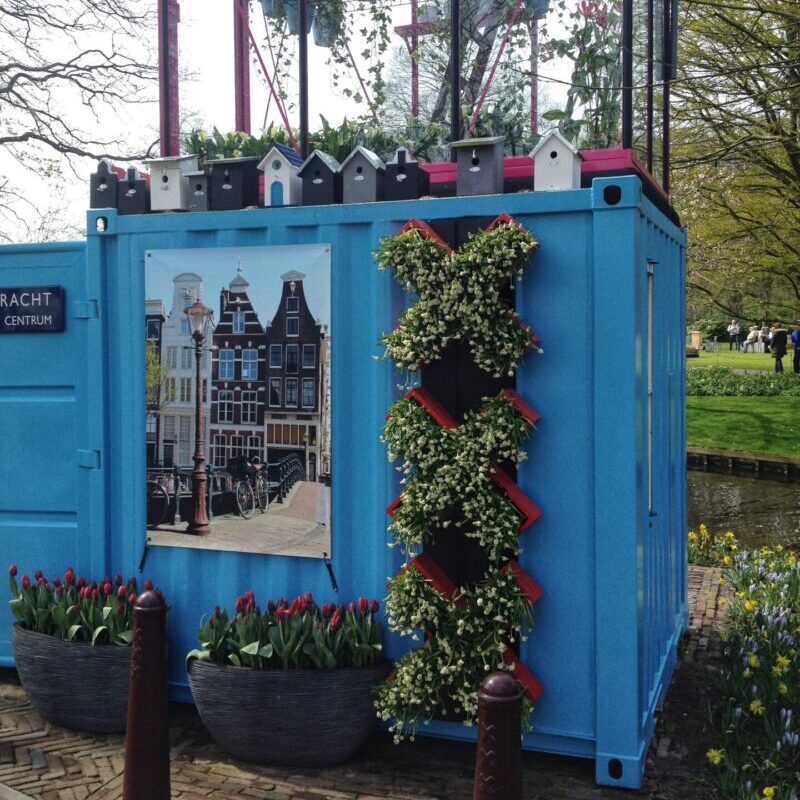 After spending hours in the garden, we made our way out and back to Amsterdam for another adventure. My visit was in the mid of April and it was not the prime blooming for the garden's flower show. But the experience in the pavilions is unforgettable. I can imagine the gardens will possibly be even more stunning for the next 2 weeks. Well worth a visit for the tulip maniac experience!
More Keukenhof Travel Guide Tips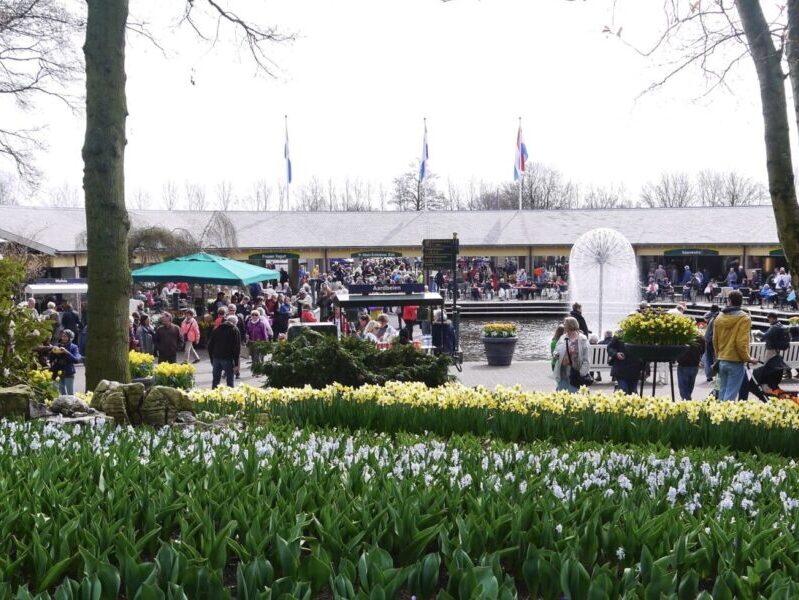 Wear comfortable shoes because you'll walk miles when visiting Keukenhof.
Be sure to pick up the free maps at the entrance to help you navigate the extensive park!
Inside the garden, there are many places to grab a cup of coffee, beer, or quick lunch. But there are particularly expensive! Besides, it can be a long lineup during busy hours. You can bring your own food and have it in the garden. Many benches and resting points are dotted around the park.
If you are directly going to Keukenhof once arrived in Amsterdam, there is a  locker to store your luggage so you don´t have to worry about it. And, it's FREE!
Try to get there as early as possible. When the buses and crowds arrive photo opportunities become more difficult.
For self-driving to Keukenhof, the car journey is around 25 minutes from the city. Plenty of parking in the gardens and it costs €6 per car.
Buy the combi ticket as it saves you plenty of time and you won't have to wait in the queue for as long before entering. If you are planning on multiple visits to the Keukenhof, then purchase a season pass. It allows for unlimited entries and exits during the season.
Overall: A Trip To Keukenhof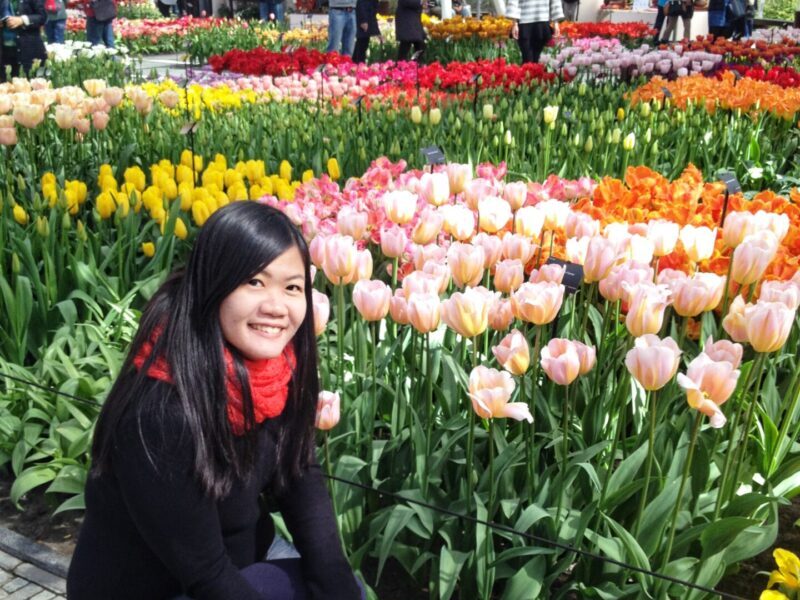 All in all, a trip to Keukenhof is a must-do if you are in Amsterdam during April or May. It truly was a glorious experience of never-ending infusions of colors linked with different flowers in the garden. We could not have enough tulips, I am certainly glad I didn't miss the trip to Keukenhof when visiting Amsterdam. This was a highlight of our trip to the Netherland!
If you plan to visit Amsterdam during Spring, you must consider putting the trip to Keukenhof as part of your Amsterdam itinerary. We stayed there for about 4 hours but if you have all day long is much better. Friendly reminder, buy your ticket in advance!
Lastly, looking for more Amsterdam travel information? Or planning for a day trip from Amsterdam? Check out more from the Amsterdam travel blogs below: