Last updated on September 23rd, 2023
In this Amsterdam travel guide blog, I'll go over my favorite things to do and see in the city with detailed planning on 1, 2, or 3 days Amsterdam itinerary. For your convenience, I've also compiled links to transportation, hotels, tours, and other services here.
Amsterdam is the Netherlands' capital, known for its open skyline, rich history with tons of museums and art galleries, and some charming brick buildings. It's one of the popular attractions for most tourists traveling to Europe.
I truly love the international feel of the city and enjoy the visit here, by strolling along the beautiful canals and parks, and visiting the historic homes and Dutch village. One of my favorite cities in Europe.
For a first-time visitor to Amsterdam, it is recommended to plan for 2 to 3 days Amsterdam itinerary to experience the city. I visited Amsterdam during my trip to the Netherlands and have spent a wonderful holiday here. There are so many things to do in Amsterdam that it deserves more than just a few days.
This Amsterdam travel guide blog will show you just how many things there are to do and see in your Amsterdam itinerary, and why it should be a part of your next itinerary. While this travel guide to Amsterdam is long. For your convenience, I've compiled links to hotels, tours, and other services here. Check it out!
Pre-Trip Essential
To plan your Amsterdam itinerary, remember to check out our travel tips here to make sure you're maximizing the days and visit in Amsterdam. Check out the details!
Getting Around in Amsterdam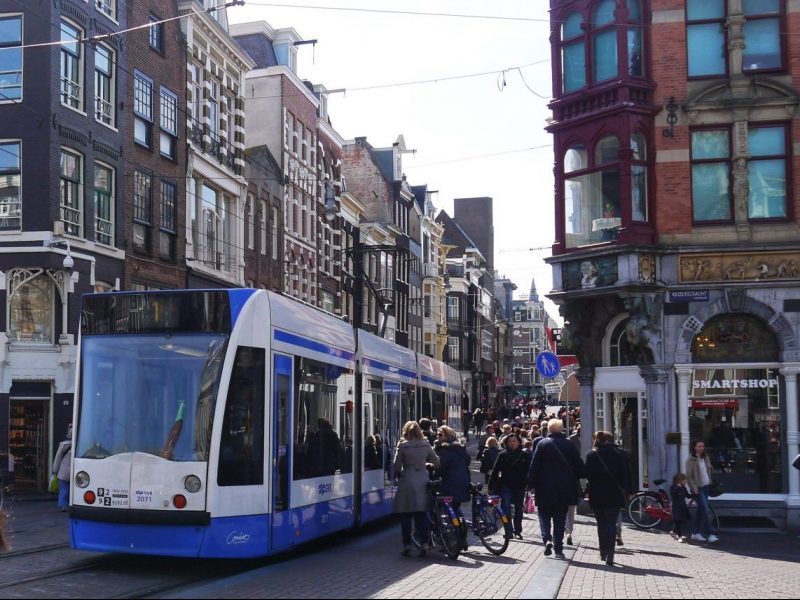 Amsterdam can be visited on your own two feet to discover the beauty of Amsterdam at your own pace. However, you can also take advantage of the trams and the metro to save some steps. The best transport ticket that we highly recommended using in Amsterdam is the Amsterdam Public Transport Pass. It is a very useful pass that covers unlimited transportation on buses, trams, and the metro for all GVB transports during its period of validity.
Single ticket costs €3.20 for one hour, and you can purchase a single or multi-day ticket from 1-7 days transport passes that best out your travel schedule. However, please note that you can't use the train from the airport to Centraal with this pass. This Amsterdam Public Transport Pass is more economical and saves you the hassle of visiting the ticket machines whenever you want to take the tram, bus, or metro.
Get Discounted Amsterdam Public Transport Pass From Klook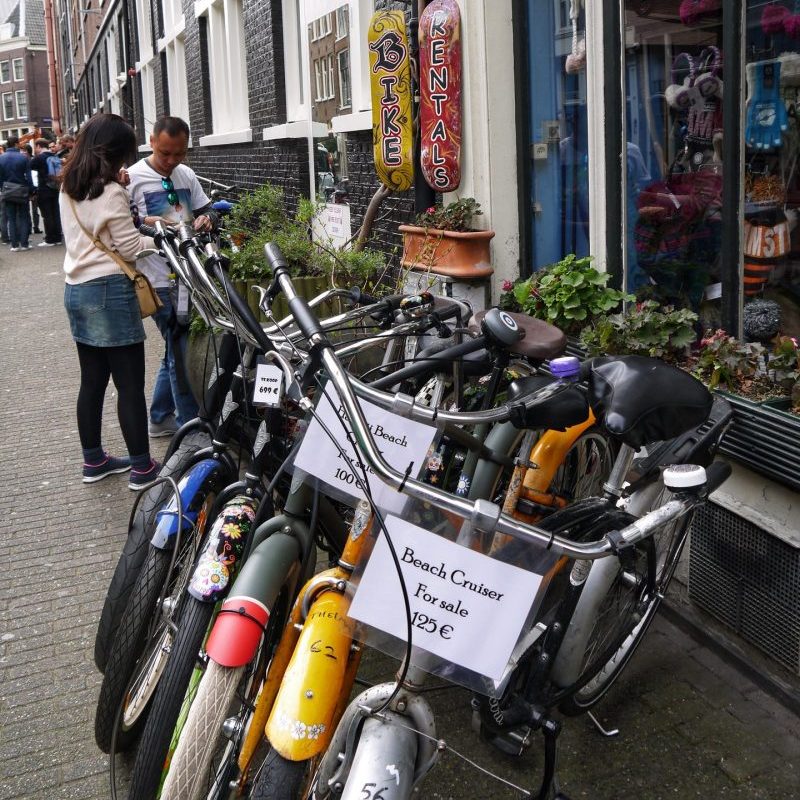 Amsterdam is famous for its bike culture and there are more bikes than people. So no surprise there are many hotels and shops throughout the city that rent bikes for visitors. MacBike is one of the largest bike shops in Amsterdam that rents bikes and provides bike tours in Amsterdam. It's great to do if you just want to have fun for an hour, or day to explore the city like local by bicycle.
Another BEST way to see Amsterdam get around Amsterdam during your visit.
I Amsterdam City Card
I Amsterdam City Card is a must-have for first-timers when traveling to Amsterdam. The perks of having such a card give you what Amsterdam has to offer via free museum passes and metro tram rides! With access to 70+ museums, public transportation, and a canal cruise, you're able to visit different attractions and museums using the city card.
Cards are available for 24, 48, 72, 96, or 120 hours. Although it is a bit pricey, I Amsterdam card will be worth it if you decided to walk around Amsterdam and visit many museums.
Get Iamsterdam City Card From Klook with Cheaper Price
How Many Days Should I Spend in Amsterdam?
At least two days if you plan to visit Amsterdam's top sight. Three days will allow enough time for you.
What is the best time to visit Amsterdam?
We believe the best time to visit Amsterdam is from April through June. It is also one of the busiest times to visit Amsterdam, especially during the prime blooming time for spring blooms starting from April until May. Many travelers around the world flock to Amsterdam and Keukenhof. So expect larger crowds during this time.
Where To Stay
Amsterdam is a big city with several options for accommodation in Amsterdam, of course, which will vary depending on your budget. I've been searching for the best hotels, for each budget and these are my recommendations:
Mid-Budget – Amsterdam Wiechmann Hotel – Excellent location in Jordaan right on Prinsengracht canal. Great selection of rooms and some rooms offer a canal view.
Mid-Range – Hotel V Nesplein – Great location in the heart of the city, modernized and stylish rooms, friendly staff.
Luxury – Monet Garden Hotel Amsterdam – Excellent location, comfortable and clean rooms, some rooms with a view of a canal, amazing staff.
Already have a hotel booked? To search for the best accommodations at the best prices, I suggest checking out Booking.com with the best price always.
See whether your hotel is in a good area in my guide to Where to stay in Amsterdam for first-time visitors.
3 Days in Amsterdam Itinerary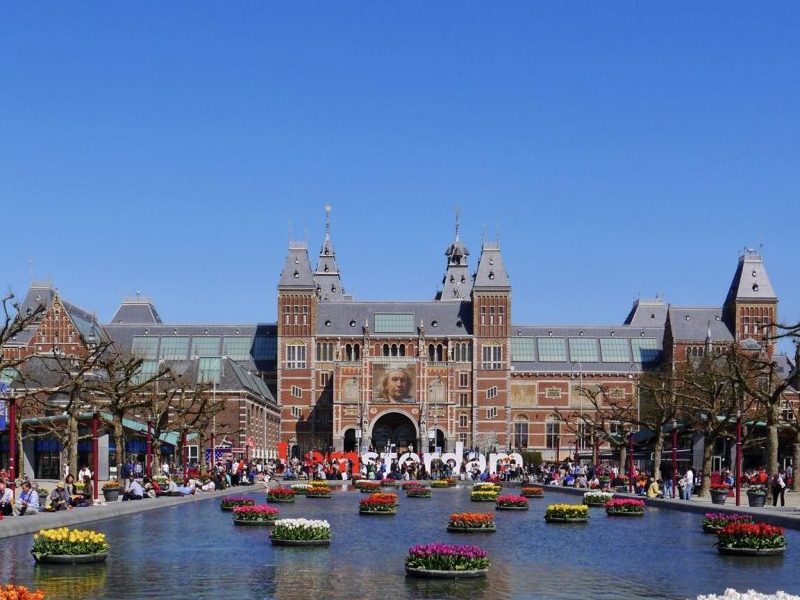 This Amsterdam itinerary for three days is perfect for you if you are visiting the city for the first time. It covers all the places you must see. You can find detailed planning from this Amsterdam itinerary.
Day 1 in Amsterdam Itinerary:
Arrived in Amsterdam in the morning.
Tour the Anne Frank House (1-2 Hours)
Wandering at The Nine Streets (1-2 hours)
Dam Square (1 hour)
Exploring the De Wallen (1-2 hours)
Day 2 in Amsterdam itinerary:
Strolling along the Albert Cuyp Markt (1-2 hours)
Visit the Rijksmuseum (2 hours)
Explore the Van Gogh Museum (2 hours)
Relax at Vondelpark (30 minutes)
Sniff the Tulips at Bloemenmarkt (1-2 hours)
Try the Heineken Experience (2 hours)
Canal Tour (1-2 hours)
Day 3 in Amsterdam itinerary:
Day trip to Giethoorn, Zaanse Schans, or Keukenhof.
Amsterdam itinerary: Day 1
Our first day in Amsterdam itinerary is more free and easy. After we check in to our accommodation, we spend most of the time wandering around the city. Most of the attractions are flexible and easily adjust, except the Anne Frank House which recommended pre-booking the time slot in advance.
Day 1 in Amsterdam Itinerary: Arrived in Amsterdam in the morning – Tour the Anne Frank House – Wandering at The Nine Streets – Dam Square – Exploring the De Wallen.
A wonderful day to explore the amazing Amsterdam.
Anne Frank House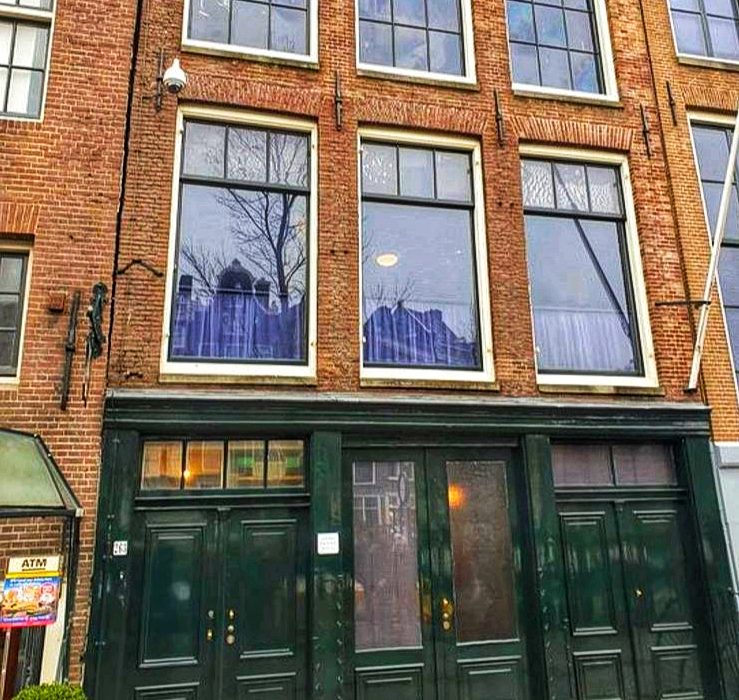 Firstly, we took the tram to Amsterdam Centraal and walked towards Anne Frank Huis, one of the top attractions in Amsterdam.
Dedicated to Jewish wartime diarist Anne Frank on how she and her family lived in a secret annex, hidden away from the Nazis for two years and one month. During this time, Anne kept a journal which would become one of the important pieces of WWII. The Anne Frank House is the secret hiding annex mentioned in the journal and visitors can tour the hidden rooms and see the movable bookcase here.
Anne Frank left her mark on Amsterdam despite her untimely passing in 1945. This statue pays tribute to the young writer near her former house.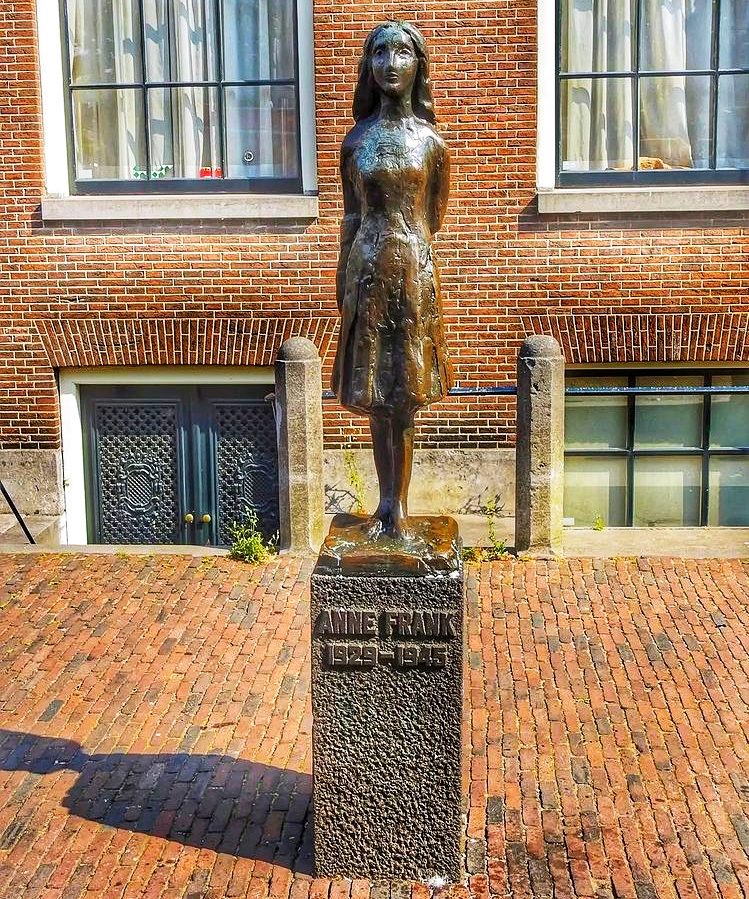 This popular Anne Frank House can only be visited with a ticket bought online for a specific time slot. You will reserve a specific time slot, which eliminates the waiting time.
Address: Prinsengracht 263–265, Centrum.
Opening Hour: Open daily from 9:00 to 22:00.
Admission Fee: €16
Official Website: https://www.annefrank.org/en/
Amsterdam Travel Tips: If you are curious about Anne and plan to visit Anne Frank House in your Amsterdam itinerary, just be sure to book your tickets online in advance. Tickets are released two months in advance.
Alternatively, you can consider joining the Guided Walking Tour on the Story of Anne Frank that covers Amsterdam's Jewish sites. In this walking tour, you will discover Amsterdam's WWII history and follow in the footsteps of Anne Frank in the Jewish Quarter. Note: Tour ended outside the Anne Frank House (entrance not included).
Nine Streets (DE 9 STRAATJES)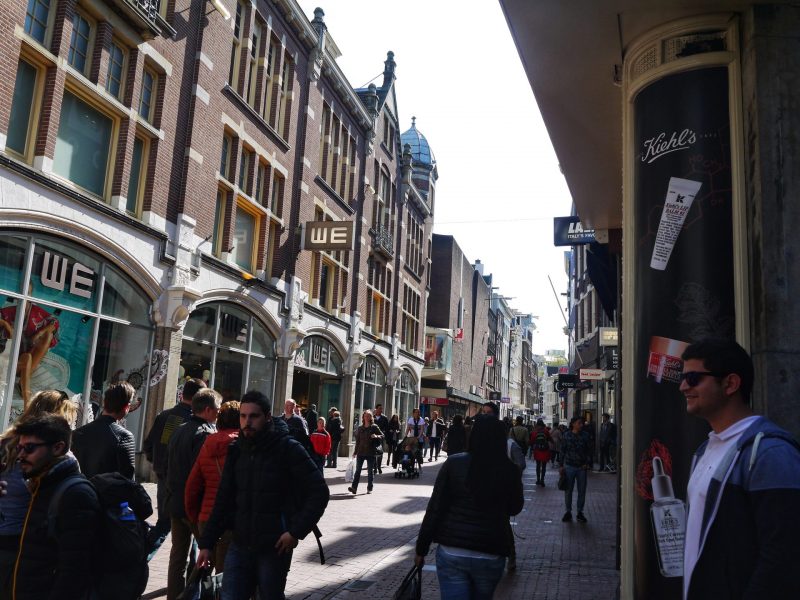 Next, we spend the late afternoon exploring the Nine Streets of Amsterdam. Located to the south of Anne Frank House, the 9 Streets are transverse streets that consist of nine side streets of the Prinsengracht, Keizersgracht, Herengracht, and Singel in central Amsterdam with many small and diverse boutique shops, cafes, art galleries, and restaurants. It is one of the best places in Amsterdam if you are looking for what to eat in Amsterdam.
At nine street, you can very easily spend the rest of the day here, hopping from shop to shop. Even if shopping is not your thing, many monumental buildings can still be admired. A delightful place to explore.
Dam Square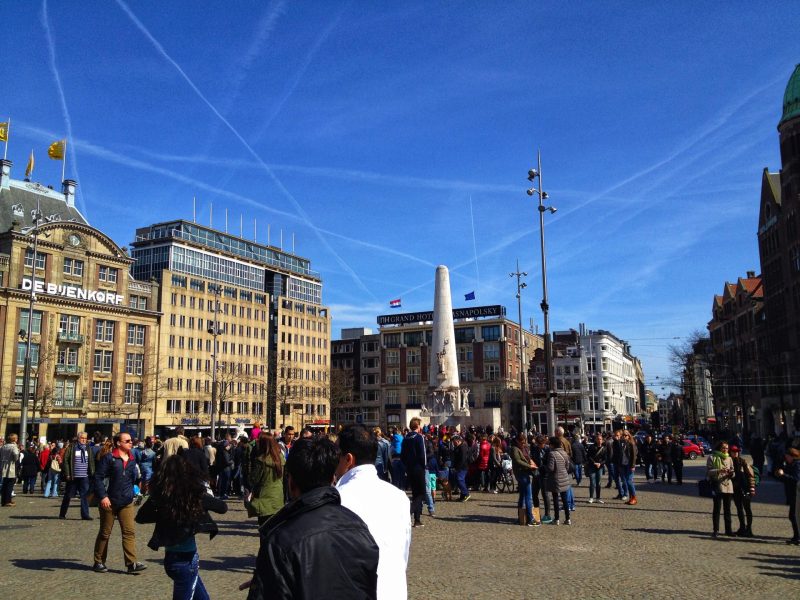 Continue your walk through Dam Square, the main square of Amsterdam. There are two notable buildings sitting on Dam Square, Nieuwe Kerk (New Church) and Royal Palace. The Royal Palace was built to be a town hall but was later converted to a palace for King Louis I.
Dam Square is a bit crowded and touristy, but worth a quick visit for a limited time.
De Wallen (Red Light District)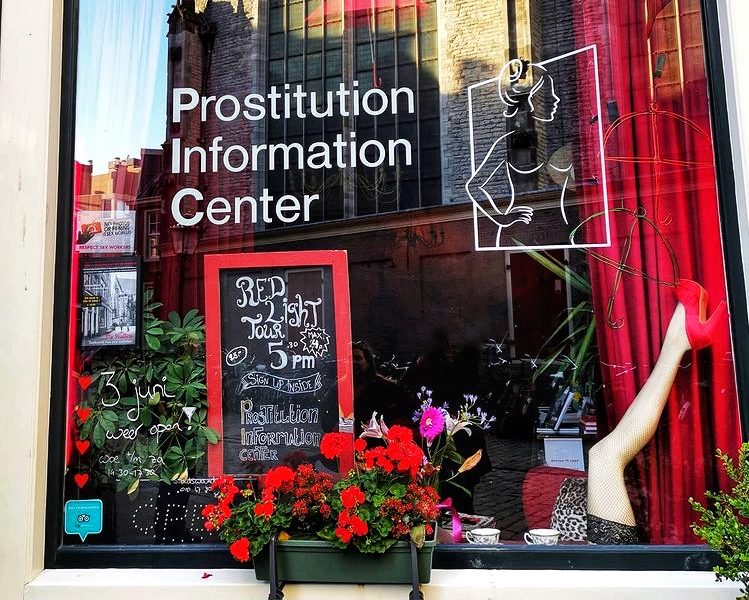 Perhaps the most famous place in Amsterdam. While prostitution is legal in Dutch, "window shopping" in the Red Light District once was a very popular thing to do. The Red Light District, also known as De Wallen, is the biggest and oldest prostitution area in the Netherlands. It is lined with sex shops, gay bars, peep shows, and cannabis shops along the valley.
During day time, De Wallen is a quiet place and just look like any other part of the city. But, at night, this area is full of window prostitutes under the typical fluorescent neon red lights. Tourists from all around the world move slowly down the street and stare at the girls in the window.
This attraction may not be for everyone, but worth taking a look at what all the fuss is about. A place to see and experience for a very brief time.
Amsterdam Travel Tips: No photo. It is said that they will grab and smash your camera if you dare to take a picture of the girls at work.
Note: As of 2021, a decision was made to relocate the Red Light District farther from the city center.
Amsterdam Itinerary: Day 2
For your second day in Amsterdam, I recommend starting the day 2 Amsterdam itinerary with a satisfying breakfast before kick starts any activities.
Next, spend your morning visiting Amsterdam's most popular museums, the Rijksmuseum and the Van Gogh Museum. These are Amsterdam's most popular museums, so expect them to get crowded, especially at midday.
Spend the afternoon time to try the Heineken Experience and canal boat tour. Fun fill activities in Amsterdam.
Day 2 in Amsterdam itinerary: Strolling along the Albert Cuyp Markt – Visit the Rijksmuseum – Explore the Van Gogh Museum – Relax at Vondelpark – Sniff the Tulips at Bloemenmarkt – Try the Heineken Experience – Canal Tour.
Start Your Day with a Great Breakfast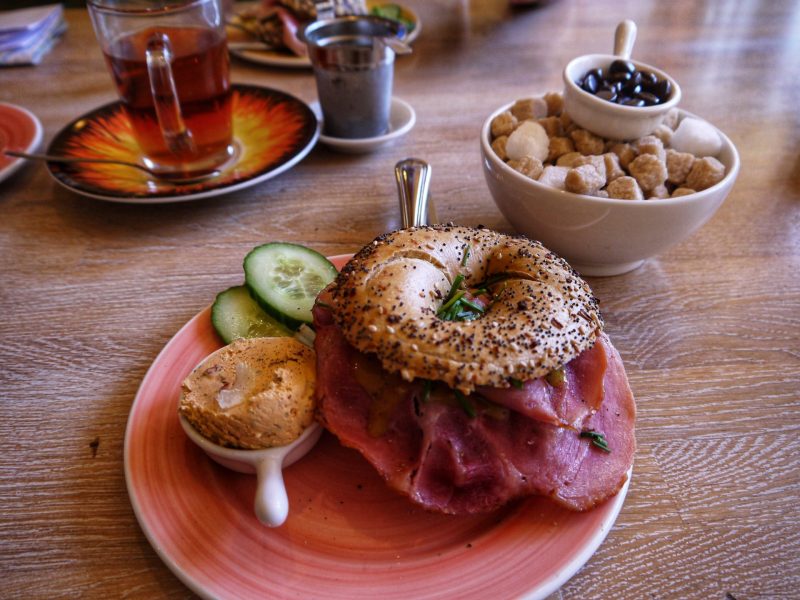 What to do in Amsterdam in the morning? A satisfying breakfast at Amsterdam.
Bagels & Beans is a famous chain restaurant with a few other stores in Amsterdam. We stopped for a quick breakfast before spending a day at the nearby art museums. Good selection of bagels and delicious 'fillings' for breakfast and good coffee to start your day in Amsterdam. So fresh and tasty!
If you're looking for an inexpensive, filling, incredibly tasty place to eat and refuel, Bagels and Beans should be top of your list. Highly recommended.
After a satisfying breakfast, we kicked start our day 2 of the Amsterdam itinerary at Albert Cuypmarkt
Albert Cuyp Market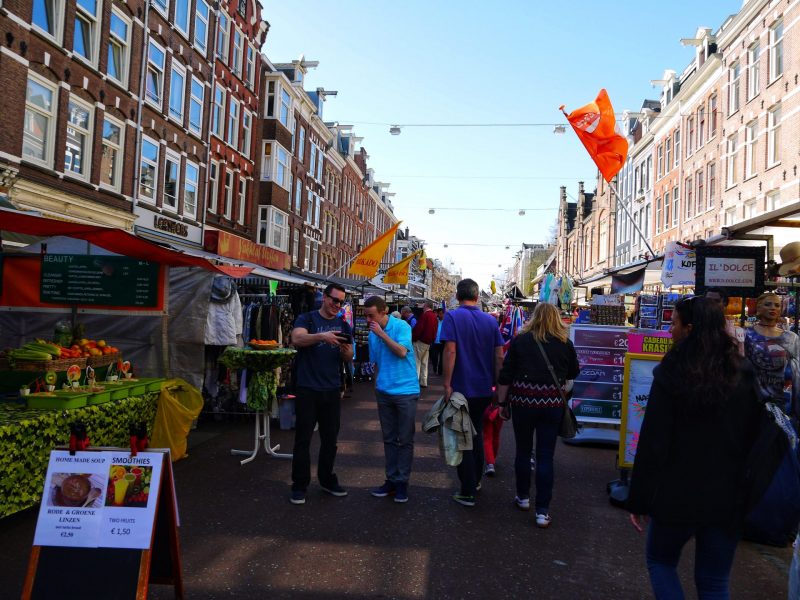 After your breakfast, it is time to visit Amsterdam's local market. Whenever visit a country, I always make time to go to the local market. The 'Albert Cuypmarkt' is my favorite thing about visiting Amsterdam. An excellent market in Amsterdam with a wide variety of things to buy.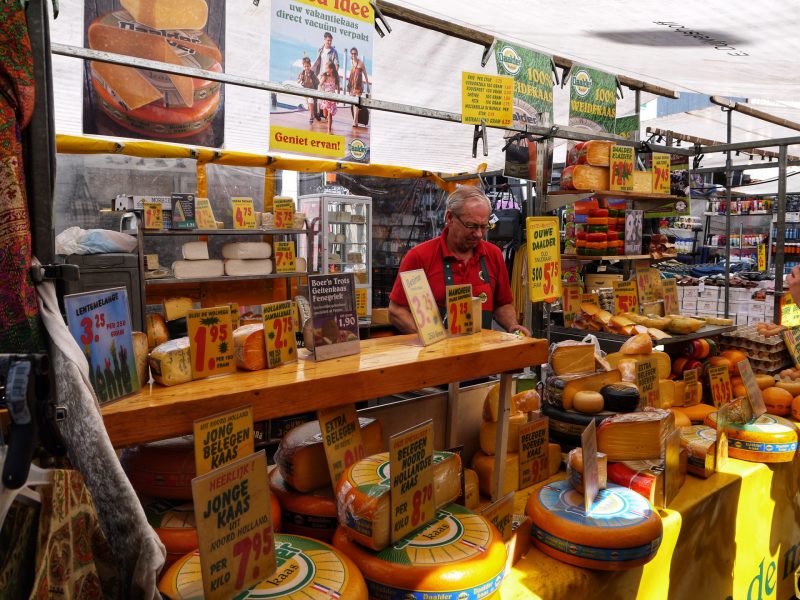 Situated in the historical neighborhood De Pijp, Albert Cuyp Markt is the largest and most famous place to go if you are up for a taste of the "Real" Amsterdam. It is a nice place where you can find fresh food such as seafood of any kind, cheese, and not to forget all those mouthwatering street food.
If you are there, try eating a raw herring the traditional way — by holding on to its tail. Everything is very fresh.
Address: Albert Cuypstraat, 1073BD Amsterdam.
Opening Hour: Open daily from 9:00 until 17:50. Closed on Sunday.
Admission Fee: Free.
Official Website: https://albertcuyp-markt.amsterdam/
Visit the Rijksmuseum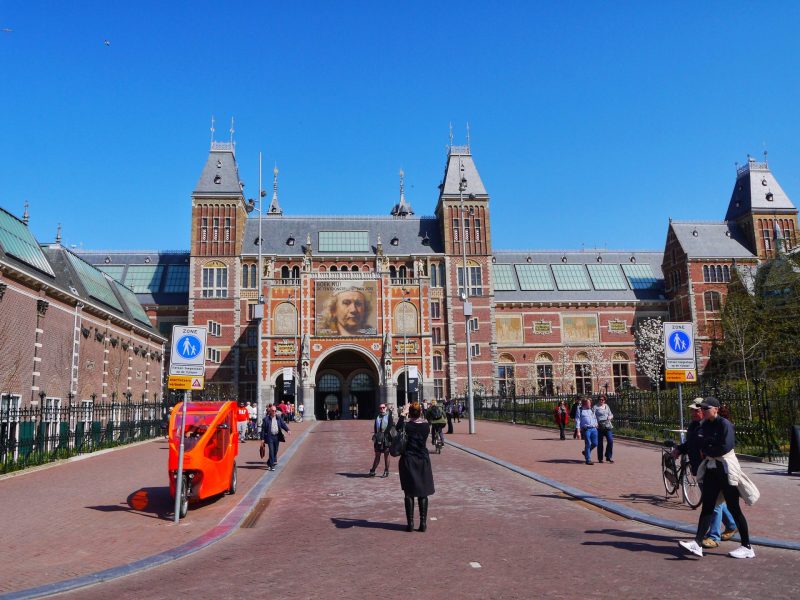 Amsterdam has its fair share of museums and the Rijksmuseum is one of the city's most distinguished institutions. Rijksmuseum is a national museum boasted of 80 galleries full of art and artifacts that tell the history of the Netherlands.
Rijksmuseum housed an extensive Rembrandt collection including the famous "The Night Watch" painting by other classic Dutch painters, like Frans Hals and Johannes Vermeer. For art lovers, Rijksmuseum is a museum on your Amsterdam itinerary.
Reserve Rijksmuseum Entrance Ticket Here
Address: Museumstraat 1, Oud-Zuid, +31 20 674 7000, rijksmuseum.nl.
Operating Hours: Open daily from 9:00 to 17:00.
Official Website:
Admission Fee: €22.5.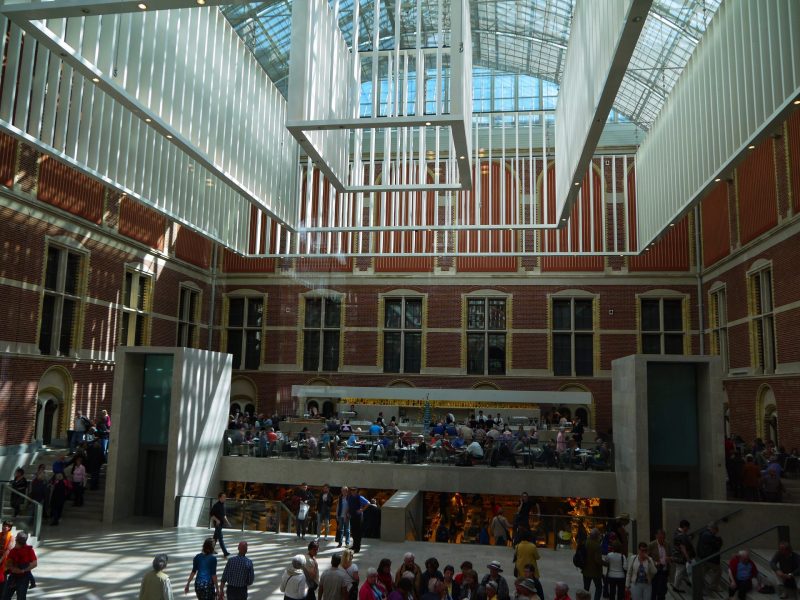 Amsterdam Travel Tips: Rijksmuseum is extremely popular among travelers visiting Amsterdam. The lines can get very long with long waiting hours. It is recommended to buy your entrance tickets online in advance.
Explore the Van Gogh Museum
Another major attraction in Amsterdam is the Van Gogh Museum. Dedicated to the famous Dutch painter, this world-famous museum has the largest collection of Van Gogh's best works of art, as well as his contemporaries like Monet, Manet, and Matisse. There are over 200 paintings and 500 drawings inside the museum.
To visit the Van Gogh Museum, you need to purchase your tickets online in advance with the pre-reserve time slot and enter the museum within a half-hour of your reserved time. This helps to eliminate the waiting time to enter the museum.
Reserve The Van Gogh Museum Entrance Ticket Here
You'll need about 2 hours to explore Van Gogh Museum.
Relax at Vondelpark
After some time indoors at the museums, walking through the Amsterdam's Museum Quarter to the massive Vondelpark. It is Amsterdam's largest green space spans over 120 acres. The park is fountains, statues, and plenty of locals exercising and getting together.
Take a rest in the Vondelpark. A great place to go for a walk if you get a case of museum overload.
Sniff the Flowers at Bloemenmarkt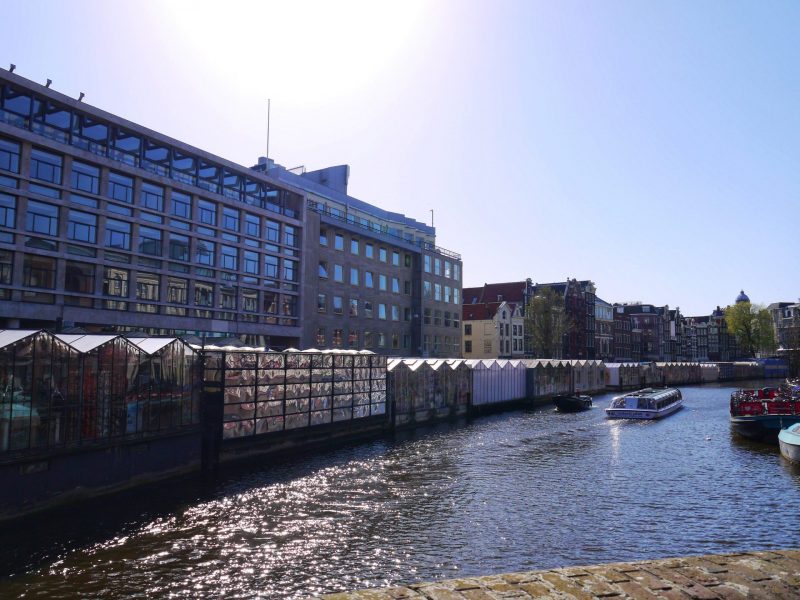 Heading south, our next stop is the delightful Bloemenmarkt to see the beautiful flowers and florists traded in Singel Canal.
Amsterdam is known for its flowers and canals, and this floating flower market, Bloemenmarkt combines the two. The delightful Bloemenmarkt is found down on the Singel canal. It never runs out of beautiful flowers and florists have traded on barges at Bloemenmarkt since 1862.
The market starts operating at 9:00 on Weekdays and Saturdays and only opens at 11:00 on Sundays.
Try the Heineken Experience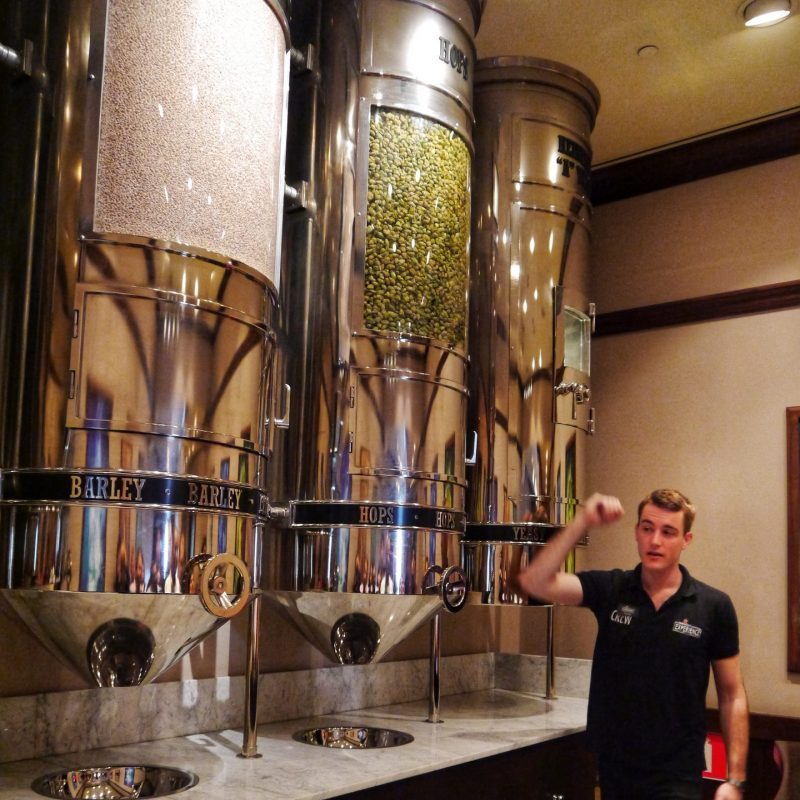 One of the best-known beers in the world. The Heineken Experience is an an-hour-long interactive self-guided tour where you take a look at the history of Heineken, learn how they do it, and how to serve your own beer. The whole journey through multiple floors of the museum takes one through an exhilarating experience.
It's indeed a great experience visiting the fabulous ancient brewery. We loved the experience and the beer. The staff were super friendly and always with a smile on their face. You get two free beers at the end, to enjoy in a nice atmosphere. It's not a must-see, but if you like Heineken then it is worth checking out.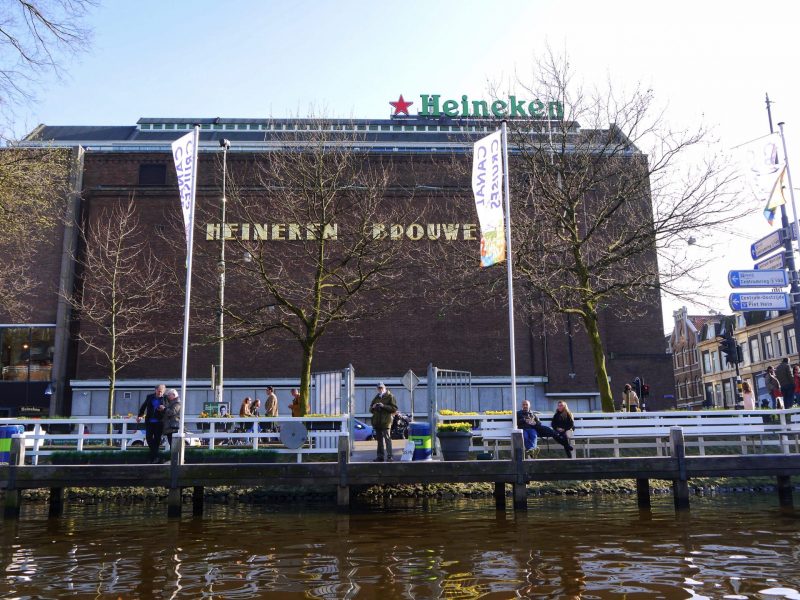 Amsterdam Travel Tips: Pre-order for Heineken Experience online and avoid the long queue. Besides, you can couple your Heineken Experience visit with a canal boat tour with an additional €10 once finish the beer tour. Perfect planning.
Heineken Experience and 1-Hour Canal Cruise in Amsterdam
Would highly recommend it.
Address: Stadhouderskade 78, De Pijp, Oud-Zuid.
Operating Hours: Open daily from 12:00 to – 18:00.
Admission Fee: €21
Tour the Amsterdam Canal Ring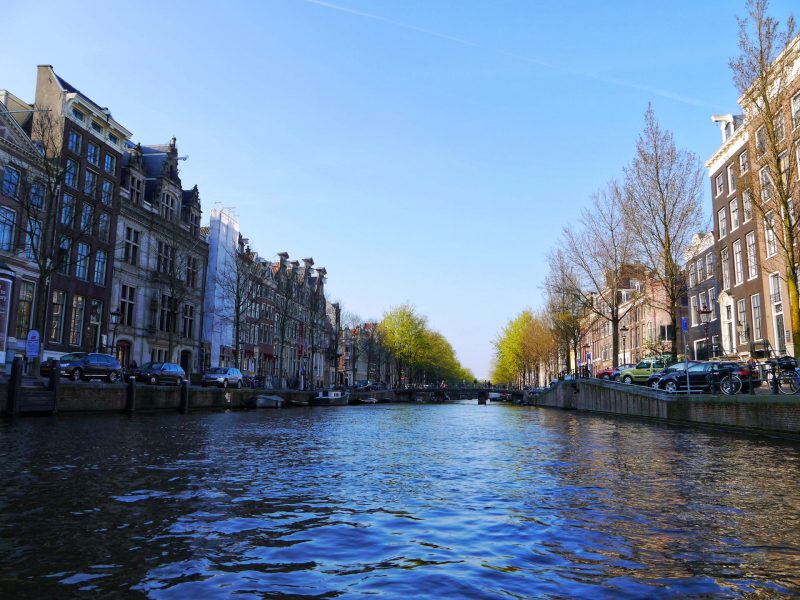 Amsterdam is known for canals and you cannot experience Amsterdam without a walk along the canal. The city center is surrounded by four canals with concentric belts that go around the city. They are kept really clean and it's very relaxing walking alongside the canals. A beautiful and landmark piece of manmade landscape.
If you have spare time I recommend walking or cycling along these canals, there are many little restaurants and pubs to stroll around. Besides, there are so many different areas you can walk around all connected by canals. It's particularly beautiful when you walk on the bridges while sunset, such a view!
We also recommend boat rides to see a bigger area of Amsterdam. It's amazing to cruise the canals and take in the architecture and people along the way. It gives first-timers a very good idea of Amsterdam.
Simply stunning.
There are numerous options, from enclosed boats with large groups of people to open boat tours to private tours. Most of the Canal tours are started from Central station which cost €15 to €50 per person depending on the boat type.
Get the 1 Hour Amsterdam Canal Cruise Here. Hassle Free and cheaper rate if you get it online here.
Amsterdam itinerary: Day 3
Within two days you have seen the highlights most tourists visit while in Amsterdam city. For visitors staying 3 days in Amsterdam, planning a day trip is a great idea for your Amsterdam itinerary. There are some beautiful places to see in The Netherlands, from tulip fields to windmills. do yourself a favor and explore more.
There are so many day trips from Amsterdam and you can either use one of my suggestions mentioned below or find other activities that interest you.
Here are the multiple day trip options from Amsterdam for you depending on your interests:
Zaanse Schans – Picture-perfect stereotypical Dutch village.
Giethoorn – Quaint village in the east of the Netherlands and famous for its fairytale canals.
Keukenhof – Wonderful flower garden that you can't miss in April and May.
Zaanse Schans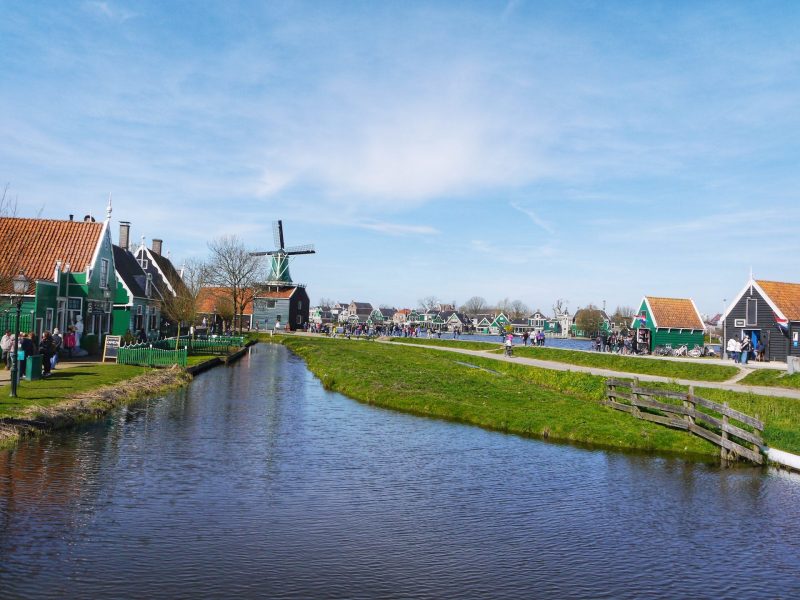 One of the popular day trips from Amsterdam is Zaanse Schans. This picture-perfect stereotypical Dutch village is located not far from the city, making it perfect for a day trip in the Amsterdam itinerary.
Zaanse Schans is like an open-air museum by showcasing the visitors what life was like in the Netherlands back in the 18th and 19th centuries. This charming Dutch village has collections of the historical windmills, cheese and clog-making process, and gorgeous green cottages with greenery and animals.
If you're looking for a taste of the Dutch lifestyle, plan for a day trip to Zaanse Schans. Great photo opportunities!
READ MORE: Zaanse Schans Itinerary: A Complete Travel Guide Blog
Giethoorn
Set in the province of Overijssel, Giethoorn is a quaint village in the east of the Netherlands and famous for its fairytale canals. The most special about Giethoorn is the fact that it has no roads, only canals connecting up the many cute cottages and old wooden bridges in the village. Taking a boat ride is the best way to see Giethoorn and admire all the beautiful old cottages with their traditional thatched roofs.
Imagine cruising peacefully down the canals, passing ancient thatched-roof farmhouses, drifting under tall old wooden bridges, and hearing those ducks quacking just by the boat. A perfect day trip from Amsterdam.
Getting to Giethoorn by public transport is time-consuming and complicated as you'll have to change several trains and take one bus. Due to the complexity of transport arrangements, the easiest way to get to Giethoorn is to book a tour to Giethoorn directly from Amsterdam.
Recommended Tour: Giethoorn Daytrip from Amsterdam With Boat Cruise
Keukenhof
If you plan to visit Amsterdam during April and May, make sure to include a day trip to Keukenhof. Known as the Garden of Europe, Keukenhof is a gorgeous wonderland of flowering daffodils, tulips, and hyacinths. It is also one of the world's largest flower gardens with more than 7 million flower bulbs planted every year. The best place to admire the beautiful flowers of Holland.
To get to Keukenhof by public transport, take bus#397 to Schiphol Airport. Next, from the airport, take bus#858, the Keukenhof Express, to Keukenhof.
For hassle-free, you can consider going to the Keukenhof with a tour arrangement. This tour will get it easy to get to the gardens and enjoy them at your own pace. Skip-the-line Keukenhof Ticket is included.
Skip-the-line Keukenhof Ticket and Transport from Amsterdam
Overview: Amsterdam Itinerary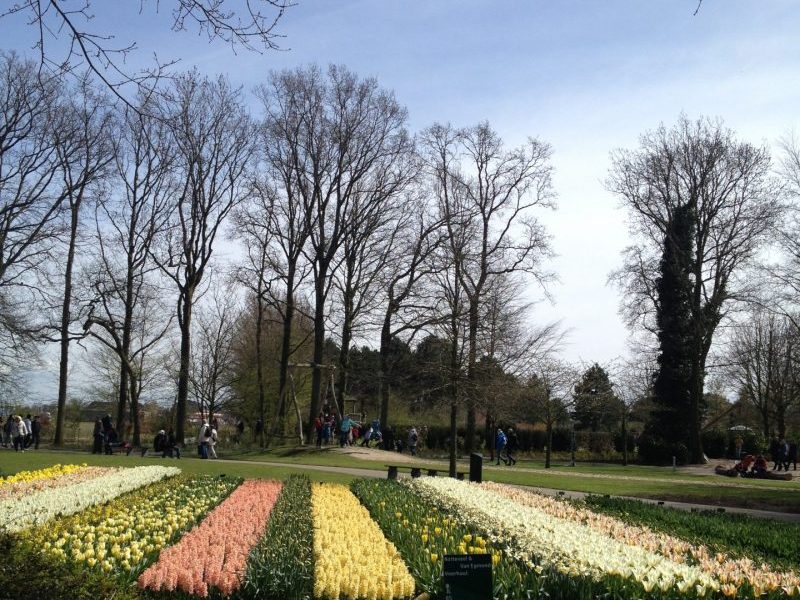 In short, here is an overall perfect Amsterdam itinerary for first-time travelers. There are so many attractions with wonderful things to do and see in this compact nature city. Three days in Amsterdam is never enough to fully explore this amazing city.
There are still more attractions awaiting us to discover and we wish to spend more time here. That said, you won't be disappointed and will know why Amsterdam is one of Europe's best destinations.
Here is our other travel post related to Amsterdam Travel Guide:
Hope you found this Amsterdam itinerary travel guide blog useful and can you give a rough idea of planning your trip to Amsterdam. Anything else we should add to this Amsterdam itinerary? Share with us!